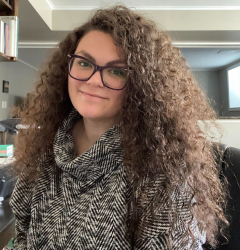 Latest posts by Candace Osmond
(see all)
Are you finally getting the chance to redecorate the laundry room, but you're unsure how to properly organize the space? A laundry room isn't just about picking the right washer and dryer and investing in quality furniture. With our best laundry room cabinet guide, you can understand what makes a good cabinet and what are some of the best-selling models this year.
Bottom Line Upfront
For me, a laundry room needs a sink. You can drain the washer directly into it, use the large basin to scrub heavily soiled things like sports gear or painting tools, or even give your pet a bath. That's why I think one of the most practical cabinets is the Ebern Designs Hamed Vanity Set.
Top Picks
What Should a Laundry Room Cabinet Have?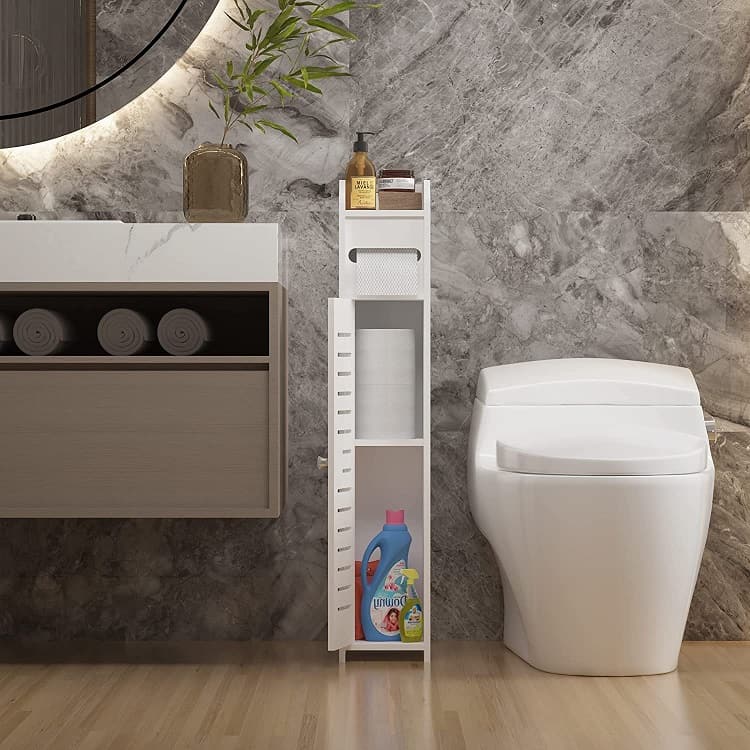 Before you buy, consider these points first. You might not realize you need certain qualities and features for your specific laundry room storage.
Moisture Resistant
Granted, laundry rooms don't usually have the same humidity level as bathrooms or kitchens. However, there is always the chance of ending up with a broken pipe or some other moisture-related accident that could ruin the cabinets.
Look for moisture-resistant cabinets if you want more peace of mind or know you have a humidity problem in your laundry room.
Easy to Clean
Let's face it; nobody likes to clean furniture. Well, it's not entirely true since I have friends who clean the house when they want to relax, but for most of us, cleaning is a chore. Cabinets that are easy to clean aren't always about our comfort but also a way to keep the product looking at its finest for longer. Most laundry room cabinets can be wiped clean with a cloth.
Storage Capacity
To me, the most crucial feature to look out for in a laundry cabinet is its storage capacity. If you've got a large household or like to buy and stock up on cleaning products when they're on sale, you need all the storage space you can get.
Many of these units are equipped with adjustable shelves, pull-out drawers, or other types of storage that conceal or showcase the items in your laundry room.
Also, look for cabinets that have adjustable shelves. This is important because not all cleaning product bottles are equal in size. When some are taller than others, you want to be able to customize the height of each shelf.
Extra Features
Laundry room cabinets don't need extra features, but having them is great. For example, suppose you opt for cabinets with hooks and hangers. In that case, you can hang towels, rags, or other clothes you normally use for cleaning.
Note that some laundry cabinets have integrated hampers to keep the dirty laundry off the floor and out of sight.
Types of Laundry Room Cabinets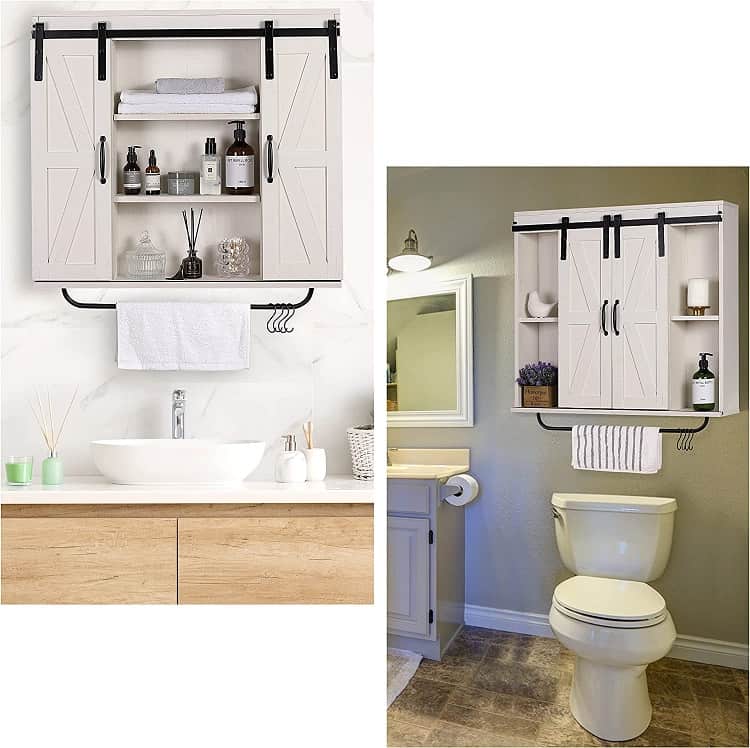 Yes, that's right, there are even different types to consider. The main thing is to take stock of how much space you have and how much space you need. Then choose a type of laundry room cabinet that works for you.
Tall
Tall cabinets usually start from the floor and can go up to the ceiling. They are the best product to maximize storage space because you are using the entire wall height as storage. Usually made from wood or metal, these tall units should have some sort of wall anchoring method to secure them better. Tipping cabinets are quite common, which is why this feature is important.
Short
The short cabinets that sit on the floor are also called base cabinets. They support the countertop as it sits on them. In certain configurations, it is possible to create even more space for working by connecting the washer and dryer directly to the countertop.
Short cabinets are excellent additions to your laundry room because they are permanently fastened to the rear wall. On the other hand, Cabinet bases are susceptible to damage when floods or even relatively minor water spills that are not cleaned up as promptly as they should be.
Wall Mounted
Because most of the action in laundry rooms occurs at the counter level or lower, the higher sections of the walls make excellent real estate for storage because they are out of the way. In lower-quality wall cabinets, medium-density fiberboard (MDF) is used as the primary construction material for the box. Still, higher-quality wall cabinets use 1/2-inch A-grade plywood covered in wood veneer.
These wall-mounted cabinets are typically more robust and have a longer lifespan than lower cabinets, which bear the brunt of activity because they are located in the most frequently used areas of the kitchen. Wall cabinets are not affected by accidental water spills.
Narrow
Let's assume you have a tight space in your laundry room. A narrow cabinet might be the right approach. I've seen these often used between the washer and the dryer. Some of these cabinets are plastic shelves on wheels, which are cool because they are mobile and can fit many cleaning products.
Other narrow cabinets are made from engineered wood, and their design makes them suitable for laundry rooms as well as bathrooms.
With Sink
Laundry room sinks are usually known as utility sinks, which most people deem useless in a room that already comes with a washing machine. But sinks are very practical in a laundry room. Use them to dampen cleaning rags, fill buckets or steam mops with water, give your rags and mops a quick rinse, or clean that brush you use to scrub the shower.
Choose whether you want to buy the sink and the cabinet separately or make a single purchase that includes both. There are plenty of waterproof laundry room cabinets made with waterproof materials that come with durable and high-quality stainless-steel sinks.
Open Shelf
Cabinets with open shelves offer a simple, quick, and cost-effective solution to store a variety of laundry room necessities. These cabinets are aesthetically pleasing and straightforward to construct as a do-it-yourself project.
Upper open shelves are typically able to maintain good condition for decades because they are not exposed to the daily wear and tear caused by foot activity and bumps and bangs. The majority of wall shelf systems have weight constraints. To prevent the system from collapsing, remain within that range.
How to Find the Right Laundry Room Cabinet for You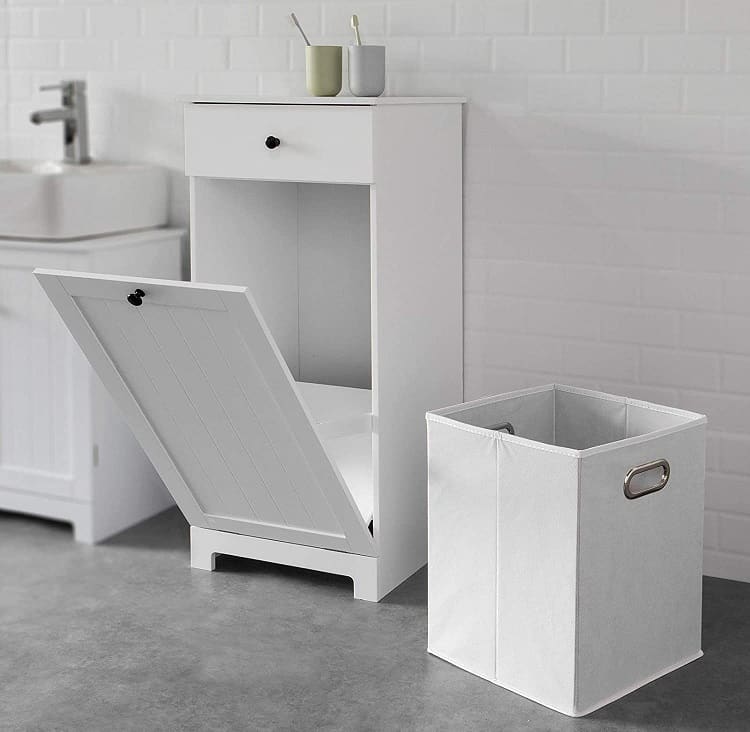 Now you know what to look for and the type to go with, here are some tips for narrowing down your search.
Measure Your Laundry Room
The very first step in finding the right cabinets is measuring whatever space you're looking to fill. This is especially true for laundry rooms which are typically smaller and have very precise furniture size requirements.
You don't have to measure the entire room; instead, measure the spaces where you'd like to fit some cabinets. These could be on the floor, between the washer and the dryer, above the washing machine, from the ceiling to the floor, or behind the door.
Assess Your Needs
Different types of laundry room cabinets will serve different purposes, so here are some questions you need to try and answer to get a better idea of what you need:
Do you store cleaning products in the laundry room?
Are there high humidity levels in the laundry room?
Do you need a space to store clean linens?
Where do you usually store the laundry before washing it?
Do you typically buy many cleaning products and detergents when on sale?
How many people live in your household?
When you've answered all these questions, you'll know what type of cabinets you need and how much storage space you could benefit from.
Determine a Budget
Sticking to a budget is important because cabinets can be really expensive. For example, open shelves can cost between $80 and $100 for a four-level unit. Floor cabinets range from $300 to $500 for 30-inch models. Wall-mounted units can be as expensive as $400 for a 36-inch model.
Assembled or Non-Assembled
Most laundry cabinets will not arrive assembled but depending on where you buy them, you might be offered some assembly service. If you spend a lot of money on furniture and have no clue how to assemble it, you can call in a professional and pay to have it sort it out.
The Best Laundry Room Cabinets
I chose these cabinets for the laundry room based on all the factors I've mentioned above, but also with style, function, and price in mind.
Best Tall Laundry Room Cabinet
Tall laundry room cabinets are perfect for taking advantage of narrow spots or vertical space. Use these cabinets to store your cleaning supplies or even your clean bedding sets. Floor-to-ceiling cabinets are perfect for using the space around your washer and dryer, so let's look at some models worth buying.
Winsome Wood Alps Tall Cabinet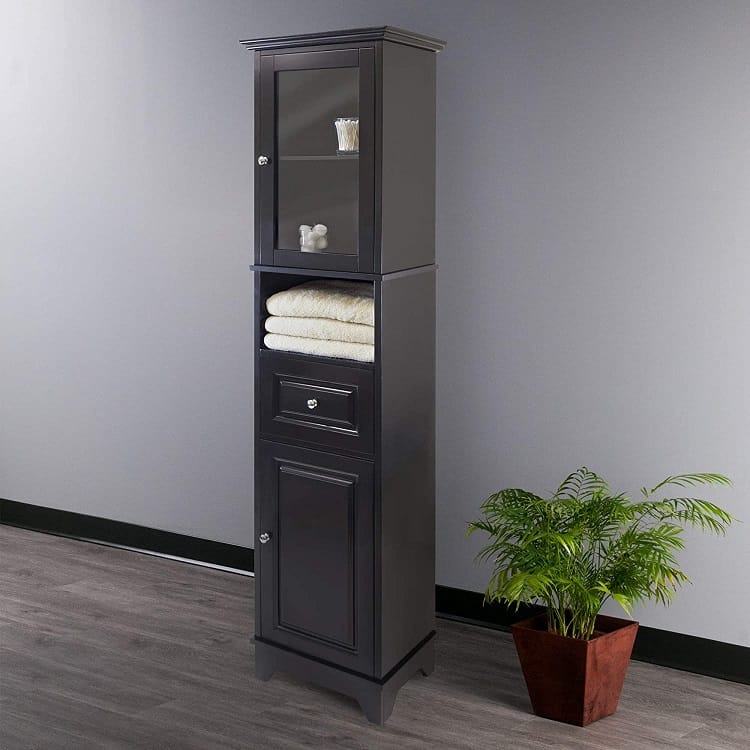 While I love the Winsome cabinet, I'm not the biggest fan of having too much unnecessary glass surfaces in the laundry room. Hard water stains and condensation spots will be a nuisance, and it feels like quite the upkeep if you have a moisture problem in the laundry room. Otherwise, it's one of the best tall cabinets money can buy.
Price Range: $100 – $150
Color/Finish Options: 1
Materials: wood
It features a gorgeous dark finish, and it's made from elegant wood with plenty of interesting details. You've got plenty of storage space to use, and you can place clean linens on the top. Having everything nice and folded in this visible cubby seems the right approach.
When fully assembled, this cabinet measures 18.11 "W x 12.99 "D x 70.87 "H, so it could easily make its way into that dead corner of your laundry room. The finish and versatility of the storage space make this cabinet perfect for other rooms of the house as well, like the kitchen or even your home office.
Pros
Plenty of storage space.
Fits in narrow spaces.
Easy to assemble.
Cons
Some complaints about missing parts.
RiverRidge Prescott Slim Tall Cabinet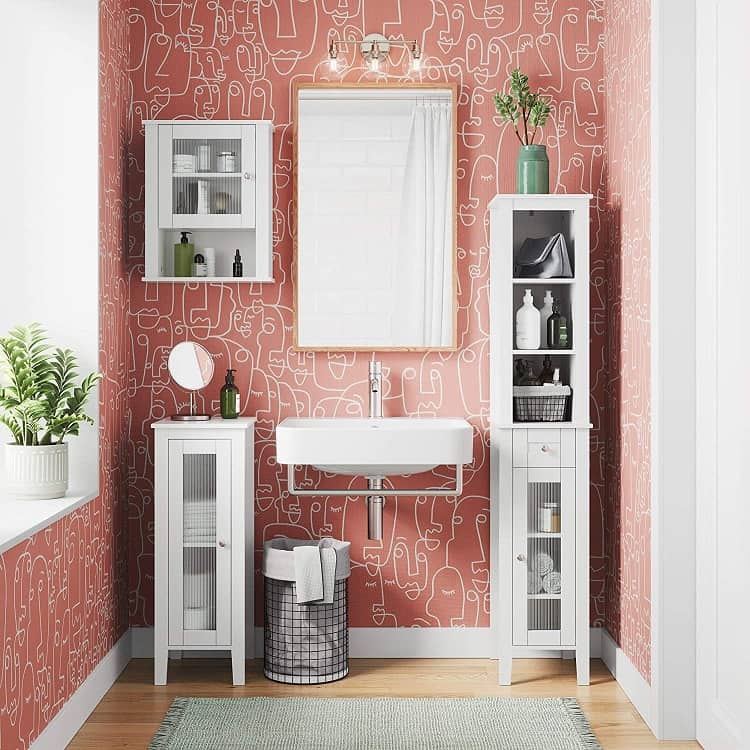 This tall, narrow cabinet will provide a stylish solution for your space's storage needs. This cabinet is perfect for maintaining order in locations with limited square footage. The glass door has soft-close hinges so that you can store your spare towels, toilet paper, and other supplies behind it.
Price Range: $100 – $150
Color/Finish Options: 1
Materials: engineered wood
The included instructions make construction a breeze, and a wall anchor bracket allows for customized wall-mounting and maximum stability. While this cabinet looks just gorgeous overall, there is one feature I'd like to highlight: the elevated legs that keep the cabinet off the floor.
I feel like these pieces of furniture are invaluable in spaces like bathrooms, kitchens, or laundry rooms. In case water spills on the floor or a pipe breaks and the room ends up flooded, furniture pieces like this cabinet are safe as water doesn't reach them. The design just makes sense.
Pros
Great for narrow spaces.
Includes open and closed shelves.
It can be secured to the wall.
Cons
It wobbles a lot if you don't secure it.
Springboro Storage Cabinet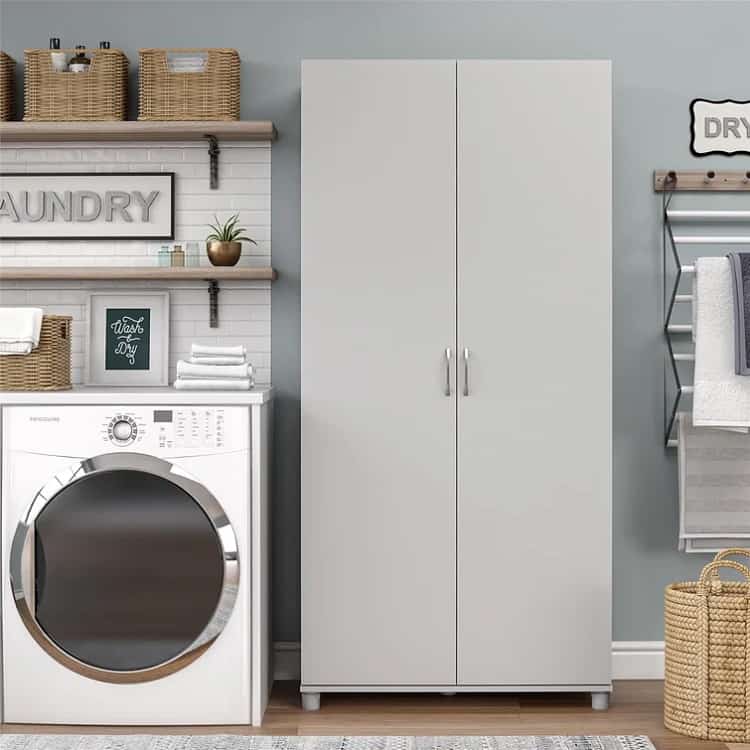 I added the Springboro storage cabinet because of its versatility and multiple color options. You don't have to go with the classic black and white choices, as you also have a brown and a grey option. It might be more expensive than the previous two options, but it also has much more storage space.
Price Range: $300 – $350
Color/Finish Options: 4
Materials: laminated particleboard
This storage cabinet can be used to tidy up the laundry area, the garage, or the office. This cabinet's minimal and sophisticated style makes it a simple addition to any setting. You can hide your belongings from sight behind the cabinet's two movable doors.
When opened, the doors expose three removable and adjustable shelves, perfect for storing and arranging your various cleaning and maintenance necessities. Suppose you want to ensure this storage cabinet won't topple over, even with active children. In that case, it has the necessary hardware to tie it to the wall.
Pros
Adjustable shelves.
Generous storage space.
Includes wall anchoring hardware.
Cons
Some cabinets have arrived damaged.
Best Short Laundry Room Cabinet
Short laundry room cabinets are great for many things, but the biggest perk is that they are easily accessible. While wall-mounted cabinets and tall furniture pieces help save space or offer more storage, some shelves might be too high.
Short cabinets solve that problem; the ones I'm about to show you are so cute that you might want to use them in other rooms throughout the house.
Haotian Laundry Cabinet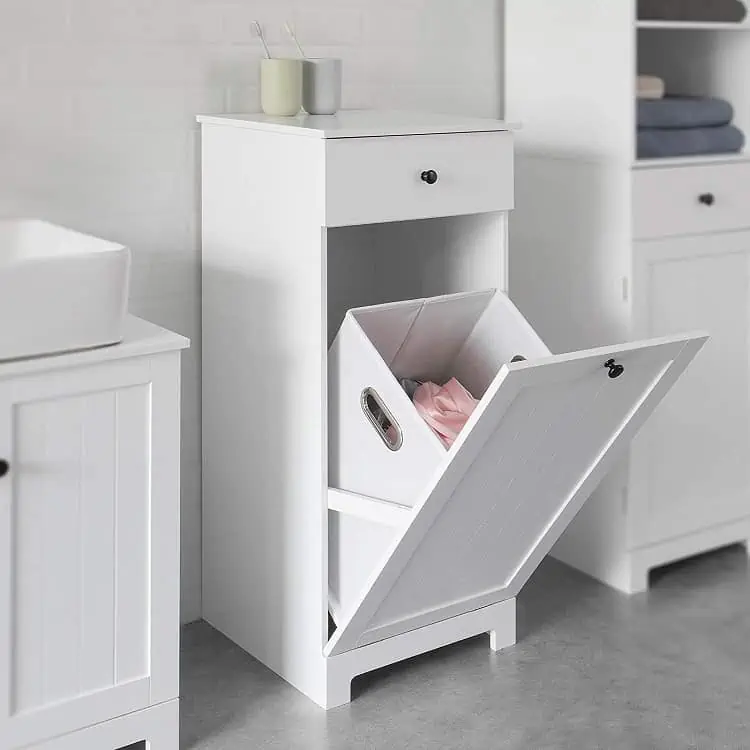 The title of "cabinet" might be a little misleading here because we're dealing with a fancy laundry basket. It's brilliant because it's technically a piece of furniture that conceals dirty laundry so that the bathroom or laundry room stays impeccable, with no clothes on the floor.
Price Range: $100 – $150
Color/Finish Options: 2
Materials: engineered wood
Aside from the large drawers that conceal the laundry basket, this cabinet also includes a small pull-out drawer for storing some cleaning supplies or even those extra toothbrushes you keep buying on sale from Target. The compact dimensions of this baby make it perfect for small laundry rooms, and there's plenty of space left on top for a suspended cabinet. It can support up to 88 pounds in weight and is very easy to assemble.
Pros
Easy to assemble.
Conceals dirty laundry.
Great for small spaces.
Cons
The surface shows visible scratches.
NOKAMW Store Bathroom Cabinets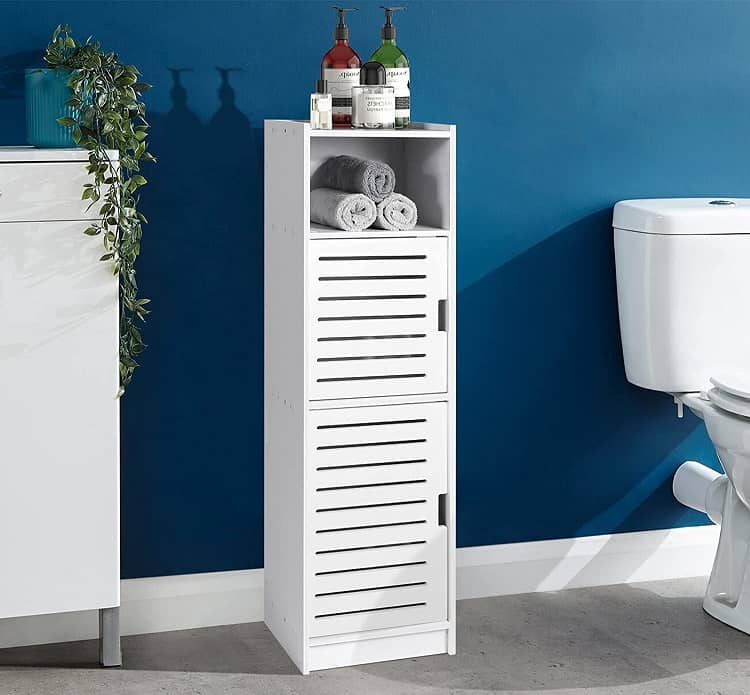 Here's one more product for people who need to fill up that space behind the laundry room door or in the bathroom corner.
This short cabinet is perfect for so many small spaces that you'll likely want one for the bathroom, pantry, and maybe even the hallway. It's made from wood and plastic, so it's not exactly the most durable choice on today's list.
Price Range: <$50
Color/Finish Options: 1
Materials: wood, plastic
The design, however, takes home all the points. The compact size provides a decent amount of storage space, with the saloon-style doors that make this cabinet great for different laundry room themes and settings. Because of its waterproof construction, this is a great cabinet to buy for laundry rooms with moisture issues but also for those looking for one extra storage piece in their bathroom.
Pros
Compact design.
Versatile placement options.
Waterproof construction.
Cons
eHemco Dual Cabinet Laundry Hamper
I'm back with double laundry hamper elegantly concealed behind two manufactured wood doors. This beauty is perfect for large families where dirty laundry shows up daily. With a 120-pound weight capacity, this is the perfect companion for an all-white laundry room.
Price Range: $30 – $400
Color/Finish Options: 1
Materials: manufactured wood
Measuring 29″ H x 30″ W x 15″ D, this cabinet takes up a little more space than some of the other shorter models I've shown you today. Both liners inside the cabinets are removable. The biggest drawback is you can't use this to store other items (unless you use the top counter space).
Pros
Removable liners.
Large weight capacity.
Space-saving tilt-out feature.
Cons
It can't store anything except laundry.
Crosley Furniture Lydia Linen Hamper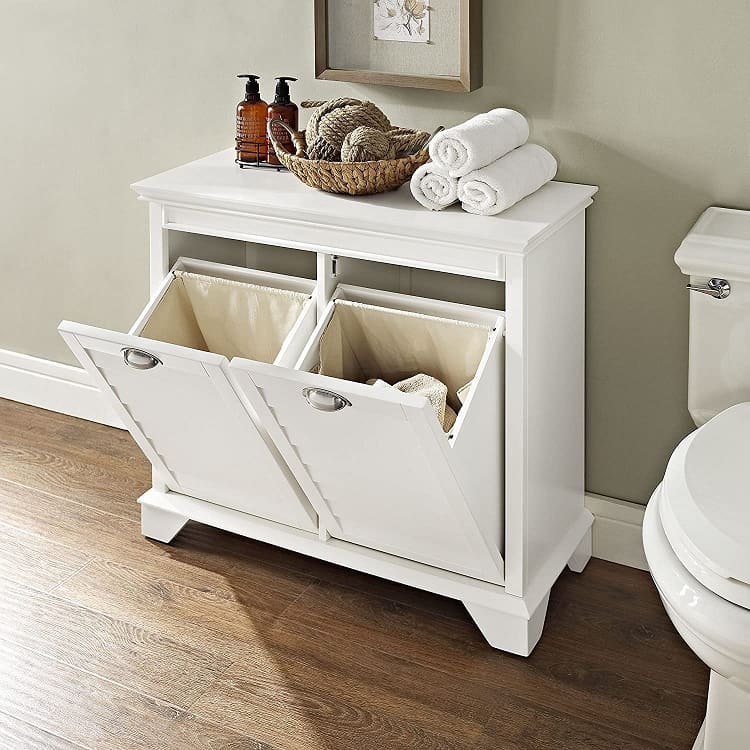 If you want an elegant laundry hamper concealed inside a cabinet but the previous model didn't convince you, consider this option. The idea is basically much the same: you have a simple-looking wooden cabinet with two tilt-out doors that reveal two hampers with ample room for concealing dirty laundry.
Price Range: $200 – $250
Color/Finish Options: 3
Materials: wood
This cabinet is made from wood and measures 31 "L x 14.25 "W x 29 "H. I find it ideal for a household with one or two people (make no mistake, the hampers are quite small) and perfect for all sorts of laundry room setups. You can use the space on top to put some clean towels or even some detergents and fabric softeners.
Pros
Removable liners.
Sturdy metal hardware.
3 finish options.
Cons
Best Wall-Mounted Laundry Room Cabinet
We don't all have the option of setting up a large laundry room. For most of us, it's about taking advantage of every bit of space. When furnishing a small space, using the walls for storage is the right way. This is where wall-mounted laundry room cabinets come in.
Rustown Rustic Wood Wall Storage Cabinet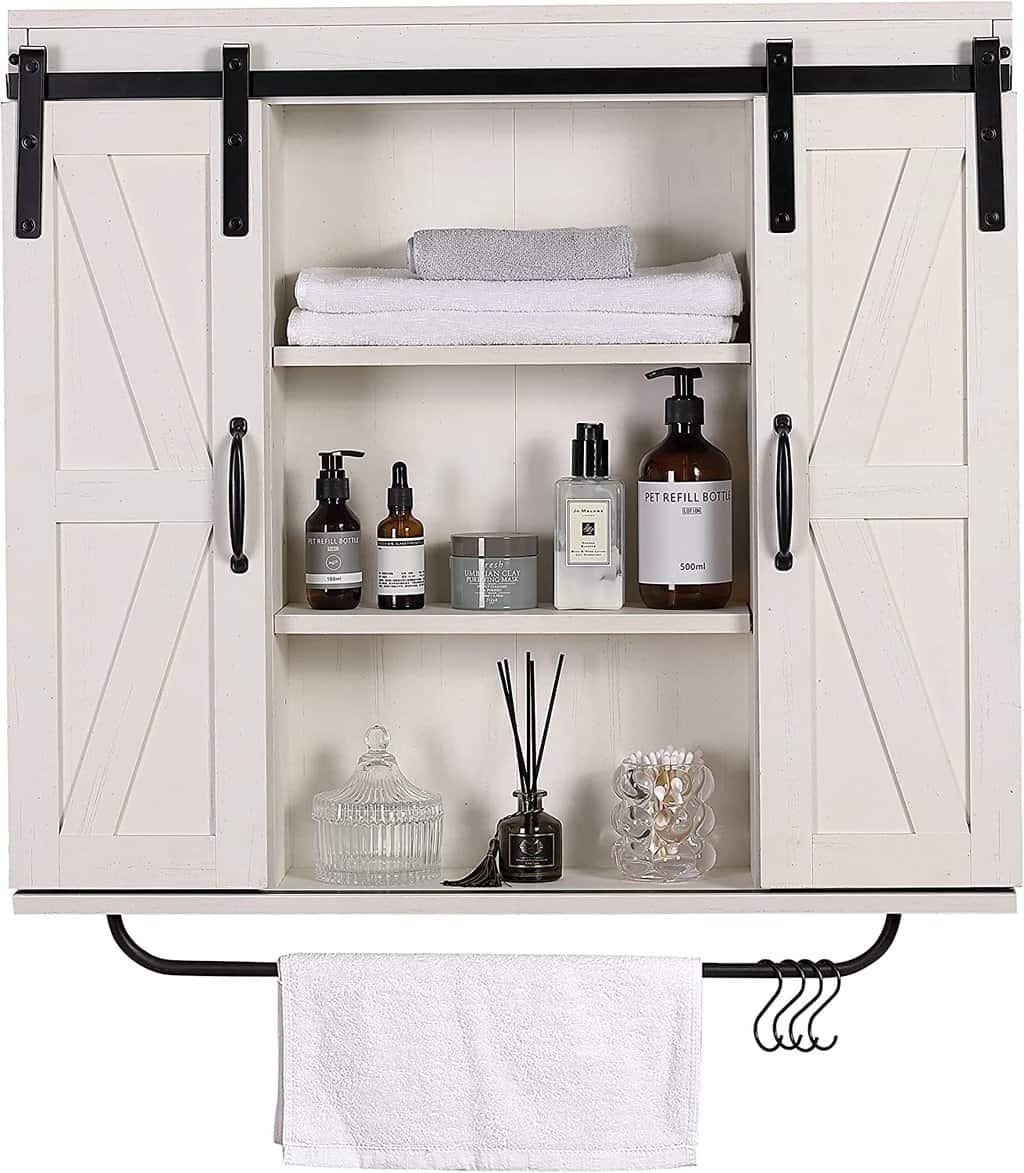 I'll be honest: if I had a barn-style laundry room, this is likely the type of cabinet I would opt for. They are so filled with personality that using them or even seeing them when I go to do the laundry gives me pleasure. Made from engineered wood, the details on these cabinets are just perfect.
Price Range: $100 – $150
Color/Finish Options: 4
Materials: engineered wood
You can choose between four different finish options, which are just gorgeous. This farmhouse-style design adds a lot of coziness to a room that, let's be honest, doesn't often have style. If you are looking to personalize your laundry room, these wall-mounted cabinets are a must.
They have a smooth track for a quiet and easy door-opening mechanism. The metal handles and the appeal of the wooden surfaces are paired to perfection. The shelves are adjustable, so you can add the highs and lows just as you please.
Pros
Gorgeous farmhouse design.
Adjustable shelves.
Smoothing track door system.
Cons
Not good for high-humidity laundry rooms.
Greenstell Bathroom Wall Cabinet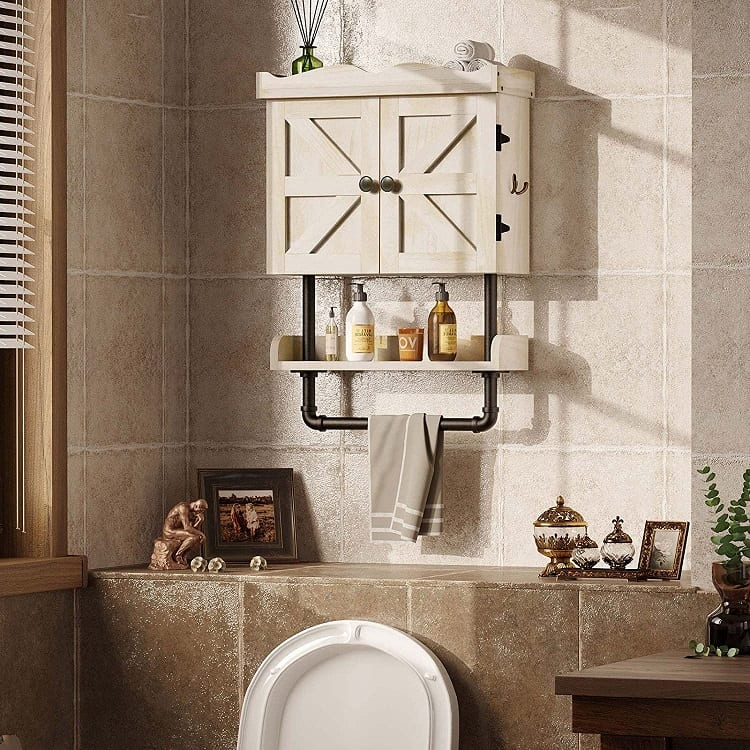 Sometimes, you don't need much storage space in the laundry room. You just need that one statement piece that makes you smile whenever you have to do the laundry. And this wall cabinet might be just that. It combines a farmhouse/rustic look with industrial elements that resemble exposed pipes.
Price Range: $50 – $100
Color/Finish Options: 3
Materials: wood
I promise you will love every design detail of this small cabinet. The twin doors and magnetic seal keep moisture out of the storage area. The adjustable floating rack is perfect for all kinds of products and knick-knacks, which leads me to believe this would make a great kitchen cabinet.
You can use that exposed pipe hanging at the bottom to either attack some hooks for towels or leave it as it is and just place one towel on it.
Pros
Tight magnetic suction doors.
Adjustable floating rack.
Versatile towel pipe.
Cons
Wayfair Basics® Springboro Storage Cabinet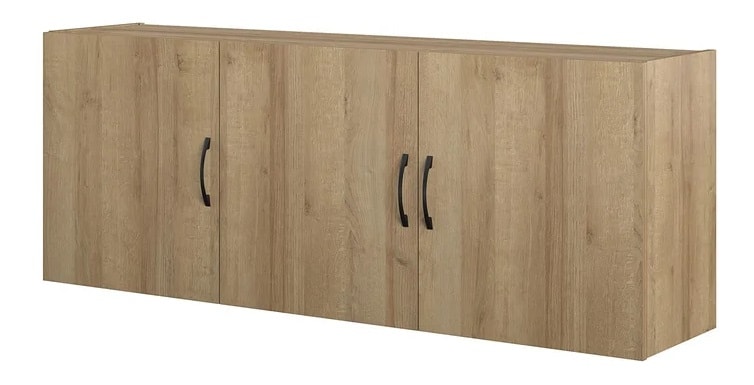 Wayfair introduces another practical solution for those who need versatile wall storage for laundry rooms, garages, or even home offices. The Springboro wall-mounted cabinet has a three-door design and plenty of room for all your laundry-storage needs.
Price Range: $250 – $300
Color/Finish Options: 4
Materials: manufactured wood
Each compartment comes with a door that opens to expose a shelf inside, perfect for storing and arranging your cleaning materials and other items. This wall cabinet is easy to install because it just requires a support bar to be attached to the wall and leveled. Then the cabinet itself can be hooked onto the bar.
Pros
Adjustable shelves.
Generous storage space.
Mounting hardware included.
Cons
Best Narrow Laundry Room Cabinet
If your laundry room is small, it might be tricky to furnish. Invest in a narrow laundry room cabinet whenever you end up with an empty and narrow spot that just looks bad. These can go in empty spaces between the washer and the dryer. While they may not seem like much, these cabinets are perfect for storing different detergents and cleaning supplies, so let's look at some models.
Modern Home Narrow Sliding Storage Organizer
Measuring only 28.5″ x 21.5″ x 5.1″, this three-shelf storage unit is the perfect companion for small spaces where you can take advantage of any free corner you can get. It may not seem like much, but this unit can hold quite an impressive number of cleaning products, and you'll always have your detergent nearby when needed.
Price Range: <$50
Color/Finish Options: 1
Materials: plastic
It's made from plastic and has a nice set of wheels that you can smoothly glide to reveal the contents of the shelves. However, this doesn't glide well if you have a high-pile carpet in your laundry room. It's only somewhat efficient on low-pile carpets.
Pros
Great for small spaces.
Wheels for easy gliding.
Tool-free assembly.
Cons
Not very efficient on carpets.
Doxo Small Bathroom Storage Cabinet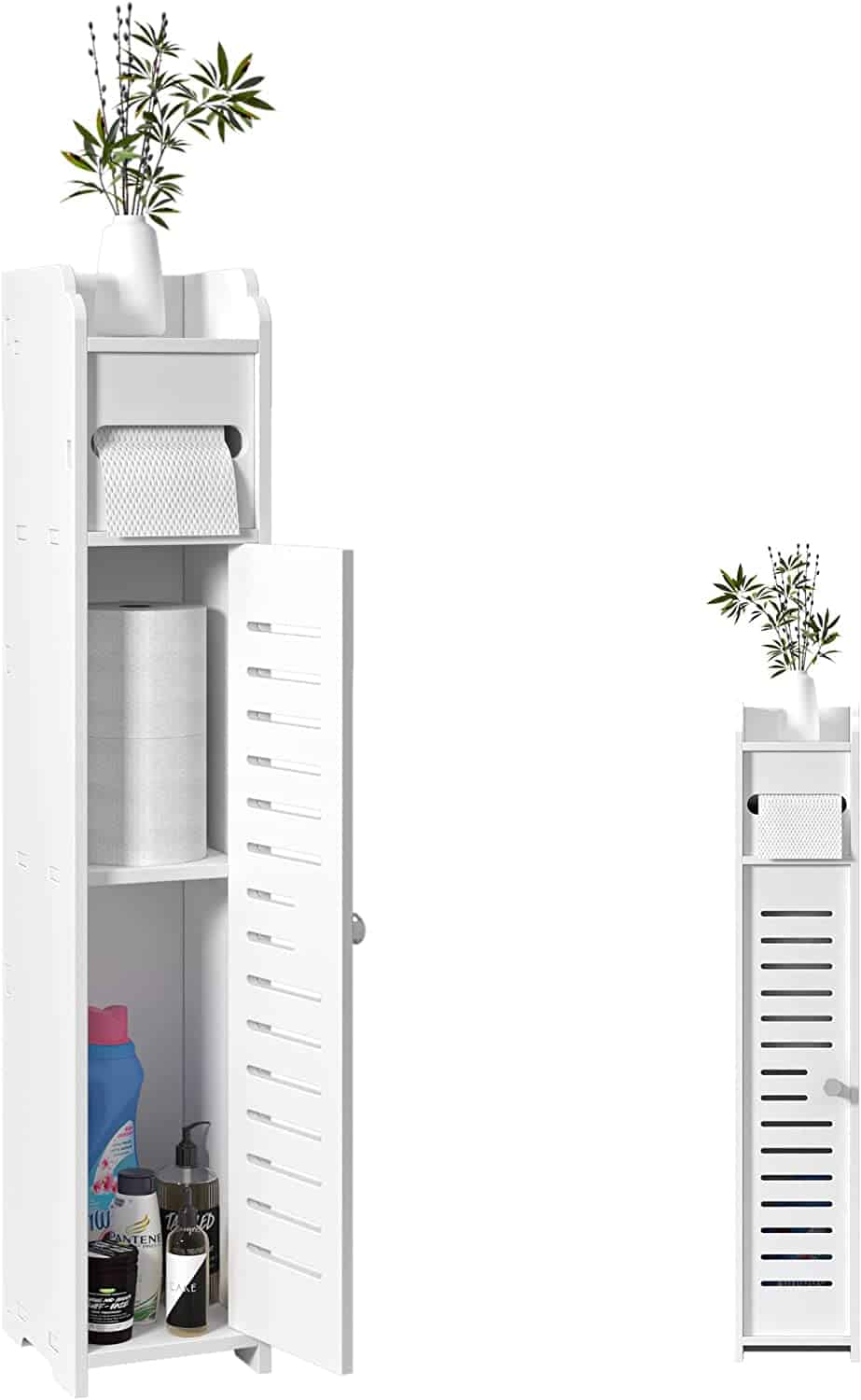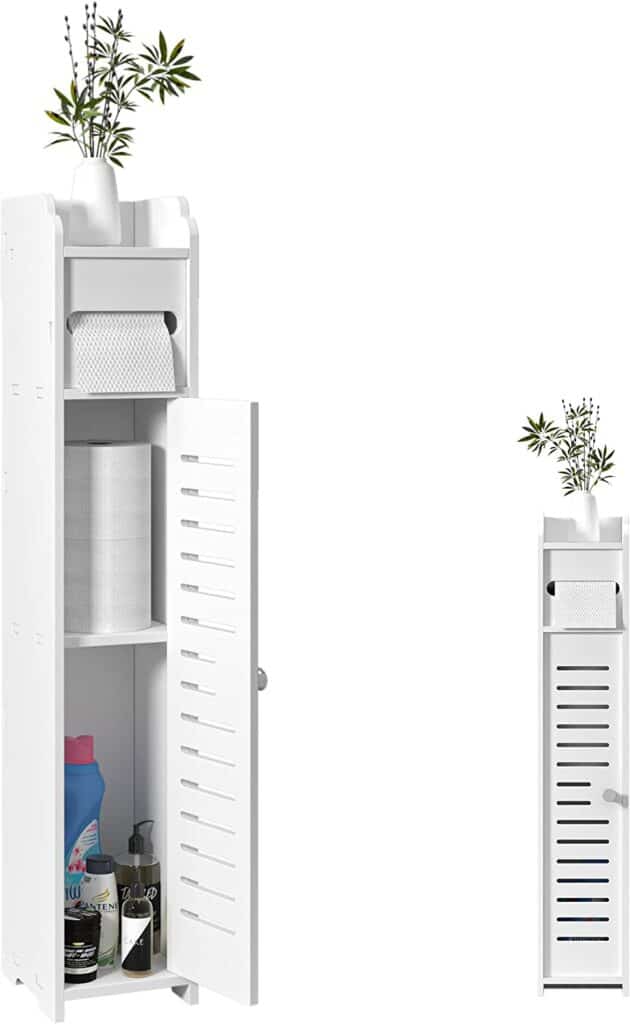 I love these narrow cabinets because they're not just adorable but also help me use "dead" space that would otherwise be lost without a suitable furniture piece. While this little cabinet is mostly designed for bathrooms, it has plenty of characteristics that make it a viable option for a laundry room.
Price Range: <$50
Color/Finish Options: 1
Materials: PVC, engineered wood
It has a special compartment designed for toilet paper, which is why it would also make a great cabinet for your bathroom. If you don't have any use for toilet paper in the laundry room, you can use it to store paper towels that help with other cleaning endeavors around the house.
Due to its narrow vertical design doesn't fit as many products as the aforementioned three-shelf unit. However, it's quite a stylish little tower and comes at a very good price.
Pros
Includes a special toilet paper dispenser.
Waterproof construction.
Easy to clean.
Cons
RiverRidge Ashland Slim Cabinet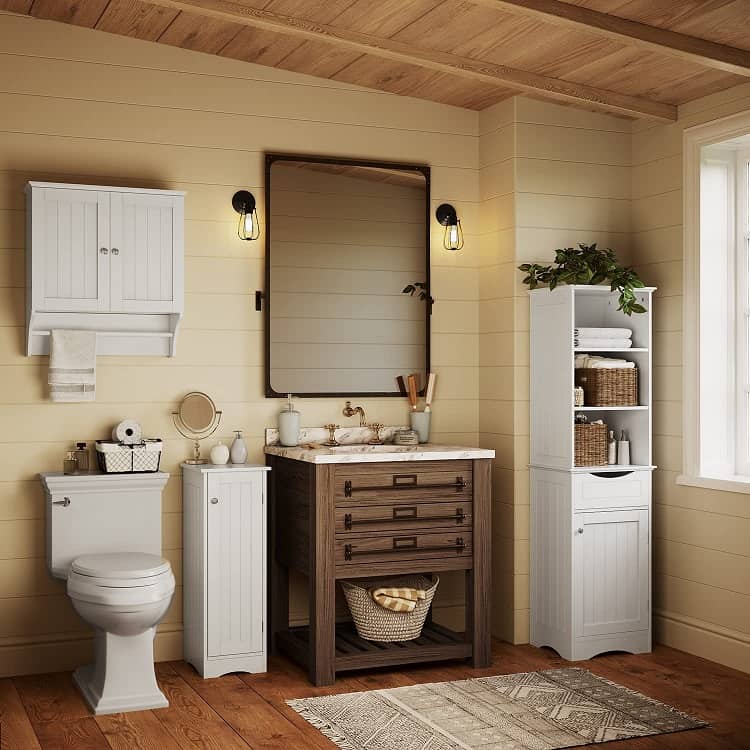 Plenty of specifications will make you love the Ashland narrow cabinet. It has a straightforward design, making it easy to match different laundry room decors. The hidden interior hinge is a win because no one likes to see hinges anyway. The door has a strong magnetic closure, so the cleaning products inside stay concealed and out of sight.
Price Range: $50 – $100
Color/Finish Options: 1
Materials: engineered wood
I love the adjustability of the interior shelves, which gives me room to arrange cleaning products of different heights. It also includes wall anchors for greater stability. This is a very important feature in a household with children and pets that like to play around just about anywhere in the house.
Pros
Adjustable shelves.
Strong door-closing magnet.
Includes wall anchors.
Cons
Questionable long-term durability.
Zenna Home 9227WWBB Bathroom Storage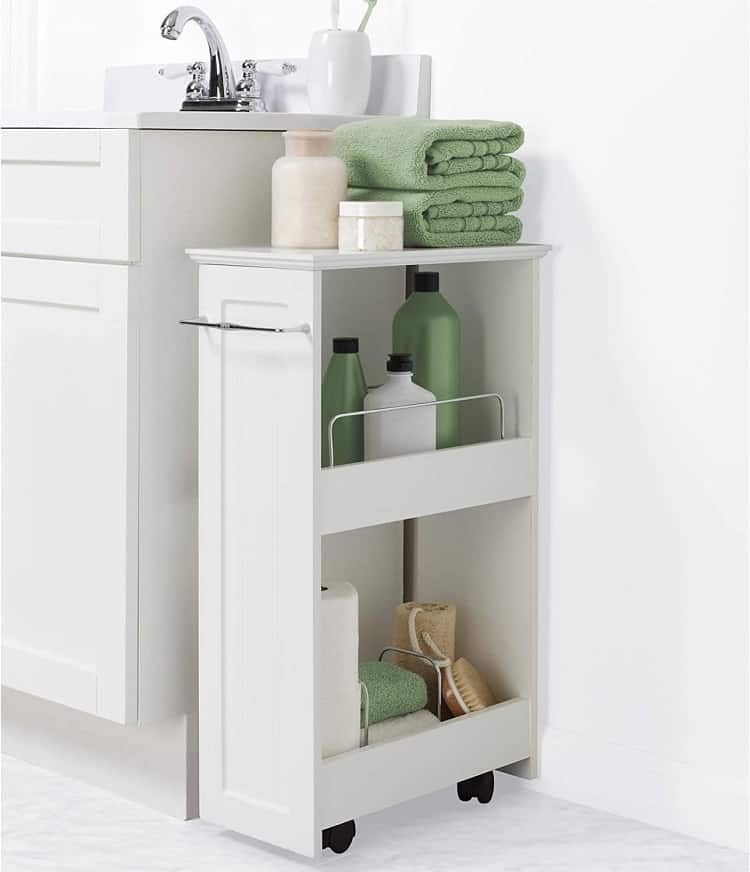 Whether trying to hide away toiletries or simply make more room in your tiny bathroom, this slim shelving unit by Zenna Home is the perfect option. The unit's two shelves and open top make it a space-saving addition to any bathroom. Its slim design can be placed right next to your vanity without taking up too much room.
Price Range: $100 – $150
Color/Finish Options: 1
Materials: MDF
Towels and other bathroom necessities can be neatly stacked on the shelf or hung on the towel bar. I love that you can do many different things with this narrow cabinet. It also blends perfectly into the decor. If you don't want your detergent containers exposed, just tuck this in between the wall and the other cabinets.
Pros
Generous space on the two shelves.
Cool chrome towel bars.
Convenient caster wheels.
Cons
Questionable long-term durability.
Best Laundry Room Cabinet with Sink
One might think that a laundry room no longer needs a sink with all the different washers and dryers. However, a sink is a very practical thing to have in the laundry room. Nobody expects you to wash sweats by hand.
Still, a laundry room sink can help clean your mop or vacuum cleaner accessories, give your dust rags a nice soak, or even fill up the tank on your steam mop.
Ktaxon Laundry Cabinet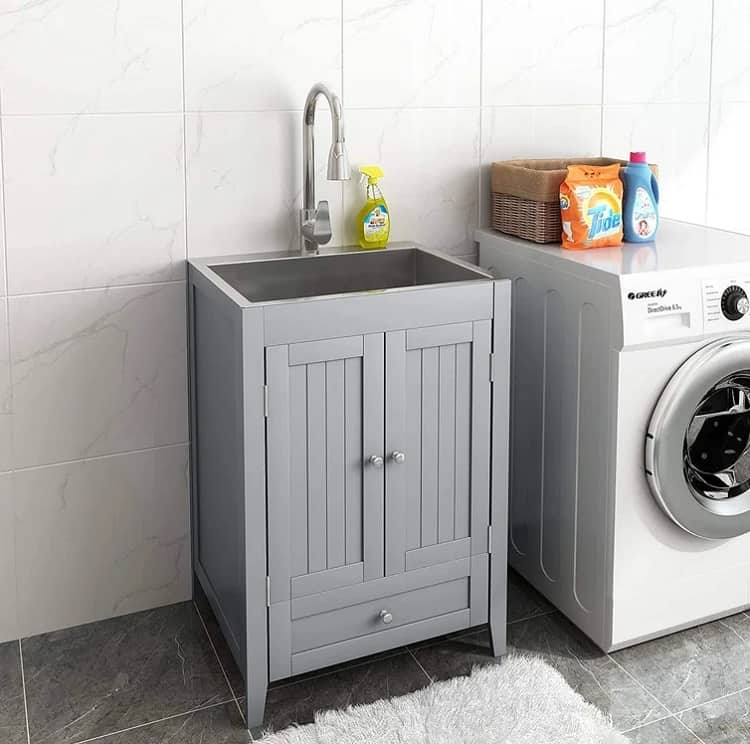 The Ktaxon laundry cabinet is a small but quite practical unit. It has a giant cubby for storing large cleaning products and detergent and a drawer for your sponges or cleaning rags. I love that it includes a bunch of this that you would otherwise have to purchase separately. It comes with the drain assembly kit, a mounting bracket, an overflow drain, and a basket strainer.
Price Range: $900 – $950
Color/Finish Options: 1
Materials: stainless steel
I would have liked to see more finish options, but the chrome faucet and sink work well with the white cabinet. The design is simple but very practical and easily blends into the decor.
Pros
Includes drain assembly kit.
Comes with a mounting bracket.
Durable stainless-steel sink.
Cons
ESHOO Laundry Cabinet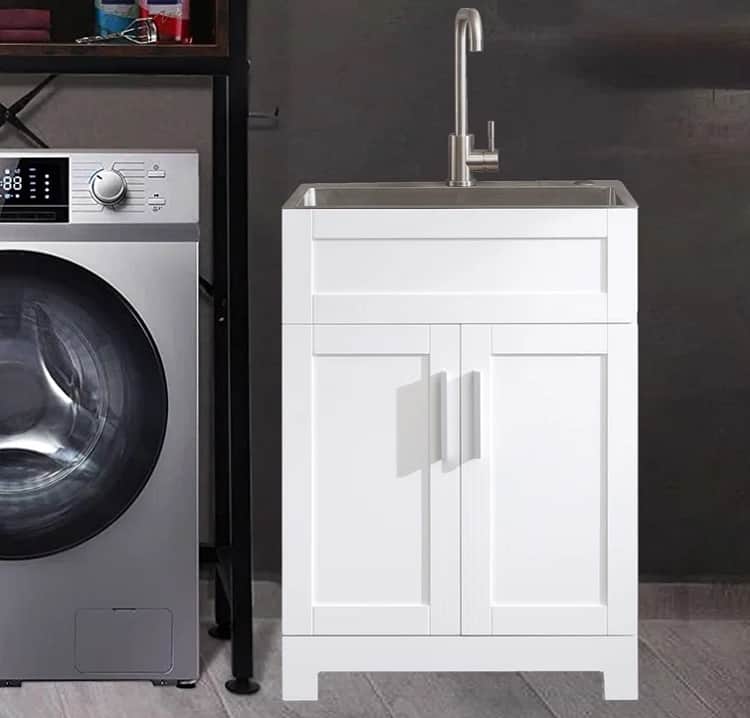 This simple yet stylish laundry cabinet comes with its very own stainless-steel sink. It's a straightforward product and doesn't really have features that stand out from the other products we've looked at today.
Price Range: $800 – $850
Color/Finish Options: 1
Materials: stainless steel
It works well with different bathrooms and laundry room configurations. Its compact size makes it perfect for a secondary or a guest bathroom.
Pros
Generous storage space.
Easy to assemble.
Nice high-arc faucet design.
Cons
Only comes in one finish option.
Ebern Designs Hamed Vanity Set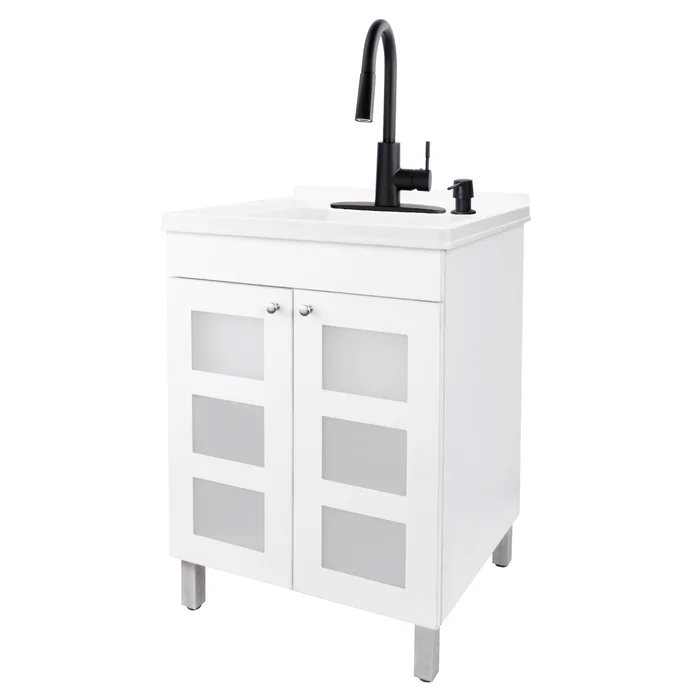 For really small laundry rooms, you have this tiny vanity sink with plenty of storage space in the cabinet below. In fact, most Ebern Designs cabinets and sinks are to die for. Melamine-faced chipboard (MFC) and medium-density fiberboard (MDF) are used in the construction of utility vanities because of their exceptional resistance to water and scratches.
Price Range: $650 – $700
Color/Finish Options: 3
Materials: plastic
Because of its rather basic design, you can mix and match this is all kinds of bathroom interiors. It has a high-arc pull-down faucet which I love because it makes cleaning different items much easier when you can control the spray.
As for the storage space itself, this would be great for detergents, cleaning products, toilet paper, and paper towels. You can pick between multiple faucet finishes, but the black one creates a really nice contrast with the white color of the sink and the cabinet.
Pros
3 finish options.
Drain assembly kit included.
Comes with a basket strainer.
Cons
The mounting bracket is not included.
Presenza Free Standing Laundry Sink with Faucet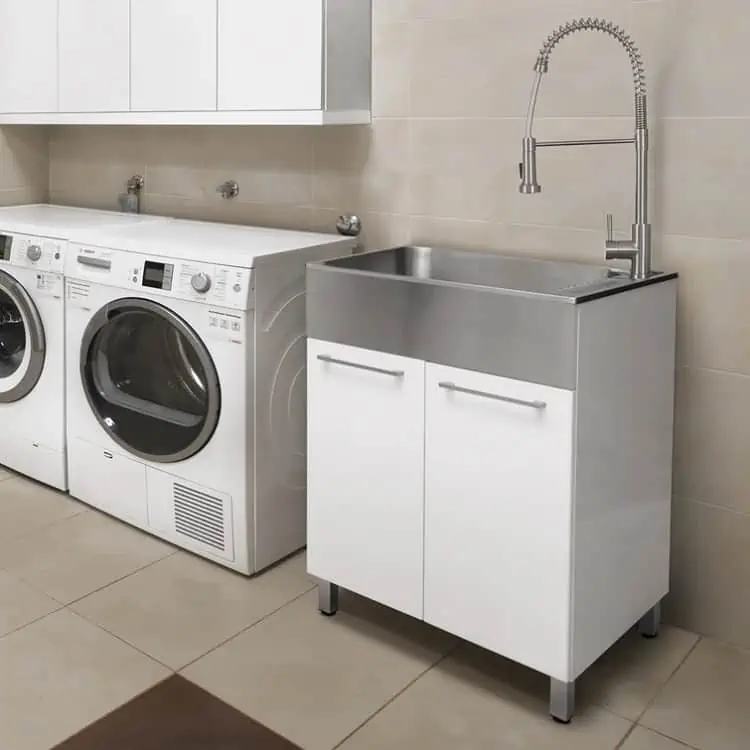 Presenza offers a pretty impressive laundry cabinet with an incorporated sink, which may not be good-looking but very practical.
When filling pails or scrubbing stubborn stains, the sprayer head of a pull-down faucet is invaluable. I love that this comes with a garden hose adapter, so if your laundry room is close to your yard, it's just a match made in Heaven.
Price Range: $750 – $800
Color/Finish Options: 1
Materials: MDF, stainless steel
I would also consider this cabinet and sink combo for an outdoor kitchen. The price also includes a faucet mounting kit and a basket strainer.
Pros
Faucet mounting kit included.
Comes with a garden hose adapter.
Convenient pull-down faucet.
Cons
Doesn't include an overflow drain.
Where to Buy Laundry Cabinets
If you want some idea on where to get good laundry room cabinets, here are some great shops to consider:
Custom Laundry Room Cabinets
If you go into a box store or a hardware store with a kitchen and bath center, you can purchase prefab cabinets to make a custom laundry room.
It's like building a room using Lego pieces of different sizes and colors. The cost of custom cabinets is much more than that of prefabricated ones. This is because they are produced in large quantities using standardized colors and designs. This is the greatest option for those on a limited budget.
You can find prefab laundry cabinets in different sizes, starting with 9 inches, 12, 15, 18, and so on.
Custom Laundry Room Cabinet Ideas
If you're going big with a custom job, here are some great ideas to get you inspired!
Custom White Cabinets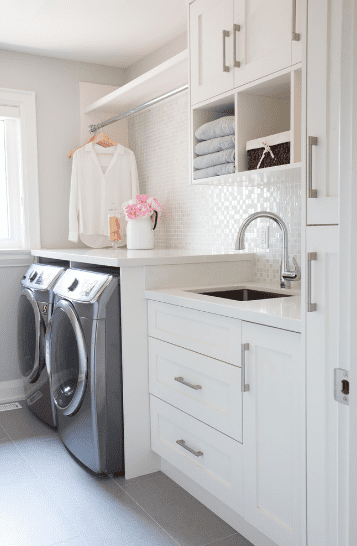 You can't go wrong with white laundry room cabinets if you take advantage of every bit of space. Notice that no square inch is ever waster, with a clothing rod designed to maximize the space. The washer and dryer are encapsulated in matching cabinet boards. In contrast, the chrome hardware perfectly matches the sink and the appliance finish.
Large Laundry Rooms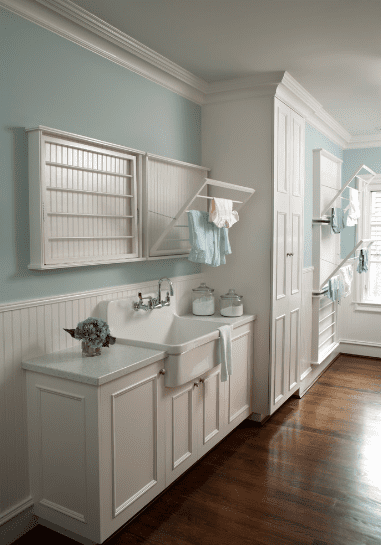 Custom-made cabinets aren't just for maximizing space in a small laundry room. They can do wonders in a larger space, so everything stays practical and leaves room for you to move around. The foldable clothing drying racks are ideal for rainy days when outdoor air drying is not an option.
Gray and White Laundry Room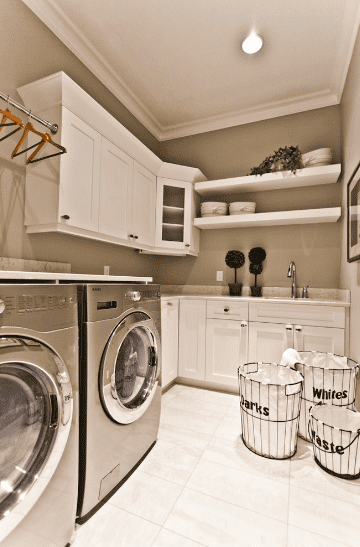 Even if your laundry room is narrower than the standard, custom cabinets are the way to go. These cabinets don't need a lot of depth if you still want some room to move around.
However, the wall-mounted cabinets and open shelves still provide much storage space for detergents or clean linens.
Traditional Laundry Room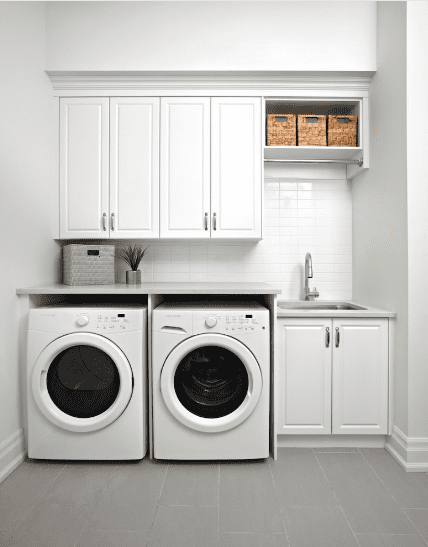 The best way to decorate your laundry room without wasting space is by adding wall-mounted cabinets above washers and dryers. You can go as straightforward or as fancy as you want.
People usually opt for white cabinets. In this picture, it makes sense to do so since they perfectly match the white backsplash.
Stacking Appliances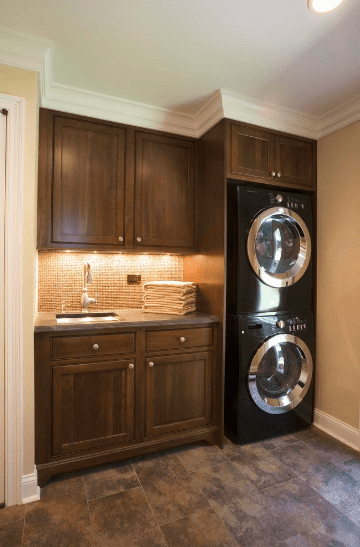 These walnut-finish cabinets are perfect for a more elegant laundry room. They go hand-in-hand with the black stacked appliances, while the beige backdrop blends into the decor.
Watch as all the furniture and other elements harmoniously combine, including the flooring and hardware choice for the cabinets.
FAQs
Question: What Kind of Cabinets Do You Use for the Laundry Room?
Answer: The best cabinets for a laundry room are custom-made units that can fit the space in question. Since laundry rooms are small (in most cases), it could be difficult to find ready-made furniture that fits (you can, if you're lucky).
Custom-made cabinets can be short, tall, wall-mounted, or come with integrated sinks.
Question: Can You Use Kitchen Cabinets for the Laundry Room?
Answer: If a cabinet is good enough to last in the kitchen, it's also good enough for the laundry room. Kitchen cabinets are often designed to withstand harsh conditions (like constant humidity or water splashes), so they would have an easier time when used in a laundry room.
Question: How much Does it Cost to Put Cabinets in the Laundry Room?
Answer: Cabinet installation in a laundry room extension can cost anywhere from $250 to $2,000. The exact cost depends on things such as materials used to make the cabinets or the size and number of cabinets needed.
Cabinets made to order come at a premium price and typically cost approximately $750 per linear foot.
Best Laundry Room Cabinets: Final Thoughts
Hopefully, this best laundry room cabinet guide has put you on the right path to choosing products that you can actually use. If you're looking for storage and a sink, I'd suggest the Ebern Designs Hamed Vanity Set.
Remember that maximizing storage space is usually a priority when furnishing a laundry room. Aesthetics are also important because it makes chores more pleasant. And if you want even more recommendations and inspiration for the home, have a look around our site!