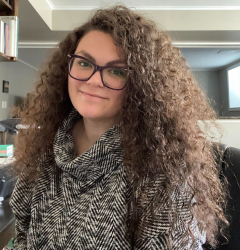 Latest posts by Candace Osmond
(see all)
If you're looking for ways to add some extra storage to your home, a Hemnes shoe cabinet is a great option. These cabinets are stylish and versatile and can be adapted to fit any decor.
In this guide, I'll provide some tips for choosing the best Hemnes shoe cabinet for your needs and ideas for integrating it into your home decor. Plus, I found a ton of cool DIY Hemnes cabinets I just have to share with you! So, whether you're just starting out with Hemnes shoe cabinets or looking for fresh ideas, read on for some epic inspiration!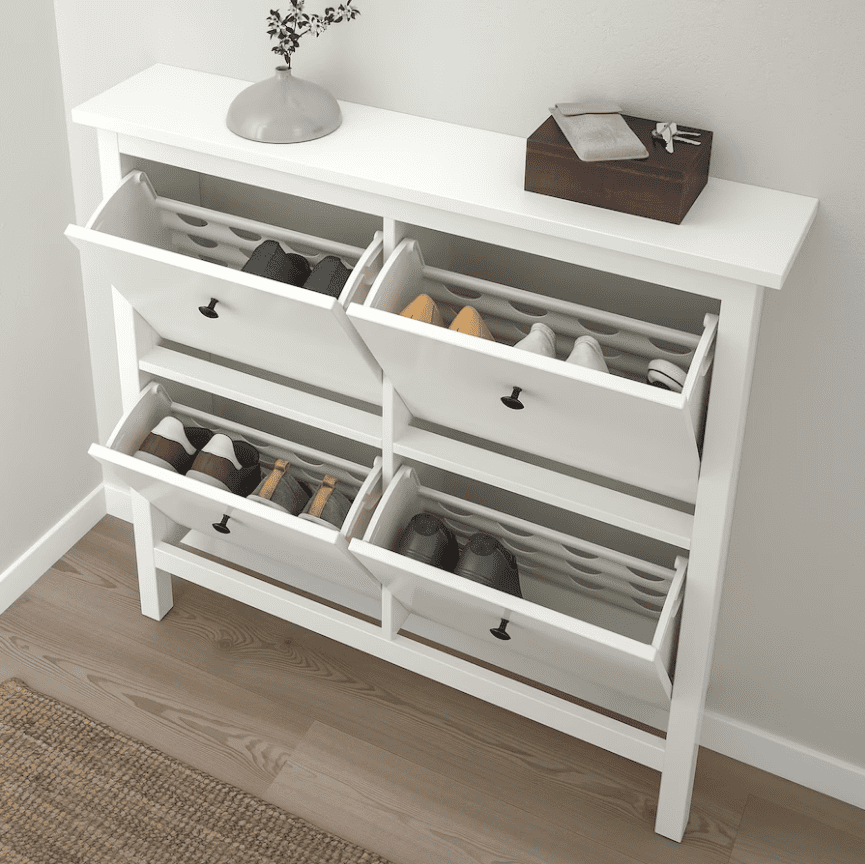 Bottom Line Upfront
I love the Hemnes shoe cabinet and adore all the ideas I found online. People can be so creative! But my fav is the dark, gothic remake of the Hemnes shoe cabinet because I'm spooky like that.
Top 5 Picks
What Is a Hemnes Shoe Cabinet?
A Hemnes shoe cabinet is a piece of furniture designed and manufactured by Ikea, the well-known Swedish home goods company. This shoe cabinet is, as its name suggests, a piece intended primarily to store your shoes in an organized and accessible way. It features several compartments of different sizes, each with a door that can be opened independently of the rest.
The design of this cabinet is inspired by traditional Norwegian architecture, incorporating clean lines and simple aesthetics that complement various decor styles. The Hemnes shoe cabinet is convenient and stylish for keeping your footwear organized and within reach.
Hemnes shoe cabinets are narrow and sometimes have equally-sized drawers. They stand on
Hemnes Shoe Cabinet Ideas
As someone who loves shoes, I know how important it is to have a place to store them. Not only do they take up a ton of space in my closet, but they also tend to get scattered throughout the house. That's why I was excited when I learned about Hemnes shoe cabinets.
They offer an easy way to organize and store my shoes while adding some functional decor to my home. And if you're thinking of getting one, keep reading for tips on incorporating it into your home decor.
How I Chose These Ideas
I rounded up a collection of ideas to inspire you, whether you're into the rustic farmhouse look or ultra-modern styles. But I also put a little more thought into the criteria for this list. Each idea includes:
Materials you can easily obtain
Fits within popular décor styles
Is still functional after alterations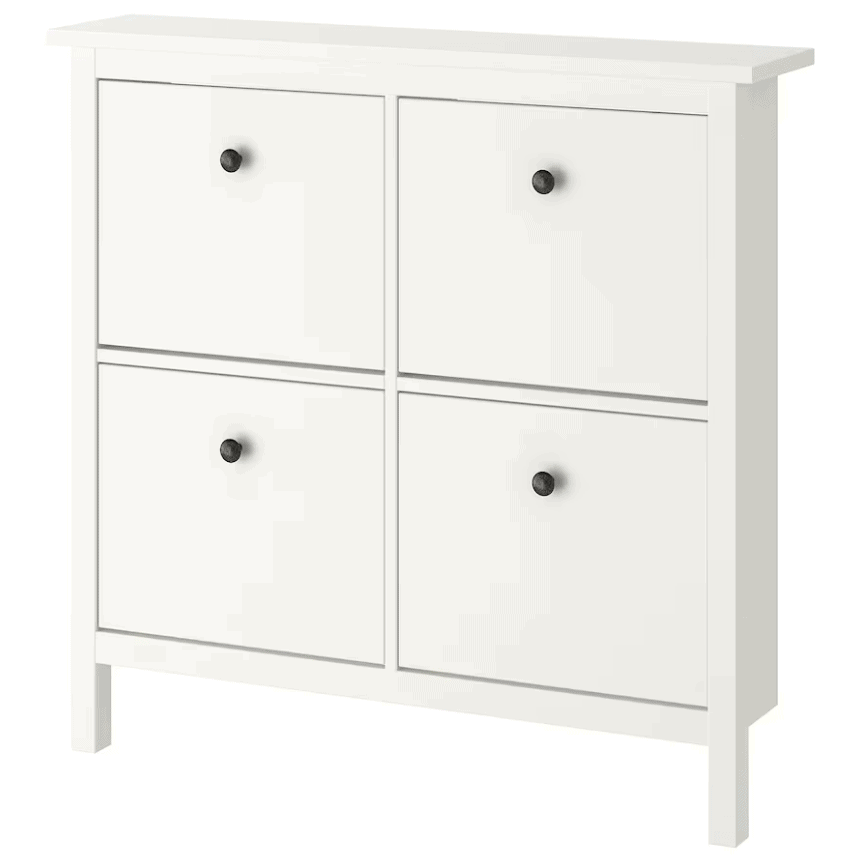 Welcome to the product that started the frenzy, the original Hemnes cabinet. Like many other Ikea products, this is a practical piece of furniture with two legs for support and four equally-sized cabinets for show storage. The best part about this product is the back ventilation that prevents smelly footwear from cramped up in a small space. Nobody likes the smell of a shoe cabinet, so this is a solution I can get on board with.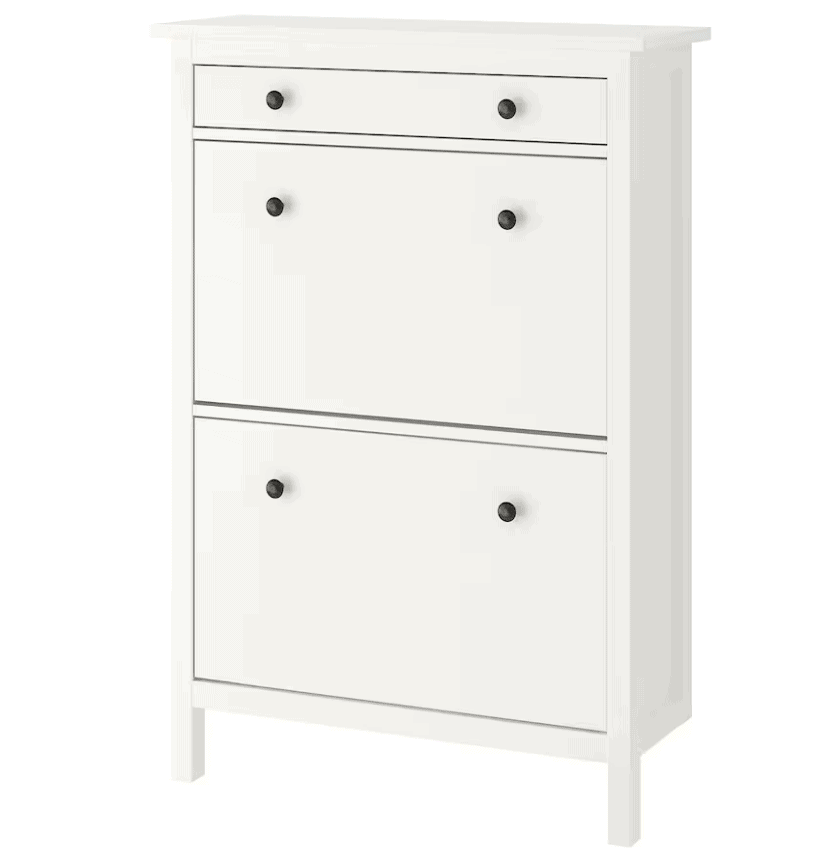 One of the best things about Hemnes shoe cabinets is that the original design isn't set in stone. There are plenty of variations for you to with, including this two-compartment piece. It keeps most of the design of the original Hemnes but has a different drawer distribution.
It's fascinating how little floor space this baby can take, making it perfect for narrow hallways and small entryways. The drawer gliding system is as smooth as ever. I can see why people love this furniture piece so much.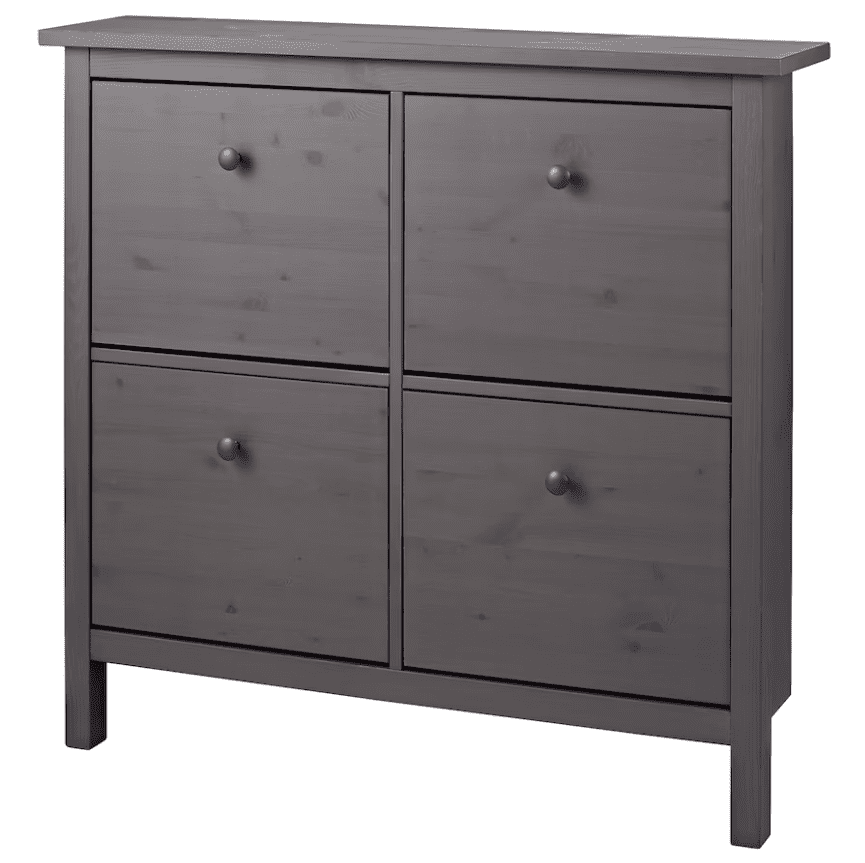 Ok, it's not actually a dark horse but a darker version of the original Hemnes cabinet. I dunno about you, but I often find white furniture pieces difficult to care for because you always have to clean them. This darker grey version of the Hemnes cabinet is more to my liking. It has a faded light charcoal shade and four equally-sized show drawers that glide just like you've seen in the previous cabinet models.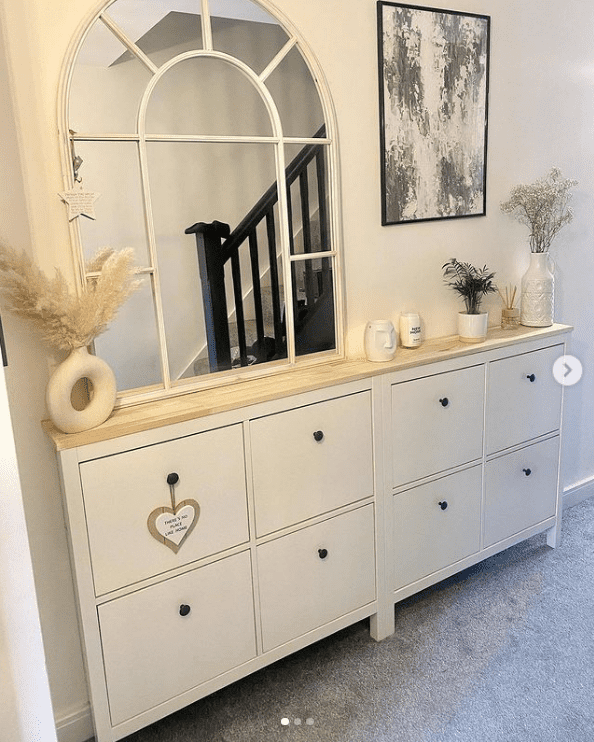 Do you know what's better than a Hemnes cabinet? Two of them, side by side, especially working like on big entryway shoe cabinet! When you have a large family, or you just love collecting shoes and feel like you can never have enough, two of these babies will save up space and keep your shoes out of sight!
I adore the use of the narrow drawer top space, and while it doesn't fit a lot of decorations, you can see that it was used with good taste. You have room for a few succulents, a wall mirror, some candles, and some Christmas decorations when the time comes!
When it comes to soothing interior decor colors, this sage green, combined with terracotta, is a match made in Heaven. It gives your house such a natural and forest-like vibe you can't help but feel relaxed.
I love that you can paint your Hemnes shoe cabinets in whatever color you choose, but this image shows way more attention to detail. The drawer hardware was replaced with leather pull-out straps, adding to the natural appeal and beauty of the setup.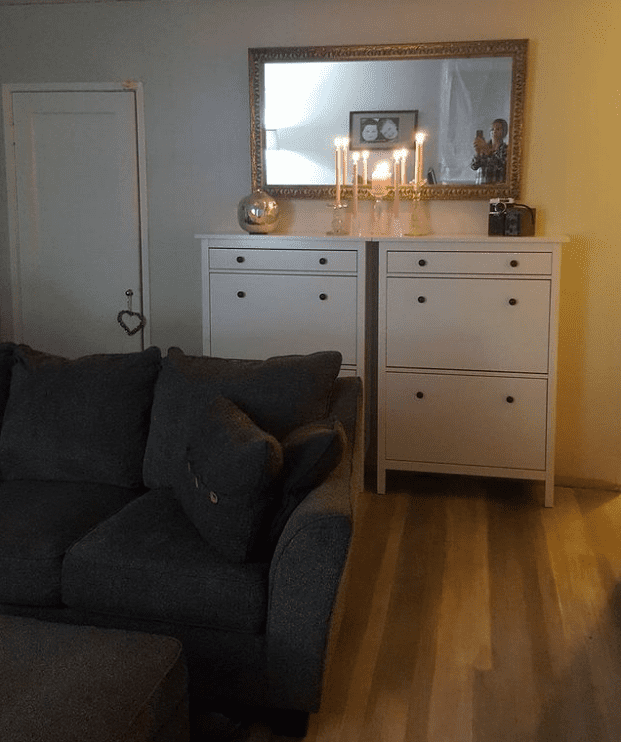 It is surprising to me how a simple piece of furniture like a Hemnes shoe cabinet can be so versatile in interior decor. It doesn't even offer much tabletop space to work with, but people find the best and most creative ways to use it.
This homeowner used their double Hemnes cabinets for nothing else than tall candles! Paired with the wall mirror behind, it creates the illusion of an open fire, replacing (to some extent) the visual effect you get when you have a fireplace.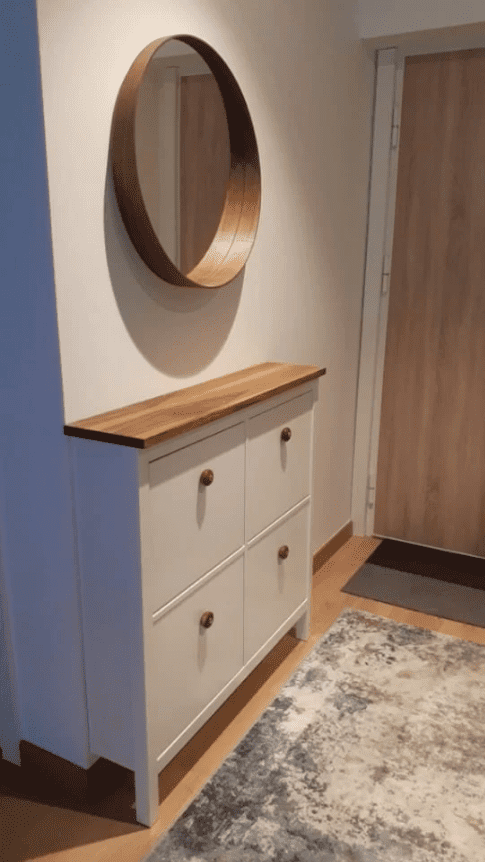 One of the many things that make Hemnes shoe cabinets so great is they fit anywhere. Do you have a small space in the laundry room? Throw in a Hemnes cabinet. Is your hallway too narrow for furniture? Install a Hemnes cabinet.
Is there a small space in the house that could use more shoe storage? Hemnes cabinets, to the rescue! I love how this creative homeowner modified the looks of the hardware and the top side. The natural look of the wood makes this cabinet even more pleasant to look at.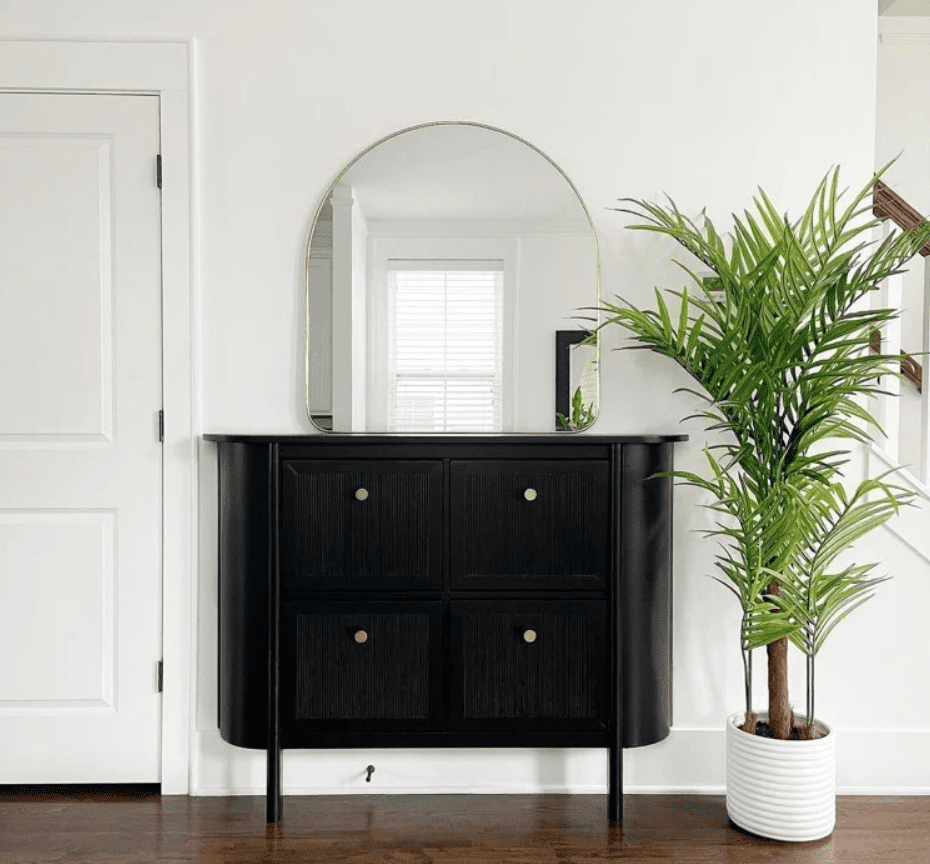 A mid-century modern shoe cabinet typically has a sleek, minimalist design. Some feature multiple compartments, each with shelves and dividers, while others include drawers or hanging racks to keep shoes neat and easy to access.
Regardless of the organizational layout, style and functional sophistication are most often seen in a mid-century modern shoe cabinet. A Hemnes shoe cabinet meets almost every requirement to be a sophisticated piece of mid-century modern furniture, and this picture showcases just that.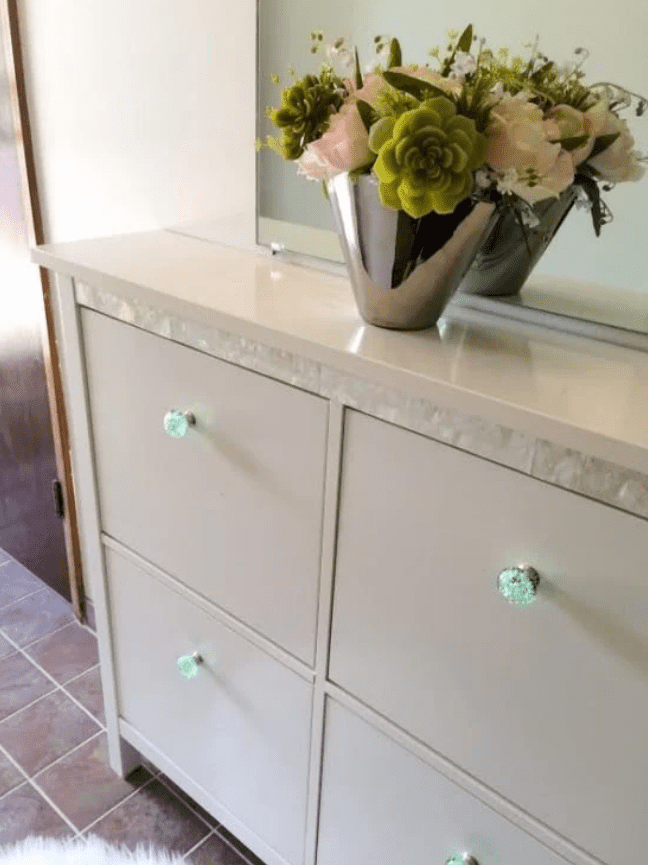 These people make modifying Hemnes shoe cabinet seem like the easiest thing in the world. With some glossy wood lacquer, you, too can make your show cabinets stand out of the crowd, leaving everyone wondering where you got this amazing furniture piece from.
The hardware was also modified to these glass-like pebbles that look absolutely gorgeous. If you want, you can choose some marble tabletop sticker sheets (preferably vinyl ones) to enhance the beauty of the cabinet even further.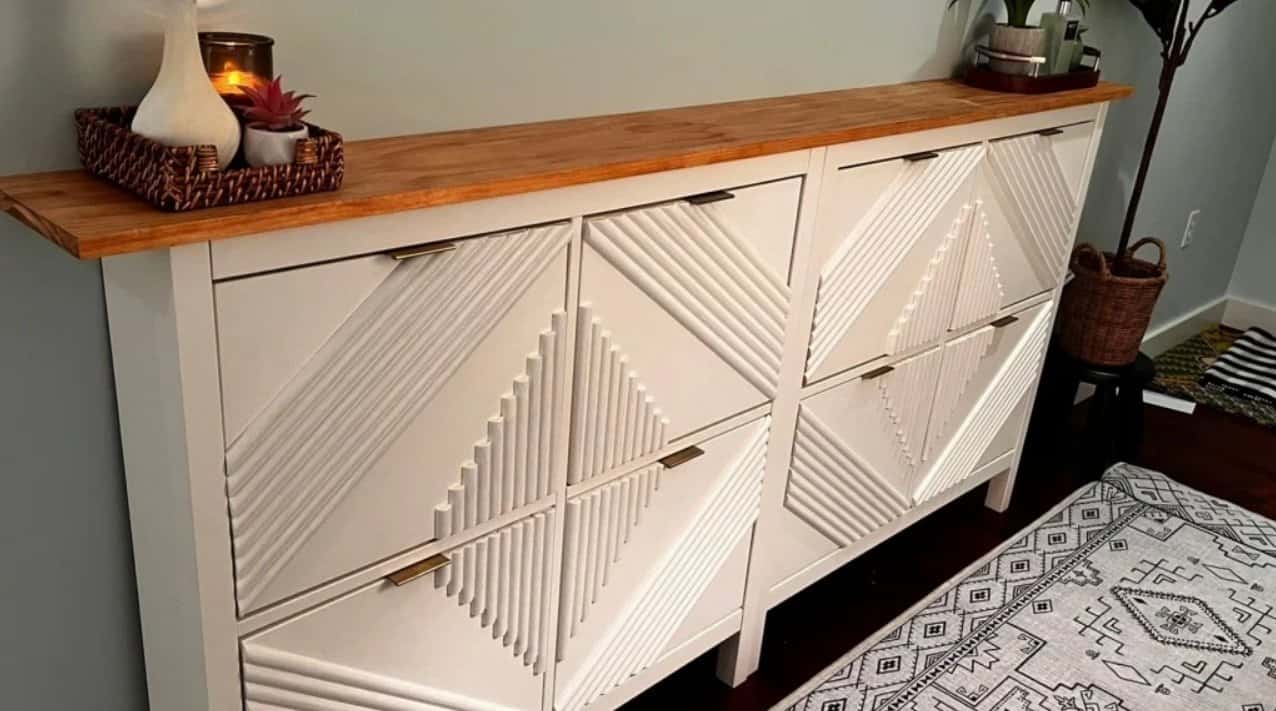 I love custom-made furniture. It's sometimes a struggle to find that one piece that compliments your interior design just like you dreamed of, and that's where custom-made furniture makers swoop in to save the day.
This show cabinet preserves a lot of the details we saw in the original Hermes, including the two-leg support and narrow design. It does, however, change the frontal design and the hardware to something with more intricate details. I think it's pretty easy to make it yourself with just a few wooden pieces and some wood glue.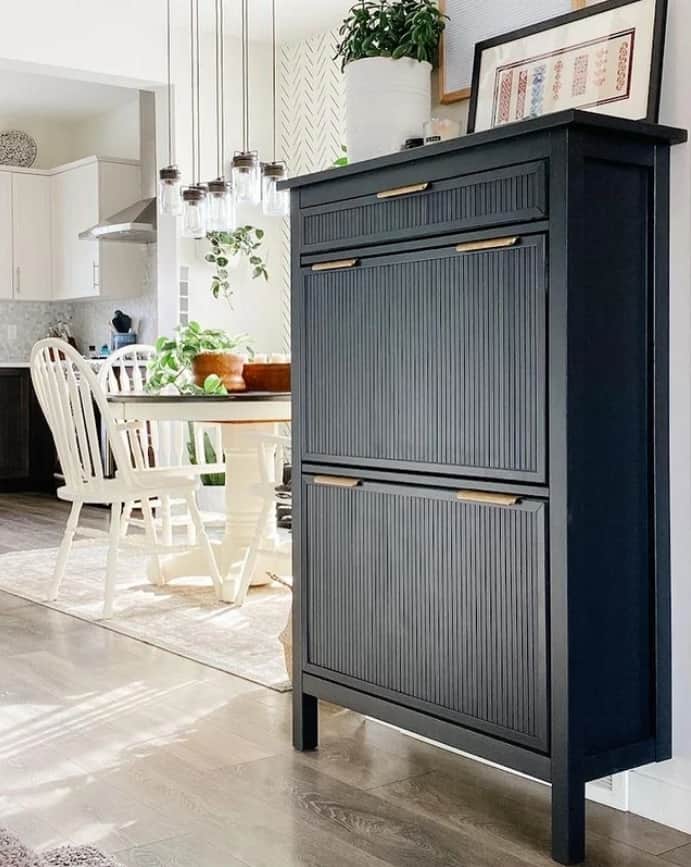 Should you paint your Hemnes shoe cabinet a dark color? If you want your shoe cabinet to be a focal point in the room, then a dark color may help to make it stand out. You should take into account any potential visual or aesthetic considerations.
For example, if other objects or furniture pieces are also dark in color nearby, then a darker shade may create too much of an overall contrast. I, for one, love how this Hemnes shoe cabinet looks, especially since the hardware was also modified and painted in a matching golden tone.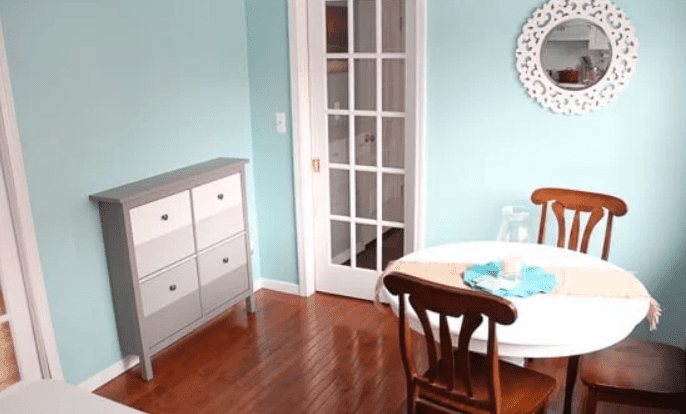 Painting your Hemnes shoe cabinet in a gradient scheme might feel overwhelming, but it's actually not a bad idea. Such a color scheme can make your space seem more cohesive and add a stylish touch to the room.
Additionally, depending on the colors you use, it can help brighten up a dull or dimly lit space. However, there are also potential drawbacks to painting your shoe cabinet in gradient. I love the choice of white-to-grey gradient because it makes the cabinet blend in with the surrounding. It's visually appealing without being overwhelming.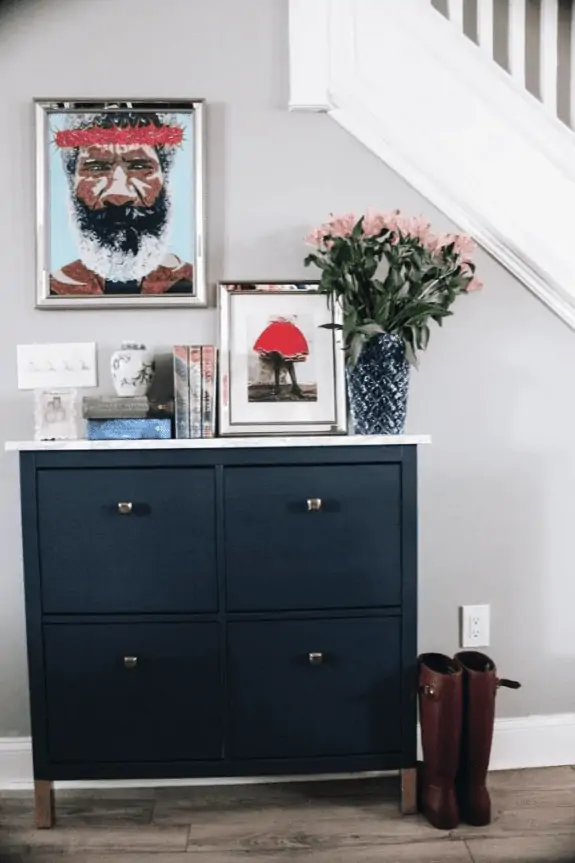 Do you want to go with a dark Hemnes shoe cabinet, but you have white walls? When decorating a living space, it is important to consider the overall aesthetic and tone of the room. Choosing a darker color, such as gray, black, or navy, can help ground the room and create a bold, modern look.
Since dark furniture absorbs light rather than reflecting it like lighter pieces of furniture tend to, an abundance of natural light or bright artificial lighting will help lift and soften the color of your dark furnishings.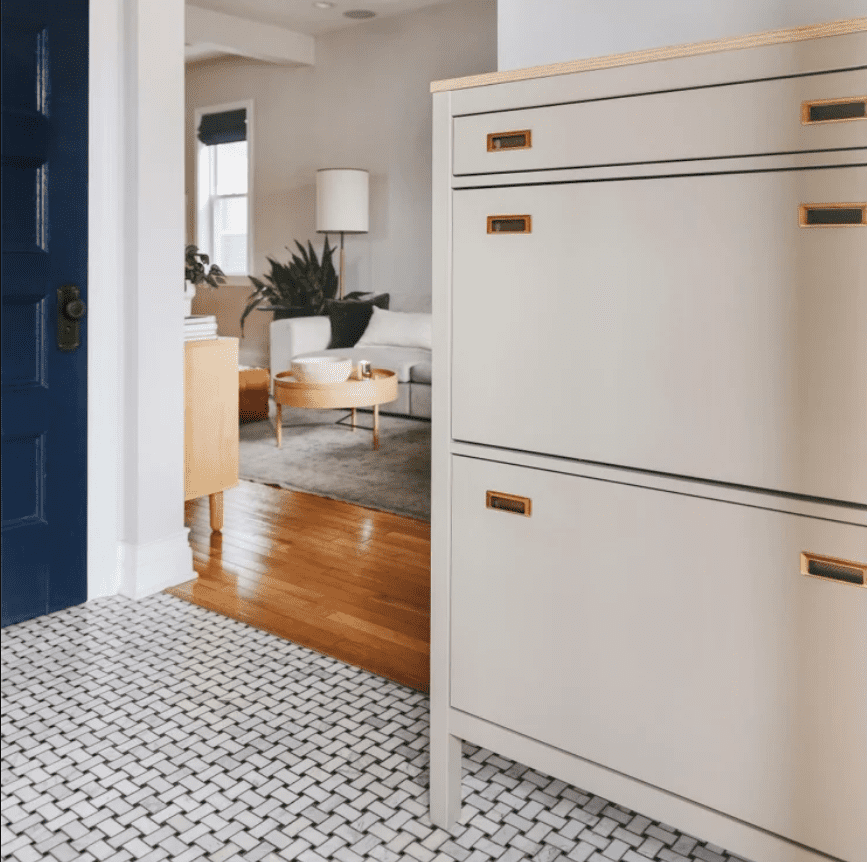 Whether you want to create a sleek, modern space or a cozy, traditional vibe, the Hemnes shoe cabinet is a versatile piece that can easily be incorporated into various types of interior decor. This model has clean lines and simple detailing for a contemporary appearance, making it an excellent choice for minimalist home designs.
It also comes in both solid white and light brown finishes, so you can easily coordinate it with any existing color scheme in your room. Alternatively, the Hemnes shoe cabinet can add character and texture to more traditional spaces.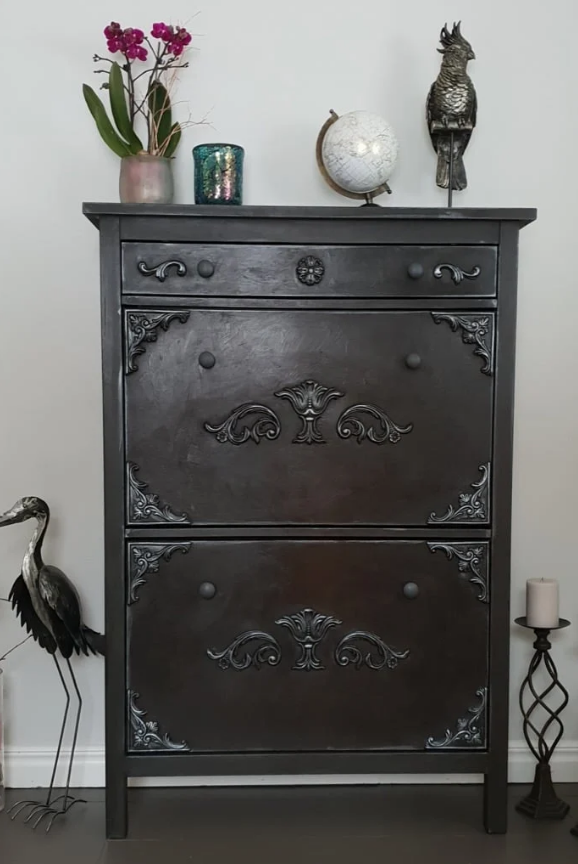 Adding vintage elements to a shoe cabinet can be a great way to showcase your personal style and add a touch of character and charm to the space. Depending on your shoe cabinet's style, you can use many different elements, such as vintage tiles, antique knobs or hardware, or reclaimed wood.
Exterior materials like stained glass or weathered metals can also work well in this context. I love how this Hemnes-style shoe cabinet was modified; its intricate carvings and details make it a perfect vintage decor piece.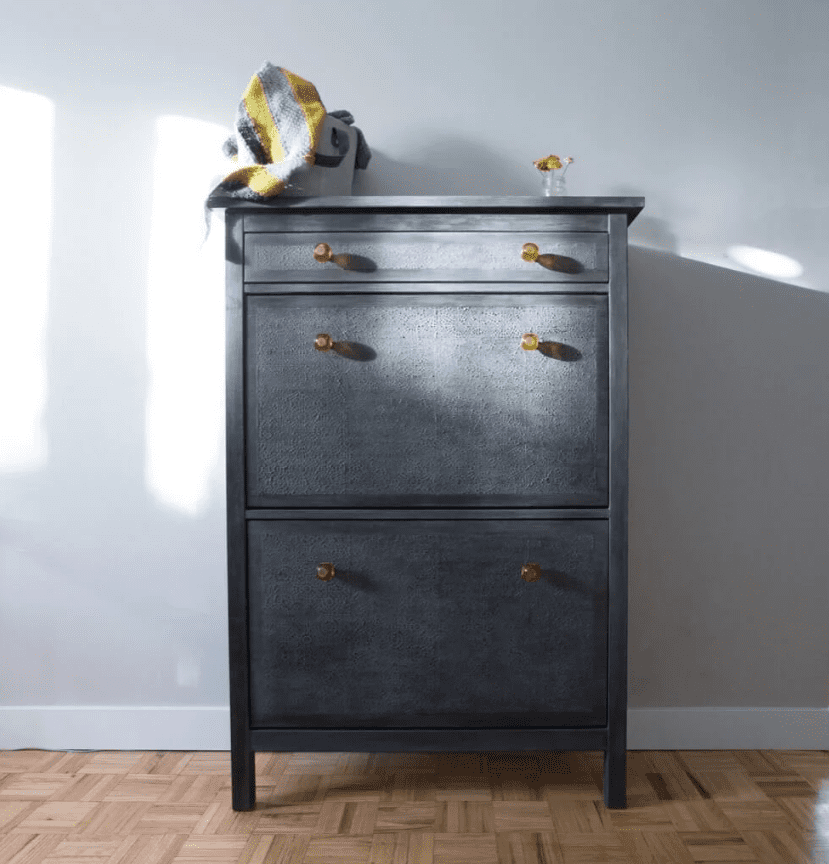 Say you have a Hemnes shoe cabinet, and you want to give it a distressed appearance. Should you? For starters, this style tends to give the furniture a more classic and timeless appearance, which can be valuable when decorating your home.
In addition, distressed wood is versatile, allowing you to match the aesthetic of your space with ease. And perhaps most importantly, distressed wood highlights each piece of furniture's unique features and imperfections, adding a sense of character and uniqueness that is hard to find with other styles.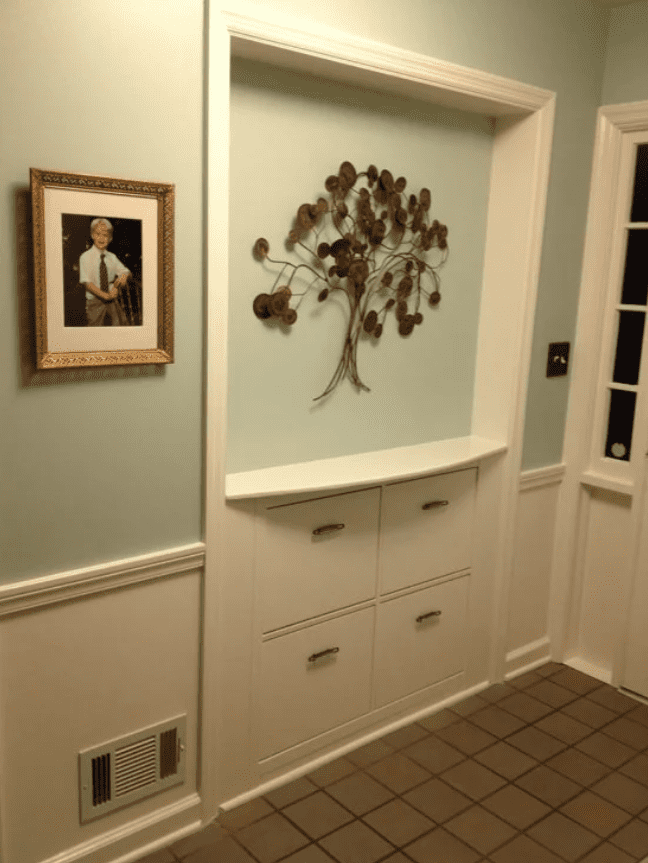 If you have zero space to work with or love keeping things as practical as possible, a Hemnes shoe cabinet built into the wall is just about the best option. I love this setup because it doesn't let any furniture get in the way and makes it seem like the cabinet was custom-made to fit that space in the wall (maybe it has). I feel this wasn't just a modified Hemnes cabinet but one constructed from scratch to fit this particular wall gap.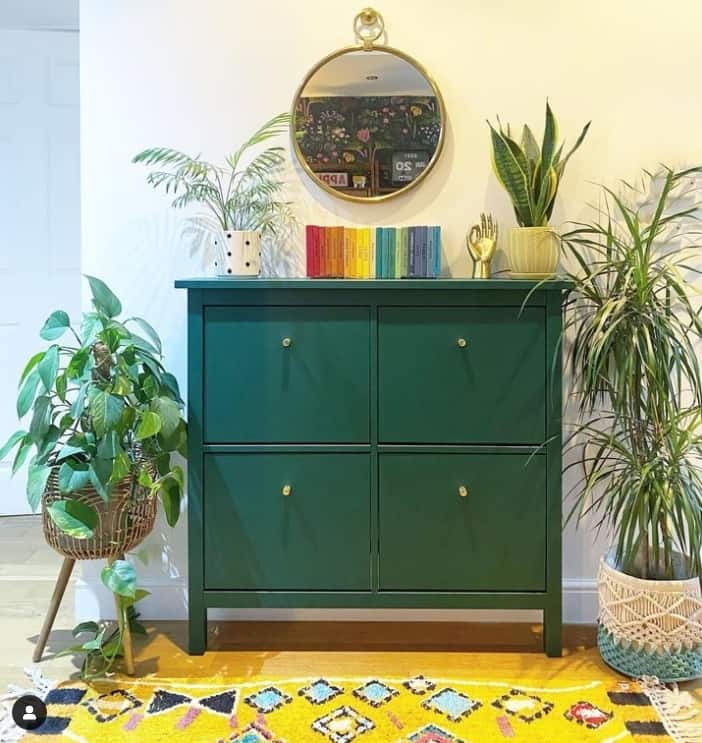 This painted Hemnes cabinet gives the idea of "living green" a whole new meaning. One of the many benefits of painting your shoe cabinet in forest green is that this color can help enhance the look and feel of any space.
Green is a soothing, relaxing color that can help to create a peaceful vibe and a sense of calm in your home. Green paint can cover up small imperfections in your shoe cabinet and give it a clean and polished appearance. Choosing an earthy shade of green for your shoe cabinet can give your home an organic, natural feel, lending it a sense of understated style and elegance.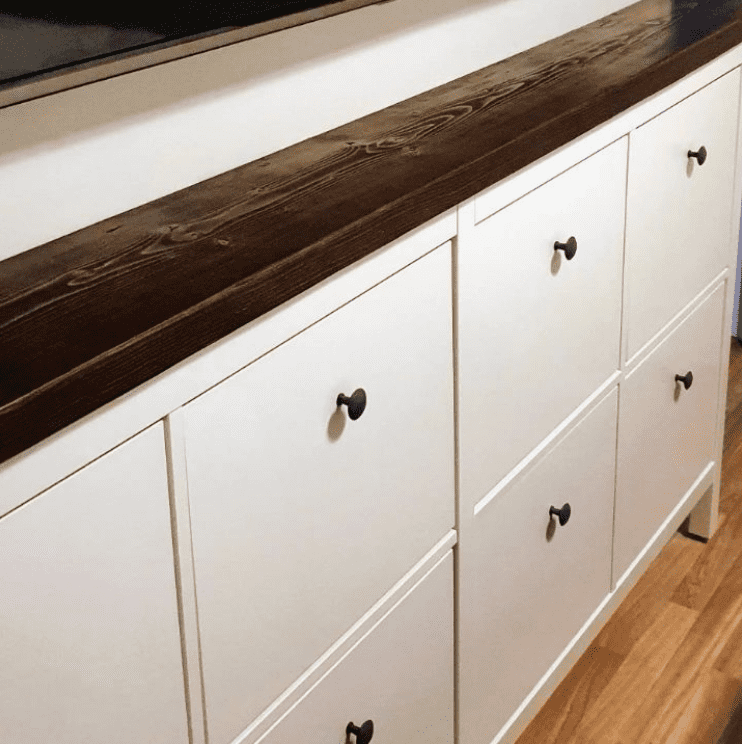 When I saw this picture's description, I couldn't stop wondering: can you repurpose a shoe cabinet into a laundry cabinet? Repurposing items has become increasingly popular in recent years, and with good reason.
Instead of constantly buying new items for different uses, we can easily open up old cabinets, drawers, and shelves and find new applications for these existing pieces. For example, it may seem odd to think about repurposing a shoe cabinet into a laundry cabinet.
However, this is a great idea since cleaning products and other associated items can fit easily into the drawers and compartments of the shoe cabinet while still leaving ample storage space for shoes on top.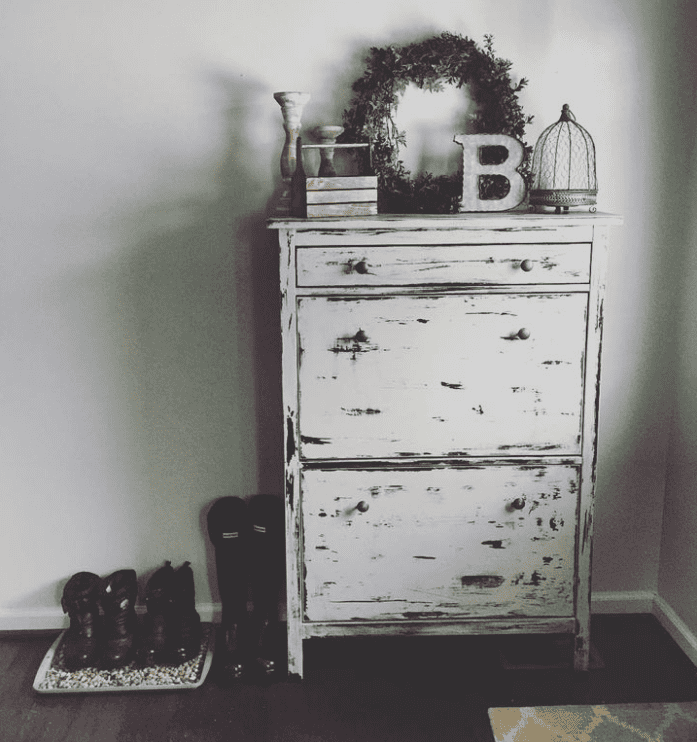 If you don't want a dull-looking Hemnes shoe cabinet, you can always give it a distressed look. One approach is to add distressed details to the surface of the cabinet, such as on its doors or shelves. This can be done by sanding down certain cabinet areas and then staining or painting them to create an aged effect.
Another option is to use worn and damaged fabric to cover the cabinet's exterior, such as burlap or distressed leather. Whatever approach you choose, applying a distressed look to your shoe cabinet will give it a more rustic and authentic appearance that is sure to impress any guests who visit your home.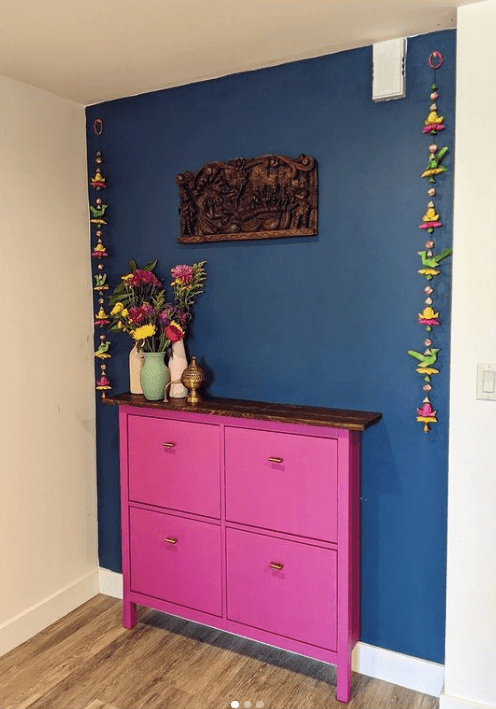 Pink can be seen as an attention-grabbing and youthful color, making it a potentially appealing choice for those looking to add more vibrancy to their interior decor. Additionally, pink is considered an inherently feminine hue, making it a suitable option for those who wish to create a space that reflects their style.
Granted, pink isn't a color that's easy to digest, but it makes your shoe cabinet stand out of the crowd. To some, the contrast between the cabinet's color and that darkish blue accent wall may be too much, and I totally get that.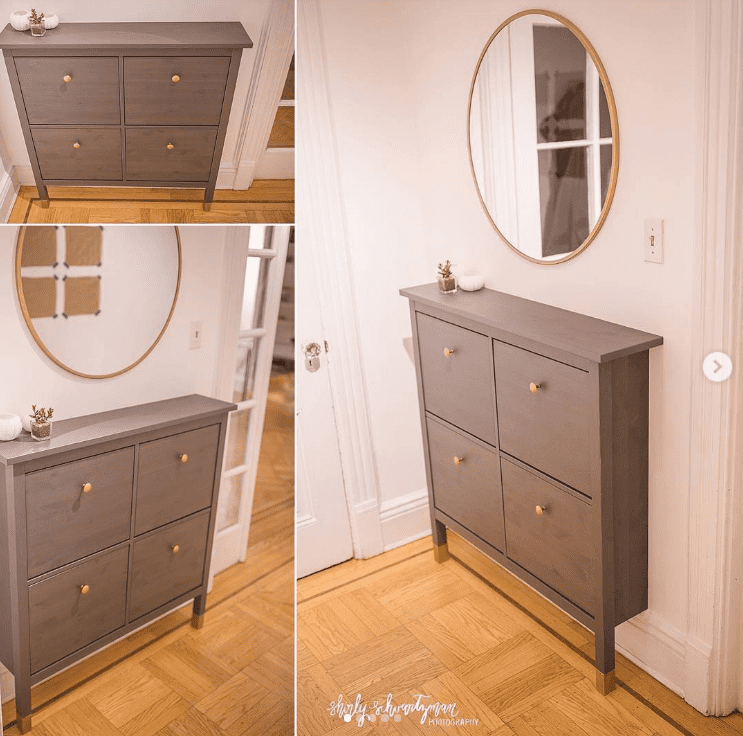 Doesn't a brown shoe cabinet stand out too much in a hallway with white walls? For one thing, it is important to keep in mind your space's overall look and feel and any existing patterns or color schemes. Neutral tones like white work well with most types of furniture, but it can be more difficult to find pieces that complement bolder hues.
Also, it's important to consider the size and shape of the pieces you are considering buying. Try to find furniture that fits your room's scale and proportions and choose pieces that feel cohesive rather than overly matched or forced together.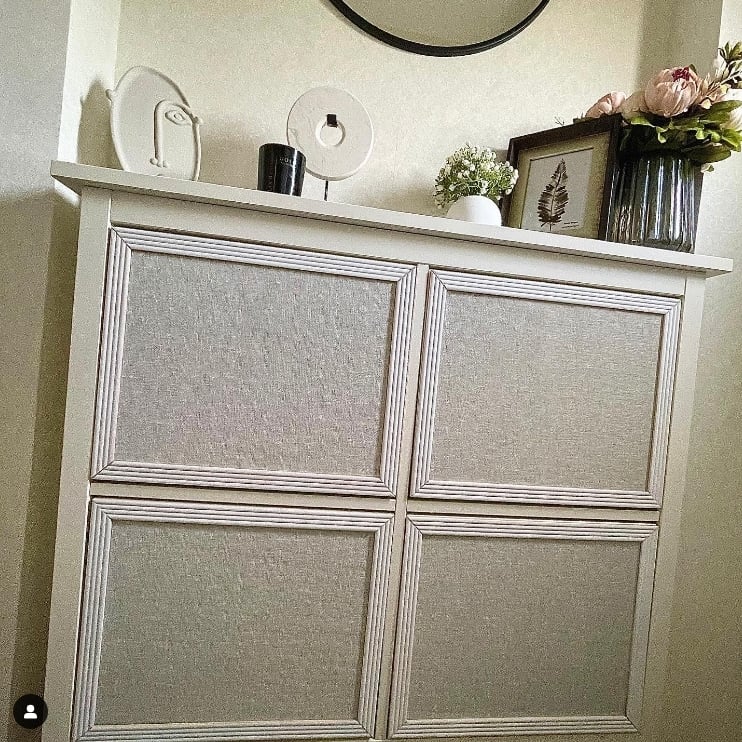 This proud DIY homeowner wanted to give their Hemnes cabinet a new vibe. This picture was taken before adding handles or other front hardware, but I love how it looks.
I would have loved to get more details on what materials were used to make this work because the front panels of these drawers look like a grey canvas to me. It could also be painted wood composite, but the end result looks amazing regardless.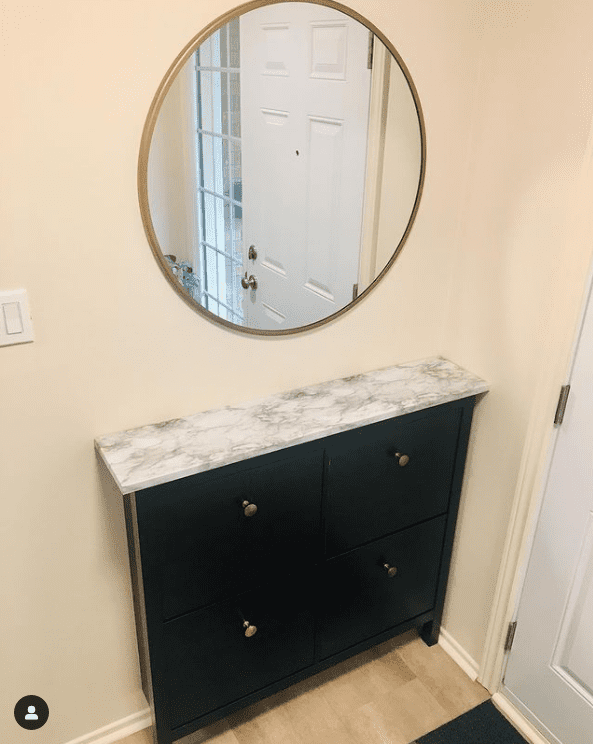 You can use a vinyl furniture sticker to give the top of your Hemnes shoe cabinet a sleek, marble-like appearance. This sticker looks like real marble and is easy to apply to just about any surface, including hardwood and laminate. Start by thoroughly cleaning the surface of your shoe cabinet with a damp cloth and then dry it off completely before applying the sticker.
Next, carefully peel the backing on the vinyl sticker and place it on your cabinet top. Gently rub your fingers over the vinyl, ensuring it is stuck securely against the surface. Once the sticker has been fully affixed, you can enjoy marble's elegant yet affordable look for years to come!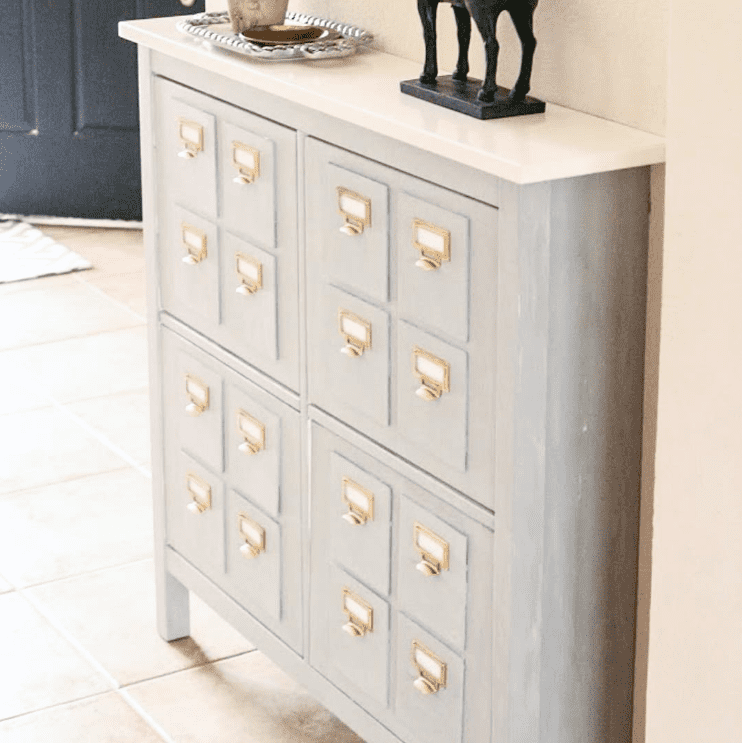 There are some steps to effectively transform your Hemnes shoe cabinet into the look of a card catalog. First, you should paint the cabinet a neutral color, like white or gray. This will help to give the piece a cleaner and more modern feel.
Next, you may want to add some decorative elements, such as wooden trim pieces or tinted glass doors. Adding these additional details will not only help further enhance the appearance of your stored shoes, but they can also create visual interest in the space. You might also consider adding some labels or small embellishments onto the drawers themselves.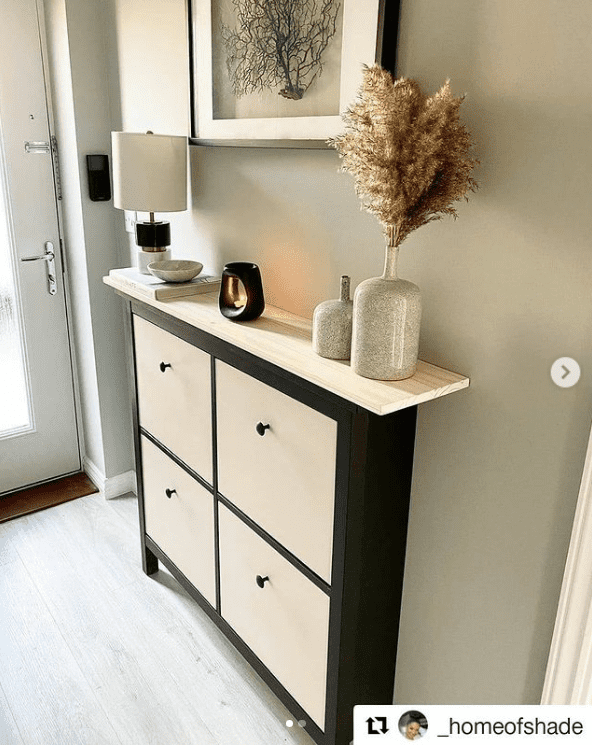 Painting your Hemnes shoe cabinet in black and pale beige may seem unconventional. Black is a classic, timeless color that can help to make your cabinet stand out and look sophisticated. It can also highlight any decorative details or accents you add to the cabinet.
On the other hand, I know some people who might argue that black could make your show cabinet feel too dark or heavy and that the pale beige color would be a better option for bringing more light and vibrancy into your space. I don't listen to people like that. Black is EVERYTHING.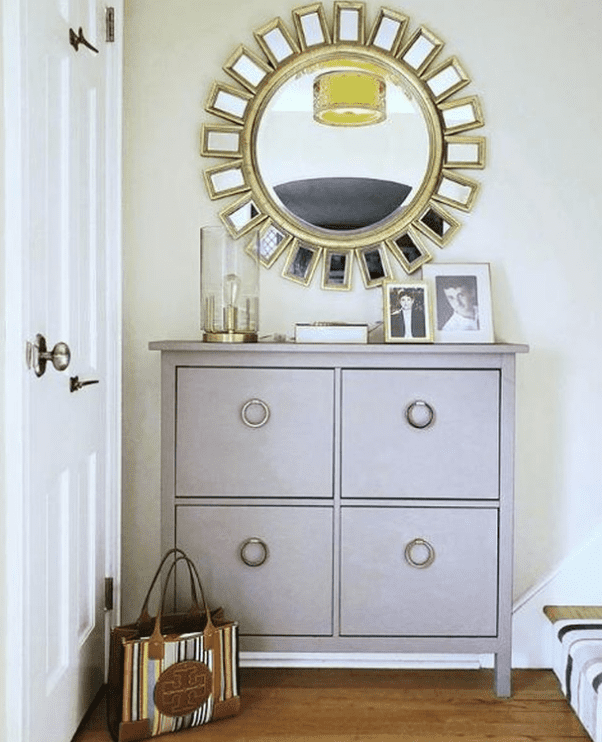 There are many different ways to decorate the top of a shoe cabinet. One option is to use small plants or flowers in flowerpots. Another popular option is to install shelves on top of the cabinet, which can be used to display trophies, decorative items, or books.
Alternatively, you could choose to accessorize your shoe cabinet using pieces of artwork such as framed photos or paintings. Whatever you want to showcase, the Hemnes shoe cabinet does offer a little bit of top space to work with.
FAQs
Question: Where can I get Hemnes Shoe Cabinets?
Answer: You can get Hemnes shoe cabinets in several different places, including Ikea, Amazon, Wayfair, and eBay. Ikea is a popular option for many people, as they offer high-quality furniture at affordable prices. Amazon and Wayfair are both good options if you prefer online shopping.
Both sites offer a wide selection of shoe cabinets in various styles and designs and free shipping on select orders. Alternatively, eBay is another popular choice for shoppers looking to find great deals on Hemnes shoe cabinets.
Question: Is Hemnes a brand name?
Answer: Hemnes is a specific furniture line designed by the Swedish company Ikea.
Question: What else does Hemnes make for the home?
Answer: The Hemnes furniture line includes shoe cabinets, TV units, bookcases, desks, and even glass-door cabinets.
Best Hemnes Shoe Cabinet Ideas: The Bottom Line
A Hemnes shoe cabinet is a great solution to organize your shoes and add some extra storage to your home. By following these tips, you can integrate a Hemnes shoe cabinet into your home's decor and create a functional and stylish space. Have you tried any of these ideas in your own home? Let us know and then head to our site to check out all the amazing ideas we have for your home.