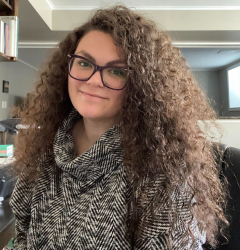 Latest posts by Candace Osmond
(see all)
Entryway cabinets aren't just functional but are part of the first impression people get when they enter your home. Finding that balance between function and style can be hard sometimes, but I've gathered up some of the best entryway cabinets for you to check out.
If you'd like one for your home, keep scrolling for top-rated ideas that'll inspire you to get organized. I've ensured the list features everything, from trendy shabby chic styles to the more classically familiar designs.
Bottom Line Upfront
As a former designer, I've seen my fair share of entryways and know that most don't offer a ton of space. I live in a split-level bungalow with a small porch area, so something like the Jason Door Corner Cabinet would be ideal because it combines style and storage without taking up a huge footprint.
Top Recommendations
Whatever your style, here are four top recommendations designed with every style of home in mind.
What Does an Entryway Cabinet Need?
Every entryway cabinet, transitional or contemporary, needs a few things to qualify as functional. Here my rundown of some of the most important.
Narrow Depth
The best entryway cabinets have an average depth of 10 to 20 inches. This is typically enough to store items like keys, shoes, bags, and such. A narrow depth is also the perfect solution if you need an entryway cabinet, but space is an issue.
Good Storage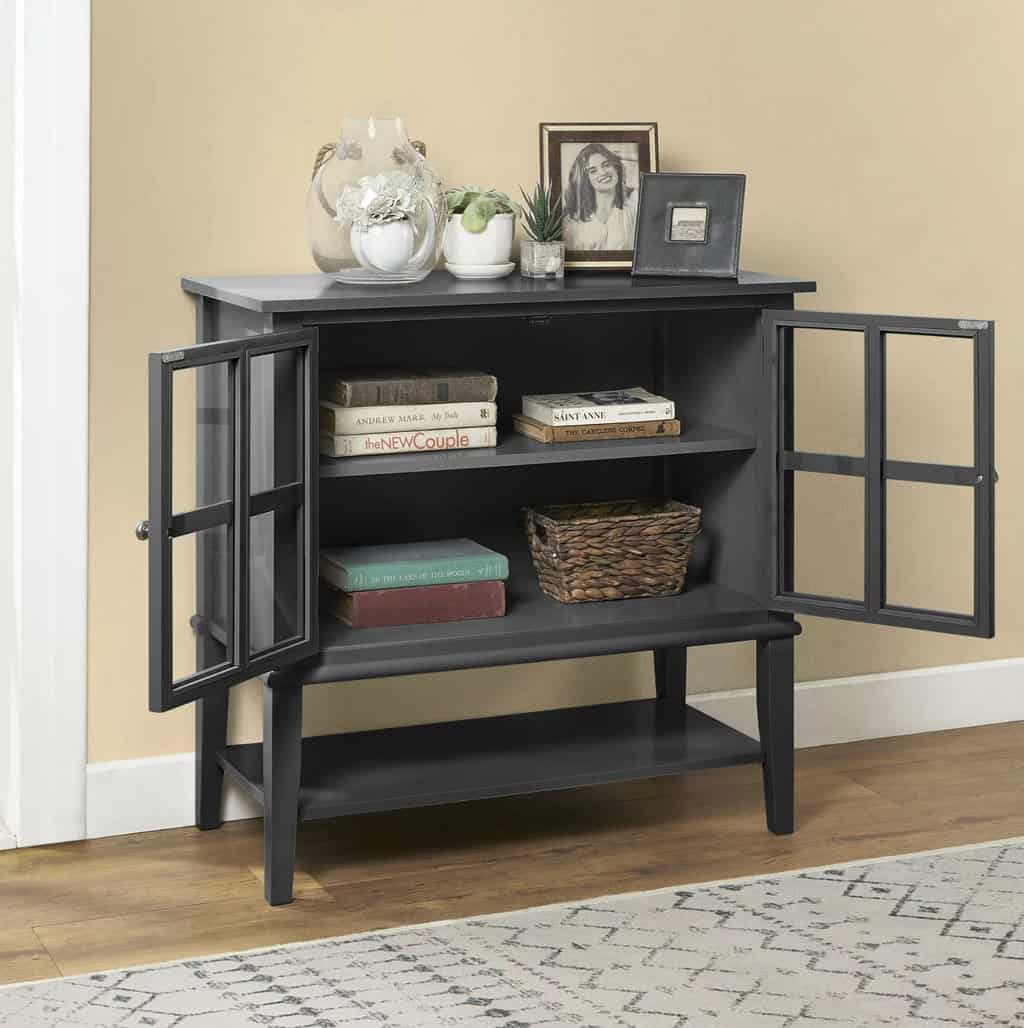 Needless to say, storage is an essential part of any entryway solution. It can be shelves, drawers, a counter space, or enclosed cabinets. Just make sure the storage available allows you to corral your things.
Surface Area For Keys and Things
Do you, like me, tend to lose your keys all the time? Then a set place to put your keys on your cabinet will save you lots of time. And if you typically take off your shoes at the entryway, feel free to include shoe storage as well.
Wheels
Across the internet, you'll find a wide assortment of entryway cabinets, including those with casters. These kinds of entryway cabinets can quickly move to any other room when they're no longer needed in your entryway. Don't be limited to one space.
Style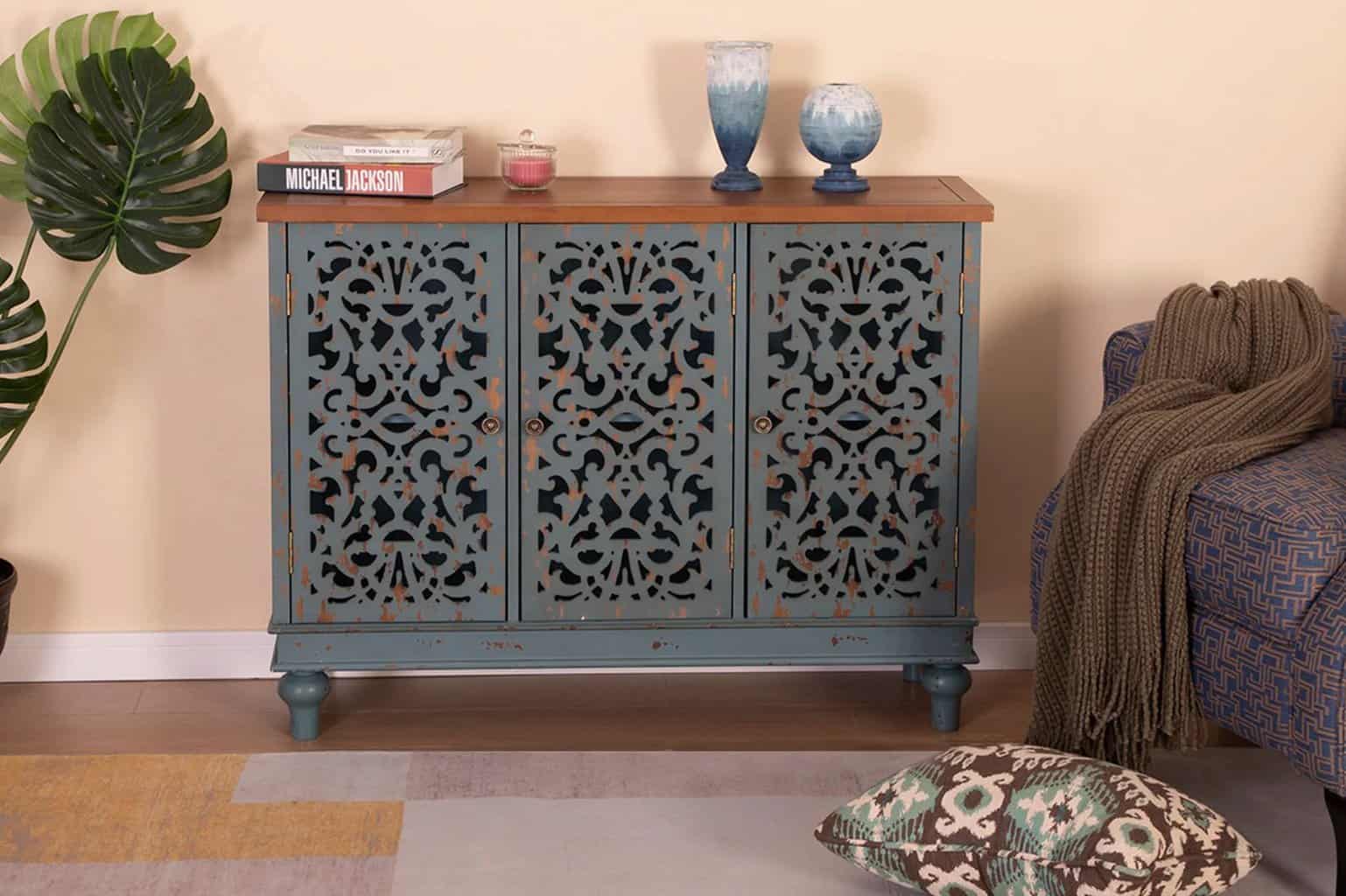 This is the fun part of picking the best entryway cabinet, so take advantage and go all out. For instance, my home's entryway cabinet is a red, farmhouse-style unit that stands out immediately.
I've also added pillows, art, and plants to mine to award it some much-desired extra pizazz.
How To Choose an Entryway Cabinet
Another thing I researched was the components that make the best entryway cabinets. These are the five that popped up the most.
Do You Need Wheels?
Do you live in a tiny apartment where a single unit has to serve multiple purposes? The best thing is to make your entryway cabinet mobile. Getting one with wheels is the easiest way to have them fill in wherever they're needed most.
Material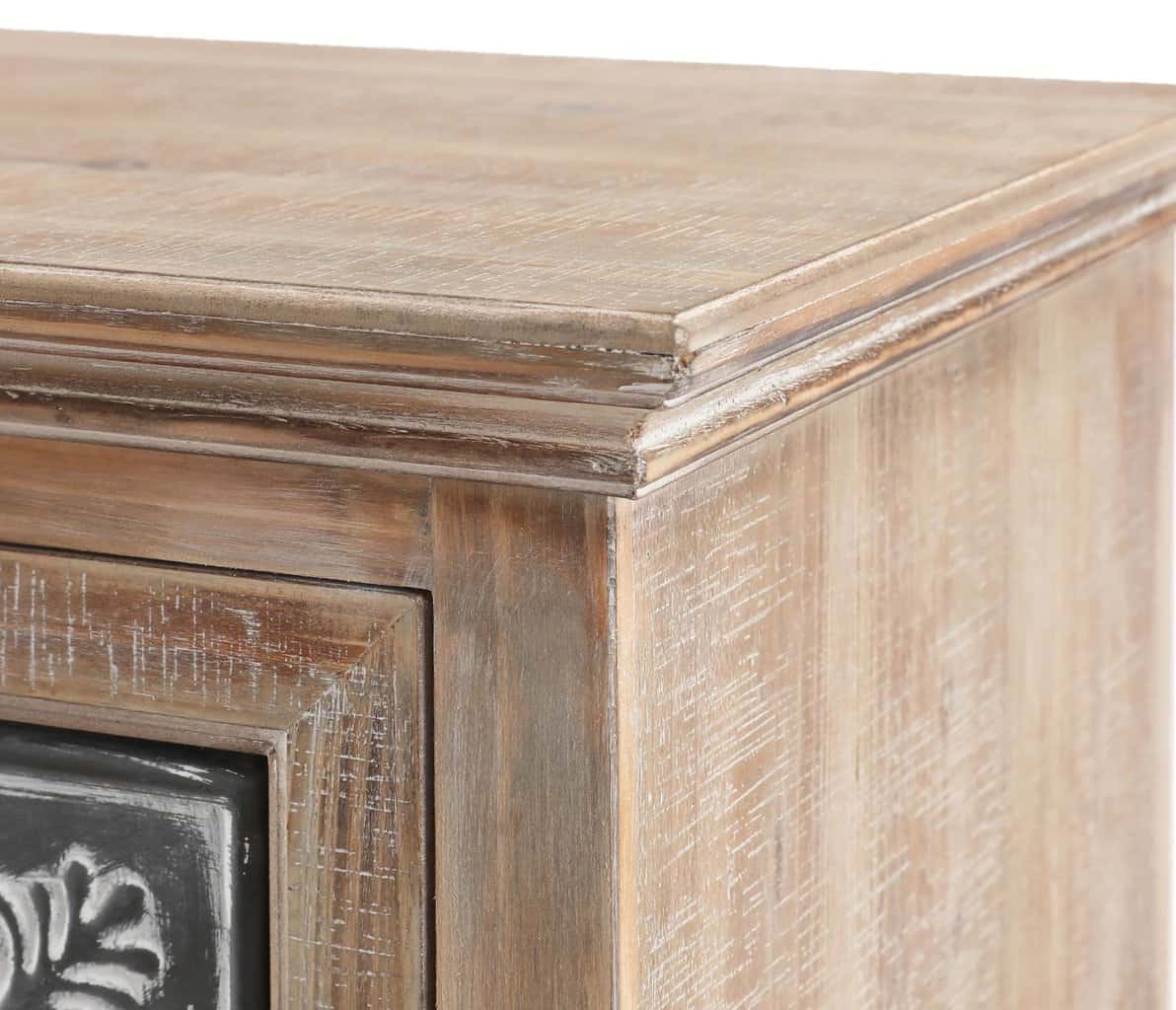 Entryway cabinets retail in many materials, including acrylic, glass, wood, and metal. The best material for you will depend on your personal style. Wood is perfect for those who like farmhouse, boho, and mid-century modern home decor styles.
People who're not into the more minimalist or modern looks usually gravitate towards glass, acrylic, or metal. Also, consider the kids or pets (if any) that run around in your entryway when picking a material.
Size
Your entryway cabinet's size will be determined by the amount of space you'd like to spare in your entryway. Your entryway doesn't come with a lot of wiggle room? Then your best bet is a narrow, small, or round entryway cabinet.
Narrow entryway cabinets are perfect for individuals with long halls, thanks to the cabinet's great length and shorter depth. Round (otherwise known as half-moon-shaped entryway cabinets) are ideal for people with small but wide entryways.
Style
After identifying the cabinet size you'd like to pick, it's time to choose the style you want to buy. Again, ensure you select a unit that matches your home design and color motif. Below, you'll find units suited for all styles, from modern and transitional to traditional and farmhouse-style.
Function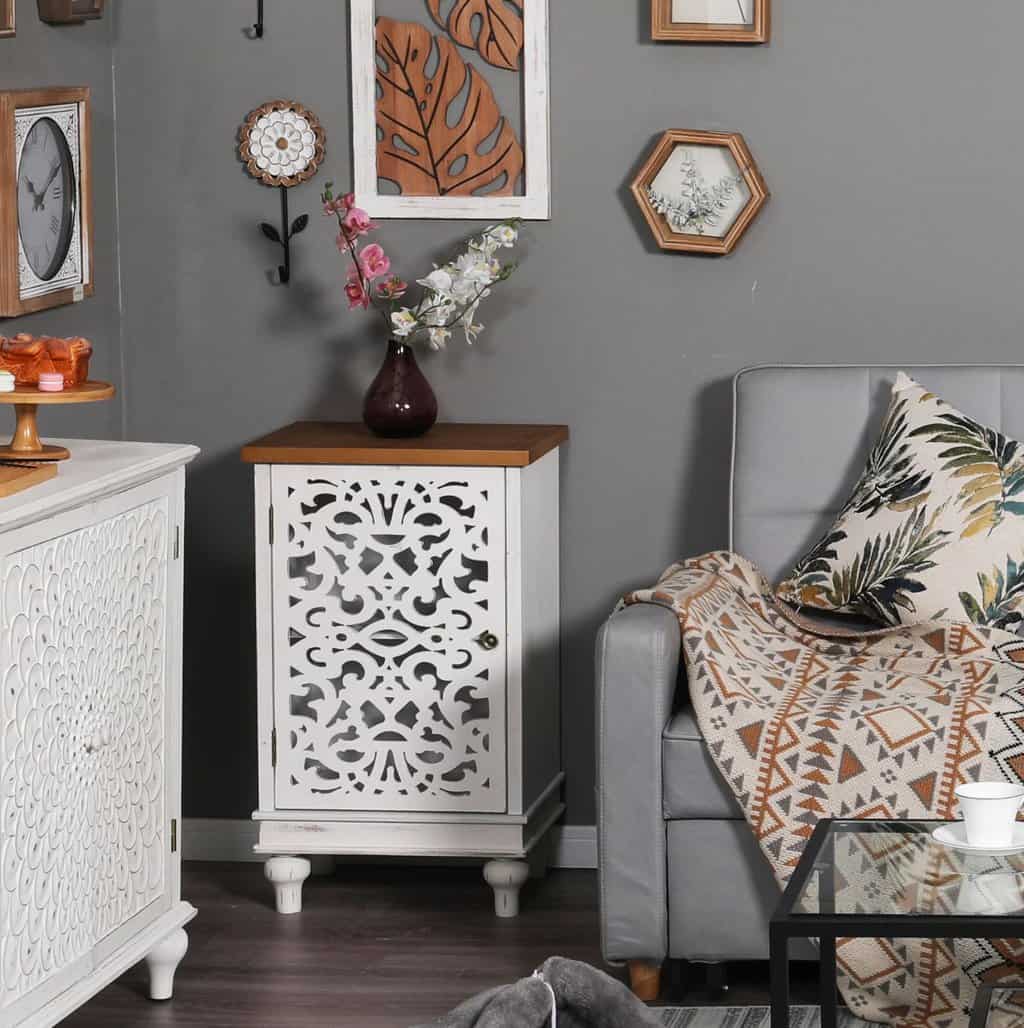 What functions do you want your entryway cabinet to serve? Who will use the space? Or perhaps you just want your entryway cabinet as a decoration. All these will help you pick a unit that meets your home's needs and preferences.
A trick I use myself is making a list of items I'll need to put in my entryway cabinet. Next, I find a unit that'll fit them all. Try it as well and see if it helps. Items you can consider include coats, umbrellas, bags, shoes, coins, keys, and more.
Storage Capacity
Do you live in a space with few or no dedicated storage spaces? Take advantage of the storage opportunities entryway cabinets offer. People with lots of decorative items to display can also benefit from entryway cabinets with rows of exposed shelves.
Those looking to hide unsightly items like documents, miscellaneous tools, and chargers will need entryway cabinets with drawers. You'll find those in the list below as well.
The Best Entryway Cabinets for Your Home
Now onto the most exciting section of this entryway cabinets guide. Below, I'll list the best entryway cabinets for all types of décor styles and spaces. I gathered a selection based on style, size, and function.
Best Small Entryway Cabinet
Sometimes the smaller the project, the better it comes across. Any of these small entryway cabinets is a good case in point.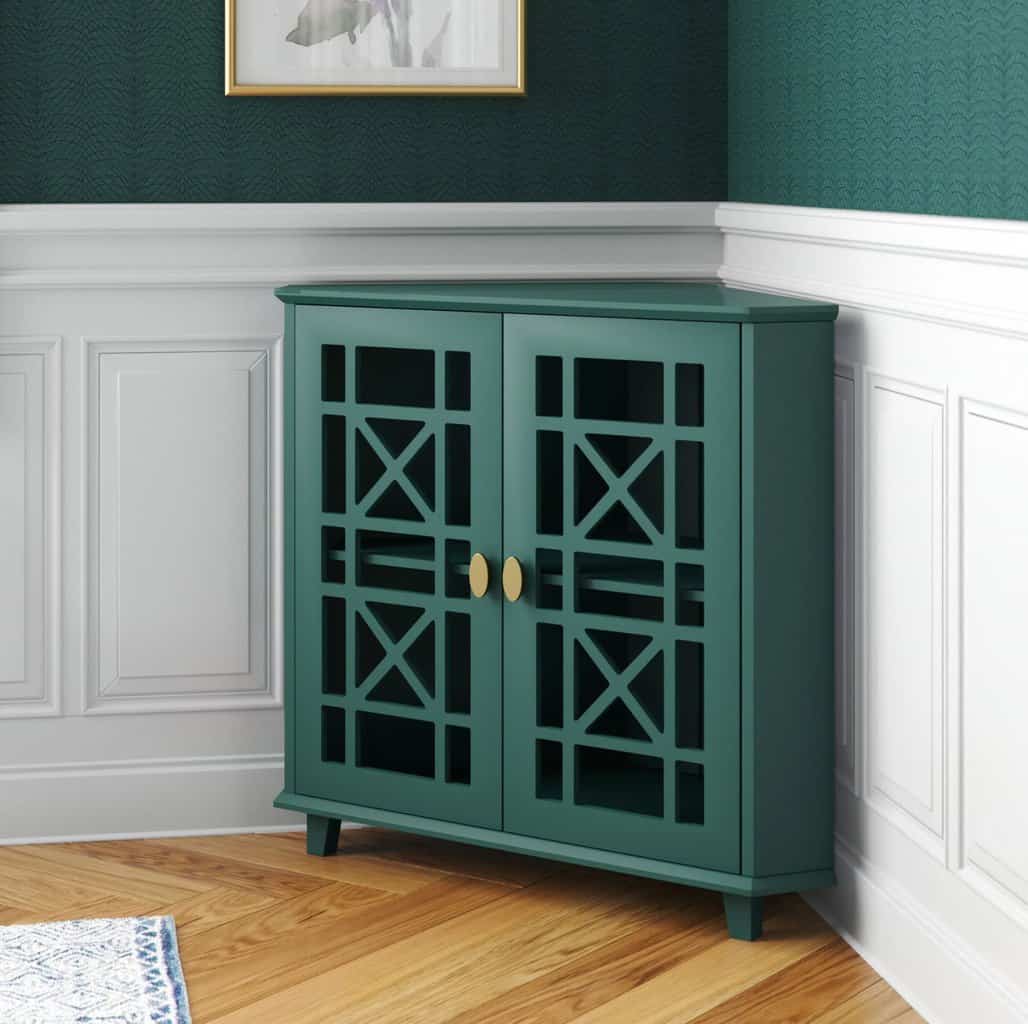 My goal with this 'best entryway cabinets guide' is to inspire. And when you get this 2-door accent piece from Etta Avenue, you'll know why. The only downside is that assembling the unit will take a while. But I promise it'll be worth it in the end.
Price Range: $400.99 – $625.00
Size: 30" H x 32" W x 17"D
Best Feature: Equipped with a tip-over restraint
Also, the doors are slow-closing, so you can forget about accidental loud slammings.
Pros
Retails in three distinct color finishes
Adjustable shelves
Will complement any interior decor
Tip-over resistant included
Backed by a 90-day warranty
Cons
Some have pointed out that the teal was darker than they expected (most loved it even more, though)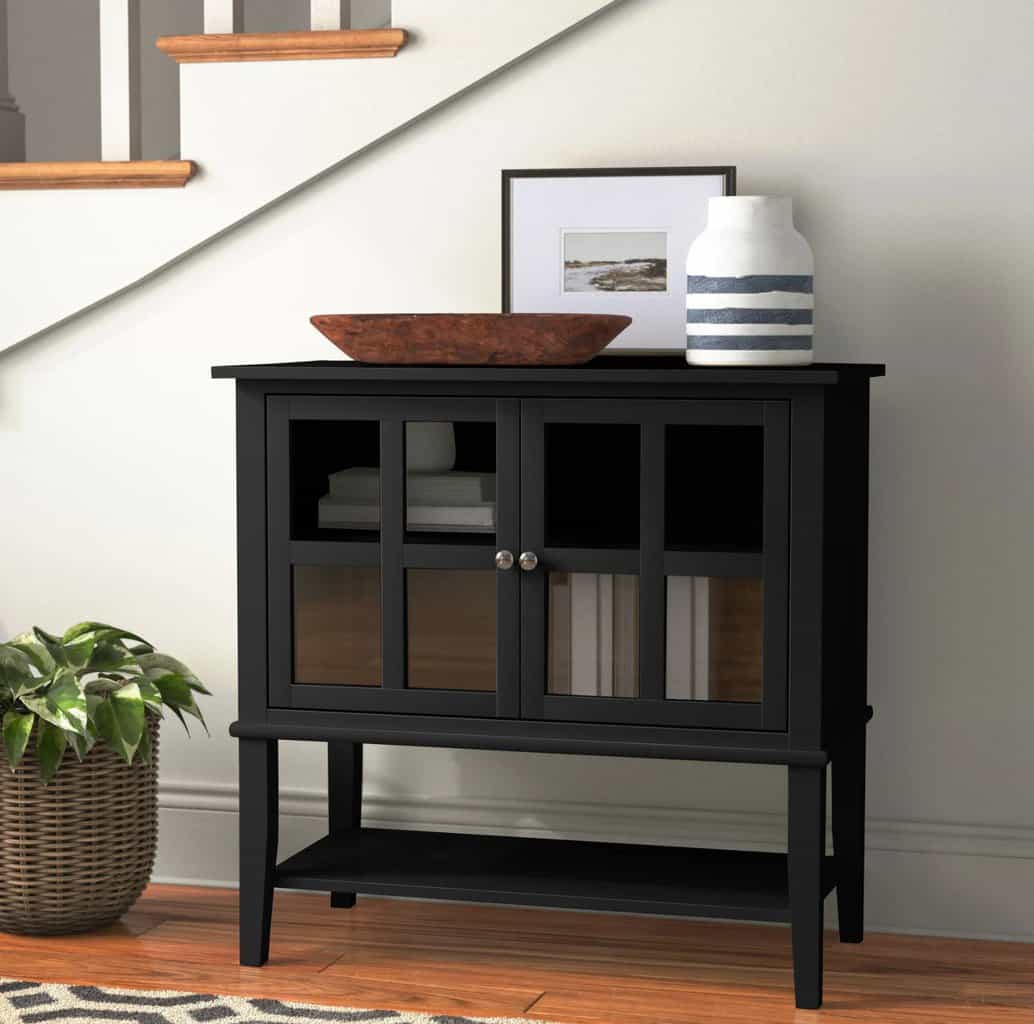 If you're anything like my mom, a house isn't a home until there are books in it. If you agree, this Soderville Door Accent Cabinet shows you how to integrate those first editions into your home's decor.
Price Range: $315.99 – $491.99
Size: 30.7" H x 31.5" W x 15.6" D
Best Feature: One-year warranty
I only wish the countertop was larger, but it's still a really great option.
Pros
Backed by a one-year warranty
Features adjustable shelves
Quick assembly
Includes a commercial warranty
Retails in two white shades
Cons
Some verified purchases complained its smaller than it appears in the image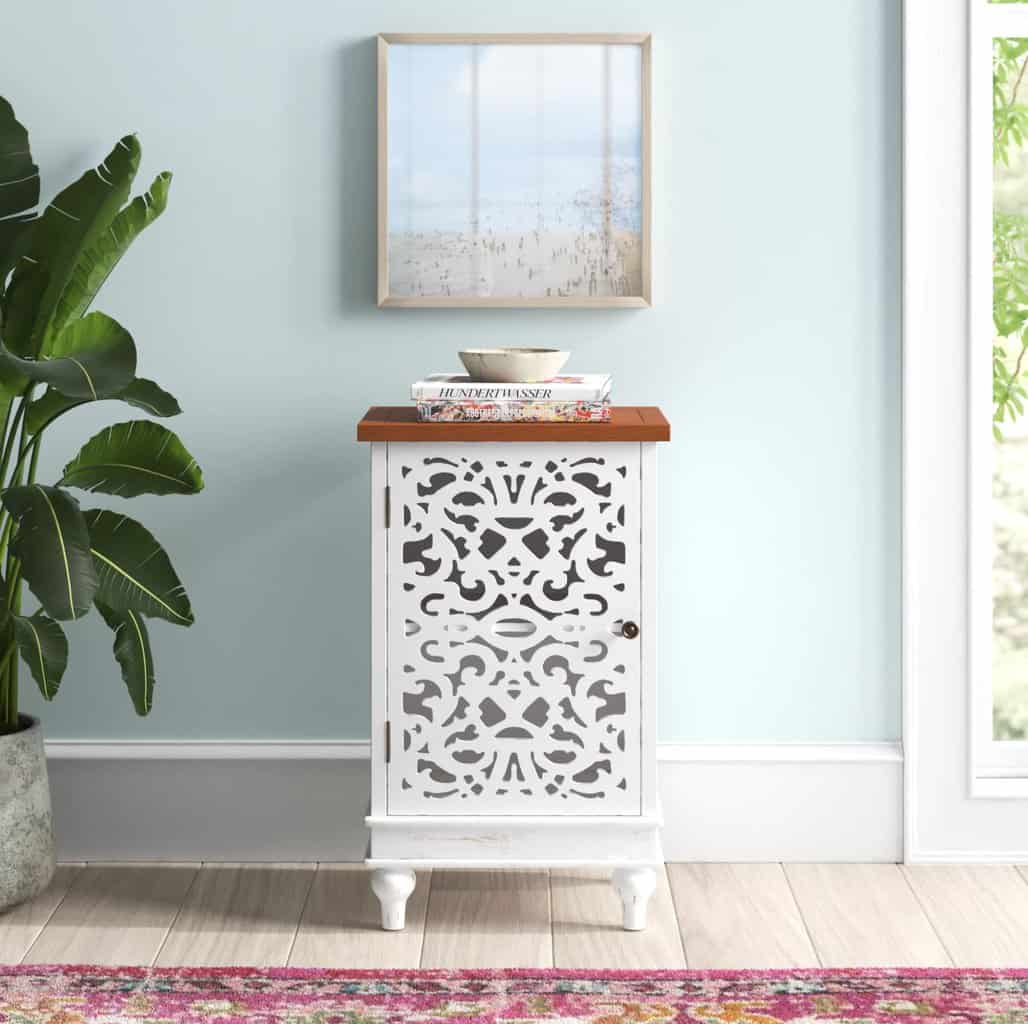 You can also take a straightforward approach to designing your entryway with this eye-catching, modern farmhouse-style cabinet from Mistana.
Price Range: $290.99 – $499.99
Size: 31.5" H x 18.9" W x 13.78" D
Best Feature: Water, Scratch, and Stain resistant
Its carved design and highlights serve as a good focal point to draw everyone's eyes to your decor.
Pros
Only partial assembly required
Backed by a one-year warranty
Eye-catching
Water, scratch, and stain resistant
It comes in two different shades
Cons
A tip-over restraint is not included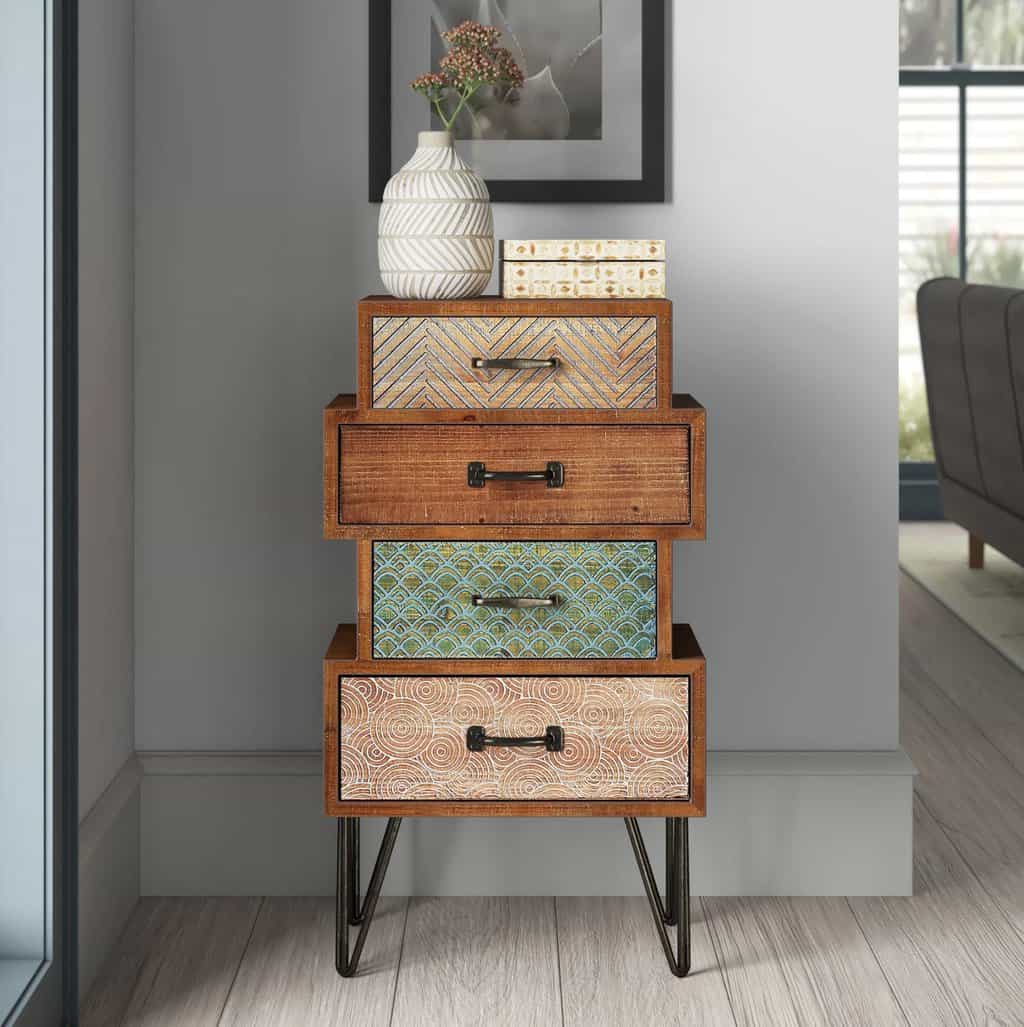 When your guests visit, don't just throw their keys and other stuff into random drawers around your house. Instead, store them in style in an out-of-sight mid-century modern storage solution like this.
Price Range: $450.89 – $552.99
Size: 33.5" H x 18.9" W x 12.2" D
Best Feature: Only partial assembly required
And when it no longer has use in your entryway, it'll also fit into your living or dining room.
Pros
Gorgeous, purposeful distressing
Drawers included
Quality construction
Durable and portable
Compact and saves on kitchen real estate
Cons
On the costlier end of the spectrum
A tip-over restraint isn't included
Best Large Entryway Cabinet
Do you have a huge entryway and prefer to implement your ideas with an eye for utilitarian appeal? If yes, one of these best large entryway cabinets could just be the ticket.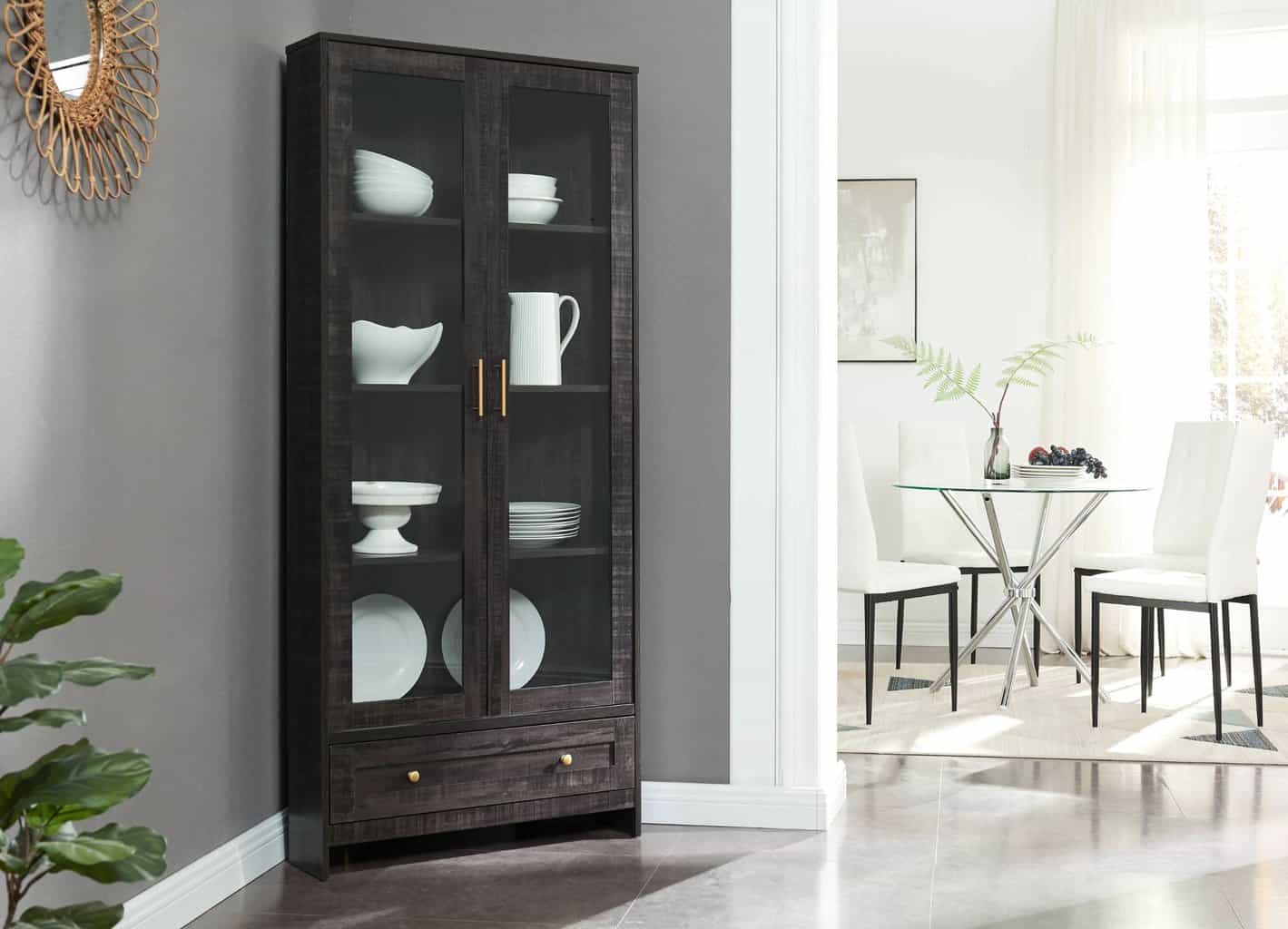 Don't be worried about leaving this Greyleigh Corner Cabinet with the bare bones of its decor. If too much empty space is left, go ahead and add your decorative bits and pieces. My go-to options include collections of bottles, ceramic animals, or fine china.
Price Range: $630.99 – $580.99
Size: 71.5" H x 31.5" W x 13.46" D
Best Feature: Retails in six colors
On the downside, the unit stands at 71" high, so if you're short like me, you need a step stool to reach the higher shelves. But that's okay. I just put my husband's stuff up there, LOL.
Pros
Versatile
Very spacious
Retails in six distinct color finishes
Backed by a 30-day warranty
Impressive weight capacity
Cons
Full, time-consuming assembly required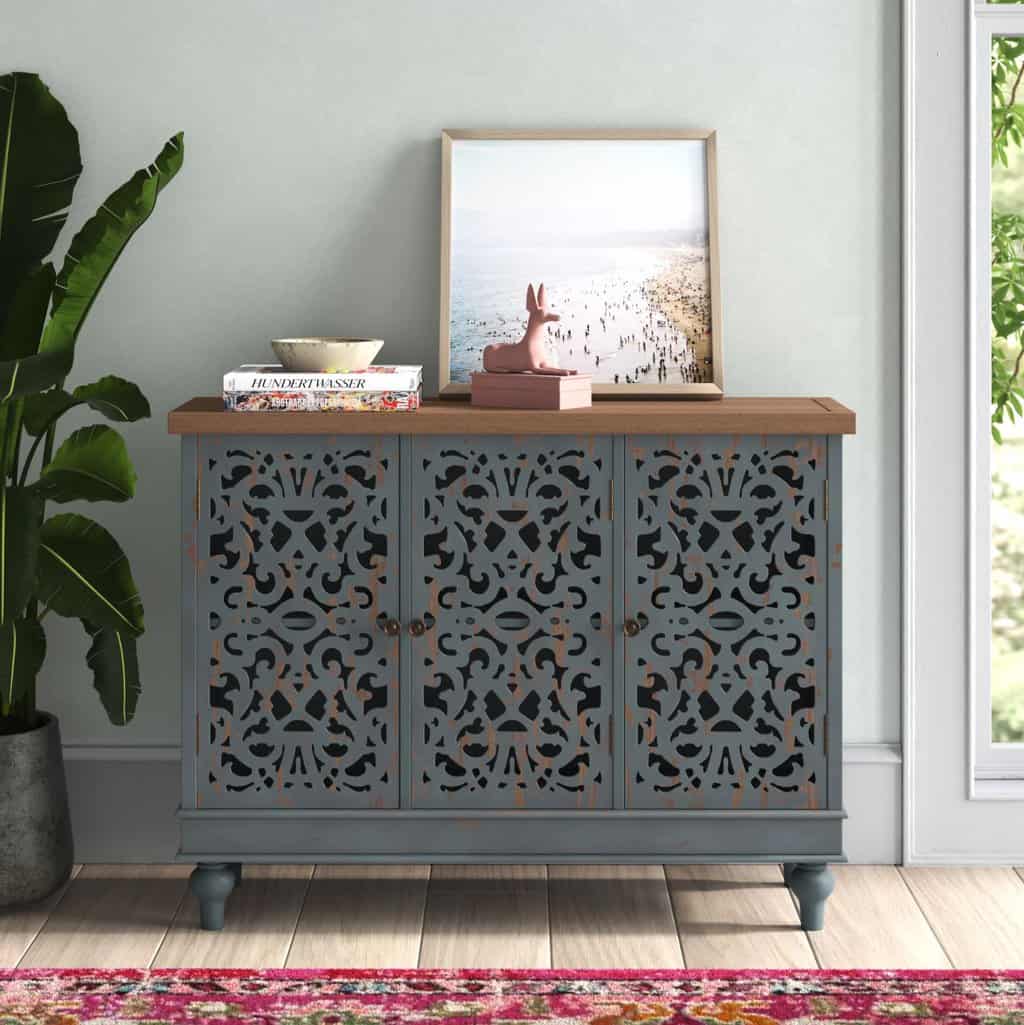 I truly believe your entryway serves as your guests' first impression of your home. That's why I suggest getting a cabinet that allows you to showcase personal artifacts. Whatever you place on this retro unit, ensure it pays homage to the rest of your home and its style.
Price Range: $615.99 – $905.99
Size: 31.5" H x 41.73" W x 13" D
Best Feature: Its retro design & Commercial Warranty
I'll top this off with the fact this cabinet is water, stain, and scratch resistant. That's a winner if you ask me!
Pros
Aesthetic construction
Retails in two distinct finishes
Backed by a one-year warranty
Water, scratch, stain resistant
Hard to beat retro design
Cons
Tip-over restraint isn't included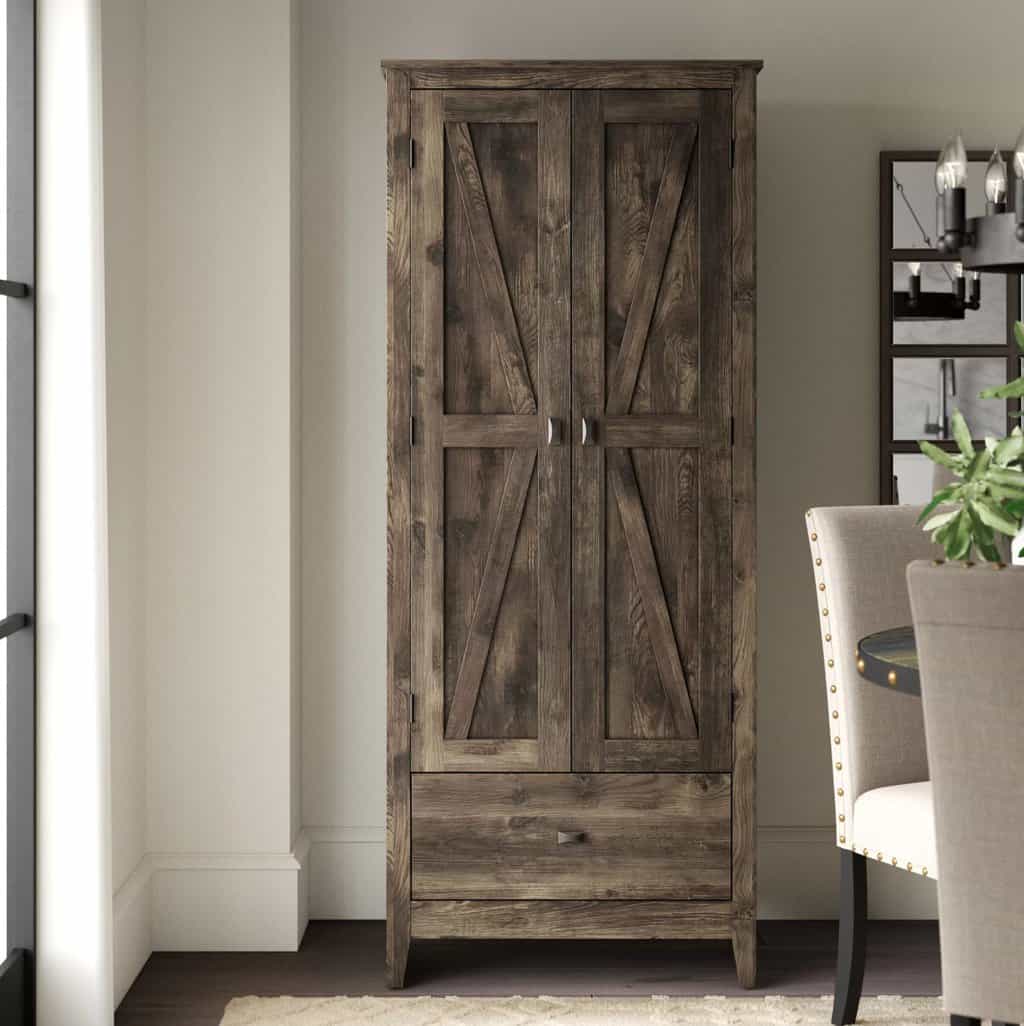 "What happened to all the keys, shoes, and loose change in this house?" That's what your family will say after you utilize a cabinet like this from Laurel Foundry.
Price Range: $410.99 – $480.99
Size: 72" H x 29.7" W x 16" D
Best Feature: Three adjustable shelves and a smooth-glide drawer
You could use woven boxes or handy trays inside the cabinet to stash shoes out of sight. And if you're like me and hate any clutter, you could store pet leashes, keys, umbrellas, and more.
Pros
Space-saving design
Adjustable shelves included
Tipover restraint device included
Retails in two color finishes
Backed by a one-year warranty
Cons
One of the toughest to assemble in this guide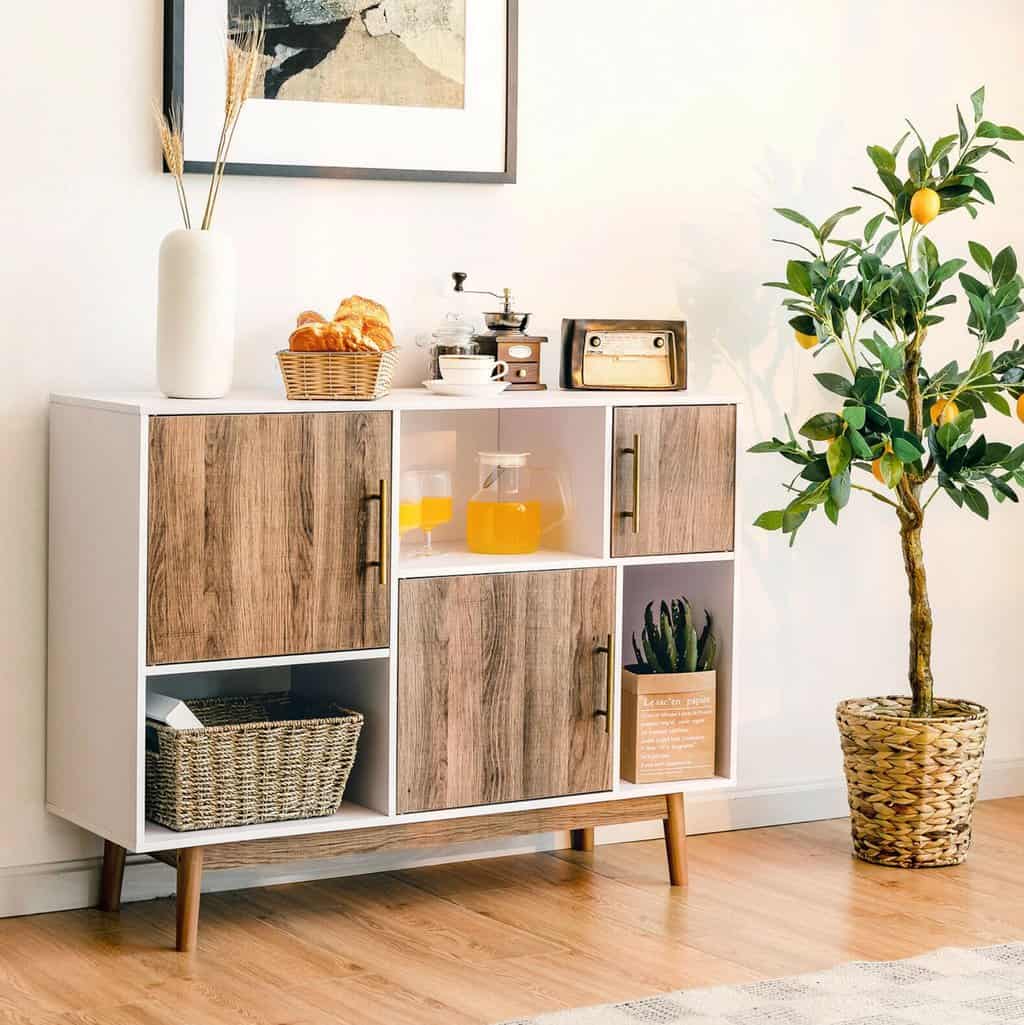 One of the first things you do after getting home is take off your shoes. So why not make it as effortless as possible by getting an ultra-spacious entryway cabinet that can fit shoe baskets?
Price Range: $320.99 – $399.99
Size: 30.5" H x 40" W x 13" D
Best Feature: Commercial warranty
The unit's fashionable and irregular appearance complements any interior decor and style. It's like a mix of mid-century modern (which is huge right now) and contemporary.
Pros
Strong, sturdy construction
Very versatile
It will add elegance to any interior decor
A tip-over restraint is included
Only partial assembly required
Backed by a 90-day warranty (including a commercial warranty)
Cons
Assembly instructions could be clearer
Best Stylish Entryway Cabinet
Do you, like my sister, view home entryway cabinets as purely decorative accent pieces? This section is my special dedication to you.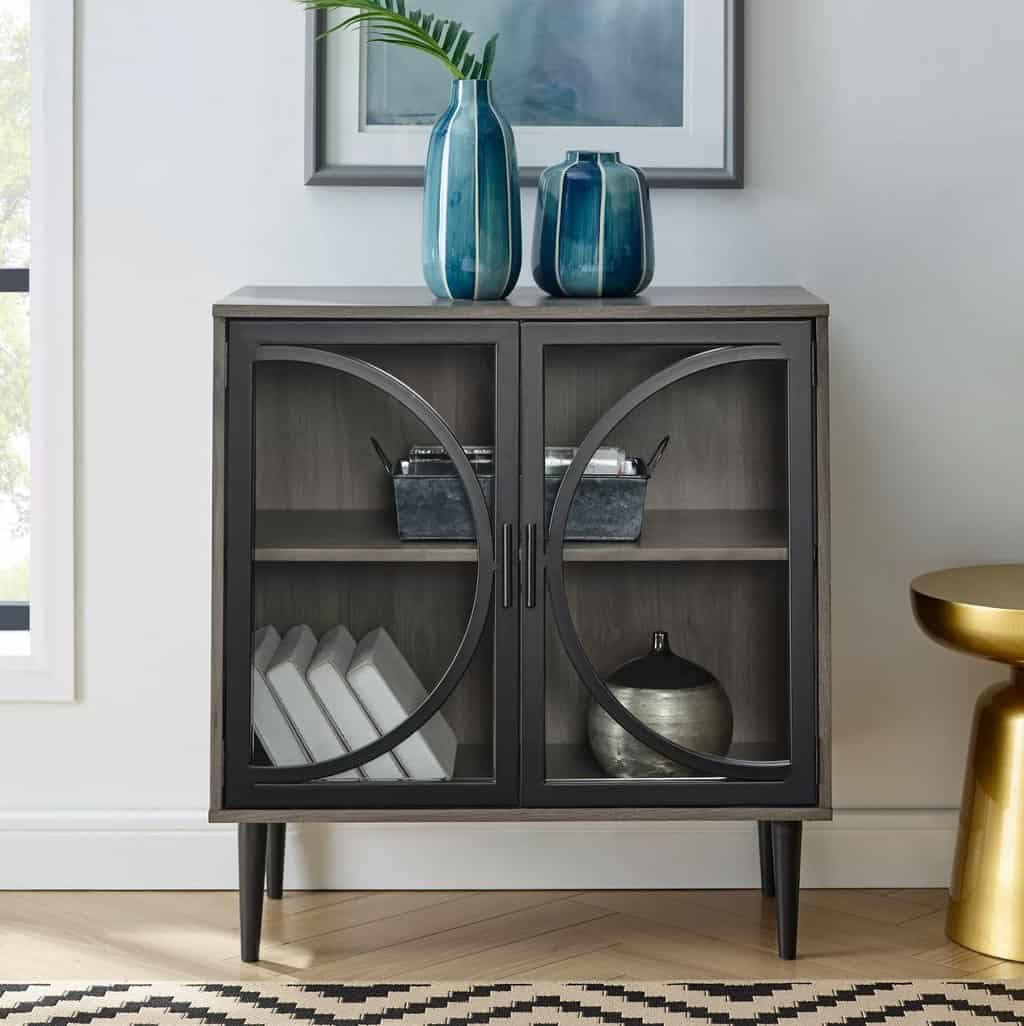 Let blooming bouquets a-top a mid-century appeal be the first thing your guests see when they walk into your home. Behind the set of tempered glass doors overlaid with a curving motif, you'll find an adjustable shelf. Use the ample space it offers to store anything you desire.
Price Range: $160.99 – $465.00
Size: 32" H x 30" W x 16" D
Best Feature: Its stylish farmhouse-style construction
My favorite feature is the color. Dark but warm and inviting. This is definitely a statement piece, which is perfect for first impressions.
Pros
Adjustable shelves
Impressive weight capacity
Backed by a 90-day limited warranty
Will stand out in any room
Durable and sturdy construction
Cons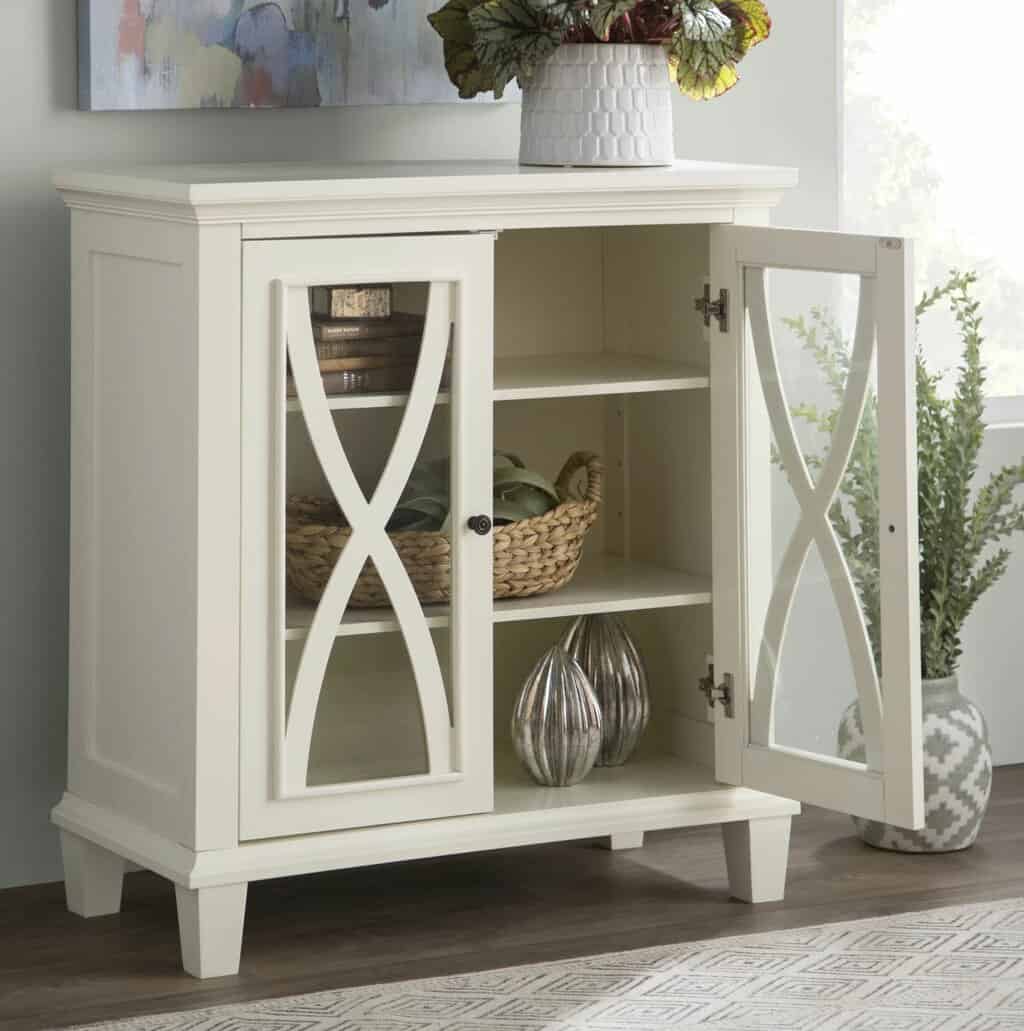 You only need a few hints of color to brighten up any space, and this Rosedale 2-Door cabinet proves that. I've even come across some people who claimed it could transform the dullest of entryways into spaces one can't stop admiring.
Price Range: $290.66 – $460.00
Size: 33.97" H x 31.5" W x 14.96" D
Best Feature: It blends bold patterns with a traditional appeal
And in case the ivory shade doesn't quite cut it for you, there are four more you can pick from. I love options!
Pros
Retails in five distinct shades
Adjustable shelves
Backed by a one-year limited warranty
Easy to clean and maintain
Impressive shelf weight capacity
Cons
The paint scratches easily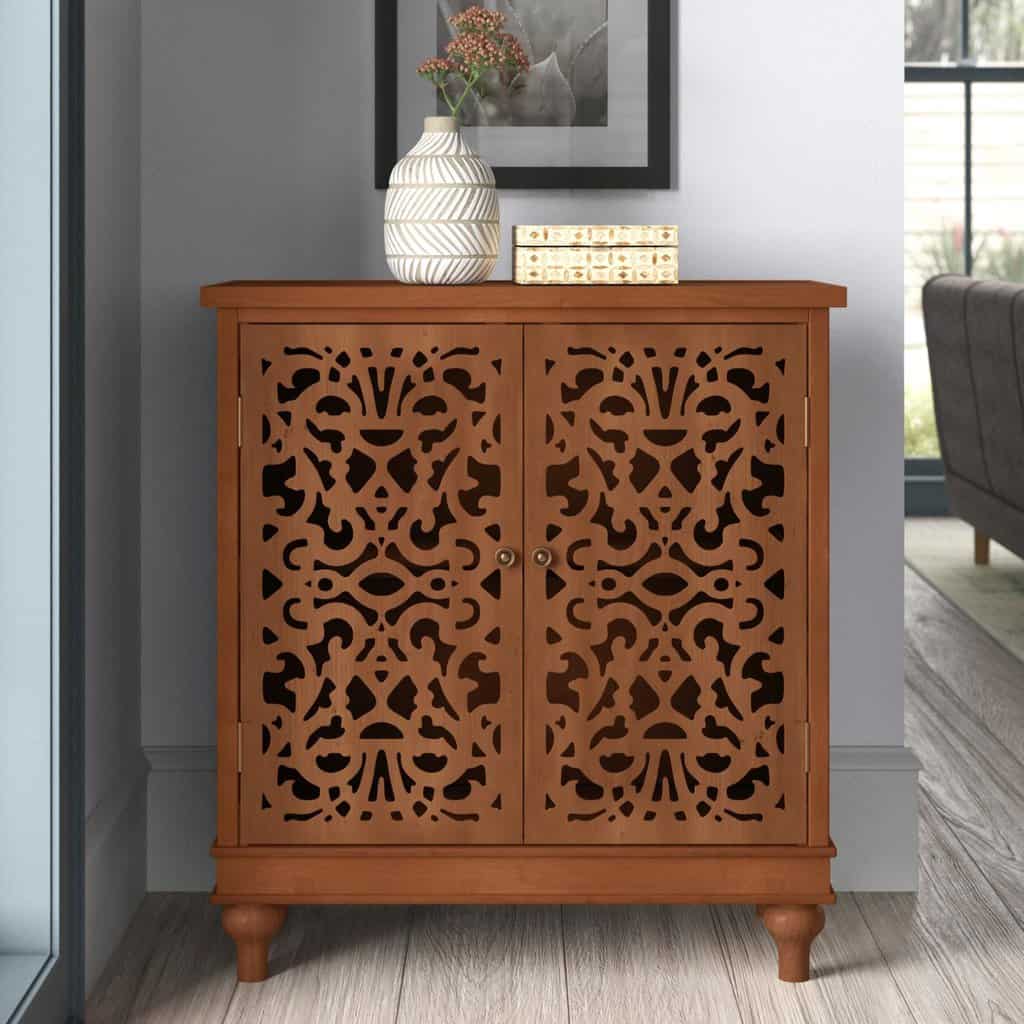 Fellow plant parents, gather around and take note. This idea shows how leaf cuttings and plants on your entryway cabinet can add an organic element to the space.
Price Range: $389.99 – $489.99
Size: 34.25" H x 31.5" W x 15" D
Best Feature: Water, scratch, and stain resistant
The cabinet is also water, scratch, and stain resistant. And to top it off, it's designed for both residential and non-residential use.
Pros
Only partial assembly required
Backed by a one-year warranty
Fitted with magnetic doors
Solid wood construction
Water, scratch, and stain resistant
Impressive shelf weight capacity
Cons
 The chemical smell takes a while to dissipate
Quinlan Apothecary Accent Chest
Fun fact about moi: I'm a total sucker for an apothecary cabinet! This Apothecary Accent Chest from Mistana will add cheer to any space and is practical, too!
Price Range:$520.99 – $610.99
Size: 32.3" H x 25.8" H x 12.4" D
Best Feature: No assembly required
The unit also delivers an old-world appeal that'll leave your guests in awe. Top that off with the fact the entryway cabinet also retails fully assembled, so no assembly is required on your end.
Pros
No assembly required
Fitted with eight pull-out drawers
Quality solid and engineered wood construction
Backed by a 30-day warranty
Easy to clean and maintain
Cons
Best Entryway Cabinet with Drawers
Most entryway cabinets I came across while crafting this guide contained numerous drawers, and for good reason. These storage compartments are perfect spaces for keys, mail organizers, and catchalls.
So, it made sense to include a dedicated section for the best entryway cabinets with drawers.
Warleigh Mirrored Accent Chest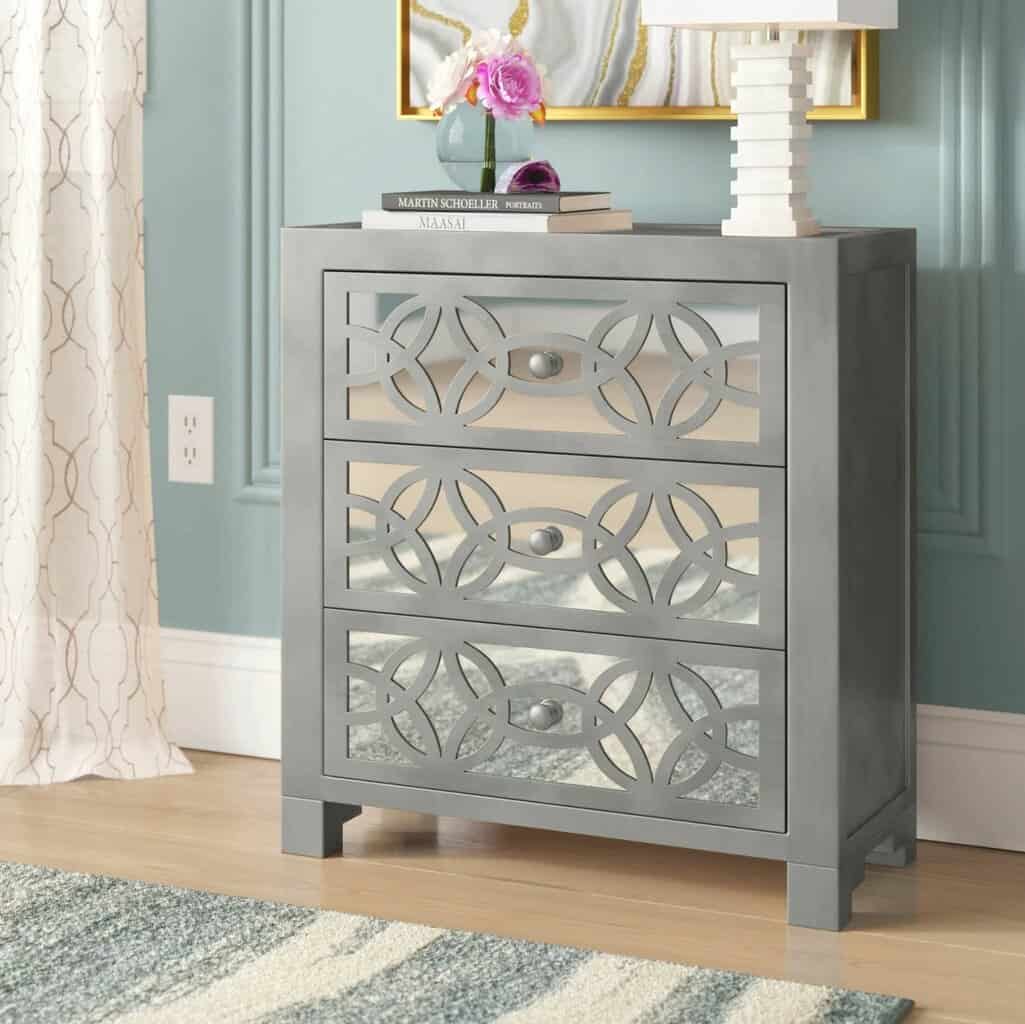 We haven't all been blessed with endless spaces in our homes. That said, we can still make the most of our small entryways with compact units like this from Willa Arlo. The wide color selection allows you to pick the unit in a shade that best complements your home and style.
Price Range: $315.99 – $460.99
Size: 28" H x 26" W x 12" D
Best Feature: Soft close drawers
Just be careful not to let the drawers become the dreaded…junk drawers! Gasp!
Pros
Only partial assembly required
Tip-over restraint device included
Geometric overlays
Mirrored fronts
Soft close drawers
Cons
Isn't backed by a warranty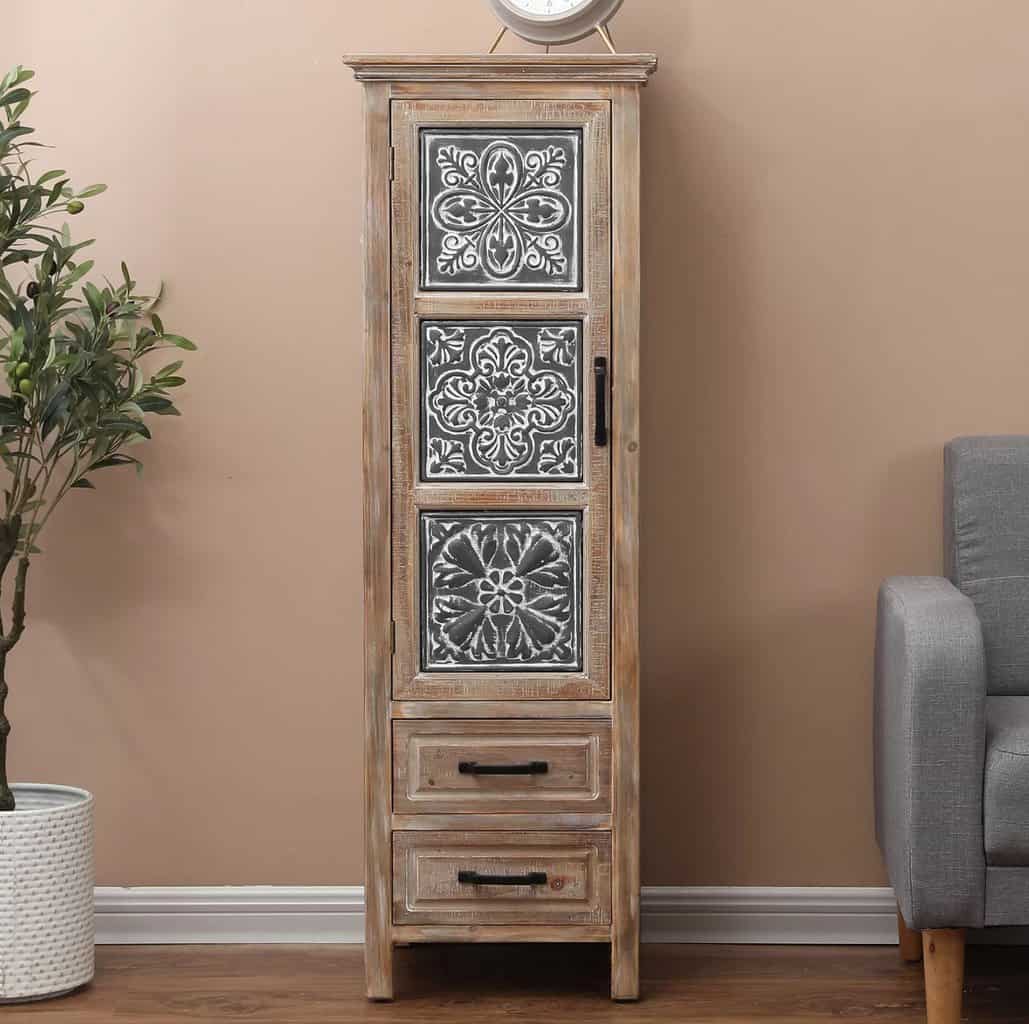 Some entryways are unusually small. If that sounds like yours, I suggest sticking to compact units that can house the essentials. In other words, this unit from World Menagerie is all your small entryway needs to stay tidy and functional.
Price Range: $499.99 – $599.99
Size: 48.1" H x 15.75" W x 15.35" D
Best Feature: No assembly required
If you have the space, pair it with the apothecary cabinet above! They'd go great together!
Pros
No assembly required
Aesthetic rustic natural wood finish
An anti-tip restraint kit included
Sturdy, solid wood construction
Backed by a 30-day warranty
Cons
Time-consuming to put together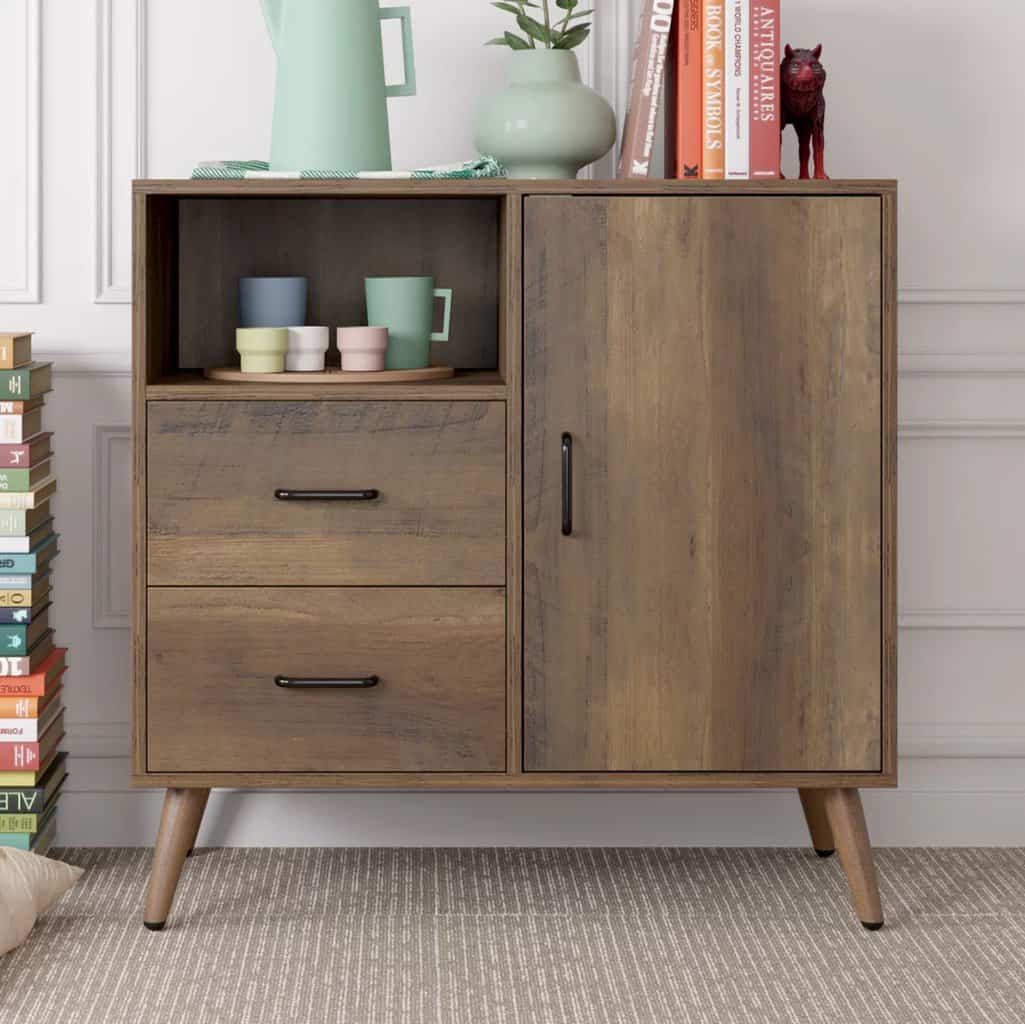 Your home bar cabinet or butler's pantry doesn't need to display all your goodies. In addition to your flower vase, pick a few prized items and special glasses to showcase on this entryway cabinet.
Price Range: $180.99 – $220.99
Size: 31.5" H x 30.7" W x 15.2" D
Best Feature: Soft close drawers
As shown above, I'd recommend going all out and creating a clean, minimalist cabinet look. It's as well-organized as it is stylistically stunning.
Pros
Adjustable shelves
Backed by a one-year warranty
Soft close drawers
Made of high-grade MDF material and solid metal legs
Quite easy to assemble
Cons
The construction could've been sturdier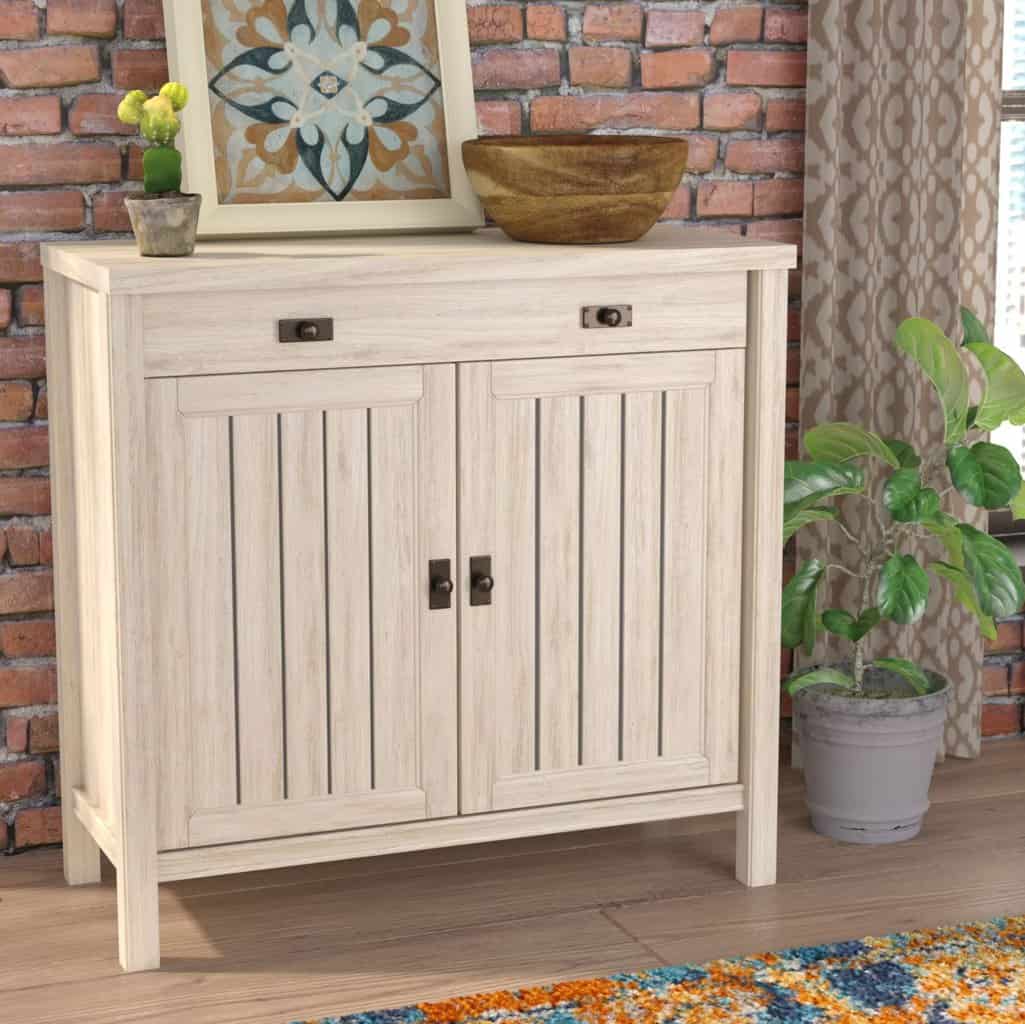 I've found a more stylish alternative to your plastic bins in your entryway. The chic coastal design can appear a little plain to those with a keen eye for design.
Price Range: $345.99 – $415.99
Size: 30" H x 31.3" W x 14.41" D
Best Feature: 5-Year Warranty
That said, the unit's practicality will leave anyone in awe. You can use this cabinet in pretty much any room of the home, and it'd fit right in.
Pros
Retails in three distinct shades
Backed by a 5-year warranty
Designed for both residential and non-residential use
Impressive shelf weight capacity
Adjustable shelves
Cons
FAQs
Question: What Is an Entryway Cabinet Called?
Answer: A cabinet in a hallway toward the front of the home is also called a console. These cabinets are typically tall and narrow. Also, you'll usually find them placed against the wall so as not to block the path of the entryway.
Question: How Do You Make the Most of a Small Entryway?
Answer: There are many ways to make the most of a small entryway. Get a small hall tree, storage bench, or a slim entryway cabinet. Any of these will make your small space look more organized and curated.
Question: How Can I Make My Entrance Beautiful?
Answer: In addition to a stylish cabinet, you can display tchotchkes, picture frames, and decorative items like vases, sculptures, and pretty boxes. If space allows, I'd also suggest a small-to-medium-sized lamp at one end and medium-sized prints against the walls.
Best Entryway Cabinets: Final Thoughts
As this best entryway cabinet guide proves, these units aren't just great places to store mail, keys, and glasses. They can also act as additional platforms to style personal and decorative items in your home; think a vase full of flowers, cherished tchotchkes, photos, books you're hoping to tackle soon, and more.
I hope you've found a cabinet idea that'll actually work for your entryway. If you're worried about a small space, go with something like the  Jason Door Corner Cabinet. I mean, the color alone is just so perfect! Then check out my other recs for home cabinets and storage on our site!
Read More: