Latest posts by Lydia Giordano
(see all)
As an Interior Designer who has sold and designed cabinetry for most of their career, I have a lot of tips and tricks when it comes to designing and selecting the cabinetry for your space. There are several different types of cabinetry, and while inset is only one type, it is one of the most intricate and complicated types of cabinetry to design.
I want to give you the insider perspective to help you through your project, whether you have a designer or are figuring everything out yourself!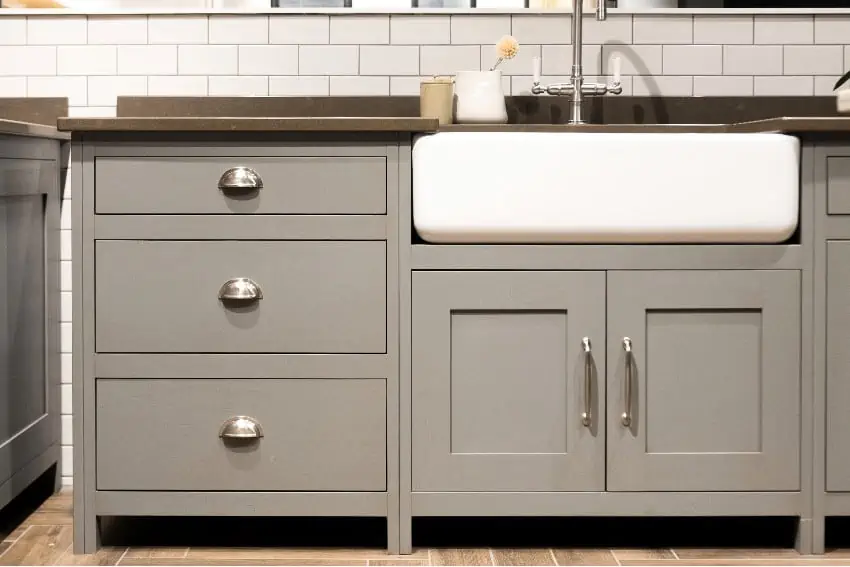 The Bottom Line Up Front
Inset cabinets are a specialty when it comes to the cabinet world. If you are looking for a custom cabinet, inset cabinets are for you!
When you use an inset cabinet, it is not a quick turnaround type of project. Every inset cabinet line I know of is a special-order product made-to-order for each client. If you want inset cabinets, this is for your forever space, and you want to make a statement!
Selection Criteria
Inset cabinets are harder to build and manufacture and, in turn, harder to install and design with, so you want to be picky when selecting your cabinet manufacturer. Here are a few things I look for when deciding on a cabinet company.
Customizable
The biggest thing I look for in an inset cabinet line is how customizable the cabinet line is. There are several particular things about how inset cabinets are made that should impact your design choices (I will get into that more in the design ideas). So if the cabinet line is limited in customizations, I will not get the result I want when designing.
Humidity Rating
The gaps between the doors/drawers and the face frame of the cabinet are small, so this becomes a concern regarding warping. In addition, wood expands and contracts, making the doors/drawers difficult (or impossible) to open, depending on the damage done.
All inset cabinet lines have warranties, specifications, and recommendations for how the cabinets (and the wood itself) will wear. Unlike what you might have heard, it is okay to use inset cabinets in a high-humidity climate. You have to ensure the cabinets are made with quality materials that come with warranties.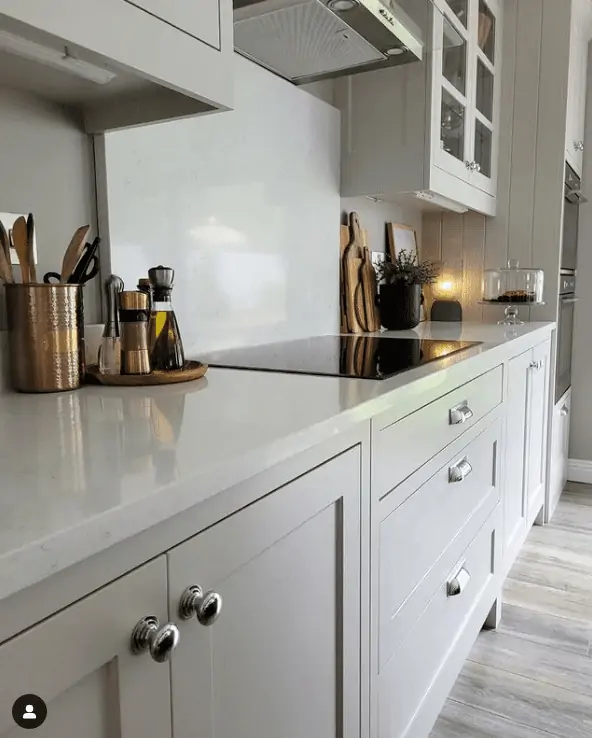 The shaker door style in an inset cabinet is characterized by the typically square profile of the door design, along with a flat center panel of the door and drawer.
A traditional shaker door style is a simple square and flat edge. However, a sub-classification of shaker doors also has beveled edges, two-tier shaker edges, beaded edges, etc. The main thing to know about shaker-style doors is the center panel of the door is flat and recessed.
Shaker inset doors can work in a farmhouse setting, mid-century modern, eclectic, or even rustic. You use this door style when you want simple, clean lines and not too much ornamentation. It leaves room in other areas of the space for extra decoration.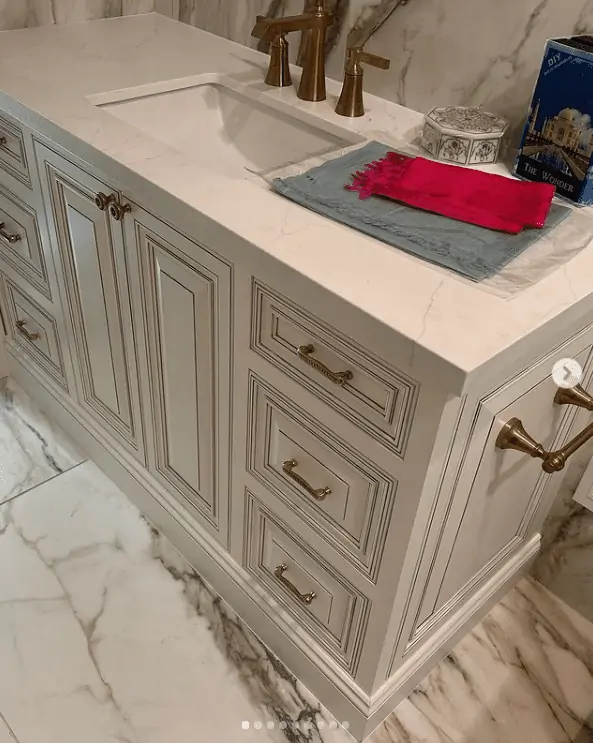 In contrast to the shaker inset door, the raised panel's main characteristic is the center panel of the door (and often the drawer) is protruding (or raised). 
I use raised panel inset doors for traditional and ornate spaces. There are many profiles available for raised panel doors that look very intricate. These doors often look busy, as you see in this vanity, so if you choose a raised panel, you want this to be a focal part of the design.
You will also want to finish the cabinets with ornate trim to match the luxurious feel of the raised panel. Nothing about this door style is simple or plain! So I always like to accentuate these qualities.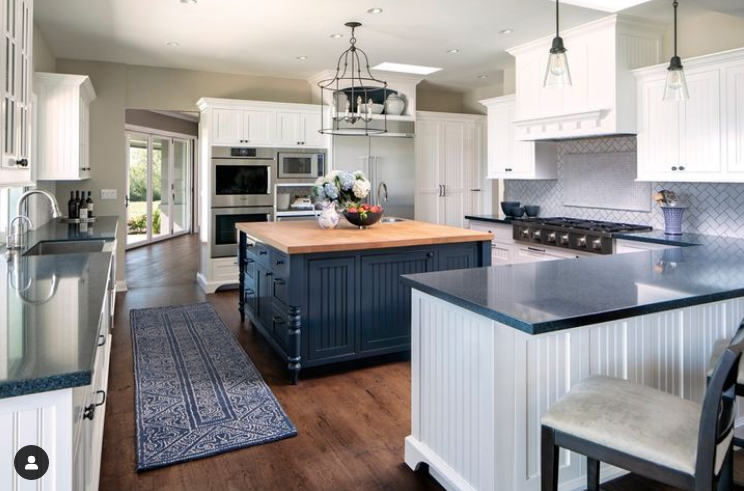 Beadboard inset cabinets are very similar in construction and design to shaker doors, except the flat center panel of the cabinet has the beadboard design. This is a seemingly simple design choice, but it adds so much! These work great in farmhouse style or a country cottage space.
In this kitchen, you can see how the beadboard really shines in the navy blue paint! Adding a classic color to these already statement doors makes this space pop!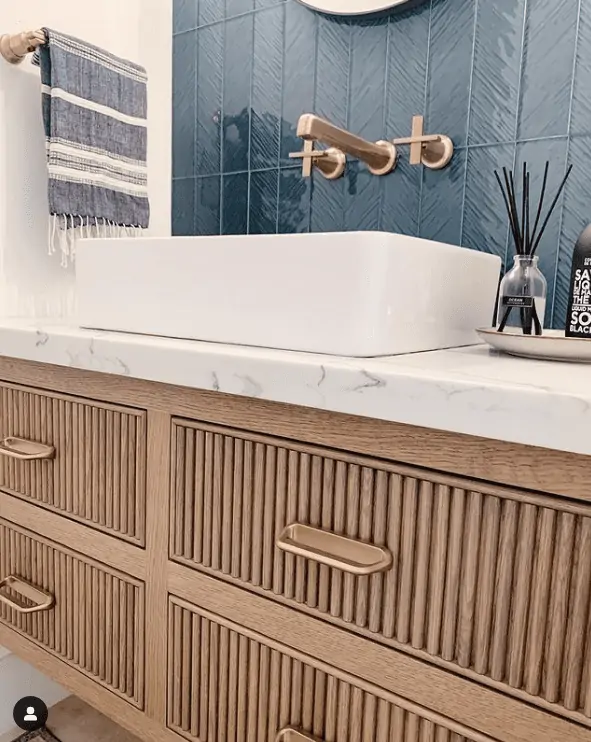 Another option for the shaker inset doors is a reeded treatment. Instead of the flat center panel of the door, there is a vertical rigid wood design. Up close, it almost looks corrugated, but this is nothing like a piece of cardboard! Reeded doors are a tasteful and high-end finish you want to use in any glam-chic space.
A common practice I often use when designing a product like this is to let the textures shine on their own. Use neutral colors (either paint or stain) for the cabinet and pair another textured surface up next to it, like wallpaper or tile. Sometimes it is not about the colors but the textures!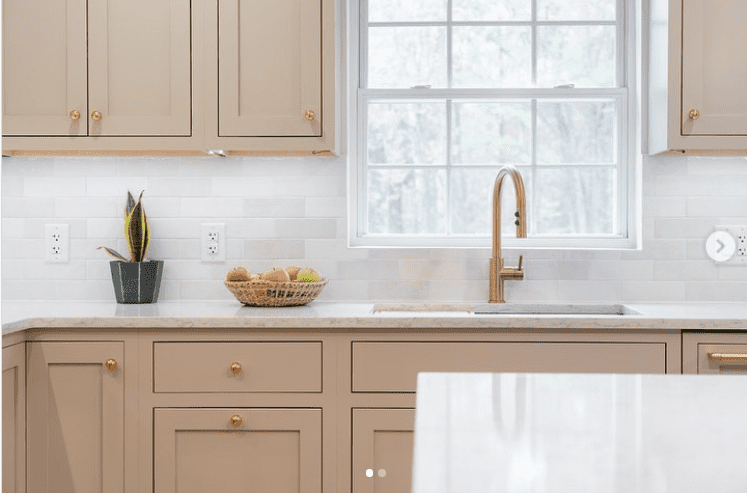 A flush inset cabinet is when the door and drawer are cut straight against the face frame of the cabinet box. You can see in this kitchen the transition between the door and face frame is very smooth and minimalistic. The cut along the door is flat and straight, with no extra ornamentation.
Flush inset doors are the standard way inset cabinets come, but you can have them made differently (as I will show). I use the standard flush inset cabinet when I don't need or want any extra embellishment, and the design calls for precise lines.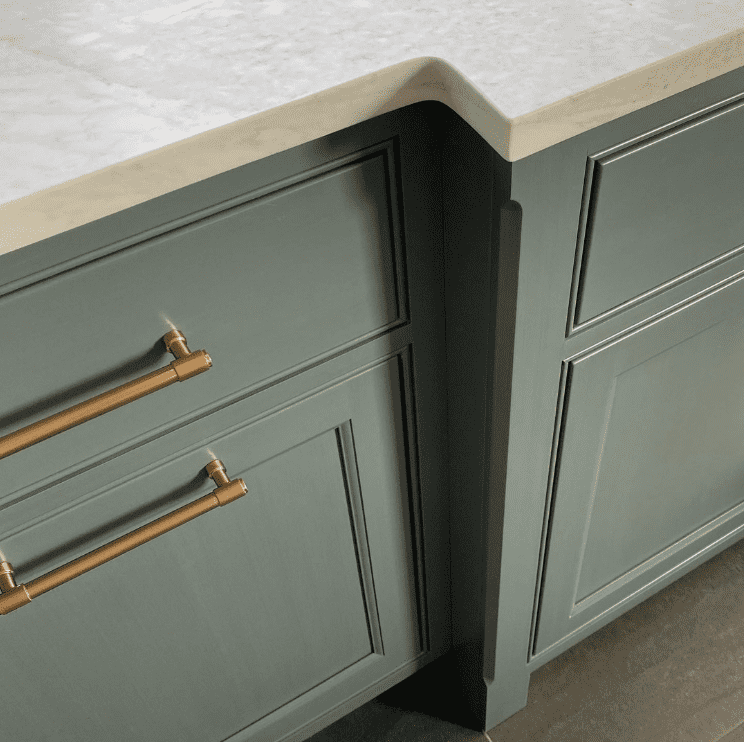 You can also order cabinets with a beaded inset. If you look closely, instead of that flat edge around the door and drawer, there is added bead molding around the door and drawer openings.
This feature is best for any shaker-style inset cabinets if you need to add a touch of glamour to the otherwise simple space. Unfortunately, when I've used the beaded inset option on raised panel doors, it gets lost with the already busy door.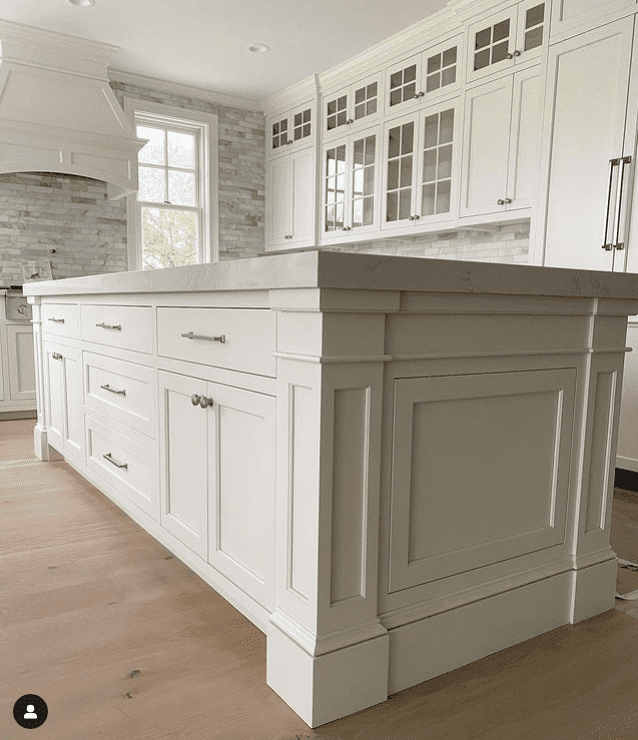 Since the face frame of the cabinet is fully exposed, you can easily distinguish each cabinet from the other. This aspect is standard for inset cabinetry and, in most cases, looks very good! However, there are a few cases where you will want a cleaner look.
Most inset cabinet lines offer the feature of combing cabinetry. This means that if you had a set of four base cabinets that totaled up to 96″ instead of four individual boxes, you could have one 96″ box made with four different sets of doors and drawers.
You can see on this island that there are no extra seams between each cabinet door or drawer. The island is one solid cabinet all the way across.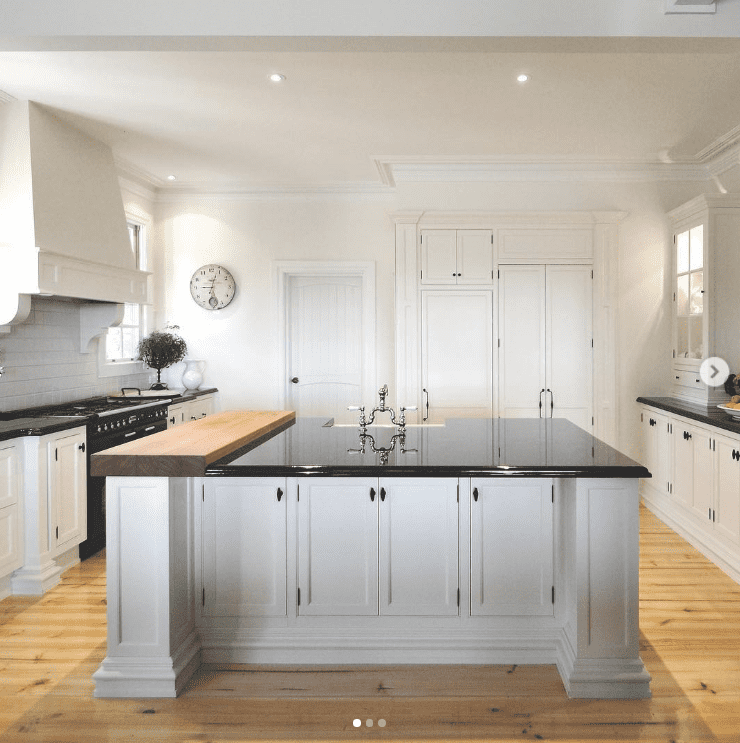 With the rising popularity of full-overlay cabinets, everybody wanted to get the modern-style concealed hinges (nobody wanted to be reminded of their grandma's kitchen cabinets from the 1960s!).
However, an exposed hinge on inset cabinets can look stylized in the proper setting. If you are working with an eclectic farmhouse style or retro-fitted cabinets in an older home, this adds a subtle touch to elevate the aesthetic.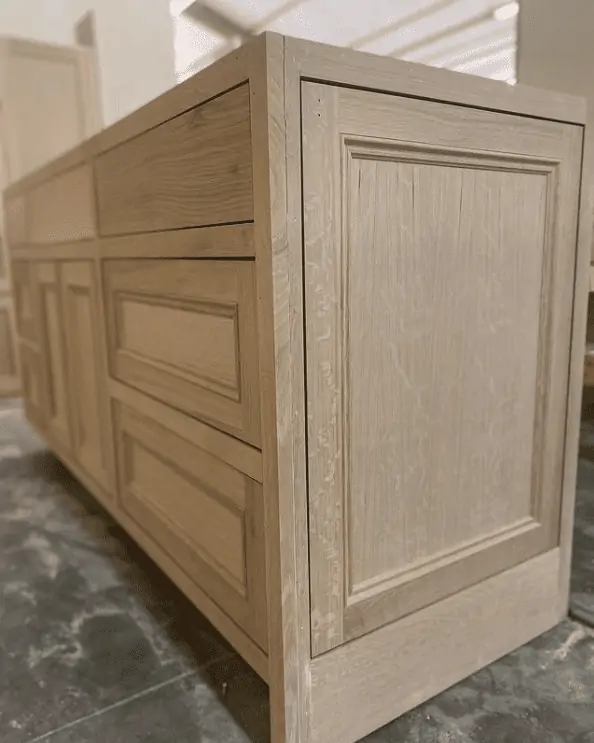 Decorative end panels are always such a great added touch to any exposed end of cabinetry. With inset cabinets, you can have the panels inset on the sides just like the doors/drawers! It is a unique look that you don't get with standard panels.
Keep in mind when you inset the side panels, you lose a half inch or so of interior cabinet space, but as long you are aware of that, it is easy to accommodate with storage/space planning.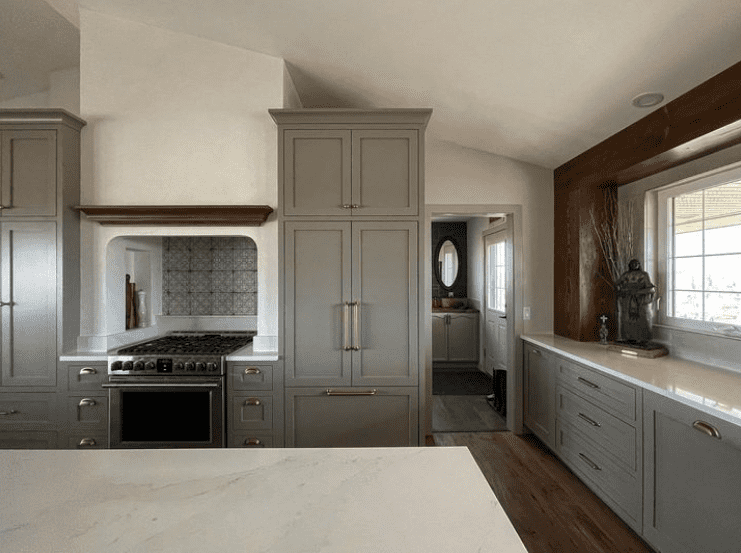 Most cabinet lines have the option for integrated appliance panels, which gives the front of all your major kitchen appliances (dishwasher, fridge, & chimney hood) the same look as a cabinet. For the inset panel-ready options, the appliance panels sit flush with the side panels used to house the appliances.
So all the fronts of the cabinet and appliances look like one continuous stretch of cabinetry. You almost don't notice that there is a fridge in this picture!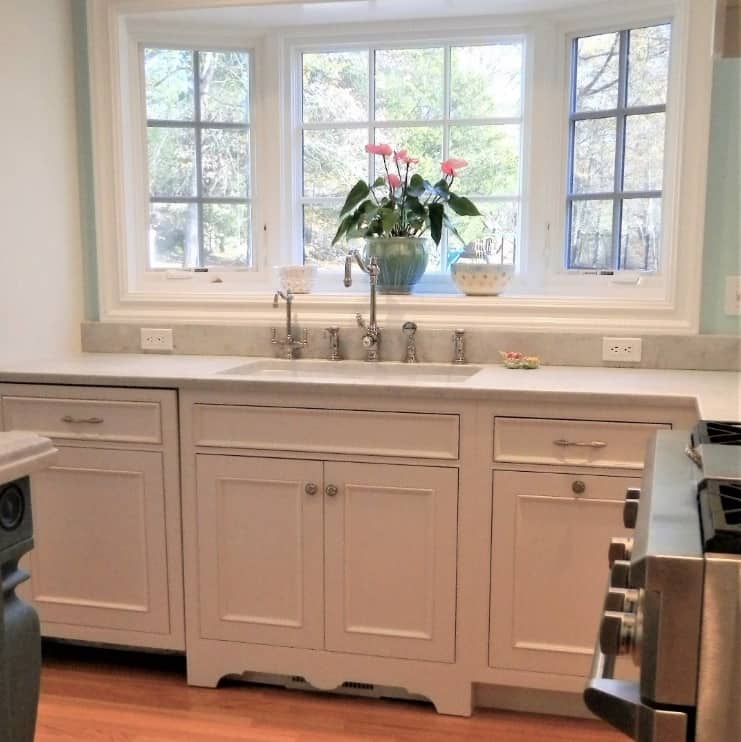 If you want a built-in furniture look, you will want to add decorative feet and toe-kick valances. Since the entire face frame of inset cabinets is exposed, when you add a decorative foot or toe-kick valance, it is added directly to the face frame, so you see one integrated piece.
I like to use this feature to highlight or accent one particular cabinet. Like in this kitchen, only the sink base has the added toe kick valance for a touch of added country charm.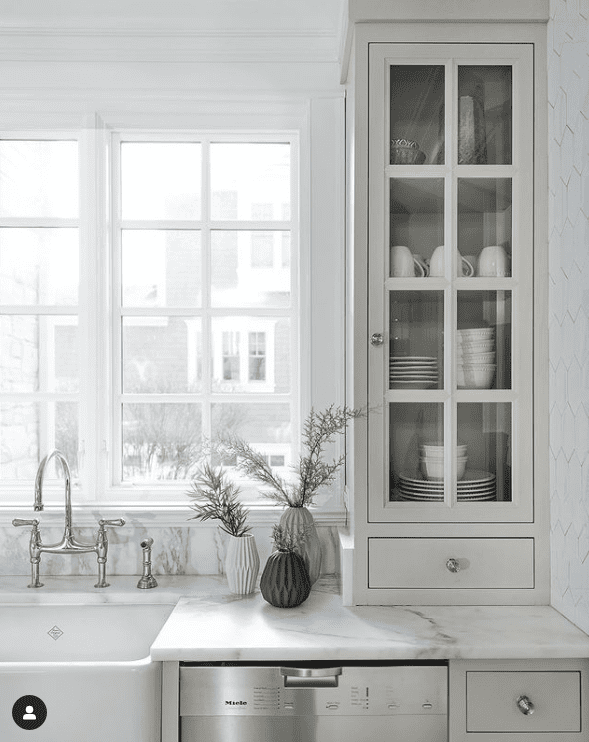 You can have glass inserted into the center panel for all inset cabinet types and door styles. While it is most traditional to add glass to wall cabinets, there is nothing stopping you from adding glass to a base cabinet! I often do this for bookcases or bars.
This example of adding glass to a wall cabinet is framed with a traditional mullion glass door front. Most cabinet lines offer several options for how the glass looks in the door. However, the mullion is my favorite because it seems like a little window and gives you a peek at what is inside the cabinet.
I also encourage you to be courageous when choosing the glass! Too many people stick with standard clear glass, but it is okay to be bold and go for textured glass (like rain, stipple, or reeded!). As I said earlier, sometimes a little texture adds the biggest statement!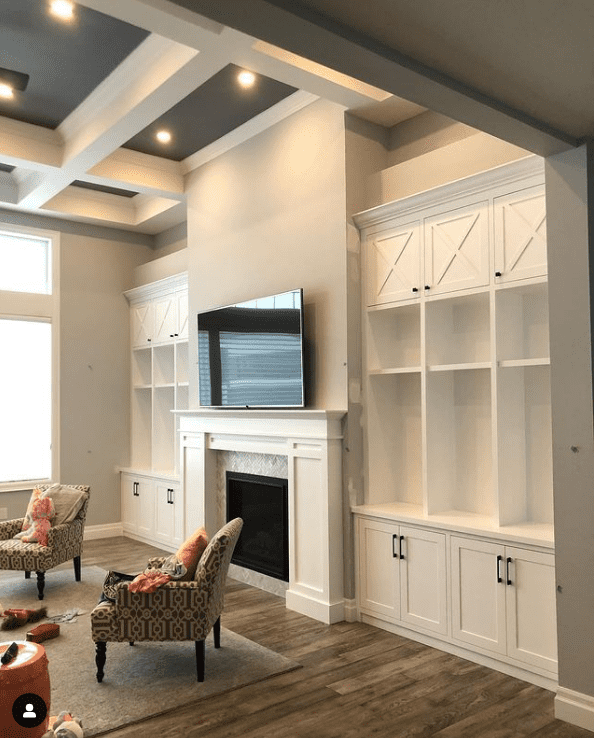 Using inset cabinets for built-ins is one of my favorite things to do! Anytime there is an accented wall of cabinetry like a bookcase, a bar, or near a fireplace, I always want to use an inset cabinet. They have a natural built-in look already, so it flows perfectly to use for a wall of cabinetry.
This is also a great place to add other customizations like the toe kick valance or beaded inset doors to elevate the design!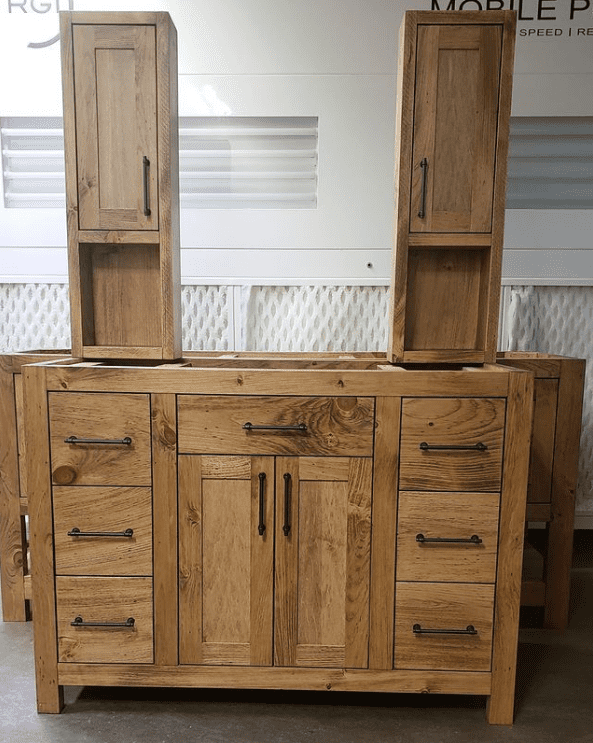 Another term for this would be "appliance garage," but without the doors. This is when the frame of a wall cabinet is extended down to the countertop to create a separate little nook. This looks particularly sharp with inset cabinets because the face frame is completely exposed, making it more custom and built-in.
The built-in nook is ever-growing in popularity and is functional! These nooks are a cute way to store those countertop appliances, utensil holders, or decorative accents.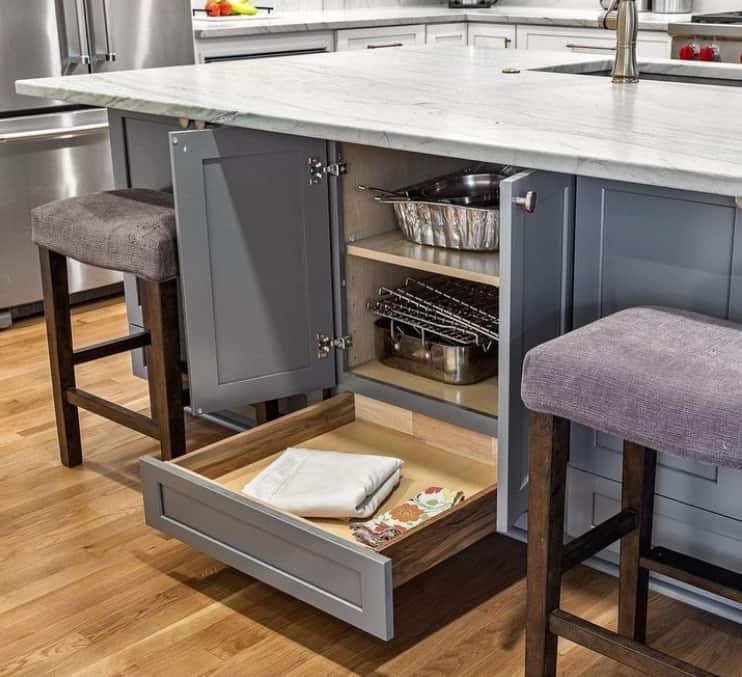 This customization is when the top drawer of a base cabinet is built into the bottom instead. I use this for a situation where drawer storage is not a priority, or little ones need to access what's in the drawers the most. I would not use this customization purely for aesthetic reasons. There is usually more of a functionality reason to do this.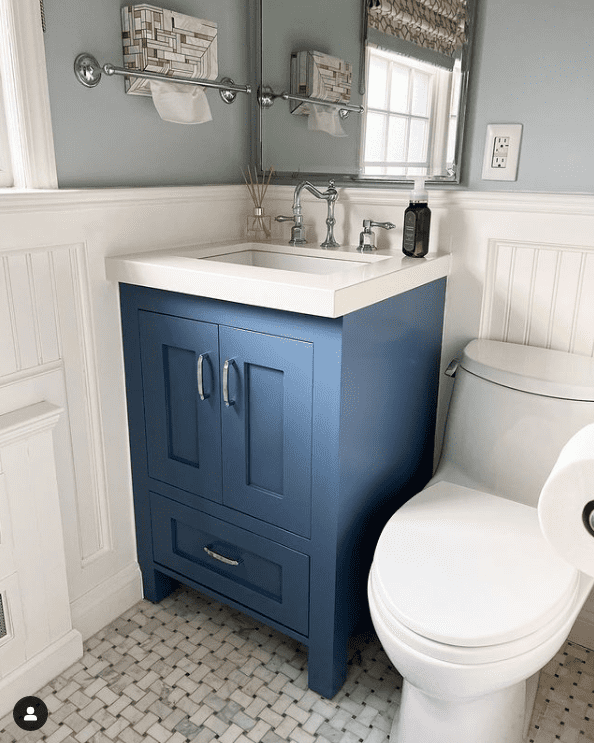 There are two different types of freestanding feet or leg options when it comes to inset cabinetry. The most common type is the one in this picture, where the legs are integrated with the cabinet box. These legs are typically a simple square shape.
The other freestanding option is ordering decorative legs separately and having the installer modify them. Those leg options usually come in more ornate designs.
Using freestanding legs is a great way to make a small space not look so cramped, like putting a freestanding vanity in a hall bath makes it appear there is more floor space. Another way I use this feature is when I want a furniture look for an island or bookcase, this one detail can distinguish something from looking like standard cabinetry to a custom furniture piece.  
Two-tone cabinetry designs have been in style for several years now. But inset cabinetry can take this idea to the next level! Since you can clearly distinguish the face frame from the doors and drawers of an inset cabinet, having two different colors on the cabinet makes it pop!
Usually, if you want multiple colors for your cabinet design, it would have to be on two separate areas of cabinetry (for example, uppers and lowers or a contrasting island). However, this option allows you to have two-tone fun everywhere!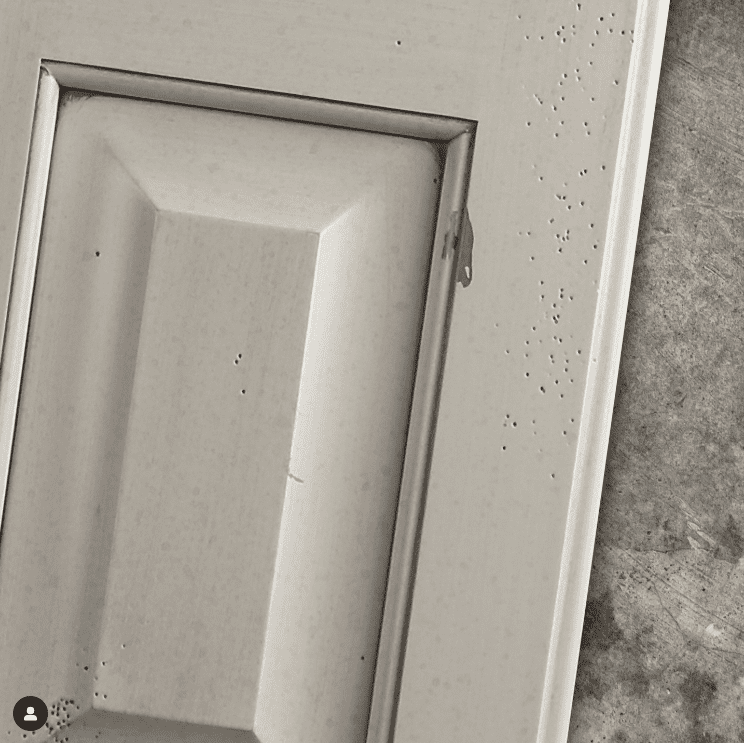 Some standard distressing options are over-sanding the corners, faux worm holes, and aged antique glazing. I've used all of these techniques for rustic or industrial spaces. These options tend only to be available to a fully custom cabinet line, so you will see these customizations more and more on inset cabinets.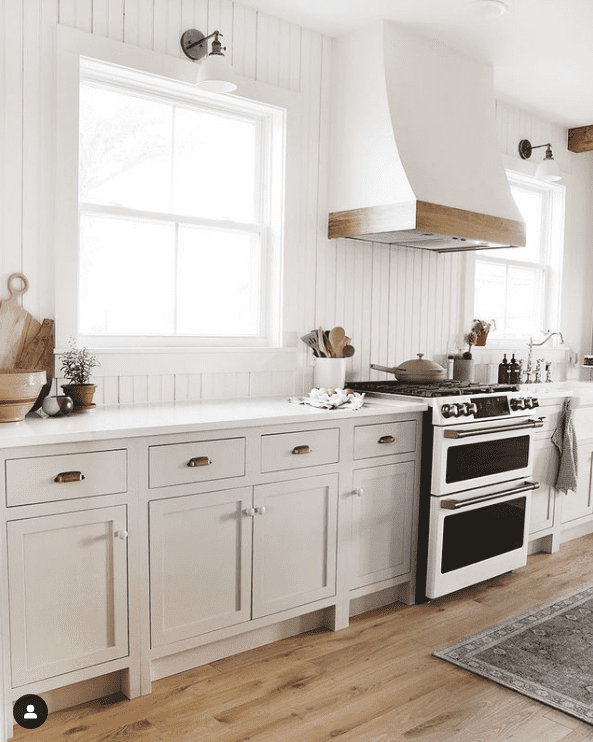 This feature is when you have the side frame of the cabinet continue down to the floor. You can see in this kitchen that when you line base cabinets up with this added panel, it looks more boxed or framed. I like to do this in retro-style farmhouses or old homes with classic charm. It has the same feel as the built-in kitchen cabinets found in a 1950s home.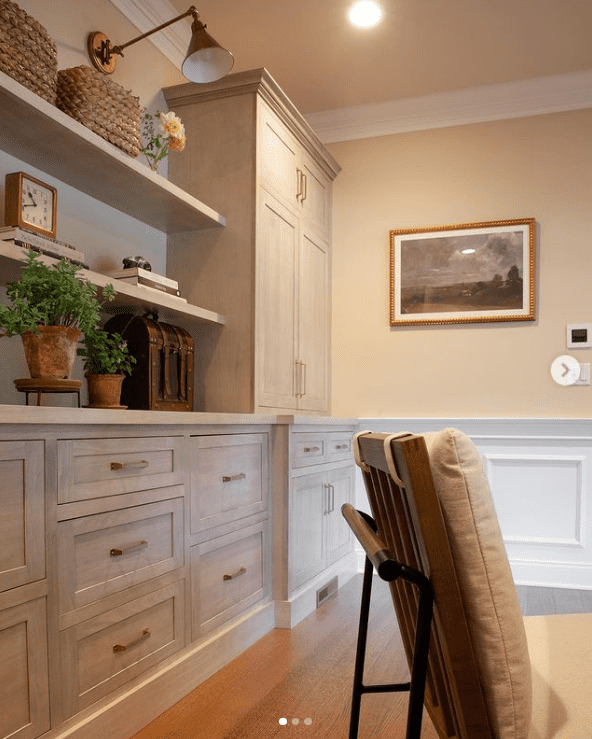 To fully complete the built-in look, you would want your cabinets to have flush toe kicks. The most traditional way to have a flush toe kick would be to have a square edge like this one. I have even incorporated baseboard profiles into a flush toe kick for added flare. 
FAQs
Question: Are Inset Cabinets More Expensive?
Answer: Yes, if you are getting quotes for your cabinet project, upgrading to inset cabinetry is approximately 15% more than your original cabinet quote.
Question: Do I Need A Special Installer For Inset Cabinets?
Answer: I would definitely recommend it! There are cabinet installers that specialize in inset cabinetry. With partial and full overlay cabinets, there is more leeway when installing the cabinet boxes flush and straight against the wall and floor. Inset cabinets do not have that luxury since you can see the entire front of the cabinet box.
The trim for inset cabinetry is different as well. If you want a seamless look, you will need a woodworker who knows how to install the fillers and moldings to an inset cabinet.
Question: Is There Less Space Inside An Inset Cabinet?
Answer: Technically, yes. You are talking about an inch taken away from the front of the cabinet, and if you do inset side panels, maybe a half inch on each side as well. Unless you have a specific item that needs a lot of space, the cabinets still house items as usual. If you are concerned about a particular item, double-check the cabinet specifications to ensure your item(s) will fit.
Final Thoughts
Inset cabinets have so many great design advantages! They are a unique cabinet look for your one-of-a-kind project. You can incorporate many customizations and added features into a design with inset cabinetry. Inset cabinets are tricky to work with (design & installation).
However, with a design professional to help guide you through all the steps and options, you will get that beautiful custom look you want!