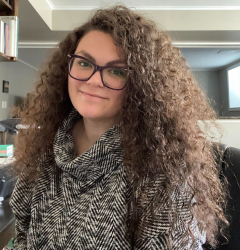 Latest posts by Candace Osmond
(see all)
It's true; the best office cabinets need to be hardworking. But that doesn't mean they can't be lovely too. I know! It's a hard balance to hit, but my 'best office cabinets guide' will explain precisely how to get it right.
I've luckily been working from home for over a decade now and have had several home office set-ups, so I know what to look for in terms of style, storage, and affordability. Let's dig in!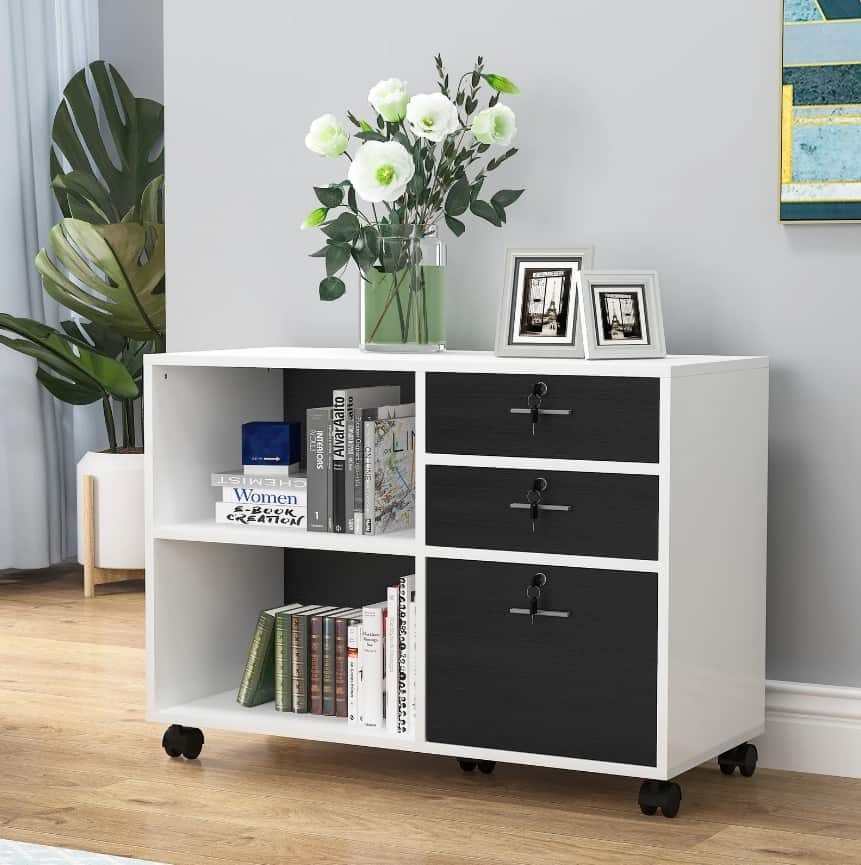 Bottom Line Upfront
The Inbox Zero Lateral Filing Cabinet literally checks all the boxes, in my opinion. Storage, display shelving, style, good price, locking drawers, and it's on wheels. What more would I want besides maybe a second one? LOL!
Top Recommendations
If you're looking to store cluttery objects, important paperwork, or a bit of both, here are my top recommendations from the list.
What Is an Office Cabinet, Really?
In the simplest context, an office cabinet is any drawer enclosure used to store paper documents in file folders. The units also protect these documents from burglary and destruction by water or fire. What's more? In North America, office cabinets are typically built to accommodate 8.5 x 11 documents. In other countries, however, you'll find office cabinets designed to hold other sizes of paper as well, like A4 documents.
Different Types of Office Cabinets
You'll find storage options for just about every type of office clutter you can imagine. Below, I'll help you determine the kind of office cabinet you may need for your workspace.
Tall
You'll usually find these in shared office spaces. One of the most significant advantages of tall office cabinets is they occupy minimum floor spaces. In addition to that, since they're more elevated, they also tend to be deeper.
Short
The drawers in these office cabinets are installed adjacent to each other and not from top to bottom. One of the best advantages of these short and wide units is their versatility. You can also use one as a workspace.
Portable
Portable office cabinets include those designed with wheels. These wheels make it easy to transfer the units from one place to another. These user-friendly office cabinets are also usually quite compact as some can even fit under office desks.
File
Also known as filing cabinets, file cabinets are pieces of office furniture used to store paper documents in file folders. Usually made of metal, these units have shelves or drawers sized to standard file folder widths.
Sliding
Sliding office cabinets vary in size and style. The main thing they have in common, however, is their aesthetics. While storing your documents behind enclosed drawers, you'll usually have artistic figures like plaques on top of these cabinets.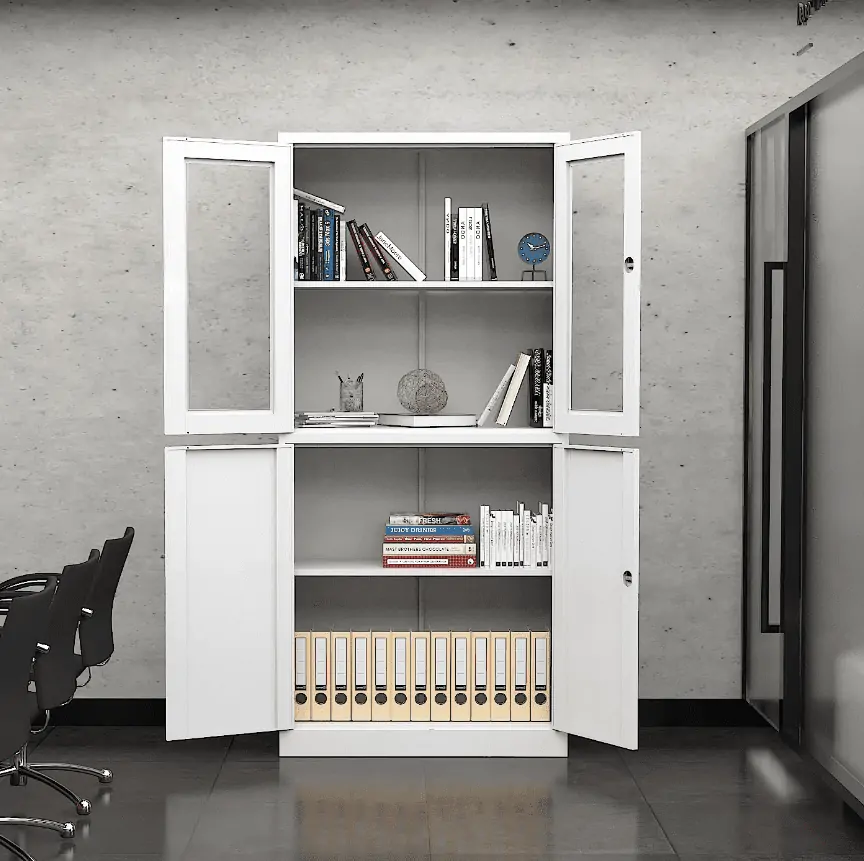 What to Look For in a Cabinet for Your Office
Need a hand ensuring you pick an office cabinet that's worth your hard-earned cash? Let this section of the office cabinets guide help you narrow down your options. When I shop for office furniture, these are the points I always keep an eye on.
Material
While plastic office cabinets are less expensive, they cannot accommodate an efficient locking mechanism. With that in mind, if you'd like to store sensitive documents, you'll want to go for metal and wooden office cabinets.
Metal office cabinets also protect office documents from other types of accidents, like fire.
Security
If you plan on having the unit in an easily accessible business area, invest in one with a lock. You'll also need one whose finish can handle the wear and tear over the years due to repeated use.
Size & Storage
The cabinet size should be one of your first considerations. Think about the number of items you'd like to store and the size of your documents, then purchase accordingly.
Design
Pick the office cabinet that you think best fits your brand. Research has proven that adding the right colors to an office space can increase workplace harmony and productivity. Better yet, picking colors that uniquely present your business may impress potential clients.
Safety Features
Anti-tip mechanisms are built into most office cabinets for the user's safety. If multiple drawers filled with paperwork are open at the same time, the unit's chances of falling over increase tremendously. Needless to say, this could easily result in serious injuries.
The Best Office Cabinets for Your Office
From painted cabinetry and fancy finishing touches to classic designs, here are some of the best office cabinets on the market. I picked each one based on its overall design, function, and price range.
Best Tall Office Cabinets
These tall office storage cabinets will unlock a new, vast storage area within your tight office space. If you have a small office, but decently high ceilings, take that storage vertical!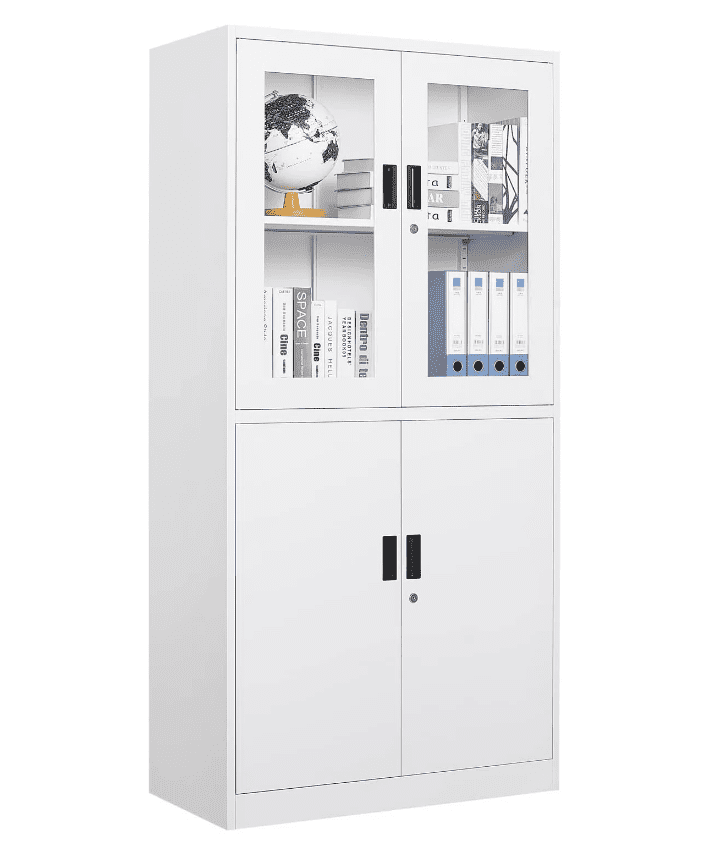 This fade, corrosion, rust, and scratch-resistant office cabinet from Inbox Zero is the ultimate solution for those after practicality. The unit retails with two sets of cabinets: the upper units and the lower units.
Price Range: $860.99 – $1,005.00
Size: 72" H x 35.4" W x 17.7" D
Best Feature: Backed by a commercial warranty
Keep items you'd like displayed in the upper glass door cabinets and things you'd like out-of-sight in the bottom set. To top it off, the office cabinet is backed by a commercial warranty. That is unheard of in the realm of storage cabinets.
Pros
Impressive weight capacity
Intended for both commercial and residential use
Fitted with a lock and key
Backed by a commercial warranty as well
Fade, corrosion, rust, and scratch resistant
Cons
Easy but time-consuming to assemble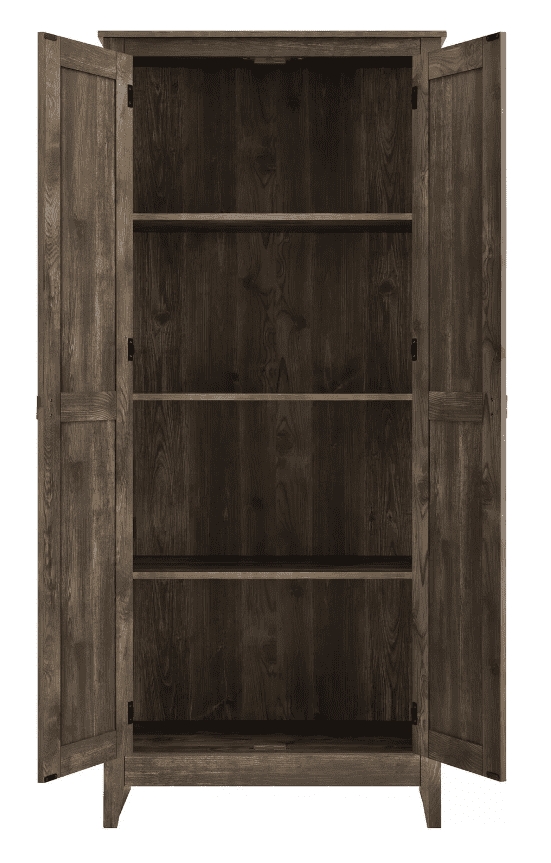 This Quast shelf storage cabinet can massively benefit every office space with little to no room to spare. The unit has four shelves, and two of them are adjustable. Each adjustable shelf's weight capacity is 25 lb., whereas each fixed shelf's weight capacity is 30 lb.
Price Range: $400.99 – $565.00
Size: 71.89" H x 31.5" W x 15.8" D
Best Feature: Ample storage capacity
Unfortunately, you'll first need to go through the tedious assembling session to enjoy everything this unit offers. Oh, the horror!
Pros
Retails in four distinct color finishes
Brims with rustic farmhouse charm
Fitted with four shelves, two of which are adjustable
Easy to clean and maintain
Backed by a one-year limited warranty
Cons
The assembly directions could be clearer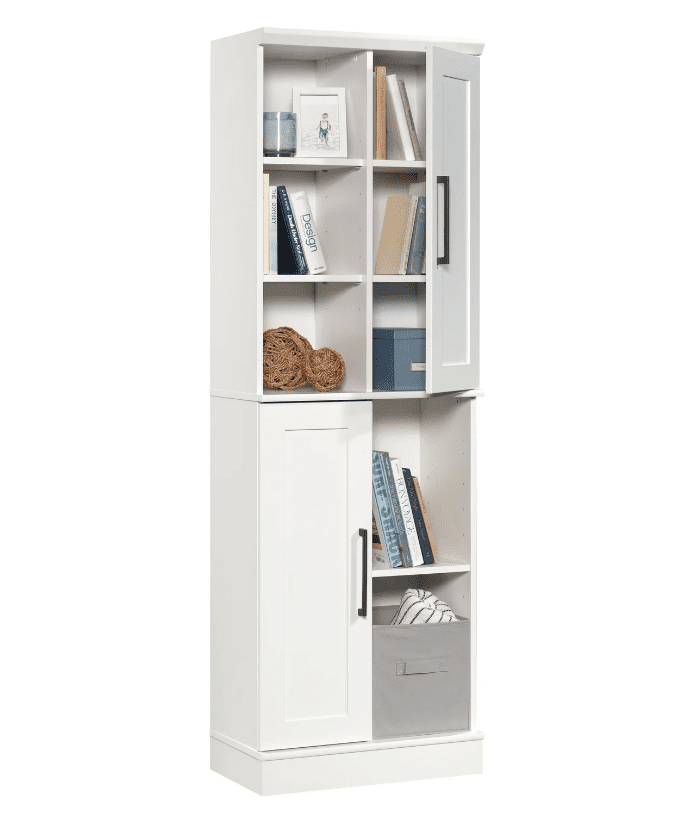 This Gilbreath Shelf Storage Cabinet is just the unit for storing important documents. It accommodates everything, from letter-size and legal-size files to hanging files. All six shelves incorporated into the unit are adjustable, so feel free to configure the unit to your specific storage needs.
Price Range: $320.99 – $400.00
Size: 71.22" H x 23.307" W x 12.992" D
Best Feature: Tip-over restraint device included
Unfortunately, the unit isn't backed by a commercial warranty. It does retail with five years of limited warranty, however, which I think is a great alternative. Hardly anything comes with a warranty over a year anymore.
Pros
Backed by a five-year warranty
Adjustable shelves
Anti-skid
Tip-over restraint device included
Will complement any interior décor
Cons
Time-consuming to assemble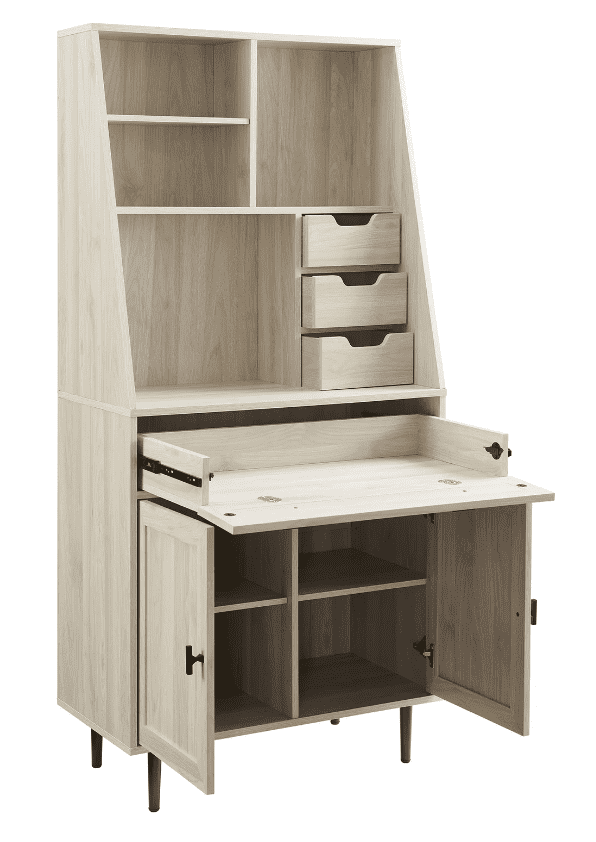 Would you prefer an office cabinet leaning a bit on the modern edge? I'd suggest this beauty from Gracie Oaks. The unit retails in two finishes (dark walnut and birch) with a drop-down front and cord management in the back.
Price Range: $600.99 – $810.00
Size: 64" H x 30" W x 15.75" D
Best Feature: Unique drop-down front design
The style isn't for everyone, I get that. But I just think it's such a cute and unique piece with so much to offer. It takes up a minimal footprint while providing a ton of storage options and even a little work/prep surface.
Pros
Aesthetic construction
Retails in two distinct finishes (birch and dark walnut)
Doubles up as a computer desk
Ample storage capacity
Easy to clean and wipe down
Cons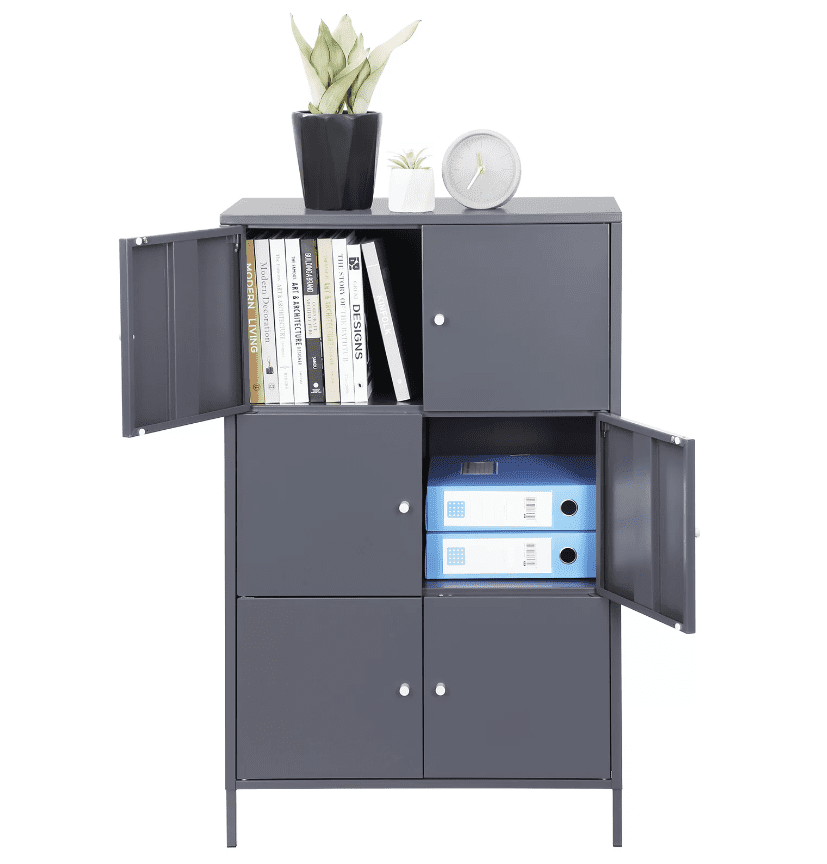 This office cabinet is constructed using high-quality steel, making it one of the most durable units available. Even more impressive, each of the unit's cabinets holds a weight capacity of 33 lb.
Price Range: $325.99 – $380.99
Size: 41.4" H x 25.6" W x 14.3" D
Best Feature: Scratch resistant
The biggest hindrance I think you'll encounter with this unit is that it requires an electric drill to assemble. You'll also need a screwdriver and some know-how. But, I mean, if I can do it, so can you. It's simple, I promise!
Pros
Tip over restraint device included
Backed by a one-year limited warranty
Eye-catching design and finish
Sturdy and durable construction
Ample storage space
Cons
Requires experience and skill to assemble
Best Small Office Cabinet
Wanna delve deeper into the realm of cabinets that won't take up more space than you can spare? Then consider one of these best small office cabinets.
Do you have arts and crafts or photo frames you'd like to showcase on your office cabinet? Then look no further than this handsome addition from Ebern Designs. The unit features a waterproof tabletop, soft-close drawers, and full-extension drawers for smooth operations.
Price Range: $250.99 – $320.99
Size: 23.4" H x 38.2" W x 13.4" D
Best Feature: Water-resistant finish
I think what I love most about this one is its simple design that is actually quite versatile. It could be an office cabinet, a TV console, storage for the garage, etc.
Pros
Extremely versatile
Waterproof tabletop
Scratch resistant
Ample storage
Backed by a limited 30-day warranty
Cons
Some people reported its smaller than it appears in the image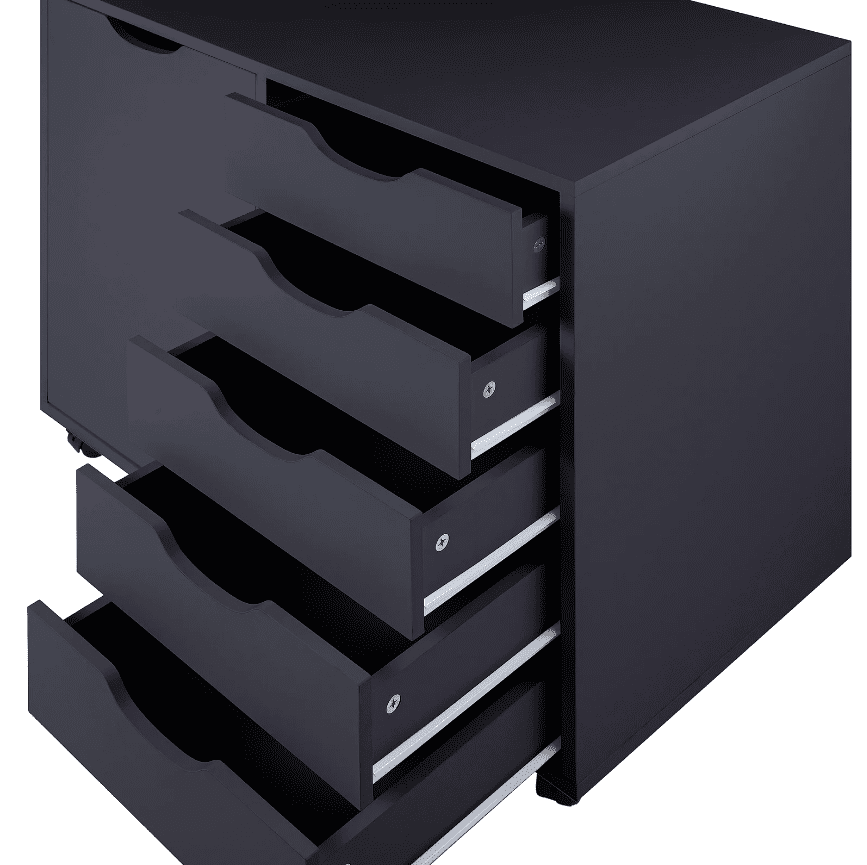 For a basic storage cabinet that's also budget-friendly, you'll never go wrong with the Amy Office Storage Cabinet. Yeah, I know, it's not the most stylish piece of furniture in this office cabinet guide. That said, it's sufficiently spacious to house all your files and office accessories.
Price Range: $255.99 – $390.99
Size: 31" H x 17" W x 26" D
Best Feature: Tip-over restraint included
Reviewers also had plenty of great things to say about the unit, including that it's efficient, sturdy, and lightweight.
Pros
Retails in three distinct finishes
Impressive weight capacity
Easy to assemble
Very durable and sturdy
Delivers ample storage space
Cons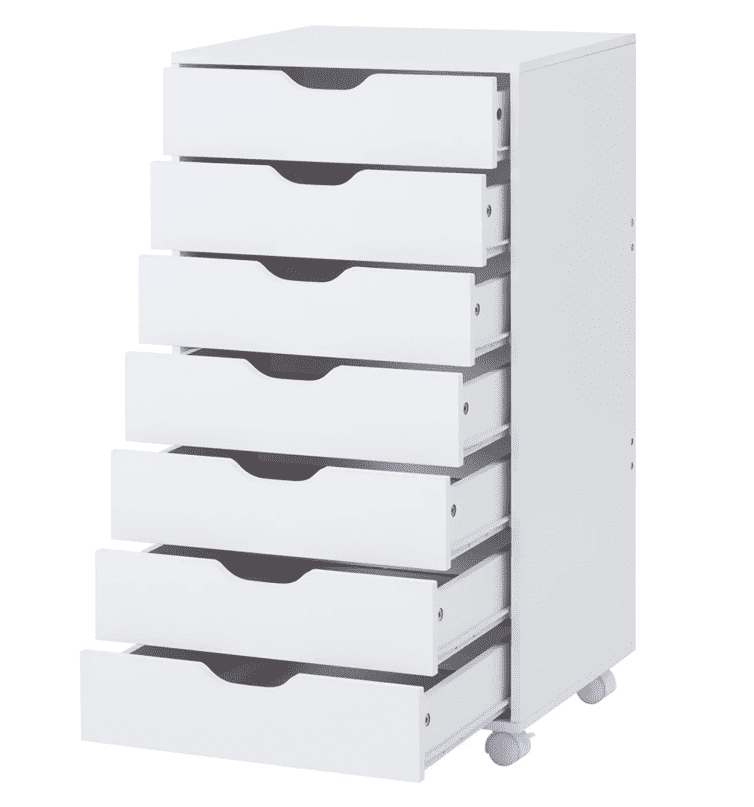 There is a reason you keep seeing vertical filing cabinets from the 40s at flea markets and antique stores. They've stood the test of time and come out on top. Rendered from high-quality manufactured wood, this unit carries as much durability as its old-school counterparts.
Price Range: $220.99 – $333.99
Size: 18.8" H x 15.7" W x 34.2" D
Best Feature: It's simple and chic design
Hopefully, you won't mind the hours you'll have to dedicate to assembling the unit. I promise you; they'll be worth it in the end. The mid-century modern look is on-point, but you could totally spruce this piece up with your own personal style using wall decals, stencils, even painting the whole thing! If it were me, I'd do every drawer a different color!
Pros
Retails in three distinct color finishes
Easy maneuverability
Will organize your files efficiently
Backed by a 90-day warranty
Impressive weight capacity
Cons
Time-consuming to assemble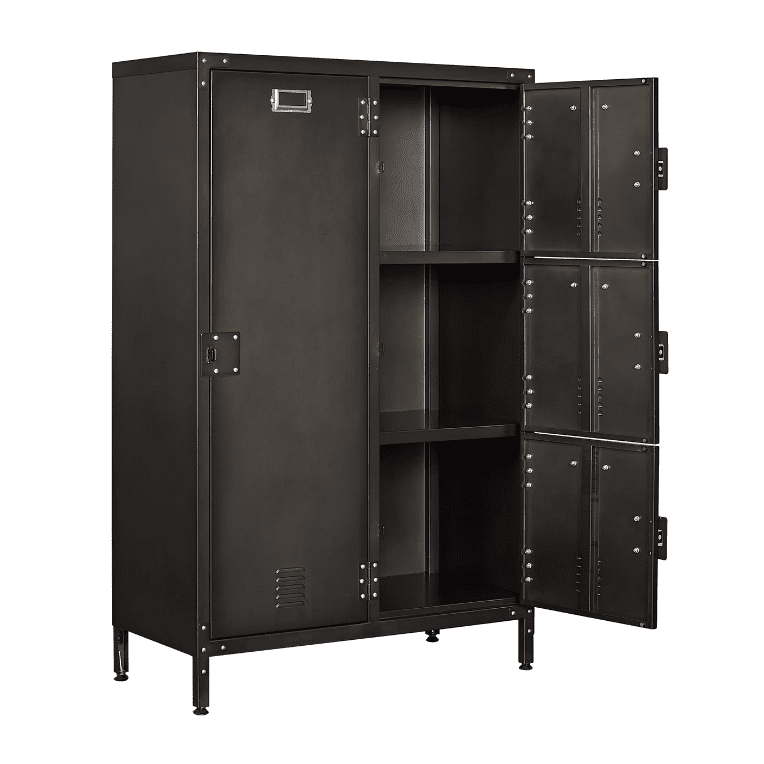 Looking for an office cabinet that'll keep your office clean and well-organized for years to come? This Willston Forge Metal Storage cabinet will do the trick. The unit is made of high-quality steel, making it one of the sturdiest and most durable options in this office cabinet guide.
Price Range: $499.99 – $580.99
Size: 47.3" H x 29.5" W x 13.8" D
Best Feature: Commercial warranty
The manufacturer has even backed the cabinet with a commercial warranty to further emphasize how durable it is. I've actually included this one in other cabinet guides because I just love it so much. I think the size is perfect, offers great storage, and is stylish if you like the industrial look.
Pros
Reliable locking system
Designed for both residential and non-residential use
Backed by a 90-day limited product and commercial warranty
Adjustable feet pads
The industrial design will suit most spaces
Cons
The industrial rust finish may clash with other interior décors
Best Office Cabinet with Wheels
Is mobility essential around your workspace? Perhaps an office cabinet with wheels is what you should get. These units are quick and easy to move around a space according to the task and requirements at hand.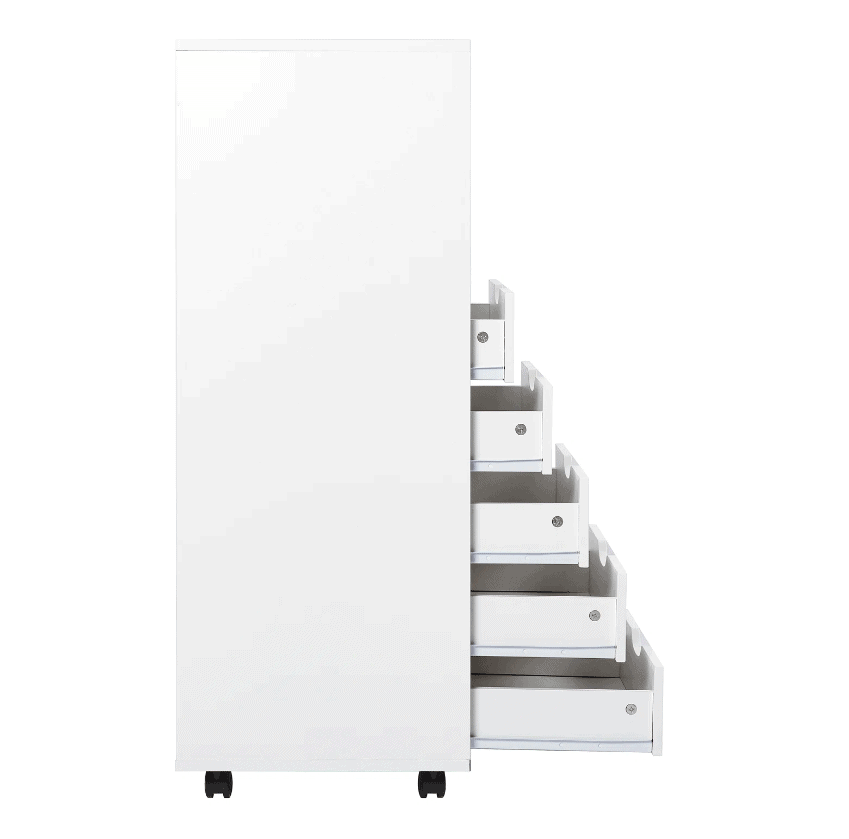 If this guide has proven anything, Inbox Zero is all the rage these days. This Carly unit from the same company further solidifies that point. With six spacious drawers, the piece makes for an airy addition to any office space.
Price Range: $205.99 – $290.99
Size: 18.8" H x 15.7" W x 41.3" D
Best Feature: Soft close drawer glides
Immediately wipe off any spillages that hit this cabinet's surface because it's not water resistant. That's a downer, but since it's meant for the office, you probably don't have to worry about things getting spilled.
Pros
Retails in three distinct color finishes
Soft close doors
Easier to assemble compared to most units here
Ample storage space
Backed by a 90-day limited warranty
Cons
Time-consuming to assemble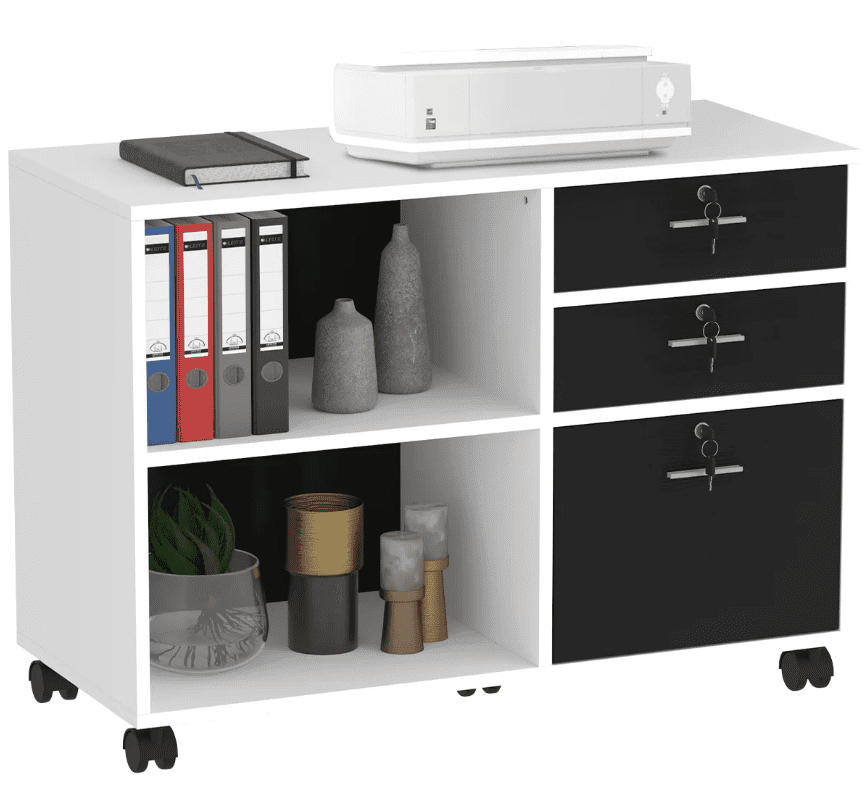 With its water-resistant black-and-white finish, you can't get much more stylish than this filing cabinet from Inbox Zero. The unit honestly looks more like a chic piece of furniture rather than the functional unit that it is.
Price Range: $270.99 – $325.99
Size: 23.4" H x 35" W x 15.6" D
Best Feature: Water-resistant finish
I wish the unit had more finishes and color combinations, but I like the black option.
Pros
Retails in two distinct shades
Scratch resistant
Waterproof tabletop
Durable, sturdy construction
Easy to clean and wipe down
Cons
Several clients reported receiving several damaged pieces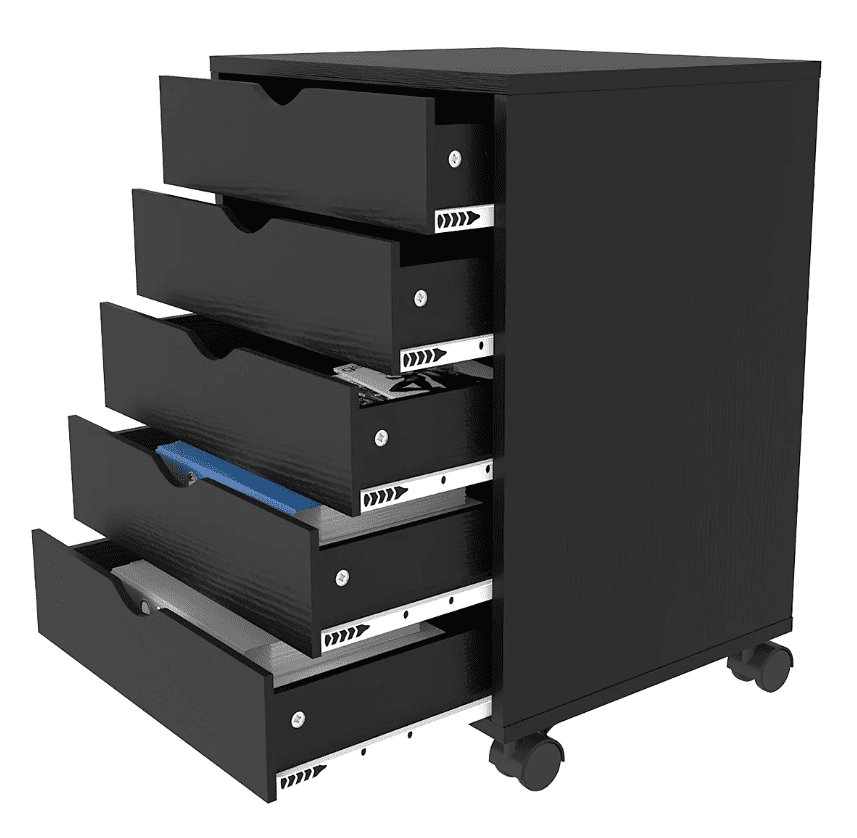 I never thought I'd ever call an office cabinet with wheels adorable, but this one from Yitahome is just that. It sports a fresh black palette that'll lend a nice tone-down of colors to your office. Plus, the unit retails in two other finishes for those who don't like this black option.
Price Range: $210.99 – $265.99
Size: 25.2" H x 18.7" W x 15.7" D
Best Feature: Water-resistant finish
I think this would actually double really well as a bedside table with storage. I know I'd use it as one! Between my devices, books, and other bedside clutter, this would work perfectly.
Pros
Retails in three distinct color finishes (white, grey, and black)
Impressive weight capacity for its size
Will complement any interior décor
Waterproof exterior surface
Scratch resistant
Cons
The drawers do not lock in place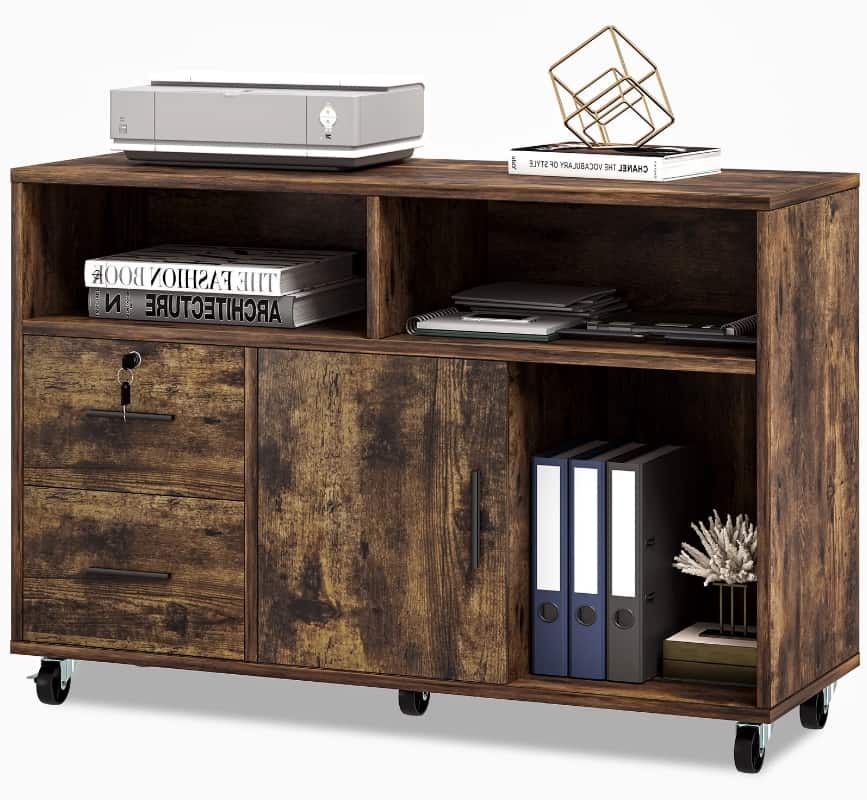 For the most spacious office cabinet with vintage flair, you need to take a sneak peek at this 17-stores creation. Looking like something right out of the past, the unit boasts a rustic mid-mod silhouette that you're guaranteed to love.
Price Range: $230.99 – $355.99
Size: 25.7" H x 38.1" W x 13.3" D
Best Feature: Water resistant finish and scratch resistance
The only downside is the finish may look out of place in a contemporary-styled space. But then again, it's got clean straight lines, so I would totally use it in an industrial-farmhouse mashup!
Pros
Boasts a hard-to-beat rustic brown finish
Ample storage capacity for all office accessories and papers
Will complement any interior décor
Water-resistant
Scratch resistant
Cons
Extremely hard to assemble
Best Office Filing Cabinet
Got a lot of paper clutter? Get the best office filing cabinet. These units are the most ideal for sorting and organizing office paperwork.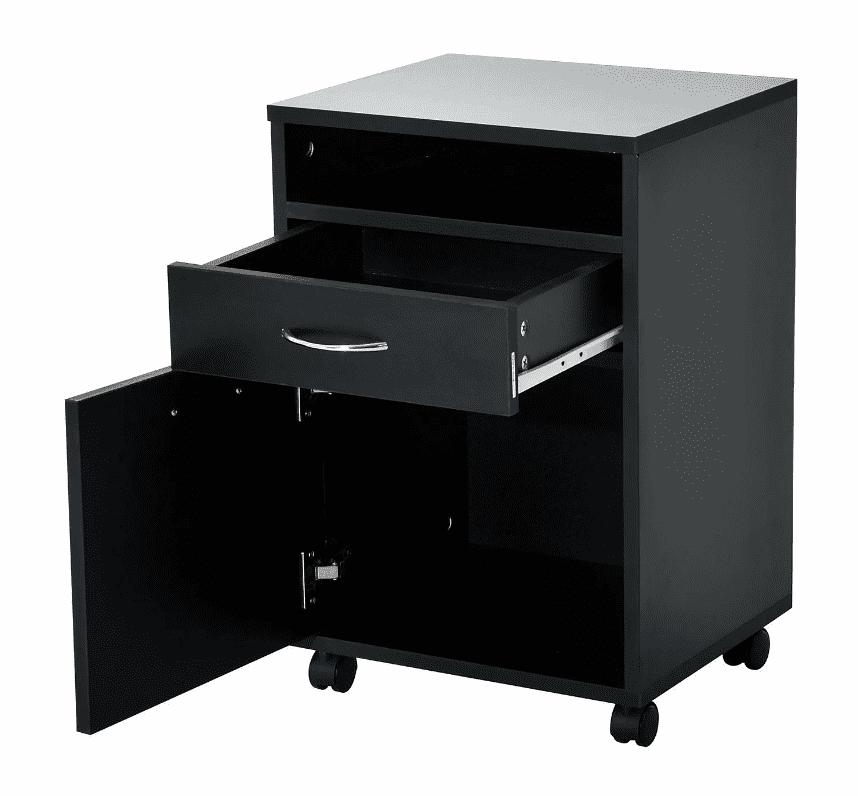 This unit from Eber Designs is one of the best affordable units available, thanks to its compact design. But don't let its price point fool you into thinking the unit isn't a quality option. It boasts a sturdy manufactured wood construction and flexible layout of two shelves and one drawer.
Price Range: $112.99 – $163.99
Size: 23.75" H x 15.75" W x 14" D
Best Feature: Compact nature
Yes, it's not the best choice if you need a ton of storage. But if you have a small office, or just a family home office that needs to keep basic files in order, this unit is perfection.
Pros
Retails in three different color finishes
Compact design
Will complement any interior décor
Backed by a one-year limited warranty
Strong, sturdy construction
Cons
Too small for busy offices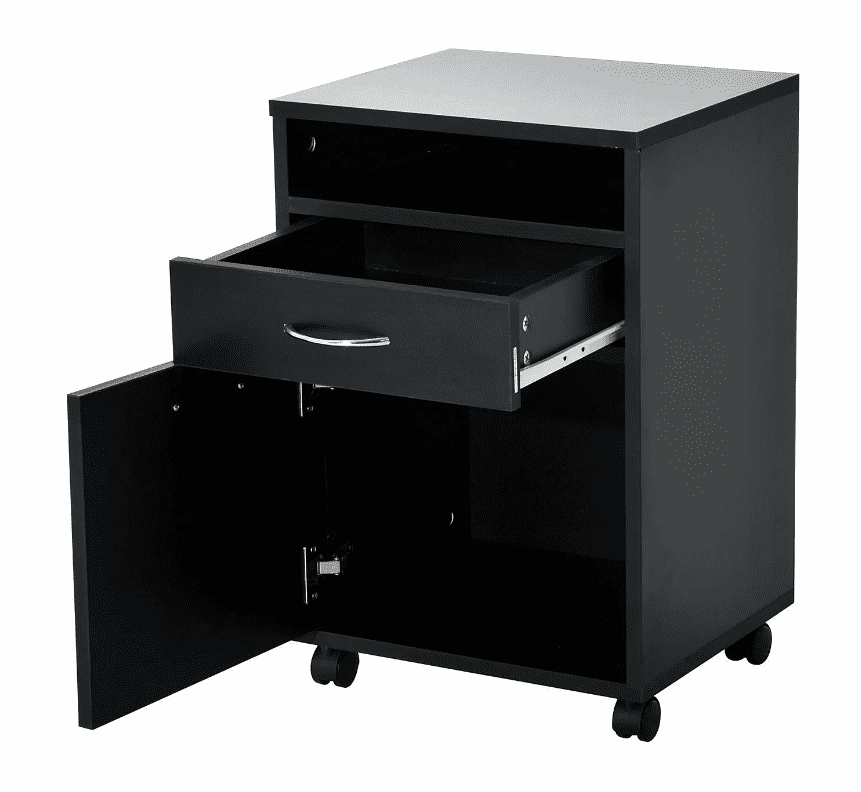 Do you already have an existing office storage system and just need an extra storage cabinet to supplement that storage? An affordable, portable option like this Turgeon vertical filing cabinet could be the perfect solution.
Price Range: $160.99 – $199.00
Size: 26" H x 15" W x 17.7" D
Best Feature: Rustic Charm
This Turgeon vertical filing cabinet is also one of the easiest to assemble. That said, note that multiple people have claimed that the process is still quite time-consuming. Just make sure to read the included instructions and be patient.
Pros
Soft close drawers
Impressive weight capacity (110 lb.)
Backed by a one-year limited warranty
Aesthetic construction
Sturdy and portable
Cons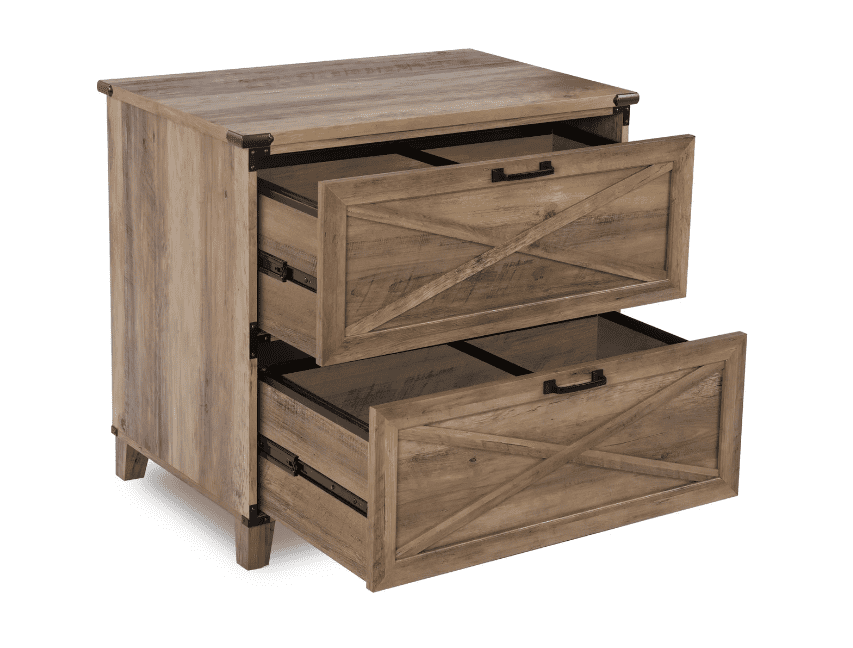 If you're going for the minimalist, traditional vibe in your office space, look no further than this Sand & Stable construction. The downside is it retails in only one finish, this one. On the bright side, however, it does have an impressive maximum weight capacity of 80 lb.
Price Range: $219.99 – $533.99
Size: 29.5" H x 31.5" W x 20" D
Best Feature: File sizes accommodated include letter & legal
I think it's just so stylish and cute, but in a professional way. I'd get a couple for my office to flank my desk and top them with nice vases or something.
Pros
Will fit both letter & legal documents
Drawers extend fully out
The black hardware gives off an industrial vibe
Durable construction
Ample storage space
Cons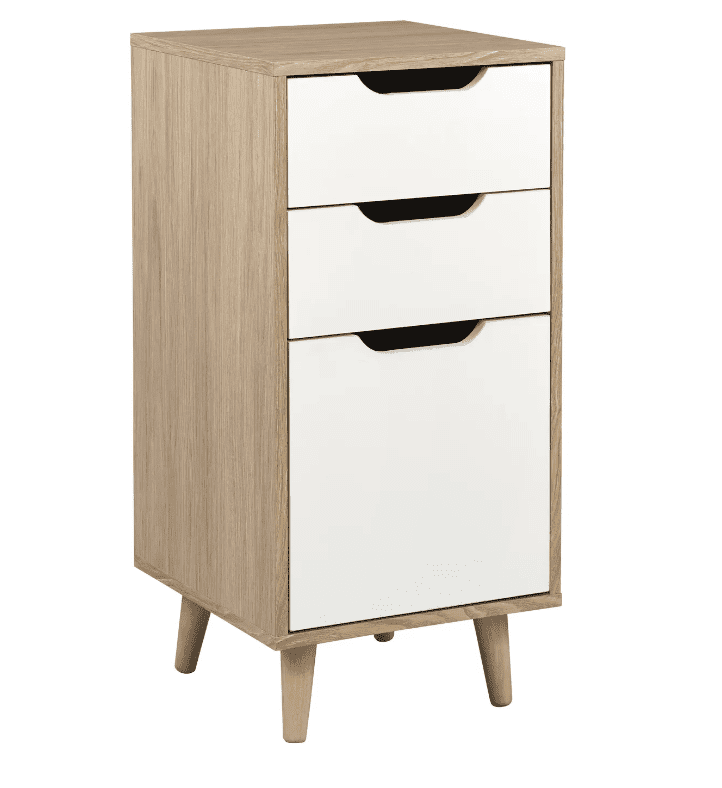 Simple, chic, and cost-effective. Those are the exact words I'd use to describe this masterpiece from Corrigan Studio. Compactly designed with fully extendable drawers, the unit was designed with spatially challenged offices in mind.
Price Range: $205.99 – $260.99
Size: 31.7" H x 15.7" W x 15.1" D
Best Feature: Space-saving design
I'm just really diggin' the whole mid-century modern movement lately. It's always been a gorgeous style, but seeing if it is widely used is awesome. If you love the popular style's clean, simple lines and calming vibes, this is a great option.
Pros
High-quality solid and laminated engineered wood construction
Backed by a limited 30-day warranty
Easy to clean and maintain
Compact to fit in homes with limited space
Durable and sturdy
Cons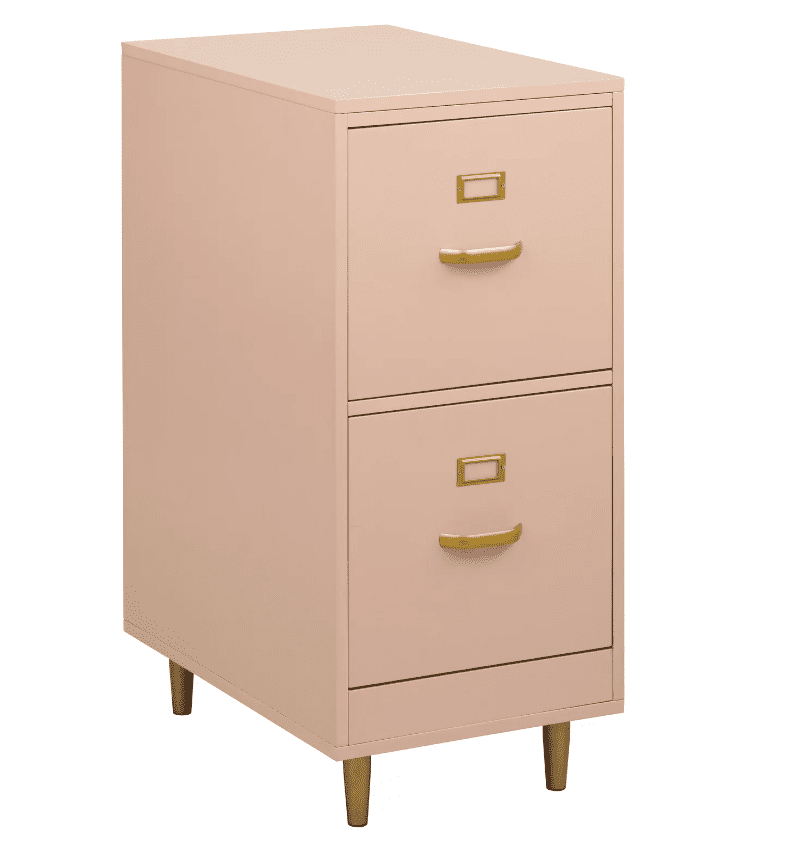 This two-drawer file cabinet from Mercer41 boasts a durable manufactured wood construction and timeless finish that'll complement any office setting. It's also fitted with 22-inch-deep drawers that'll allow you to pack many files into the small drawers.
Price Range: $340.99 – $399.99
Size: 333" H x 15" W x 22" D
Best Feature: Chic design
Like most people in the product's comments section, I wish it was made of metal instead of MDF.
Pros
Its drawers fully extend out
Backed by a 30-day limited warranty
Will stand out in any room and décor
Retails in six distinct color finishes
Easy to clean and maintain
Cons
Extremely time-consuming to assemble
FAQs
Question: What Are the Dimensions for A File Cabinet Drawer?
Answer: A typical two-drawer file cabinet drawer is roughly 15 inches wide, 28½ inches deep, and 32 inches high. The type of cabinet will also affect its dimensions. Is it a vertical files storage unit or a lateral files storage unit?
Question: What Materials Are Best for Office Storage Cabinets?
Answer: Many interior designers and architects swear by solid wood. The most widely used office cabinets are also constructed from particleboard with melamine, plywood, medium-density fiberboard (MDF), and steel.
Question: How Deep Should Office Cabinets Be?
Answer: The minimum office cabinet depth you should go for is 23 inches. The most spacious office cabinets can be as big as 30 inches deep. Go for these bigger alternatives if you anticipate dealing with letter-size and legal-size documents.
Bottom Line on Office Cabinets
With this 'office cabinets guide' in your corner, getting things in order around your office should never feel chaotic again. I've done everything to ensure I've included a unit for every scenario, including for those working in shared workspaces.
Did you find one you liked? I'd recommend the Inbox Zero Lateral Filing Cabinet if you want a combo of style, storage, security, and portability. For more home décor and furniture recs, check out my other guides!
Read More: