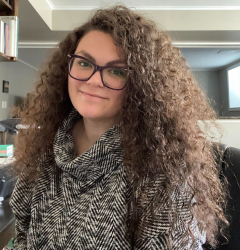 Latest posts by Candace Osmond
(see all)
We all know storage cabinets are essential to the composition of every home. And also, your sanity for the sake of organization. But how do you separate the best from the rest in a market flooding with sub-par units? Well, that's where this guide to the best storage cabinets comes into play.
When I worked as a Designer, one of the most common issues my clients had was a lack of storage and problems with clutter. So, I know some things about what you might need. From artsy to minimalistic chic, this detailed guide contains them all. Read through and single out the units you think can perfectly adorn your home.
Bottom Line Upfront
Hand down; I think one of the best options is something like the Wayfair Basics Garage Storage Cabinet System because of what you get and what it can offer. It's a massive unit that can go in the garage, an office, a rec room, or even a spare bedroom.
It provides so much storage for the home. So, rather than several storage units in different rooms, I'd go with something more central like this and keep it as much as possible.
Top Recommendations
After spending days scouring the internet, these six units stood out the most to me.
Different Types of Storage Cabinets
Garage, kitchen, laundry, bathroom – oh my! In this section, I intend to explain everything you ought to know about the different types of storage cabinets available.
Kitchen
In the kitchen, storage cabinets usually retail with a healthy mixture of drawers and shelves. Drawers are great for storing kitchen implements: think knife racks, kitchen linens, silverware, and other small kitchen supplies.
On the other hand, Shelves allow cooks to store baking ware, plates, pots & pans, storage containers, and appliances like blenders.
Bathroom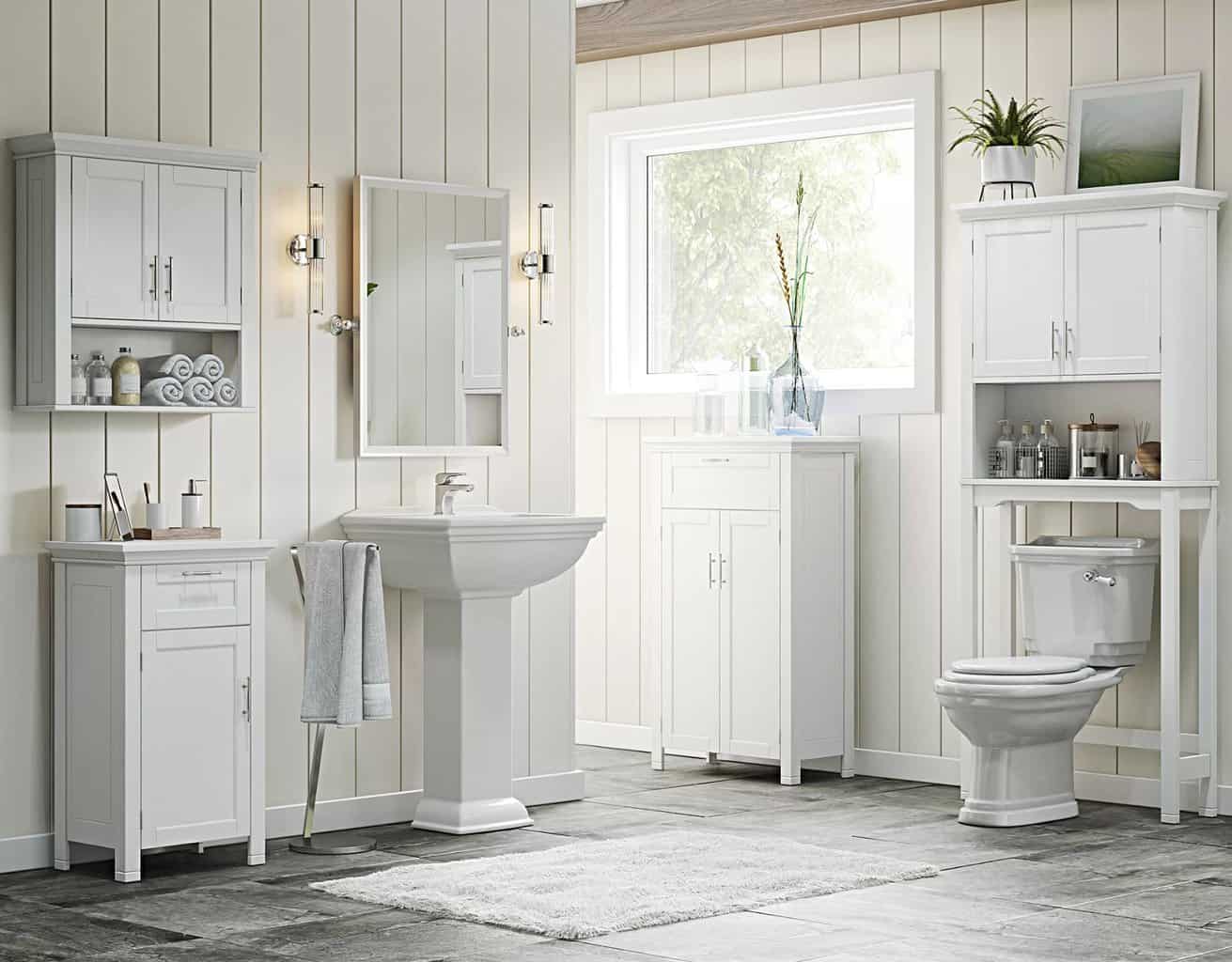 Bathroom storage cabinets are usually designed from water-resistant and durable materials, often varnished or painted. They also tend to be shallow, so people can easily access items they have locked inside, like tissue paper and lotions.
A common feature on bathroom storage cabinets is also mirrored doors.
Laundry
Laundry rooms are arguably the workhorses of all homes lucky enough to have a space for one. I say that because they hide all manners of sins (muddy boots and copious amounts of coats). Better yet, they possess the unique ability to transform unsightly piles of dirty laundry into fresh-smelling loads.
But how can one make this hard-working space just as organized and beautiful as the rest of the home? Well, that's where the best laundry storage cabinets come into play. These are usually as stylish as they are functional.
Office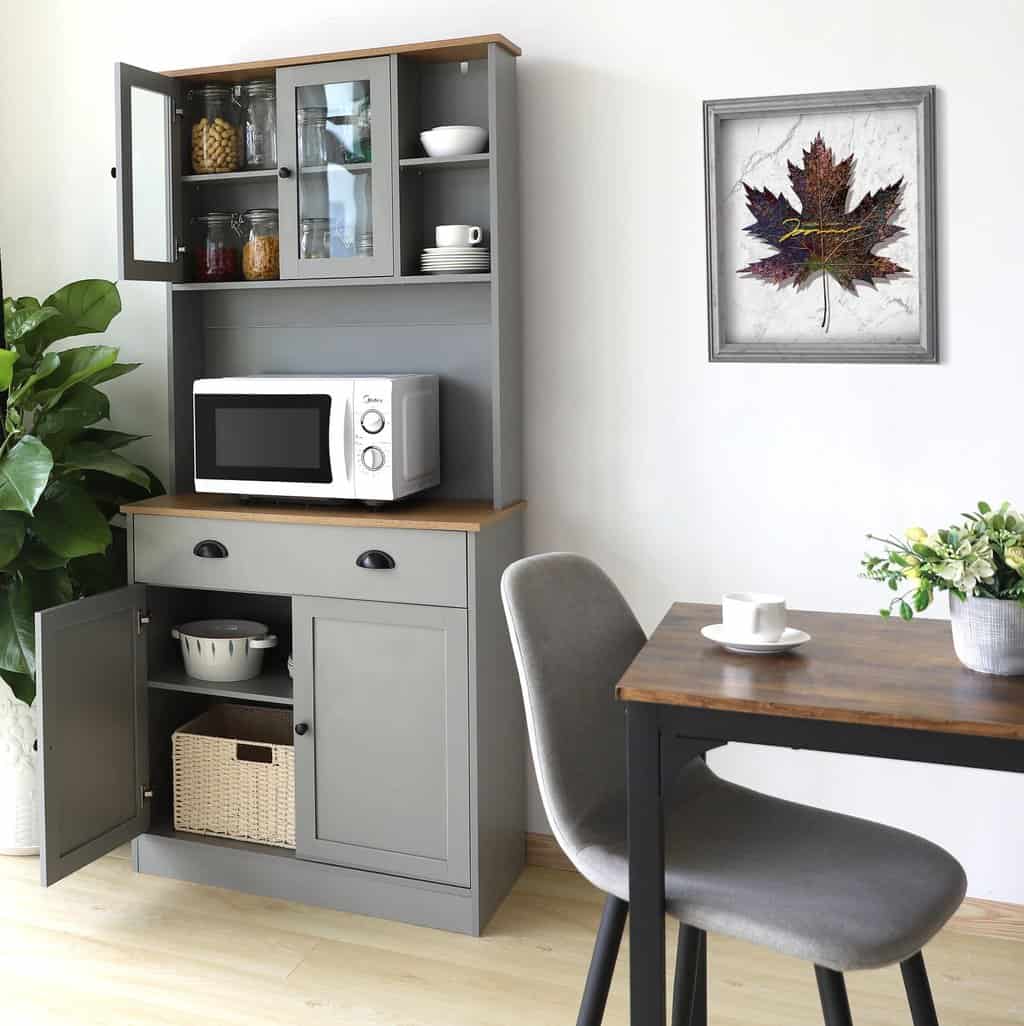 Offices can also greatly benefit from the best storage cabinets. Depending on the cabinet's design, these units can store office supplies and files in hanging or lateral fashions. It's common to have office supplies inside the drawers or shelves.
What's more? Most office storage cabinets also retail with locks and keys. These help keep sensitive material and secure, confidential documents away from snooping individuals.
Garage
The best garage storage cabinets help you keep your tools neat and organized. This, in turn, enables you to find them quickly when you direly need them. Features you'll usually need in a reliable garage cabinet include strong construction, lighting, built-in steel workbenches, wheels, and locking doors. They can either be free-standing or wall-mounted.
How To Choose a Storage Cabinet
Different people use different criteria for deciding on the best storage cabinets. I, however, follow a four-point rule that has never failed me. I'll teach it to you today.
Material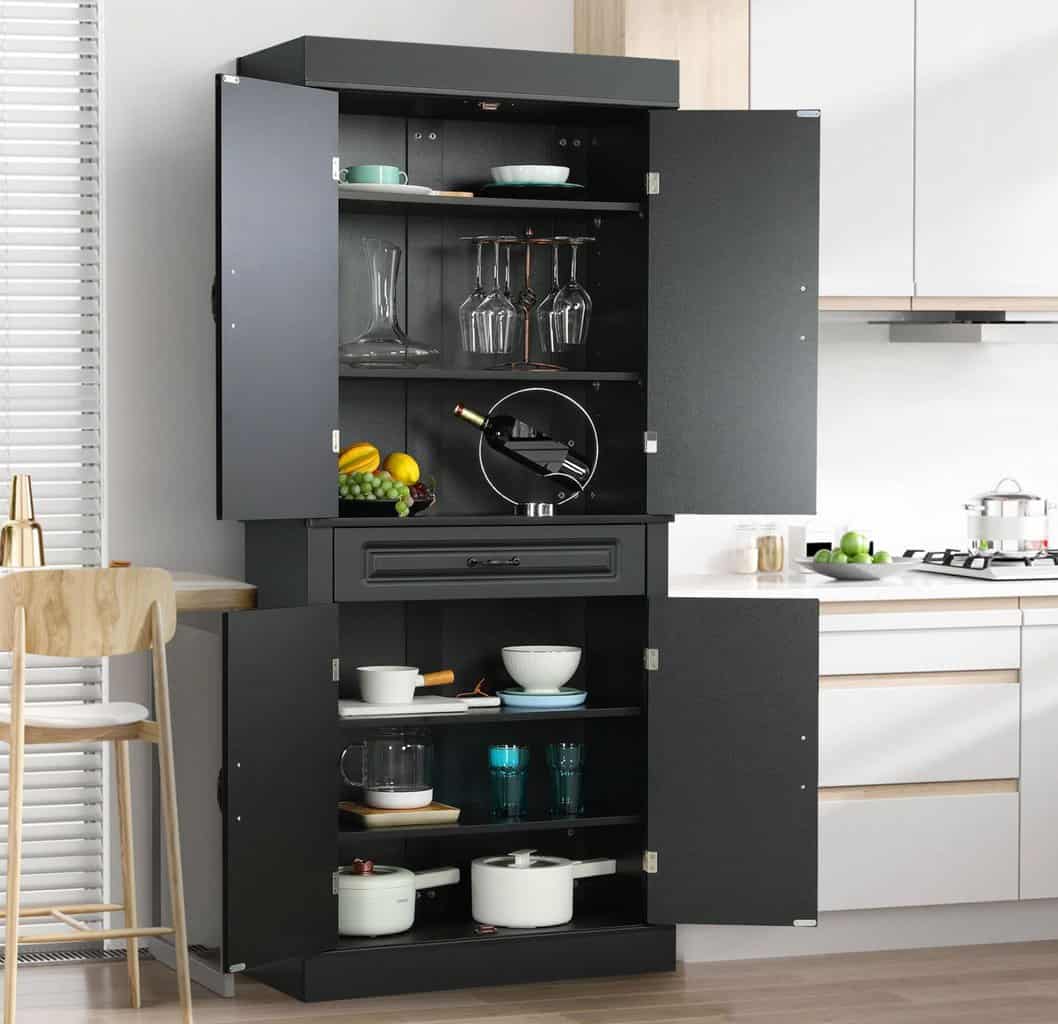 Storage cabinets retail in a wide array of materials, including hardwood, brass, glass, plastic, or a combination of different materials. MDF, manufactured, and acacia wood are the most popular types you'll usually find.
With that in mind, is your storage cabinet going into your kitchen, bathroom, or laundry room? Then you'll want to go for a durable material that can withstand mildew and mold, like MDF. Otherwise, glass and steel storage cabinets look just as great and can be kept in good condition if cleaned regularly.
Size
Think about where you intend to have your storage cabinet. Next, double-check the dimensions of the storage cabinet you're about to purchase and ensure it fits. In addition to the width and length, you'll also need to double-check depth or projection. This will tell you how far it will come out of the wall.
Design
Some storage cabinets retail in one standard design, whereas others have multiple colors, finishes, and designs you can pick from. Pick the texture and design you think will best complement your home's interior décor and surrounding furniture.
Storage Capacity
The look and beauty of the storage cabinet shouldn't be the only thing you're looking for in your next unit. Also, think about functionality. Ensure that the cabinet you pick is perfect for the products you'd like to store. After all, these units are primarily meant for storage.
The Best Storage Cabinets for Your Home
With everything you've learned about storage cabinets in mind, it's time to put your analytical skills to the test. Go through the list below and let me know which unit best meets your needs and personal preferences. I broke them all up by room and common areas of the home to help you narrow your search. Also, I picked a nice varied selection of sizes, styles, and price ranges, but all with quality in mind.
Best Kitchen Storage Cabinet
With these five units, you can double up on space while simultaneously adding elegance to your kitchen space.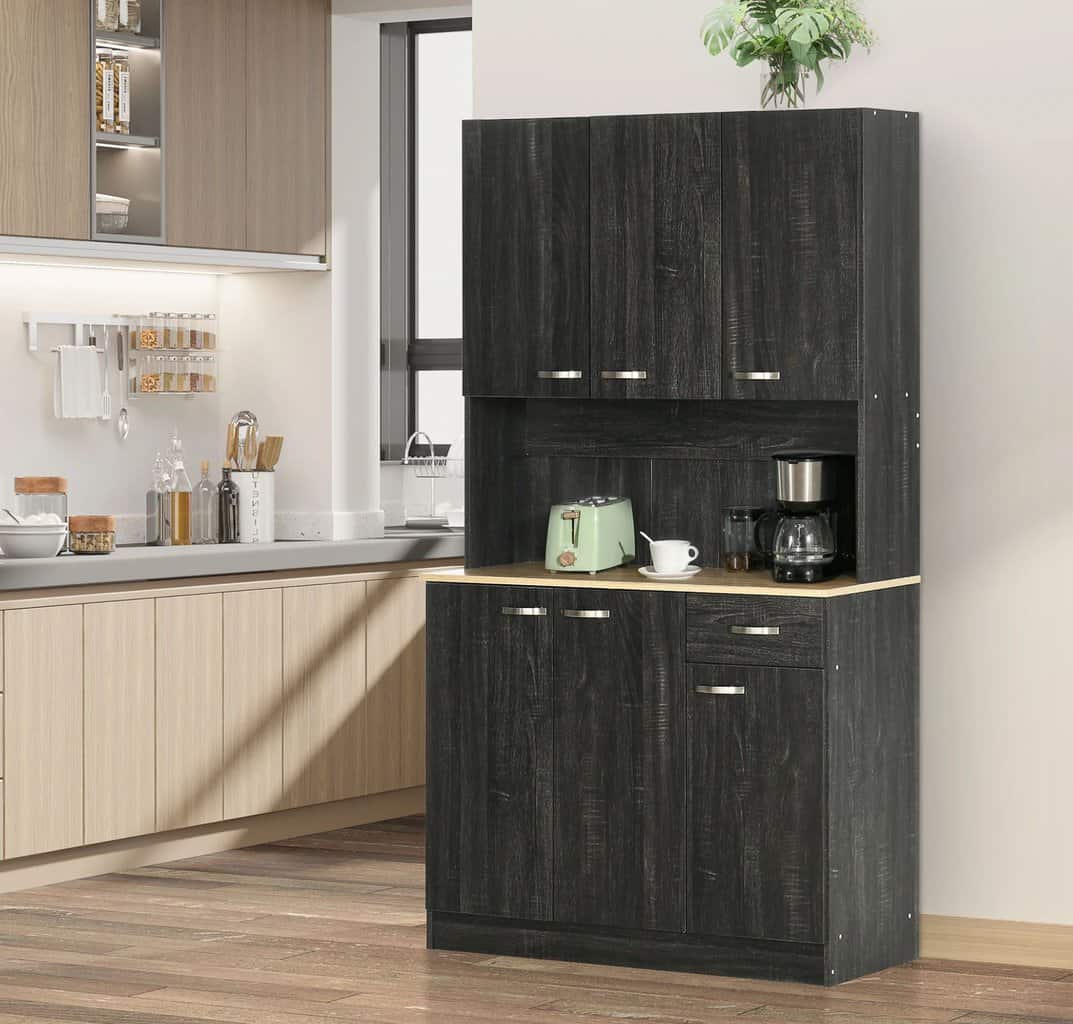 Light and simple yet impactful in its design, this Everly Quinn kitchen pantry won't weigh down your kitchen's decor. Quite the contrary, actually. It's assured to accentuate the whole look, whether a traditional or modern décor.
Price Range: $423.78 – $498.99
Size: 70.75" H x 39.75" W x 15.25" D
Best Feature: Adjustable Shelving
Unfortunately, if you've never assembled a storage cabinet, putting this unit together will take a while.
Pros
Spacious tabletop
Will complement any interior décor
Sturdy construction
Extremely versatile
Has an impressive weight capacity
Cons
Some people reported it's smaller than it looks in its images
The tall design of this kitchen pantry makes it one of the best versatile units in this guide. It'll easily double as one of the best bathroom storage cabinets. It's also fitted with four adjustable shelves to award you plenty of room for everything, including cereal boxes and canned goods.
Price Range: $1,005.89 – $$1,120.99
Size: 72" H x 29.75" W x 14.75" D
Best Feature: Traditional, cherry finish, and construction
But what I love most about this unit is the versatility I see. Yeah, it's a kitchen pantry, but it's a gorgeous unit that could easily go into any other room in the home.
Pros
Backed by a limited one-year warranty
Aesthetic construction
Sturdy and durable
Easy to clean
Ample storage
Cons
Extremely time-consuming to assemble
Designed for transitional interior decors, this storage cabinet is constructed using high-quality MDF for both residential and non-residential use. The unit stands out for its versatility, with six adjustable shelves and a spacious drawer.
Price Range: $450.99 – $549.99
Size: 70.9" H x 31.5" W x 13.8" D
Best Feature: Ease of assembly
Note that it's on the pricier end of the spectrum for its size. But I think it's worth every cent when you consider the quality, style, and storage capabilities.
Pros
Designed for both residential and non-residential use
Ample storage space
Backed by a 90-day warranty
Durable and safe to use
Quality construction
Cons
The white finish will show scratches easily
Quite expensive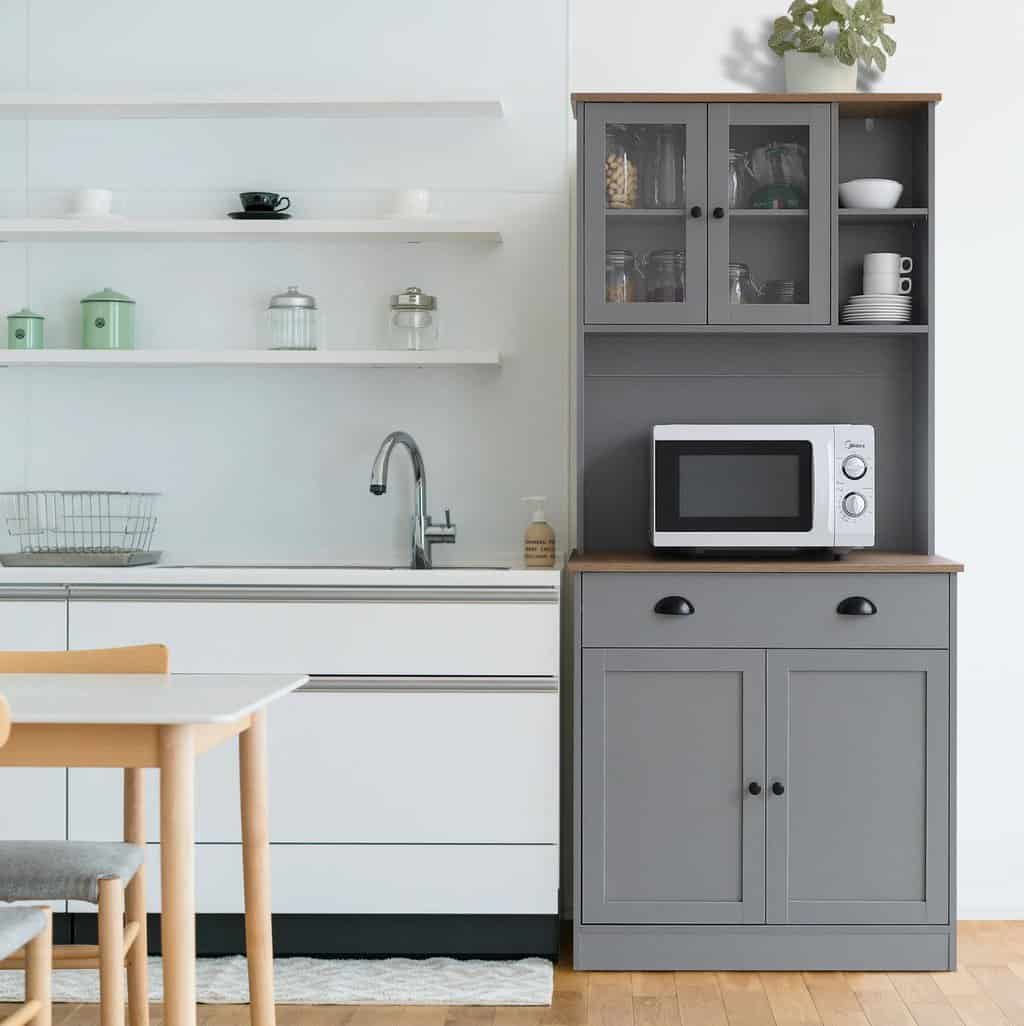 One of my closest friends has a storage cabinet like this one in her kitchen, and I love it. The generously sized unit has a distinctly mid-century modern appearance, thanks to its grey finish and minimalistic design.
Price Range: $460.99 – $659.99
Size: 71.7" H x 31.5" W x 15.7" D
Best Feature: Its 320 lb. weight capacity
What's more? Lark Manor, the manufacturing company, knows that the grey shade could be limiting, considering some people's home decor. That's why they also have the unit in black, blue, and white. The blue one is my favorite.
Pros
Backed by a commercial warranty as well
Designed for both residential and non-residential use
Only partial assembly required
Impressive weight capacity
Boasts a huge drawer
Cons
Won't look great in some spaces, like modern and contemporary-styled décor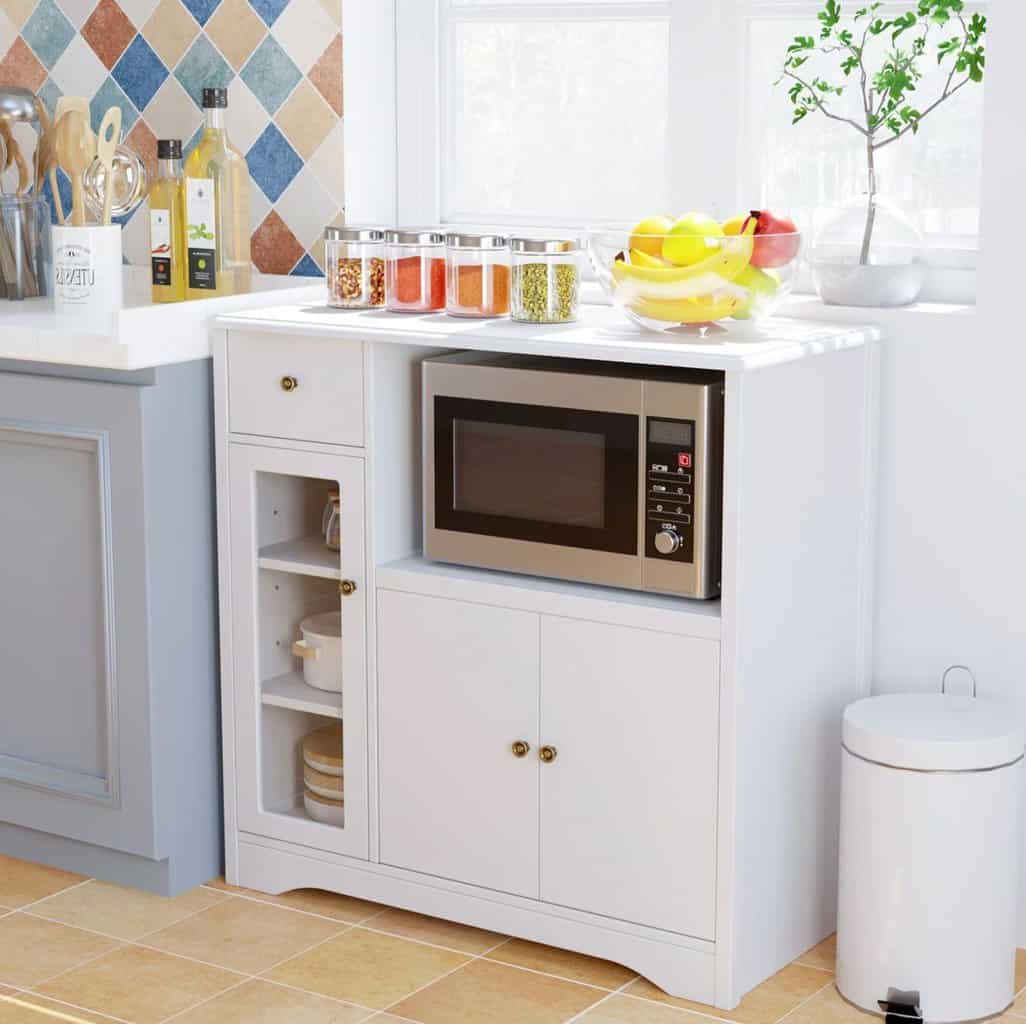 This Homecho kitchen pantry will comfortably hold your microwave, utensils, and other kitchenware despite its short stature. The unit has also been fitted with two large cabinets at the bottom and a small drawer above (top-right corner.)
Price Range: $355.99 – $420.99
Size: 32.2" H 35.4" W x 15.7" D
Best Feature: Adjustable shelves
As I just mentioned, however, the unit is short. But it packs a big punch of storage! So, I think it's great for small spaces.
Pros
Retails with adjustable shelves
Easy to clean surface
Retails with all required assembly tools
It will look great in any room
Quality and durable construction
Cons
It May be too small for some
Best Bathroom Storage Cabinet
Any in-depth storage cabinet guide would be incomplete without a section on the best bathroom storage cabinets. The designs I've handpicked below should help accentuate your bathroom space with their chic yet modern aesthetics.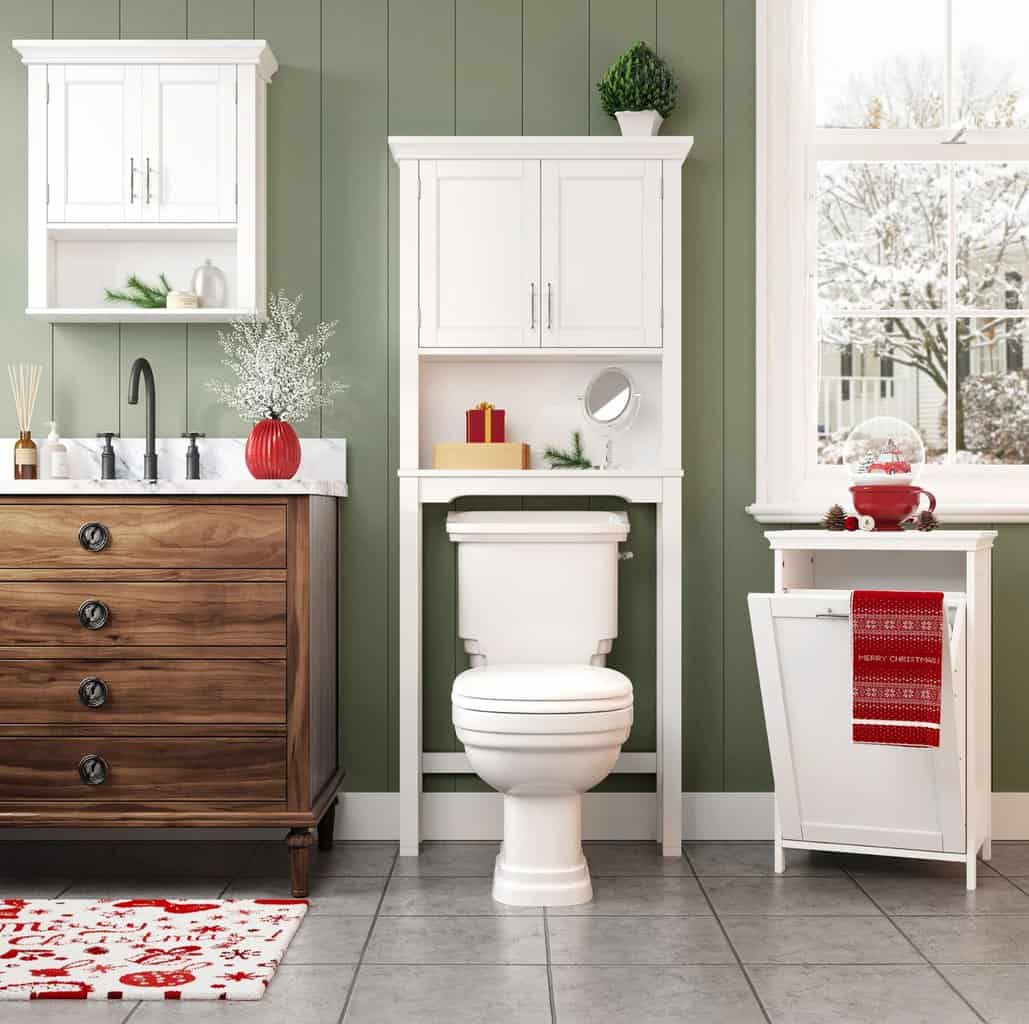 This wall-mounted storage cabinet from Highland Dunes boasts one of the most practical designs. The two cabinets will keep bulkier products you prefer out of sight, while the open shelf hosts your go-to items.
Price Range: $199.99 – $245.99
Size: 24.5" H x 22.81" W x 7.88" D
Best Feature: High-quality construction
As shown in the image, you could also pop several things on top of the cabinet, like a hanging plant. The only downside with this unit is how hard and time-consuming it may be to assemble and mount. So, be patient.
Pros
Works great in both contemporary and classic spaces
Crafted from sturdy, durable manufactured wood
Features a spot you can use to stack your hand towels
Easy to clean and maintain
Ample storage space
Cons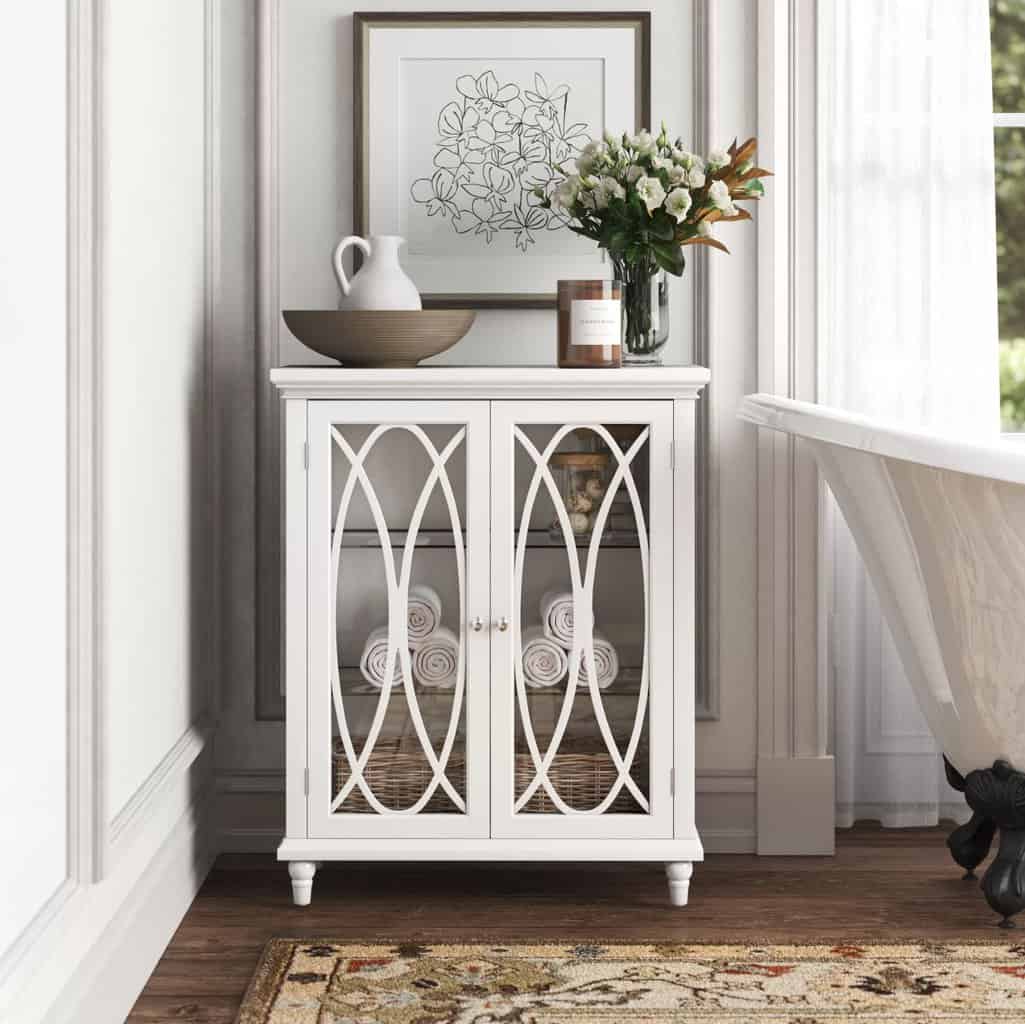 The Kelly Clarkson Free-Standing Bathroom Cabinet is both elegant and practical. And, yes, THAT Kelly Clarkson. It features a white wooden finish and shiny chrome hardware guaranteed to add style to your space.
Price Range: $260.99 – $333.99
Size: 32" H x 26" W x 12.5" D
Best Feature: Hand curated
The cabinet glass doors are also accented with unique cathedral-style patterns that'll look great in bathrooms and laundry rooms. Feel free to adjust the glass shelves inside to your desired level.
Pros
A tip-over restraint device included
Aesthetic design
Hand curated design
Backed by a one-year limited warranty
Fitted with two adjustable tempered glass shelves
Cons
Extremely hard to assemble for one person
Neatly store away things you don't want on display using this storage cabinet. The cabinet's drawers-cabinet combination and cut-out handles add another element of detail that'll gladly complement your interior décor.
Price Range: $180.96 – $229.99
Size: 31.9" H x 23.6" W x 11.8"D
Best Feature: Versatility
I can see this unit doubling as an entryway cabinet, too. It'd be perfect to store a few pairs of shoes and stick some tall boots on the side with the door. Voila!
Pros
An anti-tip kit included
Large storage capacity
Great stability
Easy to clean and maintain
Backed by a one-year limited warranty
Cons
The new wood smell will take a few days to air out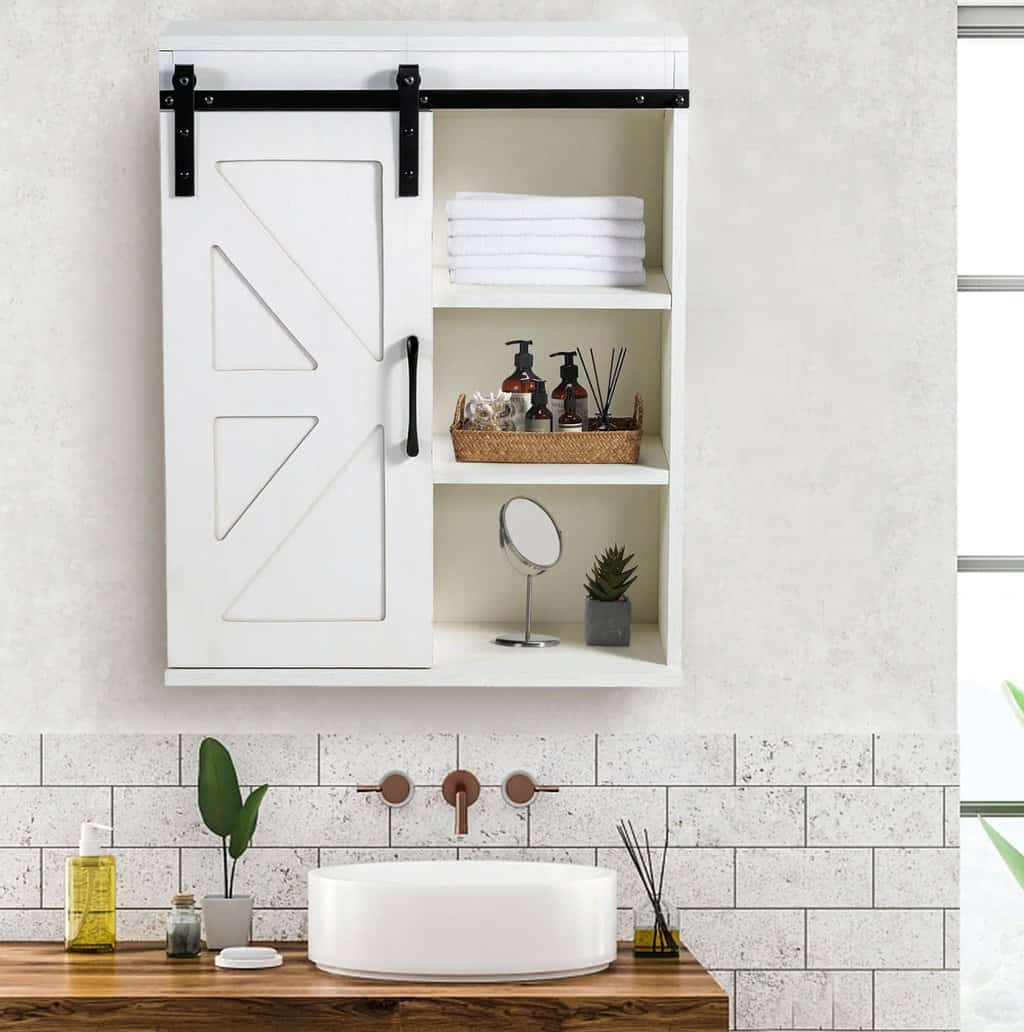 Compact in size, this Benzant bathroom cabinet features an aesthetic sliding door set in a wooden groove. Slide the door to expose the cabinet's three inner shelves you can use to display your toiletries.
Price Range: $207.99 – $240.99
Size: 28" H x 22" W x 7.8" D
Best Feature: Durability and Sturdiness
To be honest, though, not everyone is thrilled by the fact the unit only comes with one sliding door. It implies that a portion of your Benzant bathroom cabinet will always be exposed. But I think it looks so cute! I could show off my fancy soaps and bath salts if I had it.
Pros
Boasts a hand distressed finish
Fitted with an anti-toppling design
Will complement any interior décor
Durable manufactured wood construction
Wall mounted to save on floor space
Cons
Tough and time-consuming to assemble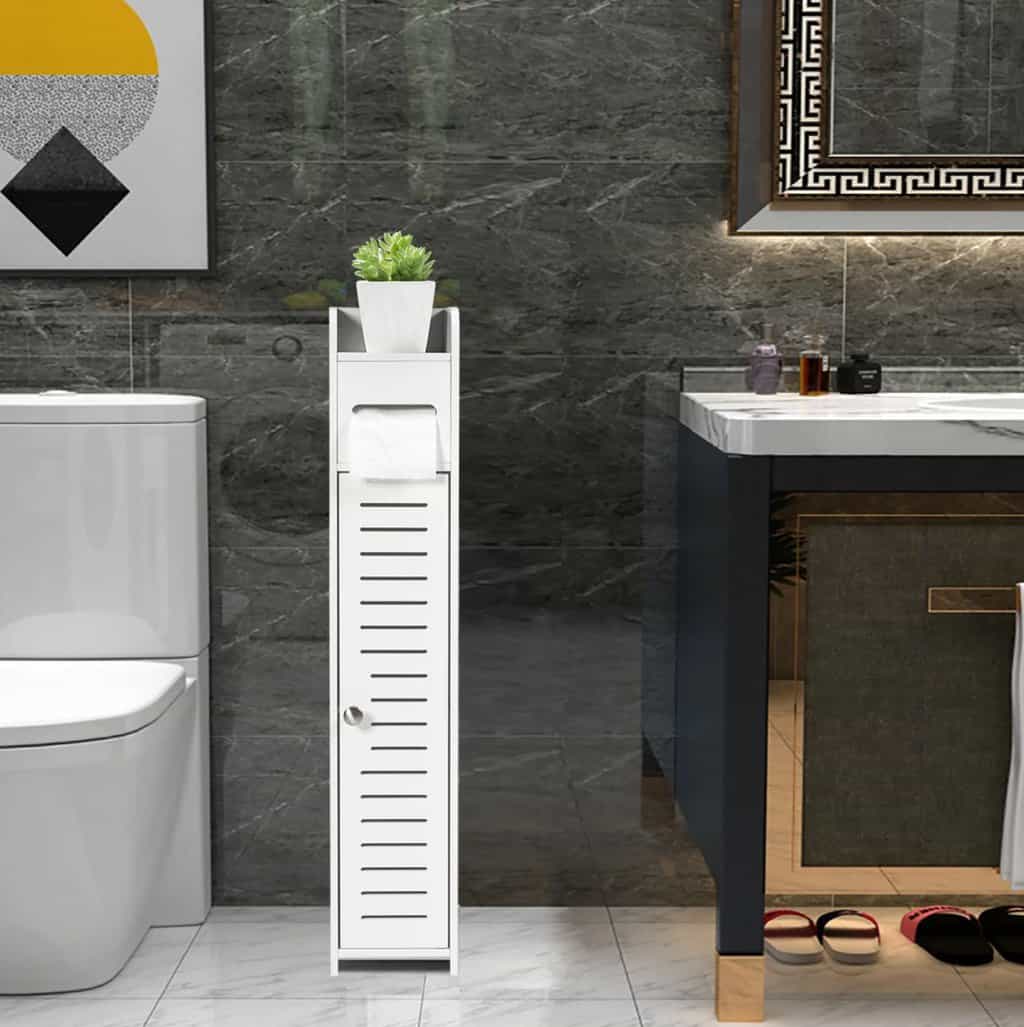 Neatly crafted from manufactured wood, this bathroom cabinet from Highland Dunes will add a bright, clean look to your space. If you think the unit would also look great in another room, say your bedroom, I say go for it.
Price Range: $120.99 – $189.99
Size: 31.5" H x 6" W x 6.5" D
Best Feature: Unique tall design
That said, double-check and ensure that this unit's narrow design storage capacity can accommodate your stuff before buying it.
Pros
Unique, attractive design
A tip-over restraint device is included
High-quality MDF construction
Fitted with a 2-tier shelf for easy storage
Perfect for small apartments and spaces
Cons
Several people have reported toilet paper is difficult to roll
Best Laundry Storage Cabinet
Don't forget about your laundry room! Here are some great suggestions to help you keep your laundry room organized.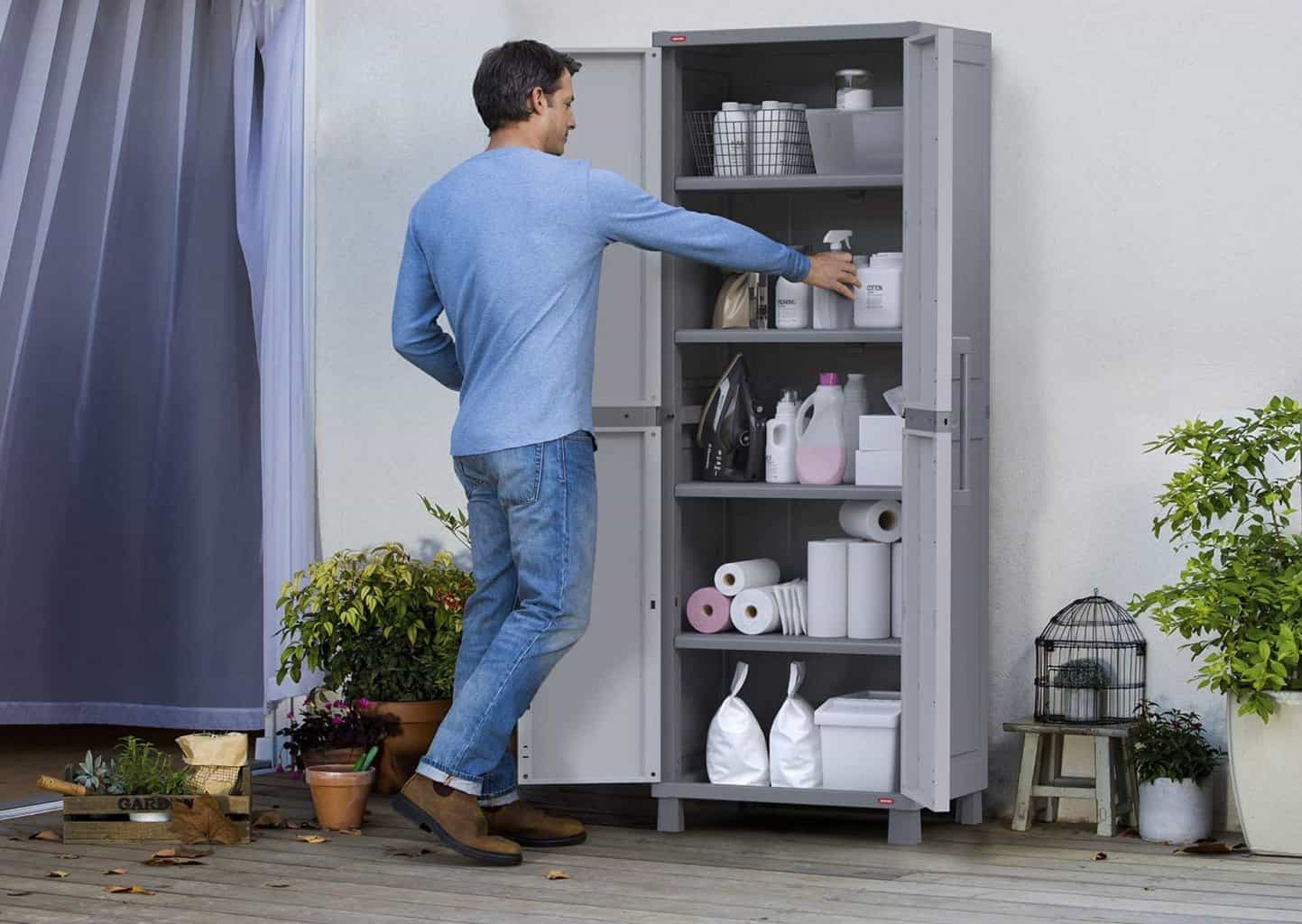 This Keter storage cabinet offers you a practical organization solution alongside a touch of casual style. Also evident from the unit's design is its versatility. The unit is a smart choice for home offices, laundry rooms, entryways, and virtually all other residential spaces.
Price Range: $140.99 – $198.99
Size: 72.6" H x 19.6" W x 25.5" D
Best Feature: It's a tall, space-saving design
It only comes in one style and color, but it's pretty versatile, and I love the fact that it's 100% resin, so it's water proof and easy to clean.
Pros
Rust, moisture, and rot resistant
Space-saving design
Easy to assemble
It has an impressive storage capacity
Easy to clean and maintain
Cons
Only retails in the white and grey shade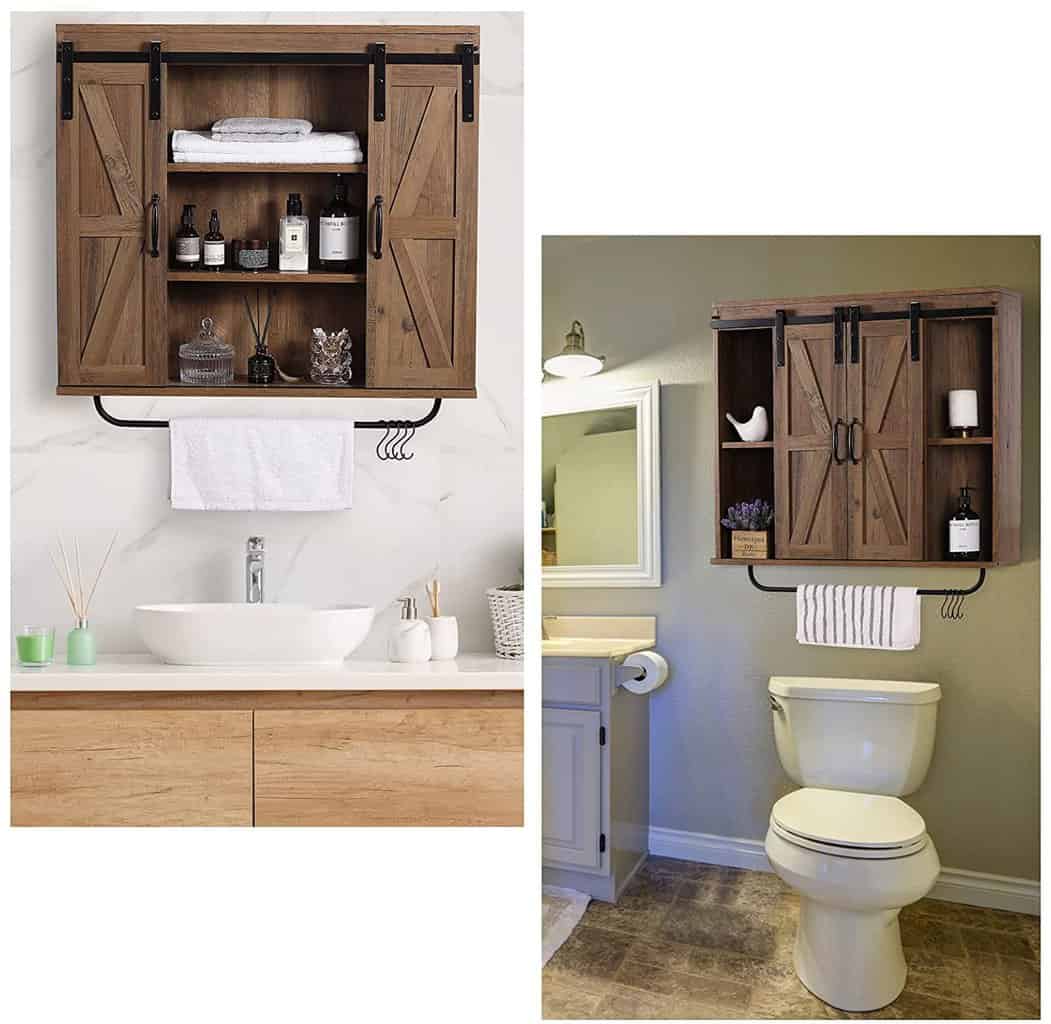 Pick between dark walnut, rustic oak, vintage white, and washed oak for stylish storage of your laundry room essentials. Behind the sliding cabinet doors, your items will be organized neatly in the three-tier design.
Price Range: $138.99 – $175.99
Size: 27.6" H x 30.7" W x 7" D
Best Feature: It's vintage, rustic design
Yes, this is a bathroom wall cabinet, but the design is so stylish I could see this working in a hallway or entryway, too.
Pros
Retails in four distinct color finishes
It will perfectly complement all interior décors
Quite portable
Impressive weight capacity
Adjustable shelves
Cons
Time-consuming to assemble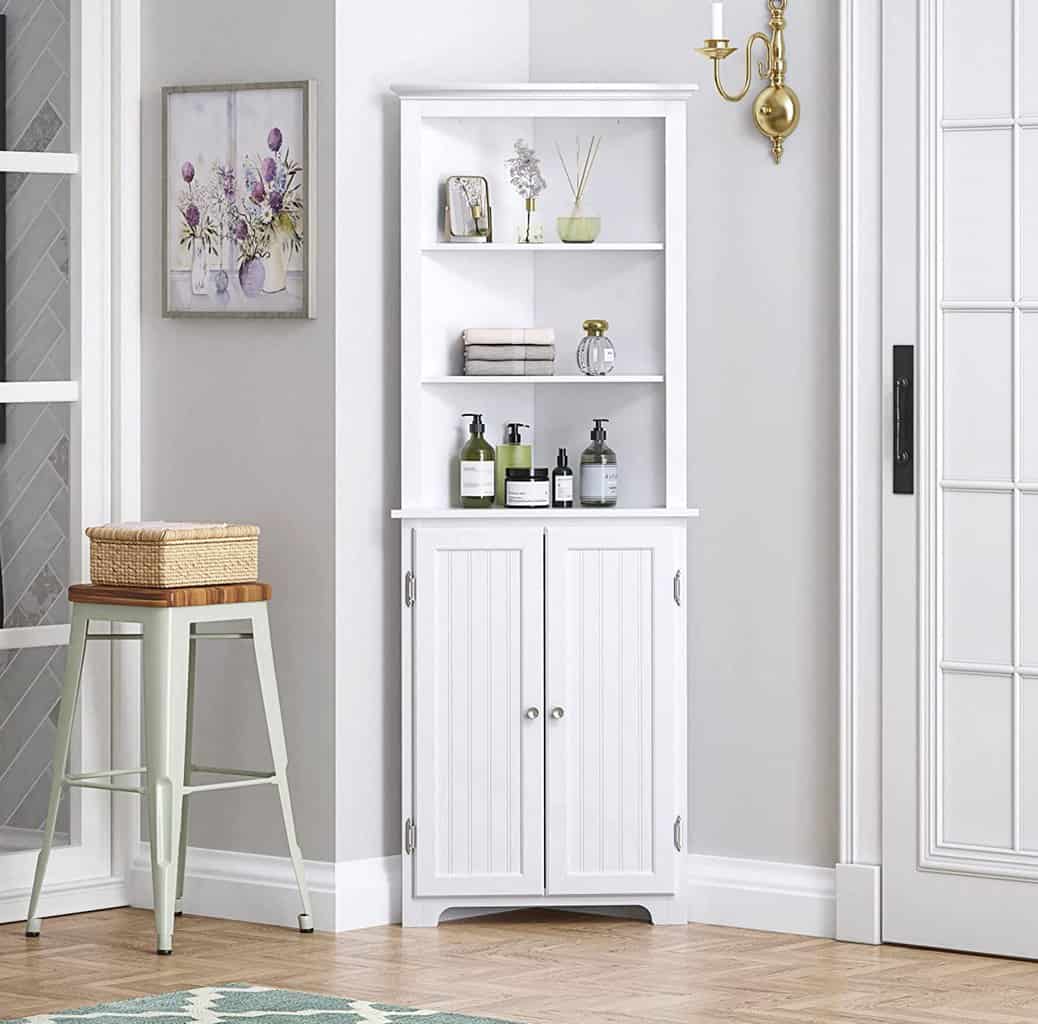 Dear clutter, it's time we start seeing other people. I already have a person in mind: the Utex tall corner cabinet. Made of high-quality engineered wood, the unit is impressively sturdy and durable. The unit also retails with detailed assembly instructions and a complete installation kit.
Price Range: $140.99 – $199.99
Size: 65" H x 23"W x 13"D
Best Feature: Sturdiness and Stability
If I'd change anything about this masterpiece, it'd be its two fixed shelves. At least I'd make them adjustable.
Pros
Retails in two distinct color finishes
Extremely versatile
Large storage capacity
Adjustable shelves
Stable and safe to use around children
Cons
Time-consuming to assemble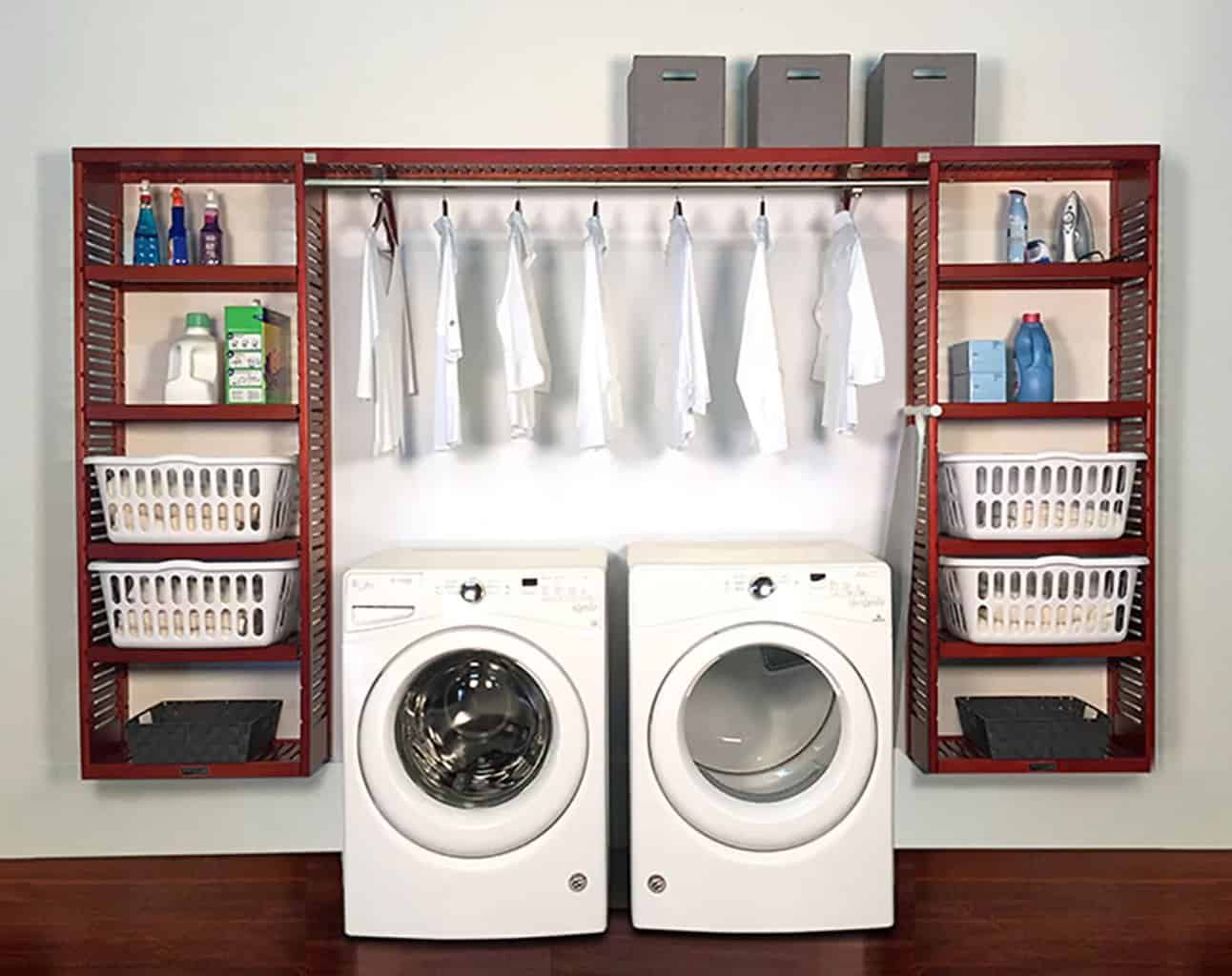 This classic laundry room organizer from John Louis Home is the height of elegance. The unit will add an unmistakable degree of sophistication to your laundry room.
Price Range: $1,180.99 – $1,250.00
Size: 76″ H 120″ W x 12″ D
Best Feature: Unique construction design
I think it's one of my most stylish yet simple ways to add storage to a laundry room without taking up any extra space. That wall's already being used; why not build up from that?
Pros
Backed by a one-year limited warranty
Designed with versatility in mind
Easy to clean and maintain
Solid wood construction
Retails in two distinct finishes
Cons
It may not fit a small space
Best Office Storage Cabinet
Keep all your office supplies and paperwork organized and out of sight with one of these attractive yet functional office storage cabinets.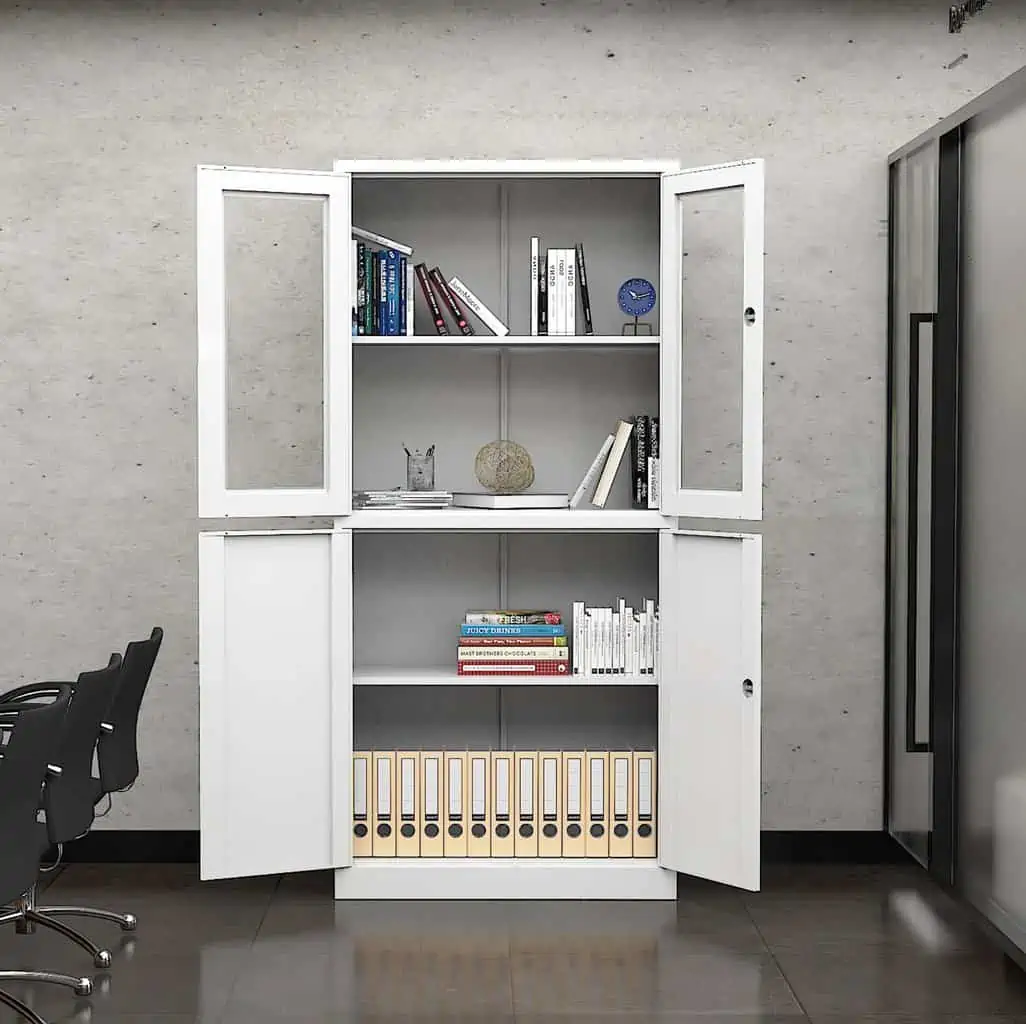 You hate clutter and mess in your office…. That's great, and so do I. For that reason, I'd like to introduce you to the Inbox Zero metal storage cabinet. This office storage solution's adjustable shelves boast an impressive 750 lb. capacity.
Price Range: $860.99 – $1,005.99
Size: 72" H x 35.4" W x 17.7" D
Best Feature: Backed by a commercial warranty
The unit is also resistant to rust, corrosion, and chipping, thanks to its heavy gauge steel construction.
Pros
Designed for both residential and commercial use
Impressive weight capacity
Ample storage space
Impact, fade, corrosion, rust, and scratch resistant
Extremely versatile
Cons
Assembling instructions are not clear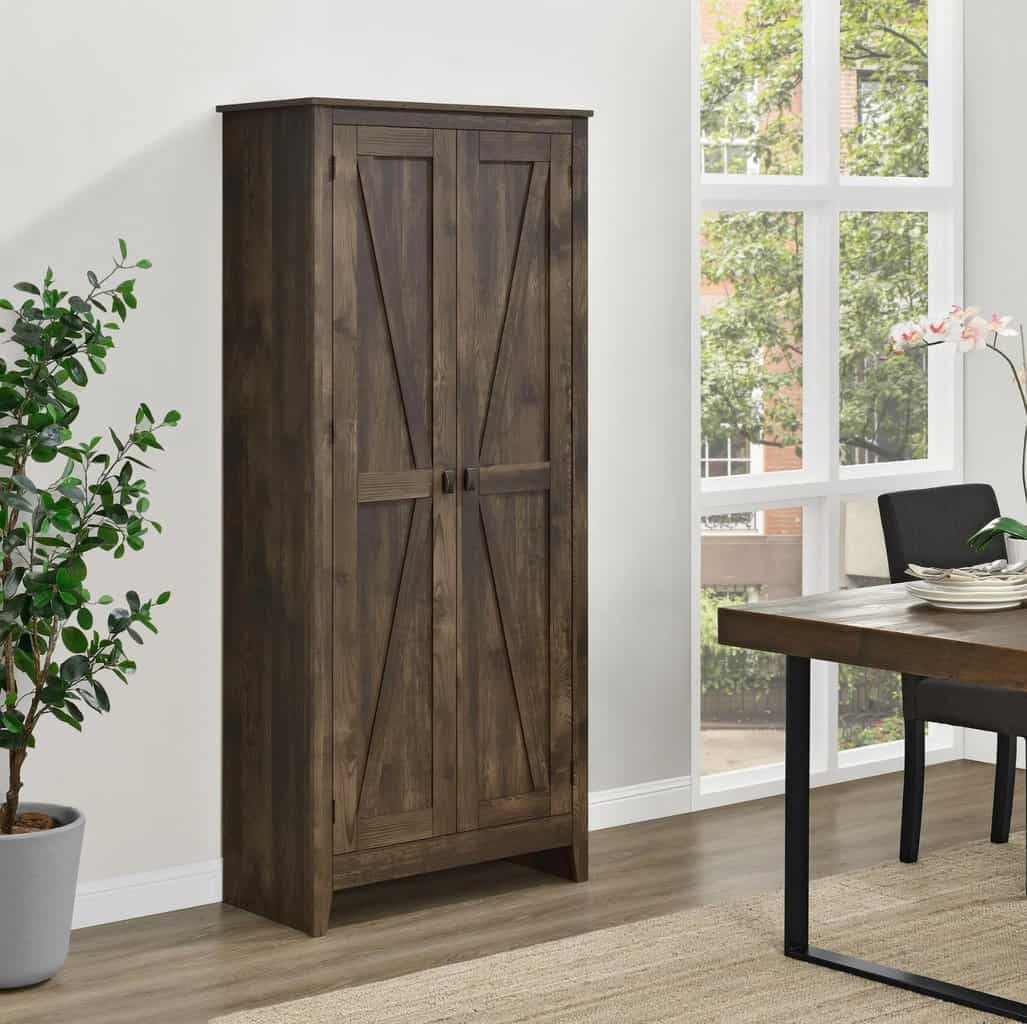 Name a more versatile storage cabinet suited for every room in your home: I'm waiting. Behind its doors, the unit features four adjustable shelves you can use to stash an array of files and office accessories.
Price Range: $400.99 – $565.00
Size: 71.89" H x 31.5" W x 15.8" D
Best Feature: Ample storage capacity
I adore the rustic brown; it appeals to my obsession with the whole farmhouse vibe. But it does come in three other colors if you prefer something else.
Pros
Retails in four distinct color finishes
High-quality manufactured wood construction
Adjustable shelves
Impressive weight capacity
Backed by a one-year limited warranty
Cons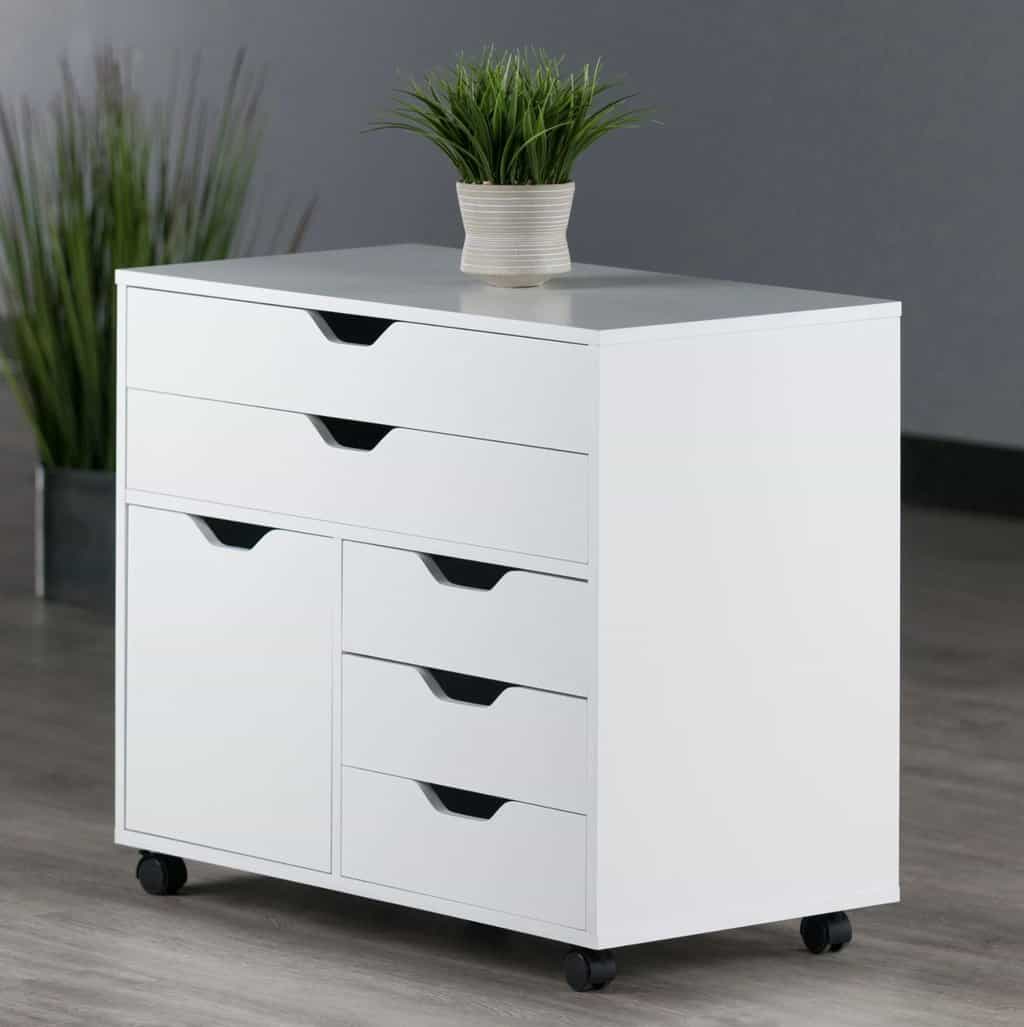 it's compact enough to fit underneath your office table yet wide enough to fit multiple documents. That's one of the many ways to describe this office storage cabinet from Inbox Zero.
Price Range: $350.99 – $439.99
Size: 26.3" H x 30.71" W x 15.98" D
Best Feature: Gliding drawers with cut-out handles for easy access
It's fitted with five differently-sized units that'll work together to keep your office supplies and records neatly organized.
Pros
Easy to clean with a dry cloth
Locking wheels
Easy to move around the office
Backed by a 30-day warranty
Cons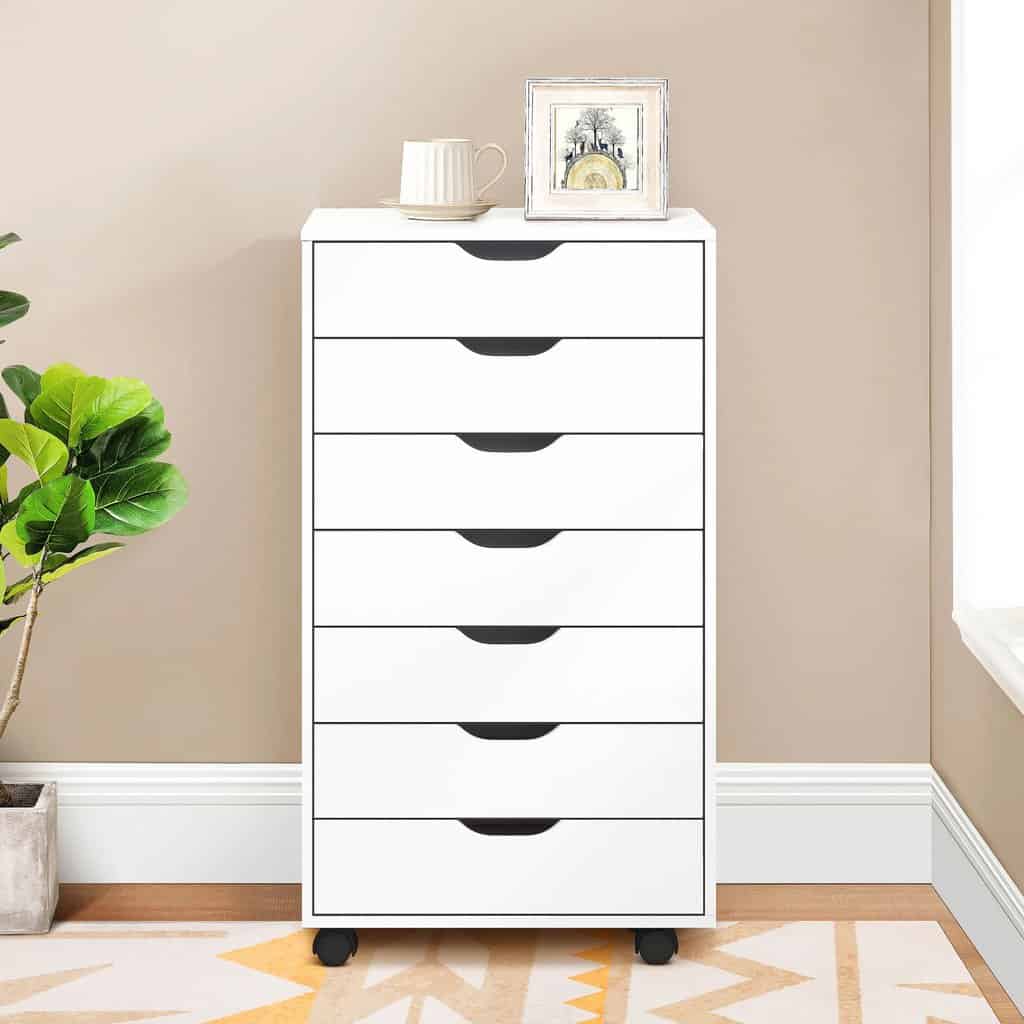 This office organization tool features seven gliding drawers easily accessible using cut-out handles. Remember to take advantage of the flat surface up top and display a family picture or hanging plant.
Price Range: $220.99 – $333.99
Size: 18.8" H x 15.7" W x 34.2" D
Best Feature: Its chic design
What's more? The unit retails in three distinct finish shades: white, gray, and black.
Pros
Retails in three distinct color finishes
Easy maneuverability
One of the easiest to assemble in this collection
Backed by a limited 90-day warranty
Durable particle board construction
Cons
Easy to assemble, but lots of screwing required
Best Garage Storage Cabinet
Clear the chaos in your garage with one of these garage storage cabinets. Don't let it transform into the room equivalent of a household junk drawer.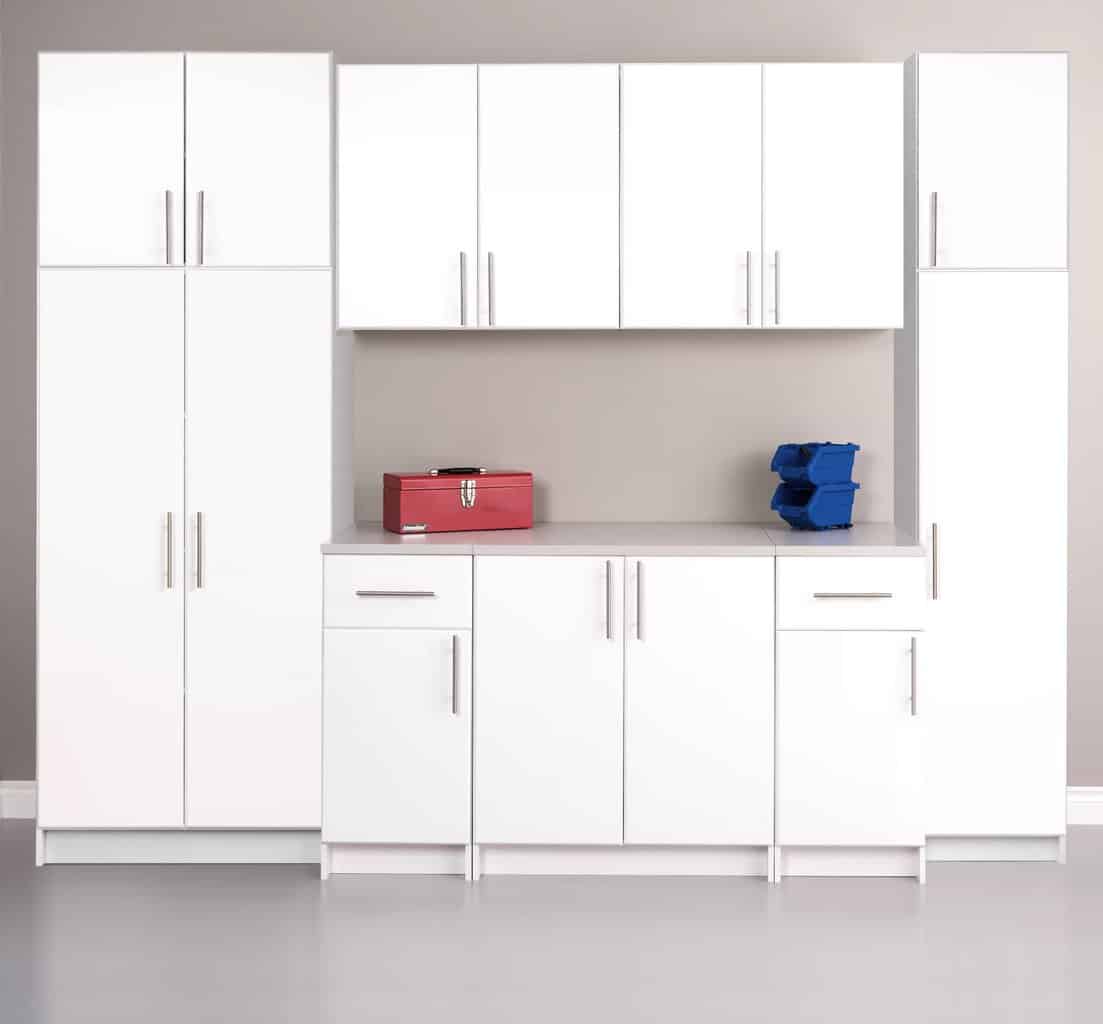 Still haven't found a sizable storage solution that works with your garage workspace? This tall storage cabinet has been specifically designed to keep your basement workshop and garage organized and optimized.
Price Range: $330.99 – $405.99
Size: 65" H x 32" W x 16" D
Best Feature: MDF doors with distinctive profiled edges
If the crisp white finish pictured above doesn't work for you, fret not. The unit also retails in a light grey and deep black laminate finish.
Pros
Retails in three color finishes
Adjustable shelves
Ample storage space
Fitted with aesthetic cabinet hardware
Will complement any interior garage décor
Cons
Tools required for installation not included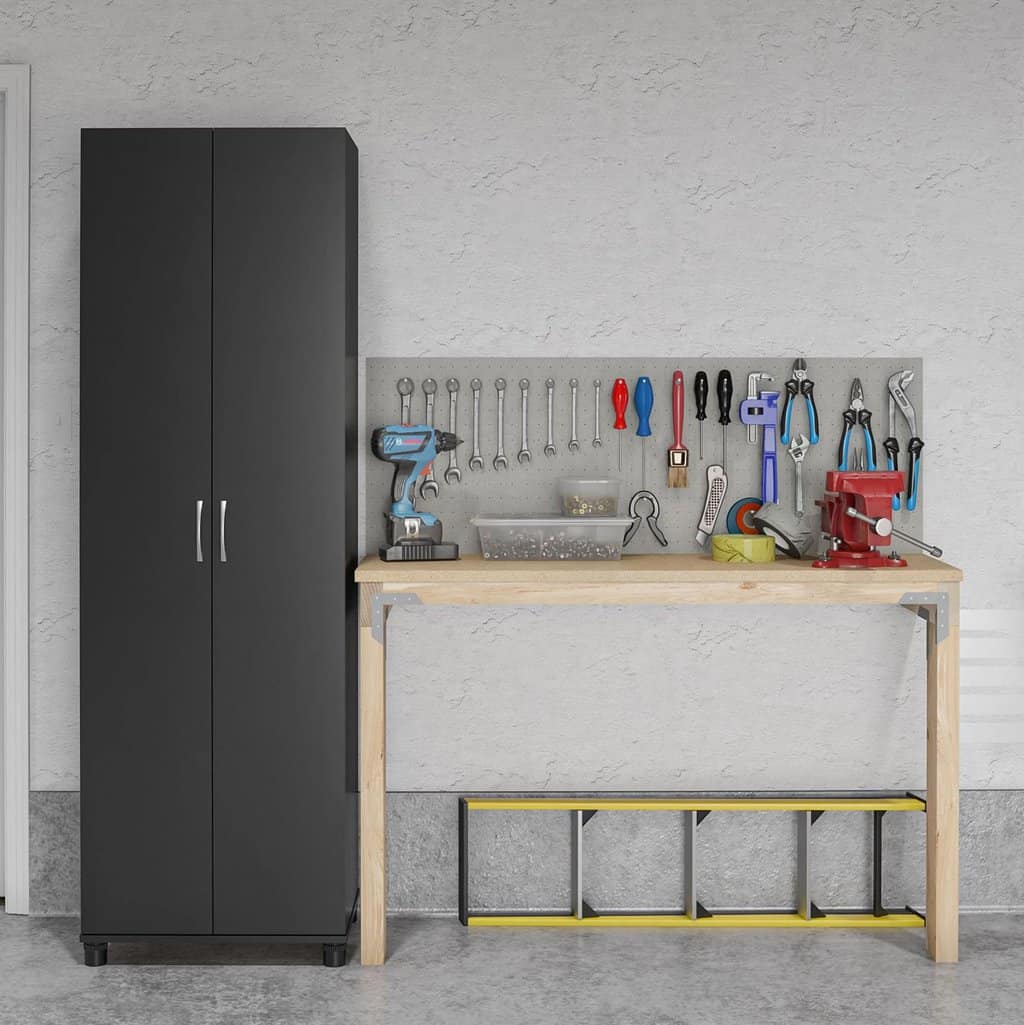 Still haven't found a solution for your clutter and chaos? Perhaps this storage cabinet from Wayfair Basics could be the unit that'll do the trick. Behind each closed cabinet door are two fixed shelves and three adjustable ones.
Price Range: $315.99 – $400.00
Size: 74" H x 23.7" W x 15" D
Best Feature: Overall weight capacity
Adjust the shelves accordingly to fit both large and small items in your garage. I love it's tall and narrow design; it'd be perfect for me to store all my kid's sports gear without taking up a large footprint in the garage.
Pros
Adjustable shelves
Retails in multiple color finishes
Backed by a one-year limited warranty
Fire resistant
A tip-over restraint device included
Cons
The new wood smell may take a while to dissipate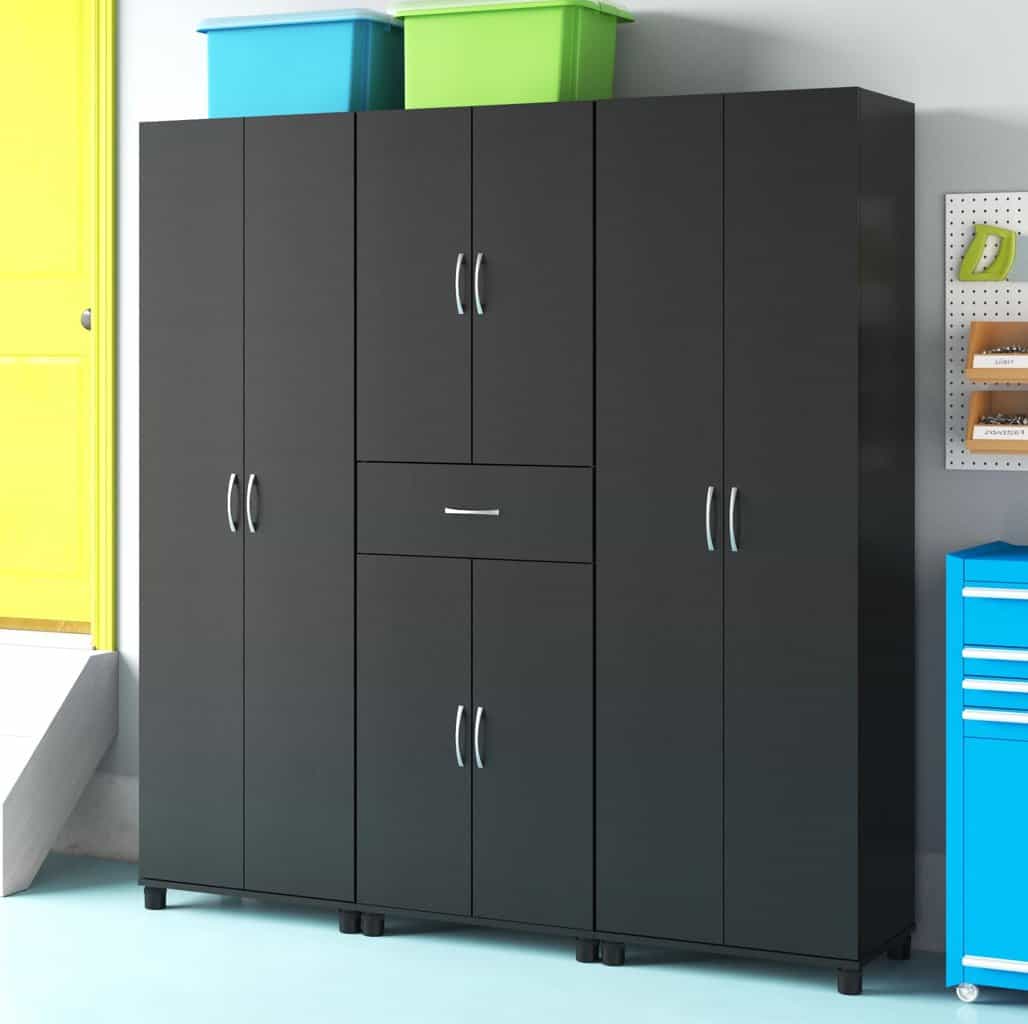 Looking for the best garage storage cabinet with spacious compartments to help you organize your sundries? This is it.
Price Range: $700.00 – $1,278.00
Size: 74.28" H x 70.86" W x 15.31" D
Best Feature: Extremely ample storage space
And when your garage no longer needs the unit, feel free to move it to your living room or kitchen. It'll work just as well in these rooms as well.
Pros
Backed by a one-year limited warranty
Fire resistant
Tip over restraint device included
Easy to clean and maintain
Adjustable shelves
Cons
Extremely time-consuming to put together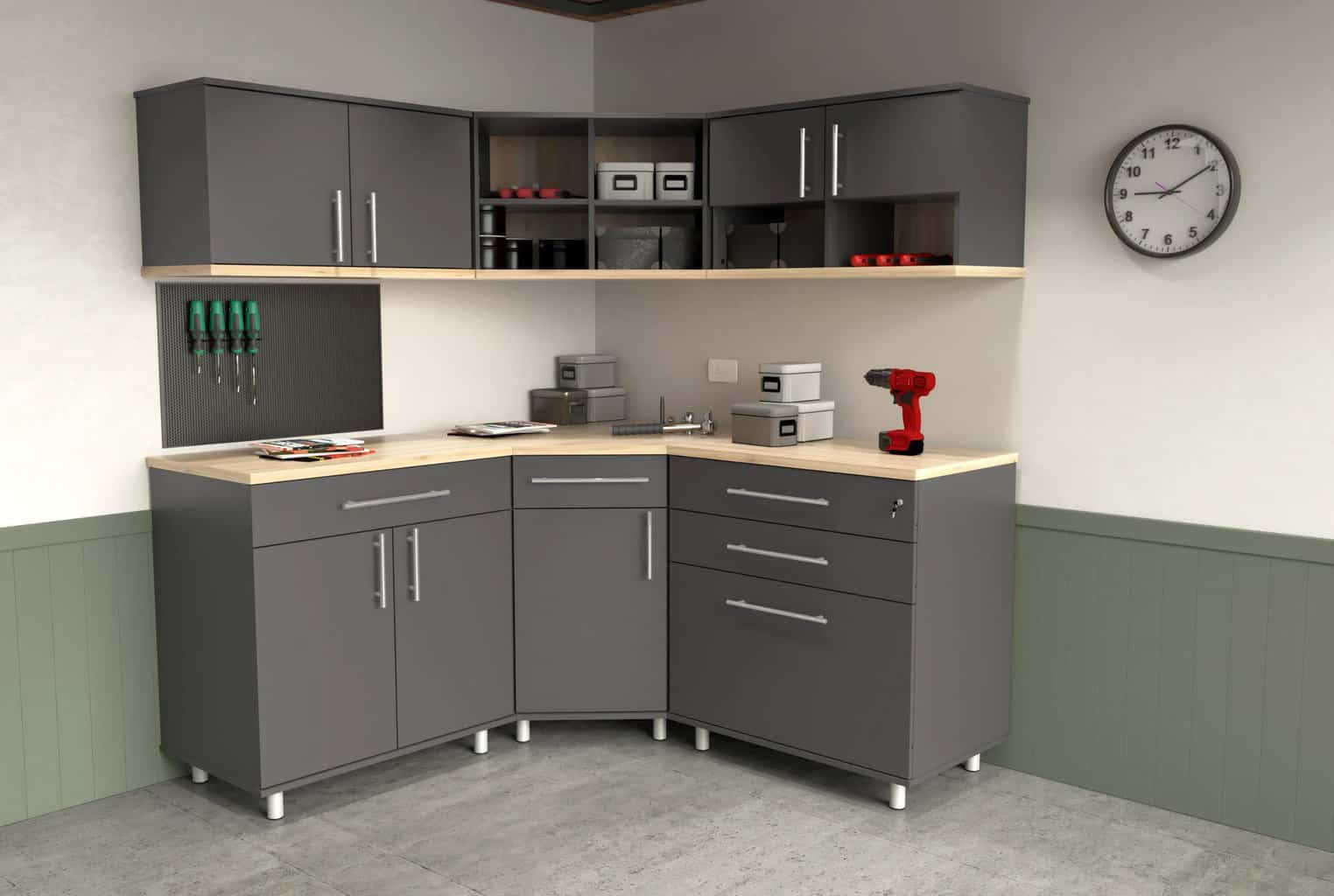 Multi-purpose and designed to fit any room, this Latitude Run cabinet set is made from durable manufactured wood.
Price Range: $2,400.99 – $3,200.00
Size: N/A
Best Feature: Its five year limited warranty
The cabinets have a lock and key for added security which is great if you plan to store expensive tools and other items out there.
Pros
Extremely long warranty coverage
Rust resistant
Tip-over resistant included
Adjustable shelves
Cabinets included with a lock and key for added security
Cons
Needs experience to assemble effectively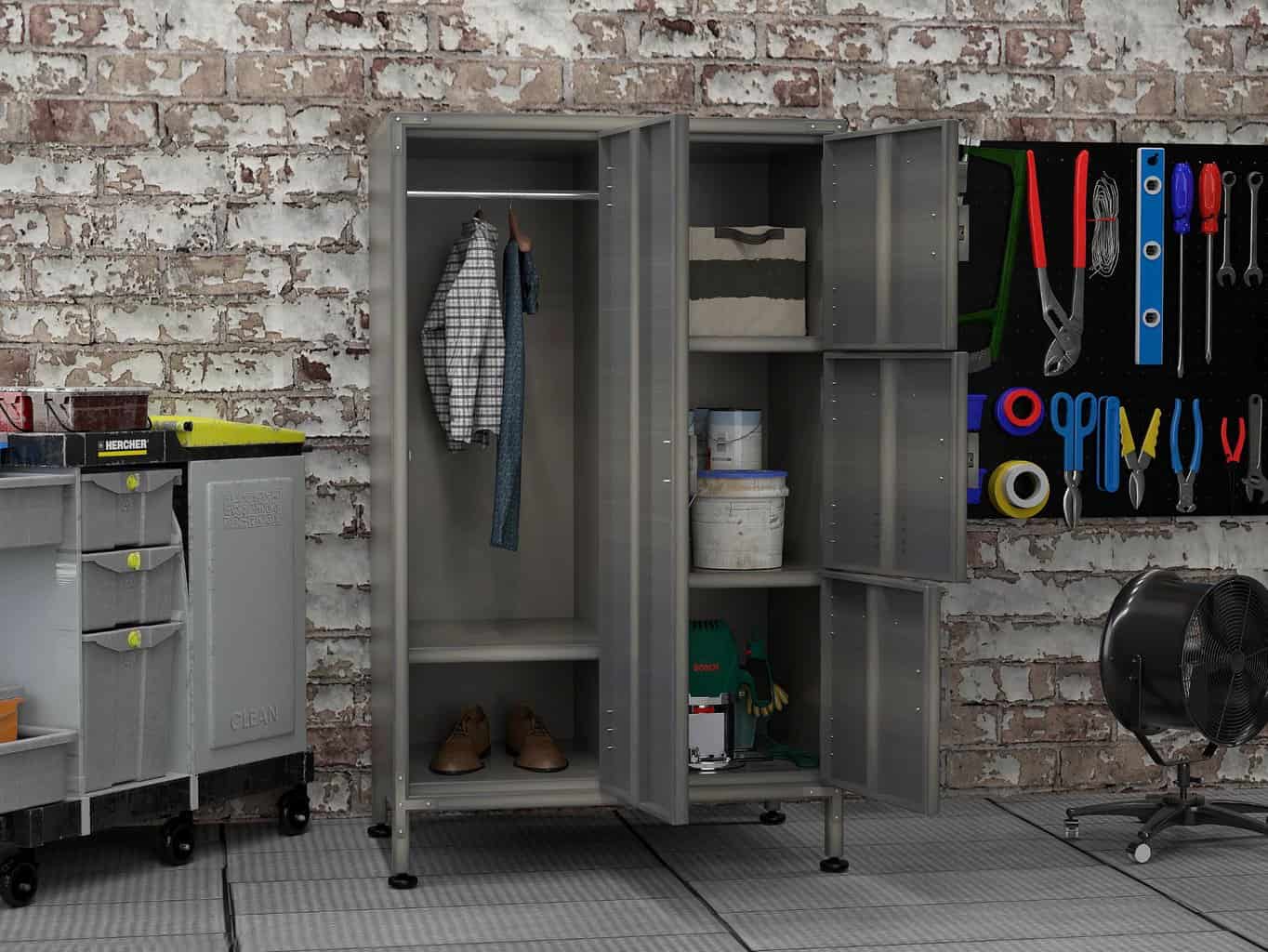 Robust steel construction has awarded this multi-purpose storage cabinet exceptional stability and durability. You can load each of the unit's five shelves with garage equipment of up to 77 lb.
Price Range: $499.99 – $580.99
Size: 47.3" H x 29.5" W x 13.8" D
Best Feature: Reliable locking system
Unfortunately, the shelves aren't adjustable, and neither are the legs. I think that's kind of a bummer, but the style of this unit is what sold me.
Pros
Locking system included
Backed by a limited 90-day warranty
Boasts a durable steel construction
Unique, aesthetic finish
Versatile
Cons
Only retails in this color finish
FAQs
Question: How Do I Maximize My Cabinet Storage?
Answer: The simplest way to maximize your cabinet storage is to use shelf risers. If you have that extra unused space above your items inside the cabinet, you could really benefit from these items. Additional tricks you can employ include attaching hooks to the back of the doors and the bottoms of your cabinets.
Question: What Is A Tall Storage Cabinet Called?
Answer: Tall storage cabinets are also known as utility cabinets or pantry cabinets. Typically, these units will range in height from 84 inches to 100 inches as one unit. Why do most people love them? Well, they create bountiful storage and effectively add dramatic vertical looks in whatever space they're in.
Question: What Is the Best Kind of Storage Cabinet?
Answer: The best kind of storage cabinet will depend on its intended uses and your personal preferences. Some of the most essential and common considerations are weight capacity, no. of compartments, color, and style. Refer to the guide above for an in-depth analysis of things to consider when picking a storage cabinet.
Bottom Line on Home Storage
With your budget, home plan, and goals in mind, consider every possibility you can incorporate into your storage cabinets. This detailed storage cabinet guide should help you focus on choices assured to meet your storage needs. If you have the space, go for something like the Wayfair Basics Garage Storage Cabinet System, which provides so much storage for the home in one unit. And for more of my recs on cabinet solutions, check out our website!