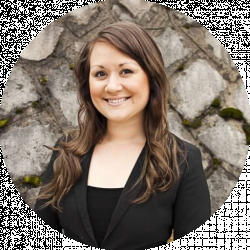 Latest posts by Lacey Jackson
(see all)
For a long time in my youth, I had a lot of friends who hadn't settled down as early as I did. They remained particularly feminist in their accusations that I shouldn't be doing laundry, dishes, or crafts. 
I honestly had to wrestle with that for a while because I saw many women get married, start doing crafts, and stop doing anything else. But at the same time, I couldn't reconcile my friends' remarks because dishes and laundry had to be done by someone, so it stood to reason that at some point over the course of my lifetime, I would end up doing them.
I also realized that getting into crafts didn't mean I was giving up on everything else. And when I say I wrestled with this, I mean I was asked to put together events or holiday parties or toy drives, and I would spend so much money on craft material to make the event perfect, but then I didn't want to keep anything in my house for fear that I would become "one of those spouses."
It took me about two years to realize how incredibly stupid all of that neurotic overthinking was and how incredibly wasteful it was financially for me to toss out perfectly good crafts I might use later. At last, I decided it was time to make it official and create some craft storage cabinet ideas.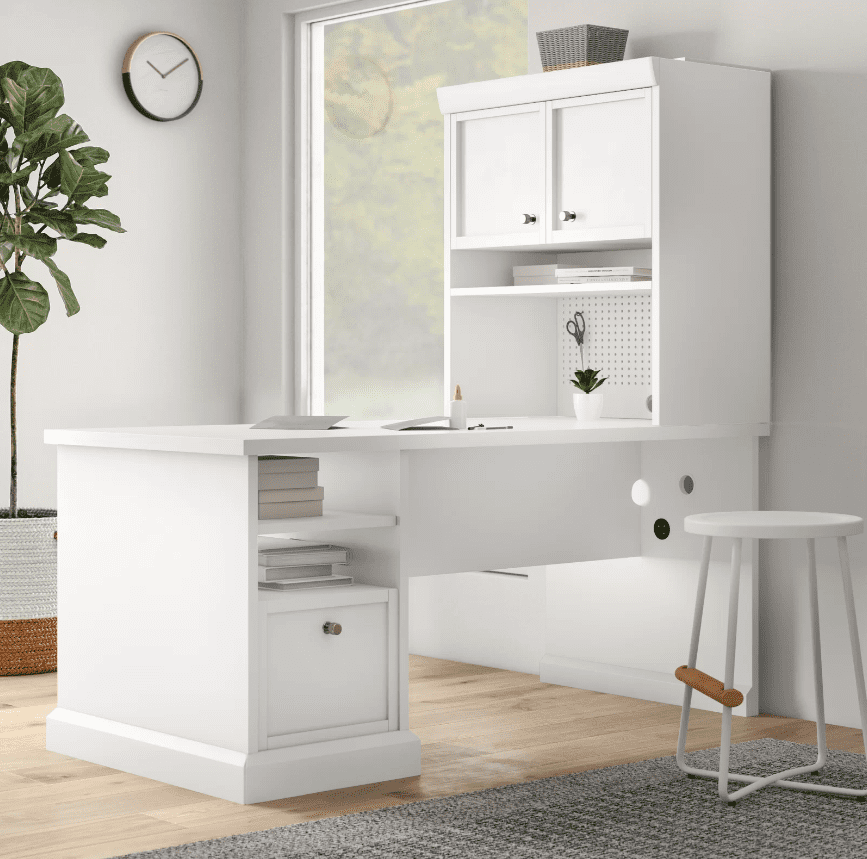 Bottomline Upfront 
Finding good craft storage cabinet ideas is imperative when making space in your craft storage area. The right cabinets can help you capitalize on any available space, whether it's a corner at the end of your hallway or an entire room.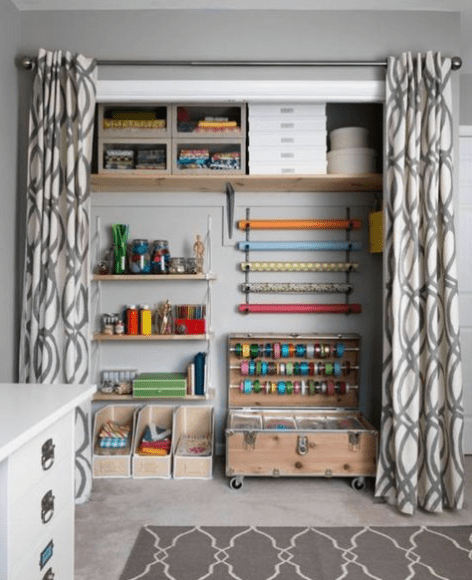 I recommend you mix and match craft storage cabinet ideas to fit your space, including wall-mounted cabinets, cube cabinets with open access, and regular cabinets that have drawers and doors along the wall where your workspace or desk is located (if you have one).
Selection Criteria
 I have changed the way I organize crafts over the years, sometimes separating them based on the type of project and other times separating them based on similar items like watercolor paint brushes as well as acrylic and oil paint brushes. I am sure I am not the only one. Every idea I selected helps you maximize your space while also organizing your crafts in a way that fits you. 
I have also included ideas that can be mixed and matched. You can pick an idea a la carte and use just one or combine multiple ideas if you are trying to fill an entire room. 
Idea #1: Wall-Mounted Craft Cabinets
So what if you don't have an entire craft room because you are still raising a family and have a job? You probably have a craft corner or part of a room. I have a craft closet. My craft closet is fit to bursting with clear storage containers but kitty-corner from that on the wall; I have a wall-mounted craft cabinet.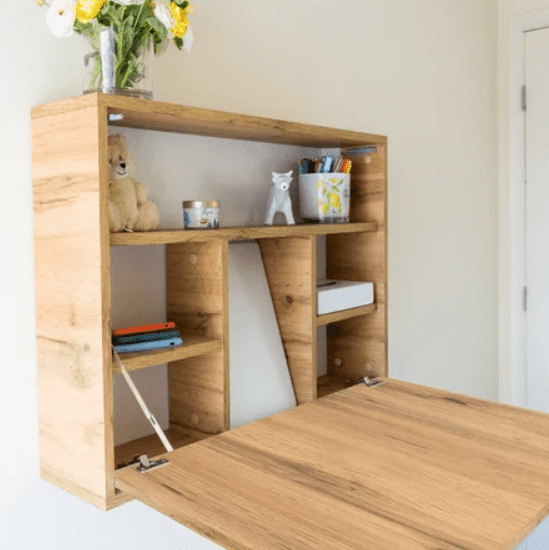 I got the idea from my mother-in-law. She needed a dedicated workspace that she could use when doing a little bit of work at home, painting, or doing some scrapbooking. She didn't need a lot of space, and there wasn't any extra room, garage, or outdoor storage space that she could use.
So, she used the end of the hallway. With a wall-mounted cabinet, she was able to store all of her art supplies in the small drawers and, when she needed to, open the center cabinet downward to create a usable desk space on which to paint, rest her hot glue gun, or carefully attach wiggly eyes to stuffed animals for the grandchildren.
Some wall-mounted craft cabinets like the Livingston Collection from PotteryBarn have ample storage space. The largest open area can store canvas or files. But, if you install small shelves, you can use mason jars or similar matching containers to hold pens, pencils, watercolors, paint brushes, craft tools, glue and glue guns, stickers, stencils, and more.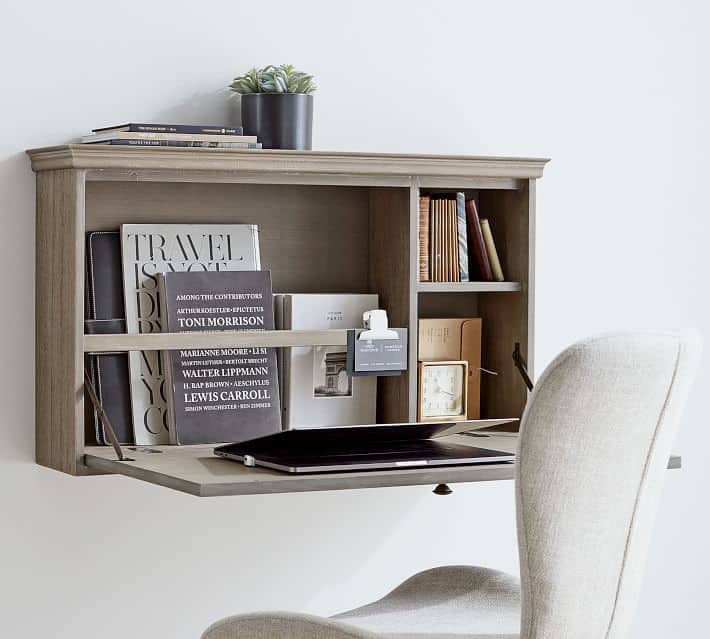 Idea #2: Cube Cabinets
I love the idea of the open framed cube storage cabinets. You can find so many sizes to fit whatever space you have available, like a large 12-foot by 12-foot cubby or a tall, skinny cube cabinet with adjustable shelves.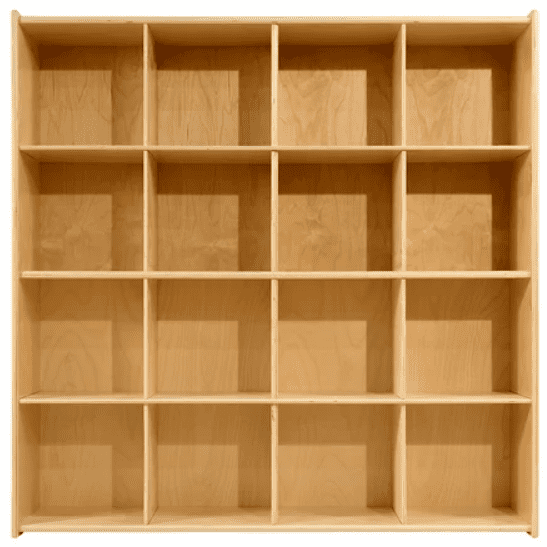 I appreciate these designs because craft supplies are not necessarily uniform in their sizing. It's not like a kitchen where everything comes in a 12 oz can. What's more, if you're anything like me, you probably have different craft supplies dedicated to different types of activities, much the same as Ben Franklin's or Michaels is divided.

I like to keep all my leatherworking supplies in one space, my watercolors in another, my acrylics in another, my leatherworking in another, and so on. With the cube cabinets, I like to put baskets in each cubby, just like in the image below:
Having baskets in separate cubbies lets me organize based on the type of craft. I don't have the separate inserts for spray paint bottles, small containers of acrylic paint, and jars of beads like the image have, but I absolutely love that and need a dedicated space for my paint which currently fills a large clear plastic bin.
Idea #3: Hanging Door Storage
For some reason, I have collected those hanging shoe organizers that go over the back of your door. I sincerely have more shoe organizers than I have doors. However, I don't have that many shoes. Even the family put together doesn't have that many shoes.
But I always have craft bottles and containers I am searching for when I rifle through 24-inch deep plastic storage containers. Whatever I'm looking for is somehow always on the bottom.
Well, not anymore.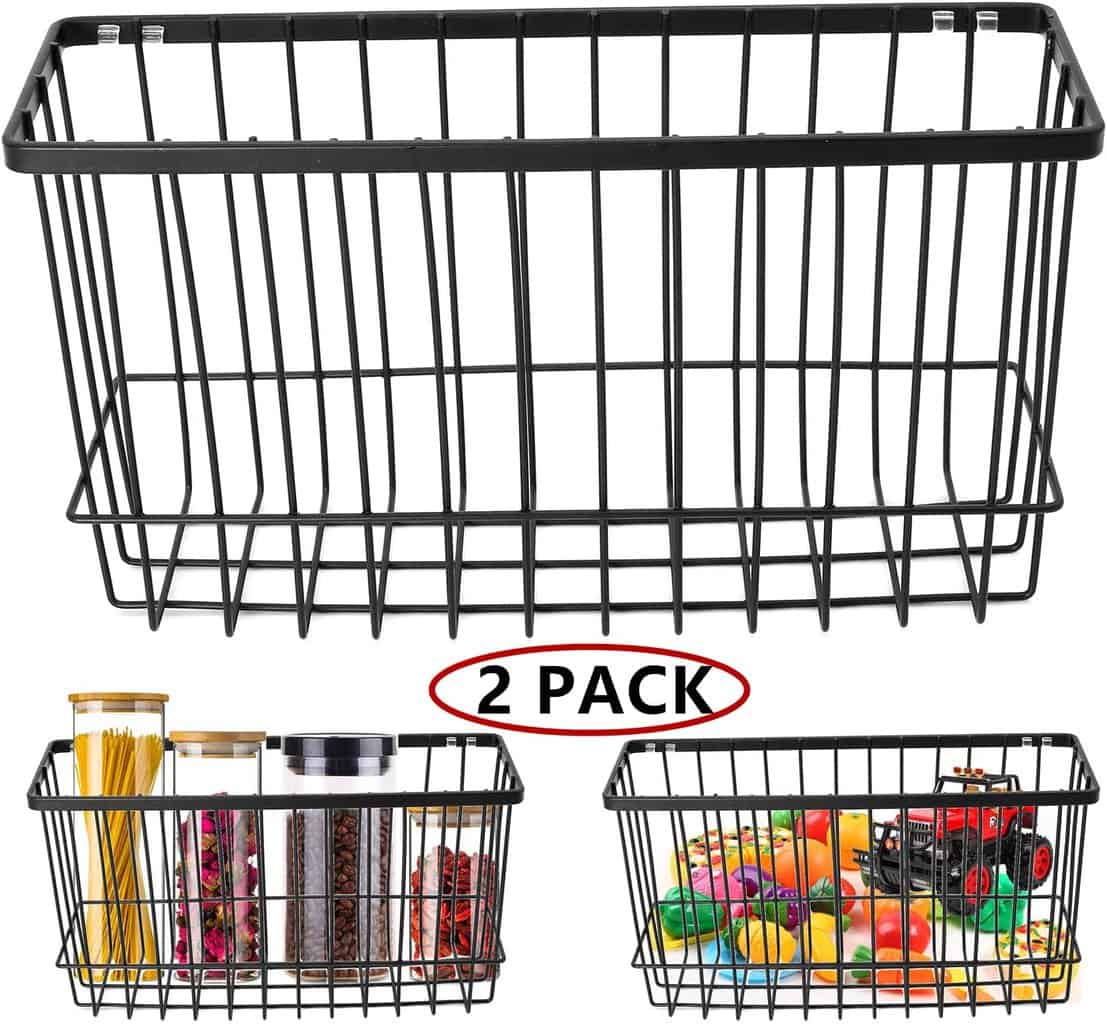 Hanging door storage is the perfect way to organize your craft supplies while making the most out of your storage cabinets.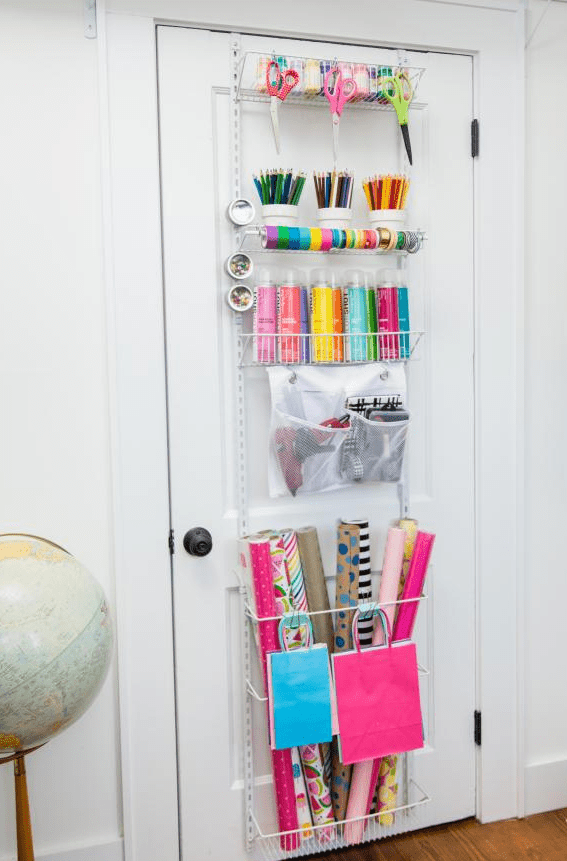 You can find storage racks that hang on the inside of your cabinet doors and provide you with a space for spools of ribbon or yarn, containers for all of your paint brushes, scissors, or stickers, and Mason jars full of tags and tiny bottles (I am really bad at math so one Christmas I made everyone special popcorn packages that contained flavored salts from Hallstatt–only, I accidentally ordered glass bottles with corks that were 5ml; cute but far too small). 
Idea #4: Mix a Corner Cabinet with Slotted Cabinets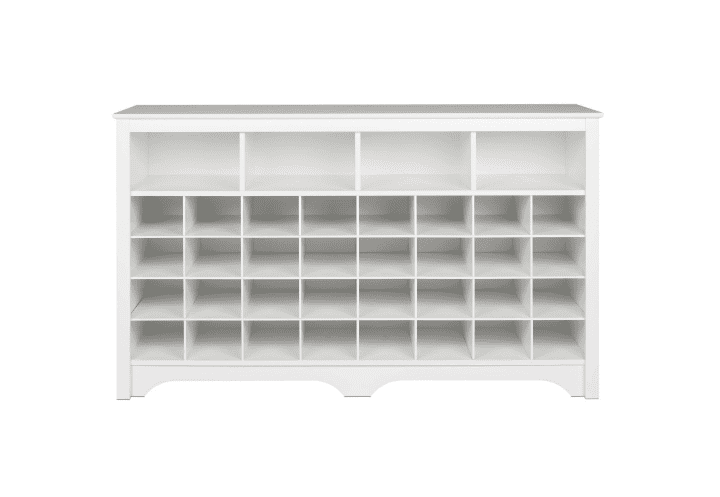 Craft supplies are often small, so you don't need the same large cabinets that you reserve for a laundry room, bathroom, or kitchen. So, one of my favorite craft storage cabinet ideas is to use slotted cabinets like a shoe cubby with a corner cabinet.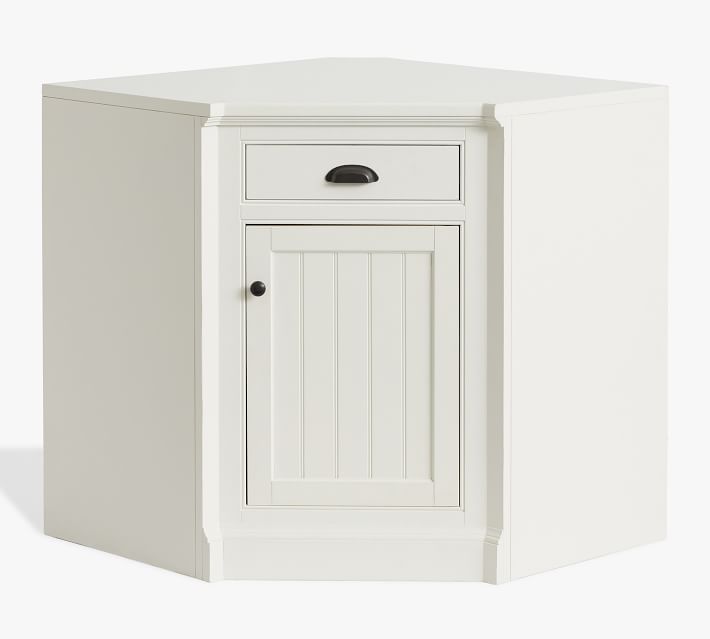 There are so many reasons to love this:
You have small storage spaces for things like paintings, stencils, boxes of paper, rolls of fabric, and yarn (and, in my case, a stack of papyrus). 

You create an open corner cabinet where you can sit your larger tools like the sewing machine, stapler, laminator, paper cutter, hot glue gun, and more.

You naturally create a workspace on top of the cabinets; I always (always, always, always) run out of counter space when I am in the middle of a project and end up resting things on my chair, on the printer, on top of the houseplants, and on the floor. 
Idea #5: Convert a Kids Cabinet
If it seems like just a little bit too much effort to find cabinets that mix and match together, there are so many cabinets that have different cubby drawers, cabinets, and shelves built-in. These are usually intended for kids' bedrooms or playrooms so that they have small spaces for their clothes, shoes, and toys.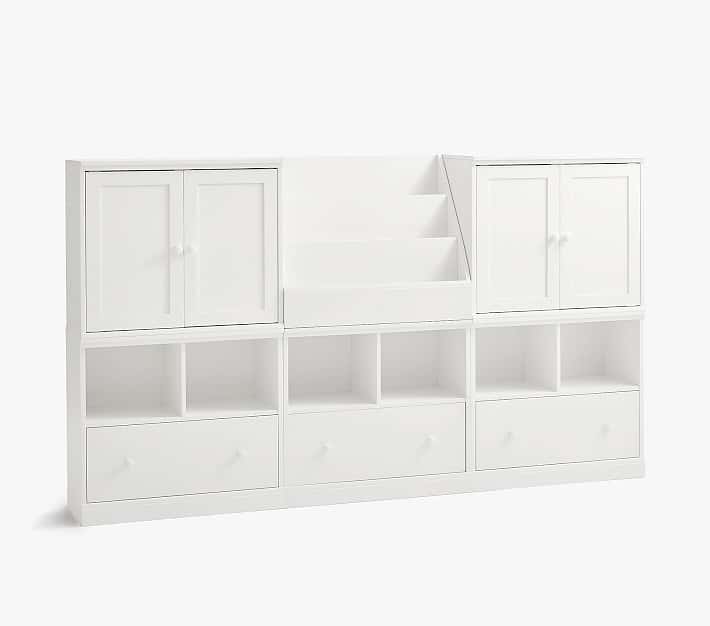 However, all of those spaces work really well for a craft room. Pottery Barn Kids has multiple cabinet designs that work exceptionally well in a craft space, placed up against the wall with ample open storage, drawers, cabinet doors, and slots for filing upright.
Idea #6: Add a Pegboard to the Cabinets
I love pegboard. We used it a lot growing up, especially in the garage. It was the quintessential male storage. While women built a craft space full of cabinets and drawers, men just put a pegboard against the wall and hung up all their tools.
I remember when we cleared out his garage, my grandpa's pegboard had faded from exposure to direct sunlight, but it only faded around all of the tools that were hung so you could see this shaped outline of where each tool had been.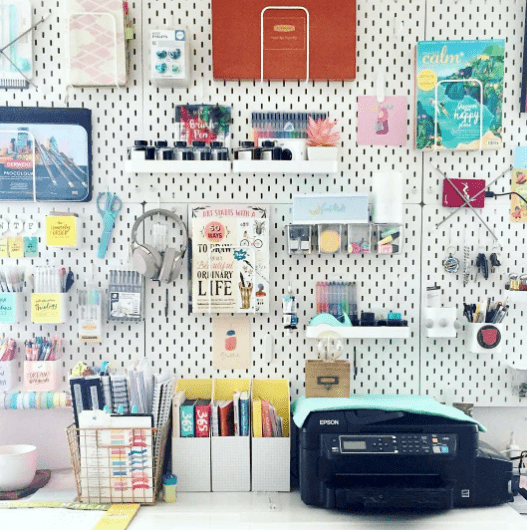 You can see this craft space takes advantage of regular base-mounted cabinets with doors and drawers, but above it, they line the wall with pegboard where you can more easily hang things that don't necessarily fit well in the cabinet. 
Tip: If you don't have the space above your cabinets for a pegboard, you can always cut smaller sections and install them on the inside of the cabinet doors instead of a hanging cabinet rack. 
Idea #7: Use a Cabinet Island
Craft tables serve as the perfect cabinet island. You might not be able to place cabinets along the walls, or maybe you already have them, but you need more storage, and there isn't any more wall left. 
In that case, I highly recommend investing in something like the South Shore Craft Table. This table is designed as a workspace with lots of hidden cubbies, pull-out drawers, and tall storage for larger paper such as gift wrapping. It also has lots of open cube storage of different sizes and shapes with a workspace on top.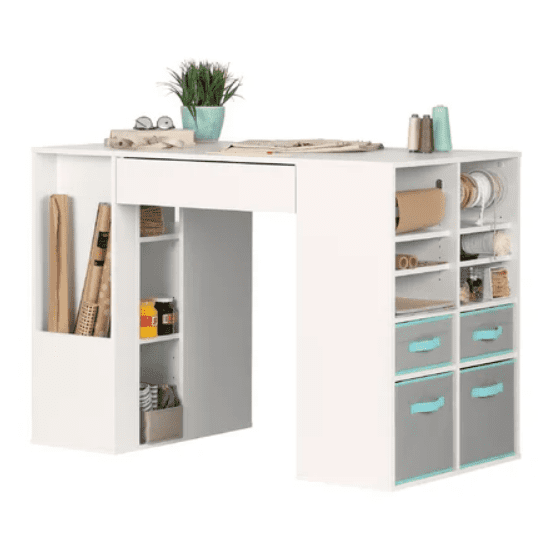 Red Barrel Studio makes a similar iteration that rests against the wall and extends outward with a large workspace, pegboard section, cabinets, drawers, and open shelves.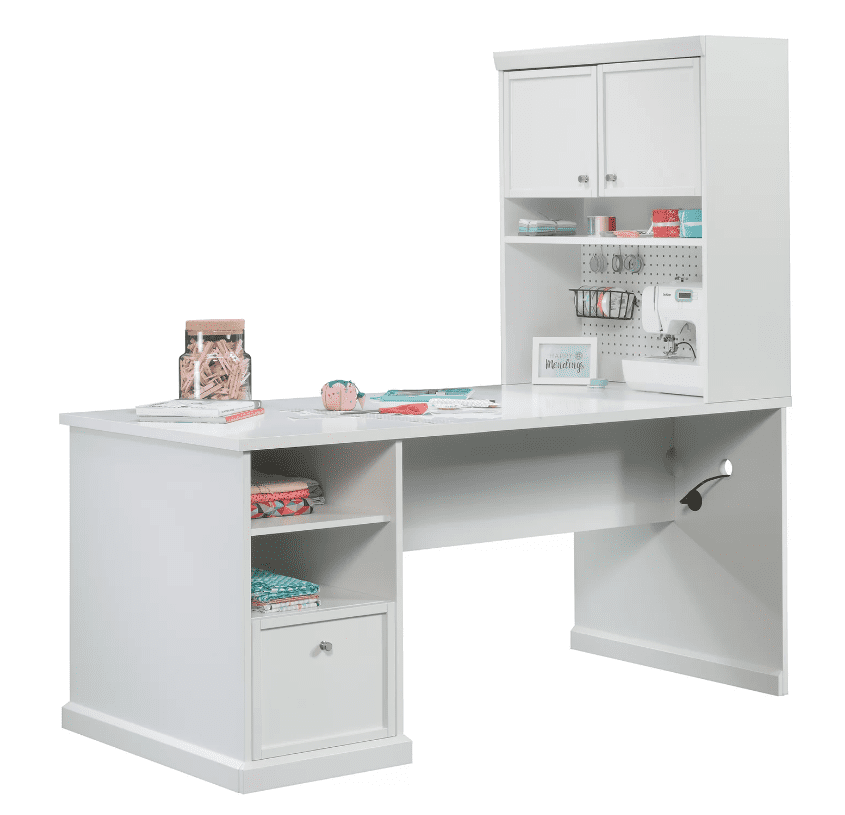 Tip: You can easily make a craft table similar to this by combining a desk with a file cabinet, wall-mounted cabinet, or cube cabinet to fit your space.
FAQs
Question: How do you store crafts in a small space?
Answer: If you have a small space, put similar items together so that they are easier to access. I love the cube organizer for this, but you can easily use a smaller, wall-mounted cabinet like a medicine cabinet. Any small surface you have in your cabinets or on your shelves can be maximized by putting small items in containers that stack or rest more efficiently in your craft cabinets. 

I like to use clear plastic containers with lids so I can pull out a single container at a time, but for things like pens, markers, pencils, and paint brushes, I like to put them in small pencil organizers.
Question: How do you store large craft supplies?
Answer: I have a few large craft supplies like an antique sewing machine, oversized paper cutter, laminator, some leather working tools, soldering iron, and more. 

I have one large cabinet that has three pull-out drawers. It was originally a filing cabinet, but I have a separate filing cabinet in my office which is much larger and stores more files. So I modified the old filing cabinet to fit my larger craft supplies in the largest pull-out drawer. 

I also like the idea of storing them on the shelves of a large corner cabinet or placing them on top of the cabinet. My sewing machine is so big it actually sits on top of the counter that rests over my cabinets. 
Question: How do you organize a craft cabinet?
Answer: Figuring out how you want to arrange your craft cabinet is almost as complicated as figuring out which cabinet works in your space. Start by deciding which organizers you want to use. When I say organizers, I literally mean any storage container that will hold other craft supplies. These can be clear plastic cups, mason jars, clear plastic pencil holders or desk organizers, or even cheap Tupperware without the lids (or with them, depending on whether your crafts fit inside).

From there, decide how you want to organize your layout. I personally like to group similar craft supplies together, so all of my paint is in one container, and all of my flat sketchbooks, craft paper, construction paper, and stickers are grouped together because I know that they all fit in a flat file storage container.

You can organize everything so that it's categorized by color, by craft project or type (think painting versus leatherworking versus beaded jewelry), size, etc. You can watch this video for more tips:
Place your items in containers that you can easily store on the shelves or in the drawers you have available inside your craft cabinet. You might have to play around a bit to figure out how they best fit, but once this is done, you'll be able to easily pull out a small container that has all your papers or all your paints, and it will make crafting much easier.
Question: How can I organize my craft room for cheap?
Answer: I understand that Pottery Barn is very expensive, but if that's simply outside of your budget (it's outside of mine most of the time), you can still organize a craft room for cheap. Adding a pegboard is an inexpensive way to get stuff off of the floor and give you extra storage space. 

Making use of clear plastic cups or smaller pencil holders from Walmart, Target, or the dollar store is a perfect way to store pencils, markers, crayons, paint brushes, and other tools. In fact, Dollar Tree is where I get most of the smaller containers that I put inside my craft cabinet.
Bottomline
Make the craft storage cabinet ideas work for your space. If you are like my mother-in-law and you only have a small space, use a three-by-three cube cabinet next to a wall-mounted cabinet. If you have more space, I absolutely recommend using a larger cube cabinet alongside mixing a corner cabinet with sliding cabinets and even adding a pegboard in between.
Read More: