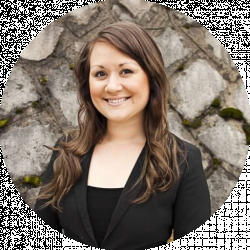 Latest posts by Lacey Jackson
(see all)
Growing up, my grandparents had a record player and a lot of records. I started collecting records myself because they seemed so cool. I couldn't figure out why friends of my grandparents were so eager to give away boxes of records for free. 
My grandparents' decision to get rid of their record player once and for all coincided with my going to college, which meant I was the one left with a bunch of records I couldn't play, trying desperately to give away boxes for free.
I was pleasantly surprised when records made a comeback, not but a few years ago, and new record players hit the market. These weren't the same clunky machines that I played with as a child; they were tiny with a retro design and just downright adorable. This popularity has risen to where you can now find outstanding record player cabinet ideas to hold your compact retro machine and all your records. 
Bottomline Upfront
Crosley is my absolute favorite for a modern, classy home. It has black cabinet doors that enclose the records and player, with a top lid you can open when you want to play music. However, if you want something more traditional, Myoyay and Unikito are beautiful wooden record player cabinets with metal hairpin legs that harken back to the 1950s. 
What Makes the Best Record Player Cabinet Ideas: My Selection Criteria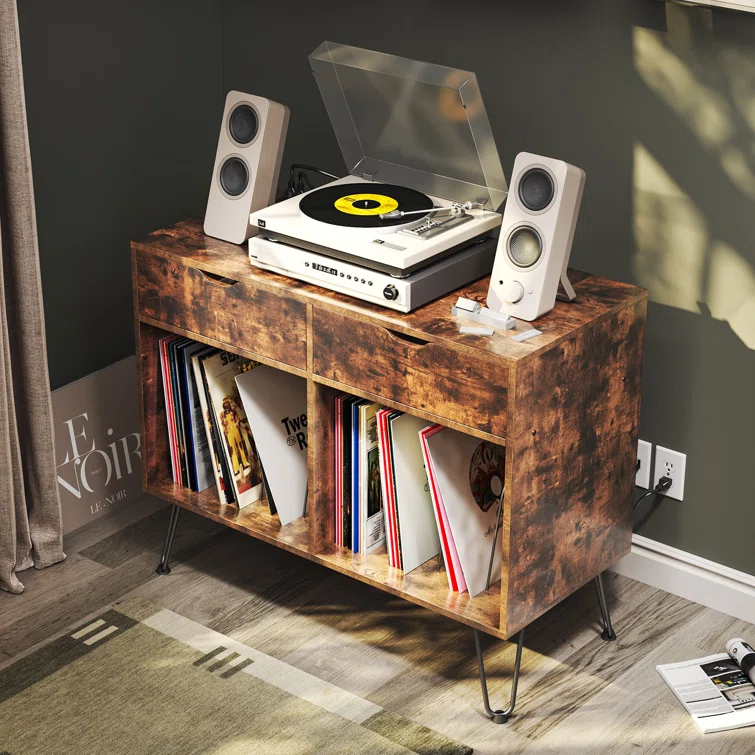 I reviewed the choices based on the design and aesthetics of each of the ideas listed. 
Design
For the design, the biggest concern is ensuring it has slotted, vertical spaces to safely store records and a flat space for the record player, with room to open the lid to the record player (if yours has a cover).  Beyond that, I reviewed options based on size, some smaller end table designs and others with more expansive double-doored cabinets. 
Speaking of doors, I also added designs that included fully enclosed cabinets with doors, sides, and backs, as well as options with open door shelves or with an open frame model. 
Aesthetics
This tied into the design element in that many of the aesthetics for the ideas I included were geometrically appealing, had excellent hardware, included striking hairpin legs, or had some other feature that stood out in a sea of retro designs. 
Features to Look for in Record Player Cabinets
When looking into record player cabinet ideas, you want to know how much space you have. A lot of modern record player cabinets come in smaller sizes. The Crosley, for example, has a single cabinet and a double cabinet version. This makes it possible to integrate the design and aesthetic you want, no matter the available space. 
After all, most of us don't have a complete music studio in which our record play cabinet can live. Most of us have a small corner or wall against which the cabinet can rest. 
Similarly, be aware of how much storage there is. A lot of music lovers have hundreds of records, in which case more extensive storage like the Unikito is critical. But if you are just now getting into vinyl, you might only have a dozen records, so a two-tired cabinet like Lelelinky is fine. 
Record Player Cabinet Ideas
Now let's look at some of my favorites:
#01 Mid-Century Modern Cabinet
Crosley is my favorite for its sleek lines and ingenious design. It is an ideal Mid-Century modern cabinet because it remains monochrome with sharp edges and sleek lines. Where most modern record player cabinets have open shelves, which creates a lot of aesthetic chaos because you see all the colors and the print on each record album, this one has sliding cabinet doors with metal pulls. 
Modernizing the cabinet even further, it comes with a built-in shelf behind one of the cabinet doors where you can put your record player.
On top is a separate panel that you can lift, just like the lid of a piano. This keeps everything concealed behind the aforementioned lines. So if you like your cabinets and furniture to conceal, so that your space remains open and organized this is a good idea. 
It has a beautiful black finish with gold hardware, solid black legs, and adjustable shelves on the side opposite your records for additional storage. 
#02 Contemporary with a Finished Twist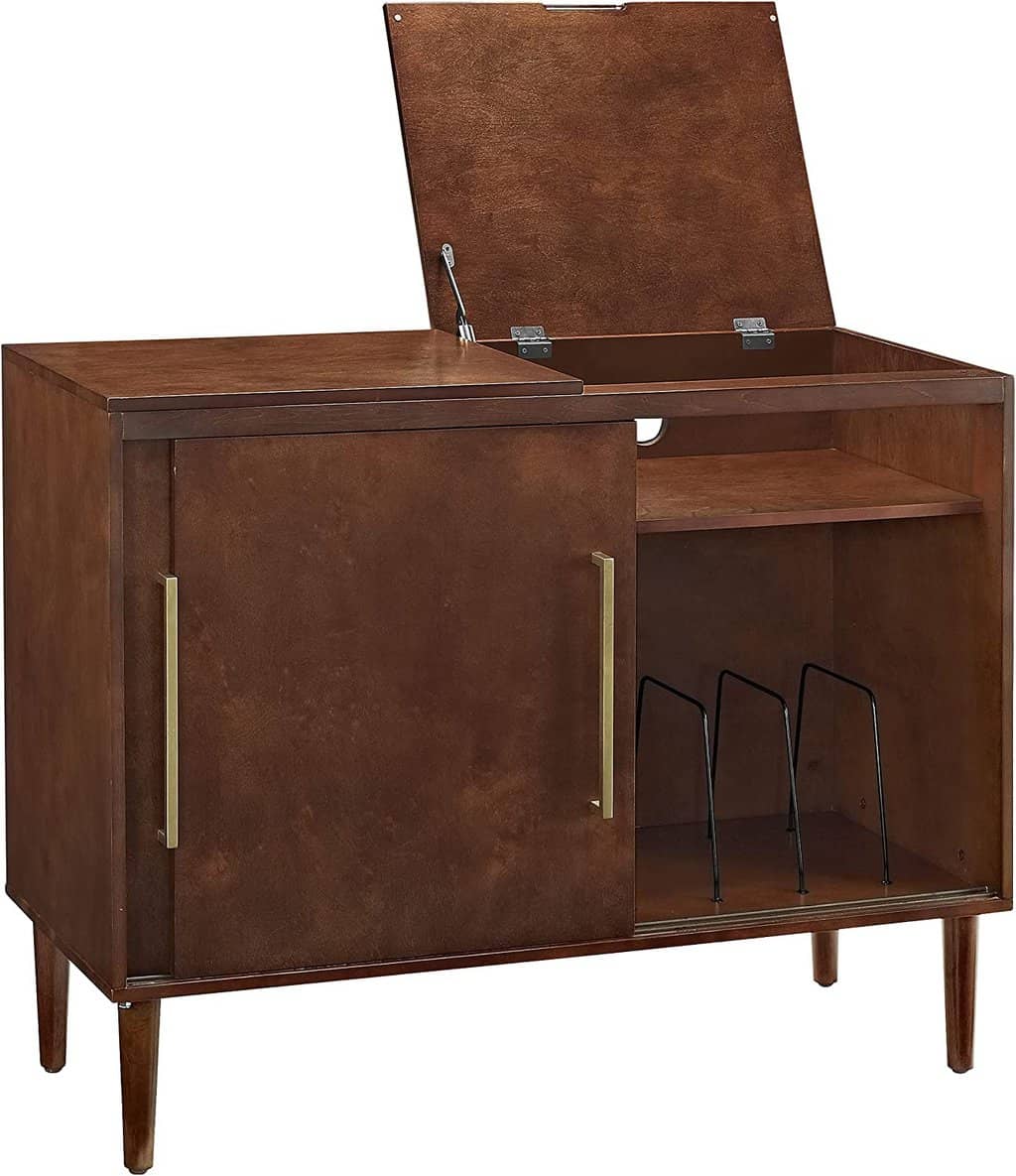 If black doesn't work for you, Crosley has a selection that is otherwise the same as the cabinet above but in white, mahogany, and bright acorn wood. In all cases, you still get the gold metal pulls and the exact dimensions, but the mahogany and acorn are excellent for those who want the classic retro wood look with the great lid design.
#03 Modern Meets Small: A Tiny Record Stand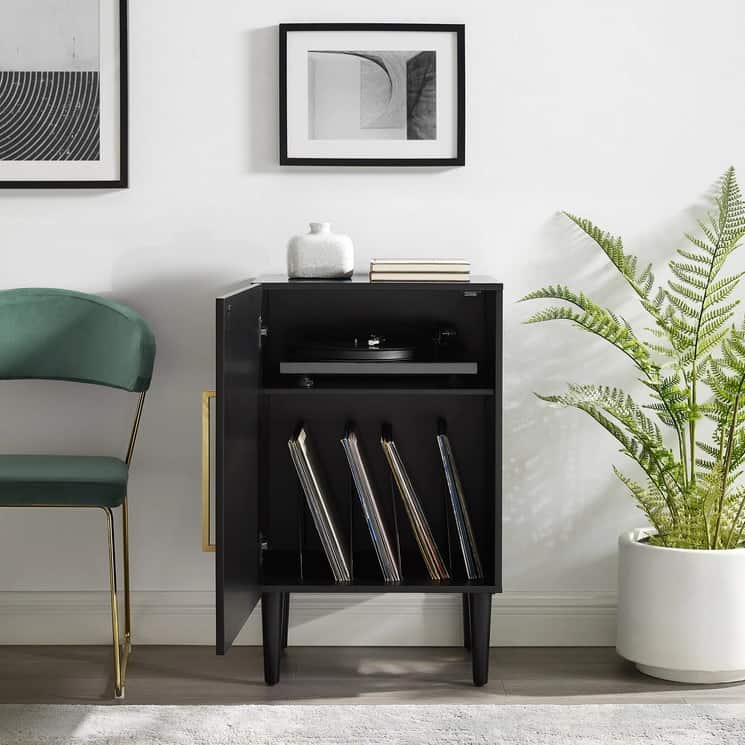 If the double doors are too big for your space, the Crosley Stand is a smaller version. This has the same matte black finish, gold metal pulls, and solid construction so it still maintains the roots of its Mid-Century Modern design. 
It is smaller, of course, and because of that, it gives up the fantastic lid panel; instead, you open the cabinet door to reveal four slots for record storage and a top shelf where you can put your record player. The downside here is that you have to leave the cabinet door open to play it.
It is one of the only enclosed cabinets you will find that fits a modern home, instead of the open shelf design with wood and black metal. 
#04 Art Deco Cabinet Table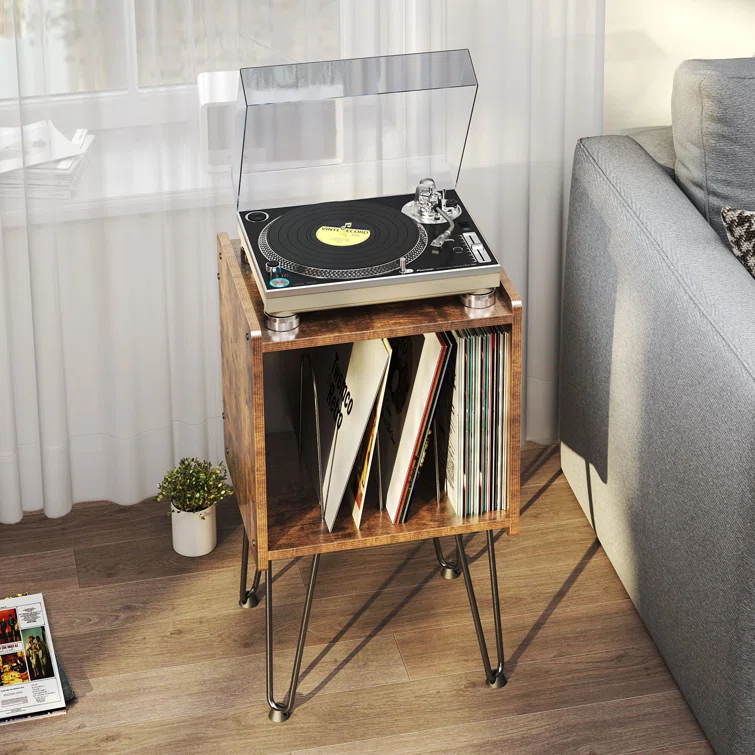 Want an art deco-style cabinet? This End Table is perfect. This record player end table is so tiny and so cute. Like most record player cabinet ideas, it has hairpin legs, but because the record player stand is so compact, the hairpin legs are more prominent and really draw focus.
It has a solid wooden construction for what is otherwise just an open box with some metal rings on the inside shelf, but the shape and style speaks to the geometry of Art Deco design. The rings create slots in which your records can rest, and the top of the table has a small lip on either side to secure your record player.
#05 Mid-Century with Vintage Hints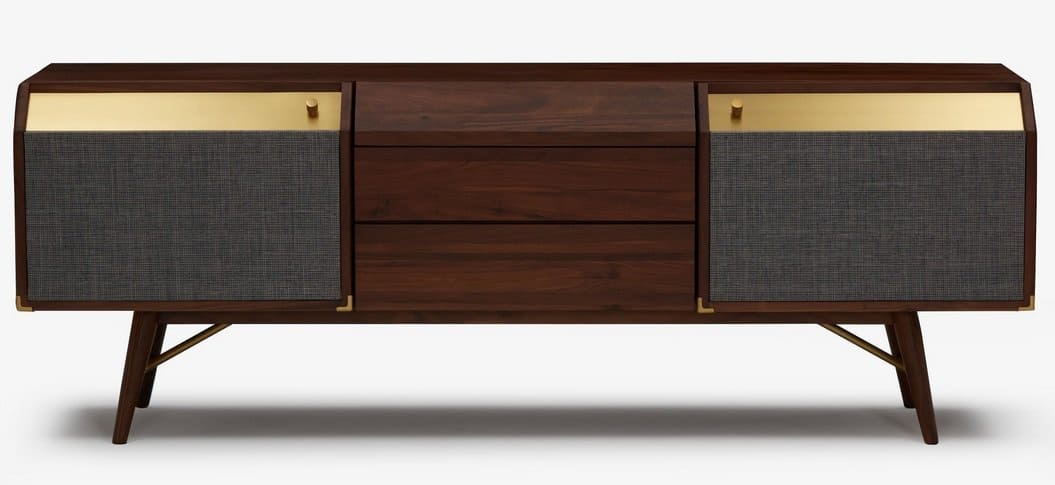 One great idea for a Mid-Century style is the Collen. It has brass accents that catch the eye, with fabric speakers, doors, and sleek angles. The tapered legs integrate a touch of retro to the otherwise vintage look. 
#06 Scandinavian Composition

Kardiel is a beautiful Scandinavian design. With its Nordic roots, it's minimalist in approach with softer colors, a simplistic frame, but a very relaxed style. It's a great idea to put in any minimalist, European, or contemporary space. 
#07 Geometric Open Design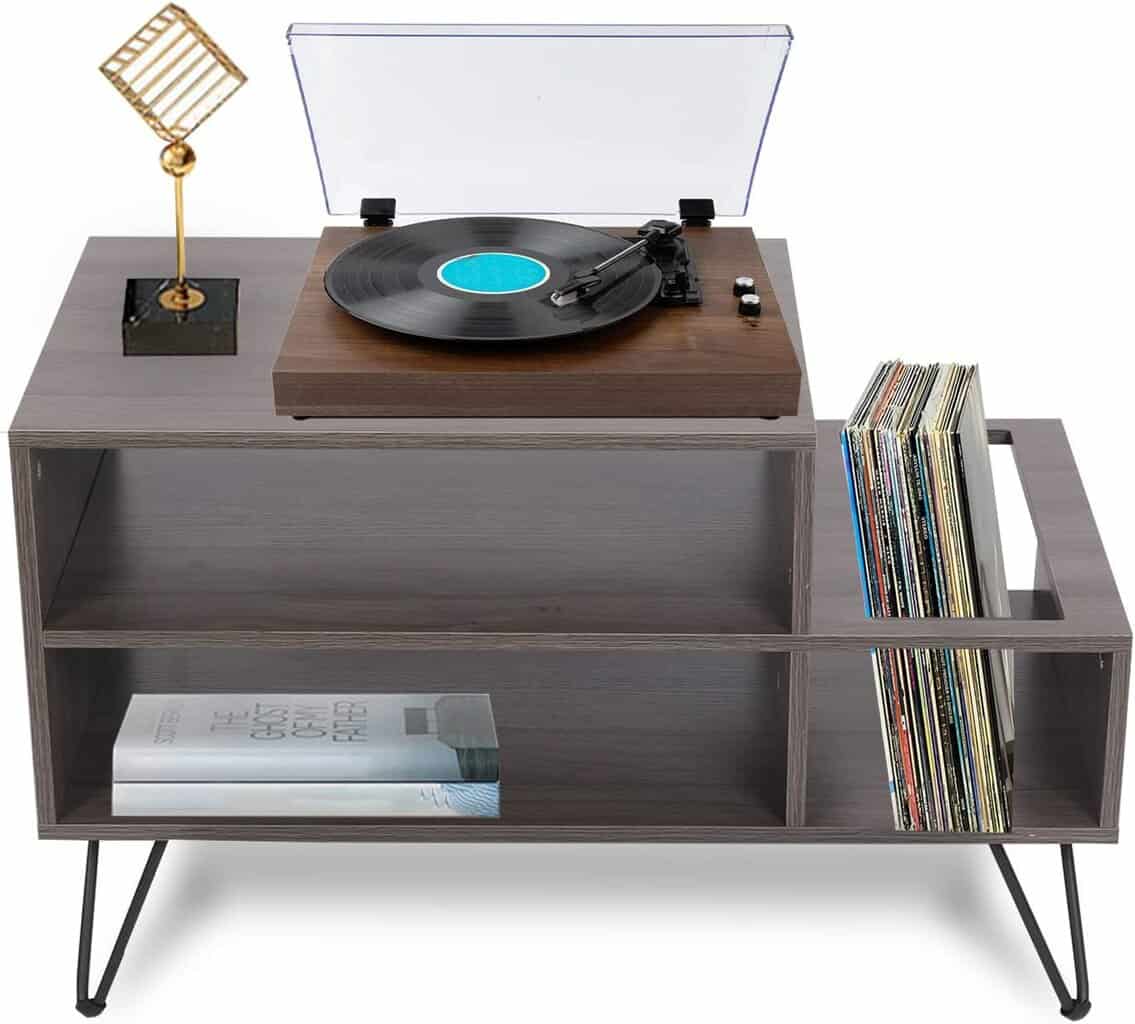 Myoyay is a giant record player cabinet with an open frame design. This is great for a contemporary home because of the sleek lines and open geometric frame. 
I like this one because it has an unexpected geometric feature: the storage section for your records. Instead of being a square or a rectangle with tall storage shelves, it has one shelf that cuts across the center horizontally, and on the right side, instead of a frame that reaches up to the top, it just has an open rectangle cut into that shelf. That rectangular slot is where you drop your records, and the top shelf next to it is where you put your record player.
It has the quintessential hairpin legs that solidify the retro look. With rustic wood grain on the exterior, it fits into any space. 
#08 Boho Chic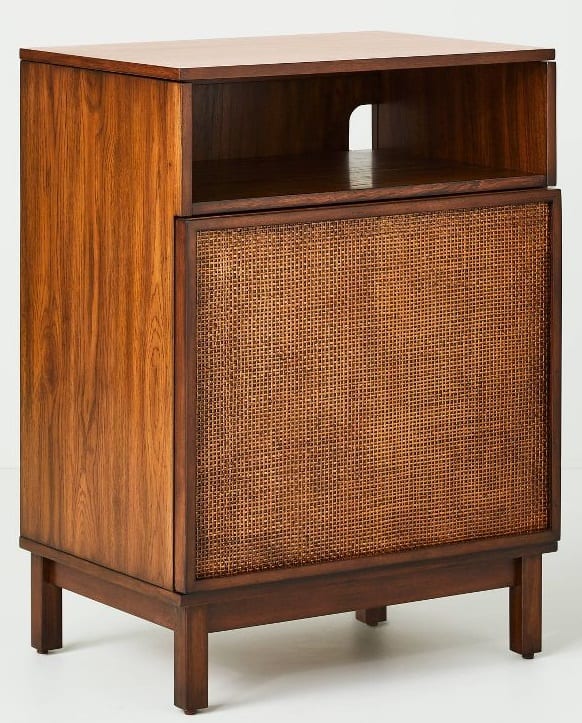 If your room is Boho style, this wood and cane cabinet is a great fit. Any room with a lot of layered organic elements with bright colors, textiles, and wood would benefit from the playful nature of this cabinet. 
#09 Traditional Style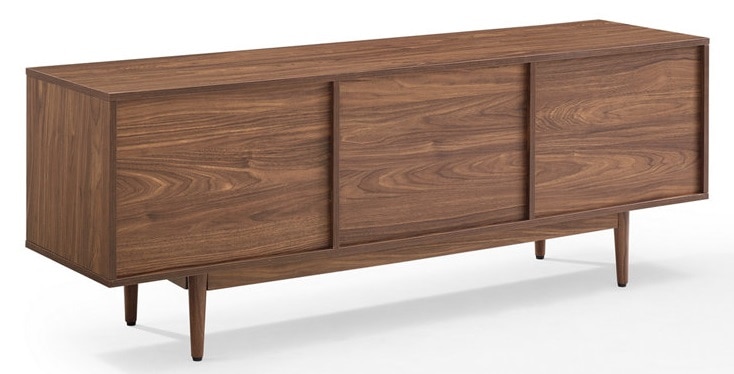 One great idea is the Liam stand if you have a farmhouse style in your space. It is an essential cabinet with clean lines, three open storage spaces, and sturdy legs instead of the Retro hairpin legs that standoff at an angle.
#10 Memphis Design Idea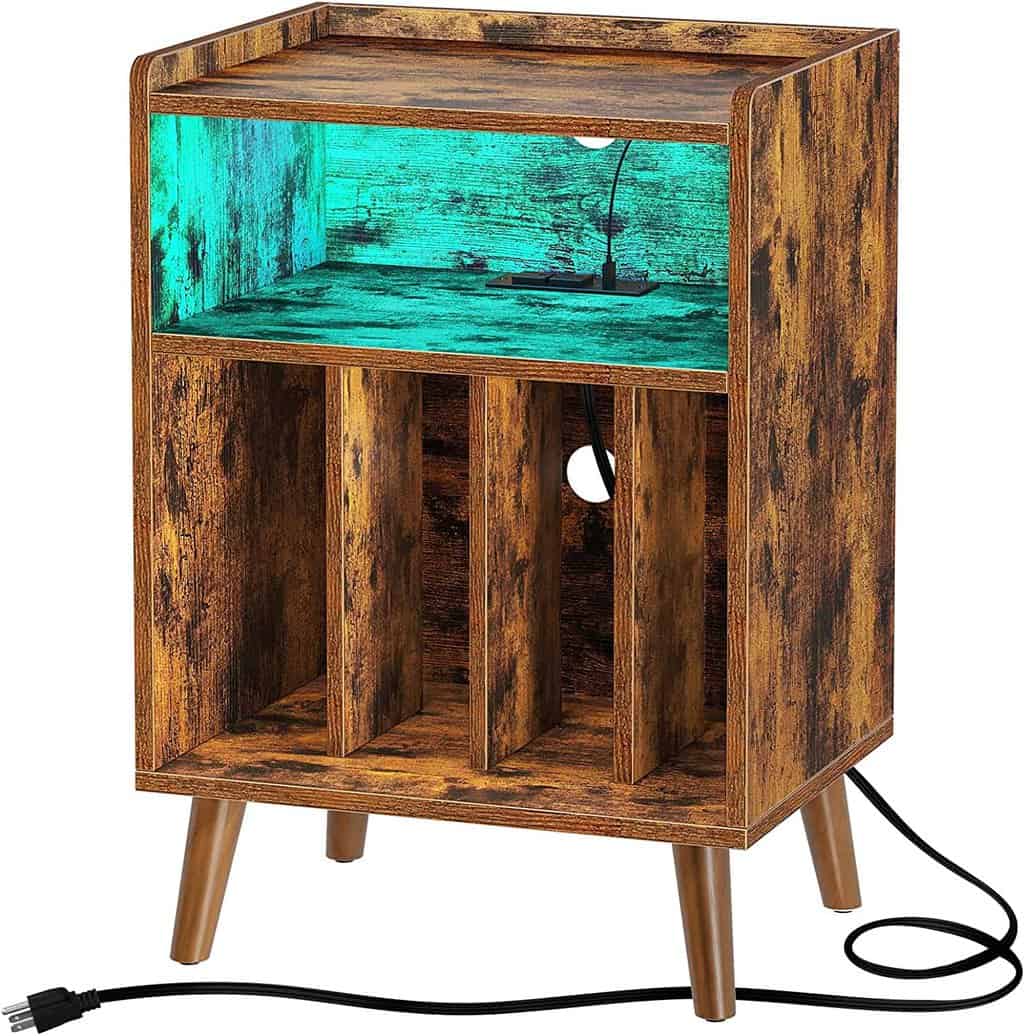 If you like the End Table size but want something edgier, Rolanstar is an excellent option. It embodies the Memphis Design aesthetic with bright colors and lines, so if your home or music room still screams "80s", this is a fantastic idea to consider. 
I love that this one has the same structure (hole for wire management, slotted shelves for upright vinyl, and top shelf for the record player), but it has LED lights where your speaker or other storage might go, with a charging station. The bright color and faux wood embodies an 80s Memphis Design style.
#11 Modern Oval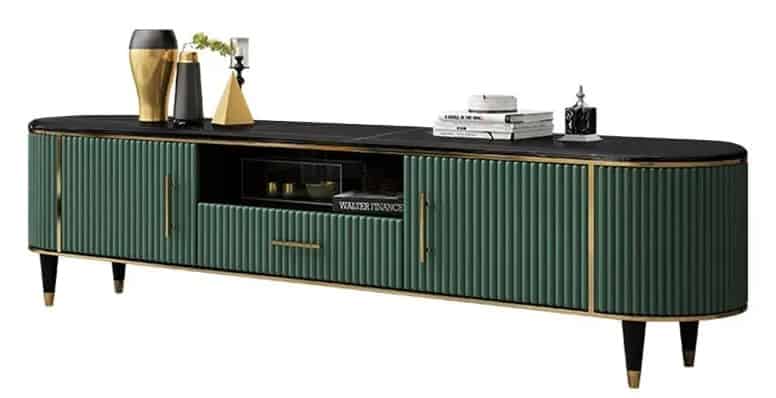 The Modern Oval cabinet is ideal for any Glam décor. It is minimal, with sleek lines, but it has impactful touches that give it an elevated look without being gaudy. If your home looks like it belongs in the Hollywood Hills, this high-end cabinet with its oval shape and jewel tones is a good idea. 
#12 Organic Cabinet Aesthetic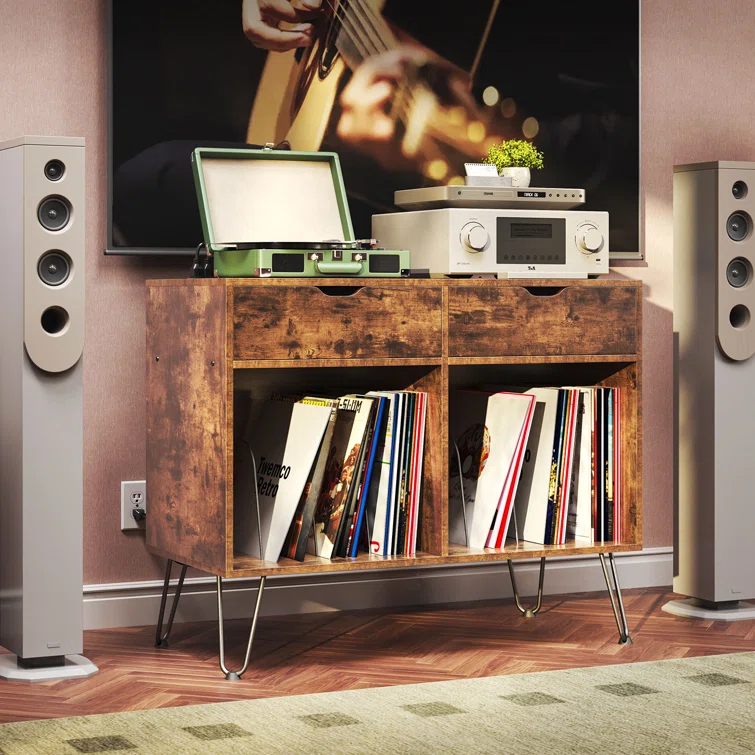 This storage cabinet can be the perfect accent piece in an eclectic space. This iconic retro cabinet is an excellent idea if your home is a bit more refined than Boho, with natural colors but a curated aesthetic space. The natural wood grains still embody organic design, but the piece is large enough to be a center point in your room. 
#13 Traditional Modern Cabinets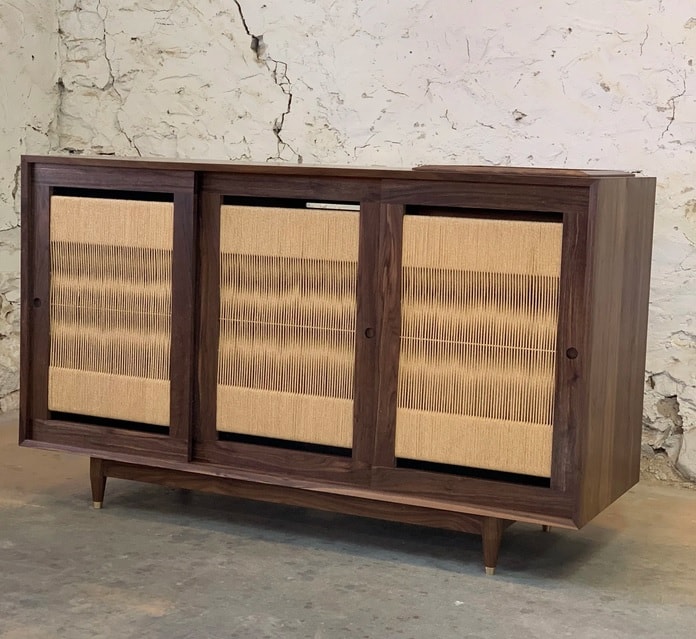 Wescover has designed this record player cabinet for a transitional space. The design elements speak to the junction of modern and traditional. It combines past, present, and future in a way that could help you fill a contemporary, rustic, or retro room. 
#14 Mid-Century Modern Aesthetic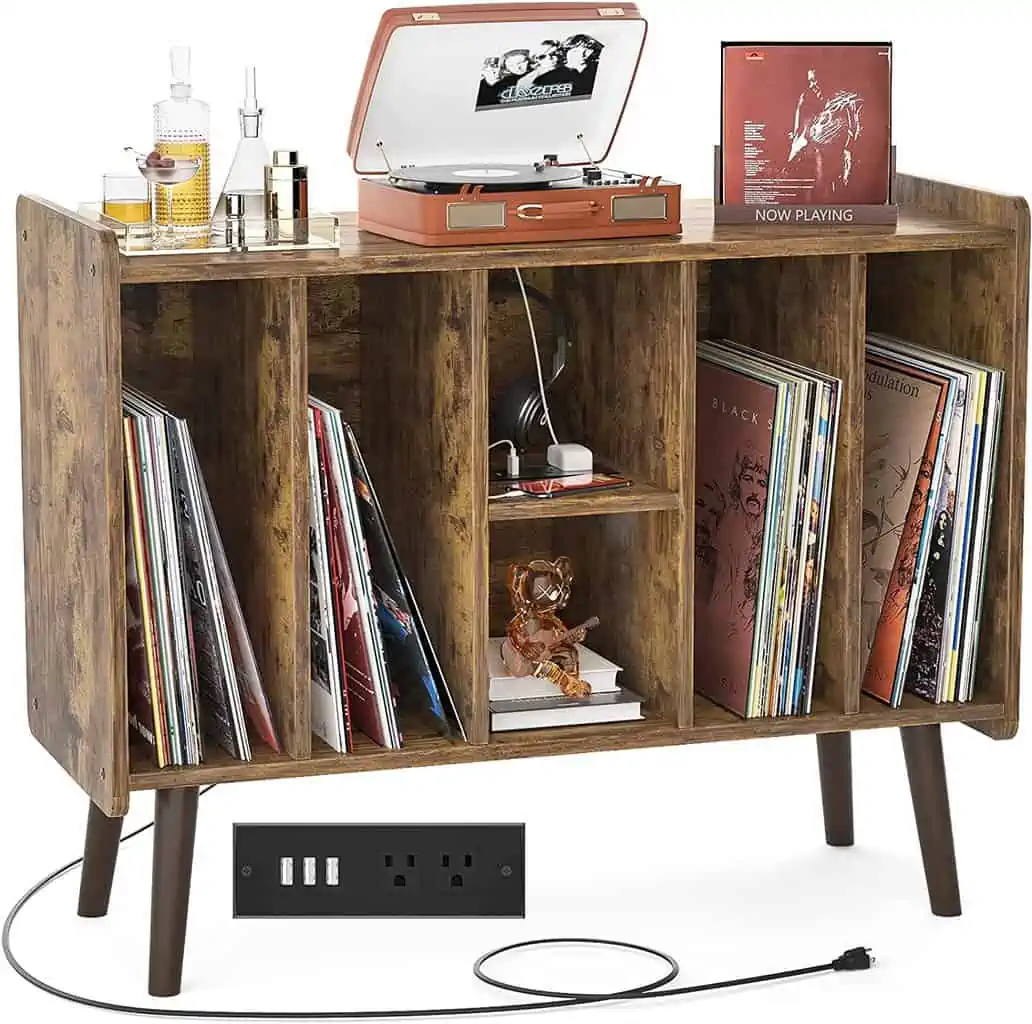 Are you looking for a Mid-Century Modern idea? Look no further. Unikito has a vintage vinyl record table that optimizes record storage. This design does not have hairpin legs but wooden legs that are shaped at the same angle. Instead of a large open shelf with interior frames for slots, this model has four different niches that can hold up to 200 albums. 
What I like most is that it comes with a power outlet so you can immediately plug your vinyl record player in and pick your favorite song. It is Amazon's top choice for a record player cabinet. It is incredibly popular with nothing but positive reviews.
#15 Industrial Form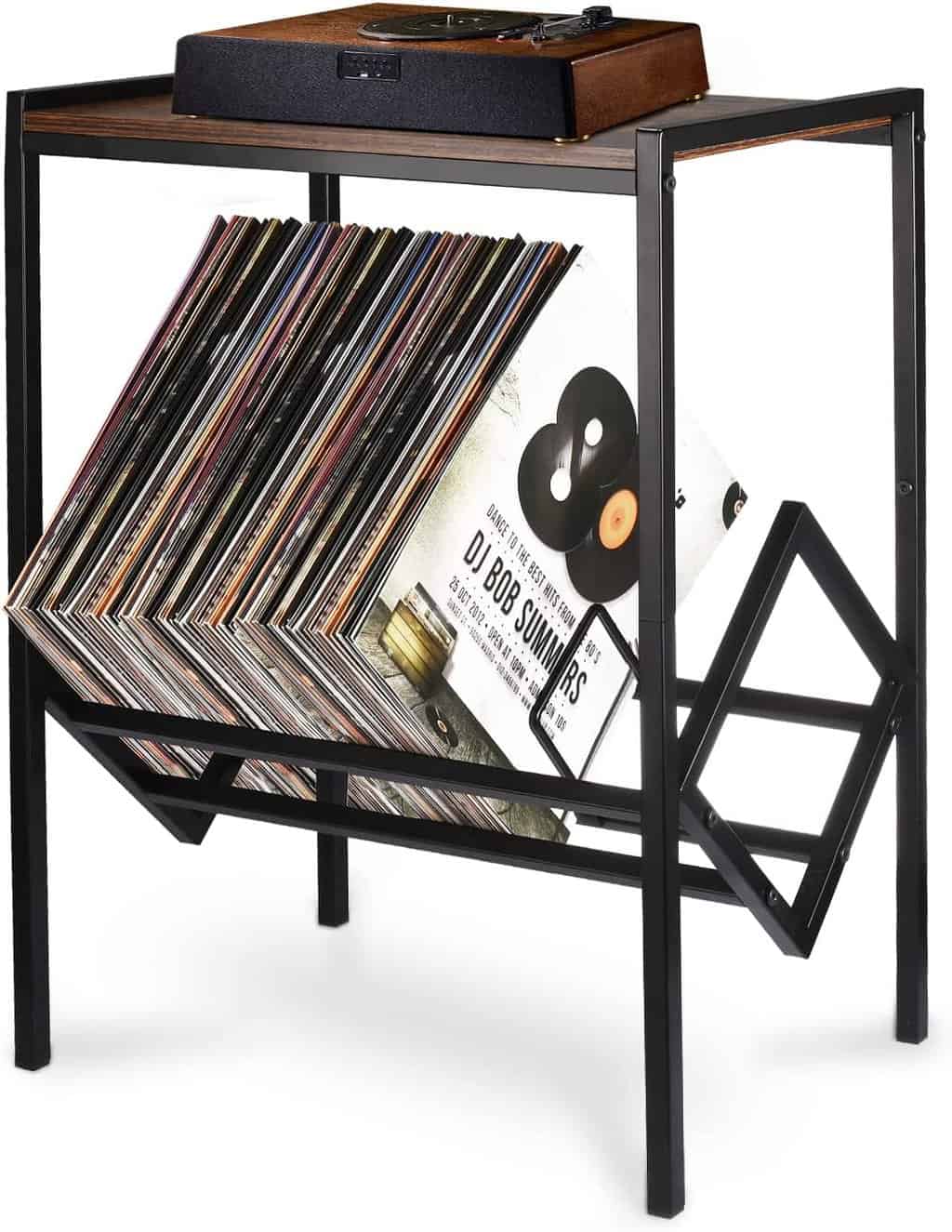 Dack stands out for its ingenuity. Where almost all other record player cabinets are made of wood or composite, this one is made of metal. Instead of having the wooden frame with open shelves and no cabinet doors, this one has an angled metal framed vinyl holder so you can slide your records in at an angle that makes it much easier to read what they are when you are looking down at the cabinet. So, it's perfect for any space with industrial decor.
It looks like it belongs in a recording studio or the bedroom of a 15-year-old boy who has a set of drums in one corner and four guitars on the wall.
You can fit up to 80 albums, it does not take up a lot of space, and it has the perfect wooden top on which to rest your modern record player. You have to assemble it yourself, but considering it is nothing but matte black metal legs with a framed section for your records, it does not take very long. So if you struggle with assembling furniture, you can still get a record player cabinet without a lot of hassle. 
#16 Two-Tiered Retro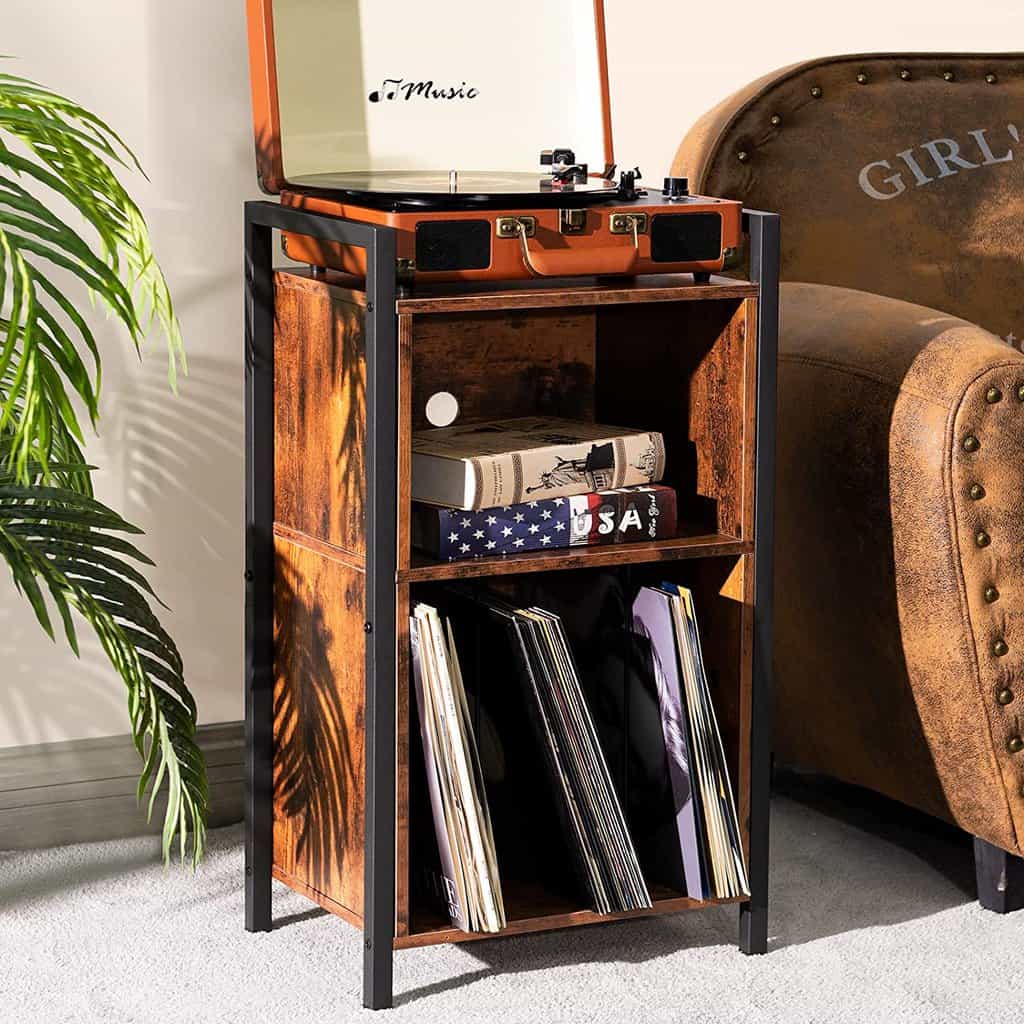 Try this two-tiered design if you have small spaces but tall walls. The idea here is to maximize height and not width. 
Lelelinky has a two-tier record player cabinet that combines the matte black metal frame of the Myoyay with the wood finish of all the other models. It has a retro brown finish and open shelves that looks very retro. 
The bottom shelf has an organizer to hold your vinyl records. On top is a space to put the record player. Like the End Table cabinet, the black frame on either side stretches beyond the wooden body so as to secure your record player in place. 
#17 Minimalist Composition
Honkazita makes another two-tier record player cabinet, but this one is almost exclusively metal instead of wood. It has two spaces for shelves, one with a mesh pattern on either side and the other with an open wire box. Both have an open frame and are meant to store records. It's perfect for a minimalist space or even a contemporary room with sleek, modern lines and a lot of black accents. 
#18 Industrial Meets Organic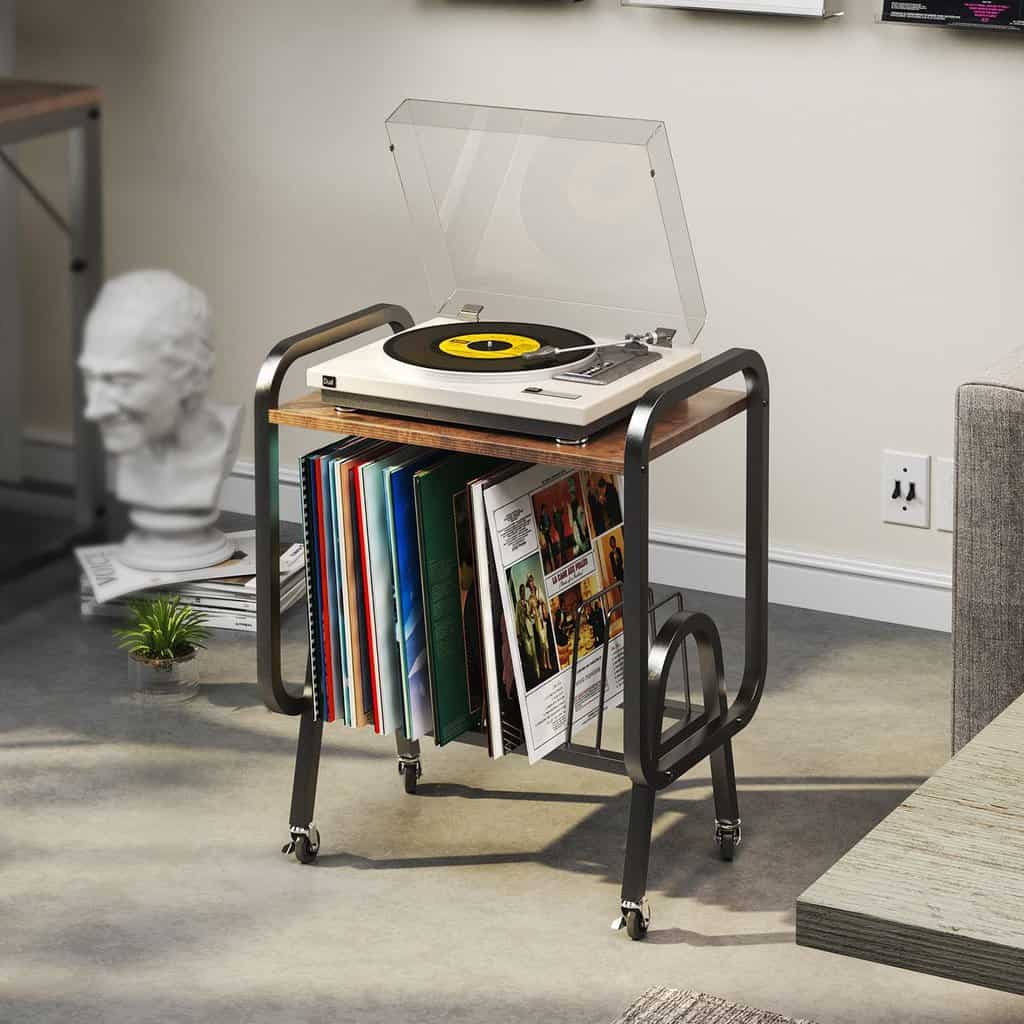 If you want something portable and small, check out the TC Homeny. The metal and rustic wood feel is more factory-esque and not organic, but it has a touch of masculinity. Still, the softness comes from the neutral wood colors that can still infuse your space with soul. 
This one is effectively an end table with small dimensions. Instead of doors or shelves, it has a rounded metal frame, wheels on the feet, metal slots to hold your records upright, and a wooden base on which to rest your player.
The best thing about this record player idea is the wheels. No other models have wheels, so this one is the top choice for portability, especially in those smaller apartments where you want it up against the wall and out of the way most of the time but then out in the room when you are using it.
#19 Mini Retro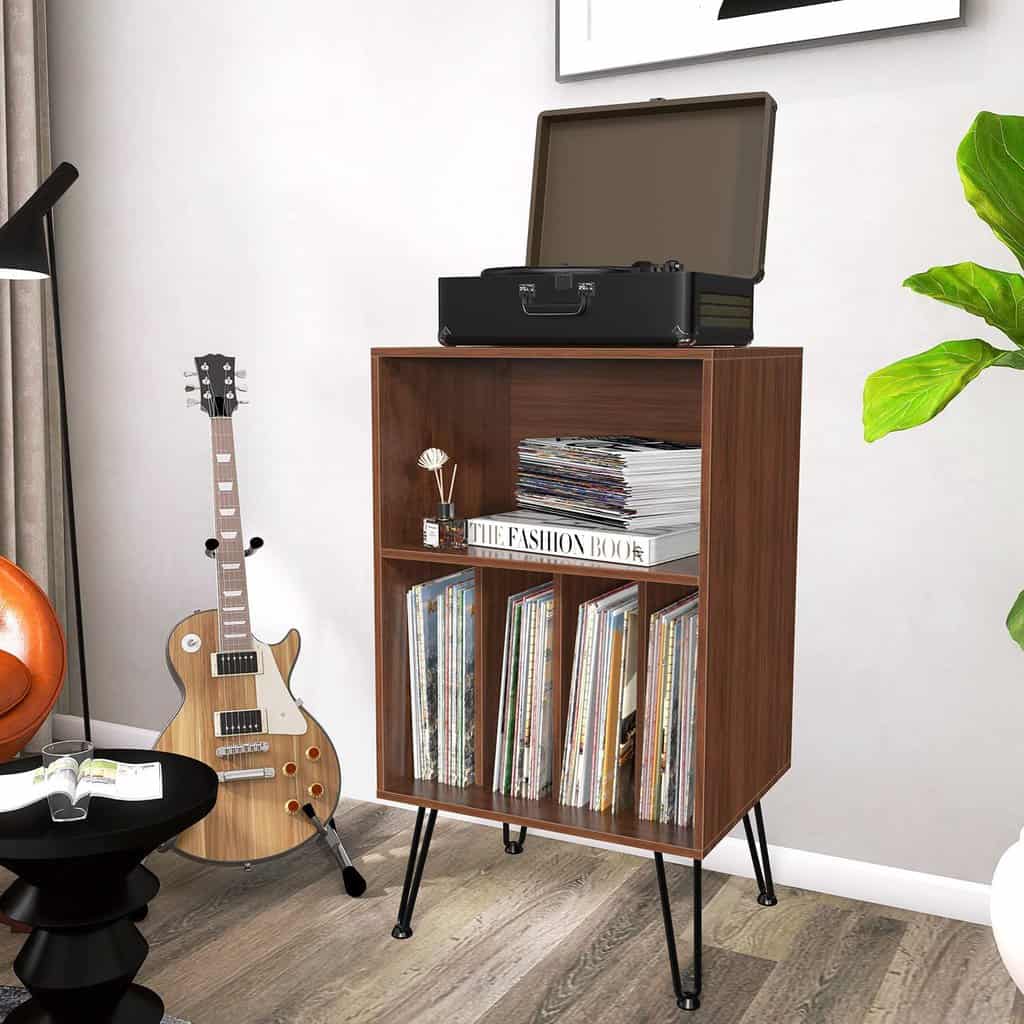 Casss is a slightly smaller version of the Unikito, sans power cord. This has traditional hairpin legs with a wooden frame. It is not so compact that it only has one row of shelves and looks like an end table, but it is also not so vast that it seems like a full entryway cabinet. It is an excellent idea for a modern apartment. 
It has a beautiful wood appearance in a rich, chocolate brown. You have to assemble it yourself, but it is relatively simple to do. It comes with all the pieces you need, and when it is said and done, you will have four slotted shelves in which to put your albums, an open shelf above that for a speaker or another audio accessory, and a top shelf on which to rest your record player. 
#20 Mountain Style with a Retro Hint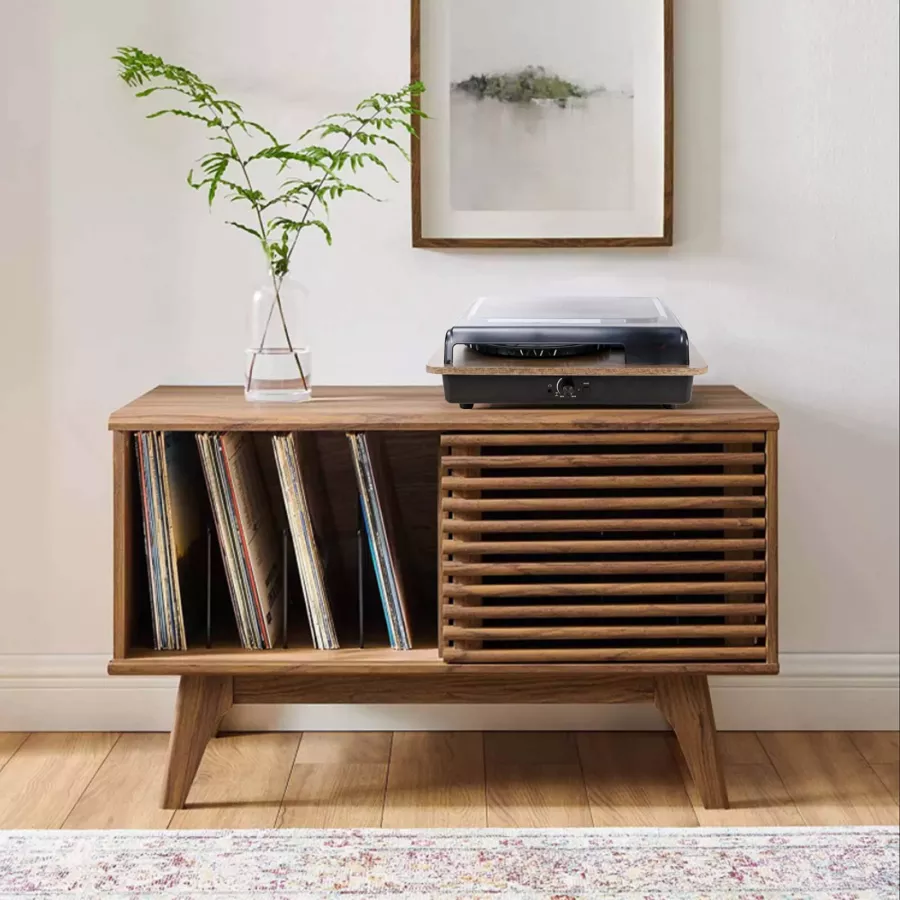 This is it if you are looking for a record player cabinet to match a Tahoe-style A-frame or a vacation cabin.  
Retrolife has a record player cabinet that is intended to be a permanent part of your main living area. What makes it stand apart as a permanent piece of furniture for a living room instead of a smaller end table cabinet that you can sort of shoehorn into a bedroom or a music space is the fact that it is made of solid wood. 
Everything about it is much thicker than this list's other record player cabinet ideas. The hairpin legs are thick wood. The base is thick wood, the top is thicker, the frame is more expansive, and every part of it is just conducive to increased stability and weight allowance. It has four metal dividers that create slotted shelves on the left-hand side in which to store your records, and it has an open cabinet on the right-hand side in which to put something like a speaker.
FAQs
Question: Is it ok to store vinyl records flat?
Answer: No. Vinyl records must be stored in an upright position so that they don't damage the grooves. While the tracks look like perfect concentric rings to the naked eye but close up, they are actually tiny waves that go to the right or left of the main channel through which the needle moves. If you don't store them the right way, those waves get damaged, and the needle can't play properly. This is why all legitimate record player cabinets have vertical storage. You can see a video of this here.
Question: Can I touch a vinyl record?
Answer: When you handle your records, take care to avoid touching the central part of the record. Increased handling can risk damaging it. It is best only to hold it at the outer edges so that you avoid getting any dirt or oils on it. 
Question: How do you store records and record players?
Answer: Ideally, your record should be covered in its album cover with a plastic sleeve. If you have older records, they probably came with a paper sleeve, but you can upgrade to plastic for its durability. The record player and records should be kept in a cabinet or on shelves where they won't be exposed to fluctuating temperatures, extreme light, or damage. 
Bottomline 
Crosley is my absolute favorite for a number of reasons but what I love most is that you can close all the doors around the records and then lift the top lid over your record player. But for the classic, retro look, Myoyay and Unikito are both beautiful wooden record player cabinets with a lot of storage and the quintessential metal hairpin legs. 
Read More: