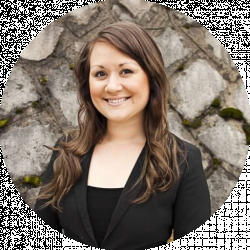 Latest posts by Lacey Jackson
(see all)
When I was growing up, my father, uncle, and grandfather were all very proud of the stereo systems they had in their homes. I thought it was just them, maybe it was genetic, but I didn't seem born with the instinct to wire speakers through every room in the house or to immediately brag about the stereo I had when people came to visit.
As I got older, I realized a lot of men were born with that instinct. The stereo cabinet we had took up an entire wall partly because the television was the size of a hutch cabinet and looked like something straight from the ENIAC offices. Along the bottom were cabinets full of laser discs, which is the method I used to first view the original Star Wars films.
Spanning either side were glass door cabinets with shelves spaced equally apart from one another on which actual speakers, laser disc players, and eventually VHS and DVD players were placed.
Today, the structure and setup in the best stereo cabinet ideas maintain many of those features but on a smaller scale.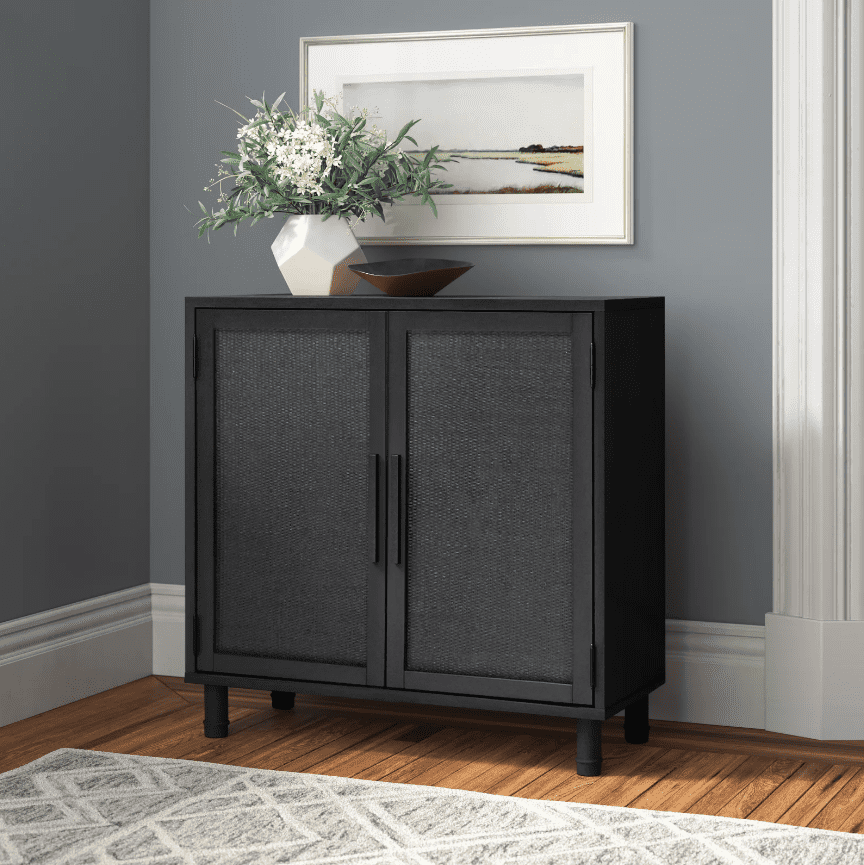 Bottomline Upfront
I love the classy, small design of Stanford. However, if you want something a bit bigger and more open, the Fitueyes or Furinno are both great in terms of their open framing, weight support, and shelves. 
What to Look for in the Best Stereo Cabinet Ideas
When you evaluate the best stereo cabinet ideas, you have to choose what works best for your home. Some people need a stereo cabinet for the audio system connected to their computer; others use it for record players, which are (thankfully) making a comeback (I collected vinyl records as a child, and now they sit lonely and forgotten in boxes). Others use it as the basis for their television and their main entertainment center.
So, you should look for three things: the shelves, the support on top, and framing.
Shelves
Shelves are the most important. If you plan to use your stereo cabinet as the base for your main entertainment area, the shelves are typically lined up in receding order, so the base is a little bit wider and gets smaller as you move to the top of the step pyramid. You can also find designs that are the same size all the way up. 
In either case, we need to make sure that you have enough shelves for all of your equipment. At my parent's house, they have the DVD player, the Blu-ray player, the VCR, and a few other random boxes that go to their subscription services and the speakers on the television. So they need a much larger stereo cabinet than I do for a Blu-ray player.
Note: Modern designs might include a lot of extra shelving along the bottom or the side panels where you can store things like vinyl records, DVDs, and even a box of your remote controls.
Support on Top
Tangentially, if you plan to use your stereo cabinet to hold the entertainment system for your living room or your main entertaining area, you need to make sure it has enough support on top to provide stability for your television.
Framing
Framing may or may not be important to you. A lot of modern stereo cabinet ideas have an open frame design, so they have the structure of the frame, but they don't have any paneling around them. This makes it much easier to move wires where you need them and access all the trays as they open. 
However, it also invites a lot of dust, so if that's a concern for you, some options have glass doors and paneling all the way around to create a secure stereo cabinet.
Best Stereo Cabinet Ideas
Fitueyes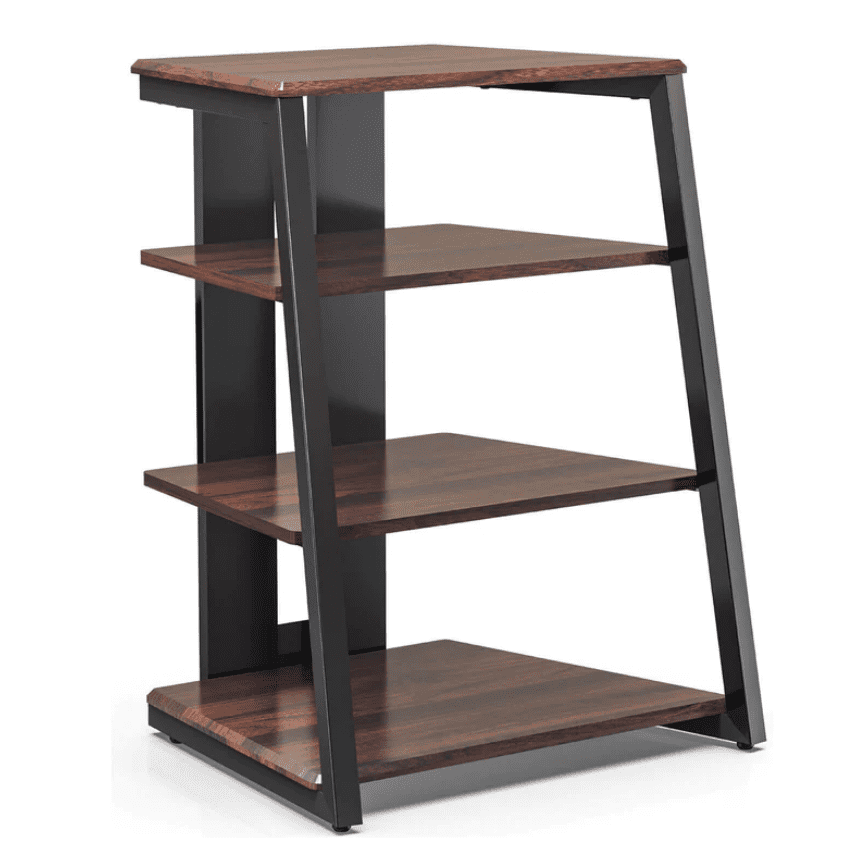 Yes, the name sounds like Michael Scott's character, Ping, but the audio cabinet is great. This one looks classy in any modern home, with a tiered shelf design that gets smaller as it moves upward and an open frame design.
The bottom shelf can support 110 pounds. The middle shelf can hold 44 pounds. The top shelf can support 44 pounds, and the top can hold another 110 pounds, so a lot of people put big speakers on the bottom, music players on the top levels, and their television on the very top. 
One of my kids has this shelf for his video games, television, and portable Marshall speaker he uses with his guitar. It is small enough to go in a kid's bedroom without taking up a lot of space. It comes highly reviewed by customers, and I love that you can pick from five colors for the shelves. 
Furinno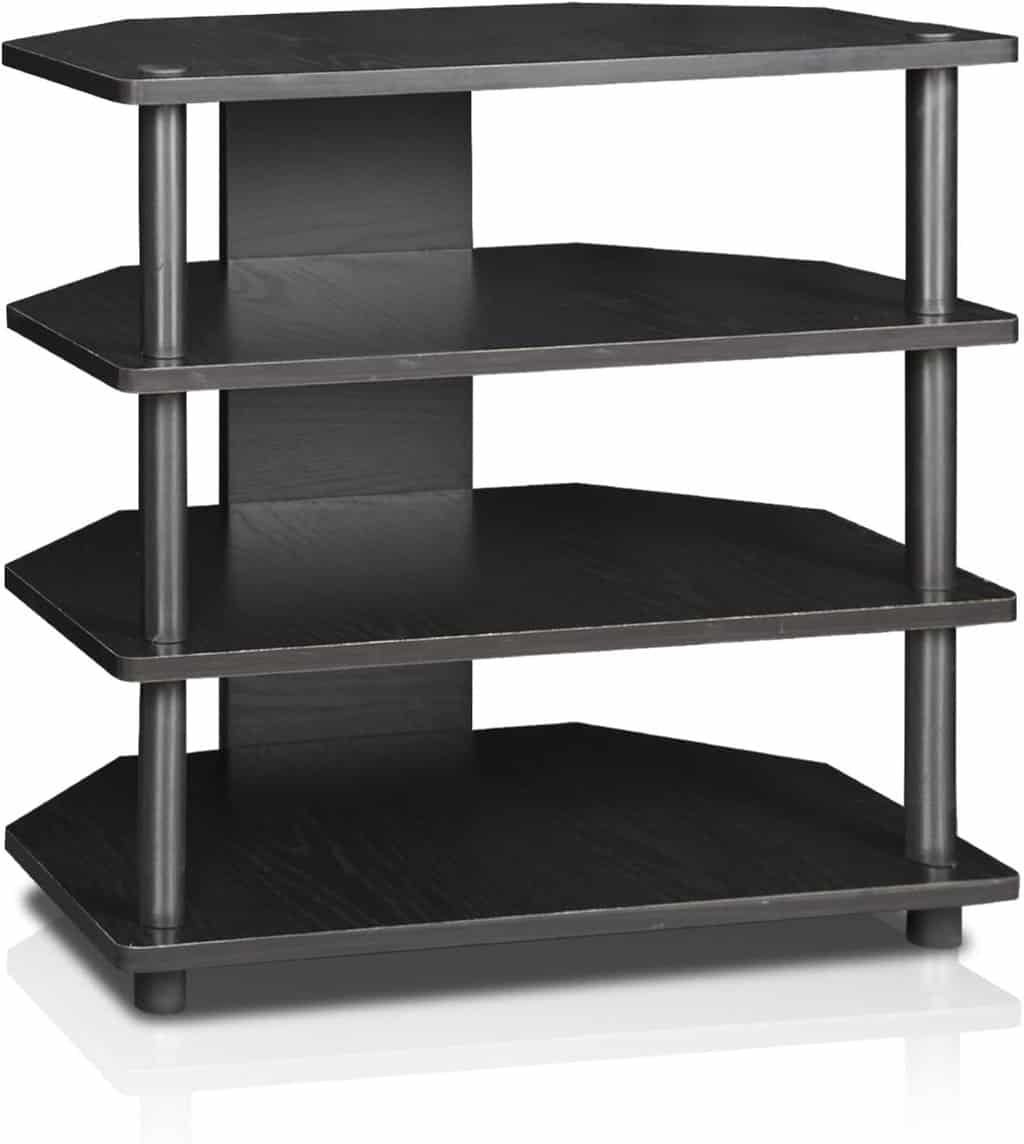 Furinno is the least expensive, but it is a quality investment for families on a budget or those with kids who need a few stereo cabinets throughout the house. I strongly recommend it for a small space like a dorm room or a kid's room. It is the most popular stereo cabinet on Amazon, with over 4,000 positive ratings.
A big part of the appeal is not just the price but how durable it is and how easy it is to assemble. You can assemble it in 10 minutes, and it doesn't take any additional tools.  I don't know what I like more, the price or how fast and easy it is to assemble.
It has a shape very similar to Latitude Run but solid black. You can choose plastic poles for the front corners or stainless steel poles. It can support up to a 32-inch television on top. 
Latitude Run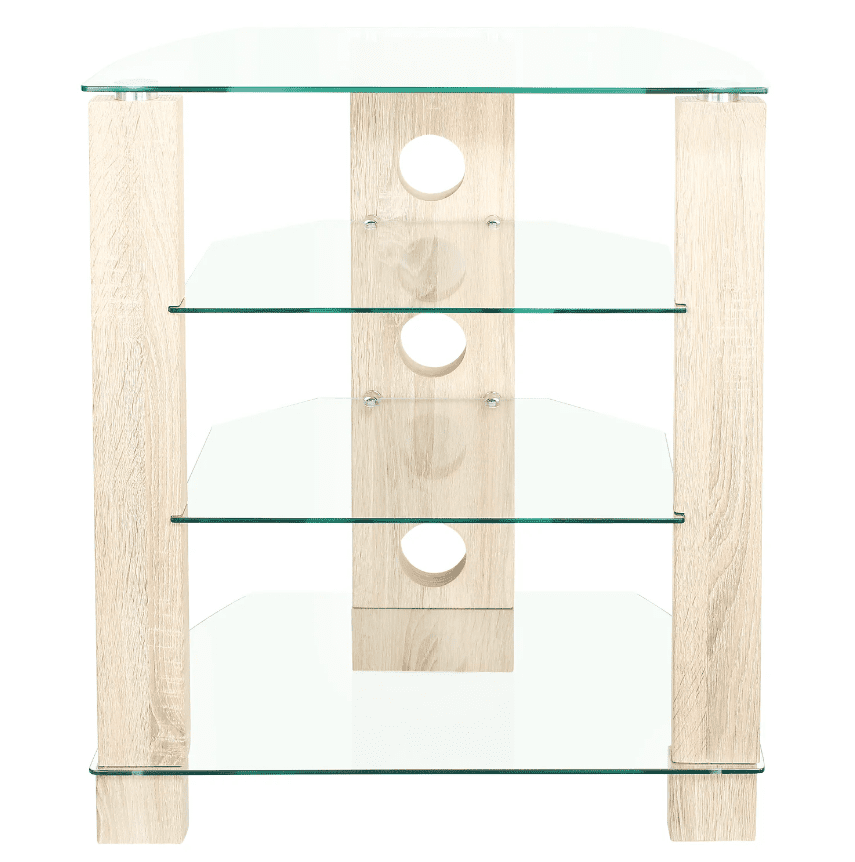 Latitude Run has a very similar design, but one meant for contemporary homes. What I love most about this design is the way it seems to just float in space. It has three pieces of wood, two on either front corner and one on the back. The four shelves are all glass. There are holes drilled into the piece of wood in the back for wire management.  
It has non-slip feet on all three bases and aluminum discs in between the top glass shelf and the three sections of wood. The three bottom shelves can support 33 pounds, and the top shelf can support 88 pounds, so you can put DVD players or Blu-ray players and speakers on the bottom shelves with a television on top.
Like Fitueyes, Latitude Run has a small footprint spanning just over twenty-three inches wide, twenty-eight inches tall, and sixteen inches deep for the shelves. 
Cranley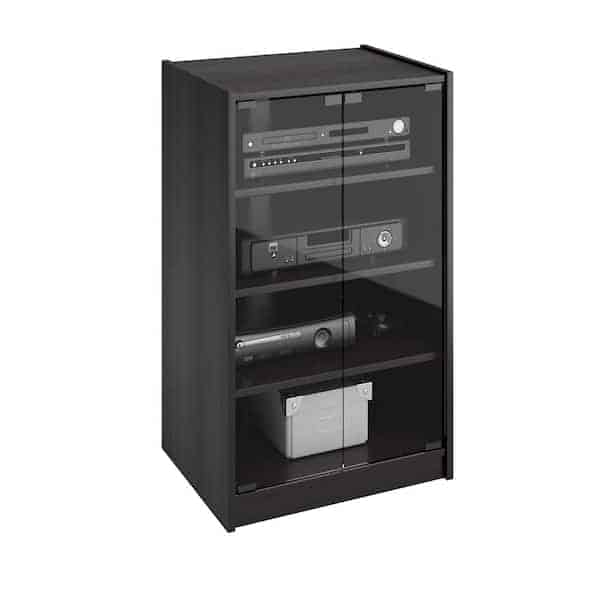 We have two of these Cranley stereo cabinets. I absolutely love the push-to-open latches on the inside. These remove any exterior knobs or handles that can get in the way of the sleek, visual aesthetic associated with a stereo cabinet.
We have had these for almost 15 years and never had an issue with them. They have moved around the world across multiple continents in the hands of inexperienced and unprofessional movers, and even then, nothing happened to them. So I can personally attest to how durable they are.
They have four equally sized shelves with a fully encased frame and glass doors. The glass doors are tempered, so you can still use all of your remotes without any interference from the couch. 
This isn't a stereo cabinet designed to hold a television on top, but it is one that can hold all of the other equipment next to a TV stand. I used to use them for that purpose, and now they are in the office, where they hold a lot of heavier office equipment and boxes.
When they served as our stereo cabinet, four music or audio routed from the television, the glass doors were one of my favorite actor boots because they kept all dirt, dust, and cat hair off of the devices. Now that they no longer serve as our stereo cabinets, every time I go to open the Blu-ray player disc tray, I have to grab a Swiffer Duster because it's covered, sitting so close to the ground on an open shelf on our TV stand.
Stanford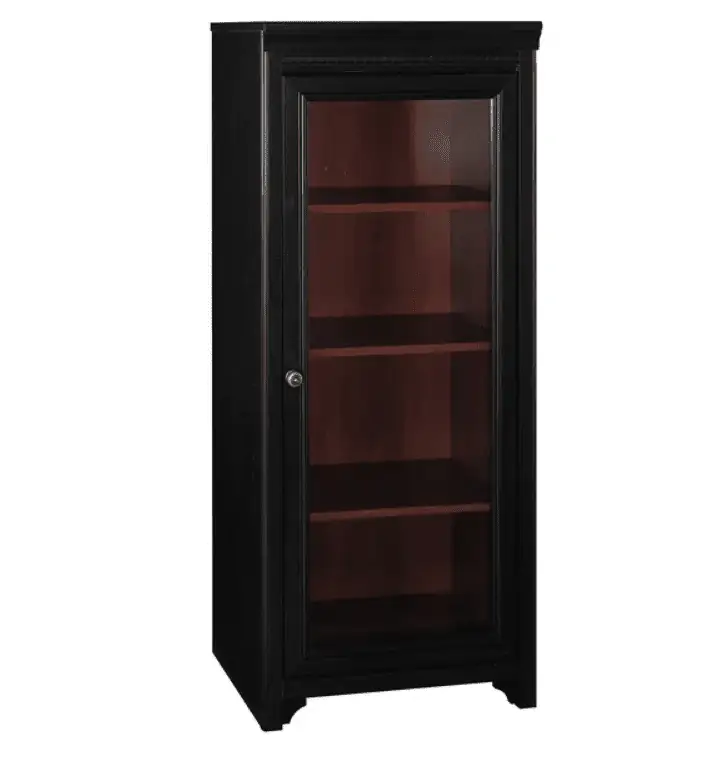 Stanford makes an adorable stereo cabinet that looks cozier than Cranley but boasts the same type of glass door and sleek, black design. Cranley has crisp, modern lines, and Stanford has decorative molding along the frame, which is a beautiful aesthetic touch. Where Cranley has the push to open hardware, Stanford has pewter hardware and self-closing hinges on the inside. 
I really like the small attention to detail, the rear access cable management sections, and the adjustable shelves where you can store AV components, CDs, DVDs, and speakers. If you didn't know it was a stereo cabinet, you could easily put it in a bedroom, bathroom, or classy living room.
One thing it has in common with Cranley is the tempered glass door which enables you to use remotes without opening the door or getting up. 
Turntable Station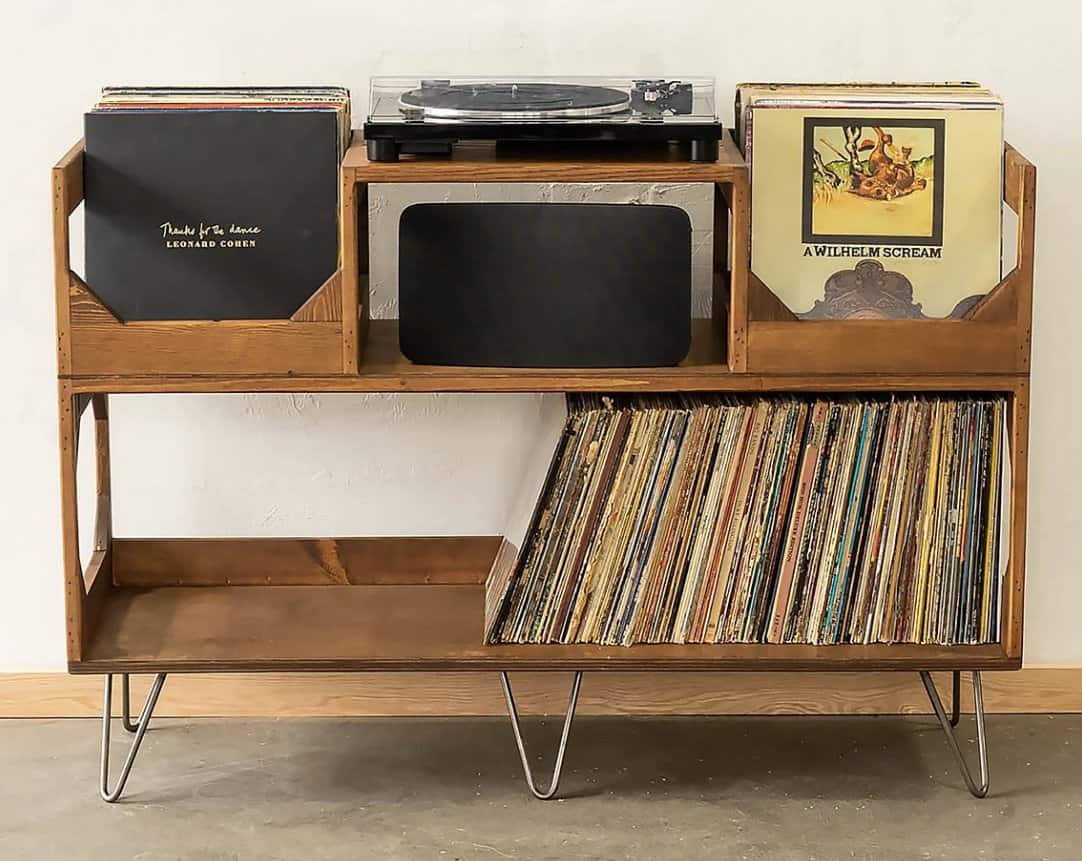 If you want something a little more retro, you might consider some handmade options like the Irving Turntable station. This is a long-standing company that has made over 6,000 sales, so you don't have to worry about inventory running low.
A lot of these are made to order, so if you want custom features, you can contact the seller and arrange that. Two of the main areas where you have control are the finish and the legs. You can pick dark walnut, ebony, or golden oak. You can choose to have the six-inch hairpin legs or have it sit flush with the ground. I recommend investing in the hairpin legs because it only costs 5% more and fully complete the retro style.
This model has a large open shelf along the bottom where, theoretically, you can store vinyl records, but you can also set up speakers, media players, and other AV equipment. On the top are two shelves on either side that are dedicated to holding vinyl records. The flat top in the center is, of course, where you put your turntable with the speaker directly below.
Midcentury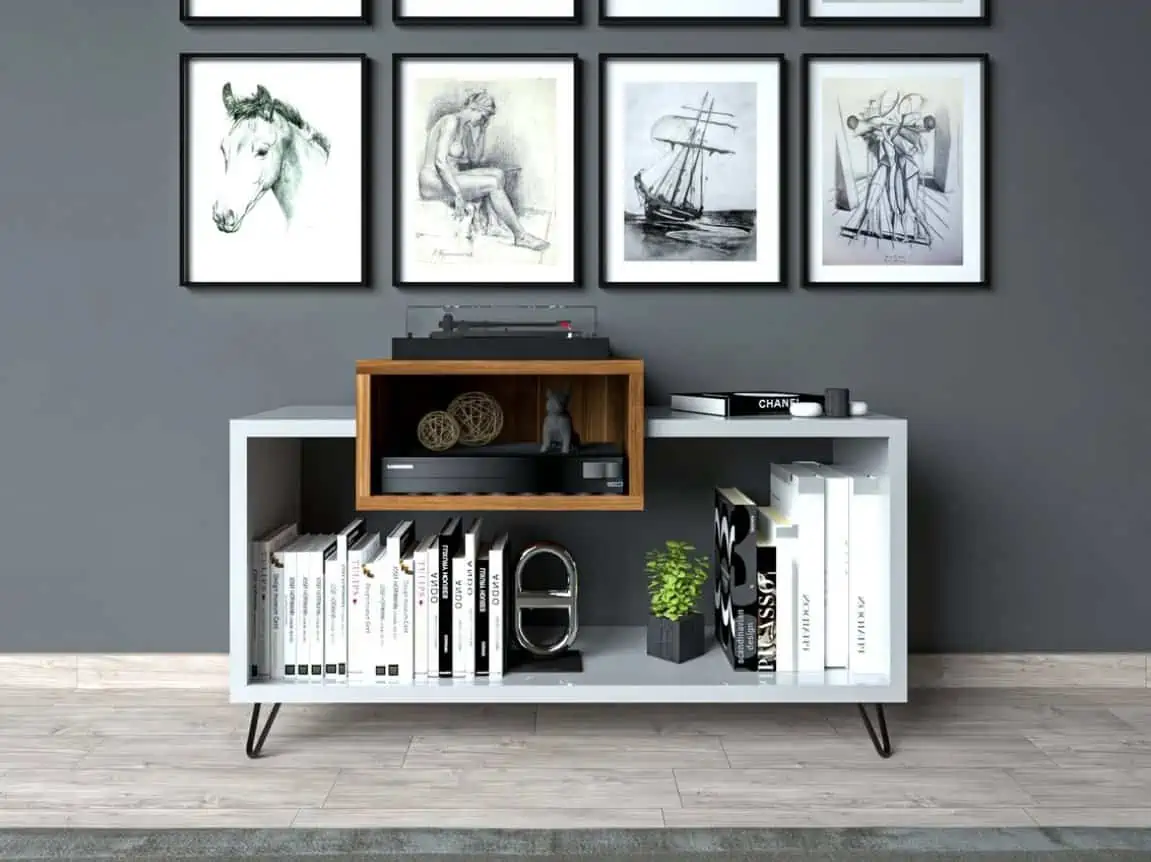 Similarly, you can invest in a mid-century record player that has a modern design. It, too, comes with six-inch hairpin legs, but these are black, accented by the white construction of the main open cabinet that joins seamlessly in the center of a smaller, floating wood cabinet.
You have control over the stain for that smaller floating wood cabinet and the primary color for the handmade frame. 
I absolutely love the geometry and the clean lines of the modern design. You have complete control over where you can store things and how you use them. If you don't have a record player or vinyl records, you can just as easily integrate this into your entertainment space by including speakers, DVD players, televisions, and more.
Mcquillen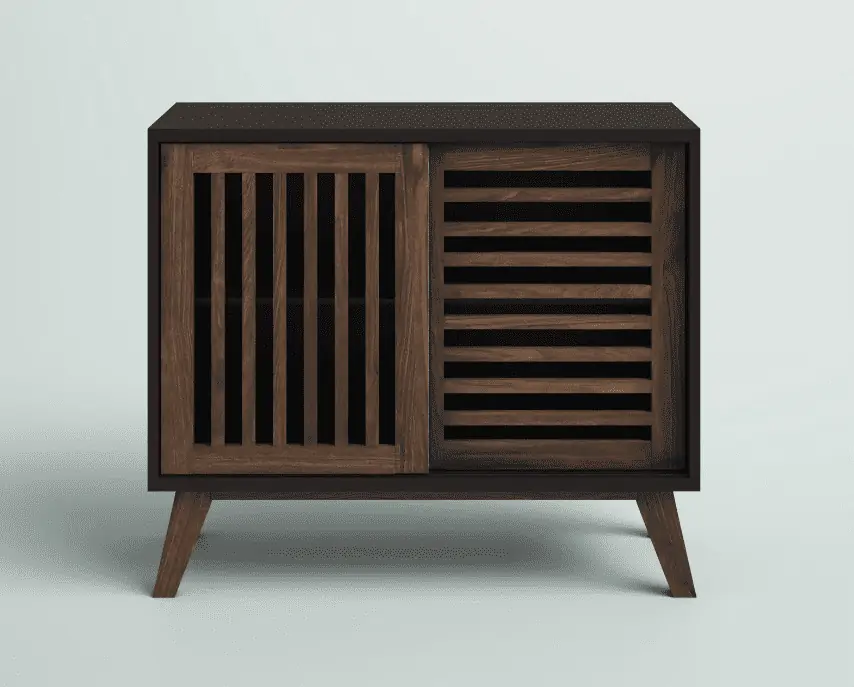 You don't have to abide by the traditional open designs or turntable style cabinets if you don't want. Mcquillen offers a stunning accent cabinet with the same hairpin feet at the base but made of wood.
The entire thing is made of wood. It has slatted doors, one with vertical slats and the other with horizontal slats. This makes it an easy middle ground between completely open cabinets and glass door cabinets. The downside? You have to be careful about using remote controls for anything inside because of those slats.
Delancey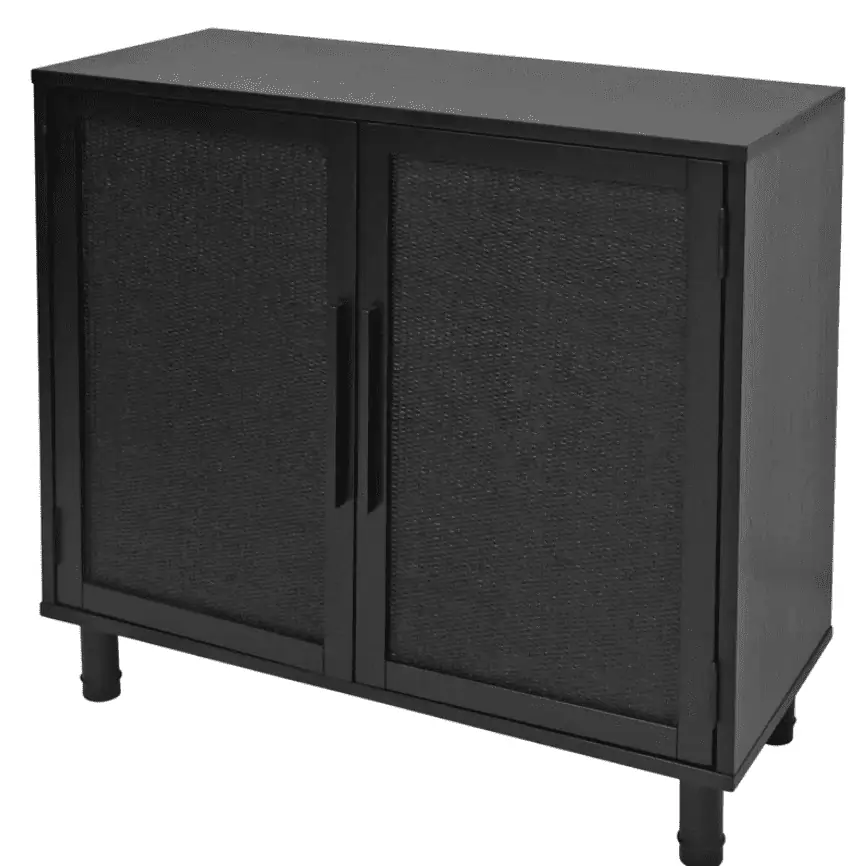 The Delancy is a similar accent cabinet to the McQuillan, but instead of a rich, brown wood, it has a dark black hue. It also has two doors that open outward with metal bar pulls.
It has an Indonesian feel to it with two shelves, made of Acacia, and wicker door panels. The wicker door panels present the same hiccups as the Mcquillen doors; they may or may not impede your remote control connection. However, if you are using this only for stereo equipment, this might not matter.
What's more, the stunning design and ample storage mean you can put this in any "adult", contemporary space without your stereo equipment looking like it belongs in the bedroom of a messy teenager.
Classic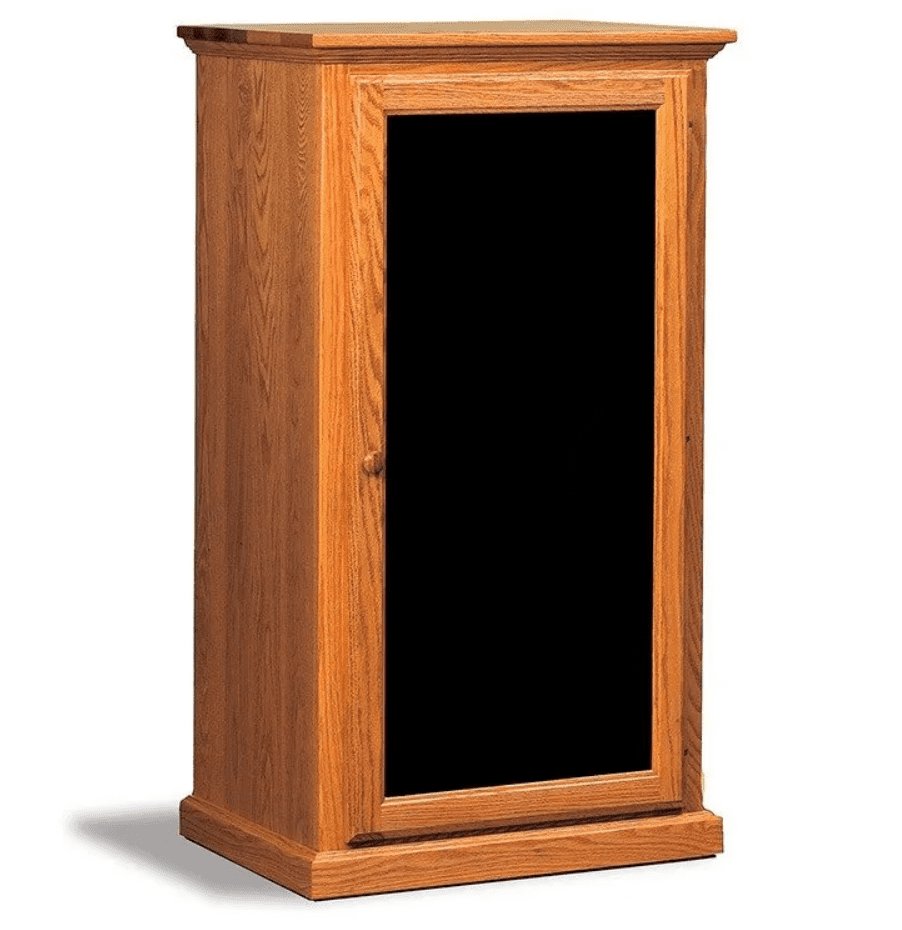 If you want to go with a classic stereo cabinet, the kind that was intended to hold massive speakers from the 80s, go with the Amish stereo cabinet.
It is one of the most expensive stereo cabinets you will find, but it has its reasons. Firstly, it is handmade (you guessed it, by the Amish). Secondly, it has concealed soft close doors with smoked glass (which won't inhibit remote control use). Thirdly, it is made from hardwood, so it is the only model without any MDF here.
FAQs
Question: Can I make my own stereo cabinet?
Answer: Yes! If you have the right tools, you can follow this video and make your own stereo cabinet. Even if you don't have all of the right tools, assuming you know someone who does, you can easily give them a six-pack or twenty bucks to cut the holes you need or install the hardware and build a cabinet that fits your space. 
But remember, most of the time, these projects end up costing just as much, if not more, than you would have spent buying one online. It's just up to you to determine if that's worth it or not to have something unique.
Question: Will stereo cabinets fit a TV?
Answer: This depends on the make and model. Both Fitueyes and Furinno, for example, are designed to hold a television which is why the top shelf has the highest weight capacity. If it doesn't stipulate a weight capacity on the top shelf, then it's generally meant exclusively for audio equipment or other storage but not as a television stand. 
Question: How heavy are stereo cabinets?
Answer: Again this comes down to the model you choose. Stanford weighs 106 pounds when assembled because it has enclosed cabinets and doors. Latitude Run, by comparison, is completely open and weighs only 41 pounds because of the glass shelves. 
Bottomline 
I love the classy, small design of Stanford. The tempered glass doors keep out dust and keep everything perfectly enclosed without interfering with your remote controls. If you want less of a modern or contemporary look with open shelves, the Fitueyes or Furinno are both great in terms of their open framing and weight support. 
Read More: