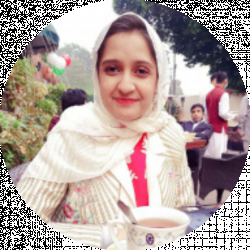 Latest posts by Zunaira Ghazal
(see all)
What's the first thing you look at when you enter your living room? The TV, right? And what's directly underneath it? The media cabinet!
It's one of the most important pieces of furniture in any home. Not only does it serve as a great hook for the eye, but it also provides storage for all your media-related or other paraphernalia.
As a designer, I've seen many types of media cabinets, and I love recommending them to clients based on their preferred aesthetic, the size of their space, and other constraints. Ergo, curating this list was fun, and if you're searching for your best fit, this list might just be for you. Let's take a look:
Bottom Line Up Front
Media cabinets are an item of essential home furniture. Without them, the living room interior lacks focus and seems really incomplete. But since not everyone can afford to have a full-sized media wall, I've curated this list of the best media cabinets with doors that would provide focus, storage, and a nice visual hook to your spaces.
Espresso & Brass Media Cabinet stood out because of its hybrid material scheme and ritziness. It's glamorous without being too much, and I think it's versatile enough to complement any home interior!
Top Picks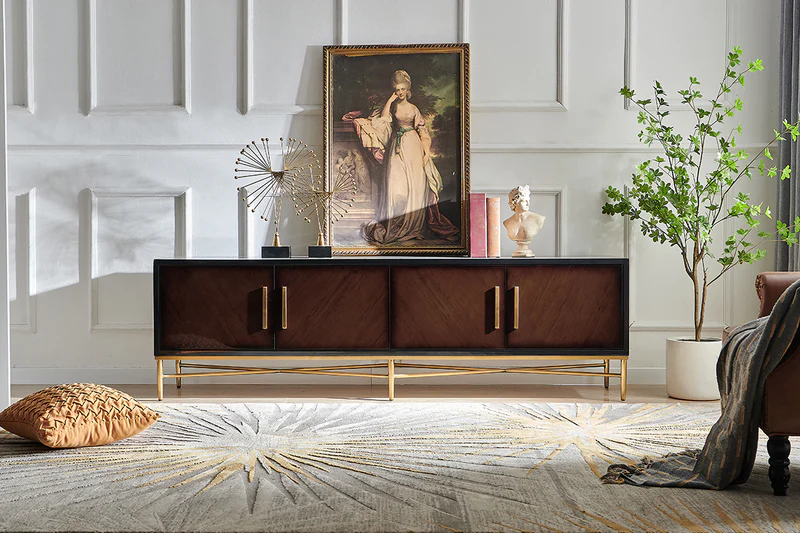 Here are my top picks and why I chose them:
The Best of Black
This lovely black media cabinet and its glass doors are among the best additions to this list. I love how the brass hardware accentuates its overall look and how everything has been customized to suit the cut of the space! 
Pure Wood
As a designer, I can assure you that one can never go wrong with wood. This lovely media cabinet is a great example of how you can take a simple material and make it into a super-charismatic piece of furniture. This cabinet's sheer personality and character will make it the show-stopper of your living room interior.
Espresso & Brass Media Cabinet
I absolutely adore the understated elegance and clean sophistication of this media cabinet. It's one of my favorites because it takes two highly contrasting materials and fuses them seamlessly, in an eye-catching manner!
Selection Criteria
Here's what I had in mind when curating this list:
Size
I wanted this list to have items that could be introduced in all types of homes – small or large. So I tried to pick out a diverse size palette for you to get inspired with!
Design
Design is always a huge factor in my selections. I never put something on a list if it doesn't appeal to my sensibilities. So, I hope you appreciate the wide variety of styles in media cabinets with doors here.
Storage
Lastly, I wanted to ensure that each media cabinet here had ample storage space, so you'll see a variety there as well.
Cabinets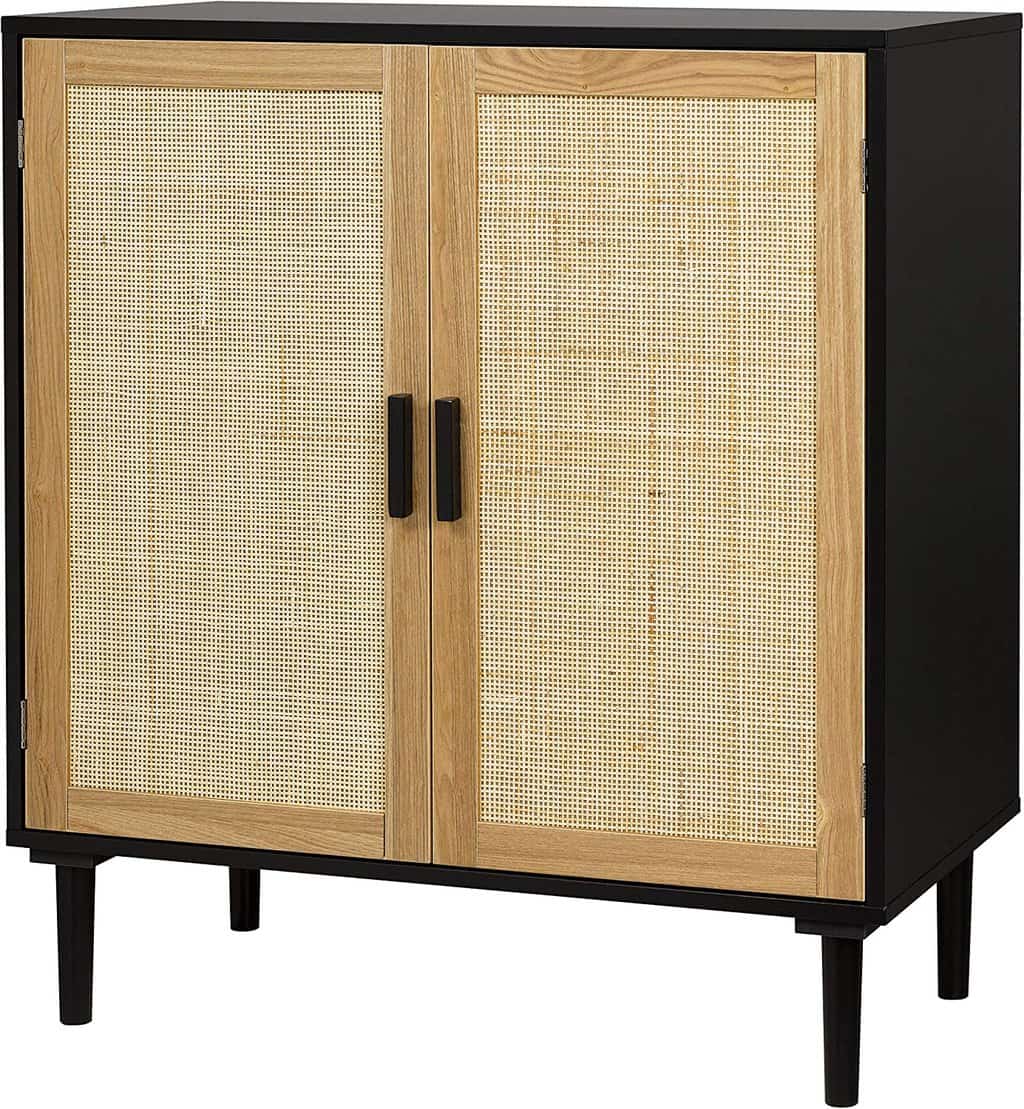 I absolutely love the understated, rustic-modern charm of this media cabinet with doors. It's so neat, clean, and crisp! The best part is the neutral color scheme. The fact that it has been finished in lovely brown hues means you can pair it with a whole bunch of interior design themes without seeming out of place. I also like the black sides because they make it feel like the whole piece has been outlined in black sharpie!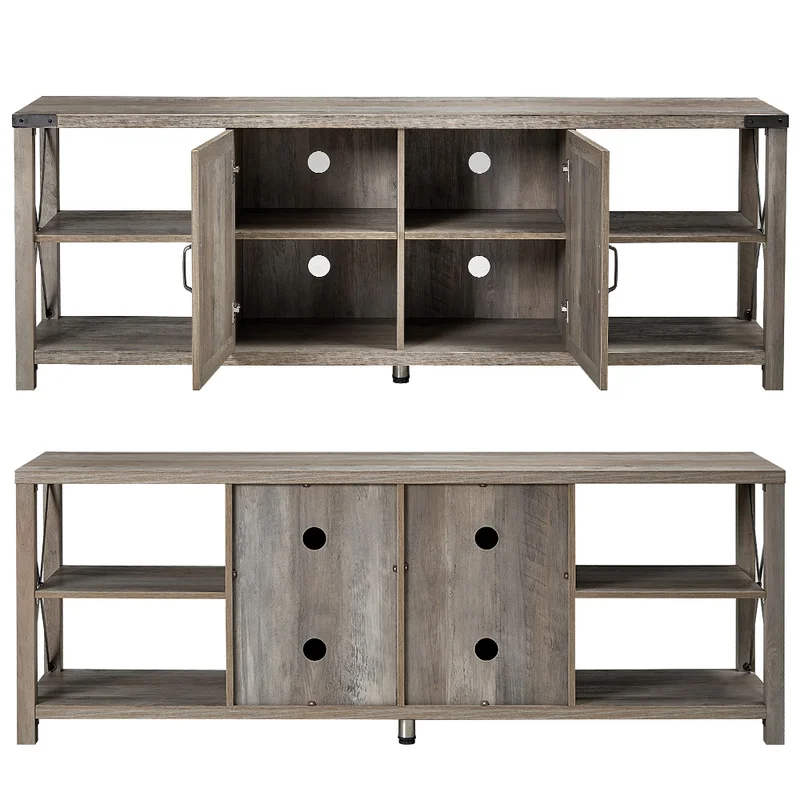 Okay, so this media cabinet has barn doors (which I absolutely love), but it's not rustic at all. In fact, it has this industrial vibe thanks to its beautiful distressed wood finish! It's a really unique combination that I really adored and wanted to share with everyone. I also really like how the designer has set the proportions for this console – it's large, but not overly so. I can assure you that it's a statement-worthy investment if you're willing to go for it!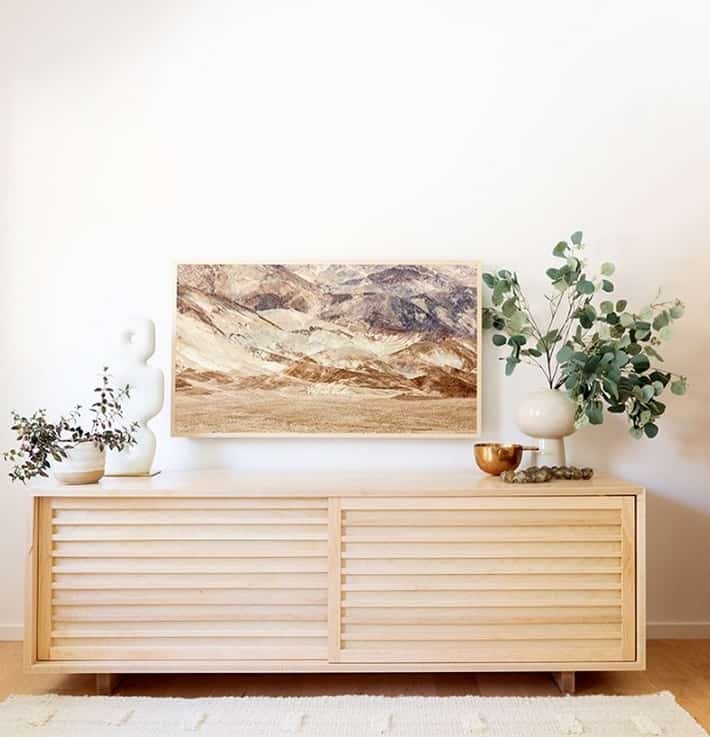 This media cabinet is light, bright, and minimalist! I love the wood-and-white theme – it never fails to make a space feel fresh and elegant – and this feels like the perfect piece of furniture to complement it. The sliding doors are a great caveat. They add such a unique touch to the overall design.
Now, I want you to look closely at its styling. Although the design of this cabinet is very modern, it has been accessorized to represent a Zen look. From the cascading vines of the indoor plants to the sculptural vases and the abstract statement artwork, it exudes a nice, calming Zen vibe that instantly hooks you in. I love it!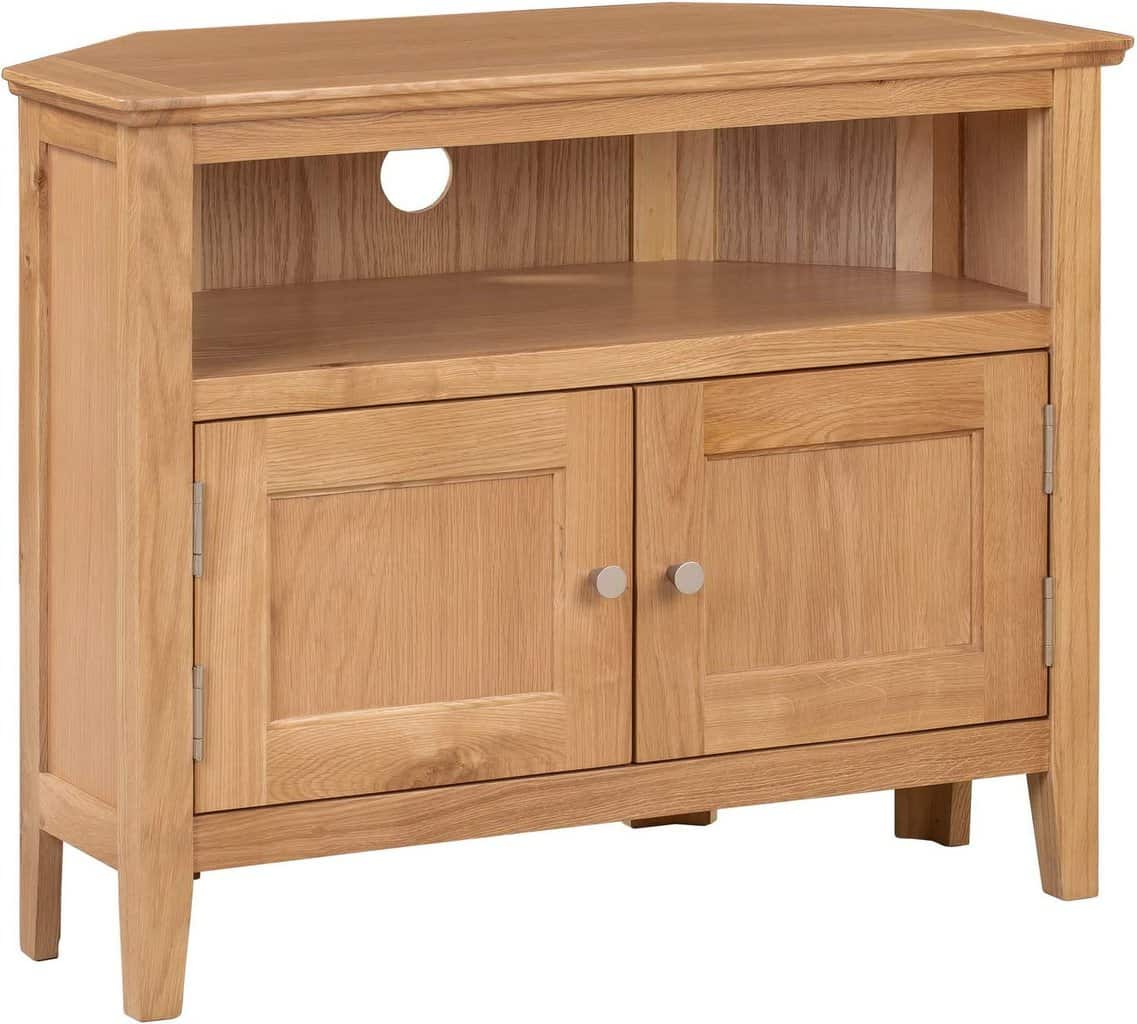 Corner cabinets are an excellent way to do a space-saving furniture layout, and this media cabinet with doors is perfect thanks to its compact, stylish body. I wanted to put it on the list because not everyone can afford to have oversized, super luxurious furniture items in their home, and this seemed like a great alternative. Its vintage-rustic shape and wood finish are charming and versatile enough to complement any interior design theme!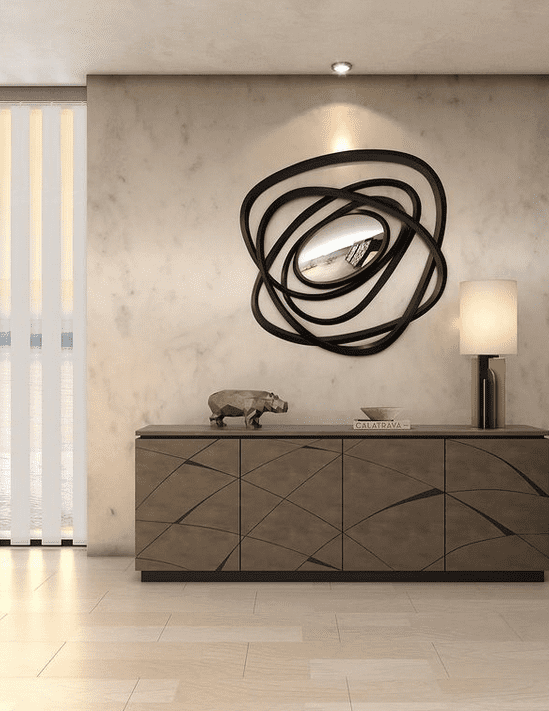 I love the understated swankiness of this media cabinet with doors! It's got this stylish, upscale vibe that will look perfect in a contemporary space. I especially like how the dark grey color of the main body has been contrasted with the golden abstract design on the surface. Both colors bring out the best in each other.
Moreover, the handleless doors have a great impact on the design. It adds sleekness as well as minimalism to the whole aesthetic. But what I love the most is how the cabinet has been topped off with a lovely abstract wall hanging that matches the gold design on its front. It makes the whole design more cohesive and neat.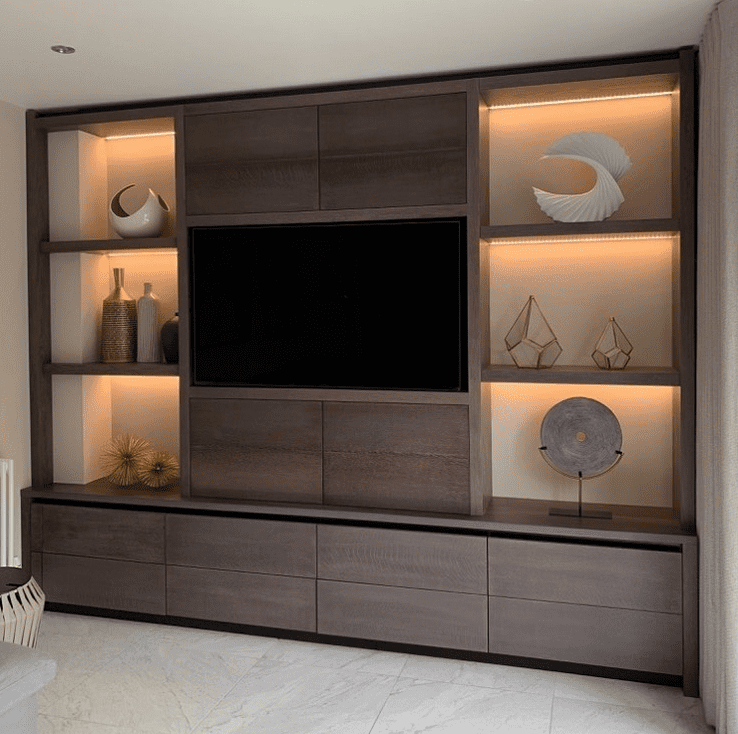 Here's another cool media cabinet with doors that emulates the minimalist style! It also has no handles, which contributes to the design's sleekness. The best part is that the handleless doors make one squint a bit – for a moment, you'll be confused about whether it does actually have doors or not.
Rest assured, they are there but have been camouflaged to give the media cabinet a sophisticated, minimalist appeal.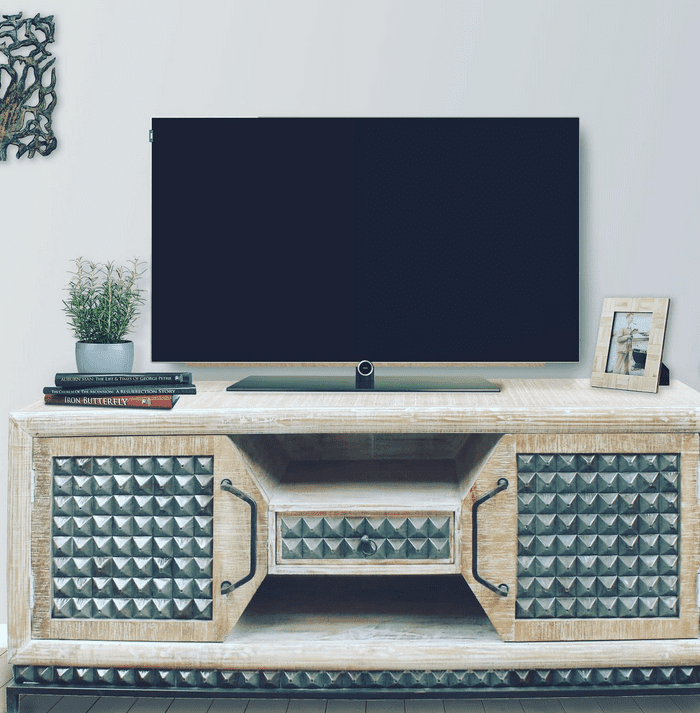 Maximalism is one of the hottest trends in the design industry these days. I love it because it allows one to play around with more color and decor while adding personality to the ambiance. So, when I saw this eclectic-looking media cabinet with doors, I just had to feature it in this list!
I really like all the 3D details on the door and how their sea-green/bluish color contrasts nicely with the light finish of the wood. Something like this would look fantastic in a bohemian, shabby-chic, or farmhouse-style interior design.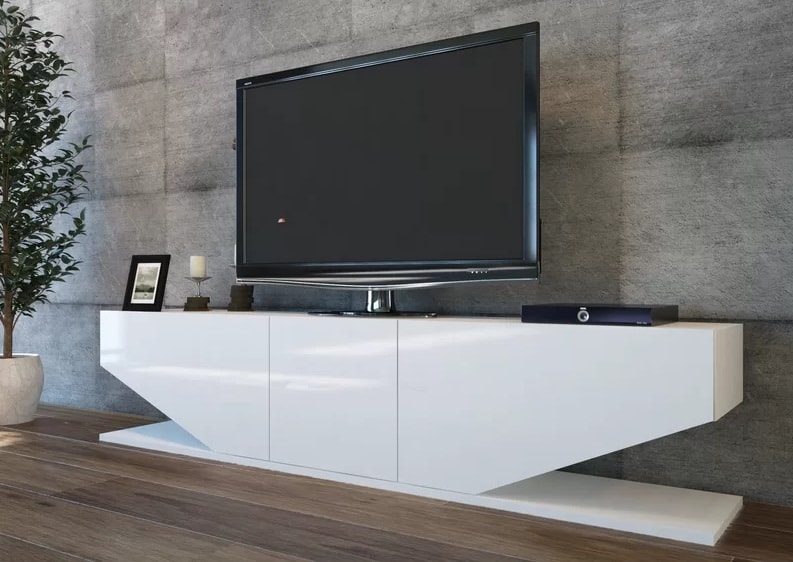 Futuristic shapes are uncommon in the media cabinet genre, but this is quite special. That's because it features a sleek, spaceship-inspired design that has been interpreted in the most minimalist way possible. I like how this cabinet's entire shape has been streamlined to perfection. Moreover, the doors aren't highly apparent but hide abundant storage space within.
I also really appreciate the overall styling of this cabinet. You don't want to pair it with stark white colors. That would make it feel very impersonal and austere. I suggest placing this media cabinet against a contrasting dark-neutral backdrop – preferably industrial gray- for the best effect. As for the accessorizing, choose black-colored items that are just as simple and sophisticated as the cabinet's design.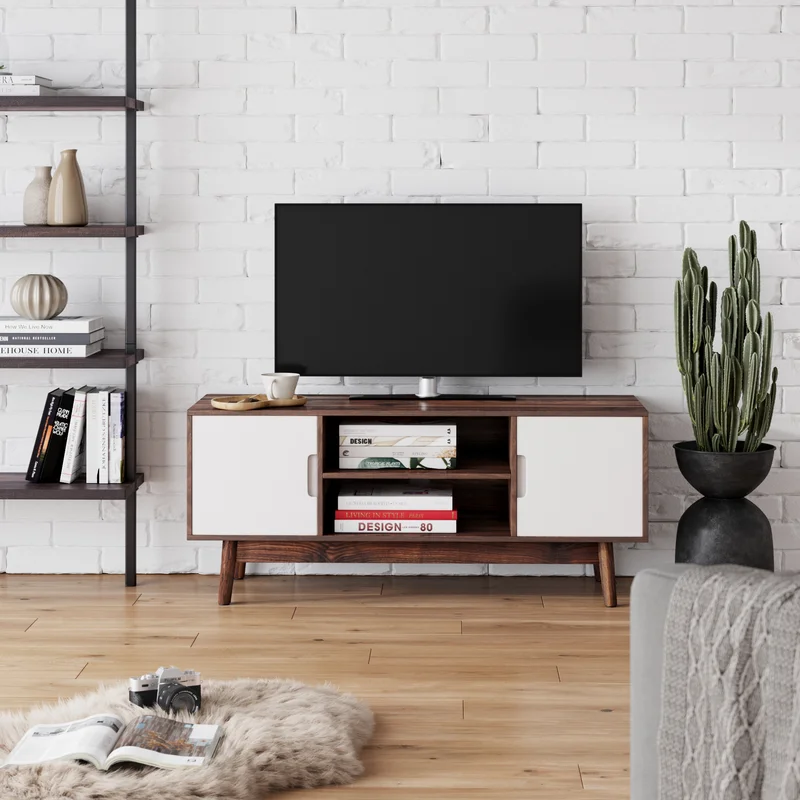 Everyone who is anyone knows that I'm a sucker for wood-and-white themed furniture, so of course, this media cabinet needed to be on the list! I love how the wood part here is darker than normal, so the white finish looks even more stark and appealing. Also, the Scandinavian highlights of the design really give this console all the extra edge it needs to make a bolder impact!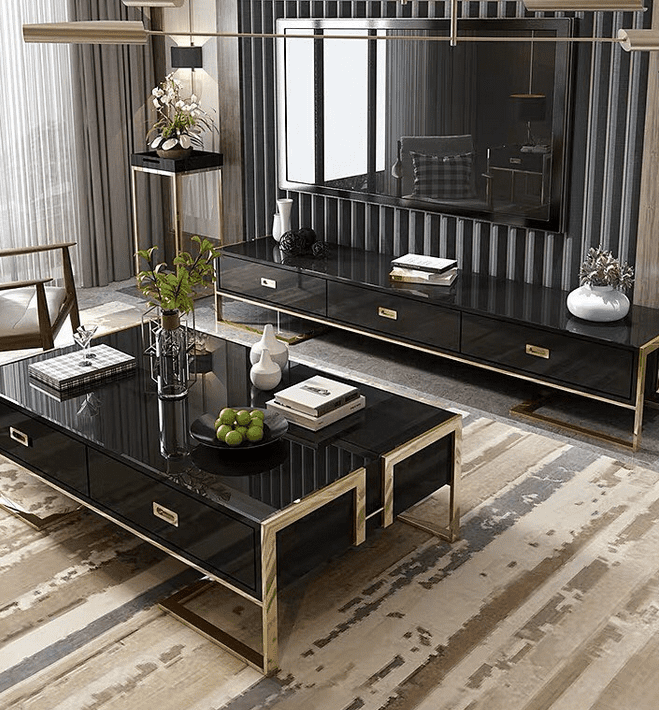 This super-swanky media cabinet with doors and drawers is one of the best examples of contemporary furniture you'll ever see. Without so much as a single accessory, it gives a posh and luxurious vibe thanks to its high-gloss finish and brass accents. I also really appreciate the black-and-gold color scheme. It's so… luxurious and glamorous! 
That said, having such a cabinet in the center of your living room is a surefire way to make a bold statement. Anyone who enters will definitely feel attracted to the design, especially if you place it where it is highly and instantly visible.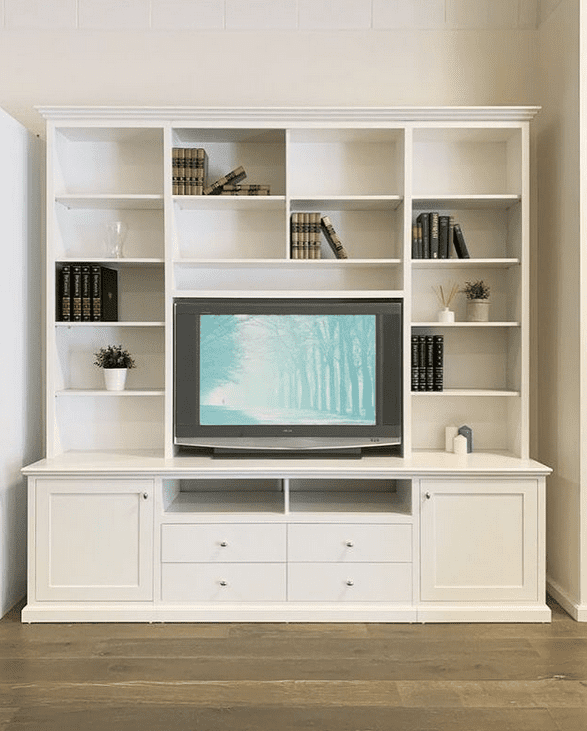 There's a reason why classics are called "classic." This media cabinet with doors is an old-school interpretation, but its timelessness precedes it. It covers the whole wall, and aside from many spacious cabinets, it also has several drawers and open shelves. I recommend this design for a large enough home to pull it off without looking cluttered. Also, this customized cabinetry, so you can always tweak the design according to your needs!

I would use bold, beautiful, and sophisticated as the three primary words to describe this media cabinet with doors succinctly. As a designer, I've seen quite a huge number of media furnishings over the years, but my favorite ones are always that which check off on the sleek-yet-warm scale. This one is perfect thanks to its warm espresso finish and crisp, clean lines. Then there's the added bling of brass accents at the base, which elevate the design to a new level!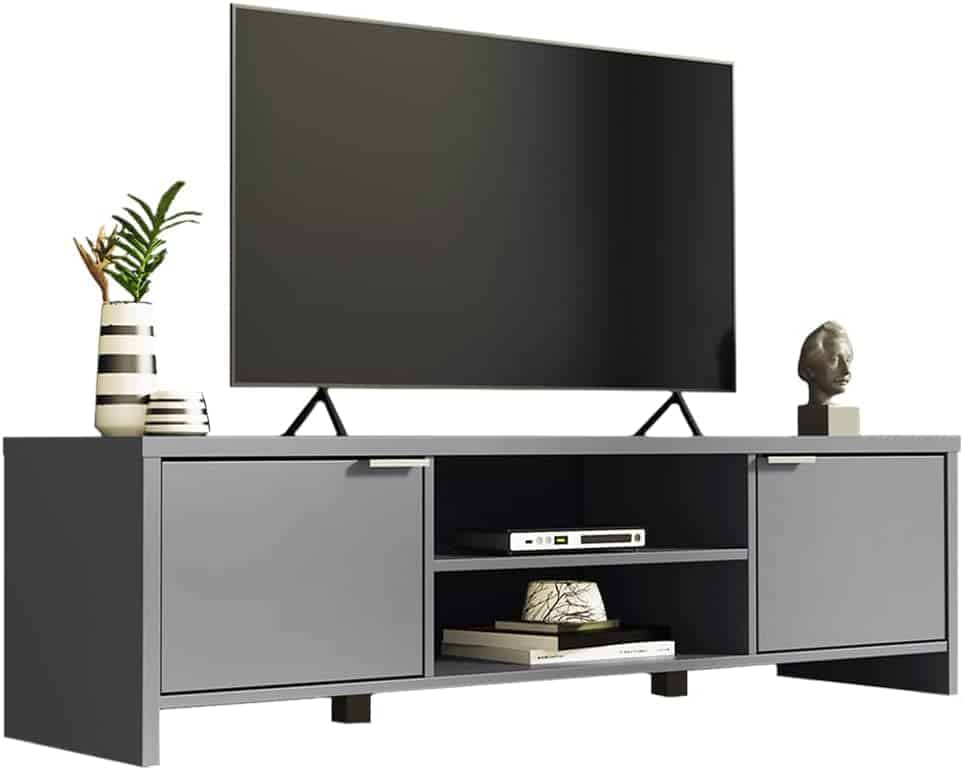 The urban-chic, industrial-style design of this media cabinet with doors instantly appealed to me because it has the perfect combination of style and storage. I really like its grey finish and how it has been paired with midcentury style handles. Aside from the closed cabinets, it also has open shelves, which is always a plus for decorating. I'd advise you to pair this cabinet with a modern or contemporary style interior design theme for maximum impact. Also, try to accessorize it with contrasting items like indoor planters in fresh green to make it more visually dynamic.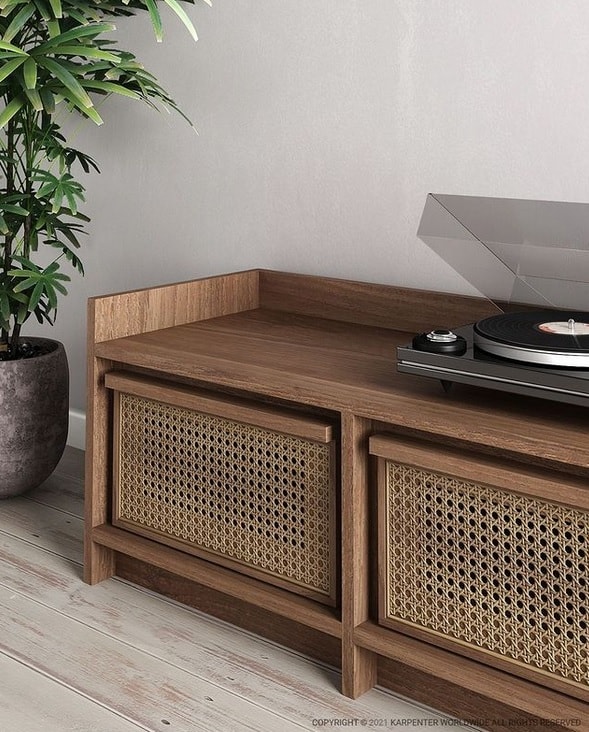 I have a soft spot for rattan-accented furniture. It's somehow very down-to-earth but stylish at the same time. So, this media cabinet with rattan doors was an instant shoo-in for this list. I love the sleek woodwork, but the rattan cabinets add great visual contrast to the design. A cabinet like this would make an excellent focal point, and I would even pair it with Zen-style decor and accessories for the full effect.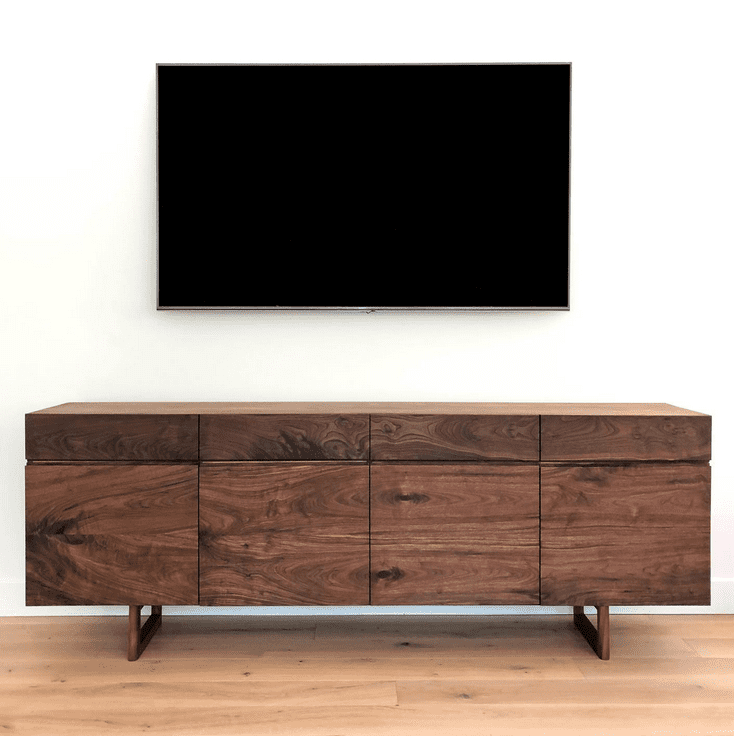 I believe that one can never go wrong with stylish wood furniture. Need a bit of nature in the mix? Go for wood! Need some visual contrast? Wood is the element! That's why this pure wood media cabinet with doors appealed to me. It has this distinct personality that would add charisma to any interior – especially if you're working with a minimalistic backdrop. Then there's the gorgeous wood grain on the surface. It has been expressed so beautifully. I recommend putting a cluster of tiny planters on top to get that nice, wholesome vibe.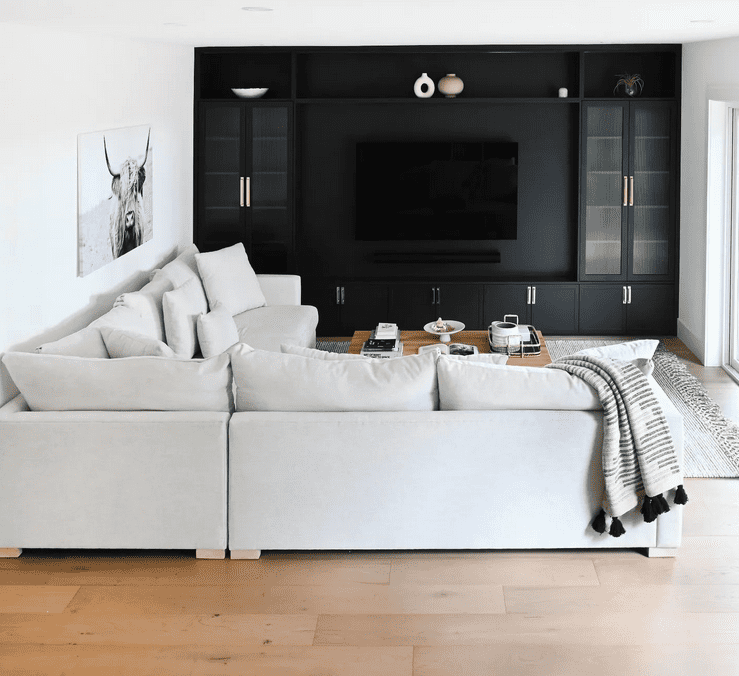 This gorgeous black media cabinet features glass doors and brass handles – an interesting combination that instantly sets it apart. Moreover, the clean, modern design features crisp lines, which adds an element of sophistication to the whole design. 
I love this idea very much, but here's a caveat; I would only advise you to go for it if you have a big living room. It might not work as well in small spaces. That's because black, as a color, is quite overwhelming. Having such a huge statement furniture piece in a small space might make your space feel cramped.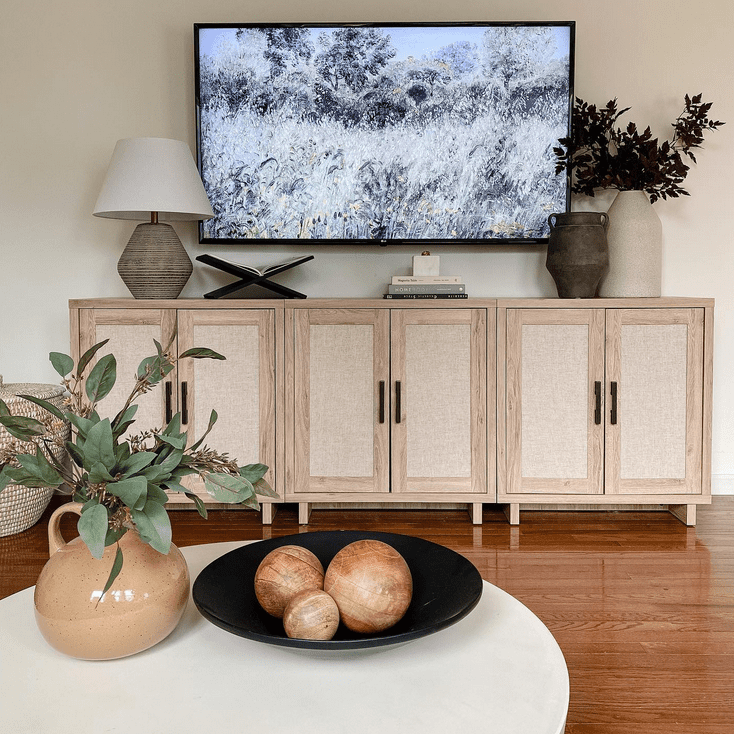 The homely aura and understated elegance of this gorgeous media cabinet with doors instantly drew me in. I love the focus on the "rawness" of the wood and the cabinet panel. Together, they create a stunning contrast of textures highlighted by the white-colored back wall. The cabinets also seem pretty large, which means there's quite a lot of space inside. Therefore, storage is not an issue. As for styling, this media cabinet has an autumnal aesthetic. So I suggest you pair it with artistic vases and gorgeous dry arrangements!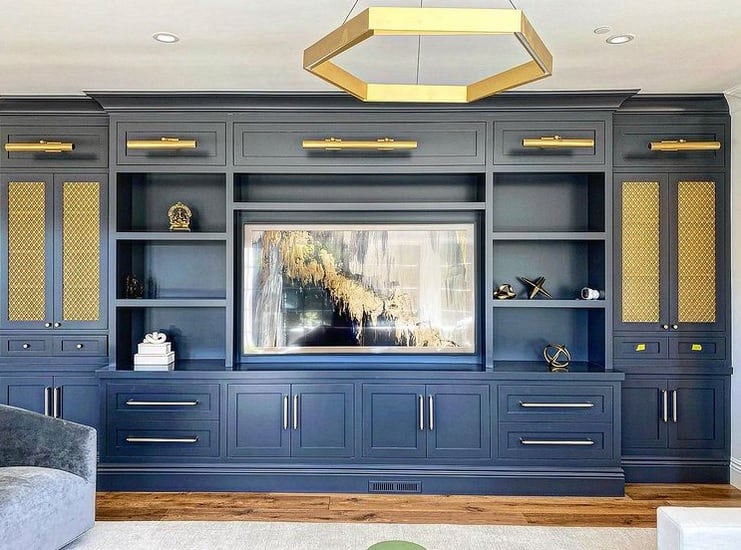 Blue media cabinets are a rare breed, so this custom one with lots of cabinets simply had to introduce on this list! I love its contemporary-eclectic look and how it has been paired with brass hardware and accessories for the best impact. Did you know that this particular shade of blue symbolizes royalty? That's why this cabinet has this undercurrent of luxury despite its playful color scheme!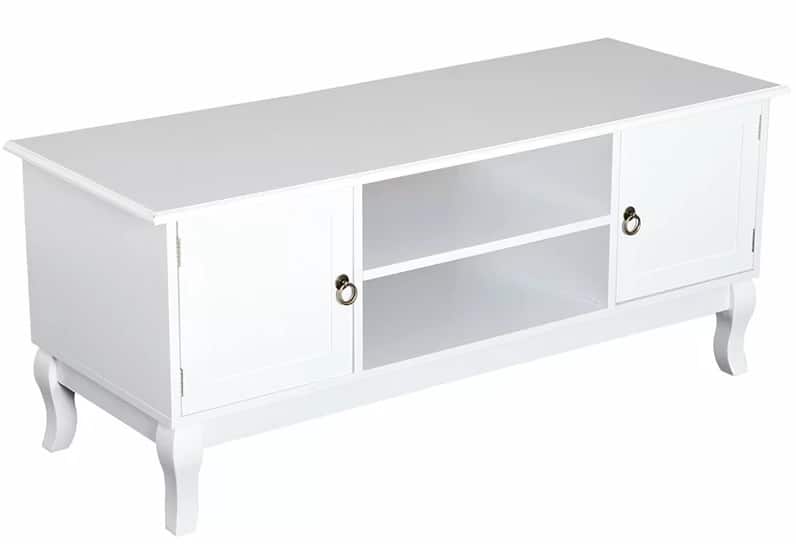 If your interior leans on the more transitional side and you're searching for a semi-traditional media cabinet with doors, then this one should be right up your alley! It's got a fantastic neo-classical design that is rooted in modernism. Just look at the minimalist version of the rolled legs, the beveled top, and shaker-panel cabinet doors with ring pull! Each element is absolutely fine and brims with a certain level of dignity and understated luxury.
FAQs
Question: What are the ideal dimensions of a media cabinet?
Answer: Ideally, your media cabinet should be between 12-24 inches in depth and at least 36 inches in width. Anything smaller is simply going to be redundant.
Question: How do I choose the perfect media cabinet?
Answer: It really depends on your personal preference. Some people like going for custom woodwork and building cabinets that span the entire wall. Others like to keep it simple and opt for wall-mounted "floating" options. I would say that choosing the "perfect" one really depends on your space constraints and personal style.
Question: What should be the Tv-to-cabinet size ratio of my media cabinet?
Answer: I would say to ensure that your media cabinet is at least 6 inches wider than your TV screen on both sides. This will make the whole set-up feel symmetrical and complete.
Best Media Cabinet with Doors Ideas: Conclusion
So these were some of the best media cabinets with doors I could find online. Some are big, some are small – others are bespoke and customized according to the owner's needs. The aim was to give you a trifecta of variety, function, and versatility, and I hope I managed to accomplish that.
Here's my one last ode to Espresso & Brass Media Cabinet, whose wood-and-brass glam made it one of my personal favorites from this list. I hope you loved it (and the rest of them!) just as much as I did!
Read More: