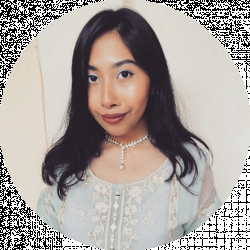 Latest posts by Nanziba Khaled
(see all)
As an aspiring interior designer, I have always hated the idea of wasted space. I often see empty spaces as diagonals or corners with no use when creating kitchen floor plans. This is where the need for a corner pantry cabinet comes in.
A corner pantry is a cabinet or a closet designed to store snacks and non-perishable food items; you can also store dishes or household cleaning products.
Although I am not sold on the idea that a corner pantry is a must-have, I still think it is a clever technique for storage while saving space. Below I will share my two cents on why and when you should install a corner pantry. I will also link some of my favorite corner pantry cabinets for you to check out.
So if you want to install a pantry on your kitchen corner, I am here to walk you through the best corner pantry cabinet ideas! 
My Favorite Up Front
Billy Bookcase pantry is my preferred pick. I love its versatility, functional design, and ample storage space. The bookcase is white and minimal, which goes with any kitchen interior. Moreover, its multi-shelving units make pantry organization quick and effortless. Ikea has various sizes of the Billy; hence you can easily match a size that fits perfectly into your kitchen corner.
However, suppose you want something to match your kitchen theme. In that case,
When Should You Install a Corner Pantry Cabinet? 
A pantry is a lifesaver when it comes to kitchen storage. In addition, it also acts as a clutter remover and helps keep your kitchen clean. However, I believe you should only install a corner pantry if: 
You have an unused corner in your kitchen or dining room. 

You prefer a small pantry over a large one; corner pantries can sometimes feel congested. 

 You have a small kitchen but still want to install a pantry. 

You are looking for an affordable pantry solution; building small corner pantries is cheap and economical. 
Selection Criteria
Design
Being a designer, the design of anything will always appeal to me first. I ensure the corner cabinets I select have an elegant design, color, and texture. Therefore the cabinet can accentuate your unused space rather than look like a mundane storage area.
Shelves and Compartments
I am a firm believer in the usability of storage space. For me, the best cabinets are the ones that come with valuable shelves and compartments. I am not necessarily saying a cabinet should have extra shelves, but I would prefer a cabinet with thoughtful shelf size and spacing.
Size
When selecting corner cabinets, keeping the size in mind is essential. I pick cabinets designed such that they can easily fit into a corner of my kitchen. Therefore I try to avoid bigger pantries and select the ones that are tall and slender. Even mini pantries that are short in size are super cute.
Corner Pantry Cabinets Ideas: My Top Picks!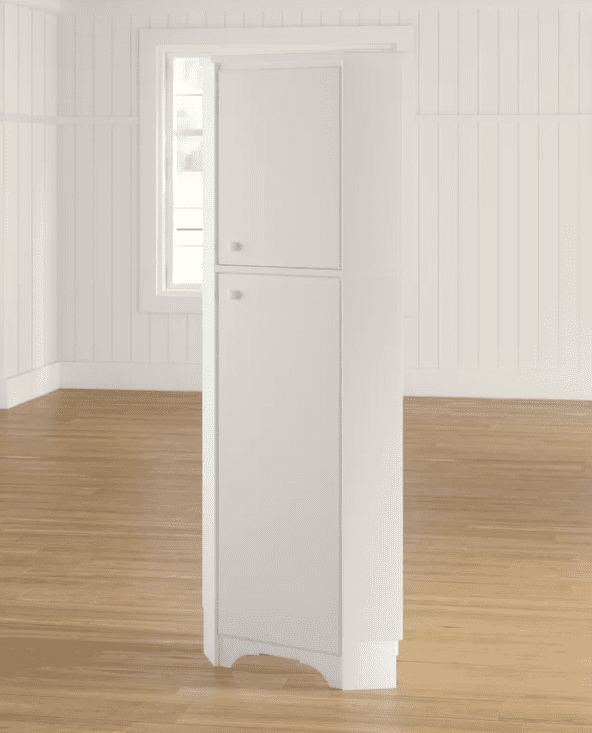 Firstly, I like these tall cabinets with multiple open shelves. These cabinets usually come in a minimal design and are great at blending in with your kitchen. I recommend these if you want a hidden pantry that does not showcase all the items inside.
I find organizing my pantry items into separate baskets and trays extremely therapeutic. These tall pantries are the perfect fit. The open shelves allow me to arrange the pantry as I like it. I can easily fit all the separate baskets, containers, and jars. 
The Crimmins 72″ Kitchen Pantry is one such pantry where you get five spacious tiers that you can organize according to your needs. Its slender and sleek design makes it a befitting choice to be installed in your kitchen corner. Lastly, I believe the best part about these cabinets is their doors. Let's be honest, we are humans, and sometimes we tend to be messy. Hence the option to quickly tuck in all the mess behind a closed door is a lifesaving feature!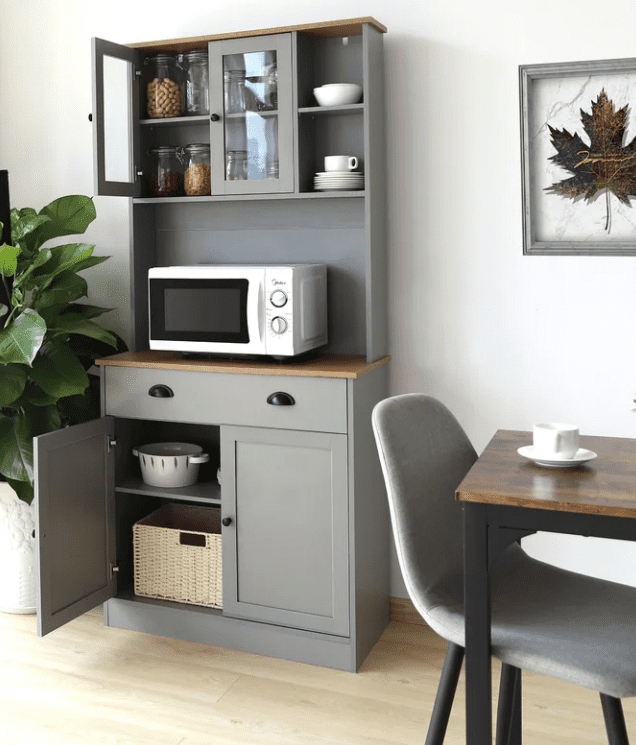 Do you know what's better than a corner pantry? A corner pantry with a dedicated shelf for a microwave or coffee maker. These standalone microwave pantries are a must-have for small kitchens. Placing the microwave in a corner pantry also leaves you with a lot more counter space that can be utilized for other kitchen activities.
You can organize your snack on the upper and lower shelves. I find this idea extremely convenient, especially when craving a midnight munchie; I can quickly fix myself a snack from the pantry. 
However, if you are a caffeine addict like me, you can also set up your coffee maker here and turn this into a mini coffee corner. I recently organized a small coffee pantry using one of these corner cabinets. I started by placing my coffee machine and a cute plant on the middle shelf. I then got some aesthetic containers to display my coffee, sugar, and cookies. Storing dry food in clear glass jars gives your pantry a clean and modern look that I highly recommend.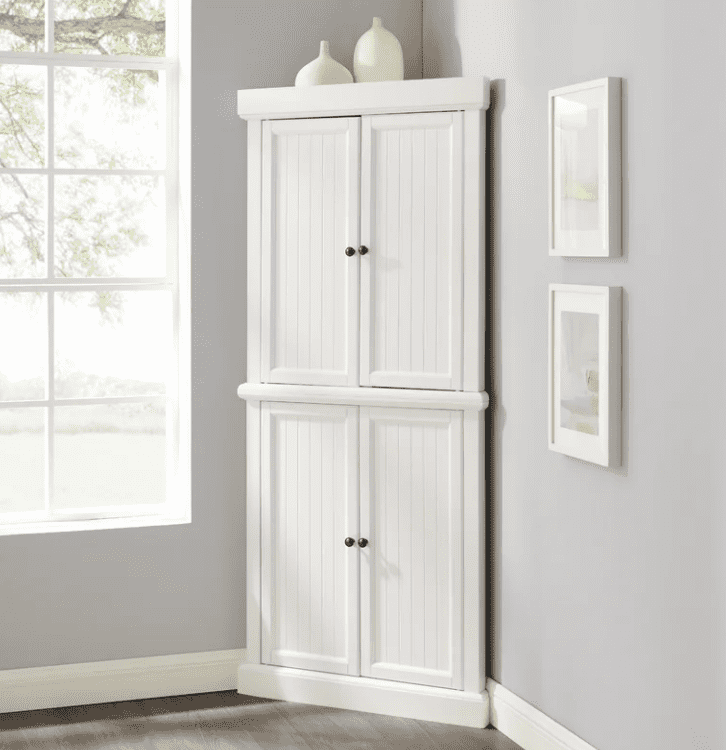 The Reno 72″ Kitchen Pantry is a stylish white pantry I have picked for its beadboard texture. I think it will be a stunning pick for a coastal-themed kitchen. The door texture is surely giving some coastal flair; therefore, if you are hunting for some vintage coastal furniture, this is your queue. This pantry consists of two stackable pantry units acting as one; hence you can also use them as separate small pantries if you wish.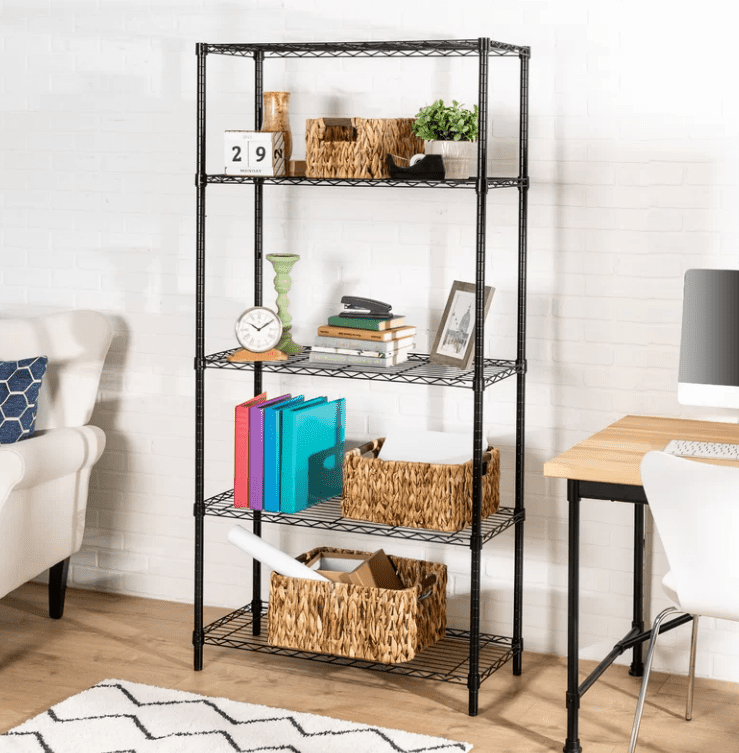 Metal racks are the way to go if you are looking for a corner pantry under $100. Metal shelves or wire shelves are an affordable and lightweight solution to your kitchen pantry. The racks are wide enough and come with ample storage space.
You can organize your pantry goodies in separate baskets and jars and neatly pack them on the racks. Make sure to add some green plants and decor too! These shelving units are open; decorating them with plants and vases always adds a nice touch to your kitchen.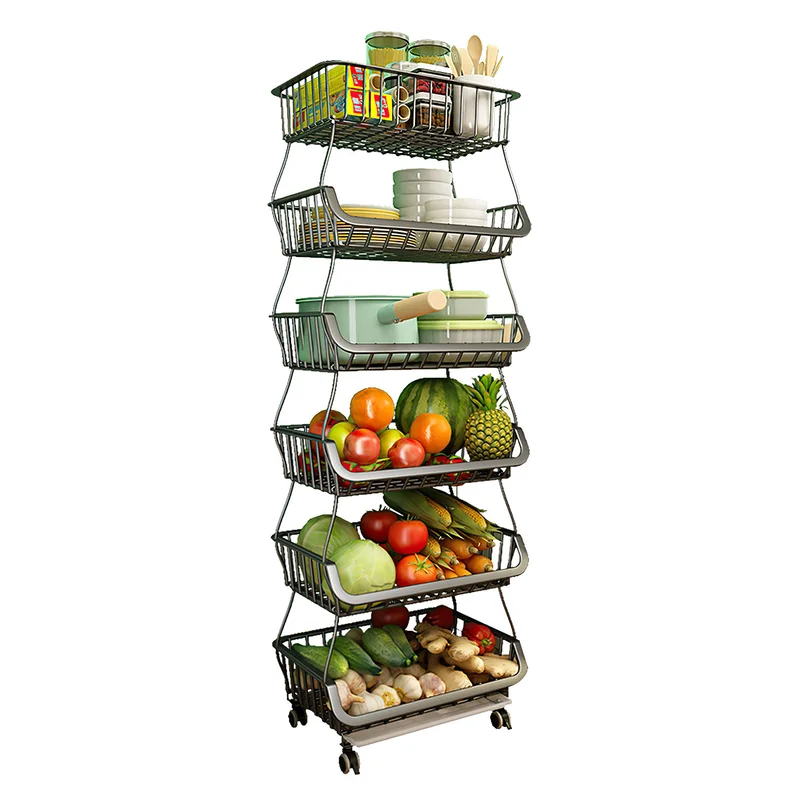 Rolling carts with stackable wire or metal baskets is yet another inexpensive method of putting up a corner pantry. These wire carts are small, and you can quickly assemble them in the corner of your kitchen. The stackable baskets are wide and deep enough to store snacks and fruits.
I feel this cart is the ideal choice for a small kitchen or a compact living space in general. It comes with six tiers that can be used for almost everything. The first basket could be used as a spice rack, and the second for fruits, snacks, etc. Moreover, the rolling wheels make it highly convenient for moving from one space to another. This way, the stackable metal cart can be used efficiently for your tiny kitchen.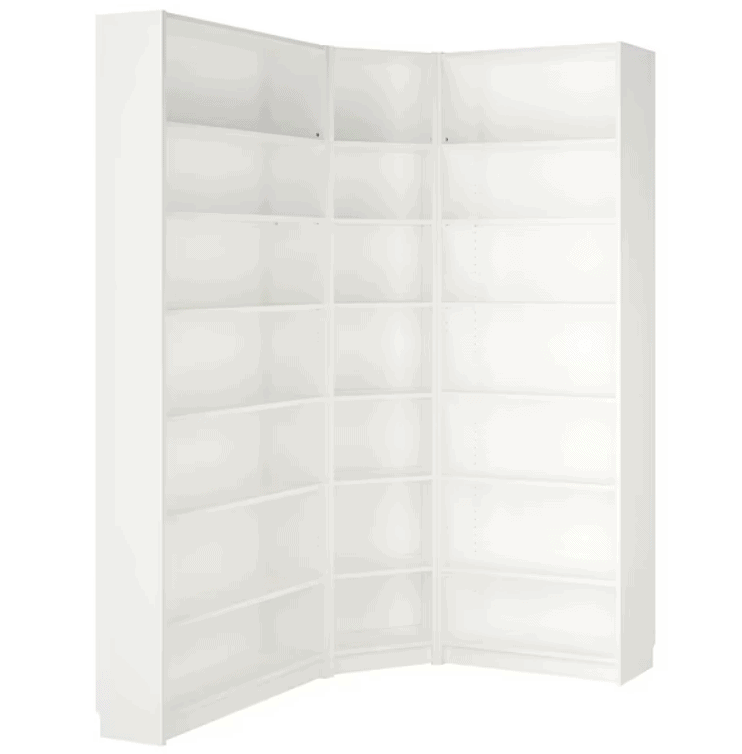 Using Ikea's billy bookcase as an open pantry is my favorite hack. This is an easy and affordable idea, especially if you are a beginner at pantry building. This bookcase is basic white and goes with any kitchen interior. The bookcase is also designed to fit in a corner and is a versatile pick.
I have used one of the billy bookcases as my first pantry, and I can guarantee that the open shelving unit is highly functional and cleverly designed. Moreover, the bookcase isn't flimsy and can withstand the weight of your heavy pots and pans.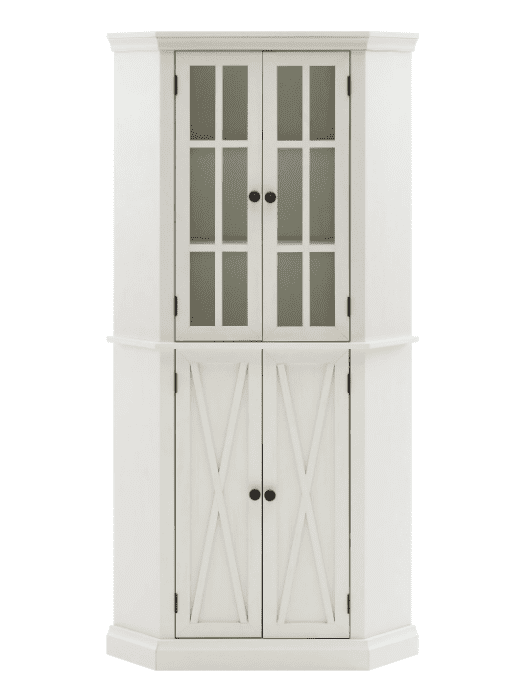 My mother had one of these traditional cabinets to display her heirloom china collection. However, I feel this will look great as a corner pantry for a vintage or country-style kitchen. This china cabinet comes with a design of glass and solid white wood, which gives it a robust look.
My favorite part about these cabinets is that they come with deep shelves ideal for storage. Moreover, with this cabinet, you get a half-and-half situation, where the bottom part of your pantry is behind closed doors. If you have a farmhouse-themed kitchen, I highly recommend using these white vintage cabinets as your pantry.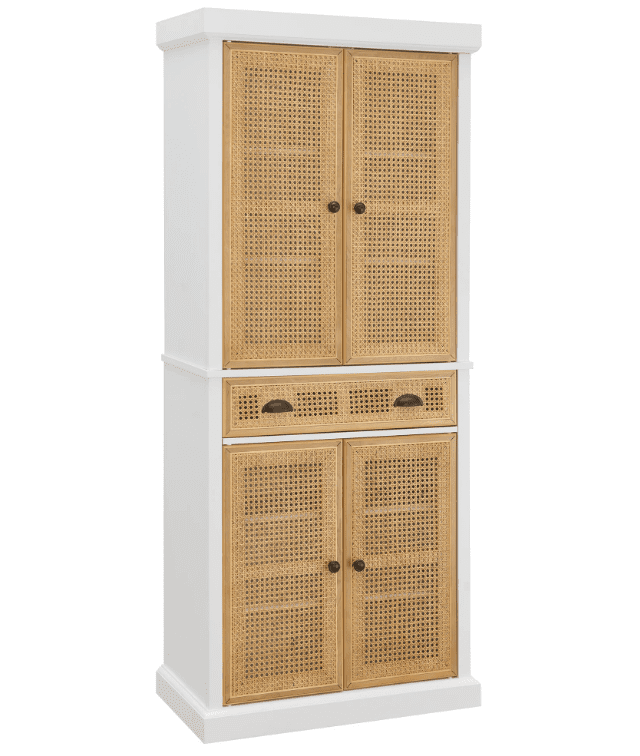 I am a huge advocate for sustainability; therefore, I had to include the rattan furniture. Rattan is a highly sustainable material; it is the quickest developing tropical wood that can renew within 5 to 7 years. In addition, rattan furniture is exceptionally durable too; hence you won't need to replace it anytime soon.
Now coming to this rattan pantry, I adore its aesthetics. This pantry would be perfect for a Scandinavian-style kitchen or even a modern one. Most importantly, the rattan cabinet doors feature hand-woven rattan with these tiny holes. The holes are essential as they supply the pantry with proper ventilation. Pantries are meant to be kept cool, and the rattan pantry does just that.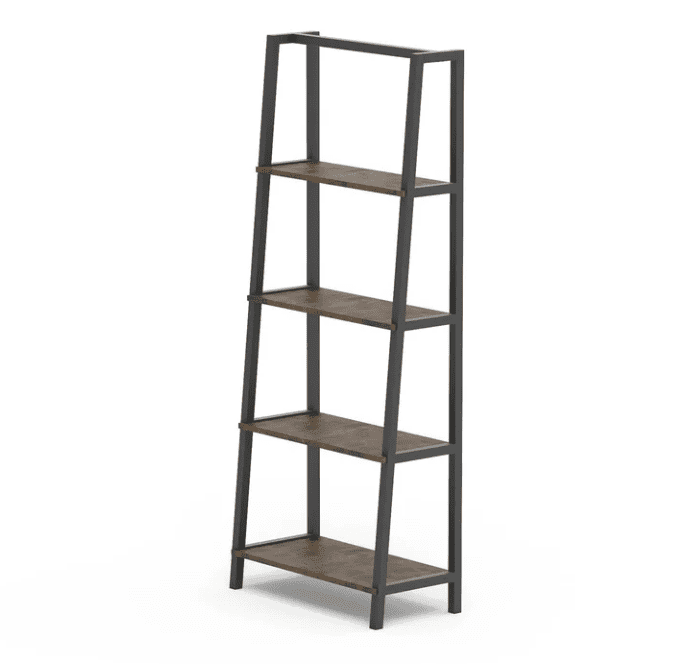 This might be an unconventional idea, but ladder bookcases look amazing as decors and can instantly make your home look more stylish. They can work with anything and everything, whether you use them to keep plants or create a pantry. I always look for unique ways to use furniture, as I believe we can always find multiple uses for them.
The ladder bookcase was one such experiment, and it did help me create a playful and modern pantry. However, this might not be your best idea if you want ample storage. Although these bookcases come in several tiers, they are usually narrow and won't provide as much space as a typical pantry.
But you can surely purchase it if you want something small without splurging bucks. The ladder bookcase can easily hold your microwave and snacks and smoothly fit into your kitchen's corner.
FAQs
Question: Is a corner pantry a good idea?
Answer: Installing a corner pantry is a good idea if you have a small kitchen or an unused corner in your kitchen. Corner pantries usually require a smaller area and can be a perfect solution for a compact space. They also fit into a corner, leaving enough room in the kitchen without hampering your activities. In addition, corner pantries are a smart choice if you want something inexpensive for your small kitchen. 
Question: What is a good size for a corner pantry?
Answer: The minimum size of a corner is a 36″ by 36″ pantry angled at 45 degrees. However, I feel that 36″ is the absolute minimum; a better size is to build a pantry with a 48″ by 48″ dimension while keeping the 45-degree angle. 
If you are buying a pantry cabinet, the depth of your shelves should not be more than 24″, as deeper shelves will only make it difficult for you to retrieve items. 
The height of your pantry can vary depending on your ceiling height. But if you want a pantry with an accessible height, then I suggest keeping it within 70 inches tall. 
Question: How Do I Organize My Corner Pantry Cabinets?
• Use clear stackable bins to store small packets.
• Add a spice rack to your pantry door. 
• Always use clear containers for all your dry snacks. 
• Neatly label all your containers; you can also use color-coded labels if necessary. 
• Use baskets to avoid clutter. 
• Use dividers to create separate sections inside a pantry drawer. 
• Buy different containers and jars for different items; for instance, use bigger jars for common ingredients like flour, pasta, salt, etc., whereas smaller jars for spices and condiments.
• Put up a chalkboard in front of your pantry door, or use a blackboard door to keep a check on your pantry items. 
Corner Pantry Cabinet Ideas: Final Thoughts
My preferred corner pantry is Ikea's Billy Bookcase; this is one pantry I can recommend for everyone simply because of its versatility. Moreover, open pantries are trendy these days. Hence the Billy Bookcase is a great place to start; it's white, minimal, and has enough shelves for storage. Ikea bookcases retail in many sizes, so I am sure you can find a pantry that fits your kitchen corner.
Read More: