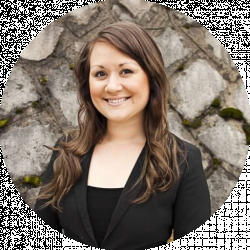 Latest posts by Lacey Jackson
(see all)
Everyone has corners. In my house, corners can prove a pesky problem because hardly any furniture fits. We end up with a weird 90-degree square of unused space or just a corner for a lone houseplant to rest.
Then I visited my in-laws. They had recently redecorated, and while I hate to admit it, they made excellent use of their corners. They modified China cabinets (like all old people, they love antique shops) to display the things they love most (they each have separate hobbies; it keeps them in love, all that time apart) while still providing a space for that lone houseplant to rest. 
We can all take a page out of their book.
Bottomline Up Front
If you are planning to use a china cabinet in your corner to display anything, whether it's awards, family photos, collectibles, or antiques, I recommend the Schmidt 26″ Wide Mirrored Back Curio Cabinet with Lighting.
It is one of the largest in terms of shelving depth, it fits nicely into corners, supports the highest weight capacity, and comes with lighting so you can turn the lights on the items you want to display the most.
Selection Criteria
There are so many great ideas for making use of a corner, but I've curated what I think are the best corner china cabinet ideas to fit a multitude of functions and spaces. I picked ways that we have personally converted China cabinets in the corners of our homes into more efficient display units that better fit modern family needs.
Best Corner China Cabinet Ideas: How to Use Your Corner Space Well
Below I have outlined my top trying to corner cabinet ideas for small spaces and large spaces for adults and children. 
For the Kids: Trophy Case
The trophy case idea doesn't necessarily mean to hold trophies. It can hold a mixture of awards, trophies, certificates, participation medals, and anything else your children are proud of.
It's not always easy in my house to find room on the fridge or in their room when their walls are already decorated. So, finding shelving space for the latest achievement, work of art, or other such masterpieces can seem like a jigsaw puzzle. 
That's why I used a corner china cabinet like the Schmidt 26″ Wide Mirrored Back Curio Cabinet with Lighting as a display piece. We have one in the hallway and one in their playroom:
The playroom is where they can store some of their favorite toys, the collectible items they want to have out of reach of their younger brother.

The hallway is where we, as parents, store the things we are most proud of. It's basically like a rotating Art Exhibit in our home; every season, we have new things to display and things from last season going to storage. 
For the Collectors: Display Case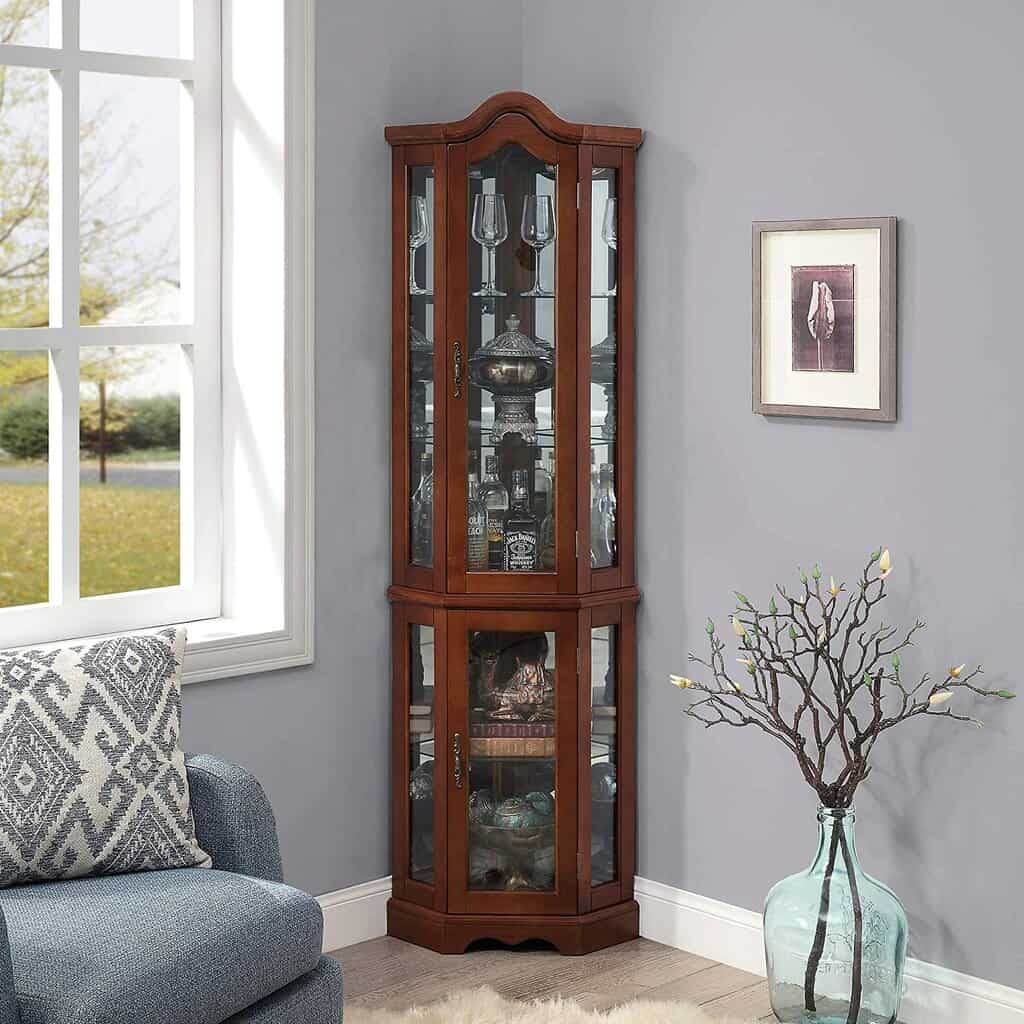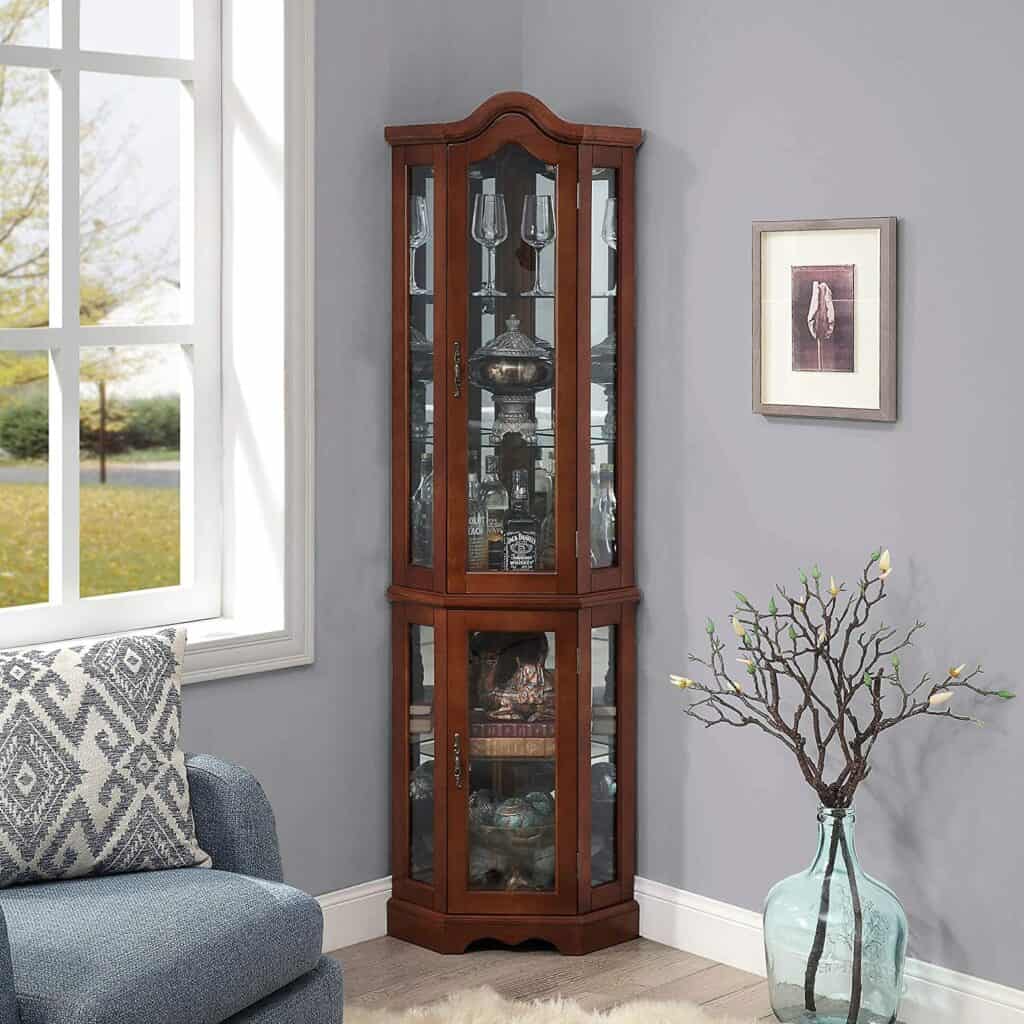 My best friend is one of those you might call a man-child. Everything you find in the house that you assume belongs to his children is actually his, and it's probably a collectible. You won't find a single piece of art on the walls but a movie poster of some kind of a love letter he wrote and had translated into Elvish from Lord of the Rings (seriously).
You also won't find cabinets with any type of China (because in their late 30s, they still rely almost exclusively on plastic dishware–often "collectible" cups that came with a Happy Meal over the years). What you will find is a display cabinet.
Now, this is very similar to my idea for a trophy case only in this situation you or your loved one get to display your collectible toys. The BELLEZE Lighted Corner Display Curio Cabinet Wooden Shelving Unit is perfect for this because of the tempered glass shelves, mirrored back, glass doors, weight limits, and secure latch design. 
It does not, of course, have to be exclusively for people who collect toys. The adults among us use it as a display for their military coins, career achievements, awards, and gifts that they received each time they left a given location.
In any event, you can choose corner china cabinets that fit snugly into the corner of an office, the ends of a hallway, or corners in a shared living space. Many cabinets today come with lighting underneath each shelf to better display your objects.  
Tip: Obviously, lighting doesn't necessarily come with older China cabinets, but you can easily install strips of LED lights and run them down the length of sides to the bottom. Alternatively, you can attach LED lighting to the top of each shelf, so it better shines on the shelf contents below, and drill holes through the back panel of your china cabinet so the cord can run down the back, hidden from view (just like they do with computer cabinets).
For the Oenophile: Corner Bar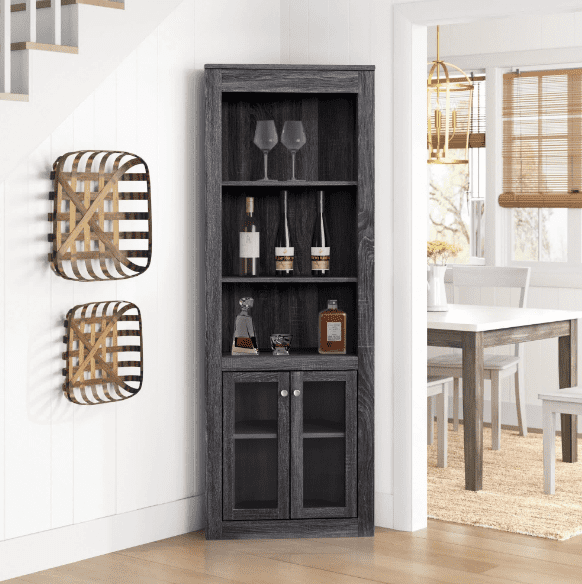 If there is one among you who likes to drink, converting a corner china cabinet into a small bar is a great way to have easy access in multiple rooms.
My house has a bar attached to our main entertaining area. It's a full bar, but we don't always end up near the bar, especially if we are entertaining just a couple of guests or on our own. I recommend using this idea for places like a home office or a library.
In these situations, we bring bottles and glasses to other areas of the house so that we don't have to continually get up and go back to the bar for a refill. Setting up a corner bar using a makeshift corner china cabinet has put an end to that.
Now we have a small space where a couple of bottles we regularly consume and a handful of clean glasses can always be on display next to a set of books on related subjects. So, if we have someone over and they happen to be in the office discussing business, a few drinks can be made at the end of a deal. Likewise, if we are relaxing in the library, an evening cocktail can be consumed while reading without having to get up and go to the bar. For this, the Jayson Bar Cabinet By Sand & Stable is perfect.
For Small Space: Recessed Corner Cabinets 
One of the best corner china cabinet ideas I have for small spaces is to build recessed corner cabinets. If you have collectibles or China that you need to display, but your space is limited, the last thing you need is a deep cabinet taking up floor space and jutting out into the room.
Before you go jackhammering into your wall, make sure that you only apply this idea if you own your building. It's reserved for small studios or condos that you own. Chances are you won't be allowed to use the idea in a place you are renting.
Tip: If you are uncomfortable doing it yourself, work with a contractor to cut into the wall of your corner to the specifications of the cabinet you want to install. Make sure it's a mountain design and that you verify it will fit the corner space.
Alternatively, if you have limited space and you rent or buy, you can always find antique china cabinets that don't run the length of the wall. Shorter versions like Colonial corner cupboards or wall-mounted corner cabinets can help you fill space up talk without cutting into your leg room.
Tip: If you have a military member or retired CEO and your family, someone who was awarded honors for their volunteerism, consider using the same type of corner display cabinet for things like shadow boxes or retirement party gifts.
Best Corner China Cabinet Ideas: My Top Picks
Having said all that, if you like some of these best corner china cabinet ideas, you might need a corner china cabinet. So, I've included a list of my top picks. These are all included based on how well they are reviewed by customers (only the best for my readers), what features are accessories they include (think: lighting), and how large they are (you might need something small or large for your space). 
BELLEZE Lighted Corner Display Curio Cabinet Wooden Shelving Unit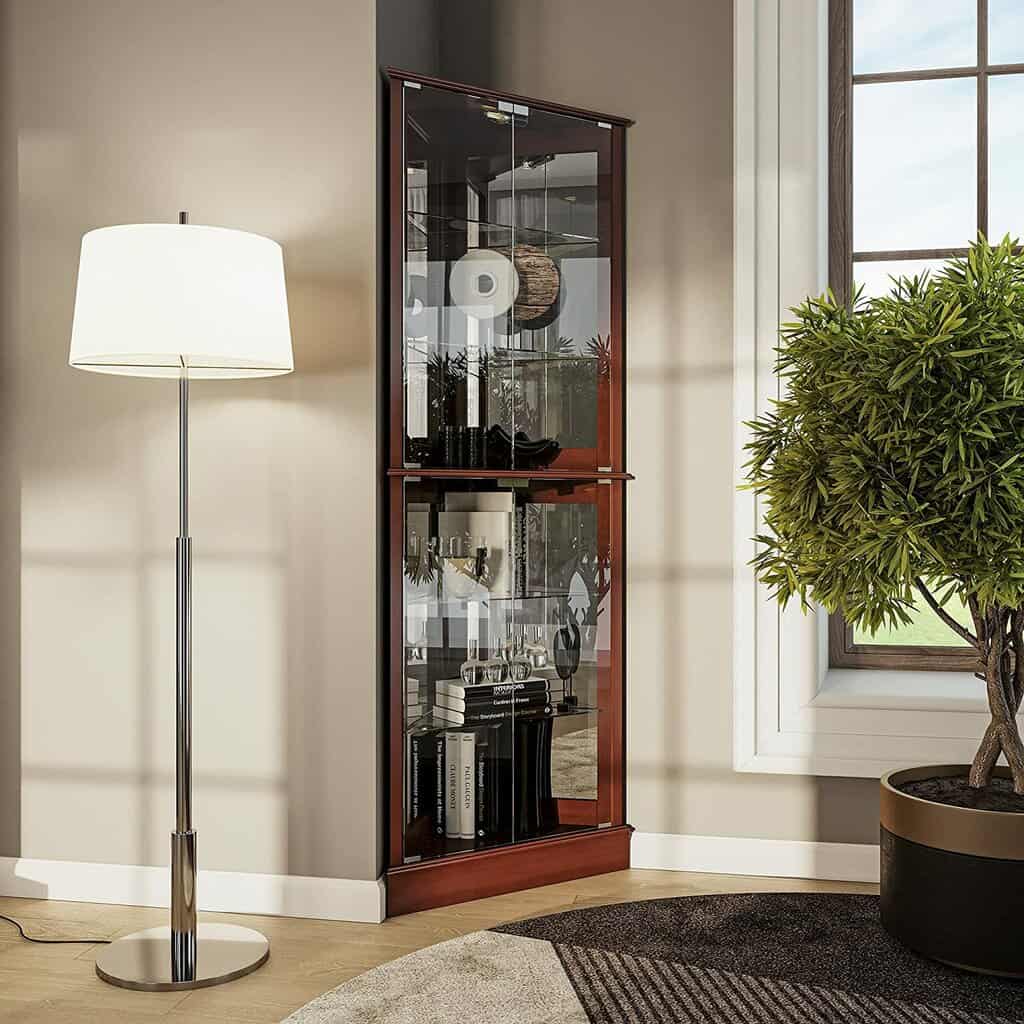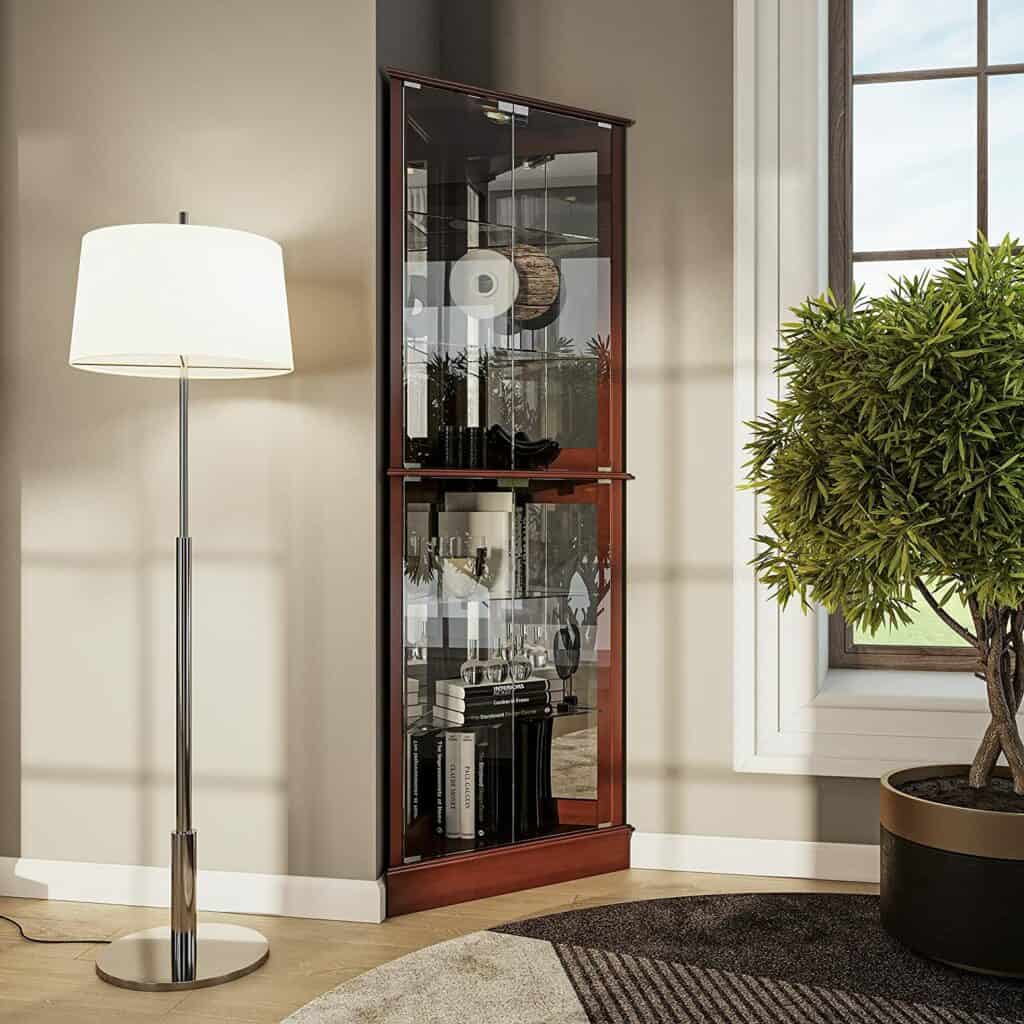 The BELLEZE Lighted Corner Display Curio Cabinet Wooden Shelving Unit is designed slightly differently compared to most china cabinets: it has two main sections with a wood frame, inside of which are glass display shelves, mirrored backs, and glass doors with magnetic push latches. 
It has built-in lighting. The tempered glass doors keep everything secure. The shelves inside can be adjusted however you want. It has a 90-degree angle, so your shelving depth is limited depending on where your items are displayed on the shelf.
Customers love the sturdiness, how easy it is to assemble, and the value you get for your money. There are six shelves, so it holds a lot of weight. Each of the glass shelves can hold 15 lbs.
Schmidt 26″ Wide Mirrored Back Curio Cabinet with Lighting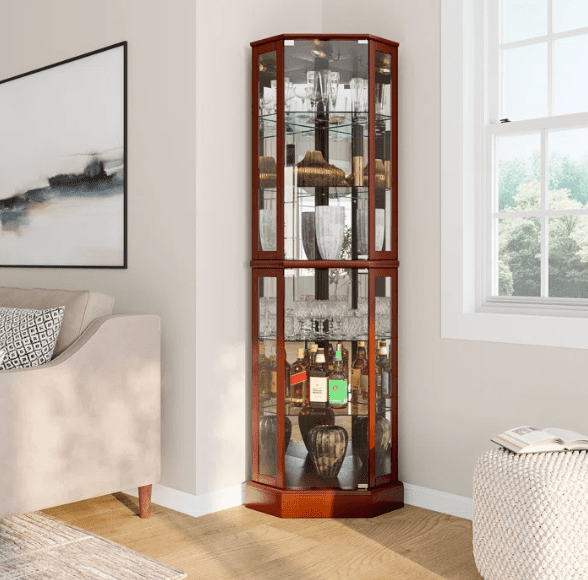 The Schmidt 26″ Wide Mirrored Back Curio Cabinet with Lighting makes displaying children's achievements, collectible adult toys, or anything else much easier because it already comes with lighting. The angles of this curved china cabinet tuck neatly into a corner space without forming the traditional half circle of cheaper designs. 
The solid wood has two sections: glass shelves and a mirrored back. All the shelves are adjustable, and the glass shelves help draw your eye only to the things that are on display in all their glory. 
The glass doors use magnetic push latches, so there are no knobs or handles in the way. You can buy it in Walnut or cherry, depending on the type of wood you want. It has a weight capacity of 150 lb. 
The rustic design of this cabinet is perfect for any room that has existing wood furniture. Contemporary spaces that are sleek with black and white geometric patterns and a lot of chrome might not blend well.
Jayson Bar Cabinet By Sand & Stable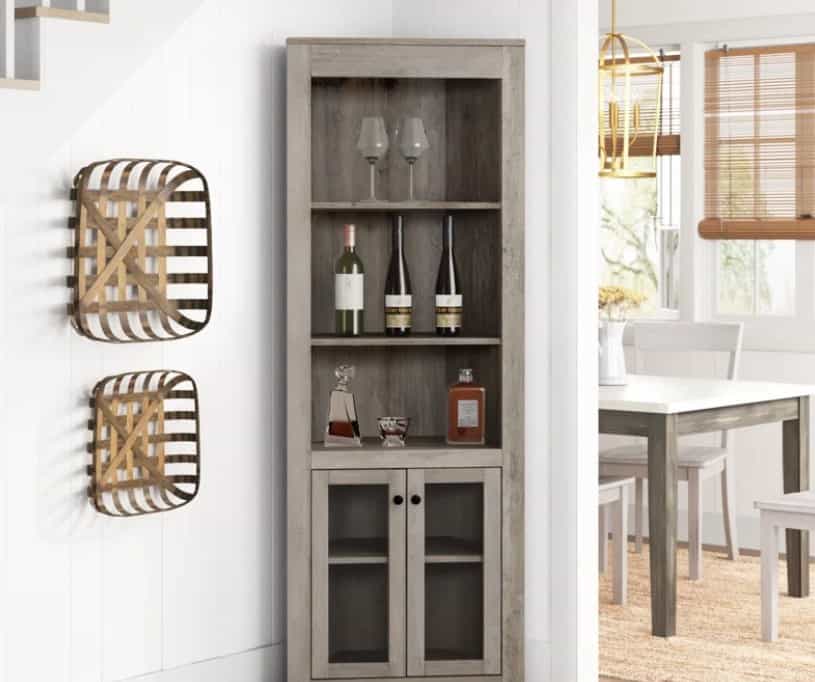 The Jayson Bar Cabinet By Sand & Stable comes in chocolate, stone grey, or white, so it easily fits even contemporary spaces. It's a tall corner cabinet that's well-suited for small spaces. If you have an empty corner in your home, you can use the four angled shelves and the lower cabinet with glass doors. 
This is not a wall-mounted design, so like most China cabinets, you only have to use some basic (provided) hardware to install all the pieces and then push it in the corner and be done with it. 
It is 15 inches deep and 72 inches tall, so you have plenty of room to store glasses, bottles, books, and more. The only downside is that the shelves are not adjustable, so while they do fit a bottle of wine, they might not necessarily fit liquor bottles. 
Deco 79 Vintage Wood Wall Décor with Glass Doors and Shelving, 22 "W x 28 "H, White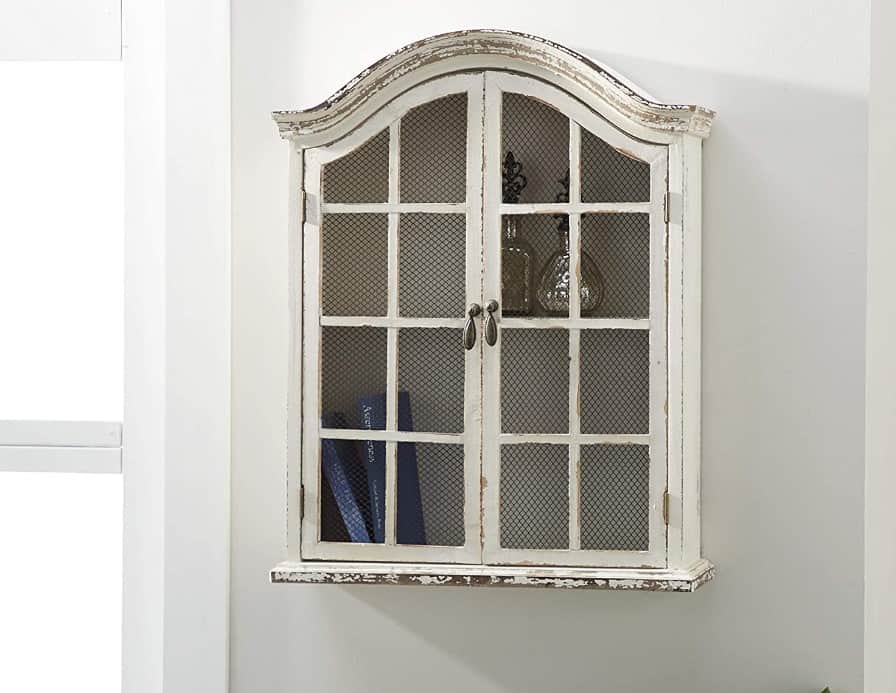 If you like the idea of saving space and using only half a cabinet, consider the Deco 79 Vintage Wood Wall Décor with Glass Doors and Shelving, 22 "W x 28 "H, White. This is very easy to assemble, and it has a cottage theme to it. The two doors that open outward are designed to look like a cottage window. 
Inside, you only have two shelves, but they are adjustable. You can mount this to the wall safely and clear up floor space while still having a small display area. 
RiverRidge Danbury Two Door Corner Cabinet, White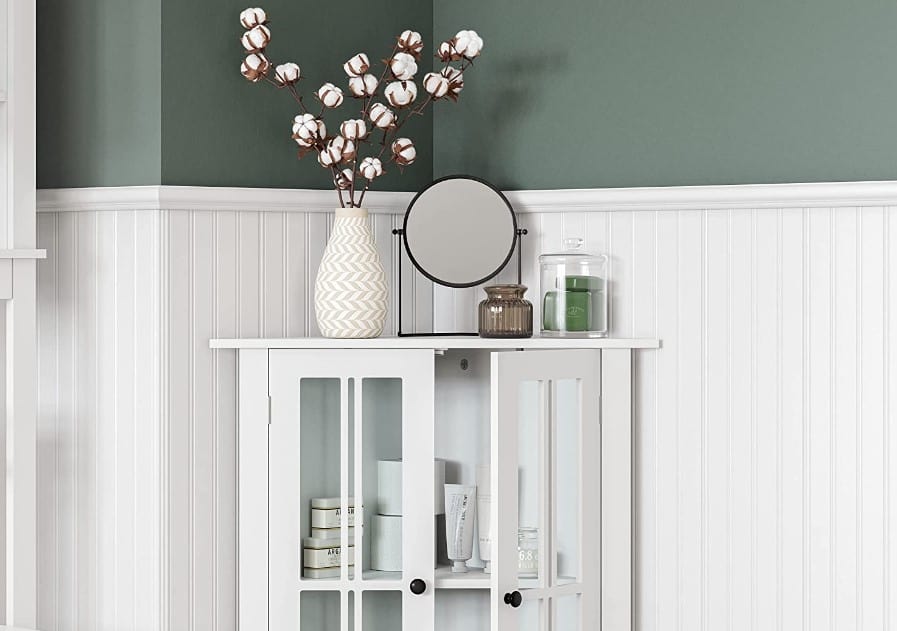 Alternatively, if you want to go the opposite route and have half a china cabinet in your corner space but use the ground level instead of hanging something, the RiverRidge Danbury Two Door Corner Cabinet, White is ideal. 
It is only 31 inches tall, with additional anchor brackets you can mount to the wall if you want to keep it from toppling over. You have polished silver or black door knobs for the two glass panel doors that open outward.
This is perfect for tight spaces like laundry rooms or bathrooms. My in-laws use a similar design in the corners of their formal dining room and then put indoor plants on top.
RiverRidge Home Madison Collection Tall White Corner Cabinet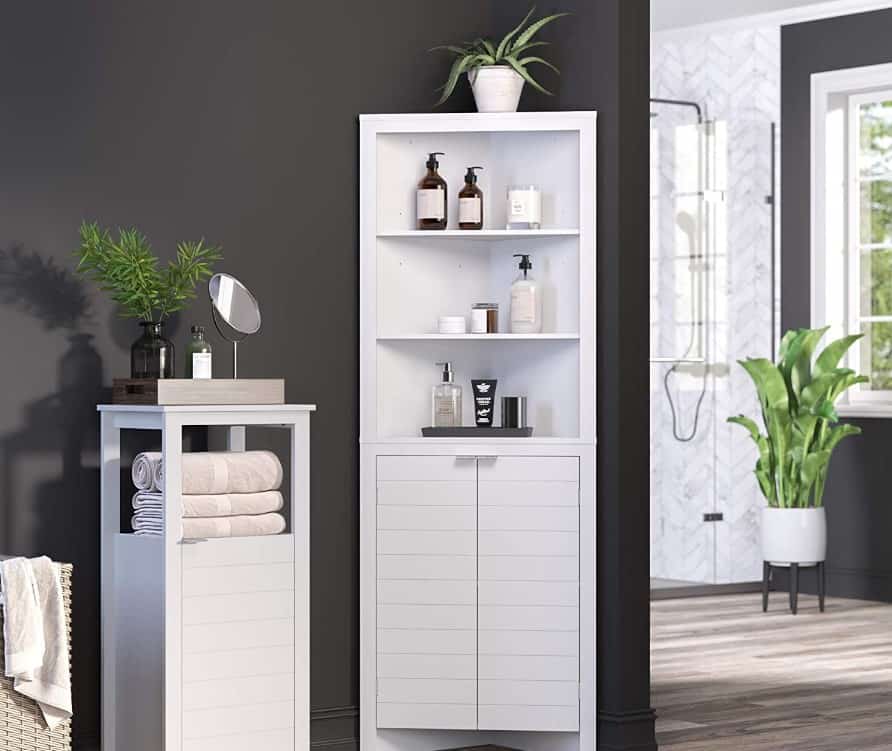 The corner cabinet used for displaying toys in the playroom has to be sturdy but streamlined. Our playroom certainly doesn't have the austere ambiance of a CEO's office with mahogany and leather-bound books, nor does it have the sleek, contemporary feel of a modern kitchen.
That is why the RiverRidge Home Madison Collection Tall White Corner Cabinet is a great option. Available in white or gray, it fits the look and feels of a simple playroom very well. All of the shelves are adjustable on top, and the bottom half has cupboards that are easily opened outward. 
It's very sturdy and very easy to assemble, which is important for someone who hates assembling furniture like myself. There is wall mounting hardware included which, as a parent, is probably the most important thing. 
Using that hardware, I can mount this to the wall, so when my children invariably open the cabinet doors on the bottom and try to use the shelves as a ladder to reach their toys on the top, the entire thing won't come crashing down on them. Don't skip this step. 
FAQs
Question: How deep are corner china cabinets?
Answer: Most corner cabinets are about 15 inches deep, but you need to be cognizant of the design. Some designs are at a 90-degree angle, meaning the depth is obviously biggest at the center or corner, and it gets smaller as fans out. 
Other designs are tall and short but don't have a 90° angle, so you push them up against the wall instead. These maintain the same depth across the entire shelf.
Question: What are corner china cabinets made of?
Answer: This depends entirely on the product. Cheaper designs might be made out of plastic, but those won't hold much weight at all. Traditionally China cabinets are made of wood because they have to be sturdy enough to hold your heavy porcelain China. 
Today, middle-of-the-road options are usually made from prefabricated wood. No matter how you intend to use your china cabinet, pay careful attention to the weight limit.
Question: How do I clean corner china cabinets?
Answer: This depends on the material your china cabinet is made from. You can easily wipe up any type of spill or sticky mess with a warm, wet washcloth. If the shelves are made from glass or have a mirrored panel, using simple things like Windex can help clean most of the problems and get rid of a lot of dust. For wood, you can wipe things away, use a duster, and use wood oil regularly.
Bottomline
I think china cabinets make for great modern display cabinets for whatever you love most: work achievements, children's achievements, antiques, leatherbound books, restored tools, and so on. To that end, the Schmidt 26″ Wide Mirrored Back Curio Cabinet with Lighting is my top pick because it has the best depth, highest weight capacity, and has lighting already installed. 
Read More: