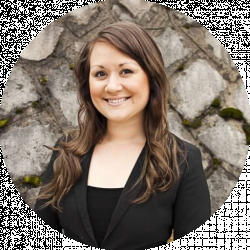 Latest posts by Lacey Jackson
(see all)
We always had China cabinets growing up full of dishes I don't think I was ever allowed to eat off of. I'm quite positive that in their new home, my grandmother has an entire spare dining room dedicated to walls of China cabinets and a complete walk-in closet full of teacups stacked precariously on top of one another; if ever an earthquake comes through, they're just going to have to burn that room to the ground.
But you don't have to be like my grandmother. You don't have to shove your China cabinets in a separate room because you have too many of them and too much China. Today we have so many options for using modern China cabinets in fun and revitalized ways.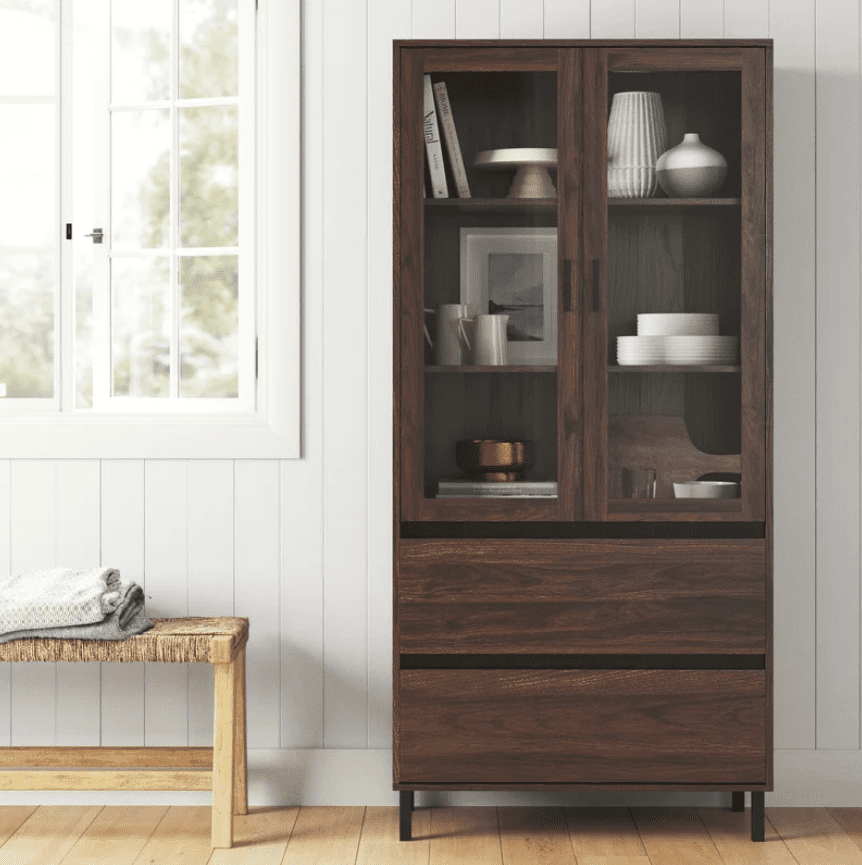 Bottomline Up Front
My favorite china cabinet is the Isla China Cabinet because it's not overwhelmingly large, so it won't need a separate dining room, it comes in different finishes with a minimal setup, and most importantly, you can easily modify it using any of these best modern China cabinet ideas below.
And speaking of, I love all the ideas listed below, but my personal favorites involve a coat of paint and some wallpaper on the back. There's no reason a china cabinet has to be austere and blend into the background. This isn't Downton Abbey.
You can make your china cabinet stand out and serve as a beautiful focal point for your space with a simple paint job, some stencil work, and even some wallpaper. 
Give Your China Cabinet a Modern Purpose
I want to make it very clear that before I give you all of my ideas, you need to decide what modern purpose your china cabinet will have. Where you decide to put the cabinet will likely influence the purpose it serves in your home.
A modern China cabinet can serve as a display center and permanent home for your porcelain dishware. I'll talk more about how you can repurpose a modern China cabinet to get more storage space out of your display area.
It can also be a display for things like basic gardening equipment, gloves in drawers, watering pails in the cabinets, and collections of pots and soil bags on the shelves. 
I converted one of mine into a bookshelf. It fits perfectly in the living room behind the seating area, so people can go through the entryway and into the living room, grab a book off the shelf, and cozy up on the couch. This makes it much easier for me to keep all of my collectible, gold-leafed, and leather-bound books safely off the ground and away from dust or direct sunlight.
I've seen people use their modern China cabinet to display all of the awards, certificates, shadow boxes, and going away gifts they received throughout their military career.
My in-laws have a farmhouse, and in their guest bedroom, they converted one of their modern-looking China cabinets into a linen closet of sorts in a room that didn't have a closet.
So, realistically, you need to choose the purpose, and from there, you can use any of these best modern China cabinet ideas to add something extra and tie the china cabinet together in your space based on your design and purpose you want.
Best Modern China Cabinet Ideas: How to Display in a Modern Way
Once you have your purpose, some of the best modern China cabinet ideas involve simply displaying whatever collection you have in the appropriate way.
Greenery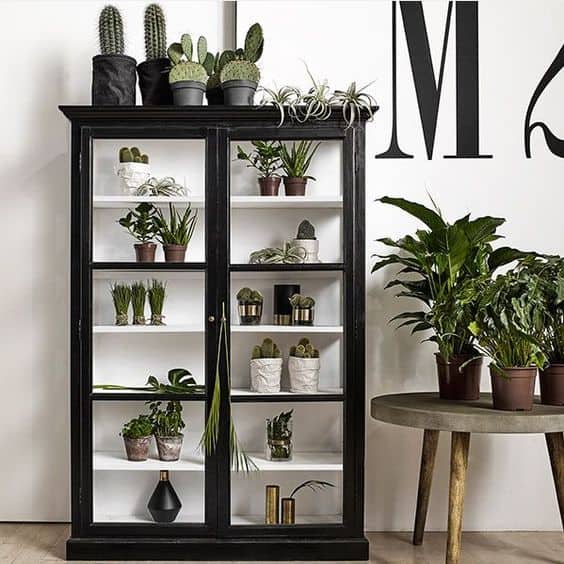 If you plan to use your china cabinet to display anything, consider adding greenery. I once threw a tea party for all the young women in our area. The dining room was converted into a tea shop, and all of my spare teapots were filled with fake flowers. Making it look like there were plants added a lot of color to an otherwise very white and pink event.
I actually like the way it looks so much that I kept it. So, instead of just displaying my teapots in a mundane fashion, I filled them with fake plants and put the lid at an angle rested against the pot. This added a splash of color to a very white collection of porcelain without compromising my ability to quickly grab my teapot, chuck the fake flowers on the counter, and fill it with water.
Accessories
On that note, a great way to modernize the china cabinet is to grab random things you don't necessarily think of as something to store in a China cabinet and use as accessories.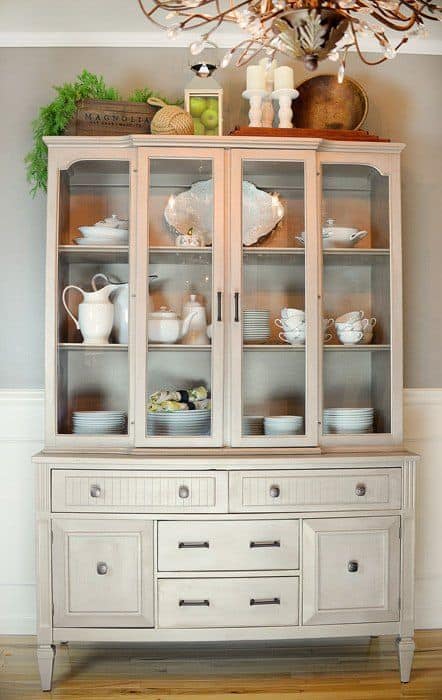 I don't have a natural gift for this. It apparently went from my mother to my sisters and skipped me entirely. However, I set it up like I'm staging a home as a realtor. 
In the Spring, I take an otherwise plain colander or small decorative bowl and fill it with lemons. I add sections of fake plants inside the teapots, as mentioned, and then scattered throughout the shelves, I add stacks of 3 books from largest to smallest (all hardcover, of course).
Tip: 
I'll let you in on a secret: I once hosted a Harry Potter party for which I had to print textbook covers that came with my set of decorations. The textbook covers wrapped around any hardcover books I had, and I loved the idea so much that I now have themed printed fake book covers. 
I have three hardcover books hand-selected from a thrift store for their sturdiness and size. Each is smaller than the other, but they stack on top of one another nicely. I found them out when I set them on display, and I swap out the fake book covers depending on the season.
Depending on the season, I will grab a random collection of things to fit the space.
As mentioned, in the springtime, I like to add hints of color, so I have bright yellow taper candles, the bowl of lemons, and a handful of antique gardening tools with bright yellow handles. I personally was unsure about the gardening tools because it was a china cabinet after all, but the color blended in seamlessly, and of course, everyone uses springtime to start their gardening efforts, so it worked a lot better than I anticipated.
At Christmas, I have two snow globes that I got as a gift for a Christmas in July party, which I put to use. They don't really go with any of my decorations which I bought about 15 years ago all at the same time, but they work beautifully on display next to some cinnamon-scented candles.
In the Autumn, I decorate with an assortment of small pumpkins. I try to find pumpkins that are brightly colored along with nubbly gourds for texture. I throw in a bunch of cinnamon sticks for scent.
Baskets on the Inside
Wicker baskets with each dishware item inside. So, if you have a standard china cabinet, you probably have two side panels and a central panel, all of which have glass doors, and then two or three shelves providing what looks like a nine-by-nine grid.
You can easily use wicker baskets to fill every other grid or to line the perimeter. This makes much better use of a china cabinet compared to displaying plates upright with the matching cups and bowls in front.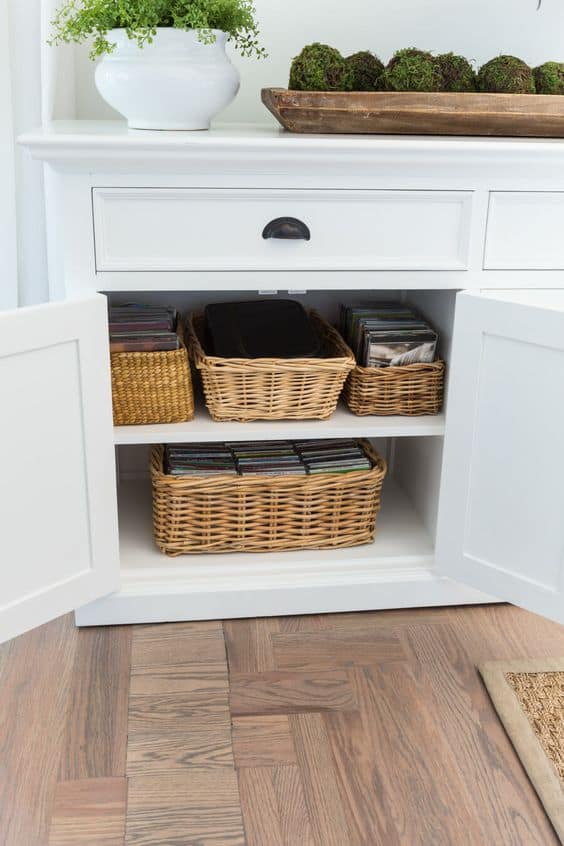 We did this in our kitchen. However, we found great baskets in a combination of cream-colored and black made primarily of fabric. They weren't durable enough to support the weight of dishes, so we cut directions from our spare woodpile to fit the inside perfectly and give it a much stronger base. Now it can support a lot of porcelain.
Best Modern China Cabinet Ideas: Sprucing Up the Inside
If you aren't happy with the china cabinet you have or you want to add a little something extra to the modern China cabinet you have on your wishlist, you can buy an otherwise plain wood or colored china cabinet and spruce it up from the inside.
Install Lighting
If you are going to use your china cabinet for a designated purpose, you might want to include lighting. You can easily install lighting along the perimeter and have it run through a hole you drill in the back of the china cabinet so that no one sees the cables.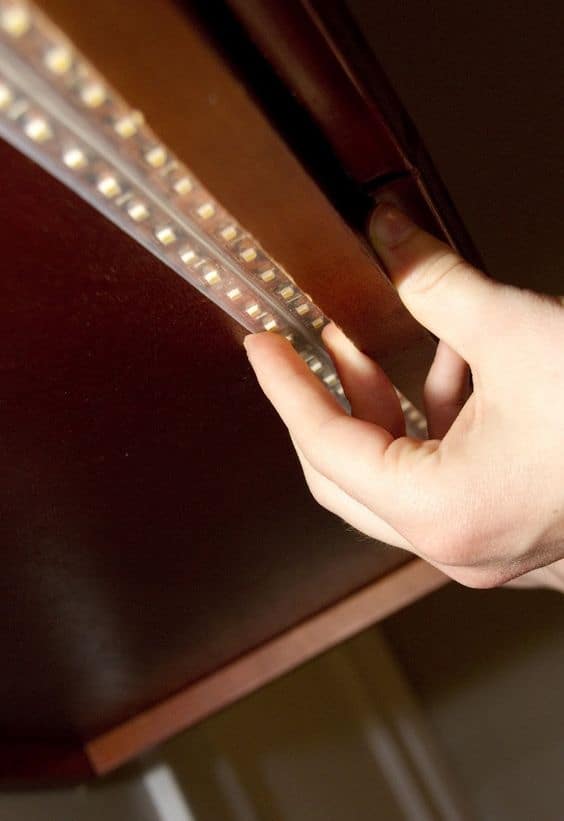 I recommend this for modern bookshelves designs because it makes reading each book title easier. 
Replace the Mirror with Wallpaper
Most traditional China cabinets have a mirrored background. The purpose of the mirror background is to reflect light around the room, make it brighter, and give you a much better view of every angle for your dishware.
Even if you choose to display dishes in your modern China cabinet, one of the easiest ways to modernize an existing cabinet or even add an extra aesthetic appeal to a new cabinet is to replace the back panel (mirrored or wood) with wallpaper.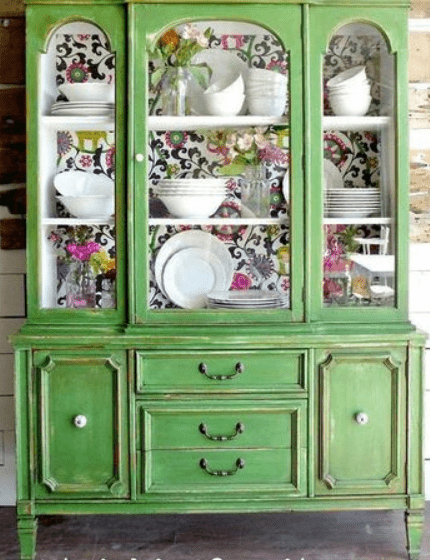 To do this, you just have to:
Appropriately measure for the wallpaper, 
Pick a pattern that you like, 
Remove the shelves temporarily,
Affix the wallpaper to the back,
Let it dry, 
And put everything back.
I have seen some wonderful ideas where you use patterned wallpaper that has one bright color against a white background. The color on the wallpaper should be something that pulls in the signature colors of your space. You can even put it on the outside if you so choose: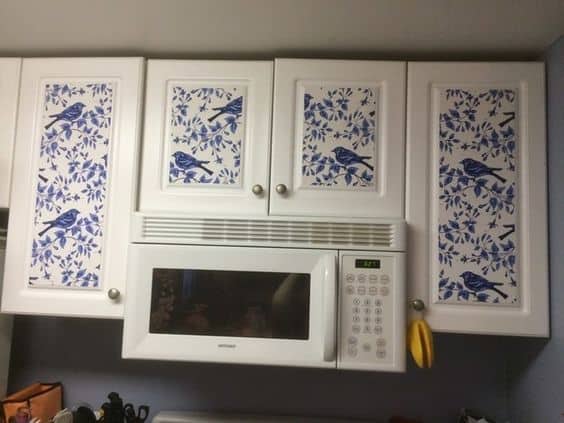 Best Modern China Cabinet Ideas: Tackling the Outside
If you are still not happy with a modern retouch, tackle the outside. My mother would always do all three, no matter how old or brand new a piece was, and it was this dedication to the best modern China cabinet ideas that helped her customize each piece of furniture in our home. 
Cut It
If you have a china cabinet that you want to modernize, don't be afraid to examine the architecture of your cabinet and use some power tools. You can easily cut the two sections that often comprise a full cabinet and convert them into separate entities in your modern home.
Using the top section, you can have a wall-mounted display for your china
Convert the glass door cabinet section as a bathroom or kitchen wall-mounted cabinet or a bookshelf
The bottom cabinets or drawers can function as a buffet table
The bottom piece can become a bedroom vanity over which you install a mirror
Paint the Outside
If you don't feel like messing around with wallpaper, you can easily paint something yourself. I have found some of the best stencils from places like the dollar store. These stencils have been used throughout my house on every piece of furniture I redecorate. 
Using simple things like fleur-de-lis patterns from the outside of the drawers or the cabinet doors gives a facelift to an otherwise boring piece of furniture.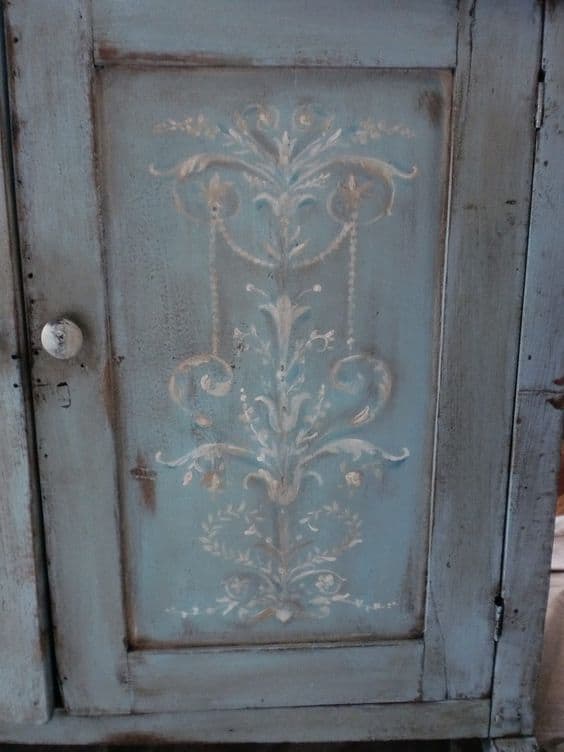 What's more, I like to combine this idea with the wallpaper idea from above because I can pick the same color that's in the wallpaper, so it pulls that background color to the forefront of the furniture and then allows the color to spread throughout the house in the form of other accessories like:
Matching pillows,
Pictures on the wall, 
Flowers, 
Accessories or antiques
Best Modern China Cabinet Ideas: My Top Picks
As I've mentioned, all of these ideas can be readily applied to a china cabinet that you were given by a gray-haired relative or a brand new cabinet you purchased from the store. More often than not, modern China cabinets today are prefabricated, relatively inexpensive, lightweight, and easily modified.
To that end, I have provided a quick list of my favorite China cabinets that are easily modified with any of the best modern China cabinet ideas I listed above. I only selected those that were easy to install, came highly reviewed by customers, including all of the hardware, and offered flexibility in terms of doors and shelving.
Isla China Cabinet

If you want a classic Hutch idea, Isla China Cabinets are rustic, with a beautiful weathered exterior. They offer spacious drawers at the bottom, and three shelves on top tucked away behind two glass doors.
This works really well for modern, contemporary spaces. It has sharp edges, so you don't get any curvature at the top. It comes in different wood finishes that match your space. This makes for a great modern China cabinet that you can retrofit with lighting and decorate with thematic accessories.
Mason Storage Cabinet

Most China cabinets are very wide, but the Mason storage cabinet is not. It comes in a mixture of colors, so you can pick whichever color works best for your space and then use some of my modern China cabinet ideas to refit the back paneling or paint some of your favorite stencils on the exterior.
I love the arched silhouette because it's much different than you would expect in a China cabinet which always seems to look like the wardrobe from Beauty and the Beast.
Cane China Cabinet

If you want your home to steer clear of all antiquated ideas of china cabinets, and feel more like a modern French Tahitian seaside hotel, the same company offers a Cane China Cabinet. It's made of birch wood veneer with cane panels. 
It has a two-door design. Both doors swing outward, and the interior has pull-out drawers made of wood as well as two middle shelves that you can adjust as needed. The nice thing about this design is that it has the cane's texture, which makes it feel like a piece of the outside brought into your home. 
Even nicer, though, is that it has a modern take on the traditional China cabinet, relieving your space of the need to display all your personal goods for guests. This makes a room look sleeker and cleaner even. Oh, and it comes fully assembled, which might just be the best part. 
Highland Black Cabinet

Crate & Barrel offers the Highland Black Cabinet with Sliding Doors. It also has the feel of a luxury hotel in Southeast Asia. It makes sense when you realize it's made in Vietnam.
It integrates a lot of bamboo, sliding doors instead of doors that open outward on a hinge, and you get a translucent quality instead of the quintessential clear glass. So, when you look at it straight on, you get that hazy, humid vibe of being in a tropical rainforest. 
The detailed work is so well done that you can actually see the different construction materials when you look at the relief, much the same as you can see the forest when you look at the bamboo design of this cabinet. In fact, the design of the bamboo stems gives it a special texture with a very dramatic presence.
It reminds me of the Old Kingdom pyramids that used Stone carvings to represent bundles of papyrus and reed mats.
It is made of solid oak with a mixture of bamboo, oak veneer, and engineered wood. It has a black stain on it which makes it easy to clean. You have three fixed shelves and two sliding doors, but it has the levers, and all other hardware included.
Italian Luxury Cabinet

While on the subject of travel, you can make a modern statement by bringing back an Italian-style cabinet that looks like it belongs in a mafioso movie. The Italian Light Luxury Display Cabinet by Homary offers two large double doors and two bottom drawers. 
It's smaller than most cabinets, so it fits an apartment, condominium, or an already crowded living room. Versatile, it fits into a contemporary kitchen or serves as a standalone bar. It has such an iconic Italian feel that I almost expect there to be a record player inside and a bottle of Prosecco on top. 
The glass on the doors is tempered, and the exterior is black with gold finishes. You do have to assemble it yourself, but it only has two drawers, two shelves, and two doors, so the process is much easier compared to traditional China cabinets that seem to take up the entire wall.
FAQs
Question: How do I paint a china cabinet?
Answer: If you are going to paint your china cabinet, you need to verify what material it is made of first. If it's made of wood, you'll have to do some light sanding. Don't worry; you don't necessarily need a sander to do this. You can just grab sandpaper by hand and rub it gently. Scratching up the surface a bit helps the primer stick to the wood.
After you apply a coat of primer (if you so choose), use whatever brushes or rollers you are most comfortable with to paint each of the pieces. Always take off doors and take out drawers if you want to do the job right (half the time, I don't). 
Question: How heavy are china cabinets?
Answer: This depends entirely on the material from which it is made. On average, China cabinets weigh around 100 lb, but some can be heavier or lighter depending on how much particle board is used compared to how much solid wood is used.
Question: How much weight can I put on my china cabinet shelves?
Answer: How much it can support comes down to the design of the shelves and the physical shape and size of the china cabinet. Any china cabinet you buy should come with an instruction manual that tells you exactly how much weight it can support.
Question: How do I clean my china cabinet?
Answer: Again, this comes down to the material. Modern China cabinets are usually made of some sort of particle board that can be easily wiped clean with a wet cloth, home cleaning wipes, a mixture of simple green and water, or your favorite essential oil and water. If it's made of any type of particle board with a veneer, the chances are mild soaps or cleaning agents won't hurt it. If it's made with solid wood, use a wet cloth, a disaster, and apply some wood oil now and again.
Bottomline
My favorite china cabinet is the Isla China Cabinet because it's small enough to use for any purpose, not just China. What's more, it is easily improved with any of these best modern china cabinet ideas. Personally, I love adding a fresh coat of paint (after sanding, if it is real wood) and some stencils. Small but bright colors tie a room together.
Read More: