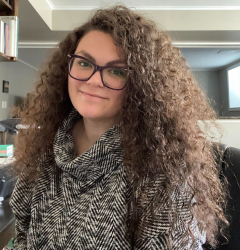 Latest posts by Candace Osmond
(see all)
Only a few kitchen styles are as diverse in designs as farmhouse kitchens. From classic blues to bright painted white and even yellow cabinets, the colors are unique and widespread. What's more? The variety of pulls and knobs that fit farmhouse utility designs is even more diverse. Unfortunately, that also makes finding the best among the rest equally challenging.
To help you out, I've created the ultimate guide on the best farmhouse cabinet hardware. This post also features several guides to help you settle on the proper farmhouse cabinet hardware for your specific needs.
Bottom Line Upfront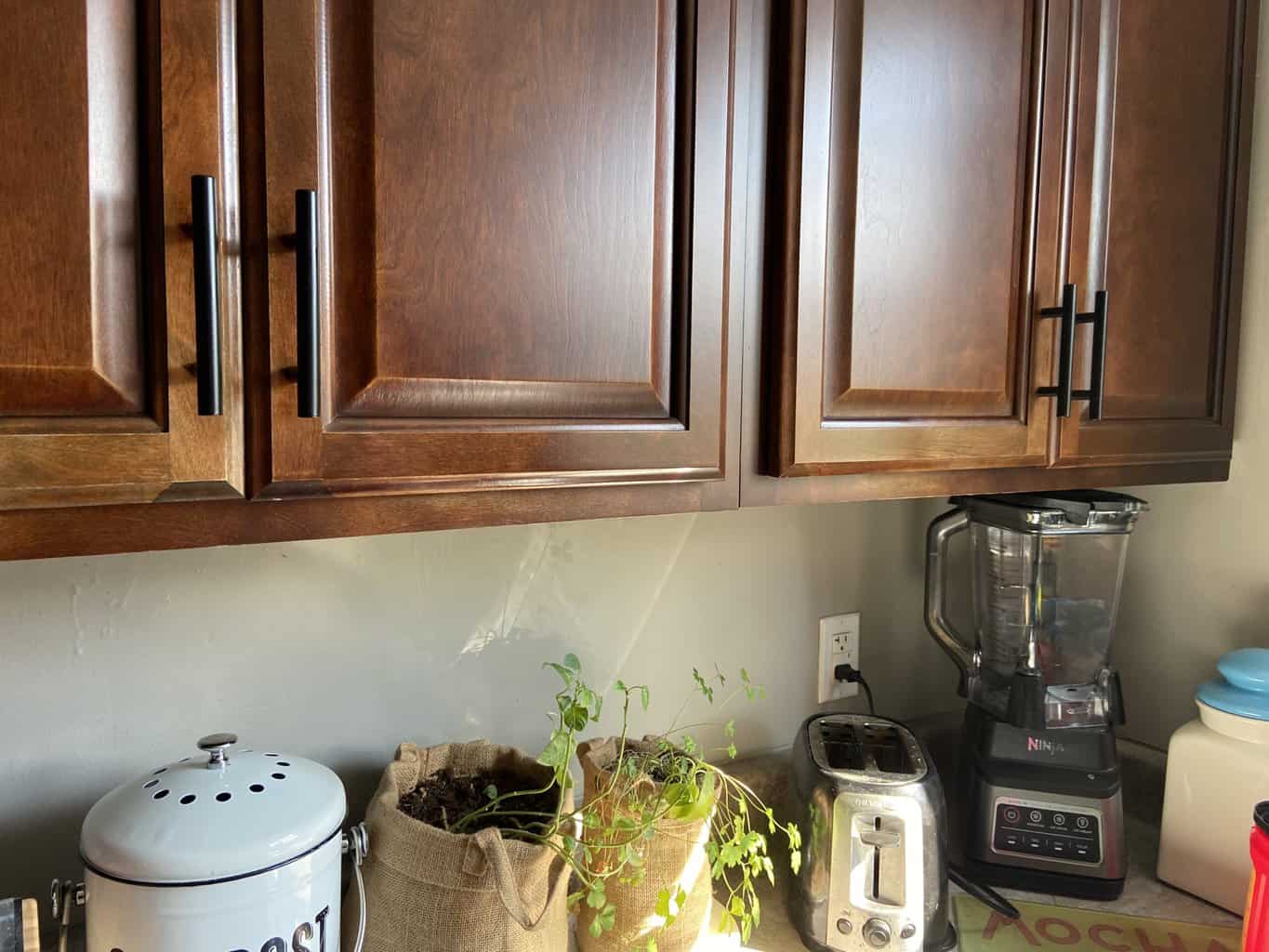 I'm a sucker for dark colors and black hardware. This pic shows the pulls I added to my dark espresso kitchen. They're similar to the Ravinte 15 Pack Cabinet Pulls, except they're rounded rather than squared. I love them! They're of great quality and add simple, functional detail to my kitchen without being too flashy.
Top 3 Picks
Here are my top 3 picks to give you an idea of what's out there.
Best Overall: Hickory Hardware HH076013-BNV – This Hickory Pull features an industrial chic and a strong, refined shape for the perfect timeless beauty-contemporary design combination.
Best Farmhouse Cabinet Pulls: Ravinte 15 Pack Cabinet Pulls- These Ravinte 15 Pack Cabinet Pulls are easily adaptable to whatever your home's farmhouse cabinet project requires.
Best Farmhouse Cabinet Knobs: Lizavo Bronze Cabinet Handle Knob – This Lizavo Handle Knob incorporates simple elements with smooth, delicate finishes for a rustic charm and a touch of modern elegance.
What Is Farmhouse Style?
In its most basic sense, a farmhouse-style house is a home usually built on a large piece of land. These homes are characterized by large open living spaces, exposed wood, porches, and an emphasis on functionality above all else. Note, though, that since most people don't live on farms, not all farmhouses are found on working farms these days. This section of the post will go over some key features and elements required in every farmhouse style décor.
The Interior
The interior of any farmhouse-style home should be modest, with little, if any, ornamentation and lots of exposed wood. At the home's front, the rooms should be large and formal. Traditionally, such rooms were meant for entertaining neighbors, business associates, and family members.
The kitchen is probably the essential room in a farmhouse. Even in urban, modern iterations, this room is spacious and well-equipped. In an older home, the kitchen may have an open fireplace, a storage pantry, and an adjacent hearth room.
Farmhouse kitchens also usually have rooms for large tables, antique furniture, ample-sized wooden cabinetry, and a central island.
Appliances
Panel-clad appliances, lovingly-refurbished stoves, and retro refrigerators that blend in with cabinetry are all critical players in farmhouse kitchens.
Range hoods can also contribute a touch of charm as farmhouse statement pieces. Go for classic materials like copper, pewter, and oil-rubbed bronze. You can even create your own design by framing existing hoods in reclaimed or distressed wood.
Colors
Most modern farmhouse-looking homes use neutral color palettes, including shades of white, taupe, beige, and grey. Additional colors might be employed, but generally expect muted colors like yellow, aqua, or sage. Occasionally, some homeowners will add vibrant pops of shades like red or teal.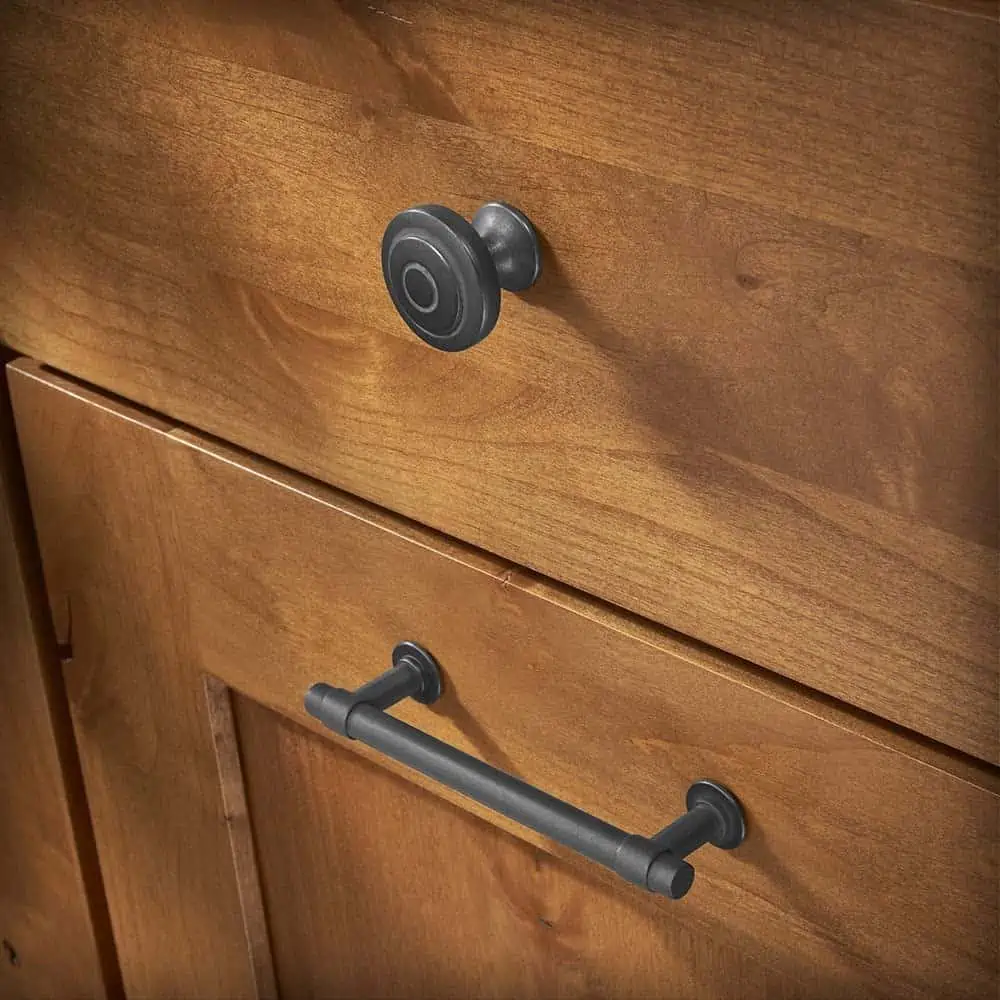 What to Look For in Farmhouse Cabinet Hardware
How do you make your farmhouse cabinet hardware selection? Whether you're remodeling or building new, let these tips guide you toward the proper cabinet hardware.
1. Knob or Pull
There aren't really any set-in-stone rules you should follow when choosing between knobs and pulls. The only general rule is you should either use only knobs or only pulls on all your cabinets. The use of all knobs is the most farmhouse-style fad.
When deciding to use all pulls, consider how they'll be mounted (either horizontally or vertically.) Consider mixing and matching if you don't feel like being defined by a style bucket. This could even allow you to put your own signature on the cabinets.
2. Price
Ensure you get what you paid for. If you're unsure what to get, look for the hardware through your local cabinet or plumbing showrooms. These places will usually have a larger variety and salespeople on hand to answer all your questions.
The average price range for high-quality pulls is between $7 and $12 and $6 to $10 for knobs. The eventual price will depend on the design, material, and finish. Also, expect longer pulls to cost more since more materials were used.
3. Finish
Should everything match? Not really. When picking the best farmhouse cabinet hardware, think about coordinating more than matching. The same styles in every room of the home can be boring to look at. So, I prefer to coordinate the finishes until a flow is achieved from room to room.
4. Color
Before settling on a hardware color, buying samples of several different options and comparing is never a bad idea. Some manufacturers will even ship you samples at a small fee. While deciding on the color, take note of the room's surrounding appliances, lighting, and other metal accents.
5. Shape
Think about the comfort. Before purchasing a batch for your entire kitchen, try out the knob's or pull's shape. Feel it, touch it, and fit your hand around it. Does it feel nice? Does it fit? Or does it feel sharp around the edges?
Getting the wrong hardware shape can be pretty annoying, considering you'll be using it thousands of times daily.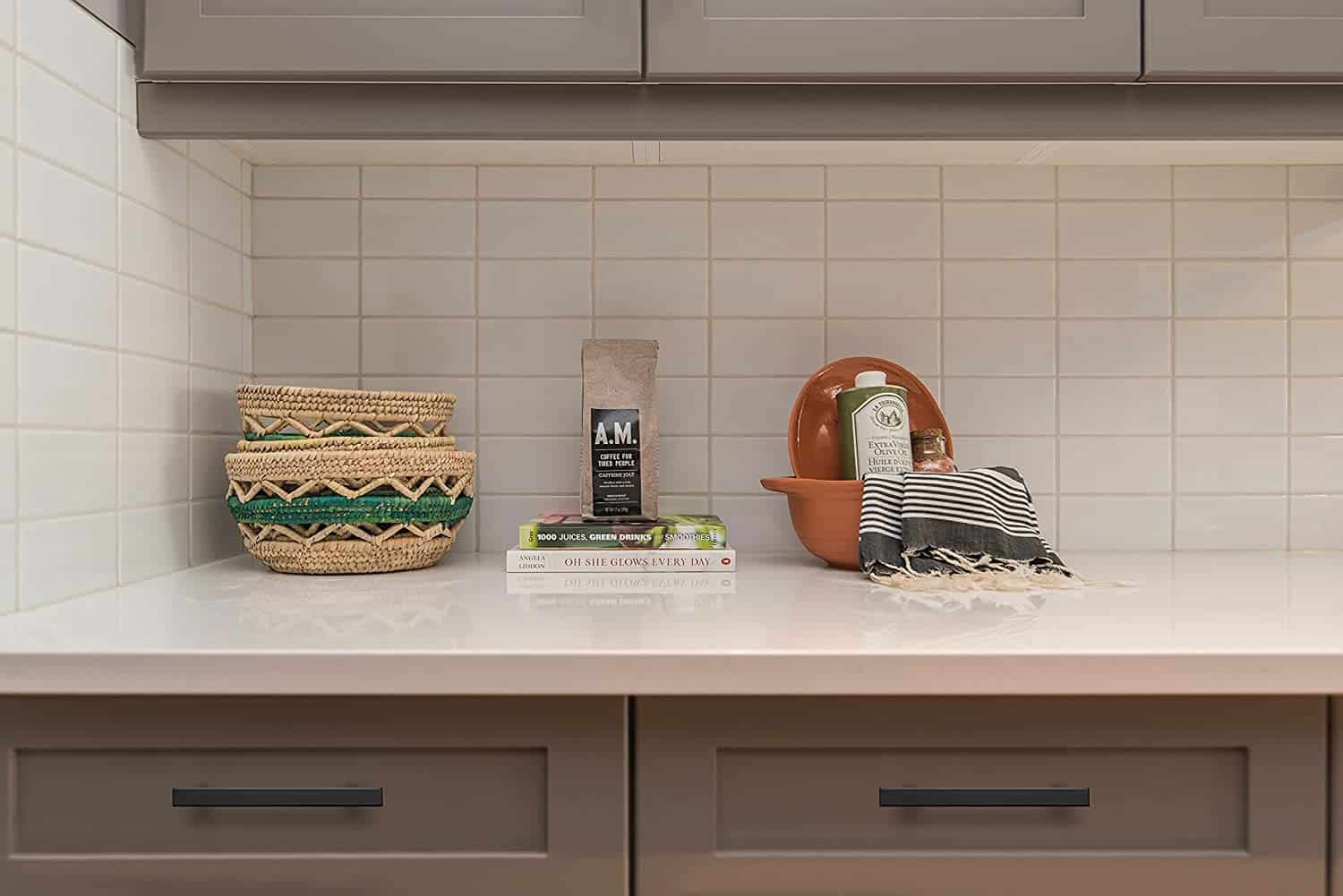 Where Do You Place Hardware on a Cabinet?
Where you place hardware on your cabinets will depend on the hardware you pick and the look you're going for. With knobs, you want to place them on the opposite side of the door hinges. Ensure they're between 1″ and 4″ from the bottom and top edge of the cabinet door.
For a farmhouse look, you can place the knobs in the lower corner of the cabinet door's frame. That's the truest-of-true traditional looks. For wall cabinets, it's common to see knobs 2″ to 3″ from the door panel's lower corner. The exact spot within these ranges will depend on your personal preferences.
These same rules will also apply if you've selected pulls, be they wire and edge pulls, or cup pulls. The only difference is to decide whether to place them horizontally or vertically. For cabinet door pulls, I recommend placing them vertically. Functionality is critical, and this arrangement makes it easy to open the doors.
Types of Cabinet Hardware
Cabinet hardware is available in a plethora of styles and finishes that can enhance the design of your kitchen. Here are the four main types to consider for your next project.
Cabinet Knobs
Cabinet knobs are the most basic handles, suitable for both doors and drawers. Cabinet knobs use single screws and are traditionally circular or round. You can get them in other shapes, ranging from T-shape to square. Regarding finishes and materials, choices range from wood and ceramic to crystal.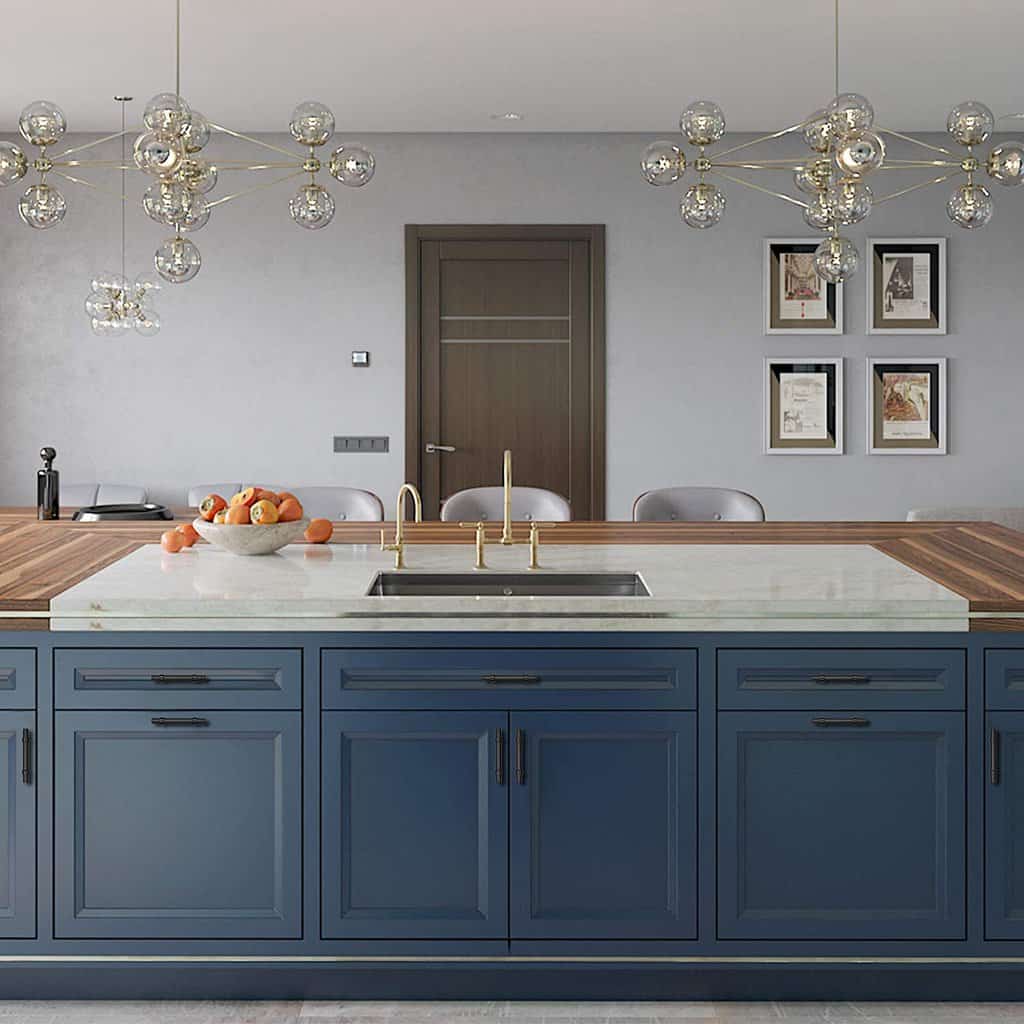 Edge Pulls
Also known as finger pulls or tab pulls, edge pulls are a more contemporary cabinet hardware style. They boast minimalistic looks that pair excellently with slab-door cabinet styles.
Cup Pulls
Also known as bin pulls, cup pulls are upside-down cup-shaped pulls popularized by Victorian-era kitchens. Instead of gripping as you would with a protruding knob, with cup pulls, you get to slip your fingers underneath the 'cups.'
Wire and Bar Pulls
Also known as European pulls, bar pulls, and wire pulls deliver similar functionality in varying forms. They're easy to grasp and fit well in modern and contemporary kitchens.
10 Best Farmhouse Cabinet Hardware
In this guide section, I break down 10 of the best farmhouse cabinet hardware. I chose these based on what I know to be popular from my years as an Interior Designer but also based on their overall design, price range, and quality.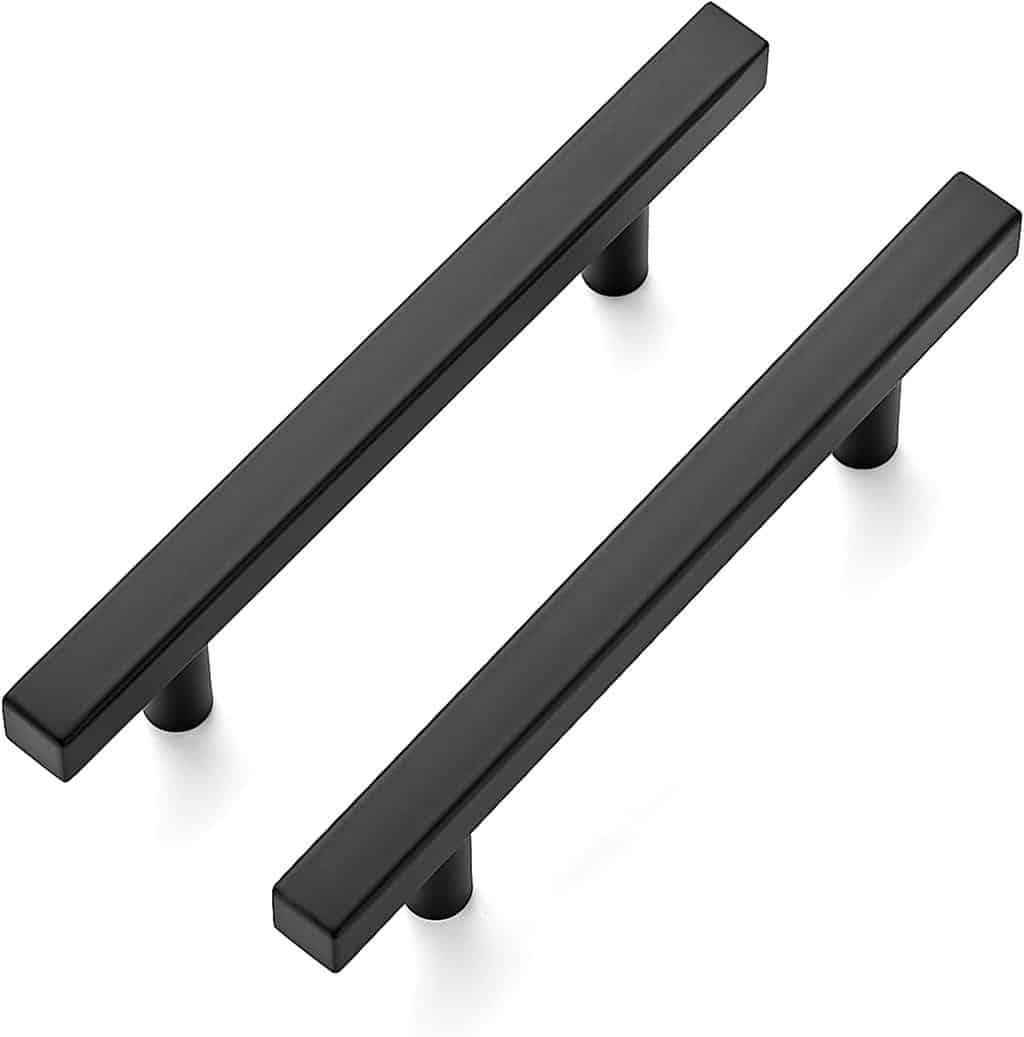 What I dig about these is that they could work in both a rustic setting and a modern setting. But these Ravinte 15 Pack Cabinet Pulls will definitely add a touch of style to any farmhouse-style cabinetry or furniture. The pull is crafted with stainless steel, which helps ensure strength. It also features a 3 ¾ inch center to center mount design to ensure easy installation.
Price Range: $25 – $30
Warranty: One-Year Warranty
Material: Stainless Steel
Finish: Matte
Would you also like a farmhouse cabinet hardware whose shade can complement the surrounding furniture and appliances? Ravinte 15 Pack Cabinet Pulls has still got you covered. The pulls retail in three distinct shades: black, brushed brass, and brushed nickel.
Pros
The beautiful finish maintains its appearance over time
Long lasting build
Delivers a timeless look
Easy to install
Deliver a simple upgrade touch
The company offers free returns, free size exchanges, and free color exchanges.
Cons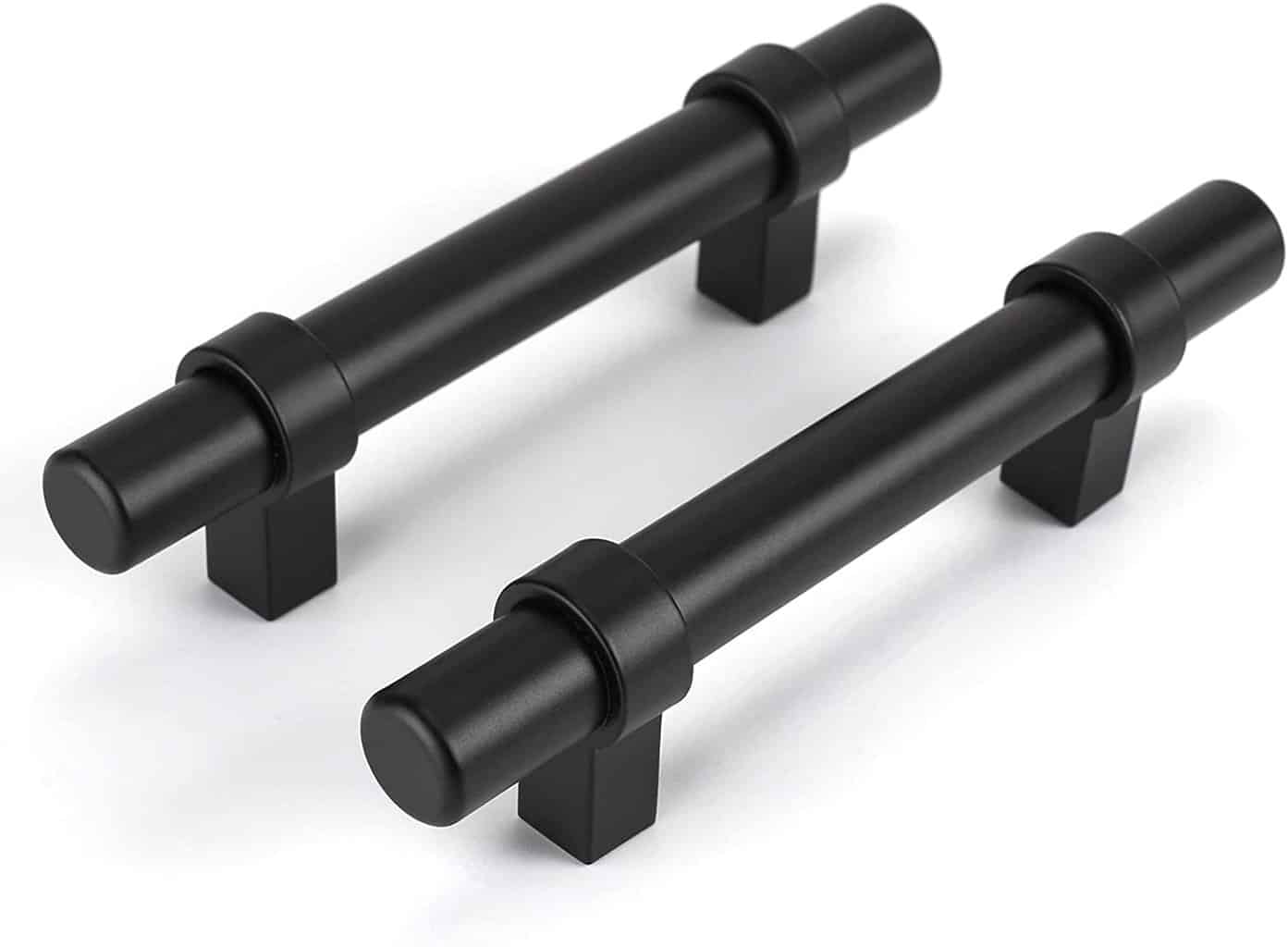 Woah, these definitely pack a style punch! Add bold flair to your farmhouse cabinets with these high-end, anti-corrosive, stainless steel bar pulls from Goldenwarm. These hardware options are not only durable, strong, and soft to touch, but they're also modern and fashionable.
Price Range: $25 – $34
Warranty: Limited Lifetime Warranty
Material: Stainless Steel
Finish: Matte
The pulls are also contemporary and simple, with cleanly beveled ends and crisp-round feet. These allow you to rest assured your children won't bump their heads into sharp edges when playing or running around.
Pros
Quick and easy to install
Affordable update options
Wear resistance to rust
Sturdy base
Look beautiful
Widely compatible with most cabinets
Cons
The installation process is time-consuming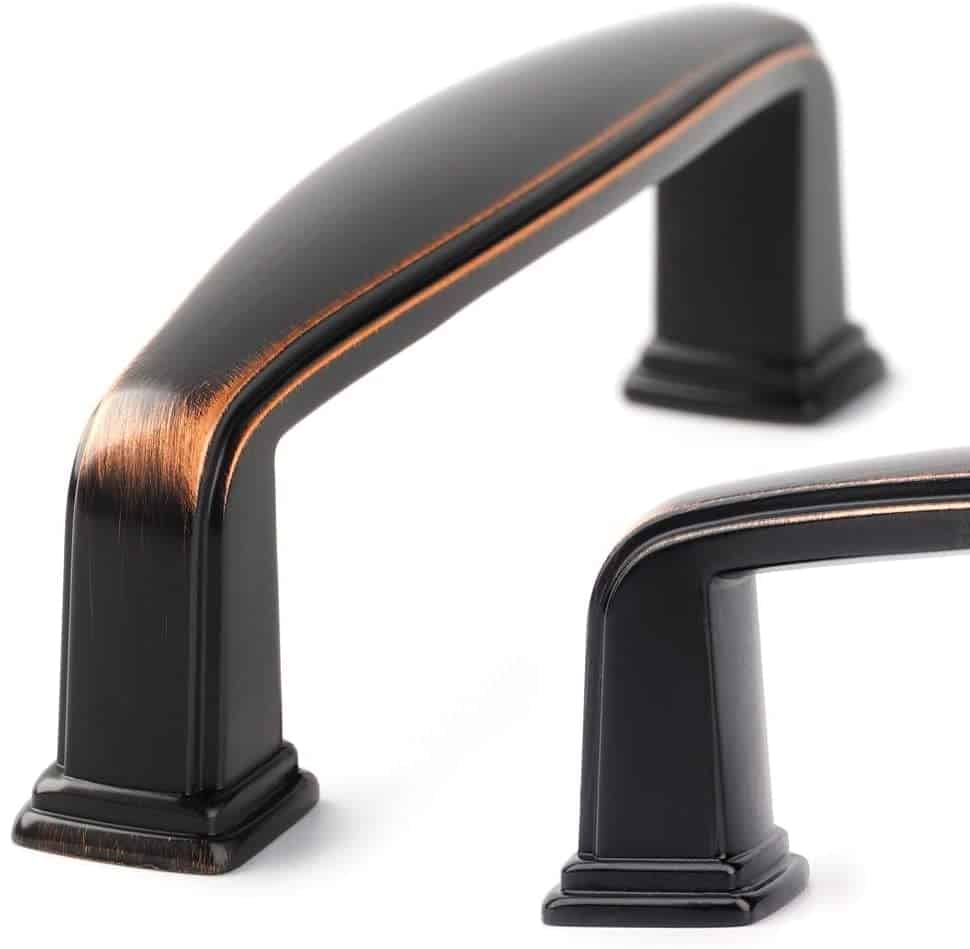 I love the oil-rubbed bronze look so much! Use these Koofizo Cabinet Arch Pulls to upgrade your farmhouse cabinet and deliver a clean, tidy feeling to the room. The pull handles retail in four distinct colors and is made of strong, durable, and high-quality solid zinc. The colors you can pick from include matte brushed nickel, black, shiny brushed nickel, and bronze.
Price Range: $12 – $16
Warranty: 3-year guarantee of product quality
Material: Metal
Finish: Oil-Rubbed
Whether your kitchen's farmhouse cabinets are traditional, casual, country, or something state-of-the-art, these pull handles make for a handsome update.
Pros
Classic solid arch pull for a timeless addition
Boasts a sleek finish
Will compliment any interior décor
Each handle comes cushioned in its own space
Sturdy and durable
Cons
The handle may be uncomfortable to grip for some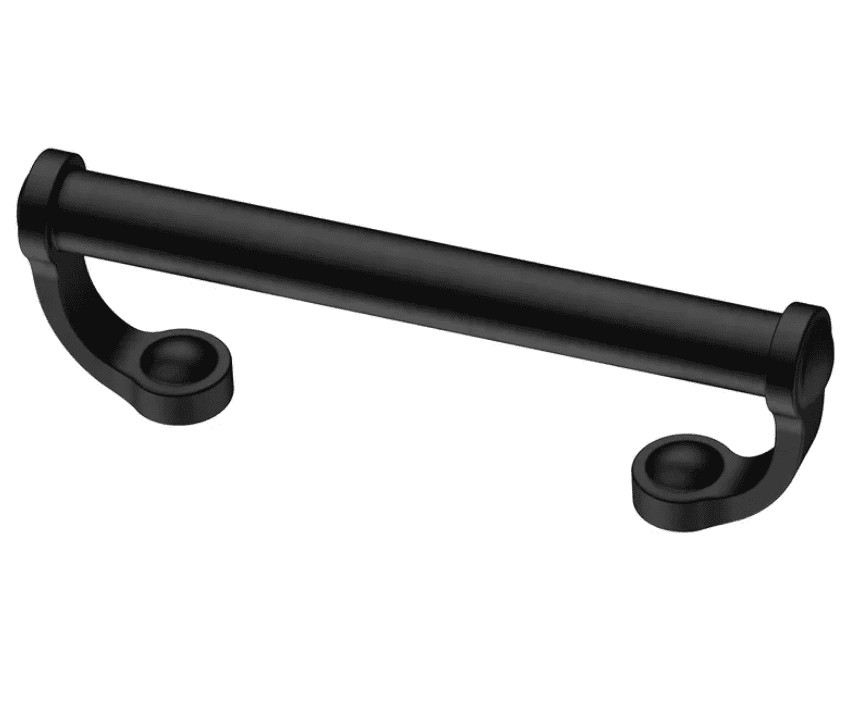 If you're a fan of simplicity, this Liberty Center to Center Bar Pull could just be your ticket. I can picture these in a rustic kitchen with more grey tones than brown. Definitely up my alley! These bars have starred in farmhouse kitchen designs for over a decade, working as cabinet and drawer hardware.
Price Range: $12 – $17.99
Warranty: Lifetime Limited Warranty
Material: Metal
Finish: Heirloom Silver finish
These pulls also boast an heirloom silver finish, which delivers a smoky, rich pewter look. As the manufacturer points out, the finish allows the hardware to coordinate with surrounding appliances and Slate fixtures.
Pros
Installation hardware included
Pulls are individually packaged to protect the finish
Easy to install yourself
Aesthetic finish
Built to last a lifetime
It blends in with the surrounding
Cons
For total beginners, getting the holes just right may be challenging.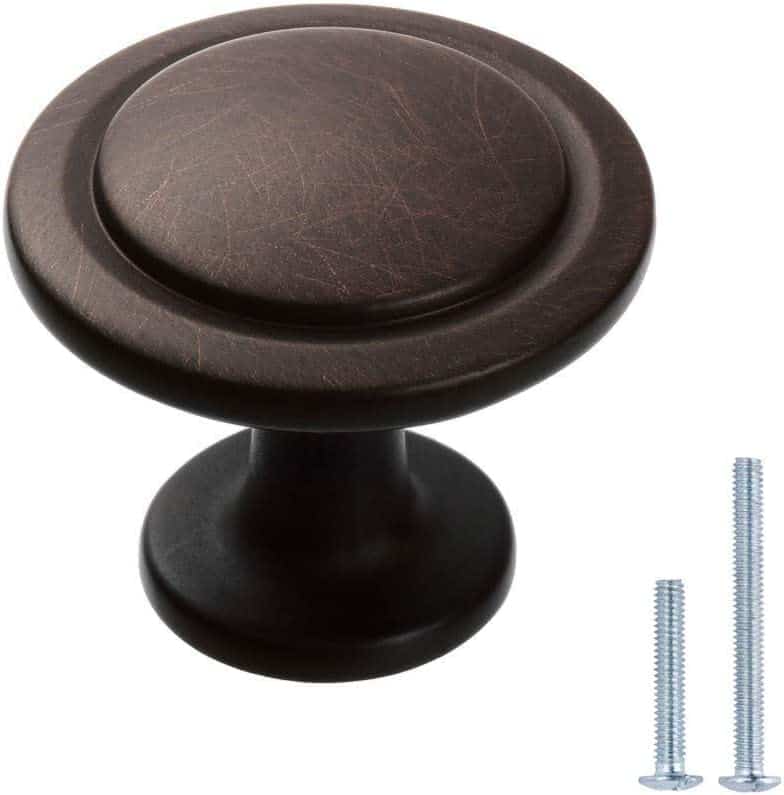 One of the most classic knob styles around, round knobs are incredibly popular and have stood the test of time. As this Lizavo Bronze Cabinet Handle Knob proves, they can also be perfect for complementing contemporary kitchen cabinets.
Price Range: $10 – $20
Material: Bronze
Finish: Oil Rubbed
The Lizavo Bronze Cabinet Handle Knob retails in two more farmhouse cabinet hardware models: the arched handle pulls and bin cup pull. Pick the model you think will best make your farmhouse cabinet pop.
Pros
Every knob is individually polybagged
Extremely sturdy and durable
Aesthetic and versatile
Its two-size screws will fit all kinds of furniture
Will compliment any interior décor
Cons
It can be time-consuming to install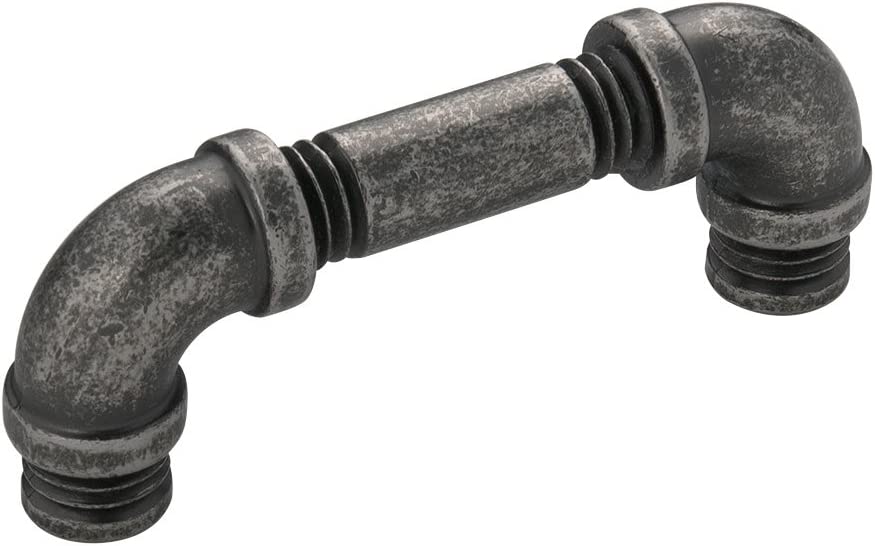 Hickory hardware, well known for its decorative hardware designs, is a firm that's been around for over a century. I picked some of their models because I've used them countless times in my Interior design days, and I know how great they are.
Over the years it's been in existence, the hardware's brand has been synonymous with reliability. This Hickory Hardware HH076013-BNV is a testament to the company's deliverability.
Price Range: $6 – $12
Warranty: Limited Lifetime Warranty
Material: Zinc
Finish: Matte
Also, true to its pipeline inspiration, this cabinet pull is quite rustic and industrial. It should pair well with a farmhouse décor and can be used in more whimsical and playful applications.
Pros
Backed by a limited lifetime warranty
Durable build
Very DIY friendly
The company also sells matching wall hooks
Mounting hardware included in the package
Cons
The diameter of the handles is too small for some people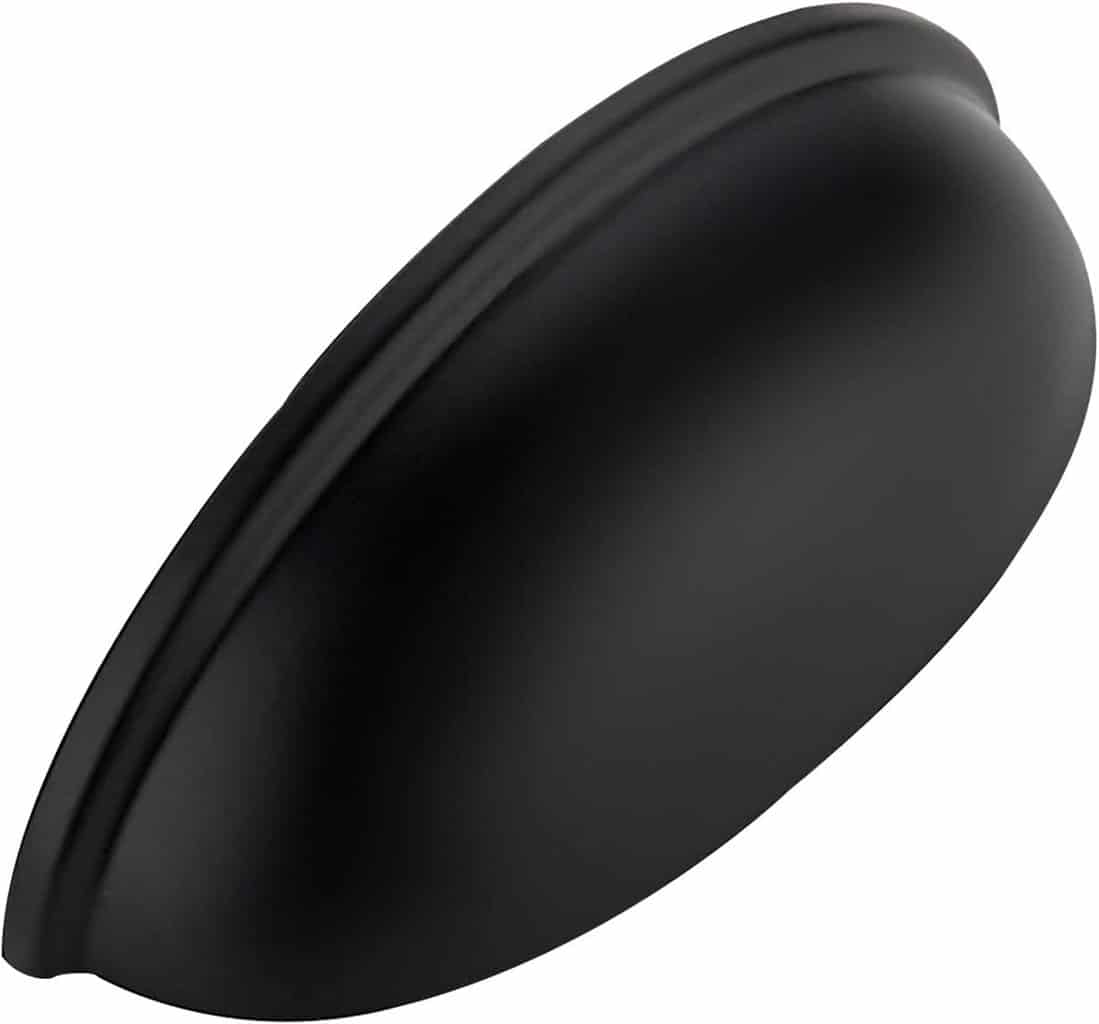 Are you searching the internet for ever-lasting cup handles designed to reduce fingerprints and smudges from everyday use? If yes, these GoldenWarm 15 Pack Cabinet Pulls could be the farmhouse cabinet hardware you're looking for.
I have two little at home, so I know how important it is to have surfaces and hardware that is easy to clean and doesn't show fingerprints as easily as others.
Price Range: $14 – $20
Material: Metal
Finish: Black
Using advanced techniques, Ravinte's team has designed these drawer pulls to be long-lasting and sturdy. They'll also deliver a fine touch across various kitchen cabinet doors, including vintage, farmhouse, and even transitional-style cabinets.
Pros
365 days free trial
Durable design
The simple design delivers a fine touch
Retails in three different shades
Strong, high-quality build
Cons
No installation guide included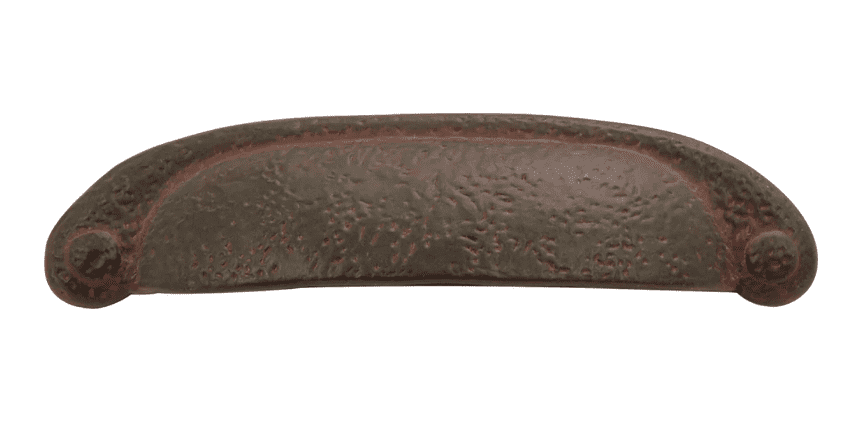 What I love most about bin pulls is that you don't get them hooked on your clothing! LOL! These Hickory's Refined 3 ¾" Center to Center Pulls are perfect for both small and large kitchen and wall cabinets.
Price Range: $14 – $20
Material: Metal
Finish: Rustic Iron
They also retail in two distinct finishes (black and rustic iron) to help ensure they'll complement any interior décor. The rustic iron model should be perfect for any sleek, modern farmhouse kitchen. What's more? Due to their rustic design, these Hickory's Refined 3 ¾" Center to Center Pulls are best paired with matte black cabinets. The amalgamation of the two should deliver a classic Art Deco-inspired look.
Pros
Comfortable to grip
Simple but refined
Attractive design
Extremely durable
Easy to install
Cons
Some customers have complained that the screws they received were not long enough.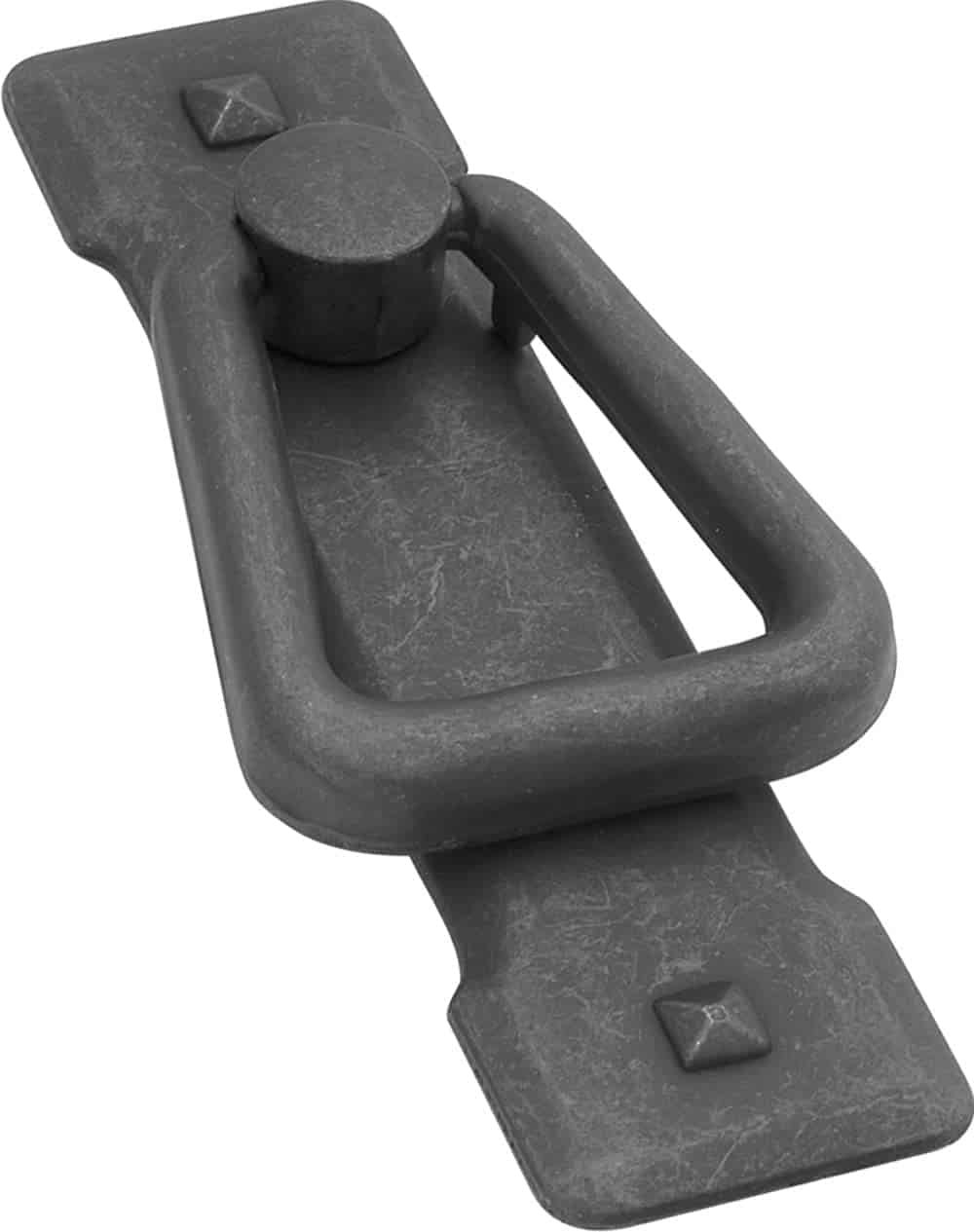 Farmhouse cabinet hardware doesn't always have to be super-practical or obvious. Sometimes, you just want fancy-looking ornate cabinet pull handles inspired by traditional craftsman-style hardware and wrought-iron gates. That's precisely what these Hickory Hardware PA0712-BMA Pulls deliver.
Price Range: $4 – $10
Warranty: Limited Lifetime Warranty
Material: Zinc
Finish: Black Mist Antique
What's, there's more? You bet there is! These Hickory Hardware PA0712-BMA retail in various antique bail styles from short and wide to tall and narrow. The model you pick will depend on the style that best suits your space. Mix and match the sizes to create a totally customized look for your kitchen or cabinet space.
Pros
Boasts a black mist antique finish
Extremely versatile
Quality and excellence ensured
Will stand out on your cabinet
Mounting hardware included
Engineered with ergonomics in mind
Cons
Now everyone is pleased by the antique-style design.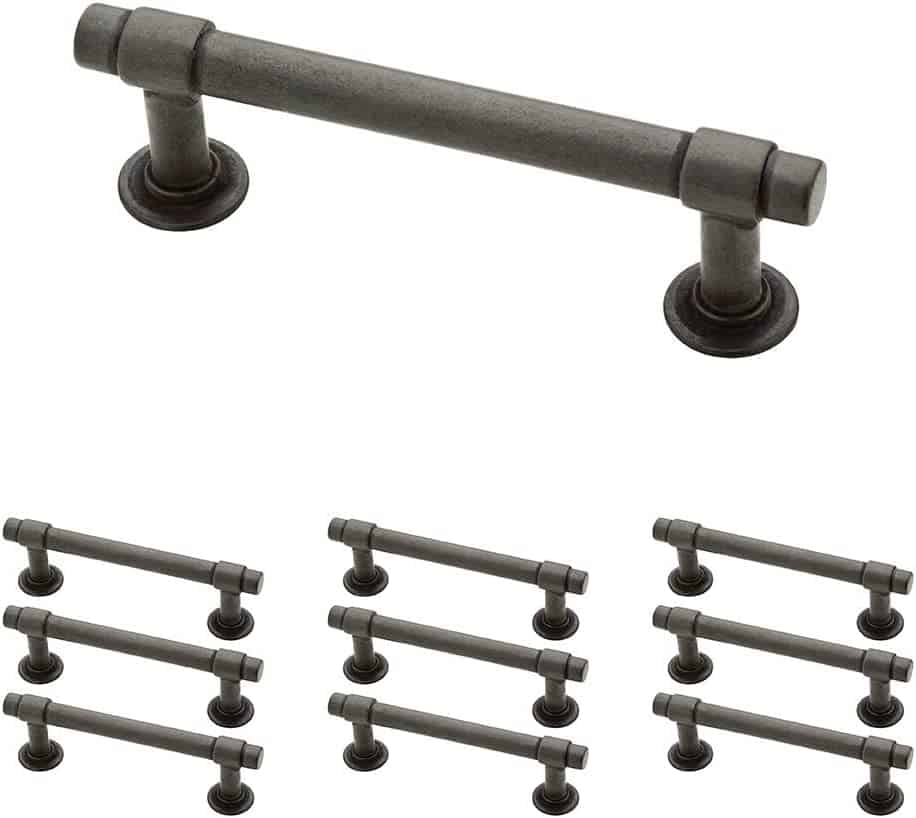 The classic look of these Franklin Brass P29520K-SI-B 3″ will award any cabinet a fresh, updated look. What's more? The straight pulls are designed to award your fingers extra room to grip the pulls properly. The robust construction should ensure that the pulls will serve you a lifetime.
Price Range: $17 – $30
Warranty: Limited Lifetime Warranty
Material: Wood, Metal
Finish: Satin Nickel
As evident from the product's page on Amazon, Franklin Brass P29520K-SI-B 3″ also retails in seven different shades. These shades include champagne bronze, heirloom silver, matte black, satin nickel, warm chestnut, brushed nickel, and soft iron. Get them in the finish that'll best complement your interior décor.
Pros
All mounting hardware included in the package
Will compliment most interior decors
Sleek vintage look
Easy to grip
Installing won't be a hassle
Cons
The 3″ inches model may be too small for some people.
FAQs
Question: What is Farmhouse Hardware?
Answer: Farmhouse hardware refers to the parts and items needed to make your farmhouse functional. In the case of farmhouse cabinet hardware, these range from the knobs to the catches that hold them shut.
Question: What Other Type of Farmhouse Hardware is There?
Answer: Pulls and knobs aren't the only farmhouse hardware available. Additional farmhouse hardware options include towel bars, door knockers, door stoppers, hinges, slides, and even dinner bell triangles.
Question: Is Farmhouse Still in Style?
Answer: Farmhouse homes were meant for families and were designed to be functional with minimalist simplicity. So yes, Farmhouse is still in style. Warm and full of rustic charm, even modern iterations of farmhouse-style houses will feel like home.
The Verdict
Your farmhouse cabinet hardware will be the jewelry of your kitchen. As such, ensure the hardware you get coordinates, is comfortable and enhances the outfit's design.
So, before making a final purchase decision, do your research, order some samples, and compare finishes to your cabinet's materials. All these should help you land the perfect fit. We've got tons of great recs and ideas to decorate your home! Like this list of best black cabinet ideas.
Read More: