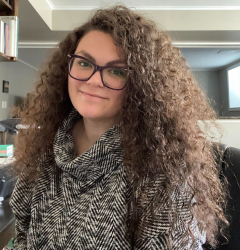 Latest posts by Candace Osmond
(see all)
Have you felt inspired to give your kitchen cabinets a farmhouse makeover? Do you adore farmhouse-style rooms? I hope you've put your interior designer hat on today because I've got the 23 best farmhouse cabinet ideas. Farmhouse cabinets add coziness and polish to your kitchen, making the space feel cozy and warm. Ready to dive into farmhouse style? Let's get started!
Bottom Line Upfront
As an Interior Designer, I always tell people to stick with styles they love. Personally, Farmhouse or anything rustic is my jam. And, from this list, the Awesome Modern Farmhouse Style Kitchen Makeover Décor because I'm a sucker for farm sinks, big windows, and chunky designs.
Top Picks
Even though 23 amazing farmhouse cabinet ideas are coming up, I want to show you these 4 first. If you're new to exploring farmhouse style or simply want some quick inspiration, check these for a well-rounded view of what "farmhouse" means.
Best Overall: Awesome Modern Farmhouse Style Kitchen Makeover Décor Ideas by Roseann H. Popp Home
This farmhouse kitchen is so rustic and homey that it's magical. The gorgeous cream cabinets are a work of art.
Best for Small Spaces: Small Rustic Farmhouse Kitchen by Laura Medicus Interiors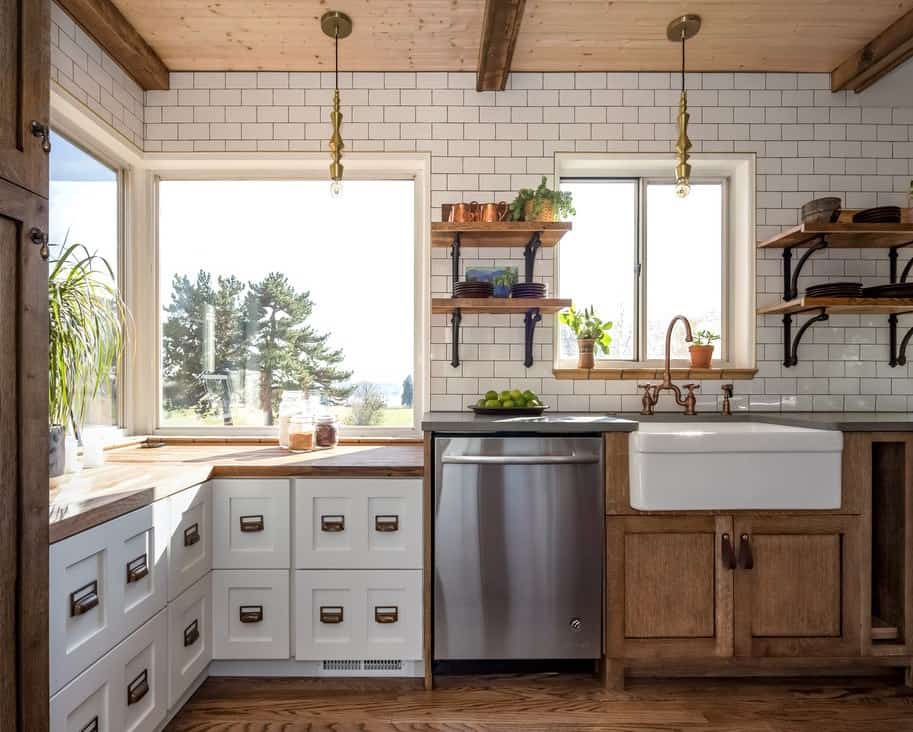 This idea shows you don't have to have a big kitchen to show off a beautiful farmhouse style in your home.
Best for High Ceilings: Whitetail Farmhouse by Simple Farmhouse Living
High ceilings will allow you to install all the extra cabinet space pictured here and the elegant kitchen hood.
Best Modern Farmhouse Cabinets: Farmhouse by Blasmo
You can have modernity and a cozy, farmhouse look by taking inspiration from this idea.
What is Farmhouse Style?
Minimalists will enjoy the farmhouse style because it relies on simplicity. Farmhouse kitchens are stylish and practical, so everything should have a function. True farmhouse-style rooms will have a rustic charm because of the color scheme and the classic vintage furniture/appliances associated with this theme.
Above all, the farmhouse style makes your house feel like a home. The colors and details should make you feel happy, relaxed, and at home. Coziness is key.
Best Farmhouse Cabinet Ideas
The wait is officially over! These are the best farmhouse cabinet ideas created by professional and at-home designers. A wide range of styles within the theme of "farmhouse" is shown in this list, so there's something for everyone. Whether you have a giant or a small kitchen, you can renovate your cabinets to give this living space a whole new look.
Despite the lavish marble countertops, a huge amount of cabinet space, and overall largeness of the kitchen, Carolina Kitchens made this space look cozy. The warmness of the wood in the floors and in the cabinets adds comfort to the room (and isn't that what a farmhouse kitchen is all about?) If you have a kitchen island, consider styling it with the minimalism shown in this picture if you want to maintain a simple aesthetic.
Best For: Yellow Cabinets- French Normandy Kitchen by J. Stephens Interiors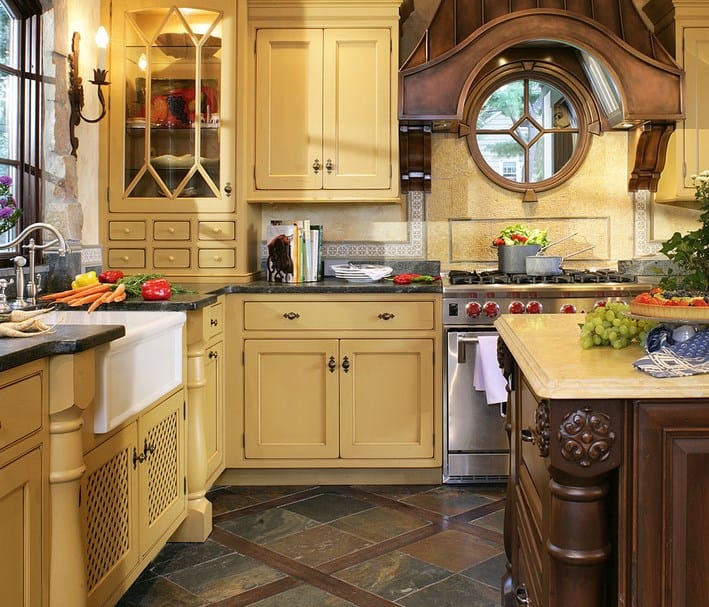 Oui! Oui! Doesn't this French farmhouse kitchen help you envision your life as a gorgeous French farmer harvesting strawberries under the summer sun? Ahhh… The circular window is beautiful and unique, as is the top left cabinet with a glass door. See how the yellow cabinets brighten up the room? It's a muted yellow that works perfectly with dark brown.
Best For: A Clean, Modern Look- Fox Run by Hagstrom Builder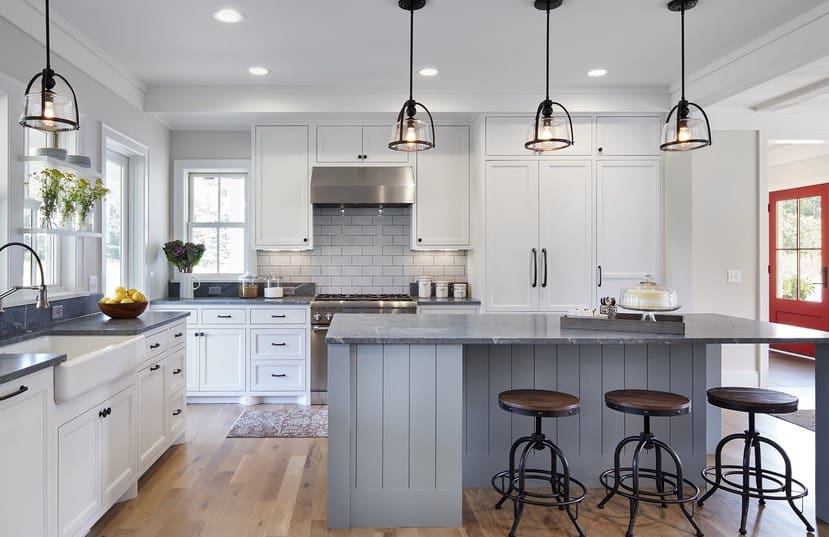 If you've got a big family at home, I'm sure it's easy to imagine them all gathered in this huge kitchen designed by Hagstrom Builder. If your friends come over for drinks, you can seat them at bar stools by the kitchen island. There's plenty of counter space for you and your loved ones to cook together. The many white and brass cabinets make this feel like a true farmhouse kitchen.
Best For: Elegance – Whitefish Bay Tudor Kitchen by Angela Westmore, LLC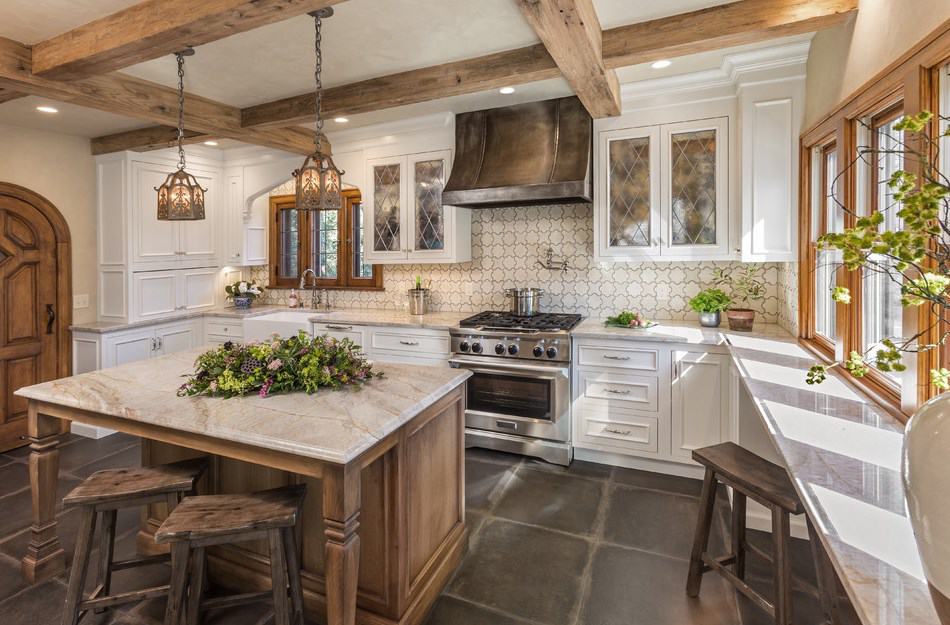 In typical farmhouse fashion, the cabinets pictured here are crisp white. The white cabinets paired with all the natural brown wood around them make this kitchen feel cozy instead of sterile. Oh, how could I forget the elegant, old-fashioned accents like the cabinet window details and the hanging lights?
Best For: Small Spaces: Small Rustic Farmhouse Kitchen by Laura Medicus Interiors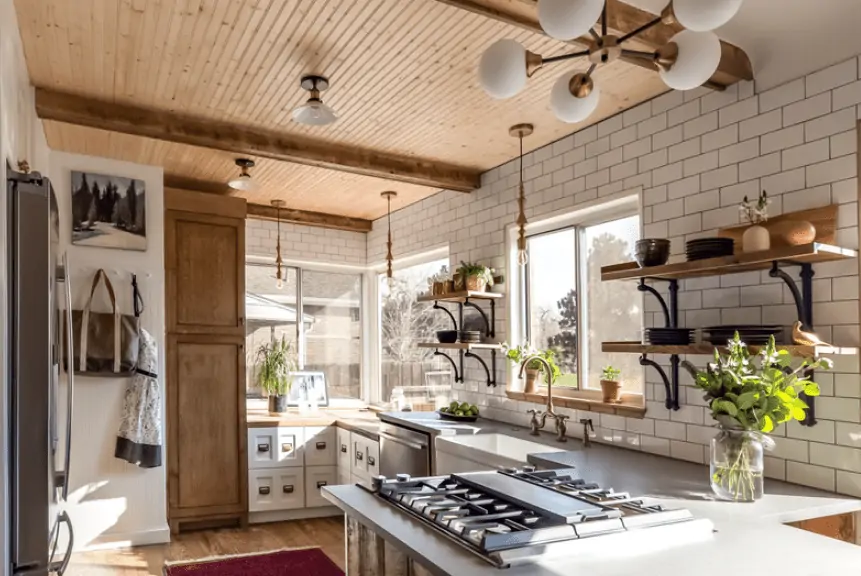 You can't tell me you don't look at this kitchen and picture yourself as the main character in a romance novel. What gives off this appeal? We have the classic farmhouse color scheme: white, natural brown, and bronze, for one thing. The small, uniform white cabinets each have a wooden handle and wooden countertops. Bronze accents, wood floors, and a stylish rug give this small kitchen big character.
Best For: Vintage Cabinets – New House – Unionville, PA by Peter Zimmerman Architects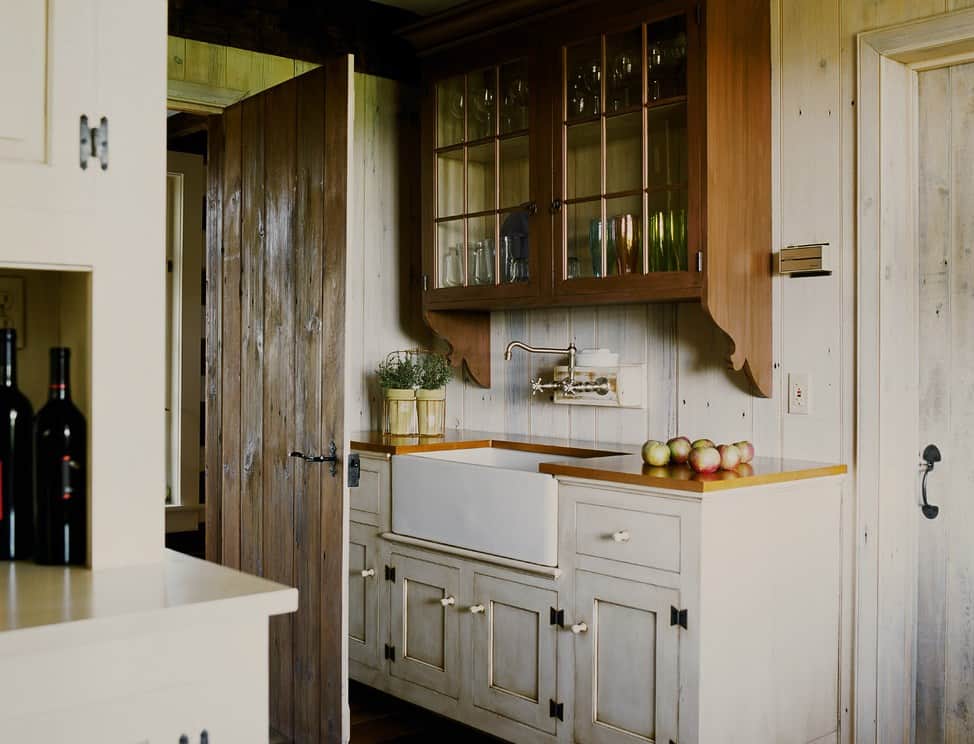 Maybe you're feeling something vintage. If that's the case, look at the stunning antique cabinets in this kitchen. These cabinets aren't just white. Some of the paint has been scratched away to reveal the natural wood underneath. The old-fashioned gold sink and white sink basin fitted into the cabinets sells the look of a traditional farmhouse one.
Best For: Black Cabinets – Greenpoint Townhouse by A. Jennison Interiors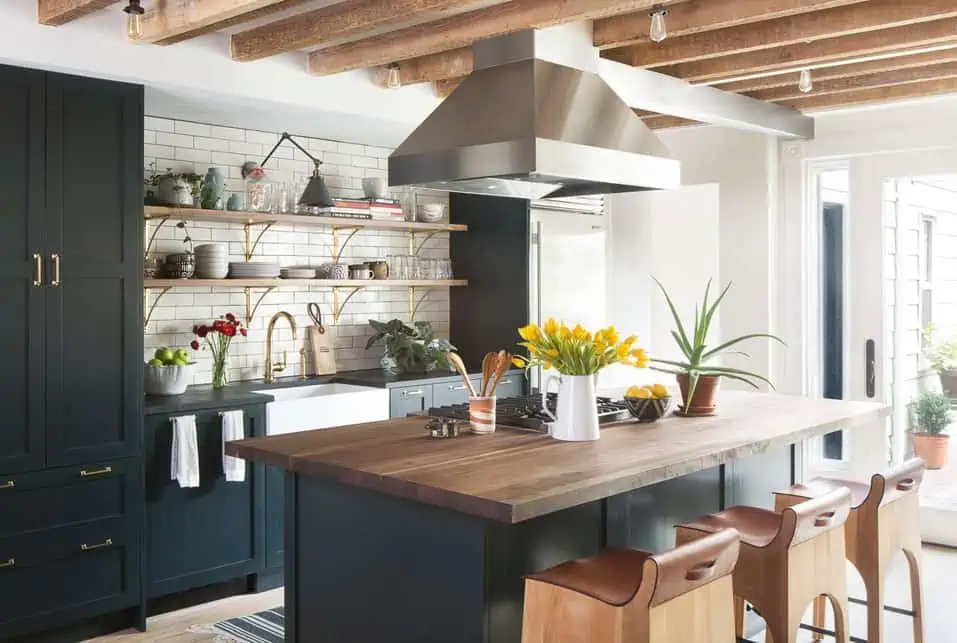 Your friends will be in awe once they've seen what you've done with your kitchen by taking inspiration from Peter Zimmerman Architects. This kitchen is all about Earth tones and light tones like black, light brown, white, and gold. Since all the other colors are light colors, using black for the cabinets and other furniture pieces doesn't feel too dark.
Best For: Blue Cabinets – Rustic III by Shannon Poe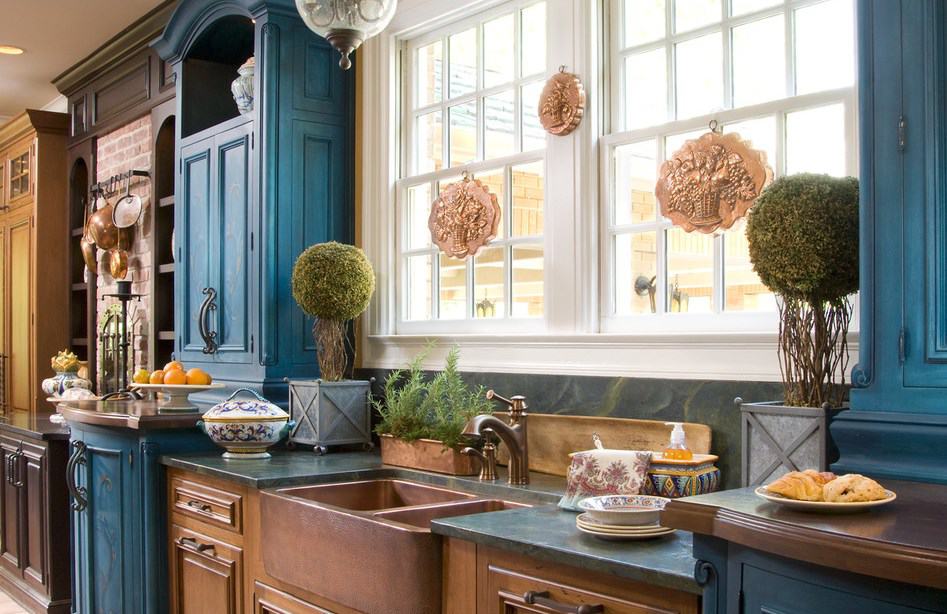 This kitchen designed by Shannon Poe shows how color can be incorporated into farmhouse style. Blue and brown always go together. That's why the medium brown cabinets fit perfectly with other wooden furniture pieces painted cobalt blue. See how the bronze cabinet handles are simple yet elegant?
Best For: Walnut Cabinets – Walnut Inset by Ellis Design, Inc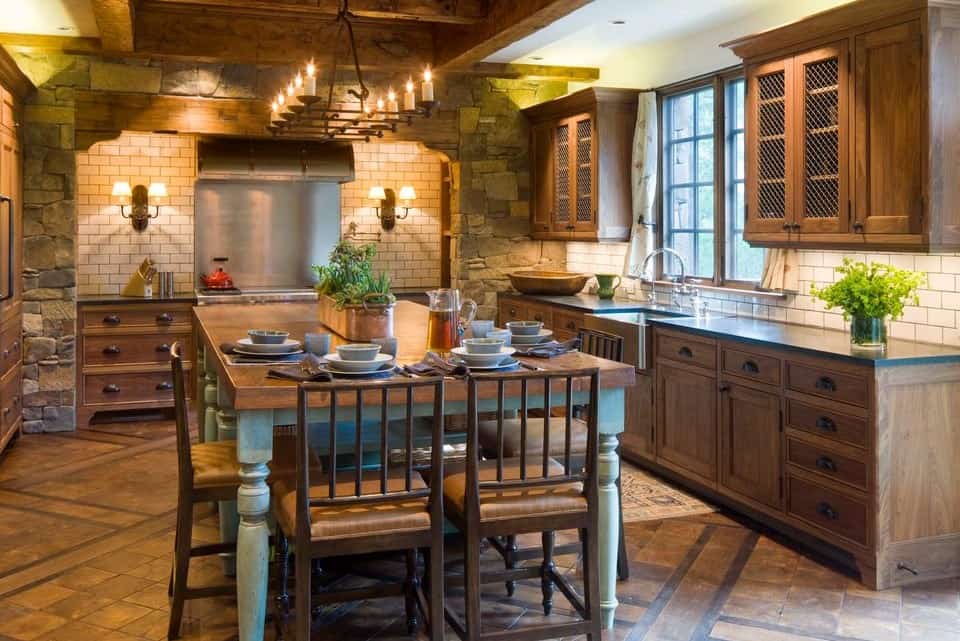 Instead of a mostly white color scheme, browns and grays create a homey, warm atmosphere in this kitchen. The cabinets are made from walnut wood, which is one of the best American hardwoods you can use for furniture. Walnut is a dark wood that pairs beautifully with the cobblestone walls in this picture.
Best For: Simple Beauty – Copper Farmhouse Sink Design by Design Moe Kitchen & Bath / Heather Moe Designer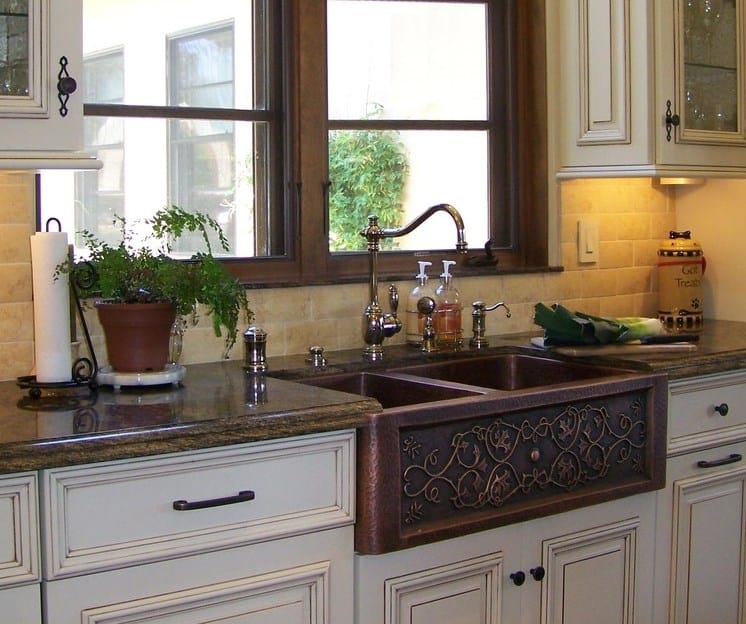 Can't you picture yourself washing off veggies in that sink and making lemonade on that counter? That's because Heather Moe has a talent for making perfectly polished spaces you've never seen before look like home. The cabinets are painted white and are intentionally weathered to offset the "perfection" of the room. These small details make the space feel lived-in.
Best For: Tall Cabinets – Farmhouse Makeovers by ReFabulous Find by Christina
I love the shade of cream incorporated in these cabinets and other furniture pieces. With a few old-fashioned decorations, Christina livened up the kitchen with natural, unobtrusive pops of color. As always: keep it simple.
Best Modern Farmhouse Cabinets – Farmhouse by Blasmo
Looking at this picture makes it easy to imagine your life in a modern farmhouse kitchen, doesn't it? While the marble and metallic decorations feel modern, the crisp white color scheme for the cabinets, sparse décor, and kitchen island feel like a farmhouse. The X's on the kitchen island are even reminiscent of barn doors.
Best Bargain Idea: Ideas for a Farmhouse – Inspired Kitchen (On a Budget) by Unexpected Elegance
Unexpected Elegance shows that you don't have to sink a fortune into your new farmhouse-style kitchen. The cabinets are muted gray while the countertops are crisp white. The natural wood shelving, solid white dishes, and houseplants help pull the farmhouse look together. Despite the small space, this kitchen looks tidy and everything is in its place.
Best Overall: Awesome Modern Farmhouse Style Kitchen – Makeover Décor Ideas by Roseann H. Popp Home
Surely you're picturing your life as a character in a fantasy novel just looking at this kitchen. The large cream cabinets with dark bronze accents look weathered and well-loved. The enormous window and glass cabinet doors feel magical. Notice this kitchen has an old-fashioned sink basin, too. Don't forget about the Xs on the topmost cabinet doors. That's classic farmhouse style, too.
Best For: Inspiration – DIY Modern Farmhouse Cabinet by Shanty-2-Chic
See how these gray cabinets with simple, bronze handles are clean-cut and minimalistic? None of the cabinets or shelves above the cabinets are glossy, which is part of what gives this kitchen its farmhouse looks. Oh, and the inspirational quote on the shelves? That's a genius move, because the eye is drawn to it, and it will be the first thing you read when you look in that direction.
Best For: Use of Bricks – Kitchen Brick Backsplash by My Farmhouse Fanatic Life
Instead of solely incorporating warm brown tones into the room through natural wood, this kitchen shows how you can use warm-toned bricks! The bricks make the kitchen feel cozy and homey paired with the gorgeous cream cabinets. Warm countertops are another detail breathing life into the room.
Best For: Large Kitchens with a Kitchen Island – Breathtaking Kitchen Island by Farmhouse Hub
Got a big kitchen? Check out this farmhouse idea if you want a homey, loving look. See the familiar barn door X on the sides of the kitchen island? Notice the pristine white cabinets and walls? Yup. This kitchen is a classic farmhouse if I've ever seen it.
Best For: Asymmetry – Gorgeous Farmhouse Kitchen Cabinets by Lily Ann Cabinets
Lily Ann Cabinets has done something out-of-the-box with these kitchen cabinets. The kitchen hood is made of wood, so it looks like another cabinet that's a different color and slightly asymmetrical to the other cabinets around it. This mismatched appearance is balanced out with the wreath placed on the kitchen hood's front.
Best For: High Ceilings – Whitetail Farmhouse by Simple Farmhouse Living
Stepping into this kitchen is like stepping into a September issue of a Better Homes and Gardens magazine. The gold handles on the cream cabinets are simple and modern. The beautiful, natural wood kitchen hood is down-to-earth yet elegant. Even the brass cooking utensils hung above the stove fit the theme. That's true professionalism.
Best For: Warm Tones – Earth Tone Kitchen Ideas by Town and Country Living
This picture gives an example of how you can choose unpainted, natural wooden cabinets to complete your farmhouse kitchen aesthetic. The warm wood and simple layout feel like home. White countertops and white brick walls complement the wood. Sparse, natural decorations like succulents add life to the room.
Best For: Hickory Cabinets – Rustic Hickory Cabinets by Super Home Surplus
You can choose to give your farmhouse kitchen a creative spin by adding hickory wood cabinets! Hickory wood is pale, cool-toned wood. If you prefer cool tones but would still like your kitchen to feel homey and inviting, using cool-toned natural woods is the way to go. These cabinets' rustic style blends into farmhouse style perfectly.
Best For: Cabinets with Glass Doors – White Cabinets with Glass Doors by Paint Line Co
Having every individual cabinet showcase glass doors so you can see the contents inside is unconventional. It's incredibly creative, and I hope you see the appeal of never opening the wrong cabinet door again. The white paint isn't perfect, so the cabinets maintain a rustic appeal.
Best For: Boldness – Green Cabinets by Grey Dog Gallery
Wow! Talk about creativity! Instead of the traditional white and brown color scheme, Grey Dog Gallery designed a kitchen with green walls and cabinets. White animal designs decorate each cabinet door, which adds a feeling of antiquity. See? You can have a farmhouse kitchen and go wild with color.
Key Features of Farmhouse Style
Now that we've defined what farmhouse style is let's get into the specifics. All the little details in a kitchen add up to tell the whole story. This guide helps you think about what you want those little details to be so your kitchen looks like a welcoming, rustic farmhouse.
Colors
You don't want any bright pops of color like neon pink or electric blue. Everything in the room should be calm and easy on the eyes. These are the colors typically associated with farmhouse style.
White
Natural brown
Bronze or brass
Sometimes gold
Finishes
An unpolished finish is classic farmhouse style. Leaving the wood as its natural texture lends to the warm, homemade feel of a farmhouse kitchen. Even if you have painted cabinets, I say there's no need to get a glossy coating over the top of them.
Textures
Somewhat rough, natural textures are great for your farmhouse kitchen. Cabinets that allow you to see and feel the wood grains are perfect. Unpainted tables and chairs are a plus, too.
Designs
Go. For. Simple.
Rugs with elaborate designs, Victorian chandeliers, and high-tech gadgetry are not within the realm of "farmhouse." When in doubt, go with plain white or natural brown (or choose something with bronze accents.)
Fixtures
Consider buying some rather rustic appliances to go with your rustic farmhouse kitchen. Many homeowners choose to have an old-fashioned sink basin with a vintage sink installed in the wall. Another idea is to have old-fashioned appliances displayed, like hand mixers (even if you have the electric versions in the cabinets.)
What Wood is Best for Farmhouse Cabinets?
One of the selling points of a farmhouse kitchen is functionality, right? In that vein, I want to recommend some of the most long-lasting types of wood that can last for generations. Some of the best wood types for cabinets are:
Walnut
Cherry
Hardwood Maple
Oak
Fir
Hickory
FAQs
Question: What Kinds of Cabinets Do I Need for a Farmhouse?
Answer: Preferably, you should have white cabinets or wood-colored cabinets with a minimalist style. You can go that extra mile and get bronze or brass knobs for the cabinets. Choose something that looks vintage without being over-the-top. Look for coziness instead of intricate details.
Question: How Do I Make My Kitchen Look like a Farmhouse?
Answer: To do an entire kitchen makeover, I recommend checking out the 23 different farmhouse kitchen inspiration pictures I've shown above. These will give you a much better idea of what farmhouse style is and how to recreate it in your own home. As you can see, "farmhouse style" can mean several different things.
Question: What is a Farmhouse Kitchen Style?
Answer: Typically, farmhouse kitchens rely on a color scheme including white, natural brown from wood, bronze or brass, and sometimes a muted color like blue or green. The furniture and appliances should be simple and functional. Vintage furniture and appliances can be incorporated for an extra rustic look but are not required.
Finale
I hope you feel inspired to renovate your kitchen cabinets after learning about the best farmhouse cabinet ideas on the internet! Did you learn something new about farmhouse style today? Did a particular picture catch your eye? Was it my fav, the Awesome Modern Farmhouse Style Kitchen Makeover Décor? Let me know! If you'd like to read more about stylish kitchen renovations, please come check out our website.