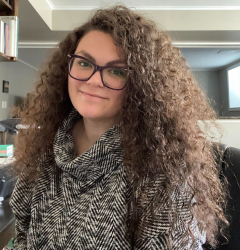 Latest posts by Candace Osmond
(see all)
White buffet cabinets add a touch of light and classiness to your kitchen, dining room, and/or living room. These freestanding cabinets have become massively popular, so I thought I'd give you examples of the best white buffet cabinet ideas.
Not sure what buffet cabinets are? Don't worry-I'll explain what this furniture piece is and why it's found in so many homes down below. Let's dive right in!
Bottom Line Upfront
I love a good buffet table. Growing up, we always had one. and now, as an adult, I have several in my house. But I'm not a fan of modern white, I much prefer something with a rustic vibe. That's why my fav is the Buffet Artistique de 1500mm Farmhouse Blanc Vieilli by Wayfair.
My Top Ideas
I recommend checking out these 3 ideas first, which I think are the best white buffet cabinets ideas on the internet. For modern-style homes, country-style homes, and homes with a limited amount of space, you can't beat these!
Feeling sophisticated? This buffet cabinet was built for modern homes.
I love this one so much! Just look at the gorgeous detailing on these cabinet doors.
This compact white buffet cabinet is a perfect fit for apartments and small houses!
What Is a Buffet Cabinet?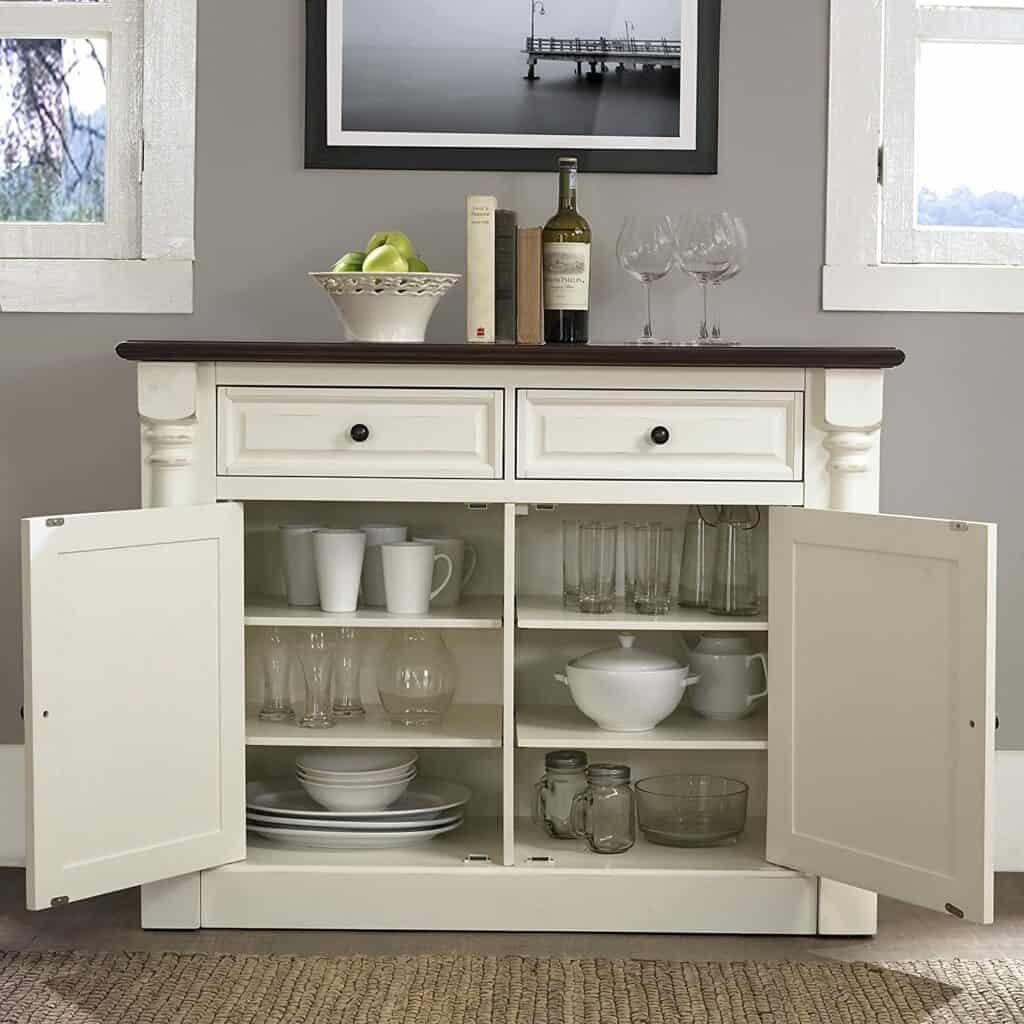 Unlike traditional kitchen cabinets, buffet cabinets do not usually need to be installed. These freestanding cabinets are typically placed in dining rooms for extra storage space and displays. Some prefer to keep their buffet cabinets in the kitchen or living room, and that's perfectly okay, too!
You'll notice that buffet cabinets are long and have many drawers. Some have wine racks so you can show off your wine collection and have easy access to it before dinner. It's even popular to use the flat surface on top of buffet cabinets to place food and dishware before having a meal.
Gorgeous White Buffet Cabinet Ideas
Here they are! These are the 25 best white buffet cabinet ideas you can find online. I've included buffet cabinets for all different types of home styles-modern, farmhouse, rustic, traditional, etc.
You actually don't need a ton of space to make a buffet cabinet fit in with your home, though some listed are intended for larger dining spaces. Let's dig right in and see what you think!
Best For: Large Size – Built-In Buffet Cabinet by Sheldon Richard Kostelecky Architect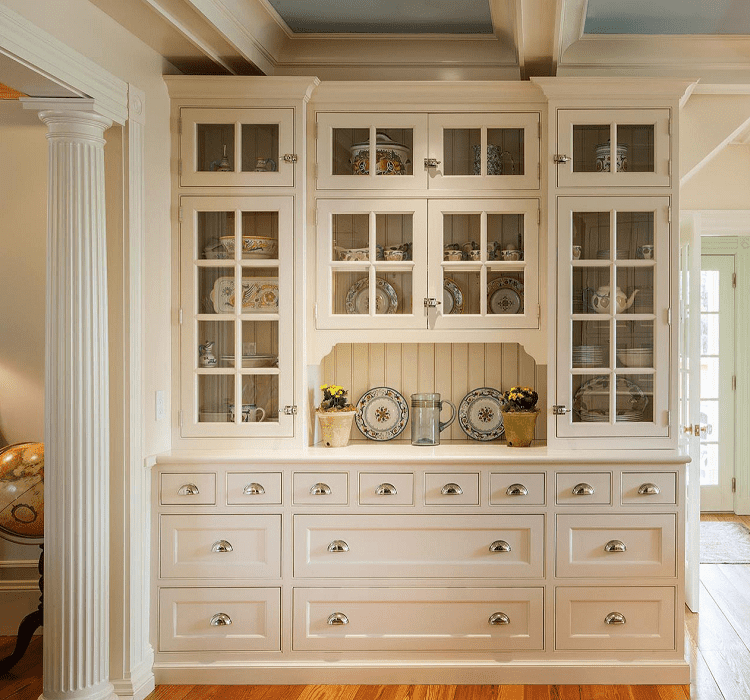 While not all buffet cabinets have to be built into your home, it makes sense this large one is. This white buffet cabinet reaches all the way to the top of this home's ceiling. If you have a large, traditional-style home, you may want to consider a buffet cabinet like this with lots of room. The top shelves with glass doors are perfect for displaying gorgeous decorations and dishware.
Best When Placed Between 2 Pillars – Beautiful Built-In Cabinet with Walnut Floors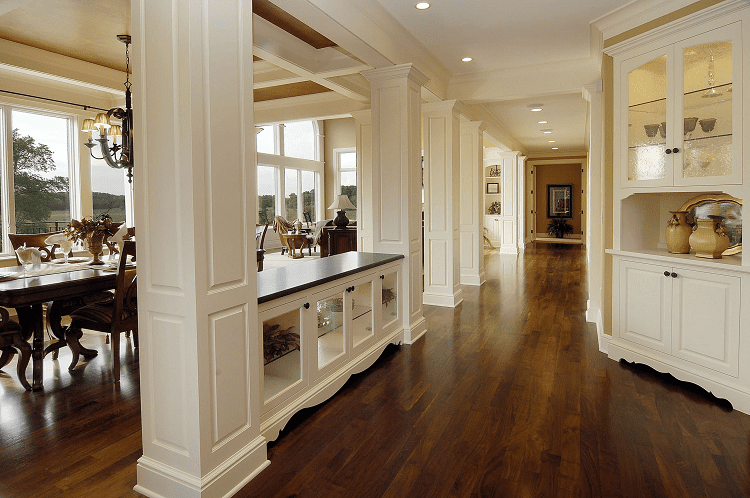 Here's another example of a stunning built-in buffet cabinet! This cabinet is positioned between two pillars that separate the dining room from the hallway.
This convenient idea is perfect for Sunday brunches and family dinners because you can arrange extra side dishes and desserts on a low, flat surface. See how the style of the cabinet matches the style of the pillars perfectly?
Best For: Displaying Fine China – China-Buffet Cabinet Project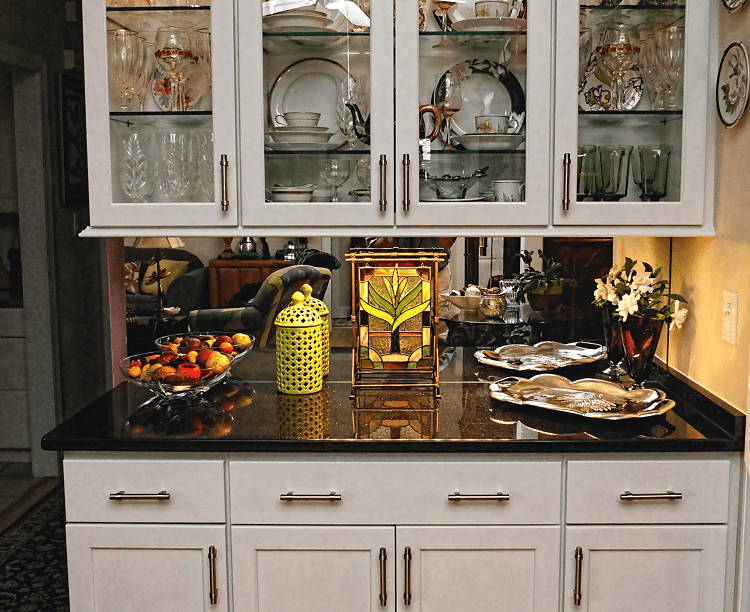 If you have fine China you'd like to display, I recommend buying something like this. This cabinet has been stylishly placed above the other cabinets so that you still have a little window that allows you to see the rest of the house.
Since the cabinet doors are made of glass, this gives you the perfect opportunity to arrange your most beautiful dishes into a work of art. I love this idea because this style of cabinet works with many different home themes.
Best For: Transitional Homes – Transitional Dining Room Buffet Cabinet by Amy Hill Designs
Are you a fan of transitional style, which is a perfect mix between vintage and modern? This white buffet cabinet would fit right in! It has the sleekness and simplicity of modernity. It also has that beautiful front pattern, a callback to the past. Depending on how you style this buffet cabinet, you can bring out its vintage or modern features.
Best For: Simplicity – Eclectic White Buffet Cabinet by Corynne Pless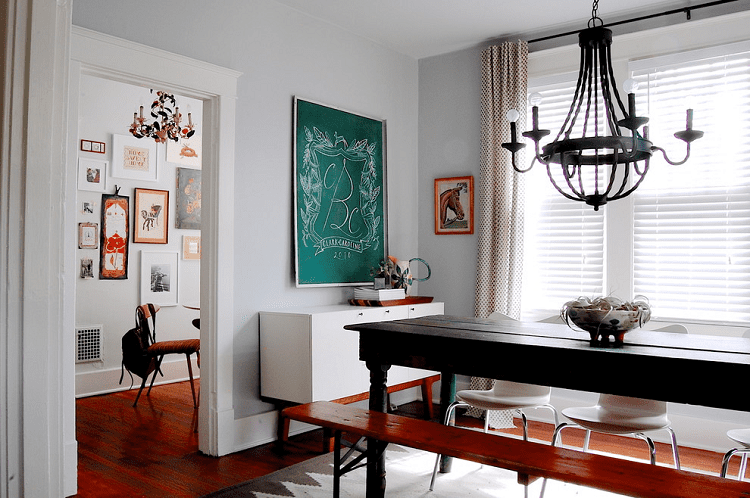 A simple white buffet cabinet with a natural wood bottom is an ideal choice for eclectic-style homes. A buffet cabinet like this blends in well with almost any room theme, which makes it ideal for rooms with a focus on modern/vintage style and mixed textures.
The pristine white color and perfectly smooth shape are unobtrusive and easy to dress up with show-stopping décor. Sometimes it pays to keep it simple.
Best Farmhouse Cabinet with Glass Doors – Middlebrook Loches Breakfront Fretwork Sideboard – White by Overstock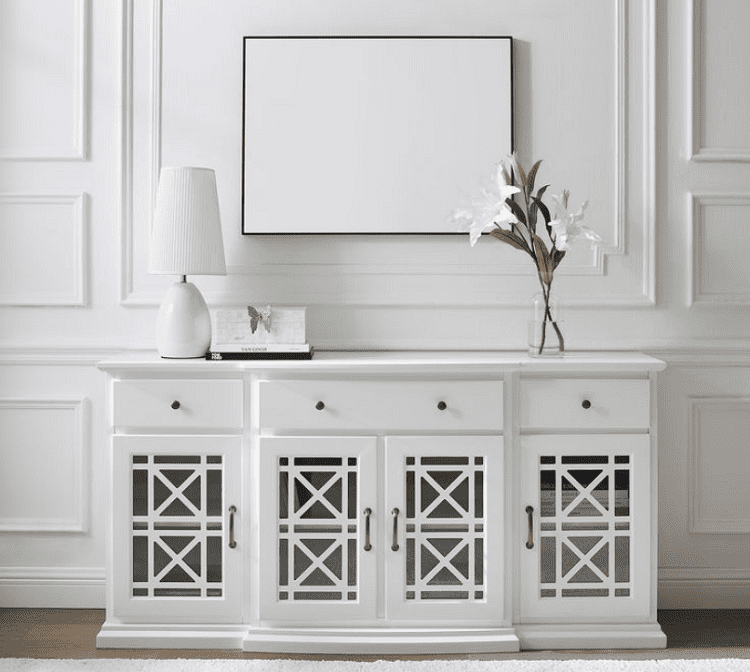 Do you have a farmhouse-themed home? This white cabinet would fit right in. The X pattern on the glass cabinet doors is recognizably farmhouse style. Solid white furniture is typically what people think of when they think "farmhouse," too.
What's unique about this buffet cabinet is that you can partially see inside the glass doors, which gives you a peek at the interior's contents.
Best For: Versatility – White Buffet Table by Wayfair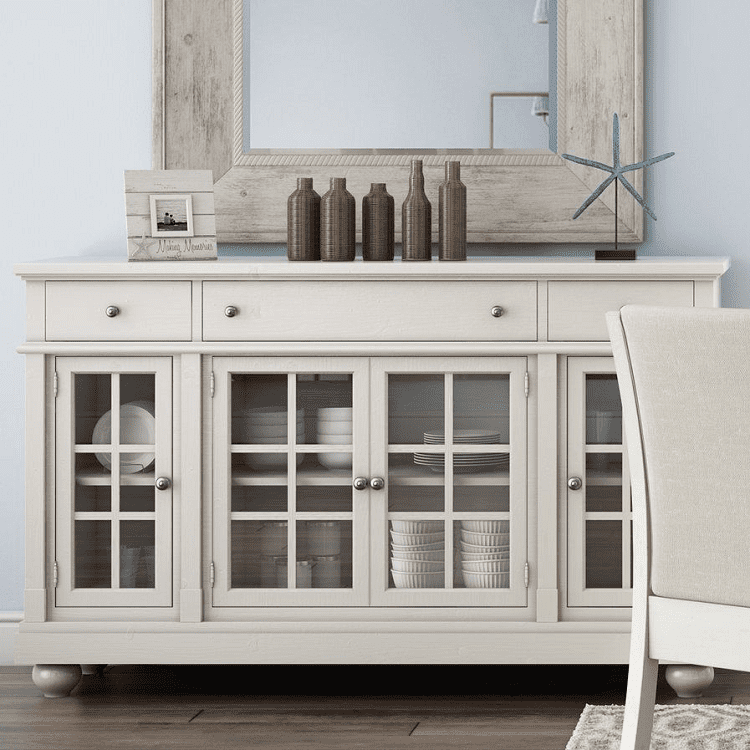 Looking for versatility? This white buffet cabinet can be dressed up to fit in with almost any home. The white painted wood with silver handles is classic, beautiful, and unobtrusive.
You won't need to have this buffet cabinet installed, so you can always move it somewhere else should the mood to redecorate hit you. This offers plenty of storage space without taking up much room.
Best For: Beautiful Gold Accents – 59" White Wood Buffet Cabinet with Storage by Homary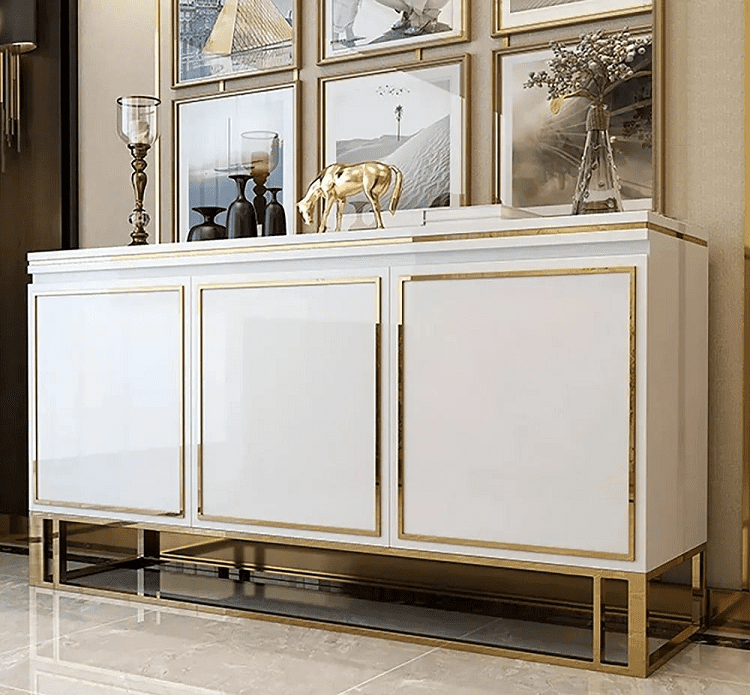 Ah, I adore the luxurious aesthetic white and gold furniture brings. The golden accents here are so shiny they're mirror-like, which adds a whole new layer of elegance. 3 large cabinet doors open to reveal a generous amount of storage space. Oh, and if glass doors aren't for you, maybe this white buffet cabinet is.
Best For: Beach Houses – Wicker/Rattan Door Inset by Larkyn Mungovan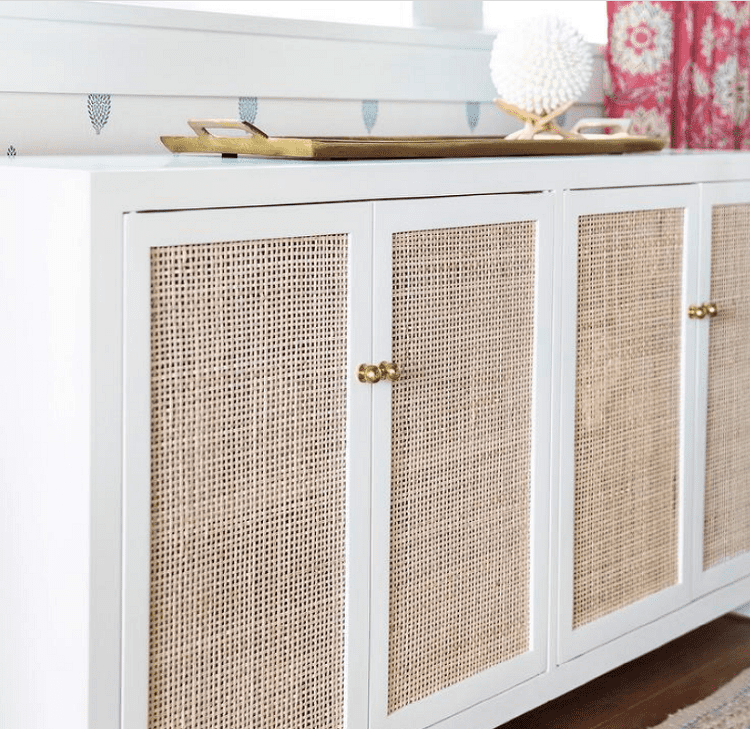 With a white buffet cabinet like this, your belongings will be concealed by stylish wicker/rattan door inserts. The door inserts paired with a clean white wood scream, "Beach house!"
If you've got a beautiful place by the sea or enjoy decorating a beach-themed home, check out cabinets like this that play up beach-themed textures. This is a classic buffet cabinet that doesn't need to be installed.
Best For: Calming Visual Appeal – White Buffet Server with 3 Cabinet Doors by Home Depot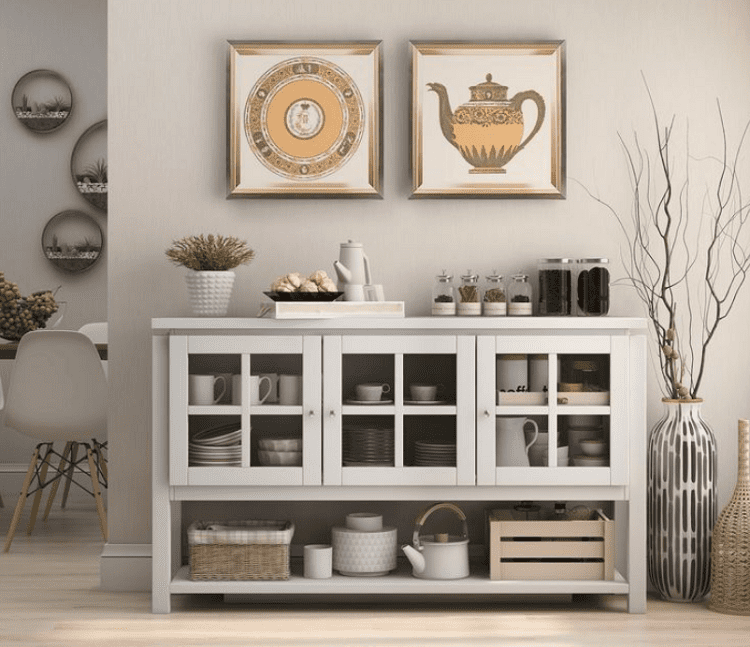 I feel calmer just staring at this photo of a simple yet elegant white buffet cabinet. You'll have storage space on top of the cabinet, on the two shelves shielded by glass doors, and on the bottom shelf.
Placing beige, silver, and even more white dishware/ornaments in the cabinet lets it keep its serene aesthetic without being overcrowded by too many colors. One or two plants to liven up the area is the only pop of color you need.
Best DIY Whtie Buffet Cabinet – White Vintage Buffet Table by The Navage Patch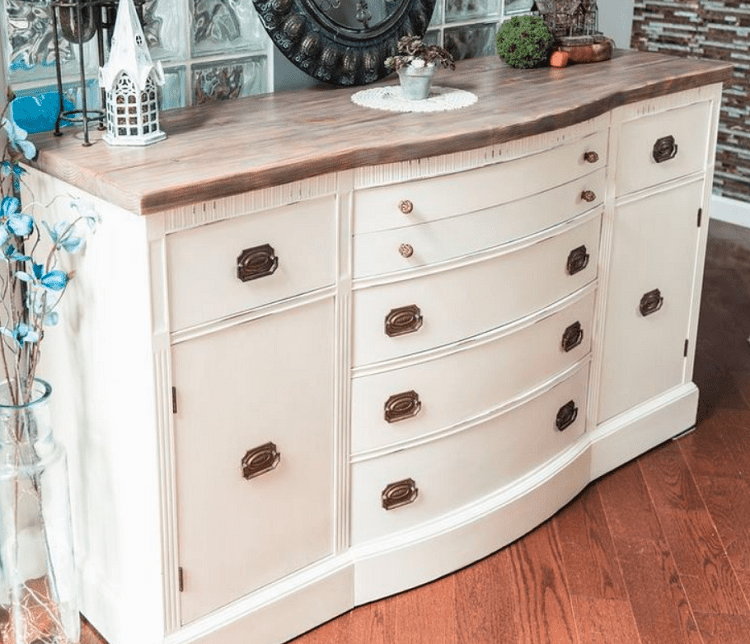 This is exactly what I mean when I say furniture can be intentionally weathered to give it a stylish, vintage appearance! In fact, by reading this article by The Navage Patch, you can learn about how to make your own white buffet cabinet that looks like this one.
See how the paint is only slightly damaged in certain places? Gorgeous. The golden handles feel beautifully vintage, too.
Best Simple Farmhouse Style Buffet Cabinet – Rosecliff Heights Marysville Rectangular Sideboard by Wayfair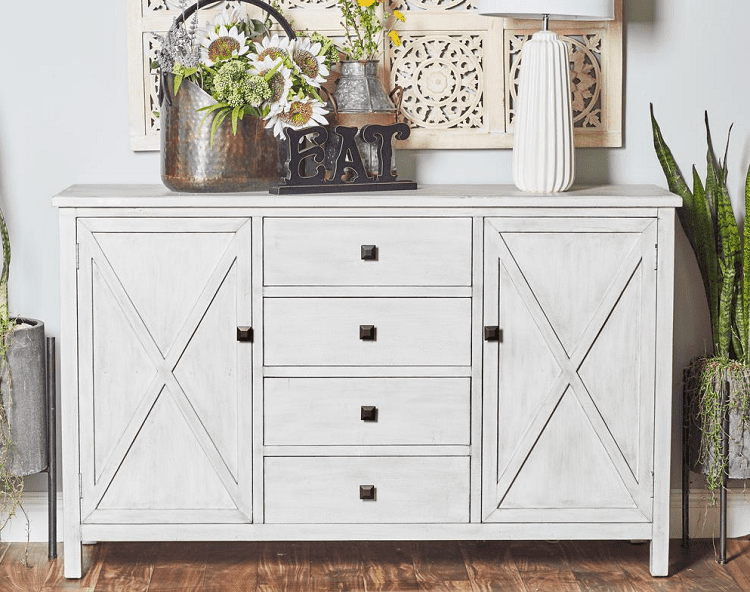 Ah, some of us enjoy the simple farmhouse life. If that sounds like you, maybe you want to consider a white farmhouse-style cabinet like this one. Nothing feels more farmhouse than solid white furniture sporting the barn door "X" on the doors.
Even though the cabinet is painted white, you can still see the natural texture of the wood. The wood texture gives this cabinet a handmade feel to it (and I mean that in a good way.)
Best Country Style White Buffet Cabinet – Buffet Artistique de 1500mm Farmhouse Blanc Vieilli by Wayfair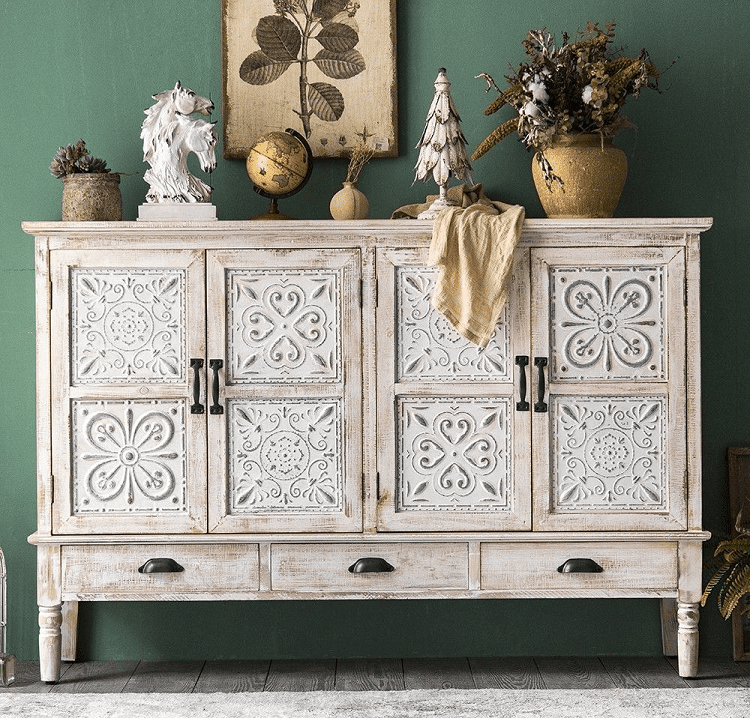 Whoa! Whoever designed these cabinet doors put their heart and soul into it. Though this white buffet cabinet is intended for stylish farmhouse and country homes, I'd argue it fits perfectly with vintage-style homes, too. You can see the white paint has a weathered look that's more pronounced than the previous weathered, vintage cabinet. This allows the natural wood to shine through.
Best Small Modern Buffet Cabinet – Walker Edison Mid Century Modern Kitchen Buffet Cabinet by Walker Edison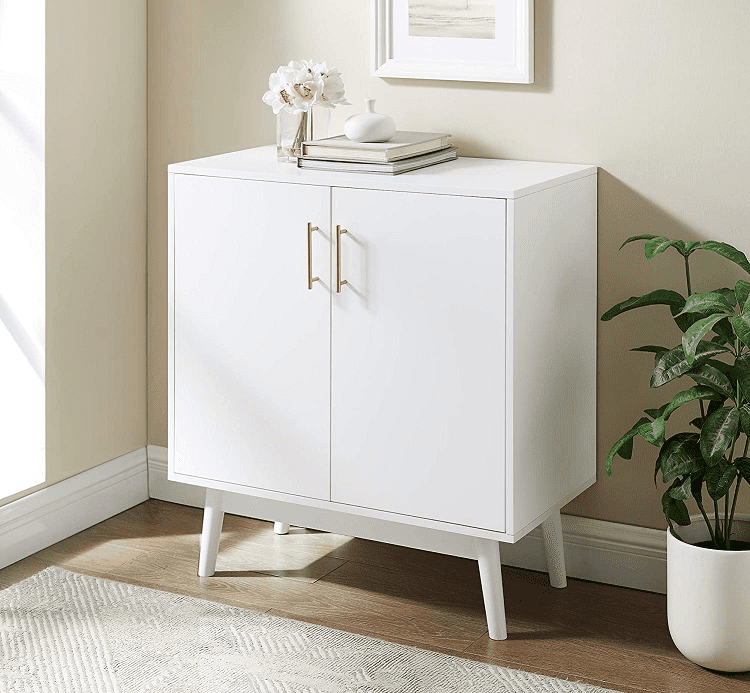 If vintage and farmhouse aren't your styles, I've got another modern buffet cabinet for you to look over. The sleek and simple nature of this cabinet makes it a perfect fit for homes that feature stark whites, clean edges, and minimalism.
2 golden handles are the only adornments you'll find, so it's up to you to dress this cabinet up the way you want. Truly, the options for decoration are endless.
Best White Buffet Cabinet for Small Spaces – Walker Edison Abbey Modern Farmhouse Sliding X Barn Door Accent Console by Walker Edison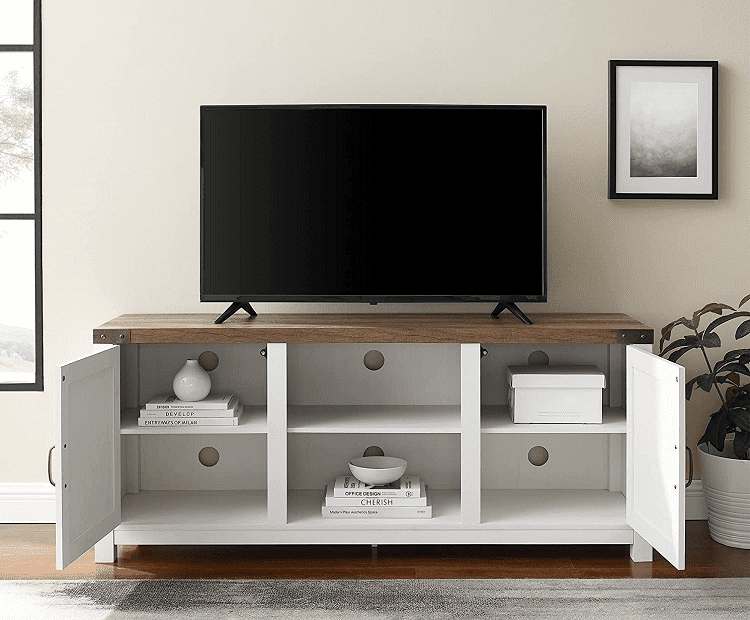 Let's bring it back to the farm and check out this gorgeous white buffet cabinet. This cabinet is unique in that just like some barn doors, the 2 cabinet doors slide from side to side instead of opening forwards.
Since this is a relatively small cabinet that won't need to be installed, it's perfect for small spaces. If you would like a buffet cabinet for your farmhouse-themed apartment, this is the one I'd recommend.
Best For: Cuteness – HOMCOM Kitchen Credenza & Sideboard Buffet Cabinet with 2 Glass Doors and Storage Shelves by The HOMCOM Store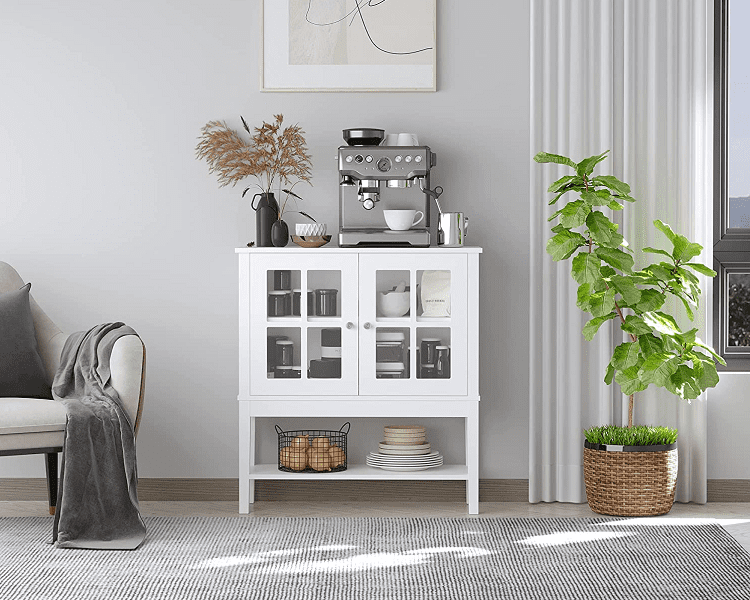 This white buffet cabinet is so cute! Its compact size is perfect for apartments, small dining rooms, and small kitchens. There are 4 shelves in an all. One top shelf, one bottom shelf, and 2 shelves shielded by glass doors.
Cabinets like these are versatile because they fit with modern, eclectic, and transitional homes. Wouldn't it be a lovely display for dishware and cookbooks?
Best For: Symmetry – Sideboard RASOO 2 Doors White Modern Kitchen Buffet Storage Cabinet by RASOO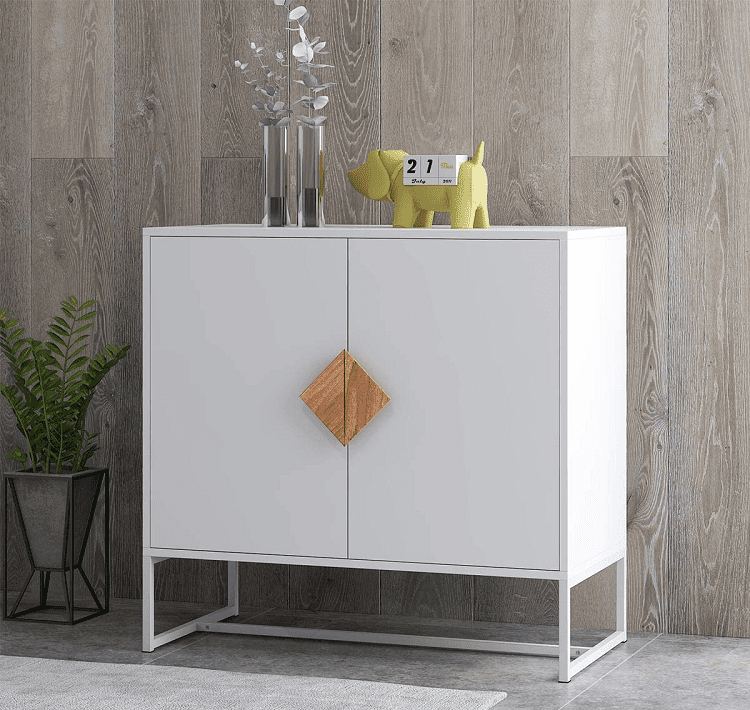 For modern homes with modern families, I recommend looking over a white buffet cabinet like this one. When you think of modernity, you think of crisp lines and perfect geometric shapes, right? That's why I think the square wooden knobs for the cabinet doors are absolutely genius.
With a few tasteful decorations, you can dress up cabinets like this one to a whole new level of sophistication.
Best For: White and Dark Wood – Crosley Furniture Shelby Dining Room Buffet Cabinet by The Crosley Furniture Store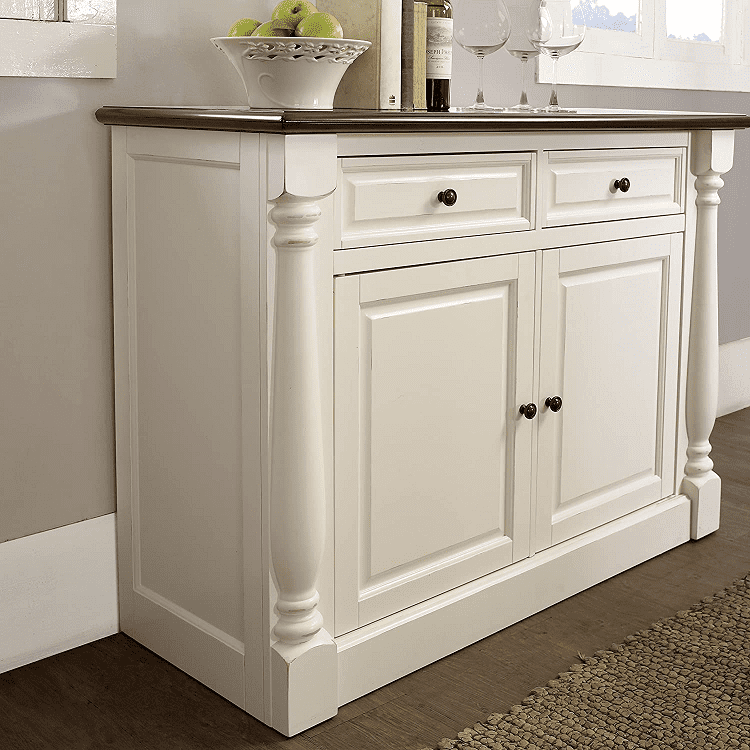 The dark wooden shelf atop this buffet cabinet is beautiful. You get to appreciate the pristine white paint and the natural wood tones. Something unique about this cabinet are the ½ pillars that line all 4 corners. If you look closely, you'll notice the paint has been weathered the tiniest bit, so this does have a classical, vintage feel.
Best For: Fancy Pillar Details – Home Styles Monarch Kitchen Island Set by The Home Styles Store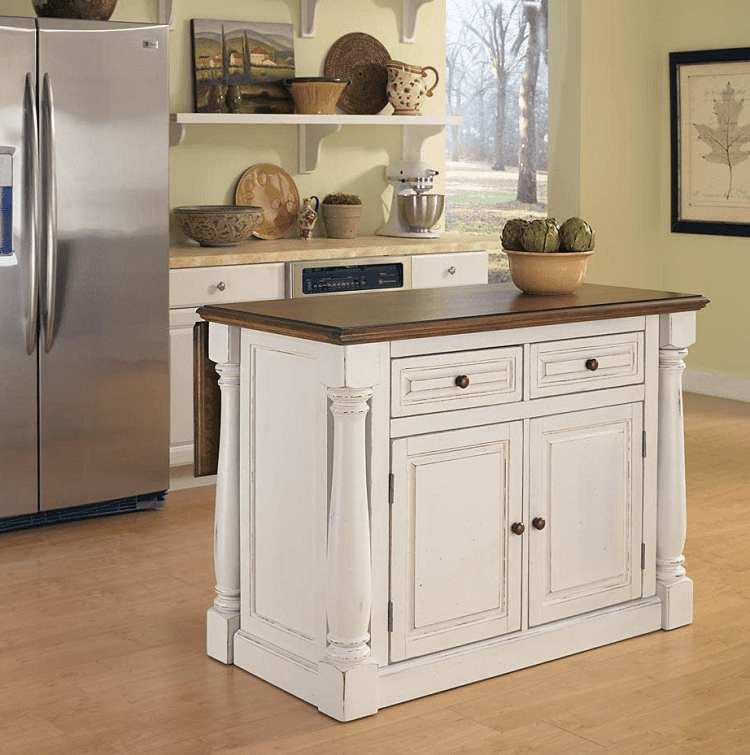 The weathered pillars lining the sides of this white buffet cabinet are much more pronounced than the ½ pillars in the cabinet above. Similar to the one above, this cabinet also features a dark wood top, solid doors, and weathered wood. Even though this buffet cabinet is brand new, it looks vintage, elegant, and loved.
Best For: Hominess – Fleischman 62.99" Wide Sideboard by Hashtag Home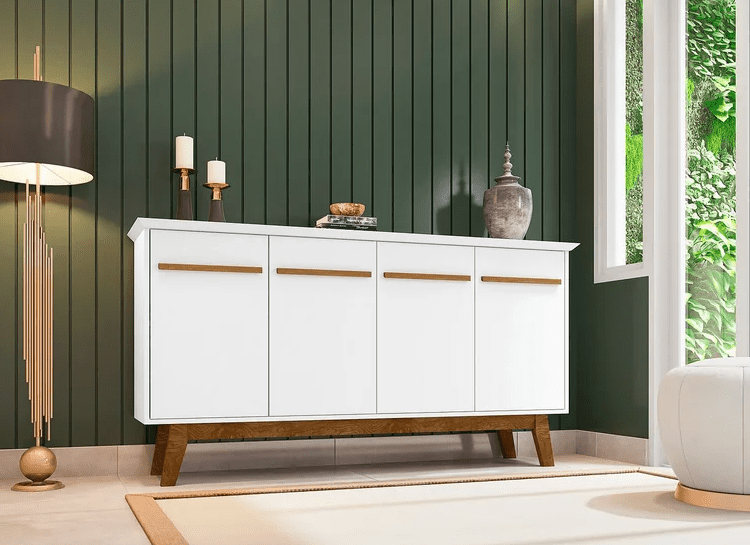 Just looking at this cozy cabinet makes you feel like you're at home again, doesn't it? The 4 solid cabinet doors are painted white while the bottom legs and rectangular handles keep their natural wood tones. Who says sophisticated styles don't feel cozy? This cabinet, though obviously modern, feels as homey as it gets.
Best For: Modern Farmhouses – Antique White Caila 60" Wide 3 Drawer Cabinet by Etta Avenue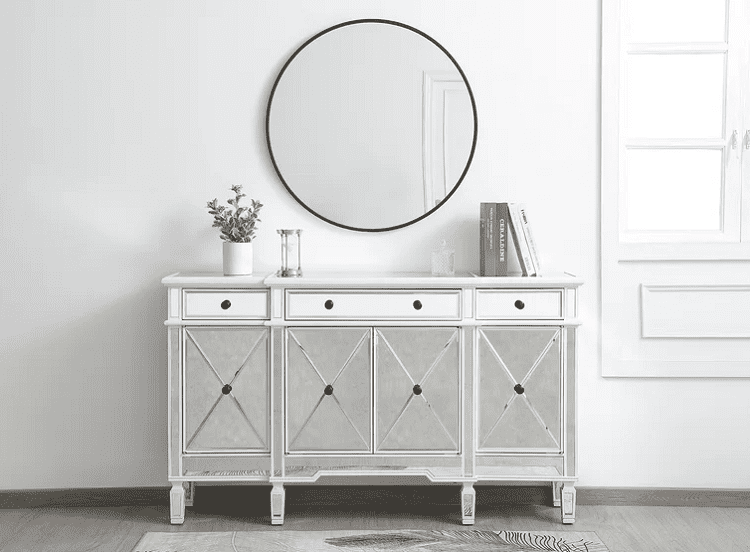 Not all farmhouse-themed homes have to call back to the past. Some farmhouse homes have a modern flair, and if that's the case for you, check out this white buffet cabinet that would fit right in! The gorgeous cabinet doors have the trademark barn door "X." The silver accents and clean details create a sophisticated look, too.
Best For: Mixed Metals – Kizer 36" Wide 4 Drawer Sideboard by Three Posts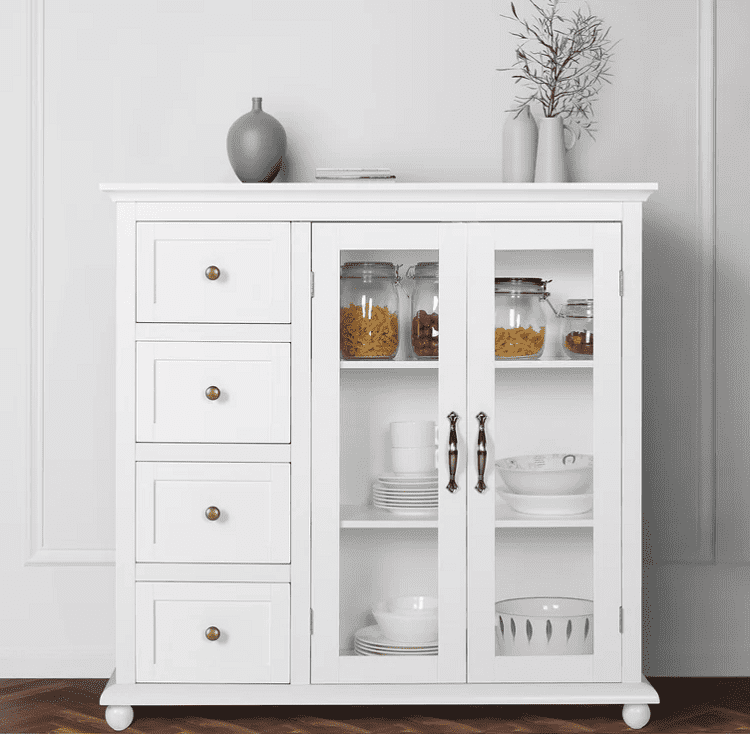 Elegance doesn't have to mean extravagance. This buffet cabinet is simple, graceful, and luxurious. What I find interesting is that this is one of the only buffet cabinets I've seen to mix metals-the handles to the glass doors are dark silver while the handles to the wooden doors are brass.
This two-toned effect adds uniqueness you won't find in many other places.
Best For: Wine Storage – Presswood 41.75" Wide 3 Drawer Solid Wood Server by Andover Mills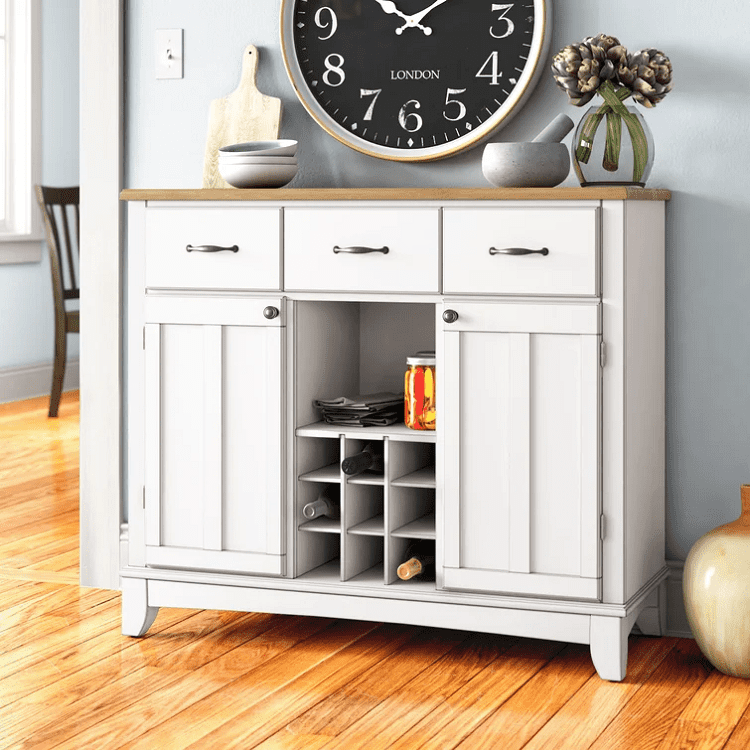 Did someone say more wine? The selling point for this buffet cabinet is the wine rack sitting right in the middle. You can store 9 bottles of your favorite wine in an easy-to-reach place, so you won't have to hunt for your favorite selection come dinnertime.
The light, natural wood top balances out all the white and looks gorgeous when placed in a space with light wood floors.
Best For: Beauty – White Adonis 95.5" Wide Sideboard by Etta Avenue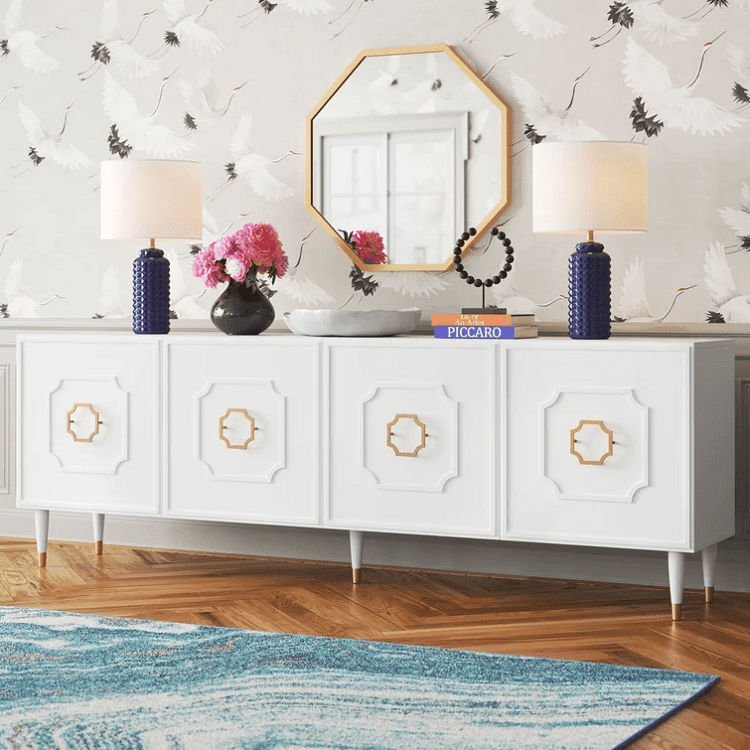 This white buffet cabinet is so pretty, it really does remind me of Adonis! The legs are gold-tipped. The dainty handles are golden, too. This is a long and large buffet cabinet, so it's best for big spaces.
The gorgeous display combinations for the top shelf are only limited by your own imagination-and there are so many décor styles you could play around with. Check this out if you want something a little extravagant.
Best For: Best Modern White Buffet Cabinet – Bobb 140" Wide 3 Drawer Sideboard by Mercury Row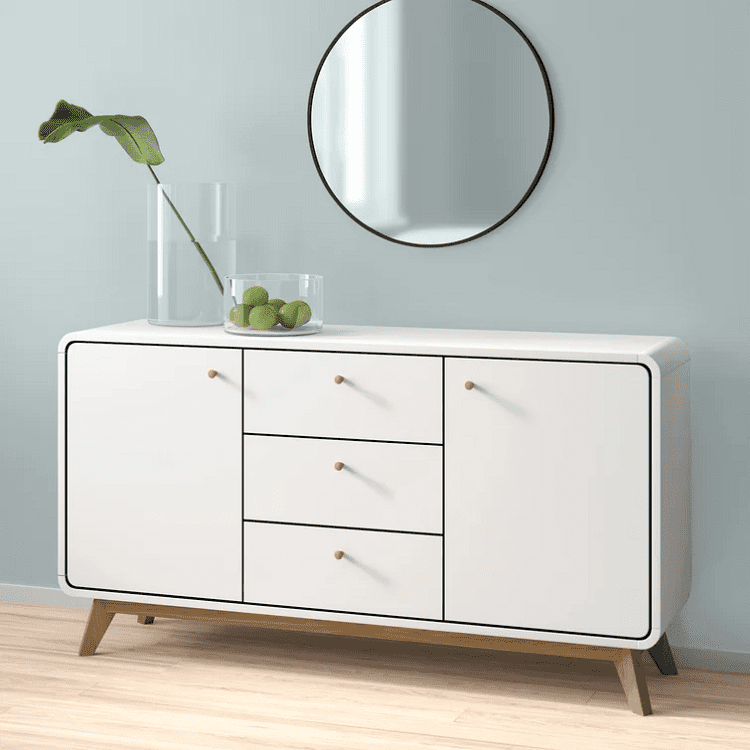 Let's finish off on a modern note! This white buffet cabinet has soft, rounded edges and tiny, natural wood handles. Every detail is both simple and perfectly symmetrical. Nothing about this cabinet feels loud, so it's easy to fit it into any room. Adding a minimal amount of standout decorations would really make a furniture piece like this one pop.
Best Uses for a Buffet Cabinet
Now that we've uncovered 25 gorgeous white buffet cabinet ideas, I'd like to go over what you can do with your new cabinet. Here's what buffet cabinets are typically used for:
Storing cookware and dishware
Displaying decorations
Extra space for food during meals
Storing wine
Things to Consider Before Buying a Buffet Cabinet
Is a white buffet cabinet the right idea for your home? Buffet cabinets come in big and small sizes, but here's a list of questions to think about when deciding if one of these cabinets is right for you:
Do you have enough room in your home?
What would you like to display?
Do you want your buffet cabinet to have a wine rack?
What color suits the overall look of your home?
Do you need extra storage space?
How much are you willing to spend?
Does the buffet cabinet you want fit in with your home's style?
Styles that Work with Buffet Cabinets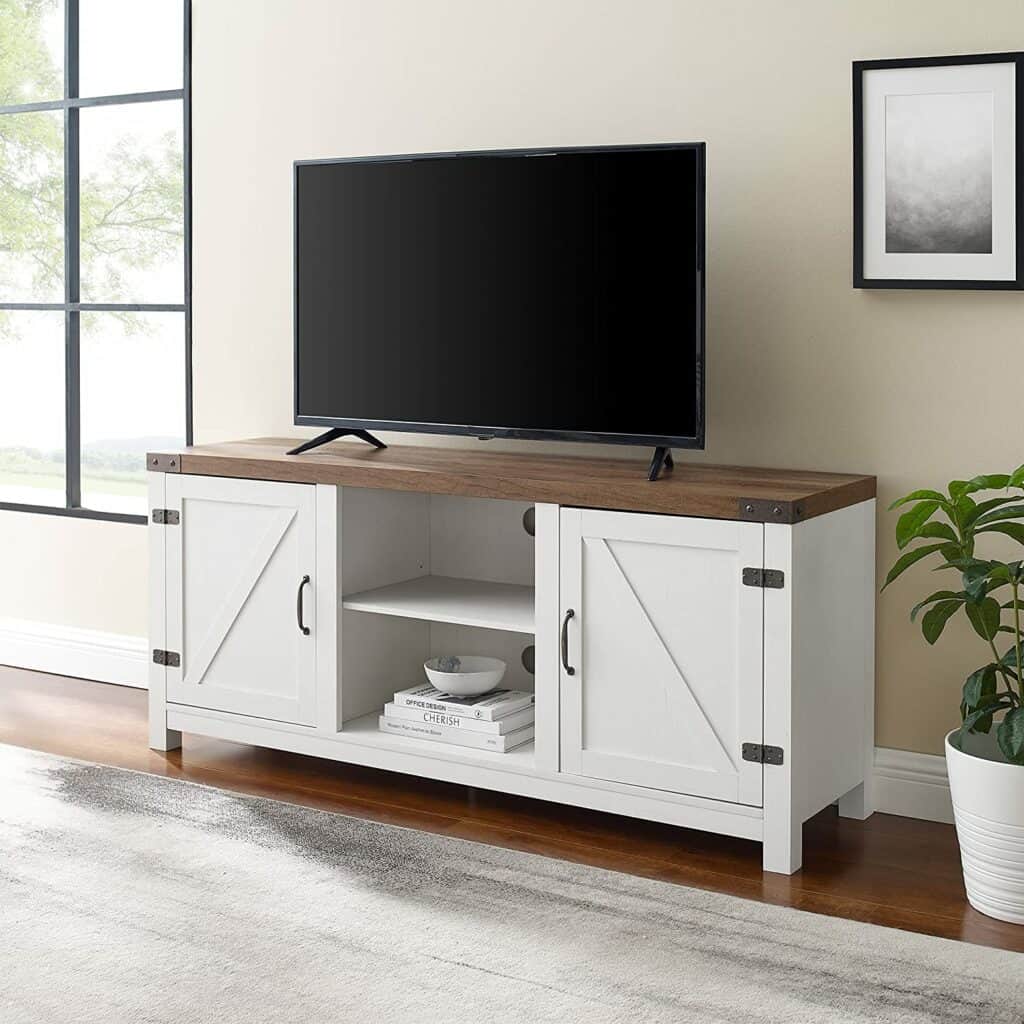 Arguably, a buffet cabinet has the potential to fit in with any home theme. With that being said, buffet cabinets are typically made with these styles in mind:
Farmhouse
Traditional
Country
Transitional
Eclectic
Vintage
Modern
FAQs
Question: What is the Difference Between a Sideboard and a Buffet?
Answer: To be frank, there is no difference at all between a sideboard and buffet cabinets. The two serve the same purpose and can be used interchangeably. Want to know the big secret? If you put this furniture piece in the living room, people call it a "sideboard." If you put it in the kitchen or dining room, then you can call it a "buffet cabinet."
Question: What is the Difference Between a Buffet, a Sideboard, and a Credenza?
Answer: There isn't one, really. Some people say that a credenza is a fancier version of a sideboard/buffet cabinet, but everyone's interpretation of "fancy" can be a little different. In truth, all these terms mean the same thing.
Question: What are Buffet Cabinets Used for?
Answer: The uses for buffet cabinets are nearly endless; however, some of the most popular uses for this type of cabinet are storage space, displays, extra room for food and dishes at meals, etc. Using a buffet cabinet partially as a wine display is another common use for this furniture piece.
The End
That's the end of today's adventure! Do you feel inspired after reading about the best white buffet cabinet ideas to buy one for your home? Consider my fav, the Buffet Artistique de 1500mm Farmhouse Blanc Vieilli by Wayfair if you love rustic vibes! For more helpful decor guides about gorgeous home furniture, please check out our website!