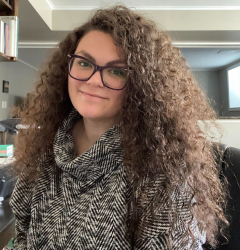 Latest posts by Candace Osmond
(see all)
Brown kitchen cabinets have been a staple in homes for generations. If you're planning to spruce up your kitchen with brown cabinets, you've come to the right place for inspiration! Brown cabinets match well with a variety of different home themes, which I'll talk more about later on. For now, let's dive right into the best brown kitchen cabinet ideas.
Bottom Line Upfront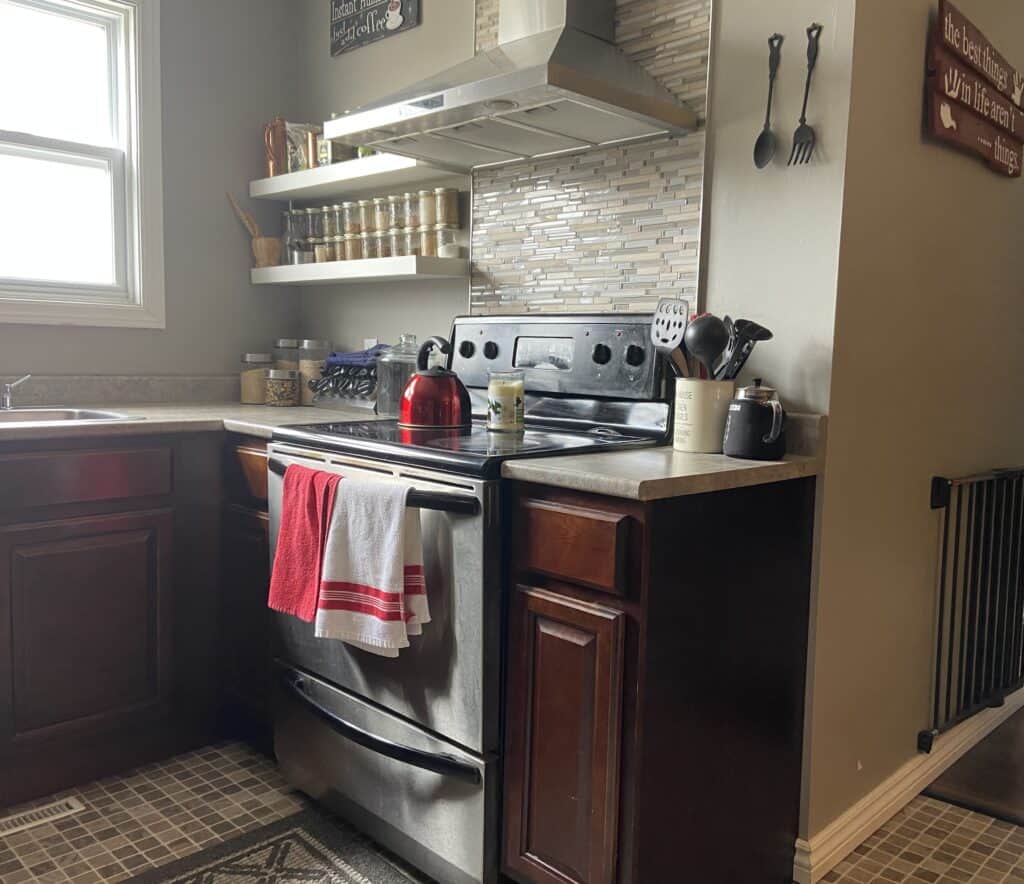 Brown cabinetry is one of my fav choices for a kitchen. My problem is my super small kitchen and dark colors don't always do well without space and natural light. So, I did pre-made Espresso cabinets from Home Depot on the bottom and open shelving on the top.
Basically, any from this list would have worked, but I would pick the simple shaker style of the Old-Fashioned Kitchen.
Top 3 Picks
Let's begin by looking at the top 3 best brown kitchen cabinet ideas. The first is the best cabinet idea on the list, while the other 2 closely follow. If you need a stylish kitchen pronto and are stuck on what to do, check out these pictures.
Best Brown Kitchen Cabinet Ideas
Ready to warm up your kitchen with shades like honey, cinnamon, or mahogany? Maybe you want to cool things down with espresso, ash brown, or cedar? I've got 17 of the best brown kitchen cabinet ideas right here, so you're sure to find what you're looking for.
Brown is such a versatile color that stands out on its own and can help other colors pop. Let's take a look at how brown cabinets have been incorporated into these homes successfully.
Best DIY Cabinets: Gorgeous Hand-Painted Cabinets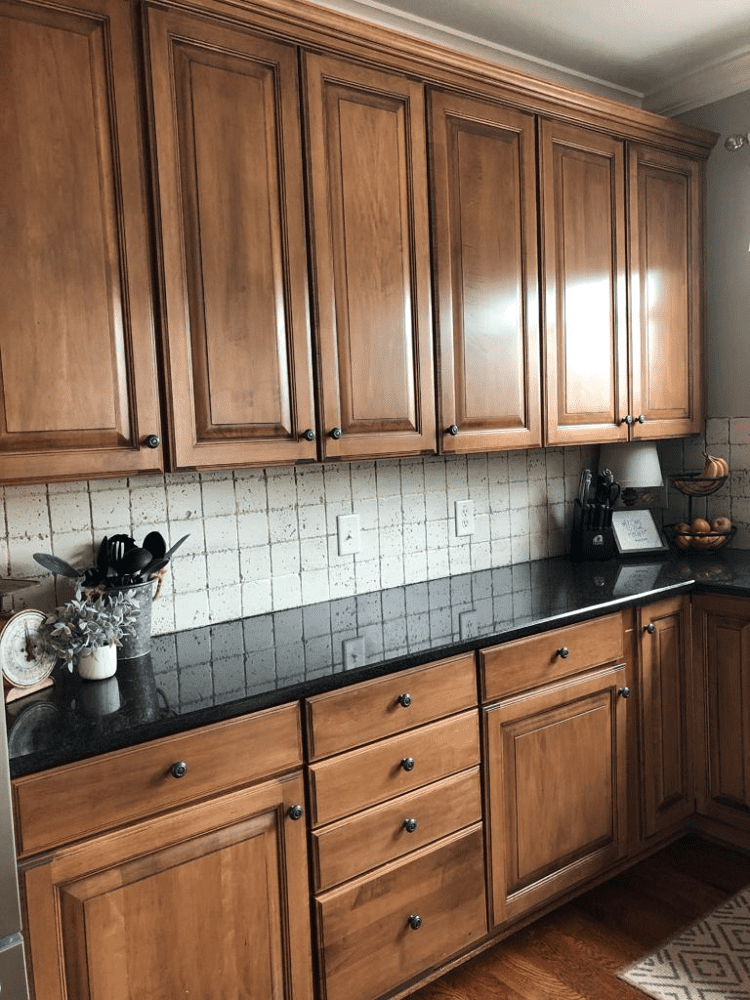 To keep it simple and classy, turn to this picture for inspiration. By following along with Stacey Collins' guide, you can learn how to paint your cabinets just like these ones. Pairing the dark blonde wood with dark brass accents and a solid black countertop is a stunning choice. This is a kitchen that feels homey as if you could jump into the picture and live inside it.
Best Wood and Marble Idea: Cool-Toned Medium Brown Wood with White Marble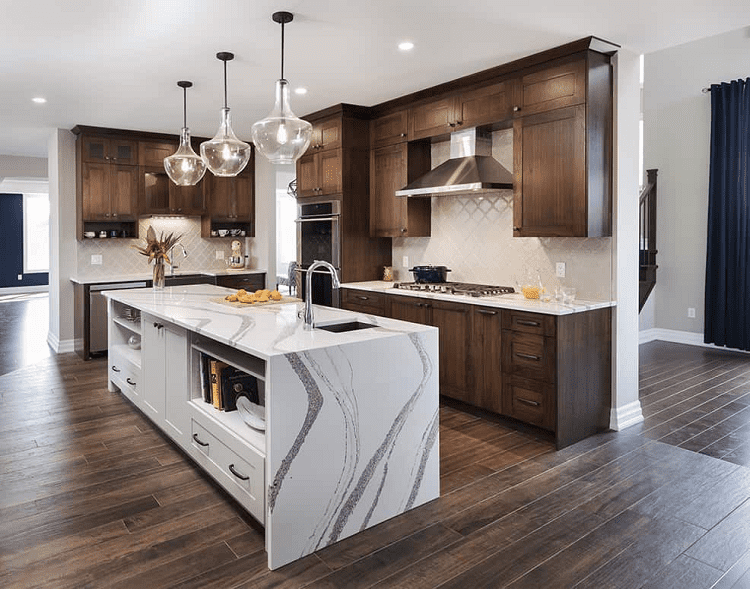 I'm a sucker for gorgeous marble! This kitchen gives us a great example of how you can use a light color and a dark color to contrast each other. Laurysen Kitchens truly picked stunning materials to work with, too-medium brown wood and stark white marble.
The brown kitchen cabinets feel connected to the room through the medium brown wooden floor. The white marble countertops and kitchen island don't feel out of place, either, because the walls and ceiling are the same shade of white.
Best for: Romantic Vibes: Classy and Sophisticated Taupe Cabinets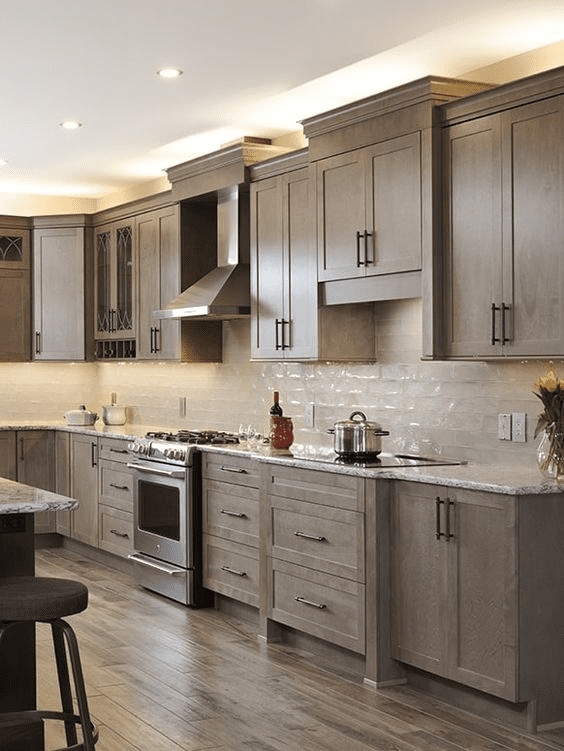 Looking at this kitchen just makes you want to get dressed up and make a romantic cocktail, doesn't it?
This sprawling set of taupe cabinets is best for large kitchens; however, you could create the same effect in a smaller kitchen by using the same color scheme. Mottled white and gray granite pairs exceptionally well with taupe, as you can see in the picture.
Best Dark Brown Kitchen Island: The Dark Chocolate Kitchen Island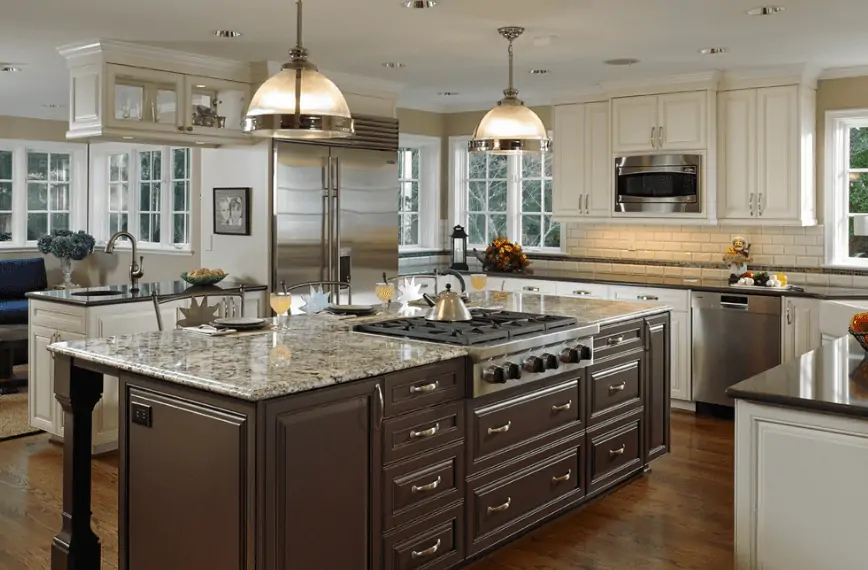 I would sell my leg for an island like this. What a beautiful shade of chocolate brown! See how luxurious dark chocolate looks when paired with white, silver, and granite?
The kitchen island may be the only chocolate brown piece in this kitchen, but that makes the island stand out as the centerpiece. Chocolate brown can always be styled correctly in a traditional-themed kitchen, which is exactly what you see here.
Best for: Sharp Contrasts: White and Walnut Kitchen Cabinets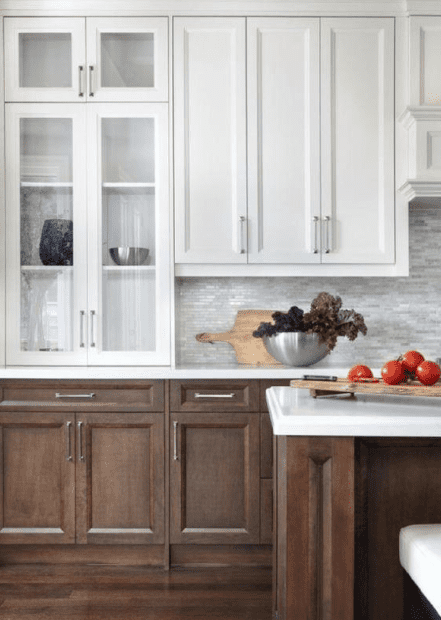 Here's another idea that shows how contrasting colors can bring out the best in each other. Dark, cool-toned walnut wood cabinets have been paired with solid white cabinets. Silver accents and a gray stone wall bring the look together by sticking to the cool-toned scheme.
Don't be afraid to invest in dark walnut wood flooring as you see here so the dark cabinets look more natural.
Best Dark Brown and Silver Cabinets: The Dark Brown and Silver Look
This kitchen almost has an industrial feel to it thanks to the dark brown kitchen cabinets and the amount of silver used. All the colors you see here are neutral, so if pops of colors aren't your style, this might be the ideal inspiration.
Adding pops of color through succulents and other house plants gives the kitchen more life, but these can be substituted for another décor.
Best Overall: Fancy Dark Brown Sliding Cabinets
Haven't you always thought large cabinets that slide open and shut by moving side to side are fancy? Well, why not have those fancy cabinets in your own home?
These kitchen cabinets are the pinnacle of modern sophistication. Their simple, natural dark brown color and long silver pulls are so chic. Modern homes need modern, pristine fixtures like this.
Best Vintage-Inspired Cabinets: An Old-Fashioned Kitchen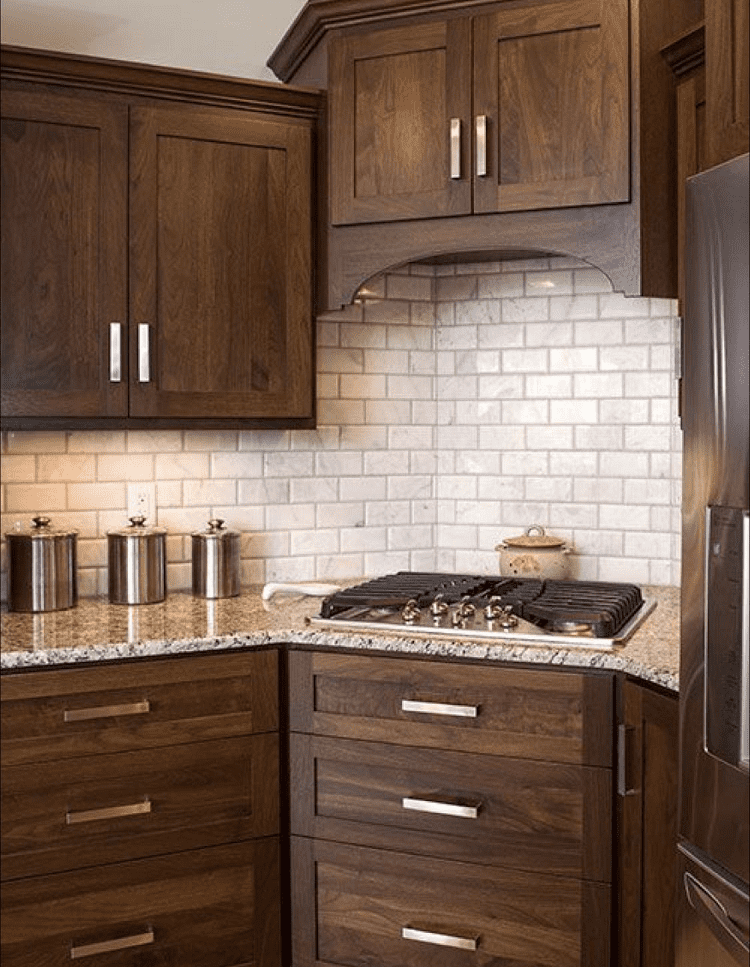 If you love that old-fashioned look as I do, check out this idea. Dark walnut wood has been paired with white marble tile walls, brown granite countertops, and silver accents. Keeping the decorations simple and homey will keep that old-fashioned feeling alive.
The sugar, flour, and salt containers, along with the other simple items placed near the stove, match the kitchen's color scheme. This gives the kitchen better cohesion.
Best for: Naturalistic Kitchens: Kitchen Cabinets for the Woodsy Home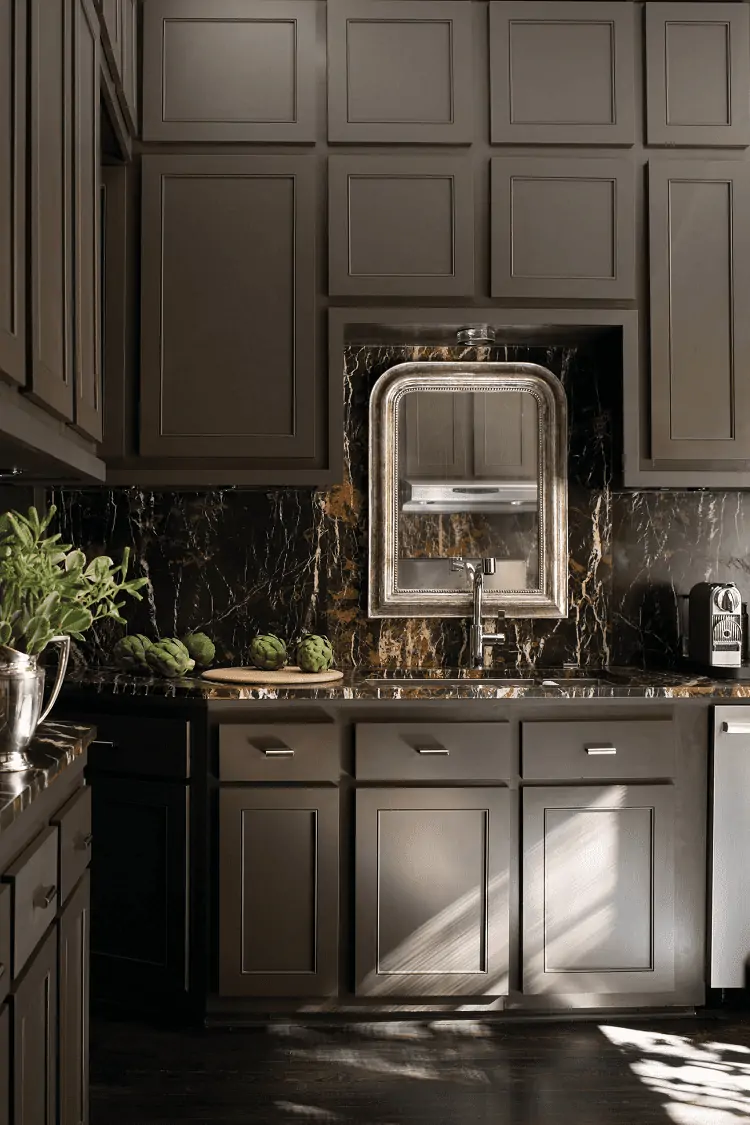 Ahh, the great outdoors. If you take inspiration from nature for your home's décor, check out what Benjamin Moore has done with this kitchen.
Matte brown cabinets look beautiful against the woodland wallpaper behind them. Silver was the right way to go with the accent color, too, because it doesn't draw too much attention to itself. Decorating with live plants will really bring the look together.
Best for: Simple Rustic Cabinets: Your Gorgeous Rustic Kitchen
This stunning rustic kitchen calls back to simpler times. In classic rustic style, the cabinets have been left their natural wood color.
This gives the cabinets a feeling of authenticity that's key to having a rustic kitchen. Sandy brown tiles have been used for the back wall, which pairs nicely with the dark brown cabinets. See how an intentionally aged look gives this space character?
Best for: Large Kitchens: The Brown Kitchen Cabinets of a Boss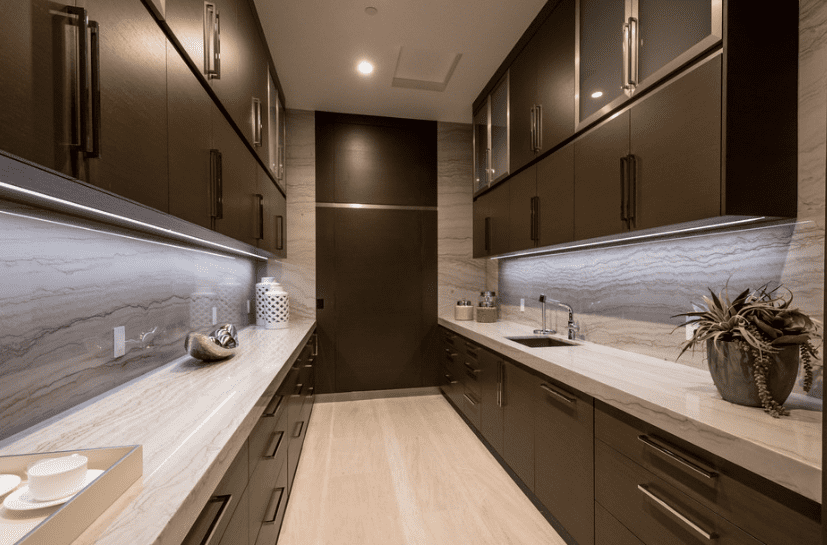 Wow, I wish I had a space like this! If you've got the room for it and you're a fan of chic modern style, consider getting your kitchen cabinets done like this. These cabinets are glossy, which makes them look and feel expensive.
Every piece in this kitchen has clean, crisp details that have been thought out. The lighting is exceptional, the uniform cabinets are luxurious, and the light brown floors were genius. If you want to stick to the modern style, make sure you use silver accents like the ones in this picture.
Best for: Small Kitchens: Stylish Brown Cabinets for Small Kitchens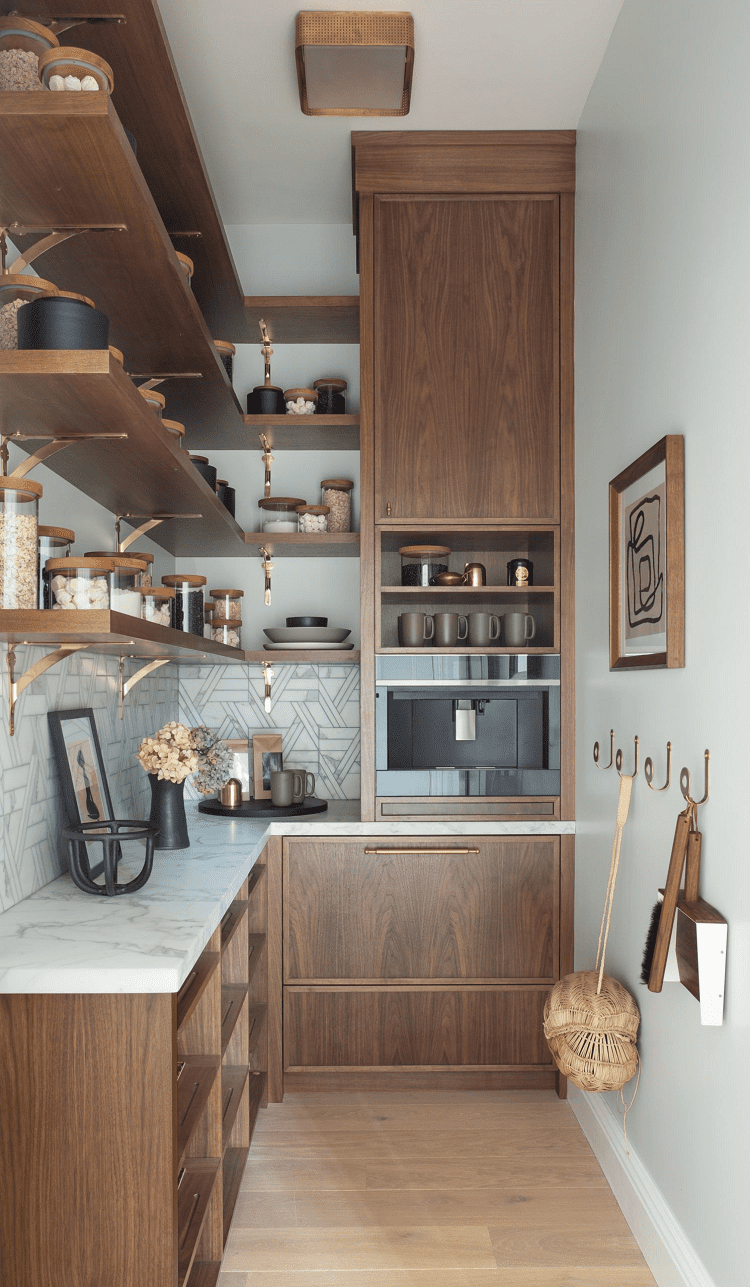 This kitchen featured in Domino Magazine is a prime example of why you don't need a large kitchen to have stylish kitchen cabinets.
See how this person's kitchen is narrow so they made use of vertical wall space? The cabinets below the countertops offer tons of individual spaces, too. This keeps small spaces from becoming cluttered and disorganized.
Best for: Minimalism: The Minimalist's Taupe Kitchen Cabinets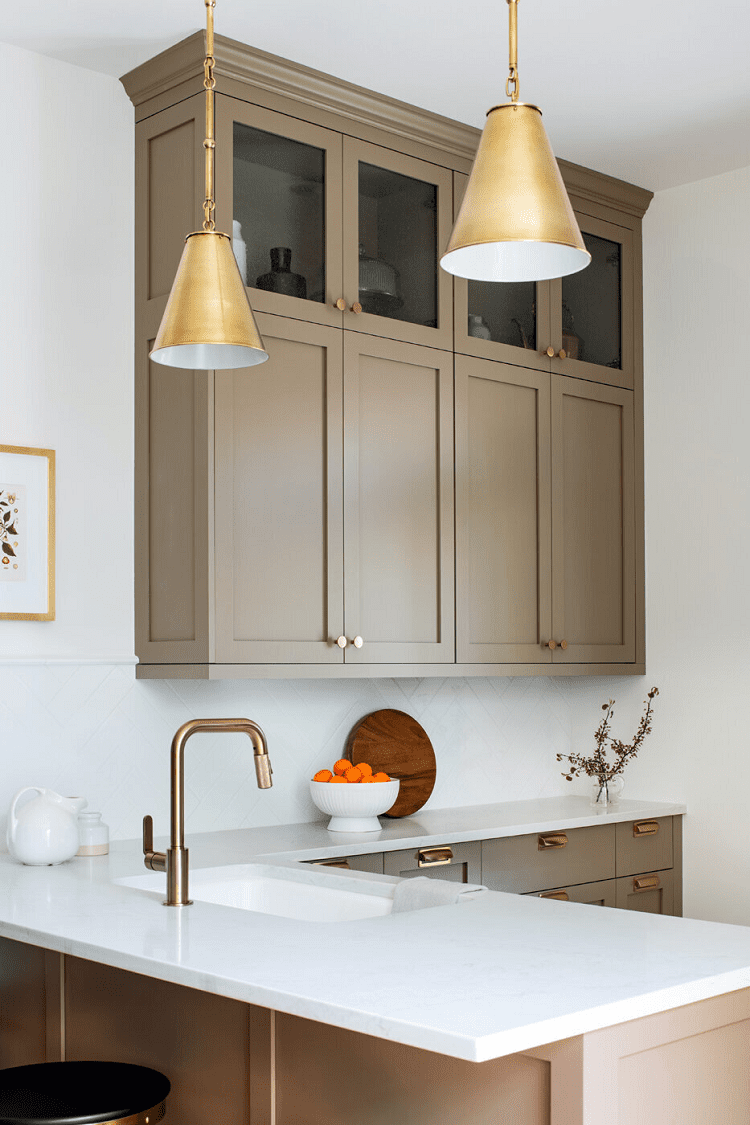 Taupe and gold are a beautiful combination, aren't they? There's something so luxurious about the uniform taupe cabinets and the gold knobs in this photo.
Using similar gold accents throughout the room really draws the eye to all the beautiful fixtures around. The pristine white color used to offset the taupe and gold makes for a beautiful contrast.
Best for: Light and Neutral Kitchens: Light Cappuccino Cabinets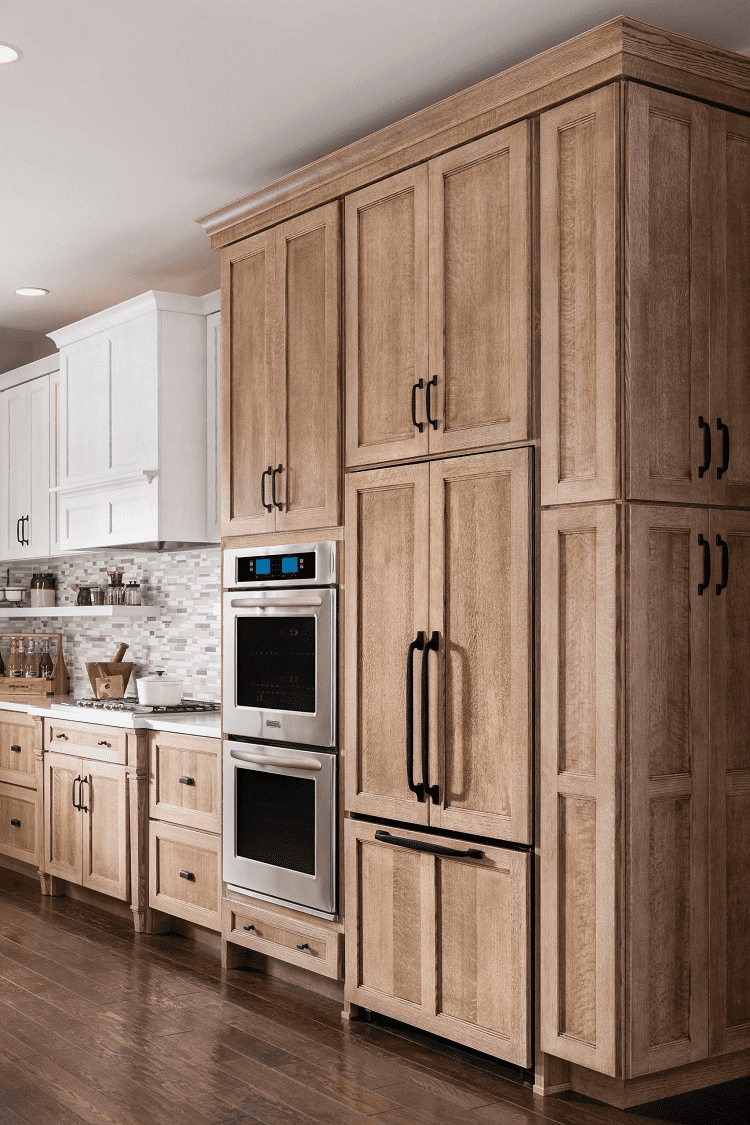 This feels like a kitchen you can imagine your family in, doesn't it? The lovely neutral scheme is warm and friendly. Honey-colored cabinets reaching to the ceiling blend perfectly with the other colors used.
See how a combination of light brown, dark brown, white, gray, and dark brass can be all you need? Not every kitchen needs a pop of color.
Best for: Large Rustic Kitchens: Rustic, Luxurious, and Timeless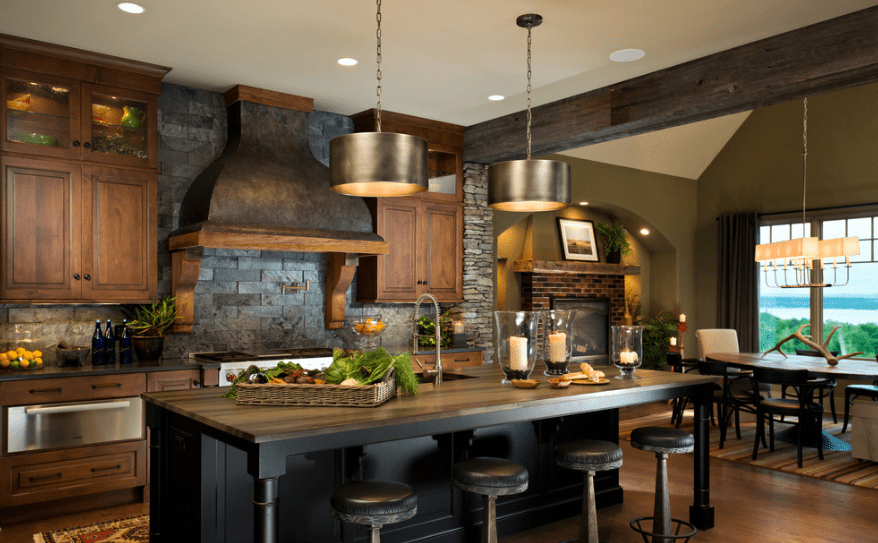 *wipes drool from chin* If you'd like your rustic style kitchen to show off a little flair, consider modeling your kitchen after this one. I can't believe how stunning this is.
Though everything except the décor is a neutral color, this room looks luxurious. The brown cabinets bring warmth to the rest of the kitchen. The warmth contrasts well with the gray stones and dark silver metal found everywhere else. This is a bold idea for those committed to the rustic theme.
Best Farmhouse Kitchen Cabinets: Brown Kitchen Cabinets in the Farmhouse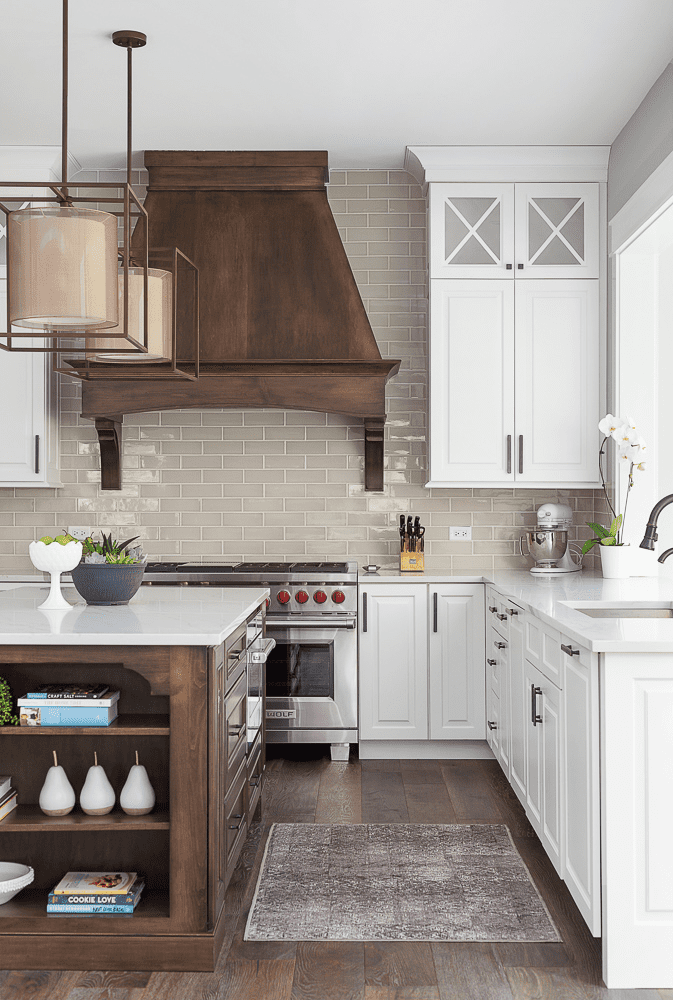 Some of us like the classic farmhouse style. If that sounds like you, take a look at how you can incorporate dark brown cabinets into your farmhouse kitchen.
Not all cabinets in a farmhouse-themed room have to be white, after all. Using a few pops of brown brings some life into the kitchen. The brown wood found in the kitchen island is the same wood that was used for the kitchen hood, too, so that they match.
Best Chic Apartment Cabinets: Brown and Gold
Nothing says, "life in the city," quite like these chic taupe cabinets with gold pulls. Taupe is a cool-toned brown, so it pairs nicely with the warmth of gold. You don't need a large kitchen or a lot of cabinet space to pull this look off. To be particularly stylish, leave some cabinet drawers their natural wood color like the ones you see in the picture.
Different Shades of Brown to Consider
Now that we've rounded up all the best brown kitchen cabinet ideas, I'd like to walk you through some of the most popular shades of brown.
This guide will let you know which colors each shade of brown is commonly paired up with. I'll also talk with you about which shades of brown are the most well-liked for different styles of kitchens. Let's get to it!
Espresso
You'll get a cool, very dark brown with this shade. Making all your cabinets espresso is a bold and oh-so-stylish choice.
Pairs great with: Modern homes. When you think of espresso, you think of the cool, dark wooden floors, cabinets, and kitchen islands in modern-themed homes.
Compliments colors such as: cream, just like their names imply. Either silver or gold pair well, too. Natural green from plants and succulents look particularly bright against espresso.
Chocolate
This is a warm medium brown. Chocolate brown has been beloved throughout the ages for its deep, rich color.
Pairs great with: A traditional theme. This warm and rich color is perfect for classy, homey traditional-themed kitchens.
Compliments colors such as: Blue, gold, and white are the 3 colors that immediately come to mind. Don't you just love that color palette? You can swap out the blue for green for a similar effect.
Walnut
This is another cool dark brown, but this one isn't as dark as espresso. This natural brown color will bring a classic vibe into any room you put it in.
Pairs great with: A rustic theme. A lot of people who love rustic style make use of the cool tones that can be incorporated. Using a dark wood like walnut, particularly if you let the natural wood shine through, helps give your kitchen that aged and organic look.
Compliments colors such as: Cream and light gray are staples to be paired with walnut. Additionally, bluish grays, dark purples, and sage green look exceptional if you want a pop of color.
Cinnamon
If you're a fan of warm reddish-browns, this is the color you've been looking for! Cinnamon is a medium brown, so it won't feel too dark or too light.
Pairs great with: a classical-themed kitchen. You'll find this warm brown tone pairs beautifully with the elegance and style of a classical kitchen.
Compliments colors such as: White and shades of off-white. You can choose gold, silver, or brass accents, since they all look nice with cinnamon. Bolder colors like baby blue, maroon, and olive green also look stunning.
Honey
Ah, nothing says home quite like this warm, blonde brown. While honey is a standout color all on its own, it's also great for other bold colors that want to take the spotlight.
Pairs great with: Eclectic themes and bohemian themes. Eclectic-themed kitchens and bohemian-themed kitchens both make use of bright, fun-loving colors. Honey is a shade of brown that pairs exceptionally well with almost any bright color, so feel free to get creative!
Compliments colors such as: blue, green, red, and purple. If you want to pair honey with another more neutral color, try a darker shade of brown. Don't forget to pair up honey with gold, because the two are meant to be together.
Warm Brown vs Cool Brown
In this chart, I'll compare some of the key characteristics of warm brown and cool brown. Both can be used in a stylish way for a huge variety of home themes.
Warm Brown 

Warm and inviting color
Naturalistic vibe
Can be eye-catching by itself or help other colors pop
Considered "friendly"

Cool Brown 

Relaxed and calming color
Works great with grays and blues
Can be eye-catching by itself or help other colors pop
What's the Best Wood to Use for Kitchen Cabinets?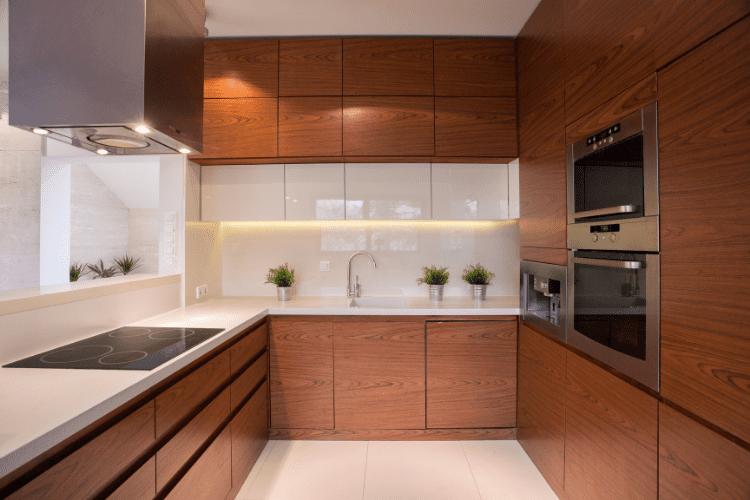 One important question you'll have to ask yourself is the one listed above. Above all else, remember that you want hardwoods over softwoods. Hardwoods are durable, beautiful, and grow mold much less easily than softwoods. I'll discuss some of the trustiest types of hardwoods here.
Birch
This is a light-colored, warm-toned wood that gives your home a gorgeous blonde color. Staining the wood will not change its natural hue, but this type of wood is very easy to paint. Birchwood keeps its paint for a long time, and colors show up easily on the honey-colored surface.
Maple
Make sure you get hardwood maple instead of softwood maple for the best cabinets! Hardwood maple is strong against everyday wear and tear, but softwood maple isn't. Maple wood is unique in that different varieties can be either warm or cool-toned. Check to make sure you get the undertone you want-red or blue. This will affect staining.
To paint maple wood, make sure to get something that dries really slowly, like enamel paint. This ensures the paint adheres to the surface of the wood correctly.
Oak
If you want oak wood with warm undertones, make sure to buy red oak wood. For oak wood with cool undertones, you'll want white oak wood.
Either way, this is a light-colored wood with the potential to fit in well with a large variety of different homes. Oakwood is not exceptionally easy to paint due to its graininess, so maybe it's best to have a professional paint these.
Walnut
This dark, cool-toned hardwood is gorgeous when left in its natural state, stained, or even painted. It can be tricky to paint this type of wood, particularly if you want a lighter color like cream or sage green.
You'll have to apply a generous amount of primer, then let it dry for an appropriate amount of time. Watching multiple DIY videos is a must.
FAQs
Question: Are Brown Cabinets Out of Style?
Answer: No, brown cabinets have always been wildly popular. Even now, many times homeowners choose to have the natural wood that cabinets are made from stained so that they remain brown.
Question: What Colors go with a Brown Kitchen?
Answer: That depends on which shade of brown you have. Typically, most shades of brown pair well with white, cream, blue, green, and gold. Brass and silver will likely pair nicely, too.
Question: What Color Kitchens are the Most Popular in 2022?
Answer: Green kitchens are the most fashionable right now. Luckily, brown and green work great together! If you want a trendy kitchen, go for an all-natural vibe.
That's All There Is to It
Well, folks, that's all I've got for you today. Are you thinking of having your cabinets painted brown, and resurfaced, or are you getting new cabinets entirely?
If you've got a small kitchen like me, I highly recommend doing something lighter and more open for the upper cabinets and a simple style on the bottom like the look in the Old-Fashioned Kitchen. For more awesome recs and ideas, check out our site!
Read More: