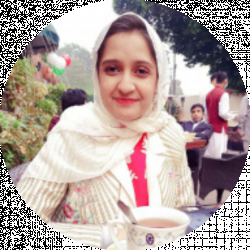 Latest posts by Zunaira Ghazal
(see all)
Teal is an incredible color to experiment with when reinventing your kitchen cabinets in a unique style. As an architect and an interior design expert, I want everyone out there to understand that designing stylish kitchen cabinets can be quite tricky.
They already have standard dimensions (3' large bottom cabinet, 2'-6" high top cabinets, 2' wide countertop, etc.) and the only thing you get to play around with is the aesthetics and finish of the cabinets. Therefore, teal kitchen cabinets are an excellent way to emulate a distinguished look. Moreover, it's a color that can add a lot of warmth and depth to a space.
The rich blue-green is not only gorgeous but also makes an instant statement. The best part – you can use it in so many ways in so many different kitchen themes. Below, we'll take a look at a great variety of teal kitchen cabinet ideas that you can take inspiration from, but first…
Bottom line up front:
Personally, I love the teal with brass look! I think it's so classy and different compared to what I see in a lot of other kitchens. I would totally go with this look in my own kitchen!
Selection Criteria
Here's a small breakdown of the selection criteria that I've used for these teal kitchen cabinets:
Every single idea brings something unique to the table
The cabinets need to have an instant visual impact
The teal color of these cabinets must be the highlight of the kitchen
The teal color must contribute to the visual design hierarchy of the kitchen
Our Selection: The Best Teal Kitchen Cabinets
Teal with a Vintage Twist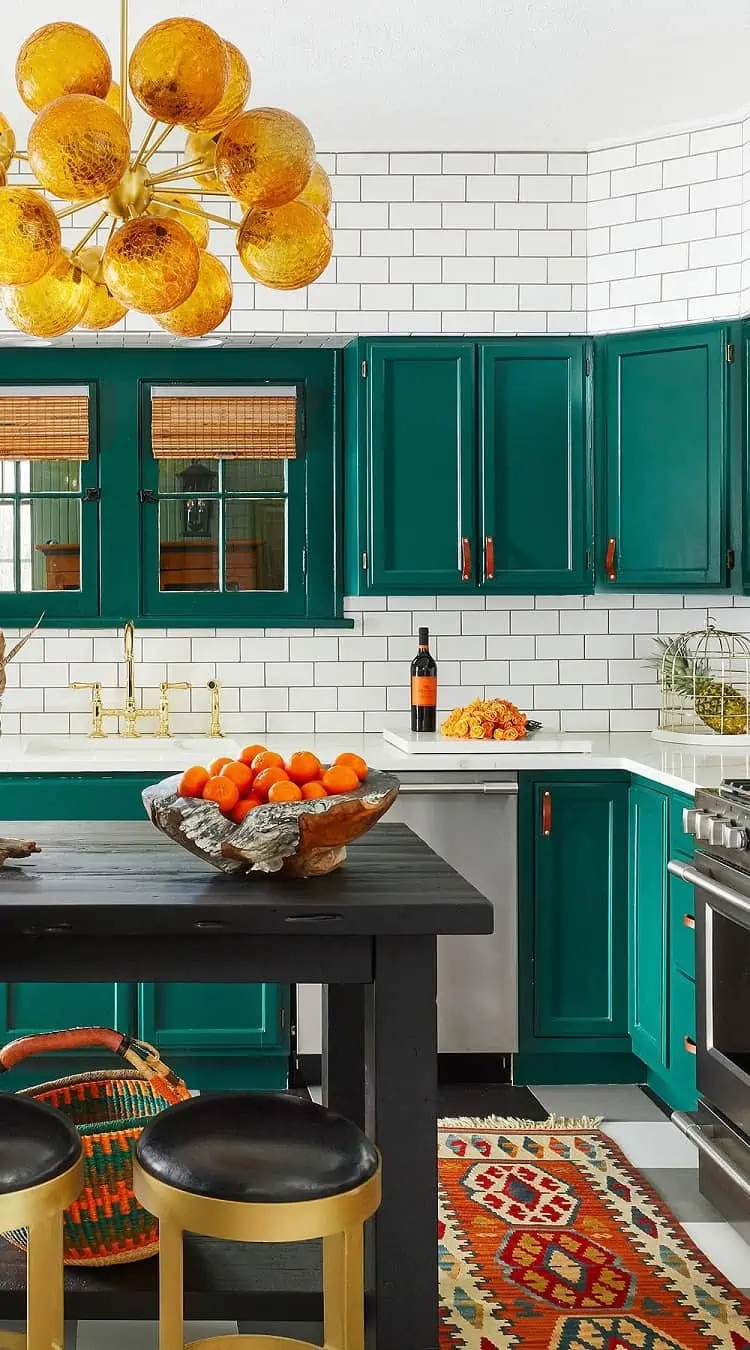 These teal cabinets with their shaker-style visuals and bold red hardware look stunning when paired with the grunge look of New York subway tiles. However, the visual contrast doesn't just end there – there's also the tasteful curation of the vibrant rug, the checkered floor, and the warm, espresso-hued kitchen island whose golden stools also match with the brass sink.
Overall, the teal kitchen cabinets really steal the entire show, but also work in eclectic harmony with the rest of the ambiance.
Boho-Chic with a Teal Flavor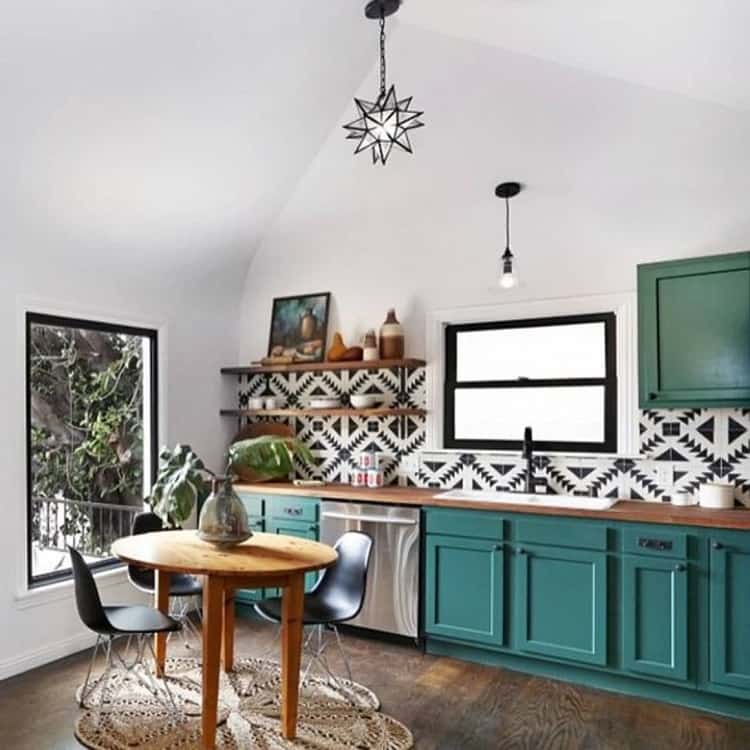 The boho-chic style is characterized by a deliberate carefreeness along with a mixed collaboration of textures and patterns. While it mostly does all that against an earthy backdrop, you can see how this style can work wonders against teal kitchen cabinets thanks to this picture.
The unabashed use of distinct patterns in the backsplash tiles and the rugged wooden accents come together brilliantly against the teal of the cabinets.
Minimalist Teal Kitchen Cabinets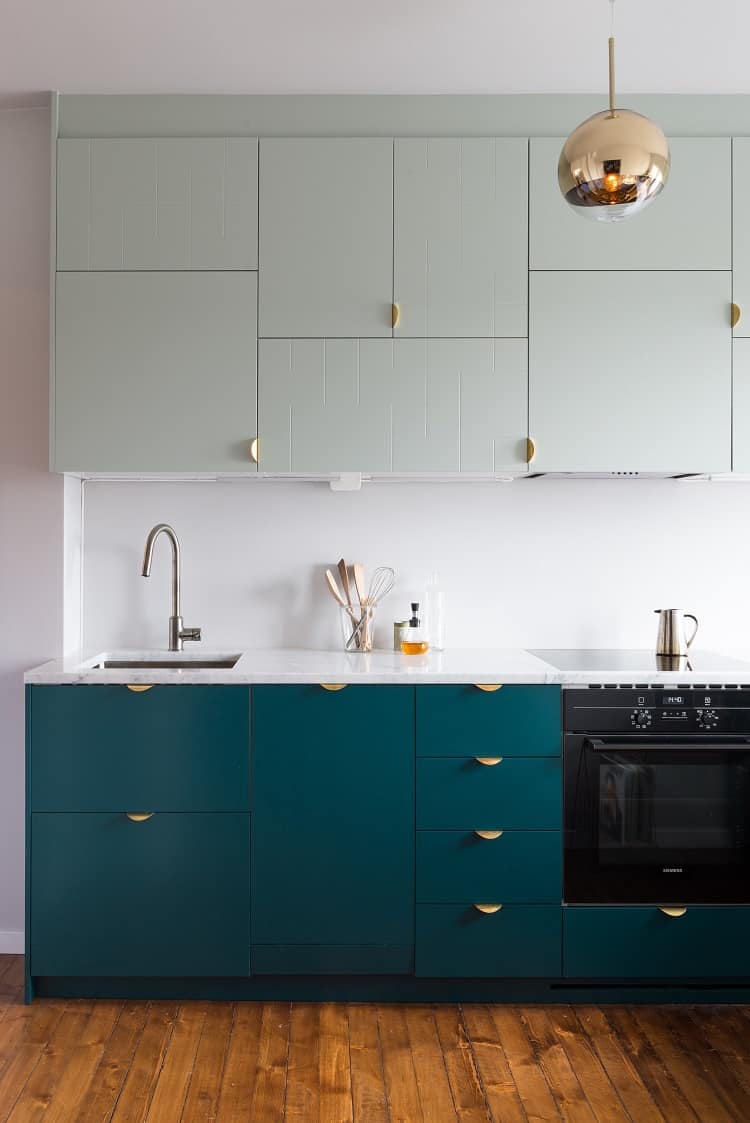 Teal is the kind of color that can camouflage itself to suit any type of interior design, so it's no surprise that it can look absolutely sleek, pulled-together, and stunning in a minimalist kitchen as well.
In fact, this type of teal cabinets have an urbane sophistication about them, which is enhanced even more with the contrast of white over-cabinets, countertop, and backsplash. The elegant brass hardware adds just the right kind of visual break within the satiny backdrop of teal and white.
Small Scale Teal

No matter how big or small a home is, teal kitchen cabinets are versatile enough to bring their best game in all of them. This open-concept L-shaped kitchen might have been short on space, but the teal color of the cabinets ensures that they'd never be short on personality. In fact, the shaker style of the cabinetry ensures distinct character for the cabinet door leaves against a mostly white ambiance.
Wood and Teal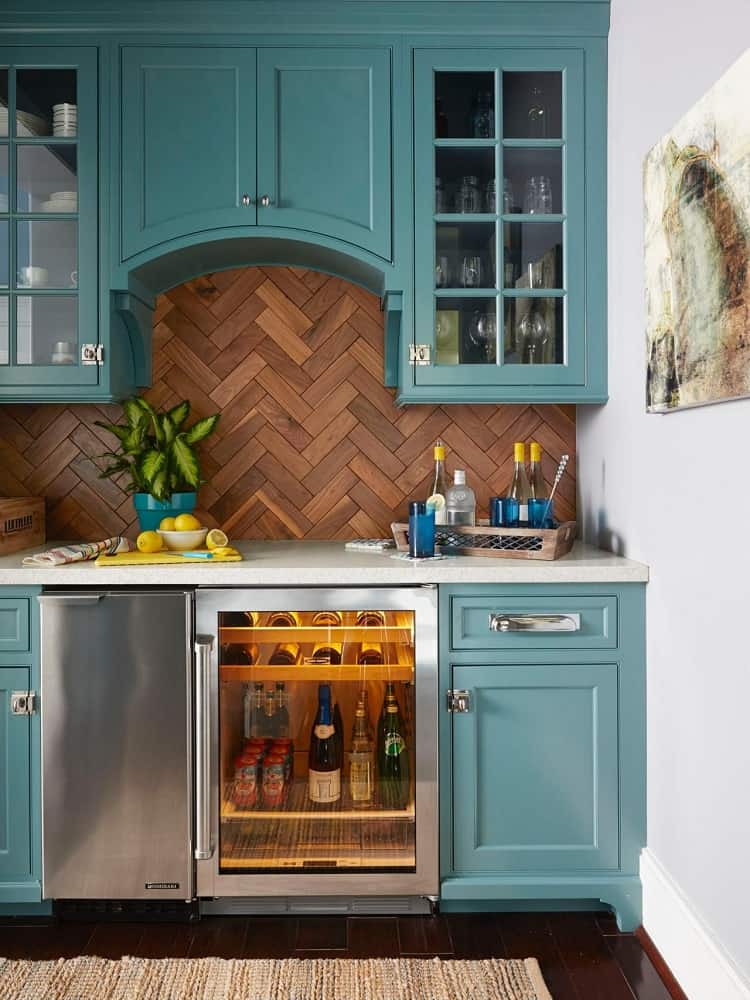 Brimming with rustic decadence, this wood-and-teal kitchen combination ensures how teal-colored cabinets can bring their A-game even in the most distinct of themes. This particular idea is quite excellent for country-chic homes, where one needs to emulate a measure of industrious farmhouse appeal in the most understated way possible.
Here, the combination of glass-paneled and shaker-style cabinetry breaks the visual monotony that's a dilemma in most modern kitchens. The cool undertones of the teal color are then complemented by the warm ruggedness of the wooden backsplash, which makes the whole setting feel tastefully curated.
Teal with Brass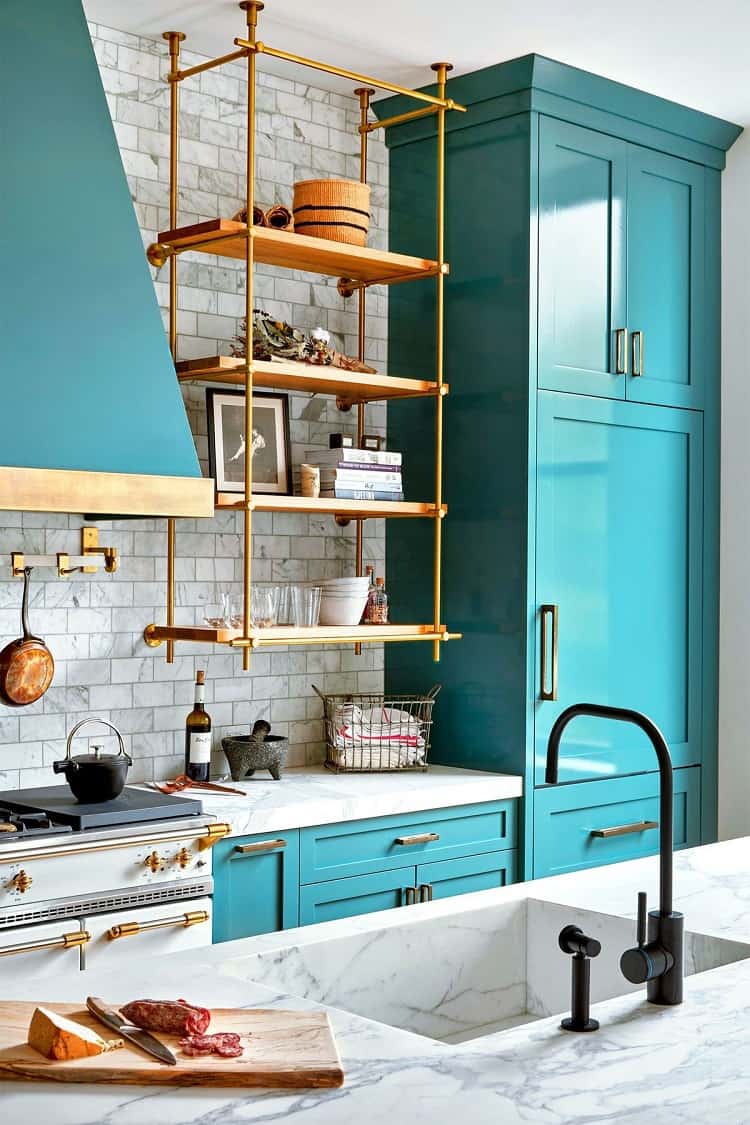 Teal kitchen cabinets go wonderfully with warm metal accents like brass and copper. You won't see it with a lot of cool nickels or stainless steels, as the cool countenance of such metals doesn't really create a striking contrast with this color.
However, if you're designing an industrial-chic, craftsman, or farmhouse-style kitchen, then these teal cabinets with brass fittings and floating shelves would make for some excellent inspiration. With a backdrop of marbled subway tiles and a clear sheen on their teal surface, you'll love how the brass shelf stands out beautifully in this kitchen while bringing out the best in the cabinets.
Nudes, Copper, & Teal Cabinets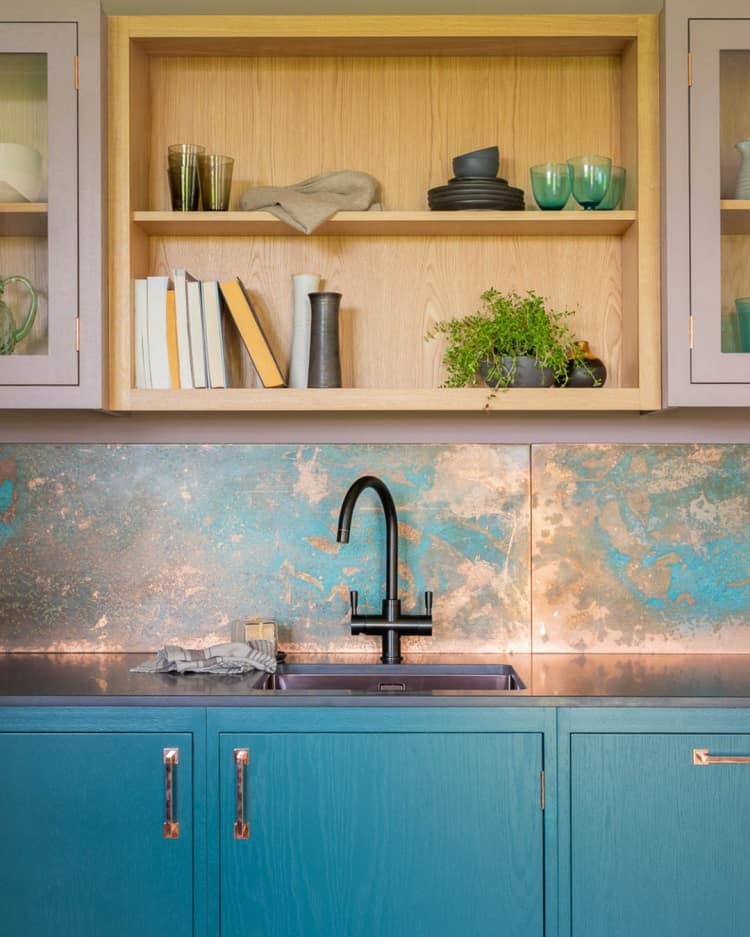 Teal kitchen cabinets pair really well with nude neutral hues, which is why this particular kitchen comes off as incredibly charming. You'll notice how the teal color of the cabinets also highlights the wooden grain in these cabinets, which is something that you don't get in typical versions of this aesthetic.
Moreover, the dark-colored countertop sets the tone for creating a striking contrast with the copper-and-teal backsplash. The copper tones segue into the nude-and-wood upper cabinets, which look even better with the lovely utensils, accessories, and plants.
Teal with Floor Contrast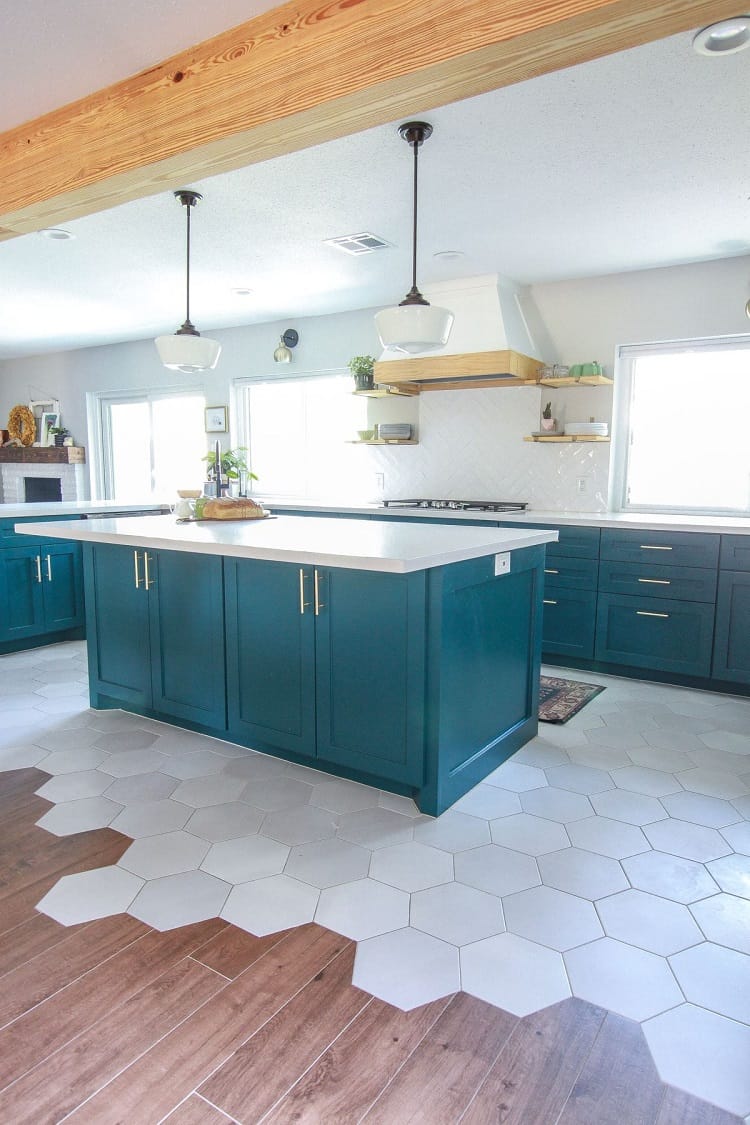 Sometimes, you can create a nice visual dynamic in your kitchen by playing with the floor patterns. This kitchen with teal cabinets is an excellent example of this phenomenon, where the hexagonal tiles strikingly contrast with their straight wooden counterparts.
The teal cabinets provide a steady backdrop for this transition and provide a dashing pop of color that makes this entire space absolutely unique.
Teal on Teal
If you've got a large enough kitchen, then a teal-on-teal color scheme would make a great option for you. This image shows how you can pull this off with panache. Since painting both the cabinets and the walls in a gorgeous teal hue can seem a bit monotonous, you can introduce a dynamic vibe by playing around with the backsplash.
The black-and-white patterned one here features a beautiful Peranakan tile that really offsets the warm-teal of the walls and cabinets alike. Add in the tastefully curated accessories, and even the shelves really add to the whole ambiance.
Contemporary Teal
The contemporary style takes the best of the latest trends and pulls them together in a single space. This kitchen with lovely teal cabinets features the best of the contemporary style with its smooth paint finish, beautiful hexagonal backsplash, patterned floor, and chalk-painted built-in pantry.
The deliberately mismatched aesthetic is overscored with a sheen of modernity and a playful vibe that really makes one appreciate the whole space.
Teal Tackling Marble
If you really want a high-end look with teal kitchen cabinets, then you'll love this picture. I personally adore how the marble backsplash and countertop emulate subtle luxury within the ambiance, which is complemented by the teal cabinets.
Moreover, just the striking contrast between the bold teal and the light, bright-white marble with its grey veining makes an instantly unparalleled visual impact.
Teal-Accented Steampunk Kitchen
If you're searching for something a little more unique, then I suggest that you look at this bold steampunk-style kitchen. While most of it has been dressed up in distressed, rugged wooden accents, it's the cool teal-colored highlights that really make the whole ambiance shine.
So, this is another unique way that you can emulate a subtle yet impactful teal hue in your kitchen cabinets. Just remember to pair it with the right furniture and lighting to have the best impact. I really like how the industrial style fixtures and gold lighting in this one offset the contrast between the wood and teal.
Teal with Asymmetric Backsplash
There are a lot of ways that you can do to embellish your teal kitchen cabinets, and playing around with the backsplash is one of them. The vertical mosaic of marble tiles in this image shows how you can use shapes and lines to make a color feel even more unique and wholesome than it already is.
Moreover, the white color of the backsplash acts as the perfect contrasting element that visually disconnects the teal cabinets and the similarly-hued wall above it. This is an excellent idea for galley and single-counter kitchens.
Deep Teal vs. Accents
Teal color comes in both light and dark hues, and this image looks at how you can manage the darker side of this shade against some crisp accents.
I love how the entire cabinet side has been finished in the dark, deeply resonant tones of teal and black. Then there's the bright wooden floor in the middle, which immediately changes the entire tone of the kitchen and makes it completely okay to have stark white doors on the other side.
It's a play of colors that even the pros will appreciate.
Teal Embracing its Retro Side
For those of you who have small kitchens and want to pack a big personality in them – this is a perfect inspiration! The plain, light-teal colored cabinets and drawers have been designed in a boxy retro style that immediately captures the eye. The simplicity, however, is balanced out with the lovely accessorizing.
The hanging light fixture atop the sink makes for a great hook for the eye and softens up the whole ambiance even more with its lovely gold lights and striking foliage.
FAQs
Question: What are the Best Colors to go With Teal Kitchen Cabinets?
Answer: Teal color leans on the darker and more pronounced side, which is why teal cabinets go really well with light neutral shades like beige, taupe, off-white, and cream. All of these hues make the teal color stand out gorgeously while providing understated, tasteful contrast within the ambiance.
Question: Why is Teal Considered a Good Color for Kitchen Cabinets?
Answer: Teal color is considered great for kitchen cabinets because it has an instant visual charisma. While typical old colors like white and wood are bright or breezy, teal kitchen cabinets evoke depth, unfettered charm, and a solid rendering that would lend your kitchens a lot of personality.
Question: Do Teal Cabinets Pair Well with Silver?
Answer: If you want to create an atmosphere that leans on the cool side, then yes, you can pair teal cabinets with silver hardware. Note that all of your accent and secondary color schemes would have to be of the "cooler" variety if you're going with this idea, because as a general rule, warm colors pair with gold metals like brass, and cool colors pair best with silvers like stainless steel and nickel.
Question: What are the Best Ways to Use Teal in Your Kitchen?
Answer: Teal color is best interpreted on the cabinets of a kitchen, but once in a while, with the right color and material accompaniment, you can also use it on the backsplash. Do remember; teal interiors only look beautiful with the right contrast, so choose your secondary and tertiary color schemes with a lot of care.
In Conclusion
This list has been designed to serve as an inspiration board for those who're looking to emulate gorgeous teal cabinets in their kitchens. From understated and lowkey to casual and luxurious, there are all kinds of teal kitchen cabinets on this list.
I hope you find each one of these options as unique as I did and find ways to make every style your own.
Read More: