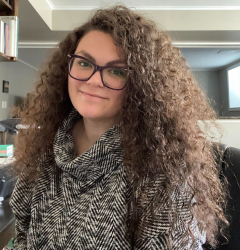 Latest posts by Candace Osmond
(see all)
Need some more storage space ideas for your bathroom? Today, I'm going to give you some inspiration for the best pedestal sink storage cabinet ideas. Pedestal sinks don't allow much room for setting items down on them, so some stylish new cabinets could be the solution. Not sure what pedestal sinks are or how you could incorporate storage options with yours? Don't worry! I've got you.
Bottom Line Upfront
I love a good pedestal sink, especially for a small bathroom. But storage does become an issue. I would never want to cover up the simple beauty of a pedestal sink, so my fav on this list is definitely the Storage Beside Pedestal Sink by Foter because it doesn't take up a ton of space, and provides storage, and even gives a small counter space.
Top Picks
Let's start off with the 3 best pedestal sink cabinet options. For best features overall, best for modern bathrooms, and best for half baths, you won't find better ideas than these. Remember that having a small bathroom doesn't mean you have to give up on fashionable cabinets and other storage options!
Best Overall: Storage Beside Pedestal Sink by Foter
Best for Modern Bathrooms: Wooden Pedestal Sink Cabinet by AQVA Bathrooms
Best for Half Baths: Unique Pedestal Sink Storage by Kitchen and Bath Classics
What is a Pedestal Sink?
A pedestal sink is a classic type of sink that started gaining popularity in the 1800s. Pedestal sinks are smaller than the average, modern sinks you see today. Since they're small, simple to install, and simple to operate, these types of sinks are still wildly popular to place in small bathrooms.
Usually, pedestal sinks are solid white since they're made from porcelain. They have a simple design. The sink basin is the widest part of the sink, while the stand and pipes are very narrow.
Best Pedestal Sink Storage Cabinet Ideas
Let's get started right away! These are the best pedestal sink storage cabinet ideas from all around the internet. Whether you have a modern bathroom, a traditional bathroom, a vintage bathroom, etc., you can introduce gorgeous new cabinets into the bathroom layout you already have.
1. Genius Pedestal Sink by Kitchen and Bath Classics
Porcelain and light-colored wood make a stunning combo in this photo, don't they? 2 small, narrow shelves have been placed side by side under the sink for extra storage space. By matching the wood the shelves are made from with the wood around the bathroom mirror and the towel rack, this bathroom has been given stylistic cohesion. With these 2 simple shelves, a lot of room for placing items has been opened up without them taking up much space.
2. Pedestal Sink with Vanity by Charleston Crafted
This idea will take a little more work installation-wise, but it gives you such gorgeous results! Here you can see how a white cabinet with gold and light wood accents has been fitted around a pedestal sink. If you follow the directions for installing this cabinet yourself, you'll wind up with a beautiful pedestal vanity. This makes your bathroom appear more modern.
3. Pedestal Sink Storage Idea by Kitchen and Bath Classics
Remember when we talked about vertical storage ideas? Well, this tall and thin set of drawers has 5 cubbies for you to store bathroom items in. Since the shelves aren't very wide, this cabinet doesn't take up very much space. The solid white color pairs well with the rest of the solid white bathroom. Of course, you could buy this style of cabinet in whichever color you wish.
4. Unique Pedestal Sink Storage by Kitchen and Bath Classics
What unique shelving ideas! This white cabinet has a magazine holder built into the side. The top shelf opens downward instead of outward. While having parts within it that give it uniqueness, this cabinet looks classical with its solid white color and decorative, dark brass accents. If you have a small bathroom, this cabinet idea is seriously something to consider!
5. Pedestal Sink Storage Idea to Keep Away Clutter by Hunker
If your ceiling is tall enough to allow for it, why not put shelves above your sink? Hunker shows how you can make use of the wall space above your sink to place black wooden shelves instead of a mirror. Of course, you could always place a mirror somewhere else in the bathroom, like on the back of the door. Choosing a black shelf makes the piece stand out by starkly contrasting with all the white paint around it.
6. Beautiful Wooden Bathroom Shelves by Elaine Murdock, CMKBD
Placing 2 vertical shelves on either side of your pedestal sink is a great way to avoid complex installations. In this picture, the medium-brown wood from the shelves has been matched with the color and texture of the wood making up the mirror's frame. Brown, blue, white, and silver pair beautifully together, so I'd recommend using this color scheme for inspiration, too.
7. RÖNNSKÄR Sink Shelf by IKEA
Ah, the classic wrought iron look! If you're a fan of IKEA, you're going to love this product. This decorative, solid black under-the-sink shelf offers room for storing your toiletries without taking up a lot of space. A hand towel rack hangs from the top of the shelf. Shelves like these are incredibly easy to put together and install all by yourself.
8. Clever Storage Idea for Your Bathroom by Buzzfeed
What beautiful silver! This silver sink shelf functions much like the shelf above, though this one doesn't have as much storage space. The shelves have a unique half-moon shape that's the perfect width for storing bottles. The top metal bar is a towel rack, so you'll have a convenient place to dry off your hands. If you don't want big and bulky, this could be the perfect pedestal sink storage idea for you.
9. Best Pedestal Sink Storage Idea on Pinterest by Pinterest
These small white cabinets with shutter-style doors offer a perfect touch of vintage style. This cabinet reaches nearly to the bottom of the sink basin, so the inside is nice and roomy. A cabinet with doors like this one is ideal if you like to keep your toiletries hidden. Since the cabinet is a crisp white color, it's sure to pair well with the porcelain that pedestal sinks are typically made from.
10. Creative Pedestal Sink Storage Cabinet by Susan Frede
How cute! This vintage white sink cabinet is perfect for when you're tight on space. One small drawer is included, plus space on top of the drawer for extra items. If you want even more space for toiletries and towels, try using 2 matching vertical shelves to place on either side of the sink. Adding furniture pieces like these keep a small bathroom from feeling cramped.
11. Wooden Pedestal Sink Cabinet by AQVA Bathrooms
How very modern! If you're one for minimalism, check out this wooden pedestal sink storage cabinet. AQVA Bathrooms shows how you can implement a small wooden cabinet to store your toiletries with style. Everything except the sink basin is concealed, which some homeowners consider aesthetically pleasing. Matching the light wood cabinet with a beige towel was a smart move, too.
12. Brilliant Tips for Making Your Small Bathroom Feel Larger by Better Homes and Gardens
This black bathroom shelf is another great example of how you can make use of vertical space. Even if your bathroom is small, these thin shelves still offer you 4 places to put toiletries on top. This shelf is placed between two pedestal sinks. If you own a company building and your building has bathrooms with multiple sinks and stalls, having a shelving system as this one comes in handy.
13. Skirted Pedestal Sink-Easy Sewing Tutorial by The Painted Chandelier Blog
What could be more classic than a sink skirt? In case you've never heard of one, you can conceal the pipes and underside of your sink by placing a curtain around the sides of the basin. This is a tutorial by The Painted Chandelier Blog, so you can learn how to sew a sink skirt all by yourself! In the mood for a little DIY? This project offers you a hands-on way to customize your pedestal sink.
14. 2 Wooden Sink Shelves by We Heart It
These 2 small shelves sitting beside the pedestal sink fit into tight spaces. Even if there is very little room on either side of your sink, placing 2 small shelves beside it can make all the difference in stylishly storing your belongings. Using wire baskets on the top shelves, like the ones in this picture, can help you stay organized with your small belongings.
15. Storage Beside Pedestal Sink by Foter
How nifty! This white paneled bathroom shelf is unique and so aesthetically pleasing! The top shelf opens outwards like normal. You can reach your items on the bottom shelf from the open window on the side of the drawer. The glass top is a perfect place to store makeup and jewelry. If you want a standout piece, try something like this.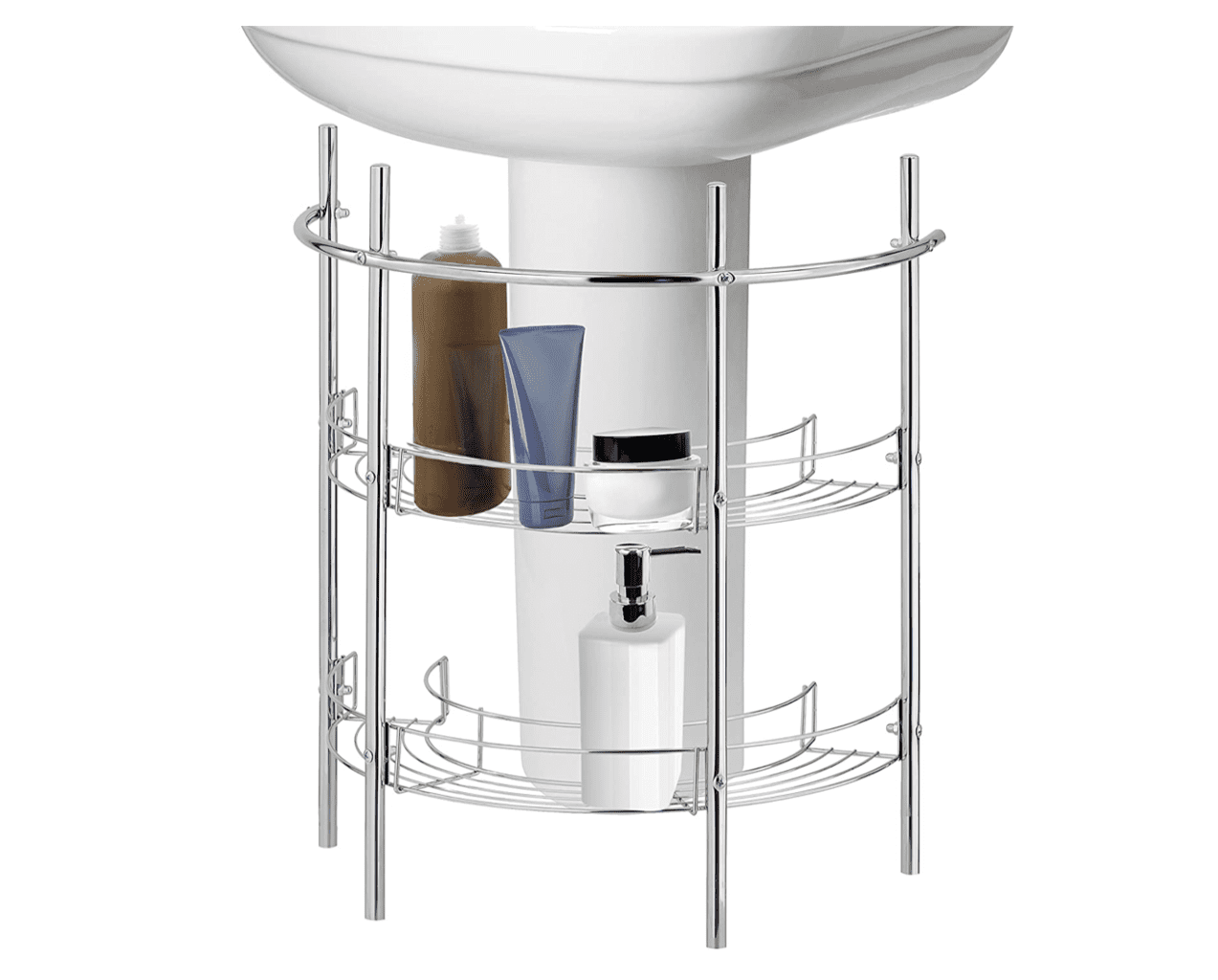 Need somewhere to put all your shampoo, conditioner, shaving cream, shower gel, face wash, lotion, etc.? This semicircle rack offers 2 shelves for storing all your bathroom essentials. If you have silver accents in your bathroom already, then a pedestal sink shelf like this one would match beautifully. This offers storage that takes up some of the least amount of space.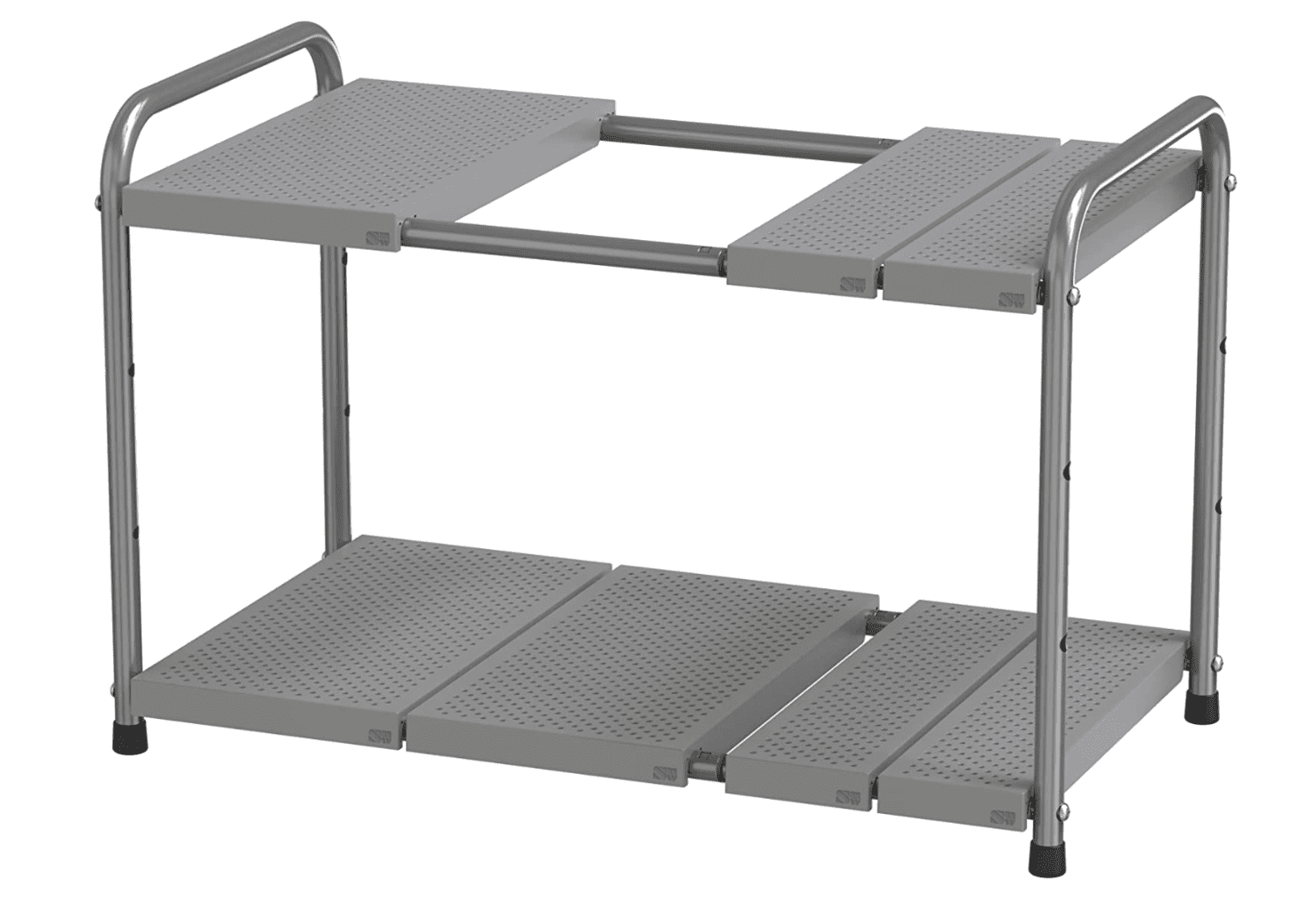 This easy-to-use expandable shelf is great for homeowners and renters who don't want a hassle. You can either keep this shelf compact or extend it to allow for more shelf space. Since the shelf is short, one simple solution to your storage needs is to keep it under the sink. You've got 3 color options with this idea-gray, black, and white.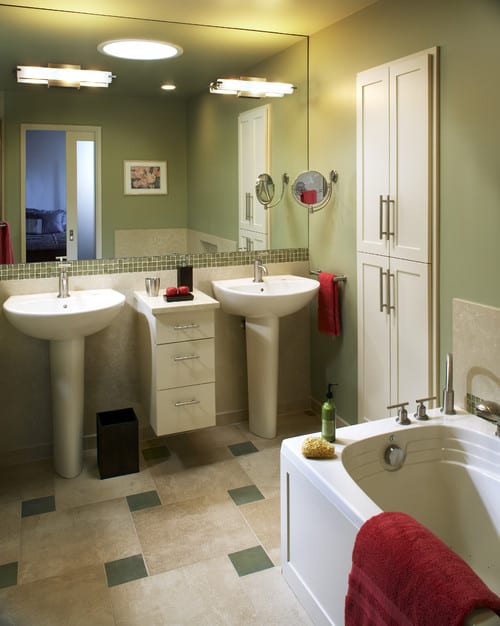 There is something fancy about shelves mounted to walls, isn't there? This slim, 3-shelf cabinet has been nailed between 2 pedestal sinks in this bathroom. Whether you have 1 sink or 2, this sophisticated white cabinet will look gorgeous next to them. It's an even better idea if the silver accents in the cabinet match the silver accents on your sink.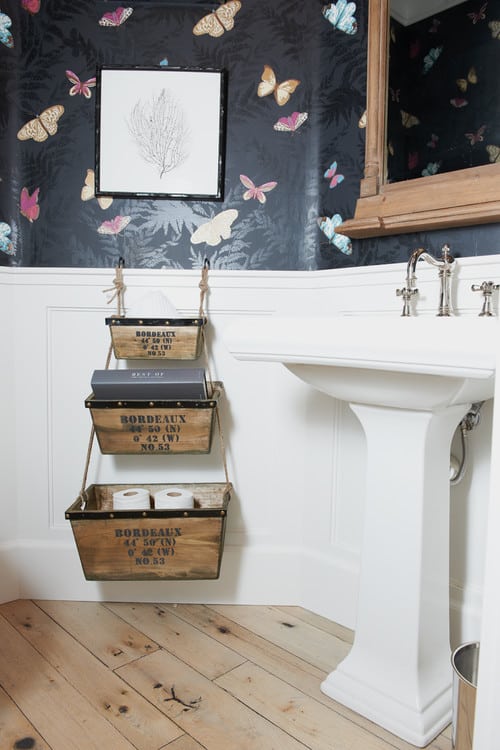 Fans of eclectic homes will want to take a look at this idea. 3 wooden baskets hanging together with thin brown rope have been hung beside the pedestal sink in this picture. Choosing to have the baskets hang on a short wall that isn't being used for anything else besides holding a picture frame was a great idea-this way, the room doesn't look cluttered. The baskets themselves look stylishly rustic.
Pros and Cons of Pedestal Sinks
As with anything in life, pedestal sinks have their pros and cons. I'm going to go over some of the major pros and cons of owning a pedestal sink in this section to help you decide if it's the right sink for you.
Pros

Perfect for small bathrooms and half baths
Doesn't take up much room
Simple to operate
Typically not as costly as other sink styles
Classic design that's been beloved for hundreds of years

Usually made from beautiful porcelain
Gives your bathroom a stylishly vintage look
Can be dressed up with modern flair

Cons

Little to no space on the sides of the sink to set anything
If you have a large bathroom, a bigger sink might be better
Porcelain can break more easily than other material types
Where Do You Use a Pedestal Sink?
A lot of the time, pedestal sinks are used in small bathrooms and in bathrooms from old homes. Pedestal sinks are a classic type of sink that doesn't take up much room. If your bathroom is on the smaller side and you're debating which kind of sink to install, I highly recommend looking into one of these.
Alternative Ideas for Small Space Storage
Not sure you want a cabinet to be placed under your sink? Not to worry! I've got 3 great alternative ideas for when you need storage space in small bathrooms. There are tons of options for storage space nowadays, so honestly, the sky's the limit.
Shelves to the Ceiling
If your bathroom lacks space, consider storing your items vertically. Small shelves that can reach all the way to the ceiling provide you with lots of storage space and won't be taking up much room. Normally, this type of shelving can be pretty inexpensive, too.
Hanging Baskets
These are so convenient! Hanging baskets are exactly what they sound like-baskets that are meant to be hung from the wall or door. Typically, hanging baskets will have multiple levels of storage spaces, so you can separate the items you want to store.
Back of the Door
In a lot of homes, the back of the bathroom door is an underutilized opportunity for storage space. You can place shelves, hanging baskets, and storage racks on the back of your door for easy access to your favorite bathroom goods.
FAQs
Question: How Do I Add Storage to My Pedestal Sink?
Answer: I highly recommend you buy a small and narrow cabinet that can fit under your sink. A great alternative to cabinets is hanging baskets, which can be placed above the sink, on the bathroom door, or on any extra wall space. Cabinets and hanging baskets come in a wide variety of colors and styles so you can get one that matches your bathroom's theme.
Question: What Do You Put Behind a Pedestal Sink?
Answer: It's common to place a backsplash behind a pedestal sink. A backsplash prevents the wall behind the sink from being damaged by water. This way, your wall won't start to rot by being exposed to water over and over again.
Question: When Was Pedestal Sinks Invented?
Answer: Pedestal sinks were invented and gained popularity in the 1800s. During the 1800s, many people lived in homes where their bathrooms were not very large. Since people wanted to enjoy the benefits of modern comforts, the solution was to make smaller appliances. Thus, the pedestal sink rose to fame.
That's All, Folks!
That's a wrap! Did you enjoy learning about the best pedestal sink storage cabinet ideas? Was there a particular idea that stood out to you as your favorite? If you want style, function, and a simple design then I recommend the Storage Beside Pedestal Sink by Foter.
I hope you found it helpful to learn more about what pedestal sinks are and how you can deck out your bathroom with stylish storage options. For more information about the most gorgeous bathroom storage and bathroom remodeling solutions, please come visit our website!