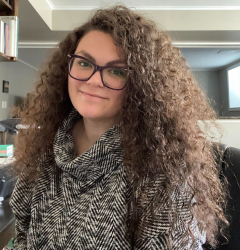 Latest posts by Candace Osmond
(see all)
Is there nowhere to put your extra towels, toiletries, and bathroom decorations? Are you simply wishing for more storage space and furniture to spruce up your bathroom? You've come to the right place because today I'm going to show you 21 creative free standing bathroom cabinet ideas.
I used to work in Interior Design and am actually an Award-Winning Kitchen & Bath Designer. I've helped organize and style hundreds of bathrooms. So I can't wait to share some ideas with you! I'll also cover what properties a high-quality freestanding cabinet should have and go over some of the most popular materials for cabinets. Ready to start your journey through bathroom décor? Let's go!
Bottom Line Upfront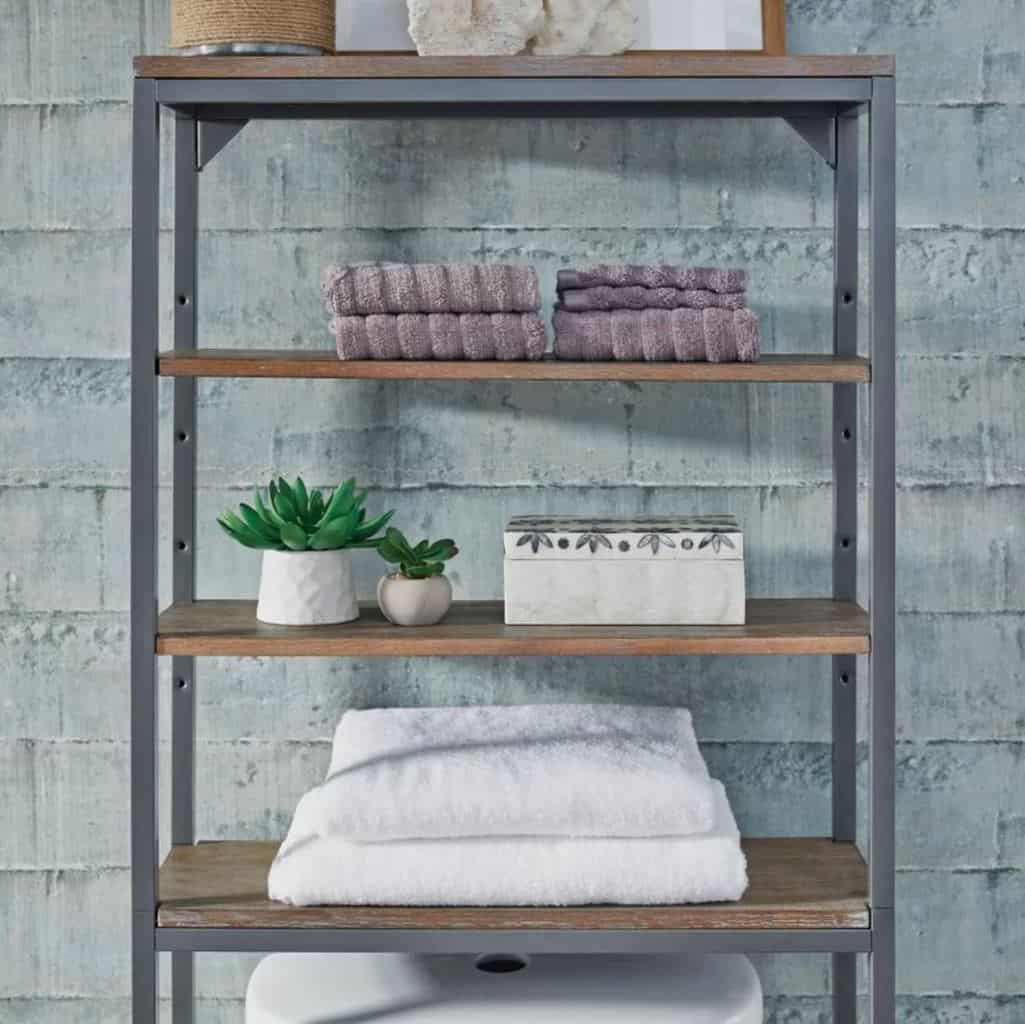 I have a bathroom on the smaller side, so these ideas are like gold for me. But I have to say, the Over-the-Toilet Bathroom Storage is my fav. I love how simple it is, and that it can be modern or slightly rustic.
Top 3 Picks
Let's start things off by looking over the 3 best freestanding bathroom cabinet ideas. For small bathrooms, large bathrooms, and everything in between, there is a top-quality freestanding cabinet out there for you.
What is a Freestanding Bathroom Cabinet?
A freestanding bathroom cabinet is a cabinet that isn't mounted to the wall or connected to any plumbing. This type of cabinet is much more lightweight than traditional cabinets. They often resemble small bookshelves, though some have pull-out drawers. They make the perfect place for setting decorations and storing your belongings.
Best Freestanding Bathroom Cabinet Ideas
Here comes my favorite part! I'm going to show you the best freestanding bathroom cabinet ideas for modern and vintage-themed bathrooms. Whatever your tastes or size limitations are, there is a cabinet in this list that will fit in with your bathroom to a T. Check through these if you want some inspiration.
1. Best Light Wood Cabinet: Narrow and Dainty Linen Cabinets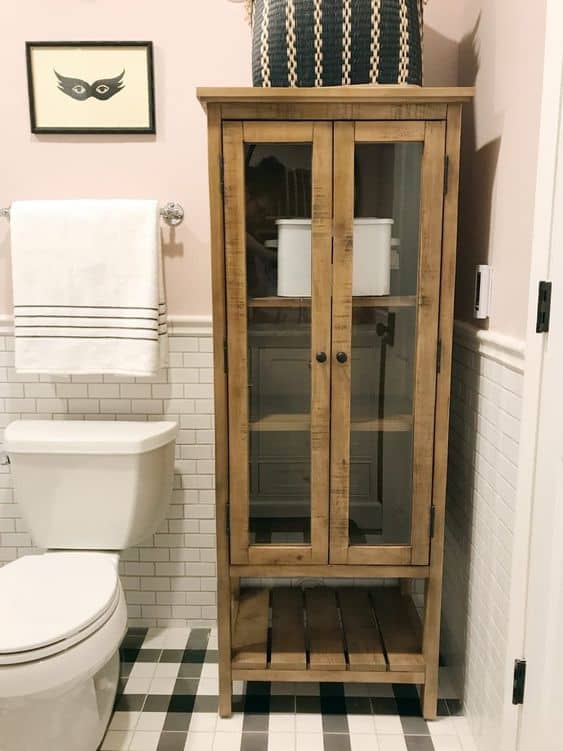 What a versatile cabinet! I love how this could go with a rustic or a modern style. Mixing a barn wood color with shaker doors and a slated shelf really works.
Whether your bathroom is huge or cramped, this cabinet fits in well with many different themes. You'll be able to see the contents inside through the dainty glass doors. I'm a fan of how tall this freestanding cabinet is, because it gives you lots of storage room while making use of vertical space. It helps to make your bathroom feel less crowded.
2. Best Short Modern Freestanding Cabinet: The Modern Freestanding Bathroom Cabinet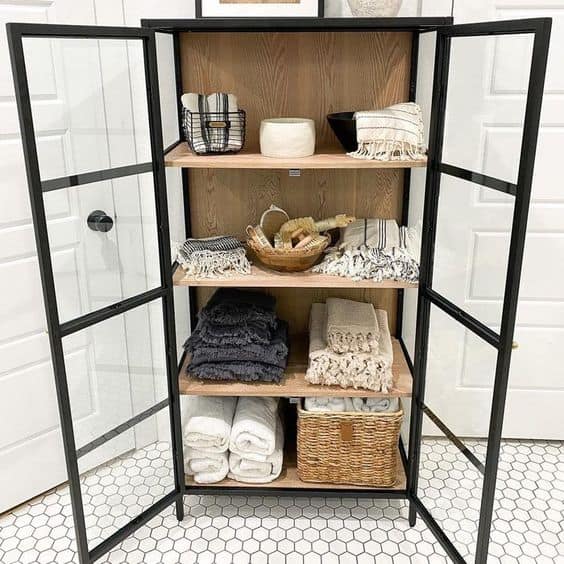 People who keep a modern theme throughout their home will want to look at this cabinet. A sharp black frame with glass on all sides is a perfect addition to a sophisticated bathroom. I also love how this could easily be used in a hallway, porch, entry, or office.
You'll have 4 shelves to place your toiletries and other bathroom essentials on. This is another freestanding cabinet that doesn't take up a lot of room, so it would be perfect for small bathrooms.
3. Best Espresso Bathroom Storage Idea: Zen Over-the-Toilet Bathroom Storage
Ah, this espresso-colored over-the-toilet storage is so calming to look at. And I adore how they've added on a side shelf that doesn't really take up much more space but adds clever storage.
The entire structure is made from wood, which lends to its zen-inducing effect. If you want to take the relaxation factor further, add an essential oil diffuser and a Himalayan salt lamp on top. There are 5 shelves in total, so it gives you a decent amount of storage space without crowding your bathroom.
4. Best Wide Rustic Cabinet: Homey and Rustic Cabinets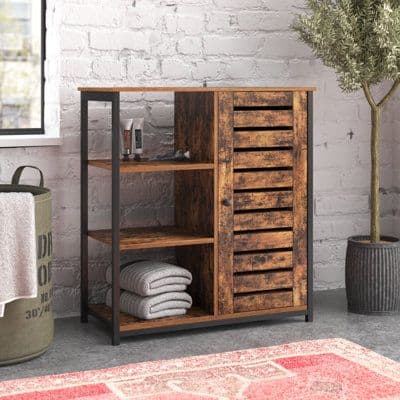 Have you got an appreciation for rustic charm? I recommend this freestanding cabinet that's been made from stylishly aged wood. I go crazy for anything rustic or farmhouse style.
4 shelves are visible while 3 are shielded by a shuttered door. Since this cabinet is wider than the other cabinets we've looked at so far, you can tell that this is better for larger bathrooms. In a small bathroom, this cabinet might take up too much floor space.
5. Best Versatility in Style: Cabinets for the Farmhouse Cabinet
The solid white wood with the paneling in neat, clean rows makes this a perfect freestanding bathroom cabinet for farmhouse homes. Of course, you don't have to have a farmhouse style to incorporate this versatile cabinet, and you don't even have to buy it in white.
This same cabinet is also available in dark brown and slate gray. There are 3 shelves on the inside but remember you can also place items on top of the cabinet.
6. Best Chic Style: Gorgeous Black Metal Linen Cabinet

This linen cabinet is ultra-chic. I almost bought it myself! It's made of metal and painted a solid, matte black. The top 4 shelves are visible from simple glass doors. You can see 2 large metal cabinets on the bottom, which would be perfect for storing towels. To give your bathroom some personality, you could place decorations on the top shelves behind the glass doors.
7. Best Naturalistic Bathroom Storage Idea: Wooden Over-the-Toilet Bathroom Storage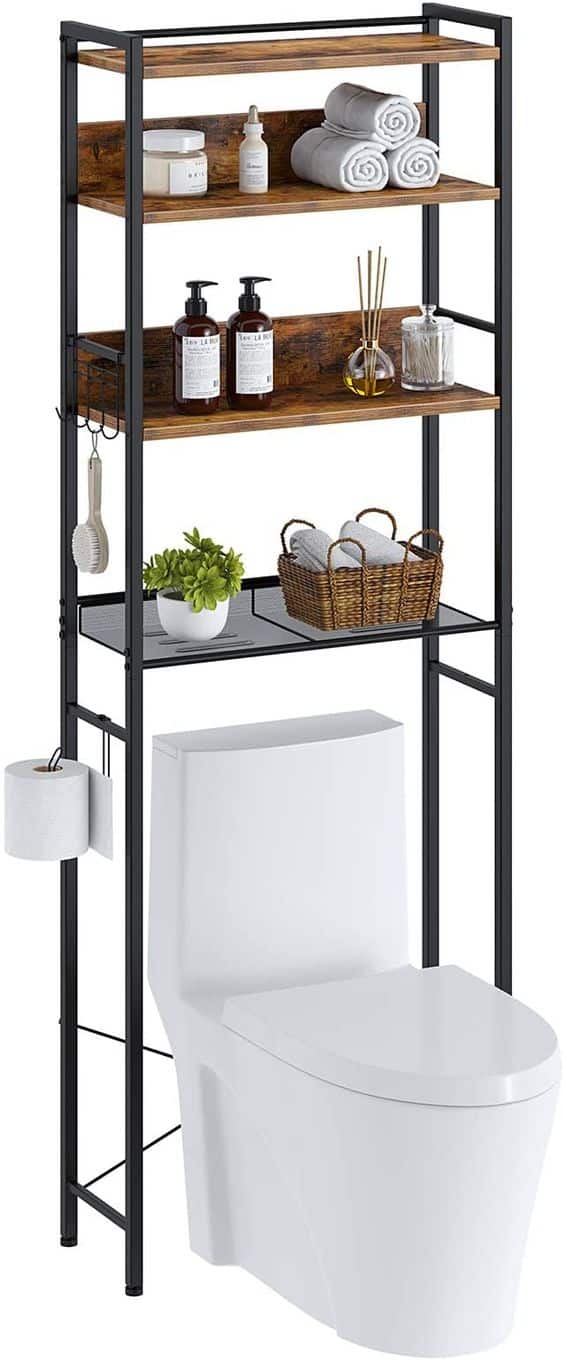 This over-the-toilet storage has a beautiful botanical aesthetic to it, doesn't it? And I love how they even added hooks on the side for extra function.
It would look perfectly decorated with succulents and other house plants. Neatly rolled towels plus all-natural skincare products like the ones you see here definitely fit the style. Storage options like these are handy whether you have a small or large bathroom because they look nice and aren't big.
8. Best Overall: Over-the-Toilet Bathroom Storage for Your 2022 Bathroom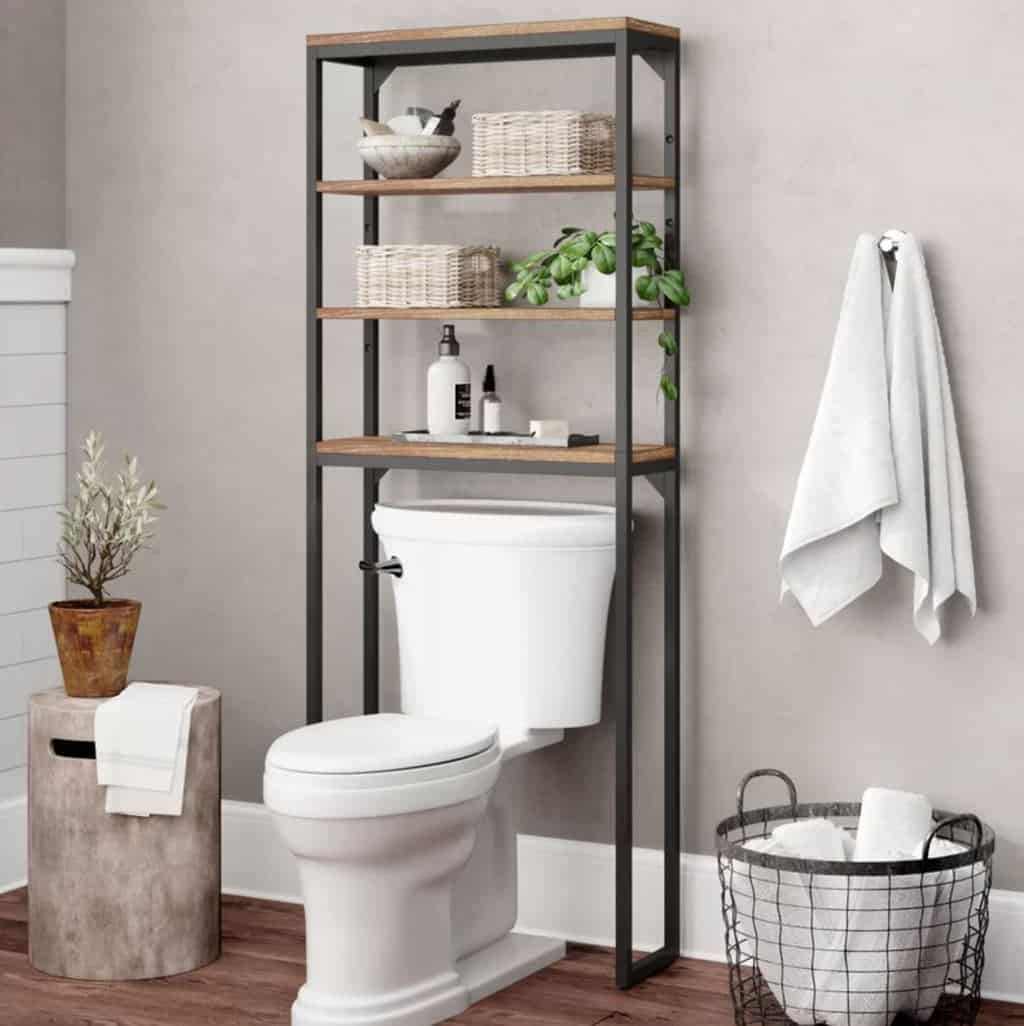 Over-the-toilet bathroom storage like this is the model of what 2022 bathrooms look like. When someone asks me for advice on how to add storage to a small bathroom, I always recommend over-the-toilet units.
Having a bathroom on-trend right now means utilizing a naturalistic style. The calming, neutral tones in this furniture piece make it fit the current style to a T. With this vertical storage option, you have 4 roomy shelves to place your bathroom essentials on. White, green, and beige look perfect with this.
9. Best Small Freestanding Bathroom Cabinet Idea: The Genius Vertical Storage Idea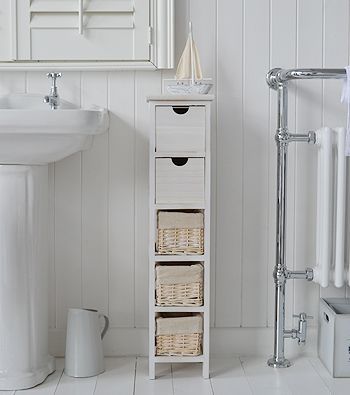 Owners of small bathrooms and big bathrooms can appreciate this one! This tall and thin cabinet has 5 spaces for pull-out drawers plus room on the top. The wood is painted white, so it pairs nicely with bathrooms that incorporate white or use the shade exclusively.
If you want to decorate this freestanding cabinet, be sure to keep it simple. Minimalism is part of this cabinet's beauty, in my opinion.
10. Best Traditional-Style Bathroom Cabinet: Traditional Freestanding Bathroom Cabinet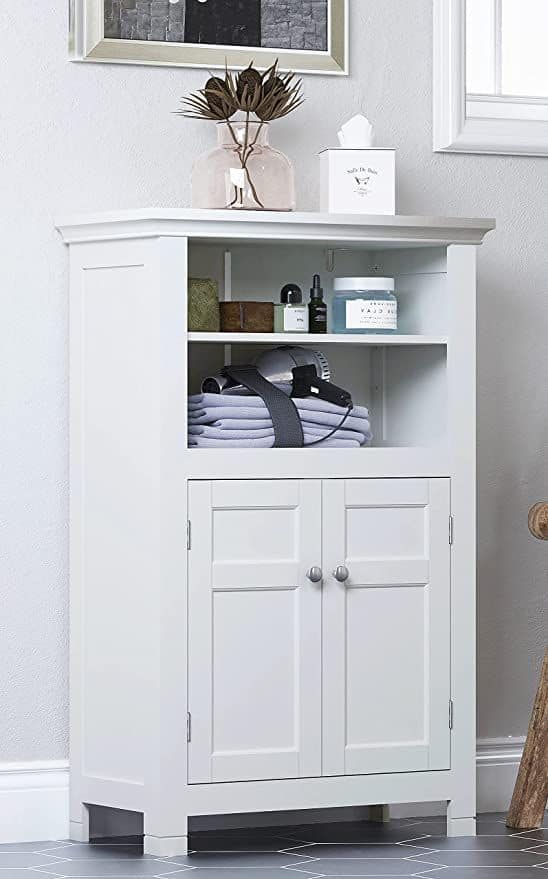 Got an appreciation for traditional style? Definitely consider this cabinet, then! This is a white freestanding cabinet with silver accents. It's lengthy compared to some of our other options. It's better for large bathrooms so the space doesn't become cluttered. This cabinet is unobtrusive, so feel free to get creative in how you dress it up!
11. Best Silver Bathroom Shelves: Chic Silver Freestanding Bathroom Shelves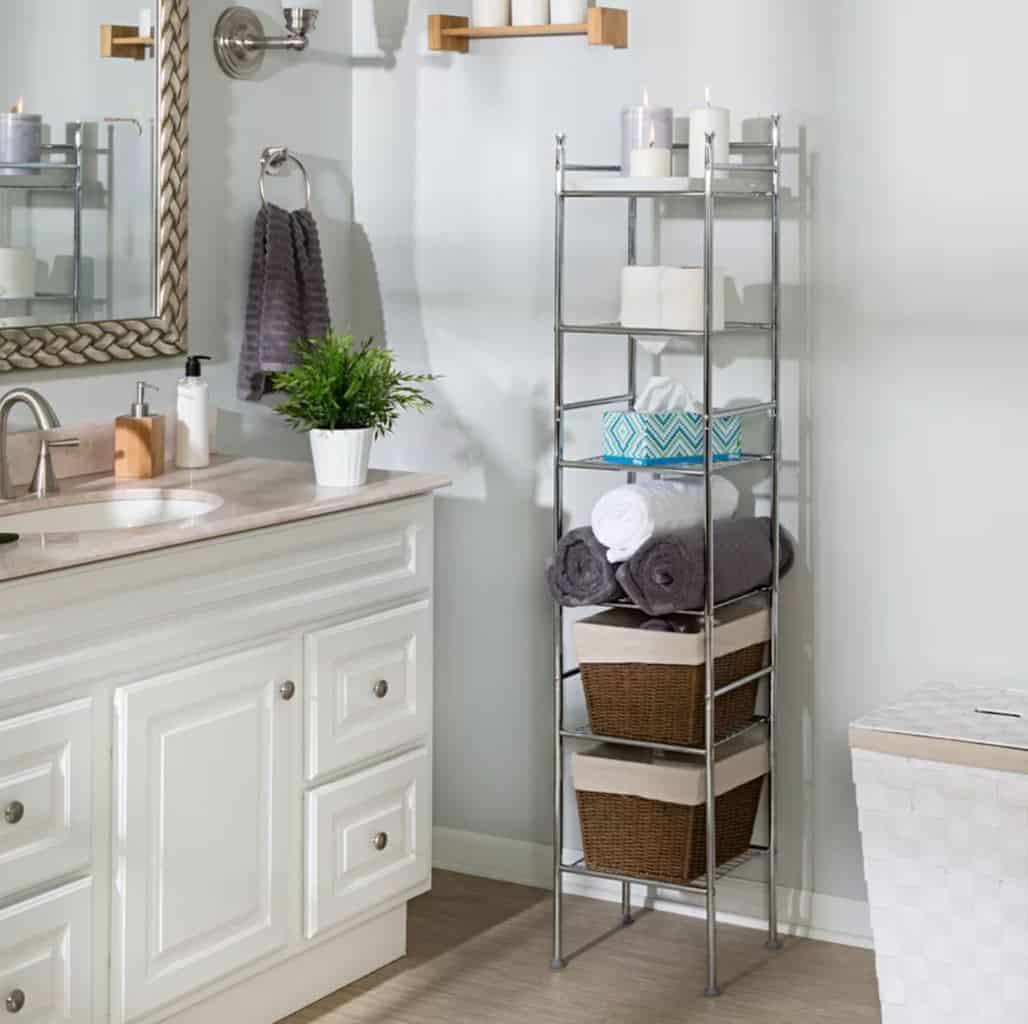 These silver freestanding shelves may look very modern, but they can be incorporated into a range of bathroom themes. I would even go as far as to say you could use it as a closet organizer!
There are 6 shelves to stack your items on, so this helps you use up vertical space. You can use these shelves in small bathrooms because they aren't very long or wide. If you have a silver color scheme going on in your bathroom already, be sure to check out this idea.
12. Best Bronze Accents: Stylish Linen Closet with Bronze Accents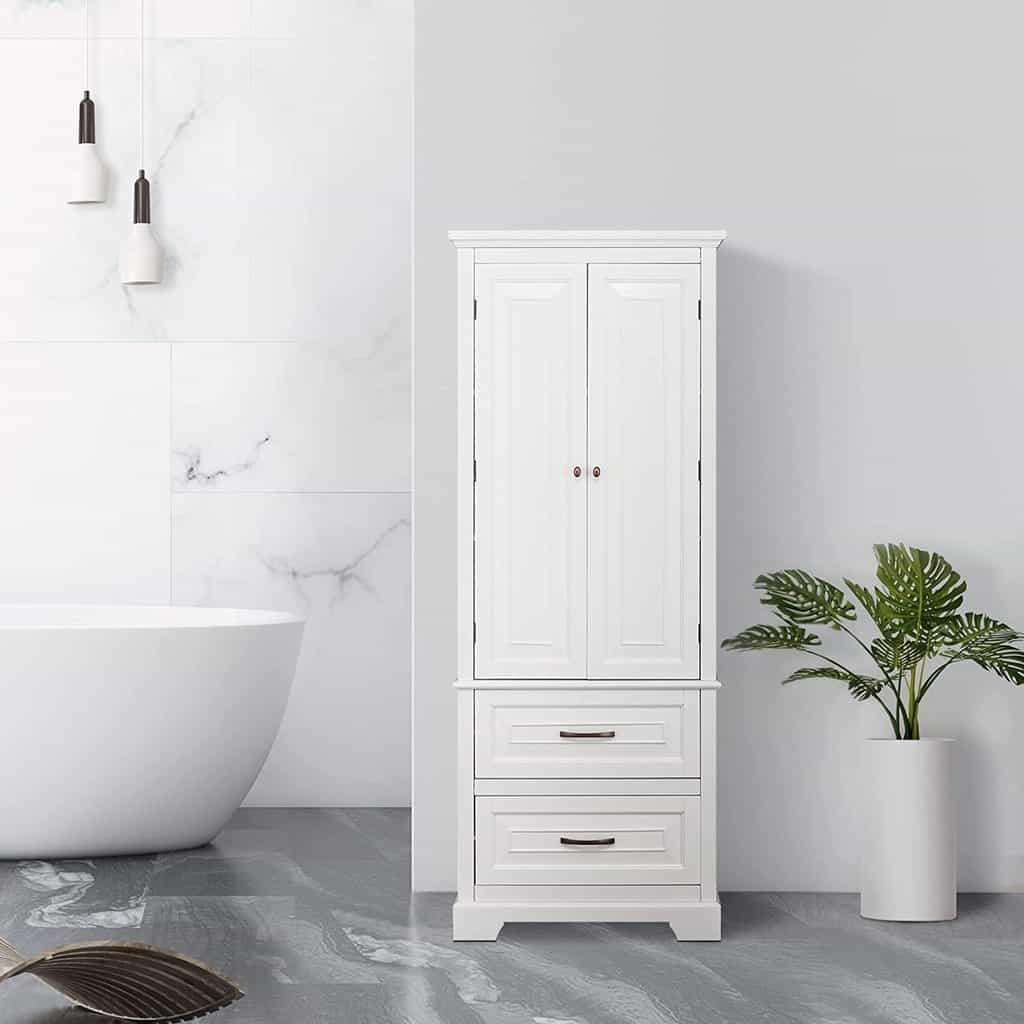 How traditional! This is a gorgeous white linen closet you can place in the bathroom for storage space. Since this is a larger piece of furniture, I'm going to have to recommend it for big bathrooms. There are 3 big shelves behind wood doors and 2 pull-out shelves on the bottom. The dark bronze accents are beautiful and pair exceptionally well with the solid white paint.
13. Best For: Tall Ceilings: Tall Floor-to-Ceiling Bathroom Cabinet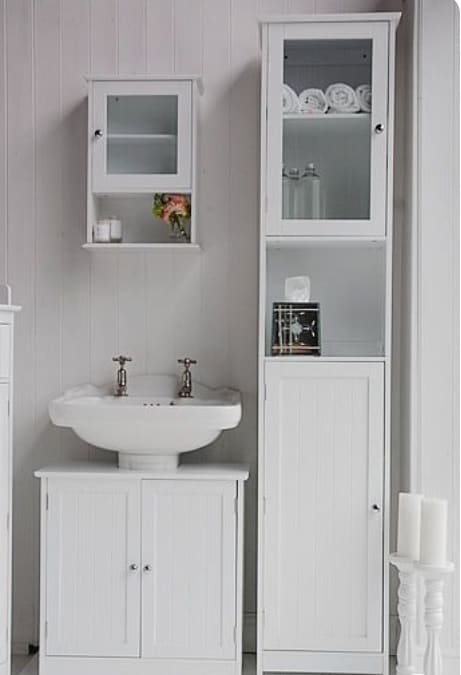 If your ceiling is tall, then you've got to see this freestanding bathroom cabinet. It's super versatile, in my opinion, and it goes with a lot of different themes. A solid white cabinet like this one makes your bathroom feel pristine, which many homeowners want. The large cabinet doors are a modern stylistic touch that makes this piece stand out amongst the sea of white cabinets.
14. Best For: Color Options: Black or Ivory Traditional-Themed Linen Closet
This is a tall linen closet that's somewhat similar to the freestanding cabinet above, but this one has options. You'll get to choose whether a white or black cabinet would look best. If you're like me, you'll go with black!
Both are tall and skinny, so though this is a large piece of furniture, it doesn't take up much floor space. There's lots of room inside the linen closet to store whatever you need for relaxing bubble baths and hair conditioning treatments.
15. Best For: Small Bathrooms: Gorgeous White Freestanding Bathroom Cabinet with Ornamental Accents
This freestanding bathroom cabinet is simply stunning. I would even love to use this as a bedside table, actually.
It's a wooden cabinet painted white. This cabinet has glass doors decorated with ornamental accents. The details are elegant without being over-the-top. A vase with flowers or a seashell display would look perfect on the top shelf, wouldn't it? The small spherical knobs are silver, so this works great in bathrooms that already have a white and silver color scheme.
16. Best For: Stylish Gray Color: Practical Gray or Soft White Over-the-Toilet Storage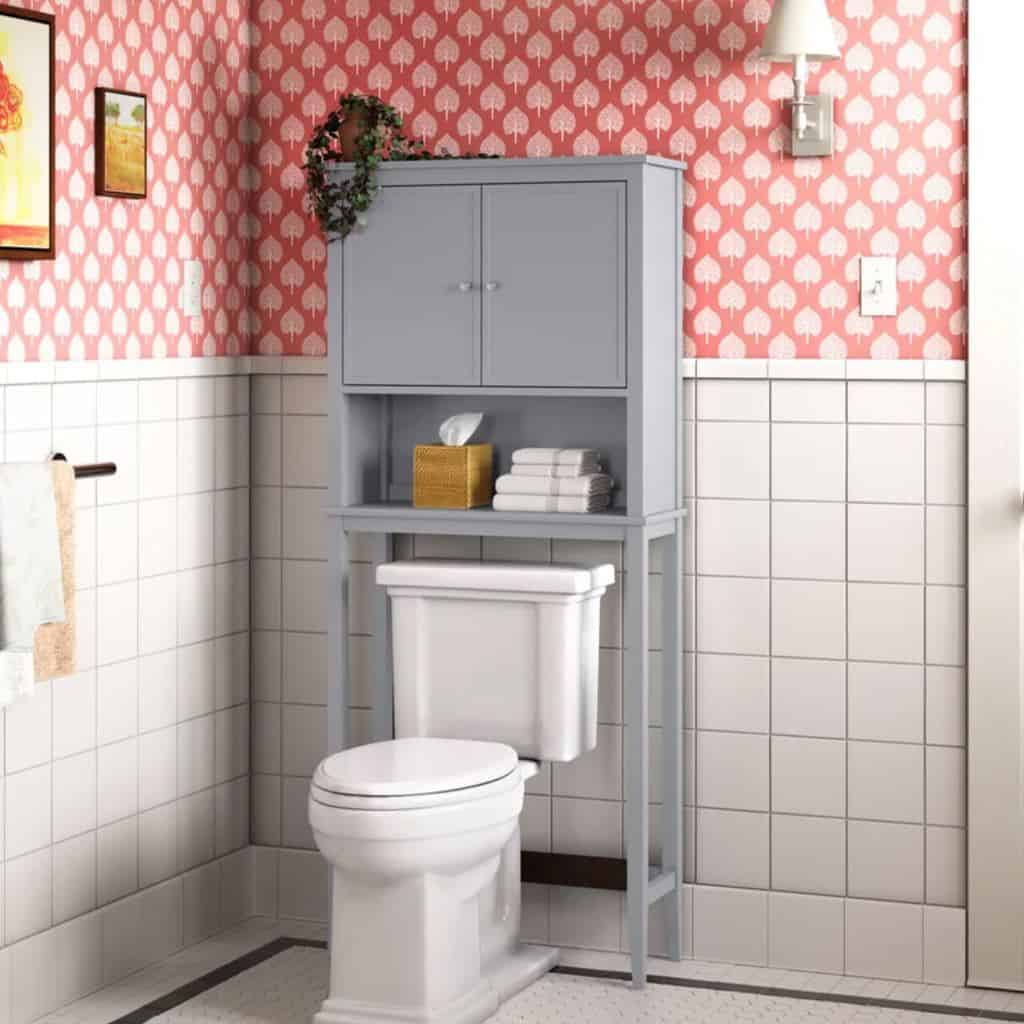 There's something more substantial about this over-the-toilet storage than most other ones. It's made of solid wood, has cabinet doors, and has a sturdy construction. The matte gray paint pairs well with lots of different modern themes. I can see this fitting with traditional space, country, modern, and even industrial.
You can find this same over-the-toilet cabinet in soft white, which is perfect for modern or more classical themes. This is large compared to other freestanding bathroom storage options, so I won't recommend it for small bathrooms.
17. Best For: Simplicity: 4-Drawer Vertical White Bathroom Cabinet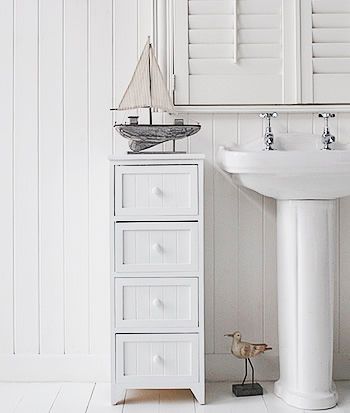 Looking at this cabinet will give you and your guests a feeling of serenity. It's solid white with simple paneling, so it fits in nicely with farmhouse bathrooms, traditional bathrooms, and other styles, too. It's made of 4 short drawers, so owners of small bathrooms won't be tight on space by choosing this option. Adding one simple decoration to the top will make the furniture piece pop without feeling loud.
18. Best For: Sanitation: Sanitation Station for Germ-Free Bathrooms
We've been living in unprecedented times for a while now. With so much worry still surrounding getting sick, it can be beneficial to have your own sanitation station at home. That's what this tall and skinny station gives you. It fits well into small bathrooms.
It can hold Clorox wipes or Kleenexes on a top dispenser shelf. You'll get more shelf space behind the cabinet door. If you don't want to use this for holding your extra hand sanitizer and paper towels, just use it like any bathroom cabinet.
19. Best for Large Bathrooms: Gorgeous Cream Freestanding Bathroom Cabinet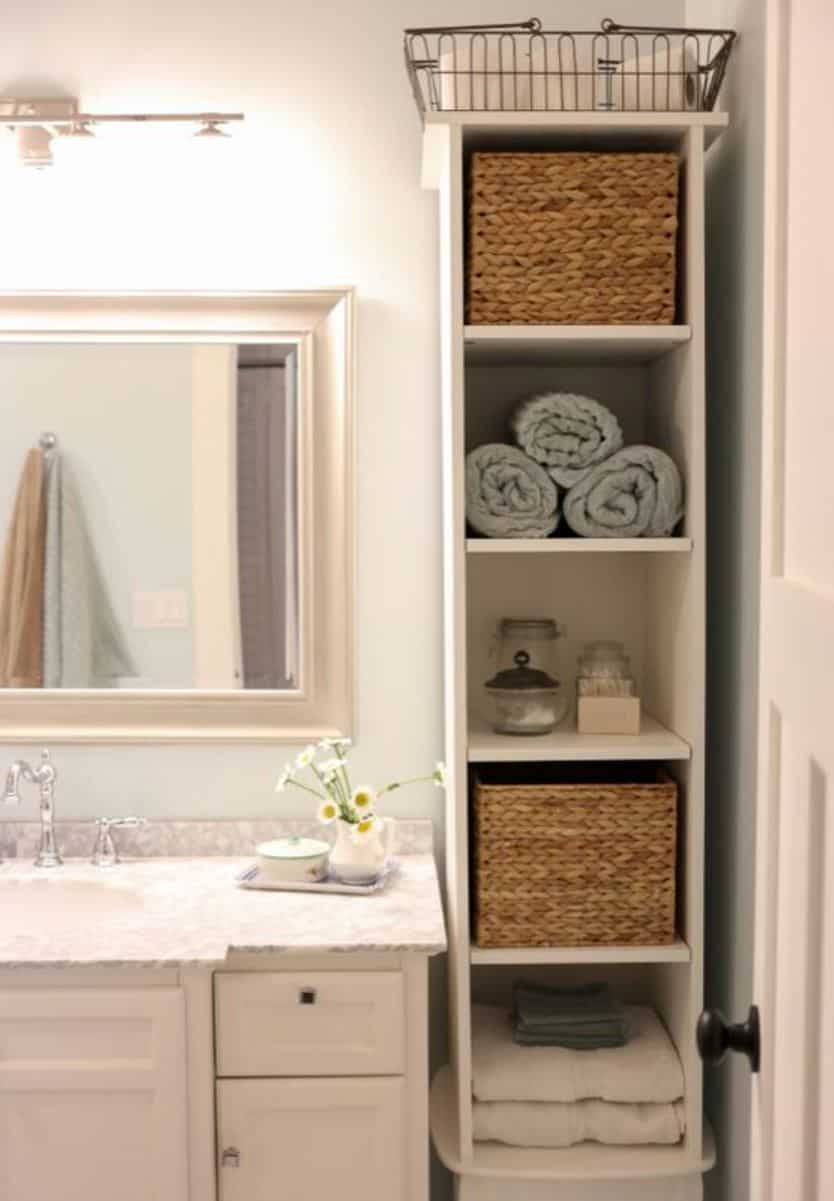 There's nothing homier than cream-colored furniture. If you have a large bathroom, then I suggest glancing over this gorgeous cream freestanding cabinet. I just love the simplicity of it.
This cabinet gives you 5 roomy shelves to set your bathroom essentials. Pairing up this cabinet with other cream-colored furniture and dark bronze accents looks absolutely beautiful. If you're stuck on what you want your bathroom's color scheme to be, this picture could be your perfect inspiration.
20. Best For Elegance: Elegant Farmhouse White Cabinet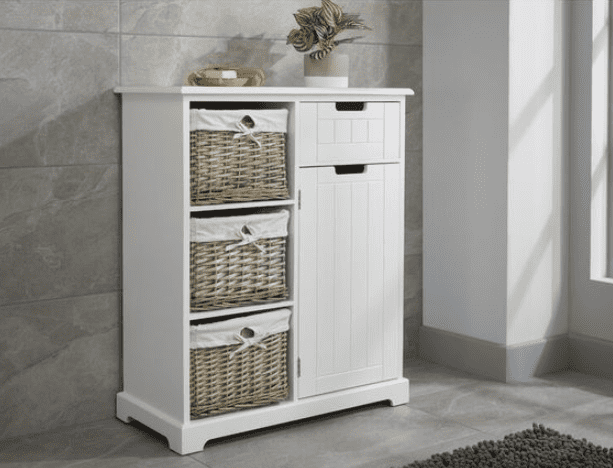 This freestanding bathroom cabinet is another one that's perfect for farmhouse-themed homes. I might even bookmark it for when I'm ready to decorate our new house.
The baskets you see on the shelves are included, which is what makes this cabinet unique. The 3 baskets serve as drawers, and the inside of each is covered in white linen. This will put the finishing elegant touch on your bathroom-just be sure to add a few decorations on top.
21. Best Freestanding Cabinet of 2052: The Gray and Gold Freestanding Cabinet of the Future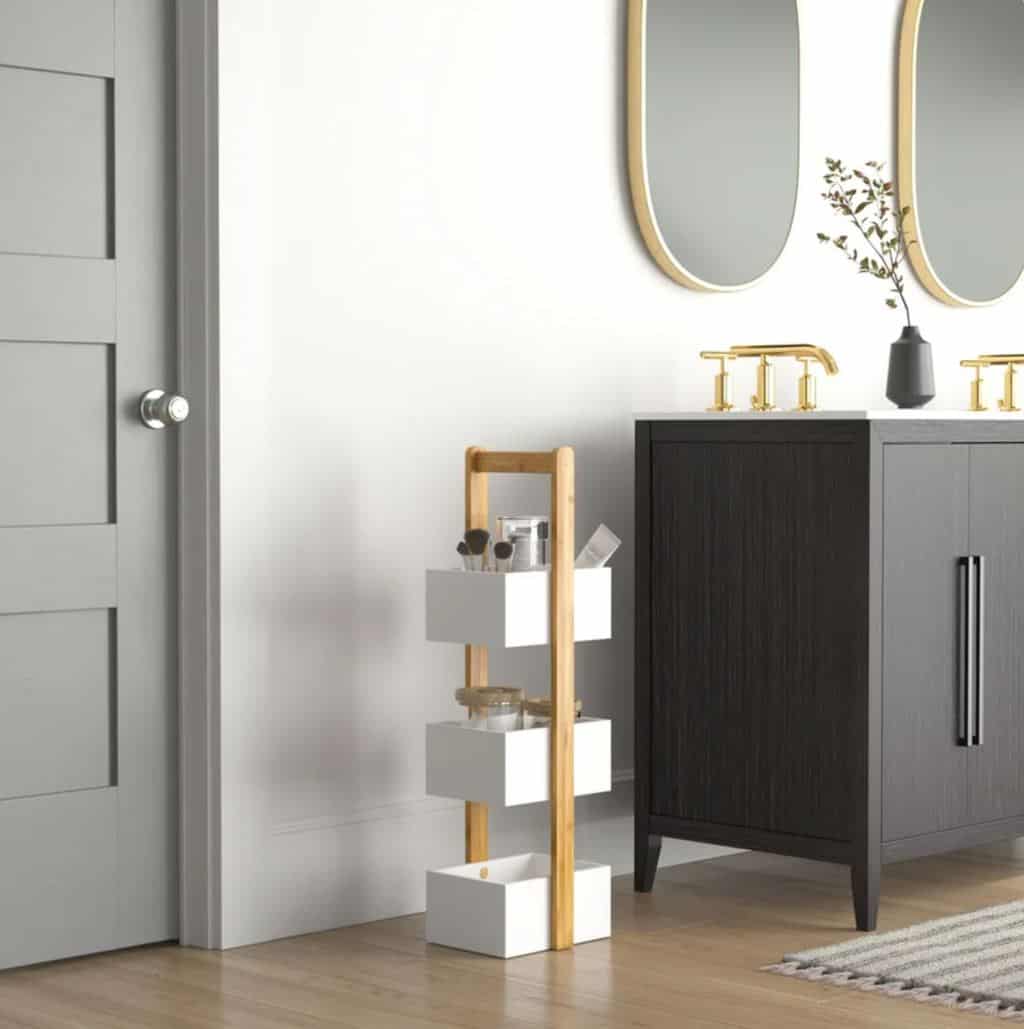 Whoa, it's like I just stepped into a science fiction world! Contrasting the silver accents in this cabinet with matching gold mirrors and a simple houseplant in a black vase is gorgeous. This picture gives us an example of how you can successfully mix metals. You can definitely make a space aesthetically pleasing whether you mix gold and silver or not. Though simple, the possibilities for dressing up this freestanding cabinet are endless.
What to Look for in a Freestanding Bathroom Cabinet
You don't want a dime a dozen, run-of-the-mill freestanding bathroom cabinet, do you? I thought not. So, I've assembled this simple guide to walk you through what the best freestanding cabinets have. Let's take a look before you purchase your own bathroom cabinet!
1. Portability– One of the perks of owning freestanding cabinets is that they're lightweight and easy to move. If you move homes a lot or simply enjoy rearranging your furniture, then freestanding cabinets that aren't too bulky to move are a must. Just look at the size and weight before you buy.
2. Sturdiness– Since you can't check the sturdiness of a product when you buy online like you could in stores, check what materials the product is made from. A high-quality bathroom cabinet will list the materials it's made from so you can know what you're buying.
3. Moisture Resistance– Your bathroom is one room in the house that must withstand a lot of moisture. Condensation from the shower has a tendency to ruin some materials. For this reason, make sure the cabinet you want is made from a material that will resist rotting and rusting.
4. Color– Make sure you buy or paint a cabinet in a color that makes sense for your bathroom. If you have gold accents everywhere, try to match those by buying a cabinet that has gold accents, too. If your bathroom features lots of white or sage green, it might be a good idea to buy a cabinet in one of those colors.
5. Price– No one wants to overpay for their new cabinet, but it isn't good to underpay, either. Some freestanding bathroom cabinets can reach over a few hundred dollars, while others are under $50. Think about how much you're willing to spend.
6. Quality– Check out a brand's reputation before buying from them. If you're interested in a particular product, read reviews of that product to make sure it doesn't have faulty screws or uneven pieces. If a product is prone to malfunction, you're sure to hear about it in the product's reviews.
7. Size– If you have a small bathroom, be sure to double-check the dimensions of the cabinet you're interested in. If you want to make sure it will fit in the space you have, get some measuring tape and mark off where the freestanding cabinet would sit on the bathroom floor.
Types of Freestanding Bathroom Cabinets
One more bit of guidance I'd like to give you are some quick pointers about the types of freestanding bathroom cabinets. These are the most popular choices you'll come across when picking out your own perfect cabinet.
Tower – A tall, skinny cabinet with a few cabinet doors and/or pull-out drawers
Open Shelves – Similar to bookshelves, open shelved cabinets have shelves that aren't covered by any kind of drawer or door.
Over the Toilet – Provides you with shelving space over the top of your toilet, typically offering 2-5 shelves
Best Materials for Bathroom Cabinets
If you want a quality cabinet that's going to last for years, then I recommend buying a cabinet made from one of these materials. These materials are easy to find, resistant to water damage, and generally durable. Let's have a look at them.
Melamine – Manufactured wood can be an excellent option! This type of man-made wood is inexpensive compared to other materials. For the price, melamine wood is an exceptionally durable material.
Acrylic – This beautiful clear material looks like glass, but it's much more durable. Acrylic is much more flexible than glass, which makes it harder to break. It's resistant to water, and it has the potential to last for decades.
Metal – Though metal can rust after a while, there are types of metal that are known for their rust resistance. There are also rust-resistance products you can buy to treat your metal bathroom furniture from time to time.
Wood – You can't go wrong with this classically beautiful material. You can stain the wood, leave it its natural color, or paint it for a whole new look. Wood can grow mold after a while, so make sure to treat the wood periodically.
FAQs
Question: What's the Best Height for a Bathroom Cabinet?
Answer: Ideally, bathroom cabinets should be 30"-32" tall. Freestanding bathroom cabinets don't follow this rule because they don't have a sink on top of them. This means the top shelf doesn't need to be at a height people can comfortably wash their hands.
Question: What is the Height of a Vanity?
Answer: The same rule applies to vanities! The top shelf of your vanity should be 30"-32" tall.
Question: How Deep Should Bathroom Cabinets Be?
Answer: Typically, bathroom cabinets are 21"-22" deep. Again, this rule doesn't apply to all freestanding cabinets.
And That's All There Is to It!
I hope you feel better informed about the best freestanding bathroom cabinet ideas! Picking out each piece of furniture in your home is putting a piece of yourself on display. Did any of the freestanding cabinets we covered above capture your style? If you have a tight space, my fav pick, Over-the-Toilet Bathroom Storage is the way to go.
Read More: