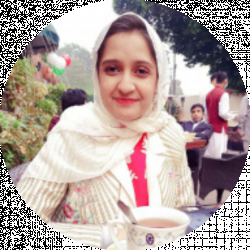 Latest posts by Zunaira Ghazal
(see all)
A well-organized and stylish bathroom is a sanctuary that promotes relaxation and self-care. However, achieving this kind of space can be challenging without adequate storage solutions. Luckily, a bathroom cabinet can provide functionality and aesthetic appeal – both essential components of a great home. 
I believe cabinets are a universal need – especially in a bathroom, where many small knick-knacks are scattered around. 
The small things inside the vanity? The cleaning supplies beside the bathtub? The fresh towels needing to be stocked somewhere? Toilet papers and other paraphernalia? All these things need somewhere to go, and a cabinet would make the perfect home!
Whether you're looking to add some extra storage to your bathroom or want to completely renovate the space, choosing the right bathroom cabinet can make a big difference in your bathroom's functionality and appearance.
My goal was to create an extensive content page where you could learn anything and everything about bathroom cabinets, so if you're interested, let's begin:
Bottom Line Up Front
Choosing a bathroom cabinet may seem like a simple enough task, but it does require a lot of research and foresight. At the end of the day, you need to consider your bathroom's size, theme, and style to choose the perfect one for your needs.
This article is about helping you make the most informed decision about this choice and how to care for your cabinets after purchase.
As for my favorite one, I would definitely pick Going Goth, as it's the most unique cabinet on this list, and I'm super obsessed with Wednesday Addams these days. Just the unique quality of its design gives me so many ideas to design entire bathroom themes around it!
Types of Bathroom Cabinets
There are several different types of bathroom cabinets and each of them comes with its own unique features and benefits. Let's take a look at them:
Freestanding Cabinets
These cabinets are designed to sit on the floor and are a good option for smaller bathrooms or adding extra storage to an existing bathroom.
They come in a wide range of styles and materials, including wood, metal, and plastic, and can be easily moved around if you decide to change the layout of your bathroom.
I'd opt for one of these if your bathroom leans on the smaller side – just for the added benefit of being flexible. Moving it around and rearranging the layout to suit your needs is easy.
Wall-Mounted Cabinets
As the name suggests, these cabinets are mounted to the wall and are a good option for saving floor space in a small bathroom. They can be either recessed into the wall or mounted on the surface and come in various styles and materials. I like the stylistic ones – like the ones with an arched top or a painted glass pane.
Built-in Cabinets
These cabinets are custom-made to fit your bathroom and can be either freestanding or wall-mounted. They offer a more seamless look and can be designed to fit your specific storage needs. I especially recommend them to people who want to customize the look of their bathrooms.
However, remember that they are generally more expensive than other bathroom cabinets. However, the end results are worth the splurge. I've personally designed some of these and I love how the entire bathroom aesthetic looks pulled together and cohesive because of them. 
Corner Cabinets
These cabinets are designed to fit into the corner of a bathroom and are a good option for maximizing storage in a small space. They come in various styles and materials and can be easily bought online at reasonable rates. I like their compact nature and especially recommend them for shower stalls.
However, freestanding options are taller and can be featured outside the shower stall. I like playing around with them, as their designs sometimes feature open shelves where unique decor items can be displayed.
Over-the-Toilet Cabinets
These cabinets are designed to fit above the toilet and provide additional storage in a small bathroom. They come in a range of styles and materials and can be either freestanding or wall-mounted. I suggest them for powder-room-type toilets.
Using them in a large bathroom may be redundant. I've seen quite an impressive collection of these on Wayfair, where the cabinet looks like an extension of the WC itself.
Medicine Cabinets
These cabinets can be mounted on the wall and are typically used to store smaller items, such as medications and toiletries.
They come in various styles and materials and can have a single or double mirror door. They are old-fashioned, but if you like vintage themes and want to emulate one in your space, go for it!
Vanity Cabinets
These cabinets are designed to be used with a bathroom sink and typically have a countertop, sink, and storage space. As an interior designer, I try to go for custom-designed vanity cabinets whenever I'm remodelling a bathroom because they add that extra sense of uniqueness to the ambiance.
Top Considerations for Choosing the Best Bathroom Cabinet for Your Home?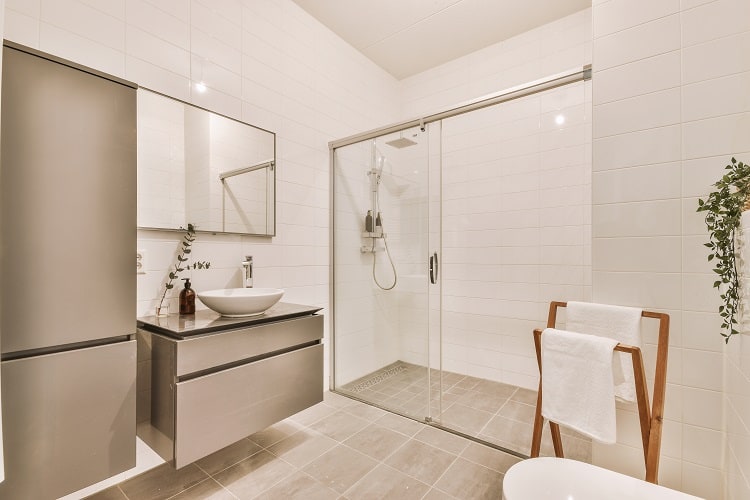 When choosing a bathroom cabinet, there are a few key factors to consider:
Size
I've seen so many cases where homeowners buy beautiful bathroom cabinets that are too big to look good in the small space that they actually have.
Therefore, my first suggestion is always to measure your bathroom to determine the cabinet size that will fit best in the area. You'll want to consider the cabinet's height, width and depth to ensure it will fit comfortably in your bathroom without blocking any doors or windows.
Material
Here's a quick thumb rule for choosing the best bathroom cabinet: always make sure that the material you've chosen works in contrast with the rest of your bathroom theme. This way, the cabinet will stand out no matter where you place it.
That said, bathroom cabinets are made from various materials, including wood, metal, and plastic. Consider the overall style of your space and choose a material that will complement it. 
Wood cabinets are popular for their classic look but may require more maintenance than other materials. Metal cabinets are durable and easy to clean but may offer less storage space than wood cabinets. Plastic cabinets are a budget-friendly option but may not be as long-lasting as other materials. It all depends on your personal preference.
Storage
I always urge all my clients to consider their storage needs when choosing a bathroom cabinet.
Do you need a lot of space for towels, toiletries, and other bathroom essentials, or do you need a few shelves and a couple of drawers? Look for a cabinet with the right shelves, drawers, and other storage options to meet your needs.
Style
Bathroom cabinets come in many styles, from traditional to modern. Choose a style that complements the overall design theme of your bathroom.
Finish
Bathroom cabinets are available in various finishes, including painted, stained, and natural wood.
Each one has its own unique presence, but ultimately the choice depends on the theme of your bathroom and personal preference. I've even seen ones with high-gloss laminates paired with wood veneers, so combination finishes are also a thing.
Hardware
The hardware on a bathroom cabinet, such as the handles and hinges, can greatly impact the cabinet's overall look. Choose hardware that matches the style of your bathroom, and that feels comfortable to use. Brass and stainless steel are popular options.
I always use the former to introduce a warm undertone in the bathroom space, while the latter is preferable for cool-colored themes.
Price
Bathroom cabinets can range in price from a few hundred dollars to several thousand, depending on the size, material, and features you choose. I urge you to determine your budget before shopping to help narrow your options. 
The estimated price range can be anywhere from a few hundred to several thousand dollars, depending on the cabinet's size, material, and features. Lower-end cabinets made from materials such as particle board or laminate may cost around $200 to $500.
In comparison, higher-end cabinets made from solid wood or custom-built materials may cost upwards of $1,000 to $5,000 or more. The specific price will depend on your chosen features and materials, so it's important to establish a budget and shop around to find the right cabinet.
Brand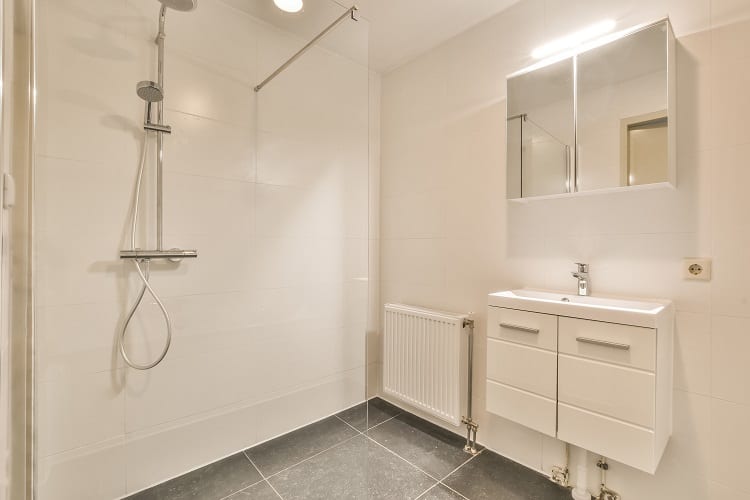 It's important to consider the brand's reputation when shopping for a bathroom cabinet. Reputable brands often have a strong customer base and positive reviews, which can give you an idea of the quality and durability of their bathroom cabinets.
Additionally, these brands may offer warranties or guarantees, providing extra peace of mind when purchasing. 
Some popular brands for bathroom cabinets are Kohler, American Standard, Delta, Moen, and Hansgrohe. I can personally attest that these brands offer a wide range of high-quality products but are quite expensive. You can often find bathroom cabinets at a lower price on online marketplaces like Wayfair and Amazon.
However, it's important to compare prices and read customer reviews carefully, as some sellers may offer lower-quality products because of the lower price.
Warranty
Look for a bathroom cabinet with a good warranty, especially if you're spending significant money on it. A good warranty can give you peace of mind and protection in case of any issues with the cabinet.
Best Bathroom Cabinet Brands
Determining the best bathroom cabinet brands globally is difficult, as brand preferences can vary depending on the country and region. However, some well-known and highly regarded bathroom cabinet brands around the world include:
KraftMaid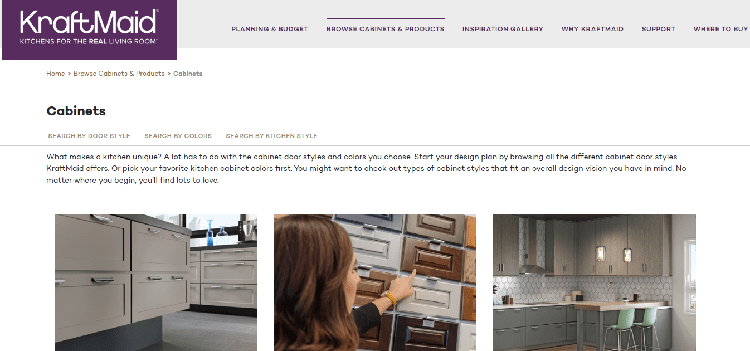 KraftMaid is a well-respected brand known for its high-quality bathroom cabinets. They offer a selection of semi-custom and custom cabinets that can be tailored to your specific needs, with an emphasis on durability and long-lasting quality.
KraftMaid is a popular choice for homeowners who want the convenience and affordability of pre-made cabinets but still want a level of customization. They are known for offering extensive features and options, so you can get the bathroom of your dreams.
Kohler


Regarding high-quality bathroom cabinetry, Kohler is a brand that's hard to beat! Known for their innovative designs and top-notch craftsmanship, Kohler bathroom cabinets are the perfect choice for those who value style and functionality.
From sleek and modern vanities to classic and traditional designs, Kohler has something to suit every taste and every bathroom decor.
So, whether you're renovating your entire bathroom or just looking to upgrade your storage space, a Kohler cabinet will make a statement and keep your bathroom organized and looking great for years to come!
American Woodmark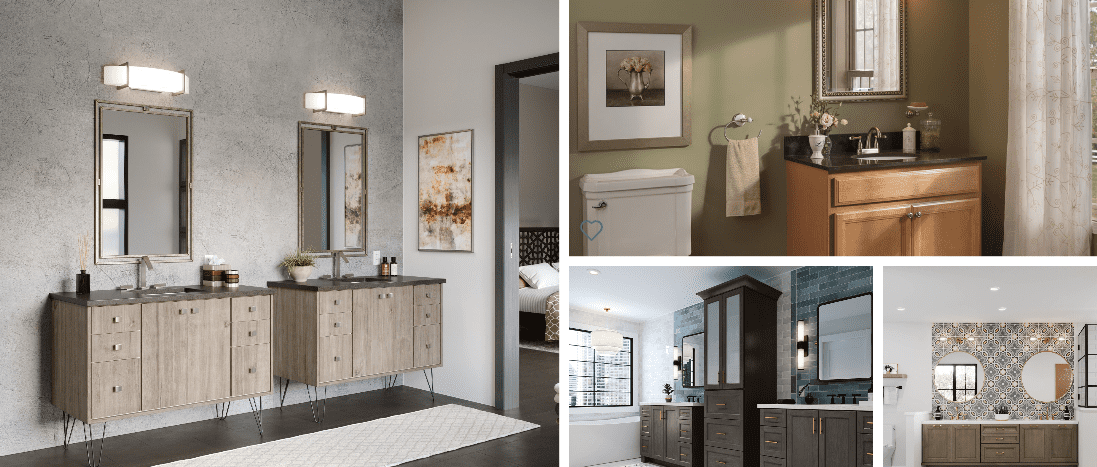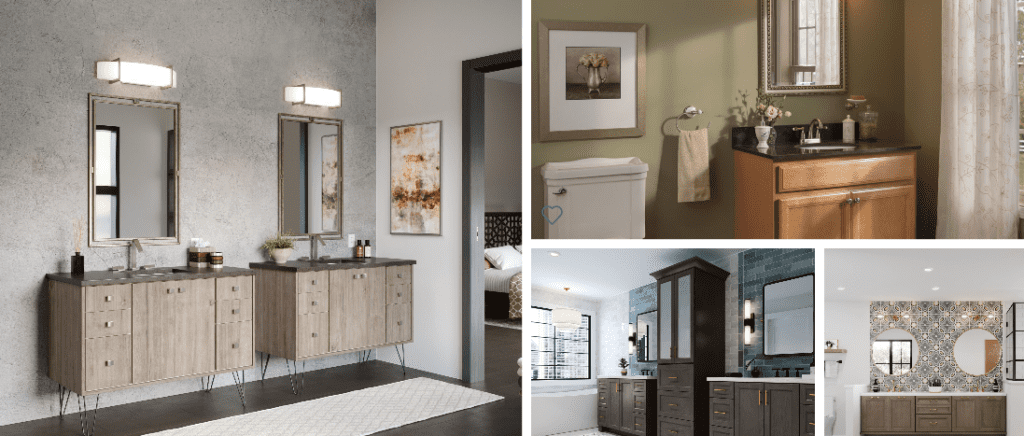 American Woodmark is a well-known brand in the bathroom cabinetry market. They offer a range of cabinet styles and finishes designed to cater to various design aesthetics. The brand is known for its quality craftsmanship and durability, with cabinets featuring solid hardwood construction and well-constructed joints.
I love how American Woodmark offers a variety of storage options, including cabinet organizers and pull-out drawers, to maximize your storage space. Additionally, they provide a limited lifetime warranty on their products, ensuring that your investment is protected.
Wellborn


Wellborn is a well-respected brand in the bathroom cabinetry industry – they've been in the business for over 60 years now; how impressive. Their products range from traditional to contemporary, offering a variety of finishes, colors, and design options to fit any bathroom style.
Wellborn cabinets are made with durable materials, such as solid wood and engineered wood, and are built to last. Additionally, they offer features like soft-close doors and drawers, adjustable shelving, and easy-to-clean surfaces, making them both stylish and functional.
With a focus on craftsmanship and customer satisfaction, Wellborn is a trusted and reliable choice for upgrading bathroom storage.
Roca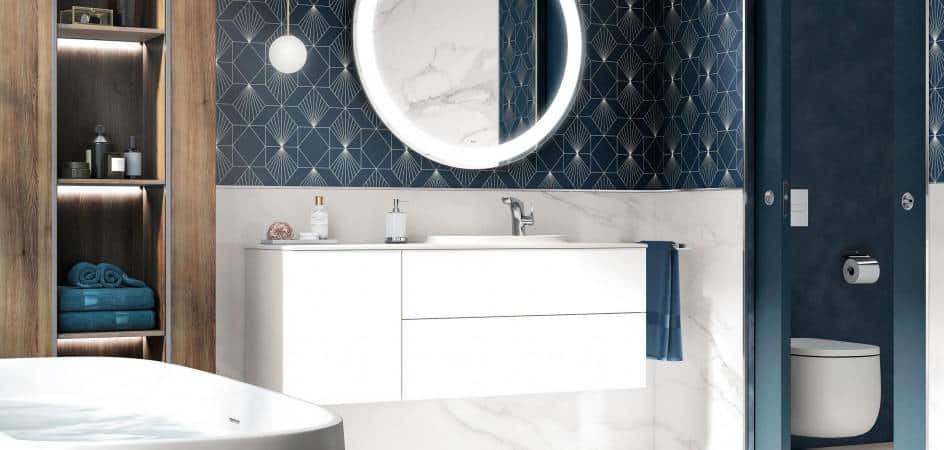 Roca is a Spanish company that offers a wide range of bathroom cabinets, including their "Born" line. These cabinets are designed with practicality and style in mind, offering a variety of storage options to meet the needs of any bathroom.
I'm a huge fan of their Born cabinets, made from high-quality materials, ensuring durability and longevity. Additionally, Roca offers a wide range of sizes and finishes, allowing customers to choose the perfect cabinet to suit their needs and preferences.
Duravit

Duravit is a German manufacturer of high-end bathroom fixtures and furniture. They are known for producing products focusing on design, innovation, and quality. Duravit cabinets are made from durable materials like engineered wood and designed to last years.
They offer options for wall-mounted and freestanding cabinets to choose the best solution for your bathroom space. With a strong commitment to sustainability and environmental responsibility, Duravit is a popular choice for consumers looking for stylish, eco-friendly bathroom solutions.
Villeroy & Boch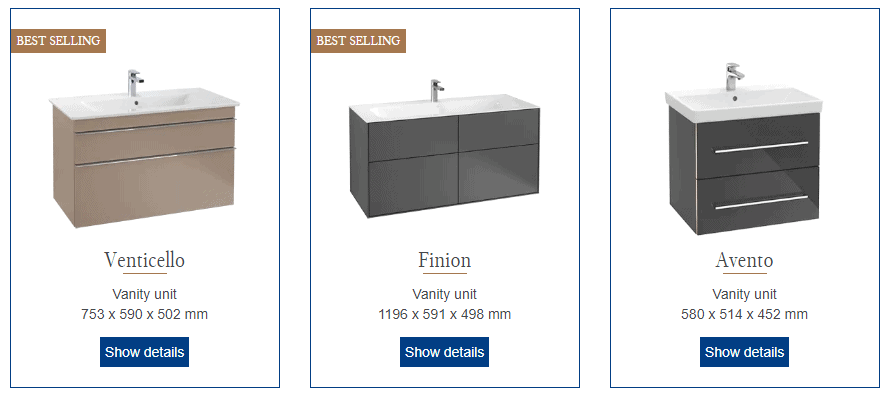 Villeroy & Boch bathroom cabinets are known for their classic and elegant design, focusing on high-quality materials and craftsmanship. I love their high-end designs and range of styles, seamlessly blending in with your bathroom decor.
They also offer custom sizing and configurations to ensure their cabinets fit seamlessly into any bathroom space. In addition to their functional features, Villeroy & Boch bathroom cabinets also feature elegant details such as soft-close doors and drawers, and customizable handles and knobs.
Hafele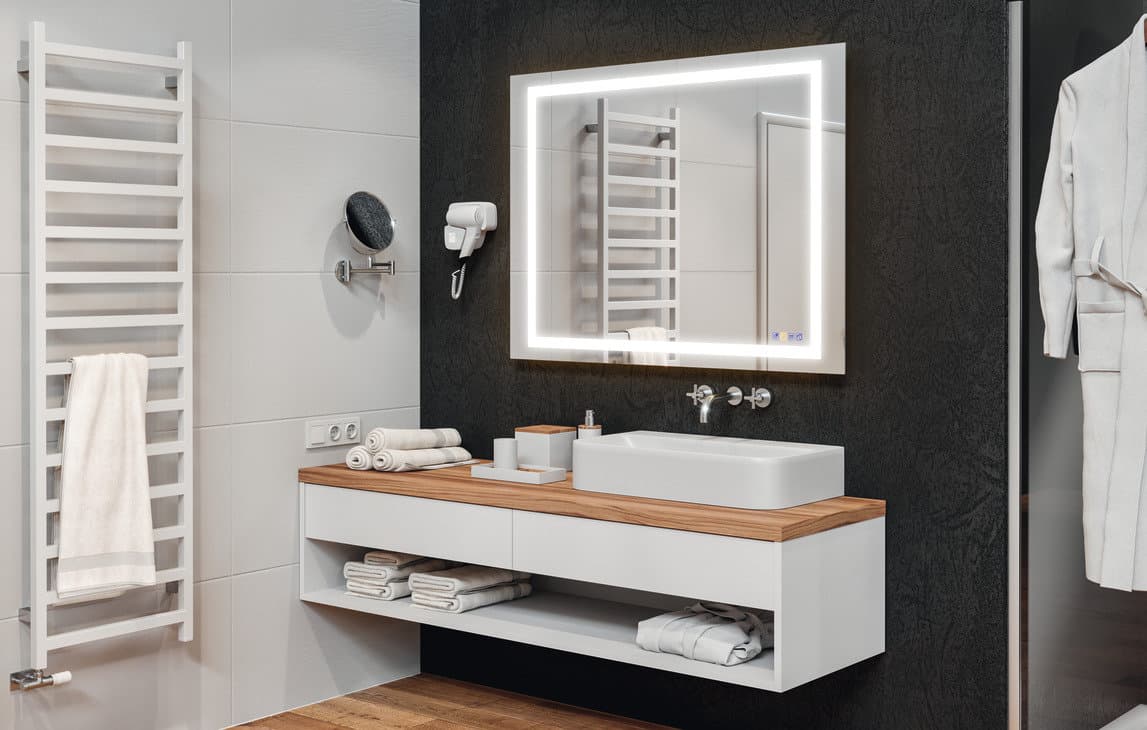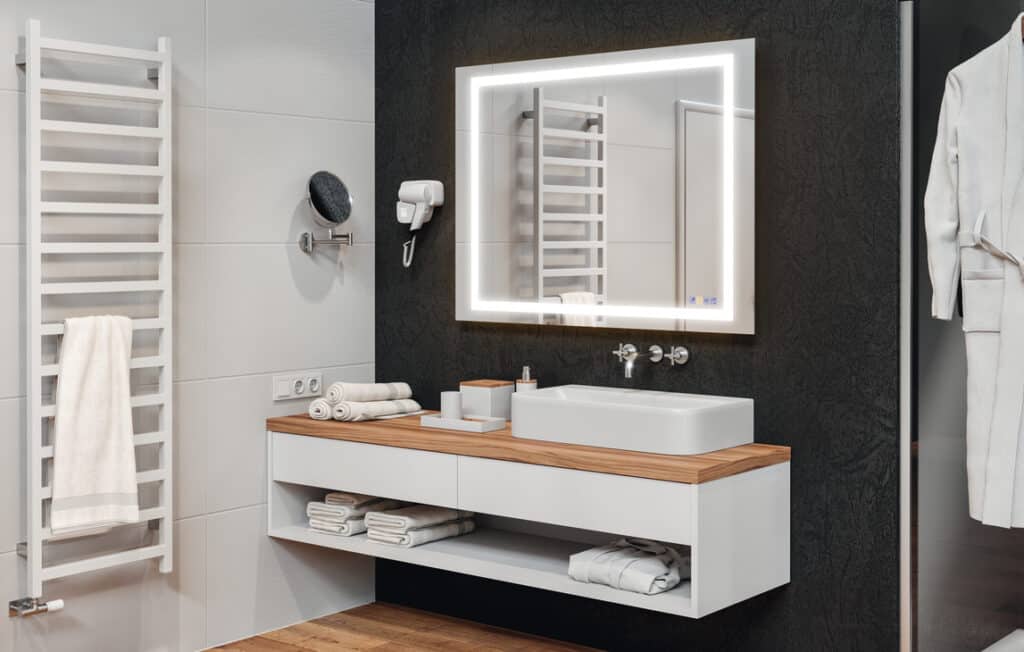 Hafele strongly emphasizes functional design, incorporating soft-closing drawers and adjustable shelving to maximize storage space.
Their products are also known for their durability, using materials such as high-quality wood and metal hardware to ensure longevity. With a focus on form and function, Hafele bathroom cabinets offer a stylish and practical solution for your bathroom storage needs.
Popular Bathroom Cabinet Styles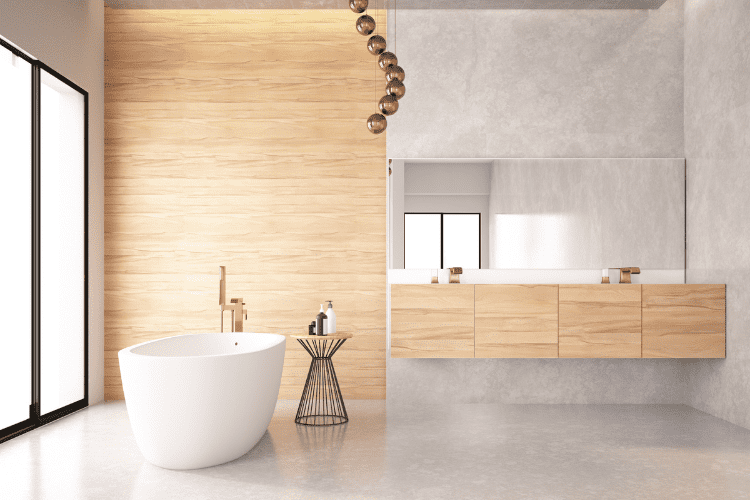 There are several styles of bathroom cabinets available, including:
Traditional
Ah, my go-to style for adding old-school charm to any bathroom! Traditional bathroom cabinets are characterized by their classic, timeless design elements, including ornate mouldings, raised panel doors, and elegant hardware.
These cabinets typically feature warm, neutral colors, such as white, cream, or beige, and are often made of wood, such as oak, cherry, or maple. Traditional bathroom cabinets usually have a sturdy and substantial feel, making them ideal for larger, more formal bathrooms.
I've mostly seen this style interpreted in custom bathroom cabinetry, but you might come across something in high-end showrooms.
Modern
Modern bathroom cabinets typically feature sleek, clean lines, simple hardware, and minimal detailing. They are often made from laminate, MDF, glass, or high-gloss painted surfaces. Their minimalist design helps to create a contemporary, uncluttered look that complements modern bathroom styles.
Many modern bathroom cabinets offer innovative storage solutions, such as pull-out drawers or hidden compartments, which help to maximize space and improve functionality.
Some popular features of modern bathroom cabinets include soft-closing doors and drawers, LED lighting, and integrated electrical outlets for added convenience.
Rustic
Rustic bathroom cabinets are often characterized using natural materials and traditional wood finishes. They feature knots, natural grain patterns, and distressed finishes that give them a warm, weathered look. I always emulate this bathroom cabinet style in homes with a natural, outdoor-inspired decor theme.
Rustic bathroom cabinets are typically made of solid woods like pine, oak, or hickory and are often handcrafted with a focus on traditional techniques and attention to detail.
Transitional
This style bridges the gap between traditional and modern and often combines both. Transitional cabinets have simple, clean lines with minimal ornamentation. The color palette of these cabinets often incorporates warm neutral tones like beige, gray, and taupe (though I once came across one in a gentle Pistacchio hue).
These cabinets offer versatility and can easily complement any bathroom decor. They bring a sense of balance to a bathroom, making it feel both classic and contemporary at the same time. While surveying the market, I once came across one in an elegant Pistachio hue.
Farmhouse
Farmhouse-style bathroom cabinets often feature natural wood finishes and hardware with a black or oil-rubbed bronze finish and are designed to give your bathroom a warm and inviting look. I love their cozy vibes and how they can make the bathroom feel instantly welcoming rather than cold and unfeeling.
Contemporary
This style is characterized by sleek lines, simple shapes and unexpected materials, such as concrete, stainless steel, and even acrylic. These cabinets are often minimalist in design, with clean lines, no ornamentation and sharp angles.
I've also noticed that they tend to have an understated glamour. You might even set them apart with gold trimming, bronze handles, and light glossing.
These are just some examples of the different styles of bathroom cabinets available, and new styles and combinations constantly emerge on the market. Choosing the right cabinet depends on your taste and the overall aesthetic you are trying to achieve in your bathroom.
Top Picks
Here are some of my top picks from this list:
Going Goth
I absolutely adore this unique bathroom cabinet because of its dark finish and distinguished design. It's rather thematic and gives me many ideas to style various bathroom styles around it!
Bathroom Cabinet with Lights
I love the cool glamour of this bathroom cabinet and how seamlessly it has integrated lighting into the very core of its design. I would love to place something like this in every modern bathroom I design.
Selection Criteria
While I've listed basic selection criteria that you can follow while choosing your own bathroom cabinet, here's one that I adhered to while curating this list:
Design
Aesthetics are always a top priority for me as a designer, so it's the first thing on my selection criteria when choosing this list for you. You'll find a diverse variety here. From sleek modern looks to goth masterpieces, this list is a whole exploration of looks in this genre.
Storage
I curated cabinets that provided great storage solutions because, at the end of the day, that's the basic function of a cabinet, to begin with.
You'll notice how there are pieces with open shelves here, but then there are options with closed-off faces as well. I tried round-up all the styles available out there, so you'll understand the gist of the variety out there.
Additional Features
I also considered additional features such as adjustable shelves, soft-close drawers, and built-in lighting while curating products and designs for this list.
Anybody can come up with a conventional look, so I wanted to introduce you to a whole variety of additional features that will open new avenues of bathroom cabinet designs for you.
Uniqueness
My goal for this list was to find pieces that you'll find unique. I appreciate this genre's diversity, and my main goal was to pick out pieces that would elicit a distinguished vibe.
Versatility
My top priorities were design and functional versatility while choosing items for this list. I wanted to feature cabinets with different sizes, finishes, styles, lighting options, and themes so that everyone could find at least one item they liked on this list.
Over the Toilet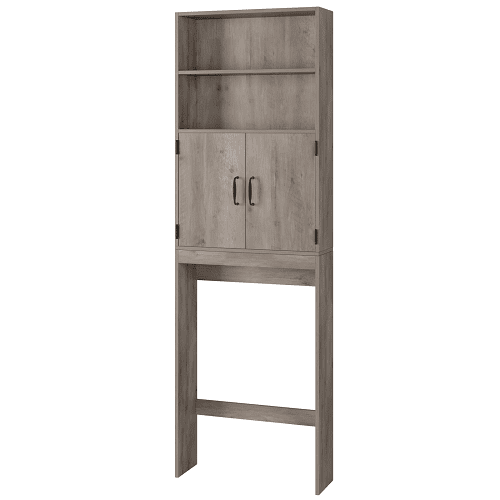 I've always been an advocate of space-saving furniture items, and this one instantly intrigued me with its vertical aesthetic and unique twist on the over-the-toilet installation.
Instead of looking like a separate entity, the cabinet feels like it's an extension of the toilet and contributes to the space's aesthetic integrity. Moreover, there's both open and closed storage options here, so that's definitely a bonus point from my side.
Deco Chic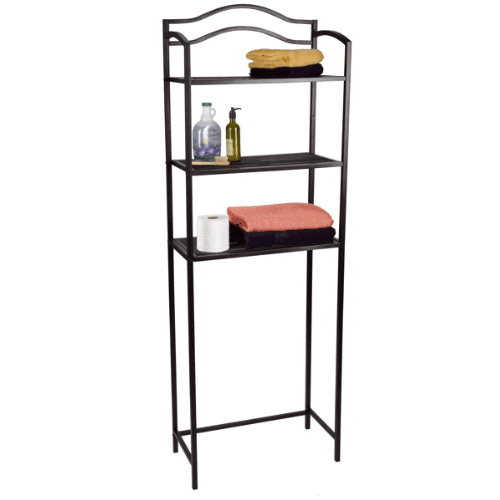 Here's another over-the-toilet bathroom cabinet, but it cannot be more different from the previous one. I love its delicate metal build and how it emulates a vintage, art-deco-style vibe.
This one is more suitable for boho-chic, stylistic, and retro bathrooms – something with hexagonal tiles and lots of indoor plants. Its strength lies in its strong lines and antique finish. If I used this in a bathroom, I would pair it with antique knick-knacks to play off its unique aesthetic.
Bathroom Cabinet with Lights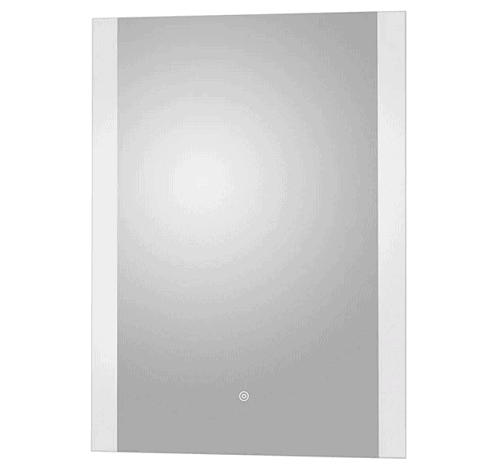 This is a bold, modern bathroom cabinet, and it's certainly on the list of my top picks because of its minimalist austerity. I love the clean lines, and the simple, rectangular build makes it an instant focal point.
More than anything else, I love the integration of backlighting on both sides of the mirror. The design makes it seem like the light emanates from the cabinet, giving the whole thing an ethereal sci-fi feel.
LED Mirrors for the Win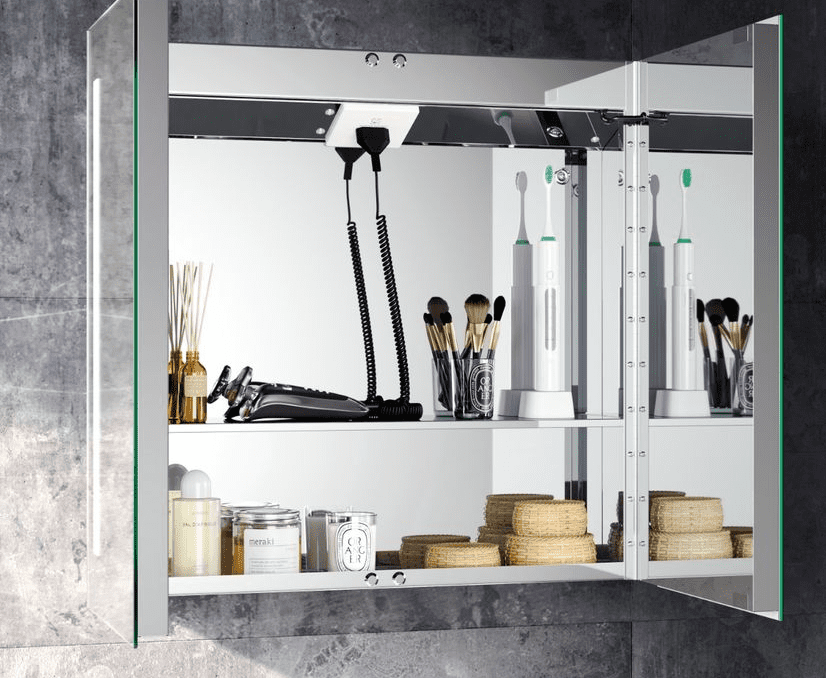 Here's another bathroom cabinet with LED mirrors, but this one is definitely more understated and classic. I love the double door leaf and how the light panel has been integrated within it.
There's something so understated and sophisticated about it! I also appreciate the versatility of the design. It's clean, minimalist and can complement any modern or contemporary interior it is featured in.
Farmhouse Chic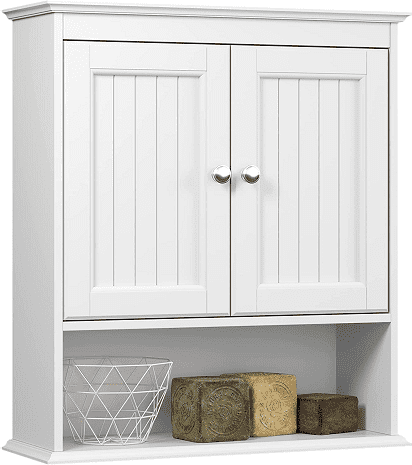 If you're looking for a bathroom cabinet that is less glam and more homely, then I would definitely recommend this one. From its panelled double-door cabinet to its elegant white finish, it is slated to emulate a sense of comfort and everyday ease in any bathroom it's installed in.
I recommend placing mismatched decor items on the open shelf for maximum visual impact. Do try to put a planter in this mix, as it will contrast beautifully with the white finish and make for a refreshing addition.
Compact Perfection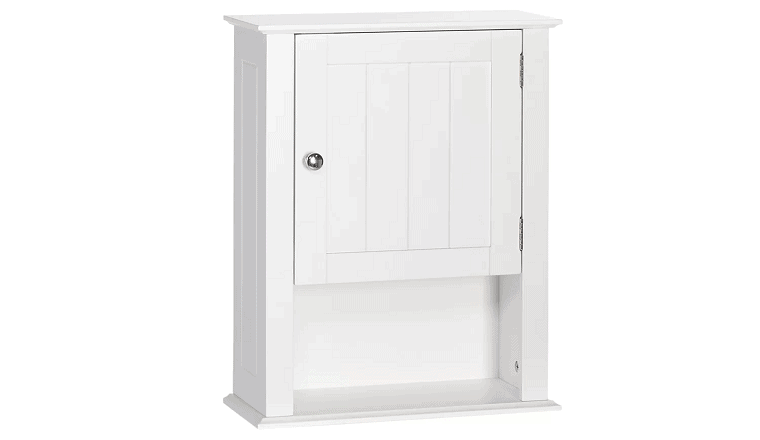 Lovely and bite-sized, this bathroom cabinet would provide a beautiful storage solution for tiny bathrooms. I adore its compact design! The single-door cabinet with its rustic panels emulates the perfect amount of personality in the design.
At the same time, the classical detailing at the top and bottom makes the whole thing feel visually balanced. I like the option of the open shelf at the bottom, as it opens up more avenues of decor/storage for the user without taking away from the overall practicality of the design.
Floor Cabinet in Espresso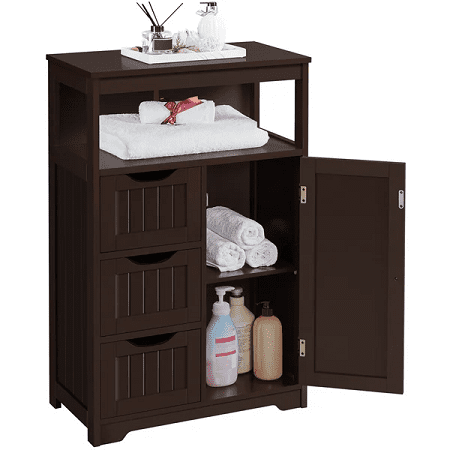 So, I picked this one out for homeowners whose bathroom is large and luxe. I don't recommend this for even medium-sized bathrooms, as it will only add to the recipe for clutter if you squeeze it into the layout.
That said, if you have a large enough space, then it would definitely be a fantastic addition. The espresso finish, variety of drawers and cabinets, and bigger capacity make it perfect for those who want to add lots of personality and storage space to their bathrooms.
The Slide-Out Design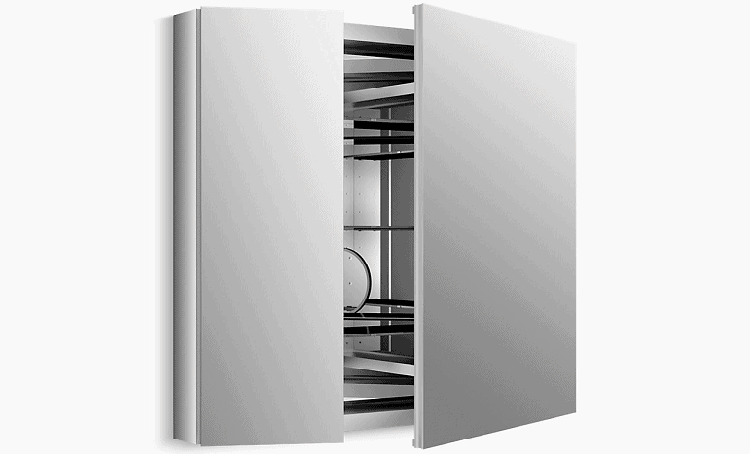 If you're looking for peak practicality and abundant storage in your bathroom cabinet, you won't find anything better. While the outside of this cabinet is all mirrors, you find another cabinet and an entire pull-out drawer system inside.
It's all very understated, glam and austere minimalism. I recommend this cabinet for people who don't like any frou-frou accoutrements to their design and would rather have something simple and practical in their bathrooms.
Deco Inspired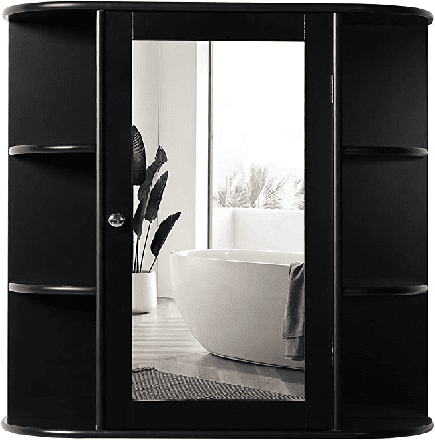 Just one look at this stylistic beauty, and I knew it simply had to be on the list. I'm a sucker for bold, contemporary-deco furniture pieces, and this cabinet wears this particular aesthetic as snugly and comfortably as Dr Strange wears his cape.
I mean, look at those curved edges, the glossy trimming, the sheer detailing! Plus, ample storage and a perfect balance of open and closed shelves allow neat compartmentalization!
Tall & Narrow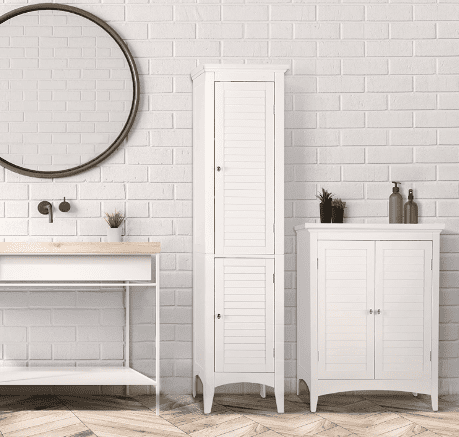 Here comes a tall corner cabinet! I love its clean, modern visuals and how it has been personalized with just enough classic detailing to remove that impersonal vibe.
So, there's a specific code for this type of bathroom cabinet. It would help if you had a separate niche or alcove where the tall and narrow dimensions of the cabinet fit right in. If you place it in the middle of the space, you'll ruin your overall bathroom aesthetic.
Barn Door Style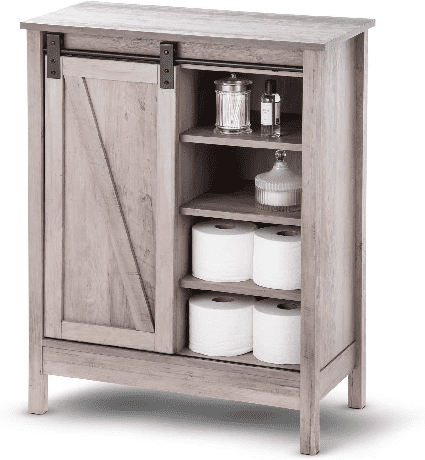 I've seen and designed homes where the rustic theme of the house is carried in the bathroom with the furniture, and this is one such instance. The barn doors of this cabinet are articulated in one of the best styles out there.
The ash finish and contrast of black detailing deliver the best aesthetics. But once again, as with all floor cabinets, I always urge homeowners to use them in large-sized bathrooms for fear of cluttering the bathroom layout.
Going Goth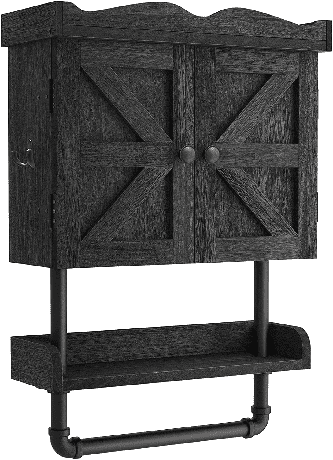 If you've been following Wednesday on Netflix and are coming to admire the goth vibe, this bathroom cabinet would totally impress you. It's rather sweet-sized and compact, but also brimming with a ton of personality.
I would say that it's definitely not for the lighthearted and would only look great in bathrooms that follow a specific theme. It doesn't necessarily have to be Addam's family-inspired, but look for dark cottage-core bathroom themes and design them around the cabinet for the best results.
Basic But Beneficial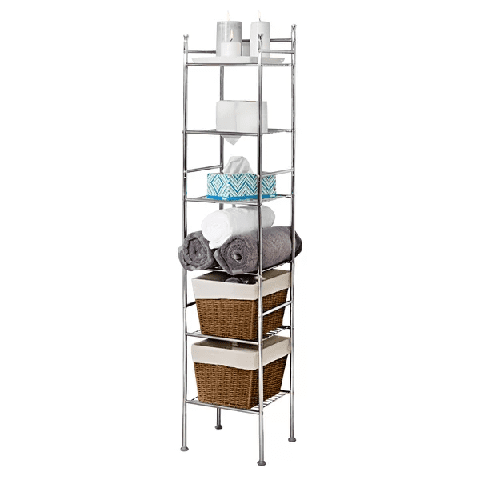 Lastly, I wanted to feature this basic bathroom cabinet stand on this list. Its ladder-style design and simple structure make it a shoo-in for medium-sized bathrooms – especially ones where you need to squeeze in a bathtub but don't have room to feature the small knick-knacks and accessories that go with it.
It's very minimalist, so you don't have to worry about clashing bathroom themes – it's versatile enough to complement anything and everything.
Warping and Mold Resistance in Bathroom Cabinets?
Warping and mold resistance are important factors to consider when choosing bathroom cabinets. Warping can occur when the wood is exposed to moisture, causing it to bend and become misshapen. Mold and mildew can grow in moist environments, causing damage to cabinets and creating health hazards.
Look for cabinets resistant to warping and decay, such as solid surface materials like stone, engineered wood, and metal. Some manufacturers offer warranties against warping, mold and mildew.
Additionally, it's important to ensure proper ventilation and maintain a clean and dry bathroom to minimize the risk of warping and mold growth.
How to Care for and Maintain your Bathroom Cabinets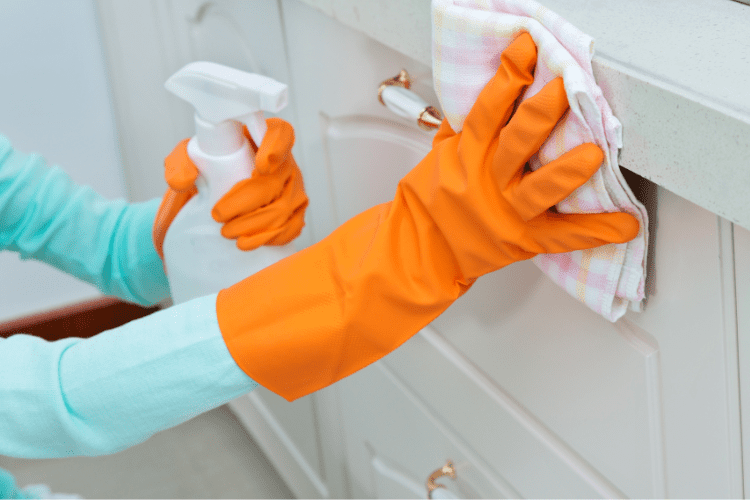 Proper care and maintenance can help extend the lifespan of your bathroom cabinets and keep them looking their best. Here are some tips to help you out:
Clean Regularly
Dust and wipe down your bathroom cabinets regularly to keep them looking clean and fresh. I recommend using a soft, damp cloth and a mild cleaner, and be sure to dry the cabinets thoroughly afterwards to prevent water damage.
Protect from Moisture
Bathrooms can be a high-moisture environment, which can be damaging to most cabinets – especially the ones made out of wood. To protect them from moisture, you can use a sealant or water-resistant finish, and consider installing a humidity-controlled exhaust fan to help keep moisture levels in check.
Repair any Damage
If you notice any chips, scratches, or other damage on your bathroom cabinets, repair them immediately to prevent the damage from worsening. For minor repairs, you can touch up the finish yourself. For more significant damage, consider hiring a professional to repair the cabinets.
Tighten Hardware
Over time, the hardware on your bathroom cabinets, such as handles and hinges, may become loose. Tighten any loose hardware to ensure the cabinets function properly and are not damaged.
FAQs
Question: How do I choose the Right Size Bathroom Cabinet?
Answer: To choose the right size bathroom cabinet, measure your bathroom to determine the cabinet size that will fit best in the space. You must carefully select the right width, height, and depth. Not doing so might result in you picking something that will block the door or windows.
Question: What Material is Best for Bathroom Cabinets?
Answer: Bathroom cabinets are made from a variety of materials. These include wood, metal, plastic and even composites.
The best material for your bathroom cabinets will depend on your personal preference and the overall style of your bathroom. Wood is a popular choice, but it's being steadily replaced with lightweight composite materials that are easy to take apart or assemble.
Question: Can I install a bathroom cabinet, or do I need a professional?
Answer: It depends on your experience with home improvement projects and the type of cabinet you plan to install. Some bathroom cabinets are designed to be installed as a DIY project and have detailed instructions and all the necessary hardware.
Other types of cabinets, especially ones that are custom-built or need major plumbing or electrical work, may require professional installation.
If you are not confident in your abilities, it's best to consult a professional. They will have the experience and tools to properly install your cabinet, ensure it is level and secure, and ensure that all plumbing and electrical connections are properly made.
This also can ensure your safety and prevent damages and costly mistakes.
Conclusion
In conclusion, a bathroom cabinet is essential to any bathroom, providing both function and style. When choosing a cabinet, it is important to consider factors such as size, material, style, and any special features you may need, such as moisture resistance or pull-out drawers.
There are many options available on the market, from basic, budget-friendly models to custom-made, high-end designs. Whether you are a first-time homebuyer or a seasoned renovator, this guide has provided the information you need to make an informed decision when selecting the best bathroom cabinet for your space.
Lastly, I would once again like to mention my personal favorite, Going Goth from this list because of its unique loosk and highly distinguished color scheme. Finding it was definitely one of the highlights of writing this piece for you!