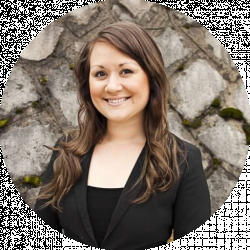 Latest posts by Lacey Jackson
(see all)
The bathroom in our last home did not have any cabinets. It had one makeshift shelf directly under the pedestal sink and the skeletons of a few hooks that had been stuck to the tile walls for towels to hang.
The space was small, too, with the radiator taking up one corner, the shower taking up another, and the accordion door taking up the third. We were left with no real wall space for another cabinet and resigned ourselves to a tall corner bathroom cabinet.
We found something that was fairly easy to assemble and could support the weight of a few wicker baskets full of toiletries, a stack of toilet paper, and some spare towels. But you don't need to have a home with no bathroom storage to capitalize on the best corner bathroom cabinet ideas.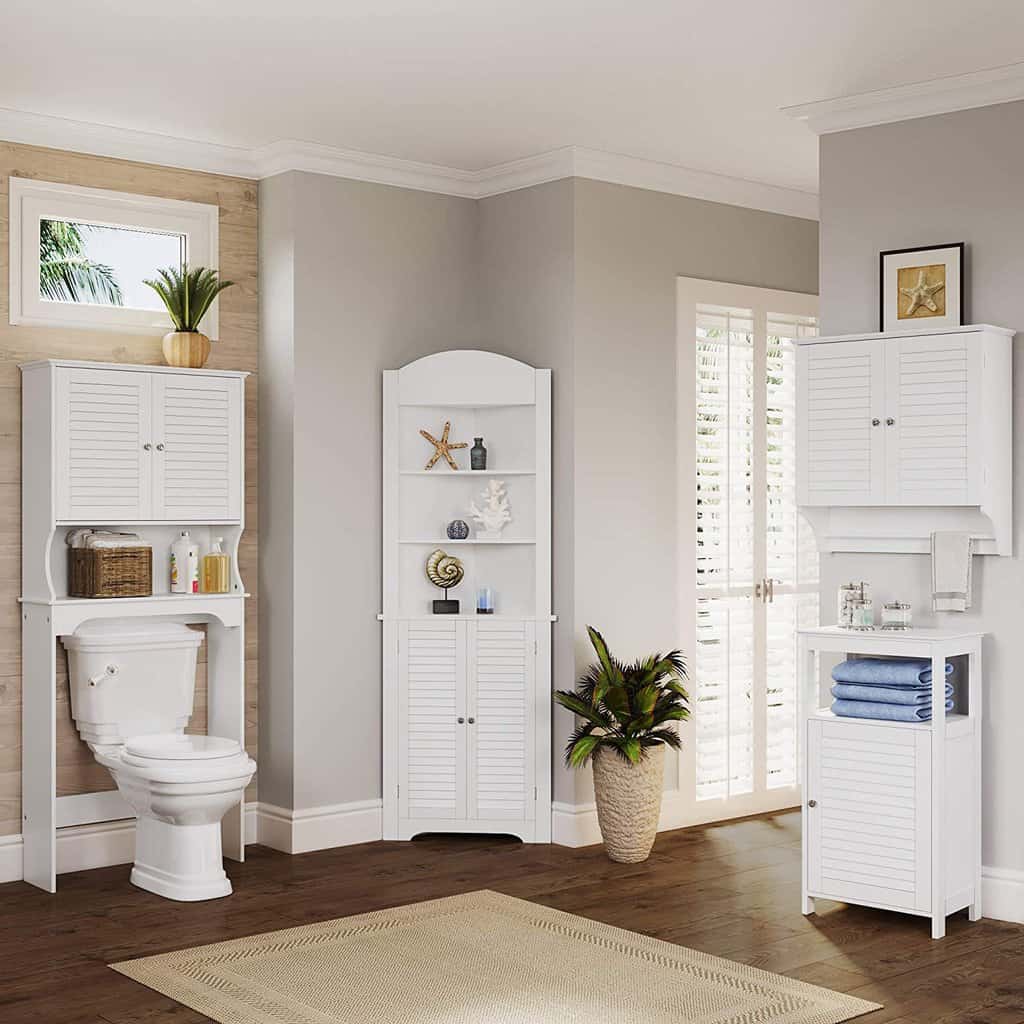 Bottomline
Hampton Harbor is my favorite because it's the only one that comes with drawers. It's the perfect place to store all of your smaller, miscellaneous items and the three drawers are right in the middle, perfect for you to access while standing. Glass Door is great if you have a small space and want to maximize the visual aesthetic by increasing light.
But my secret favorite (though, for personal childhood reasons) is Barrels. Nothing says "I'm super cool" like a modified wine barrel corner cabinet in your bathroom. And it's the perfect place to store wine for your next bath.
Selection Criteria
Each of the corner bathroom cabinet ideas I reviewed was selected based on how easy they were to assemble, the value you get for the money, and how sturdy they work. The shorter cabinets are obviously sturdier than the tall cabinets, but you can easily extend the safety of tall cabinets by mounting them directly to the wall.
Assembly
To me, assembly is a critical part of any furniture I buy because I hate sitting in the middle of a pile of screws, the tiniest screwdrivers ever made, and instructions poorly translated from Chinese.
Each of the bathroom cabinet ideas I selected is fairly easy to assemble by yourself. You'll have all the hardware, and there won't be anything tricky when it comes to installation.
Value
Value is important in any purchase. For some bathrooms, you need a corner bathroom cabinet just to add a little bit of extra storage, something that complements the bathroom vanity or cabinets under the sink. In other bathrooms, you need to maximize storage because there isn't any other cabinet around the pedestal sink. That is why I've included options fit for either scenario.
Sturdiness
Sturdiness determines how much you can put on your shelves without it toppling forward. Most of the bathroom corner cabinets on this list are made from particle board or solid wood, but most bathroom storage generally doesn't exceed more than a few pounds of towels, toiletries, and toilet paper.
Corner Bathroom Cabinet Ideas
Hampton Harbor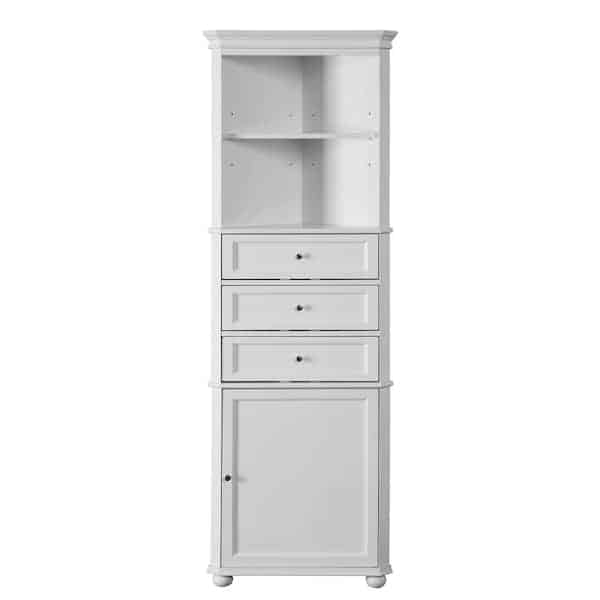 I love the Hampton Harbor because of the three drawers right in the center. In my experience, bathroom toiletries are primarily small, and these drawers are the perfect place to put small boxes or baskets so that everyone has a dedicated space for smaller items like nail clippers or mascara.
You can see how one user did exactly that by keeping little plastic dividers in the bathroom corner cabinet drawers: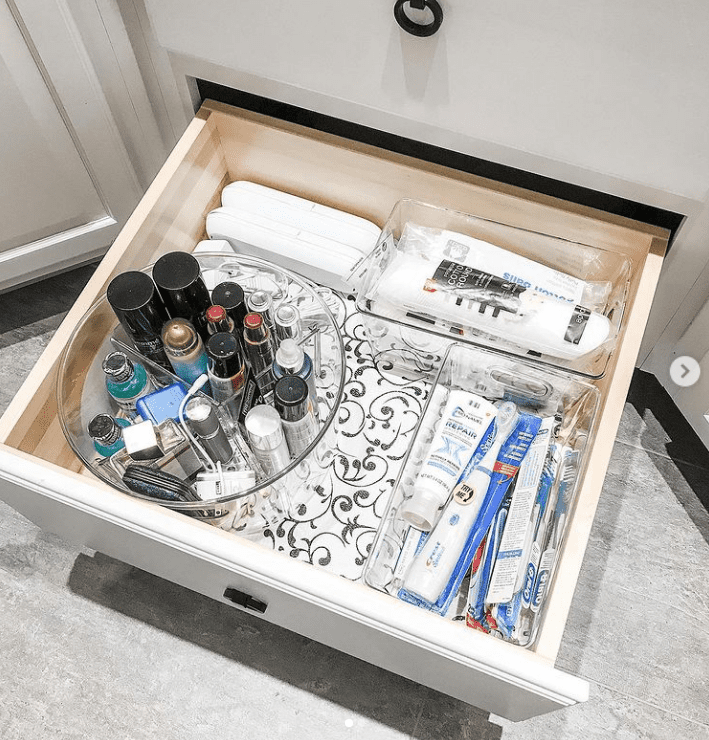 It has a large enough cabinet on the bottom that you can easily store toilet paper towers or spare towels. The open space on top provides two shelves that are fully adjustable and give you a place to put things like lotion, toothpaste, face wash, or a house plant.
It's the perfect cabinet for a small depth corner in your bathroom. It is easy to assemble yourself with English instructions. Just bear in mind that it is quite small; The three drawers are too short to fit a roll of toilet paper, but they're perfect for the small accessories I mentioned. However, the shelves are the perfect place for slightly larger things, with a maximum depth of 13 inches in the center of the triangle.
RiverRidge

RiverRidge has a similar design to the Hampton Harbor, sans the three drawers. If you already have drawers on your bathroom vanity or pedestal sink, you might not need them on your bathroom corner cabinet, in which case this tall corner cabinet is a much better solution because it has taller shelves and a single set of double doors to enclose the cabinet.
I love the top frame detail on this that extends above and beyond the shelves with a curved centerpiece that reminds me of old-fashioned mirrors. It comes highly recommended by users for its value, easy assembly, and how sturdy it is.
Freestanding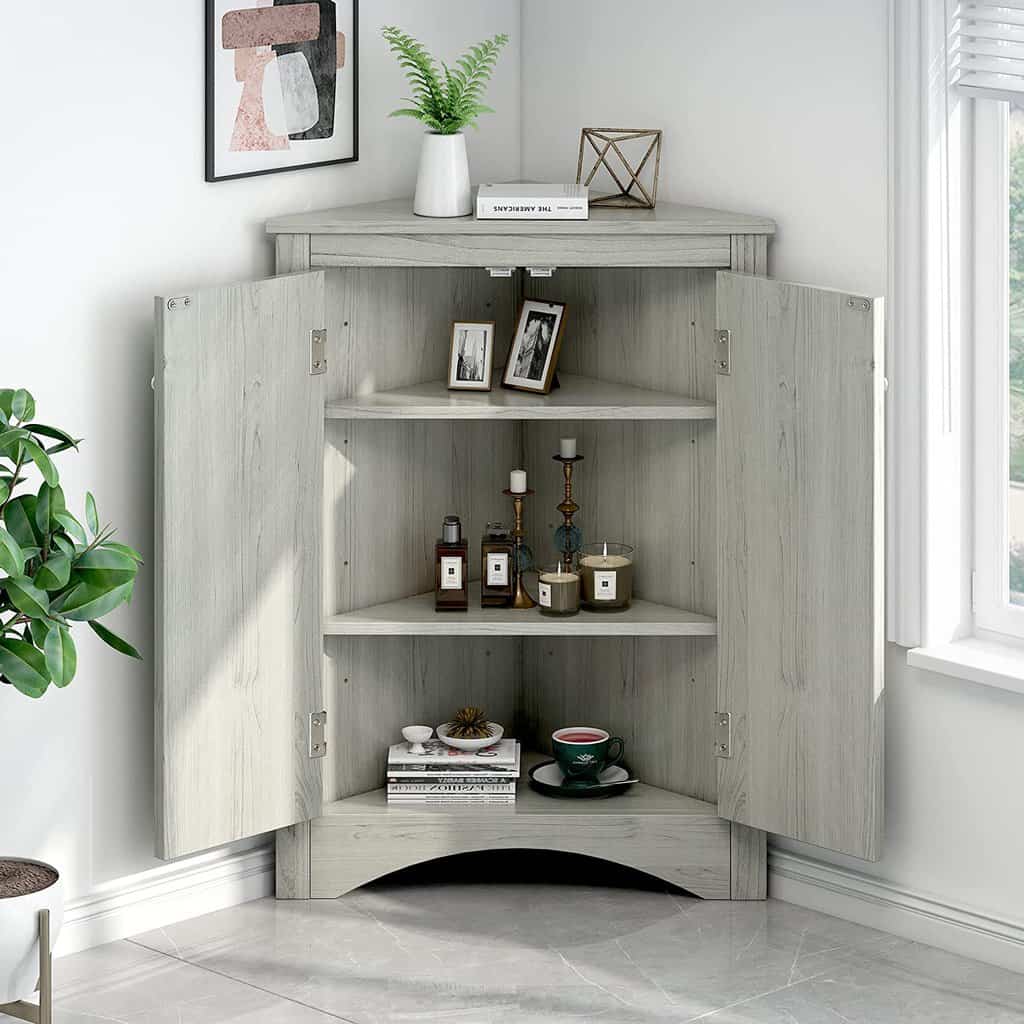 The DKLGG freestanding cabinet is a base-mounted floor cabinet, which means it is half the height of the RiverRidge and Hampton Harbor. It has adjustable shelves on the inside, two doors that open outward with brushed nickel cabinet knobs, and stainless steel hinges. The exterior surface is sturdy and waterproof, making it perfect for a bathroom.
It is strong enough to support the weight of bath towels, body wash, toilet paper, and more. I love that on the bottom, you'll see a unique arch footprint that keeps the whole structure lifted with a modern aesthetic. Customers have noted that it's very easy to assemble, perfect for tight corners, and doesn't take up a lot of space.
Merax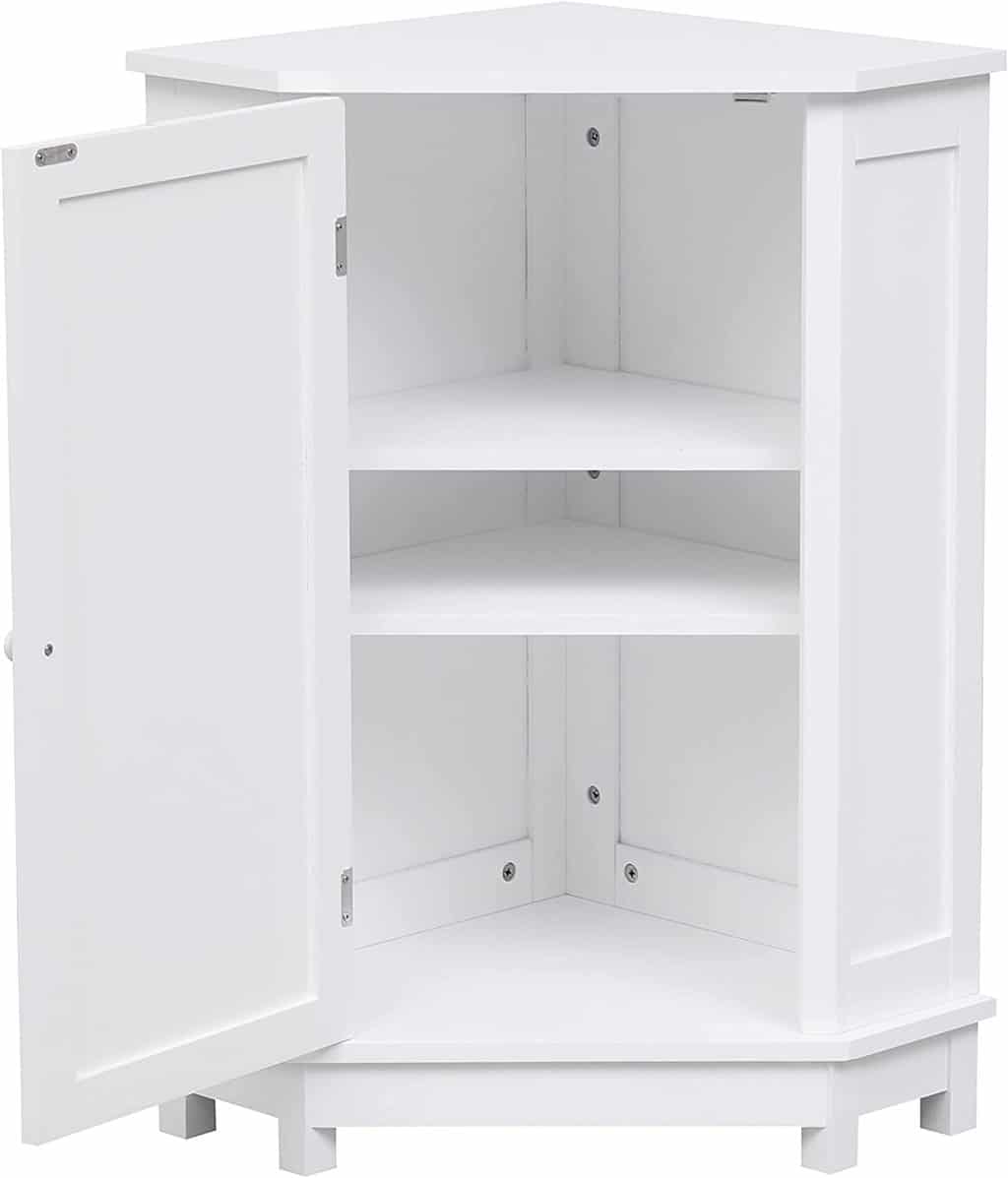 Merax makes a similar freestanding unit. This one does not have an arch footprint but has small feet, so the whole unit is raised. It has a single door with a matching white knob. The front has a bead board design.
Customers have remarked that it's very easy to assemble, it's worth the money, and the waterproof exterior makes it suitable for a bathroom. The only thing I don't like about it is the front design has three slightly curved panels, but only the central panel functions as the door, so you have that ever-present corner cabinet issue of having to reach directly to the left or right to get anything that made its way into the dark recesses of the cabinet.
Glass Door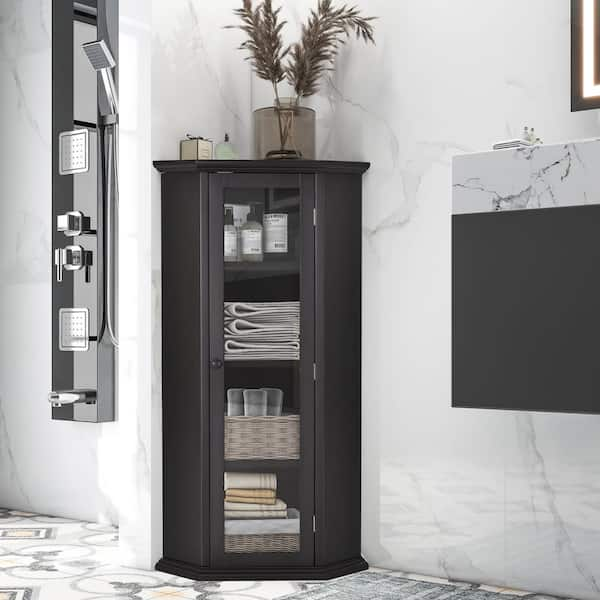 Glass Door makes, as the name implies, a corner bathroom cabinet with a glass door. I really like this one. It has the same tri-panel design as Merax on the front, but it addresses that corner cabinet issue of things falling into the recesses by designing the shelves to go straight back instead of off to either side as well.
That's not the only thing I love. The glass door comes with Reliable Hardware, magnetic lashes so you can't slam the door shut, a unique frame on the base and the top, a waterproof surface, and a removable shelf so you can choose to have two or four equally sized shelves.
The glass door forces you to keep everything nice and organized, and it does what a lot of glass and Mirror services do in tight spaces like bathrooms, which reflect light and make the area look bigger.
Axia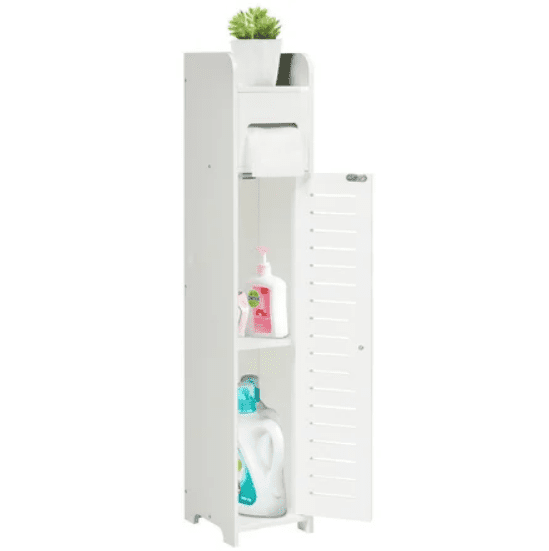 Axia made the list because I am Asian and I love small things, and this cabinet falls under the category of "small things." It is a freestanding bathroom cabinet, so it doesn't have that 90-degree angle of most corner cabinets, but it can fit in a corner, which is wonderful. It is so tiny it makes me squeal with glee.
I strongly recommend this for a dorm room or other tight space. It has a single tall cabinet with adjustable shelves on the inside. The door has vents cut horizontally, so you don't have to worry about moisture control.
The top has a small little roof with a border where you can store a houseplant, some hand towels, and maybe even some lotion or soap. In between both of those, you'll find a cute little compartment for tissue so you can pull tissue or toilet paper out just like at a hotel. *Squeals again*
Handmade and Vintage Corner Bathroom Cabinet Ideas
Looking for inspiration from other creators? Check out these handmade and repurposed vintage models. Almost all of these come from small businesses and are made to order, so even if you don't exactly like the color or the hardware on the pictures they show, you can reach out to the company and get something different to fit your space.
What's more, unlike other sellers, you don't have to worry about one-off items being out of stock because these are handmade items that the company regularly produces.
Barrels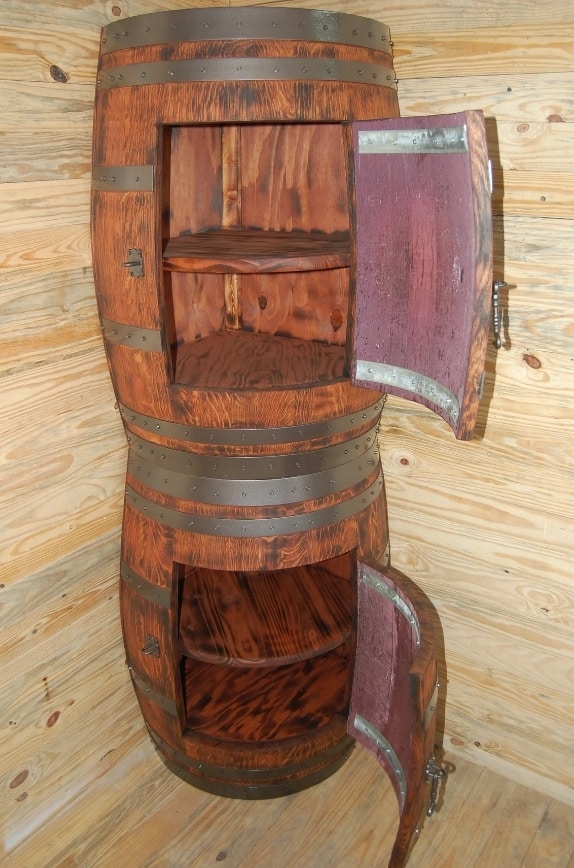 I grew up in a wine country, so this company that specializes in handmade wine barrel corner cabinets, chairs, and vanities, is absolutely outstanding. You could choose the color you want on the wine barrels, which are all French Oak. It's literally a full wine barrel sealed, with a door cut into the front to create a rounded corner cabinet.
You get two full-depth shelves inside. The whole thing is waterproof, making it perfect for a bathroom. I love the antique hinges they use on the door.
Bear in mind that they only sell one corner cabinet even though the pictures show two corner cabinets stacked on top of one another.
Hand Carved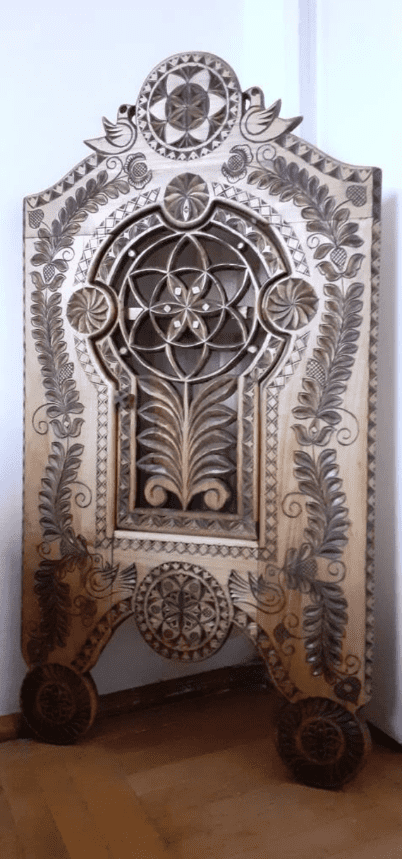 You can find handmade wooden corner cabinets like this hand-carved cottage piece if you want something unusual.
This beautiful corner cabinet embodies a stunning rustic style with rosettes and hand carving, symbolizing love and freedom, doves, plants, and stars. Even the door has a hand-carved knob, and when you open it, the shape of the shelves on the inside matches the keyhole outline in the center of the cabinet.
This certainly won't fit most modern homes, but it is perfect for a rustic, old-fashioned home.
Rustic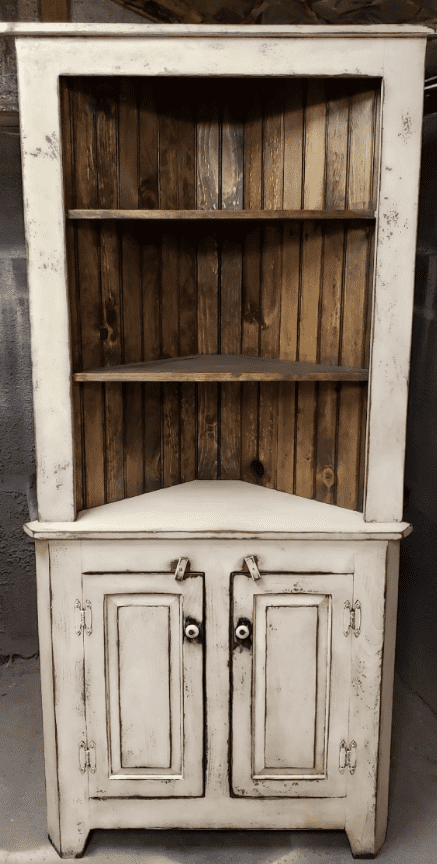 But if you want something rustic that is more applicable, this beautiful vintage corner cabinet is handmade. There is nothing but positive reviews from thousands of customers who absolutely loved it.
The best part is that each vintage cabinet is made to order, so you can choose the color you want and the level of distressing on all the doors. If you want black metal hinges that look like they belong on a country fence or rounded knobs, you can choose those too.
Shabby chic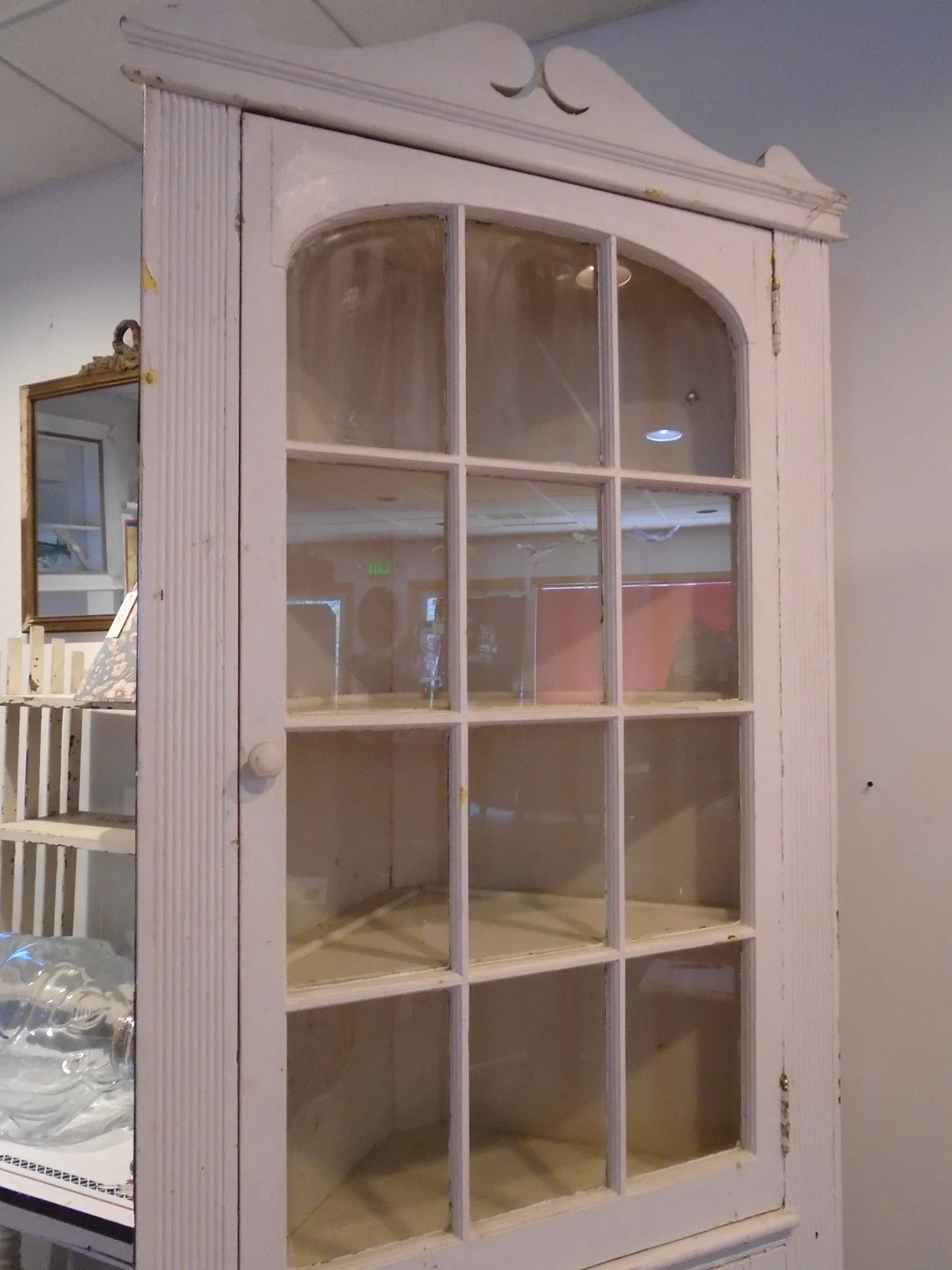 Corner cabinets can take on a chic, vintage look. This particular cabinet was rehabbed from a 1920s vintage cabinet. Instead of drawers, it has a beautiful window pane door design for the four shelves.
I really like this idea because I learned the hard way that if you aren't cognizant about airflow and keeping the fans on, having your toilet paper stacked on the open shelves of a tall corner bathroom cabinet can result in damp toilet paper. But just about all bathroom Corner cabinets have some collection of open shelving, and if they have drawers, they usually aren't big enough to fit toilet paper.
I'm not saying you have to put your toilet paper on the top part of your tall corner cabinet, but with this shabby chic design, if you choose to put the lightest items on the highest shelves, they are protected against moisture by that glass door. Plus, if you're running low, you won't have to guess; you'll know when it's time to head to the store.
FAQs
Question: Do I have to assemble a corner bathroom cabinet myself?
Answer: It might be shipped fully assembled if you buy something vintage or handmade. If they are shipped fully assembled, the manufacturer will make sure they are listed in the features or description before buying them. If it doesn't specifically say that it's fully assembled, or it says something like "hardware included," that means you will have to put it together yourself.
Sometimes third-party services from whom you make your purchase, like Pottery Barn or Amazon, offer full assembly services for an extra fee. But with all the corner cabinets I included on this list, that shouldn't be necessary because they come with good instructions and reliable hardware and are fairly simple to put together.
Question: How much weight can a corner cabinet hold?
Answer: This is entirely based on the model you choose. Handmade models like the wine barrel cabinets are very sturdy, but they are only base-mounted cabinets. Base mounted cabinets can hold more weight because of their design. You can improve the stability of a tall bathroom corner cabinet by installing anti toppling Hardware, and a lot of tall corner cabinets come with that hardware.
However, you need to pay careful attention to the manufacturer's weight limits. Sometimes manufacturers will stipulate a certain weight capacity for every shelf, and other times, they will give you a full weight capacity for the entire thing, in which case it is up to you to use your discernment.
Question: How do you know if a corner cabinet will fit?
Answer: My partner and I differ when it comes to this answer. My family owns a home remodeling company, and while the men in my family will tell you to whip out a measuring tape and measure the corner, I only partially agree.
Corner cabinets are designed with a 90-degree angle at the back. Assuming you have baseboards in your bathroom, they might only stick out one-quarter of an inch or one-half of an inch, so any 90-degree corner cabinet will fit a 90-degree corner in your bathroom.
I advise you to measure how far out into the space the cabinet will be or how tall it will be if you have something near the top of your bathroom. Most people don't, but there might be a pole, hanging light, or something else in the way. The easiest way to do this is to figure out what the depth of the shelves is.
When a company lists the depth of the shelves on a corner cabinet, they are only referring to the deepest point in that cabinet, which is at the confluence. So put a measuring tape in the corner and pull it out however deep the cabinets are, and then you can just round it back and forth from one wall to the other to figure out approximately how far out the cabinet will go.
Be cognizant of whether the doors on the bottom cabinet open outward and how far out the drawers come. You don't want to buy a corner cabinet for your bathroom only to find that you can't open one of the cabinet doors because it slams into the sink.
Bottomline
If you want a tall corner bathroom cabinet, Hampton Harbor is my favorite because it's the only one that comes with drawers. Most corner cabinets just have shelves and a cabinet, but this gives you three drawers for all of your smaller items, and, after all, bathrooms are chock-full of smaller, miscellaneous items.
I love Glass Door because of how many features you get and the fact that the glass panel lets you see what's inside your cabinet and reflects the natural light in a smaller bathroom space. If you want something unique, I absolutely love the barrels. I'm looking forward to finding a way to integrate those cabinets into my home bar as an ode to my childhood.