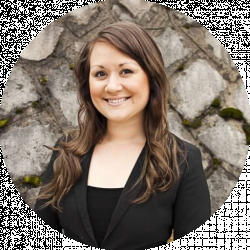 Latest posts by Lacey Jackson
(see all)
Every female family member has a hutch cabinet, and they absolutely love it. My sister and I are the only anomalies, so it must be something genetic to do with our generation. However, I've come to appreciate that I don't need a full set of china to use some of these fast Hutch cabinet ideas.
When I was living in my first apartment, I used a hutch cabinet as my general bedroom storage. As an adult, we have an enclosed greenhouse with tempered glass windows, and it's where I do a lot of my gardening, especially seedling preparation. A hutch cabinet works really well as a storage place, coupled with a workbench.
Bottomline Upfront
Homestyles is my absolute favorite. It's not so large that you need to have four generations' worth of china to display, but it's also not so small that you can only support the weight of one plate, bowl, and cup. I think in terms of size, cost, and storage options, it is the perfect middle-of-the-road solution for anyone.
It's one of the easiest to assemble, and you have a lot of versatility in terms of storage, like removing the wine rack and converting it into an open shelf.
Selection Criteria for the Best Hutch Cabinet Ideas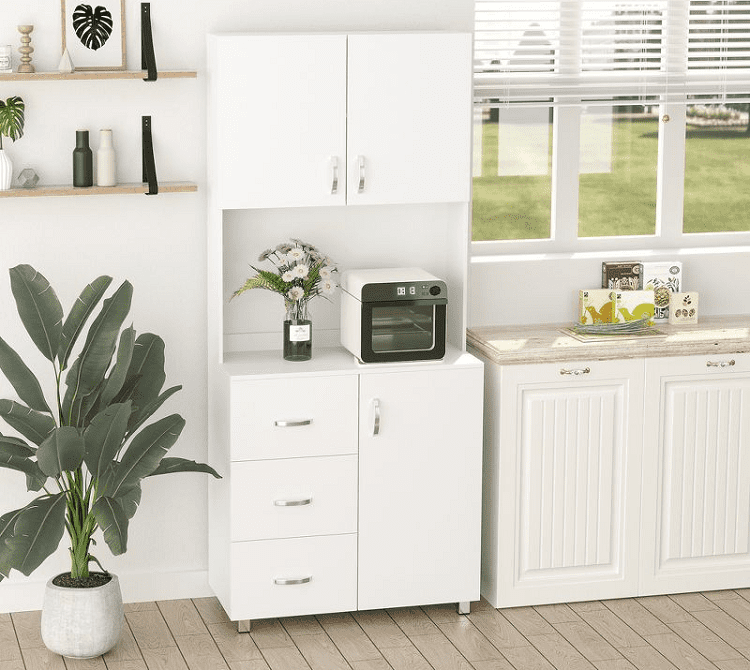 There are a lot of different hutch cabinets out there, but I chose mine based on cost, storage options, and size.
Cost
Growing up poor, I can appreciate the high cost of trying to furnish a space. And that is why the cost was a key factor in my selection criteria.
You can easily spend just a few hundred dollars on a great hutch with ample storage for a small family, including space for pots, pans, and microwaves. But if you need something large and expansive for the home your children and grandchildren visit, you can find affordable options that only cost a few thousand dollars.
Storage Options
That leads me to my second selection criteria, which is storage options. A good hutch cabinet will maximize storage space with a combination of drawers, cabinets, and shelves. Some of the more expensive models include spaces to store glasses and wine bottles so that everything you need is in one place.
Size
Most people assume that a hutch cabinet will go in a kitchen, and it might, but it can also go in a living room, workspace, or garden area.
With that in mind, I selected some of the best hutch cabinet ideas for the range in size they afford. If you need something small for a single-bedroom apartment, there are options here, but if you want something large that you can put in a greenhouse or your formal dining room, you will find something for that too.
Best Hutch Cabinet Ideas: Selections
Homestyles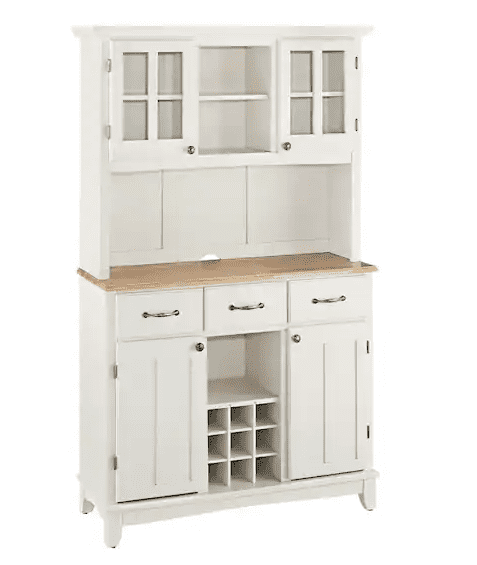 Homestyles has an off-white cabinet hutch. The thing I like most about this is how many storage options it comes with. You have wine racks, cabinet shelves, drawers, glass cabinet doors, and solid hardwood tops. All of this equates to maximized storage with a reduced footprint. The size is ideal for a smaller kitchen. 
We had one growing up that was about the same size, and it held everything, including baskets of our canned goods, baking items, and the cookbooks my aunt sent my mother every Christmas, hoping that if she sent enough of them, my mother would actually enjoy cooking (never happened; if anything, the constant cookbooks fueled her hatred), and of course all of our cutlery.
I didn't appreciate just how useful a hutch cabinet this size could be in a smaller space until we helped an extended relative move into that same home. Through the lens of adulthood, I appreciated just how small the kitchen was. And yet, with this single hutch, we were able to store everything we needed.
Tip: If you don't drink wine, the wine storage can be removed, so instead of a grid to hold nine wine bottles, you can have an open shelf to store something like pots or pans.
Homcom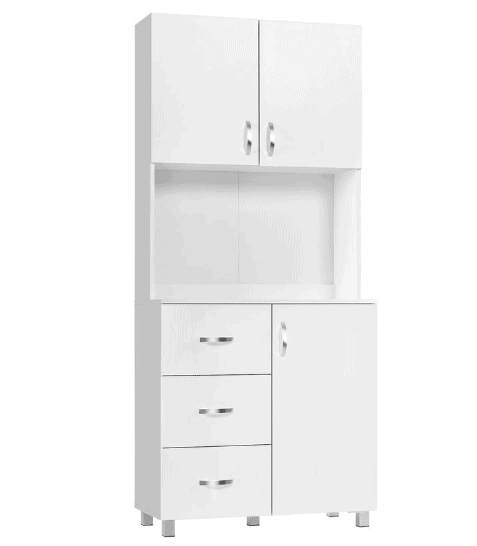 Homcom has an even smaller hutch cabinet for single adults in their first apartment or dorm rooms. This doesn't have to be used as the china cabinet. It has three drawers, a shelf on the bottom, and two large shelves on top with an open workspace in the middle. But you can just as easily add it to your dorm room as a small bookcase or a side cabinet in your bedroom.
It has an elegant design with minimalist metal handles and white paint. It comes with an anti-toppling device if you want to secure it to the wall but be advised that this does require additional tools.
Note: This is the smallest hutch cabinet on this list. It's only 72 inches high and 31 inches wide, with a total weight capacity of 176 pounds. Each shelf and drawer can hold a maximum of 11 pounds, so it's really designed for one or two people, not a whole family.
Modern Industrial

But it doesn't have to be all white with clean lines. Some users have recreated modern hutch cabinets with an industrial spin, like this two-piece, of oak, and chocolate design: You can see the great wirework on the doors, the wheels, the industrial handles, and the metalwork that links the two pieces together. It screams steampunk.
Galiano
This American buffet hutch cabinet from Galiano is a similar but slightly classier option. This kitchen pantry has an open shelf area that you can use for microwave storage, an instant pot, or even a home bar. It has double-door cabinets with glass doors through which you can see dishes.
There's plenty of space for other household devices like toaster ovens or coffee pots, as well as a drawer and shelved storage below.
What I like most about this model is the fact that it's small but easy to install. In fact, you get a step-by-step instructional YouTube video when you scan the QR code that comes with your cabinet purchase. This is one of the most useful bonuses a company has provided as far as installation is concerned. 
Costway
Now, if you want something larger, Costway is about one-third wider than the Galiano or the Homcom. It has almost the same layout as the Homestyles hutch cabinet but with different hardware. 
It comes with transparent tempered glass doors, adjustable shelves on the top cabinets, and three large drawers underneath the bar space where you can store utensils or glassware. It has a large open area in the middle, which you can use to store a microwave, crock pot, coffee pot, or anything else you use regularly.
What I like most is that it has family-friendly corners that are rounded so you won't accidentally stab yourself. This makes it perfect for a household where kids might be running through the hallways even though you tell them not to, and you end up pushed against the furniture (yes, I am definitely speaking from personal experience here). 
Vintage Hutch
If you want something a bit more 50s, then HutchVintage sells beautiful handmade pieces, with tall, mid-century designs that make me think of the sets to Down with Love. 
Latitude Run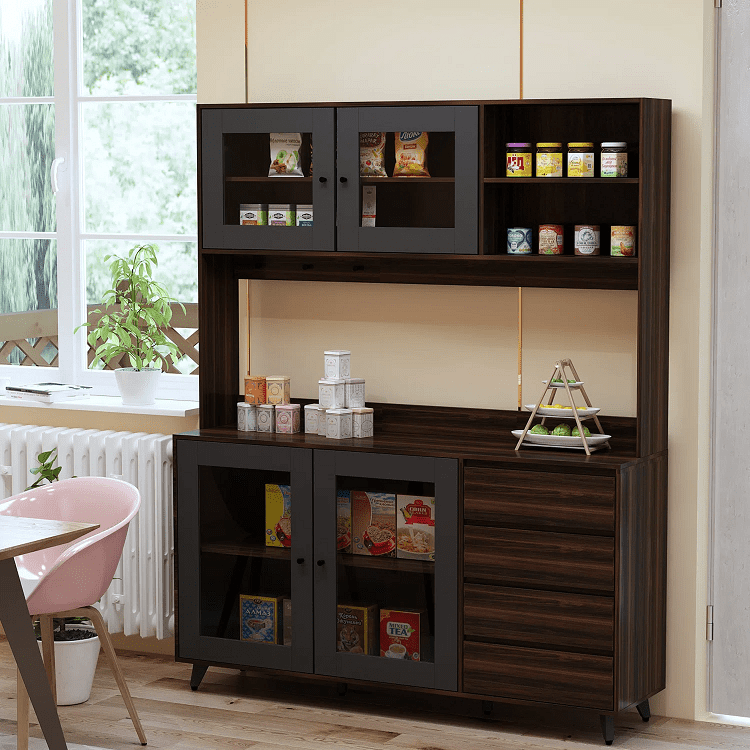 Costway and Homestyles have a lot of extra cabinets and storage space, but if you want something that's distressed brown, with black accents and larger but fewer storage options, I suggest Latitude Run. 
Unlike the other options, this has a lot more open storage, and every cabinet has a glass door. All the shelves are adjustable, but you have three shelves on top, which are recessed, so they aren't as deep as the open bar in the middle of the shelves below.
It has six legs on the bottom and can support up to 380 pounds which is far more than any of the other models. It comes with soft closed doors, so even if kids slam the door shut after grabbing their favorite cereal, it will naturally close on its own.
There's space for coffee makers, microwaves, and other appliances and storage options for glassware, silverware, and utensils. 
Tip: If you like to use your hutch cabinet for its open workspace in the middle and you are taller than your average ten-year-old, this is a much safer option because the top shelf isn't as deep. Costway, Galiano, and Homestyles have shelves of equal depth on the top and bottom, so you are more likely to hit your head while working in the middle.
Nassima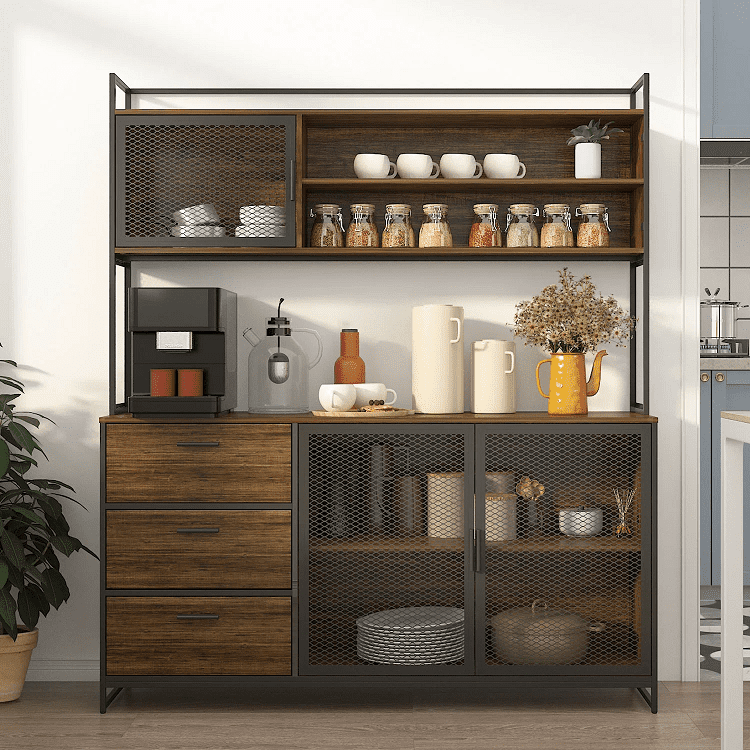 Nassima is similar to Latitude Run in its height and width, but instead of having tempered glass doors on the cabinets, it has wired doors. It comes with adjustable cabinet shelves, wine racks, a solid hardwood top, and many open shelves with metal pulls. It has a finished back and soft close doors, which I love. 
All of the hardware is included, and installation is relatively easy. It comes highly recommended because of how sturdy it is, how easy it is to assemble, and how much storage you have available.
I recommend this model if you have any type of French country or farmhouse decor. Obviously, it can go somewhere other than a kitchen or dining room. It will be perfectly useful as a home bar, a comprehensive storage cabinet, a bedroom, or a great partner to any greenhouse area.
Jill Zarin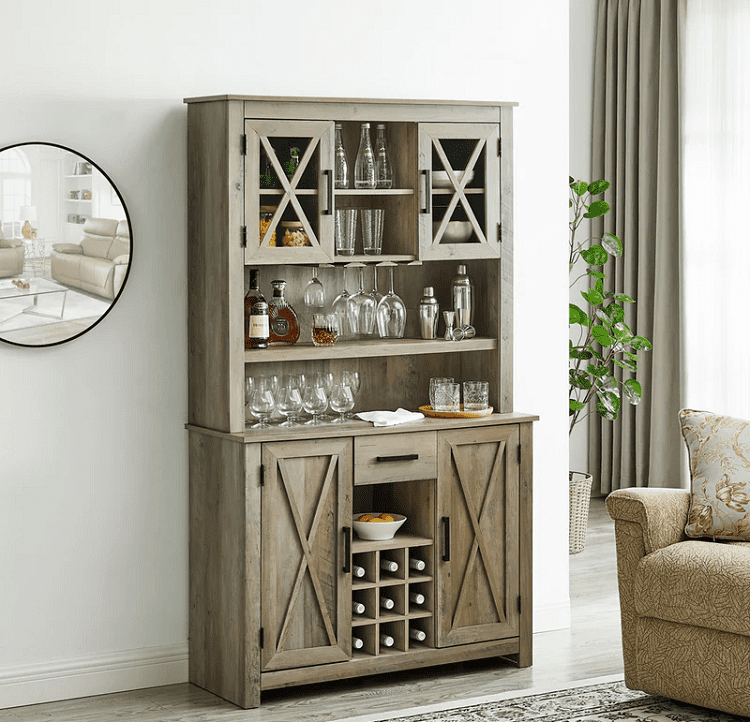 On the note of a country-style home, Jill Zarin makes a stunning Cap Cod hutch cabinet. This taller cabinet offers ample storage space with a sleek design. It has the same general layout as the Homestyles and Costway models, where you have the shelves and cabinets on top, the larger cabinets and drawers on the bottom, and the workspace in the middle.
However, it goes much further in that it has the quintessential barn door design with the decorative X across each door, metal pulls, and sharp corners.  It doesn't just have one workspace, but one. The latter workspace contains space for hanging stemware. It has a nine-bottle wine rack at the bottom, but unlike the other hutch cabinets, that wine rack is not removable.
I love that it has two workspaces because it's clearly intended to work in a dining room or a lounge area where you can hang all of your glasses and bottles, keep a few spare cocktail napkins in a drawer, and also have plenty of spare storage.
Tip: This hutch cabinet idea is best served for showcasing glasses and beverages. You can certainly use the cabinets and shelves to store your dishes and china, but the open serving areas are clearly intended for drinks.
Huth

But what if none of these provide optimal storage? Huth Cabinets on Instagram showcases their wall of hutch cabinet storage, with extra handle-less cabinets and open shelves. I love the way they engineer open shelves, perfect for adding plants, displaying glassware, or placing wicker baskets.
Benchwright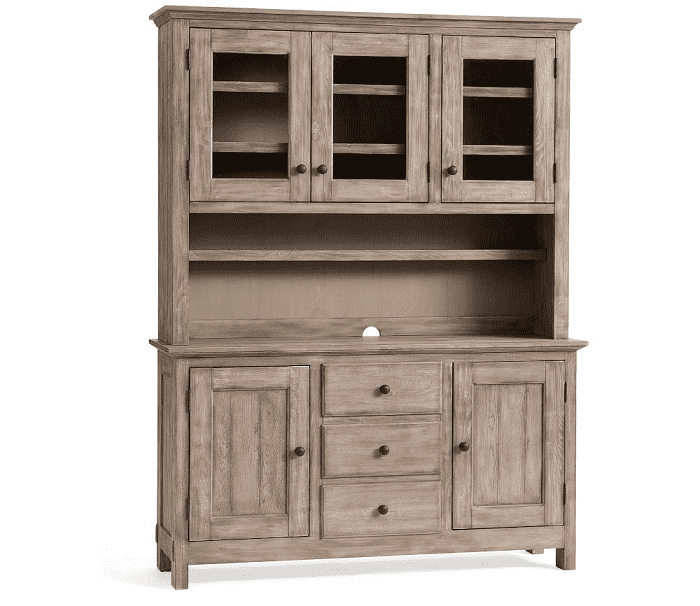 If you want something specifically for showing and storing your dishes, china, and glassware, Benchwright has a one-third larger and slightly similar design. This model doesn't have the X crosses spanning the doors but contains the traditional wood paneled doors. The top doors have tempered glass so you can see the dishware. 
This model is slightly bigger than any of the other hutch cabinets, at 66 inches wide, 19 inches deep at the bottom, and 86 inches tall. It is all solid hardwood for the doors, legs, and panels. Like Jill Zarin, it also has two workspaces in the center, the smaller of which is clearly intended to store shorter glasses. 
Tip: If you buy this from Pottery Barn, they offer what is called the white glove service, where they not only deliver the cabinet hutch to the room of your choice but unpack it and fully assemble it, taking away any of the packaging and trash after the fact.
Since you are already spending $4,000 on the hutch cabinet, it's worth it to include the white glove delivery service.
Logan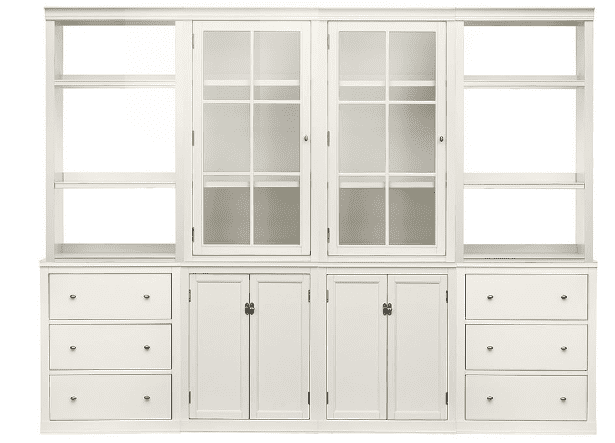 As mentioned in my selection criteria, I'm well aware that plenty of doting grandparents want an oversized hutch cabinet where they can store a full 12-person set of dishes or more so that when family comes to visit, everything is in one place. In that case, Logan is the largest model on this list. 
The Logan storage cabinet has four separate sections. If you look at the Homcom model, it effectively has one main section, and the hutch cabinets that are slightly larger and more expensive have two main sections side by side with a set of drawers and a cabinet next to one another. The even bigger versions have three sections, and this one has four.
Obviously, that means it has the biggest footprint as well. It's 96 inches long and 75 inches tall. It has knobs and latches, tempered glass doors for the central cabinets, open shelves on either side, three drawers on either end and solid door cabinets on the bottom.
Tip: The door hardware can be switched upon installation so that the doors open to the left or the right, depending on the layout of your home.
FAQs
Question: How Deep is a Hutch Cabinet Drawer?
Answer: Most hutch cabinet drawers and shelves are between fifteen and twenty inches deep. This depends entirely on the model. Some of the cabinets have deeper drawers and shelves on the base, with shelves and cabinets half that size on the top section.
Question: What is a Hutch Cabinet Used for?
Answer: A hutch cabinet can serve as any large storage space. Normally a hutch cabinet is reserved for displaying things like china or storing large-sized items like serving plates, microwaves, and crockpots. You can also use it as a place to serve food, prepare drinks, or have your morning coffee and tea.
However, as mentioned, there are a few options on this list that can be equally useful as small bookshelves or bedroom cabinets. 
Question: What is the Top Part of a Hutch Cabinet Called?
Answer: The top part is usually called the display case. This is where you often have open shelves or tempered glass doors so that people can see whatever is on display on the inside.
Some hutch cabinets come with a small hole for wire management on the off chance that you want to install lighting in this area to better illuminate whatever you have on display.
Best Hutch Cabinet Ideas: Bottomline 
Homestyles is my absolute favorite. It is the perfect solution for just about any situation. If you're a single individual looking for some extra storage in your kitchen, living room, or dorm room, the footprint isn't large enough that it will take up too much space. 
Similarly, it is large enough that you can easily store a full set of dishes and some extra appliances if you have a large family. It has a lot of flexibility in terms of storage, and it won't break the bank.
Read More: