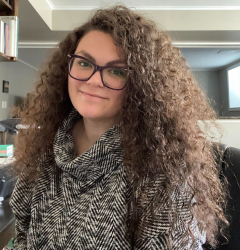 Latest posts by Candace Osmond
(see all)
I commend you for giving china cabinet hutch ideas a try. Most people, each for different reasons, tend to shy away from these pieces of furniture. Some associate them with shepherdess figurines or rose-speckled china, while others think they'll turn their homes into Grandma's dining room.
My intention with this article is to dispel some of those myths. I'll also prove that with the right cabinet, you can add a sense of nostalgia and charm to any space.
Here are 19 china cabinet hutch ideas you can try today.
Bottom Line Upfront
I love a good china hutch cabinet. I grew up in houses that always had them. But I hate the old-fashioned, outdated look of them. So, my fav on the list is definitely the Black Rustic China Cabinet idea. I mean, just look at it. It's stunning! It makes me want to go yard sailing right now.
Top Picks
These three top picks from the list are sure to help you with your needs and look amazing doing so.
Gorgeous China Cabinet Hutch Ideas
Now let's jump into the most exciting section of the guide: my 19 amazing china cabinet hutch ideas to give you the inspiration you need. Whether you're buying something brand new, or looking for ideas to overhaul that yard sale treasure, this is the list for you.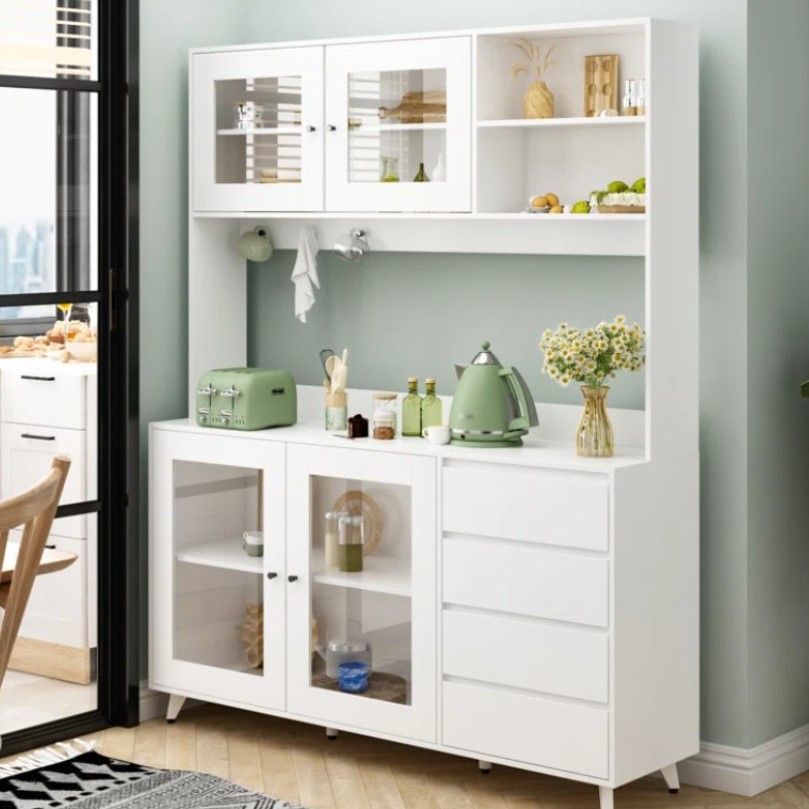 Not happy with the more traditional, standalone china cabinet hutches? Maybe you'll love a modern version of these timeless pieces. This cabinet from Wade Loan is a contemporary reinterpretation that's assured to fit into even the tiniest of spaces. The unit also retails in a dark brown version on Wayfair.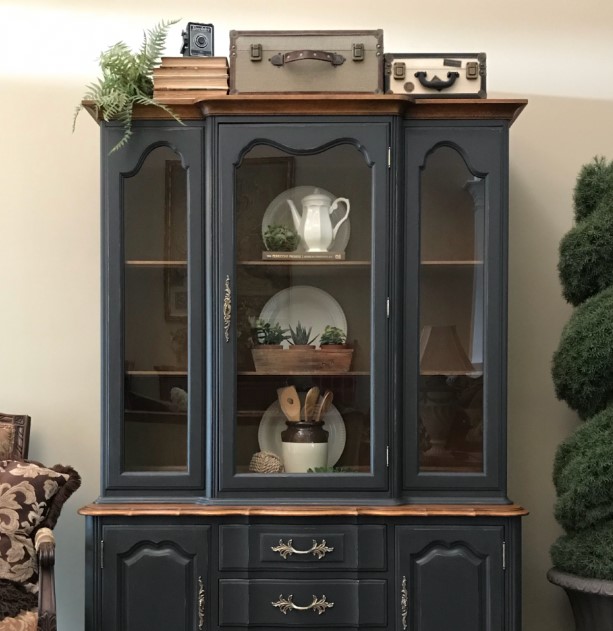 This beautiful china hutch is far more versatile than any built-in cabinet I've ever seen. The unit has been refinished in a deep charcoal shade to deliver the ultimate appeal. This is the solution if you want a unit that will take the stage in your home.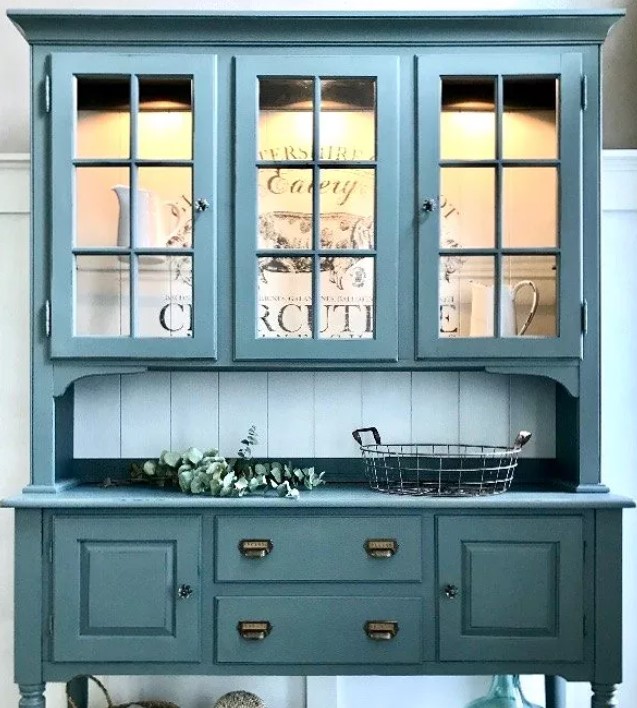 All it took was a few fine details and new hardware to turn this hutch into a classic farmhouse beauty. This china cabinet hutch idea also shows how you can update a hutch and still retain its natural beauty. Also, if the shade doesn't cut it for you, consider going for white or navy blue.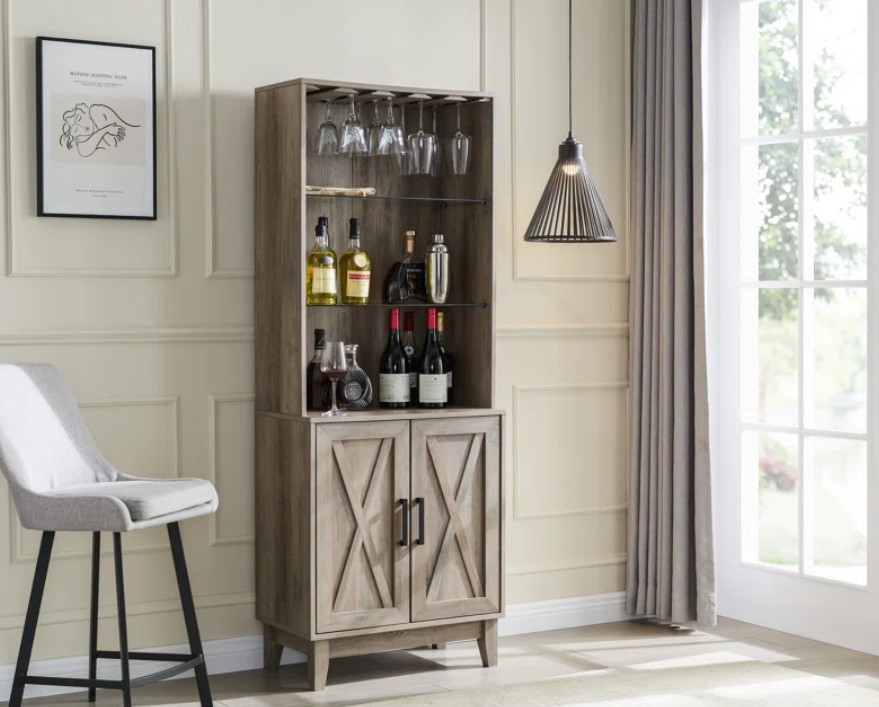 You can decorate a vintage china hutch with more than just fancy china. Wine bottles and glasses will seem perfectly at home in these displays, as proved by this cabinet from Jill Zarin. The reclaimed Barnwood finish adds style to your home as well.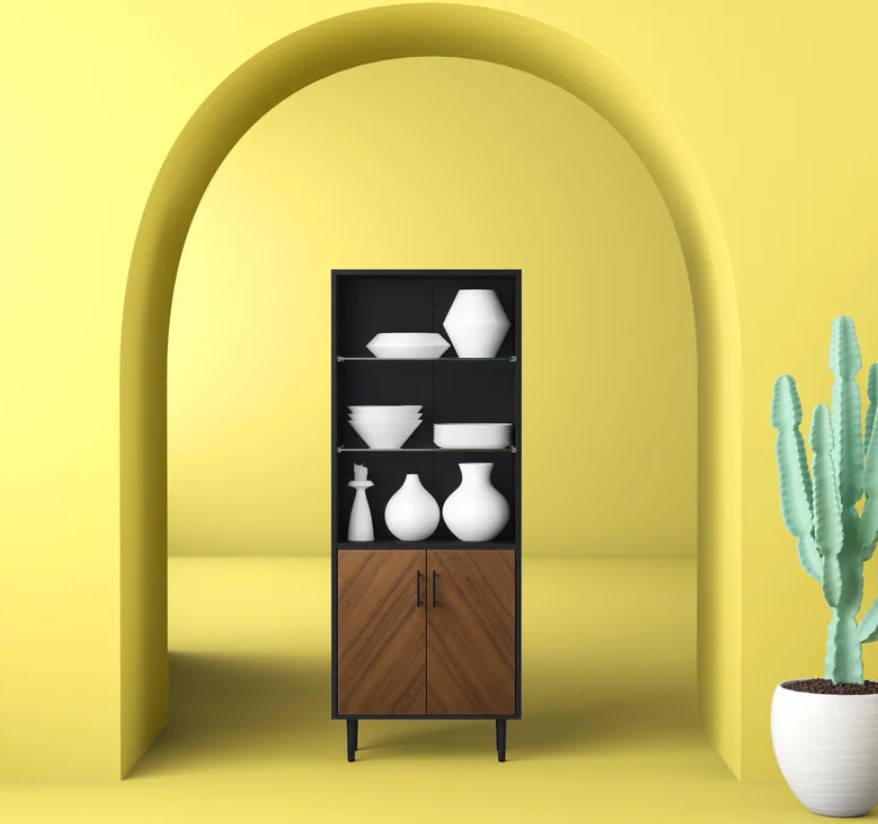 A contrasting approach with china cabinet hutches is to get a navy blue, or black unit draped in neutral hues. That's precisely what this china cabinet from Wrought Studio delivers. What's more? You can quickly move this to a different room when you want to alter the ambiance in its current room.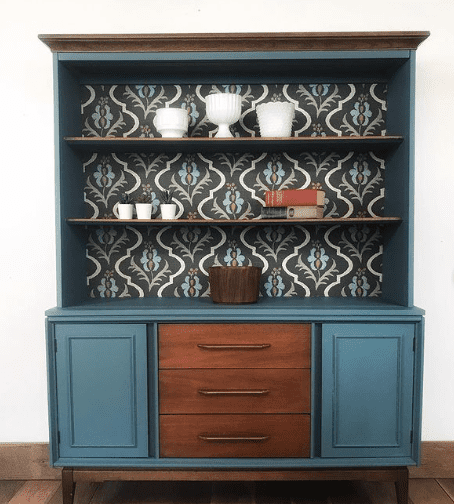 Who said a china cabinet hutch must have wood and mirrors? That's right, no one. Feel free to paint yours a contrasting shade, as shown in the idea above. The unit is assured to leave anyone who walks into the room green with jealousy… (Sorry! I had to)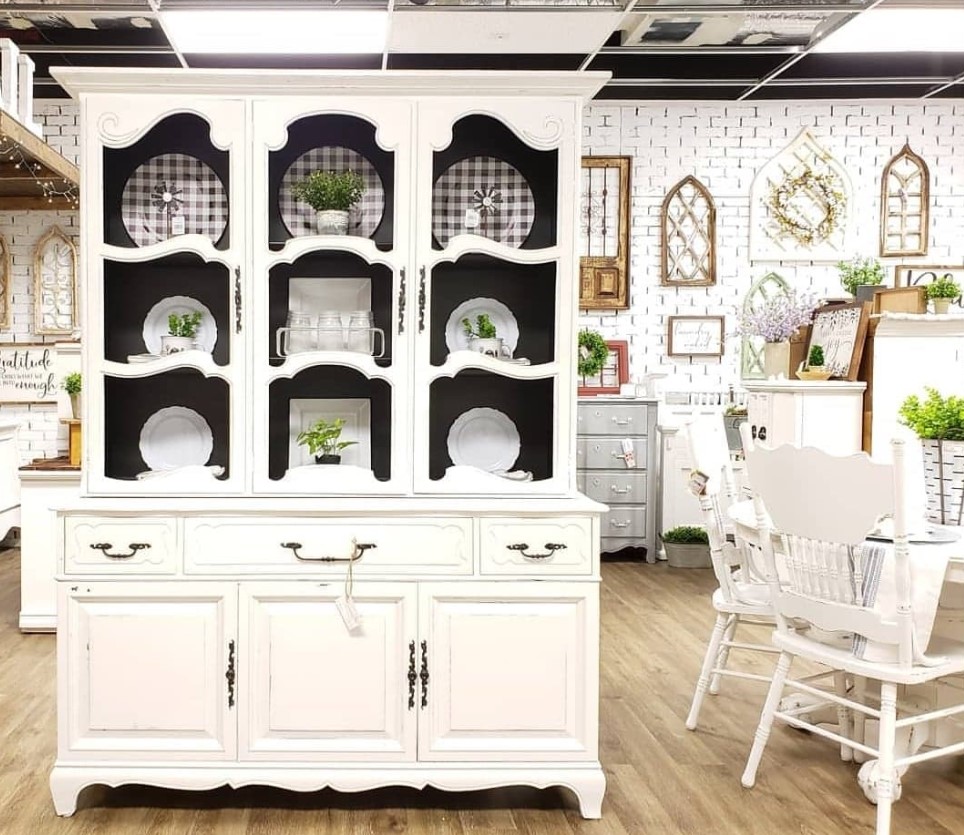 Revitalized with crisp chalk paint, farmhouse-style hardware, and packed with fine china, this cabinet will be stylish in any room. Change the contents inside, and the unit will dazzle anywhere, be it a dining room, entryway, or bedroom.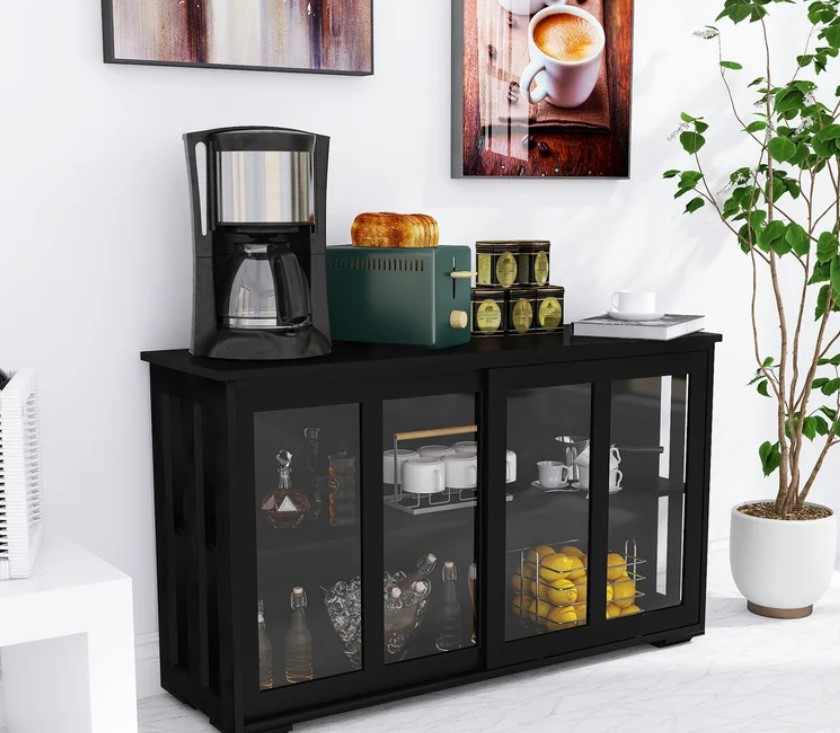 Do you tend to throw weekend parties and want a unit you can move out of sight when needed? This cabinet from red barrel studio could be what you're looking for. The china cabinet can quickly disappear into another room or take center stage on days when you're hosting family dinners.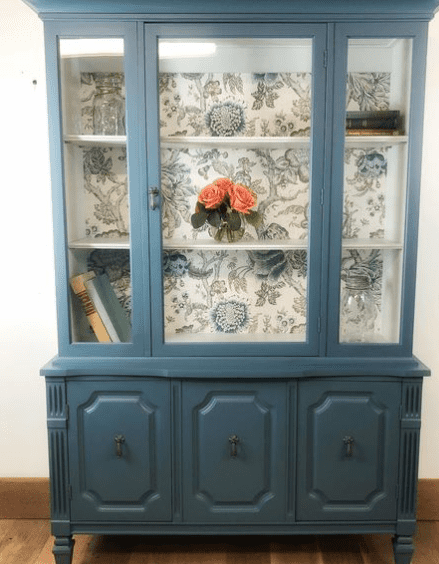 Distressed décor has been making a massive comeback over the last several years, for good reason. Styles like shabby chic have allowed homeowners to embrace rejuvenated and upcycled furniture pieces, like the one pictured above.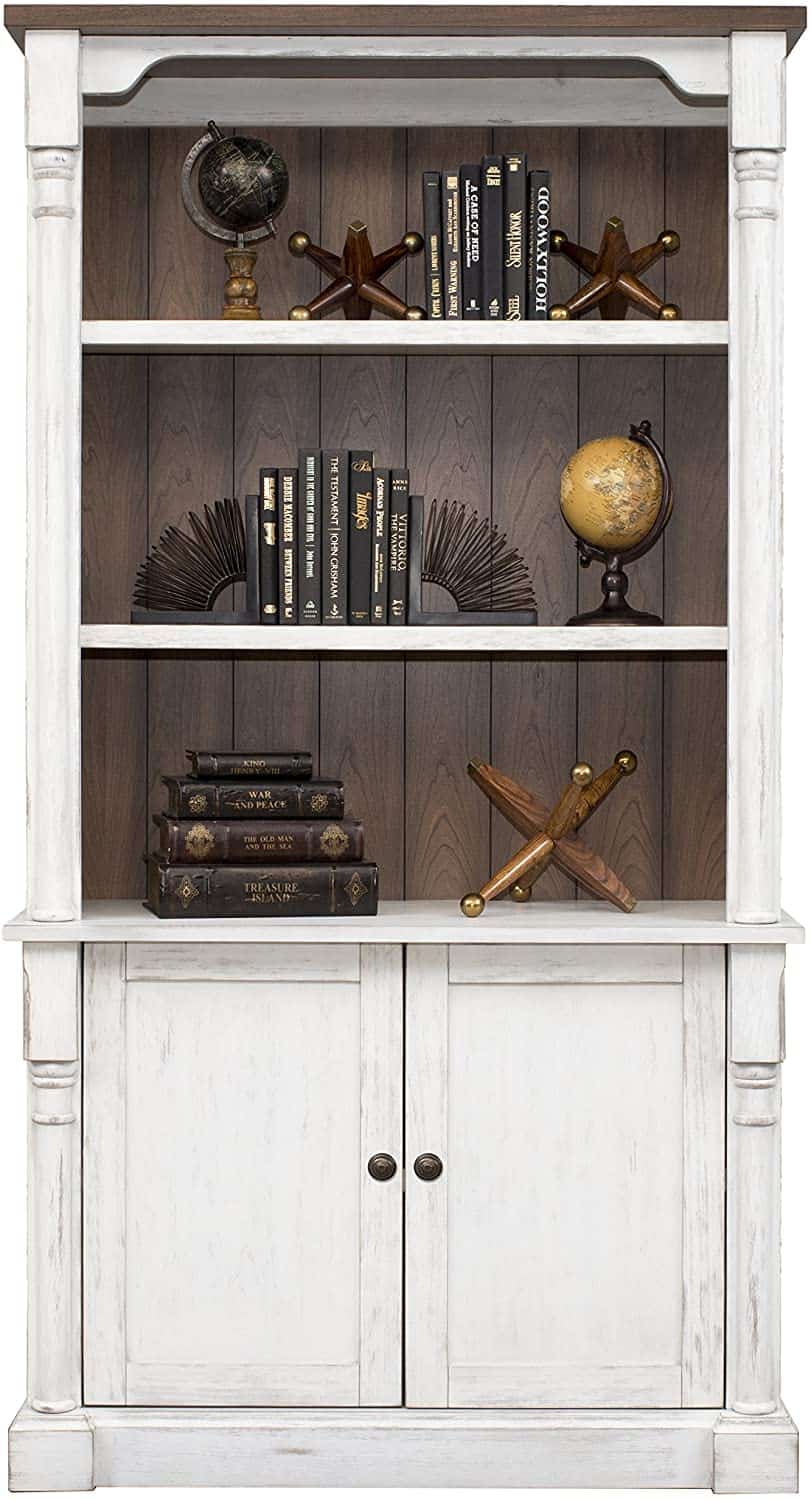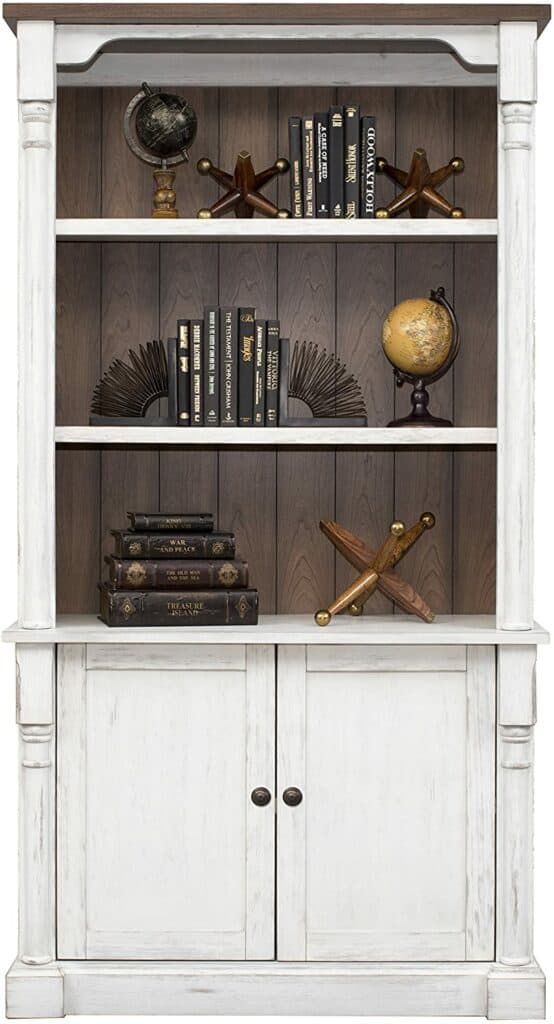 This next china cabinet hutch idea also boasts a distressed finish. If that doesn't prove that a distressed décor is a classic option that will never fail, I don't know what will. If you're willing to travel down the road of whitewashed china hutches, integrate this unit into even contemporary living rooms.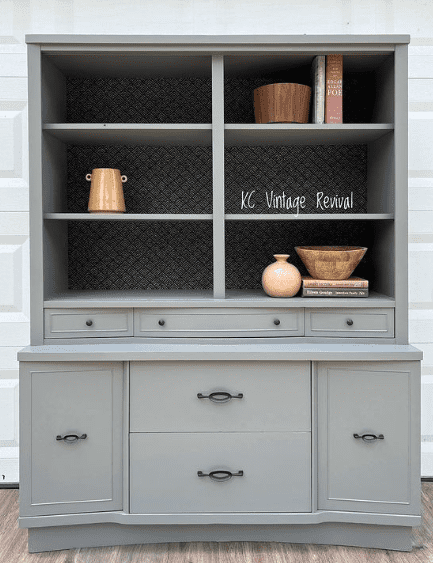 I know this unit gravitates toward the vintage, traditional, and antique end of the spectrum. But the use of flat designs and simple lines could make this unit easily pass in a classic or semi-modern setting. I mean, who cares? It's your house. Do what you want!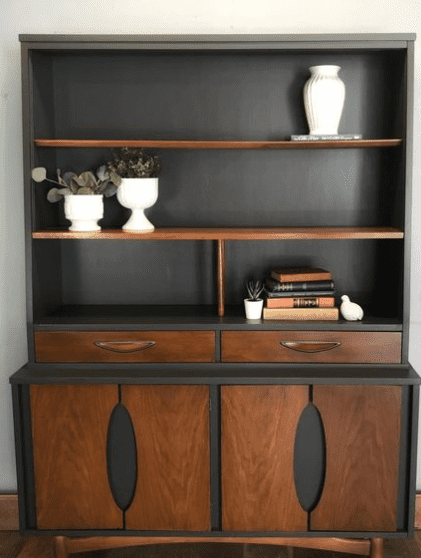 Helloooo! This might be the best on the list, in my opinion. The smooth look pairs well with the dark colors, and I love how they kept some of the natural wood as an accent. I want this in my house, STAT!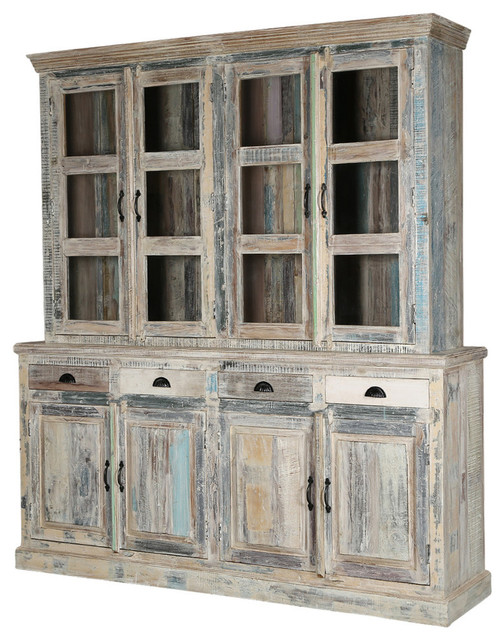 This great country chic china hutch would look killer in any country or farmhouse style setting. Now I wanna go paint all my furniture white.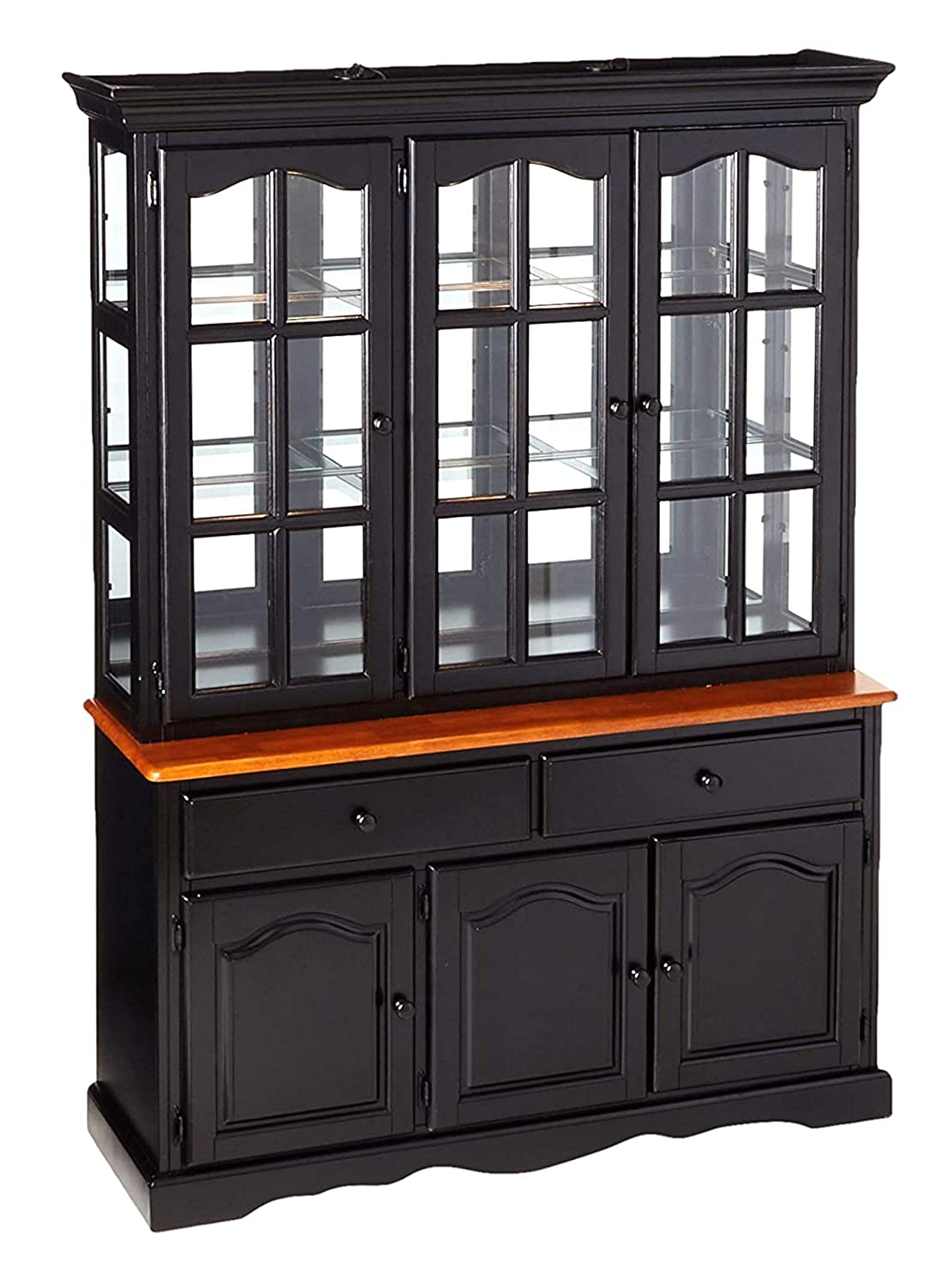 This farmhouse-style china hutch is just wide enough to stow and parade items you truly desire. The unit has been awarded a classic farmhouse-style finish in Graphite and Country Grey with hints of dark wax. If this were mine, I'd add a mirror to the backing.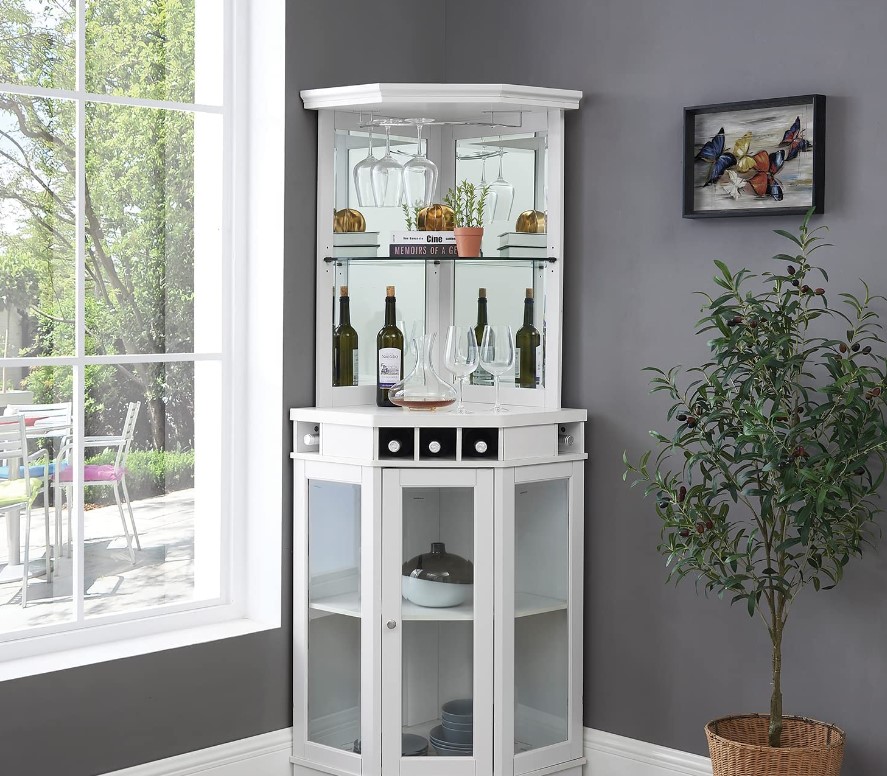 This tall and thick china cabinet hutch from Home Source is perfect for small spaces. The top part is fitted with a wine rack and shelf for storing additional items. On the other hand, the base features base cabinets with clear glass doors and two interior shelves.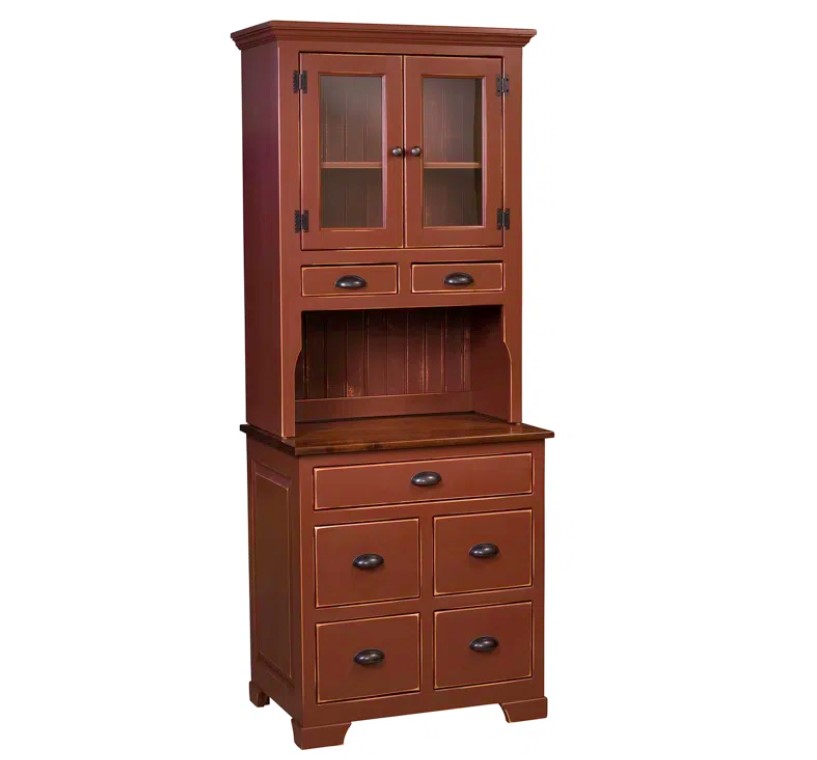 Look beyond the stained wood and trims that may not fit everyone's interior décor. Once you do, you'll realize that this 70's-style china cabinet has the potential to be a beauty. Simply remake it as you see fit, and rest assured it'll leave visitors in awe.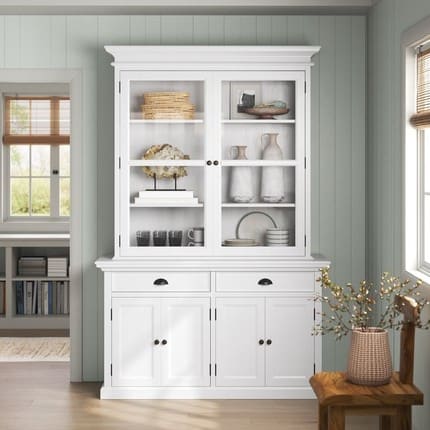 Resting atop four dainty, straight legs is this green china hutch. It has glass doors, but this shouldn't be a problem because you can use the open shelves for display. The unit also boasts a neat mullion bar design on the glass that is to die for.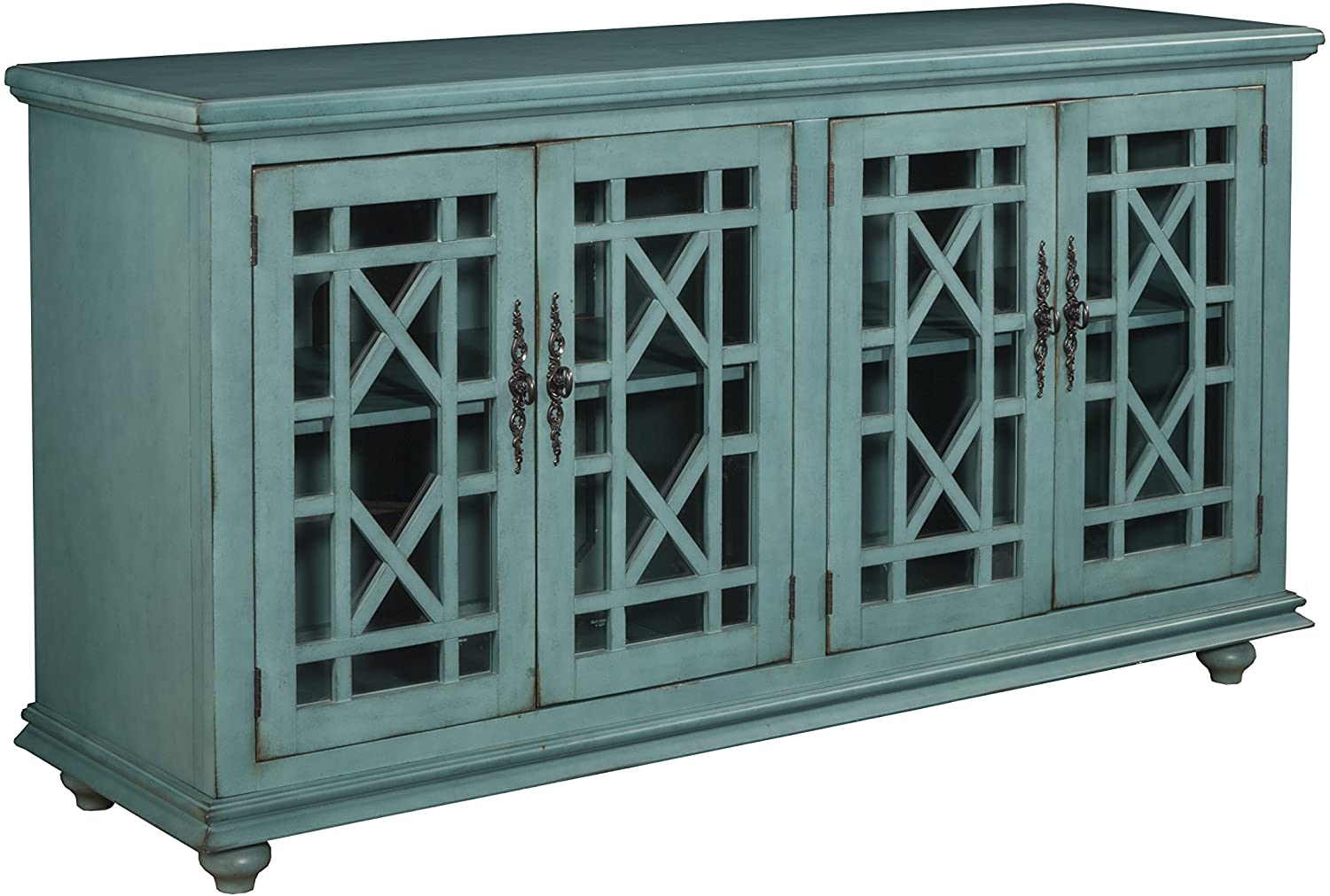 Give your living room the extra space it needs by adding this Martin Svensson TV stand. It features a traditional and attractive silhouette that balances with a variety of décor styles. The unit's versatile design allows you to use the piece as a sideboard, entry hall credenza, or entertainment console.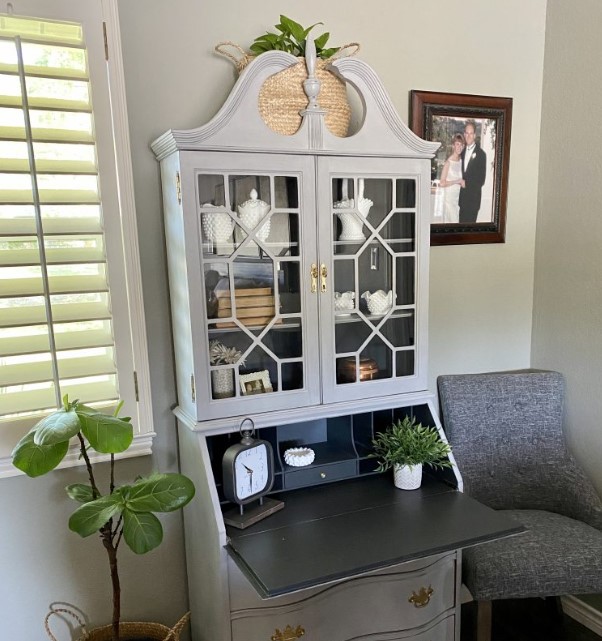 This living room cabinet combines practicality, beauty, and elegance to deliver one of the most aesthetic units. The cabinet will also provide sophistication to any living room and dining room.
Places to Put a China Cabinet Hutch
These are the top five places in your home you can put a china cabinet hutch.
Living Room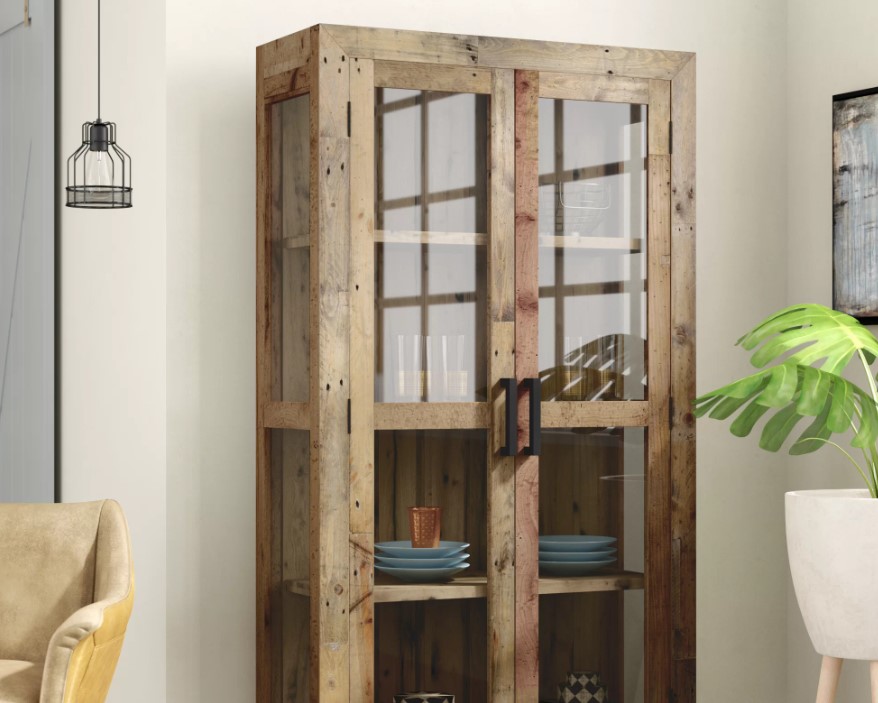 Placing the china cabinet hutch in your living room isn't just wholly acceptable. It may also be the perfect solution to reducing clutter while simultaneously delivering a modern twist on a dated unit.
Additional reasons you may want to place a cabinet hutch in your living room include:
You have a large, empty space you'd like filled
You're going for a vintage theme
Regarding the advantages of having a china hutch in your living room, the most obvious is it creates a focal point. Suppose you go for a vintage, colorful, or even oversized unit. All these are perfect features that can help draw attention to a specific area of your living room.
Kitchen
As the name suggests, china cabinet hutches traditionally housed "china" or porcelain and glass dishes, silverware, drinking glasses, plates, etc. That's why most people who hear "China cabinets" automatically think of antique-looking cabinets along the main walls in a kitchen.
Another point worth noting; kitchen hutches usually have large drawers and cabinets on the lower unit and small ones above. This awards you the choice to store distinct-sized items conveniently in the same location.
Hallway
Hallways connect rooms but often lack dedicated functions of their own. And if you're already short on space, you know that every inch of space counts. The easiest way your hallway can do its part is to incorporate an intelligent storage feature that meets your budget.
Home Office
In the work-from-home era, you may have realized your home office doesn't boast the same storage capacity as your company's. A china cabinet hutch can fix that. Much like kitchen china hutches, a home office china cabinet delivers a workspace and an elevated top section.
The top section will usually include cupboards or shelves you can use to store files, pens, notebooks, and other items. Needless to say, all these will also keep your office space tidy and clean by keeping non-essentials out of sight.
Bedroom
If you wanna be a little more creative, you can opt for a cabinet that complements your bedroom. In there, give your China a new life by using it as your own armoire to hold your clothing.
If you have a perfume collection, accessories, designer shoes, or purses, you could also keep them in your hutch.
If I had one in my room, I'd also use it more practically. Rather than having my towels buried on shelves or tucked away in closets, I'd place them in the cabinet. If that doesn't deliver the hard-to-beat 'hotel-esque' vibe, I don't know what will.
Different Uses for a China Cabinet hutch
Are you only using your china cabinet hutch to showcase your set of fancy dishes? Then you're only tapping a fraction of its potential. Here are seven more ways to put your cabinet to work all around the house.
Beauty and Bath Items
Place your china cabinet hutch in your bathroom and use it to store everything from linens and washcloths to towels. Add some wicker baskets for holding lotions, soaps, and other beauty or bath items.
Miniature Greenhouse or Plant Stand
Do you have houseplants you'd like to keep away from small children or pets? A glass front china cabinet hutch could be the perfect solution. Just remember to keep the cabinet in a sunny location. Another option is using your cabinet to grow seeds and get a jump start on your summer garden.
Displaying Collectibles and Antiques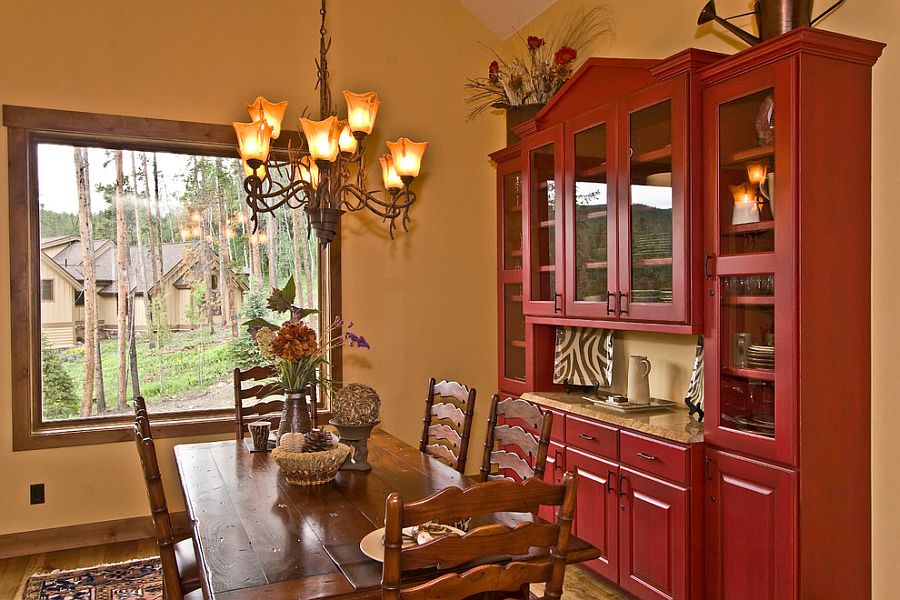 Show off your collectibles and antiques by having them protected inside a china cabinet hutch. These units are the perfect spot for seasonal displays of trinkets and figurines.
Media Center
The shelves on a china cabinet hutch are perfect for turning into a media center. Consider picking a cabinet with a broad base so you can have room for a flat-screen TV on top. While at it, consider using the shelves for video games, a gaming unit, CDs, stereo system, or a DVD player.
Printer Cabinet
Another out-of-the-box way to use a china cabinet hutch is as a printer cabinet. For tips on that, check out my other detailed guide on printer cabinet ideas. The key here is to ensure that the cabinet is wide enough to accommodate your printer's dimensions.
Create a Microwave Area
Would you like to save on counter space without giving up your beloved appliance? Why not incorporate a microwave area into your cabinet hutch? Thanks to their tall and enclosed nature, a china cabinet will keep the unit away from curious children as well.
FAQs
Question: What is the Difference Between a China Cabinet and a Hutch?
Answer: A china cabinet is made of one enclosed piece. Hutches, however, typically consist of two separate pieces. The upper part usually comes with a display case while the lower part consists of a set of drawers and cabinets.
Question: What is a Hutch Cabinet Called?
Answer: This term is used to describe a set of cabinets and shelves or drawers placed on top of one another.
Question: Do People Use China Cabinets Anymore?
Answer: Yes, people still use china cabinets. They've actually been making a comeback in the mainstream lately due to their trendy aesthetics and practicality.
In the End
Still, think china cabinet hutches are for the elderly? Hopefully, my guide has shown you multiple ways to transform these dreaded hand-me-down cabinets into beautiful storage spaces and decorations.
What's more impressive? Whether you use your cabinet for fine china or something unexpected, like books, you'll love the appeal it'll deliver. And if you're looking for something with darker tones and more modern details, I'd suggest trying something like the Black Rustic China Cabinet idea! Want more recs? We've got a ton on our site; go check them out!
Read More: