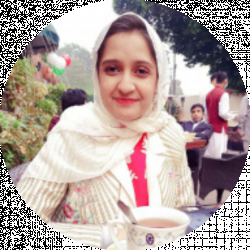 Latest posts by Zunaira Ghazal
(see all)
What is the one bathroom ritual that you have to do? Something without which your visit feels incomplete? It's actually immediately drying my hands after washing them for me, or having a towel close by when I come out of the shower.
This fact might apply to other people as well. I say that because the statistics are on my side. Did you know that the market size of bathroom vanities is predicted to grow by 5.9% by 2025?
That means more and more people are going for bathroom cabinets because additional storage is a must! However, vanities are expensive. As a result, the popularity of towel cabinets has grown exponentially! They are compact, versatile, and easily fit all types of bathrooms. 
If you're looking for one, this list is for you! Let's take a look.
Bottom Line Up Front
Towel racks are a bathroom furnishing essential. That is because we now have a LOT of stuff that needs organization there, so having a cabinet is a great way to keep things out of sight. This list is all about curating the best towel cabinet ideas so that you can take a look at the options available in the market and decide which one will suit your bathroom the best.
My favorite is the Aleck 44Cm W x 190Cm H x 34Cm D Solid Wood Tall Bathroom Cabinet. I love its industrial-chic presence and the way it simply stands tall in its distressed wood glory! Plus, there are a lot of compartments in it. Their different sizes allow you to organize all your towels and other essentials neatly – all without compromising the visuals!
Top Picks
Here are my top picks from this list:
What can I say? I am a sucker for designer stuff. I love how this cabinet has an instant element of luxury. It is sophisticated, smartly designed, and exudes glamour! Plus, the combination of grey veneer with bronze legs is super ritzy!
The distressed wood finish and colorful reclaimed wood aesthetic of this bathroom cabinet is really attractive! This design is an excellent inspiration for those who want a bathroom with personality!
This one is another favorite of mine because of its tall design. I feel like this one is extra versatile because of its ample storage! Even here, the open shelves in the upper half and closed cabinet in the lower half work in perfect harmony to provide ample storage. You can put so much here aside from just towels.
Selection Criteria
These are the top 3 things I had in mind while selecting these towel cabinets:
Design
I feel like design is the most important thing when you're picking out any cabinet. No one wants to buy an ugly cabinet, so I tried to pick out towel cabinets that are elegant, beautiful, and pleasing to the eye.
Compartments
Most of the towel cabinets on this list are multi-functional. They feature multiple compartments for the easy organization of all types of towels. I find that having an extra shelf or two can help you keep the bathroom clutter-free as a whole. So I tried to pick cabinets that would provide some extra storage.
Versatility
Every towel cabinet on this list is versatile. That means that aside from holding towels, it may also be providing another kind of function. It may be an attached shelf or enhanced visuals. Point is, that these cabinets are flexible and well-rounded.
#01 Nosferatu Cabinet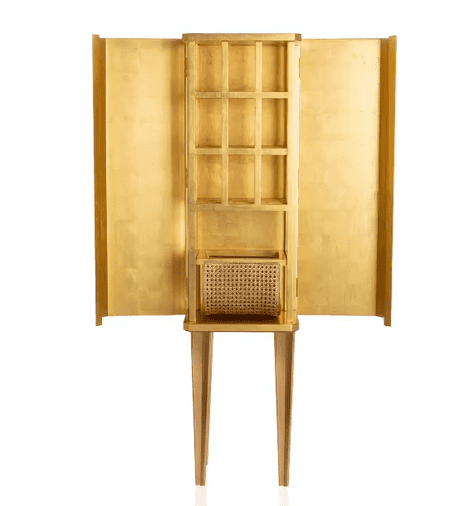 This wooden towel cabinet is an Instagram-worthy investment. Aside from its designer stamp, it also exudes an elegant Scandi-modern vibe. I love its sleek, minimalistic outlook. There is also this undercurrent of glamour to its design that really appeals to the eye.
I feel like this towel cabinet is perfect for upscale, spa-like bathrooms. It has bronze legs and a gorgeously veneered front. Both elements contrast each other beautifully.
Just imagine having this cabinet beside your clawfoot bathtub! You rise out of the bubbles, pull open the door, and take a clean towel from one of the cubbies inside. So simple, so sophisticated, and so perfectly swanky!
#02 Ensuite Glassdoor Towel Cabinet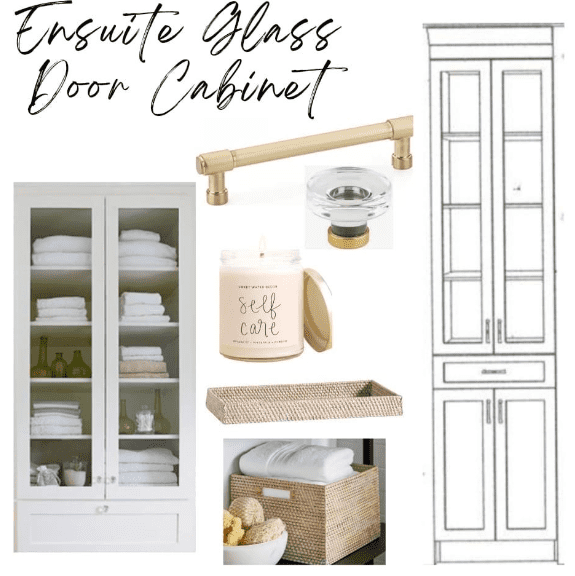 This understated and sophisticated towel cabinet is perfect for furnishing the dry area of your bathrooms. In fact, you can place it right next to your vanity and arrange many of your other skincare or daily-use items in it as well. Its glass-door panels are a great incentive to keep the inside neat and organized. On the other hand, the paneled outside gives it a sophisticated feel.
#03 Built-In the Vanity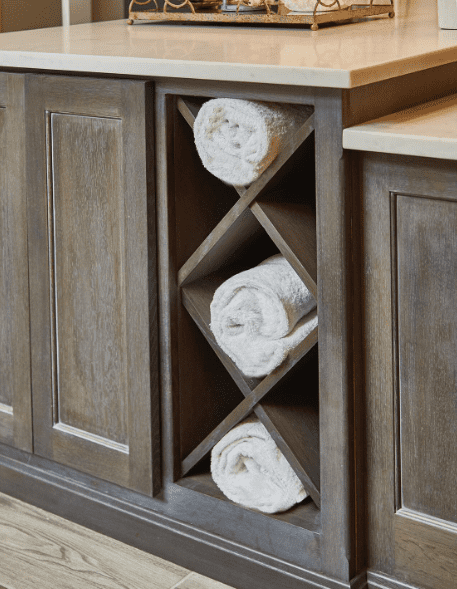 So, if you are leaning towards custom carpentry for your bathroom, this is a great idea. The cabinet is built within the vanity and features a unique design.
I love the diamond-shaped compartments and how the towels roll up to easily fit into them. While I understand that not everybody can afford custom woodworks, you can also have a similar design made for yourself in cheaper materials like MDF or other composites.
#04 Spa-Like Appeal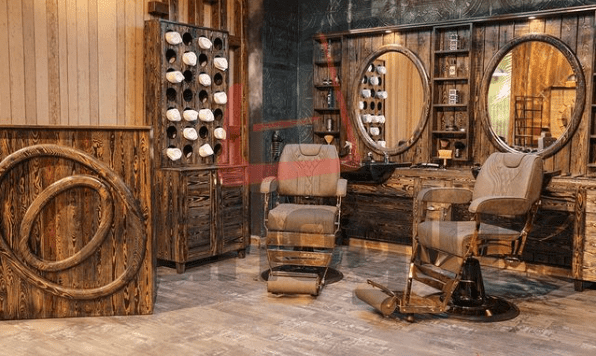 The towel cabinet in this image is straight out of a luxurious dream. I love how the upper half has dedicated circular shelves for towel rolls. It is easily accessible and a great way to keep your hand and face towels handy. The second half is all closed up. If I were you, I would place all the large, folded-up bath towels here (along with other bathroom accessories!).
I also really appreciate the rugged, antique finish of this cabinet. Had it not had towel-specific shelves, it would have also looked pretty great in any other part of the house as well.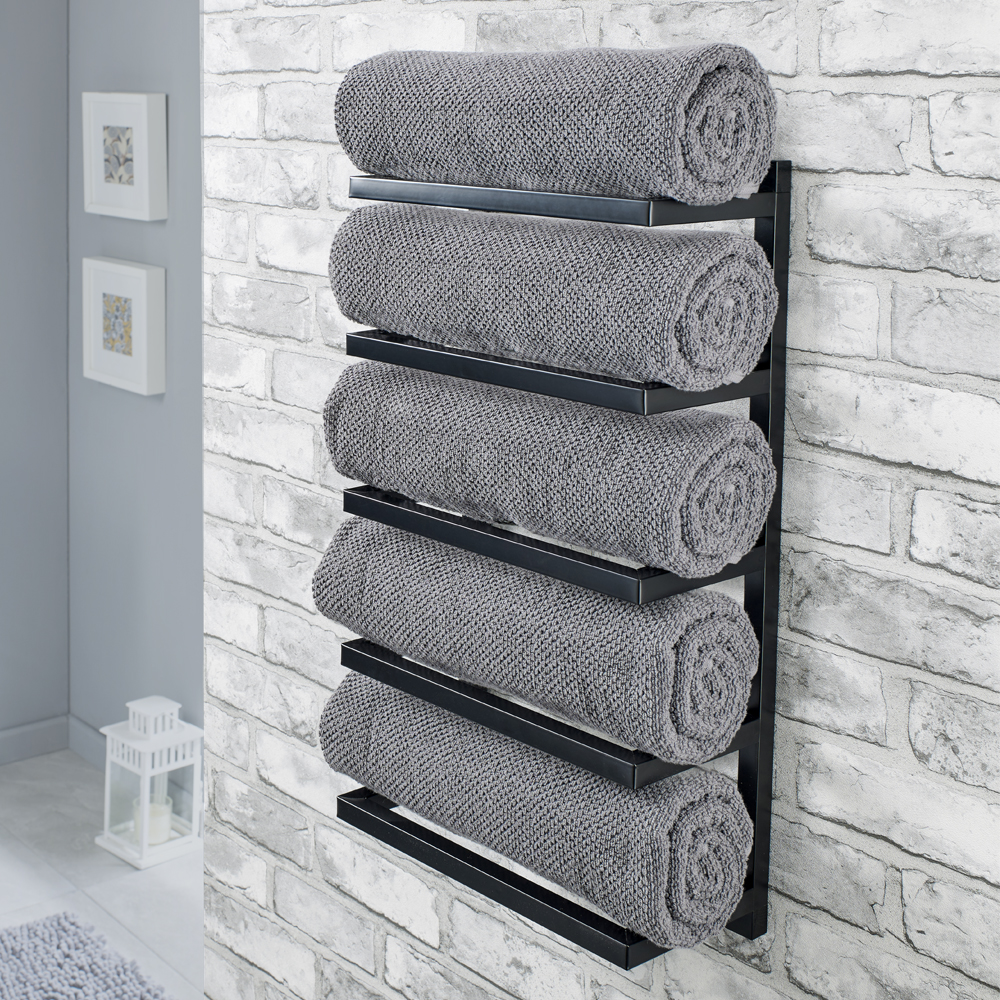 If I had to define this towel rack idea in 3 words, it would have been: simple, minimalist, and classy. There is literally nothing frou-frou about its design, which is exactly what makes it so special. The no-frills rack has five shelves but you can also increase or decrease them.
It depends on your needs, actually. Each shelf is spaced so that you can fit in a towel roll within. The best part is that you can literally mount it anywhere; next to the vanity, the shower stall, etc.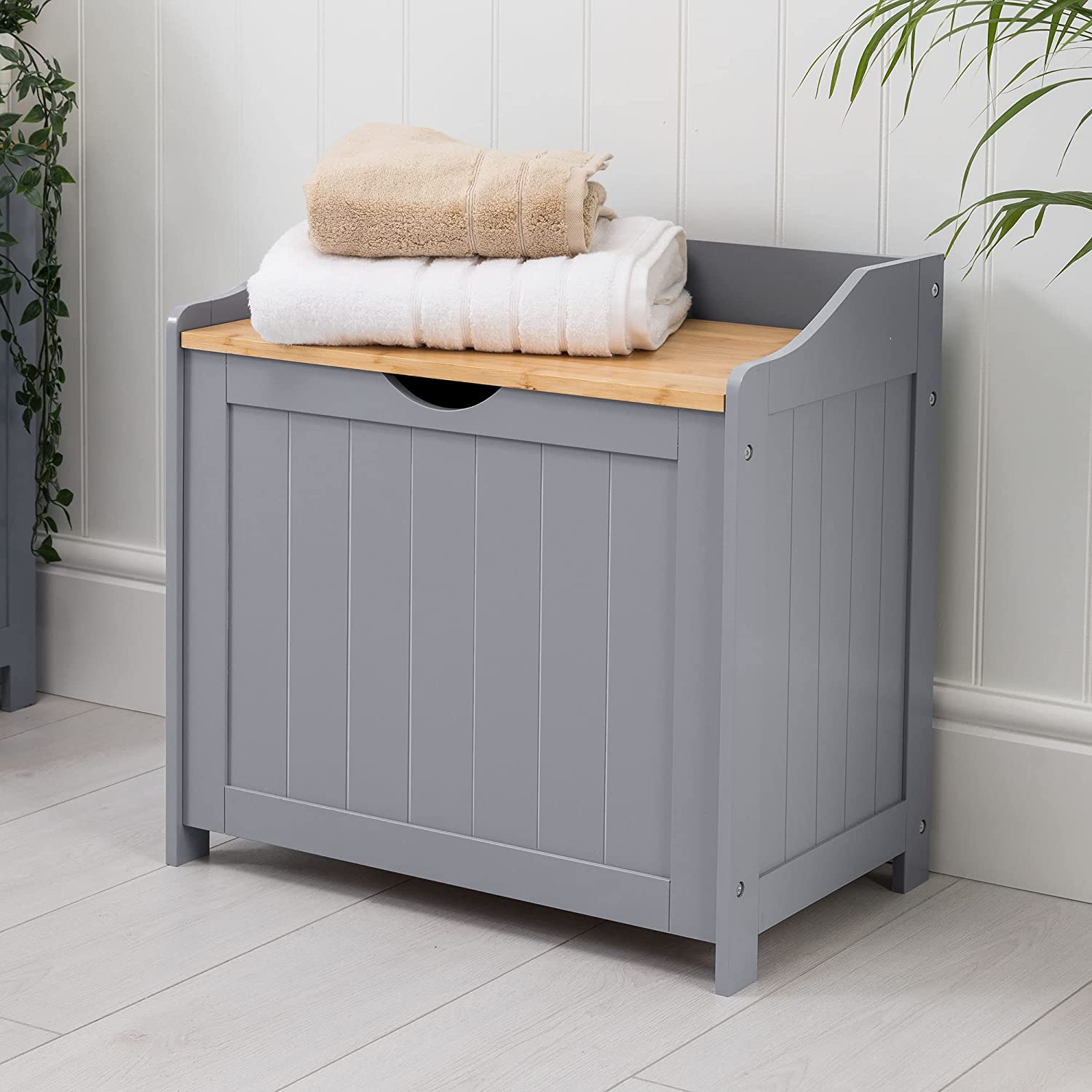 This cute little storage cabinet idea is perfect for every bathroom that is short on real estate. I love its simple rustic-chic design and natural bamboo finish. As a designer, I also understand that people prefer to have neutral colors in their bathrooms. That is why the grey-and-wood finish of this towel cabinet is perfect for every space. It is classic, understated, and totally versatile!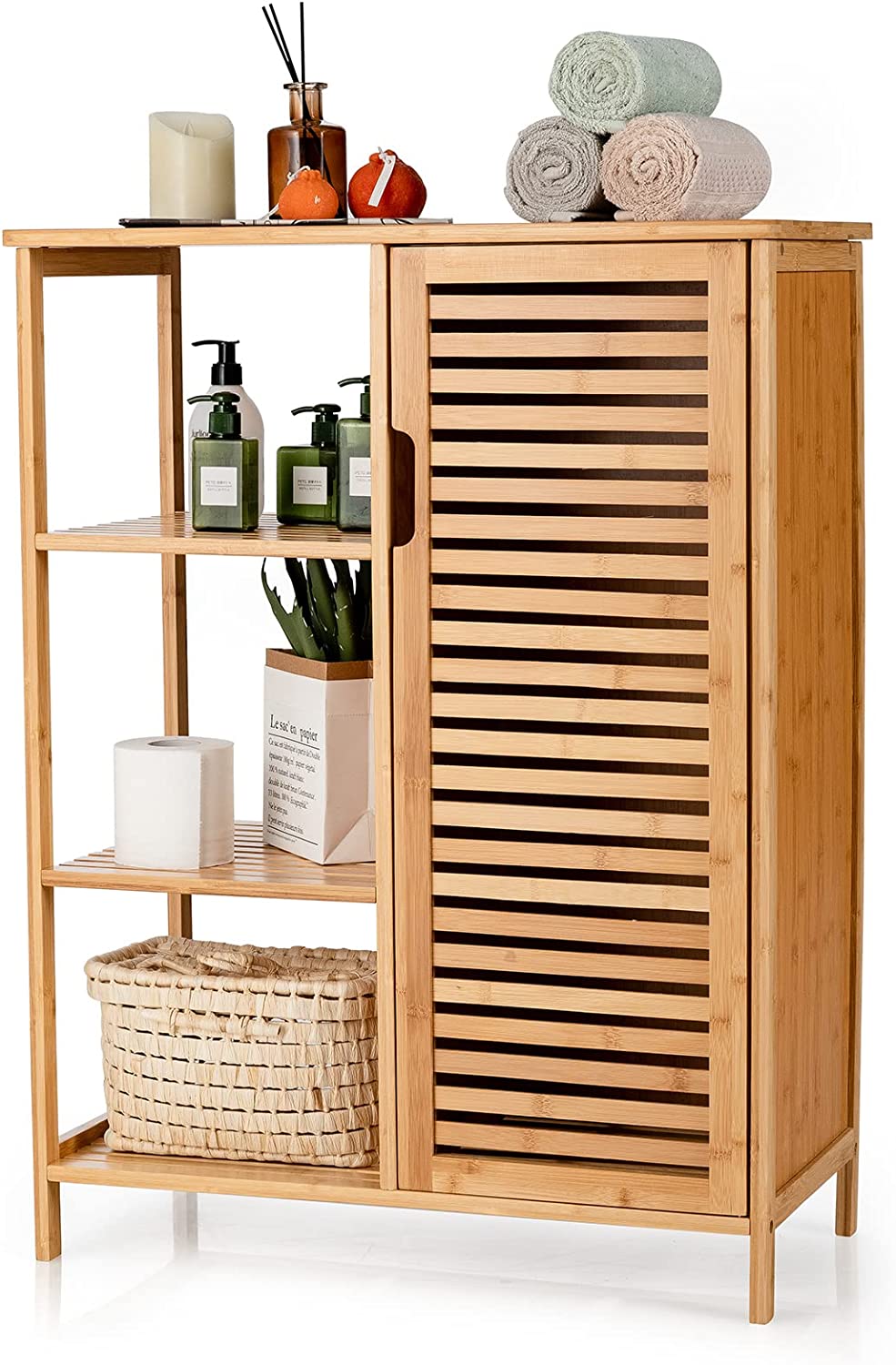 This single-door, freestanding towel cabinet is such a treat for sore eyes. It features a rather minimalistic design and is perfectly functional. I love how one side is open while the other one is enclosed. If I were to feature it in my own bathroom, I would keep a wicker basket full of hand towels on one of the open shelves while storing the bath towels on the enclosed shelves. Other than that, the remaining shelves are perfect for organizing the rest of your bathroom essentials!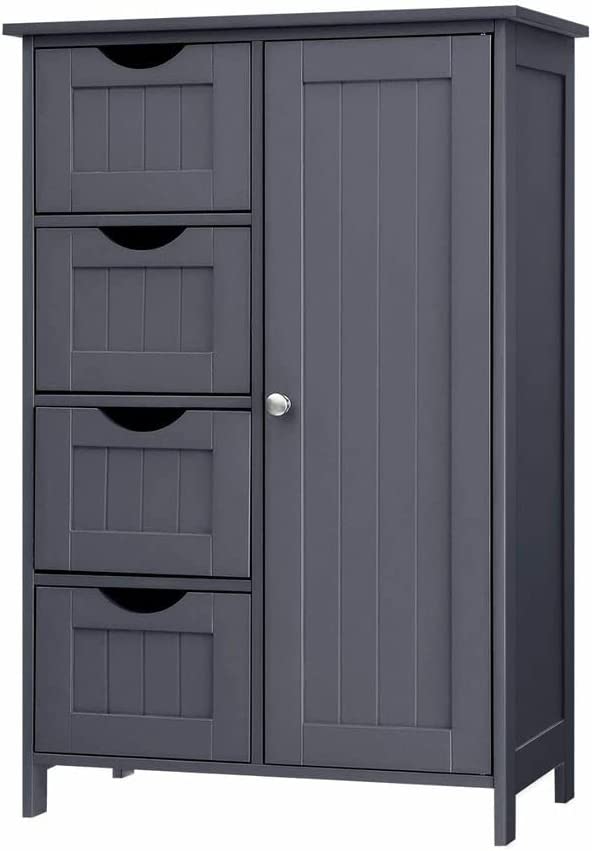 I was instantly attracted to the charcoal-hued design of this bathroom floor cabinet. I find it perfect because it offers a range of storage options. The best part? Not all of them are for towels. 
The left side is perfect for keeping fresh towels. The cabinet, on the other hand, is a great place to organize bathroom accessories and bottled items! You can even put decorative items on the top!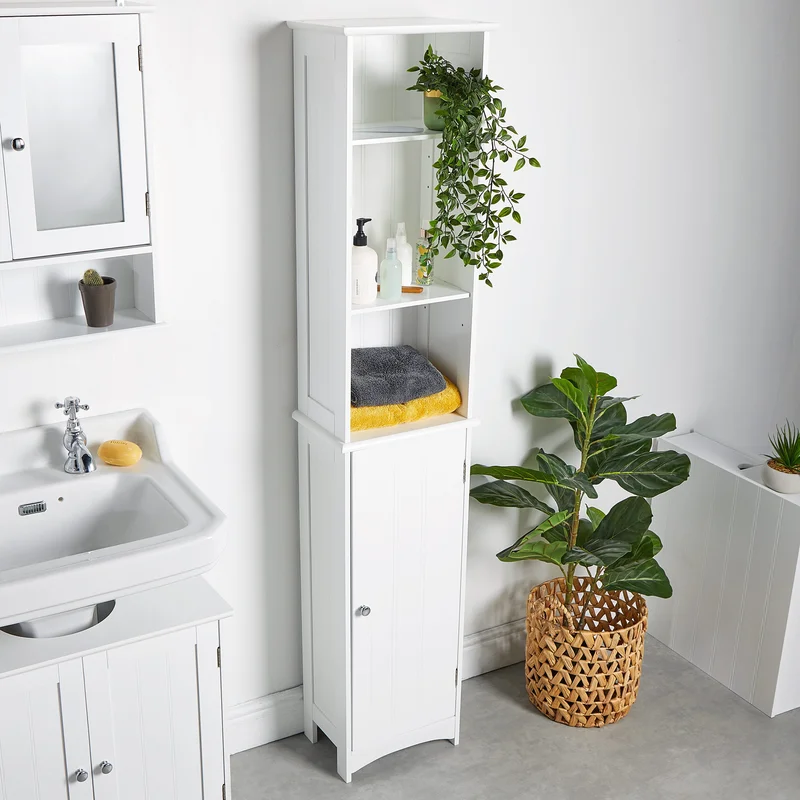 I have this thing for slim cabinets; they are versatile and fit in all types of spaces. So when I saw this one, I immediately picked it for the list! 
The tall stature of this cabinet perfectly pairs with its white finish. I love how the upper half is so accessible. You can use it to keep an immediately needed stack of folded towels handy. Alternately, you can use the rest of the shelves for some decor or bottle placement!
I also appreciate how there is a whole closed cabinet in the lower half. Here, you might keep any extra towels or accessories.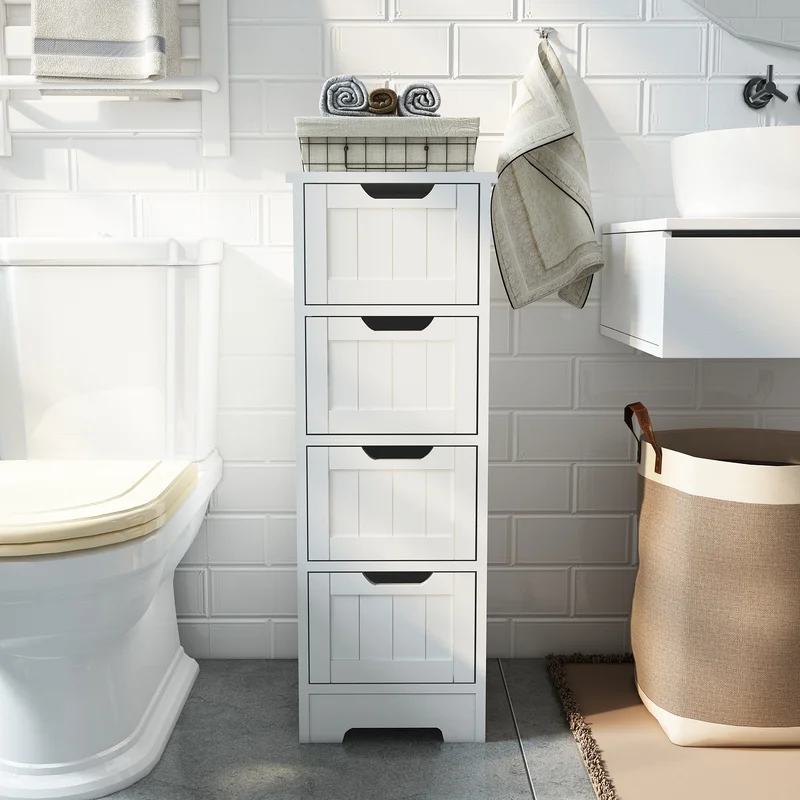 Here is another tall unit that I really like. I love its no-fuss styling and how it attracts the eye even with its simple white finish! There is lots of room to store all your towels here. Each drawer has a lot of depth, so even if you have a few extra towels, you can easily fold them up and keep them in the drawers.

I feel like I am on a roll with tall cabinets because this is another one that really caught my eye. The most stand-out quality of this one is its bold, multi-colored finish and distressed wood surface.
I would really urge you to pick something like this if you want to add a lot of personality to your bathroom. I love how there are multiple compartments here alongside the cabinet. I also appreciate how each has a different size to accommodate flexible bathroom storage!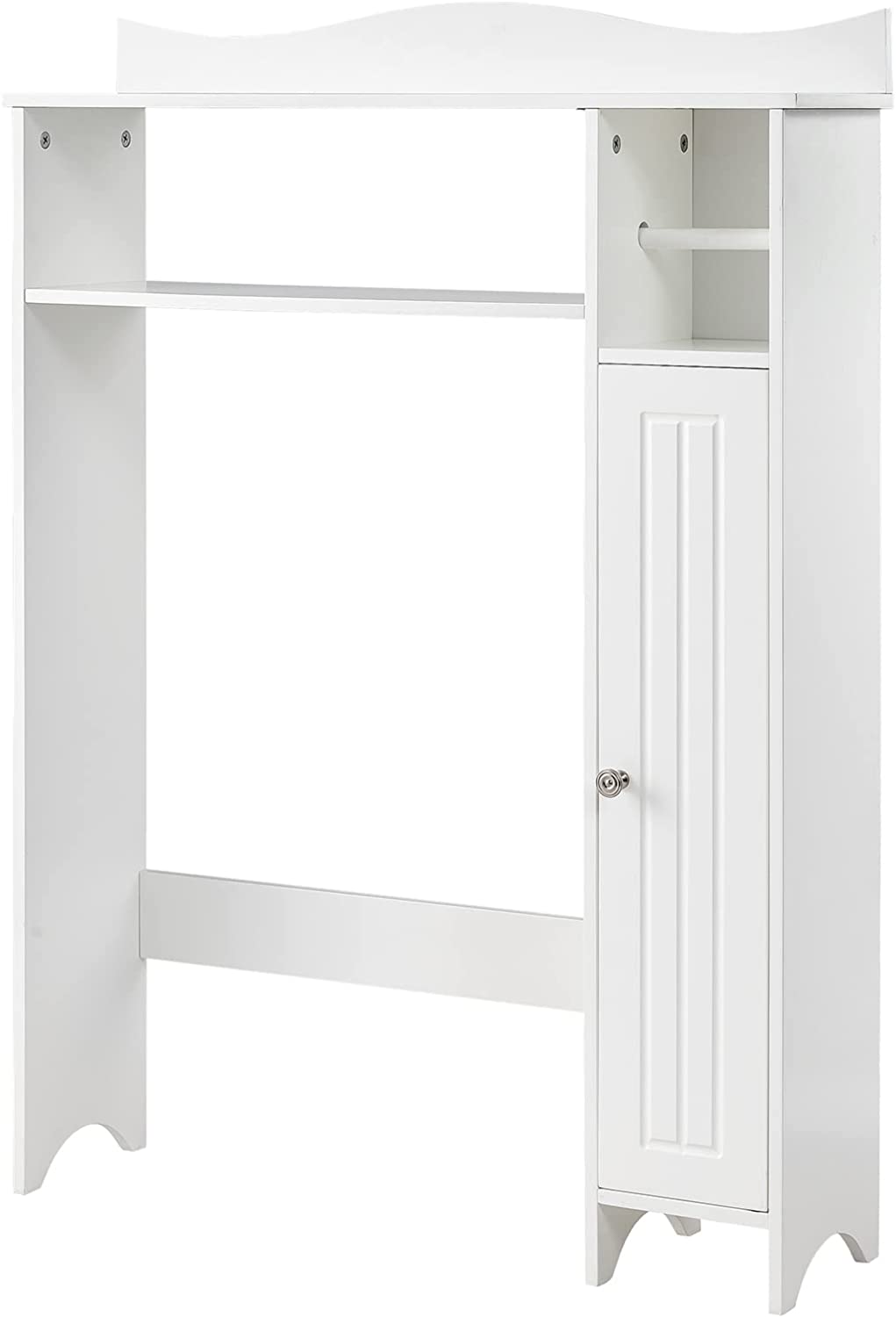 The highly unique design of this particular towel cabinet is what gripped my attention. It has a broad underbelly on the left side. Basically, you can slip it over several bathroom fixtures. It might be the WC, the dryer or even another cabinet. You can slide it over any of these things.
The open shelves here are perfect for keeping extra toilet paper. The narrow cabinet on the side is great for keeping extra towels.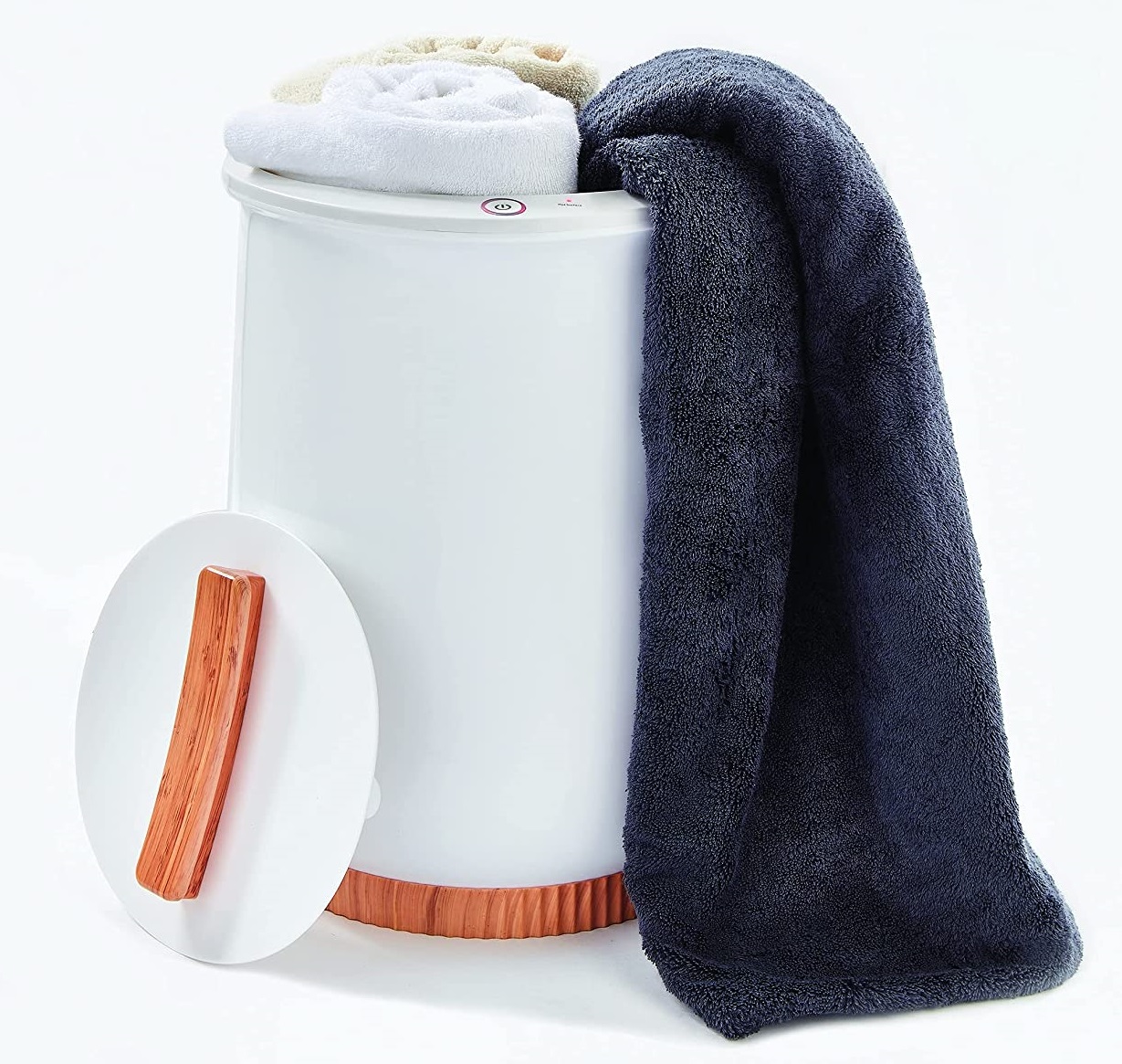 Nothing quite beats the snug, cozy feeling you get after using a warm, dry towel. That is what this cabinet-come-warmer is here to provide. It not only has ample space in its belly for several rolled-up towels, but if you plug it in, it keeps them warm as well! Moreover, its handy size means you can literally place it anywhere in your bathroom!
#14 Customized Perfection
This customized masterpiece of a towel cabinet is more like a mini closet! If you are looking for more luxurious options, then I would definitely suggest this. Just look at that internal storage! One could fit more than enough towels there and still have room for other stuff. Plus, my inner designer really appreciates how the whole floor-to-ceiling design merges with the rest of the bathroom fixtures. It is all very cohesive and visually balanced.
#15 Built-in Customized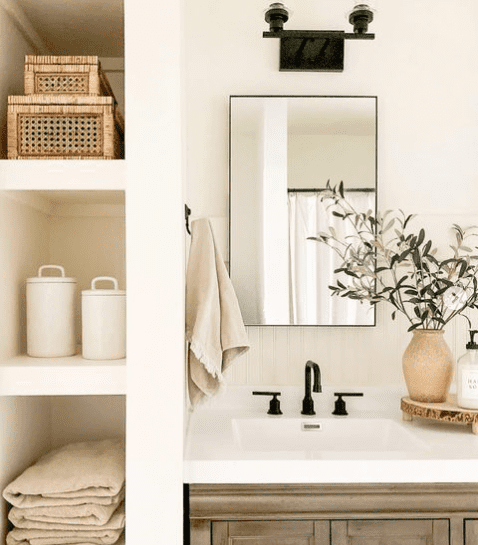 This floor-to-ceiling towel cabinet is another customized piece that I really loved. The great thing about such cabinets is that you can control their dimensions and make each shelf as large or small as you want. With this one, all the equally sized compartments can hold towels and so much more!
FAQs
Question: How many types of towels should I keep in the bathroom?
Answer: Well, there are generally three types of towels that are stored in a bathroom. The first two are hand and face towels. They're small in size, so they're the first ones that you see on the towel rack. They're also deliberately kept close to the vanity so that when you wash your hands or face, you can easily access them.

Then there's the bath towel. This one is large and needs folding when hung on a towel rack. It is always placed next to the shower stall or bathtub.
Question: Where should I keep my towels for easy access?
Answer: You can store your hand and face towels in the vanity drawer. This will allow you to easily access them in need. Bath towels are bigger, so you can place them in the linen closet.
Question: How big should be towel cabinet be?
Answer: The dimensions of a towel cabinet depend on its design. Some can be as wide as 2 feet, while others are as narrow as 12 or 13 inches.
Conclusion
As you can see, towel cabinets come in all shapes, sizes, and designs. Now you know about them and can easily pick the one that suits your bathroom needs!
Once again, the towel cabinet that stood out to me the most was the Aleck 44Cm W x 190Cm H x 34Cm D Solid Wood Tall Bathroom Cabinet. With such amazing visuals and so many handy compartments, there is nothing about this cabinet that doesn't impress me!
Read More: