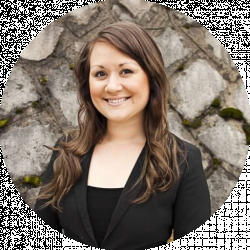 Latest posts by Lacey Jackson
(see all)
Growing up, I thought all wooden furniture was made with a veneer, something that was glued on top of particle board. As I got older, we inherited a lot of furniture that included solid wood cabinets and bookshelves. I could not figure out why that furniture was so much heavier or why I was (condescendingly) lectured about treating it nicely and oiling it regularly.
I have come full circle, and now we greatly appreciate the construction instability behind solid wood furniture. I also better understand the ways in which walnut cabinets can be used in any space, and now I get to share that with you (minus the condescension).
Where to Put Different Walnut Types
Walnut is categorized as a hardwood. Hardwood is defined by its broad leaves. Walnut comes in multiple versions. 
You might find

black walnut

sourced from the United States and Canada, which has a richer, dark brown to a slightly purplish black color. This looks great in living spaces or bedrooms. 

European walnut

is sometimes called English walnuts, French walnuts, and so on, depending on where they came from. It has a slightly coarse texture with a straight grain that usually has a gray-brown color with dark streaks running through it. Look for this in accent pieces and floating walnut cabinets. 

You might also see

Queensland walnut

, which comes from Australia. It looks the same as European walnut, but it's not technically a walnut tree. You'll see different colors from light brown to dark brown, which is good for unique pieces like wine cellars (without the cellar). 
Tips:
If it says solid wood, you know the entire structure is cut from walnut, not just the exterior. If it says veneer, then it uses thin sheets of walnut cut from a log. Look for solid wood for accent pieces, TV stands, or bedroom cabinets but don't shy away from veneer to capture that unique walnut look without the price tag, especially for kitchen and bathroom cabinets. 
Don't be afraid to mix base-mounted or stand-alone walnut cabinets with wall-mounted designs or floating cabinets overhead. Floating cabinets are great for higher parts of your wall.
Where to Use Which Walnut Cabinets
I recommend different cabinet types for different spaces in your home:
Living Rooms: Accent pieces that hold up your television. 
Hallways/Entryways/Mudrooms: Recessed storage that lets items dry before they get washed or holds all the things you bring in the door after a long day of work. 
Bathrooms: Storage, storage, and more storage, usually in the form of vanities, floating vanities, medicine cabinets, and recessed cabinets. 
Kitchens: Floor-to-ceiling storage built around your appliances. 
Offices: Filing cabinets, desk cabinets, and closet storage for electronics, paperwork, and office supplies. 
Craft Room/Workshop: Storage and (bigger) storage for larger tools, craft supplies, sewing machines, or laminators.
Selection Criteria
Having said all that, I added a handful of different ideas for walnut cabinets that fit big spaces, small spaces, living rooms or hallways, open-designed kitchens, and more. Everything is meant to be flexible, a suggestion that you can apply to whatever space you have using whatever type of walnut cabinets it's best.
Idea #1: Add Texture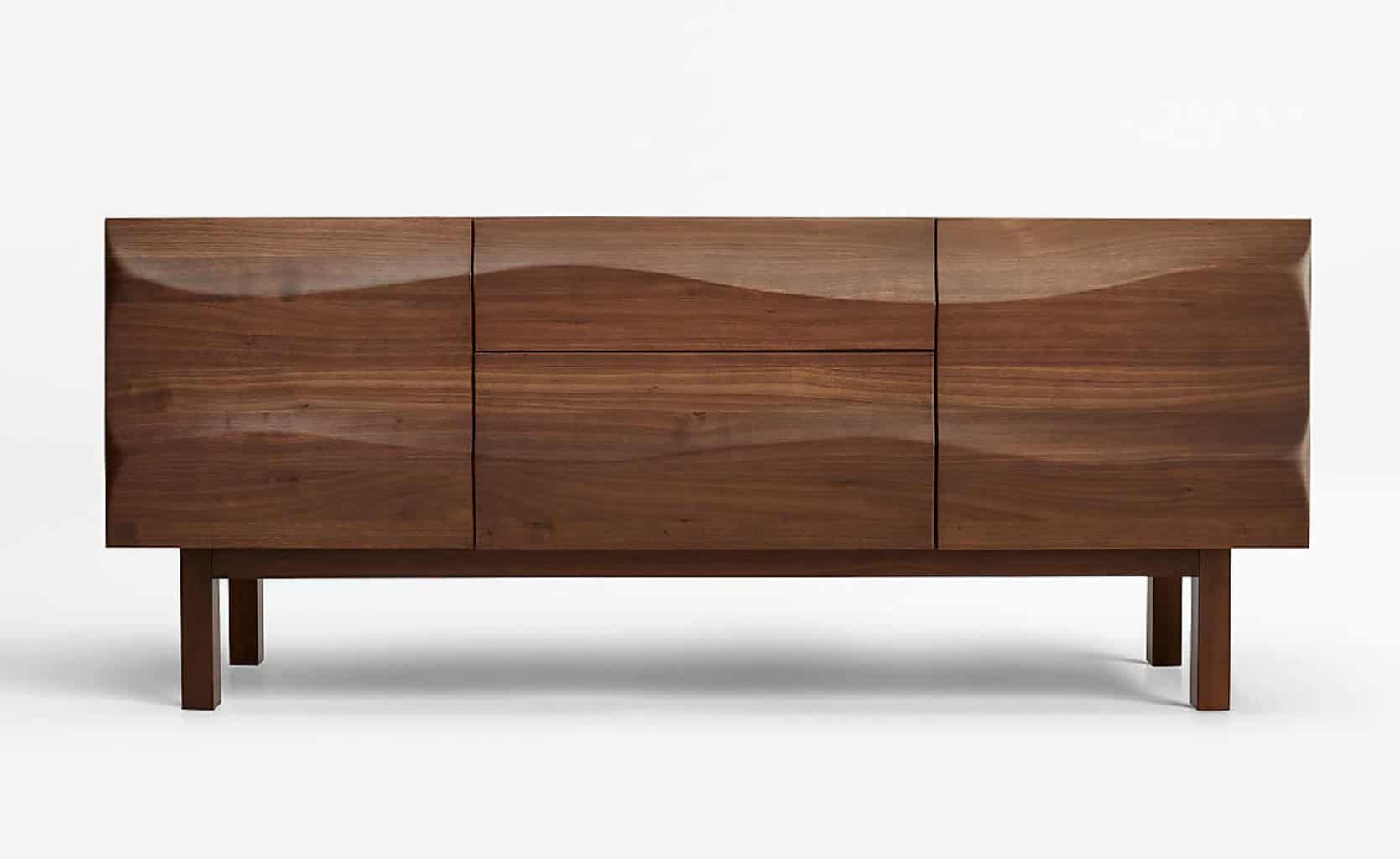 Traditional framed cabinets have a way of adding a definitive shape to any room, but you can style your space after Antoni Gaudi and bring carved wave dimensions into your decor.
This walnut sideboard is a great addition to a hallway, dining room, or bedroom. With its served front doors, it literally looks like a moving wave of rich brown color. The sculptural facade goes beyond normal cabinets and brings a feel of nature like nothing else. 
Idea #2: Use Barn Doors
Contemporary spaces like farmhouse pantries, laundry rooms, or living rooms look great with rustic, ranch-style barn doors. You can bring that theme into any house by using things like walnut TV stands with sliding cabinet doors.
Idea #3: Create a Wine Cellar (without the Cellar)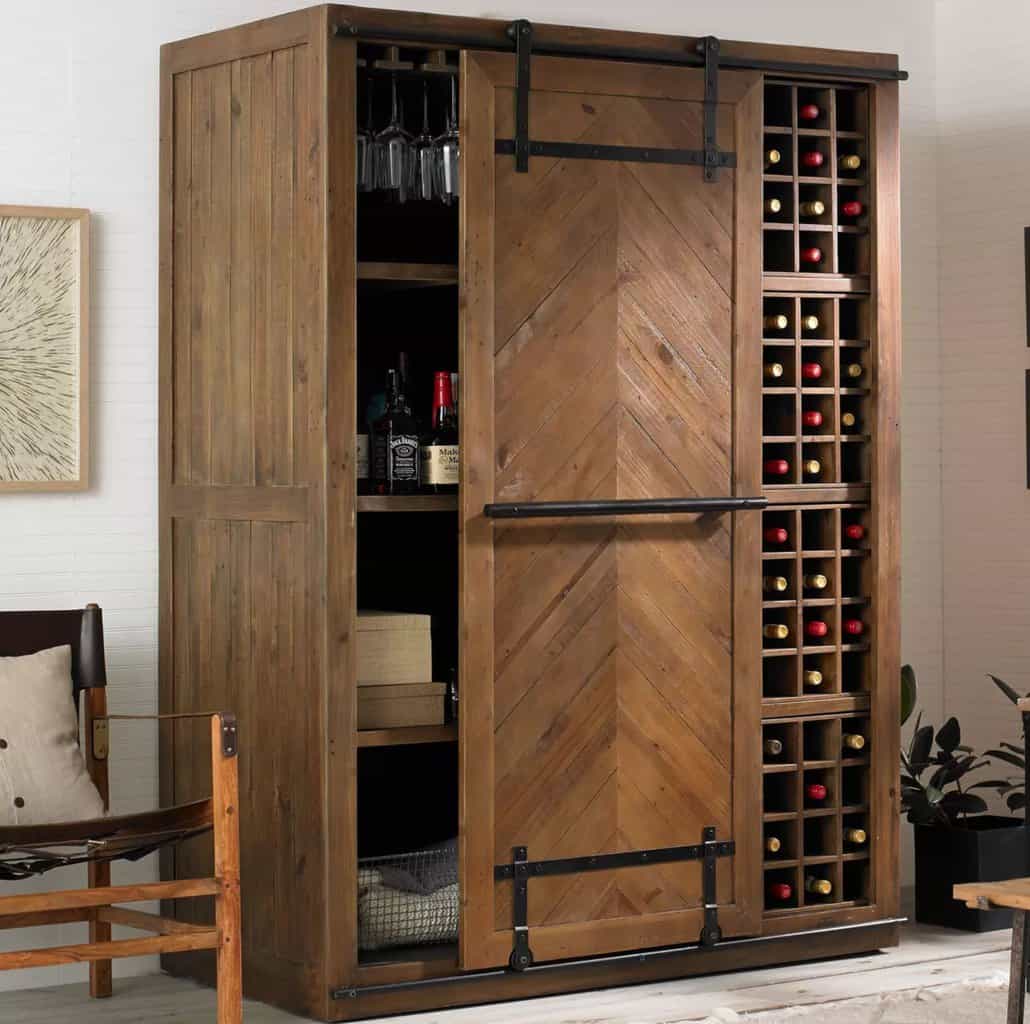 You don't need to have an actual seller anymore to start your own collection. The Mesa sliding barn door is crafted from walnut and provides a modern farmhouse style that you can fit in any dining room or entertaining area. 
I love the sliding barn door that you can use to reveal or disguise different compartments, in addition to the wine racks that hold 96 bottles, 18 hanging glasses, and a variety of storage shelves for all your other mixers.
Idea #4: Make an Accent Piece
When I was a child, one of my aunts loved those pictures where if you stared straight at the center and stepped backward, you could see an image inside the main picture.
They would have guests do it almost like a test to see how smart they were; I never wanted to fail that test (thankfully, I didn't), but I realized the importance of having an accent piece, something beautiful and could serve as a conversation starter.
Pieces like the Welwick Design replicate that fun visual trick with four contemporary doors, two with three horizontal slats and another two doors with five vertical panels with slats. It's visually enticing and creates a modern take on an infinity loop.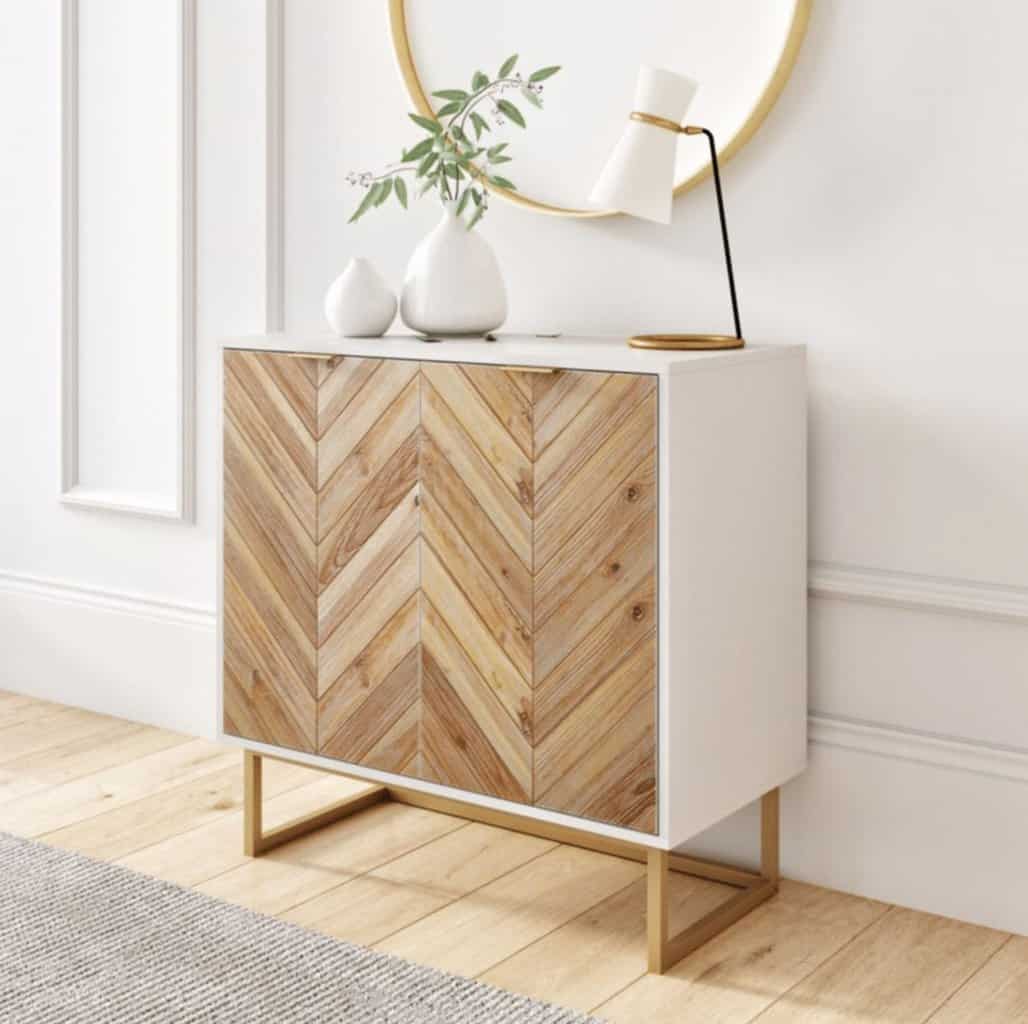 You can also make like my grandmother did and invest in carved accent cabinets designed to look like nature. The Palmeadow walnut cabinet has delicately carved doors with magnetic latches, so there is no hardware interrupting the ornate palm leaf carvings. For something larger, invest in a Walnut TV stand. 
Idea #5: Floating Vanities
In your bathroom, you can increase functionality by installing floating vanities. Small floating vanities with walnut doors showcasing horizontal grain structure are a beautiful addition to any space. Because they are stand-alone sinks, they can be used in large bathrooms, greenhouses, or other entertaining areas.
Tip: Combine floating vanities next to your wine cellar so that you can quickly rinse glasses off and wash your hands after mixing delicious cocktails.
Idea #6: Build Natural Shelves 
In your kitchen, you don't necessarily need to have solid walnut cabinets; instead, you can integrate oversized walnut countertops as well as an ascending set of solid wood floating shelves installed along the wall. 
I love this idea because you can add a splash of color, like a pristine bright white or a bold teal, to the actual cabinet doors (and the matching kitchenware, if you're anything like my mother-in-law) and on top still have walnut with matching Walnut shelves that rise up the wall replicating the 90° angles of standard kitchen cabinets all the way up the walls. 
Idea #7: Change the Cut
I recently purchased a very comprehensive book all about woodworking. It was supposed to be a gift, but I loved it so much I kept it. To be clear, this book predates the internet, so it is intended as a guide complete with sketches, blueprints for different woodworking projects, and pictures explaining everything from the beginning of a tree.
There's a chapter dedicated to different types of cuts, which I found very useful when we started repurposing some old Redwood fence posts into lumber for homemade Adirondack chairs. By changing the cut's design, we could showcase the beautiful, natural lines running through the tree.
By spending just a little bit extra for a change in cut instead of the mass-produced lumber you find at a hardware store, you can make solid walnut cabinets with visible vertical lines and match them with horizontal marbling for the countertops and chevron pattern flooring. 
If you can't afford to make your entire kitchen look like the Paris-style kitchen above, you can easily buy a standalone walnut cabinet that has the same effect. 
Idea #8: Use Small Spaces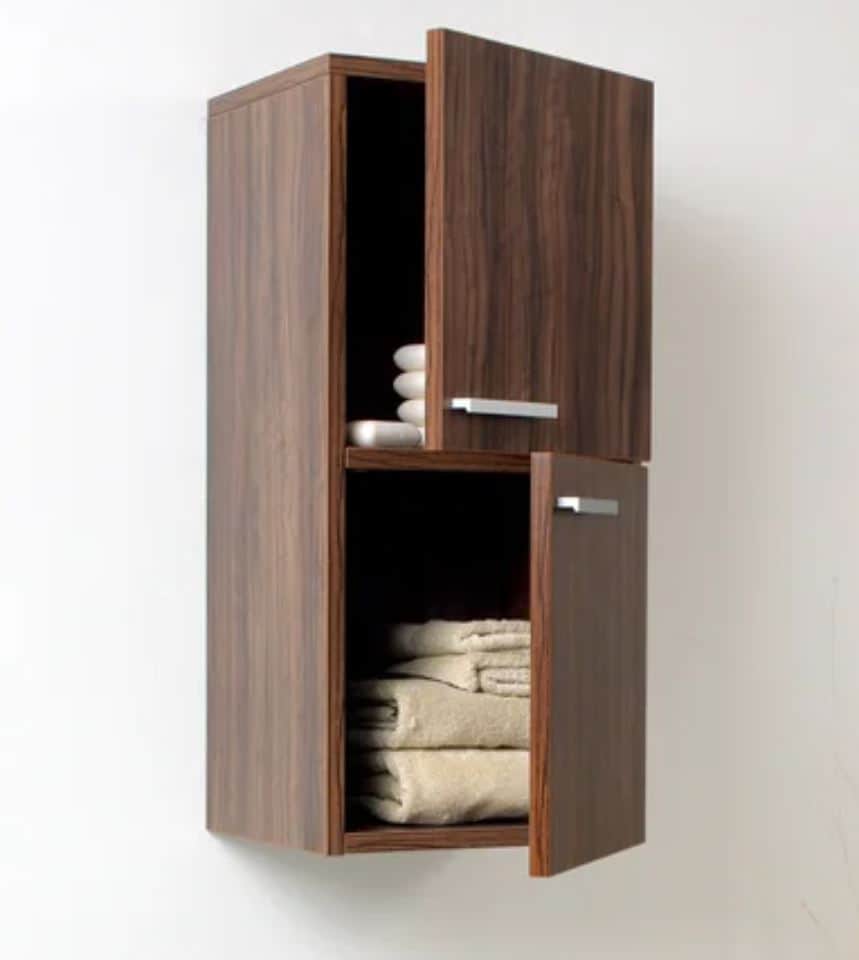 Walnut cabinet ideas don't need to take up a lot of space. Not everyone has an entirely empty, remodeled room just begging for floor-to-ceiling cabinets.
So, you can take small Walnut wall-mounted cabinets and incorporate them into your office, in a laundry room above the washer and dryer, or along the walls in a bedroom for additional storage. We have a few of these in our laundry room, and they are the perfect place to store cleaning supplies.
Idea #9: Get Glass Doors
Oscuro makes a model with tempered glass. Walker Edison has one with mullion bars that divide the glass into separate panes; this model replicates the look of existing windows. Middlebrook has metal and glass doors on a dark walnut cabinet too. 
Tip: You can even find modern barn doors for your walnut cabinets that have etched glass panels instead. 
This style of walnut cabinet door design lets you display decorative items and keep everything in your space well-organized. Models with adjustable shelves help you configure the unit to best fit your needs. My mother-in-law likes to change her decorations based on the season, including the kitchenware that is displayed in her matching walnut hutch, so adjustable shelves are imperative in our family. 
Idea #10: Mudroom Build-Ins
If you have a mud room, durable flooring and recessed storage are imperative. I like the idea of a recessed wall complete with open shelves on the bottom, a bench that can support the whole family as they remove or add layers, and shelves on top.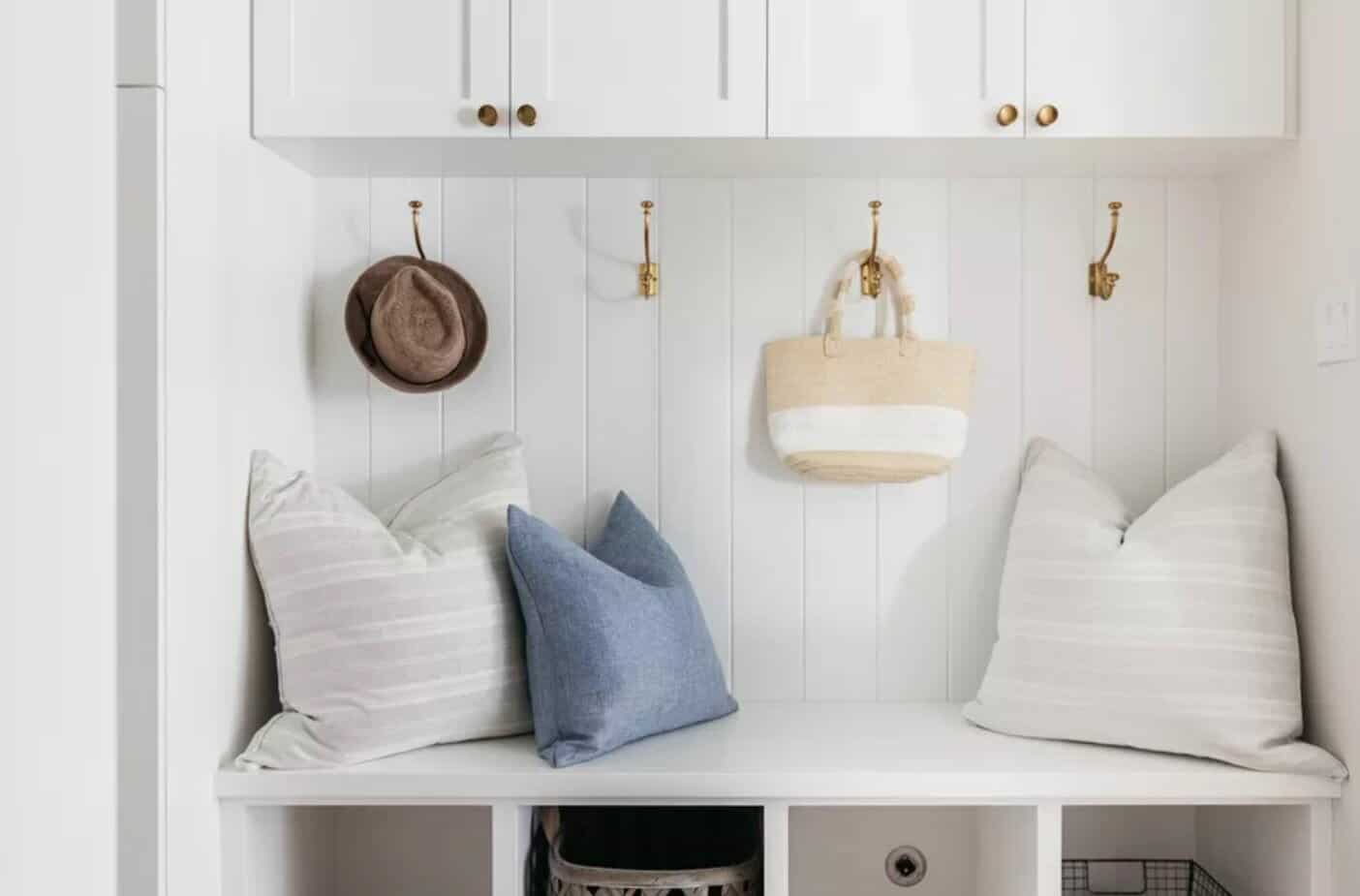 Idea #11: Use Slatted Doors
Doors don't need to be solid or see-through. The Luka slatted cabinet is an example of what is called a louvered door. Louvered doors are perfect for bedrooms, closets, or entryways because of their superior airflow.
As the seasons change and I suddenly go hunting for long sleeves and hats, I always find that the clothes which were clean and smelling good when I put them in the drawer are suddenly a little stale. Louvered doors avoid that problem by providing warm or cool air to travel throughout the cabinet, but they are still slatted enough that no one sees my delicates.
FAQs
Question: Is Walnut a good choice for kitchen cabinets?
Answer: Walnut is very durable and versatile; it also has a perfect balance of warm colors but isn't nearly as light as pine or as dark as cherry or Manzanita. 
Question: Should I stain Walnut cabinets?
Answer: You certainly can stain walnut cabinets, but walnut isn't a common wood for cabinets. Oak cabinets are much more common, so walnut cabinets tend to be a bit pricier. As such, if you pick walnut cabinets, you are probably doing so because of the color of the cabinets, so I would advise against staining them a different color when you could just as quickly buy cheaper wood and stain it to look like walnut .
Question: Am I required to oil Walnut cabinets?
Answer: You certainly can oil walnut cabinets. If you do it regularly, you actually don't have to do it as often as you think. It was explained to me that a massive tung oil application should be made once a year, taking all the pieces apart and oiling them down before letting them dry and putting them back. After that, you can use linseed oil to wipe the cabinets down once a month. 
Question: Are Walnut cabinets durable?
Answer: Walnut is a hard word, so it's very durable and dense. It's still going to succumb to things like dents if you knock something into it or tip over a free-standing walnut cabinet. However, it does stand up to regular wear and tear and has more water resistance than hardwoods like birch.
Question: Do I have to put my Walnut cabinets from floor to ceiling?
Answer: Walnut cabinets usually only go from floor to ceiling when you have an open floor plan. This is most often seen in a kitchen where the cabinets run the length of two walls, and the space generally opens directly into a larger area like a living room or dining room.
Question: Can I paint Walnut cabinets?
Answer: Yes, you can, with the suitable primer in the correct paint. However, Walnut cabinets are not cheap, so if you want something to be painted a different color, it's better to find a plywood version or a much more affordable wood and paint over that. 
You can typically find multiple colors like black, white, beige, and gray that are manufactured, but if you want a bright color to make an accent piece like turquoise or pink, you'll have to paint it yourself more than likely.
Alternatively, you can do what my family does: use stencils to paint small, accented images on the doors of the walnut cabinets instead of painting over the entire cabinet. We usually use whatever color ties the room's decor together, so it draws the eye without being too overpowering.
Bottomline
The bottom line is walnut cabinets work well no matter how you choose to use them, but I suggest you incorporate them as accent pieces. This can be a stand-alone vanity in your bathroom, an oversized wine cellar storage style, or a glass door accent cabinet for your hallway.
Read More: