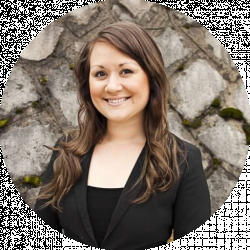 Latest posts by Lacey Jackson
(see all)
Cabinets serve an important role in displaying some of your more unique decor or collectibles while also providing drawers and shelves on which even contemporary goods can be placed out of the way. As someone short, I never took kindly to tall corner cabinets until I got a stepstool.
Now I love tall corner cabinets because they help me make use out of space that is otherwise, simply put, awkward. I hate trying to shove one regular cabinet flush against the wall, only to leave a ninety-degree open space of nothing. Now I don't have to, and neither do you. 
Bottomline Upfront
If you need a simple, tall corner cabinet for a bathroom, kitchen, or bedroom, go with the Costway Bathroom Corner Storage Cabinet. It has good paddling along the perimeter, so it looks like it sits flush with the wall and blends seamlessly into your corner. It's quite tall, so it'll maximize the amount of space you can use for display and storage.
If you need something with a more specific purpose in mind, the Home Source Stone Grey Corner Bar Unit with Built-in Wine Rack and Lower Cabinet is outstanding and makes for the perfect at-home bar, especially if you don't have a dedicated space for a bar.
You can place it in any corner of any room where you do the majority of your entertaining (or reading, by yourself, in the library). 
Selection Criteria
I selected a range of tall corner cabinets to meet all situations. First, I included some of the most remedial designs out there for college dorms or kid playrooms. Then I moved up to slightly more durable but small options for basic bathroom or kitchen cabinet use.
From there, we have a few more durable options for your permanent home, some of which have specific purposes (bars), and others have more flexibility. With each, I considered budget, durability (for its category), and size. 
What Are Tall Corner Cabinets?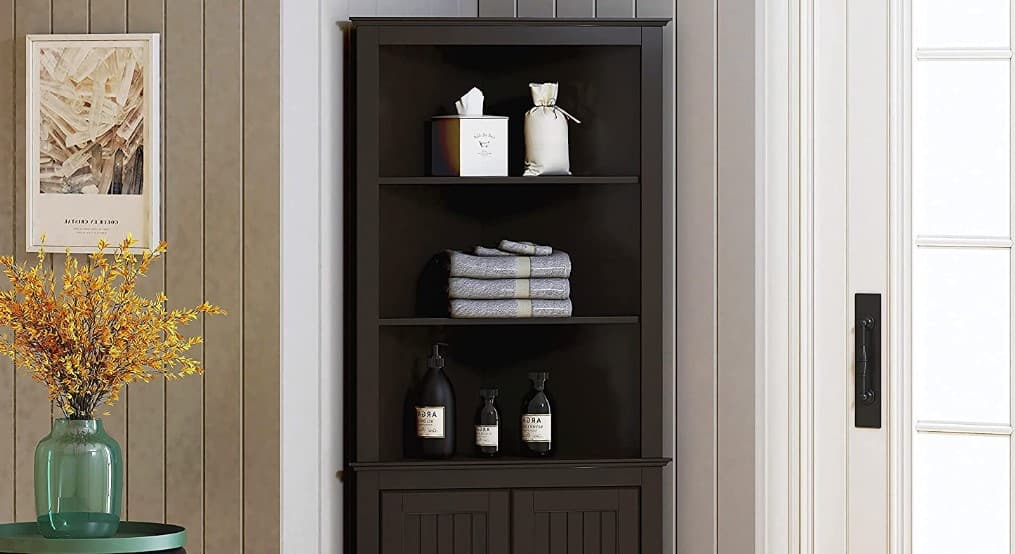 Tall corner cabinets are just that: cabinets that are tall (think: human height) and can fit nicely in the corner of a room (thus making use out of otherwise dead space). As a short person, I never liked them growing up ("Can someone help me? I can't reach). But as an OCD person, I love having storage space for everything (No, I don't need to move furniture when I vacuum or mop). 
In my house (and garage and workshop and library and office… sheesh), most of the shelves, desks, cabinets, and seating have beautiful squared-off edges. So basically, everything has a 90-degree angle to it. This means when two bookshelves meet in a corner.
Things get tricky; you either have to shove one shelf behind the other so that it makes a seamless transition along the wall, OR you have them meet end to end, leaving the corner empty. This was such a waste of space, and I was tired of it happening in just about every room, so I invested in tall corner cabinets. 
Now, those same spaces that once just had dead air have small shelf space for storage, some open cabinets for a display of souvenirs and awards, and a place to rest my indoor air-filtering plants. 
Tall Corner Cabinet Ideas
Be advised that most tall corner cabinets have 2 or 3 display shelves that are in the shape of a triangle. These might be open shelves or shelves with glass doors. Underneath, you will typically find double-door cabinets with shelves inside and, if lucky, one or two drawers.
So what makes the best tall corner cabinet ideas? Make use of the available space and put together a display on your top shelves that add a burst of color and an accent piece to your space.
To go with the cabinets:
Tall corner cabinets rarely exist in isolation. Many people put them in dining rooms so they can use the two corners along the wall length in between, usually a china cabinet. Centered in the dining room is where the main dining table finds itself, and on the wall opposite the tall corner, cabinets might be some spare chairs or a bar cart.
So when you are trying to implement tall corner cabinet ideas in your home, try to find a cabinet that blends seamlessly into your room, serves its intended purpose, and can be matched with other furniture.
Tall corner cabinets go really well when paired with

wall-mounted cabinets

. Why? Because you can place wall-mounted cabinets along the center of a wall with tall corner cabinets standing sentinel on either end.  

Don't be afraid to put tall corner cabinets outside. We have two distressed tall corner cabinets outside in our main patio areas. We have one outside, each sliding glass door up against the corner of the house. I use it to store some of my basic gardening tools behind the bottom double doors, keep a small vase of freshly cut flowers I get from the garden on display, and hold multiple wicker baskets I use to collect fresh vegetables. On the rest of the shelves are stacks of paperback books and some citronella candles to keep away the bugs.
For the cabinets themselves:
When decorating your tall corner cabinets, consider where the cabinet will live and the general theme or design of that space.
My mother has one tall corner cabinet on which the shelves contain an assortment of beach-themed items, like a glass bowl of sand from her favorite beaches and shells she has collected over the years, a framed family caricature from a beach vacation, and some glass jars filled with rolled-up papers serving as an ode to people who send messages in a bottle.
She has wallpaper a seashell pattern on the shelves, and she painted the entire thing a light turquoise and distressed cream.  I bet you can't guess what the theme of that particular room is… So, the same idea is true when decorating, painting, or adding accent pieces to your tall corner cabinet: find an idea that best fits your space. 
Line the back of the open display shelves on the top of your tall corner cabinets with something like a brightly colored honeycomb pattern wallpaper. You can add a splash of color that ties in the theme of your room for next to no effort. This was something at which my mother excelled. With just a few sheets of wallpaper, she could find a print that tied together the rest of the decorations in each room.

Display a collection of vases and indoor plants on top. Then fan out some books so that the center book is the tallest, and the stack decreases in height as it fans out toward the ends of the shelf. Display a few family photos and souvenirs or collectibles. In our living room, we have some special glasses on either side of a vacation poster. All bought on the same holiday. We have a stack of books above that and a mini-whiskey barrel for aging next to two tasting glasses. 
If you decide to add a tall corner cabinet to the bathroom, display folded towels, some candles, and a thematic item or two like a vintage perfume glass bottle or some old apothecary bottles with antique labels. Place the toiletries, spare toilet paper, and other items behind the closed doors.

If you put it in the dining room or the kitchen, consider using it as a spare Pantry where you put the items most commonly used but items you don't necessarily want sitting out on the countertop. We have one small tall corner cabinet where I shove all the spices and sauces I use the most, like the Tapatio I use every day, the garlic salt I use almost every day, and the olive oil I use every day. These are small things that I don't want to have to walk into the other pantry to retrieve when I'm in the middle of cooking, but I also don't want them just sitting out on the shelf. The tall corner cabinet is the perfect compromise.
Tall Corner Cabinet Ideas: My Top Picks
Stick to Basics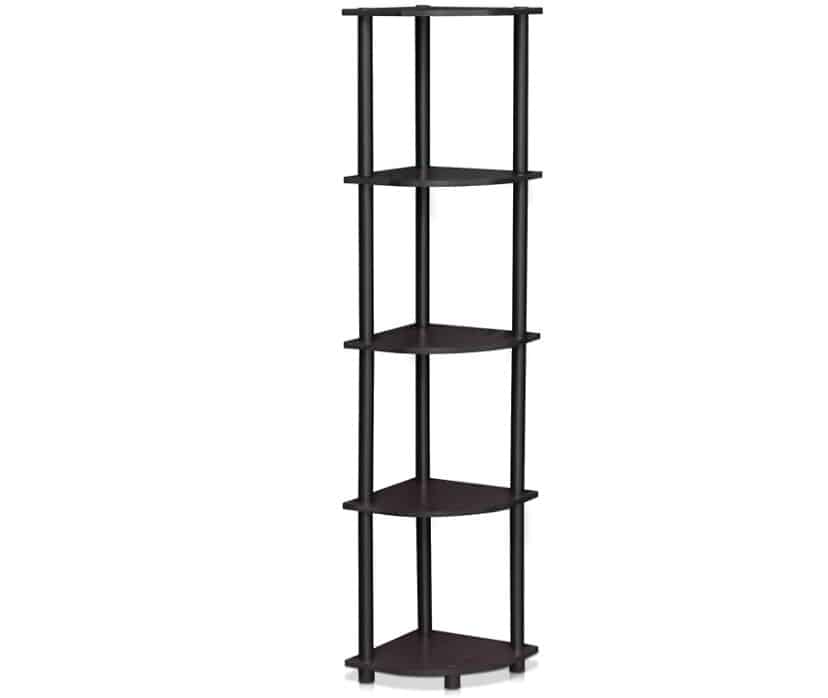 We don't always need overly complicated tall corner cabinets. There are many junctures where we just need something basic to get the job done. There's a reason places like Ikea are a staple for people in their 20s and 30s. Consider a basic display corner cabinet when you are in a shared dorm room, your first apartment, or you just need something for a playroom. The Furinno T 5 Tier Corner Display Rack is ideal for this.
I had one of these in college. It served its purpose well; I had framed photos, ink and quill sets, candles, and other random things displayed on top. It was a good alternative to temporary living (like college dorms or your first apartment) where you don't have a lot of room (or fancy stuff to display). Still, you also can't install wall-mounted shelves or cabinets. 
You can buy 3, 4, or 5-tier designs. You can get all sorts of colors. You needn't worry about having the tools to put it together. However, it can't support a lot of weight, so don't expect it to be a place for heavy books or souvenirs. 
Conquer Your Corners!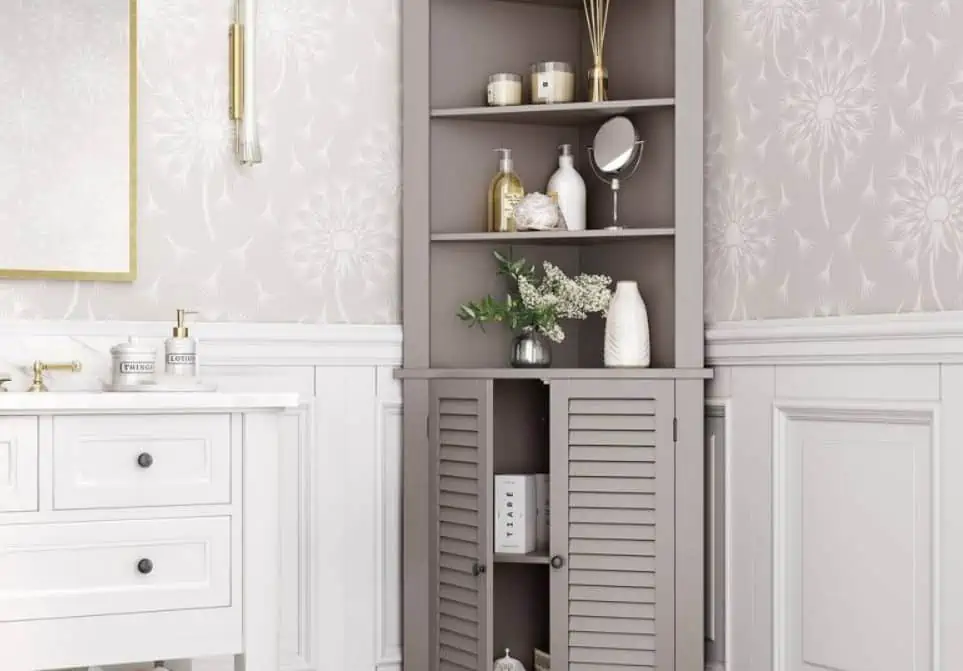 Corners always present a tricky problem because there's not much you can do with them. Most people angle a chair so that it rests against the two walls, but then you still have that dust collector of a corner that never sees the light of day.
That is why the best tall cabinets make use of your corners and convert them into a simple place for some rudimentary storage and display. The Ellsworth Tall Corner Cabinet is a great example of this. It's affordable, with three adjustable shelves, so once you know what you are going to put on the shelves, you can move things around to fit accordingly. It's not overly large, only 68 inches tall and 11.5 inches deep, so it won't jump out into your space.
I like the division between three display shelves on sop and three adjustable shelves hidden at the bottom behind double doors. It is a simple design but works well for those on a budget. The detailing helps it sit flush with the wall. You can purchase it in taupe or white.
It has three display shelves and doors at the bottom. The storage isn't very deep, but it works well to fill an unused corner space.
Bathroom Corner Storage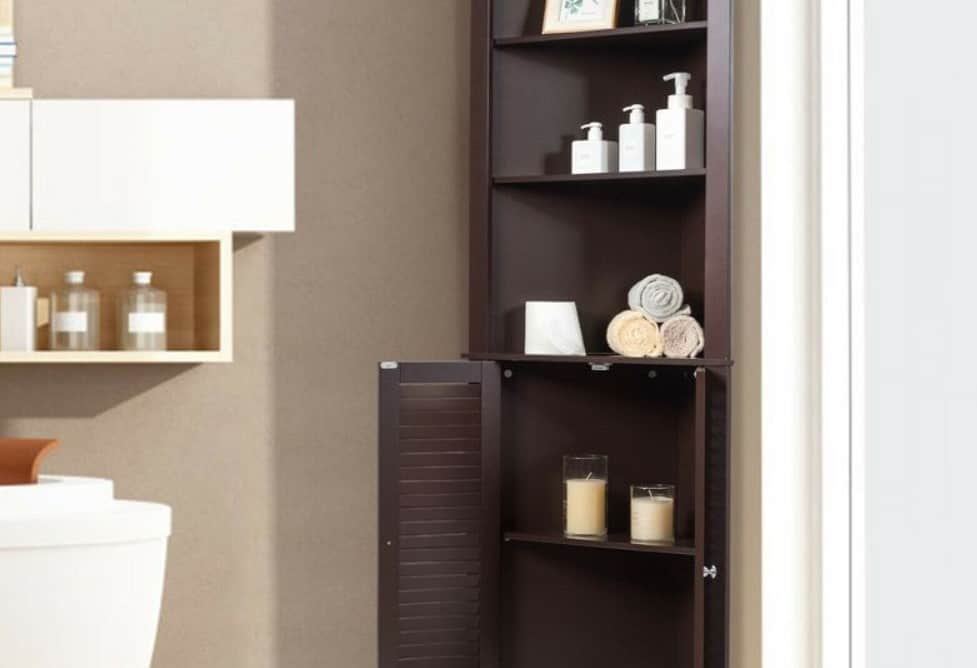 Similarly, in bathrooms, I seem to always need more storage than they provide. Basic bathrooms have nothing but a short cabinet shoved under the sink and, if you are lucky, a teeny, tiny medicine cabinet above the sink. You can convert your bathroom by using something like the Costway Bathroom Corner Storage Cabinet, which is almost the exact same design as the Ellsworth and about the same price.
The difference is the color and the trim. Costway comes in darker wood colors, so this is the tall corner cabinet to choose from if your home has wood furniture.
It works really well in a bedroom, whereas the Ellsworth is better for a bathroom. This design is the same 68 inches in height as the Ellsworth, but if you are looking for storage, it is 23.5 inches deep at its center, so you can fit a lot more here. 
There are three open display shelves on top and adjustable shelves behind double doors on the bottom. It doesn't weigh that much, so it can be put together and moved by one (not super old) person. There aren't any other color or finish options.
Pantry Storage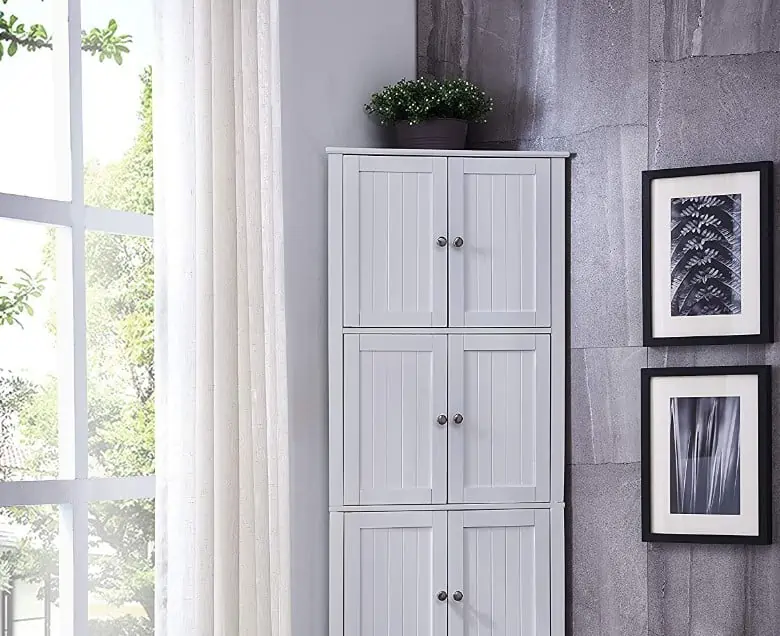 Bathrooms aren't the only place that always seem to need extra storage. Every time I can actually see a clear space in my pantry, I worry that we're going to run out of food, so I come back laden with shopping bags, crushed from the weight of the cans and dried pasta we certainly didn't need.
And then I need to find a place to put them. The Kings Brand Furniture – Lyons 4-Tier is excellent for a kitchen. It is like the Costway, but instead of having an open display section on top, it just has four shelves, each with double doors. It is 68 inches tall, so it is the same height as the others and 11.75 inches deep (like the Ellsworth). It is good for extra pantry storage.
We have a walk-in pantry that is barely wide enough for one person to turn around. So, we took two of these and placed them side-by-side in each corner so that we could make the most out of the points farthest inside. It is simple to put together, with four shelves and eight doors.
There are easy metal knobs on the doors to open and close. It comes in white or black, ideal for most kitchens or bathrooms.
It is a wall-mounted cabinet, so you will need spare hardware and tools to ensure it is safely affixed to the wall. The shelves aren't really adjustable since the four sets of doors have predetermined places. Downside: it doesn't have a lot of depth. 
Living Room Display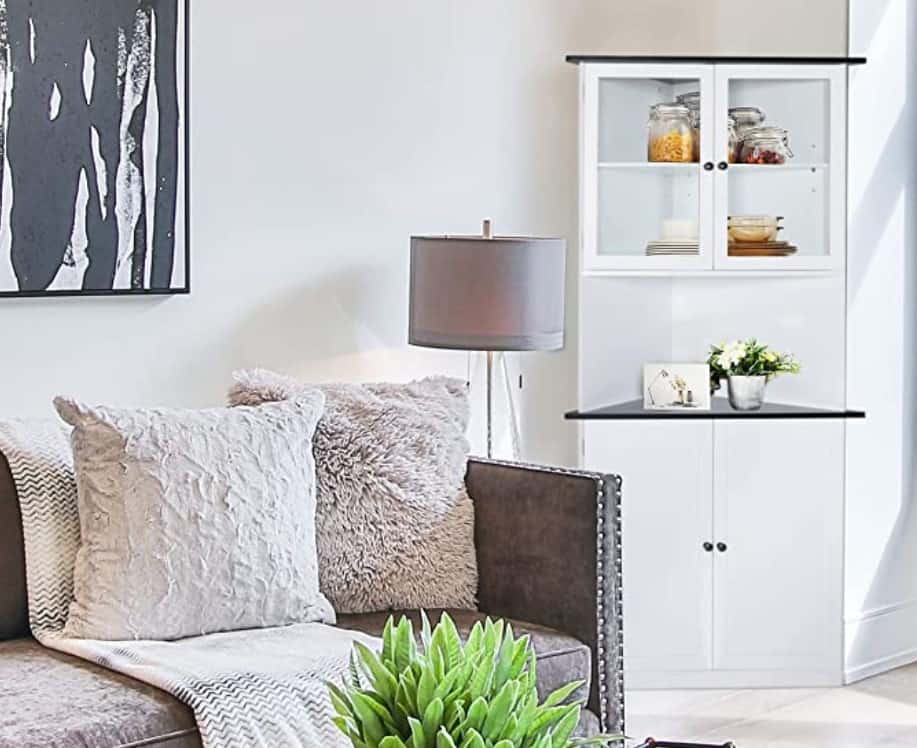 Bathrooms, kitchens, and bedrooms do well with tall cabinets that have drawers and doors to hide whatever is behind them. But in a living room, you want something that serves a purpose beyond storage. You want something that allows you some space to display a few knick-knacks, books, or drinks.
I learned this after watching far too many television shows. Still, the best shelves in an office, library, or living space should be scattered with a handful of books that you are currently reading, a few knick-knacks, and easy access to a couple of glasses and something to drink.
The MUPATER Tall Corner Cabinet is somewhere between the Kings Brand and the Home Source Bar, so it serves this purpose well. You even have a countertop to mix your drinks and rest your book before putting it back on the shelf. 
All of the other models have a top section and a bottom section that meet in the middle (save for the Home Source bar, which has a bar for drink prep in between). This model, however, has a nice countertop. The trade-off is, of course, fewer cabinets on top to leave room for the countertop. 
It is a floor mount design, so you can easily assemble and install it. It is a bit taller than other models, at 71 inches. All of the shelves are adjustable, so you can pick the height you want. The top shelves are behind glass double doors. It is only white and black, so it works for a basic bathroom, kitchen, laundry room, or office. 
Dining Room Display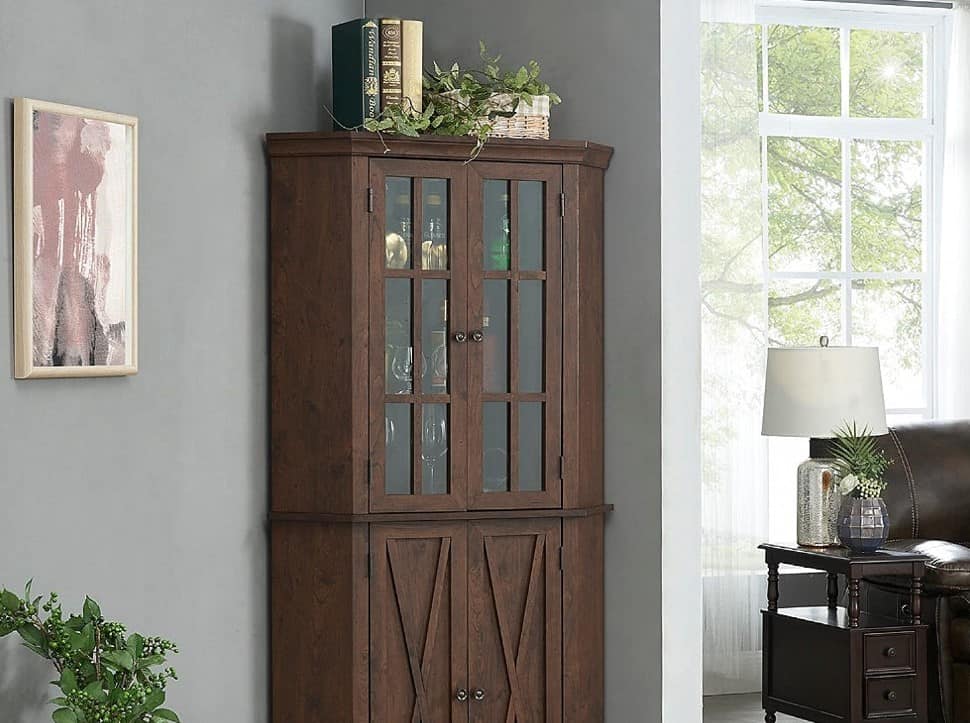 For classier spaces, you need a more traditional look. Anyone who still has a formal dining room can appreciate the need for something that makes the room smell like "rich Mahogany"; Anchorman isn't the only one who gets to live in style.
The Enclosed Mahogany Corner Cabinet is a great combination of china cabinet/corner cabinet. You won't have to worry about the maid dusting here; everything is enclosed. First, the shelving on top is behind ornately designed glass double doors. Second, the bottom half is behind ornately carved double doors.
You won't find any plywood here. You get mahogany–natural or painted. It is 14 inches deep and 69 inches tall, perfect for any large living room or bedroom. It is a floor mount design, so you won't need additional hardware. All of your items stay enclosed and protected.
It is very expensive as furniture goes, so if you aren't in your permanent home yet, this might not be what you want. It is hefty at 120 pounds, so make sure you know where you want it before you assemble it. 
Make a Library… Anywhere!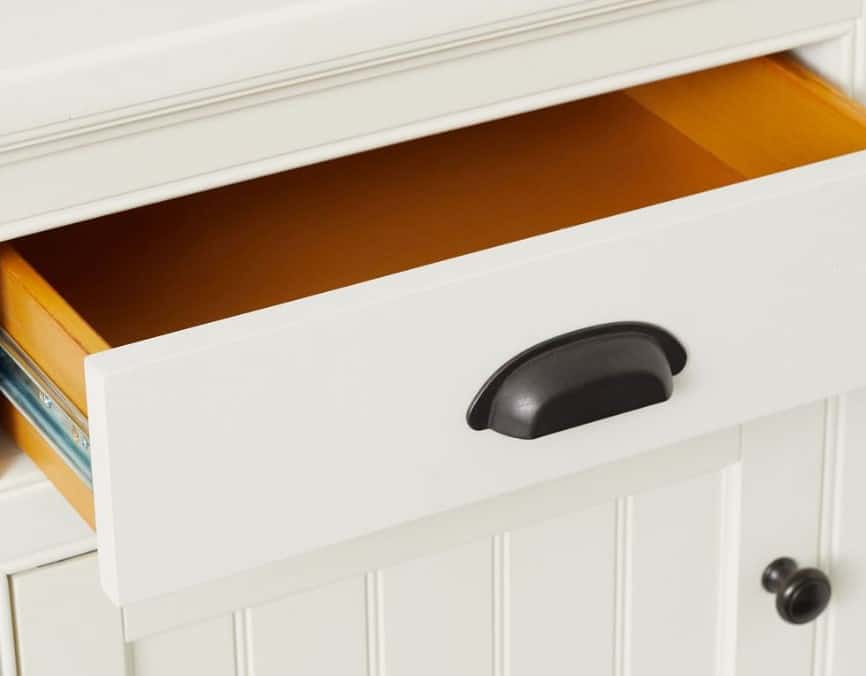 We once vacationed in an actual castle where every room had some sort of cabinet or a shelf full of books. When you explored the oversized gardens, every little sitting area or no cook, adult treehouse, or life-sized chess board had a small cupboard or cabinet with books.
So I have taken to recreating that effect in my house. Using things like the Aubrey Return Corner Bookcase, I can shuffle an assortment of books from every genre we have throughout each room. Now, if I'm outside, I can grab a book from the wood cabinets on the porch. If we have guests stay with us, they already have entertainment in their room.
It's designed with one fixed shelf and one top drawer, as well as a fixed top shelf and an adjustable shelf. This is meant to be a bookshelf, something you put in the corner of your room to class up the space and store a fraction of the oversized library you have… Or maybe that part's just me.
Home Bar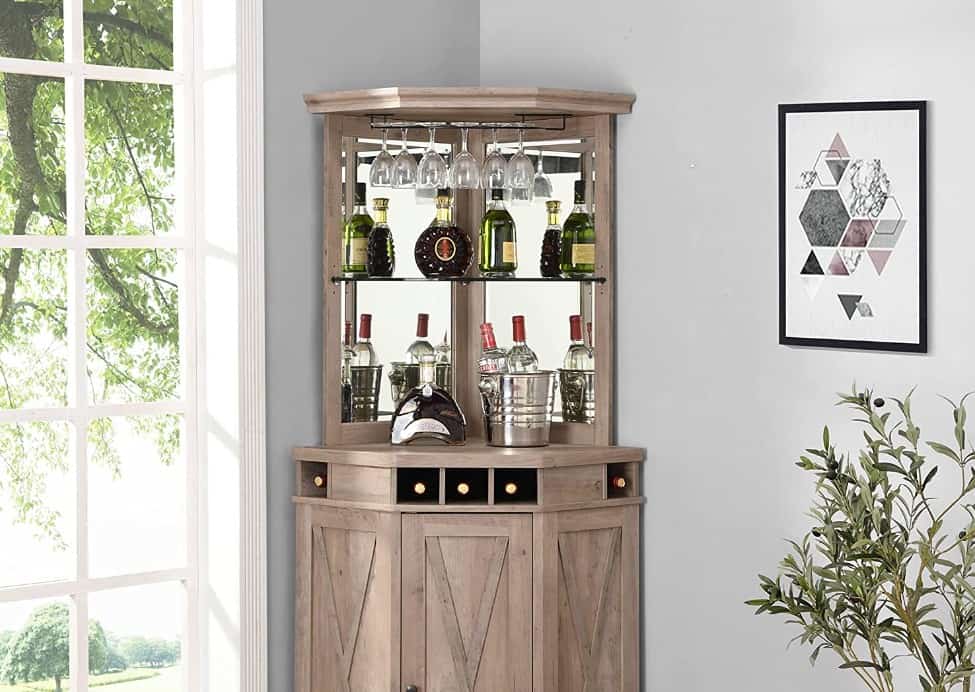 On a similar, although less responsible, note, you can convert any space into a miniature bar. The Home Source Stone Grey Corner Bar is a different type of tall corner cabinet. This one fits in a corner but is a miniature bar unit. So, don't plan on using this as your storage place for towels or shoes.
If you need a bar in a small apartment or home, make use of your corner with this. It has a lower cabinet that opens for glass storage or extra drink storage.
At the top, there are wired rings to hold stemmed glassware. In the middle, you have wine bottle storage. The top half is mirrored, too, complete with adjustable glass shelves and a space for mixing and serving. This tall corner cabinet is absolutely beautiful and has nothing but great reviews. 
It is 23.6 inches deep, so there is room to mix one cocktail at a time. It is 72 inches high, so the hanging glass stemware won't hang so low it knocks into your bottles. It has built-in counter space, wine racks, and closet doors on the bottom half. It has to be assembled, and it's not as easy as some of the other designs (set aside your afternoon).
Bring a buddy over, and if all goes well, you can Christen the bar with some cocktails. If it goes poorly… then two cocktails. 
FAQs
Question: Are tall corner cabinets wall mounted or base mounted?
Answer: This depends on the brand. Some are wall-mounted but are designated as such. Most of them are base cabinets, which means you just push them gently into their corner and move on. However, because of how tall they are, it is often advisable that you secure them near the top to prevent them from toppling, especially if you live in an earthquake zone like California. 
Question: Where can I use tall corner cabinets?
Answer: Tall corner cabinets can be used in any room. Literally, place them in hallways, storage rooms, laundry rooms, bedrooms, living rooms, and even kitchens if you have an unused corner that could be put to better use. My mother uses them in her guest bathrooms to store spare toiletries, towels, and some framed photos.
I use them in guest bedrooms to display hotel-style placards with "guest information," spare towels, and a small box of toiletries everyone seems to forget when they visit us (I remind my mother-in-law each time that she doesn't need to call about the ensuing panic attack over not being able to fit her hair dryer in her carry-on luggage without checking a second bag because we bought a spare one just for her). 
Question: How big are tall corner cabinets?
Answer: On average, they are between 68 and 74 inches tall. They shouldn't be so tall that you can't reach the top. They are typically between 11 and 24 inches deep at the center. All tall corner cabinet designs tuck into a 90-degree angle, so they are deeper at the center and get shallower as they move toward the edges. 
Bottomline 
If you need a simple, tall corner cabinet for a bathroom, kitchen, or bedroom, I suggest the Costway Bathroom Corner Storage Cabinet.
It is affordable, slightly better than comparable models, and comes in different colors, so you can pick the best one that matches your space. If you are looking for a tall corner cabinet that works specifically for something like a bar, the Home Source Stone Grey Corner Bar Unit with Built-in Wine Rack and Lower Cabinet is outstanding.