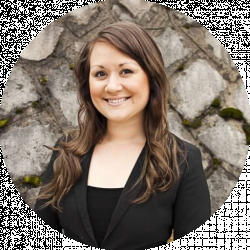 Latest posts by Lacey Jackson
(see all)
What started as one table saw ("If I just had a table saw, it would make projects like this so much faster and easier") quickly became an entire workshop ("Well, I needed to make a jig for the next project, and that was just a lot easier with the planer… "What's a planer without a jointer? It makes things much simpler"… "In order to get the precise cuts you wanted for the cabinets, I really needed a bandsaw because of the shape of the lumber "…).
So, suffice it to say, I am intimately familiar with making cabinets from scratch. That said, while everyone else in the family was off contributing to handmade cabinets, I found what I needed in prefabricated models. Now I have years of experience curating the best black cabinet ideas for just about any room in the house. 
Bottomline Upfront
Bottom line up front, I recommend the Tribesigns 2 Drawer File Cabinet with Bookshelf. This is a functional cabinet with an open bookshelf design on top. That means you get a few rows of shelves that obviously aren't confined to books;
You can use those shelves to display family pictures, lay out your jewelry, sit your designer handbag safely, or decorate with thematic accessories like candles, and antiques, or fluffy towels. You still get the two-drawer filing cabinet on the bottom, and the overall aesthetic is suitable for any room.
Selection Criteria
In order to give you the most flexibility, I have included a list of the best black cabinet ideas that are flexible enough that you can put them in any room without having to invest in an overwhelming number of pieces. To that end, I've also included some of the top cabinets you can use to achieve any of the best black cabinet ideas I mention. 
Best Black Cabinet Ideas
Tips:
Don't search for a cabinet named for the room you intend. If you limit yourself to "bathroom black cabinets," then you might miss out on a tall cabinet that fits your bathroom perfectly even though it is labeled as a kitchen or living room cabinet. 

If they don't have black in the exact design you want, paint it. Growing up, that's exactly what we did. We didn't have the luxury of searching online for different cabinet colors from the same manufacturer; you got whatever was there in front of you. So, we painted just about everything in the house to make it match. Much easier. 
Cabinets with Open Shelves and Doors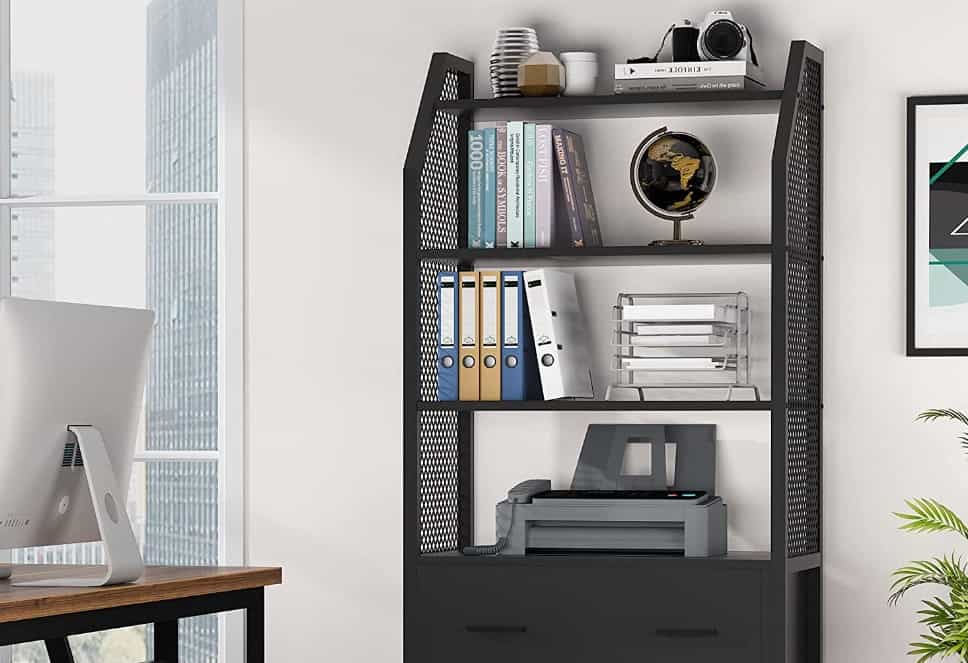 I had a painting studio at home for a short while. It was an unfinished room (though it had electricity and a door into the house) that was attached to the garage and had been used for storage for years, so the walls and floors were Linoleum and paint-stained. This worked in my favor. But I needed somewhere to put my supplies.
So, something like the Tribesigns 2 Drawer File Cabinet with Bookshelf worked out perfectly because it gave me an open bookshelf space on top where my brushes could be laid out to dry after each paint session (and honestly, I don't like shoving them into a drawer where they might get damaged anyway), and my paints themselves could go in the cabinet. I had enough room for towels, cups, and my palette too. 
Tip: 
This is my absolute favorite pick because it gives you a black cabinet with shelves on top. Instead of trying to mix and match separate pieces of furniture to get black shelves and black cabinets and black drawers, you get everything in one place. Use this in any room you want. It's perfect for a living room where you store extra blankets for the winter in the cabinet and leave family photos, antiques, and a set of books on display.
It also works well for any craft room or workshop where you want your ongoing projects to be easily accessible and laid out to dry or cure while still storing the rest of your materials behind closed doors.
As mentioned, the Tribesigns 2 Drawer File Cabinet with Bookshelf is my favorite pick. It has a strong metal frame that is durable and easy to clean particle board. I like the legal office look it has with all the workable shelves. So, you can even incorporate this look into a home office. My home office is carpeted, which is a nightmare for keeping furniture level which is why I like desks, printer cabinets, and file cabinets that have adjustable leg pads (yes, my entire office is dark cherry and black). 
I love that the drawers inside the cabinet are sized for legal, letter, or European size because I happen to have files and papers that fit all three. I especially like the four shelves where you can easily put things like a printer, laminator, books, or binders (if you use it in an office).
Cabinets with Drawers and Doors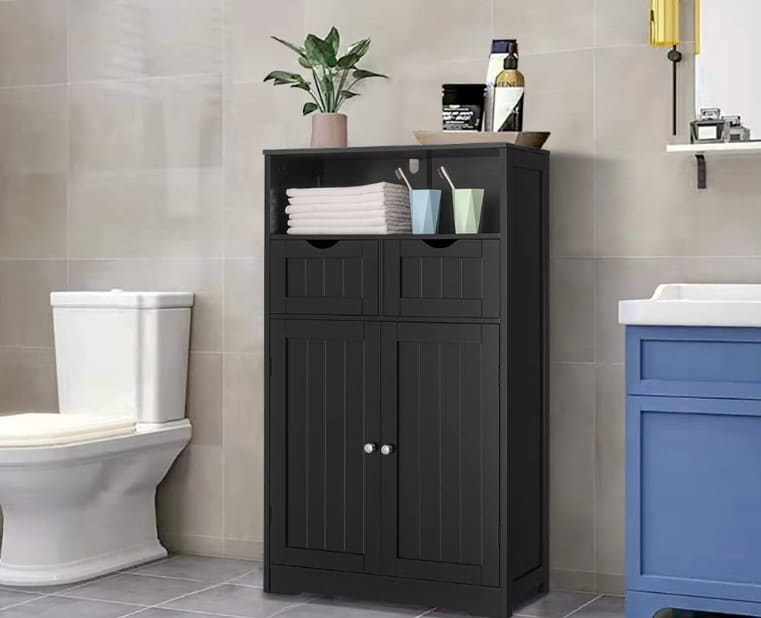 In a bedroom, you need something discreet, with drawers and doors you can close when your (nosy) in-laws decide they want to wander through your master bedroom just to see if it's the same. 
The IWELL Large Bathroom Cabinet is my second favorite pick because of how much it offers. I think it goes really well in a bedroom. It looks incredibly classy, with magnetic doors with chrome metal knobs, and has two adjustable drawers so you can figure out the height you want based on the room you put it in. There is shelving space on top, which I try to keep clear of clutter but somehow always ends up the resting place for not-dirty-enough-to-be-washed clothing. 
It has waterproofing on it, though, so I would also consider placing it in a classy bathroom too. The drawers and doors serve this purpose well because the pull-out free-standing drawers on one shelf and the cabinet with a set of double doors at the bottom let you store toilet paper and towels without them getting soggy or mildewy sitting on the counter. 
I also recommend using something simple like the Ameriwood HOME SystemBuild in a bathroom because it has large double doors behind which you will find a set of adjustable shelves on the inside. Customers go crazy for the storage capacity it has. The style makes it perfect for living rooms or bedrooms and is a great place to store linens, office supplies, or anything else.
The adjustable shelves can each hold 25 lbs, and the fixed shelves can support an additional 30 lbs. I don't know how much our coats and shoes weigh, but I know I've broken the shelves on less durable cabinets before, so I prefer the solid oak of this model.
Open-Faced Storage for Gyms/Play Rooms/Craft Rooms/Living Rooms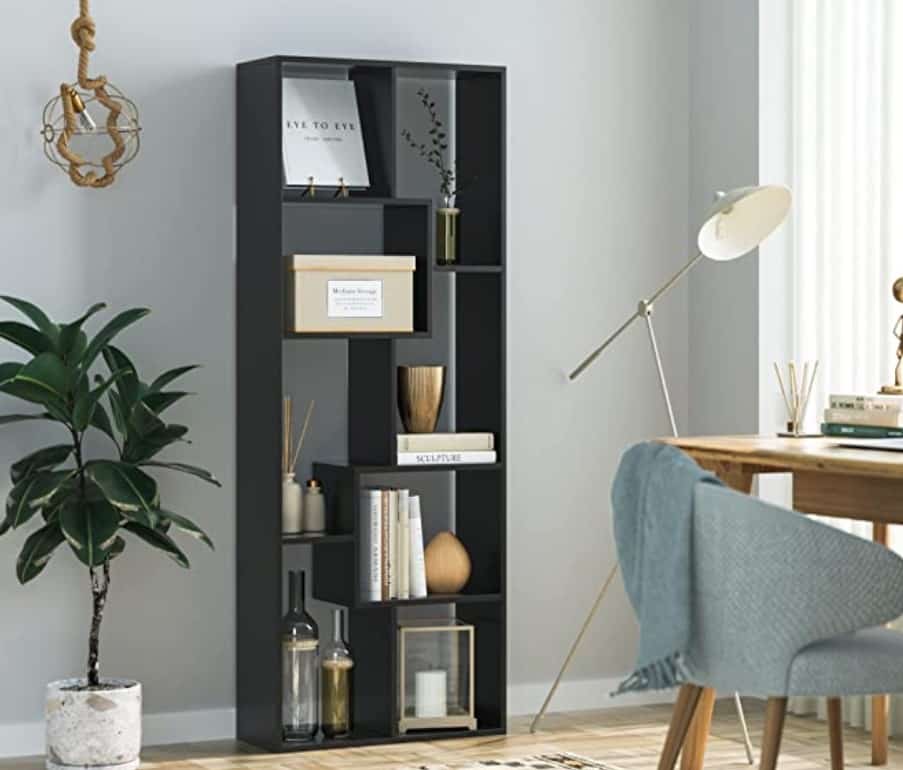 One room was converted into a gym/workout room. The entire floor was covered in gym matting, so it was bouncy and comfortable. I used it for yoga, dance, regular fitness, or just stretching out the kinks that come with age. Along the perimeter, I put together a black cabinet.
I had a separate weight rack, but I needed something small, easy to get to, which could hold things like yoga blocks, towels, a water bottle, exercise bands, and the other accessories no one in the house believes contribute to a "real" workout. I used a shorter version of the FOTOSOK Geometric Bookcase, 8-Tier, to do it. 
I opted for an open cabinet design. This meant no front doors or drawers, just open squares where my accessories could easily be retrieved and stored. This style of open-faced storage Works beautifully in a living room, kids' playroom, craft room, or bathroom.
My mother-in-law uses one in her bathroom. That particular model has a set of six squares, so three of them showcase fluffy towels and pillar candles, while the other three have wicker baskets of spare toiletries for guests. 
Tip:
Use something like the FOTOSOK Geometric Bookcase, 8-Tier with baskets if you have lots of smaller items. You can make a geometric pattern like a zigzag shape across all eight squares where half of them have baskets and the other half don't.
This gives you the flexibility to throw all your tiny or knick-knacks or things that might roll away in the baskets while keeping larger items beautifully on display. You might also consider adding baskets for anything you want to store and leaving the open squares for display purposes only, like towels, candles, a vase with flowers, or a stack of hardcover books.
I love the versatility of the FOTOSOK Geometric Bookcase, 8-Tier, because you can set it vertically or horizontally, so if you don't want a tall shelf, you can do what we did and turn it horizontally, so you have a long shelf instead. It comes with anti-toppling devices, all the hardware you need, and the particle board is inexpensive and easy to clean.
Buffet Cabinet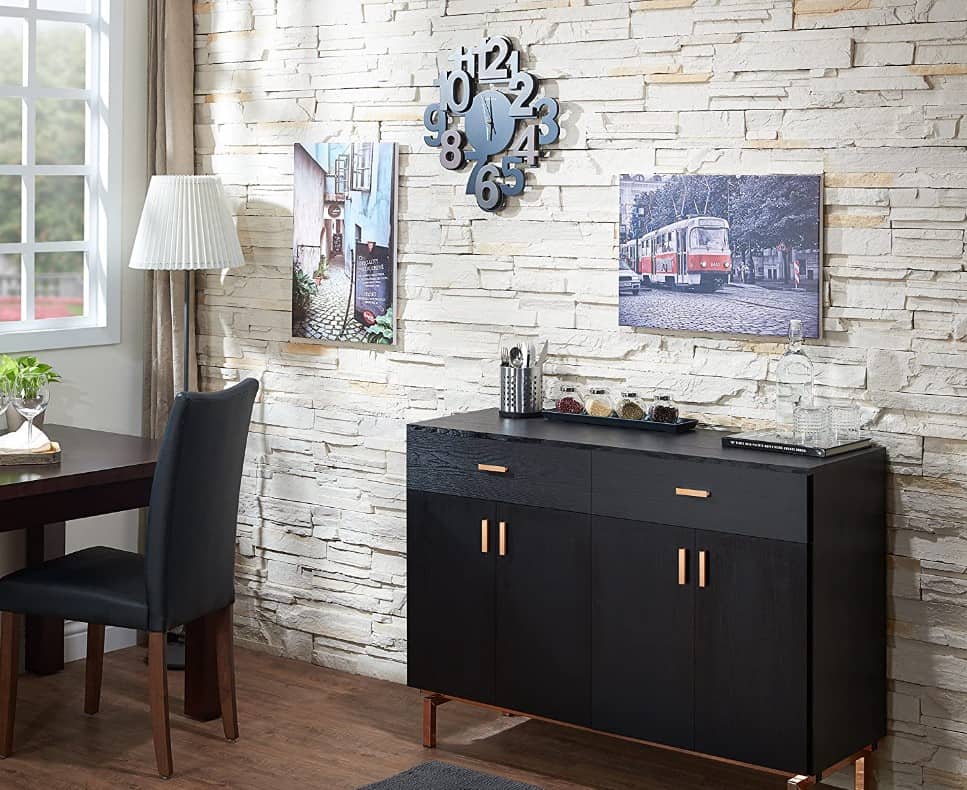 Here's a fun story: Once upon… well, every single time he starts dating a new girl, my father comes home to his furniture having disappeared as if by magic ("I don't want any furniture in here that you bought with HER"). Until the most recent round of throw-away-the-stuff-shared-with-an-ex, my father had a beautiful buffet-style black wooden cabinet just like the Furniture of America Brysin 2 Drawer Contemporary Style Buffet Server, Black/Rose Gold.
You, too, can use a buffet-style cabinet for a bedroom, spare room, office, living room, dining room, kids' room, or anything else. This added geometric height naturally draws the eye and gives your space better aesthetics. Don't be afraid to mix and match it with tall cabinets if you plan to give it a permanent home. 
Tip:
If you plan to make yours as versatile as my dad's, take some time to install wheels at the bottom. It will be worth every ounce of frustration you invest early on to be able to roll your black cabinet wherever you need it.
The Furniture of America Brysin 2 Drawer Contemporary Style Buffet Server, Black/Rose Gold, is versatile enough that it can be used for anything. My dad used his as an actual buffet table when hosting a party. Spare stacks of plates went inside the cabinets, and a runner sat beneath plates of finger food and cocktails. 
When there wasn't a party, it sometimes found a home in the living room as a place for spare pillows and blankets, on top of which remote controls sat. Other times it made its way into a spare room where it held spare sheets and towels and held on top the coffee pot, water filter, and dishware. 
It has turned legs, leaf extensions if you need to make it bigger, a bottom shelf, metal hardware, and double front drawers. It's made with solid wood, so it's very sturdy and can hold a lot of weight. The sturdiness is one of customers' most highly rated features, followed by the value for the money.
Black Pantry Cabinets for Your Kitchen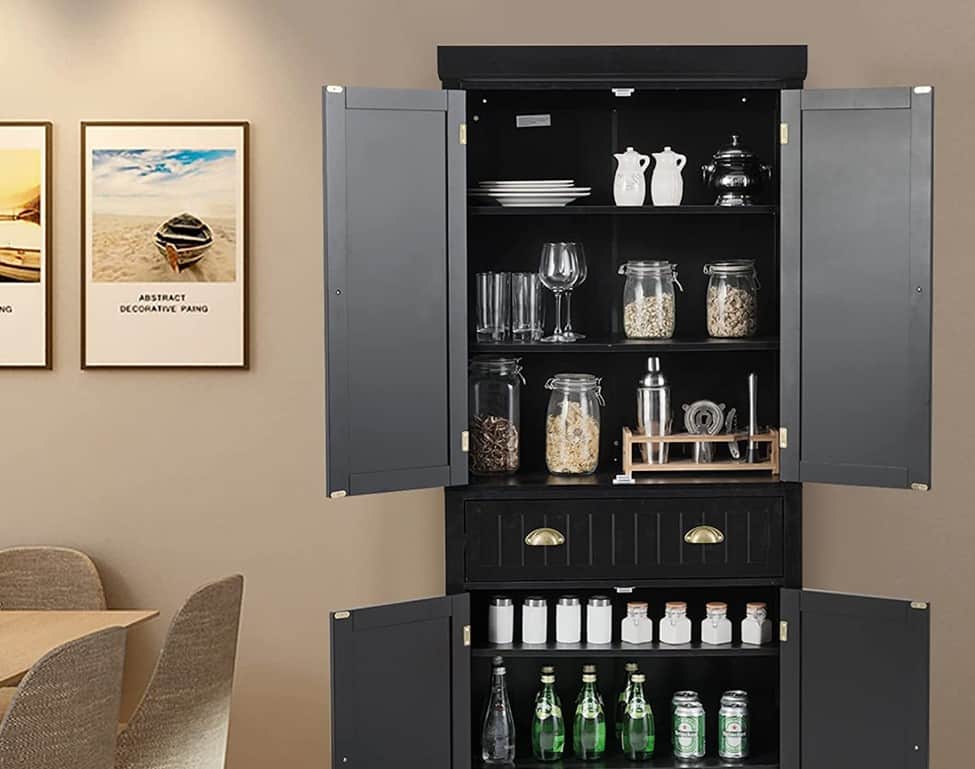 We lived in a house once that was very old, and the kitchen had an oven, a free-standing sink, and the washer all in the same room. That was it. There was no pantry, no closet, no shelves, nothing.
My mother had to save for a black (like her soul) kitchen cabinet like the Tangkula 72″ H Kitchen Pantry Cupboard Cabinet. We used the top cabinet to store all of the cookbooks my aunt sent her every Christmas.
She never opened them, but I used them to learn fractions when I wanted to double the peanut butter cookie recipe, and my mother told me if I wanted them, I had to learn how to make them; youngest kid in my grade to know how to add fractions thankyouverymuch. 
This works really well for any kitchen situation where you need additional storage because underneath, you'll find a set of drawers and another set of double-door cabinets with adjustable shelving units. 
The bottom shelves work really well for dry goods. My mother always lined the drawers and shelves with small wicker baskets so we could categorize our dried goods and cans based on things like vegetables, baking, and so forth.
Tall Cabinets for Entryways/Bedrooms/Hallways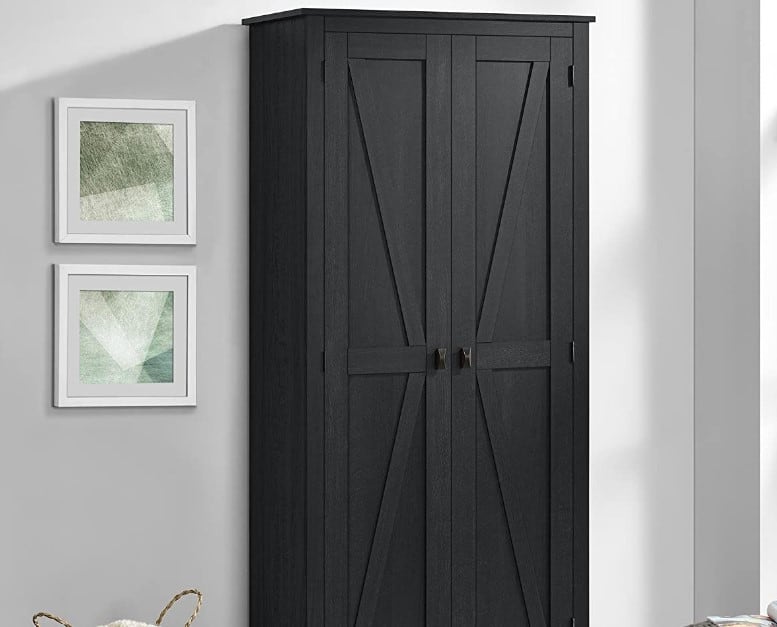 Our foyer didn't have a closet, so we were always forced to drop our (often wet) jackets over a bench we shoved in on a whim. It was a workbench, so it came from the shop and was meant as a temporary stand-in. We didn't have a shoe cabinet either, so we just lined them up like a sad museum exhibit.
So, I opted to use a tall black cabinet like the Ameriwood HOME SystemBuild Farmington 31.5-inch Wide Storage Cabinet, Black Oak, because it was classy, deep enough for hanging coats, and the bottom was the perfect storage for muddy shoes. 
What I love about this particular model is its solid oak design, so it can support a lot of heavy storage. This makes it perfect for bedrooms and hallways as well, where you want to store extra household goods behind closed doors.
Tip: 
Combine the Ameriwood HOME SystemBuild Farmington 31.5 inch Wide Storage Cabinet, Black Oak, with an entryway shoe cabinet that has an open front design.
This will make it easy for you to see which shoes are available and grab them on your way out, but also keep things like keys, jackets, scarves, and hats in a safe location. Don't forget to add a matching black bench or a black chair so you can sit down and disrobe. There's nothing more frustrating than trying to put shoes on at the door when you have nowhere to sit. 
FAQs
Question: How big should a black cabinet be?
Answer: While I did say you can use cabinets designated for kitchens or bathrooms in any room, be advised that the designation will determine what size it is and how much weight it can support. The size will vary based on the type of cabinet. Medicine cabinets, for example, are typically not wider than 3 inches and can't hold more than 15 lb, but much larger buffet-style cabinets can support up to 90 lb depending on the model and have a dip around 15-30 inches.
Question: What tools do I need to install a black cabinet?
Answer: This depends entirely on where you plan to install it and how complicated the cabinet is. Smaller cabinets like Buffet style or file cabinets don't necessarily need anything other than a screwdriver to put together. If you have a tall storage cabinet that you plan to mount to the wall for security, you might need extra tools like a stud finder, but any cabinet you purchase should come with a list of what tools you need.
Question: How much weight can my cabinet support?
Answer: This depends on the cabinet. How deep the cabinet is, its material and a few other factors will influence how much weight it can support. Each cabinet you buy will specifically say not only how much it weighs but how much weight it can support.
Best Black Cabinet Ideas: Bottomline 
Bottom line: I recommend the Tribesigns 2 Drawer File Cabinet with Bookshelf. Out of all the best black cabinet ideas I have proposed and the countless more you will think of on your own, this particular cabinet gives you room for extra creativity because it has the shelving section on top. The exterior design makes it sturdy and suitable for any decor in any room.
Read More: