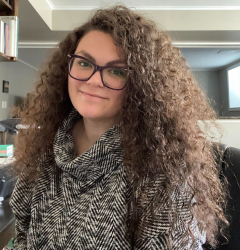 Latest posts by Candace Osmond
(see all)
I used to love designing cherry kitchens and bathrooms when I worked as an Interior Designer. It's such a lovely, luxurious wood. Natural cherry wood is arguably the most prized furniture hardwood in North America. So it's no surprise that cherry wood furniture also happens to be one of the most coveted in the world.
In today's article, I've compiled 16 of the best cherry cabinet ideas from across the internet. Plus, I threw in some tips on how to choose cherry cabinets and what to style with them. Let's go!
Bottom Line Upfront
I just love the soft, warm tone of these natural cherry cabinets in the Warm-Toned Cherry Top Cabinets idea. But, most of all, I adore the contrasting green island!
Top Picks
After putting the list together, these three best options stood out to me.
Best Natural Cherry Cabinet: Isle Haute – This spacious kitchen exudes an elegant casual appeal with its sole use of solid cherry wood cabinets.
Best Dark Cherry Cabinet: Tim's Personal Kitchen – If you're planning a kitchen redesign, feel free to take inspiration from Tim's personal kitchen pictured above.
Best Light Cherry Cabinet: Warm-Toned Cherry Top Cabinets
To contrast, the reddish undertones of your light cherry cabinets, go for neutral colors, as shown above.
The Best Cherry Cabinet Ideas for Your Next Reno
If you're ready to take the plunge, get the inspiration you need from the following 16 cherry cabinet ideas. I included a range of light and dark cherry, plus natural cherry tons all with a mix of traditional and modern styles. So, there's something for everyone!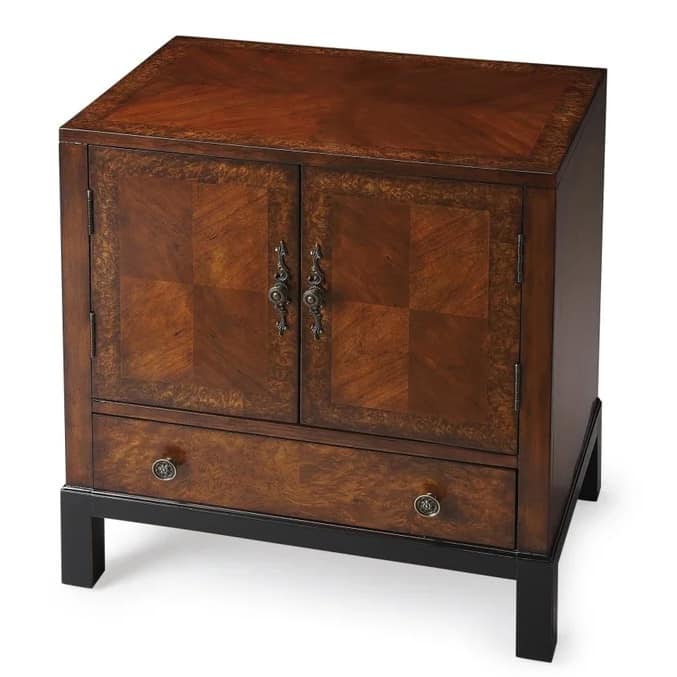 This would look so cute in my office! Convertible into a traditional secretary desk, this contemporary cabinet is made of solid wood with an Antique Brass finish. It also features a drawer underneath and a two-door cabinet with accent details on the front.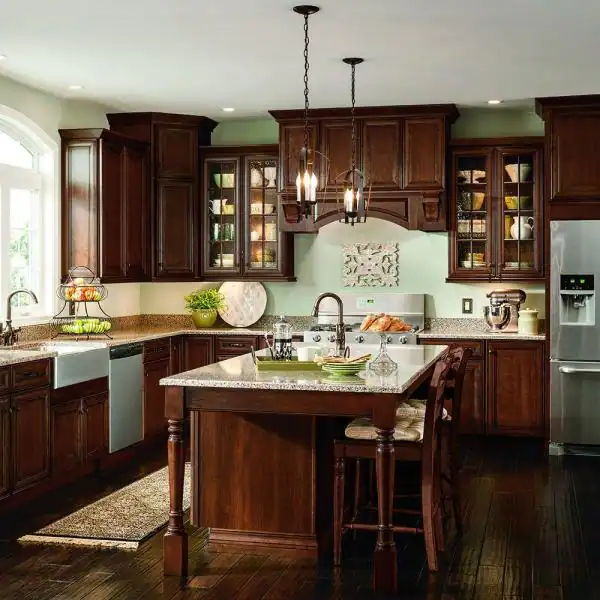 One thing I always came across in my INterio Design days were clients who wanted cherry but found the cost to be outrageous.
But, I assure you, there are several benefits to choosing high-quality cherry wood for your cabinet material. These include durability and traditional visual appeal. The Thomas classic cherry cabinets pictured above capitalize on all of these advantages, no doubt.
You can have this classic-style cherry cabinet as your TV stand or have it in a front entryway. Personally, I'd put it in my entryway because it's such a minimal statement piece.
Either way, you can rest assured its old-school appeal will be hard to beat. The cabinet is crafted from solid wood and features two drawers up top. A cupboard and shelf below have also been included for additional storage space.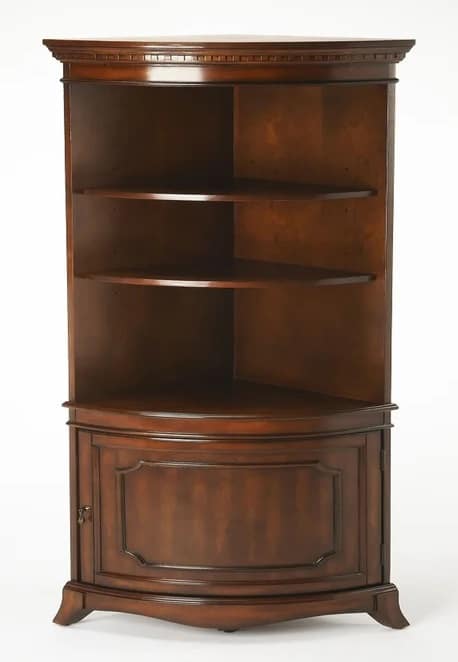 This colonial-style cherry cabinet is exceptionally striking and crafted from wood products and popular hardwood solids. It also boasts a rich Plantation Cherry finish on cherry veneers. The three shelves and cabinet below provide loads of storage room to accommodate your home's needs.
Pro Design Tip: If you want the look of Cherry but don't have the budget, opt for veneer! You still get the outer appearance you want, but save a ton of money!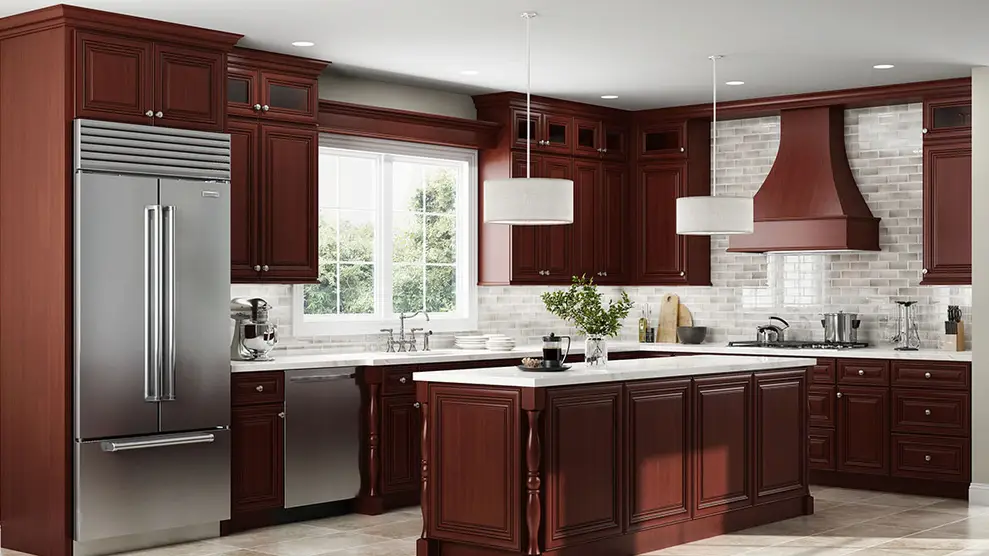 I love a good two-toned kitchen! I've done every combo you can imagine. Two-toned kitchens have been getting quite popular in recent years, and for a good reason. The results are always nothing short of amazing. If your kitchen already has existing cherry lower cabinets, all you ought to do is add new white countertops. Pair these with light, bright hardware and backsplash, and you've got yourself a modernized kitchen.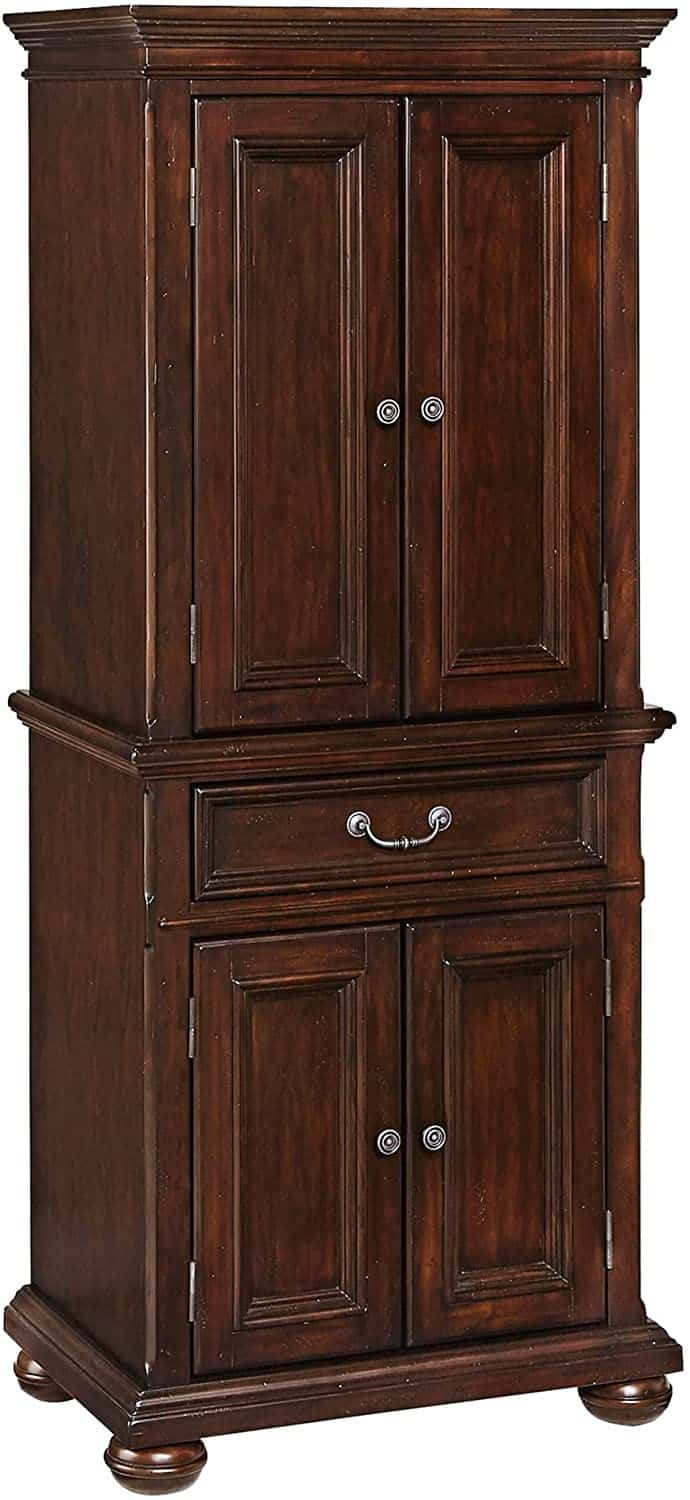 Made of solid mahogany and cherry veneers, this traditional-style tall cherry cabinet features four cabinet doors with farmhouse-style hardware. A pull-out drawer has also been included in the cabinet's mid-section for extra storage. The distressed finish creates an aged, well-worn, and unique vintage look.
These Cherry kitchen cabinets fall in the medium-to-high range of cost, but I can guarantee they're a worthy investment. Cross my heart! The units deliver luxury wood without the exorbitant costs of imported or exotic species like ebony or mahogany.
Additional features accentuating this kitchen's cherry cabinets include the gray backsplash, stainless steel appliances, an under-mount sink, and granite countertop.
A great addition to any kitchen would be this tall cherry cabinet idea. The unit features two open shelves, two cabinet doors, and a glass display on top. The glass doors are perfect for showcasing fine china. The entire cherry cabinet is also crafted out of sturdy material with a cherry glaze on top. *chef's kiss*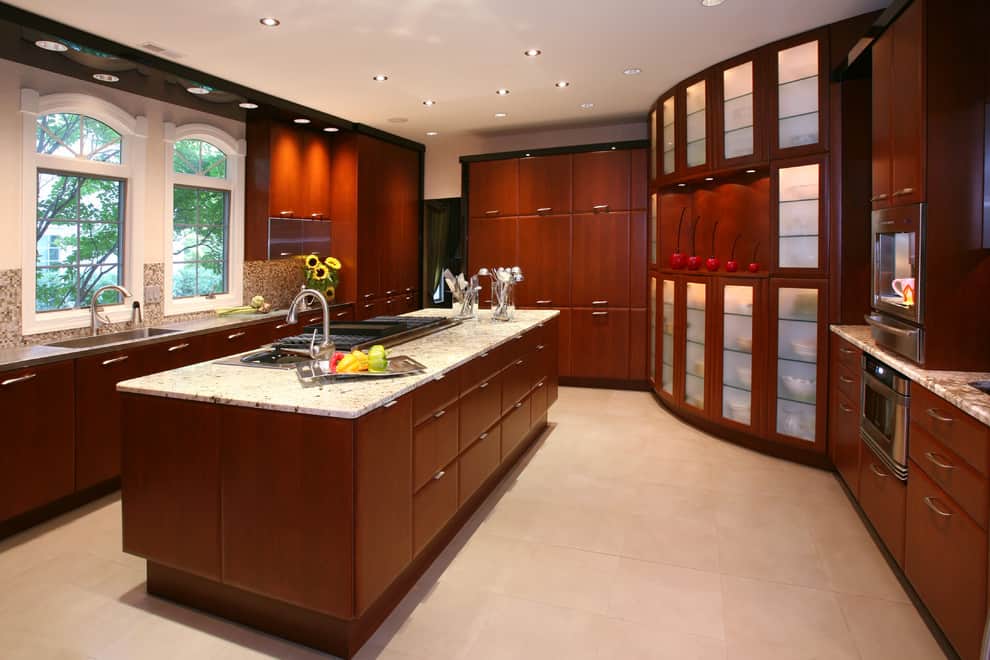 As this custom contemporary kitchen proves, you can never go wrong with an island kitchen, granite countertop, and cherry cabinets. It's just such a classic look, right? The glass-front cabinets and under-mount sink tie together to complete the spacious, trendy look.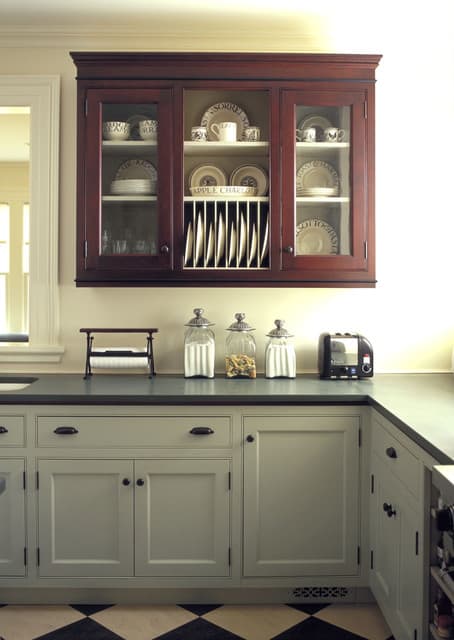 Are you a fan of both grey and cherry wood cabinets? I try and mix grey with pretty much everything, LOL. Or perhaps you just love mixing and matching? Whatever the case, this painted cherry wood cabinet idea will push your creativity to its limits. Ensure the hardware you pick for each set of cabinets complements the shade.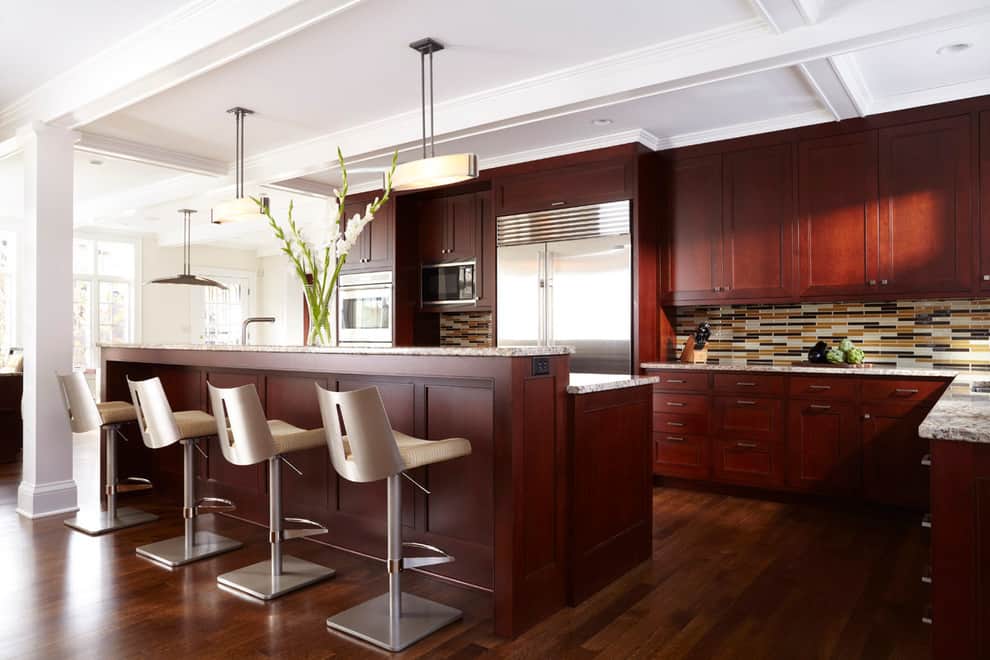 Ultra-modern, here we go! No doubt, white granite countertops can transform any dark, drab, outdated kitchen into a sleek, modernized one. Feel free to throw in a multicolored backsplash, recessed panel cabinets, and stainless steel appliances to complete the look.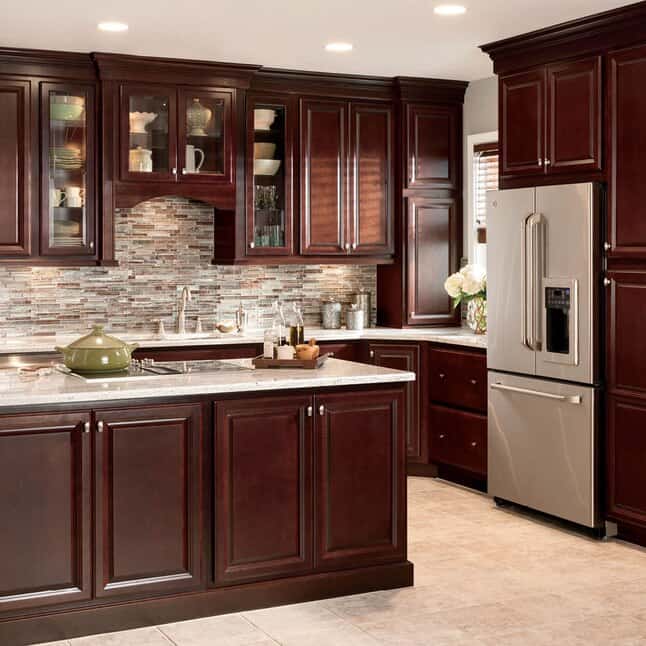 This is what I like to call the 'sandwich effect' when it comes to kitchens. See how they've layered a light floor with dark cherry cabinets and a light backsplash? Layers, people. LAYERS. It creates visual contrast and highlights all the best parts of the kitchen.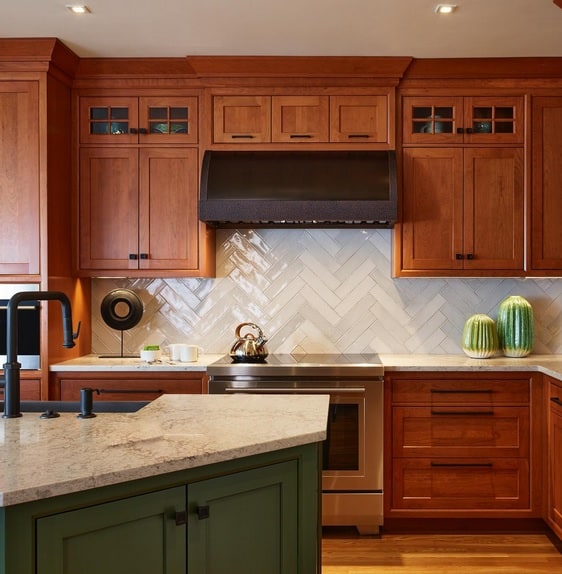 The open concept of this space makes the cherry cabinets stars of the show. With a light, grainy countertop and beautiful natural lighting, the cabinet's lighter tone stands out without overpowering the overall interior.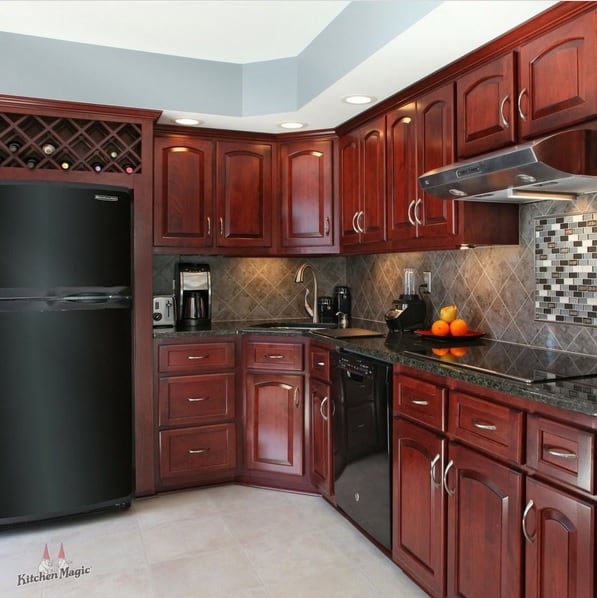 These stunning cabinets will be a gorgeous addition to any space, contemporary and traditional. I can definitely see how they could go both ways. Built from solid wood and drenched in cordovan stain, the cabinets have been accentuated by a cool charcoal-gray backsplash. The sleek granite countertop is also noteworthy.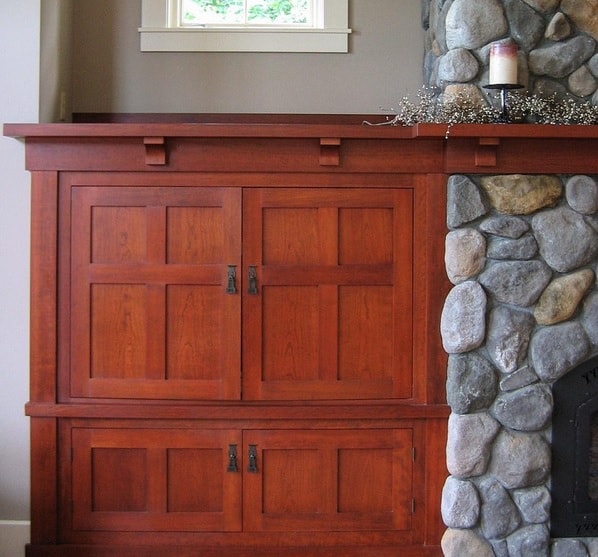 These old-school cherry cabinets will be a treasured addition to any farmhouse-style home. Use the surface on top to showcase photos and prized possessions. It's also commendable how beautifully the cabinets have blended in with the fireplace to their side. C'est magnifique!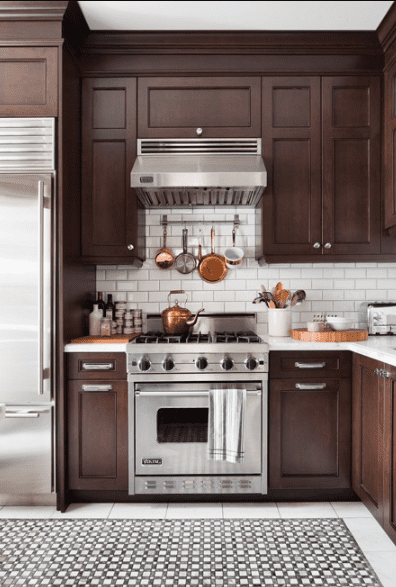 Stainless steel hardware applied to cherry wood can really up the wow factor when used in cabinet designs. Better yet, the hardness of the cherry cabinets offers a smooth finish while the stainless steel appliances accent the richness.
Features of Cherry Wood to Watch For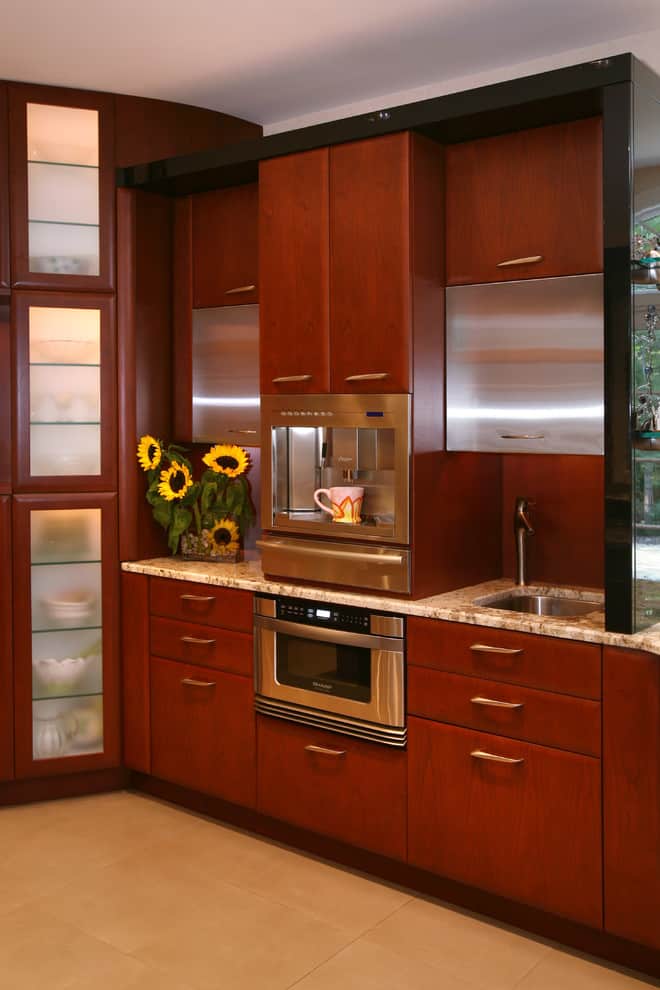 Cherry wood is among the most popular timber choices for high-end applications like furniture, boat interiors, cabinet-making, etc. The main reasons for this widespread preference all boil down to the wood's features.
Workability
If anything, cherry wood is best known for its exceptional workability, which we can attribute to its straight-grained qualities. Unfortunately, cherry wood tends to become blemished when it's getting stained. That's why most people tend to prepare it first before taking it through the staining process.
A gel-based stain or sanding sealer is suggested for this preparation.
Structure
Generally, cherry possesses a fine pore structure, even though the spring growths' pores are usually slightly larger.
Flexibility
Cherry wood is effortless to mold, cut, and carve. This hardwood's flexibility is also one of the main reasons it boasts a wide array of applications. It has low stiffness, good bending properties, and a medium density.
Grain pattern
Much like maple wood, cherry wood has a smooth, closed-grained pattern. A single cherry wood board will have multiple contrasting grain patterns. The level of variation will depend on the growth of the tree the cherry wood piece was extracted from.
Aesthetics
Cherry wood is arguably one of the most aesthetic hardwoods, thanks to its reddish-brown and golden hue. Unfortunately, as you'll learn in the last point in this section, this isn't always the case.
Durability
In the realm of hardwoods, cherry is rated a moderately durable wood. Another reason it's a favorite choice for furniture is its high resistance to decay and rot.
Texture
Cherry wood has a satiny, uniform, fine, and smooth texture. It also boasts a moderate natural luster.
Color Transformation
You'll be surprised to learn that the color of natural cherry wood changes over time. Even more interesting, the degree of transformation tends to vary from one cherry timber tree to the next.
Generally, however, the shade will start with a light pink/golden tone before darkening to a rich, reddish-brown color. This darkening (also known as ripening) process is usually most apparent within the five months of light exposure.
Note that some cherry wood may also take years before hitting that beautiful, reddish-brown tone the wood is known for. The only way to accelerate this aging process is to expose the wood to as much natural light as possible.
Don't Confuse Cherry Wood with a Cherry Color
We've already established that cherry wood cabinets are among the finest kind you can invest in today. Unfortunately, not every piece of furniture that looks like it's made from cherry wood is actually made from hardwood.
If you've been scouring for cherry cabinet ideas for a while, you must've come across several stories of unscrupulous furniture makers. These individuals are often accused of substituting poplar, alder, or even birch wood for cherry through clever staining and finishing.
FAQs
Question: Are Cherry Cabinets Out of Style?
Answer: Cherry cabinets are anything but out of style. According to Google trends, interest in cherry cabinets has neither decreased nor increased over the last decade.
Question: Is Cherry Wood Good for Kitchen Cabinets?
Answer: Cherry wood is perfect for kitchen cabinets because you'll rarely need to replace this hardwood option. Cherry wood is also easy to clean and maintain.
Question: How Much are Cherry Cabinets?
Answer: The price of new cherry cabinets can run anywhere from $5,000 to $30,000 for a typical-sized kitchen. Custom cherry cabinets can cost as high as $50,000.
Question: Can You Re-stain Cherry Cabinets?
Answer: Yes, you can re-stain cherry cabinets, but it's not an easy process for beginners. If you would like to re-stain your cherry cabinets, I suggest enlisting the help of an expert in the field.
The Verdict
It stinks having to part with a furniture piece you adore because it's no longer in style. Luckily, you'll never need to go through that with any of the cherry cabinet ideas above. If your cherry unit starts to look outdated, easily update and bring it back to life by changing the décor and hardware.
If you're looking for a lighter cherry cabinet idea with a soft look that is still modern, go with the Warm-Toned Cherry Top Cabinets for inspo. Now go ahead and give your home cabinets a quick face-lift. Then pop over to our site for more home inspiration!
For More Kitchen Ideas Check These Articles Out: