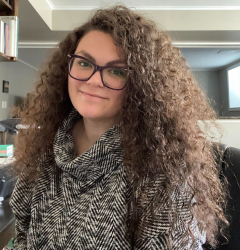 Latest posts by Candace Osmond
(see all)
If there's one thing I learned from my years as an interior designer, it's that trends change, color schemes come and go, and preferences shift. However, the best maple kitchen cabinet ideas have remained a tried-and-true look for cooking spaces worldwide.
They're much more durable than most of their other wood counterparts and way more functional than cheaper particle board and laminate alternatives. With that in mind, are you building a new home from scratch or replacing damaged and outdated kitchen cabinets? Maple wood is a trustworthy option so let's look at some of the best maple kitchen cabinet ideas.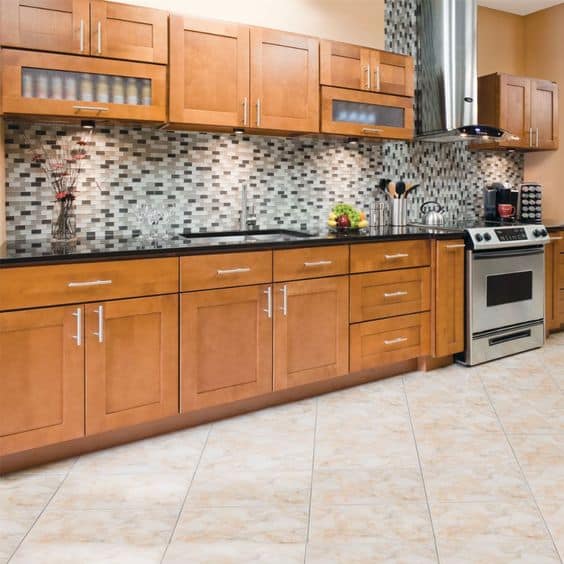 Bottom Line Upfront
I'm a sucker for the whole farmhouse look; I love things old and rustic. But I'm also a fan of clean, modern lines. Mix those two together, and you get this modern farmhouse-style maple kitchen!
Top 3 Picks
I took it upon myself to scour the internet for all the best maple kitchen cabinet ideas and create a shortlist. These are the three ideas that stood out the most to me.
Best Natural Maple Kitchen: The Perfect Blend – I promise you'll love the high contrast of the walls and countertops juxtaposed against the maple cabinetry.
Best Dark Stained Maple Kitchen: Modern Farmhouse-Style Maple Cabinets- If you love natural grain but prefer darker shades, go for these farmhouse-style maple cabinets.
Best Light Stained Maple Kitchen: Scandi-Style Kitchen Cabinets – Do you love the look of natural wood but can't stop swooning over maple kitchen cabinet ideas? Consider combining the two with this minimalist maple kitchen cabinet idea.
Gorgeous Maple Kitchen Cabinet Ideas
I picked 24 maple kitchen cabinet ideas to get you inspired! I included a nice variety of styles, colors, and arrangements so you can pick and choose or mix and match until you get a look that works for you.
Focus on the Kitchen Island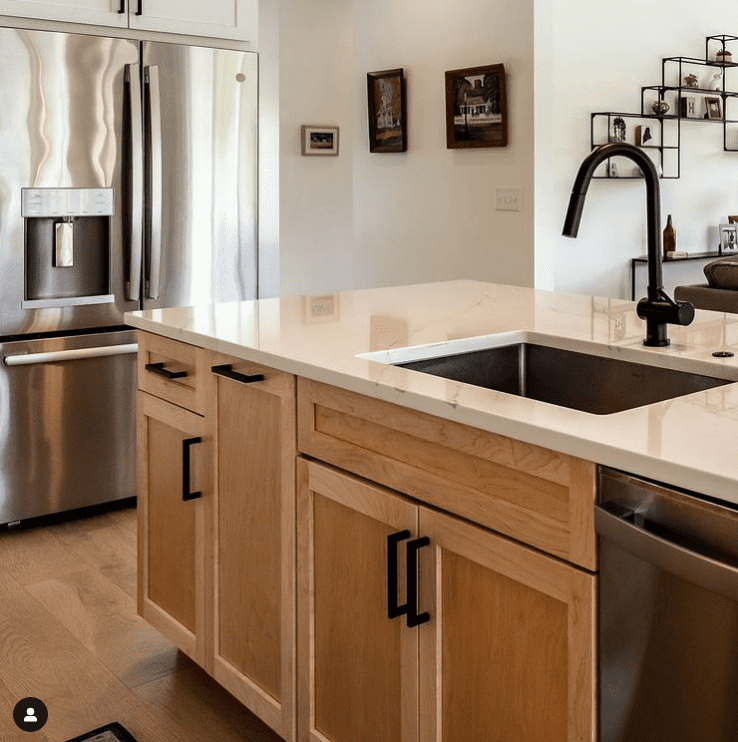 If you ask me, a kitchen island is, without a doubt, the focal point of any kitchen's layout. This maple kitchen cabinet idea shows how you can draw further attention to it. Simply contrast the island kitchen's counter's material or color with the rest of the units in the room.
As the image proves, using maple wood adds an exciting story to the kitchen space. Its organic influence helps ground the room and deliver an instant sense of calm.
Matching Interior
I always say that one of the easiest ways to introduce modern characters to plain-white maple kitchen cabinets is to play with texture. The maple cabinets work well when layered with matching natural materials like marble and granite kitchen countertops. The polished steel and glass around the kitchen provide a much-desired gentle warmth.
If this were my kitchen, I'd consider introducing ribbed and slatted background textures to elevate the design further.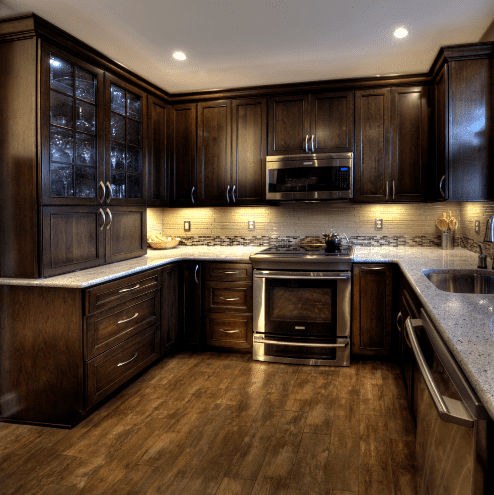 Is your goal to create an eclectic look that focuses on and accentuates your maple kitchen cabinets? Then this idea could be what you're looking for. It shows you how to achieve just that by combining your new maple cabinets with antique furniture.
The wall-mounted maple cabinets have been coupled with a mahogany glass front. The two together create a further unique dimension in the kitchen.
All Maple Kitchen Cabinetry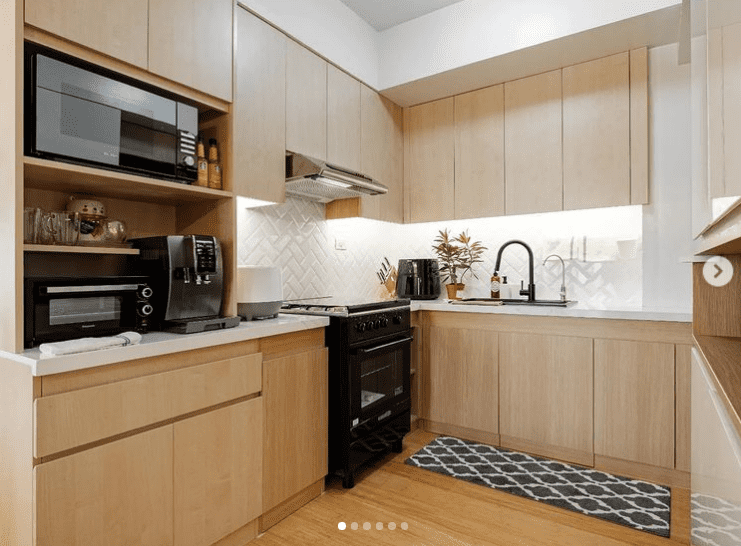 Beautifully grained maple is the highlight of this chic, well-crafted kitchen space. The homey look is critical here, as it brings character to the open-plan space. Better yet, the white ceramic surface, with its textured finish, is hardwearing and extremely easy to care for.
Vent Hood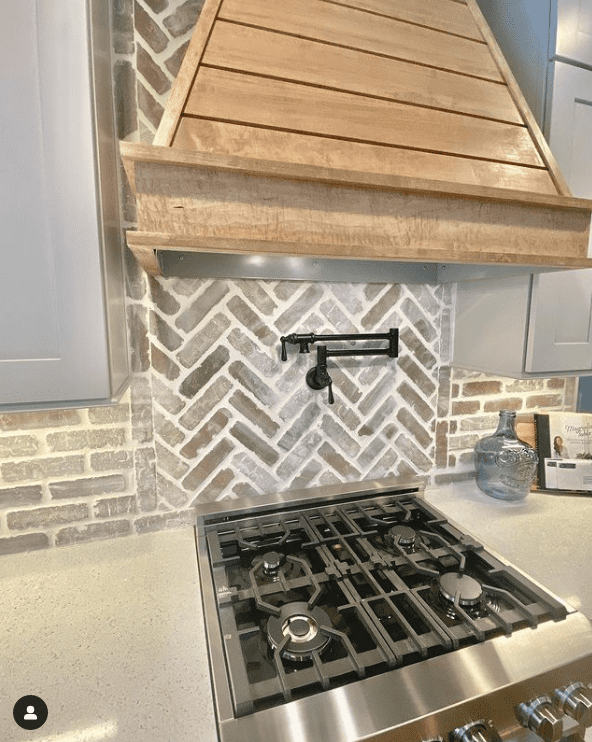 Everything about this kitchen has depth and texture, which I totally love. This includes the vent hood on top, the brick backsplash, and the stainless-steel stove. The gray maple kitchen cabinets simply pull everything together and act as statement pieces.
An Integrated Kitchen Design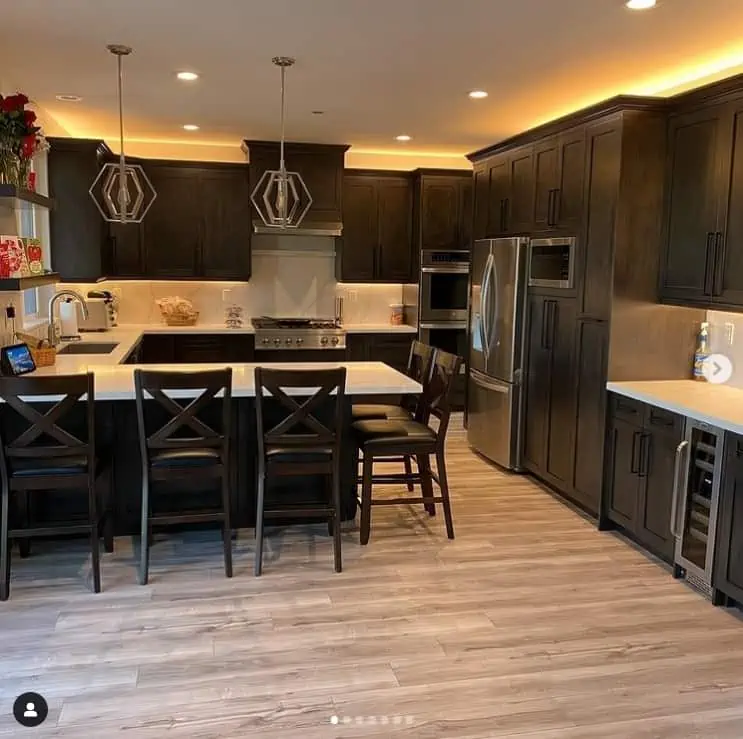 Three-dimensional elements and surfaces that transform with the light in a kitchen deliver a modern twist to maple kitchen cabinets. The maple wood provides texture and depth when combined with cool, flat-fronted doors in a dark shade. This, in turn, enhances the tension between plains and patterns.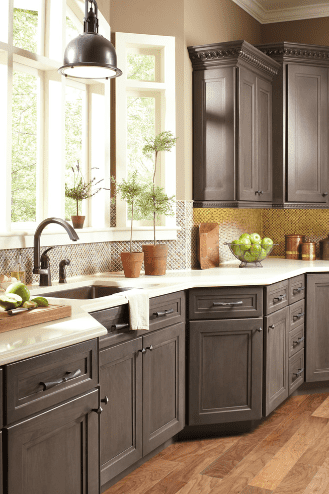 Here, antique furniture's traditional craftsmanship and hues have been skillfully brought up to date with contemporary lines and detailing. Take the inspiration and create cabinet doors with distinctive cross-direction veneers.
Better yet, I suggest pairing it with dark marble and other luxury materials to create a unique kitchen space. Ooo la la!
Mixing and Matching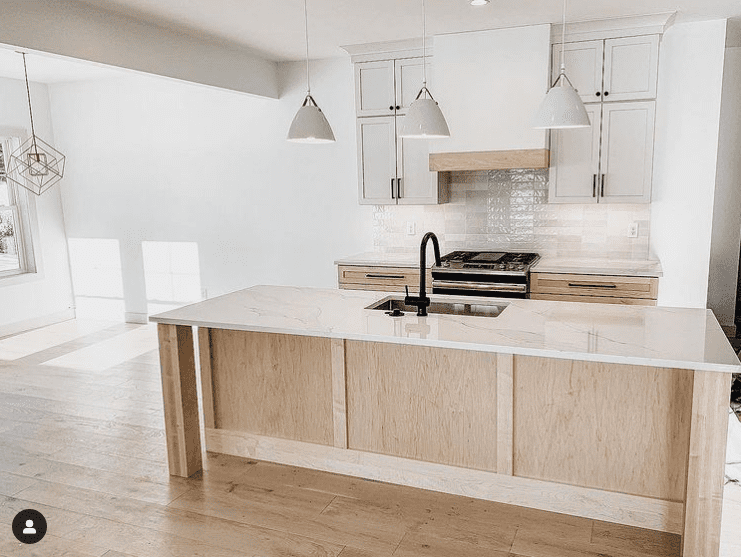 This is one of the few kitchens I came across that had successfully integrated maple cabinets of different shades/finishes. The idea here is to create a subtle contrast in a kitchen room already dominated by neutral tones. The light tones of the maple cabinets will form a great pairing against the rustic wood with a darker shade.
An Unconventional Neutral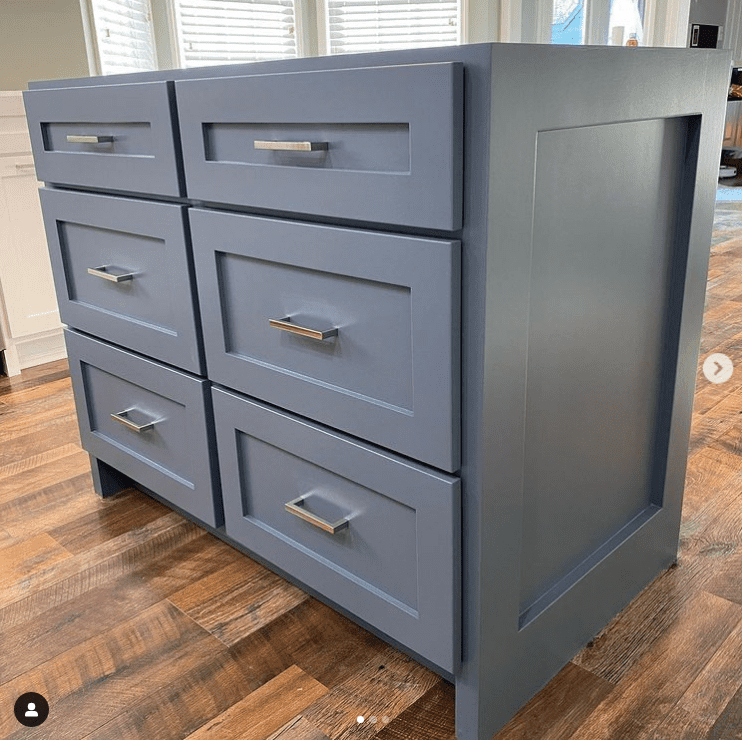 Most people prefer bright white kitchen cabinets or all-neutral looks, but I urge you to give into colors. Colors on maple kitchen cabinets are one of the easiest ways to boost visual appeal. A splash of color has been slapped onto the unit to complement the surrounding white cabinets.
Shaker Maple Slate Cabinets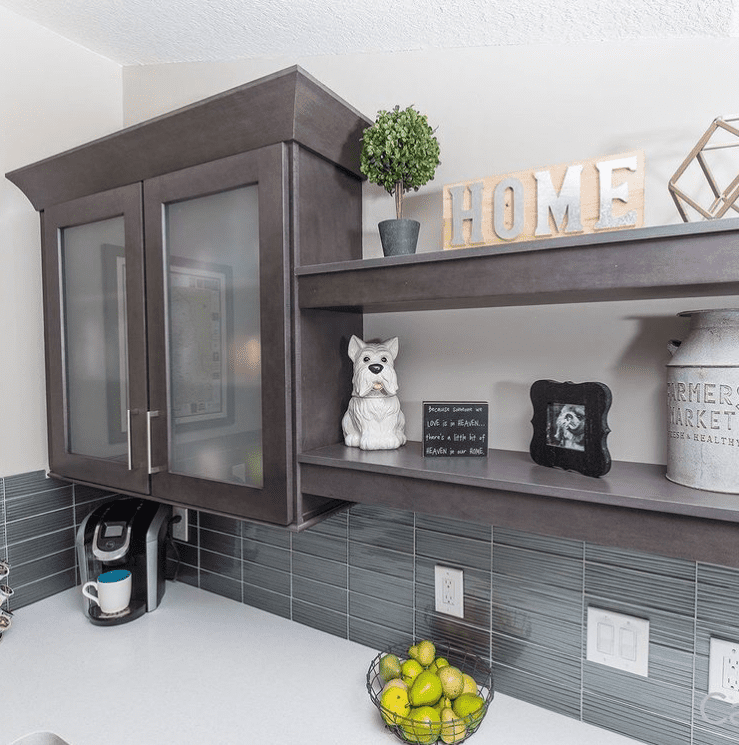 Taking timber (in general) in a contemporary direction requires a considered approach. This ensures you don't miss out on the timber's natural beauty. Here, the designer chose wall-mounted cabinets and a coffee bar in black stained maple wood.
You'll also love that the kitchen space balances contemporary and traditional. Even though the construction is clearly solid wood, the hue makes it abstract, which adds a modern quality.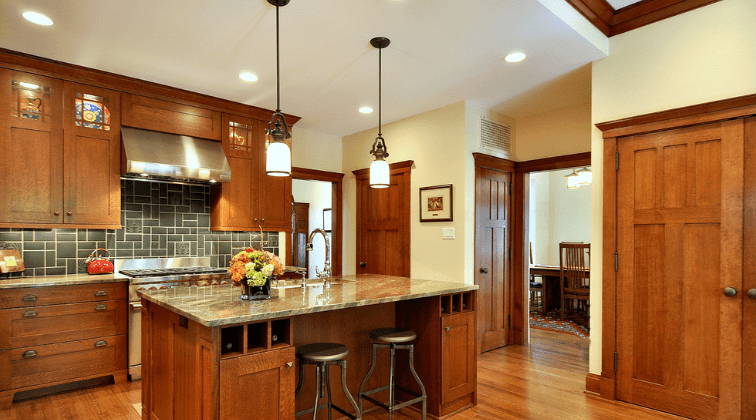 Is an all-maple kitchen cabinetry option too heavy for you? Why not break up the unique qualities of these cabinets with a central feature, like a kitchen island?
Here, maple wood has been used to create the focal design and act as the kitchen room's welcoming hub. The maple cabinets' beautiful grain, warm color, and structure stand out against the cool gray backsplash and granite countertops.
White Minimalism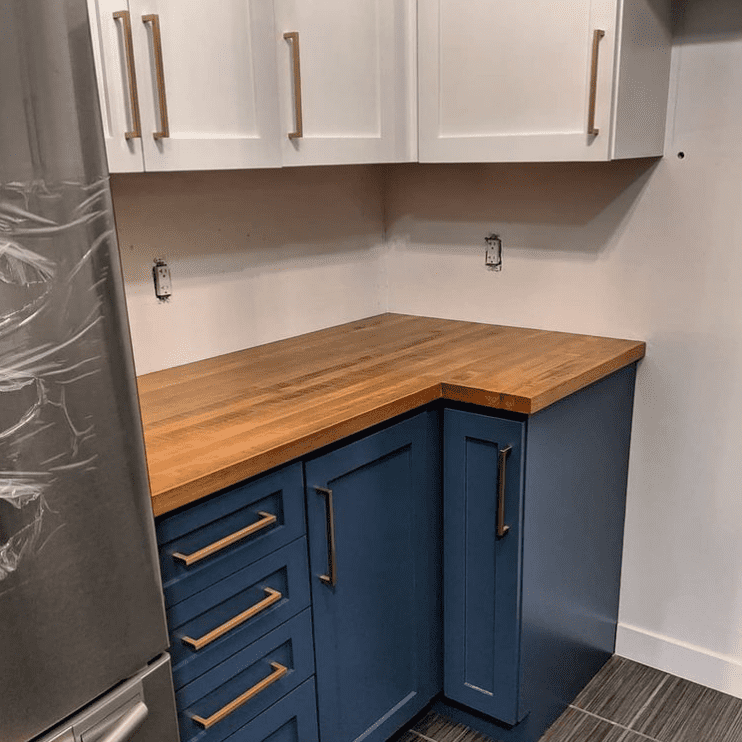 This is yet another proof that maple kitchen cabinets can look astonishingly good when painted a crisp shade of white. This corner kitchen design uses an elegant maple cabinetry style placed next to stainless steel appliances. The contrasting shade between the counter and cabinets underneath is also a nice touch.
Gray Sophistication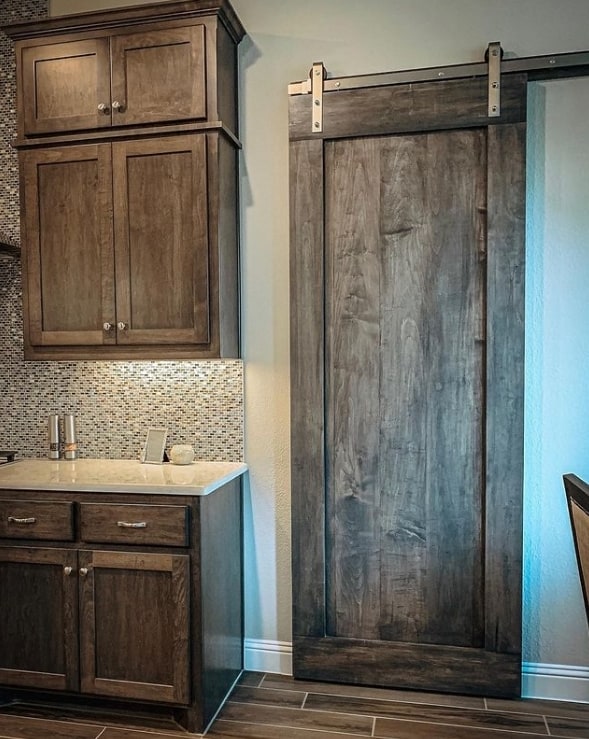 Another smart way to upgrade the style of your maple kitchen cabinetry is using a fresh coat of unique paint. Are you a fan of modern looks? Then it's safe to say gray will deliver a healthy dose of sophistication you're sure to appreciate.
As shown above, the shade awards maple cabinets a stylish appearance without a hassle. For the best results, ensure you contrast the gray cabinets with a lighter-toned countertop.
Scandi-Style Kitchen Cabinets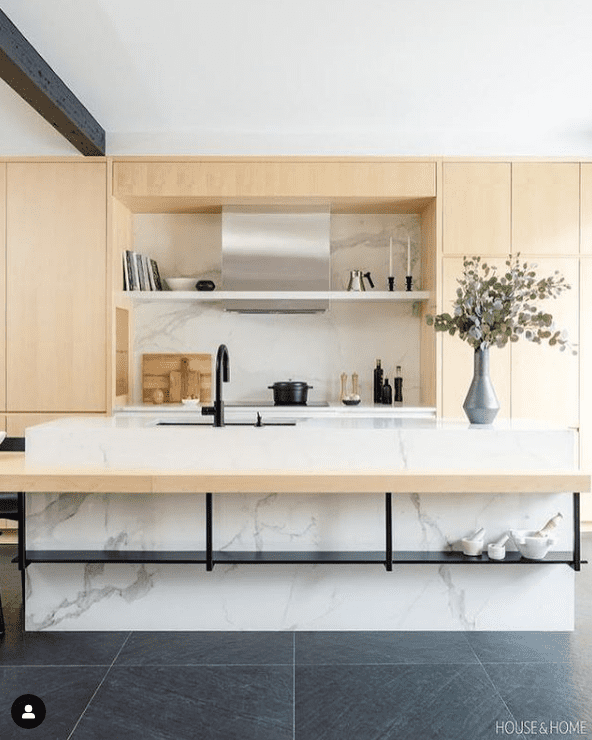 Is your aim to create a space that feels less like a cook station and more like a living space? Then this pared-back approach to maple kitchen cabinets may appeal to you. The flat-fronted wooden cabinetry is easy to live with and enduringly timeless.
The cabinets will also deliver loads of character if you pick a maple wood finish with noticeable grain or texture.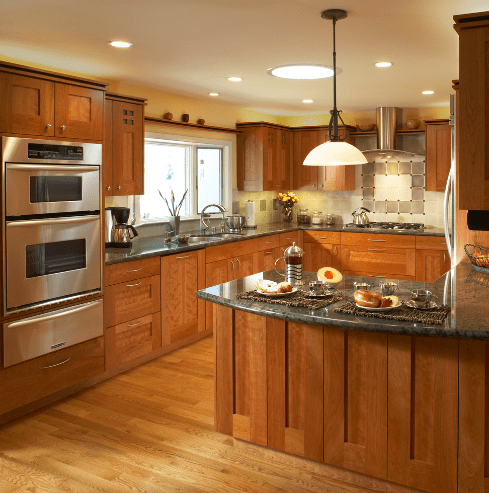 This highly layered kitchen is designed to preserve the charm of a farmhouse-style home. The space emits a fantastic combination of both old-world and modern elements as the maple cabinets perfectly contrast exposed hardware.
The wall-mounted stove and the countertop stone add a hard-to-beat fine detail that helps other kitchen elements pop.
Laid-Back Style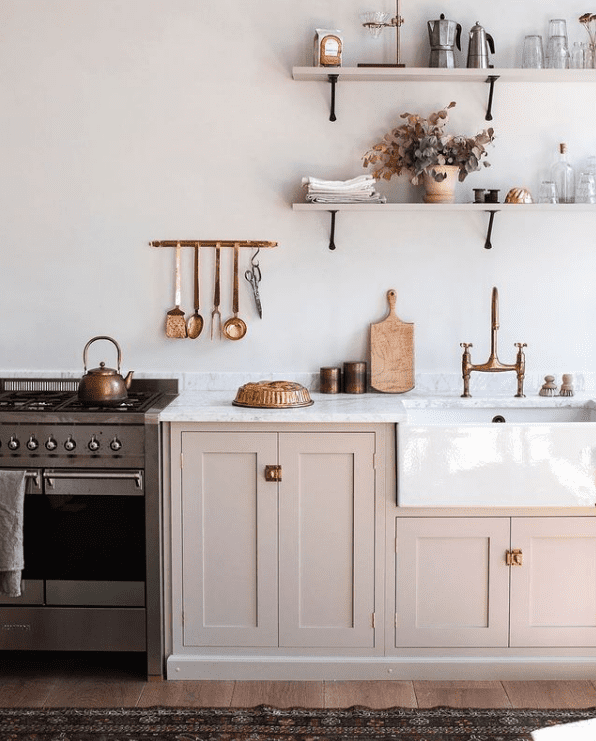 Maple kitchen cabinets will look amazing in some of the smallest kitchen spaces. Look at this compact area where the lightweight cabinet's neutral-toned color scheme has helped create a laid-back style.
The panels will feel warm and inviting, particularly when bathed in generous amounts of natural light.
Reclaimed Maple Wood Cabinets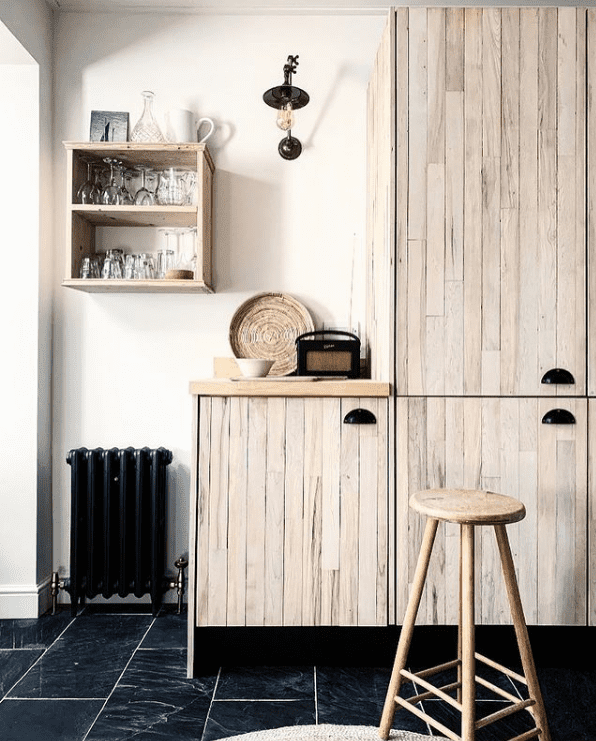 Reclaimed maple wood has clear environmental benefits, not to mention a unique historic appeal. Traditionally associated with very timeworn, rustic kitchen styles and designs, these kinds of wood demonstrate a more sophisticated approach.
The geometric door fronts are made from old timber shelving and are beautifully executed for maximum impact. Note that the wood is water resistant and hardwearing.
Contrasting Cabinets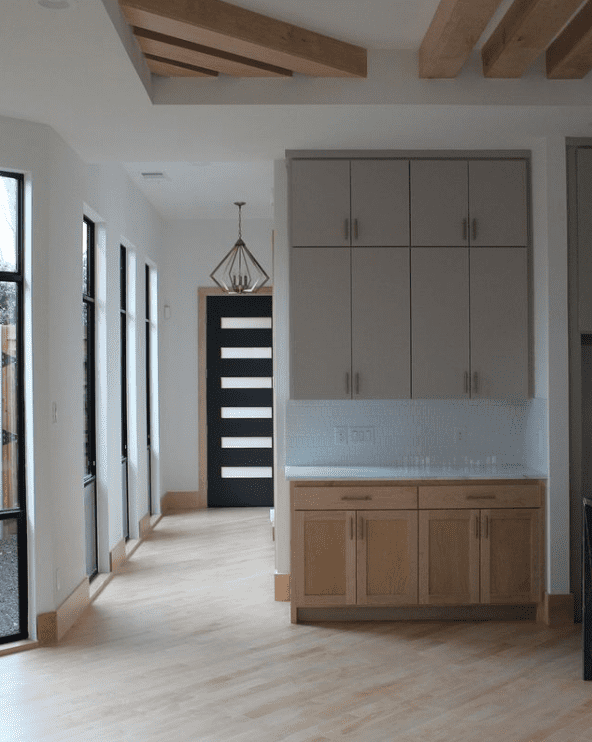 The contrast of the white maple cabinets on top against the brown cabinetry below delivers a modern and refreshing look. Every other design element inside this kitchen space is kept neutral or minimal to allow the cabinetry to shine.
Hand-Crafted Maple Kitchen Cabinets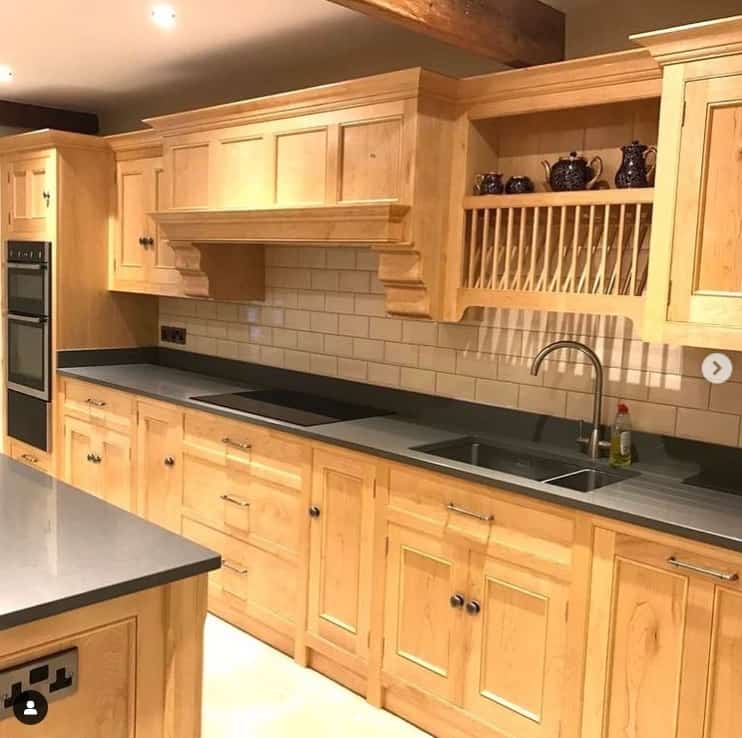 I bet sophistication isn't one of the first things you think about when you think of maple kitchen cabinets. Well, this hand-crafted maple kitchen cabinet is here to change your mind. The natural maple cabinets look stunning against the tiled backsplash and dark granite countertop.
The maple cabinets also evoke a sense of comfort only expected in traditional spaces (despite this kitchen's array of modern elements.)
Shaker Cabinets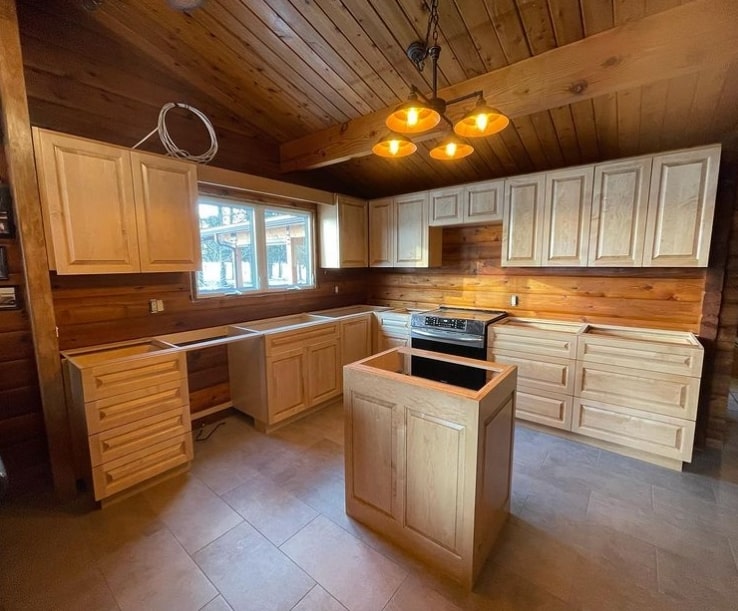 The maple cabinetry system in this kitchen is extremely simple to install. We can mainly attribute that to the fact the system is geared toward convenience and practicality above all else. The aesthetic appeal the unit delivers won't disappoint either.
Tuscan Aesthetic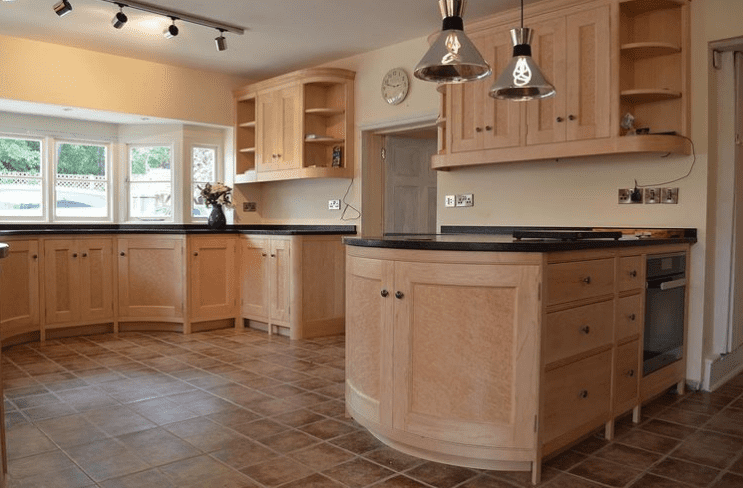 Thanks to a higher sheen applied to all the cabinets, the look of this outdated set are beautifully rejuvenated. The architectural details and color palette used is reminiscent of Tuscan interior designs.
Better yet, thanks to the big window, the kitchen takes advantage of natural light to enhance the cabinet's beauty. You just can't put a price on natural light.
Glass Cabinet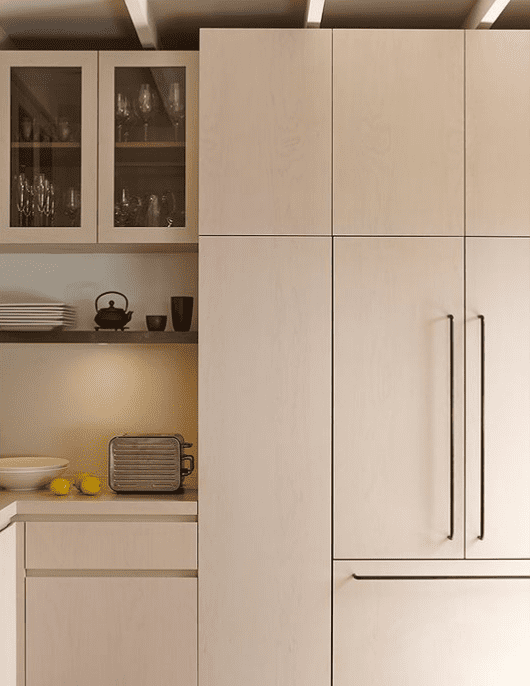 The glass cabinet at the top-right corner of this maple cabinet has single-handedly created a classier look for the kitchen. This kitchen relies on warm hues for its cabinetry and adding a glass cabinet simply completes the style.
Consider adding greenery (such as a plant pot) to create a lively atmosphere.
Warm Maple Tones with Open Shelving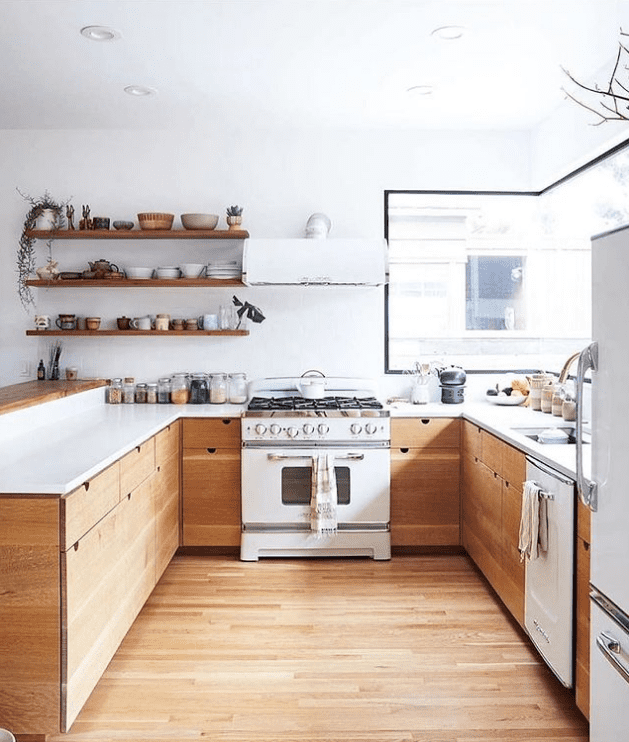 Keeping maple wood use below eye level is more peripheral and doesn't overpower. It can also help the space look less "kitcheny."
Here, maple wood was chosen for its robust, tightly knitted grain and soft washed tones. The wood also appears to be finished with a specialist coating to provide resilience without altering the wood's natural look.
Scandinavian Inspiration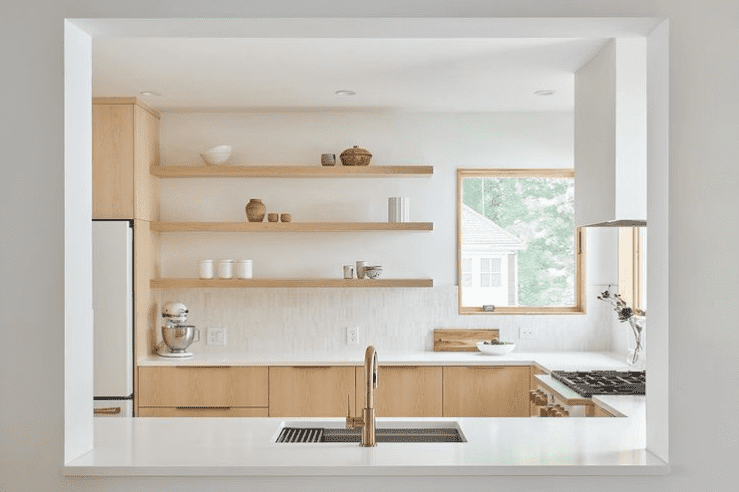 Designed in a sleek, minimalist style, this elegant open-concept kitchen features maple kitchen cabinets that emphasize its modern visual appeal. The kitchen appears to be an American design, but it's undeniably reminiscent of Scandinavian design. That's further reinforced by the clean lines and warm neutral color scheme the surrounding delivers.
Other Wood Species to Consider
It's undeniable that most woodworkers prefer maple over most other types of wood, and for a good reason. It's incredibly strong, one of the most durable woods, and it boasts a smooth grain pattern you're sure to love. But what about cases when maple isn't an option (perhaps due to budget constraints), but you still desire the maple wood appeal? Well, that's where woods like Beech, Pine, and Birch come into play.
These woods have similar properties to maple and will still work in the kitchen's hot and humid environment.
Birch
Looking at birch and maple side-by-side with an untrained eye, you may be unable to tell the two apart. Perhaps that's one of the many reasons birch is arguably the most popular Maple wood replacement.
Another reason is the characteristics of birch wood. This wood variety ranges from nearly white to a light golden-brown shade. The latter is the most consistent shade. Red birch is also a common variety, and it comes from the heartwood of the yellow birch tree.
Another characteristic of birch wood is it provides sturdy structures and is resistant to the elements. When assembling your cabinets from birch wood, ensure you drill guide holes for a clean installation.
The third set of reasons you should consider using birch wood as a maple alternative is its stains and finishes. Birch cabinets aren't just easy to stain. They're also one of the easiest to glue, cut, and sand, making renovations a breeze.
For a richer look, red birch cabinets are best left in natural color and finished with a reddish stain. And if you decide to paint them, you'll be glad to know that birch also takes paint well. If you're going for the rustic aesthetic, I recommend going for natural birch cabinets. They lack that glossy, mirror-like surface and have a rougher texture.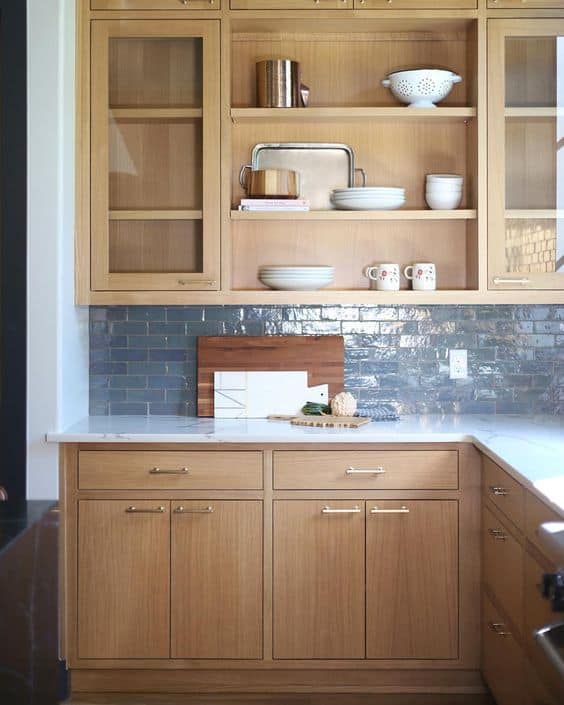 Pine
Pine wood is moisture resistant and won't crack or swell. That's primarily why this wood is an excellent choice for humid environs like busy kitchens and even bathrooms. Pine wood is also quite soft, making it easy to work, mainly when carving custom-made cabinets.
Why else should you consider getting pine wood cabinets as a maple replacement? Well, they are a classic and beautiful choice. Because of these cabinets' gentle color, smooth grain, and soft texture, they work well with both traditional and contemporary interiors.
Better yet, since they grow natively across North America, they're more affordable than most other natural wood cabinets.
Feel free to either paint your pinewood cabinets or let them wear their natural finish. With their natural finish, the wood develops an aesthetic patina over time. And if you opt to paint them over, you'll find that the wood's smooth texture takes coats of paint quickly.
Before looking at the last maple wood alternative, allow me to highlight pine wood's weakness. While the wood is easy to work with, it can easily get scratched or dented. So take good care of your pine cabinets.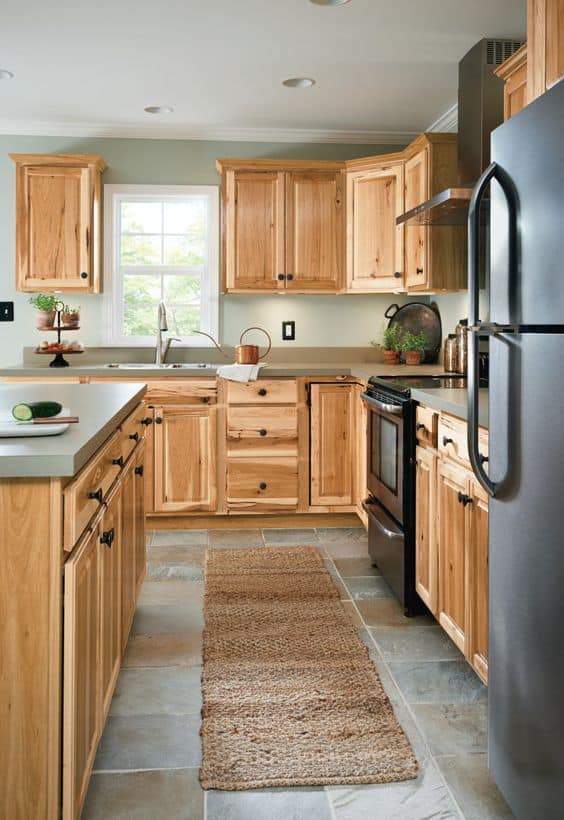 Beech
Beech is a straight-grained maple wood alternative with a silvery fleck pattern on quartersawn surfaces. On flatsawn surfaces, it has a plain, fine texture. Beechwood is also diffuse-porous with numerous small-to-medium pores that give it its fine texture.
Regarding durability, beech is quite durable, just like maple, even though it's slightly susceptible to insect attacks (again, like maple.) Additional characteristics shared by both maple and beech include a high bending strength and a high crush strength. That explains why both are also perfect for steam bending.
Surprisingly, you'll likely come across woodworkers who prefer beech wood over maple in cabinetry. Usually, they reason that beech, unlike maple, doesn't impart odor or flavor in the kitchen. It's also gentler on knife blades.
That said, if you decide to use beech wood, consider sealing it properly to avoid warping due to humidity.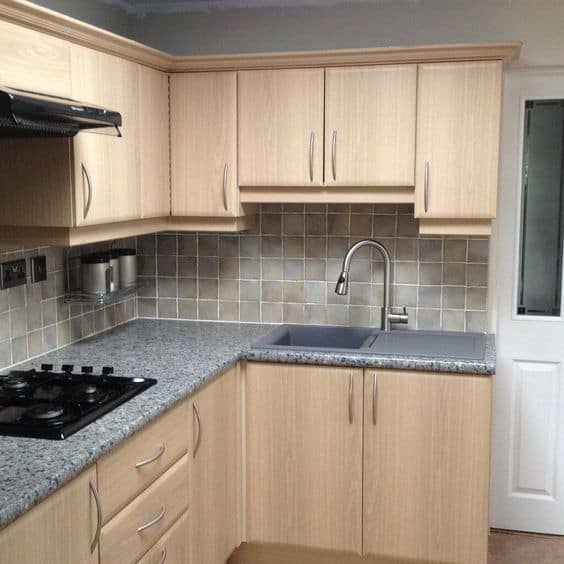 FAQs
Question: Are Maple Cabinets Outdated?
Answer: No, not in the slightest. Maple wood cabinets are enduringly stylish, and designs using sustainably reclaimed or produced woods are now more popular than ever. However, the design of maple kitchen cabinetry has changed over time. Distinctive, textured finishes and inlays are at the forefront of kitchen trends.
Question: Is Maple a Good Choice for Kitchen Cabinets?
Answer: Maple wood is stylish and sustainable, comes in a wide array of natural colors, and doesn't absorb debris. So yes, maple is an excellent choice for kitchen cabinets. It's also a great choice for kitchen cabinets because you'll rarely need to replace the hardwood. Take care to keep it looking top-notch.
Question: What Colors Go Well with Maple Wood?
Answer: Maple Cabinets work wonderfully with a wide array of complementing materials and colors. Colors that will look stunning next to your maple cabinets include white, mint green, taupe, teal, turquoise, bright green, and mushroom. Picking the right shade can highlight the tone of your maple wood.
Question: What Counters Go with Maple Cabinets?
Answer: Looking to match your counter with the maple cabinets? Consider granite countertops, high-end laminate, Corian countertops, or other natural-toned surfaces. You could also consider matching with low-maintenance quartz.
Bottom Line
There you have it, my awesome guide on timeless maple kitchen cabinet ideas. These units will bring texture and warmth in abundance in any shade and finish. That means all you need to do now is read the list, pick what inspires you, and go for it. If you love a modern spin on a rustic look, I'd recommend something like the modern farmhouse-style maple kitchen idea.
And if maple isn't an option in your situation, feel free to go with one of the alternatives above. They're all also durable enough to withstand the traffic that being in your kitchen will put them through. Want more ideas for the home? We've got endless tips and recs on our site!
Read More: