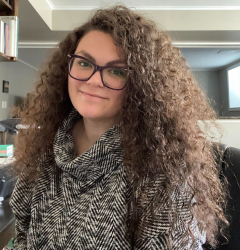 Latest posts by Candace Osmond
(see all)
If you're looking for the best ideas on Robern medicine cabinets, you've come to the right place. I'll share all the info you need to make the right decision before purchasing one of these beauties for your home. I'll also give you some great ideas on how to use a Robern cabinet to its full potential. So, whether you're a first-time buyer or a seasoned pro, read on for the best advice on Robern medicine cabinets!
Bottom Line Upfront
Robern makes amazing medicine cabinets. There's no doubt about that. And there are tons to choose from in their long line. But I love what the owners did in The Sexy Darkness look because I always choose large mirrors. Plus, it lights up!
About the Robern Brand
Robern is a luxury home brand that was founded in 1968. Their products are known for their world-class quality and cutting-edge design. From beautiful mirrors to sleek medicine cabinets and elegant vanities, Robern has become a leader in high-end home decor.
Their pieces are perfect for homeowners wanting to add a smidge of elegance and refinement to their living spaces. Whether you want to spruce up your bathroom or give your bedroom a touch of sophistication, there is no doubt that Robern has the perfect product for you.
Top 5 Picks
Best Overall: R³ Series Cabinets
Best High-End Option: AiO Lighted Cabinets
Best Modern Look: Murray Hill Cabinets
Best for Small Spaces: M Series Reserve Cabinets
Most Size Options: PL Series Cabinets
Robern Medicine Cabinets
Uplift Tech Cabinets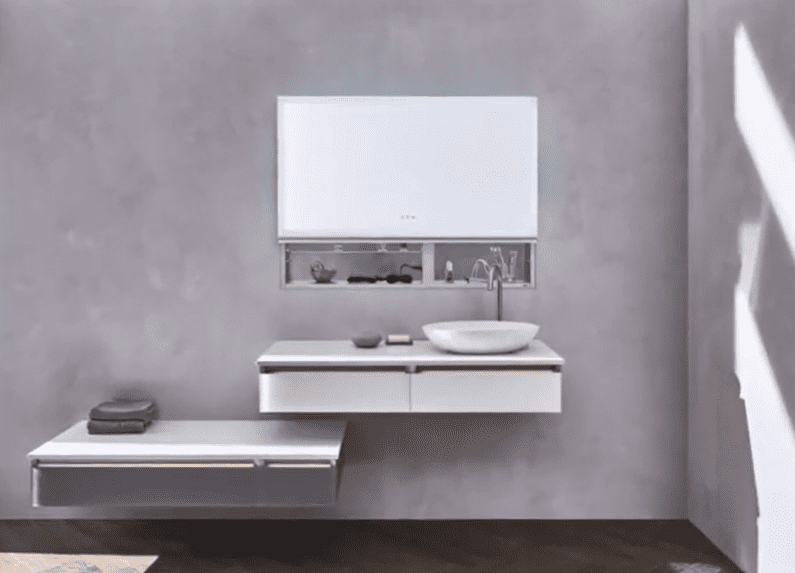 Uplift Tech medicine cabinets are some of the more popular home decor and storage products. These high-quality cabinets feature a variety of useful features that make them ideal for anyone who is looking to upgrade their bathroom.
For example, these cabinets come equipped with dimmable LEDs, allowing you to control the amount of light emitted from the cabinet.
They also include USB outlets so you can easily charge your phone or other devices while using the cabinet. In addition to these modern conveniences, Uplift Tech cabinets also feature a mirror defogger and built-in night lights for added convenience.
If you're looking for an elegant and sophisticated way to organize your bathroom, look no further than the Uplift Tech 48″ x 27″ x 6″ lighted cabinet. This luxurious cabinet features an anodized aluminum handle for a sleek and modern look and integrated perimeter lighting for a subtle glow that adds ambiance to your space.
With features like interior lighting, electrical outlets, USB charging ports, a night light, and even a defogger, this cabinet is perfect for all of your storage needs.
AiO Lighted Cabinets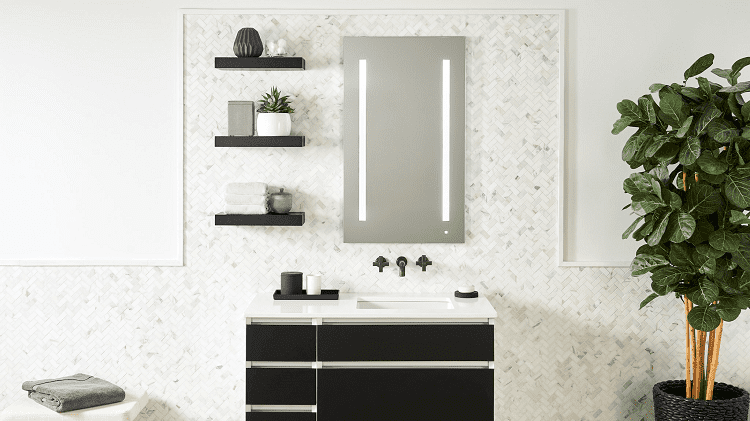 The AiO Lighted Cabinets by Robern is a premium vanity solution offering various advanced features to suit every need. First and foremost, the cabinets feature dimmable LEDs on both sides of the mirror, providing excellent illumination for grooming and makeup application.
In addition, integrated USB outlets are built into the sides of the mirror, making it easy to charge your devices while you get ready in the morning. And finally, these cabinets also come with a magnifying mirror – perfect for close work or for folks with poor eyesight.
Anyone would be hard-pressed to find a better vanity solution than AiO Lighted Cabinets by Robern. Its combination of high-quality materials, beautiful design, and cutting-edge features make it an absolute must-buy for any home or bathroom renovation project.
The Modern AiO Cabinets are Also Available on Wayfair.
M Series Cabinets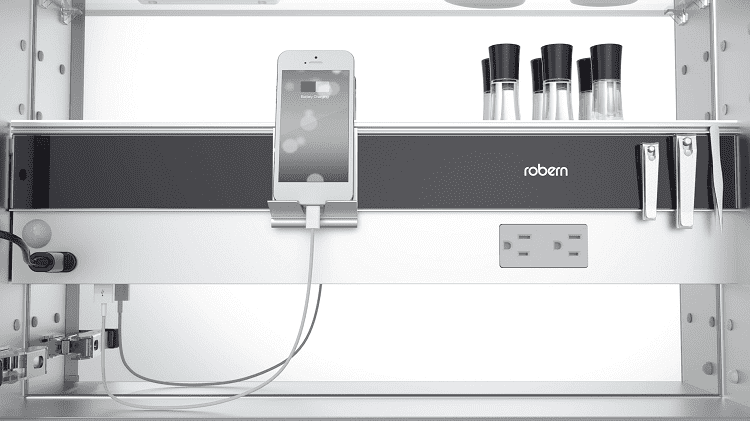 The M Series Cabinets by Robern are a line of high-quality bathroom cabinets with an array of top-of-the-line features and benefits. Designed with both form and function upfront, these cabinets incorporate a number of innovative touches that make them ideal for any bathroom setting.
Whether you're looking for convenient heating capabilities, integrated LED lighting, or a magnifying mirror with built-in electrical outlets, the M Series cabinets have got you covered. And thanks to their modular designs and sleek, contemporary aesthetics, they will not only enhance the overall appearance of your bathroom but also make your life easier and more practical every day.
You can find these cabinets on Wayfair at a really good price!
Arched Top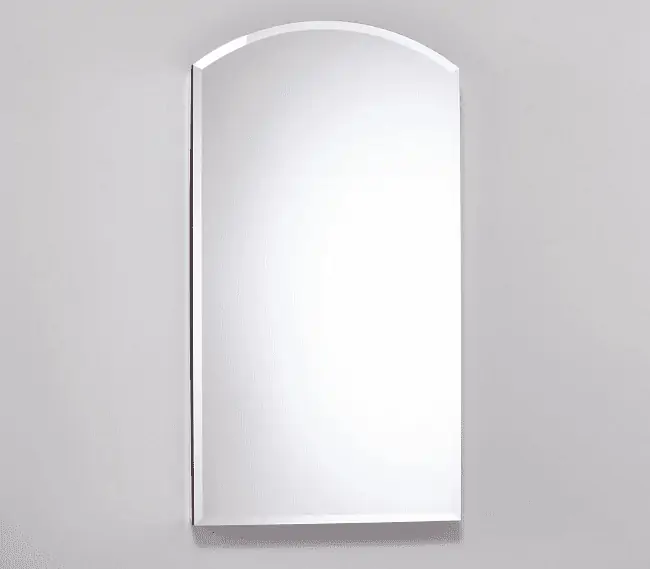 Welcome the M Series 23-1/4″ x 43-3/8″ x 4″ arch top cabinet, which is a versatile and durable choice for any bathroom. With a traditional style and beveled edge, this cabinet is sure to complement almost any decor.
It features an electric defogger and nighttime light, ensuring optimal visibility even in dark or damp conditions.
M Series Reserve Cabinets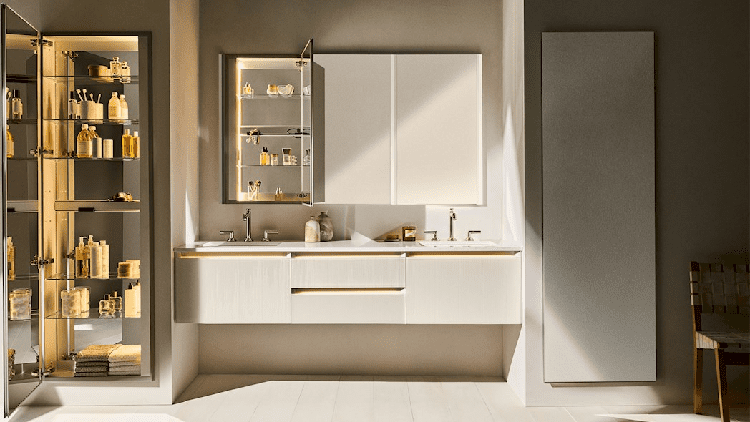 The M Series Reserve Cabinets, by Robern, are the ultimate storage systems. These cabinets include a wealth of features that make them ideal for any bathroom or bedroom. For instance, they feature a magnifying mirror on two of the doors, which is perfect for getting a closer look at your skin and makeup.
These cabinets include USB outlets that let you easily charge your phone or tablet while you get ready. Other great features include interior lighting to illuminate your items at night, as well as magnetic closures that keep the doors securely shut.
This premium medicine cabinet features polished edges and slow-close hinges for a sleek, modern design, as well as a variety of storage options to keep your toiletries and small accessories neatly stored away.
With its magnetic storage, tray storage, sliding magnification mirror, wire organizer, interior lighting, USB charging ports, electrical outlets, and storage bins, this cabinet has everything you need to organize your entire bathroom.
PL PORTRAY Cabinets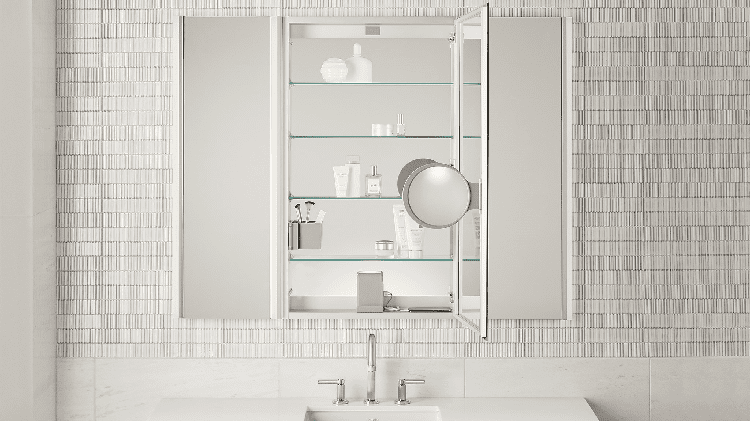 The PL PORTRAY Cabinets by Robern are the ultimate vanity cabinets for anyone looking to elevate their daily routine. With a sleek design, impressive features, and high-quality construction, these cabinets allow you to truly take care of yourself every day.
Some standout features include a magnifying mirror, an interior lighting system that automatically engages as you open the cabinet doors, magnetic closure for extra security, and a modular design for easy custom configuration. Additionally, these cabinets come with a number of thoughtful touches, such as slow-close hinges and integrated USB charging ports so that you can stay connected while getting ready in the morning.
Feast your eyes on the beautiful PL PORTRAY cabinet. With integrated light and a magnifying mirror, this IS the product for putting on your makeup, doing your hair, and storing all your toiletries in the generous space provided.
Profiles Cabinets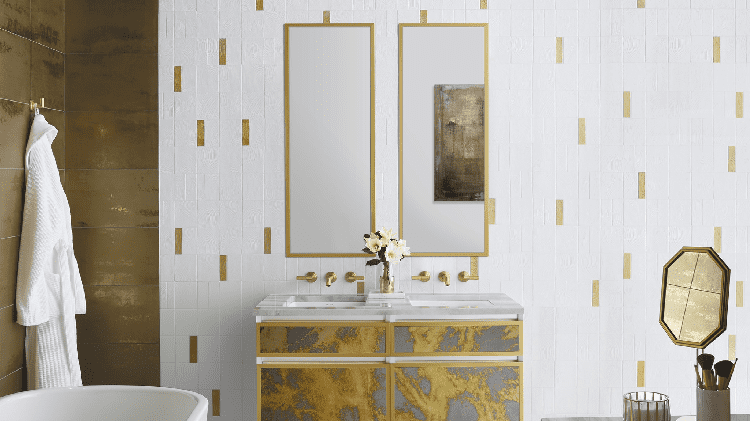 The Profiles Cabinets by Robern are a stylish and functional choice for any bathroom or dressing area. This unique cabinet features a number of innovative design elements, including magnifying mirrors, interior lighting, magnetic closures, modular construction, and electrical outlets for convenient charging.
Whether you're looking to equip a large bathing space or a small vanity station, the Profiles Cabinets is sure to impress with its striking style and top-of-the-line functionality.
With its sleek lines and smooth surfaces, the cabinet adds an element of drama to any styling space. The built-in magnifying mirrors are great for grooming or makeup application, while interior lighting ensures that you can see every detail when getting ready in the morning or evening.
The magnetic closures make it easy to access your belongings quickly and efficiently, and the modular design lets you customize your storage options as needed. Plus, with built-in electrical outlets, you'll never have to worry about chargers or other devices cluttering up valuable counter space.
Profiles also come at a really good price on Wayfair. With subtle golden frames and thin profiles, these medicine cabinets are a bathroom dream. They can make a bathroom with a low ceiling seems taller, and the frame color goes well with both modern and traditional bathroom setups.
Murray Hill Cabinets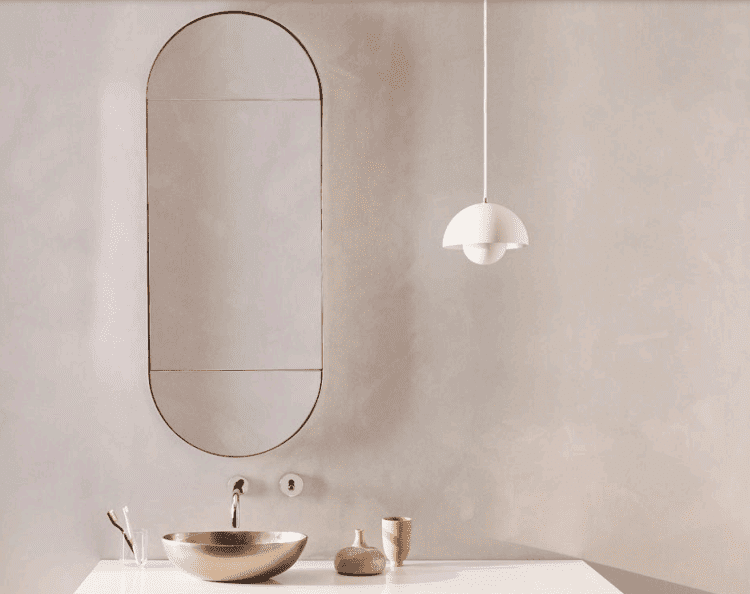 The Murray Hill Cabinets by Robern is an innovative, top-of-the-line cabinet system designed to meet the needs of modern homeowners. Featuring a range of innovative features, this product offers something for everyone. First and foremost, it includes a spacious and easily customizable storage compartment that can be outfitted with tons of great features to suit your space and needs.
Some of these features include a magnifying mirror, electrical outlets, interior lighting, a magnetic closure that ensures the doors are securely shut when not in use, and more. Additionally, users can choose between a traditional arch shape and a contemporary pill shape for their mirrors.
This gorgeous pill-shaped mirror feels like an eccentric luxurious piece for your bathroom. With a magnifying mirror, three shelves for storage, and a soft closing magnetic mechanism, this works so well in bathrooms that focus on elegant shapes and curves.
Arched Murray Hill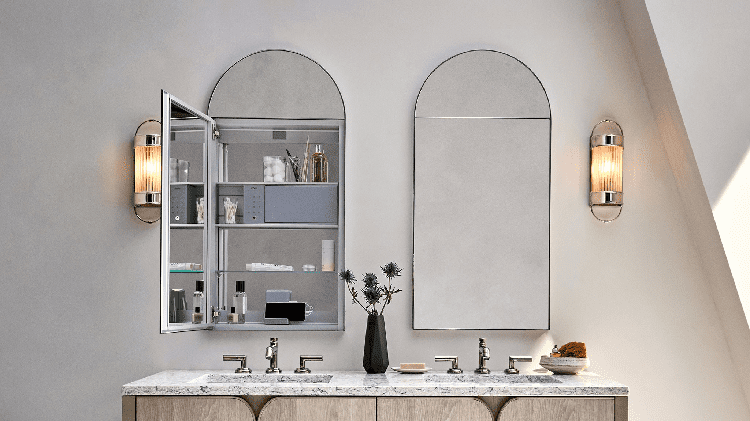 Catch a side-by-side glimpse of these stunning arch-shaped Murray Hill mirrors. This entire setup focuses on round corners and elegant bathrooms, with sconces that further enhance the intimate appeal of the setup.
Vitality Lighted Cabinets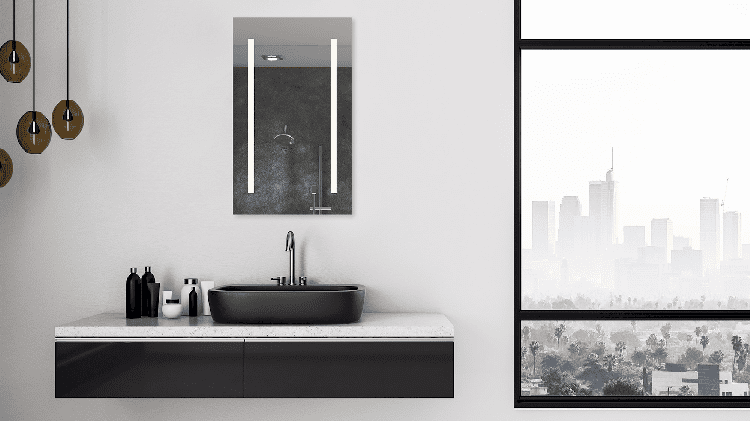 The Vitality Lighted Cabinets by Robern are an innovative and customizable way to maximize your bathroom space. Designed with a modular system that lets you to mix and match various components, these cabinets include everything from essential lighting and electrical outlets to built-in magnifying mirrors and dimmable LEDs.
The Vitality Lighted Cabinets have you covered if you need additional storage in your bathroom or simply want some extra light while getting ready in the morning. The Vitality cabinets will immediately enhance the appearance of any modern bathroom. With integrated lights, they look stunning above these floating vanities. Go for two medicine cabinets if you have a double-sink setup.
Round Corner Metal Cabinets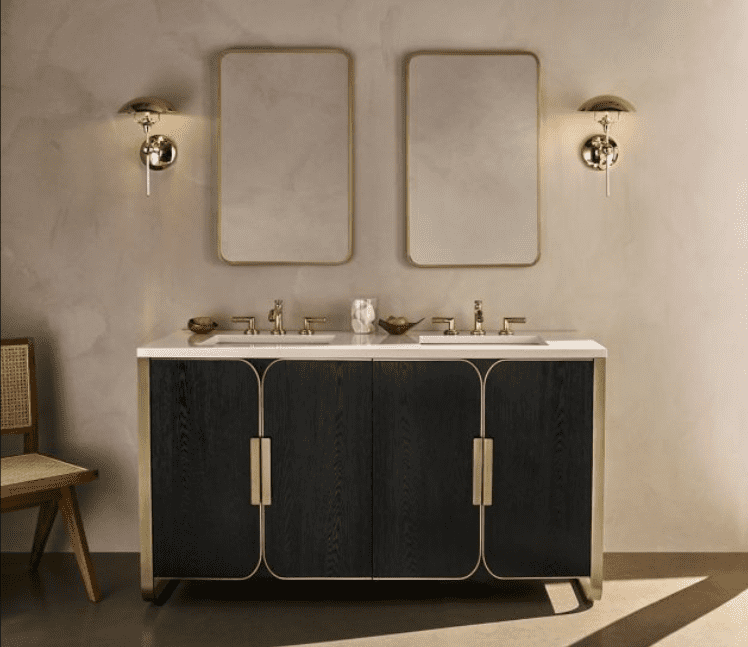 The Round Corner Metal Cabinets by Robern are a must-have for any modern home or office. Featuring a sleek and sophisticated design, these cabinets feature high-quality construction and premium materials. The magnetic door closure ensures that the doors stay firmly shut, even when a cabinet is fully loaded with heavy items.
With interior lighting, you can easily see what's inside each cabinet, even in low-light conditions. Additionally, the USB outlet lets you conveniently charge your devices right on your cabinet.
Looking to boost the modern appearance of your bathroom? When you have sink vanities with rounded corners, these medicine cabinets are just the cherry on top. Their gorgeous golden frames are a perfect addition to the matching sconces and plumbing plus hardware combo.
Thin Framed Metal Cabinets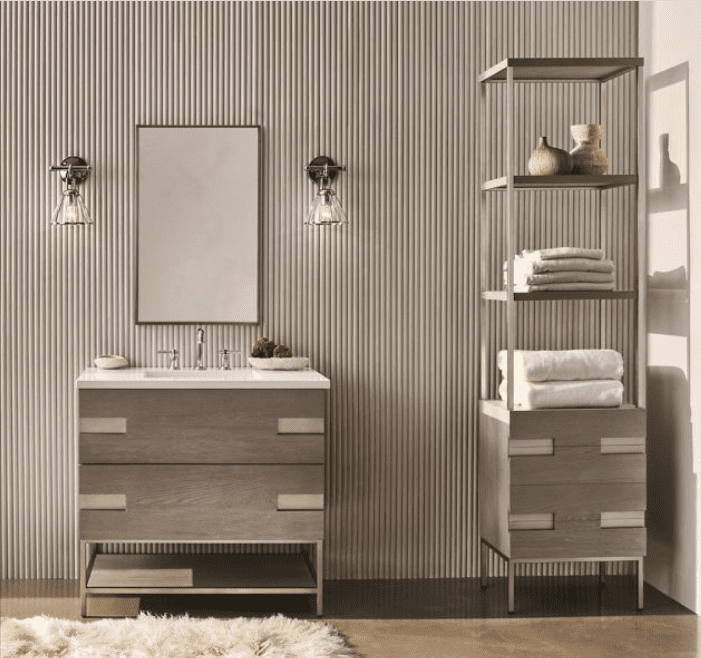 As anyone who's spent time looking for the perfect bathroom cabinet knows, choosing a high-quality piece can be a real challenge. Many cabinets are bulky, unattractive, and difficult to install, while others are missing key features like interior lighting or electrical outlets.
And that's why the Thin Framed Metal Cabinets by Robern has become so popular among homeowners and designers alike. These sleek, streamlined cabinets feature top-notch materials like magnetic closures and USB charging ports, all in durable metal framing that goes with just about any design style.
Modern bathrooms are all about thin frames and clean lines. These cabinets just blend into the decor because of their minimalist design and clear-cutting edges. The tech features that Robern brings to the table are just a bonus.
Industrial Metal Cabinets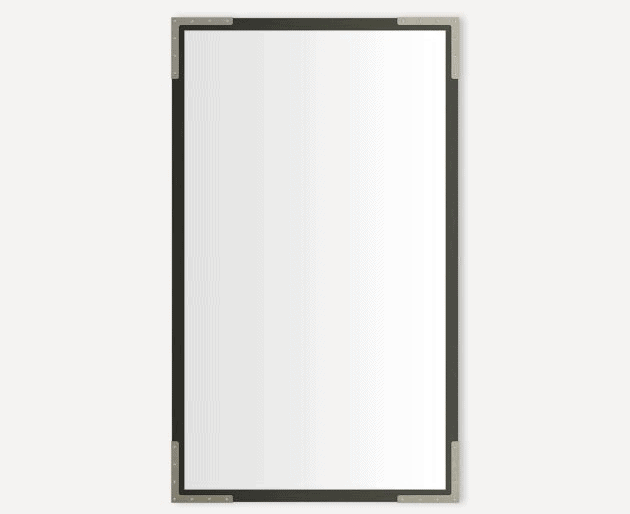 The Industrial Metal Cabinets by Robern is designed to be both functional and stylish. These cabinets include a number of standout features that make them a must-have for any home or office. For starters, they feature a magnetic closure that's easy to open and close, even when your hands are full.
These cabinets come equipped with a handy USB outlet, allowing you to conveniently charge your devices right on your cabinet. They also include interior lighting so you can conveniently find what you need each time you open the cabinet doors.
In addition to these impressive features, the Industrial Metal Cabinets are available in either 20 or 24 inches wide. And their bold corner accents in contrasting metal finishes provide timeless, rustic beauty to any space.
Main Line Cabinets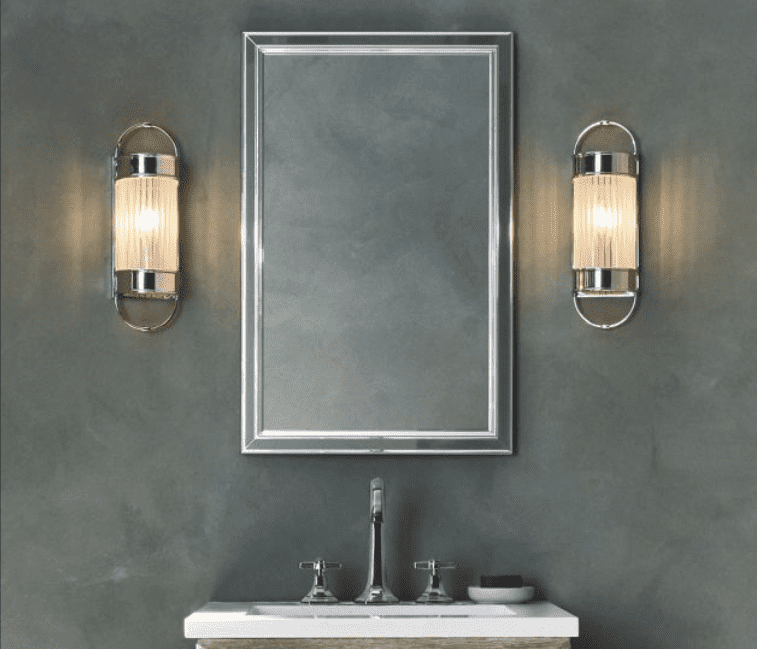 The Industrial Main Line Cabinets by Robern are popular among those looking for well-designed, functional bathroom cabinets.
This line of cabinets incorporates all the latest technology while still maintaining a classic, sophisticated look. Some of the key features of these cabinets include magnifying mirrors, interior lighting, USB outlets, and electrical outlets.
Each cabinet is made with durable materials which are easy to clean and maintain. Whether you're looking for an understated vanity for your powder room or a bold statement piece for your master bathroom, the Industrial Main Line Cabinets by Robern have something to offer everyone.
So why would anyone buy these cabinets? Simply put, they offer the perfect balance of past and present – combining timeless style with cutting-edge functionality to create beautiful storage solutions that stand the test of time.
If you prefer to shop on Wayfair for one of these beauties, check out Wayfair's site!
Have you ever seen a mirror that looks like a work of art? The Main Line medicine cabinet by Robern is so much more than that. It's where technology meets elegance, offering a thin profile frame that works heavenly with that washed grey wall paint.
Double Up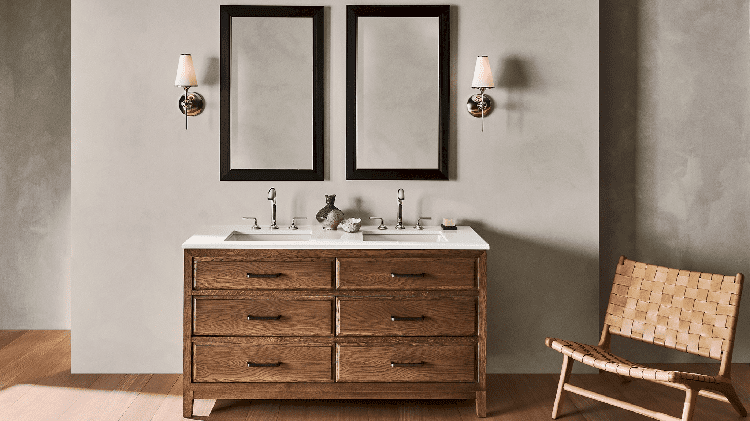 No-frame medicine cabinets with mirrors might not cut it for every bathroom setup. These cabinets are great for a more traditional setup. The dark frames match any wall paint color, and the natural wood appearance of the vanity fits right in!
R³ Series Cabinets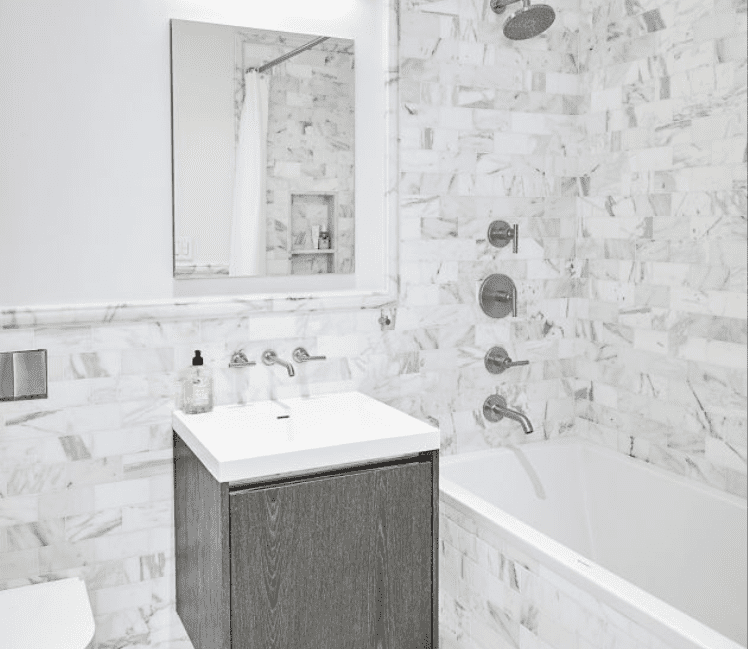 Some medicine cabinets stand out, and others blend right in. If it's the latter you're after, the R3 Series is a sight for sore eyes. Because it has no frame, it matches any bathroom color scheme, including this combo of white and gray.
When it comes to upgrading your bathroom, there are many options to consider. Choosing a high-quality cabinet, like the R3 Series Cabinets by Robern, is an excellent way to revitalize your space and improve your overall grooming experience.
Designed to effortlessly replace old medicine cabinets while offering upgraded storage and organization capabilities, these cabinets feature a unique 108-degree hinge that allows the door to sit flush against the wall when closed.
Additionally, they feature a convenient plunger mechanism that prevents the door from slamming shut, providing a smooth and gentle closure every time. Also, the interior of these cabinets can be tailored to suit your needs and preferences. Their cantilever shelf system features adjustable shelves and concealed adjustment holes in order to provide a truly custom-built appearance.
If you're a Wayfair shopper like me, you can add the R3 Series cabinets to your bathroom décor.
PL Series Cabinets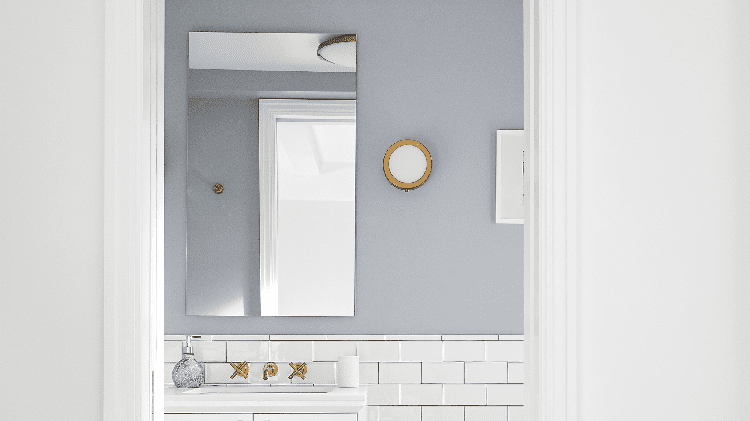 Even people will small bathrooms can enjoy the delicate and tech-imbued Robern medicine cabinets. Look at how well they work in a contemporary bathroom setup paired with golden-finish hardware and plumbing. If you're looking for a high-quality, sleek, and versatile cabinet that can handle all your storage needs, look no further than the PL Series Cabinets by Robern.
These cabinets offer many excellent features, including an elegant mirror system that includes a clear magnifying panel and integrated lighting to illuminate the space and help you get ready in style.
The cabinets can also be outfitted with an electrical outlet for easy charging of your gadgets and other devices. And with five width options to choose from and a modular design that lets you mix and match cabinet modules, the PL Series Cabinets are extremely versatile and customizable.
Finally, with its attractive design and sleek finishes, this cabinet is sure to be the perfect addition to any bathroom or other space in your home.
The PL Series cabinets can also be found on Wayfair if you prefer to shop there.
Some Robern Medicine Cabinet Ideas & Décor Inspo
I love seeing the rise of Robern medicine cabinets online and in magazines. I spent some time scrolling through Instagram and found a few I wanted to share. Each idea encompasses:
The Robern level of luxury
A unique blend of décor styles
Multiple Mirrors
Factors to consider when deciding how many mirrors to use include the size and layout of your bathroom and your personal preferences for creating light and reflection.
One option worth considering is the Robern Medicine Cabinet, which features multiple large mirrors and built-in lighting that can help brighten any space while providing ample storage space.
Additionally, marble sinks make excellent countertops choices in a bathroom setting, as they are not only beautiful but also highly durable, making them easy to maintain over time.
The Modern Wonder
It is generally assumed that a modern bathroom should be sleek and minimalist in design, with sleek lines and a monochrome color scheme. However, there is also room for more traditional elements in the modern bathroom, like wooden sink cabinets.
The clean frame of a Robern medicine cabinet adds an elegant touch to any contemporary bathroom, while its sliding mirror doors allow you to conceal your daily toiletries and other essential items.
When paired with other elements like floating vanities or glass shower stalls, the Robern medicine cabinet can help bring a modern space together and create a seamless look that is both functional and refined.
Light It Up
If you choose the right style of your Robern medicine cabinet to match the overall aesthetic of your bathroom, it will be a great addition that will enhance both the look and functionality of the space.
Some good options when it comes to accenting your gray bathroom with a Robern medicine cabinet include wood finishes like oak or cherry, as well as darker shades like black or navy.
Additionally, be sure to consider available features such as mirrors and lighting when choosing your new cabinet, as these can further elevate the overall look and feel of your bathroom.
Small Bathroom Appeal
When planning a bathroom renovation, it is important to consider all of the different furniture and design elements that will be included.
Many people choose large, statement-making fixtures such as showerheads, toilets, or bathtubs. However, in smaller bathrooms like this one, it can be difficult to find space for these types of components.
In order to maximize storage space in a small bathroom without taking up too much room, some homeowners choose to install a Robern medicine cabinet. These cabinets are extremely functional, providing both storage for towels and other bathroom essentials and easy access when needed.
The Hill Pill
A floating sink vanity has several benefits, including a clean and minimalistic aesthetic that can help open up small spaces or create a relaxing vibe in bathrooms.
One attractive option is the Murray Hill medicine cabinet – with its unique pill-shaped design and sleek, contemporary lines, this cabinet is sure to dramatically impact any bathroom.
Hidden Storage
Regarding storage, most people only think of space-saving options like a traditional medicine cabinet. But suppose you want to take your home organization to the next level. In that case, a hidden medicine cabinet might be the perfect option.
Installed behind a framed mirror or other decorative surfaces, this hidden medicine cabinet opens up a world of storage possibilities. This is no ordinary medicine cabinet with specialized features like interior lighting, electrical outlets, and built-in USB charging ports!
Warmth, Simplicity, and Perfection
Warmth, simplicity, and perfection – these are the qualities that epitomize a modern bathroom design. At the heart of this ideal is the perfect combination of form and function, and nowhere is this more beautifully embodied than in a well-designed medicine cabinet.
Featuring clean lines, flawless craftsmanship, and flawless functionality, the Robern Uplift medicine cabinet combines a natural walnut backing for one of the most soothing bathroom designs we've seen in a while.
Filled to the brim with all the storage essentials for easy morning routines, this beautiful cabinet exudes warmth and comfort while offering incomparable style and sophistication.
Majestic Master Bathroom
When designing a master bath, it is important to balance simplicity and elegance. In this particular space, the designer was tasked with creating a look that would be both functional and beautiful.
After carefully considering the existing layout and design elements, they incorporated an elevated medicine cabinet as our primary storage solution. Not only did this choice help save space in a small room, but it also helped to keep the overall aesthetic crisp and clean.
With its sleek lines and understated styling, the uplift cabinet added just the right touch of refinement without detracting from other key design elements, like luxurious fixtures or high-end tilework.
The Sexy Darkness
This luxurious bath is the perfect respite for anyone in need of some well-deserved relaxation. The sleek, dark tones exude a powerful, masculine vibe that instantly empowers you.
And if that wasn't enough, the space is packed with custom features and details that are sure to impress. But maybe the most striking of all is the one-of-a-kind lighted medicine cabinet with its gorgeous sleek design. Well done, Robern!
Mystery Medicine
When it comes to creating a sleek and modern bathroom, one of the most important elements in storage. Space can be at a premium in small bathrooms, so it's essential to make the most of every inch with smart design choices.
One great option for maximizing storage is an AiO medicine cabinet, which features multiple shelves and compartments to help you keep all your bathroom essentials within easy reach.
Pairing this cabinet with a Balletto vanity will create a cohesive look that blends seamlessly into any contemporary space. With its clean lines and neutral color palette of blacks, whites, and greys, this combination will help you create a sophisticated bathroom that oozes style and functionality.
The Talk of the Town
You need a bold and sophisticated tile selection to achieve a glam rock chic bathroom. For this look, top choices include Terrazo Renata Aubergine, Statuary marble, Vedere Luna, and the Crackle Collection by Kohler Wastelab in Mahogany.
When it comes to fixtures and hardware, a Kallista Klyne faucet, shower system, and bath filler in matte black pair perfectly with the eclectic aesthetic of this style.
And for an ultra-sleek finishing touch, consider adding a Robern Profiles medicine cabinet in matte black to your vanity setup. With these elements in place, your glam-rock chic bathroom will be the talk of the town!
Traditional Meets Modern
The juxtaposition of traditional elements, like period molding, paired with sleek and stylish faucets from brands like Calfaucet and Robern creates a truly stunning look and feel in any bathroom.
Whether you prefer subtle pops of color or bolder statement pieces, this combination of old and new is a surefire way to elevate your bathroom style.
The Finishing Touches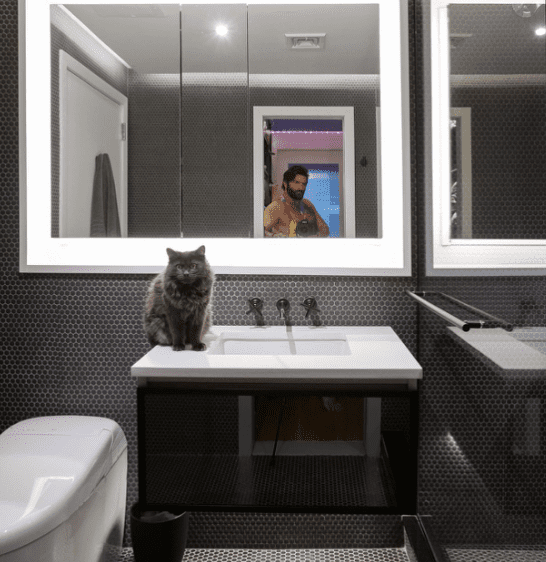 When choosing your specific materials and finishes for your bathroom renovation project, there are many factors to consider. Some common choices include classic tiles like subway or penny tiles, luxurious surfaces like marble, or modern tile designs like hexagon tiles or geometric patterns.
If you're investing in a recessed medicine cabinet (like those made by Robern) or vanity with built-in outlets, pairing them with high-quality plumbing fixtures from a company like Kohler can help ensure that they will perform smoothly and reliably over time.
FAQs
Question: Where can I get Robern Medicine Cabinets?
Answer: You can purchase Robern medicine cabinets directly from their website or from third-party retailers such as Amazon, Wayfair, The Home Depot, and more.
Question: How much are Robern Medicine Cabinets?
Answer: The price of Robern medicine cabinets varies greatly based on the collection and features of each product. Some are as cheap as $700, while others cost up to $3,000.
Question: How many Robern Medicine Cabinets are there?
Answer: There are 14 collections in the Robern medicine cabinet line, each with multiple shapes and/or designs to choose from in various sizes.
The Nitty on Robern Medicine Cabinets
Robern is a well-known brand for quality medicine cabinets. They offer many different cabinet styles and sizes and customization options. You can find Robern medicine cabinets in most home improvement stores or online. My personal fav is The Sexy Darkness look because I'm a fan of dark décor, but also need large mirrors in my bathroom. None of this small, round, or tall and narrow nonsense.
Prices vary depending on the size and style of cabinet you choose, but they are typically more expensive than other brands.
There are many different Robern medicine cabinets to choose from, so be sure to pick the one that will suit your bathroom best! And if you're still not convinced on the Robern brand, check out our picks for the best Kohler medicine cabinets!