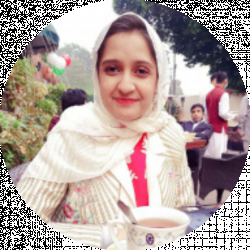 Latest posts by Zunaira Ghazal
(see all)
What do you think when you look at a cabinet without a handle? Doesn't it feel incomplete, like it lacks something?
That's precisely right. A cabinet without a handle or a pull is like a Christmas tree without its ornaments – bare and boring. Now, out of all the types of cabinet handles out there, I've developed a massive crush on antique brass pulls.
There's a wide variety of them out there, and they have a unique look that adds instant character to the cabinet they've been attached to. I especially love how each and every design is absolutely unique! I can't wait for you to pursue this list and fall in love with this particular design element just as much as I am:
Bottom Line Up Front
Antique brass is quite a unique finish for cabinet handles. One can say that it's a "niche" genre of pulls because you must be careful about pairing it with suitable materials and finishes. Some look good with modern designs, while others are more suited to be paired with vintage cabinets.
That's why I wanted to curate this list – as a designer, I need to share my knowledge about lesser-used cabinet handle finishes and how they can be used to spruce up mainstream furniture. Straight Laced is one of my absolute favorites from this list. I love its unassuming, modernist design and how it dons a robe of antiquity to deliver a gorgeous duality.
Top Picks
Here are some of my top picks, along with reasons why I love them:
Baroque
The stylistic nature of this handle makes it one of my favorites from this list. The unpredictable cuts and angles of the design evoke an antique-baroque effect, and the shiny brass finish makes it perfect for featuring on large wooden chests!
Straight Laced
I love the modern-vintage vibe of this antique brass cabinet pull and how it integrates two very different styles within one perfect piece. 
Selection Criteria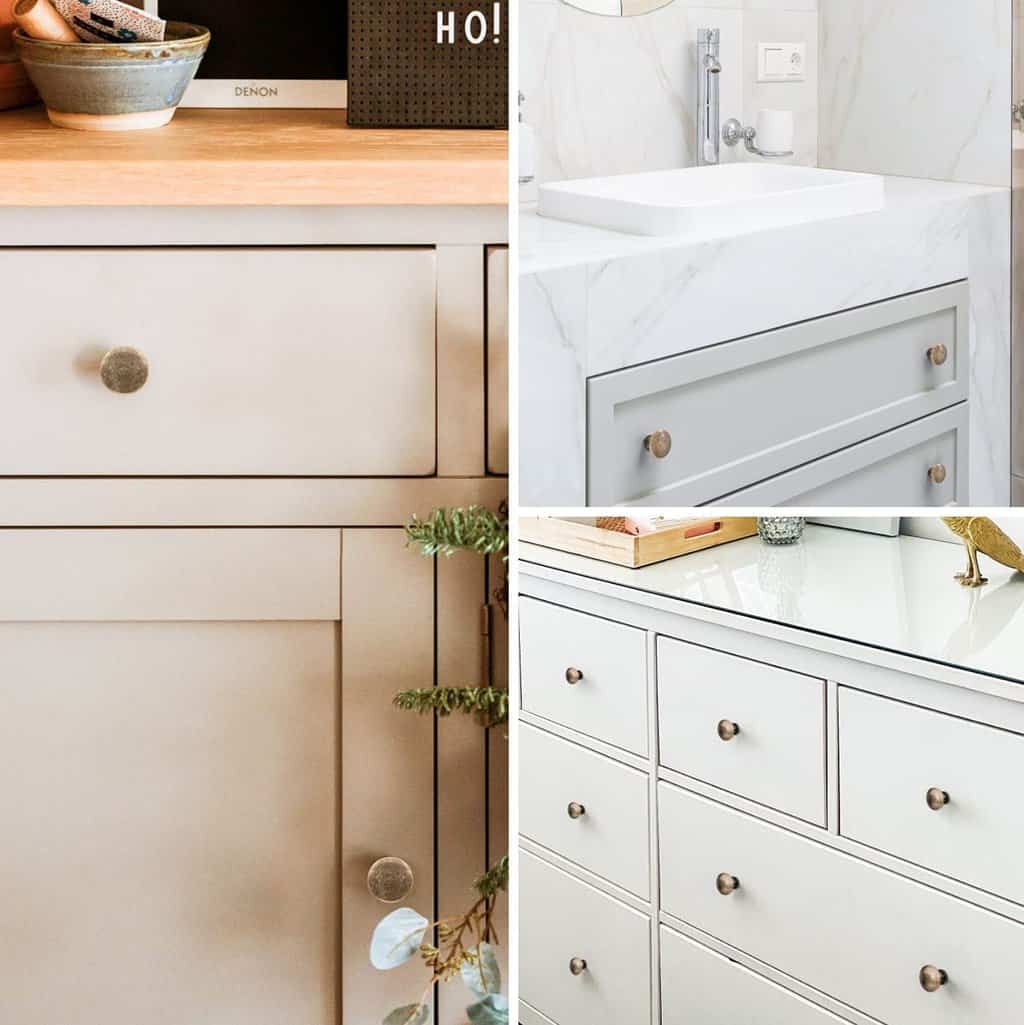 Here's everything that I had in mind while putting this list together:
Variety
"Antique Brass" may seem like a niche genre of cabinet handles, but let me assure you – there is so much variety out there! From elaborately carved pieces to simple pulls, I've curated a list that you'll love right here!
Versatility
So, I wanted to curate pieces that are versatile, beyond anything else. The idea is to give you a curated list where the antique handles can be paired with contemporary and vintage cabinets alike while still retaining their beauty and design essence.
Finishes
Antique brass pulls come in a lot of shapes, sizes, and especially finishes. Yes, the dated, faded gold vibe is universal, but there are degrees to which this finish is applied. You'll see a lot of variety in this regard here as well. From somewhat shiny to dull and almost completely blacked pieces, I've tried to curate all manner of antique brass handles for you here.
Creativity
Each type of antique brass handle featured on this list is as inventive as possible. I wanted to showcase that there is no limit to innovation, even in a sub-genre of cabinet handles like this one. And I definitely managed to prove my point.
Just look at these vintage pulls! They are absolutely gorgeous, and I love the faded copper sheen that gives them a lovely dated vibe. I also love the design. It's simple, yet every detail has been carefully crafted to deliver a beautiful whole. My suggestion would be to pair them up with a pure white or pure black cabinet. Both colors would make the brass finish stand out while also giving the cabinet a nice, decorated feel.
So, I have this thing for cabinet pulls that feature a baroque look, and it doesn't get any better than this. I love the detailed design of this handle. It doesn't have carvings, but the elaborate cut-work around the edges gives it that gothic-baroque appeal that I find pretty unique.
Then there's the nouveau-style curve of the pull itself. It contrasts the arabesque design of its background and stands out beautifully despite having the same finish. Overall, it's a great design, and I recommend pairing it with vintage wood cabinets to get the right look.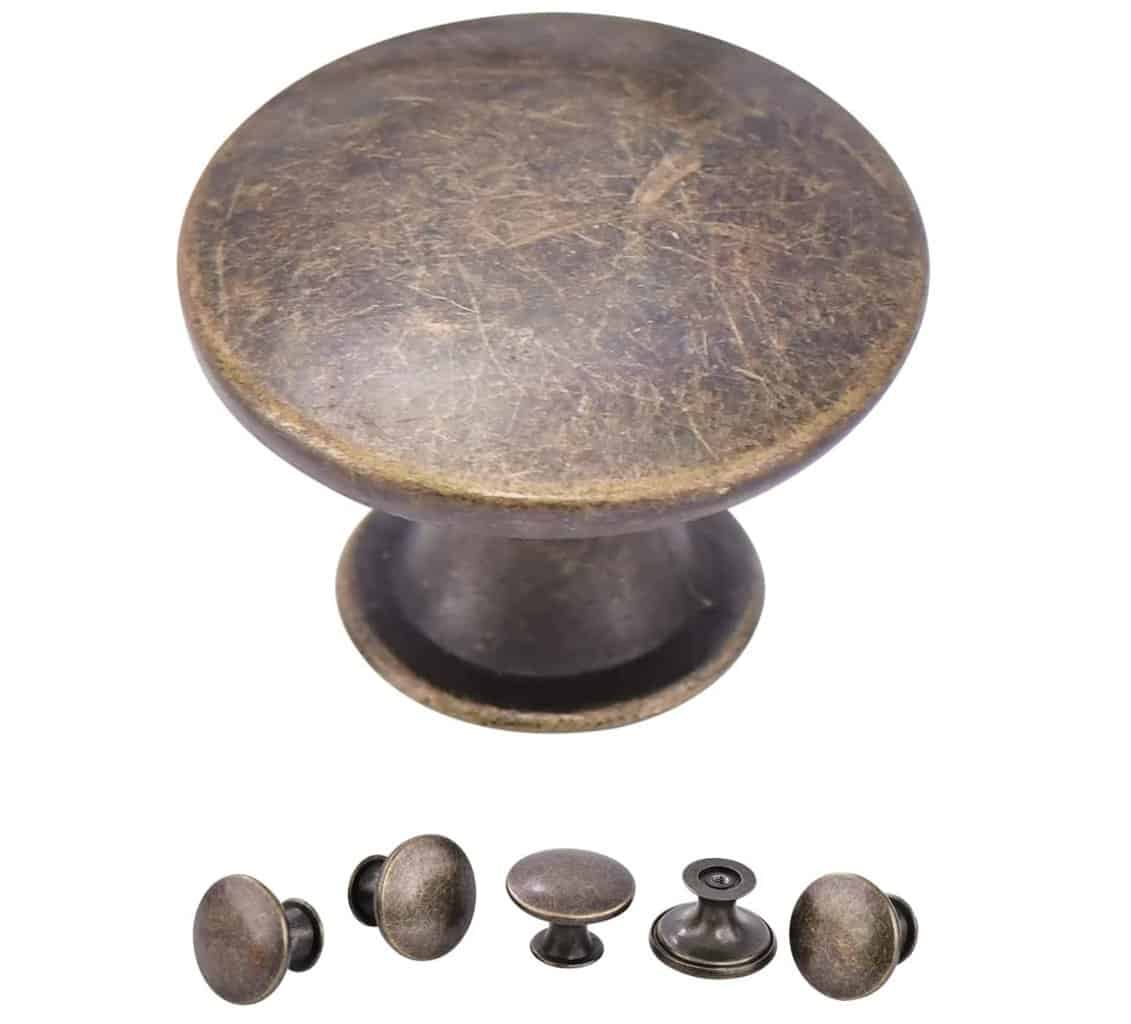 I know this one seems simple, but any designer worth their salt will tell you that simple is the absolute best sometimes! Plus, the antique finish on this one is really apparent. It evokes an instantly vintage vibe and would pair perfectly well with all types of cabinets.
With old-school ones, you should pair them with bold, big wooden pieces. With modern cabinets, these brass pulls would look great with small, delicate pieces.
You might have seen the modern version of these pulls – all shiny and perfect. However, this is the antique brass version, and I like it even more. The matt gold finish has a character that is glossed over in modern versions of the same design.
I also really appreciate how the handles have been uniquely styled here. Instead of putting them on a single-toned cabinet finish, they've been featured against a painted, colorful backdrop. The picture contrasts nicely with the solid finish of the brass while also making the handles an excellent place to focus.
I will start by saying that I adore how strikingly the antique brass pulls stand out against the wood of this cabinet. The design of the handles has been deliberately chosen to be large so that they can hold their own without losing themselves to the charisma of the wood. A cabinet like this is slated to be a veritable statement piece.
The brass-and-wood combo makes a huge visual impact. It would look even better paired with a white backdrop and vintage accessories.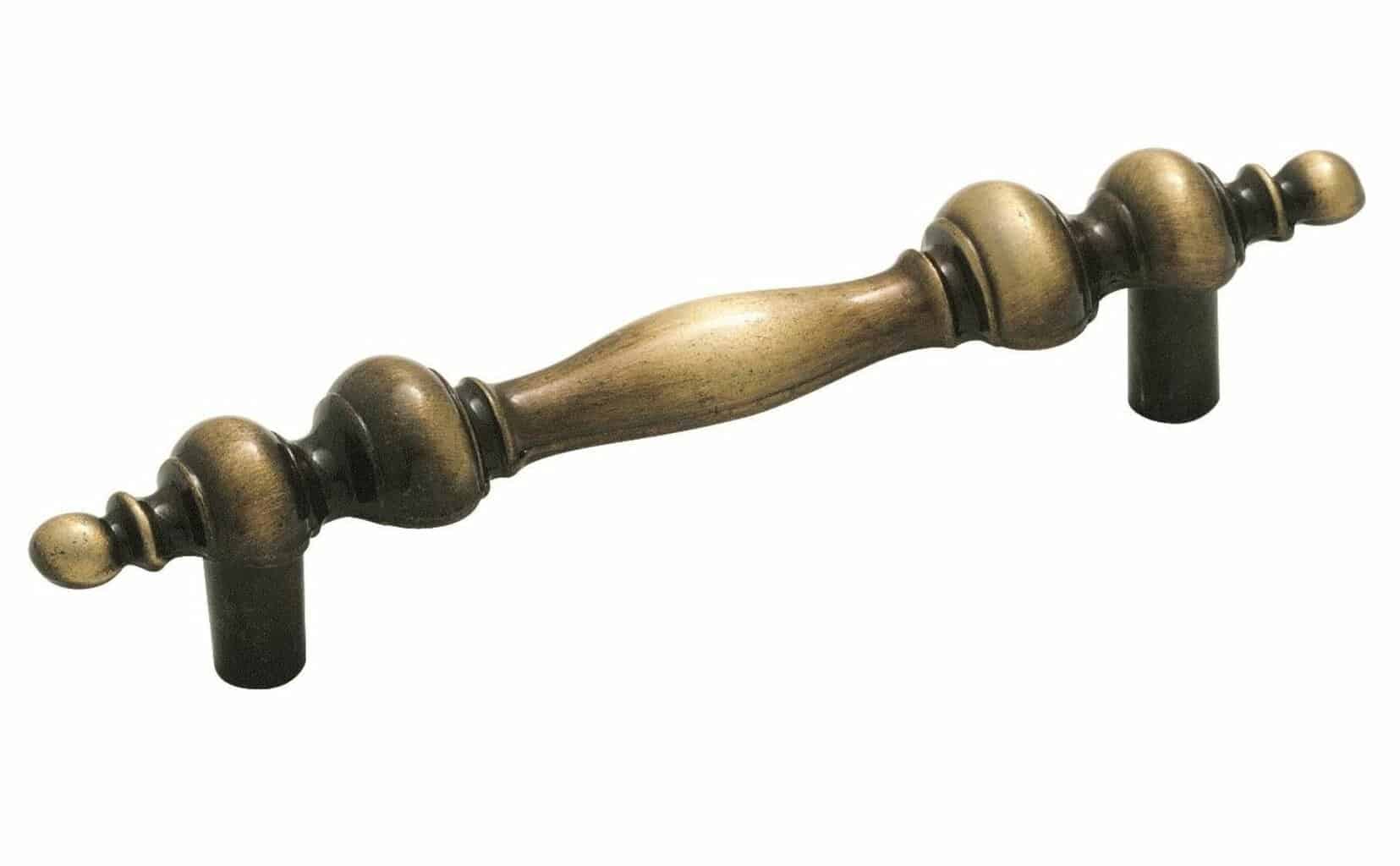 The details of this brass handle are so precise and beautiful! I love the elegance of the slim design and how it highlights the beauty of the antique finish with such panache. This handle is perfect for all cabinet styles, but it would pair exceptionally well with something bold, dramatic, and classical. Alternatively, you can pair it with a slim hallway console table, which would look just as impressive.
Here's another vintage wood and brass handle combo that I immediately fell in love with. I love the elaborately carved design of the pulls and how it pairs so contrastingly with the wood. Everything about this pairing is big, bold, and statement-worthy.
I also appreciate how the design of the handles has been complemented by the classical details of the cabinet. Although it is pretty subtle, it does leave a wholesome impression on the peruser.
If you're a fan of all things medieval, then you'll love the design of antique brass cabinet handles. I like this one more than the rest because of its extra durability; because the base is crafted from iron while the finish is carried out in antique brass.
One can say that it offers the best of both worlds. Regarding styling, I recommend pairing these with a vintage chest of drawers that need a perfect finishing touch.
We've seen simple brass pulls, and carved brass pulls – now it's time to look at stamped antique brass pulls. This one has a Prince of Wales design that is slated to seem royal no matter which cabinet you pair it with. I advise you to choose a vintage/retro cabinet fit for this one. Putting it on a modern one would take away the integrity of the design and make it feel less charismatic than it is.
If you're a fan of antique sculptures, you would love this antique brass cabinet pull. It's shaped like a literal lion holding a regal ring in its mouth – innovative and unique. Creativity aside, I love the combination of this design with the wood chester.
It looks spot-on – as if both things are made for each other. I also like how the whole thing has been accented with brass claw feet. It's a nice, holistic full-stop that makes the entire cabinet feel pulled together and unique.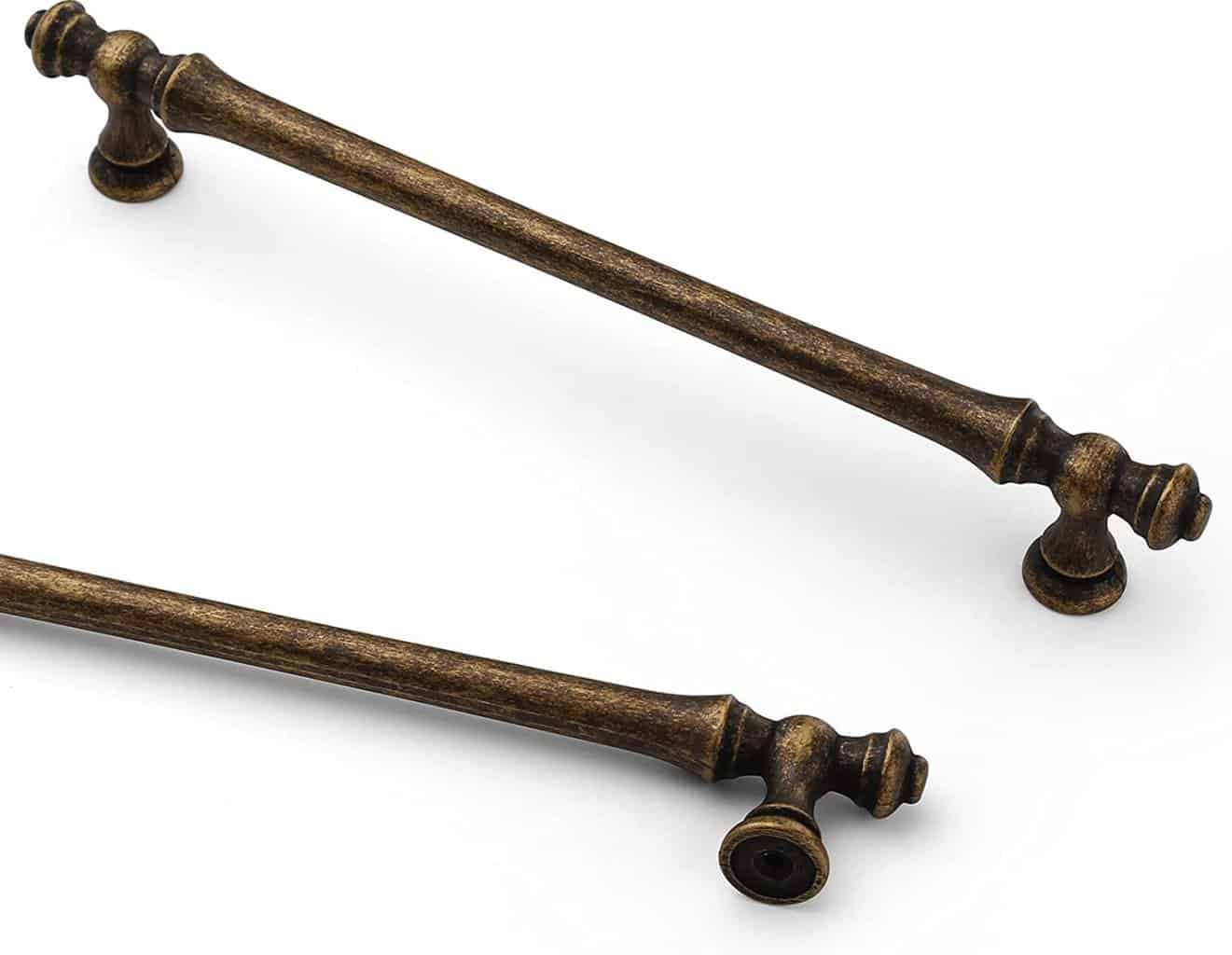 I absolutely love the slim countenance of this antique brass cabinet handle. It's so simple, yet its impact is absolutely statement worthy. At a glance, you'll notice an inherent elegance to the lines this design is composed of. Moreover, a blackish tint to the brass finish showcases an extra vintage effect.
Something like this would look stunning with a shabby chic or deco-painted cabinet with a distressed finish. You can even put it on a farmhouse-chic console, which would carry the aesthetic well. 
While not as elaborately designed as many of their other counterparts on this list, these antique brass cabinet handles still manage to hold their own. The simple design consists of a rectangular cut-out with a curved handle at the front.
Despite the straightforward styling, the handles still make the entire chester noteworthy. Without them, the whole thing would have remained personality-less and ordinary. 
I love the fluid lines of this antique brass pull. The embossing of the stamped design is truly impressive, and I love how its vintage nature has been interpreted in the finish. The blackened edges are very strategic, but they also make the brass feel dull.
You should feature this handle against a bright cabinet finish. Try to opt for breezier shades of wood like oak or beech. They can always be stained a shade or two darker if you want a more striking contrast.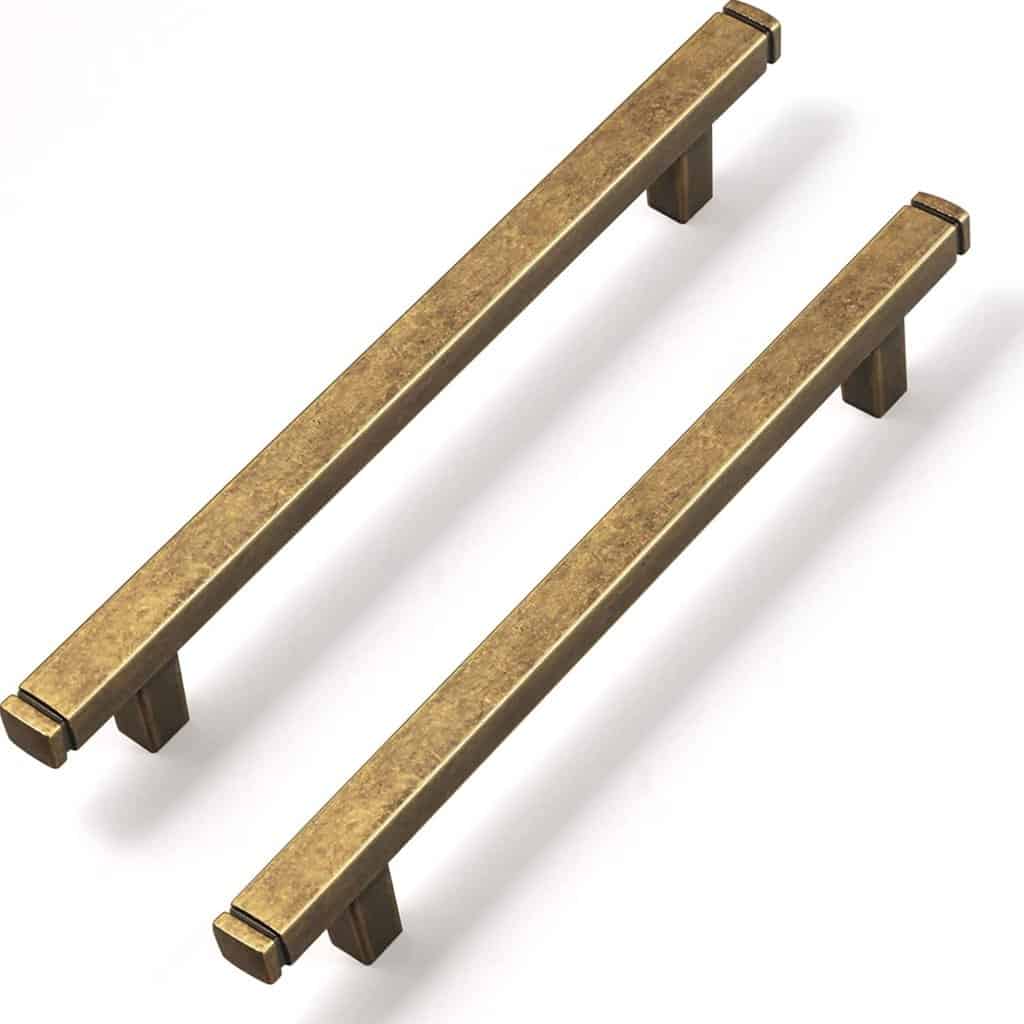 This cabinet pull is the perfect combination of antique and modern – that's one of the reasons I like it so much! The simple, straight, horizontally oriented design of this handle is overlaid with a distressed brass finish. It's sleek but feels like it has seen history despite being brand new. I suggest you pair it with a white colored cabinet so that the design of the handle can fully shine.
The stars of the show in these antique brass cabinet pulls are the straight lines and stylistic designs of the Art Deco style. However, they also feature some Edwardian-style detailing, which makes the lining feel super imaginative.
You might think this would only suit period furniture (Queen Anne Consoles, etc.), but they can also emulate personality in modern cabinets. It would result in a contemporary retrofit. You might also feature such furniture in transitional or neo-classical style interiors.
The Rococo style is known for its delicate elaboration. This means that such designs have a sense of delicacy despite being ornate. That's precisely what I saw in the design of these lovely antique brass handles, and I just had to share them with you.
The duality of these handles is such that you can pair them with both vintage and contemporary-style furniture. They can complement both cabinet themes equally well.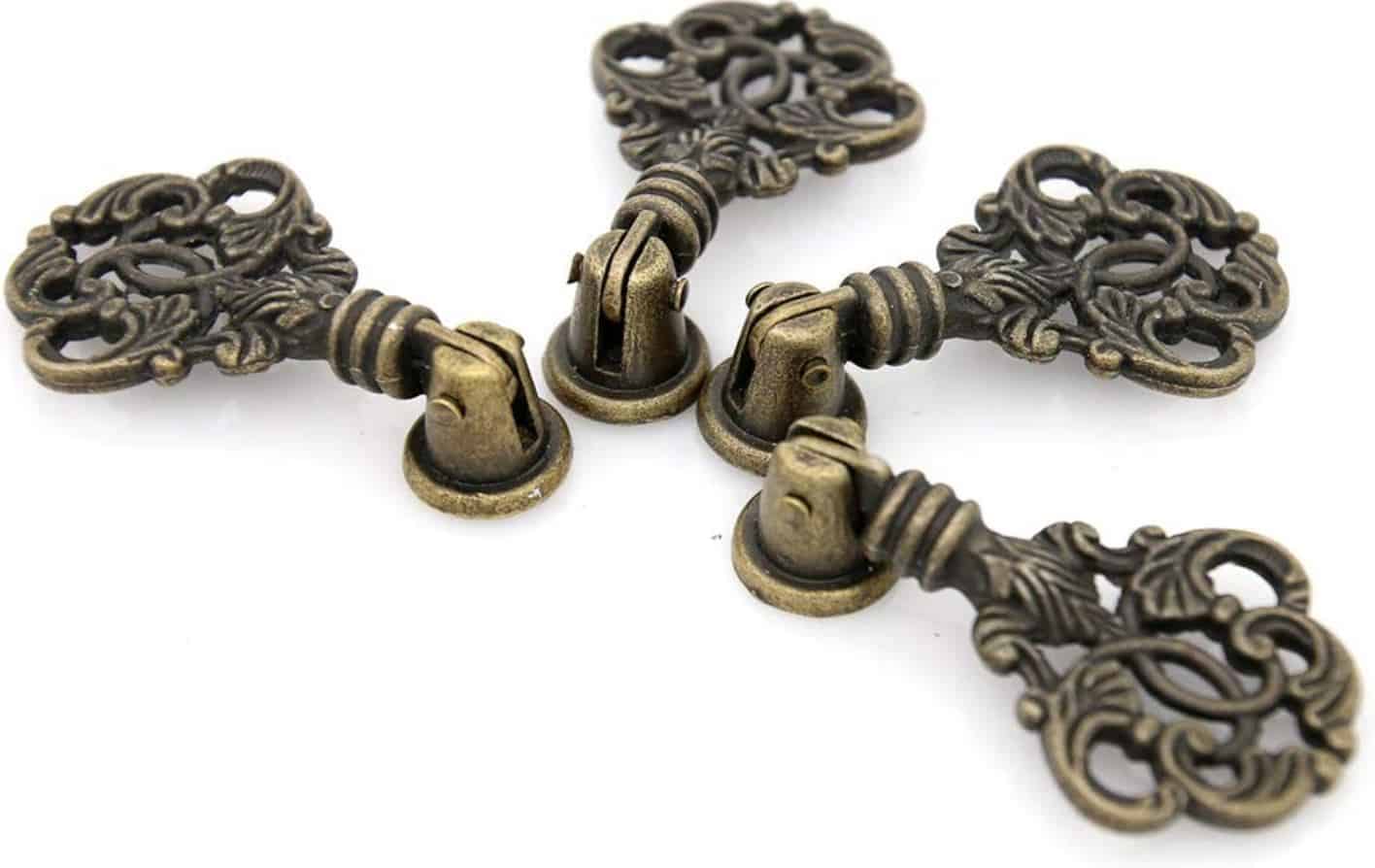 The antique brass finish on this cabinet pull has been artfully distressed, but that's not the only thing that attracted me to it. It was actually the flat-surface design. It's one of the most unique ones I've ever seen – even more so thanks to the stunning details of the design. I mean, look at all those intricate details! They immediately attract the eye. Something like this would pair perfectly with a modern cabinet with a distressed white finish!
FAQs
Question: Why should I opt for brass cabinet handles?
Answer: There are many, many reasons to opt for brass cabinet handles. First, it's an alloy, so it doesn't rust like iron. It also has anti-microbial properties and doesn't require extensive maintenance. Aesthetics-wise, I think these handles' luxurious aura is quite unparalleled. But best of all? Brass is totally recyclable and sustainable!
Question: Are brass handles durable?
Answer: Yes, brass handles are absolutely durable, thanks to their high copper content. Fun fact: if you take proper care of them (and preserve them) they can last for a thousand years! Talk about heirloom quality…
Question: How do I tell if a cabinet is solid brass?
Answer: There's a trick for telling if the brass handle is pure or not. So, take a piece of metal and hold it to the handle. If it sticks, you've got a brass-plated piece. If it doesn't, then the handle is pure brass.
Best Antique Brass Cabinet Pulls: Conclusion
As you can see, there's such a huge variety available in antique brass pulls. I've tried to curate pieces that bring something unique to the table design-wise, and I hope I've succeeded. You'll see modernist, Edwardian, Victorian, and more styles on this list. 
As for my favorite, I'd say it's Straight Laced because I'm quite impressed with the sleek, sophisticated design of it. I love how the antique brass finish looks on the clean, modernist lines, and honestly, I can't wait to feature it on one of my own custom-designed furniture pieces.