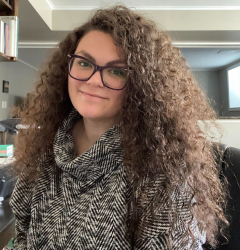 Latest posts by Candace Osmond
(see all)
Do you have a bind corner cabinet in your kitchen? Rather than a regular, accessible corner cabinet, blind corners have a smaller opening and the space inside is hard to reach as it turns to the left or right.
Whichever scenario you're dealing with, the solution is simple – get one of the best blind corner cabinet organizers. These masterpieces are designed to swing towards you when you open the door. This allows you to see everything inside the cabinet, including things usually hidden in the back.
If you find this kind of system useful, read on for my ultimate guide on blind corner cabinet organizers.
Bottom Line Upfront
I've used blind corners in kitchens I've designed, and I've had one in an old house we renovated years ago. They're definitely not convenient, but they work in small spaces that won't fit a regular corner cabinet. Having an organizer makes a huge difference, and I'd have to say the Vadania Kitchen Organizer is my fav choice. I've actually used it and it's amazing.
Top 3 Picks
Here are my top 3 picks of blind corner cabinet organizers designed to enhance your kitchen space's functionality.
If kitchen space efficiency and functionality are essential to you, look no further than this Vadania Kitchen Organizer.
Whatever your needs are, this blind corner cabinet from REV-A-Shelf is designed to meet your requirements.
You don't need a lot to get a unit that can help you make better use of your kitchen space. This Vevor Pull-Out Cabinet proves just that.
What is a Blind Corner Cabinet?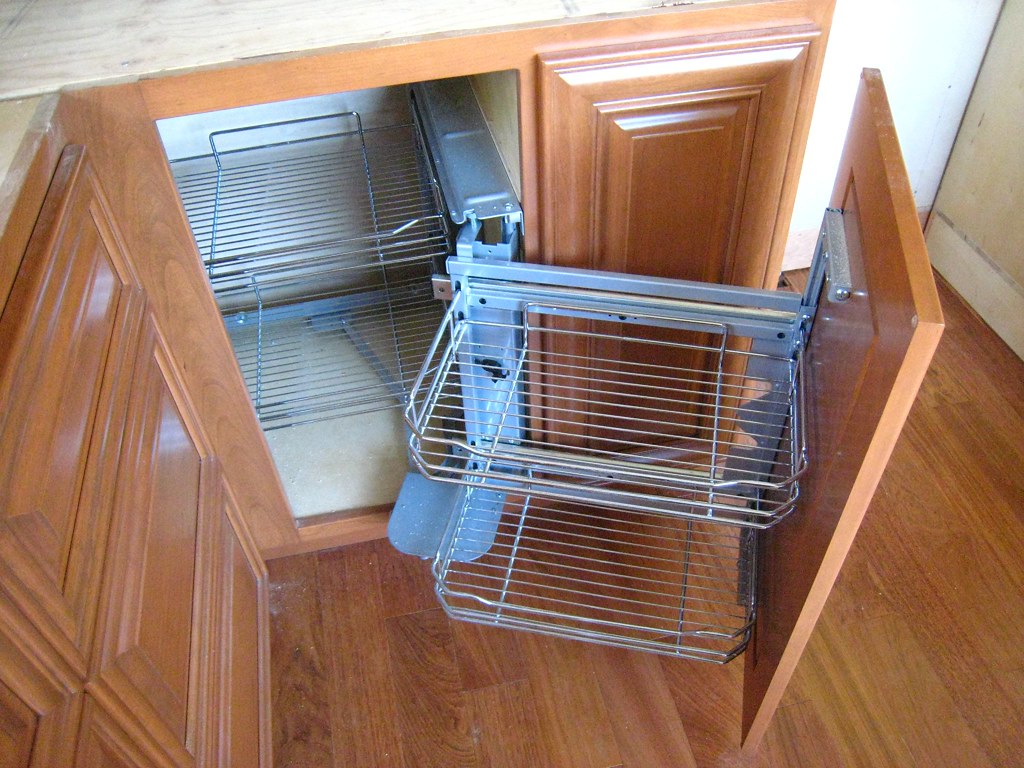 A blind corner cabinet is any kitchen corner cabinet whose storage space isn't visible when the cabinet door is open. These are found in areas where kitchen cabinets typically make a 90-degree turn or U-turn. Usually, kitchen users cannot utilize this space, which essentially becomes dead space.
Pros and Cons of Blind Corner Cabinets
While blind corner cabinets can be extremely annoying, they have their fair share of advantages. Here is a run-down of these cabinets' pros and cons.
Pros
Some people use these spaces to store things they rarely need
Blind corner cabinets create an amused dead area
These spaces award you the opportunity to remodel and redesign them to your liking
Do you have items in your home you'd prefer if they stayed hidden? Then the fact you cannot see what's stored inside a blind corner cabinet will come in handy
Blind corner cabinets are usually huge and deep
Cons
People with weak lower backs or weakened joints will have a hard time accessing blind corner cabinets
They leave dead, hard to access spaces
When you open a blind corner cabinet's door, the opposite door isn't accessible
Tips for Making a Blind Corner Cabinet More Useful
Let's look at some kitchen decoration tips that will help you make the most of your blind corner cabinet.
Get a Blind Corner Cabinet Organizer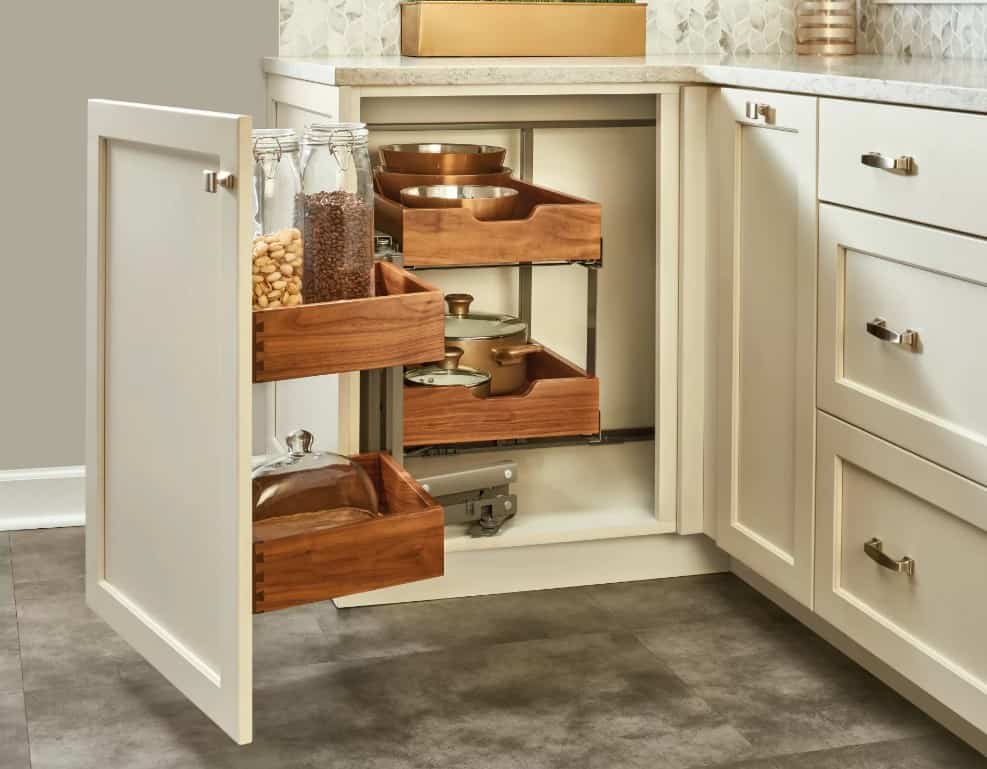 If you want a way to maximize the storage space in your blind corner cabinet, get a cabinet organizer. In my professional opinion, this is the best way to put the unused space to good use. Items you can place on blind corner cabinet organizers include bowls, plates, jars, spices, pans, and more.
What's more? A majority of blind corner cabinet organizers feature multiple shelves or "tiers" you can use to store contents. These models are an excellent way to maximize the blind corner storage even further.
Avoid Pulls, Knobs, And Any Protruding Appliances While Installing a Blind Corner Cabinet
While installing your blind corner cabinet organizer, be aware of the surroundings. This rule applies to all blind corner cabinet organizers, including those with basket pull-outs and half-moon trays.
You'll need to adjust the pivot points on the unit and avoid cabinet door hardware or kitchen appliances extending out.
A Diagonal Corner Cabinet
Another simple solution to a deal with a blind corner cabinet is to install a diagonal cabinet. With this design, the ample space remains the same, and the corner problem is eliminated (literally.) All you need to do is install cabinet doors that run diagonally from one corner to the other.
Note: This idea only works if you have the space. Sometimes you have no choice but to use a blind corner cabinet.
Corner Appliance
The stove is often the centerpiece in any kitchen. So why not transform the blind corner cabinet in your kitchen and use it for stoves or other major appliances. By adding a primary appliance into a problematic corner, you make the area the focal point and use the space efficiently.
Add a Corner Sink Above the Blind Corner Cabinet
Installing a sink over your blind corner cabinet isn't the most space-saving idea. That said, it's still an attractive idea that'll dress up the space. You can then use the space underneath to store sink cleaning supplies. You rarely need those anyway.
Features to Look for in a Blind Corner Cabinet organizer
When looking to invest in a blind corner cabinet organizer, you'll need to consider certain features. That's the only way you can make an informed purchase decision. Here are eight features to look for in the best blind corner cabinet organizer.
Type of Blind Corner Cabinet Organizer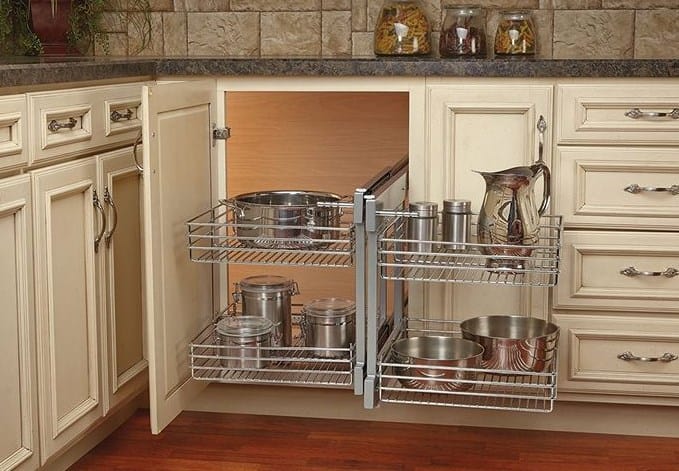 There are four main types of blind corner cabinet organizers that give access to blind corner spaces. These are curved blind cabinet shelves, cloud blind cabinet pull-out shelves, half-moon Lazy Susans, and blind corner pull-outs. Allow me to review each one in detail.
Curved blind cabinet shelves provide complete access to your storage area through large curved shelves that pull out the cabinet.
Cloud cabinet pull-out shelves are regular blind corner shelves, but with a modern spin. These cabinet organizers have sleek curves and lines that evoke images of clouds. They're also available to fit blind corner right or left cabinets.
Half-moon lazy susans are a kind of lazy susans that pivot 90-degrees to bring items in your cabinet within reach. Some half-moon lazy susans also glide out of kitchen cabinets to make contents available.
The last type is the corner cabinet pull-out. These are usually wire sets or wooden shelves that pop out when you pull a lever or open a door.
Pick the type you think best meets your needs and personal preferences.
Price
Talk to a cabinet professional about what is available and what options will fit within your budget. As you'll see in the review below, there are significant cost differences between different models. As such, you'll need to stay realistic about the amount you're willing to spend.
Sizing
Dimensions on different blind corner cabinet organizers will vary significantly depending on the manufacturer. Only pick the best blind corner cabinet organizer that also matches the space available on your blind corner.
The dimensions are also affected by design. The cabinet you pick may be inset style, frameless, or face frame with different overlays. You may even have to pick between a cabinet with a pull-out drawer above and a full-height cabinet option.
Left Hand or Right Hand
Before investing in a corner cabinet organizer, you'll need to determine whether you have a right or left blind. A simple way to do that is to picture yourself standing in front of the cabinets in your kitchen. When looking down over them, do you have the blind corner to your left or right?
If it's to your left, you have a blind left, and if it's to your right, you have a blind right. Go ahead and pick a blind corner cabinet whose installation requirements meet the blind direction.
You'll need an organizer that rotates out towards the left for right blind cabinets. For left blind cabinets, get one that rolls out towards the right.
Weight Capacity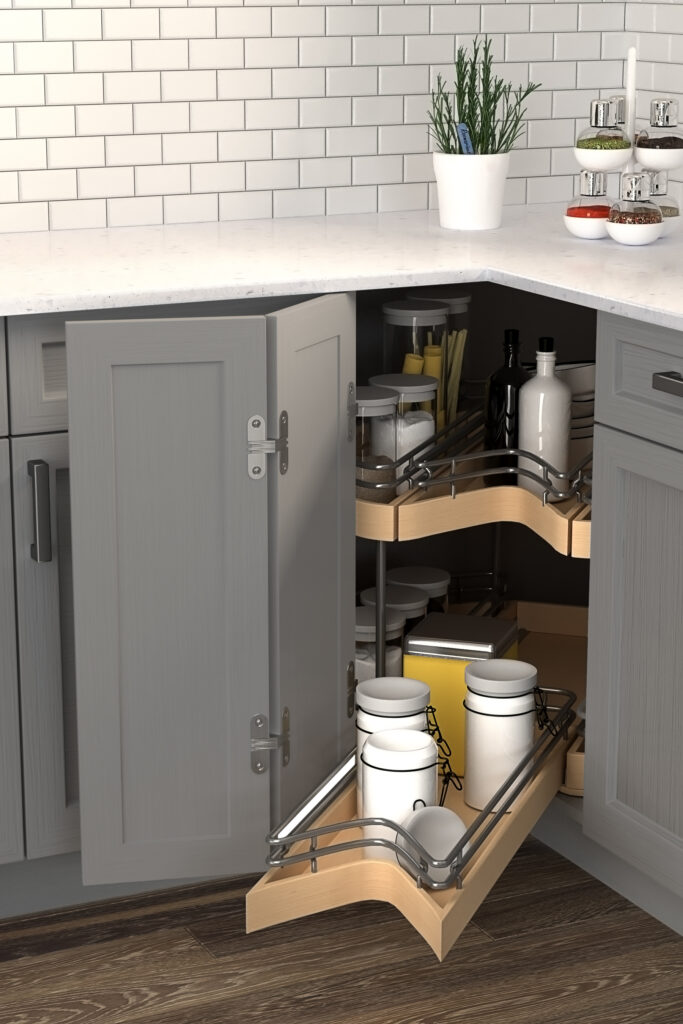 Blind corner cabinet organizers have distinct weight capacities, and some can handle more than others. If your goal is to store oversized items on your cabinet organizer, get one with a high weight capacity. If you only plan to store light items, a smaller one should suffice.
Shelving System
Similar to the weight capacity, the shelving system you go for will be influenced by what you plan to store. Blind corner cabinet organizers with baskets are a worthwhile purchase if you plan to keep snacks and ingredients. Blind corner cabinet organizers with trays, on the other hand, work best if you plan to keep plates.
Material
The material you go for will have advantages and disadvantages. Wood is excellent when working with heavy loads but is vulnerable to staining and moisture. Metal organizers are durable but prone to rust if exposed to water.
Lastly, plastic corner cabinet organizers are excellent for small spaces, but they look cheap.
Additional Features
Additional features to evaluate when picking blind corner cabinet organizers include sliding mechanisms and warranty coverage (if any.) Also, consider whether the organizer is a swing-out, lazy susan, or slide-out model. Pick the model you know is best suited for your kitchen corner cabinet.
What's more? Some corner cabinet organizers can be hard to install. So go through each product's review and watch out for any installation tips or warnings.
The Best Blind Corner Cabinet Organizers
Here are seven blind corner solutions that'll help you optimize the use of corner storage cabinets in your kitchen. I chose these based on their ease of installation and use, price points, and quality.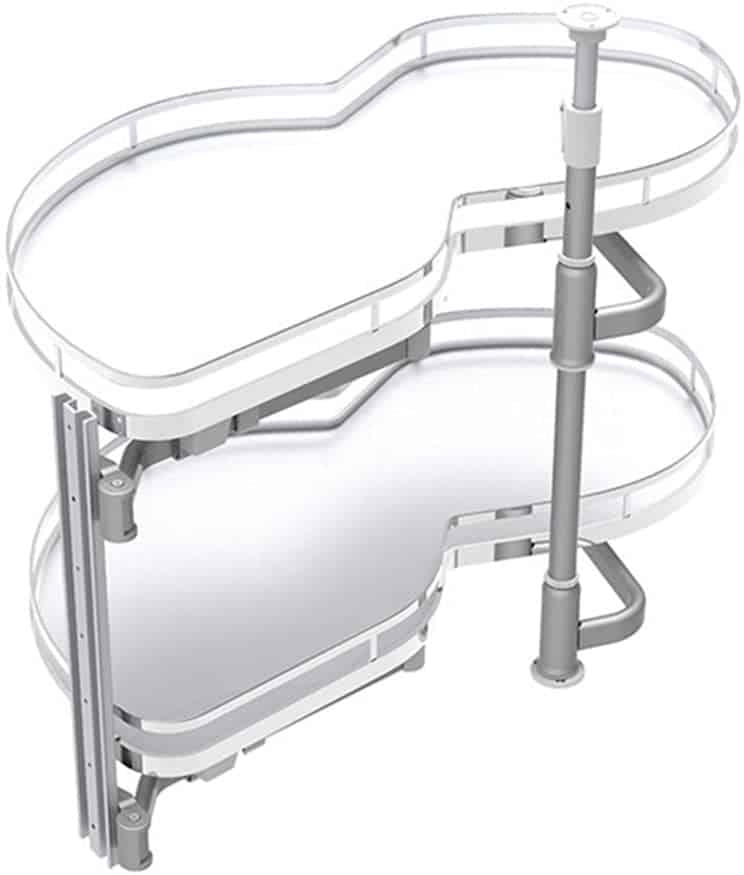 Best Overall
This blind corner cabinet organizer's name around the design office is the "Bean" or "Peanut." The shelves' rounded shape permits you to store different types of items, from pans and pots to mixing bowls.
Price Range: $250 – $300
Material: Stainless Steel
Load Capacity: 32.5 lbs. per tray
After buying the Vadania Kitchen Pullout Organizer, you'll find several items in the package.
These include an installation manual, a mounting frame & rotation axis, mounting parts kit, and two swing trays. Let's top it off with the fact this Organizer is eligible for return, exchange, or refund within 30 days.
Pros
Instruction manual included
Retails in three different shades
Impressive load capacity
Durable and sturdy
Each tray swings independently
Height adjustable
Cons
The installation directions could be clearer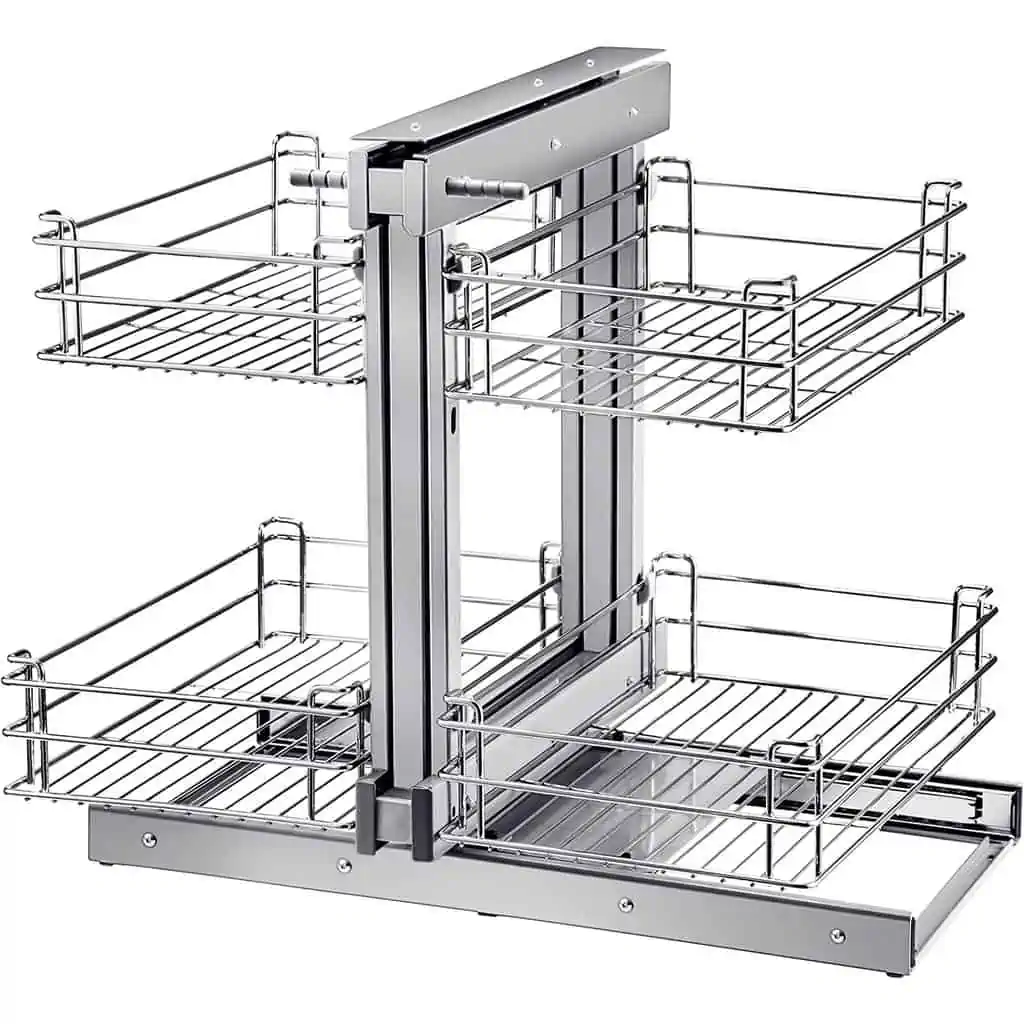 Best Bargain
This Vevor Pull Out Cabinet is equipped with four separate baskets that can hold various items like spices and pots. Each basket measures 16.5 X 11 X 3.3 Inches, so rest assured they'll satisfy your high storage capacity demands.
Price Range: $180 – $350
Material: Carbon Steel, Stainless Steel
Load Capacity: 106 lbs
To help ensure sturdiness and durability, the blind corner cabinet is made of premium carbon steel. The polished chrome finish is also corrosion-proof, rust-proof, and will beautify your kitchen interior.
Pros
Constructed with high-quality material
Huge storage space
Aesthetic design
Sufficient load capacity
Boasts a slide rail design
Easy to assemble
Cons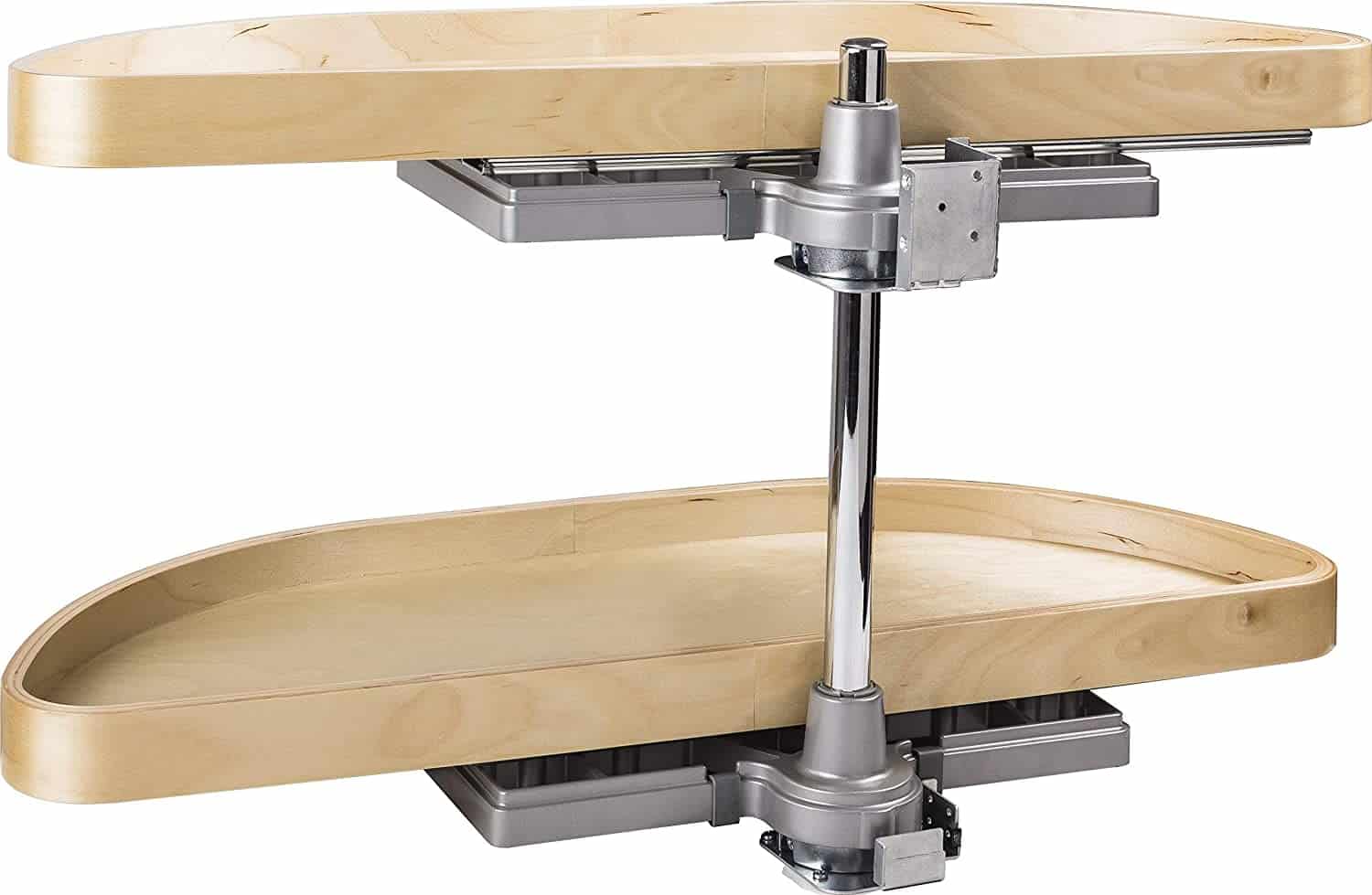 Best Aesthetic
Are you looking to enjoy added capacity and functionality? Then this Hardware Resources 32″ Blind Corner Cabinet Organizer is the unit for you. The cabinet organizer is available in polymer plastic and birch, with two half-moon trays that glide along a side pole.
Price Range: $410 – $550
Material: Birch
Load Capacity: 110 lb
What's more? The two trays operate individually, and you can pull them halfway or all the way out. Also, they're available in different sizes. The trays retail in 38″, 35″, and 32″ that fit 17.5″, 14.5″, and 11.5″ cabinet openings, respectively.
Pros
Durable
It comes in different sizes
Available in white birch wood and polymer plastic
Spacious trays
Mounting screws included
Great gift idea
Cons
Some people have reported it was tough to put together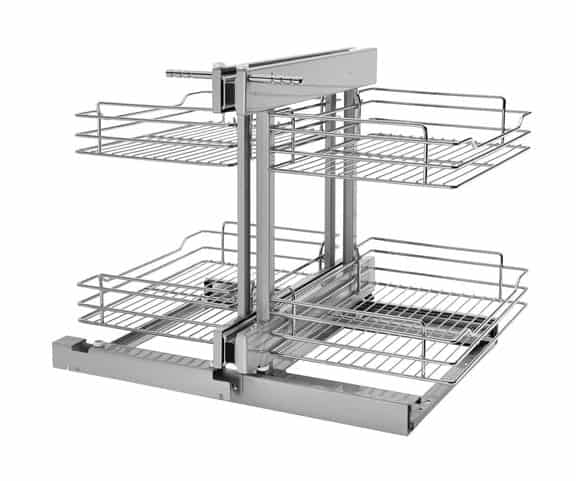 Best for Durability
Even the largest corner cabinet organizer is useless if it's not 100% accessible. That's why I appreciate Rev-A-Shelf's commitment to ensuring every corner in their units equates to functional space. This 15″ Rev-A-Shelf Blind Corner Organizer perfectly exemplifies that commitment.
Price Range: $800 – $850
Material: Steel
Load Capacity: 140 lb
First, the unit allows you to pull all four units completely outside the cabinet. This ensures you'll never have to deal with hard-to-reach items ever again. Second, the unit is easy to assemble and install for both right and left-handed applications.
Pros
Backed by a limited product warranty
High load capacity
Easy to install
Durable construction
Sturdy
Retails in 3 different models
Cons
Trays don't fit tall utensils that well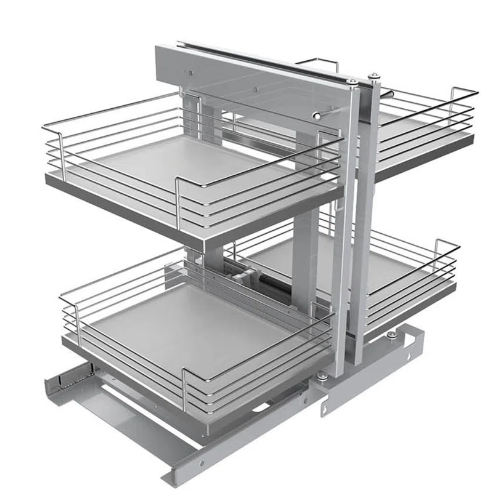 Best User-Friendly
Finally, a blind corner cabinet organizer that allows you to keep Tupperware organized and out of sight. This cabinet organizer's simple box shape allows it to fit seamlessly in a blind corner cabinet to maximize space.
Price Range: $900 – $950
Material: Steel
Load Capacity: 88.18 lb
The added edges around the baskets will keep stored items from toppling into the corner, never to be seen again. Tuhome Cabinet Organizer's baskets are also extremely easy to push in and out, thanks to the integrated sleek soft-slide system.
Pros
Eligible for return, refund, and replacement within 30 days of purchase
It has a sleek soft-slide system
Pulls out easily and quickly
For both residential and non-residential use
Only partial assembly required
Backed by a one-year limited warranty
Cons
Needs experience to assemble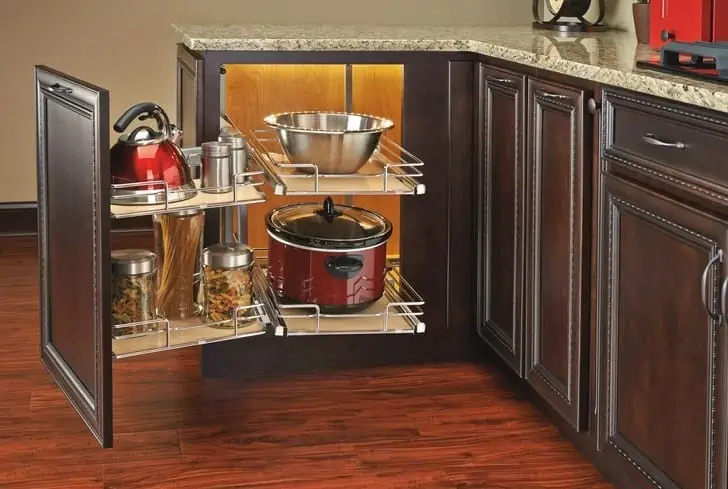 Best Heavy-Duty
Will you be lucky enough to have a built-in like this Rev-A-Shelf Two-Tier Blind Corner Organizer inside your blind corner? This masterpiece allows you to use the dark, dry space and store items in four baskets.
Price Range: $1,800 – $1,900
Material: Metal
Load Capacity: 80 lb
Two of those baskets are large and perfect for pots and pans, whereas the other two are small. After visiting the unit's product page, you'll also notice that it's on the costlier end of the spectrum. But it's well worth every penny in my opinion.
Pros
Extremely sturdy
Will compliment any interior
Sturdy and durable build
Backed by a warranty
Has adjustable mounting brackets
User friendly
Allows for both right and left-handed mounting
Cons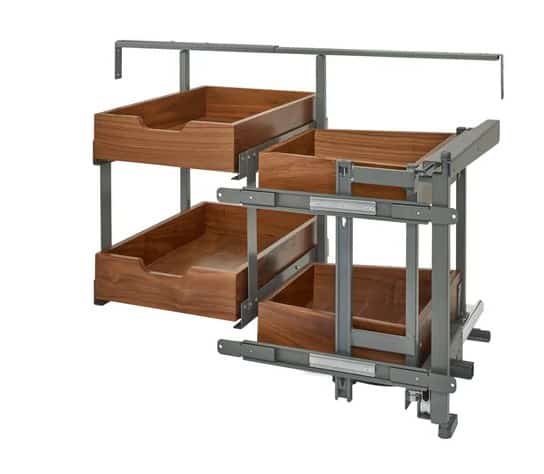 Best for Heavy Use
This is the third blind corner cabinet organizer from Rev-A-Shelf. If that doesn't prove beyond a reasonable doubt that they're the best in this sector, I don't know what does.
Price Range: $2,590 – $2,650
Material: Wood
Load Capacity: 110 lb
Like the other two, this Rev-A-Shelf Walnut Blind Corner Cabinet Organizer is not only stunning but is also super clever. The unit features an Orion gray two-tire frame with four walnut solid bottom shelves that glide on full extension.
Pros
BPA free
Adjustable mounting brackets
Aesthetic wood construction
Backed by a commercial warranty as well
TSCA Title VI compliant
Two tire frame
Durable and sturdy
Cons
FAQs
Question: Why Use a Blind Corner Base Cabinet?
Answer: The main reason you should use blind corner base cabinets is their functionality. They will allow you to use those oddly-shaped corners that are hard to pair with regular cabinet drawers or doors.
Question: What is a Kaboodle Blind Corner Cabinet?
Answer: The Kaboodle blind corner cabinet is a modular cabinetry offering from Kaboodle. This corner base cabinet retails with an adjustable shelf with shelf supports and adjustable legs for easy leveling.
Question: How Do You Make a Blind Corner Cabinet More Useful?
Answer: To put your blind corner cabinet to good use, remodel the space with the best blind corner cabinet organizer.
In the End
End your 'best blind corner cabinet organizers' dilemma with this selection of innovative pull-out accessories that'll improve your kitchen's functionality. Every unit I've mentioned is specially designed to maximize storage capacity and award you access to your blind cabinet's dead space. If you want a mix of quality and affordability, I'd recommend going with the Vadania Kitchen Organizer.
Practical and functional, these blind corner organizers also allow you to express your personal style with various colors and finishes. For more great recs, check out our site!