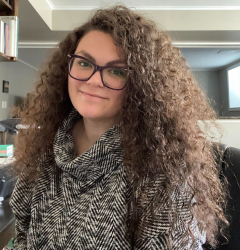 Latest posts by Candace Osmond
(see all)
Are you an ardent home cook with limited kitchen real estate? If yes, chances are you have spice containers filling your cabinets by the dozen. Worse yet, you're probably tired of rearranging the jars whenever you need to find a specific spice can.
Does that perfectly describe your current situation? Then it's time to implement a better organizational system in the form of an under-cabinet spice rack. Back in my interior design days, I specialized in Kitchen & Bath remodels and under-cabinet spice racks were almost always a must-have.
In today's guide, I've reviewed nine space-saving spice racks designed to fit various kitchen configurations and cabinets.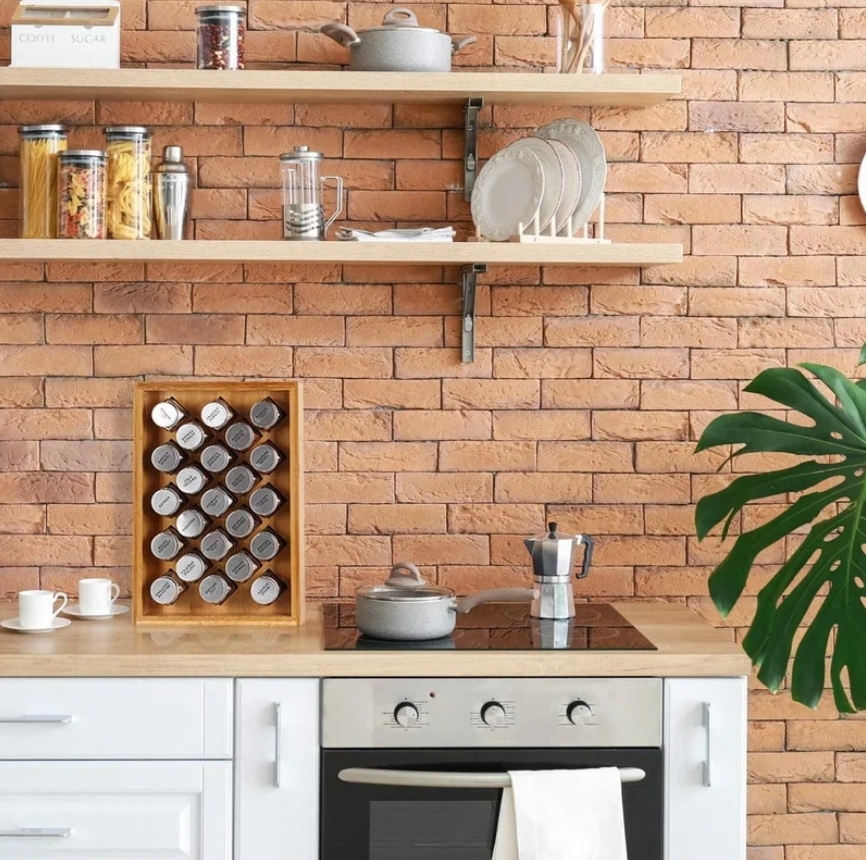 Bottom Line Upfront
I highly recommend the Prep & Savour 23 Glass Jars Holder because I've actually used this before. Once my spice collection got out of hand, my husband built me an entire wall of floating shelves to hold them. But, before that, this spice rack worked great.
Top 3 Picks
After spending days looking for the best space-savvy storage solutions for the kitchen, here are my top 3 picks.
Best Overall: Prep & Savour 23 Glass Jars Holder
This handy little thing could be the perfect solution to all your organization issues in your garage, kitchen, or pantry.
Best for Large Kitchens: Rebrilliant 30-Bottle Spice Rack
The Rebrilliant 30-Bottle Spice Rack features a 3-tier design that'll fit seamlessly in any large kitchen.
Best Bargain: Joseph Joseph Spice Organizer
Are you looking for a new spice rank that won't break the bank? This Joseph Joseph Spice Organizer could be what you're looking for.
What to Look For In an Under-Cabinet Spice Rack?
Next, I'll take you through some things you want to consider to ensure you pick the best under-cabinet spice rack.
Price
I'll say it now, you'll probably pay anywhere from $10 to $50 for a standard spice rack. However, if you go for a more decorative piece, expect to part with as much as $100. The largest under-cabinet spice racks that can hold dozens of jars will also cost upwards of $100.
Capacity
Indeed, you need the best under-cabinet spice rack that can accommodate all the spices you own or may need later. That said, this doesn't mean you should go overboard and invest in a spice rack that holds 60 spices.
Think about the spices you regularly need and invest in a rack with slightly more space.
Design and Look
Design considerations are key for spice racks as well. At the very least, ensure you invest in a unit that complements your kitchen's interior décor.
Fortunately, there are hundreds of under-cabinet spice rack ideas you can pick from. Some are readily available in the market, but you'll need to make others yourself. Whichever side you fall on will depend on your personal preferences.
If you intend to store the spice rack inside a cabinet, don't worry much about its looks.
Size and Adjustability
The best Under-Cabinet Spice Rack should be able to fit the space available in your kitchen. Simultaneously, it should be able to maximize the space.
For example, if you have a tall, narrow cabinet, don't get racks that waste the upper half of the space. Adjustability in the spice rack's design will help fix this issue.
Material
Regarding material, you have two things to think about. The first is what material looks best in your kitchen space and goes with the rest of your kitchen's aesthetics. The second is the material's ease of cleaning. This is paramount if, like me, you dread cleaning sessions.
For ease of cleaning, I suggest going for acrylic, wood, or metal spice racks. These are usually easy to wipe down. Also, go for materials whose construction can stand the test of time. And beware of flimsy materials.
Extra Features
Additional features to watch out for when picking under-cabinet spice racks include the warranty and build quality. A warranty doesn't back the spice rack you want? Then make sure you only buy from brands with solid reputations.
Build quality and warranty coverage will help you rest assured that the spice rack will hold up over time.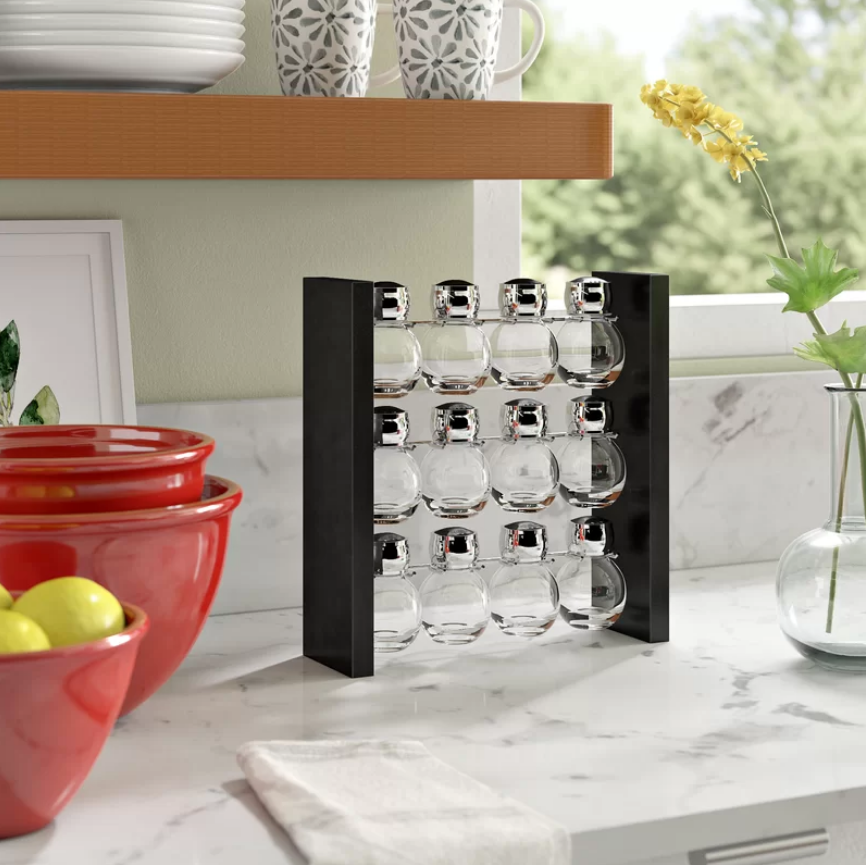 Types of Under-Cabinet Spice Racks
From budget to high-end, there are several under-cabinet spice racks available.
Magnetic or Wall-Mounted
Wall-mounted under-cabinet spice racks are often decorative units since they'll usually be visible all the time. Often, they'll also ship with specific types of jars, meaning you'll have to transfer your spices to the new containers.
As for "magnetic under-cabinet spice racks," this refers to units that attach to walls or cabinets via strong magnets.
Pros
Drill free installation
Great for large spices
Convenient accessibility
Easy to install and clean
Attractive designs that'll leave your visitors in awe
Cons
Magnetic spice jars are expensive
Pull Down Racks
Pull-down racks are great for those with minimal kitchen space. These are usually compact and perfectly fit underneath any cabinet.
Pros
Easy to see all the spices in one view
You do not have to reach or bend to get the spice
May not need special mounting hardware
Very affordable
They Can serve as a visual focal point in the kitchen
Cons
They cannot accommodate many spices
Not easy to install
Stainless Steel or Aluminum Wire Spice Racks
Metal wire spice racks are the most durable and sturdy. But they also tend to be the most expensive. What's more? While these spice racks are commonly plain, you can also find them in varied finishes: patterned, etched, and brushed.
Pros
Easy to scrub and clean
Metal is sturdy
Some are stain and rust-resistant
Metal boasts a unique look
Extremely durable
Cons
Expensive
Wire spice racks are available in limited color ranges

Plastic Spice Racks
Here comes the most inexpensive and easy-to-install type of under-cabinet spice rack. Unlike wire racks, plastic frames are also usually available in many colors.
Pros
Easy to maintain
Anti-corrosive
Termite proof
Easy to replace and source
Cheap
Cons
Cheap build
Not fire resistant
Wood Spice Racks
Wood is so common for making just about any kitchen accessory like under-cabinet spice racks. Several kinds of wood up the list include Sheesham (Indian Rosewood), teak, and marindi (mindi or Melia azedarach.)
Pros
Wood comes a wide range of textures, colors, and grains
Natural variations within the materials add to the kitchen's distinctive appeal
Adapts very well to both modern and traditional interior decors
Cleaning polished wood isn't a hassle
Extremely durable (if you pick the right wood.)
Cons
Bad quality timber won't last
Extreme changes in humidity can damage the wood
The Best Under-Cabinet Spice Racks
Whether your seasoning stash is massive or minimal, here are the nine best under-cabinet spice racks you can get today. I chose these based on their ease of use and installation plus price points and overall function.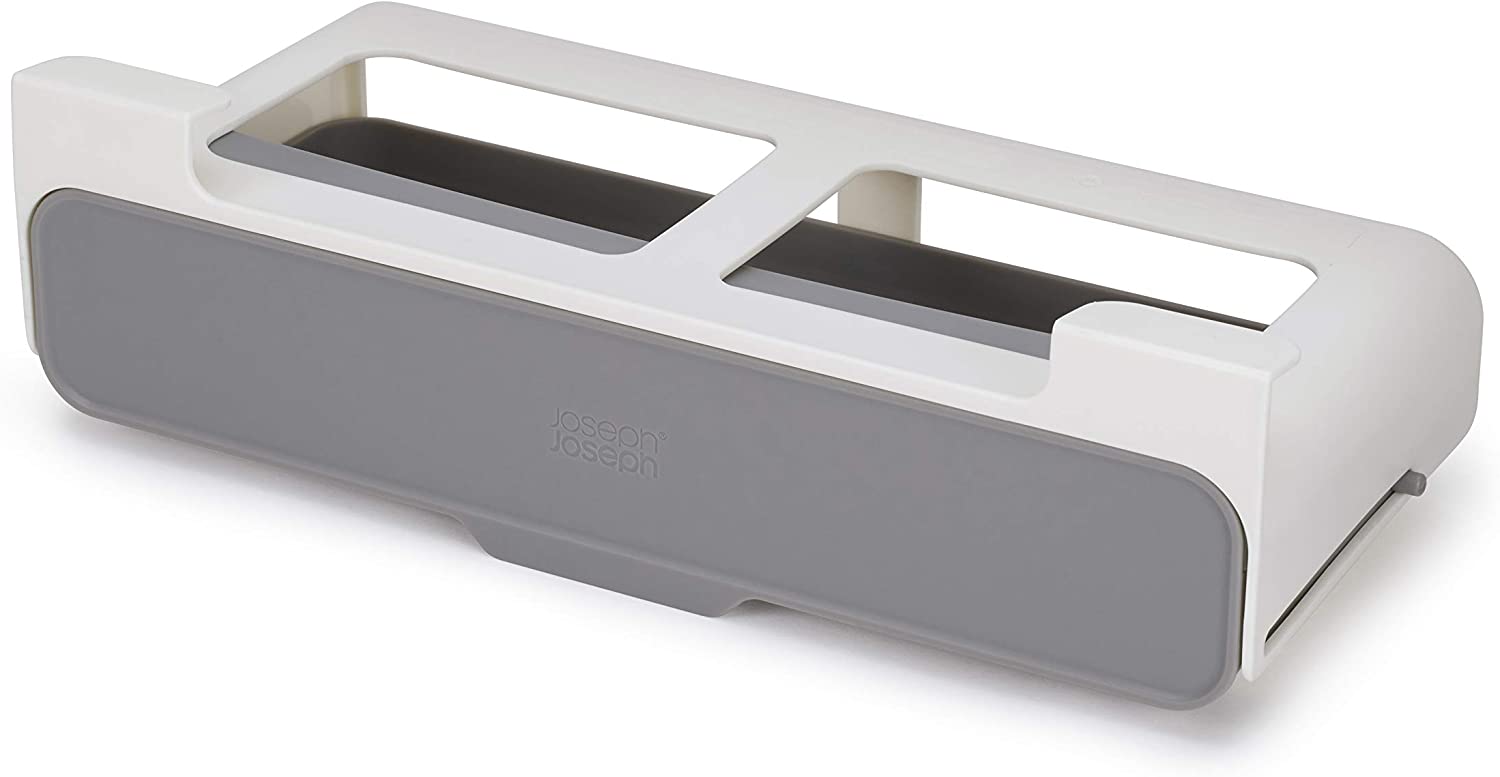 Is your goal to add a touch of style to your kitchen space? The Joseph Joseph Spice Organizer will help you do that with its modern appearance and sleek design. Yes, this goes under the cabinet, but I love that you could easily put it inside any cabinetry to create better interior organization.
Price Range: $13 – $18
Material: Plastic
Size: 1.97" (H) X 4.27" (W) X 1.97" (L)
The unit is designed with a clever pull-out compartment that'll hold up to seven standard spice jars. You can also easily adjust the unit's width to fit the space available on your kitchen under-cabinet.
Pros
Aesthetic design
Saves counter and cabinet space
Spices are easily accessible
Easy to clean
Easy tool-free installation
Spacious
Cons
It could be more spacious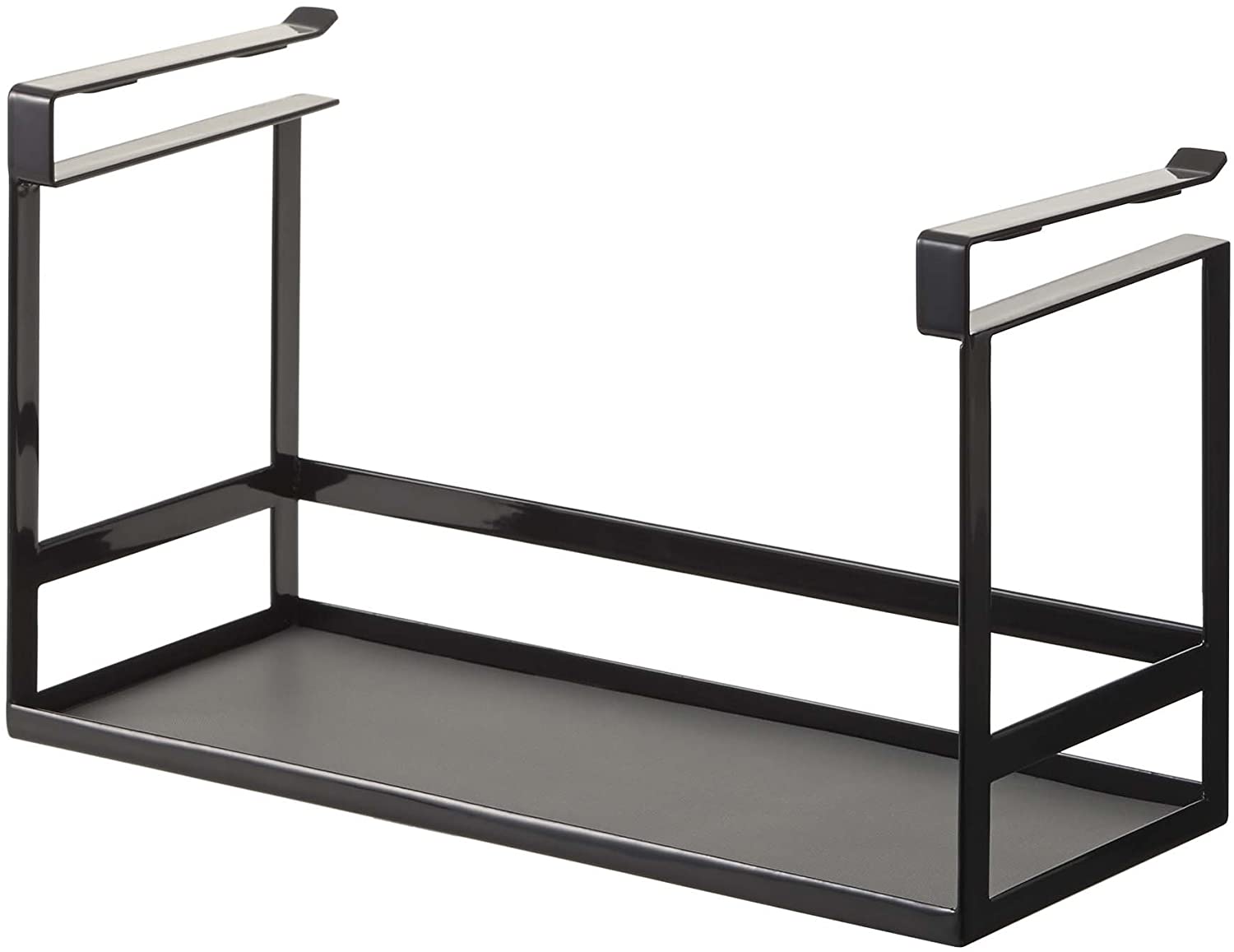 Are you tired of feeling cramped at your current kitchen countertop? Or perhaps you're just ready to upgrade your kitchen space and add a dramatic touch of style. Whatever the case, look no further than the Yamakazi Home Spice Rack Organizer, my friends.
I chose this one for the list because of how simple but totally versatile it is. Yes, it's a spice rack. But its basic metal design could have this thing in a kitchen, bathroom, or even an office. Heck, I might even grab a few for my home office desk!
Price Range: $30 – $35
Material: Alloy Steel
Size: 7.09" (H) X 12.01" (W) X 4.92" (L)
With plenty of room available, this rack can hold just about everything, from oils and spreads to jams and spices. Hey, you can even use it to store plastic bags, spices, and varieties of small items you need within arm's reach! Handy!
Pros
No assembly required
Durable design
Has a high load-bearing capacity
Easy to install and clean
Extremely versatile
Cons
Options for placement are limited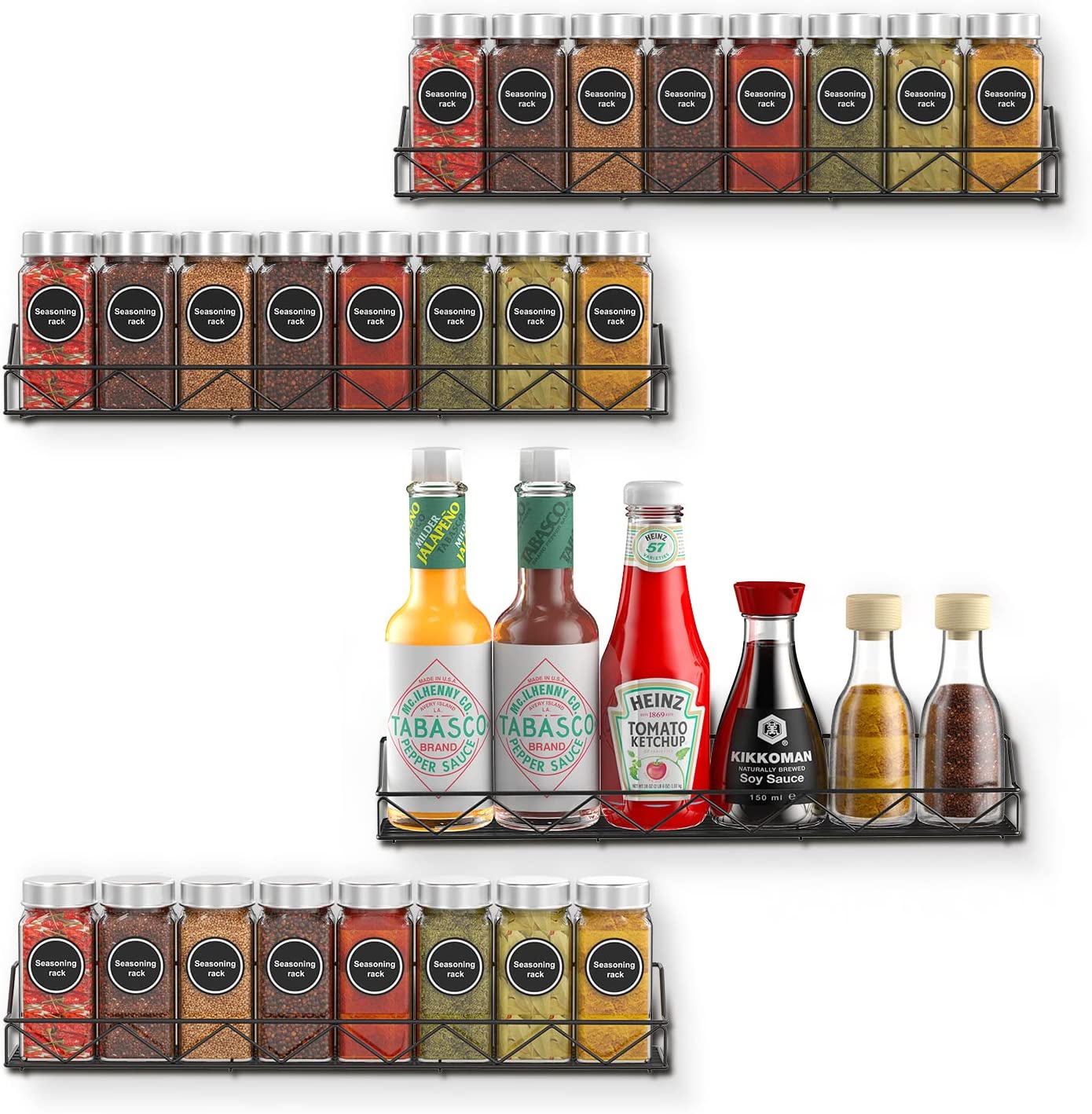 I actually had these in a rental property once and thought they were just the bee's knees. Seriously! I used them for spices but they also became my "junk storage" in my super tiny apartment kitchen. This Auledio Wall Mounted Organizer allows you to keep your kitchen counter effortlessly organized with its four single pantry shelves. Adjust the shelves' spacing to your liking or install them in different locations.
Price Range: $13 – $22
Material: Metal
Size: 3.11" (H) X 7.01" (W) X 16.02 (L)
Plus, this spice rack features an in-built protective railing on the front and sides to ensure spices won't fall off. So, what are you waiting for? Get organized!
Pros
Adjustable distance
Very durable
Easy to assemble and install
Sturdy
Clear visibility of spices
Cons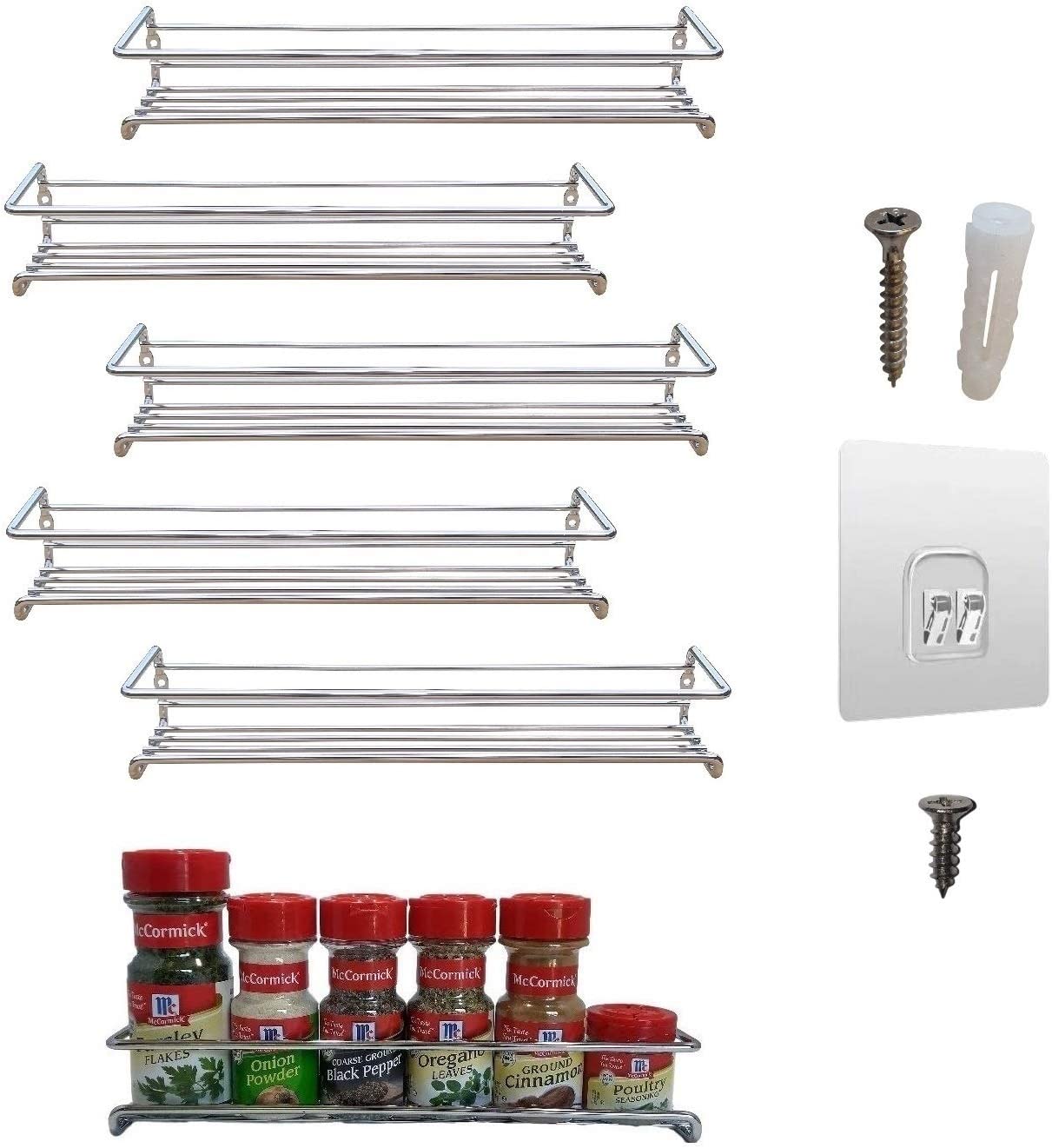 Premium Present's Spice Shelf is a must-have unit for any busy household. My best friend uses a similar spice rack. But I put them on the list because just think of the possibilities! I'd honestly stick them in a bathroom for toiletries and stuff.
Price Range: $20 – $30
Material: Metal
Size: 3.62" (H) X 9.96" (W) X 12.8" (L)
So, I can confidently attest that it can also double as a perfect bathroom wall organizer. You can also space the six pieces accordingly to accommodate your tallest spice bottles.
Pros
Plenty of storage space
Sturdy and reliable
Well crafted
Saves space
Easy to keep things organized
Affordable
Cons
Requires skilled installation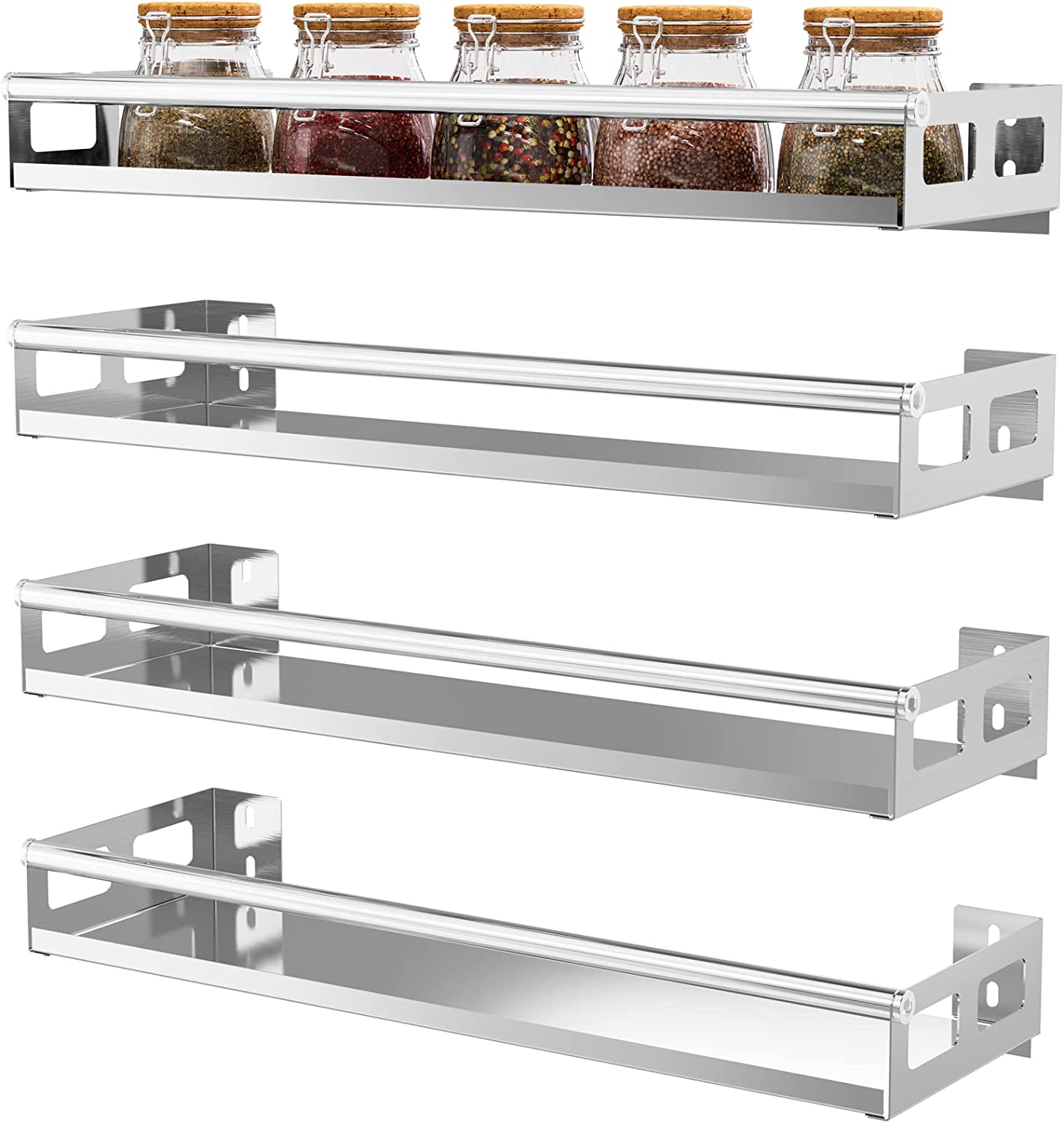 Large capacity, durable, rust-proof, and reliable. These are just some words I can use to describe this masterpiece from Glove Clip. If you think it's awesome I suggest you get another for your bathroom, pantry, garage, and laundry room.
Price Range: $20 – $25
Material: Stainless Steel
Size: 1.78" (H) X 4.92 (W) X 11.8" (L)
An instruction manual has also been included in the package from Amazon for easy installation. Because they're fairly industrial looking, I'd recommend installing them in a spot that won't be as visible.
Pros
Good quality
Affordable
Keeps spices away from sight
Easy visibility of spices
It doesn't take up kitchen space
Cons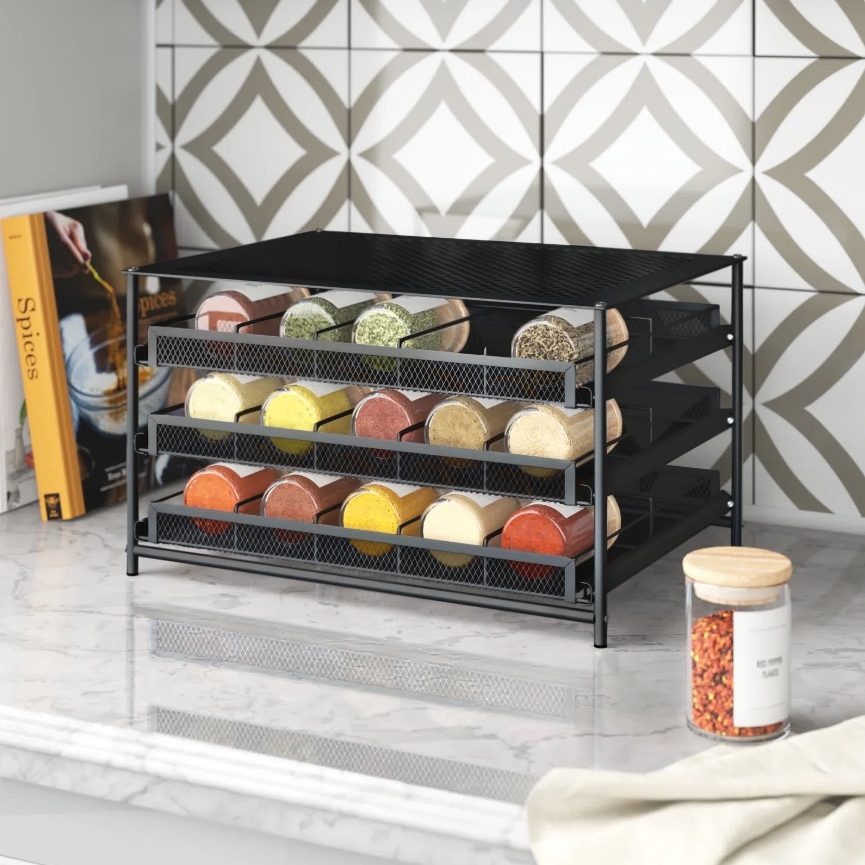 Any guide on cabinet spice racks would be incomplete without at least one masterpiece from Rebrilliant. The company is a leader in the storage & organization space, and the units in this guide prove why. What I love most about this option is that you can screw it to the bottom side of a cabinet, or you can leave it on your countertop.
Price Range: $80 – $105
Material: Metal
Size: 14.5" (H) X 10.8 (W) X 8.5" (L)
With this Rebrilliant 30-Bottle Spice Rack, you get individual organization spaces for each spice bottle. If you work with half-sized spice bottles, the unit can hold up to 60 of those. Not to mention it'll accommodate both round and square bottles.
Pros
It can be used for more than everyday kitchen items
Uses space efficiently
Sturdy design
It holds a lot of spices
Displays spices clearly
Cons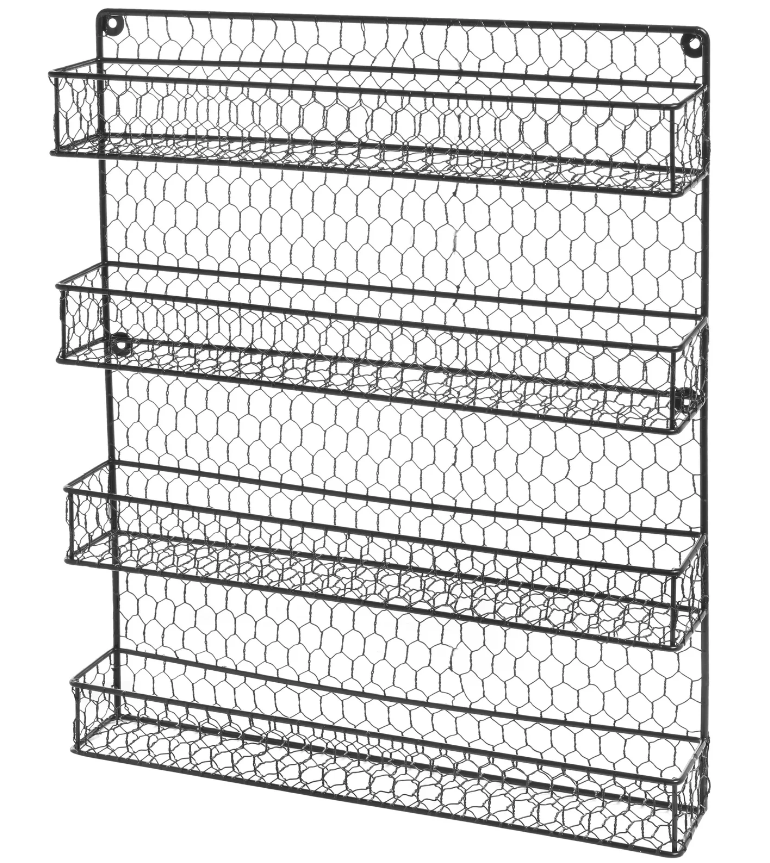 I love the Prep & Savour Spice Rack! It's a clever little device that keeps your spices well-organized and out of sight. Made of metal, the organizer is easy to install and won't need any special tools to organize. Personally, I'd line the underside of my upper cabinets with them instead of doing tile backsplash, but that's just me.
Price Range: $40 – $70
Material: Metal
Size: 20.86" (H) X 16.92" (W) X 2.36" (L)
Plus, it's been backed by a 30-day limited warranty to let you rest assured it'll work as advertised. Don't miss out on this great under-cabinet organizer.
Pros
Can store a good variety of spices
Sufficiently spacious
Accommodates all standard spice jars
Lightweight with an impressive load capacity
Backed by a warranty
Designed to commercial standards
Cons
Quite expensive for its simplistic design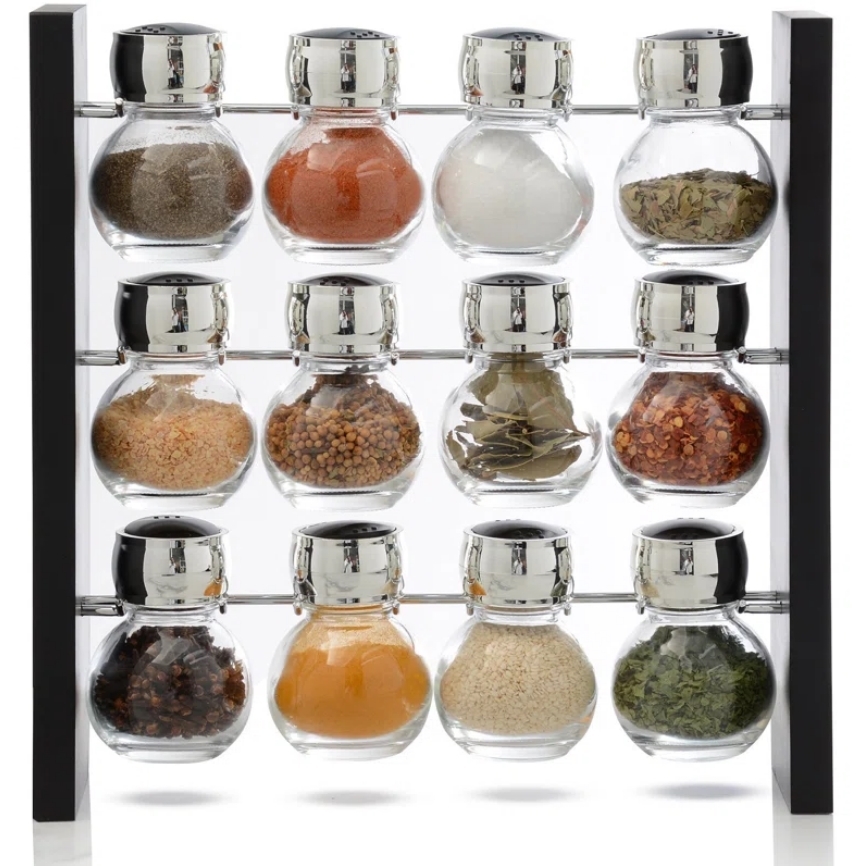 How adorable are these? Organize your kitchen with the Rebrilliant 12 Jar Rack Set. This handy tool is fully equipped with one rack and 12 bottles, perfect for organizing your kitchen. The bottle's transparency and rack's upright storage allow everyone to see what is in each bottle easily.
Price Range: $41 – $60
Material: Glass Rack Set
Size: 11.5" (H) X 11" (W) X 5" (L)
As the manufacturing company notes, this is your chance to take a ho-hum dinner and transform it into a gastronomic extravaganza. As a self-proclaimed kitchen witch, I almost have to get these.
Pros
Will complement any interior décor
12 bottles are included
All spices are highly visible
Strong and sturdy build
Durable and reliable
Cons
You'll need to watch the glasses carefully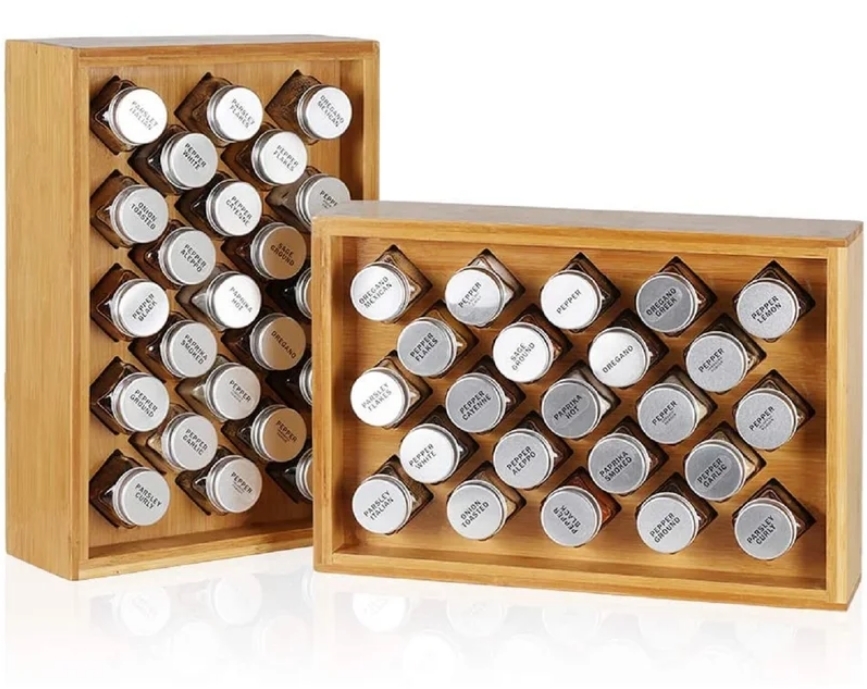 This is the second masterpiece from Prep & Savour in my detailed guide. If that doesn't prove the company's ability to deliver, I don't know what does. For starters, the unit allows you to provide individual organization spaces for each particular bottle.
Price Range: $75-$105
Material: Wood
Size: 15.75" (H) X 10.83" (W) X 4.13" (L)
Better yet, you're not limited to using the Prep & Savour 23 Glass Jars Holder to store spices. You also use it for the garage, bathroom, and other kitchen supplies. What I love most is how many ways you can install it. Place on your countertop, install under a cabinet, inside drawers, etc.
Pros
Looks stylish
Doesn't require a loot of counter space
Sturdy build quality
Extremely versatile
Easy to install
Cons
FAQs
Question: How Do You Make an Under-Cabinet Spice Rack?
Answer: To make an under-cabinet spice rack, you'll need to start by figuring out the type you'd like. I prefer traditional wood spice racks. Now, determine how big you'd like it to be. Finally, you'll have to purchase all the hardware required to build and hang the new spice rack.
Question: How Do You Store Spices in a Small Kitchen?
Answer: Unhappy with the limited space in your kitchen? One way to add more is by investing in a spice rack. These racks offer easy access to your spices, making them accessible whenever you need them. They also keep your spices organized, neat, and out of sight.
Question: Where Should I Put My Spice Rack in The Kitchen?
Answer: You want to position your spice rack near where you need most of your spices. If this means placing the rack next to your stove in your situation, go ahead and do so.
Best Under Cabinet Spice Racks: Bottom Line
Pick any of these under-cabinet spice racks and stop going into a tailspin every time your garlic powder container goes missing. I recommend the Prep & Savour 23 Glass Jars Holder just because I know first-hand how awesome it is.
If you have a compact kitchen space and jars scattered everywhere, these units will also help tidy the space up. You only need to pick the right one using the buyer's guide I've included in the post. Pop over to check out the rest of our awesome home product recommendations!