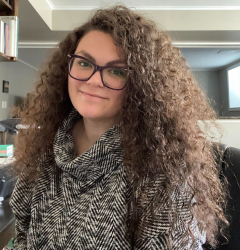 Latest posts by Candace Osmond
(see all)
In college, I ran a side hustle of scouring yard sales to find pieces I could DIY into bar cabinets and other one-of-a-kind furniture pieces. I kid you not. So, I know a good bar cabinet when I see it, especially a stylish one.
Specifically fitted with varying themes and components, bar cabinets provide a practical, aesthetic, and more elegant alternative to wet bars. With that in mind, I've scoured the internet for the best bar cabinet units on the market. This whole guide should help you get off on the right foot as you head out on your purchase journey.
Bottom Line Upfront
I'm all for simple designs where I can add my own style. I'm also a fan of portable carts and ones that can have multiple uses. The Aboxoo Wine Cabinet could totally be a cute kitchen cart, too. I love it.
Top Recommendations
Here are the top five bar cabinets assured to elevate your at-home bar game.
What Makes a Bar Cabinet?
Think of a bar cabinet as a level up from a bar cart. Bar cabinets are often constructed from wood and feature storage spaces for glasses, liquor, and accessories one may need. The best bar cabinets also include a locking door and an empty surface on which one can pour and serve drinks.
I'd suggest ensuring that the one you pick includes a wine rack you may use to stash a few bottles. Additional features required to complete a bar cabinet include a water-resistant work surface and a stemware rack. What's more? Like all other accent furniture, a bar cabinet should be able to complement your interior décor. Feel free to get one that takes center stage with distinctive styling or a bright, vibrant shade.
Different Types of Bar Cabinets
As with most other cabinetry, there are several types of bar cabinets you should consider. The kind you eventually settle on will depend on your needs, personality, and aesthetic preferences.
Tall
Tall bar cabinets are the most spacious solutions you can employ to store your favorite vintages. As my list below will also prove, they can also be the perfect accentuating pieces of furniture your home needs. Regarding their height, tall bar cabinets usually stand between 60 and 75 inches tall.
Tall bar cabinets also retail in two general designs: open and enclosed. The open version resembles a hall tree or bookcase, with open glassware racks and shelves. Enclosed versions look much more like standing desks or armoires.
Short
Short bar cabinets stand between 30 and 45 inches high. You can quickly identify them using their tops that act as the "bar" upon which one can pour or mix drinks. Like tall cabinets, short bar cabinets can also be open, but you'll usually find them often enclosed.
What's more? Don't let their short stature fool you. Shorter bar cabinets can still hold a ton of supplies and liquor if they're designed cleverly. They usually make up for their small heights with their broadness. They average 45 inches when closed and 32 inches when open.
Open Shelf Style Bar Cabinets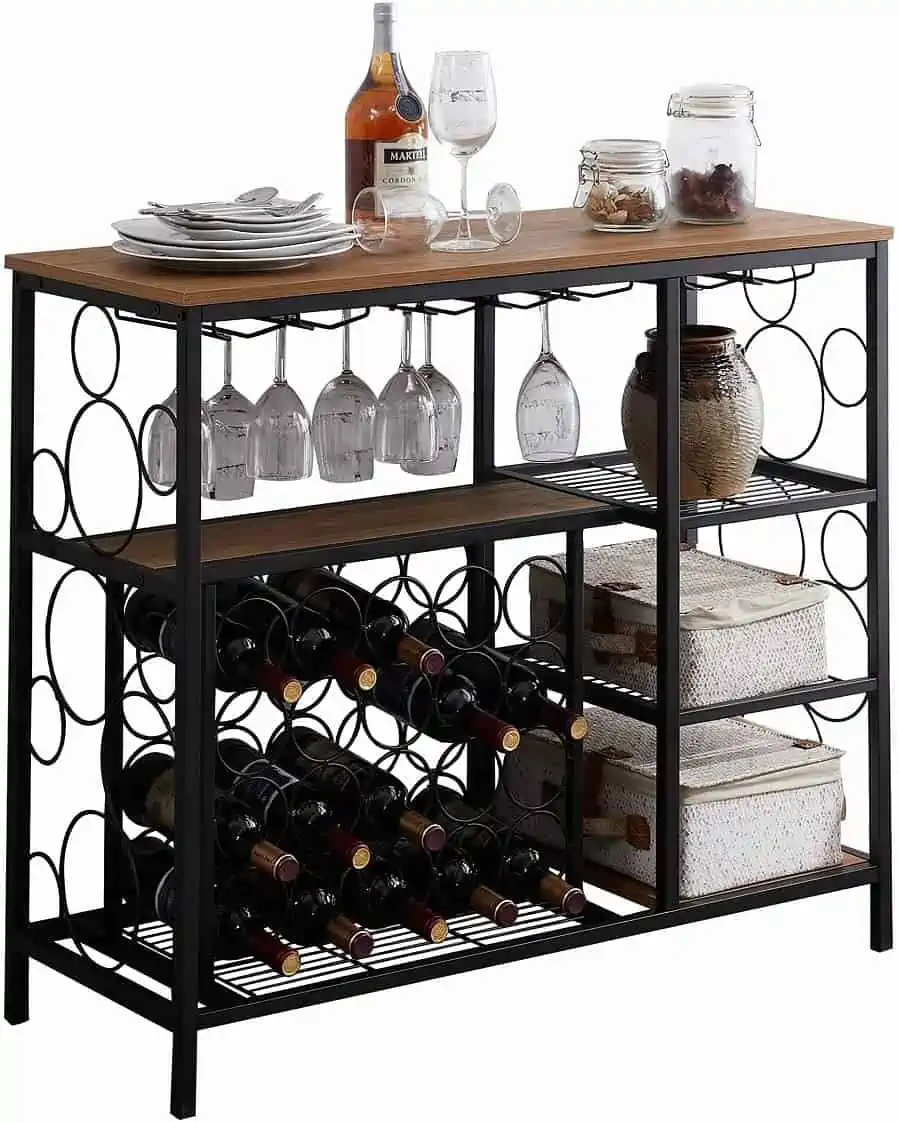 Do you believe that your gorgeous and classic bottles of wine shouldn't be hidden inside closed cabinet doors? Open shelf-style bar cabinets are your opportunity to flaunt and show them off. Like all other kinds of bar cabinets, open shelf-style varieties retail in a wide array of designs and shapes.
The one I have in my home is a rustic, rhombus-shaped unit.
Hide-A-Bar Cabinet
Hide-a-bar cabinets cleverly conceal your bar items by resembling any other piece of furniture in your home: think vanities, dressers, and regular cabinets. These bar cabinets also provide ample storage space, and their functionality is a primary emphasis and advantage.
Corner
Corner bar cabinets are a great space-saving option that allows you to make use of those awkward corners without taking up too much space. You still get the storage and surface area, but don't need a free wall to place it.
Wine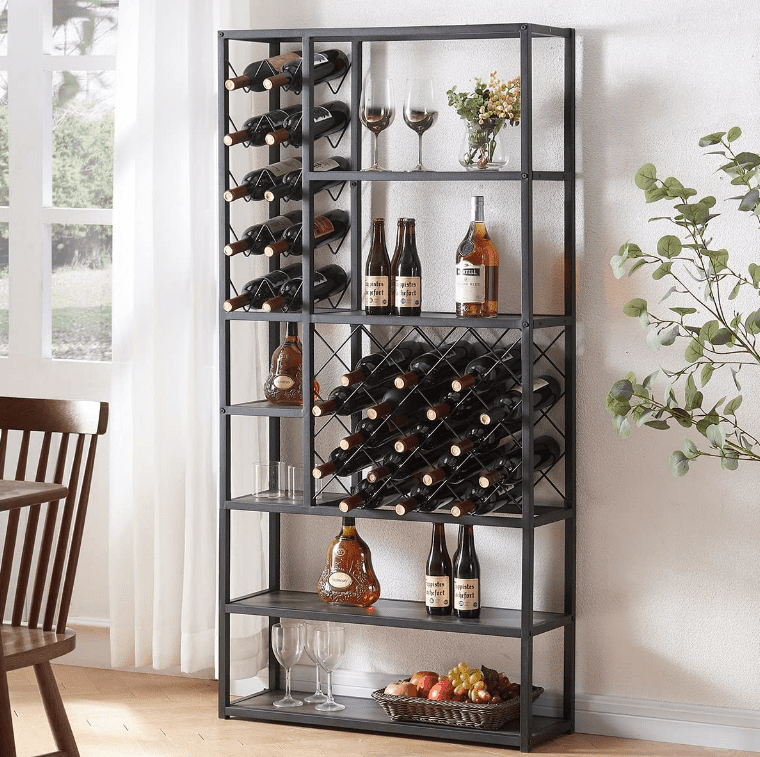 A wine cabinet is similar to traditional wine cellars. Inside this type of bar cabinet, you'll find wine racks and, at times, a wine cellar cooling system. The cooler works to maintain the cabinet's humidity and temperature.
High-end wine bar cabinets may also be divided into several independent temperature zones. This is done to provide sufficient storage space for different kinds of wines. An additional feature that most wine cabinets will retail with is soft-glowing LED interior lights.
What To Look for In a Bar Cabinet
There are many factors to consider before deciding on the right bar cabinet. Here are five examples to point you in the right direction.
Storage
There never seems to be sufficient room in our homes for all the stuff we tend to accumulate, right? Well, the same can be said for accessories and products needed to create an effective home bar.
In addition to bottles of spirits and wine, you'll also need compartments to store items like coasters and shakers. Additional accessories you should consider include bottle openers, fruits, and other edible additions to drinks.
Refrigeration
Do you prefer your drinks cool and don't want to risk them being warm when you need them to drink? Then perhaps you need to get one with a mini-fridge or build one into yours yourself. Whichever option you pick, note that this will be a costly endeavor.
More on adding a refrigerator to your bar cabinet later in the guide.
Material
Solid wood is undoubtedly the best material for bar cabinets if durability is what you're after. It's stylish and strong and awards the units a classic charm. Additional materials you'll find on some of the bar cabinets include glass, marble, and manufactured wood.
Whatever material you go for should be sturdy enough to accommodate the type of bottles and drink equipment you own. It should also be versatile and stylish enough to complement your home décor, whether modern, transitional, or traditional.
Needless to say, the better the construction material, the more expensive the unit will be.
Size
An old construction saying states, "Measure twice, cut once." This holds water in the realm of picking bar cabinets as well. To determine the perfect-sized bar cabinets, take exact measurements of where you'd like them to go. Remember to measure again before you buy 'once.'
Design
Can you imagine walking into a room and being met with a mixture of distinct themes, aesthetics, and styles? It can be akin to unknowingly entering a multi-family garage sale. If you've developed a theme for your home or a particular room, the bar cabinet you get should complement that décor.
Ensure the style, finish, decorative hardware, and overall design work cohesively with the rest of your room's furnishing and décor.
The Best Bar Cabinets for Your Home
To help get you going, here is a rundown of the best bar cabinets I could find. I love them all, but I've divided the section into several parts to help you find the best option for your needs. I included a wide variety of styles, sizes, and functions.
Best Tall Cabinet
If you have a small space but need some serious bar storage, go high!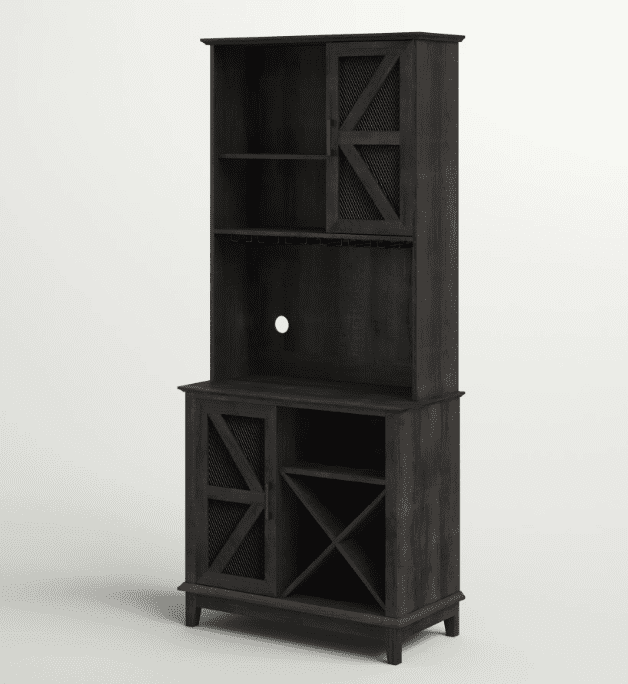 A built-in wine rack, glass storage, and a center shelf for serving, storage, or display. These awesome features give this tall unit from Sand & Stable its touch of class. Ooo la la!
Price Range: $450.99 – $600.89
Size: 72" H x 31.5" L x 15.5" D
Best Feature: Four open shelves for additional storage space
The unit retails in three additional colors: grey wash, white, and natural Oak. A mix of shelves and cabinets has also been included to help you store your glassware, spirit, and wines separately.
Pros
Strong construction
Versatile and can double up as a coffee station
The perfect mix of shelves and cabinets
Features a built-in glass storage
UV and rust resistant
Cons
Some people reported misaligned holes on the bars (easy to get around this, though)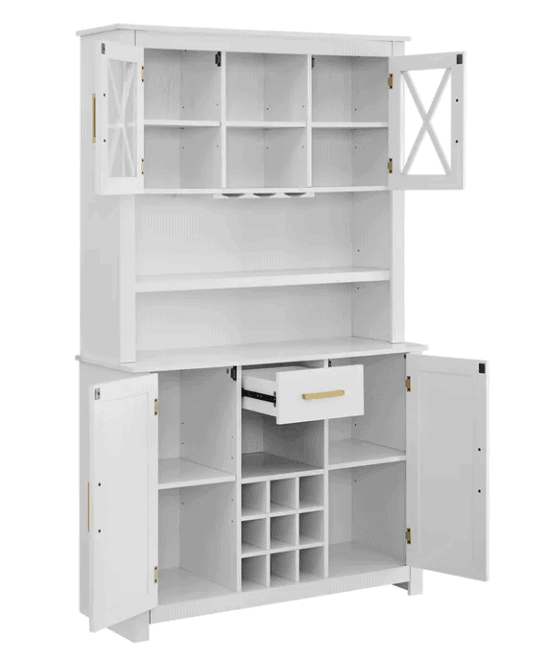 Does your living room tend to transform into chaos when your friends arrive? Allow me to introduce the perfect solution for you. This bar cabinet's grey-wash finish and contemporary design are assured to never go out of fashion.
Price Range: $930 – $1,146.99
Size: 70.8" H x 41.7" L x 15.7" D
Best Feature: It will look great in any room
You'll also get two cabinets and a mid-section you can use to store your wine glasses in an inclined manner. Use the two shelves to keep your other drinkware instruments safe and in place.
Pros
Backed by a 30-day limited warranty
Mildew and rust resistant
Will complement any interior décor
Sufficient storage space
Sturdy
Cons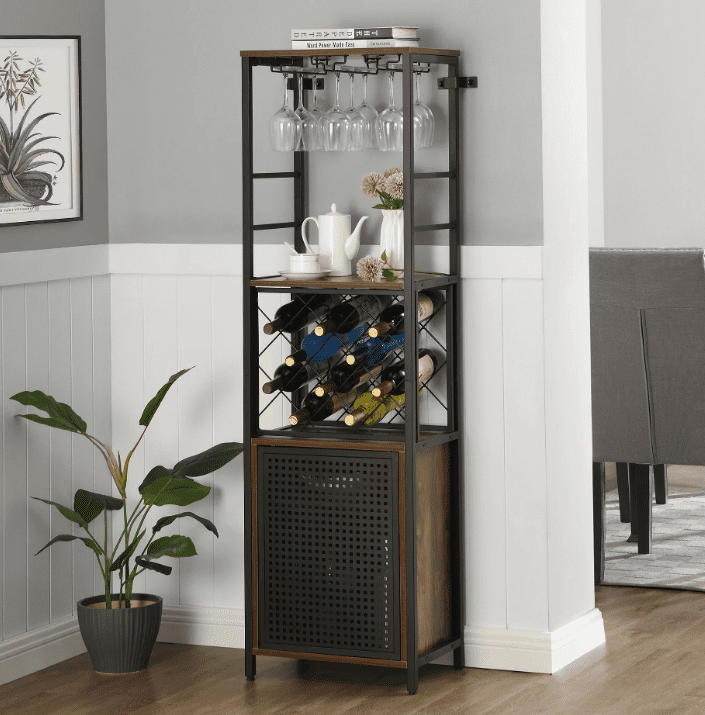 This unit from O&K Furniture particularly struck a chord with me due to the perfect aesthetics-utility balance it offers. It has a crisscross pattern over the midsection where you can store, display, and flaunt your favorite collection.
Price Range: $250.78 – $500.99
Size: 61" H x 18" L x 12" D
Best Feature: A vertical design that saves on space
Use the top half of the bar cabinet to store and hang your best glasses.
Pros
A practical cabinet included at the bottom
Boasts a space-saving vertical design
It comes with a built-in wine rack
Perfect for rustic décors
Sturdy construction
Cons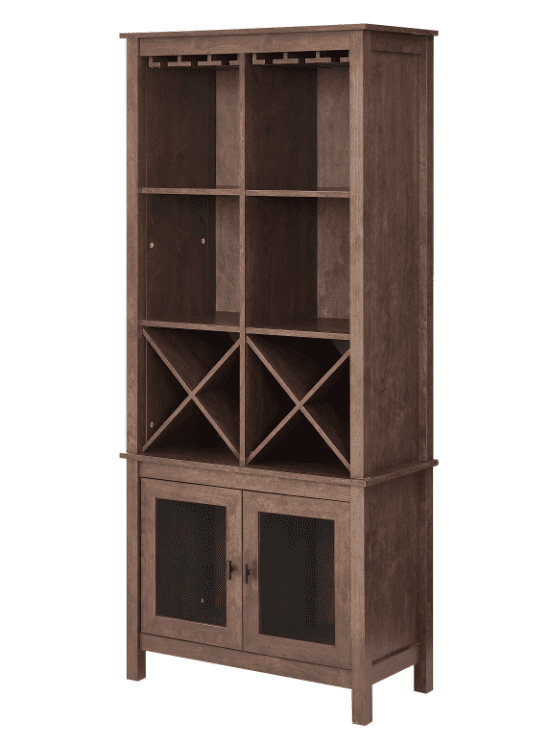 This one is made from solid wood and awarded a gorgeous mahogany finish. Its fancy outlook also adds a classy vibe to your dining or living area. Inside, you'll find hooks to hang your glasses and two glass door cabinets dedicated solely to your drinks.
Price Range: $800.90 – $1,050.99
Size: 72" H x 32" W x 15.5" D
Best Feature: It can double up as a bookshelf
Get ready to receive a whole load of compliments for this wooden structure the next time you host a party. And if they don't tell you how beautiful it is, be sure to point it out!
Pros
Great for compact spaces
Sufficient storage space
Unique design
Durable and sturdy
Backed by a 30-day limited warranty
Cons
Tip-over resistant isn't included
Best Small Bar Cabinet
These units prove you can still store your stemware and sauvignon blanc in style even if you have limited space. Perfect for apartments or suites.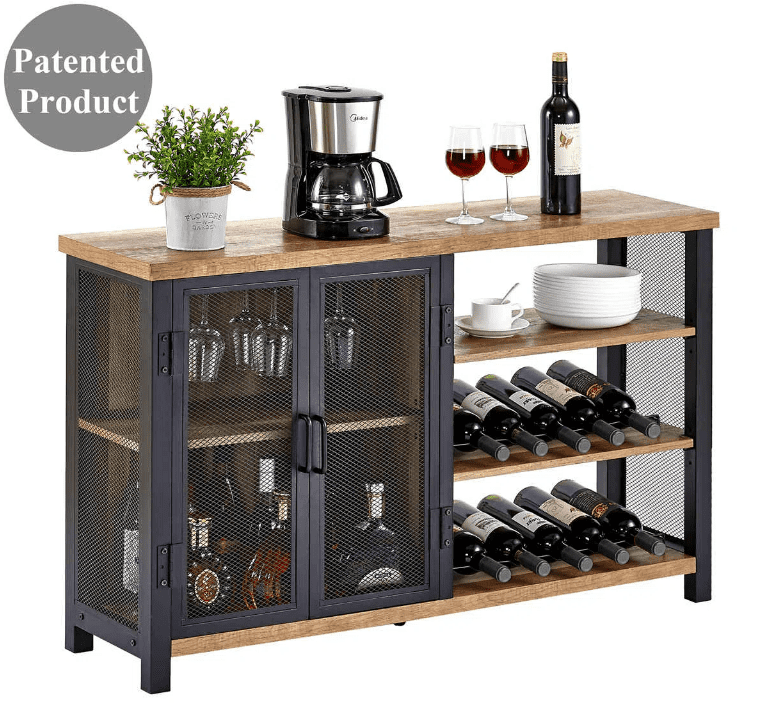 Elegantly entertain your guests with this sliding top bar cabinet constructed from manufactured wood. The beautiful mesh doors and a wine rack on the right side are classically styled to enhance any home décor.
Price Range: $490.89 – $670.34
Size: 30" H x 47.24" L x 13.39" D
Best Feature: High-quality MDF construction
Behind the mesh doors, you'll find a six-class stemware holder and ample storage for your spirits. I think it'd also make a great hutch for any dining room because of its size.
Pros
Aesthetic mesh doors
It also includes a dedicated wine rack
Rust resistant
Impressive wine rack capacity
Intended for both residential and non-residential use
Cons
Some customers claimed it's smaller than expected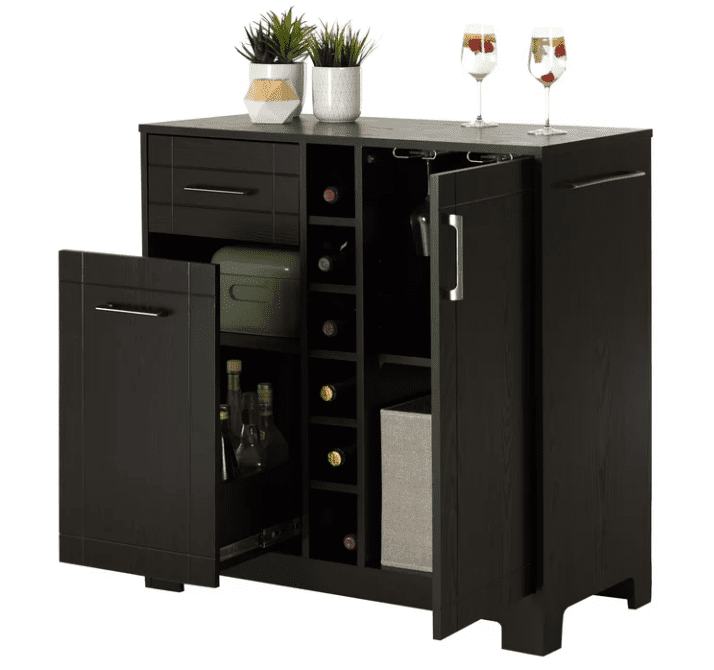 Are you a minimalist who prefers something that's not only simple but also brings a sense of elegance along with it? This Vietti Bar Cabinet could be your best bet. For starters, the unit is fitted with a towel holder and a spill-proof top. Cool, right?
Price Range: $386.09 – $468.99
Size: 36.75" H x 35.63" L x 17" D
Best Feature: Specialized storage spaces for wine and liquor bottles
It's also supported by a five-year limited warranty, which is practically unheard of in the realm of bar cabinets or, really, any furniture. Most units in this price range retail with a one-year warranty, tops.
Pros
Versatile
A trendy pick
Features a spill-proof top
A towel holder included
Durable and rust resistant
Cons
No natural wood variation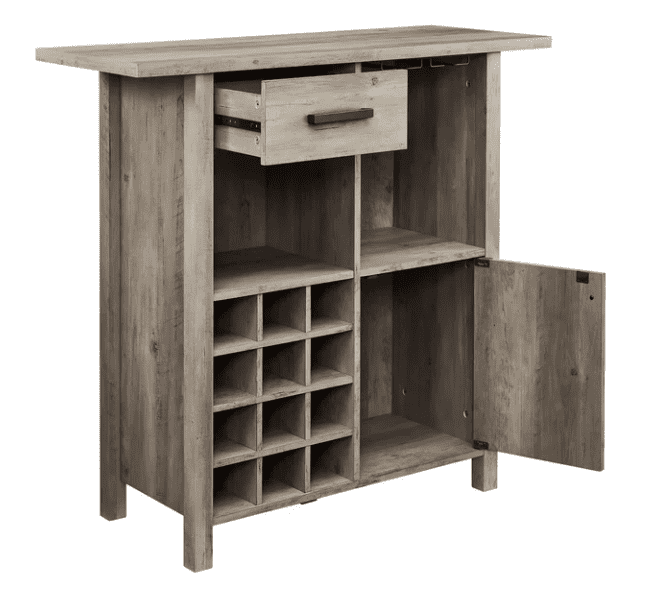 Are you a lover of both wine and sophistication? Or just wine? LOL! This bar cabinet from Jill Zarin is ready to bring some refinement to your wining and dining. The unit features removable wine racks and a smooth wood look, bringing an edgy modern industrial look to your home.
Price Range: $245.99 – $349.99
Size: 40" H x 46" L x 15.5" D
Best Feature: Wine racks removable to create extra shelf space
The cabinet will also seamlessly blend with your existing décor to bring out the best of your interior space. Use the specially designed area on top to hang your favorite glasses.
Pros
Rust, mildew, UV, and water resistant
Backed by a 30-day limited warranty
Will complement any interior décor
Very spacious
Quality, durable construction
Cons
It can scratch easily, so handle it with care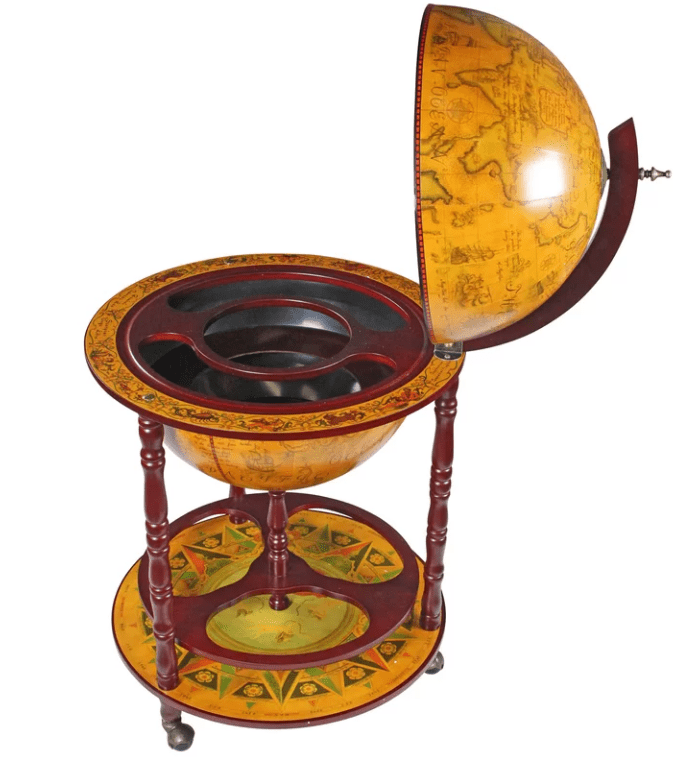 This globe bar is undoubtedly the best storage-aesthetics combination I've come across so far. I need it. I want it. The globe's outer surface is wrapped with 16th-century replica nautical maps and the inside antique replica frescoes.
Price Range: $295.89 – $399.99
Size: 38.5" H x 22" L x 22" D
Best Feature: The whimsical 16th-century nautical maps globe on top
The two together make the globe bar a work of art and perfect decoration for any home or office room.
Pros
Impressive wine and glass storage capacity
Extremely unique and attractive design
Backed by a 60 day warranty
Solid wood construction
The Sepia finish will complement any interior
Cons
On the smaller end of the spectrum
Best Corner Bar Cabinet
Are you looking for the best bar cabinet that'll reasonably use your room's corner space? These best corner bar cabinets could be what you're looking for.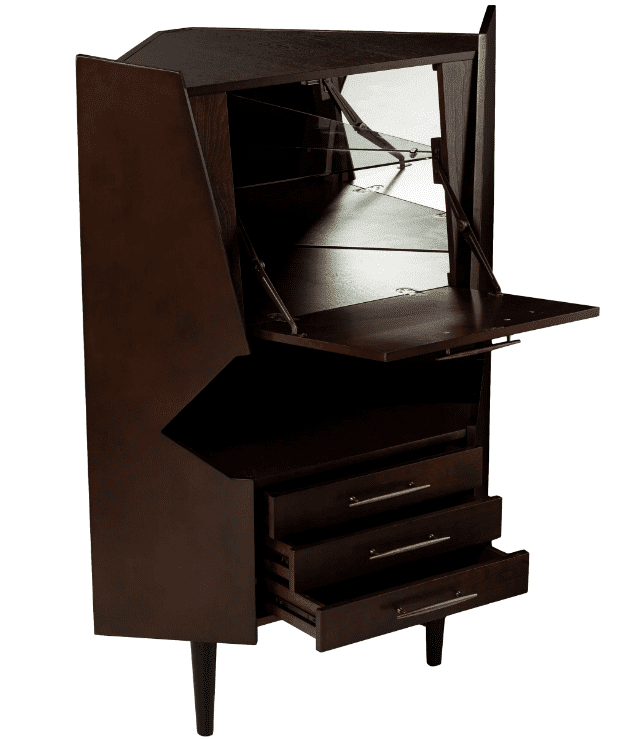 This Silicox corner bar cabinet with its antiqued finish is the perfect solution for mid-century modern-style homes. Its geometric side panels, lift-down design, and rich dark tobacco finish look rustic and lived-in.
Price Range: $589.99 – $690.99
Size: 49" H x 35" L x 25" D
Best Feature: The warm and welcoming rich, dark tobacco finish
The open mid-section also lightens its look and can be used as a coffee nook during the day.
Pros
Impressive weight capacity
A lift-down design perfect for mixing drinks
Backed by a limited 1-year warranty
Great value for money
Blends in-in any interior
Cons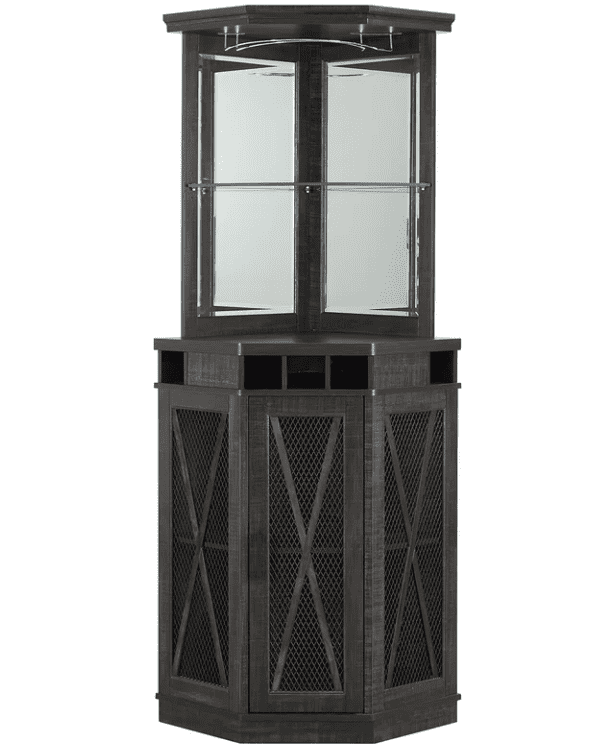 This contemporary-styled wine and bar cabinet from Rosalind Wheeler combines plentiful storage with convenient space-saving corner construction. This design is also the perfect solution for anyone who wants to spruce up a dull corner in their home.
Price Range: $528.99 – $598.99
Size: 7.4" H x 31" L x 23.6" D
Best Feature: It's antique-inspired and farmhouse-style design
The piece is available in six distinct shades: white, grey, wash grey, stone gray, reclaimed Barnwood, and Oak.
Pros
Backed by a 30-day limited warranty
Rust resistant
A mirror included
Strong, durable construction
Retails in multiple colors and finishes
Cons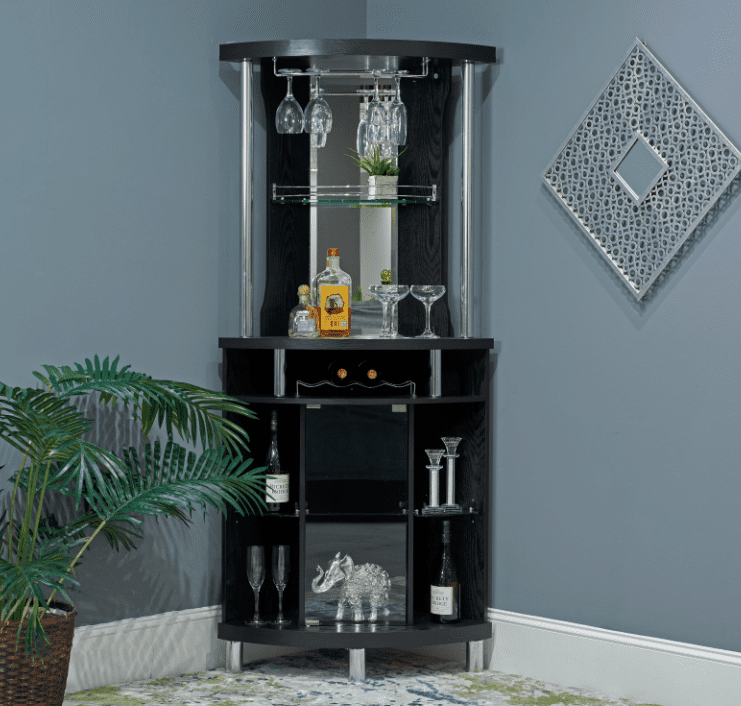 Made of solid and manufactured wood, this sophisticated and geometrically detailed bar cabinet allows for unique finishes. The midsection includes cubicles you can use to hold up to five of your favorite bottles of wine. That's a week's worth for some of my friends.
Price Range: $589.99 – $680.99
Size: 72" H x 31.5" L x 22.4" D
Best Feature: Plenty of storage without a huge footprint
Pros
Distinguished craftsmanship
The mirrored walls up top deliver a bar-like atmosphere
UV and rust resistant
One of the easiest to assemble
Great value for money
Cons
The warranty covers defects only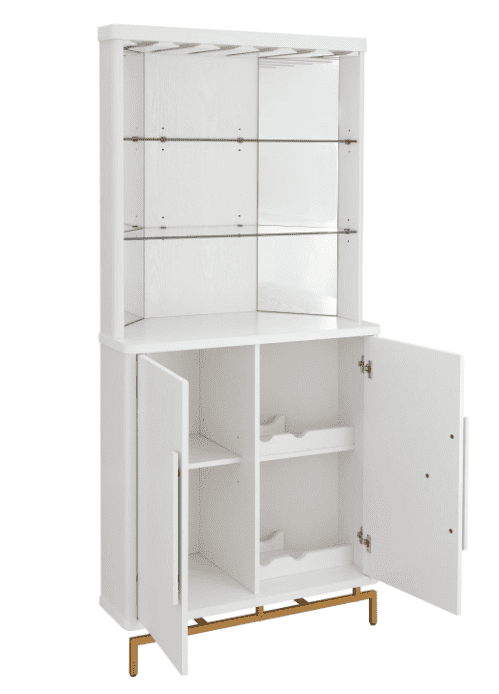 I'd proudly claim that this is arguably the most practical and stylish bar cabinet on the market. The unit has ample room for glasses up above and a wine rack behind the cabinet doors down below. The half-moon handles are there to award the piece a futuristic look.
Price Range: $480.89 – $639.99
Size: 68" H x 31.5" L x 15.7" D
Best Feature: Half-moon handles that deliver a futuristic look
The unit is also built with the highest quality materials and to exact specifications to ensure fine craftsmanship.
Pros
Stylish construction
Plenty of shelf space
Suited for any modern space
Mildew, rust, and UV resistant
Backed by a 30-day limited warranty
Cons
Best Bar Cabinet with Wheels
These bar cabinets with wheels are perfect if you like to entertain in multiple rooms of your home.
Take away the crippling stress of setting up a party with this transitional-style accent console. What do you mean? You don't get bogged down with anxiety when planning any little thing? Just me? Okay…
Still, this bar cabinet features a practical countertop and nine storage compartments for wines, spirits, and liquors. It's definitely a focal point for any party.
Price Range: $239.99 – $280.79
Size: 29" H x 24" L x 15" D
Best Feature: Nine storage compartments
I like bar cabinets that have a good working surface because it makes them more functional. To the side, you'll also find a stemware rack you can use to hold glasses and additional drinks.
Pros
Retails in four distinct colors and finishes
Boasts a stylish modern design
Made from a high-grade wood composite
Water-resistant
Backed by a one-year limited warranty
Cons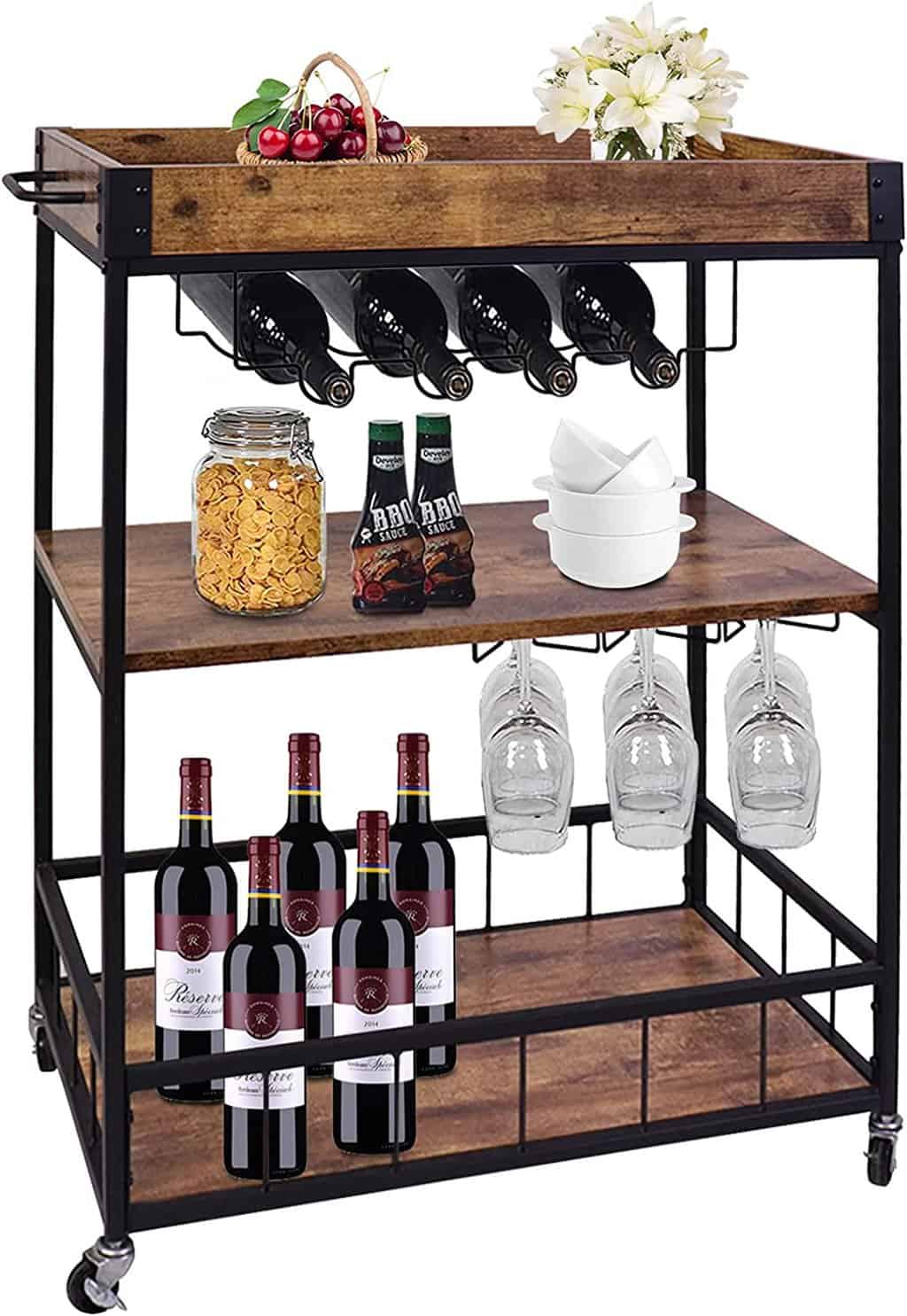 Elevate your home bar situation with elegance in the form of a storage serving cart with wheels. The two handles on both sides and the 3-tier design add visual interest, while the whole cabinet offers ample storage space.
Price Range: $99.99 – $115.89
Size: 35.2" H x 26" L x 15.7" D
Best Feature: Racks available for hanging wine bottles and glasses
The unit's durability has been assured by its high-quality MDF construction and strong steel frame.
Pros
Ample storage space
Easy to clean
Built to last
Two handles are included, making the cart easy to move
Aesthetic tiered shelves
Cons
Only retails in this color and finish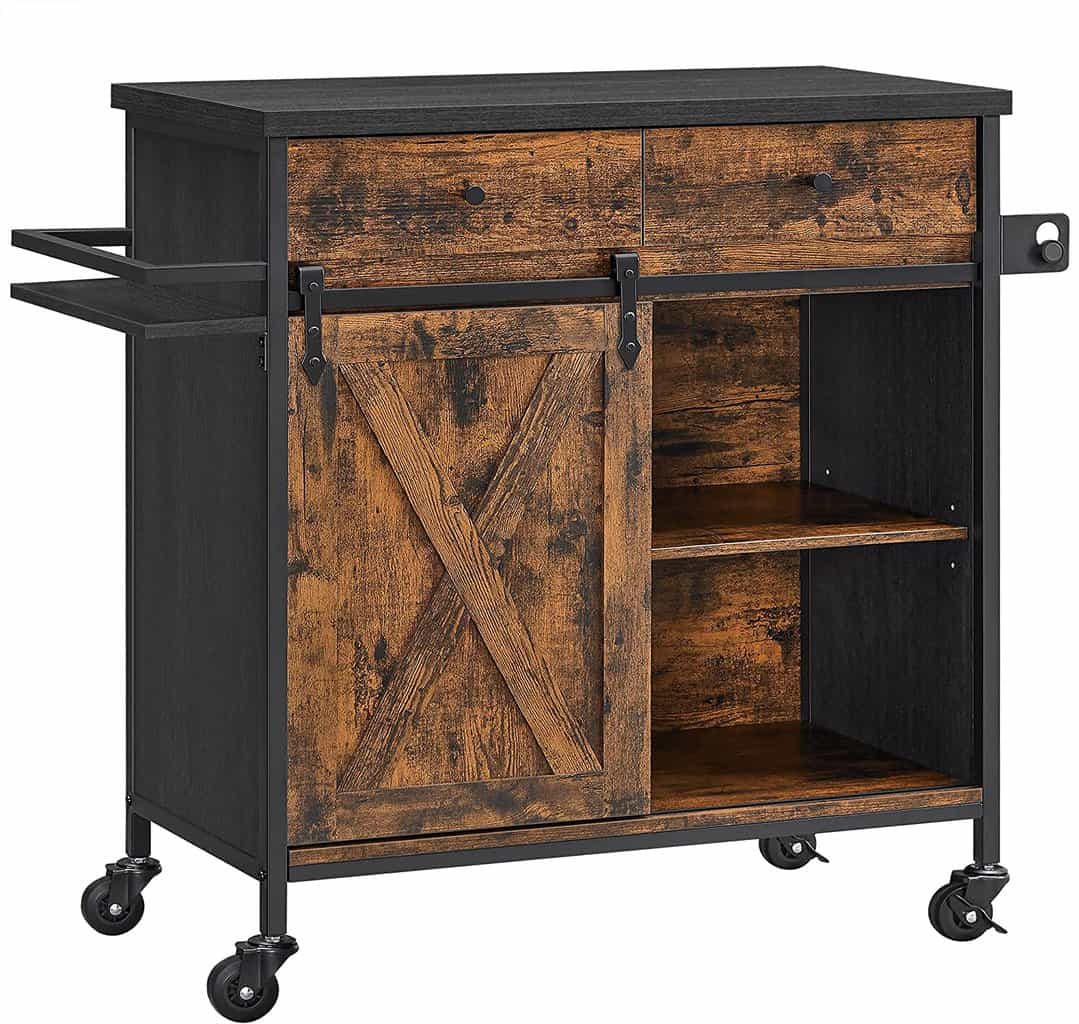 This rustic bar cabinet is the perfect addition to your farmhouse-style home for some added style and storage. The unit features two drawers and cabinet doors that slide to the left or right to let you fetch items.
Price Range: $200.99 – $280.78
Size: 35.8" H x 31.5" L x 15.7" D
Best Feature: It's rustic, industrial charm
The only downside with this unit is it isn't mildew resistant, especially in humid environments. The manufacturing company suggests always wiping off any accidentally spilled water immediately using a dry cloth. So, if you're a mess maker, be sure to clean up right away.
Pros
Durable construction
One of the easiest to assemble in this collection
Aesthetic
Ample storage capacity
A spice holder and towel bar included
Cons
Challenging to put together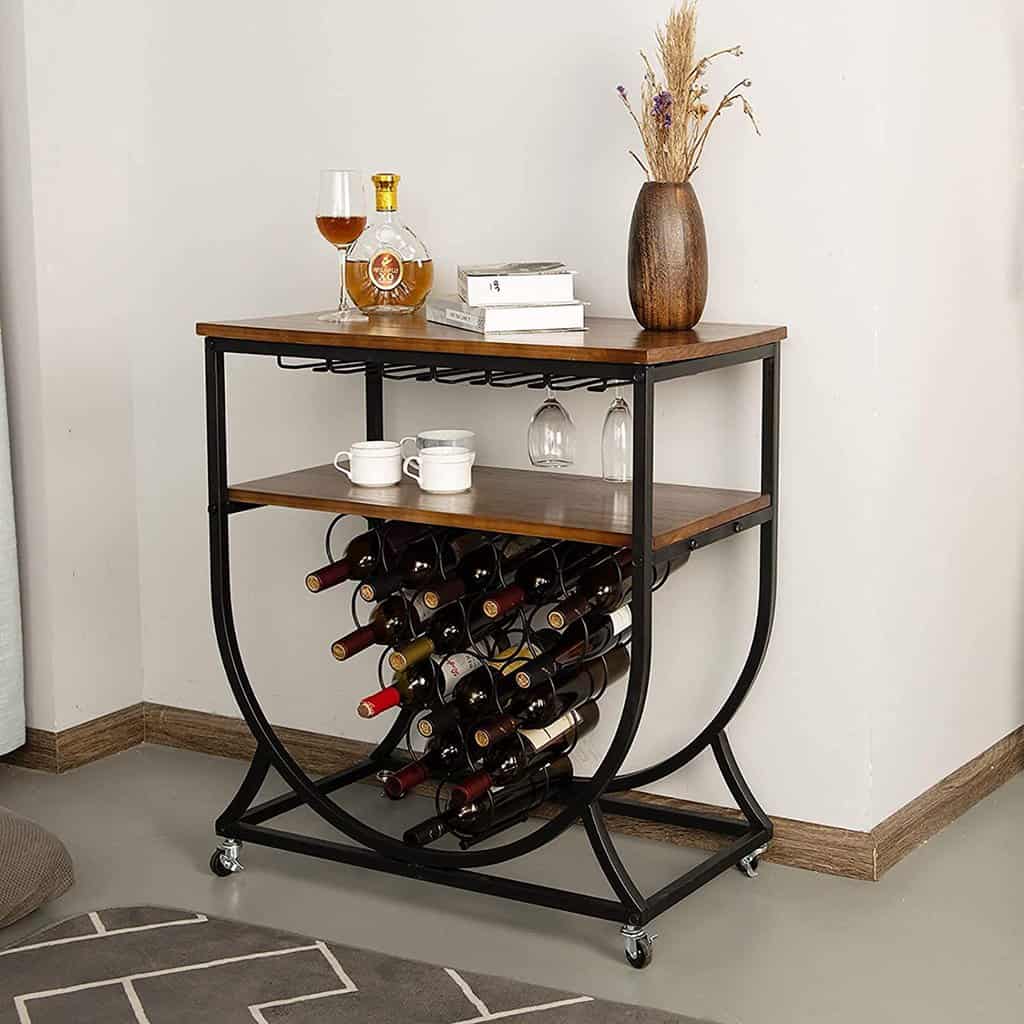 Check out this eye-catching blend of rustic (thanks to the wooden shelves) and contemporary styling (in the durable steel frame.) Below the two shelves, you'll find a 15-wine bottle holder and six rows of goblet racks.
Price Range: $123.99 – $160
Size: 29.9" H x 29.2" L x 16.0" D
Best Feature: Its unique, aesthetic construction
The glass holder underneath the upper shelf may not fit some balloon wine glasses so you might be stuck with standard sizes. Keep that in your thoughts if you've got a collection of odd shapes and sizes of glasses.
Pros
Extremely versatile
Rustic and industrial design
Sturdy, durable construction
Will complement any room and décor
Its metal frame helps it withstand considerable weight
Cons
Time-consuming to assemble for one person
FAQs
Question: Where Should a Bar Cabinet Be Placed?
Answer: A bar cabinet needs to be in an area where it'll receive plenty of use without taking up too much space. I suggest having yours in a lounge or living area. They work in dining rooms as well. Just make sure the unit complements the room's décor.
Question: Can You Place Things on Top of A Bar Cabinet?
Answer: If your bar cabinet has a flat countertop, then yes, you can place items there. That said, ensure that the items you put up there do not exceed the bar cabinet's weight capacity. You should also watch out for spillages if your unit isn't water-resistant.
Question: How Deep Is a Bar Cabinet?
Answer: How deep a bar cabinet is will vary depending on the type of cabinet and its size. Typically, a minimum of 18 inches deep works best for bar cabinets. Some of the biggest bar cabinets feature depths of up to 24 inches.
Bottom Line on Bar Carts
There's only one question left. Which of these bar cabinets is the best for you? I know I gave a ton of choices, but I swear, one is meant for you. If you want something cool but simple that's also portable, go for the Aboxoo Wine Cabinet for sure. And if you want more home décor and furniture recs, I've got dozens of guides on our site!
Read More: