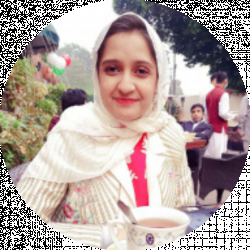 Latest posts by Zunaira Ghazal
(see all)
A cocktail enthusiast will know that having a bar cabinet at home can be a joy! Drinking spirits is part of our lifestyle, and having a dedicated space to showcase/store all our bottles can make things easier. You wouldn't believe how many people come to me as a designer and ask for a separate wine cabinet installed in their kitchens!
I always tell them to think out of the box – instead of going for a fixed cupboard, why not get a portable cabinet?
It's always a hit because these bar cabinets come in many shapes and varieties! I especially appreciate the ones that come in black! They brim with so much charisma, and as a designer, I always love to embellish them. 
So below, let's take a look at the best black bar cabinet ideas:
Bottom Line Up Front
Black bar cabinets have so much visual gravitas. Moreover, they come in so many amazing designs! I love how they can become the focal point of any space, so I made sure to compile some of the most statement-worthy ones on this list!
My favorite is "Arched and Compact" because it's super stylish and has a ton of storage despite its packed body. I also adore the combination of wood and black – it's graceful and boasts a contemporary design that complements any home!
Top Picks
These are my top 3 picks from this list:
Victorian Eclectic
Ah, this black bar cabinet quenched my thirst for classical-style vintage furnishings. It's tall, dark, and handsome – all great qualities. But what I love even more is all the beautifully carved details that add so much gravitas to the cabinet design. Moreover, ample storage and room for all the spirit-related paraphernalia you need!
Lit Within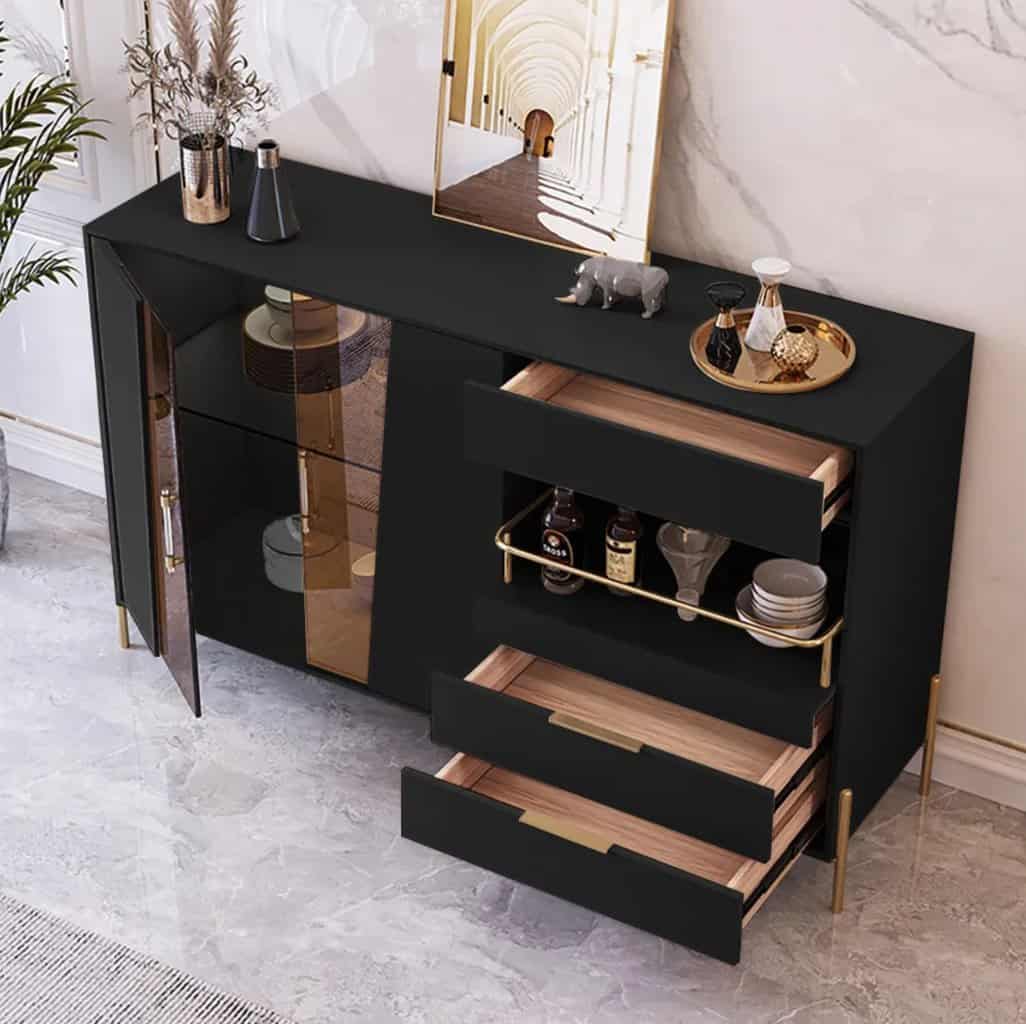 This one is sleek, sophisticated, and the most elegant of the black bar cabinets I've ever seen! I love its uncomplicated, fuss-free design and how it features a backlit interior where you can showcase all your favorite Reds, Whites, and Bubblies. 
Arched and Compact
And this one is my personal favorite because of its great combination of style and functionality. Plus, its combination of wood and black is one of the most balanced and well-adjusted I've ever seen!
Selection Criteria
I kept the following things in mind while curating this list:
Style Diversity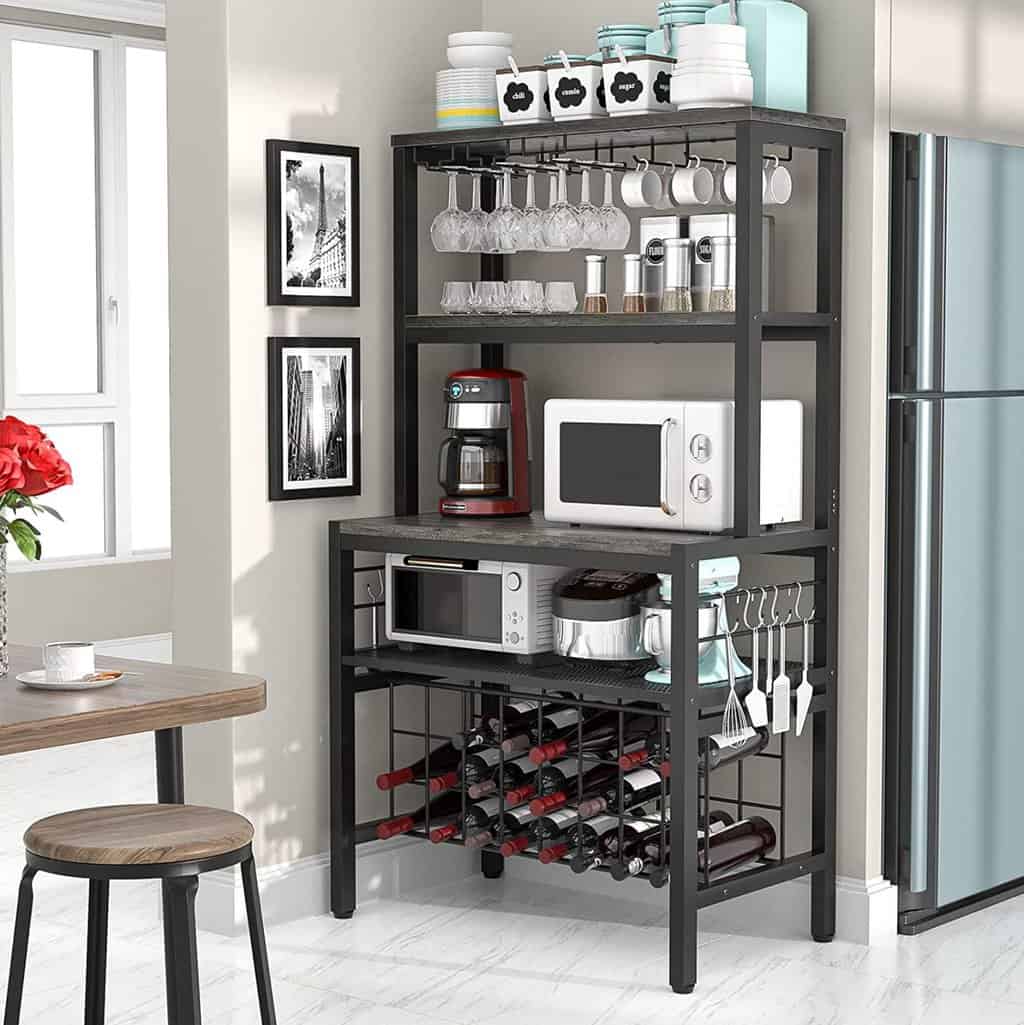 Every black bar cabinet on this list is unique in its own right. That's because I haven't limited myself to a single theme (i.e., modern contemporary, etc.). In fact, you'll see a huge variety of different styles here! I aimed to showcase how these styles are still relevant and can add a lot of personality to your spaces.
Shades of Black
Like any other color, there are also various shades and tints of black. I didn't want to limit myself (or you guys!) by just picking out the jet, coal-black items. So, you'll see a lot of variations on the achromatic color scheme on this list.
These days, the vintage aesthetic is making a huge comeback! That's why I wanted to introduce this old-school bar cabinet. Just one look will take you back to the 90s when furniture used to be ripe with personality! 
I love the espresso-ebony sheen on this one. It changes hue when the light hits it from different angles. Plus, the panels on the door make a great impact, but the brass hardware gives it a truly unique touch. I suggest you top off the bar surface with other golden-colored accessories. It will create a nice contrast while complementing parts of the bar cabinet at the same time!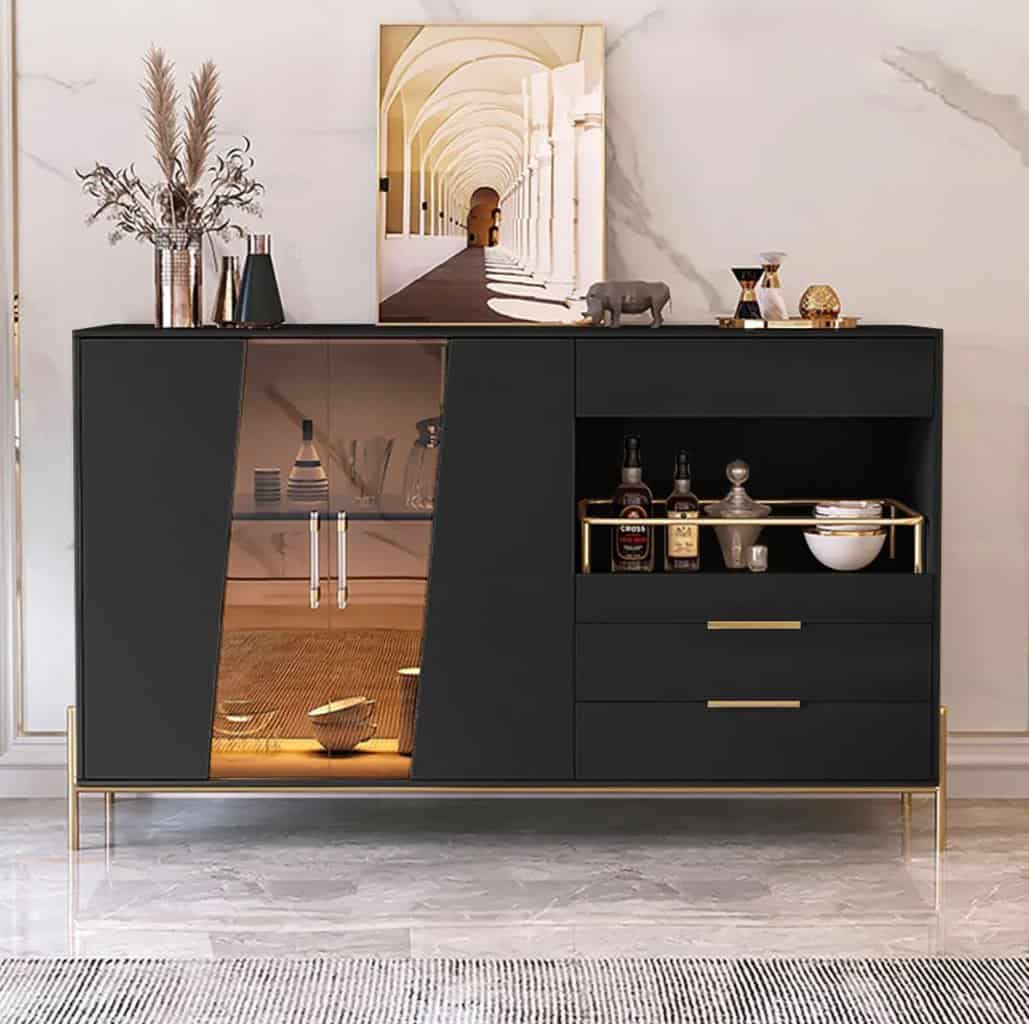 This black bar cabinet is literally quite "lit" because it has a gorgeous interior light within. I love its sleek, compact form and how it has been embellished with brass details to give it that extra oomph! The angled window on the left side (the backlit one) is a great place to feature your liquor royalty. The tray on the right side is perfect for drinks you want to keep handy!
I absolutely adore this bar cabinet because it makes an instant statement with its stylishness. It's very modern, but at the same time, it also emulates a ton of personality!
If you're searching for bar cabinets that are super compact and expensive, then I would suggest that you go for this arched version. It's super attractive, has a simple yet stylish body, and consists of everything that makes a bar cabinet the best in its function! I appreciate how the top half has a wine glass rack. Also, the cubbies in the middle are perfect for keeping bubbly bottles handy. I'd personally keep all my cocktail magazines and other liquor-related paraphernalia in the drawers at the bottom!
Function aside, I also really like the wood accents here. They pair well with the black finish that makes up most of this cabinet. If I were to style this bar in a home, I'd place it in the corner of the room so that it stays visible yet out of the way simultaneously.
Ah, this is what most clients want when they come to me for a kitchen remodel. It's a tasteful yet permanent way to keep all your liquor stash within reach. The best part is that you can utilize a part of the kitchen countertop as a makeshift bar.
I like how the black bar cabinet here plays in harmony with the rest of the kitchen. However, it also stands out because the liquor bottles have been deliberately arranged along the backsplash to set it apart. However, the beer fridge on the side is what seals the deal for most – even me!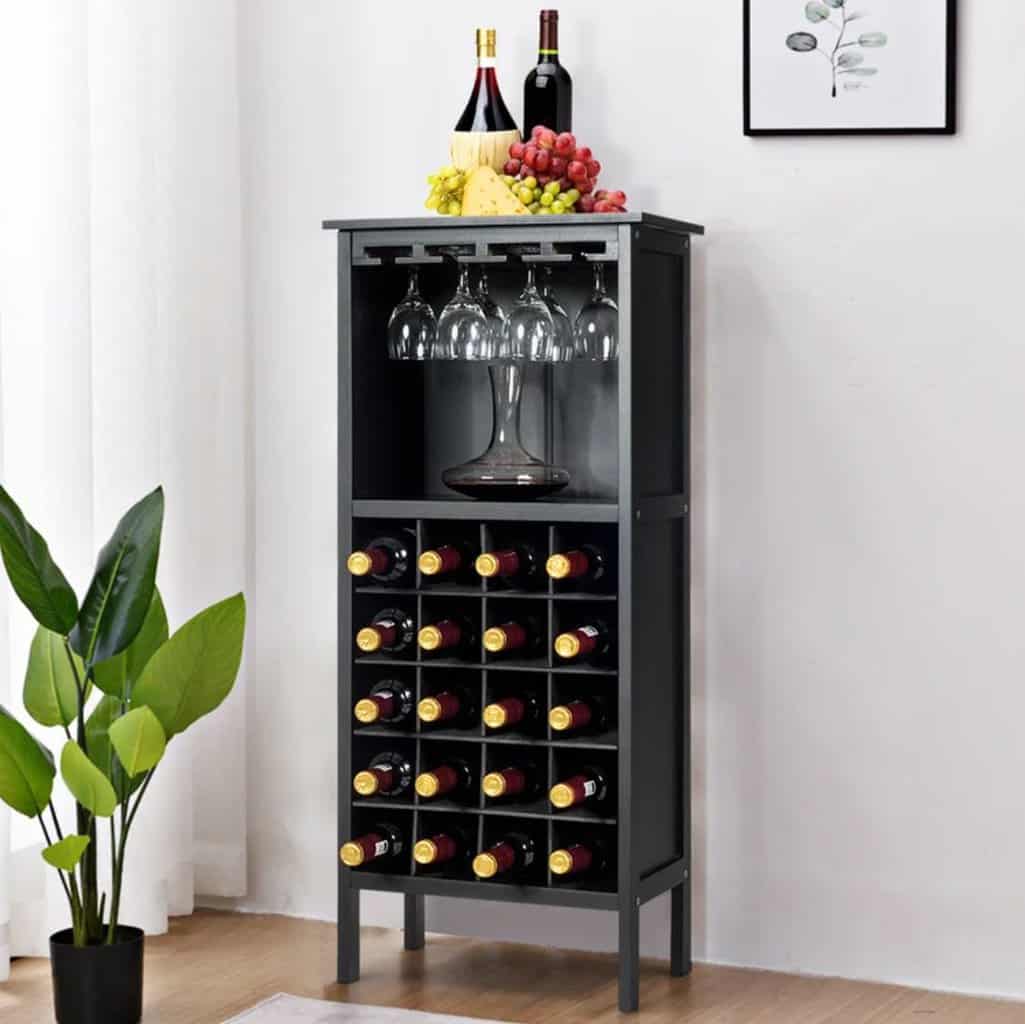 You might have noticed how homes are getting smaller and smaller in size these days. Thanks to the real-estate shortage, our lifestyles are also facing drastic changes. So, designers are developing smart, compact furniture to accommodate such homes. 
I appreciate the design of this black bar cabinet because it fits this criterion. Not all of us can go for pantry or sideboard style portable bars, which is why the smart design of this one provides the perfect solution for compact homes. It has all the built-in necessities without going overboard in size!
Charcoal, raven, and onyx are some of the shades of black that I see in this bar cabinet. However, they're interspersed with a little grey, providing beautiful contrast to the overall design! 
It's a very modern-eclectic piece, which basically means that it's funky, sleek, and stylish at the same time. I love how the brass legs interface with the whole grey-and-black vibe of the cabinet. On the other hand, the ash wood interior features an entire liquor-ready cabinet system that is perfect for storing all spirit-related stuff!
This elliptical black bar cabinet is a gorgeous stand-alone piece. It's styled like a sideboard, but its unique oval shape makes it different than the typical ones. I love how the charcoal body is sleek, but then there is a natural wood patina that gives the surface so much depth! I also like the stone top and metal hardware contrast with the overall design. I'd put this one in a posh parlor/salon and flank it with tall-backed armchairs to get that luxurious, sophisticated look!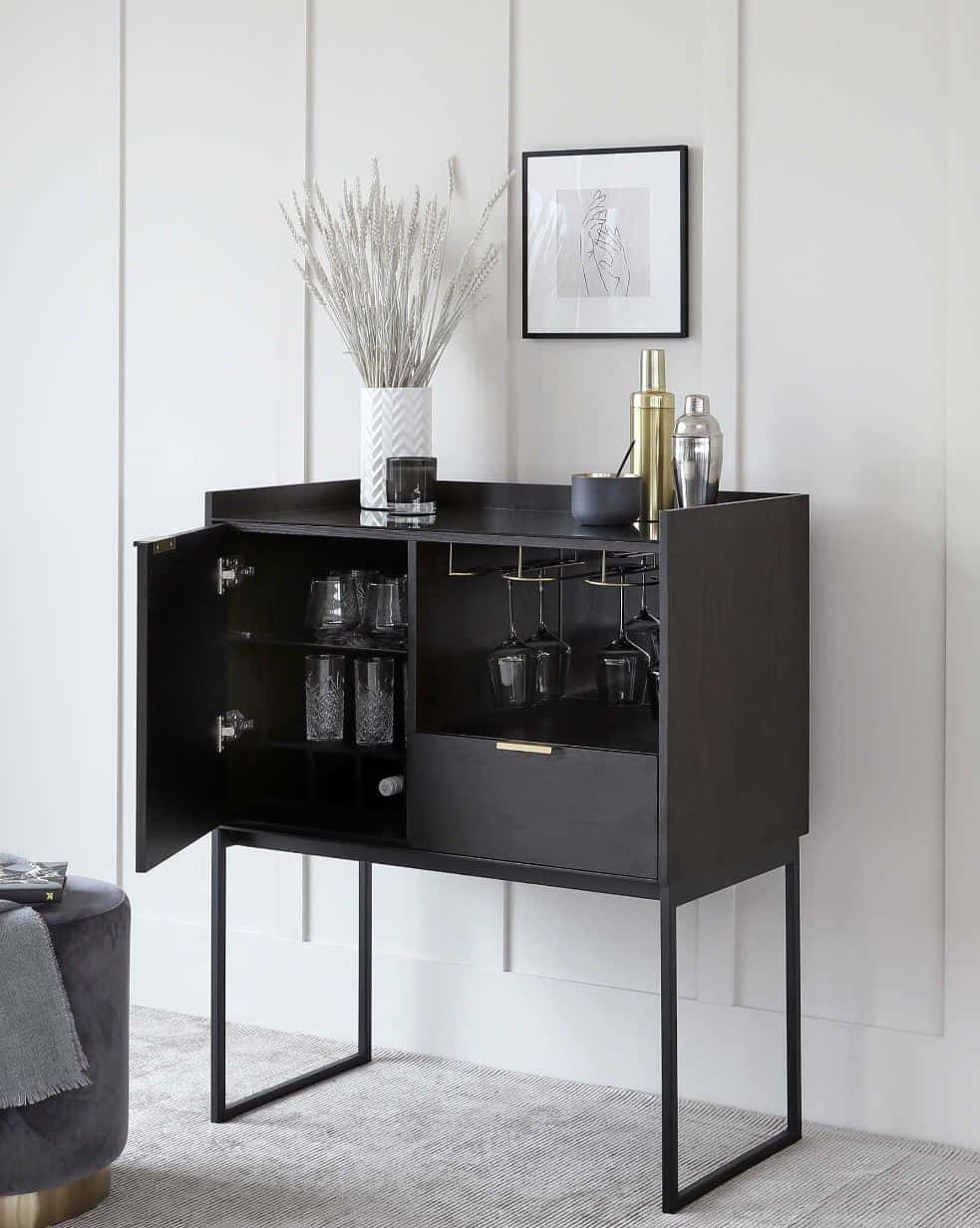 Slim, sleek, and glamorous, this black bar cabinet is definitely the best choice if you're looking for something expensive! It's all straight, crisp lines and modern aesthetics at first glance. But when you look closely, you'll find so many subtle elements that add an exotic allure to the whole design. It might be the glass accent on the right side, the slender metal legs, or even the subtle metal hardware on the facade! 
Overall, I think this one is a keeper and would look great when you place it in a central location. You can even top it off with a statement art piece (in bold colors) to contrast the whole achromatic look.
Simple and sophisticated, I love this black bar cabinet's straightforward, pragmatic design. It's all very minimalist and upscale. Plus, the no-fuss look adds a lot more charisma to the design. I think the word I might be looking for here is "effortless." Everything works in lovely visual harmony, from the paneled doors to the metallic handles!
That said, I think the best way to style this bar cabinet is by pairing it with a dark backdrop. It will help by adding more gravitas to the setting. Afterward, you can top off the whole look with white accessories for contrast.
If you're into Victorian-era vintage, I suggest you consider this particular bar cabinet. It's brimming with so much personality, and if I were to style it in my own home (which I'd do in a heartbeat!), then I'll allot a special, highly visible location to it. I would want everyone to notice every detail – from the carving at the crown to the gold hardware and more! 
I also love how there is so much storage capacity in here. Each shelf is perfectly spaced to easily accommodate a tall wine bottle or stem glass. Moreover, the backlighting is a brilliant modern addition – you can simply turn it on when someone's over, and you feel like you want your spirit collection to shine!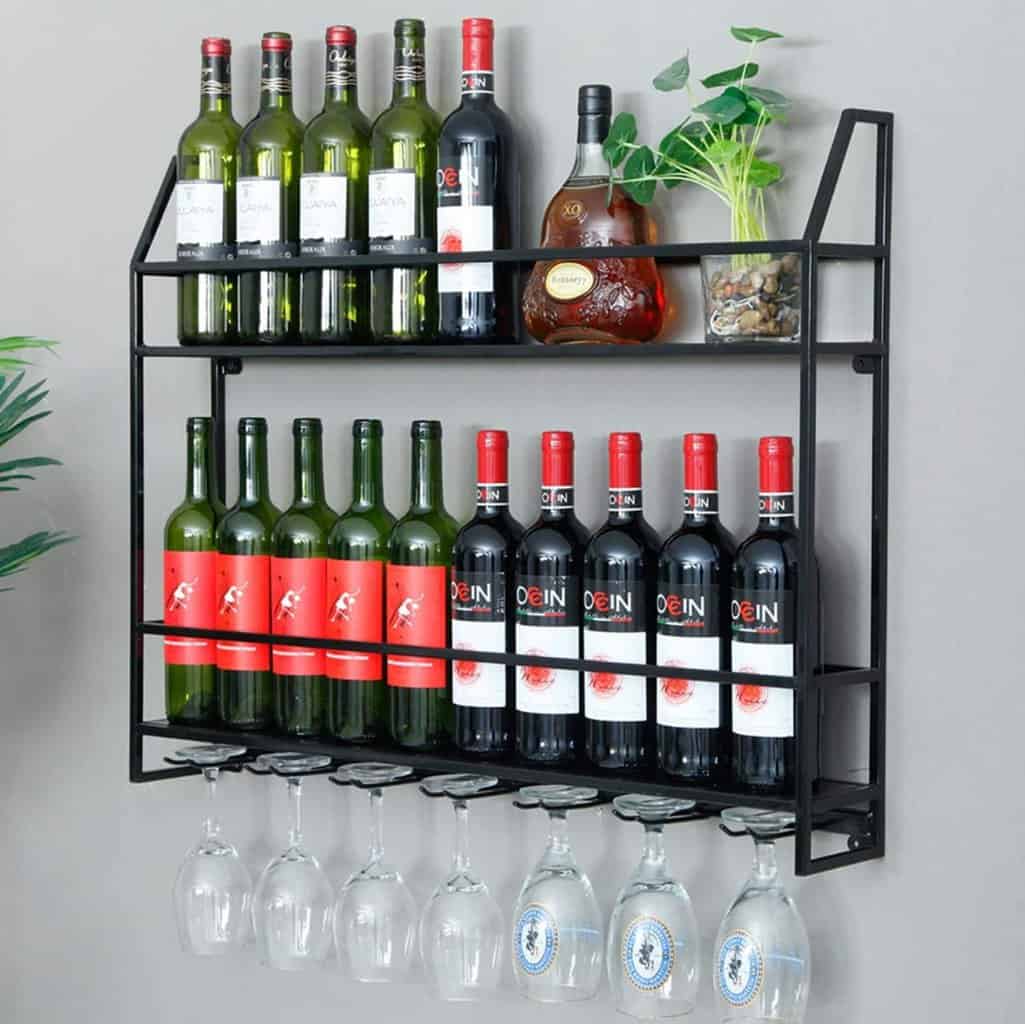 If you don't have the space for an elaborate wine bar in your home, then don't worry – I curated this black-colored wall-mount wine rack just for you! It's the epitome of minimalist and provides just enough space to line up all your spirits (and their accompanying utensils) quite nicely in two rows. I suggest you make some room for an indoor vine planter in the middle for some stylistic appeal.
For everyone looking for a customized solution, here's a black wine cabinet that might interest you! I like how it has been finished in stones – marble and onyx. The upper half has been done in wooden fetters and glass – an interesting combination. It appeals to my inner designer and exudes a posh, upscale vibe. I love the downlighters under each shelf and how they have been spaced to accommodate a mixture of decor and spirit bottles.
This industrial-style black bar cabinet/rack is all about embracing the basics. It doesn't feature any complicated shelves – it's simple and designed for functionality. However, that doesn't take away from its industrial aesthetic. In fact, it's one of the things I love so much about it. Despite being absolutely no-fuss, you can immediately tell that this spirit rack comes from the industrial style genre!
As an interior designer, I've always been especially attracted to fettered objects. From walls to furniture items, I feel like fetters have a way of adding a certain flair to any object. So, imagine I couldn't pass on this stylish black bar cabinet with fetters! I absolutely adore the thin flutes all over its body and how they make the black material stand out despite its somber tone. I also love how pragmatic the interior is! Despite being rather medium in size, there's so much room and customized racks to keep all your liquor paraphernalia organized.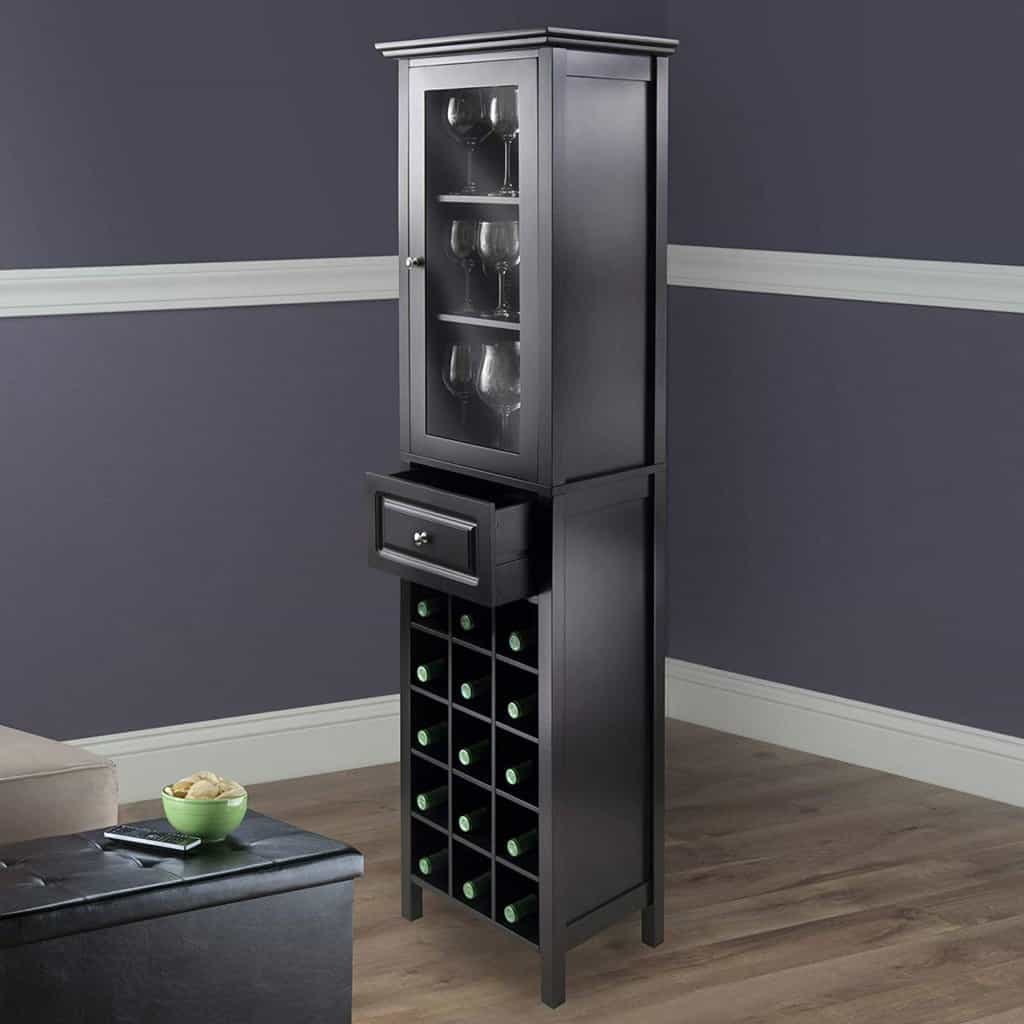 The slim body of this black bar cabinet was an instant hook for me. I appreciate how it's all compact but still provides dedicated storage to keep all kinds of spirits compartmentalized. It's very pragmatic and effortlessly stylish. If I were featuring this in my home, I would pair it with brass decor and fresh green planters for some nice contrast.
FAQs
Question: What can I put inside by black bar cabinet?
Answer: Hmm, depends on what you've got. Aside from your favorite liquor and spirits, you can also put in shakers, citrus juicers, an ice bucket, and even a small chopping board to cut your new add-ons while making a cocktail.
Question: Where should I place my black bar cabinet?
Answer: I think black is a color that draws the eye, so a cabinet in this color should be placed in a highly visible location. I'd say place it against a plain painted wall (possibly in white) so that the black color stands out. You could also place it in a corner at an angle, but I only recommend that for smaller spaces.
Question: What kind of decor will look good with my black bar cabinet?
Answer: You can pair your black bar cabinet with contrasting decor items. The brass items' gold finish looks especially posh, but you can also opt for understated white vases if you want a more down-to-earth look.
Best Black Bar Cabinet Ideas: Conclusion
I hope my love of black cabinets is as infectious as I think it is and you found this list helpful for figuring out which one suits your style. Black cabinets are all about finding the version that appeals to your vision and then styling it to perfection.
I hope you love each item on this list as much as I enjoyed curating it. Once again, my favorite is Arched and Compact, whose elegant, stylish combination of wood and black is one of the best I've ever seen!
Read More: