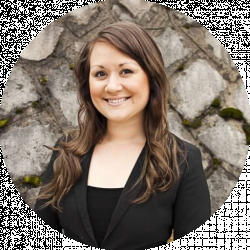 Latest posts by Lacey Jackson
(see all)
When we last moved, I was a bit surprised as I walked through the house doing an in-person estimate with the movers only to say, "yes, one fridge… oh wait, and this wine fridge… oh and this mini fridge that is part of the bar… oh, and the outdoor fridge". 
The main fridge came with the house, the wine fridge we've had for over fifteen years, the mini fridge that belonged to a now deceased family member and landed in our laps, and the outdoor fridge that was purchased for the office pre-COVID. Since there isn't an office anymore for it, it moved outside. 
They were all acquired slowly, over time, so I never put together just how many we had. Listing them all at once was a bit of a shocker. 
But, we decided at our new home that we would make better use of them instead of just leaving them in the garage. Now we have bar cabinets with fridge space for the wine fridge and a mini fridge nestled perfectly next to our actual bar. It gives us all the open storage we need to easily mix an otherwise complex cocktail after work. 
Bottom Line Upfront
I love the Industrial Rustic for a larger, more permanent bar cabinet with fridge. The KoolMore is great for an outdoor space where you want a full fridge for drinks and mixers next to a BBQ or fire pit.
And finally, the Farmhouse Style options are both great for a country style, fitting perfectly indoors or outdoors without breaking the bank or taking up too much space (but for theirs, you only get the bar cabinet and have to supply your own fridge). 
Selection Criteria
Each of the best bar cabinet with fridge ideas I included was based on how well designed they were, how affordable they were (having a fridge included or not influences this), and their customizable cabinet features. 
Design
The great thing about bar cabinets with fridge designs is their versatility. Right now, you can choose more relaxed designs that utilize a farmhouse style, so instead of dealing with a lot of tricky hardware and doors that you have to open and close; however much space you have allocated for your bar is the maximum physical space required to access everything inside.
The sliding doors reduce the space which would otherwise be reserved for things like cabinet doors that open outward.
It's also easy to find more commercial or modern designs that maximize efficiency and have a clean, Sleek look just like you would find in an industrial kitchen. This pairs quite well with the metal and black designs of traditional BBQs or steel sink that you would keep in an outdoor entertainment space.
Affordability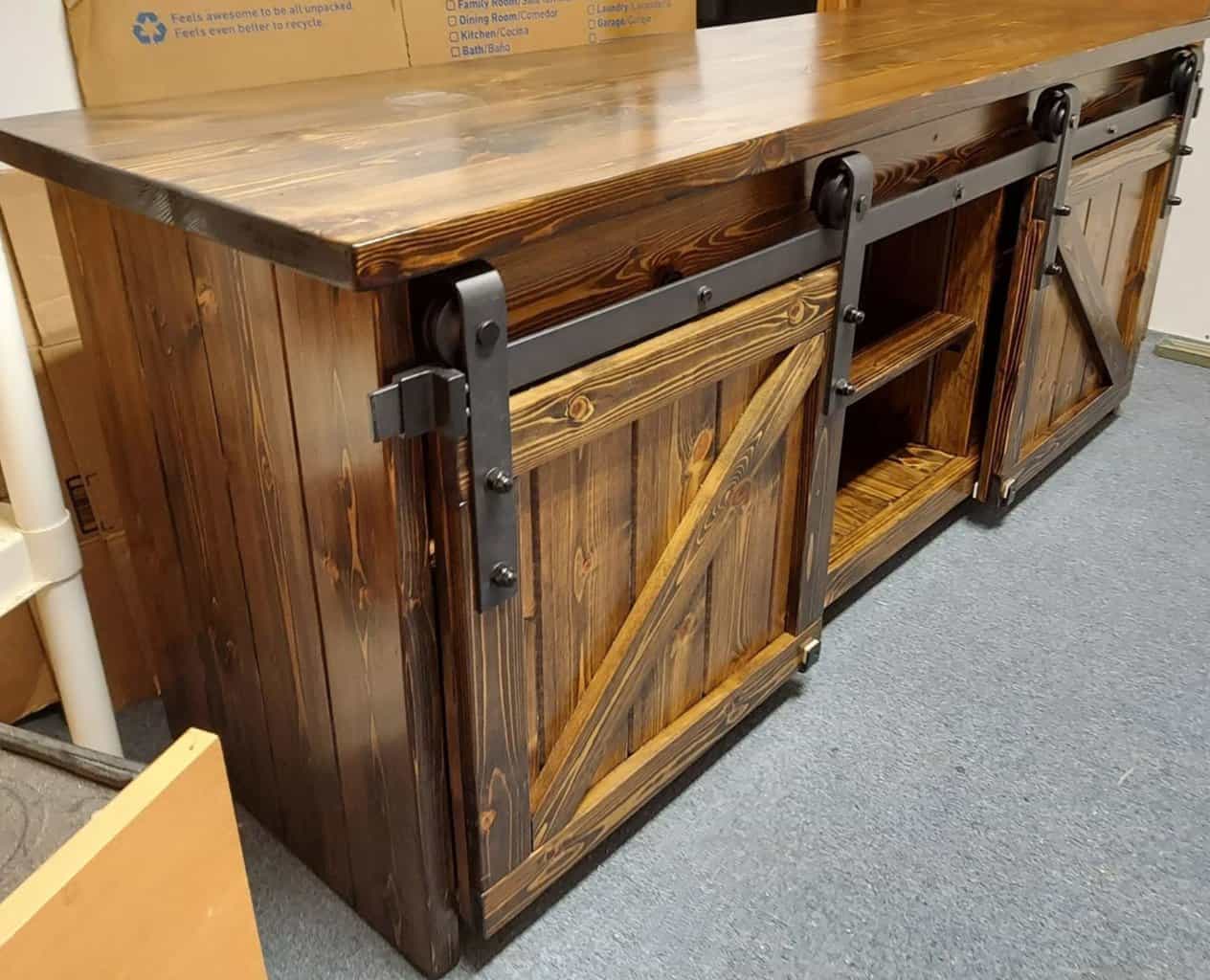 Affordability is important. Naturally, the designs that have additional storage will cost more. However, you can find beautiful options like the Loire, which offer the most amount of storage in the cabinet space for the same price as a commercial bar cabinet with three fridges. 
Moreover, a lot of the larger designs come with the fridge built in, which contributes to the cost. Cheaper options just provide you with the bar cabinet and a space in which to put a fridge of your choosing. So it comes down to what works best for you.
Customizable Cabinet Features
At this point, you are investing hundreds, if not thousands, of dollars. So, being able to customize some of the features should be a given. A lot of these companies will offer customizable finishes, so you can pick something that matches your home. 
Nothing is more irritating to my OCD than four shades of wood finish in one home (unintentionally). 
And I like being able to customize the shelves in the cabinets or the shelves for storage in the (provided) fridge. Because many of the companies which make these bar cabinets are small family operations, they include such options with ease (each cabinet is being handmade at the time of order anyway). Again, if I am spending thousands of dollars, I should be able to modify minor details. 
Best Bar Cabinet with Fridge Ideas
Farmhouse Mini Cabinet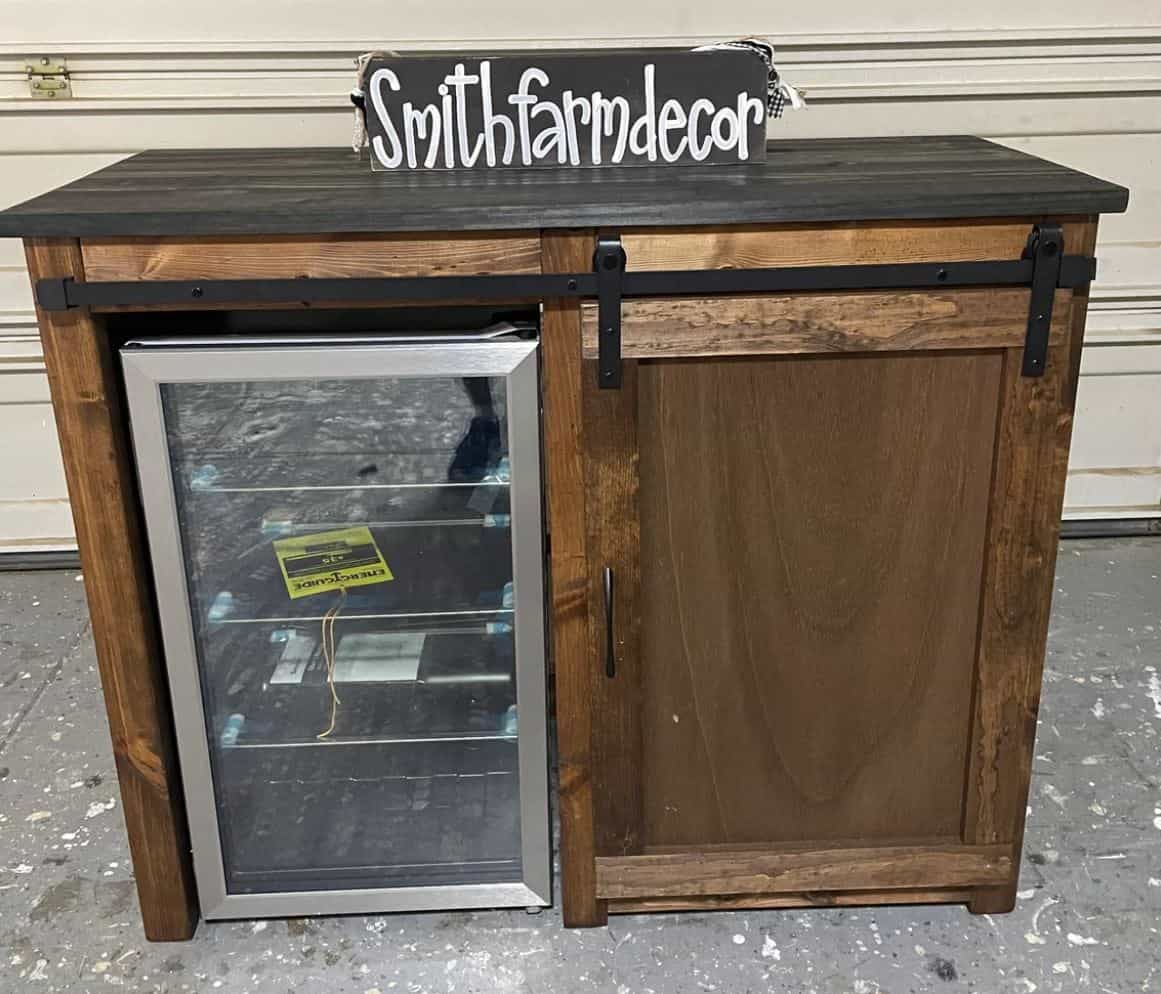 This Farmhouse mini bar cabinet with a fridge has a great design. It comes from a family-owned business and offers the quintessential sliding door seen on all farmhouse-style items. You can pick from over 30 different wood finishes and truly customize the exterior to match your home.
On one side of space for a mini-fridge (you have to supply yours), and on the other are two shelves where you can discreetly store things like mixers, glasses, and even coffee materials.
Farmhouse Modern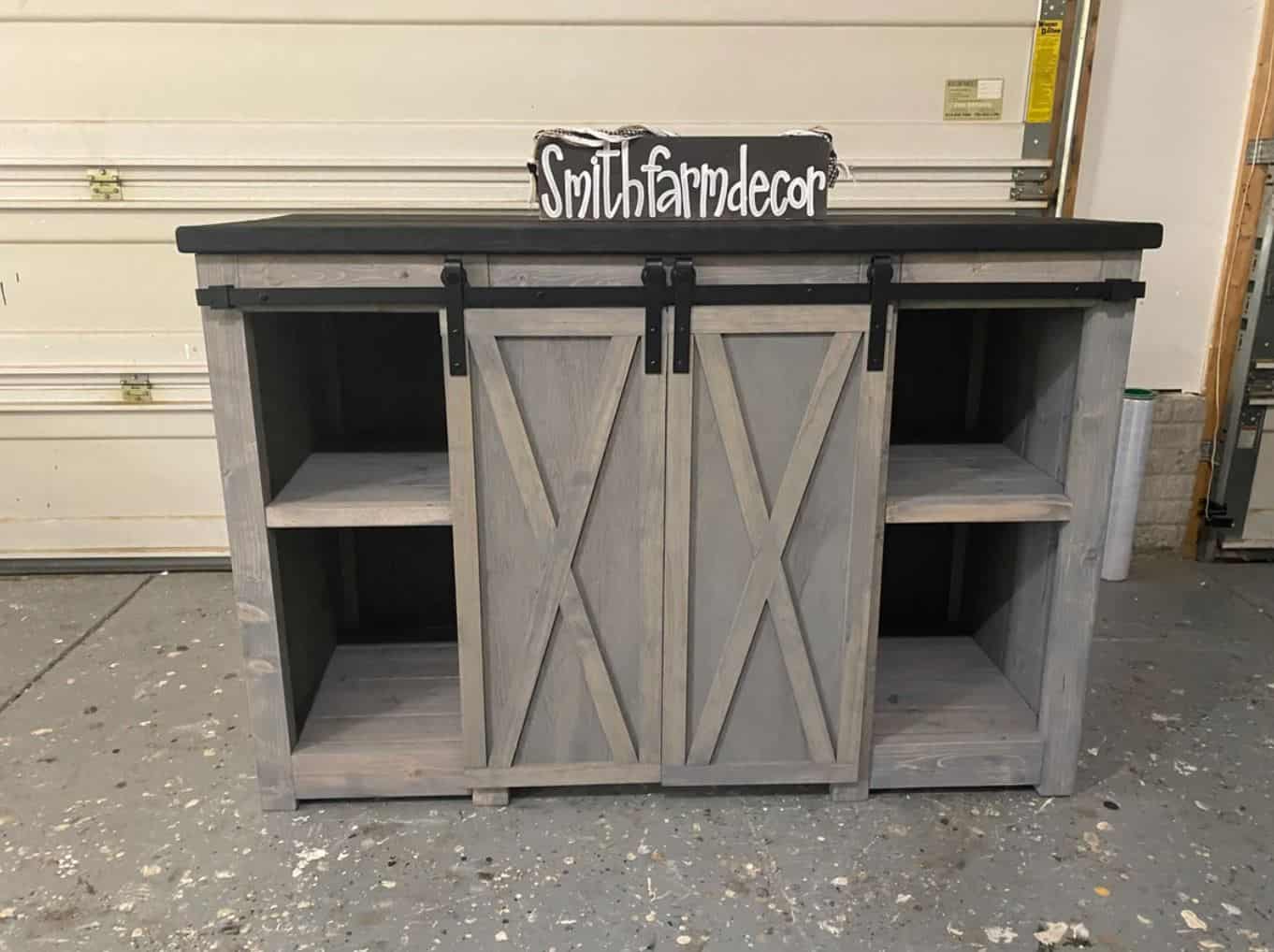 From the same company as The Farmhouse mini cabinet, you get The Farmhouse modern style. This is a larger iteration, with spacing the center for a mini fridge (no, it is not provided) and two cabinets with two shelves on either side. 
Again, they have the sliding barn doors with the quintessential farmhouse-style black Hardware, so you can slide the doors back and forth to access whichever cupboard or cabinet you need.
Summit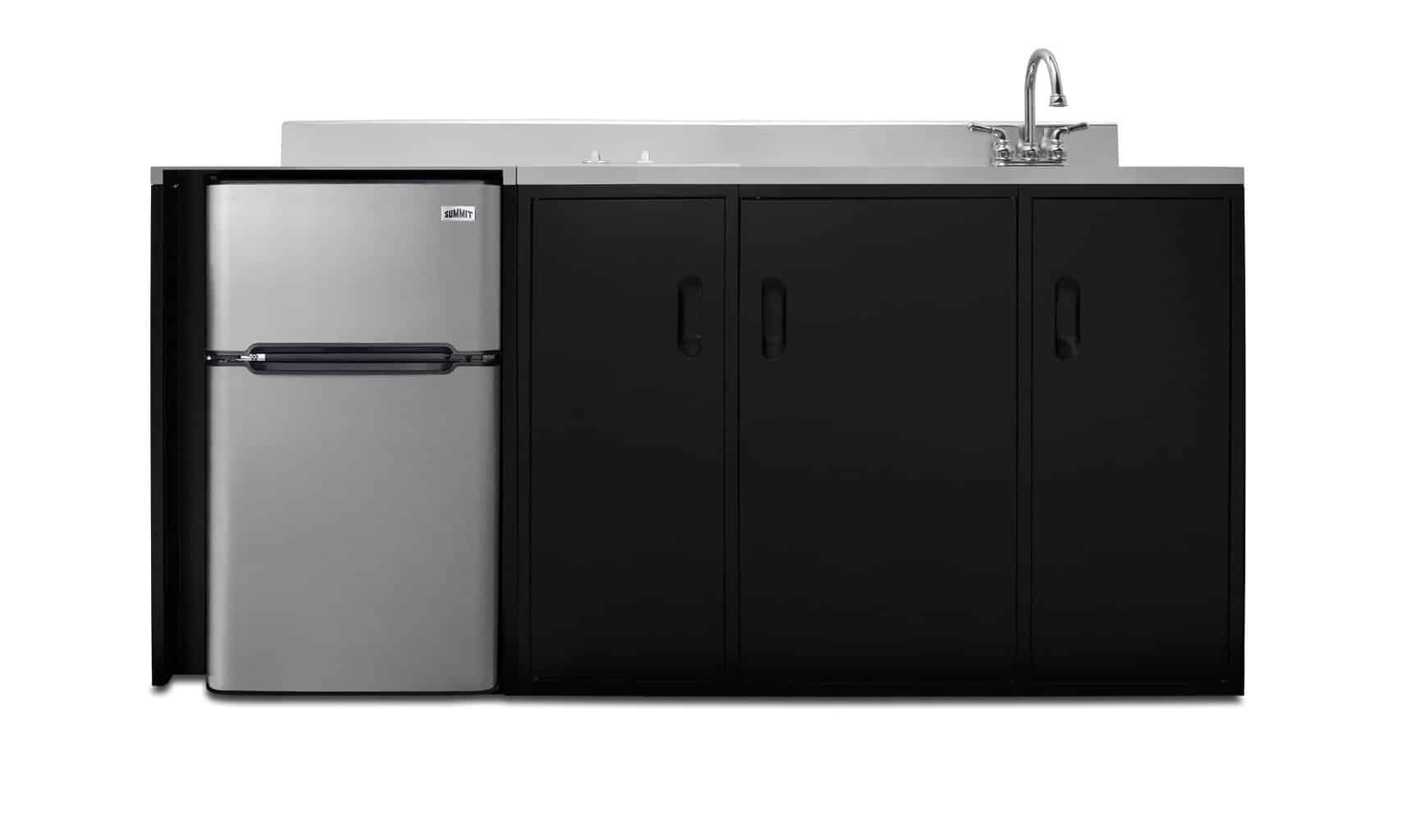 The Summit is an outstanding bar shelf. It has space for a slightly larger, apartment-sized mini fridge on the left, three doors for cabinet storage to the right, and a small sink with a usable countertop. I love this one because it's the whole package. This is the kind of thing you would keep in your primary kitchen and outside if you had an area dedicated to entertainment.
A few of my distant relatives like to invest in real estate, particularly houses they can fix and rent. These are the types of bar cabinets with fridge ideas they use for multi-family units because it's small enough to fit in the kitchen floor space provided by standard one-room apartments, but it still provides everything a tenant needs.
The Gibson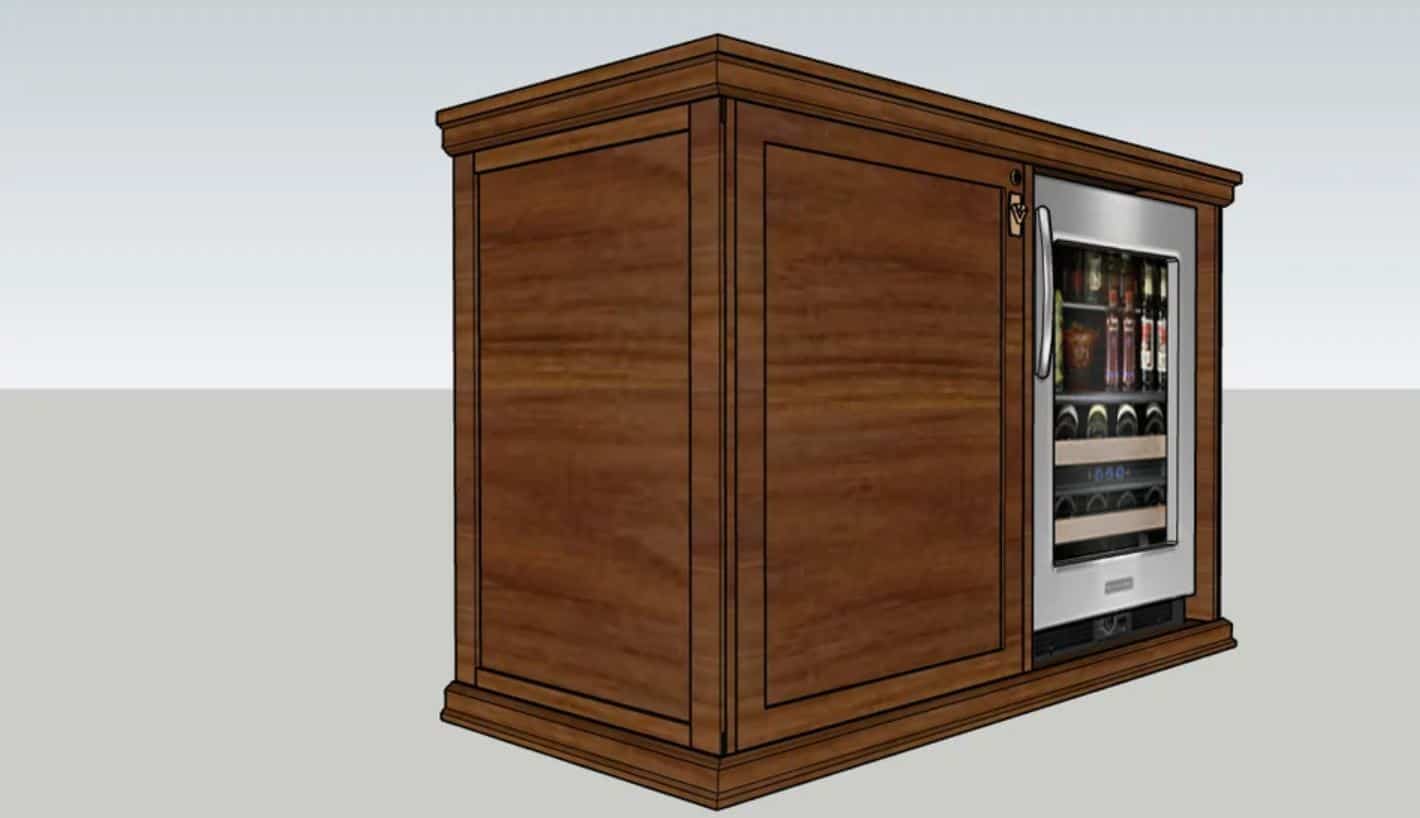 The Gibson is a bar cabinet with fridge space on the right. It is a solid walnut bar. The door to the cabinet latches shut with metal hardware and offers a completely secure, enclosed space. This is juxtaposed by a lot of the cheaper iterations like The Farmhouse or the Summit, which aren't solid and don't have a completely enclosed space. 
Loire American Oak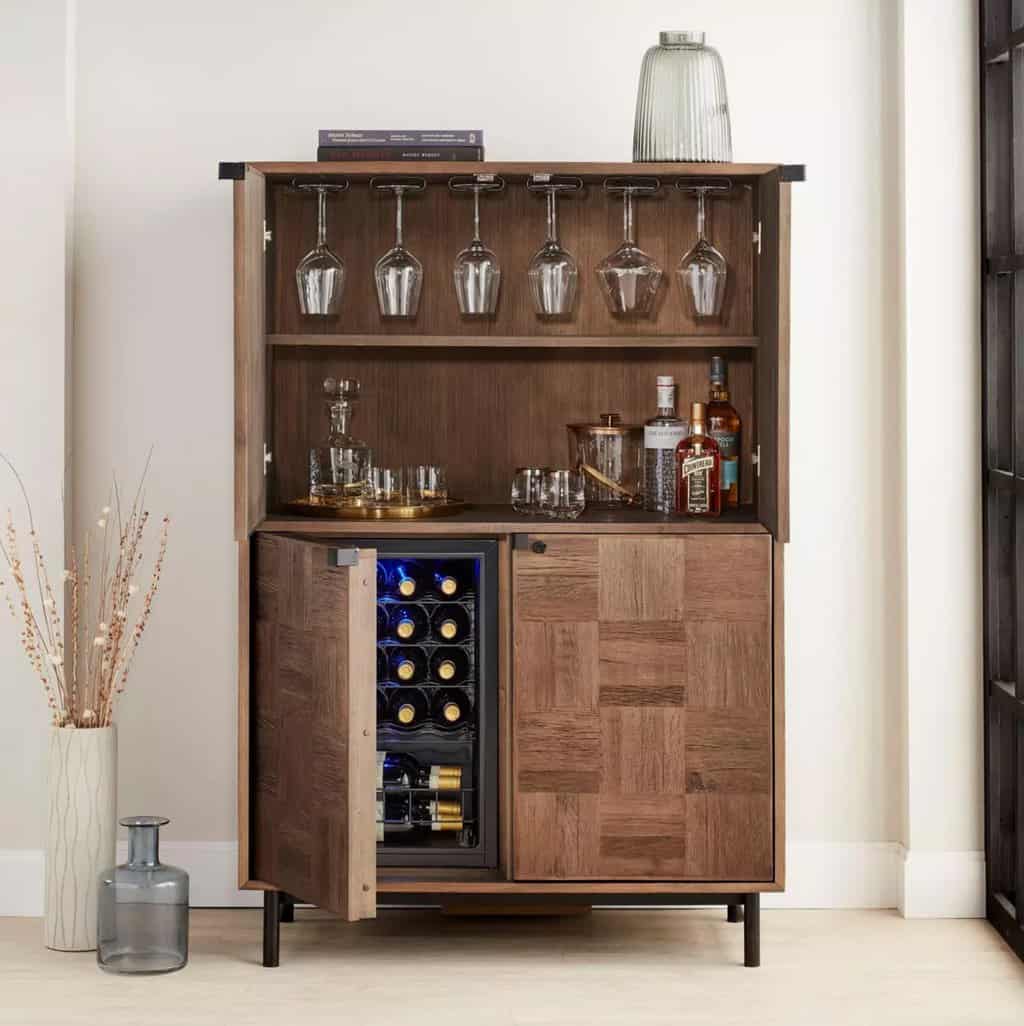 The Loire American Oak. There is nothing I can say about this other than "Wow!". Just kidding. There is a lot I can say about it, but I started with "wow" when I first saw it. This is a slightly larger bar cabinet with fridge.
This is a much taller model instead of the shorter, wider designs you see most of the time. The reason being it has space for two refrigerators on the bottom half. You can choose a model that comes with a 20-bottle wine cooler and a separate beverage fridge (yes, included), or you can double up and have two spaces full of wine bottles. 
The fridge is designed for wine bottles that have the natural curves in the metal racks on which your wine bottle sits, whereas the beverage refrigerators are simply equipped with adjustable shelves so you can store multiple beverages.
On top of that, you will find two open shelves, the highest of which has racks for hanging glasses. I love this organization because it makes it easy to pull a glass out or to leave a glass to dry upside down where it doesn't get dust inside.
Back Bar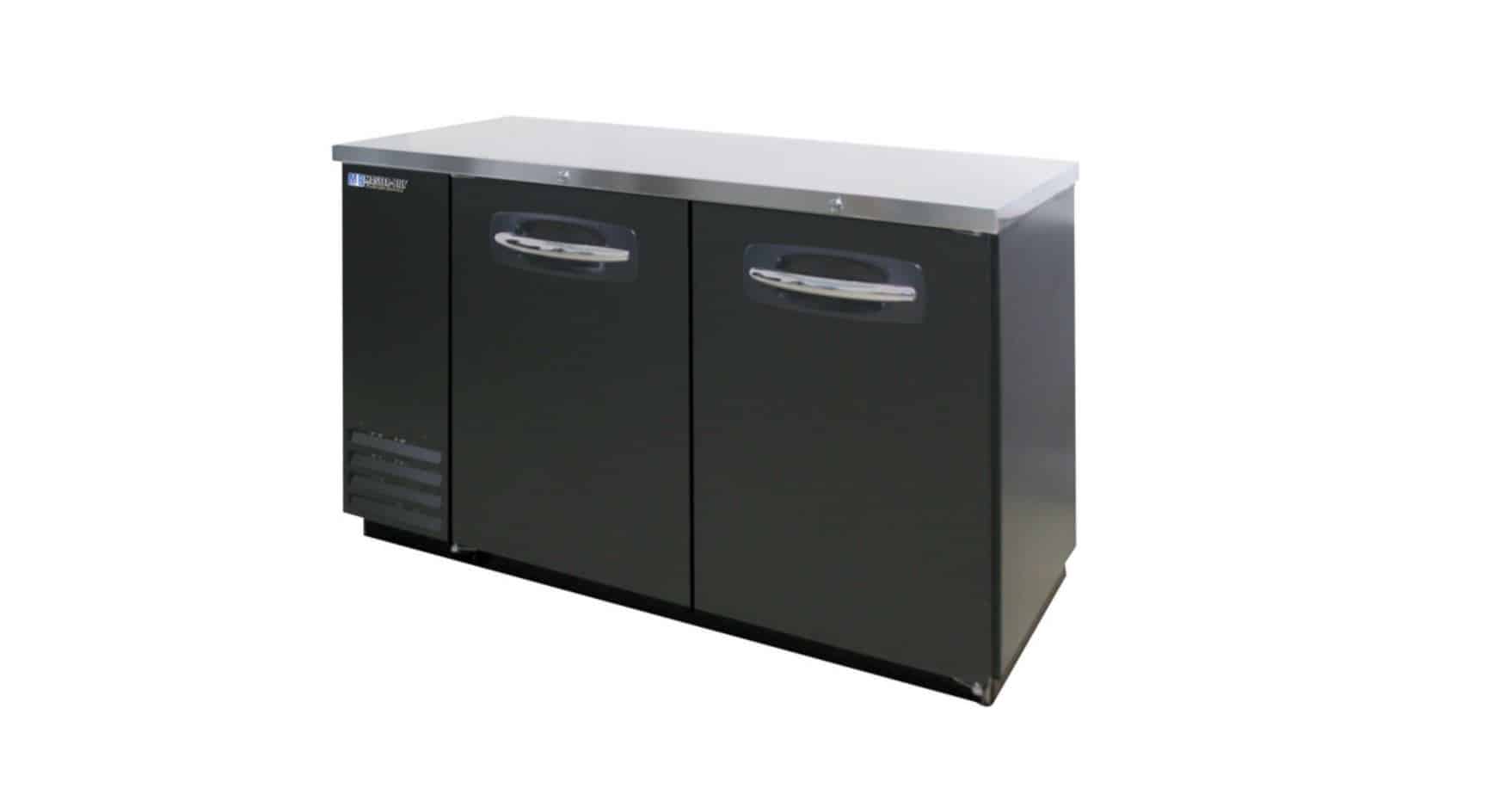 Having a dedicated outdoor workspace for socializing and eating is all the rage. When I was growing up, I thought BBQs were short, little round things that looked vaguely like the top half of BB-8 from Star Wars. 
You filled them with coals and then made a blackened mess without enough room to cook for everyone at the same time. Well, then, my "rich" side of the family (just normal middle class) grilled one night using a gas-powered BBQ. So that became the epitome of success and wealth. 
Aaaaaaand then I went to a client's house while my father was doing a remodel job, and they have an entire built-in patio space in a large circle, half of which was a large BBQ, a pizza oven, sink, and this bad boy: a back bar refrigerator. That became the new epitome. 
Now, technically these are sold to restaurants and bars and make up the fridge behind the bar where opened bottles are stored, but nothing says you can't also use them in your home, just like our former client did. 
It is surprisingly inexpensive compared to most bar cabinets with fridges, but it has two doors inside of which are two fridge shelves. You can prepare food or drinks on the stainless steel top and rest the corrosion-resistant bottom outside without worrying about rain or snow. The inside has lights, too, so you don't need to fish around in the dark for a drink when you are outside with the patio lights on. 
You can pair these easily with the best black bar cabinets for additional storage. 
KoolMore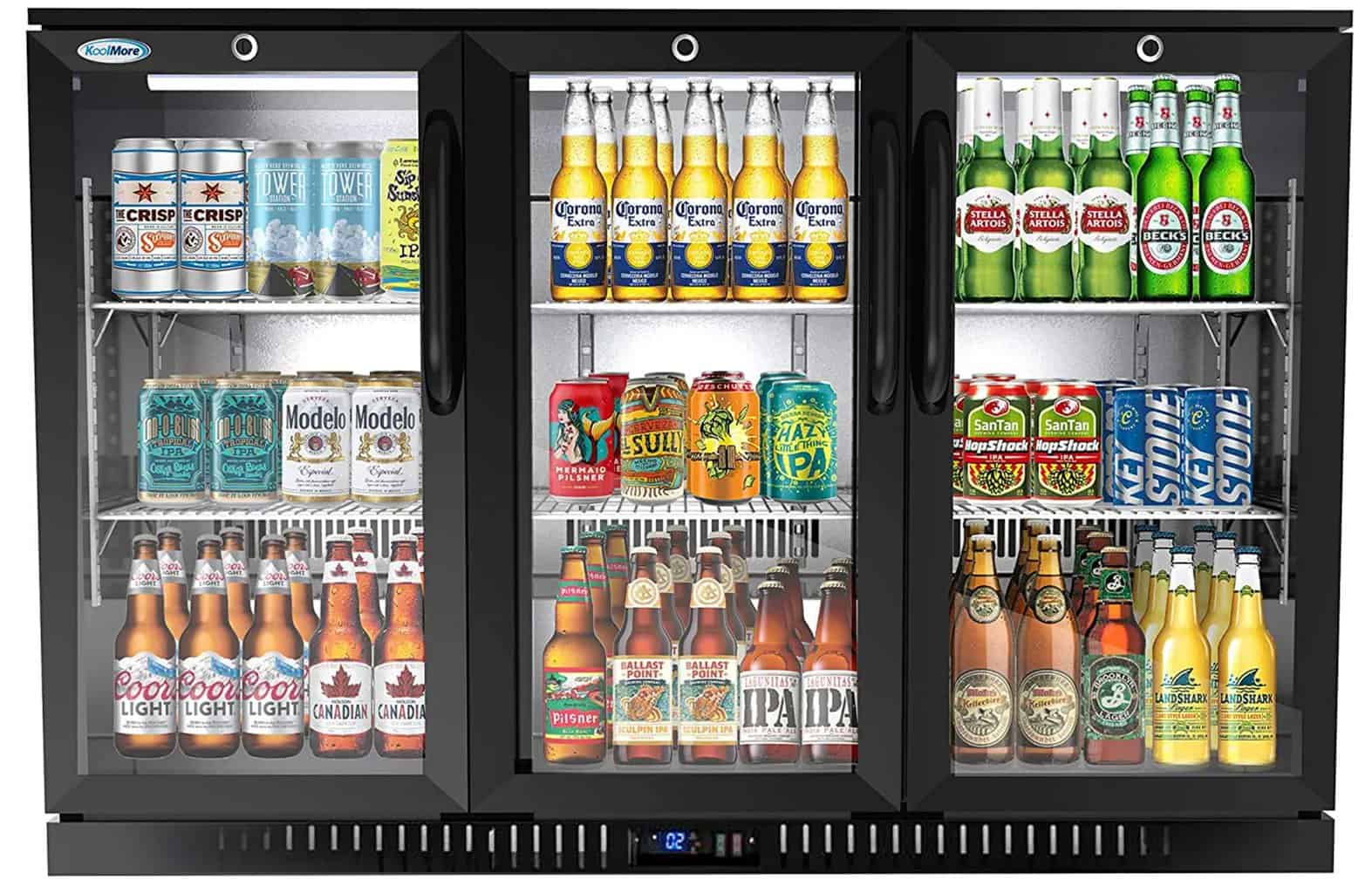 I included the KoolMore because it's similar to The Back Bar refrigerator, but it has glass doors so you can see everything that's inside. It comes with the same internal lighting, but it'll save you about $800. This also has three separate doors, but you can upgrade to a double door, a double sliding door, a single door, or a triple sliding door.
It's technically a commercial appliance, and having the option of sliding doors or glass doors helps commercial facilities display what they have available for purchase. Again, you don't have to own a bar or restaurant to use something designed for commercial purposes. 
If you are like our former client and you want to have a dedicated space somewhere else in your home, like a garage or the porch, just make sure you have power running to it, and you can throw all of your food and drinks inside, so guests can access whatever they want, when they want, and use the top shelf as cabinet storage.
Industrial Rustic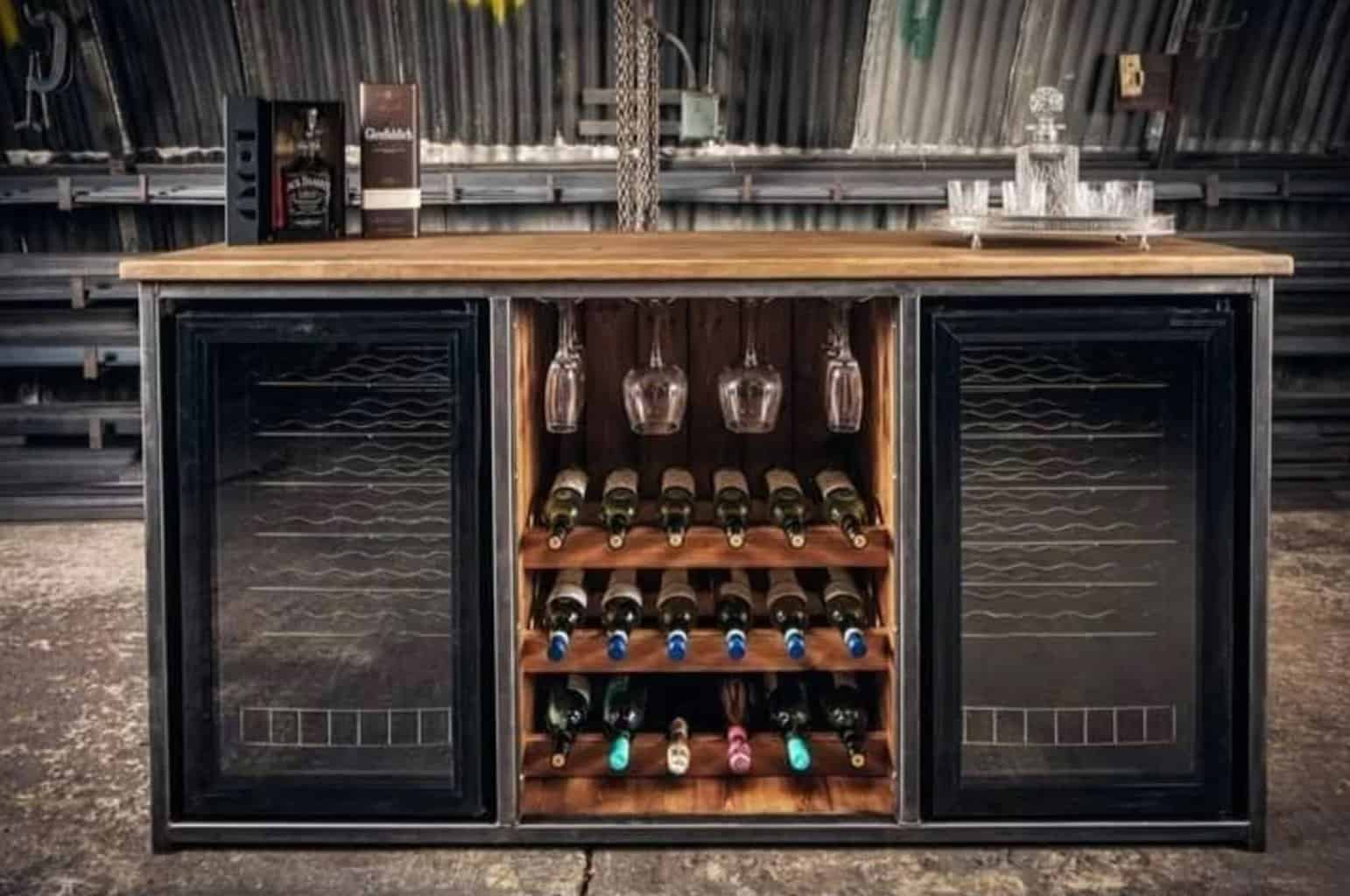 If you don't like the commercial look and feel of the KoolMore or Back Bar, then this Industrial Rustic offers a great compromise. It has the same layout and space afforded by the other commercial models, but it looks so much classier. 
This design will fit beautifully into the home decor for anything save contemporary. The best part is they are handmade to order, so if you want a different finish, you can choose that. The design is modeled with two mini fridges on either side.
In the center is a sideboard covered, a cabinet where you can store rows of bottles and hang rows of drinks from the top. The whole thing is covered with a nice workspace countertop where you can prepare food or drinks. 
Simple Living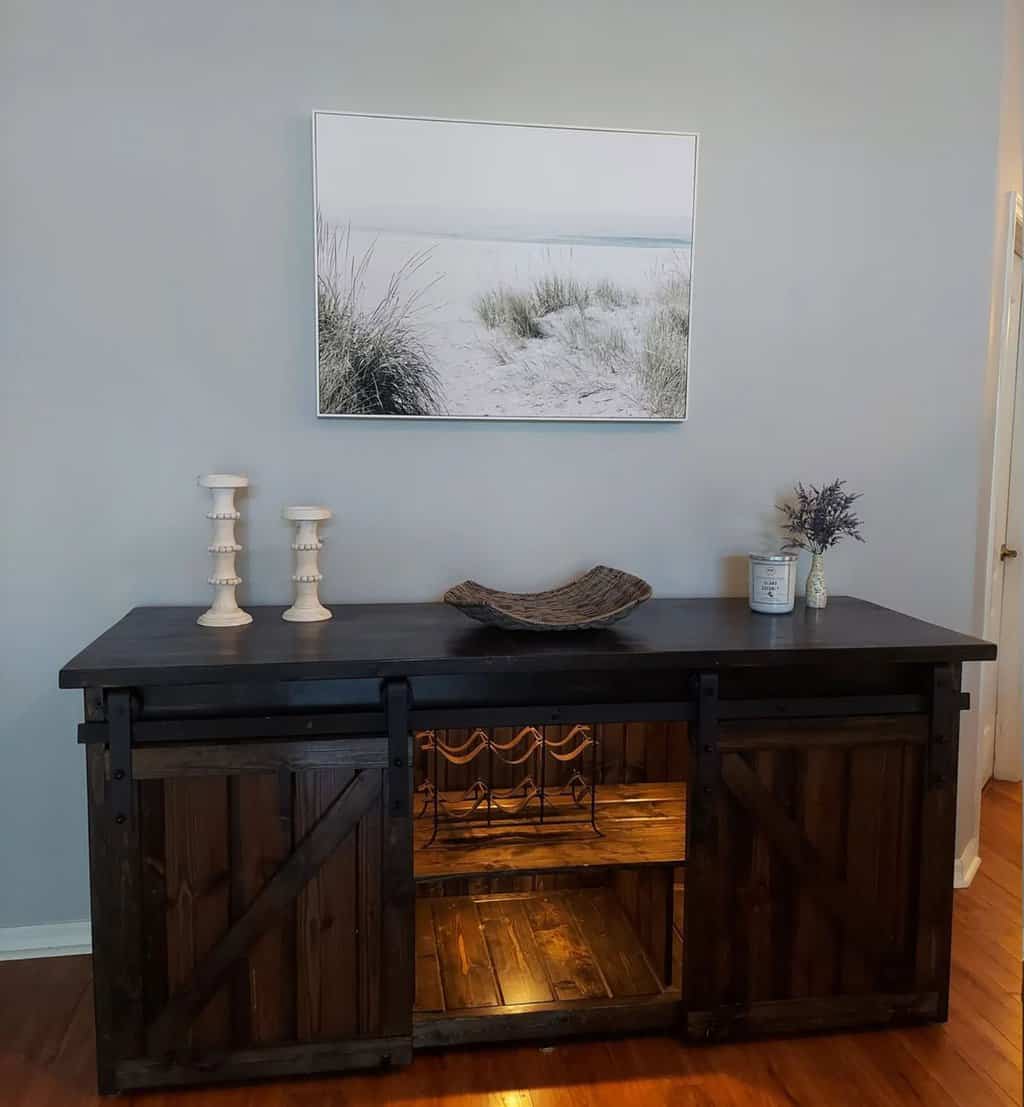 The Simple Living bar cabinet with fridge is a nice combination of the Farmhouse Style and the Industrial Rustic. It has the design elements of the Industrial Rustic with the Farmhouse Style sliding doors but more versatile storage. 
Where the other similar designs exclusively had storage for wine bottles and stemmed glassware, this model has open shelves and a versatile mini fridge space that you can fill with something more than just wine bottles. It also has a slight curve to it, so you can set it up against the wall and build a complete bar space around it with some extra wine storage or some open shelving on top.
FAQs
Question: How big is the best bar cabinet with a fridge?
Answer: This comes down to the make and model. Many of the cabinets here are about 60 inches wide and 36 inches high, save for the double Loire American which is 24 inches deep, 60 inches tall, and 40 inches wide. They are typically not more than twenty inches deep, but some designers make slightly larger or smaller models (like the commercial properties). 
Question: Can I put my bar cabinet with fridge against a wall?
Answer: Yes. Most models are intended to be flush with the wall. Just be cognizant of where the coils are on the mini fridge you choose. Models that come with a built-in fridge have already accounted for the appropriate space between the back of the fridge and the back of the cabinet. 
Models like the farmhouse style, where you have to supply the fridge of your choice, don't take that into account, so you have to just make sure it is positioned with a few inches of space for air circulation.
Question: Do I need to put something under the fridge in a bar cabinet?
Answer: This depends on the design. The industrial rustic and simple living designs, for example, have a slightly elevated shelf on which the mini fridge sits, so it's not having any direct contact with the floor. Some of the commercial appliances obviously have feet, and the entire unit is raised.

If you have a fridge in your bar cabinet, it can easily be rested on hardwood or linoleum, even tile. You just have to be cognizant of where the coils are on the model you have. Most fridges have coils on the back, but if they have coils on the bottom, you want to avoid putting them directly on the floor, especially if you have carpet. Give it a piece of plywood or something on which to rest where it has better airflow.
Bottom Line
While all of these are great four different decorative purposes or features, I love the Industrial Rustic for a larger bar cabinet with a fridge that takes up a permanent place in your home. The KoolMore is great for an outdoor space, and the Farmhouse Style options are both great for country-style homes.