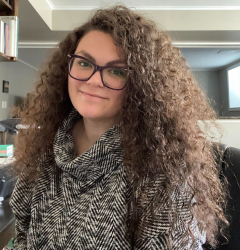 Latest posts by Candace Osmond
(see all)
Professional and amateur interior design enthusiasts alike often turn to the best dining room cabinets. And not just to add function to a space but also to complement the rooms' aesthetics and increase visual interest. I've designed dozens of dining rooms with everything from box store cabinets to expensive built-ins and even yard sale treasures. Adding cabinets to your dining space can elevate the room and stylishly increase storage.
Dining room cabinets stand out among other furnishings due to their versatility and storage, even in smaller spaces. Learn more about these useful pieces in my dining room cabinet guide.
Bottom Line Upfront
I'm a big fan of the Camberville Solid Wood Sideboard for several reasons. It offers so much space but in a discreet way. It's long and narrow, so it should fit in almost any dining room. It doubles as a server with its gorgeous wood top. Plus, just look how stylish it is!
Top Recommendations
From cabinet hutches and sideboards to cabinets with drawers, here are five top-rated options assured to meet your needs.
What Does a Dining Room Cabinet Need?
To avoid unnecessary spending, it's always wise to invest in cabinets that are as functional as they are aesthetically pleasing. Use the checklist below to ensure the cabinet you're about to get is worth your hard-earned cash.
Open Shelves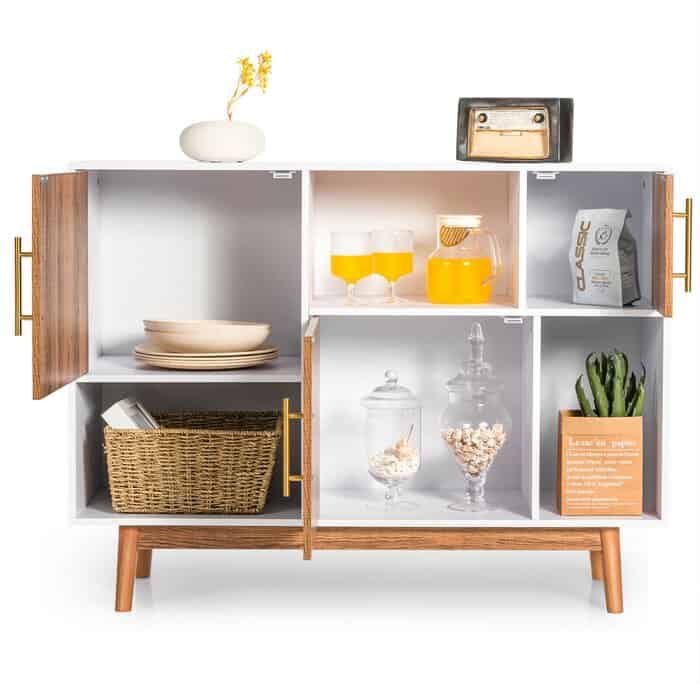 Open shelves in dining room cabinets are the spice of interior design. They possess an unmatched ability to complement spaces in unique ways and are the perfect blend of two things: functionality and looks. Different kinds of shelves you can pick from in dining room cabinets include pull-out, adjustable, and built-in shelves.
Space for Placemats
Some people leave their placemats on the table. But it's actually best to store them away when not in use. Having a cabinet with some shallow drawers or surface space to stack them would be ideal in any dining room.
Space For Fancy Dishes
Plates can be a colorful and inexpensive way to decorate one's dining room. Most dining room cabinets retail with plate racks, open shelves, or even classic plate racks. Any of these should be sufficient to let your fancy dishes pop.
Good Storage
Storage is probably the reason you got a dining room cabinet in the first place. Most dining room cabinets retail with lower and upper halves for sufficient storage. The lower halves usually have closed storage spaces featuring drawers and cabinets. On the other hand, the upper halves usually have open or closed storage spaces with glass doors.
Narrow Depth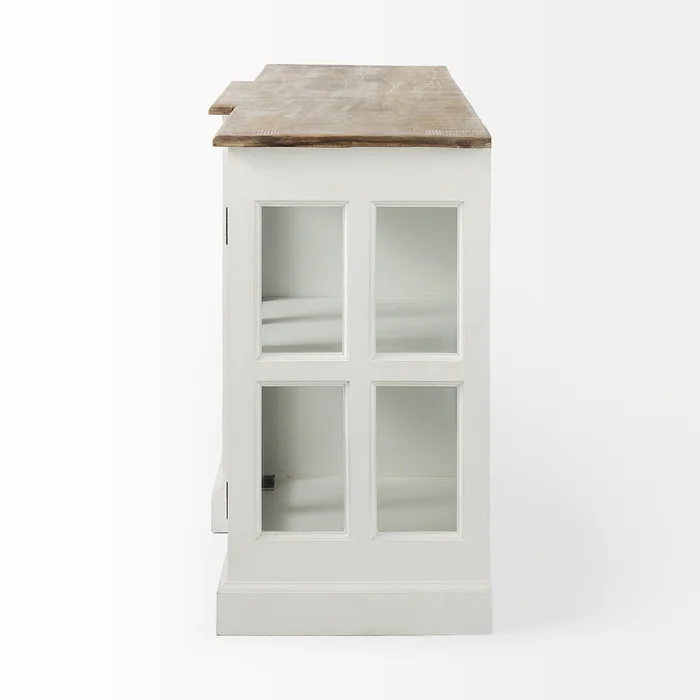 Dining room cabinets should be at least 15 inches deep. Ensure the unit isn't too deep because you'll need space between furniture pieces for comfortable circulation. Regarding width and height, the standard stands at 35 and 65, respectively.
Organized, Accessible Drawers
Too often, old gadgets or appliances retreat to the dark abyss behind large dining room cabinets. They are retrieved months later amidst spring cleaning events, only to be well past their prime and ready for the trash. Such a waste!
With organized, accessible drawers, however, these dark recesses of dining room cabinetry become a thing of the past.
Display Shelves
Are your dining room storage needs on the classier and more stylish end of the spectrum? Get a unit with display shelves as well.
Besides helping you store items in an organized manner, these shelves also serve as fascinating decoration opportunities. Show off that strange but super cool knick-knack that your aunt gave you for Christmas or set up seasonal décor throughout the year.
Types of Dining Room Cabinets
You'll need to consider four types of dining room cabinets: hutch, sideboard, buffet, and built-ins. Each term describes the cabinet's design while simultaneously representing different styles and budgets.
I'll break it down for you by cabinet type so you get a better idea.
Sideboard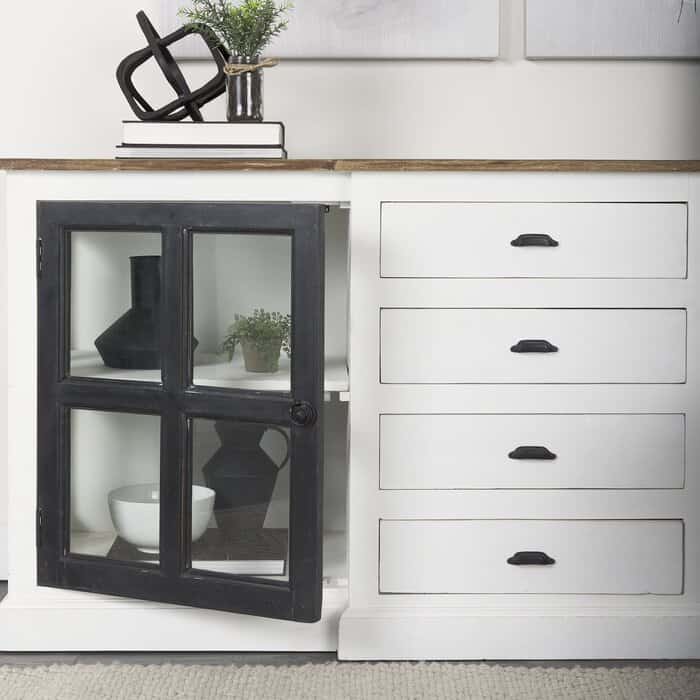 A sideboard is a low, long storage unit whose distinguishing feature is its short legs and cabinets. These sometimes reach all the way to the floor. Like regular cabinets, sideboards also retail in various styles and distinct features.
Modern-day sideboards are often sleek with slightly longer legs than their traditional counterparts.
Buffet
Buffets, like sideboards, are pieces of furniture with long, low storage spaces. Buffets also tend to have short legs that make them sit lower on the floor. The main difference is that buffets are usually a bit taller than sideboards. Buffets also tend to be the more substantial of the two.
Hutch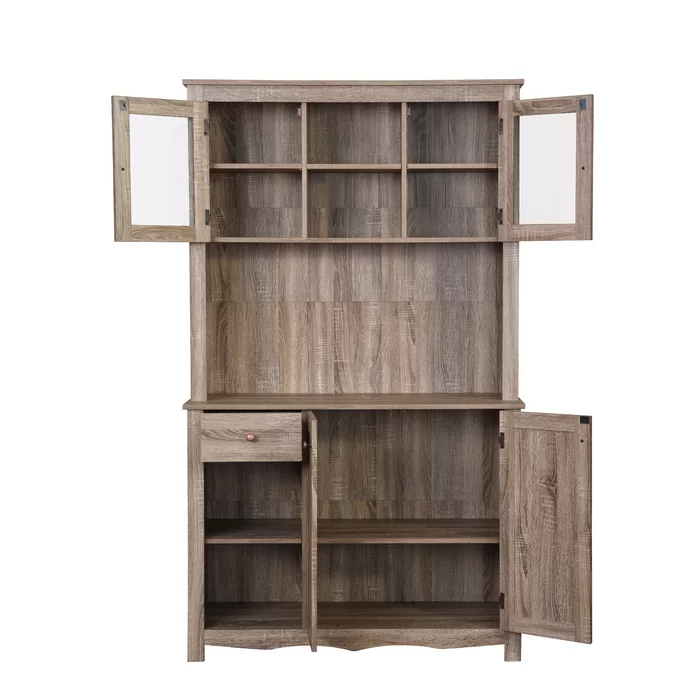 A hutch refers to the shelves or glass door cabinets placed on top of buffets or sideboards. Hutches are often used in dining rooms to display glassware and fine china. Modern hutch designs may feature mirrors on the back of their shelves to add the illusion of more space and depth.
Built-ins
Built-ins refer to two kinds of dining room cabinets. The first is those that have been custom-built to fit specific dining room spaces. The second is those set into the wall, which usually requires cutting through drywall and studs.
How to Choose a Dining Room Cabinet
Don't know how to get started picking the best dining room cabinets? Fret not. I'm here to help ease the nerves and make it an easy (and maybe fun) experience. Here are five things you'll need to remember during your hunt.
Measure Your Dining Room
Always measure a space before heading out to buy furniture to fill it. Allow room for traffic flow, chair movement, and door swings.
Also, consider that an item may look smaller in a showroom, store, or even online, but once you get it home, it's massive and takes up too much space. Don't just guess or eye it; measure your space and determine the maximum size of the cabinet you can put there.
What is Your Current Décor?
In addition to scales and shapes, ensure the dining room cabinet you get flows flawlessly with your interior decor. Try visualizing how the furniture fits as a symbolic road map to the final look.
See the walking space, color harmony, and balance between the different sizes and materials. If your current décor is more Country or Farmhouse, then stay away from items that have a more modern or contemporary look.
What Do You Need to Store?
Knowing what you'll store inside your dining room cabinet is the first place you should start on your purchase journey. Why? Well, because it'll help you decide on the material and size you should go for.
Will you use your dining room cabinet to store utensils and cutlery? Then I recommend manufactured wood (also known as engineered wood) due to its high absorbency. Some natural woods, like Maple and Teak, also pass the moisture test.
Is it Just for Displaying Things?
Needless to say, dual-function furniture is always a great idea. Regardless of what you'd like to store, ensure the dining room cabinet you get maximizes space and function. A great example is sideboards that double up as display or entertainment units, complete with vast storage inside.
Determine The Type You Want
As I noted earlier, you can pick from several types of dining room cabinets: hutch, buffet, and sideboard. While these are often used interchangeably, there are a few differences to consider (as I also highlighted earlier.) Pick the type you think best meets your storage needs and personal preferences.
The Best Dining Room Cabinets for Your Home
Below, I'll explore 16 distinct dining room cabinets you can buy for your home today. I've ensured the list features a range of styles to suit any interior décor and theme. But I picked them based on their overall function, size, and availability.
Best Dining Room Cabinet Hutch
Give your dated dining room a refresh with any of these designer-worthy dining room cabinet hutches.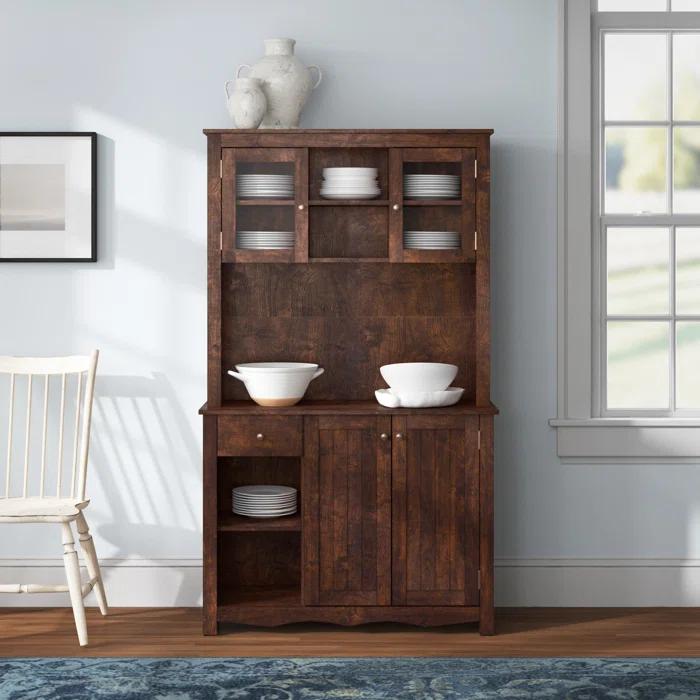 You don't have to be bold or daring to incorporate a traditional touch into your modern dining room. I understand it's something most people are typically skeptical about. That said, it can give your modern room an entire makeover in the right hues and with a minimalistic design.
Price Range: $700.99 – $789.99
Size: 70.9" H x 41.7" W x 15.7" D
Best Feature: 200 Lb Shelf Capacity
This dining hutch is a stunning way to award your room a makeover without being too hard on the eyes. Unfortunately, it's apparently super frustrating to put together, so bring your patience.
Pros
Super spacious with plenty of shelf space
Easy to access drawers
A tip-over restraint device has been included
Retails in five distinct shades
An aesthetic design that'll blend in with any decor
Cons
Frustrating to put together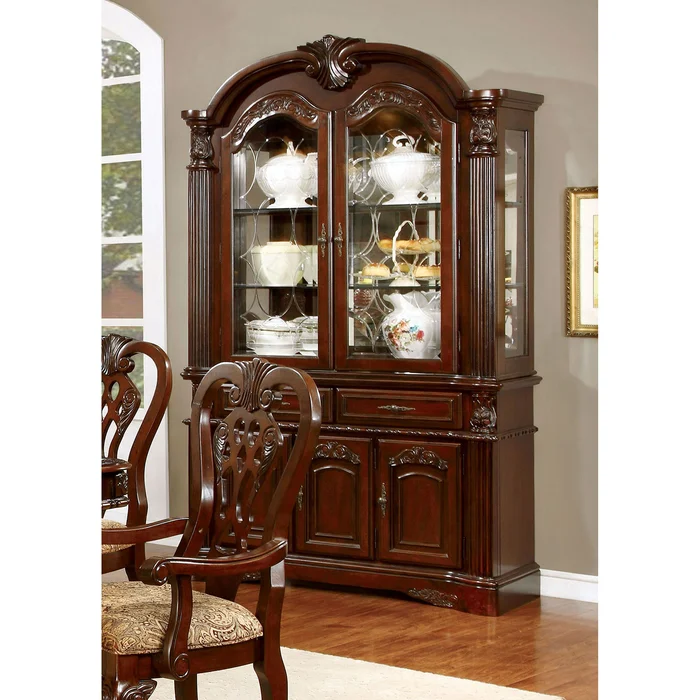 A decorative carving design, two large drawers, glass door shelves, and three enclosed cabinet storage spaces. When all these elements come together, harmony is achieved in decoration, and your usage needs are met.
Price Range: $4,300.99 – $5,200.99
Size: 87" H x 48" W x 18" D
Best Feature: Durability and Sturdiness
This elegant dining hutch is also constructed of solid wood and engineered wood products to ensure sturdiness and durability. The brown cherry finish will complement any interior decor.
Pros
A floral medallion crowns the double-arched top
A mirrored back
Aesthetic molded borders and carved side pillars
Built to last
Only partial assembly is required
Cons
Won't be compatible with some contemporary interior decors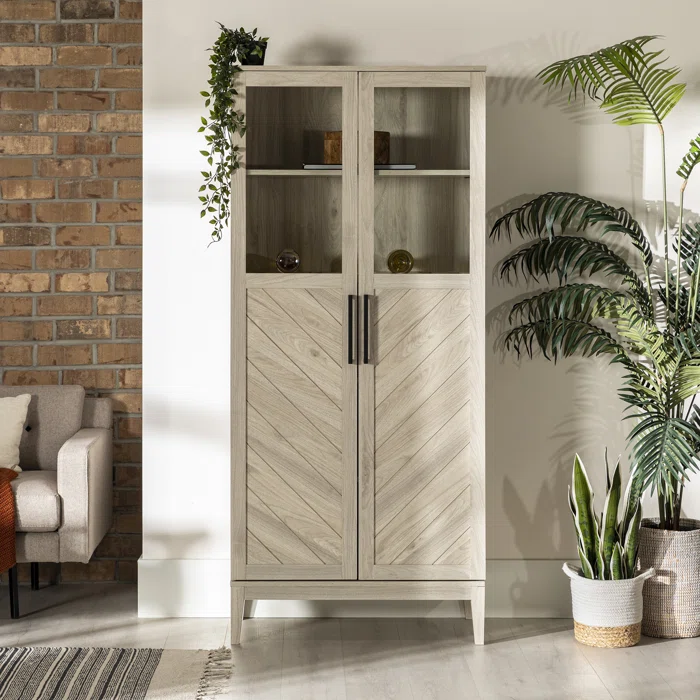 Bring a little bit of farmhouse-style details and classic coastal prints into your home with this chic dining room cabinet. Pair it up with some gorgeous rustic elements, either inside or on top. This should add a little bit of a much-desired unique touch to it.
Price Range: $600.99 – $855.00
Size: 68" H x 30" W x 15.75" D
Best Feature: Space-Saving Tall Design
Under the product's reviews, many people complained about how hard the doors were to mount. So, beware of that.
Pros
Backed by a 90-day limited warranty
A classic, elegant addition to any modern living space
Versatile
Ample storage space
Space-saving design
Cons
Multiple customers have pointed out that putting the doors on is extremely hard for one person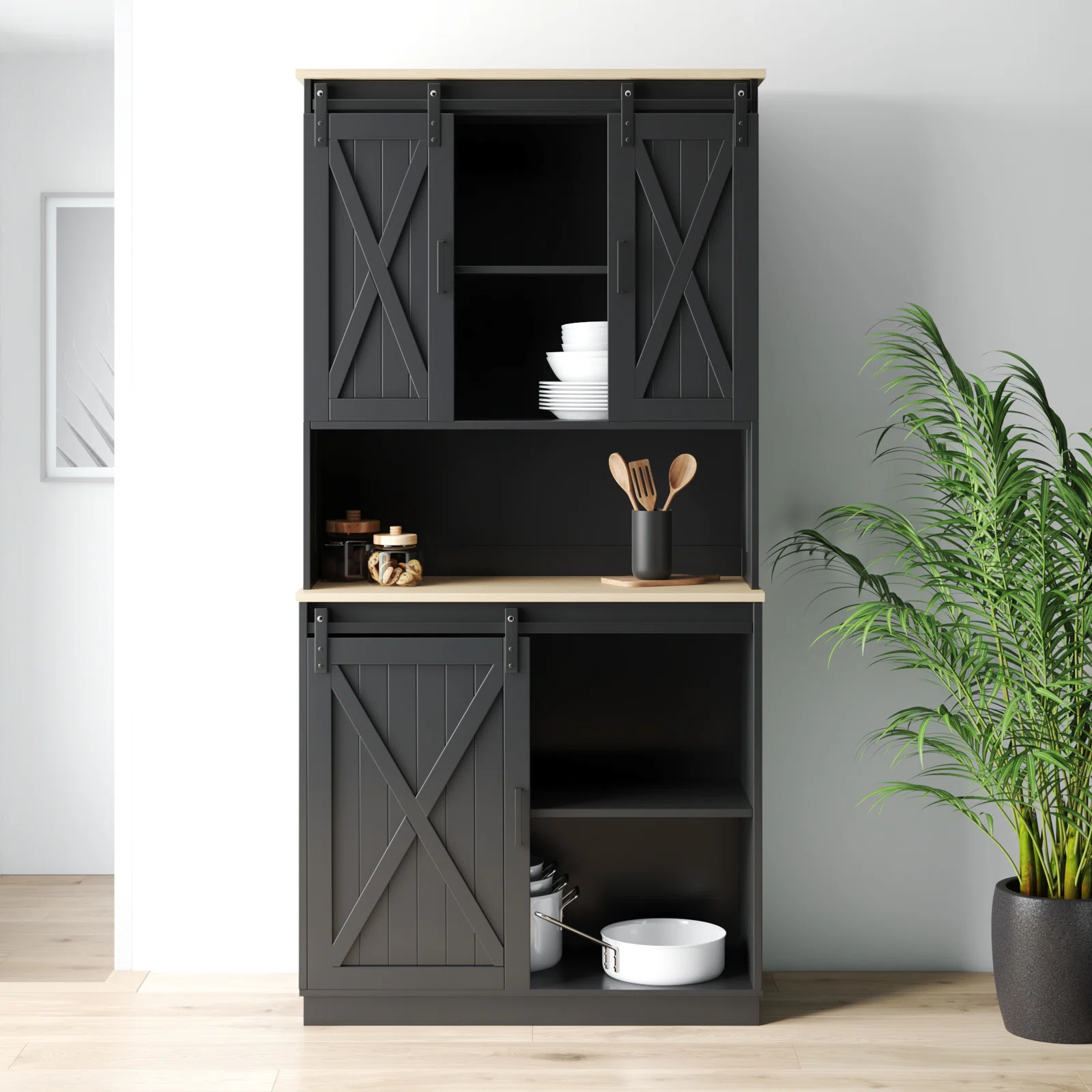 Who said that the best dining room cabinet hutch needs to be a single shade and boring? This unit proves to guests that your home is one big fun art gallery with artistic elements in every piece of furniture. You'll also love the embellished farmhouse-style iron door handles.
Price Range: $1450.99 $1700.99
Size: 72" H x 35" W x 15" D
Best Feature: Backed by a commercial warranty as well
The downside? The unit isn't as scratch resistant as some other units, so handle it carefully.
Pros
Designed for both residential and non-residential use
A tip-over restraint has been included
Adjustable shelves
Easy to assemble
Sturdy
Cons
The storage space isn't as ample as other units in its price range
Best Dining Room Cabinet Sideboard
Think a dining room cabinet sideboard is the right choice for your space? Here are four units I believe are worth your hard-earned cash.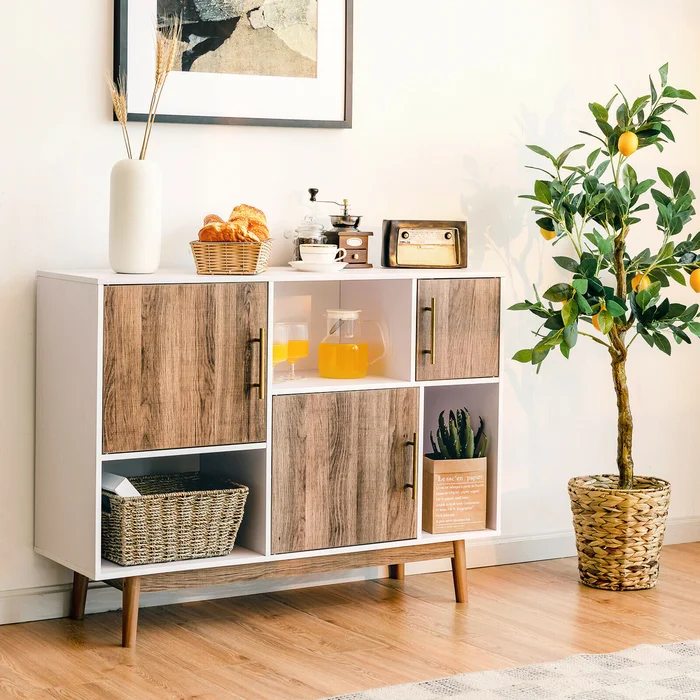 Dining room cabinets often serve as catch-alls for dining room areas. This one from George Oliver also offers plenty of storage space to stash essentials, like napkins, glassware, linens, or extra utensils.
Price Range: $310.99 – $400.99
Size: 30.5" H x 40" W x 13" D
Best Feature: Only partial assembly required
The open lower shelves are perfect for basket organizers if you have extra items you'd like out of sight. Just ensure that the unit will work for your space because it's on the smaller end of the spectrum.
Pros
Adds brilliance to any interior decor
Constructed of premium MDF boards
Sufficiently spacious storage compartments
Only parietal assembly required
Designed for both residential and non-residential use
Cons
Challenging to put together for total beginners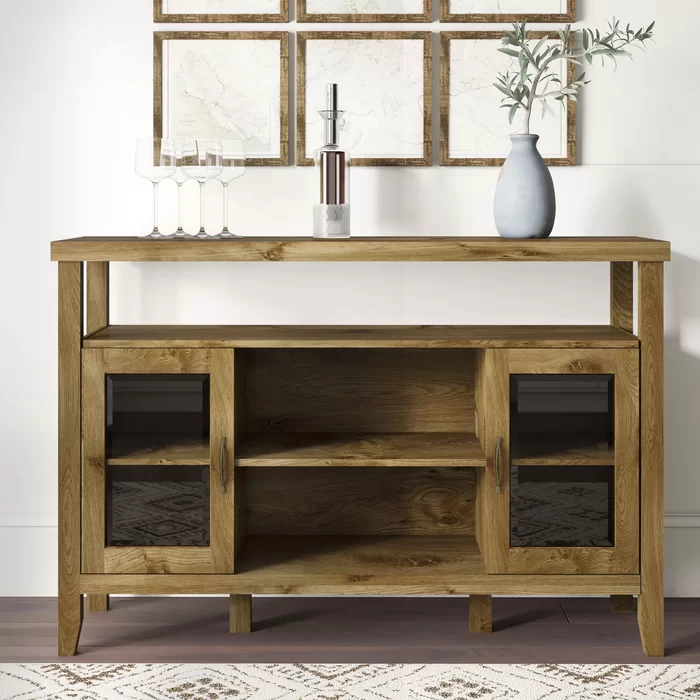 Name a more multi-functional design well suited to a variety of interior placemats. I'm waiting! This dining room cabinet boasts two open shelves for display and two convenient glass door cabinets for smart organization.
Price Range: $470.99 – $635.99
Size: 35" H x 52" W x 15.5" D
Best Feature: Unique, streamlined design
I also think combining a grey wash shade and matching handles contributes to the smart mid-century transitional appeal. What do you think?
Pros
Retails in four distinct colors
Adjustable shelves
Made from high-grade MDF boards and durable laminate
Backed by a 90-day limited warranty
Sturdy, durable construction
Cons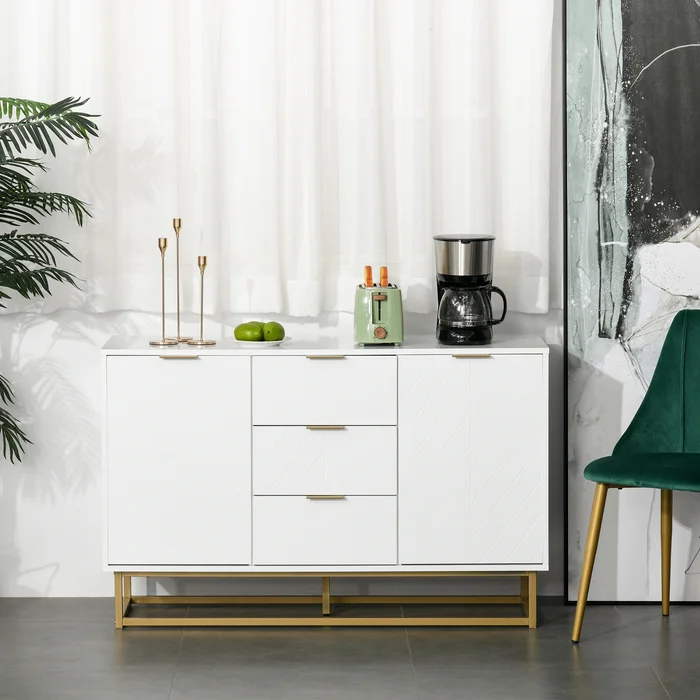 Give it up for one of the best aesthetic units I came across during my hunt. The unit's gold base and matching hardware accents give the cabinet a certain chic finish akin to modern abstract arts.
Price Range: $360.99 – $469.99
Size: 30″ H 47.25″ W x 15.75″ D
Best Feature: Its cool stand-out look
Just be sure not to exceed the cabinet's weight capacity, lest the hinges give way and send it tumbling down.
Pros
Adjustable shelves
Embossed chevron patterns on the doors
Ample storage space
One of the best aesthetic units out there
Backed by a 90-day warranty
Cons
Smaller than most customers expected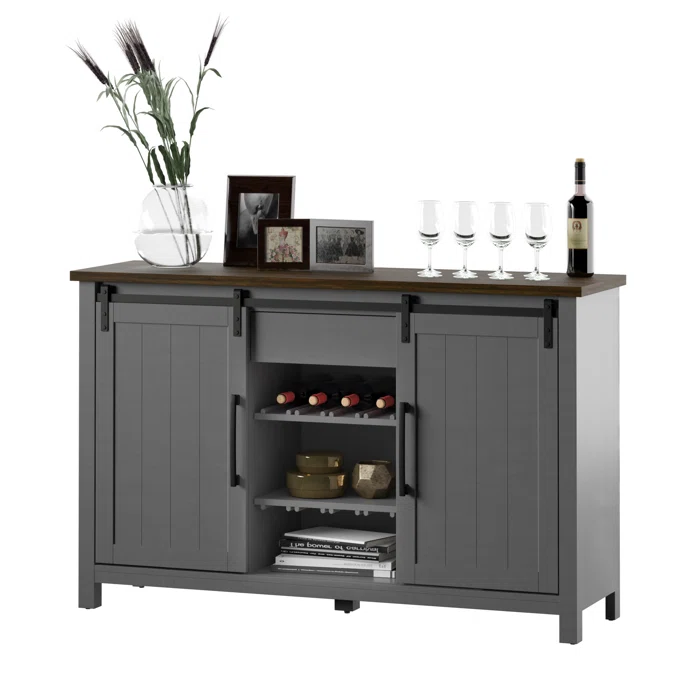 Another functional dining room cabinet, this one with ample storage and a dedicated wine bottle storage. It doesn't need to be grey, but it'd sure look good if your wall is a similar shade. I'd suggest adding a few homey accents atop the cabinet until it matches your style.
Price Range: $310.99 – $714.99
Size: 34" H x 54" W x 15.5" D
Best Feature: Sturdy construction
Feel free to play around with the colors of the items, depending on your preferences!
Pros
An 8-bottle wine rack included
Retails with a tip-over restraint device
Adjustable shelves
Sturdy, durable construction
Will beautify any space
Cons
Best Dining Room Cabinet for Small Spaces
As I mentioned earlier, dining room cabinets retail in many finishes and shapes. The ones I've listed below are defined by the compact natures that allow them to fit in small spaces.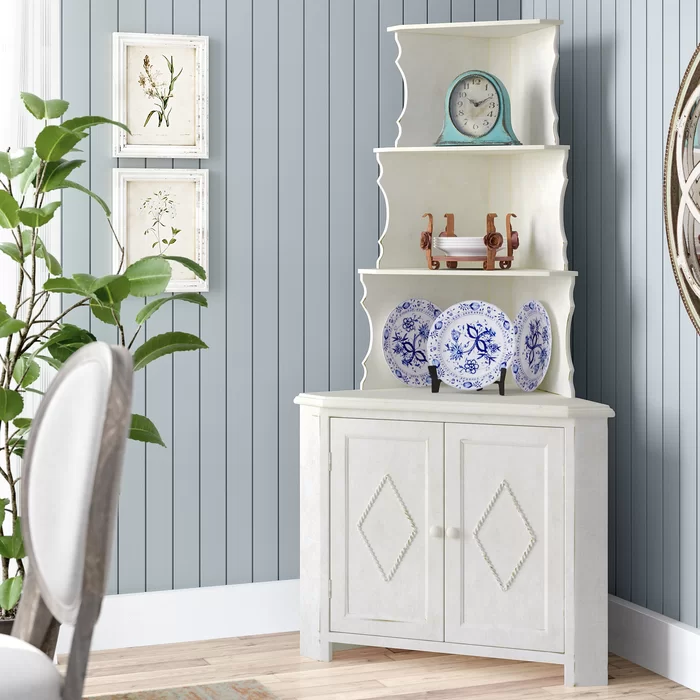 If you're anything like me, you can't pass up anything that captures your attention. This dining room corner cabinet delights the eye with its intricate hutch design, perfect for displaying decorative plates and larger platters.
Price Range: $1,245.99 – $1,499.99
Size: 70" H x 36" W x 23.5" D
Best Feature: Its French country charm
With two additional cabinets that open to vast storage, this hand-crafted display will surely add a little flair. I'd use it to tie off my dining room space together.
Pros
Backed by a 30-day limited warranty
Impressive weight capacity
Corner-fitting design
Easy to put together
Sturdy, durable construction
Cons
Several people complained about poor packaging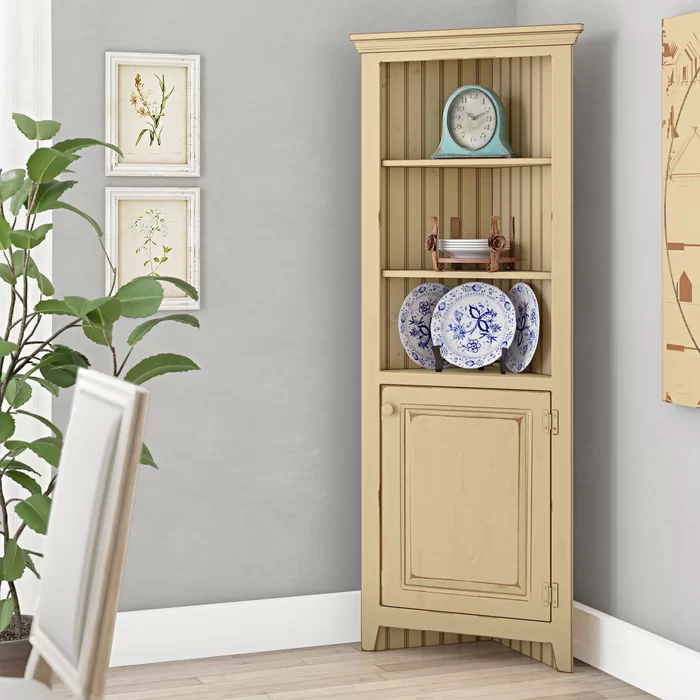 Extra-slim, corner cabinets like this one are fantastic for placemats in small dining rooms where foot traffic is a concern. The unit's design makes an artistic statement with its hand-painted finish and rustic-inspired style.
Price Range: $2,215.99 – $2,580.99
Size: 72″ H 27.375″ W x 11.25″ D
Best Feature: One-year warranty
If you don't mind the simplicity the unit retails with, you're guaranteed year after year of service and inviting farmhouse-style elegance.
Pros
No assembly required
Durable solid wood construction
Easy to clean and maintain
Space-saving design
Backed by a one-year warranty
Cons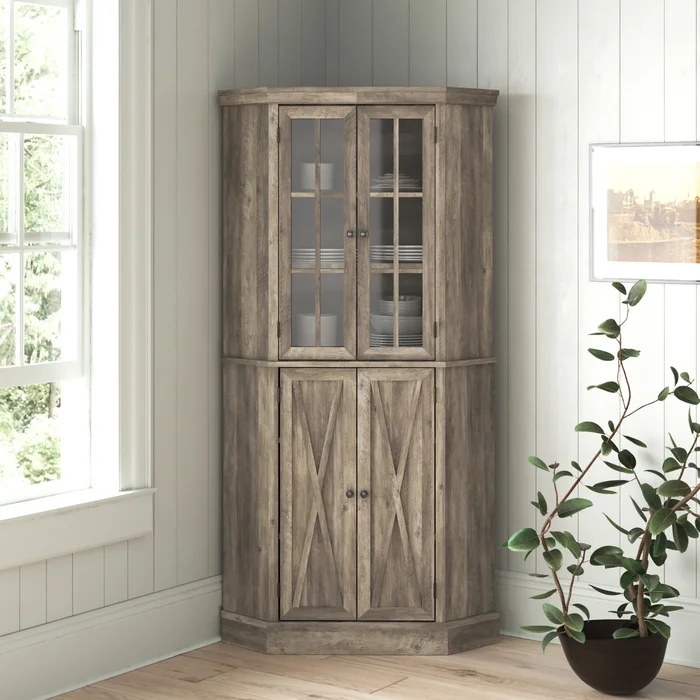 A simple vintage-inspired unit with barn-style x motifs can work wonders for a small space that needs an uplifting element. Don't worry if the cabinet looks a little dated since that's part of the charm and style of this rustic unit.
Price Range: $725.99 – $810.99
Size: 69" H x 35" W x 15.5" D
Best Feature: 300 lb weight capacity
The only thing I wish was different is the unit's assembly instructions. They look quite confusing, particularly to people who've never done this before.
Pros
Hard-to-beat rustic glam
Space-saving corner design
Retails in four distinct shades
Impressive weight capacity
Adjustable shelves
Cons
Extremely time-consuming to put together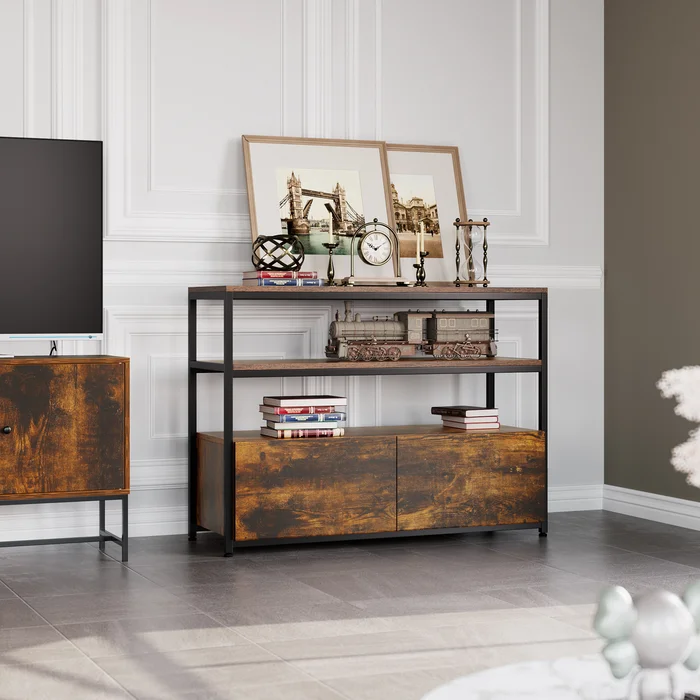 Looking for even more functionality and subtlety? Something you can easily tuck away? Then this unit from 17 Stories could do the trick. The unit's rustic brown elements should complement both traditional and the most fashion-forward homes.
Price Range: $305.99 – $349.99
Size: 31.5" H x 42.5" W x 15" D
Best Feature: One-year warranty
The one-year warranty proves that 17 Stories believes in the unit they're selling you. But, I hope you won't mind that the shelf isn't adjustable.
Pros
Industrial chic design
Soft close drawers
Strong, durable construction
Backed by a one-year limited warranty
Will accentuate the dining room
Cons
I wish the shelf were adjustable
Best Dining Room Cabinet with Drawers
These four dining room cabinets with drawers are as spacious and practical as they are stylish, durable, and sturdy. Don't believe me? See for yourself.
This versatile, hand-curated sideboard features three glass doors with chic mullion prints for a glam Art Deco design. The doors open to reveal shelf spaces for books, glasses, dishes, tablecloths, and anything else that can fit.
Price Range: $769.99 – $845.99
Size: 32.75" H x 51.75" W x 15" D
Best Feature: Glass and wood fretwork door fronts
The only issue with the unit is that I couldn't find any information on its warranty coverage. All I can ascertain is that no commercial warranty is backing it.
Pros
Soft close doors
Tip-over restraint device included
Will complement any traditional or farmhouse-style home
Adjustable shelves
One of the easiest to assemble
Cons
Not the strongest construction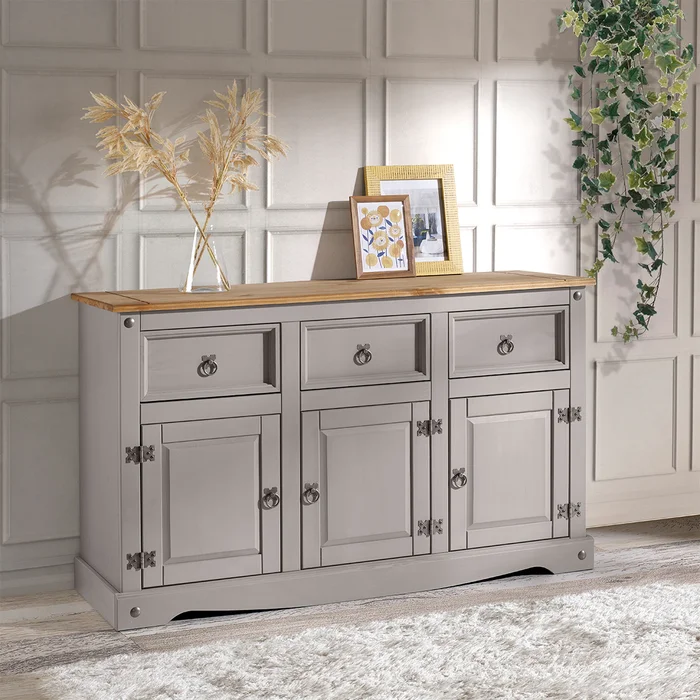 Having limited space doesn't mean you have limited options with design. Yes, minimal styles and designs will likely fit better, but you don't have to limit yourself to that. Instead, try something like this Victorian-style unit with woven details and playful patterns.
Price Range: $340.99 – $459.99
Size: 29.88" H x 49.25" W x 15.75" D
Best Feature: Durable solid wood construction
The perfect aesthetic-compact-functionality balance, if you ask me.
Pros
Designed for both residential and non-residential use
Premium solid wood construction
Classic country theme
Adjustable shelves
Backed by a commercial warranty as well
Cons
Extremely tough to assemble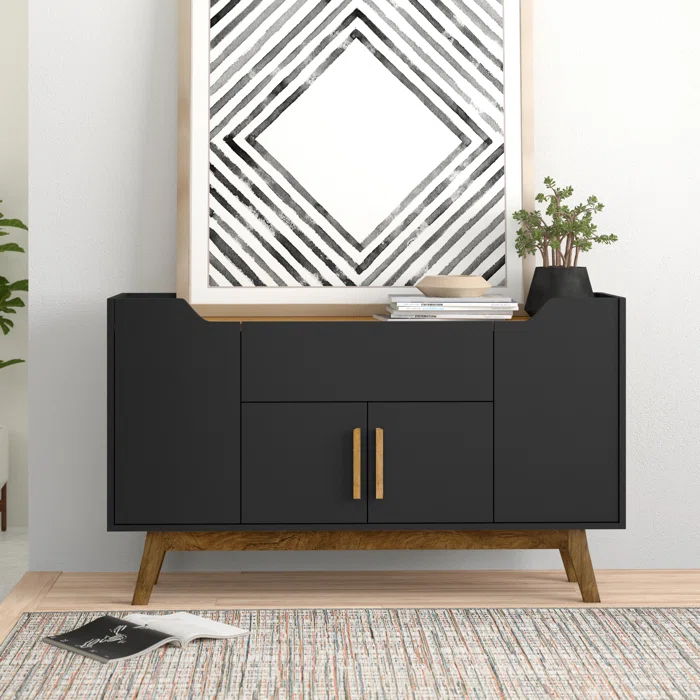 Everyone loves to see a bit of cheer the first time they enter a room. This mid-century dining room cabinet is sure to exude that to anyone who enters your dining room.
Price Range: $724.99 – $799.99
Size: 31.89" H x 53.54" W x 14.17" D
Best Feature: Its classic, mid-century aesthetic
The central pull-out drawer and overall intricate design give the cabinet the pattern it needs to stand out. I'm just so in love with the overall vibe of this piece, I think it would look great in any room of them home.
Pros
Ample storage room behind four doors and a pull-out drawer
Boasts a spacious countertop space as well
Retails in four different shades
Soft close doors and drawers
Backed by a one-year warranty
Cons
As one customer said, "It's a nightmare to put together."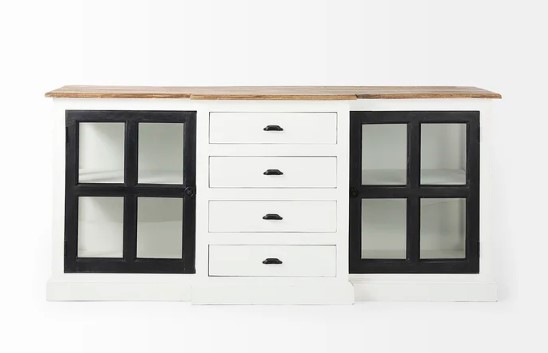 This solid wood sideboard could be the ticket if you'd like a minimalist solution for your dining room. With a cool combo of white, black, and wooden tones, the cabinet will go well with almost any room decor.
Price Range:$3,105.99 – $3,2325.99
Size: 34.75" H x 75" W x 21" D
Best Feature: Already assembled
Just be careful while handling the glass doors, as several people have reported they're quite fragile. So, it's not ideal if you have little toddlers running around.
Pros
Plenty of space to tuck away any loose items
Delivers a rustic appeal
Backed by a 90-day limited warranty
Premium construction
Comes already assembled
Cons
FAQs
Question: What is a Dining Room Cabinet Called?
Answer: A dining room cabinet is also called a dining room sideboard, buffet, or hutch. These three differ only in size, even though most people use the terms interchangeably.
Question: What Do You Put in a Dining Room Cabinet?
Answer: Items you should store inside your dining room cabinets include napkins, candles, serving implements, glassware, linens, and extra utensils. Feel free to throw in pretty much anything you'll need for a full dinner party service.
Question: Do You Need a Dining Room Cabinet?
Answer: Yes, you may need a dining room cabinet, depending on your dining room's size and the amount of clutter. A dining room cabinet will enhance the physical appeal of your dining room and store items in an organized manner.
Final Say on Dining Room Cabinets
Did you have a hard time finding a piece of furniture that can tie in with your existing dinette set? I hope this dining room cabinet guide has brought your hunt to a glorious end. If you want storage and style, I'd suggest the Camberville Solid Wood Sideboard. You can find even more of my helpful recs for the home on our site; check them out!