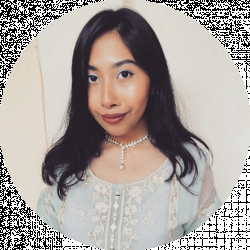 Latest posts by Nanziba Khaled
(see all)
Remember when you had an old antique China cabinet in your dining room that was older than your great-grandmother? Furniture would be bought and sold, and seasons would pass.
Still, the China cabinet would stand firmly in its place, boldly displaying its fine china. My grandmother was incredibly proud of her chinaware. She proudly showcased it in the most oversized Antique cabinet that almost occupied half of our dining room.
While my grandmother is no more, her antique cabinet still stands, holding all of its delicate cups and plates intact. That's the power of a China cabinet; its robust build would protect the fragile chinaware at all costs while displaying them beautifully.
Gone are the days when an antique China cabinet was used solely for displaying chinaware. Today I will show you how you can use your China cabinets and share the best antique china cabinet finds!
Bottom Line Upfront
While many people prefer contemporary design nowadays, I am still an antique lover. Additionally, an antique China cabinet can be used for many different purposes and infused with contemporary interior styles. My favorite China cabinet has to be the painted China cabinet.
I love the idea of using a pop of color to brighten up a space; therefore, I will always go for a painted cabinet. Moreover, painting a China cabinet is a great way to refurbish it and give it a new look. A painted China cabinet is versatile and can be used for many different interior styles.
As for interior styles, antique pieces complement the farmhouse style and look best in a farmhouse design interior. I would recommend the farmhouse aesthetic if you want an ethereal white vibe. However, if you are into bold colors as much as I am, in that case, you can go for the Mediterranean style featuring a vibrant China cabinet.
My Selection Criteria
Design
When I pick China cabinets, I first prioritize ensuring their design complements my existing furniture décor. Therefore, when buying an antique China cabinet or any new furniture, you must check if the new piece sits well with your built-in furniture.
Otherwise, your cabinet will look unusual or out of place. For instance, if I have a farmhouse-style dining room, I will choose a white and rustic antique cabinet, whereas if my dining space is more formal, I will pick an antique cabinet with gold trims to add a touch of elegance. Another thing I ensure is that China cabinets have a suitable glass-to-wood ratio.
It should not be all glass because you need some drawers to keep spoons and other utensils. However, it should not be 80% wood either cause then it no longer acts as a display cabinet. Lights aren't an unmissable essential for china cabinets; however, lighting is always good when your cabinet is significantly bigger.
Quality and Durability
Antique China cabinets date back a long time ago; therefore, it is always crucial to check the quality of the cabinet before buying.
Antique cabinets in excellent and healthy condition, value for money, and can last another 100 years. A durable cabinet will be made of robust wood and will feel sturdy to the touch. I also read reviews of other customers that used the same product to get a better idea.
It is essential to buy an antique cabinet that is robust and durable; it can store all your chinaware safely, and you get good use out of it.
Size and Compartments
China cabinets range in various sizes, and I usually select a size keeping its usability in mind. Suppose I place it in my living room to showcase souvenirs and decor. In that case, I will pick a smaller size, perhaps even a corner cabinet.
If I buy a cabinet for my dining room, I will use a more significant size with good storage to fit all my dishware. Altogether I make sure to pick a cabinet with ample shelves and storage space, with a mix of drawers and open shelves, as these are super helpful.
Antique China Cabinets: My Favourite Finds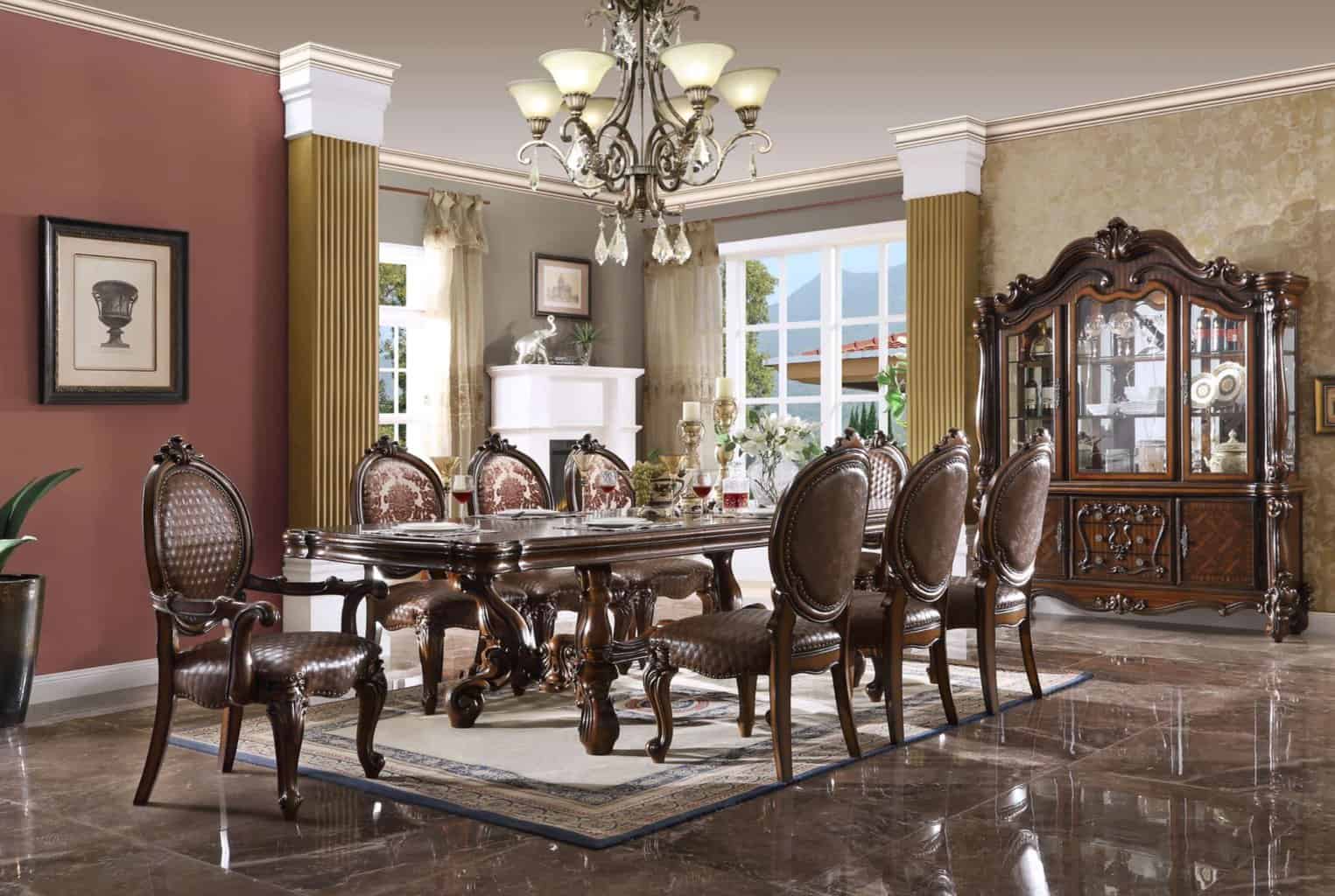 If you are on the hunt for a luxurious cabinet with some Victorian flare, then this cabinet is for you. I am sure you have seen these antique cabinets growing up.
These classic wide china cabinets ensured its presence was known to everyone in the dining room. But even if it's a common design, you can never go wrong with a classic. The design is timeless and will also give you hints of nostalgia.
Big furniture will add warmth to your spacious hall and make it look more regal and luxurious. Moreover, this sturdy China cabinet is made of solid wood that will last a lifetime. Its robust structure and spacious shelves and drawers will be the perfect home for your delicate heirloom china.
These traditional wide cabinets look best in a formal dining hall. Hence if you have a spacious dining room with a dining table set that has similar ornamentation, you can purchase a traditional cabinet like this.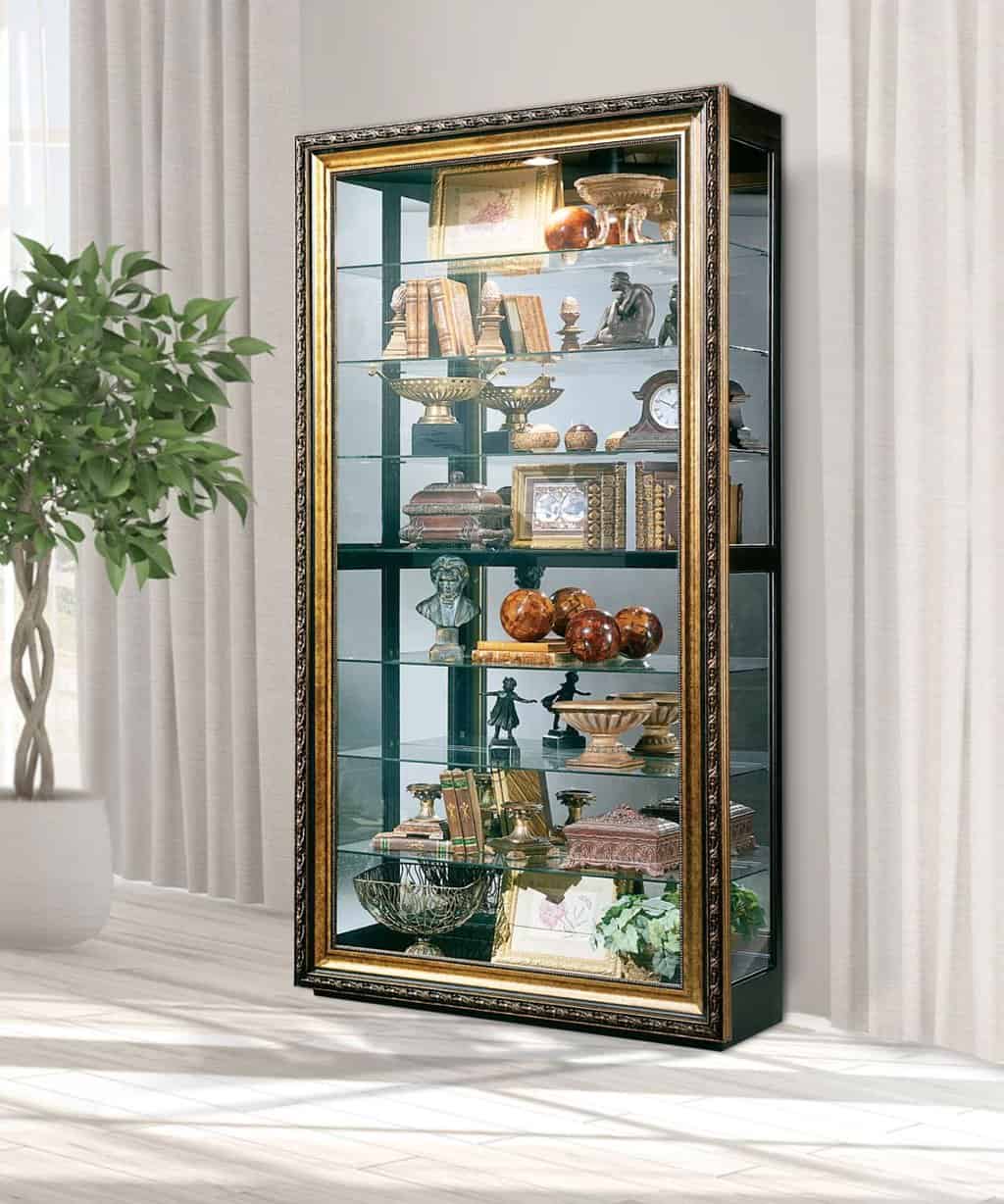 Curio cabinets are great for displaying showpieces, awards, souvenirs, or even antique sculptures. Unlike the traditional wooded China cabinet, the curio cabinets come with glass on at least 3 out of 4 display surfaces which often gives it the look of a glass box.
The Cavour 43″ wide curio cabinet has an antique design that is purely outstanding. I love the black and gold ornamentation on its border; it's so classy. Moreover, unlike most antique furniture, it's not heavy on decoration, and the design is kept simple and elegant. The simplicity of this curio cabinet makes it fit for modern homes nowadays.
This curio cabinet also comes with a mirrored back, a modern feature. A mirrored back cabinet displays items more efficiently, as you can also see the back of an object in its reflection. The mirrored surface adds to the glassy design of the cabinet and enhances its glass box effect.
If you want a China cabinet that is simplistic, light, and elegant, you should go for this curio cabinet. You can place this in your living room and decorate its shelves with antique sculptures or decor in your collection. This curio cabinet will undoubtedly be a showstopper accent furniture for your house.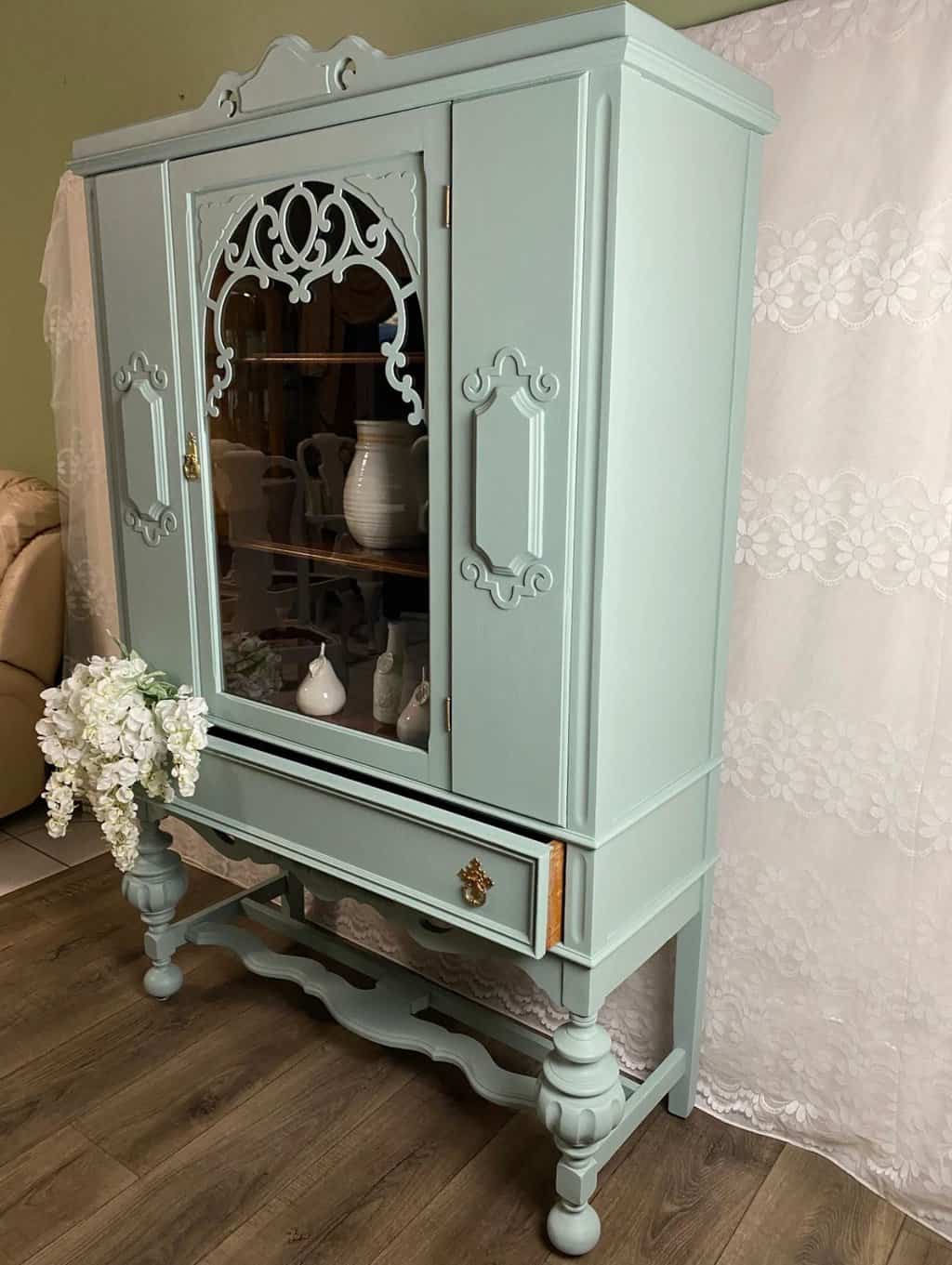 If you want antique cabinets but feel antique wooden finishes are too outdated and old-fashioned. In that case, you should purchase an antique China cabinet that has been painted and refurbished. I think painted antique cabinets look so stylish and modern.
They retain that antique design with an addition of color, making them look fun and vibrant. For instance, look at this painted Jacobean china cabinet I discovered on Etsy. This antique cabinet has been painted with an eggshell or pastel blue color that looks highly aesthetic.
This cabinet shows that antique furniture doesn't always have to display a rugged old look; it can also look equally appealing with a fresh coat of paint. I loved how the manufacturer kept its original design and intricate detailing. This china cabinet is also smaller in size, so you can place it in any corner of the house, making it a cute accent piece.
Decorate it with flowers, some small vases and jars, and little bohemian plates. Please don't overdo it since the small cabinet is well-decorated. Therefore, keeping minimal showpieces will let its design shine.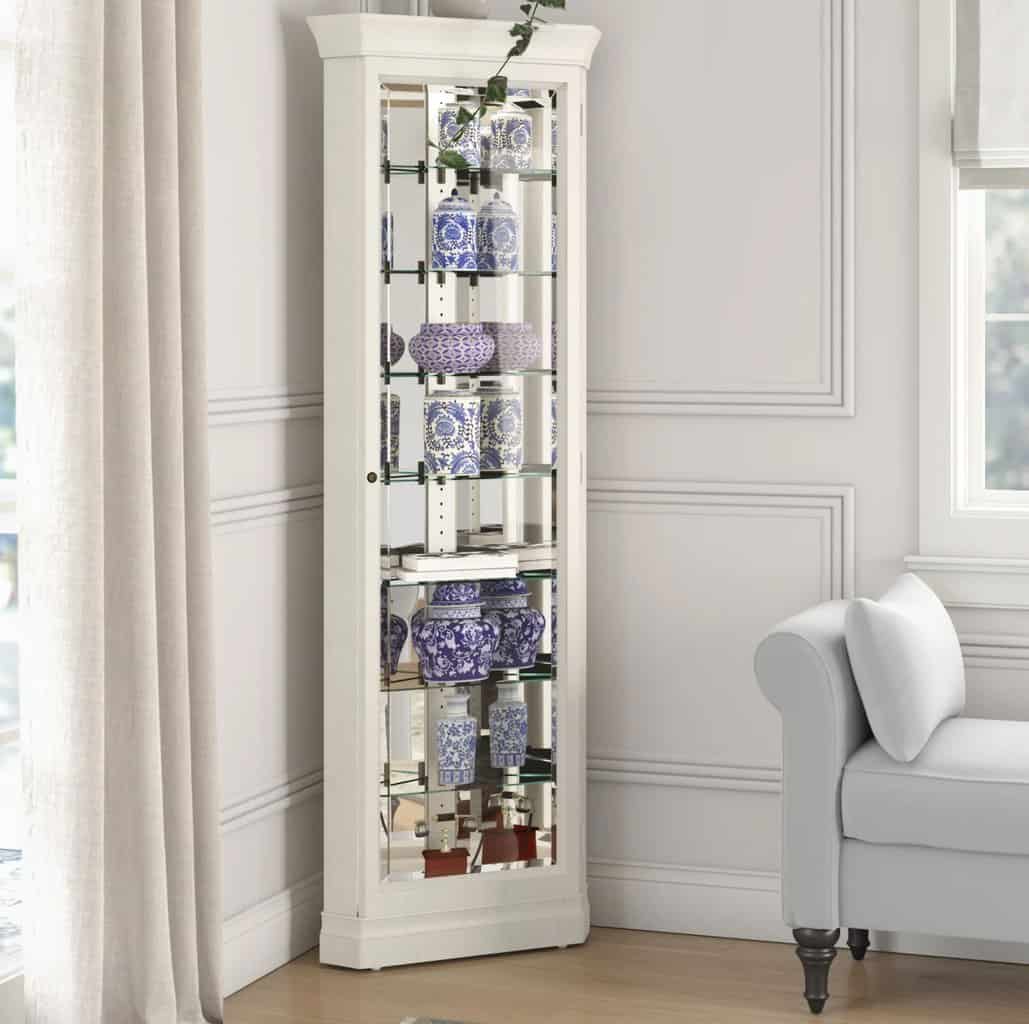 A corner China cabinet can do wonders if you have an unused corner in your living room. Rather than just leaving the corner idle for the dust to settle, it's best to utilize this narrow space by fitting in an antique china cabinet.
This idea will be highly beneficial to those keen on buying a china cabinet but don't take that step fearing the amount of space a china cabinet takes up in a room. Well, it's time you let go of your fears and old-age ideas that china cabinets can only be majestic in size.
I am happy to burst your bubble that nowadays you can find china cabinets of any size, even narrow ones that fit in corners.
My friend, who lives in a small apartment, recently got a corner china cabinet to display her collectibles. She travels often and is fond of collecting memories and souvenirs from different countries; therefore, she has always wanted to exhibit them on a beautiful display shelf.
When she shared this idea with me, I instantly asked her to purchase a corner china cabinet. I felt that would be the most elegant manner to display her priced possessions. Moreover, a corner cabinet was a wise decision for her small apartment, and she has loved it since.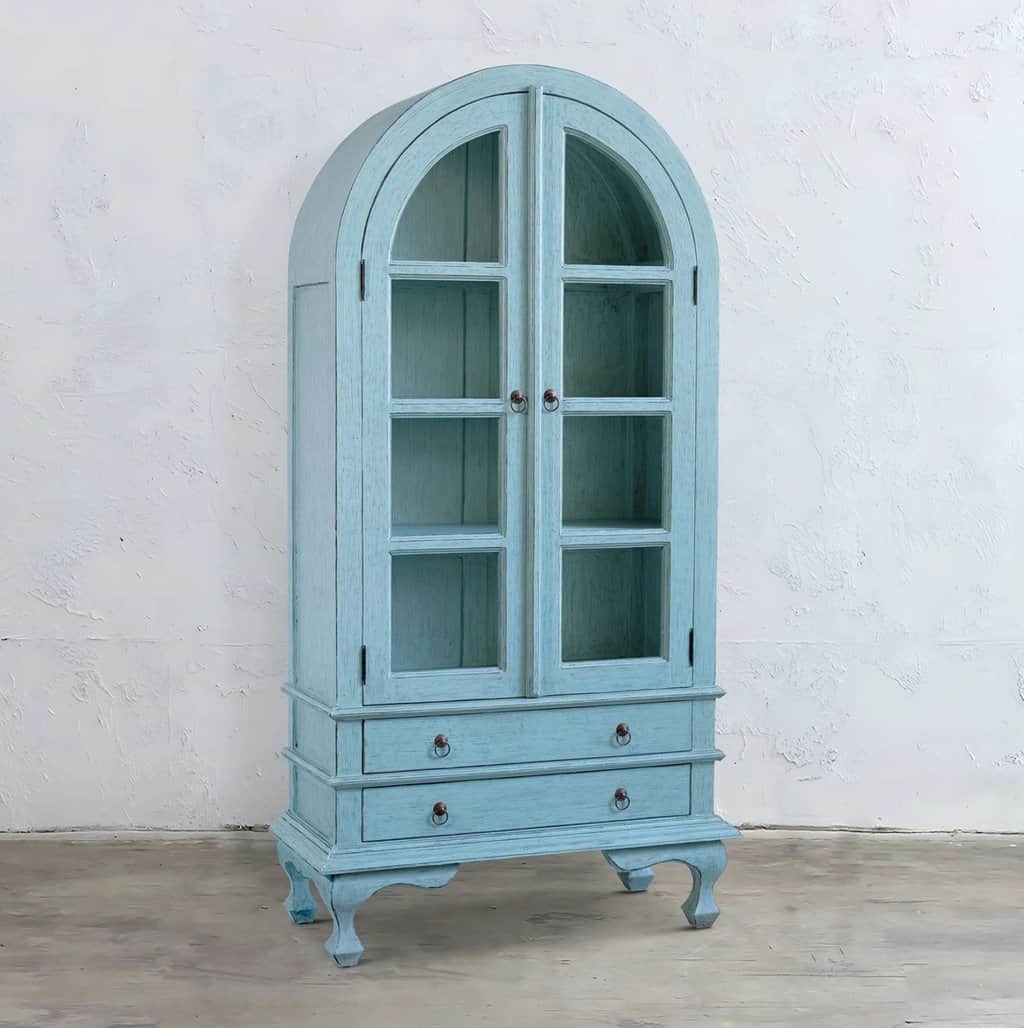 Want some versatility for your display cabinet? Then it would be best if you got an arched china cabinet. Arched china cabinets are a charming addition and have a unique design that adds flair to your home. Unlike traditional china cabinets, the arched ones are less formal and go with all styles of interior spaces.
This Farreli 39″ Solid Wood China Cabinet comes in a pale blue and distressed wooden finish, which I love. I especially like that the blue paint coat did not hide the antiqueness of the wood and still let its wooded texture be seen.
You can place this cabinet in any corner of your home, even your bedroom. This will look super aesthetic in your bedroom, especially if you want to incorporate colors. You can decorate it with books and flower vases, put a small chair next to it and make a small reading nook.
Moreover, it features two built-in drawers below that can store bedsheets, linens, etc. This antique cabinet will also charm your living room, especially if you have a coastal theme with various shades of blues and whites.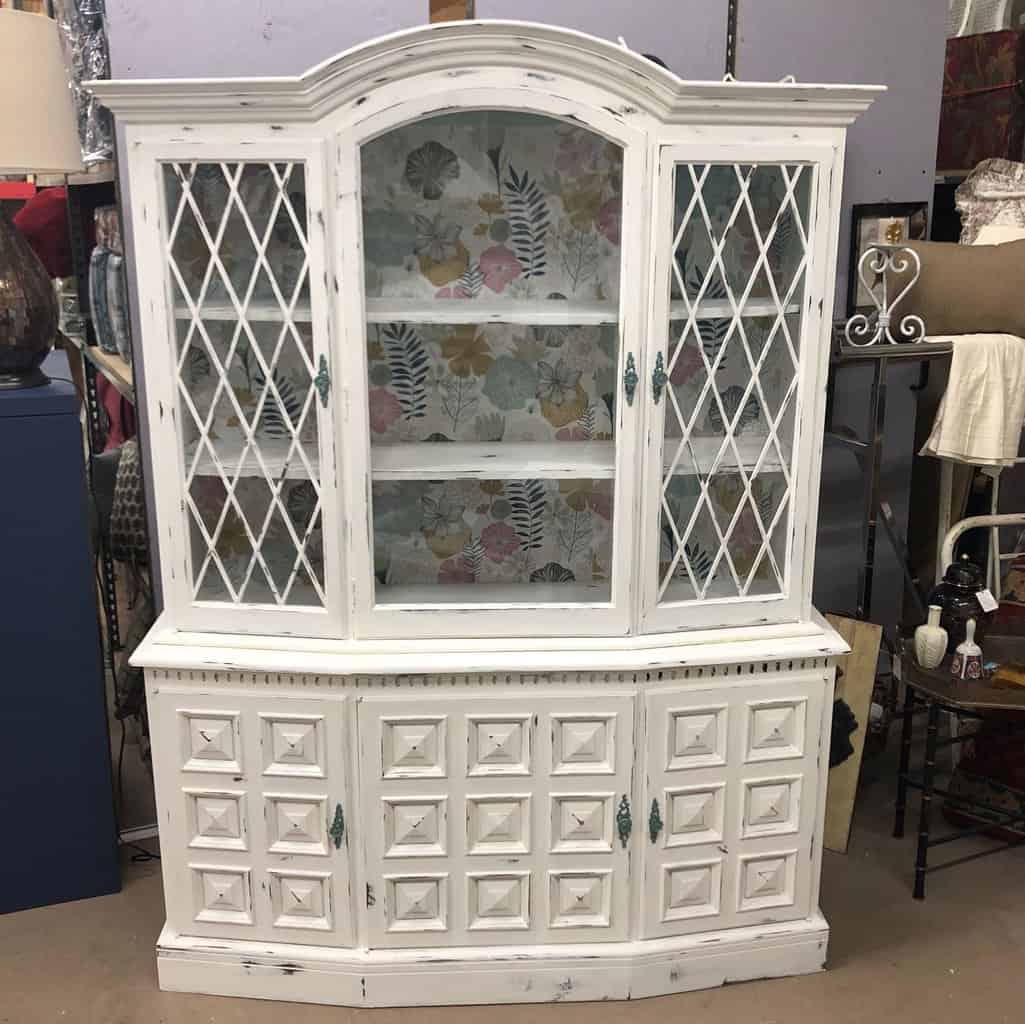 The lattice design on wood looks great and comes in wide varieties. Moreover, the design looks so vintage and traditional that you must have one if you are an antique lover. Cabinets with lattice door is an excellent way to add more décor elements to an otherwise plain space.
This Vintage Two Piece Lattice Door China Cabinet is a cabinet you must obtain in your collection. Especially if you enjoy collecting antique furniture like these, this is one China cabinet you cannot miss. This charming white cabinet features two lattice panels on each side and an open shelf in the middle.
Therefore, this cabinet will give you the best of both worlds. Moreover, it is large enough and provides ample display space. My favorite feature of this cabinet is its distressed wooden finish that screams antique; the shabby chic design catches your eye. On top of that, the vibrant floral background completes the design by adding lovely colors and a touch of elegance.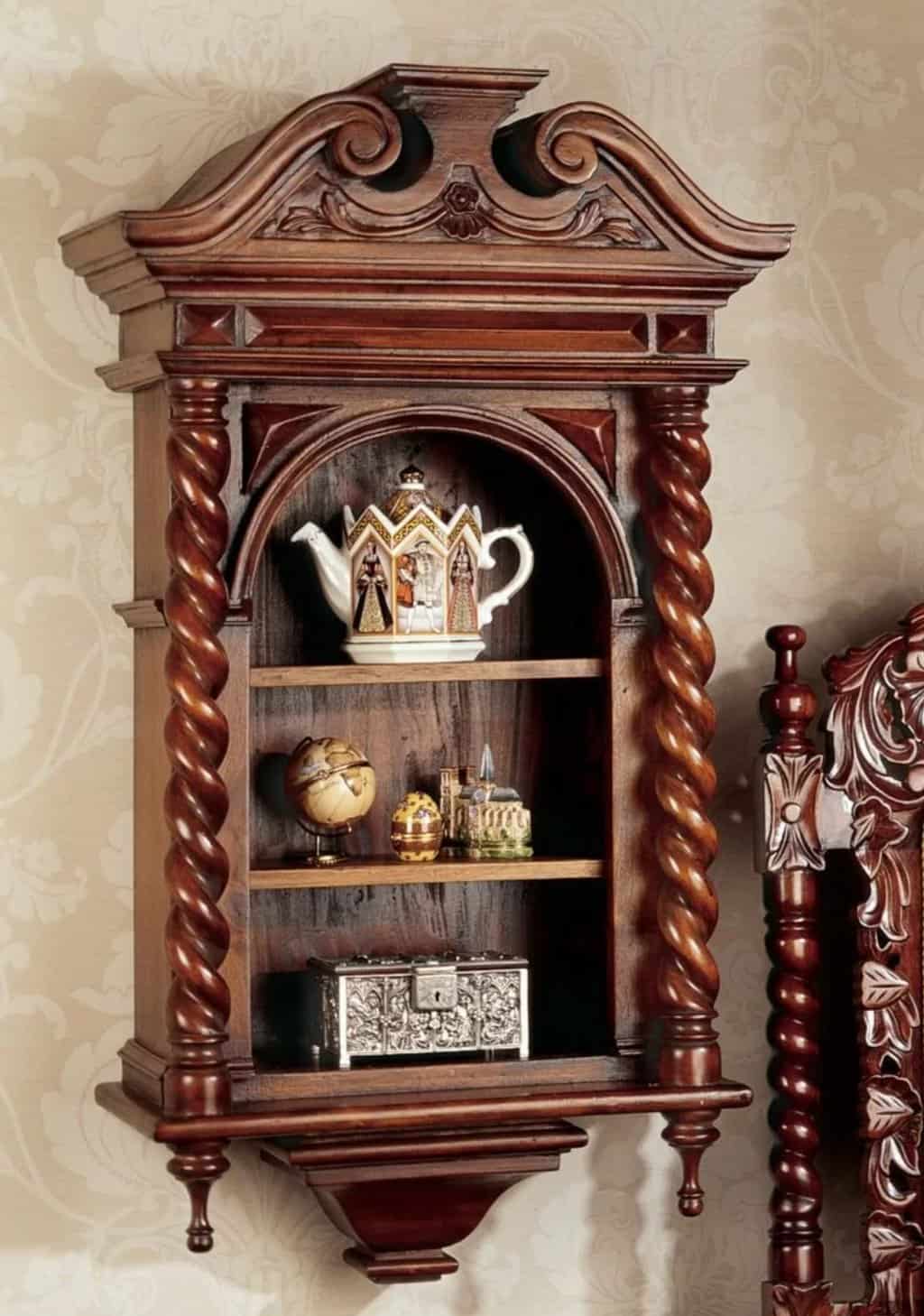 China cabinets tend to take up a lot of space, which can disadvantage people with smaller apartments. However, if you love antique China cabinets but are doubtful about purchasing a humongous cabinet that will occupy half your room, here is a quick solution.
China wall cabinets come in compact sizes and will take over zero floor area, as you can easily set them up on your wall. Have a look at this Charles II 20″ Wide Solid Wood Display Stand; how regal does it look? This gorgeous antique cabinet curved out of solid mahogany is a vintage lover's dream.
Moreover, it can also work as a wall décor for your barren walls. Set it up on an accent wall of your dining room with some small China cups and teapots to add some antique flair.
The only downside of these wall cabinets is that they tend to be too small to work as a designated storage cupboard. In my opinion, they are more of a showpiece element that you can use to amp up your space, and only a few items can be displayed on the cabinets.
Antique China Cabinet Styling Goals
Now that you are familiar with various antique China cabinet styles, I will share some inspirations and insights so you can execute your antique home décor flawlessly.
The versatility of antique china cabinets makes it super effortless to place them according to any interior style. So please keep reading to check out the incredible decor ideas I hand-picked exclusively for you.
This inspiration is for the farmhouse décor enthusiast. If you love the farmhouse style or are a fan of the white aesthetic, you can take ideas from this style.
All white backdrop with a white painted antique cabinet, how ethereal does it look? The use of wood here and there adds a pleasant warmth to the color palette. Moreover, the little details like the flower vas beside the cabinet instantly stole my heart.
The shelves are decorated with white ceramic teapots and flowers, all antique and white. The overall outcome is a clean design that serves a homely and cozy vibe. 
The Mediterranean style is one of my absolute favorites. It consists of everything: neutral colors, bright colors, fun textures, and antique decors. This style is so versatile and unique that I couldn't resist sharing this idea with you. Notice how the eclectic blue antic cabinet is the accent piece of this décor.
The dining space has been designed to support the cabinet. The furniture is neutral with a touch of rustic. The floor pattern adds a fun Mediterranean touch, while the contrasting blue cabinet remains the showstopper of this entire décor. You can try a décor like this if you want your antique China cabinet to stand out and catch everyone's eye. 
The China cabinet in this dining space dons a rich color that gives a vintage and classy vibe. The dining bench has a neutral rustic design complimenting the country-style theme. I am amazed at how the warm ambiance of this setup can be felt through this image. Altogether this décor creates a cozy yet elegant space that serves a timeless country-style theme. 
This image is a glimpse from the colorful Stockholm Apartment by Sebastian Bergström. While clean and white interiors are trending nowadays, this apartment inspires us to go wild with the colors. The clever use of complementary colors in this dining space is praiseworthy.
Coral dining chairs complement the blue china cabinet, and I think this powder blue and coral color palette is to die for. Vibrant colors in the interior create a charming and cheerful atmosphere. I hope this image inspires color lovers to not hold back and go all out with their décor. 
This is another antique décor inspiration for my artsy peeps out there. The painted fireplace is the main décor element of this living room; however, you cannot miss the traditional China cabinet beside it! The ornated cabinet beautifully compliments the French rococo theme that is going on.
If you look closely, the mirror also comes with similar ornamentation. The big China cabinet fits perfectly according to this space's scale and theme. If you want to decorate a spacious artsy hall/studio, this is one way to use your China cabinet to amp up the space. 
We have often heard of the phrase "less is more" when designing; however, with boho design, less is usually a bore. The boho style doesn't believe in minimalistic approaches; it is all about accessorizing. I think a boho theme looks stunning with the touch of antique pieces.
For instance, take a look at this boho-style dining room here. Lots of greenery and antique décor create the perfect dining spot. The curio cabinet in the back consists of more greenery and showpieces that complement the whimsical jungle-themed interior. 
This interior style is not for the faint-hearted. It is bold, vibrant, and has a lot going on simultaneously. However, I utterly love the use of the antique black China cabinet; the black displays a sharp contrast against the clashing patterns. The furniture also comes in an antique black and gold design that ties the entire theme together. I would suggest this type of black gold China cabinet if you opt for a formal dining space; in my view, it looks exceptionally regal. 
The coastal style comes with a lot of blues and whites. It is the perfect interior style for a southern home. I am a huge fan of painted cabinets; therefore, a refurbished China cabinet always steals my heart. For instance, I love how blue was used to paint this China cabinet, making it the dining room accent piece.
By doing so, the cabinet pops up and becomes more of a décor piece rather than just an old cabinet. Moreover, the chair with the blue pattern and the blue flowers on the table unites the entire space into a coastal theme perfectly. 
FAQs
Question: How can I tell if my china cabinet is an antique?
Answer: A China cabinet is considered antique if it's over 100 years old. If your cabinet is less than a hundred years old, it is a vintage China cabinet. 
Question: What is the difference between a China cabinet and a hutch?
Answer: Although China cabinet and hutch look very similar and are often mistaken for one another, they have slight differences. The main difference is that a hutch is multipurpose and can be used in almost any house corner for whatever purpose. On the other hand, a China cabinet was intended to showcase dishware in a dining room or kitchen. 
Question: How much is my antique China cabinet worth?
Answer: Antique China cabinets may retail at a wide range of prices, from 500 dollars to even thousands of bucks. The pricing varies for individual models depending on their size, condition, age, and material. The models dating back to the oldest times retail at a higher value for being antiques. 
Conclusion
An antique China cabinet may be old, but they are indeed not outdated or out of fashion. The antique China cabinet is a priced possession that is versatile, timeless, and can be used in many different ways. China cabinets with vibrantly painted colors look perfect with the Mediterranean style.

They can act as accent pieces to decorate your dining or living room. As for my personal favorite style, I love a painted China cabinet. In my opinion, They look stunning and add a pop of color to an otherwise dull dining space.