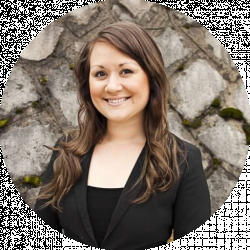 Latest posts by Lacey Jackson
(see all)
When you think of a china cabinet, you probably think of porcelain dishes along the main wall of a dining room, casting a shadow over diners at the table. Traditionally white china cabinets were reserved for dishware, but today they can be used for any storage and display purposes.
But in my family, a china cabinet has rarely been used for china (except for one grandmother who is, let's face it, the least popular and most snobbish of them all). Yet, we all still have china cabinets passed down from older generations, so we took to repurposing them with a fresh coat of paint and some top white china cabinet ideas. 
Bottom Line Up Front
My top white china cabinet idea is to repurpose it to display something else. I am partial to books, so I like a white china cabinet modified to serve as a bookshelf/thematic display place in a guest room.
To achieve this, the Cadillac of white china cabinets is the Livingston 48.5″ x 73.5″ Glass Cabinet, Montauk White, or the more affordable Home Source Jill Zarin White China Cabinet with Wood Doors. They are both well worth the cost if you are planning on having them as a permanent display in your home, housing lots of heavy, leather-bound books. 
Selection Criteria
Each of these white china cabinet ideas was designed with flexibility in mind. They all serve as general guidelines you can apply to different rooms in your home based on the style you have and what design elements really speak volumes about your personality.
The white china cabinets I selected offer the same flexibility and can be used with any of the top white china cabinet ideas I proposed below. I think all of the white china cabinet ideas below are a truly fun and more useful way of converting a large piece of furniture into a storage or display purpose.
A lot of people already have china cabinets lying around (something also inherited from previous generations) or in storage (usually because of a blending family with two sets of furniture), but next to no one has actual china anymore. So these ideas help you use a very sturdy, beautiful piece of furniture in a way that works best for you. 
White China Cabinet Ideas: What's a China Cabinet?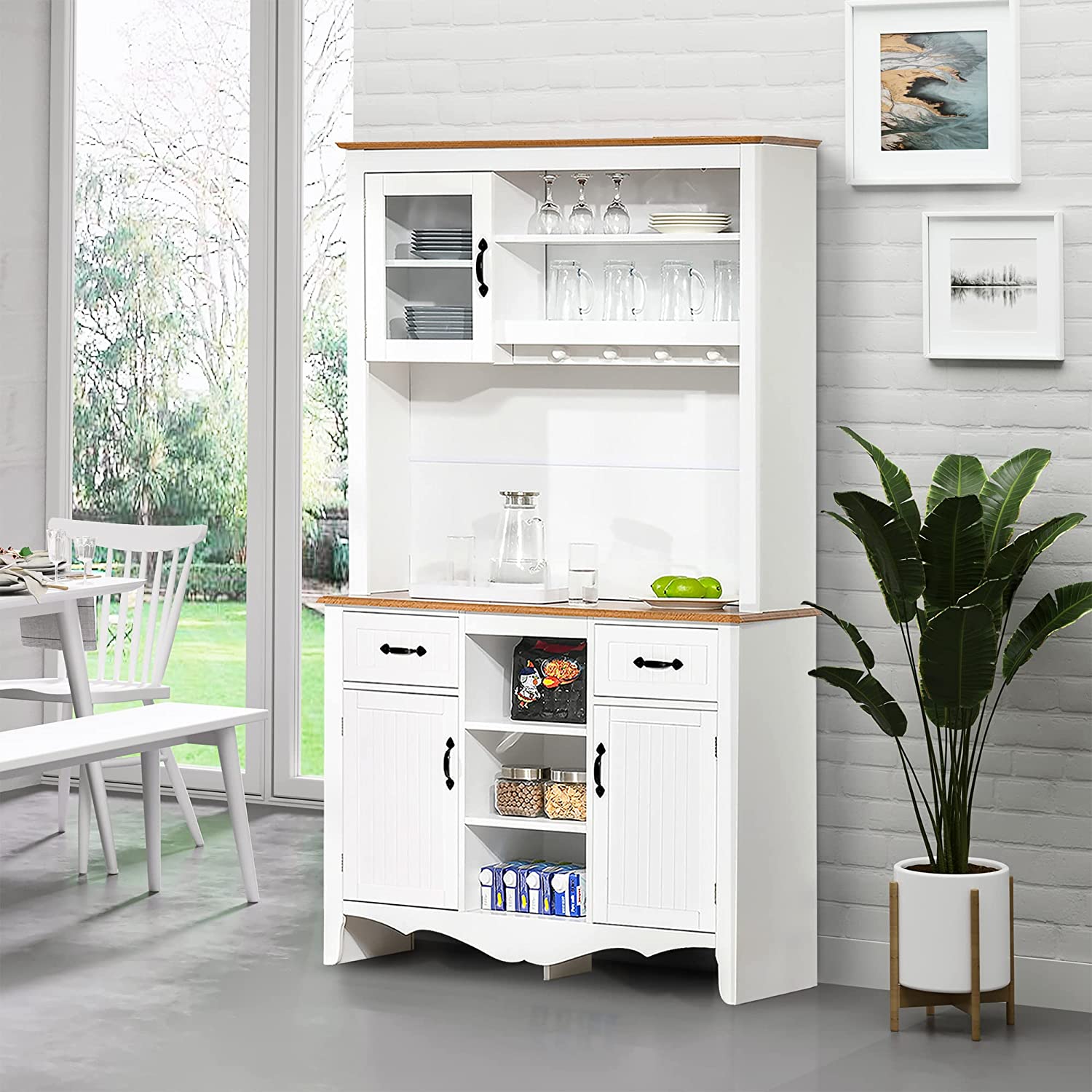 Growing up, my grandparents lived in every conceivable corner of the world. My grandmother brought back with them the heaviest furniture known to mankind too. One of those pieces was a china cabinet made of Captain America's Vibranium-metal alloy. As a child, I recall it being the size of an entire room, but my mind may be exaggerating a bit (although not a lot–that's the scary part). 
Inside were the dishes I was not allowed to touch except when my great-grandparents came to visit (*cough* judge *cough*). I was taught that every respectable young woman had a china cabinet in which to store the china she received as a wedding gift. 
Around college, my grandparents gifted me a very old, very unique set of china because they had too many sets and didn't have room–not because they loved me and wanted me to get off to a good start as a "respectable" young woman. 
So, I have a china cabinet. Although, to be honest, the gifted china in question has been lost in a Rubbermaid storage bin somewhere for the last few decades; at this point, I'll never find it. That said, you certainly don't need to be a "respectable" young woman to use white china cabinet ideas in your home. 
White China Cabinet Ideas: How to Use a China Cabinet
Now, if you don't have a stuffy old Winchester-Mystery-House dining room, you might need white china cabinet ideas that kit a Farmhouse style kitchen or a contemporary kitchen. With white china cabinets, some of the best ideas revolve around repurposing that cabinet for something else or updating it with some minor modifications or accent pieces.
Repurpose a China Cabinet
Library
Seeing as I misplaced my china (and no, my grandmother still has no idea; let's all agree to keep it that way), my white china cabinet has been repurposed. It now sits against the wall in our library opposite the fireplace, where it holds my ever-growing collection of books.
China cabinets are designed to be deep and sturdy, able to withstand the weight of a full set of porcelain dishware, so I don't have to worry about all of my thicker, leather-bound Easton press books resulting in sagging shelves. Because I have glass double doors, I can always see where the books are that I want to read, I don't have to dust them (unlike all the other books on our regular shelves), and it just classes up the space.
Kitchen or Pantry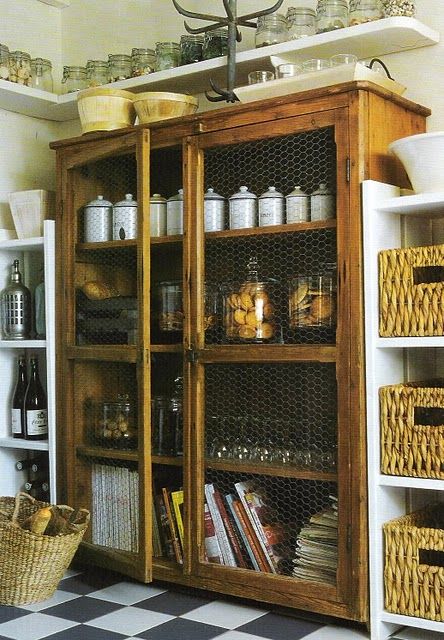 Some of my favorite white china cabinet ideas modify a china cabinet as a kitchen pantry or kitchen cabinet. This works best with oversized, traditional white china cabinets that have glass doors because you can easily store larger containers of staple items like flour and sugar on the bottom and work your way up to the top with lighter pantry items.
Most of my family invests in long-term food storage, which is probably why our pantry looks like the open-barrel section of WinCo. We bit the bullet and purchased multiple sets of French canning jars in every size available. Our repurposed white china cabinet brings inner peace to every OCD-plagued visitor. 
Workspace or Garden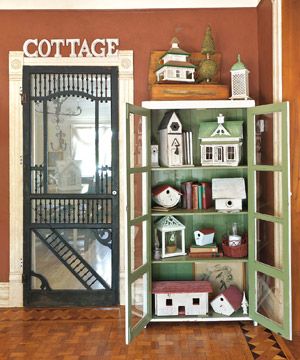 My grandparents modified one of their china cabinets to be a storage and display section in their greenhouse. They have live potted plants, five different watering cans from various generations, a smattering of bird houses my grandmother painted (she was going through a phase), and some baskets that house her antique gardening tools on display.
Bedroom
I don't know why but it seems every member of my family reaches a certain age and decides that they want to repurpose furniture in their spare time. The good news is the main culprits own a B&B, so all of their modified furniture can find a home.
One example of this is a repurposed white china cabinet. In one of the bedrooms, an antique white china cabinet which is otherwise very plain, found a whole new take on life when it was repurposed as a linen cabinet. Behind the glass double doors, my family attached lace, so when the doors are closed, the glass doors have a white, translucent lace design. 
On top of the white china cabinet are folded quilts for when the weather gets cold. Hanging off one side of the china cabinet is a matching hook with a drawstring cloth bag in which guests can place their dirty laundry to be washed during their stay. I would happily incorporate this idea if there was someone else in my home to do the washing. 
Craft Room
If you have (or want to have) any craft room or workspace, repurpose a white cabinet like my aunt did: turn it onto your craft desk. My aunt took a white cabinet that had two sets of double door cabinets and drawers side by side.
My uncle simply removed one of the doors and shelves to create a comfortable space into which her chair could fit. She has a lamp and a sewing machine on top of the cabinet. To one side of her white china cabinet shelves are oversized glass jars to hold her random collection of thread, needles, and thimbles. On the other are her craft books. The top shelf holds all of her fabric. 
Update a Plain White China Cabinet
You can make your space look vintage, sophisticated, or trendy by adding silver, gold, green, or blue touches. If you're going to use it for traditional purposes, you can balance out all of the porcelain and glass by displaying a few statement cups or bowls that have a splash of color.
I have a collection of antique tea cups smattered around my stacks of dishware because they are so brightly colored and add a bit of pop.
One of my favorite white china cabinet ideas is to add a splash of color to an otherwise monochrome design. To do this, you can revitalize the back of your china cabinet with wallpaper. This seems a little complicated at first glance, but I assure you any crafty person can get it done in an afternoon.
You really need tools to remove the hardware on the back of the cabinet. If you buy a new white china cabinet, you usually have to assemble the pieces yourself, so you can save yourself an extra step by applying the wallpaper beforehand.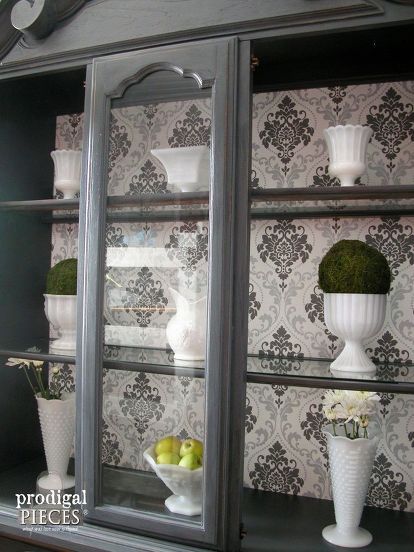 Tip: It doesn't necessarily have to be wallpaper. If you are crafty, you can paint the back of your china cabinet before you assemble everything. You can make a collage using family photos, vacation photos, or even clippings you've taken from a magazine. A crafty male member of my family did exactly that for the smaller storage cabinet in their bathroom (although I will not disclose from which magazine the pictures of female "models" were taken). 
Adding a brightly colored wallpaper to the interior backing of your white china cabinet really helps create some pop behind the open display shelves or glass doors.
If you update a plain white china cabinet, you still have the option of using it to legitimately display your upright serving dishes or stacks of plates and cups, or you can take one of the top white china cabinet ideas from the list above and repurpose the furniture.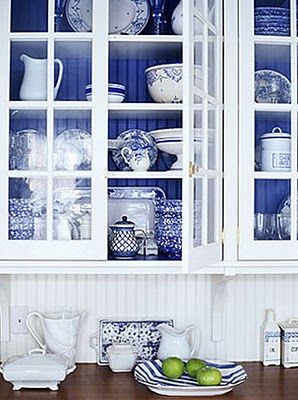 Accent Pieces
Even if you are using your modern white china cabinet to display things like souvenirs or books, you can add accent pieces. The key here is not to crowd the cabinet with too many things. There should be a few inches of space in between each item you put on the shelves. 
Bedroom
If you move the china cabinet into your bedroom, you can display accent pieces like designer bags, your favorite set of shoes, or a collection of vintage perfume.
Living Room
Metal accents, hardcover books (usually in groups of 3-4), and vases with fresh (or fake) flowers are the perfect accent pieces for a living room. 
Kitchen or Dining Room
If you are setting up your white china cabinet in the kitchen or dining room, the best accent pieces are antique kitchen tools.
My in-laws have the exact (now vintage) Chapin bug sprayer their grandparents used to keep in the middle of the kitchen table and spray directly over their food whenever a fly got into the house (yikes!). It doesn't have any insecticide in it anymore, but the fond memory of an insecticide hand pump that we sprayed willingly over food makes for a great accent piece on the open display shelves of their white china cabinet.
Living Room or Dining Room
If you are setting up a smaller white china cabinet in your living room for the dining room to serve as a bar, find a permanent home for an appropriately designed bowl of fresh fruit (lemons and limes, primarily).
This gives you access to the key ingredients for almost all cocktails, and it adds a tangy citrus smell to the room and a splash of color. If you are creative enough to zest the peel of a lime or lemon in a cute circular fashion (my spouse can, but I cannot; I seem to lose fingers each time), leave those spirals on different parts of the shelves to add a refreshing scent to the space. 
White China Cabinet Ideas: My Top Recommendations
That said, there are plenty of people who don't have a china cabinet lying around but want to make the most out of a china cabinet for dishware, books, garden supplies, or any of the other great white china cabinet ideas I listed above.
For that reason, I've included a list of my top recommendations for purchase. These all range in terms of their sturdiness and applicability, many of them standard sizes with glass double doors and closed doors on the bottom.
Livingston 48.5″ x 73.5″ Glass Cabinet, Montauk White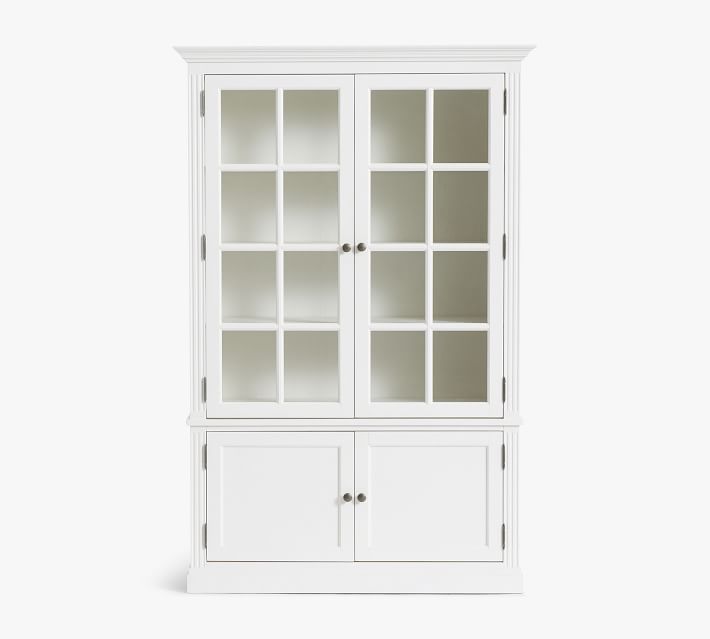 The Livingston 48.5″ x 73.5″ Glass Cabinet, Montauk White, is a top-of-the-line production, one of the better white china cabinets you will find. It has crown molding, hand-applied finishes, and fluted posts that bring to any room a timeless look suitable even for the queen.
There is one fixed shelf and three adjustable shelves. It features a tempered glass door with cord cutouts if you want to store anything with electronics like lighting behind your china. You can adjust the different shelves and the levelers, so you have complete stability even if the surface on which you place your white china cabinet is uneven.
You get all the hardware you need to prevent it from tipping over. And perhaps the best part, it is one of the largest white china cabinets in terms of the depth and the weight it can support. 
Home Source Jill Zarin White China Cabinet with Wood Doors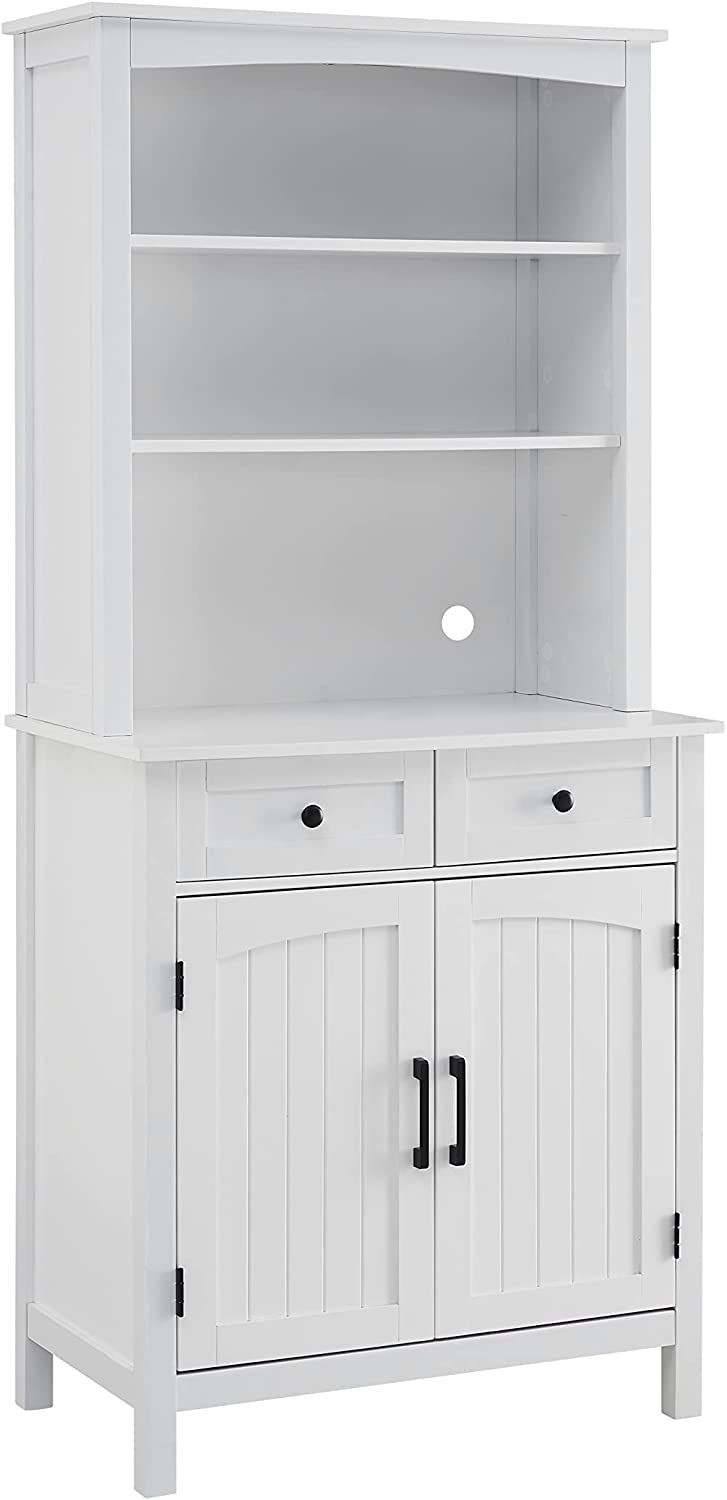 The Home Source Jill Zarin White China Cabinet with Wood Doors is a revised china cabinet suitable for displaying not just stemmed glassware but wine bottles and shakers. It comes with wooden doors, and at the height of 72 inches, you have a lot of room on the shelves and in the drawers.
The combination of shelves, pull-out drawers, and cabinets at the bottom gives you a lot of flexibility for holding things like napkins, napkin rings, and silverware in the drawers while keeping all the stemware glasses on display upside down on top and the plates behind the double doors. I prefer this model because of its modern flexibility, but only if you are legitimately using the white china cabinet to display your dishware. 
The model is a fun, modern take on traditional china cabinets with an open display shelving unit on top, two drawers, and a set of shelves behind double doors.
It comes in four finishes. The shelves on the bottom are 18 inches deep, perfect for large plates and pitchers. I don't like that it doesn't have doors on the top part of the cabinet, so whatever you store there will get dusty. 
LOKO Kitchen Hutch Storage Cabinet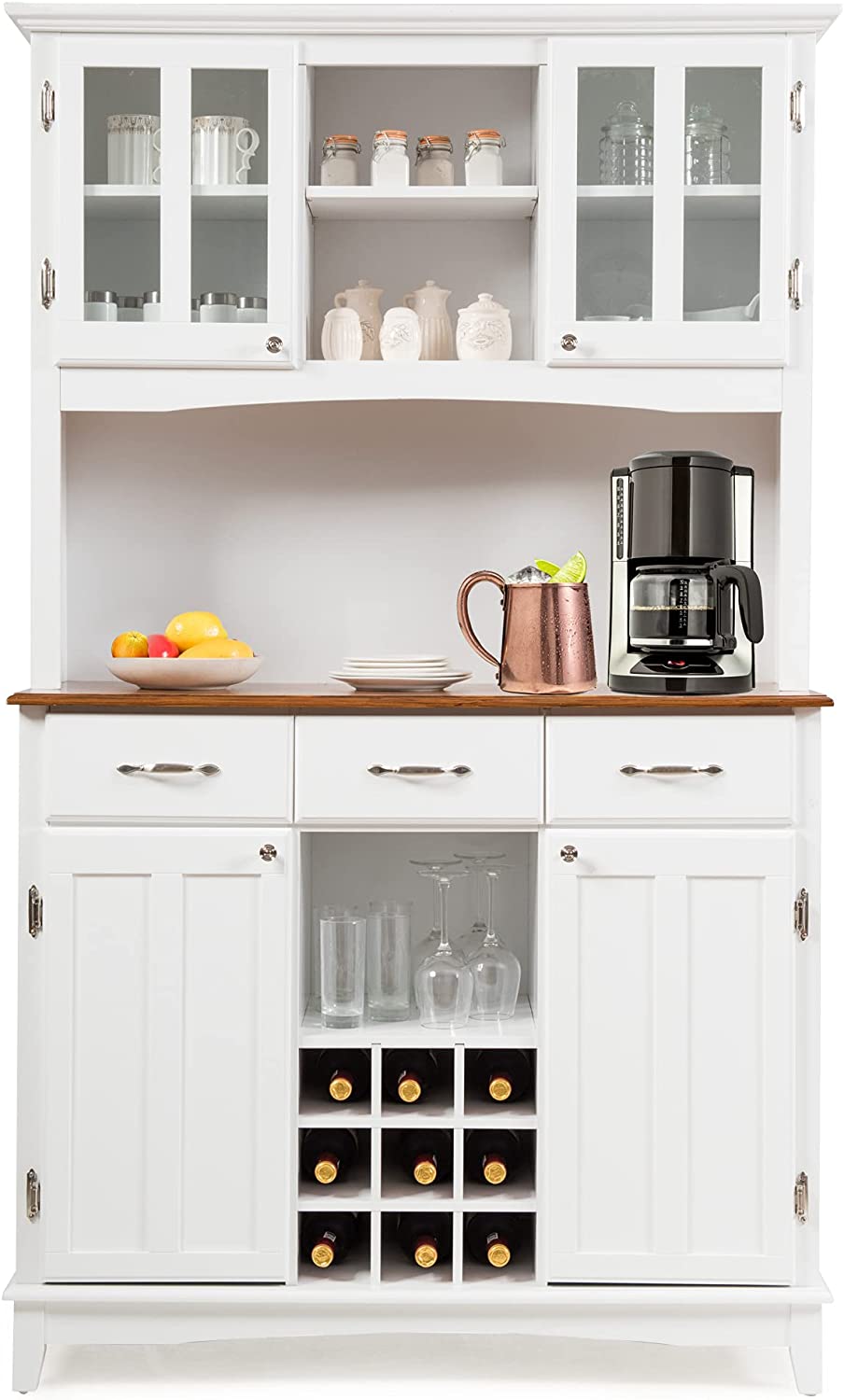 The LOKO Kitchen Hutch Storage Cabinet is a comparable model to the Home Source white china cabinet with two sets of glass doors on top across multiple shelves, a counter in the center tall enough for coffee pots, liquor bottles, antique bug sprayers, and more.
Under that are three drawers, and at the bottom are nine wine grids, more open shelves, and two cupboards with solid doors. Phew. 
It is 72.5 inches tall, 17 inches deep, and 44 inches wide. This makes it the same depth as a set of base cabinets in your kitchen and on the high end in terms of height. The entire thing is waterproof, which makes it perfect for the kitchen or the garden, anywhere you might accidentally have spills.
There are a lot of parts and a lot to be assembled, so plan an entire day, learn a few new curse words, and have something you can drink in celebration when (with the help of four neighbors, a friend, and a cousin) you put it all together.
SEI Furniture Paddington Curio Adjustable Shelves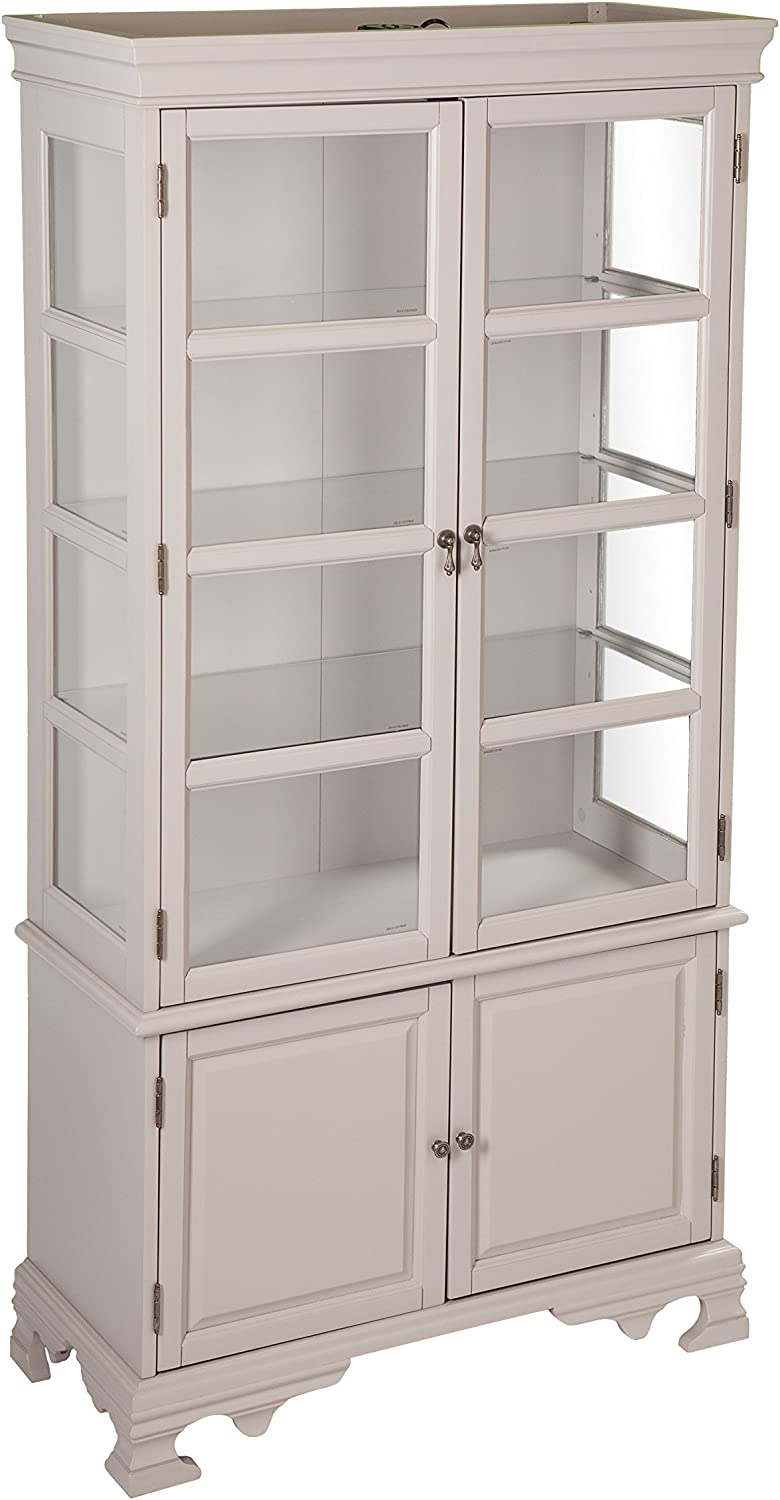 The SEI Furniture Paddington Curio Adjustable Shelves is more of a traditional china cabinet, just not as big. It has four adjustable shelves, two fixed shelves, LED lighting that comes with it, and the entire set of 4 adjustable shelves rests behind glass doors.
It also goes the extra mile, just like traditional china cabinets, by converting the side panels into glass windows to get an even better view of everything inside.
HOMCOM 71″ Kitchen Buffet with Hutch, Farmhouse Style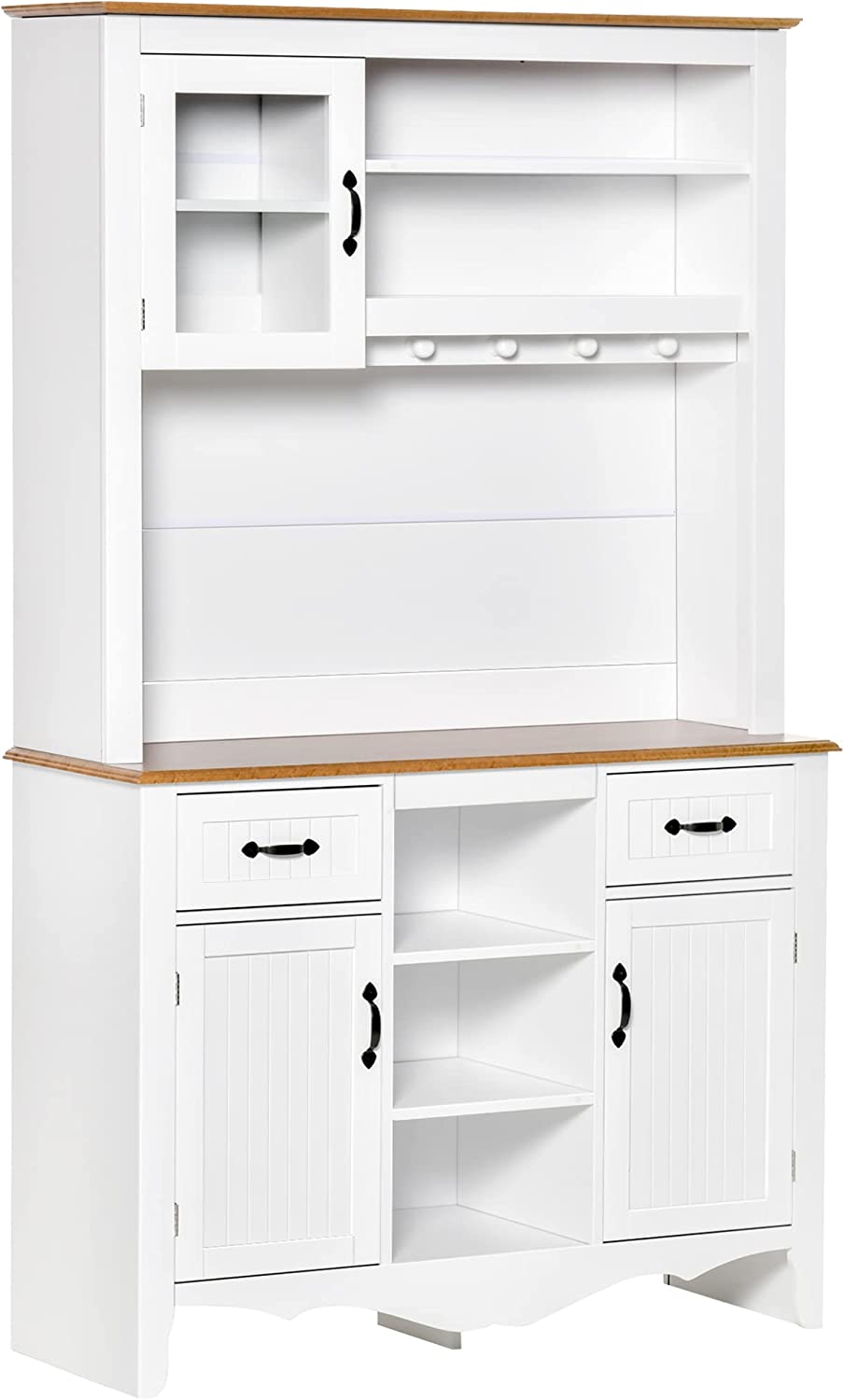 The HOMCOM 71″ Kitchen Buffet with Hutch, Farmhouse Style is perfect for anyone who wants a farmhouse-style piece of furniture. If you're looking for a china cabinet you can repurpose as a display center or storage for your gardening area or craft space, then this is a great solution.
All shelves are adjustable; they contain drawers, cabinets, glass doors, shelves, a countertop area, and hooks where you can hang things. You literally have all the potential storage options you need in one place. 
HOMCOM 71″ Traditional Freestanding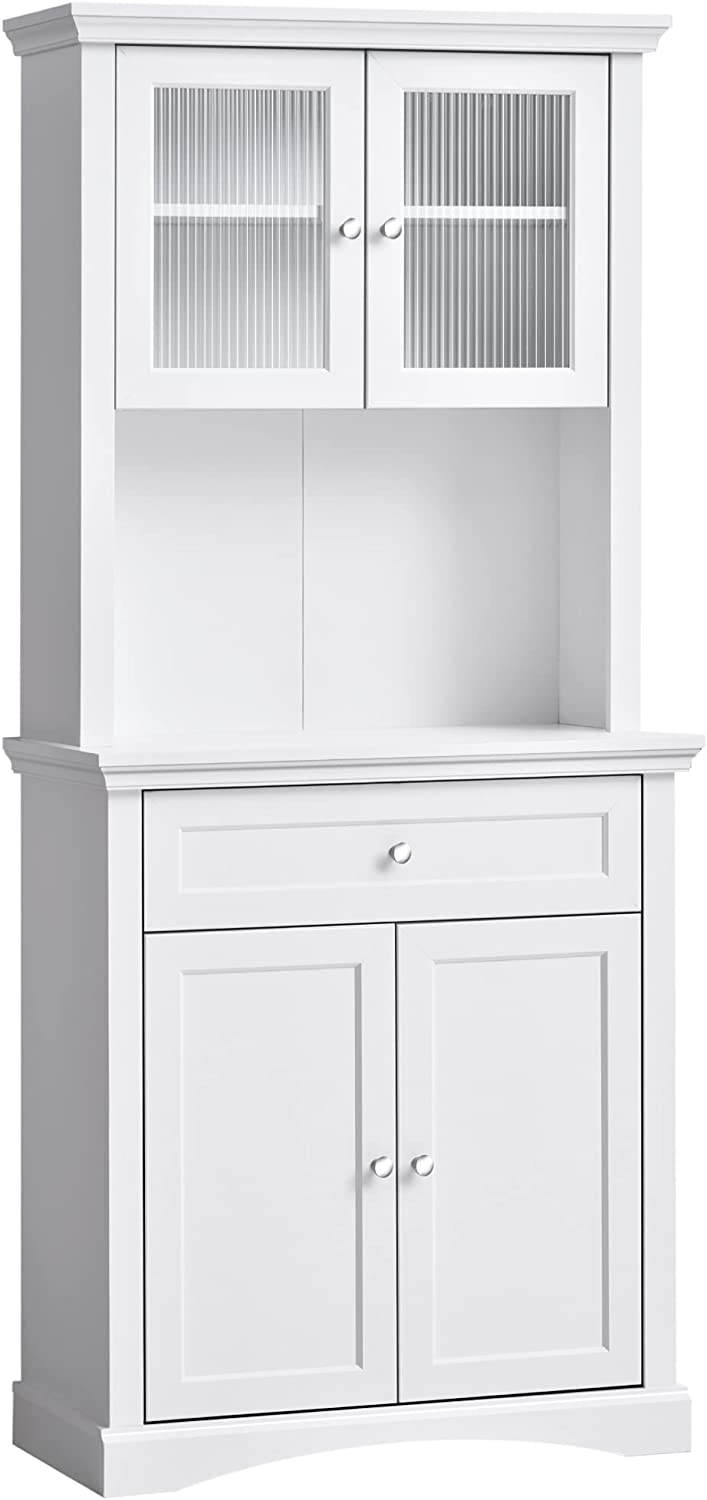 From the same manufacturer is the HOMCOM 71″ Traditional Freestanding china cabinet. This is about half the size of the kitchen buffet, so it is much shorter. Still, it offers an appropriate display place for linens or a living room bar. It has double glass doors, adjustable shelves, one drawer underneath the countertop, and a set of double doors for the bottom.
This freestanding unit works best with a modified kitchen space because the countertop is big enough for something like a microwave or a Keurig coffee pot and just enough storage for a four-person set of dishware. Think of this as the white china cabinet you get when you find your first apartment.
FAQs
Question: Is a white china cabinet out of style?
Answer: Traditionally, china cabinets were used to display all of your china, and usually up against a wall in your dining room or kitchen. They dropped in popularity as cheaper; modern dishware replaced the fancy "wedding" china. However, today white china cabinets are making a comeback, though not exclusively for the kitchen or dining room. 
Question: What is china?
Answer: In a china cabinet, "china" refers to porcelain or glass dishware, like silverware, plates, bowls, and stemmed drinking glasses. When families invested in one set of fancy dishware, it was displayed in a china cabinet because it wasn't taken out as often. The china from the china cabinet being set at the table was the mark of someone important coming for dinner. 
Question: What should I put in my china cabinet?
Answer: If you are planning to put dishes in your china cabinet, then it makes sense to follow the Emily Post guidelines of having a complete set of white dishes, glassware, silverware, napkin rings, cake plates, serving platters, serving utensils, and a large pitcher. The quantity is really up to you, though most china is sold in sets of 8, 10, or 12. Alternatively, if you don't want to store china in your white china cabinet, consider a combination display of books and plants, pots, souvenirs like photos, and collectible items. 
Bottom Line 
My top white china cabinet idea is to repurpose it to display something you collect in your home, something that speaks to who you are. This might be crafts, gardening, woodworking, cooking, or reading. As I am partial to books, I like a white china cabinet modified to serve as a bookshelf/thematic display place in the home. I recommend the Livingston 48.5″ x 73.5″ Glass Cabinet, Montauk White.
Why? It might be expensive, but it can support a lot of storage and a lot of weight. If you don't want to invest thousands in the Cadillac of china cabinets, go with the Home Source Jill Zarin White China Cabinet with Wood Doors.
Read More: