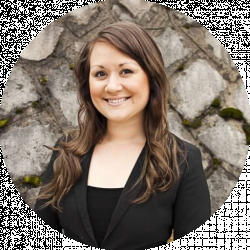 Latest posts by Lacey Jackson
(see all)
Looking for the best microwave cabinet ideas? I have lived through more cabinet replacements, and kitchen remodels than I can count on my hands.
My family is overrun with carpenters, handymen, electricians, and otherwise overqualified men who can't seem to let their house just stay as it is. This means someone is always modifying something, and it usually involves cabinets.
Cabinets make everything look cleaner and larger by freeing up a lot of your counter space. Microwave cabinets come in all shapes, styles, and materials, and you can fit them into any space, no matter how big or small. 
Every house I have lived in, from the small house we had growing up to my dorm room to my first apartment, now has had some form of microwave cabinet that fits the space perfectly. That is why it's important to appreciate a wide range of the best microwave cabinet ideas to know what type of cabinet will work for your space, height, and general needs.
Fun fact: As I made my way through a lecture series on the cultural culinary history of food I recently discovered that after WWII the layout of kitchens was changed based on teachings for optimum productivity in the workplace by optimizing organizational structure.
The idea was that the layout of the space could be modified to reduce the number of steps a woman had to take while in the kitchen preparing food, which would reduce the amount of energy it took to provide for her family. 
For that reason, the refrigerator was often placed along the same wall as the stove top and microwave so that things could be taken out of the refrigerator and directly prepared on the counter, on the stove, in the oven, or in the microwave with the least amount of physical exertion.
Bottom Line Up Front
As a short person, the bottom line is that I detest wall-mounted microwave cabinets that put the buttons too far out of reach. I shouldn't have to stand on my tippy-toes to press 'popcorn.' We can pretend it is because I like the aforementioned idea of modifying the space to reduce exertion in the kitchen. 
So I love the idea of putting it out of the way on a kitchen pantry like the Alden Design or building it into your kitchen island so that everyone can reach it as long as they walk in the right direction (see my note below about going clockwise). 
Selection Criteria
Your microwave cabinet should match the style of your kitchen, it should be something that includes a few shelves or cabinets for extra storage, and it might need to be something that you can move around.
Every item I picked comes in multiple sizes for shorter and wider versions or taller and leaner versions, as well as different colors and materials to fit your needs. I included standalone units, both with wheels and without, as well as mounted designs, both wall-mounted and base-mounted.
Idea #1: Base Level Microwave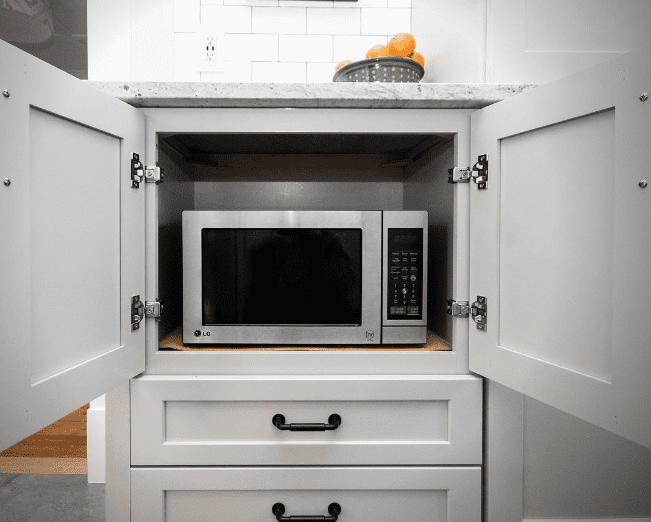 Don't confine yourself to an overhead microwave. Because most modern kitchens in cookie-cutter homes are designed with a microwave that rests directly above the stove, people don't consider how great a design idea it is to install your microwave at a lower level.

You can see how this kitchen design incorporates a space in the cabinet below waist level. There are a handful of reasons why you might consider this: 
If you are short, you can more easily reach the microwave.

If you have kids, they can access the microwave to make themselves popcorn or any other parent-approved item without someone giving them a hand.
Things like the Crosswood Shaker Cabinet have assembled microwave base cabinets you can install anywhere in your kitchen. You can easily modify this idea by investing in an under-the-counter microwave.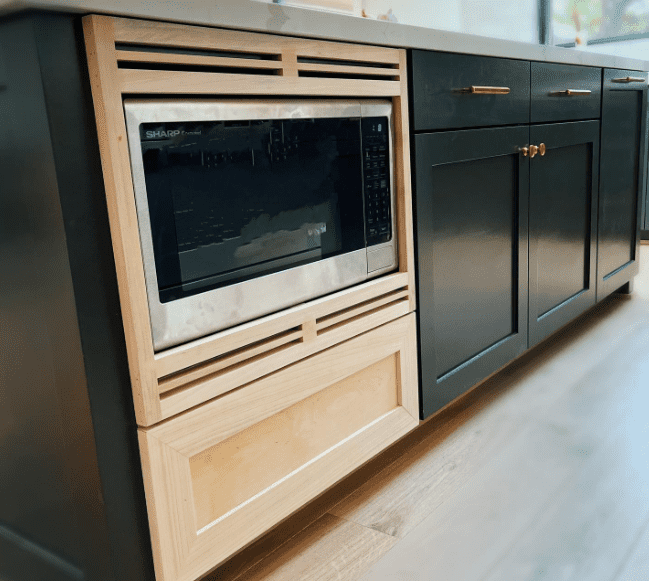 These are structurally very different, and they are more expensive than a standalone microwave, but you can see in this video how easily they blend into your kitchen:
Idea #2 Island Microwave Cabinets
Some of the best microwave cabinet ideas I've seen involve putting the microwave in the island right in the middle of the kitchen, like the Ironck Kitchen island. The island makes it accessible for anyone, and you are never in the way. Your microwave doesn't have to be up against a wall either. 
You can see a great example of this in an open-air design below: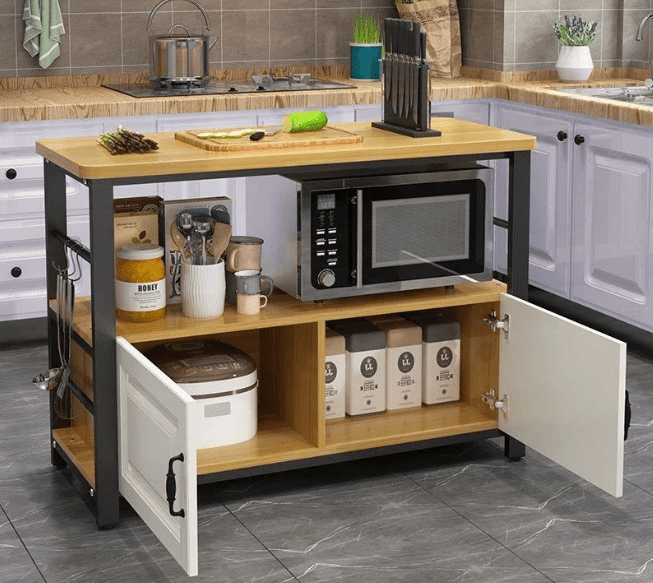 If you are interested in building one yourself (like my family did), there are great videos you can watch, like the one below:
My grandparents have a massive kitchen island where the trash is, with a butcher block cutting board that comprises the entire top and the microwave. They designed it this way because having the microwave directly over the stove seemed like a good idea until they were constantly running into one another as someone was at the stove and someone else was trying to reach over their head to get to the microwave.
Now, when we visit, we can put leftovers in the microwave, heat them up, step out of the way, and easily make our way back to the microwave when it's done, no matter what else is going on in the kitchen.
Note: In that house, they make it a rule that everybody travels around the kitchen island in a clockwise direction. Trying to travel counterclockwise when you hear the ding of your microwave is enough to get you permanently banned.
Idea #3 Stand Alone Open Microwave Pantries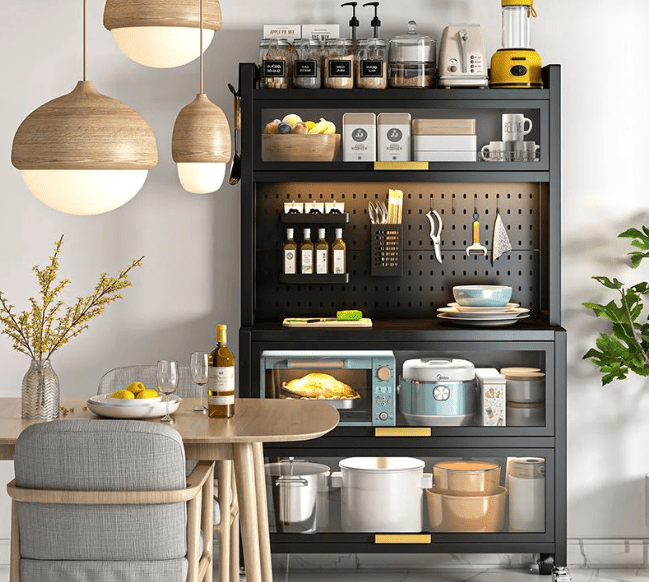 You can also make your microwave part of a standalone open pantry design. I love how this model uses peg boards in the back, so you can easily find hooks that fit whatever kitchen accessories or utensils you want to hang. But it also has wheels so you can move it around.
The Sideboard Storage Cabinet is a great standalone pantry with which to store your microwave. It comes with a heavy-duty bottom shelf to support a microwave, with vents on the sides, a clean pull-out drawer below, and two cute cupboards in which larger pots and pans can be stacked. 
But if you want to replicate the microwave cabinet idea in the photo above, the Easyfashion Baker's Rack is the way to go. It has an open-air design and is tall, with a wood and metal frame. With the open design, you know your microwave will get all the ventilation it needs. Plus, it includes hanging racks where you can place mugs, pots, pans, or utensils. 
Note: These types of standalone microwave cabinet pantries are perfect for rentals because they don't require you to mount anything to a wall, which is usually prohibited in the terms of your lease.
Idea #4 Short-Person Friendly Stand Alone Pantries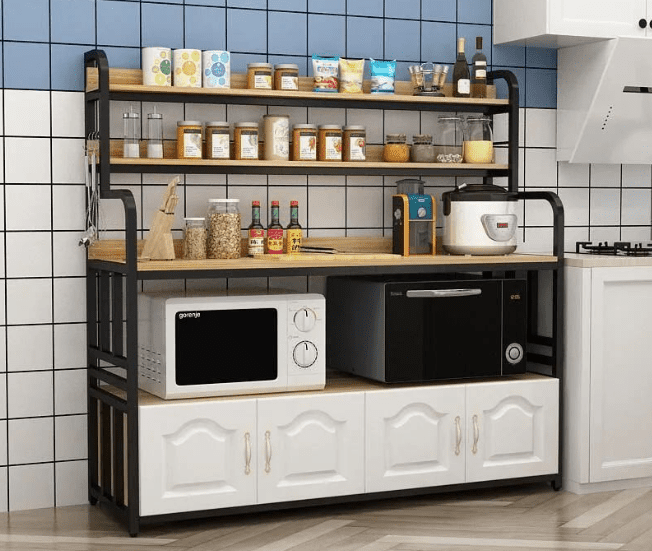 You can use the same idea but modify it for a shorter space. Not everyone wants a microwave cabinet that reaches that high. So, something like the Alden Design makes it easy to place your microwave on the main shelf, use the storage hooks, pull out metal wire rack, built-in wine rack, and other open cabinet spaces for kitchen storage. 
Tip: My mother took a spare metal rack like what you see built into the Easyfashion and hung it from the ceiling so every metal square would serve as the home for a dangling coffee mug. This freed up a lot of space in the rest of the kitchen cabinets that were overflowing with coffee mugs, but it also hung directly above her standalone Baker's Rack so that you could just reach up and pluck a mug off the proverbial metal tree while making a quick coffee or tea with the coffee pot below.
I love the way the microwave cabinet below has small doors on the very bottom but uses a long, short iteration of the Alden Design.
Idea #5 Butcher Block Microwave Units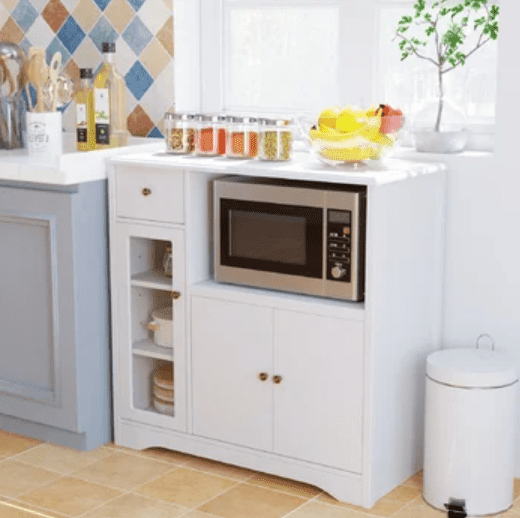 A handful of family members rent out different suites in their homes with Airbnb. One other extended family member actually owns a bed and breakfast in a small college town. My family converted each room into a standalone unit as their demand for rentals grew. 
Don't think this was without complications; spouses who were initially on board soon realized daily construction required giving each room a separate entrance, bathroom, and small kitchen nook was a test of the strength of their marriage. After all, no man in my family wants to hire a professional to do it for them when they, themselves, are professionals who swear they will find time to get the job done after hours.
Anyway, one temporary break-up (and subsequent move three states away, and return move within two months) later, my family gave every modern suite a small kitchen nook complete with a coffee pot, refrigerator, and microwave. They used these Homecho Kitchen Pantries next to which a refrigerator sat. It offered the right amount of space, fit against a wall, stored basic utensils, plates, cups, and mugs, and had room for a coffee pot and water filter on top.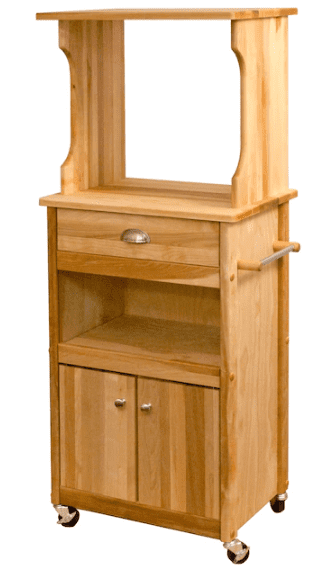 Everything has a country feel in the actual bed and breakfast because it is in the middle of the country, so this butcher block top Catskills microwave cabinet was ideal. 
It could be rolled into any room, and if someone wasn't occupying a room, it could be rolled out.

It could easily be rolled out of the way to vacuum after guests had finished their stay.

It offered a small butcher block top that people could use to prepare their food, had an open microwave cabinet, a small set of drawers and cabinets to store a two-person set of kitchenware, and most importantly, it had a space on the outside for a roll of paper towels. Never underestimate how grateful people are to have a roll of paper towels in their rented room. 
Idea #6: Unique Spacing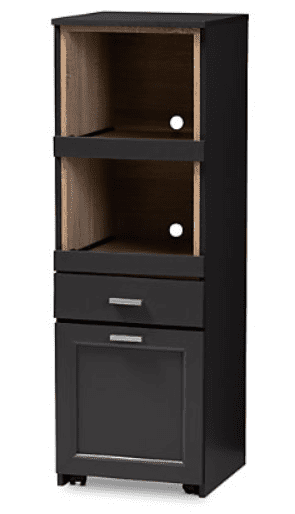 Go for something tall and narrow to fit taller kitchens in the city. When I studied abroad, I couldn't believe how tiny the kitchens were. I checked the dorm rooms and the rented apartments shared by everyone in our group; The kitchens were tall and narrow (some of the fatter members of our group couldn't get by if another person was using the kitchen). 
But, they made the most out of that layout by using something similar to the Baxton Studio Kitchen Cabinet. Easy to clean, it offered two shelves behind glass doors, a drawer, and a cabinet at the bottom. It was a safe place to store the microwave and a few kitchen accessories most commonly used with the microwave like mugs, spoons, tea bags, and more.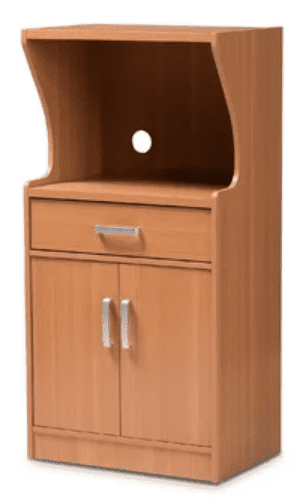 The Gillispie Kitchen Pantry follows the same vein but has the look and feel of a dorm room. It's just about 47 inches with an open space for the microwave. 
I love the design of this because the side panels are cut inward right where the main microwave buttons are, so you're not smacking your hand against the frame when trying to operate. But it extends back to its normal width near the top so that you can make the most out of the available shelving space.
Idea #7 Microwave Carts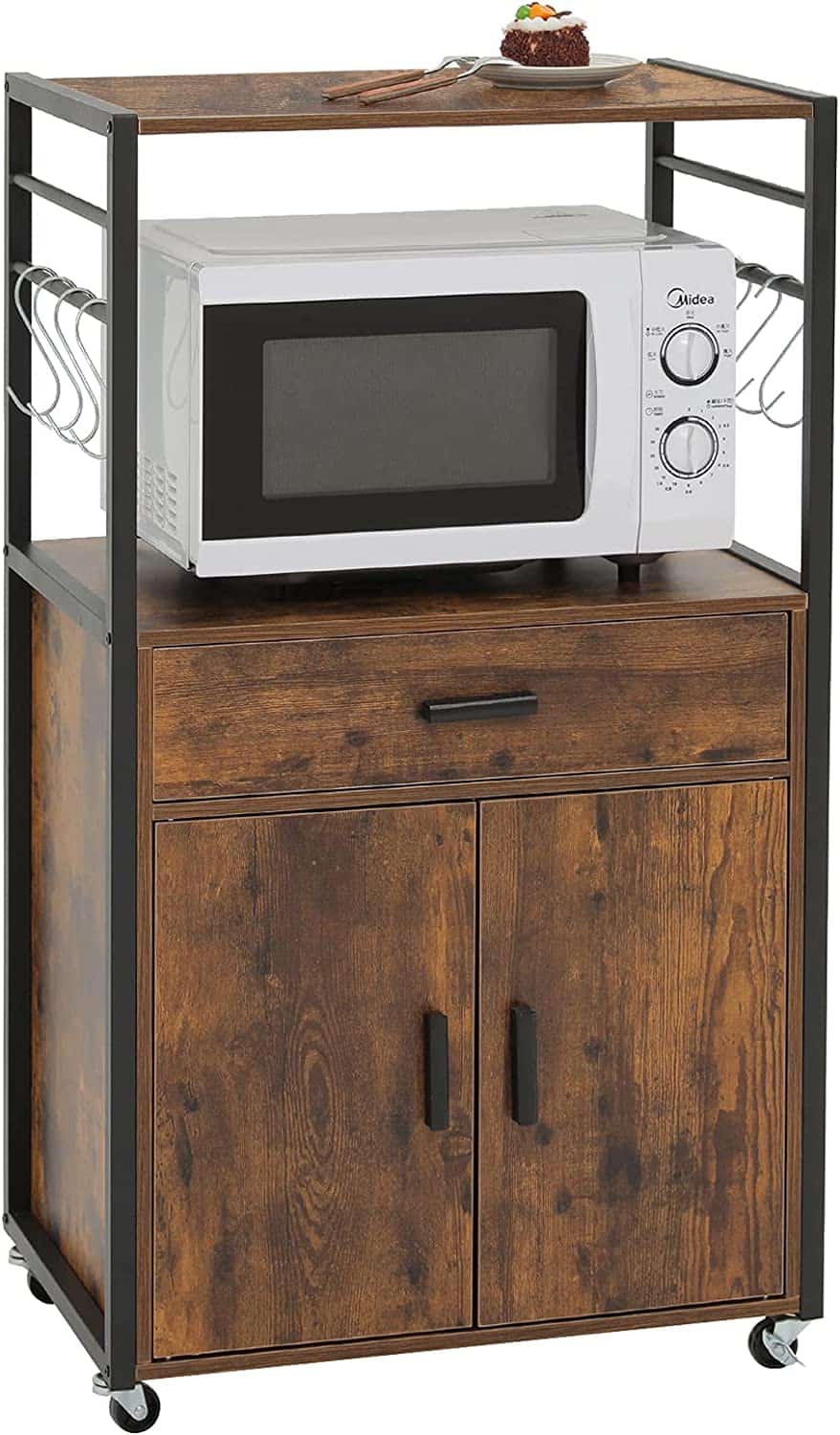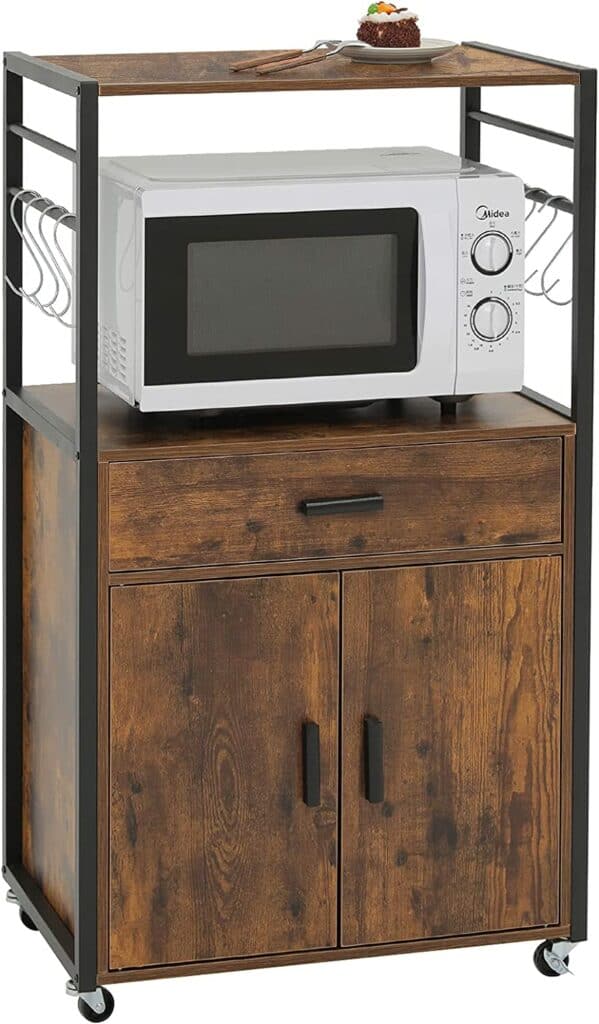 Invest in a microwave cart. We saw pieces of this idea in a few of the other ideas, like the shape of the Gillispie Kitchen Pantry and the wheels of the Butcher Block designs, but much smaller. 
The Usikey Kitchen Cart and the Yaheetech Kitchen Cart are both great examples of movable, small microwave cabinets that come equipped with open storage. 
Idea #8: Behind Closed Doors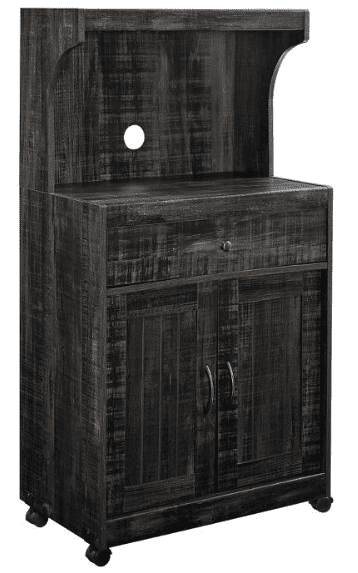 One of my personal favorites on this list of best micro cabinet ideas is to get a microwave cart that puts everything behind closed doors. You can even install doors that go over the microwave as long as you give it enough space for ventilation.
This means everything gets closed up compared to the designs of the microwave carts or the standalone pantries, which often have open wire designs, so you are obligated to keep everything organized in a cute and tidy fast (a gift with which I was not born). 
Home Source has beautiful charcoal Microwave Carts, a long drawer spanning the entire unit, and two bottom drawers. There is another Home Source Microwave Hutch Cabinet which is taller than the cart, does not have wheels, and has three sets of open shelves on top. 
Idea #9 Wall-Mounted Units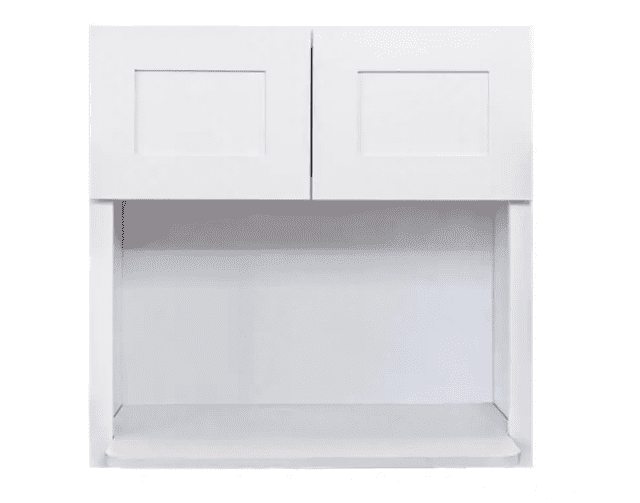 If you want to go the basic route and put your microwave up on the wall so it's out of the way, don't let the fact that it's used in many cookie-cutter homes deter you.
When my aunt remodeled her kitchen after flood damage, she cleared off an entire counter by moving her microwave to a wall-mounted unit that matched the rest of her cabinetry. Lifeart Cabinetry has a Lancaster collection of assembled wall microwave cabinets that work really well. 
FAQs
Question: Is it safe to put a microwave in a cabinet?
Answer: Yes, you can put a regular microwave inside a cabinet instead of sitting it on top of a counter as long as you make sure you have adequate ventilation, the wires are properly managed, the shelf is strong enough to support it, and you won't damage anything. 
Question: What kinds of microwaves can go in a cabinet?
Answer: Built-in microwaves are usually installed on your wall or in a cabinet. Modern designs place microwaves in a cabinet directly above the stove top so that everything is within reach.

This type of built-in design reduces how much counter space your appliances use and makes it easier for multiple people to cook in the same space. However, if you have a standalone cabinet or a small kitchen cabinet, as long as you follow some basic precautions, you can stick any microwave in a cabinet.
Question: What size cabinets should go above a microwave?
Answer: Overhead cabinets are usually about 12 inches deep, but microwave cabinets are up to 18 inches deep to accommodate a standard microwave. If you have a cabinet placed over your refrigerator, it'll probably be 24 inches deep. 
Question: How much space do you need around a microwave for ventilation?
Answer: Every microwave has air vents, and you want to make sure those are not blocked. If they are blocked at any point, your microwave can overheat. It's recommended that you keep 3 inches on the top, sides, and behind. So, if you plan to stick a regular microwave on top of a cabinet or behind cabinet doors, just make sure you have that amount of space. 
Conclusion
Overall, there is really no such thing as a bad microwave cabinet idea (unless your idea doesn't give the microwave enough ventilation). You can make use of something you already have and easily convert a hutch or similar kitchen cabinet into a microwave space. As a short person, I love kitchen pantry designs like the Alden Design or building the microwave cabinet into your kitchen island so that everyone can reach it.