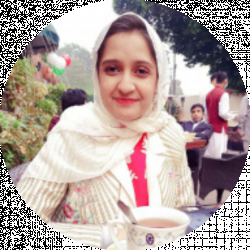 Latest posts by Zunaira Ghazal
(see all)
My first introduction to barn door cabinets was through Pinterest. I was trying to find some down-to-earth furniture options for a residential interior design project. As fate would have it, these cabinets' sheer rustic charm and shabby-chic appeal had me swayed.
Years later, I'm writing about them, and it feels like time has flown by. However, my love for this aesthetic remains constant. Does that make barn door cabinets timeless? I think so, yes! This idea list is about introducing you to the finest barn door cabinets out there. I hope you love them as much as I do, so let's take a look:
Bottom Line Up Front
The rustic-chic appeal of barn door cabinets is unparalleled! You could bring in a live-edge piece, and it would still be contemporary compared to the literal farmhouse-inspired visuals of barn doors! So, this list explores all the different options in this genre and how they can be mitigated within specific interior themes.
My favorite from this list is On the Media Wall because of its highly distinguished and off-the-mark interpretation of the barn door aesthetic! I love how it belies the typical track-slide movement and explores the swivel door look.  Plus, the paneling from the doors plays nicely within the rest of the media wall. There's a distinct design harmony here that is accentuated by all the shabby chic accessorizing!
Top Picks
Here are a few of my top picks:
Hoyer Cabinet Accent Chest:

I love this cabinet because it is quite an authentic take on the barn door look. The rugged, distressed finish drew me in from the beginning. The stylishly curated decor all over the open shelves also gave me ideas of my own! 

Farmhouse Media Console Table: 

This barn door cabinet is one of my top picks because it highlights an excellent modern-rustic combination. It's sleek and modern, yet it's also rugged and rustic! Plus, it has been styled beautifully. Everything works together quite nicely, from the industrial-style track to the lovely wicker baskets on the open shelves.



Selection Criteria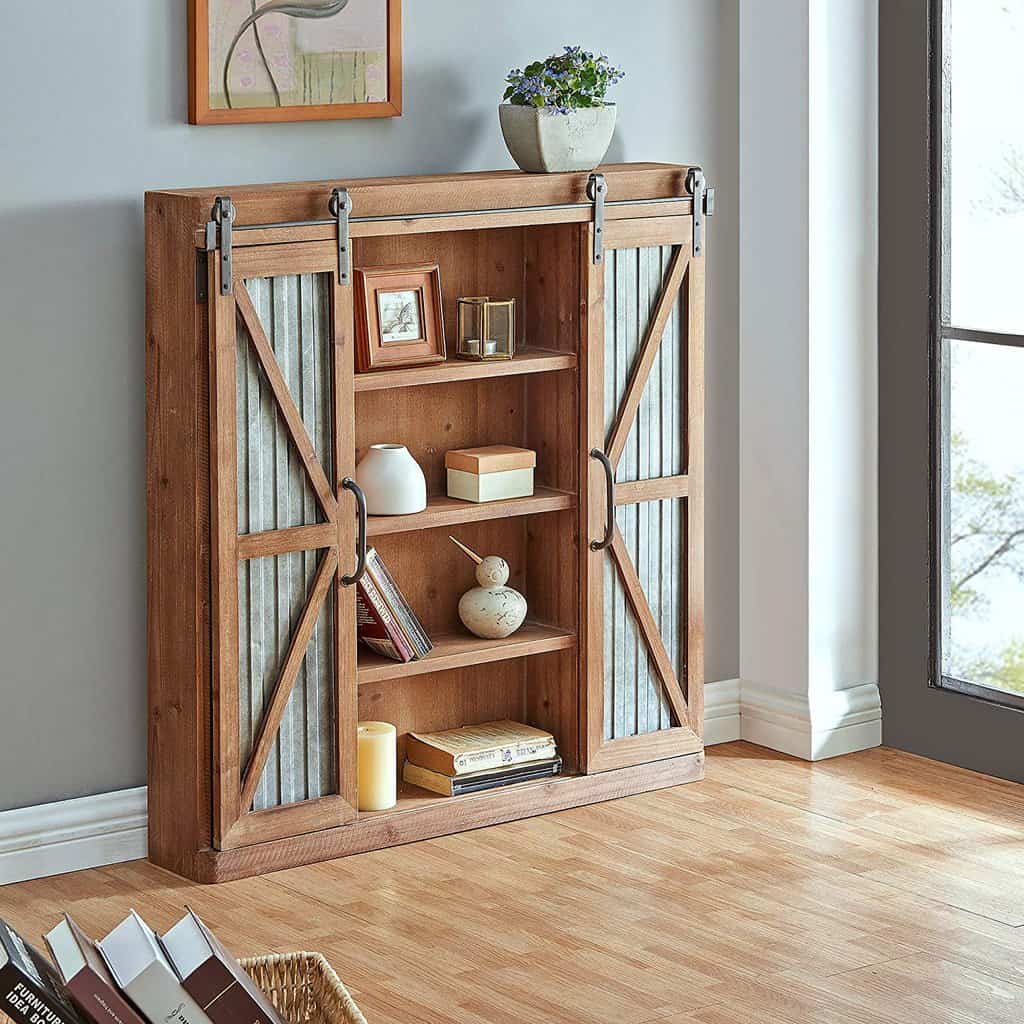 Here are my selection criteria for this list:

Uniqueness
My main focus was on finding unique items. Whether it was through a different color scheme or a finish that I'd seldom seen before, the main idea was to introduce you to items that are not typical.
Functionality
Since we're talking about cabinets here, it only makes sense that they are the best at what they do – which is storing stuff! I tried to ensure that all items on this list should have enough storage space to be good at what they do!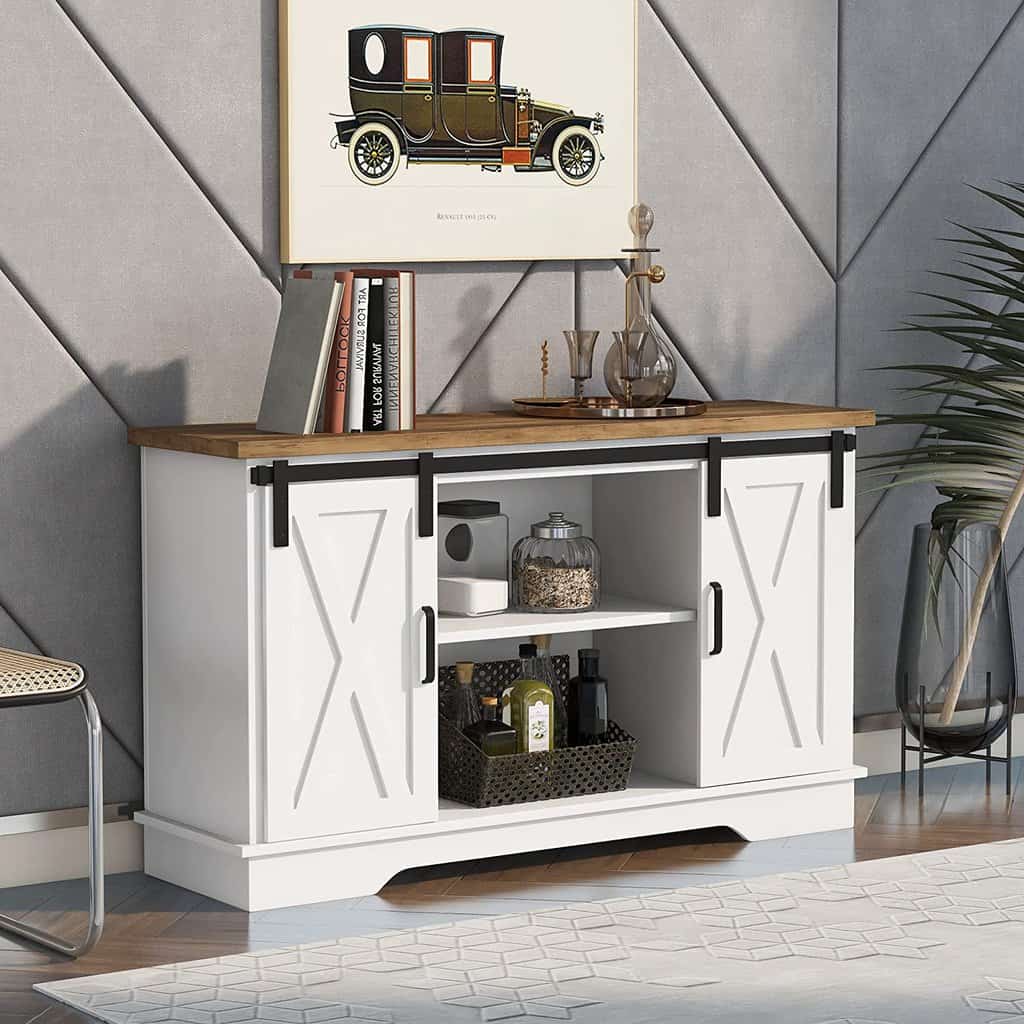 This barn door-style cabinet is like an entertainment center. Its classic wood-and-white theme features a timelessness that can be enhanced by pairing it with the correct decor. I'd suggest you choose earthy and neutral-tone items along with metal accessories for the best impact.
If I were you, I'd go for an antique vase set on the top shelf and a bunch of books on the other end. The open shelves could be used to feature a curated collection of liquor or jars full of personal decor items (shells, sand from the beach, unique pebbles, etc.!).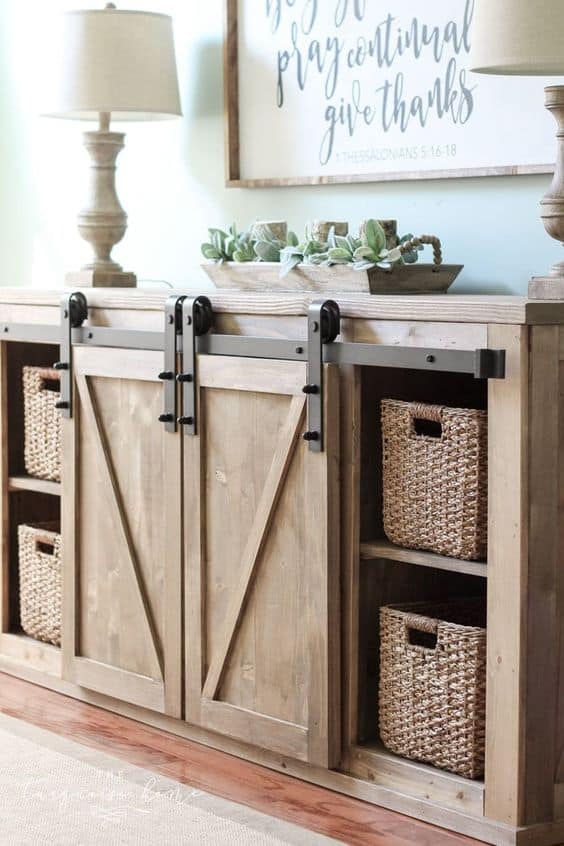 There's so much duality in this barn door cabinet. On the one hand, it's sleek. On the other, it also features warm, rustic themes.
I love how the wood here has been sanded down to a nice, modern sheen – it looks sleek, but then it feels rustic! Then there are the industrial tracks that hold the barn doors in their place – their bold black aesthetic is quite brilliant and contrasts strikingly with the light finish of the wood.
Together, everything works in excellent harmony – especially the wicker baskets that have been strategically placed on the open shelves!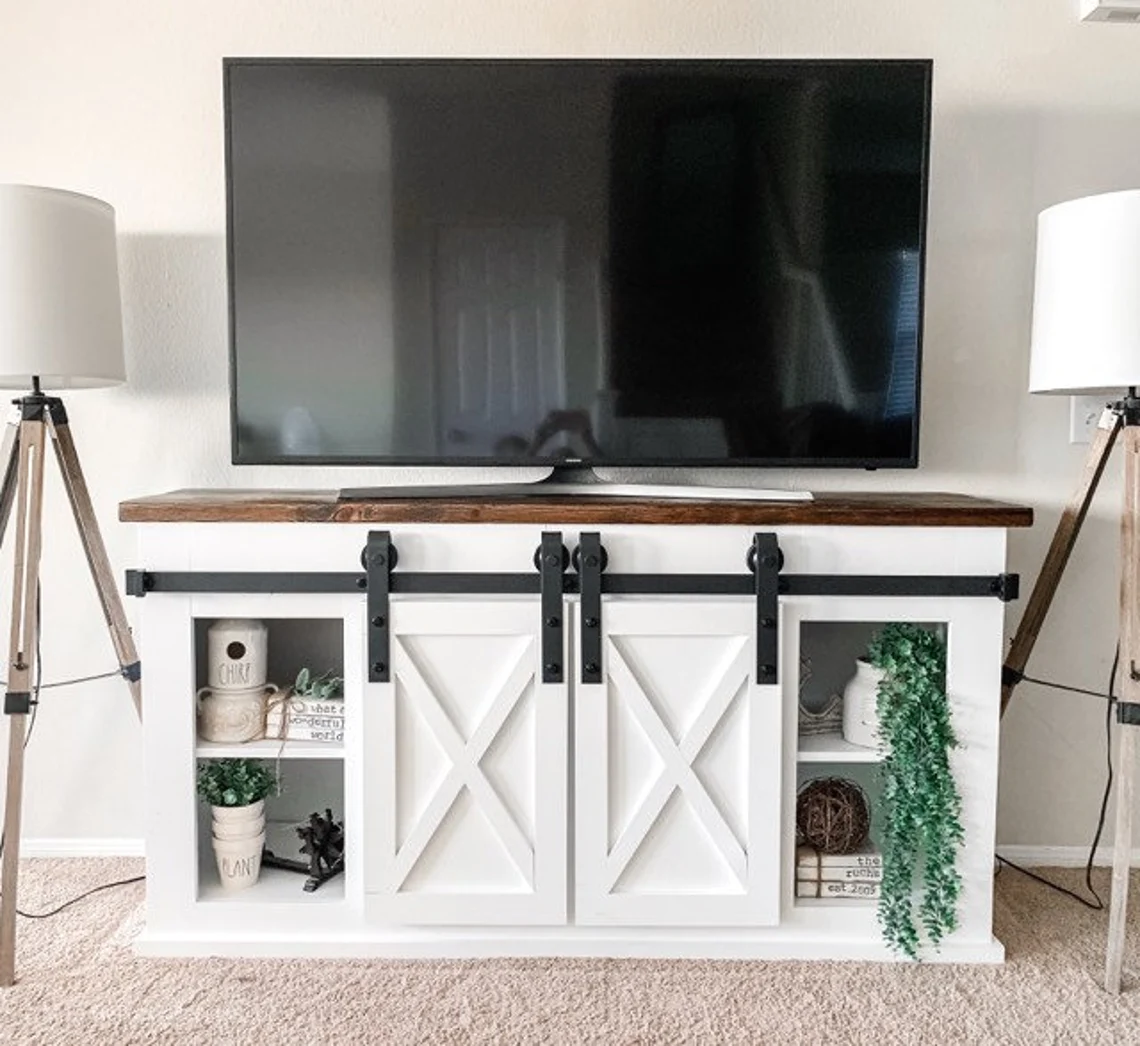 This barn door-style TV console reinvents this timeworn look in quite a contemporary fashion. I would never have guessed that these doors could be made on such a small scale to suit a low-height furniture piece like these! But lo-and-behold: they work brilliantly! 
In fact, I appreciate how the whole thing has been styled to highlight the scale of the console. Look at the floor lamps on each side and the TV at the top. Each of these items highlights the barn doors beautifully. I suggest you style it the same way if you ever feature something like this in your home.
Bold, rugged, and charismatic, I imagine this cabinet featured in a midcentury modern man cave laden up with bottles of bourbon and whisky! But that's just me because it would look just as good in a feminine bathroom.
I love the distressed wood finish of this cabinet and how it accentuates and highlights the single barn door beautifully! This is also a nice take on this trend because it leaves one side of the cabinet open. You could highlight a bunch of decor on the visible shelves.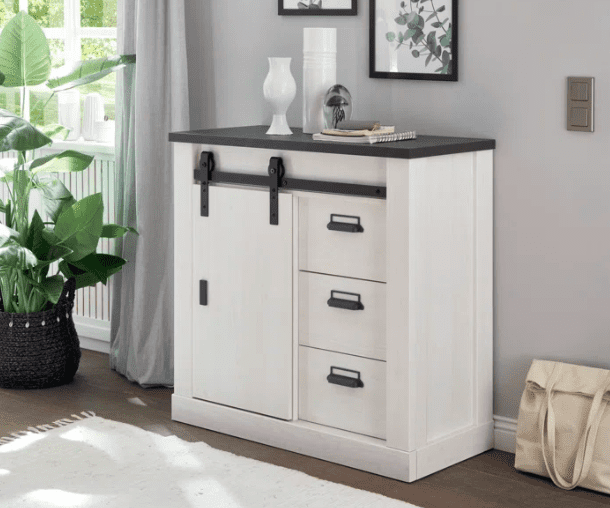 This particular cabinet is a modern/minimalist take on the barn door aesthetic. Its simplicity is its major charm. I find it fascinating because I never thought one could use the barn door this way, actually.
As for the things I like, I appreciate how the espresso and white color scheme. The smooth finish highlights it. Then there are the three pullout drawers on the side – they contrast nicely with the soft, flat surface of the barn door itself. Together, everything pulls brilliantly!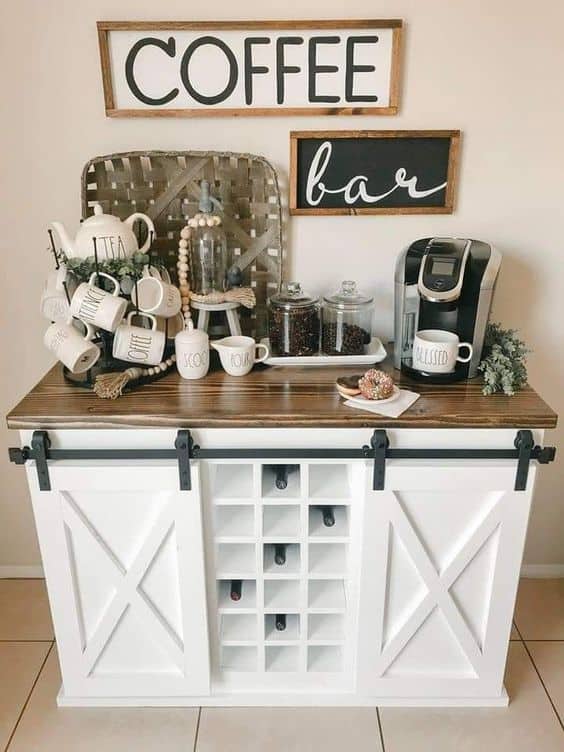 This is more of a coffee/mini-bar combination. The barn doors here add a rustic charm to the whole look. See the wine cubbies in the middle? Well, they're an excellent way to organize your wine bottles or bubbly collection, while the closed cabinets could be used to keep all your liquor-related paraphernalia!
The top surface of this barn door cabinet is perfect for featuring a coffee table setup. It goes well with the wood-and-white theme, so whether it's an espresso machine, jars full of roasted coffee beans, or even some lovely cups that you like to keep on hand, the top surface would provide a nice place to feature them all.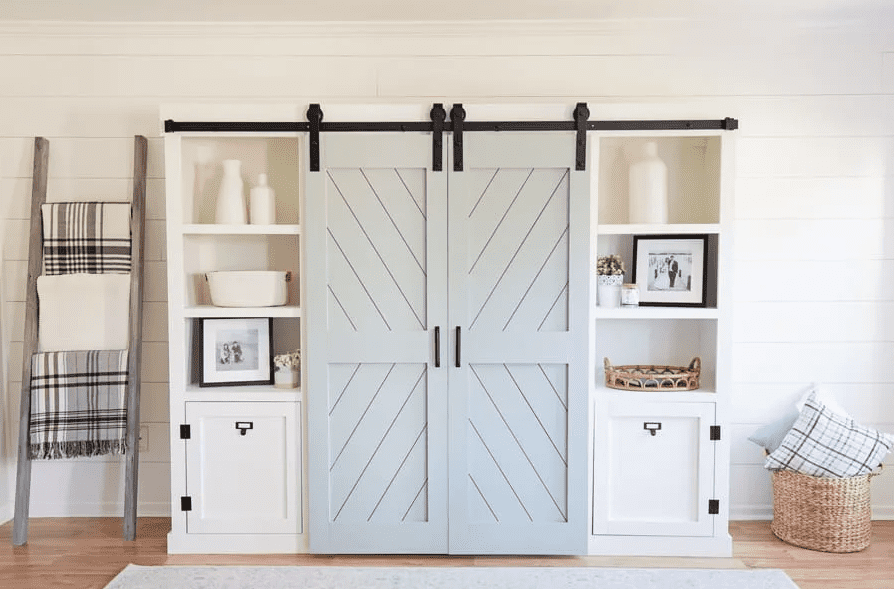 This bookshelf barn door cabinet features is fresh, unique, and awesome. I'm totally here for it! What sealed the deal for me was the pastel color scheme – the combination of mint green and white is so soothing! It's timeless and would look fantastic in any modern home!
If you were customizing something like this, I'd suggest you even design a compartment for your television inside. Once the doors slide open, the design of this cabinet would then seem even more dynamic!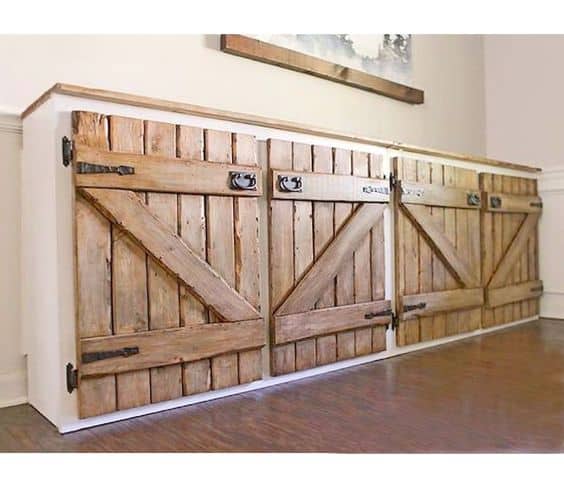 This barn door cabinet idea is as rustic as they come! If I was to go to an authentic farmhouse and come across something like this, I wouldn't be surprised in the least! 
The cabinet doors here are pretty authentic. We never quite see such originality in similar furniture items because of their nod to modernism. Here, however, the paneled barn doors are the highlight!
Their rugged wooden presentation is brilliant, and even the faded black hardware is totally on point! I suggest you feature such a cabinet in a full-fledged cottage-style home to keep up with the originality of the theme.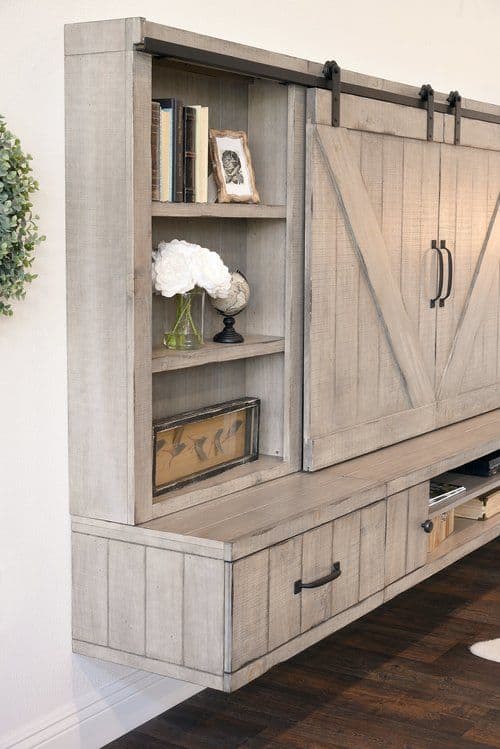 Embracing the farmhouse-chic vibe to the fullest, this particular cabinet is one of the finest that you'll see. I think it's a leap of the imagination to interpret this idea into an actual media wall, and I genuinely appreciate the one who came up with it.
I love the understated dove grey finish of the whole design. I also like how it's floating a few feet off the floor. The barn doors here are unique as well. They're not installed on an industrial track but open like any typical swivel doors that we're used to.
The accessorizing is also pretty neat – I love how every decor item is shabby chic to complement the overall theme of this furniture piece. Brilliant!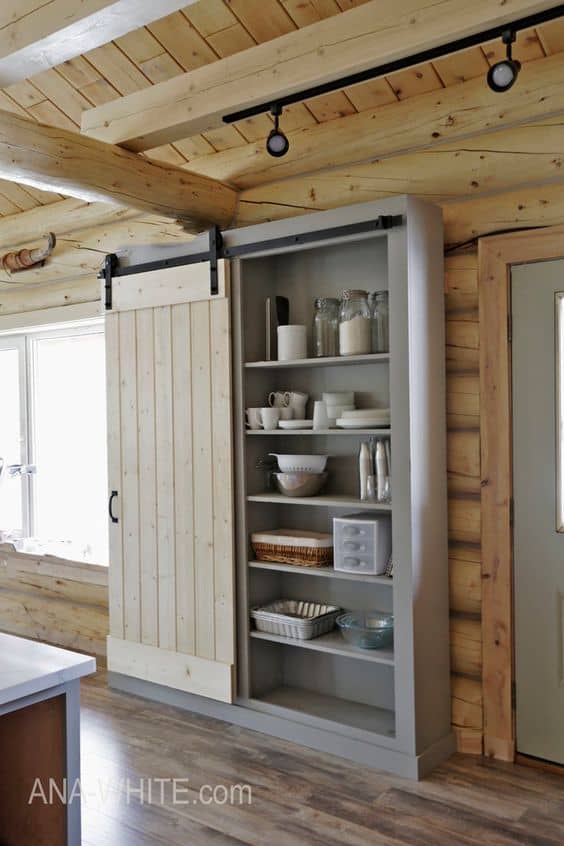 This barn door cabinet is a slim and slender affair. It also provides an excellent perspective into how this look can lean away from the typical, bulky sideboard genre and be retrofitted into something unique!
I appreciate how this cabinet reinvents the pantry style. While most people still believe that a pantry has to be a tiny, closet-like room, anyone who sees this will instantly change their mind. The wall-mounted cabinet is a game-changer in its own right, but the way the barn doors provide immediate access while looking beautiful is pretty exemplary.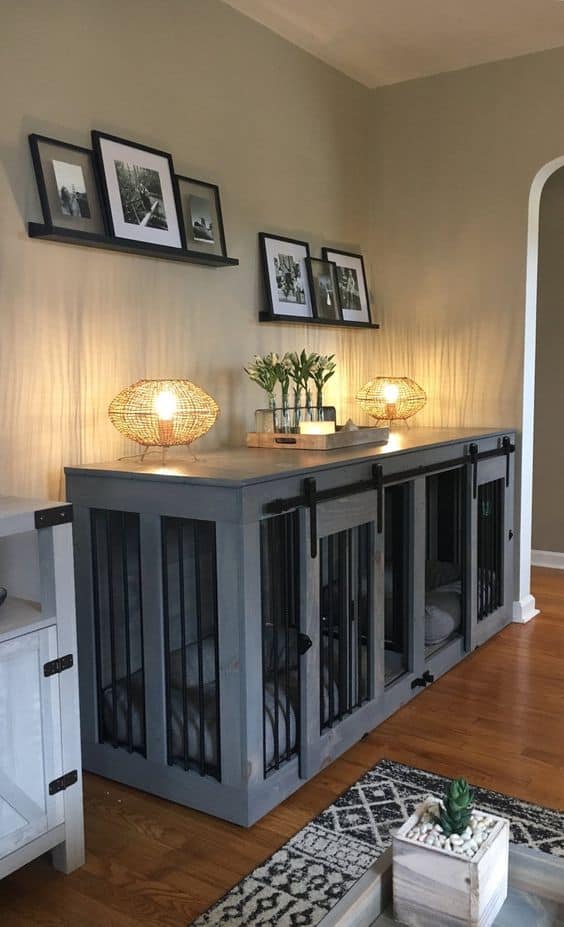 Okay, so this barn door cabinet is a standout because its doors and sides have been installed with a stylish grille. This one tiny element makes it instantly more contemporary than rustic! The sophisticated Paris Grey finish gives it that extra elegant oomph, and I bet you've never seen anything like this before.
If you're featuring it in your homes, I suggest you pair it with bright-colored or gold accessories for the best effect. You can even opt for decorative table lamps! I'd recommend that you put at least one lamp when decorating this sideboard.
That's because when it lights up, it will automatically leech away the dullness of the gray finish while providing an intangible contrast to the whole setting!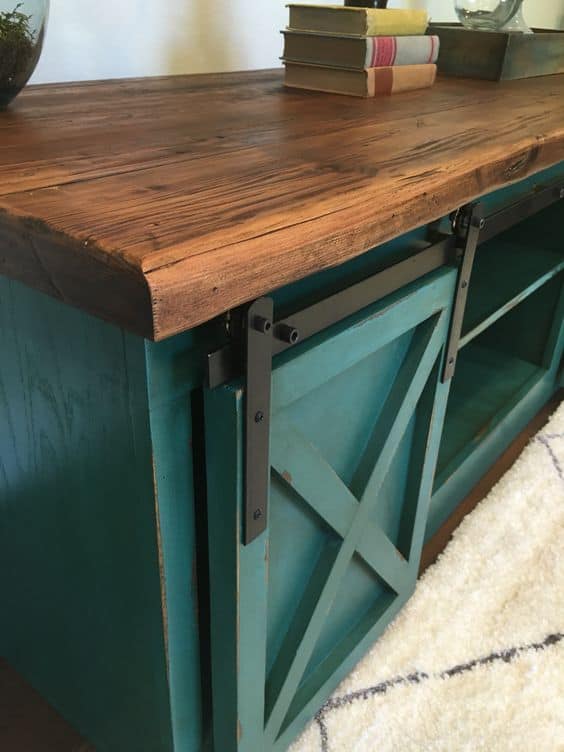 I confess that there's something about teal that immediately hooks me in. Perhaps that's why I was so attracted to this particular barn-door style cabinet. The stunning green-blue color of this cabinet's body makes an immediate statement. It also couples nicely with the smooth wooden top with its rugged grain.
If this were a sideboard that I was featured in my own home, I'd put it in front of my accent wall and decorate it with all the eclectic decor I could find! It would make a fine accompaniment for a mixed-and-match gallery wall.
If that's not your cup of tea, you might also want to go for sophisticated brass accessories. Please make sure they're oversized and paired with a single multi-colored statement art piece for the most impactful look!
FAQs
Question: Can barn doors fall off their track?
Answer: Barn doors slide from side to side on wheels, so they can slide out – especially if you put a lot of force into it. This can be especially dangerous for heavy-duty barn doors that are installed in home renovation projects. If they fly off-track, they could fall down and cause injury.
Question: What keeps barn doors flush against the wall?
Answer: That would be the bottom guide. It's a small piece of hardware that is installed against the wall and keeps the barn door snug against the wall. It also keeps it from swinging out of place.
Question: Can barn doors slide over electrical outlets and switches?
Answer: Yes. A certain amount of gap (1"-1.5") between the back of the barn door and the wall keeps it from damaging the paint. It's enough for the door to slide over electrical outlets and switches.
Question: Do barn doors provide good privacy?
Answer: Hmm, this is a tough one. I'd say that barn doors are more "aesthetic oriented." For example, it's definitely not the most privacy-oriented choice if you're using a barn door to segue into your bathroom area. However, it's pretty good for living areas and dining rooms.
Conclusion
So, now you can see why I'm a total sucker for the barn door aesthetic. I absolutely love its salt-of-the-earth, super understated yet kitschy-chic vibe. You'll notice that having one of these cabinets in your home would immediately ramp up the trend scale!
As for my favorite, I'd say it's On the Media Wall because of its highly unique and distinguished interpretation. It belies the typical barn door track-style functionality and opts for swivel doors in the same aesthetic. The gentle grey finish and shabby chic decor that accompanies it make it a high 10/10 on the style scale (at least according to me!)
Read More: