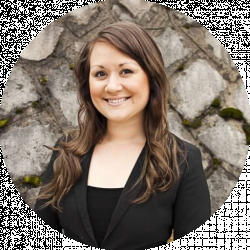 Latest posts by Lacey Jackson
(see all)
I spent years in a big city living in a tiny apartment. Storage was at a premium. I wasn't blessed to have the apartment from friends and a spare closet for all my junk.
What's more, I shared it with more roommates than we probably should have had, so everyone had to find the best small cabinet ideas so that our collective junk didn't just pile up along the floor and slowly seep into all of our walkways, hallways, and living spaces.
Bottomline Upfront
Bottom line up front, if you have an existing cabinet, turn things in a different direction. You might not think of laying containers of aluminum foil or cling wrap up right, but this can help you fit more in a tall, skinny cabinet. Similarly, use your cabinet doors as a way to hang things. Just because the space is small or a cabinet is small doesn't mean you can't organize it well.
How Do I Get the Most Out of My Small Cabinet Space?
One of the best lessons I learned from my mother was that no matter how you use your storage space, you can always get more out of your small cabinets than you think.
I did what I thought was the absolute best one could do using my small cabinets and limited space, but all it took was one trip from my mother for everything to be somehow even cleaner and more organized.
Consider Your Space
In order to get the most out of these best small cabinet ideas, you need to consider the space you have. Whether adding cabinets to a bathroom, bedroom, kitchen, laundry room, or office, you might need something tall and skinny or short and squat. How you organize it thereafter will vary based on the size.
Use Organization
Tangentially, you can get the most out of your small cabinet space by using organization. If you open a cabinet and it's just a large rectangle or square, you can make the most out of that small space by installing a couple of shows, putting a hanging rack over the door, installing a pegboard against the inside of the door, or putting similar items in individual wicker baskets or plastic containers that stack on top of one another inside the cabinet. 
Selection Criteria
Each of the best small cabinet ideas I vetted can be used for a variety of layouts, including tall and skinny cabinets, short and wide cabinets, square cabinets, and more. We all work with different spaces, so there isn't a one-size-fits-all approach. 
You can also mix and match each of these best small cabinet ideas if you want to add storage to an entirely empty room compared to using an existing small cabinet in a more efficient way.
Idea #1: Add Small Cabinets Overhead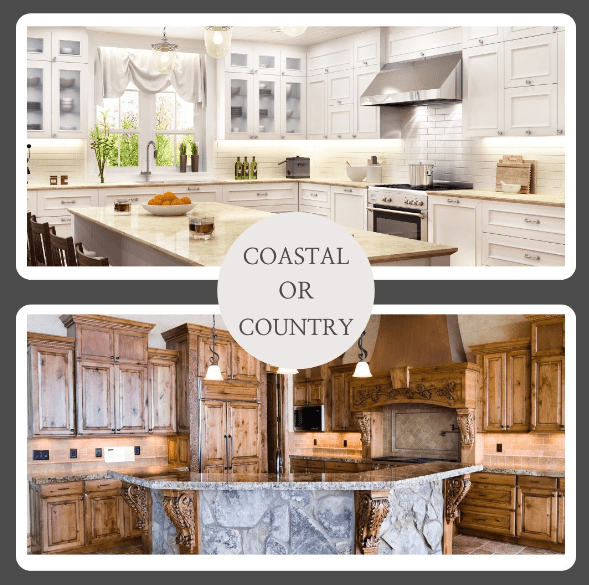 If your cabinet space is limited, you might not be able to expand outward, but you can always expand upward. You can see in this where kitchen they installed small cabinets overhead to extend their storage from floor to ceiling; it's not like you were otherwise using that space near the ceiling anyway, so why not make it storage?
Tip: Invest in a step stool or small ladder. My in-laws gave me a foldable step stool where you grab the center, and it collapses in on itself to be completely flat. This means I can easily reach top shelves and cabinets and then store the step stool out of the way, so no one else trips over it.
A lot of kitchens and laundry rooms have cabinets that are directly overhead, like the cabinets that are mounted over the sink or the stove. You can purchase an extra set of smaller cabinets and stack them on top so that you can extend your storage to the ceiling.
Note: If you do this, consider small cabinets that don't have doors or have glass doors. Open door designs or glass doors maximize how much light is in the space and, in many cases, make those top shelves look like a natural extension of nearby windows. Glass doors keep dust out.
For me, open door designs make it easier for me to stand on my tiptoes on my step stool and sort of palm my larger appliances up into their designated spaces. Go ahead and laugh at the image of a tiny woman on a collapsible step stool using the strength of two fingers to push a crockpot into an overhead cabinet; I get it.
Idea #2: Make More Skinny Cabinets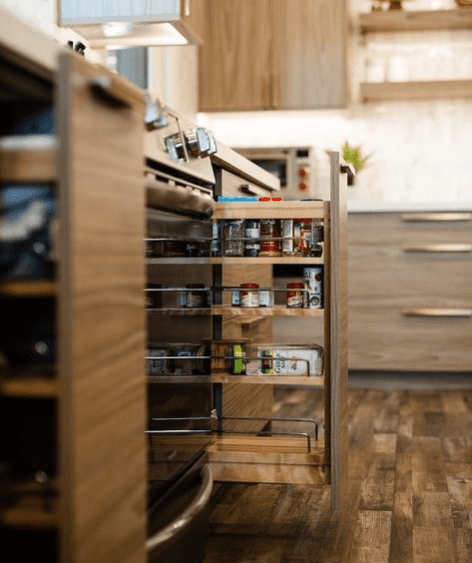 Tall skinny cabinets can seem like a nightmare in a kitchen or a bathroom because it's hard to figure out how best to maximize the space. 
Tip: In your kitchen, you can do a beautiful job placing a central shelf to divide the small cabinet into two sections, but on that shelf, cut out three circles into which individual containers fit. Those containers perfectly hold spatulas, spoons, and mixers.
This is the perfect way to use a small cabinet to get all of those countertop accessories out of the way but right where you need them. All you have to do is reach down to the side while standing in front of the stove. (I think my better half just got an upcoming task for our kitchen). You can get an insert for your tall skinny cabinets. 
Idea #3: Slotted Skinny Cabinets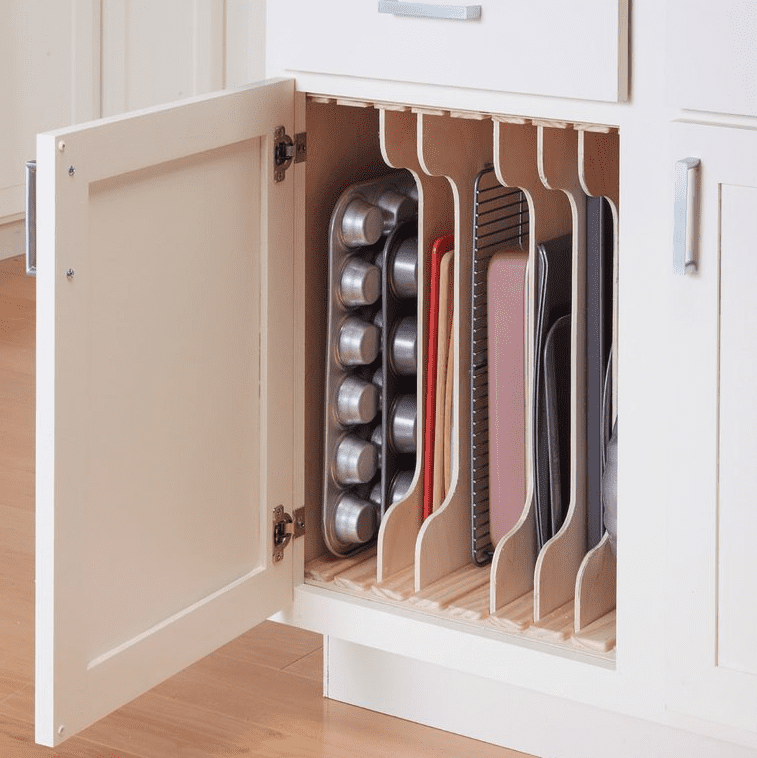 Kitchen Cabinet Organizers: DIY Dividers. I love the design of a small cabinet to create separate storage spaces or slots. You can learn how to make them yourself too. 
We tried to do this once by organizing all of our cutting boards (seriously, people keep giving us cutting boards for Christmas, and now it's getting a bit ridiculous; we have 14) into a single tall, skinny cabinet. But they still kept smacking into each other, and when you opened the cabinet door, I had to flip through them like I was looking at posters in a Walmart bin. So, do what they did in this image and invest in slots. It will make things much easier. 
Idea #4: Use Under the Sink Storage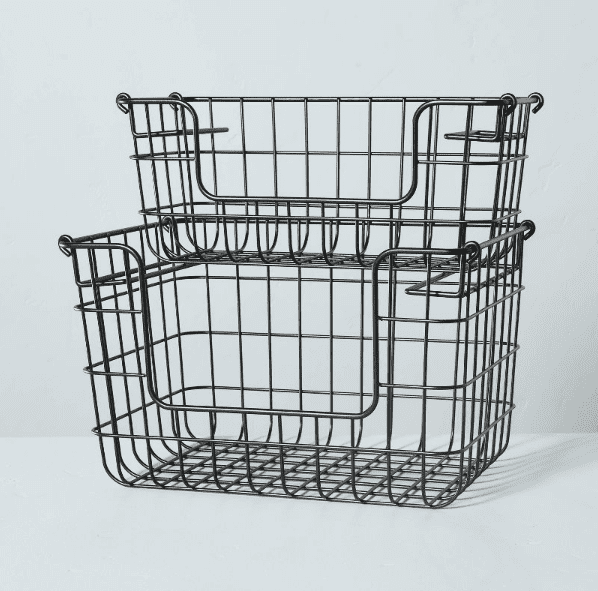 Have you ever had to call a plumber and then stop by, embarrassed while they removed cleaning products, boxes, and old sponges from under your sink like it was Mary Poppins' bag?
I did. Actually, I just thought that was a normal part of having a plumber come to your house until I reached adulthood and had the realization that I was responsible for keeping that area clean, and it didn't have to become a chaotic mess. 
As I took over most of the minor plumbing requirements myself, I got tired of having to move everything out of the way clean or not to reach that (stupid) problematic (needs to be replaced) U-bend (my other half says it's fine). So, I used a drawer box so that I could pull everything out at once and put it back at once (although hopefully not covered in garbage disposal runoff). 
Target has some metal versions of this same under-the-sink storage organizer that fit beautifully on one side of a cabinet, giving you space around the plumbing. 
Idea #5: Wall-Mounted Cabinets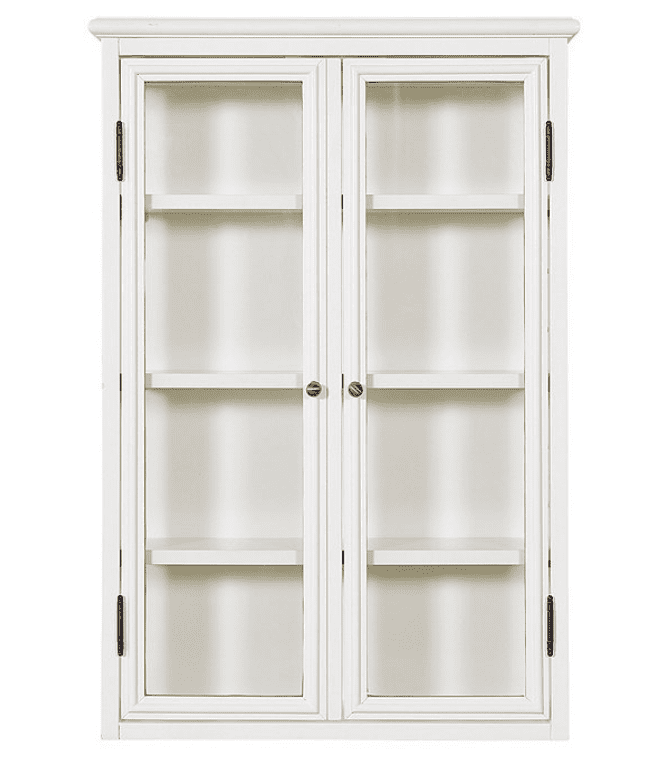 Remember how I said you could add more small cabinets overhead? Do the same thing in the bathroom. We had a very narrow bathroom once upon a time that had no space for storage. We tried multiple cabinets, and no matter how small they were, they were too wide and too deep. 
Add to that the fact that the walls were tiled, so we couldn't just drill a hole and mount something to the wall, and it was a rental.
We tried to put it on the wall opposite the sink (then the door doesn't open and close, and knees get smacked if the cabinet door is left open). 

We tried to put it in between the sink and the toilet (doors won't open all the way and, uhm… too close to the toilet for comfort).

We tried to put a short, small cabinet on the opposite side of the sink, fitting into the corner (not enough storage).
It's a testament to how effective meditation is that we didn't just knock a wall down in our frustration to make more room for storage. In the end, we found a tall skinny cabinet that was a stand-alone cabinet, so it didn't need any extra hardware.
It had beautiful glass doors like this Apothicaire Cabinet, so it helped reflect light in our already (way too) small bathroom (with no windows). You can also use small wall-mounted cabinets for your kitchen, laundry room, or bedroom. 
Idea #6: Use the Doors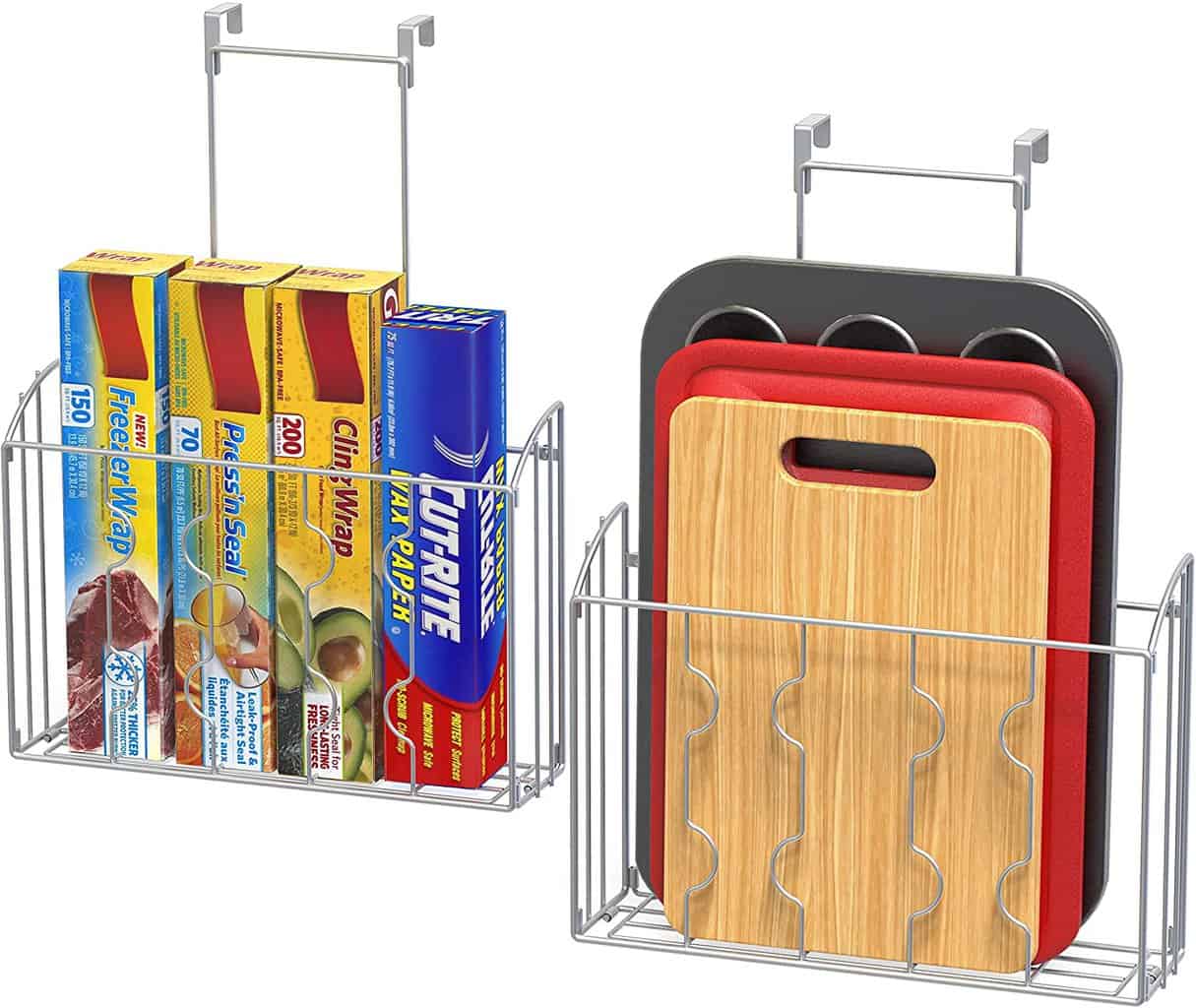 I also recommend making the most out of your doors. You can efficiently use small cabinets by attaching racks or shelves to the inside of the cabinet doors.
This is really good in a kitchen because it's a great place to add tiered storage for things like spices which are relatively small and, if stacked in a larger cabinet, take up way too much space. You can use the doors to store smaller cookie sheets, cutting boards, cling-wrap, or spices.
Idea #7: Use Corners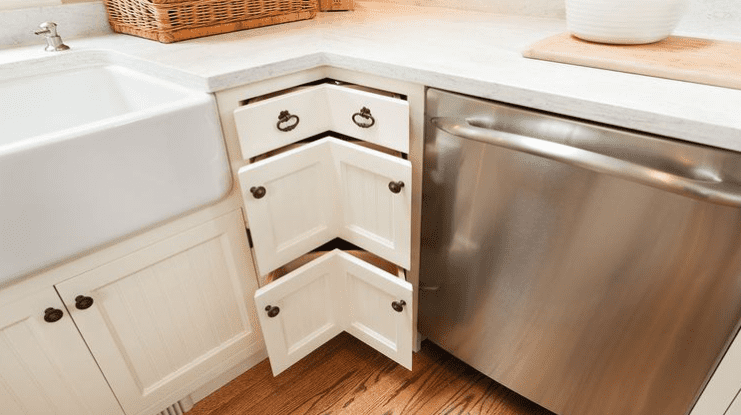 If you have an unused corner, put it to good use with a proper corner cabinet. If you have an odd corner that creates a 90° angle in a kitchen, look at how much more effective it was in this design to have a 90-degree pull-out corner cabinet:
Using corners doesn't apply just to your kitchen. You can easily invest in small, free-standing corner linen cabinets. With a simple glass door, these don't take up a lot of space, but they have adjustable shelves that can help reduce clutter. You can have these in bedrooms, hallways, or bathrooms. Taller but still small corner cabinets can fit the corner in an entryway, bedroom, living room, or laundry room, giving you a bit more storage behind closed doors. 
FAQs
Question: What can I put in my small kitchen cabinets?
Answer: Small cabinets are a perfect place to store things like appliances. Small corner cabinets, especially in kitchens that seem to be impossible to reach, are the perfect place for a lazy Susan. Floor cabinets work well to hide recycling bins (that's where ours is), the appliances or pots and pans that you don't use as often (also what we put in the small cabinets in our kitchen and dining room), or spare toiletries in a place like a bathroom.
Question: What can I do with skinny cabinets?
Answer: Our kitchen has small, skinny cabinets that are very tall but no more than five inches wide. It took us forever to figure out what to do with them. Those skinny cabinets you find in bathrooms or kitchens can serve as a great storage space for long and thin items placed upright. For example, in our kitchen, we use that area to store things like aluminum foil, cling-wrap, Ziploc bags, garbage bags, and other long and thin boxes that can all go upright. In our laundry room, we use that for lean cleaning supplies like a bottle of Windex, and in the bathroom, it's the perfect place for spare toilet paper.
Question: How do you organize a shallow cabinet?
Answer: Small cabinets are often shallow. Make the most out of shallow pantries; use them to store clear containers, mason jars, or containers of dry goods. 
I invested in a large set of French canning jars and Mason jars of different sizes. I use those for dried goods (beans, lentils, rice, granola, pasta) and spices (bulk orders of garlic powder and chili powder can be divided into a small, easy-to-use container for daily use and then refilled from a large French canning jar). You can stack those along the length of a shallow cabinet, and they look visually stunning and clean without many labels.
Obviously, you can leave items in their original containers and stack them along a shallow cabinet as well or attach shelving to your shallow cabinet to hold tinned food or smaller containers of spices and sauces you get from the store. 
However, it can be cognitively distracting when you walk into a space full of exposed packaging with labels and print. Your brain will actively try to read all of that material or actively avoid that material, and either way, it poses a significant mental distraction whether you realize it or not. Switching to any type of clear or solid color container removes all the extra print you don't need.
Question: Should cabinets be lighter or darker than walls?
Answer: There isn't a rule that says you have to make your small cabinets lighter or darker than the walls. It comes down to what you want to do with the space. If you are using some of the best small cabinet ideas on this list because you have a small kitchen or a very small bathroom, light colors will make the space feel cleaner and brighter because light will reflect off-white paint. But, if you have smaller cabinets but don't necessarily want to visually maximize the space, dark colors will make a statement, grab the eye and direct it to the cabinets. 
Best Small Cabinet Ideas: Bottomline
Bottom line, I recommend using small cabinets that fit whatever space you have and creating inserts or additional storage to help you maximize that space.
You can get whisks, spatulas, and other utensils out of the way by creating shelves with storage buckets in a tall, skinny Pantry. You can easily use smaller wall-mounted cabinets with a set of French canning jars or mason jars to capitalize on a shallow space.