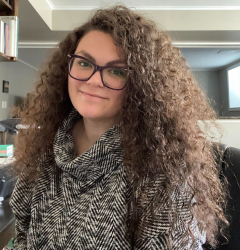 Latest posts by Candace Osmond
(see all)
Do you believe your glassware, collectibles, and antiques are beautiful? Then why not display them in something equally attractive, like a glass door cabinet. The best glass door cabinets are made of eye-grabbing glass and wood with a flair that'll shine throughout your collection.
I don't have fancy dishware or antiques, but I do collect hoards of nerdy merch. I protect and display them in an old glass hutch, but there are tons of ideas you can use! And I love how glass cabinet doors can elevate the look of any kitchen. So, here are some of the best glass cabinet door ideas I found.
Bottom Line Upfront
I love glass cabinet doors. When I worked in Interior Design, I was like a glass door peddler, always encouraging my clients to incorporate them. My fav pick on this list is the Black Framed Glass Cabinet idea. Not only does it look stunning, but I love how they sit on the countertop.
Top 3 Picks
To aim a spotlight on your beloved tchotchkes, consider any of these well-made top 3 picks from the list.
Best Overall: Black Framed Glass Cabinet
This glass door cabinet is an excellent option for incorporating some light, sparkle, and privacy into your cabinet designs.
Best For Kitchen: Beveled Stained Glass Cabinet Inserts
This glass door cabinet is made from solid and manufactured wood and features slatted details that add a traditional touch.
Best For Bathroom: Bathroom Glass Door Cabinet
This cabinet's old-fashioned appeal and hand-crafted look make it a natural fit for any bathroom.
Glass Door Cabinet Inspiration
Here are 16 beautiful glass door cabinet ideas you could try out today. I chose them based on their design, popularity, and practicality.
Black Framed Glass Cabinet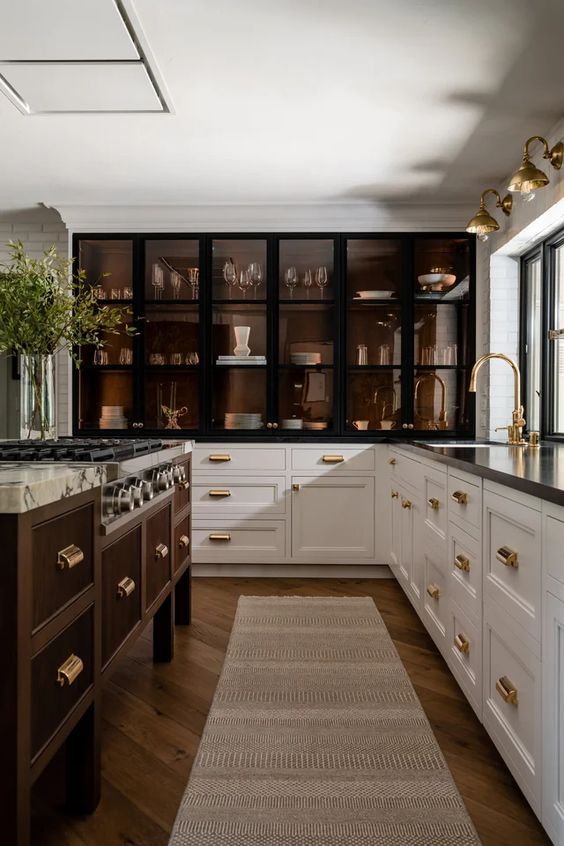 This glass door cabinet offers a tasteful balance between aesthetic timelessness and efficacy. First, it gives visitors the impression that the kitchen is much more spacious than it is. Second, it presents the perfect opportunity for displaying dazzling figurines, beautiful dishware, and what have you.
Multi-Purpose Glass Door Cabinet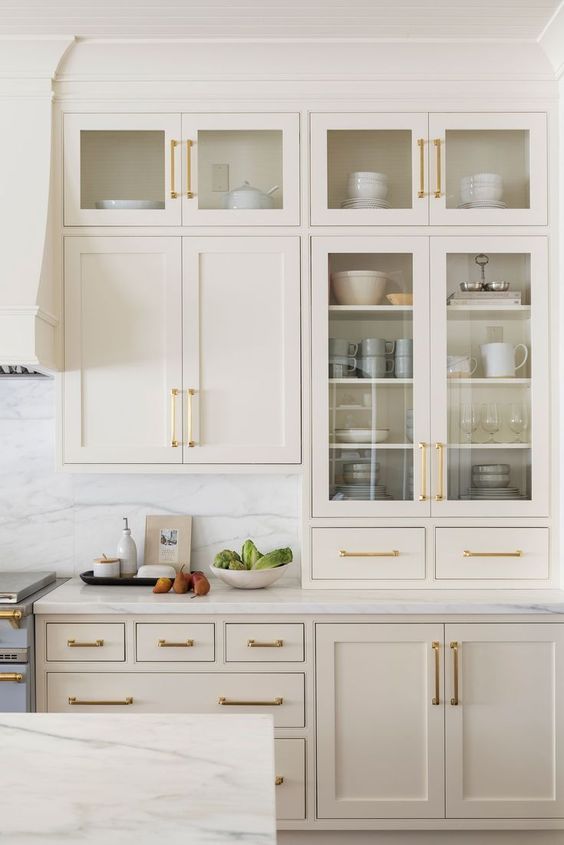 Notice how much sparkle these glass door cabinets deliver? I also love the old-fashioned appeal the entire cabinet gives. A unit like this, integrated into any kitchen (both retro and ultra-modern), will award the room the character it needs.
90s Kitchen Update
If your goal is to create a traditional, elegant feel, this is the glass door cabinet you should go for. I'd suggest using leaded glass on the open shelves. Leaded glass boasts a hard-to-beat artisanal quality, and you can spin its design in different ways, from craftsman to gothic. I'm obsessed with everything gothic.
You can also choose art or stained glass if you'd prefer a hint of color on your glass cabinet. Both of these will look rather appealing in backlit cabinetry.
Wired Glass Door Cabinet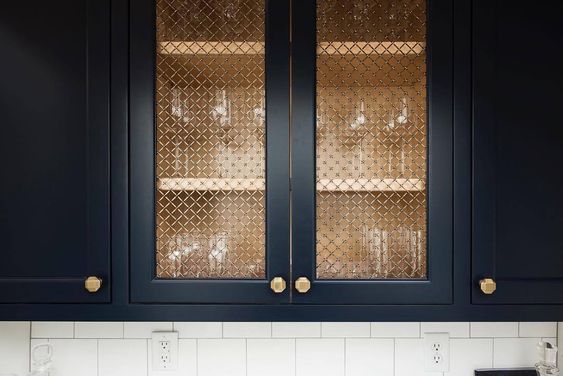 Having wired glass on cabinet doors is a creative way to capture the lightness glass delivers without forgoing privacy. My best friend's kitchen cabinets have a similar glass, but she has combined them with regular tempered glass doors.
Beveled Stained Glass Cabinet Inserts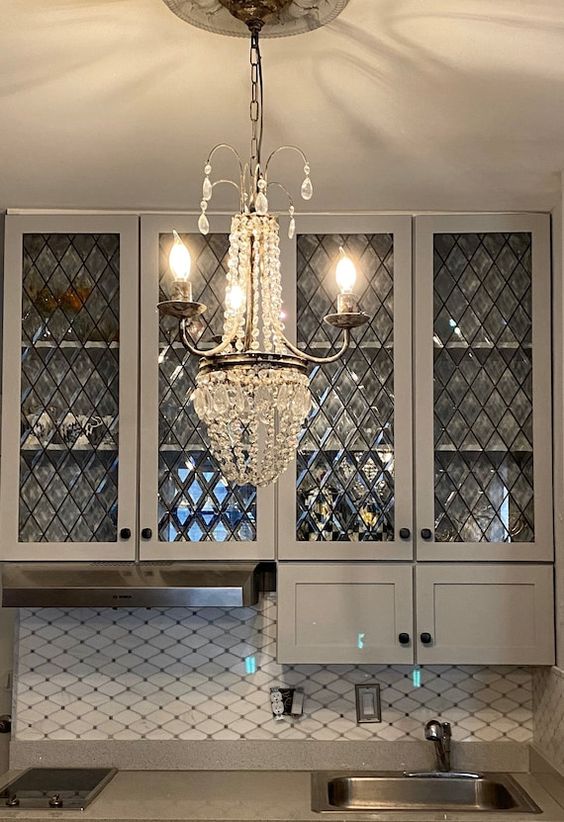 This glass door cabinet inspiration proves that beveled stained glass can add flair to even the simplest glass door designs. Everything blends together to create an aesthetic unit anyone can use to show off their fine china.
When I had a similar cabinet years ago, I also used it for my favorite cereal and canned goods.
Built-In Glass Door Cabinets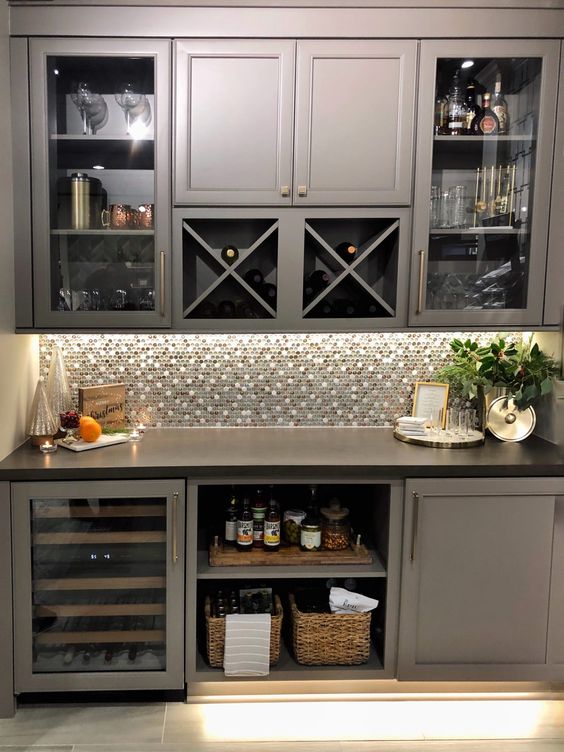 Whatever you store inside this versatile cabinet will always be within reach and style. This dining hutch boasts a wine rack, a large, concealed cabinet, three cabinets with glass doors, and four open shelves. If that isn't enough to stow away your glasses, utensils, and dishes, I don't know what is.
Mullioned Frosted Glass Cabinet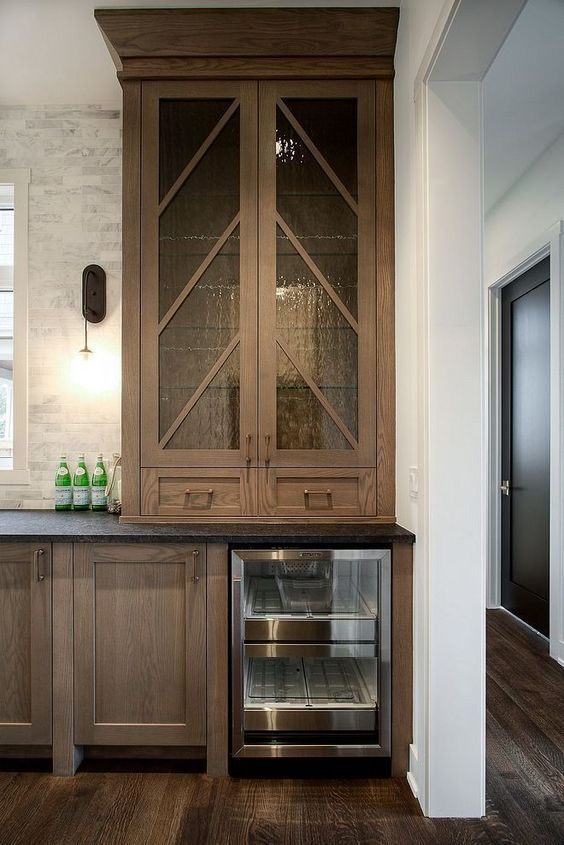 I dislike conformity when it comes to all things interior design. That's why most ideas in today's guide motivate you to forgo conventional ideas but still add character to the room. Here is an additional example. The glass wall cabinets create a dramatic and unexpected focal point for anyone who walks into the kitchen.
Modern Frosted Glass Cabinet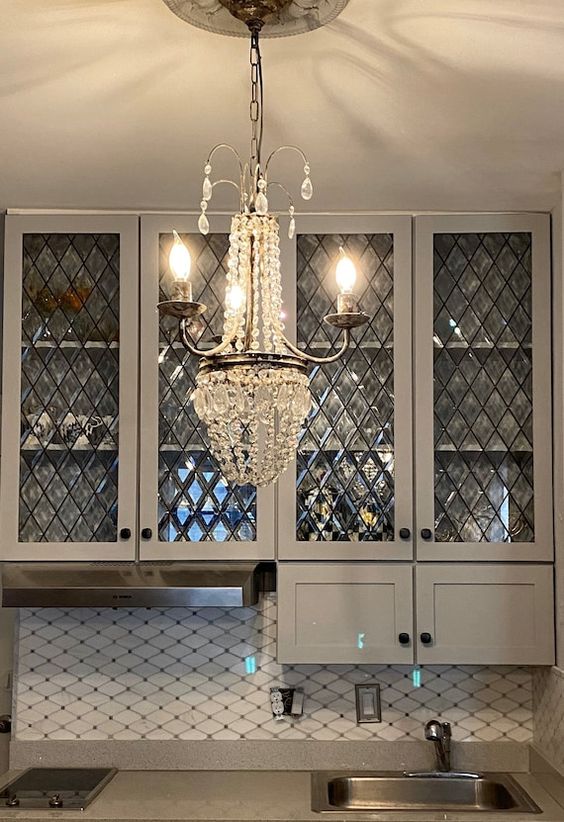 Are you uncomfortable with guests getting a sneak peek at your cartoon mouse mugs collection or bags of potato chips? This modern frosted glass could be the glass door cabinet solution you're looking for. I also appreciate that frosted glass doesn't show smudges and fingerprints instantly.
Elegant Kitchen Makeover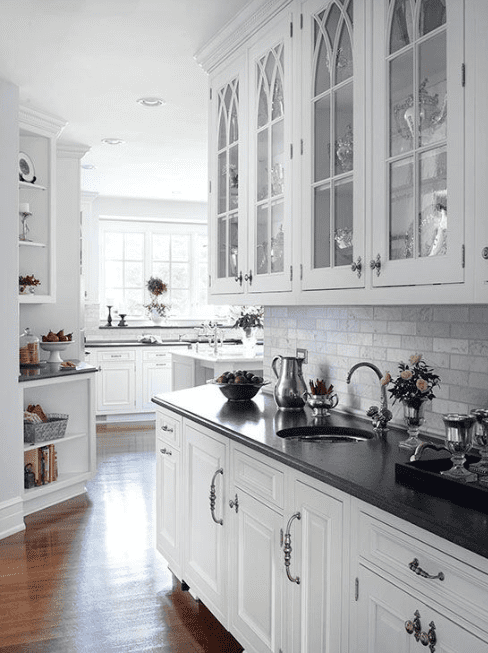 If you'd like to award your glass door cabinet loads of extra sophistication, arch the doors as shown above. Since most kitchens are filled with straight lines, anything with a curve will stand out from the rest. If this were my kitchen, I'd ask the designer to further underline this principle by tucking the display into the wall.
Bathroom Glass Door Cabinet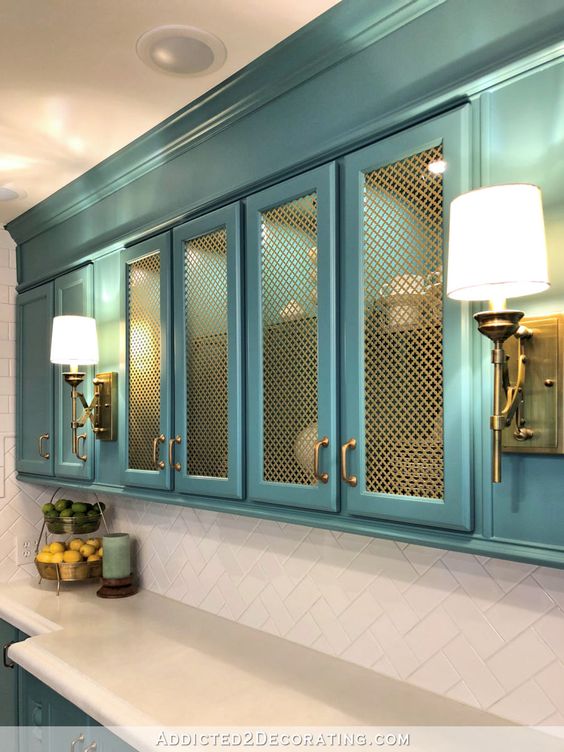 Like your kitchen, the cabinet you get for your bathroom will depend on its use. For example, do you have a lot of personal products and medications you'd prefer to hide from guests? Then go for this cabinet with a wired glass panel.
Mullioned Glass Door Cabinets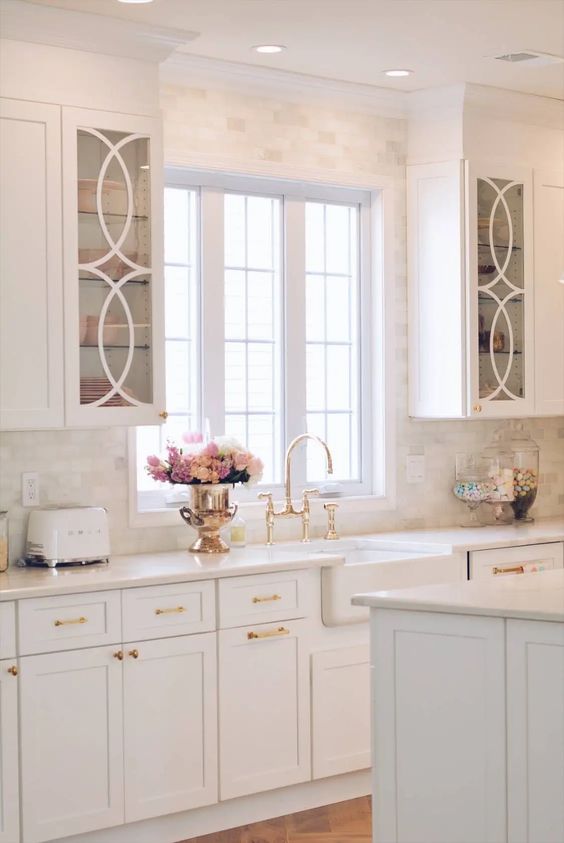 Simply window shopping? Look no further than these mullioned glass door cabinets. The space-efficient glass door cabinet design allows you to display decorative items and organize kitchen essentials effortlessly. I'd also suggest making the shelves adjustable. This way, you can always configure the unit to your shifting needs.
Glass Front Kitchen Cabinets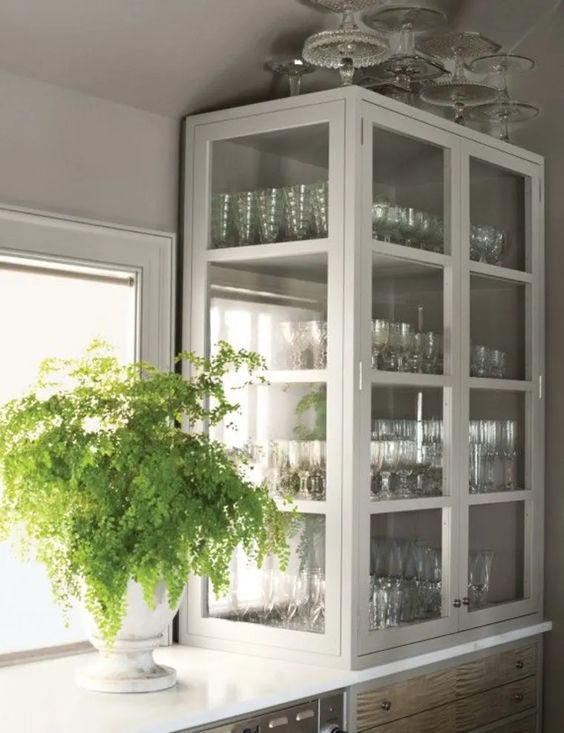 Plain, transparent glass is a classic, fail-safe choice (as well as one of the most widely available) for cabinet doors. This glass front cabinet proves just why the two go so well together. With transparent glass, you can use single flat panels as shown in this kitchen or pick decorative mullions. The latter is perfect if you also want to enhance your kitchen's design.
Smoked Glass Door Cabinet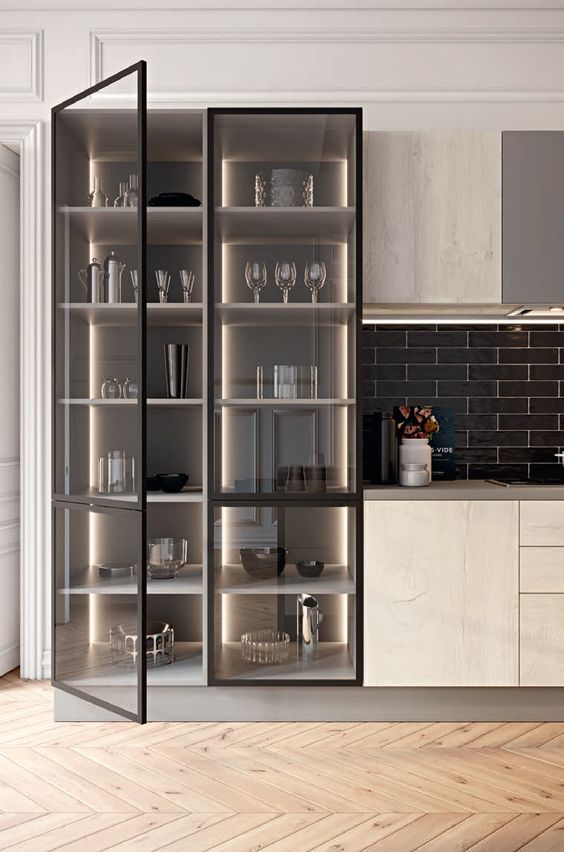 Still not convinced that a glass door cabinet is all it takes to elevate any kitchen's décor? Then you must've never seen a retro-look or ultra-modern kitchen with one of these units. As the image shows, a synchro delight cabinet allows you to use glass inserts to recreate an effective nostalgic "feel."
Personally, I'd recommend going for the chic "glassy yet so classy" modern look that's all the rage these days.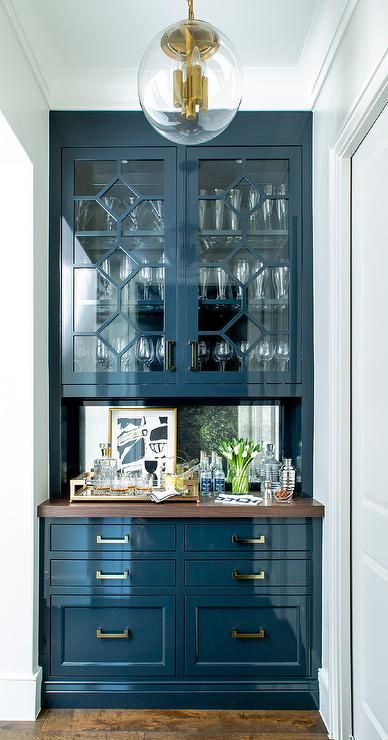 Any nicely designed retro glass door cabinet will lend a cool, sleek feel to any space. This timeless unit proves just that. Also, since the mullioned glass addition screens the objects it fronts, you'll probably get away with stacks of mismatched melamine.
I'd also suggest having the glass etched with custom designs to add a one-of-a-kind style.
Ultra-Modern Glass Door Cabinet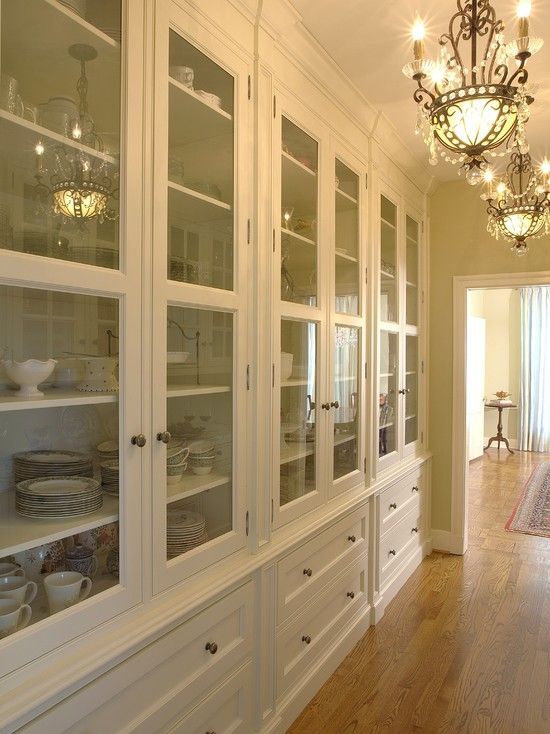 Tell your story and show of the things you love with a display cabinet. As such, if you'd like your kitchen to reflect your love for all things state-of-the-art, go for this ultra-modern solution. The cabinet's timeless and trendy design should leave everyone who walks into your kitchen in awe.
Glass Door Bookshelf Cabinet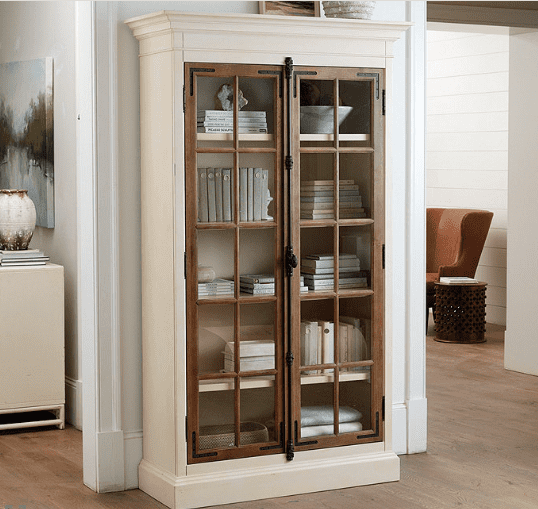 This bookcase and bookshelf's glass doors are bordered by dark stained wood that gives the unit a furniture-like appeal. It also makes the glass door cabinet reminiscent of something one would usually find in older homes. I like that the unit's designer specified it in an accent finish.
Types of Glass for Cabinet Doors
Thanks to the invention of exciting textures and techniques, you have more glass choices today to pick from. Here are the six main types of glass used on cabinet doors.
Frosted
This refers to glass that has been blasted with grit or sand to deliver a translucent quality. Frosted glass is the perfect solution for your door cabinet if you hate having the contents inside on display.
Note, though, that while frosted glass is translucent, it's not wholly opaque. Visitors will still be able to distinguish the colors and silhouettes behind it. So, ensure you dedicate a little time each week to keep things inside organized.
Tempered
Tempered is a kind of glass processed by controlled chemical or thermal treatments to increase its strength. The key feature of tempered glass is that it's not only stronger but is also safer. When broken, tempered glass shatters into small, "popcorn" fragments rather than dangerous shards like ordinary annealed glass.
Etched
You can order frosted glass door panels with custom designs and etchings for a more personal take. That's basically what Etched glass is – a decorative glass designed through a series of cuts made to the glass.
I think Etched glass works best with vintage and bohemian décor because it lends spaces a cozy, artsy vibe.
Stained
Stained glass is a classic choice that'll fit beautifully in any vintage and retro home. It can also provide striking visual accents in traditional kitchens.
Mullion Bars
Mullion bars are the dividing bars that separate glass panes in a cabinet door. They closely resemble those found in window panes. Mullioned glass door cabinets were once the most popular among homeowners. Why? Well, mainly because there weren't that many designs of glass-front cabinet doors available.
What's more? The arrangement and number of mullion bars on your cabinet doors will determine the look of your space. For instance, you may need diagonal mullions that intersect in an X-shape to create a modern farmhouse-style kitchen.
Textured
Textured glass is precisely what it sounds like. Glass that has been embossed or molded with a pattern for tactile and visual appeal. The glass can be beveled, grooved, pebbled, ribbed, or patterned.
Note, though, that with some glass textures, you risk a dated look down the road. I recommend going for the simplest styles, like ribbed glass, which are less likely to fall out of favor.
Glass Door Cabinet Ideas
Here are a few glass door cabinet ideas to help you get started in your hunt for the best.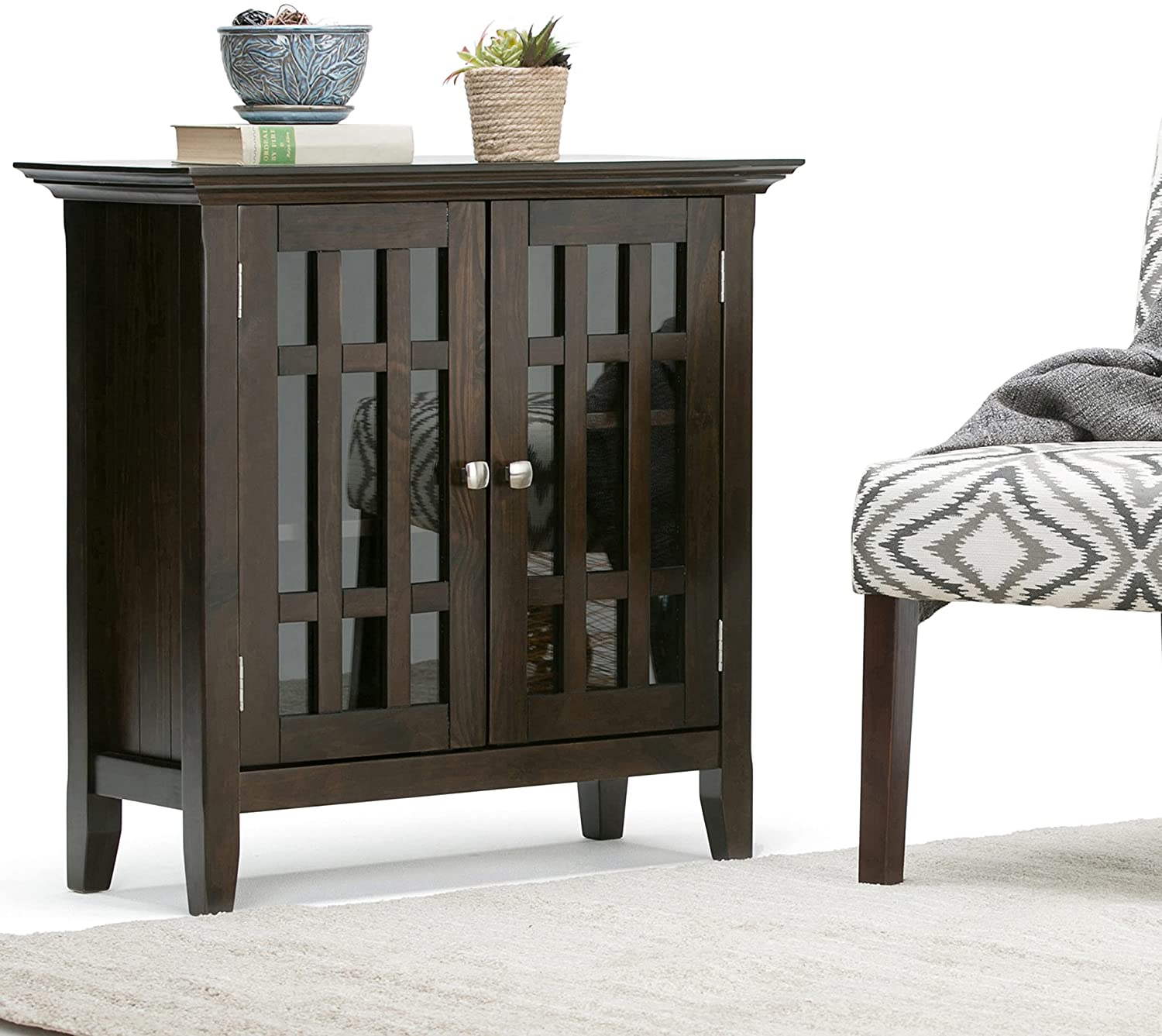 With its hand-finished Dark Tobacco Brown Stain, this Simplihome Bedford cabinet will help make organization entertaining. The unit is outfitted with beaded drawer fronts and sides, cross hatch-style mullion glass doors, and square, slightly tapered legs.
All three features make this sophisticated creation suitable for different decorating tastes, including modern and traditional décor.
Specs:
Price Range: $215 – $389
Glass Type: Tempered Glass
Mounting Type: Floor Mount
Pros
Solid wood construction
Backed by a one-year warranty
Designed to bring beautiful and warm accents
Contemporary rustic styling
Adjustable shelves
Spacious
Cons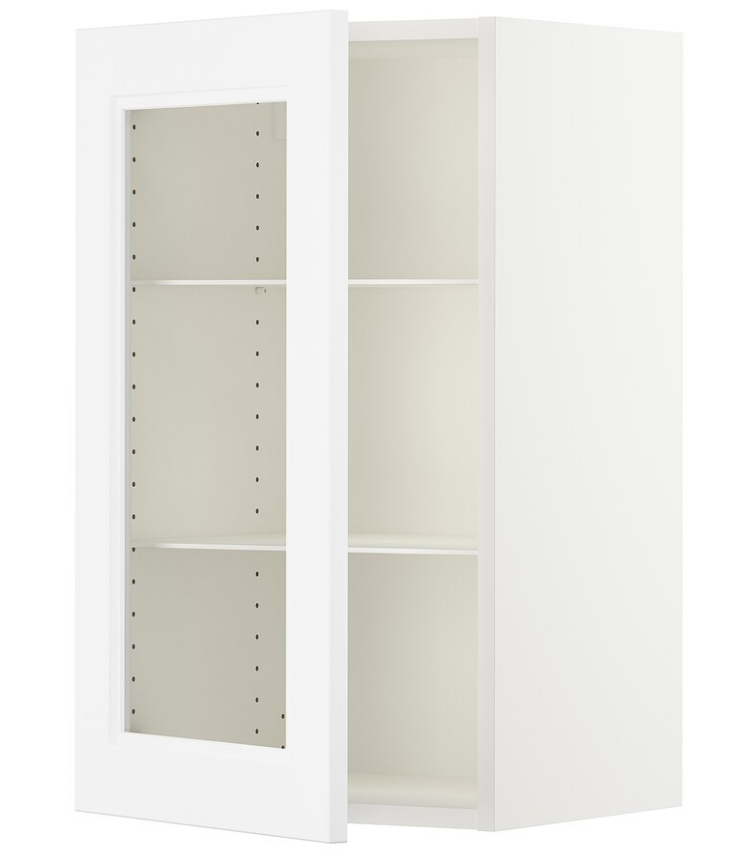 Open this Sektion Axstad cabinet's glass pane door to access multiple shelves and ways to store your utensils, spices, etc. Additional features that earned this cabinet a spot in this review include its ease of assembly, durability, and simplistic aesthetics.
Ensure you only use water or non-abrasive detergents when cleaning the unit.
Specs:
Price Range: $165 – $200
Glass Type: Tempered Glass
Mounting Type: Wall Mount
Pros
Shelves are adjustable
Strong, durable build
Made of environmental-friendly material
Will compliment any kitchen interior décor
Sturdy frame
It can be mounted to open to the left or right
Cons
Design too simple for some
Assembly required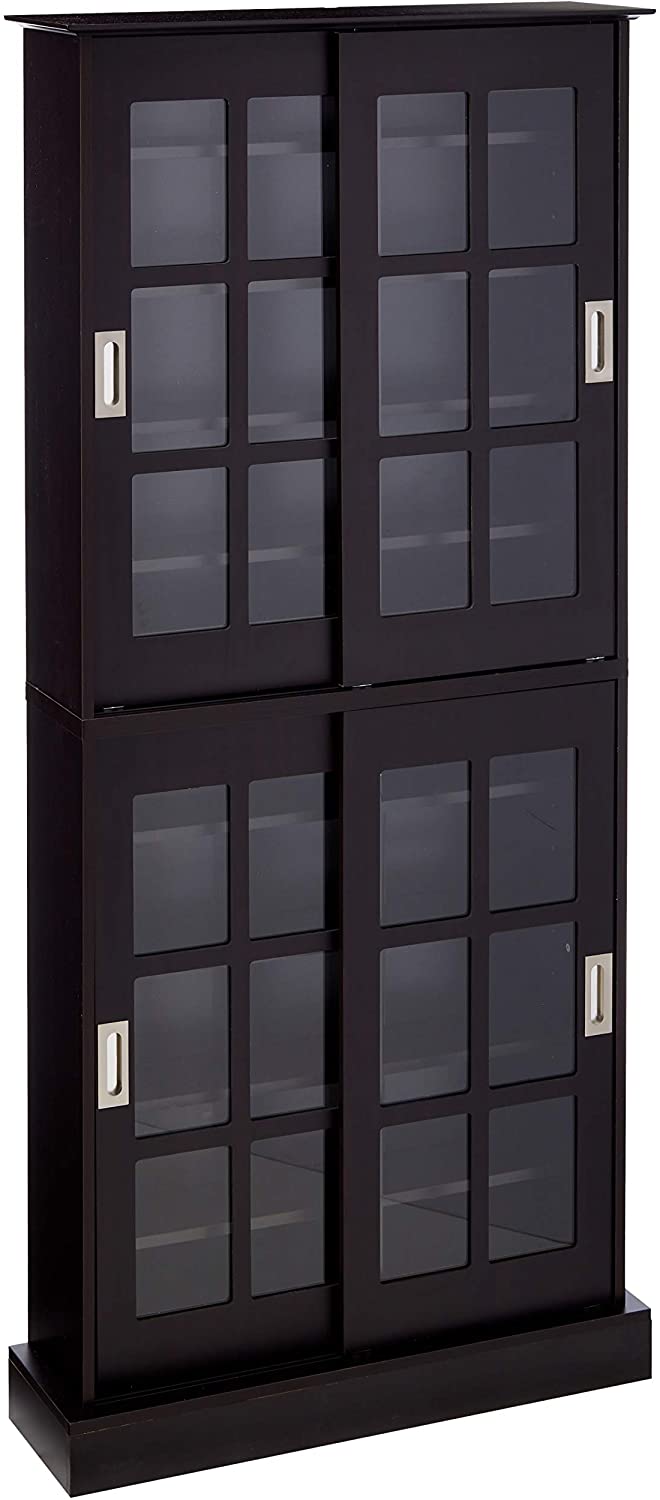 This Windowpane Media Storage Cabinet brings stylish practicality to any home space. The cabinet boasts pane-style sliding glass doors, elegant tempered glass, and adjustable shelves you can customize to your needs. These features also make the unit a great addition to any interior décor.
Regarding storage, the cabinet can keep up to 216 Blu-ray Discs, 192 DVDs, or 576 CDs organized and accessible. Its thick frame and base provide greater durability and stability.
Specs:
Price Range: $200 – $340
Glass Type: Tempered Glass
Mounting Type: Wall Mount
Pros
Customize to fit any desired height
Adjustable shelves
Sliding doors allow for easy access
Durable and sturdy
It will look aesthetic in any room
Cons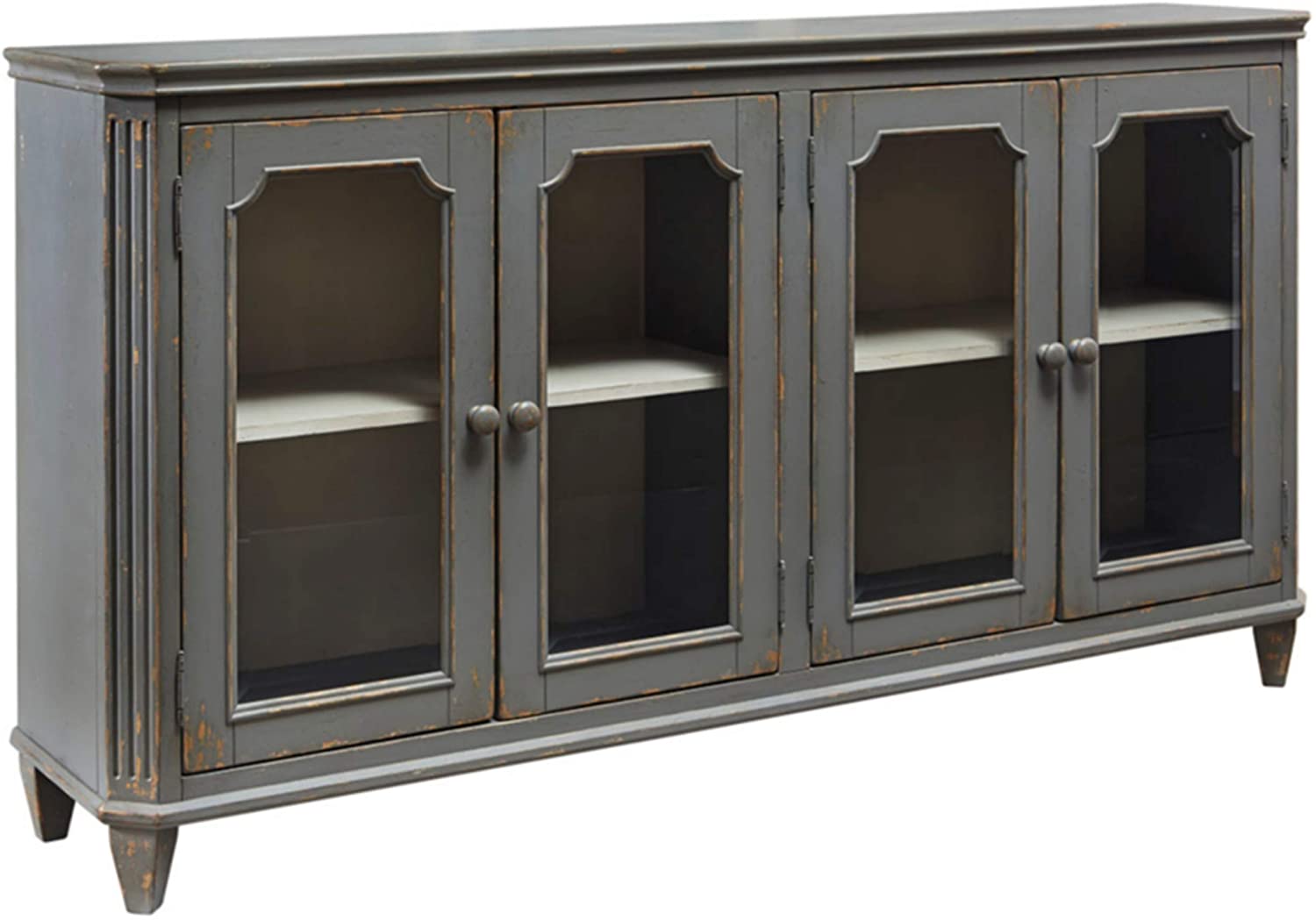 Desire one of the best retro glass cabinets around? Then get this Signature Design By Ashely Store. Features that make this cabinet stand out include its antique gray accent, fluted details, and ample shelving. The distressed finish may appeal to you as well.
Items you can store in this cabinet range from everyday essentials like mail and batteries to extra dishware and consoles.
Specs:
Price Range: $690 – $830
Glass Type: Mirrored Glass
Mounting Type: Floor Mount
Pros
Extremely versatile
Aesthetic distressed finish
Shelves are adjustable
Compact to save space
Antique design
Cons
It has a chemical order when you first get it
Assembly required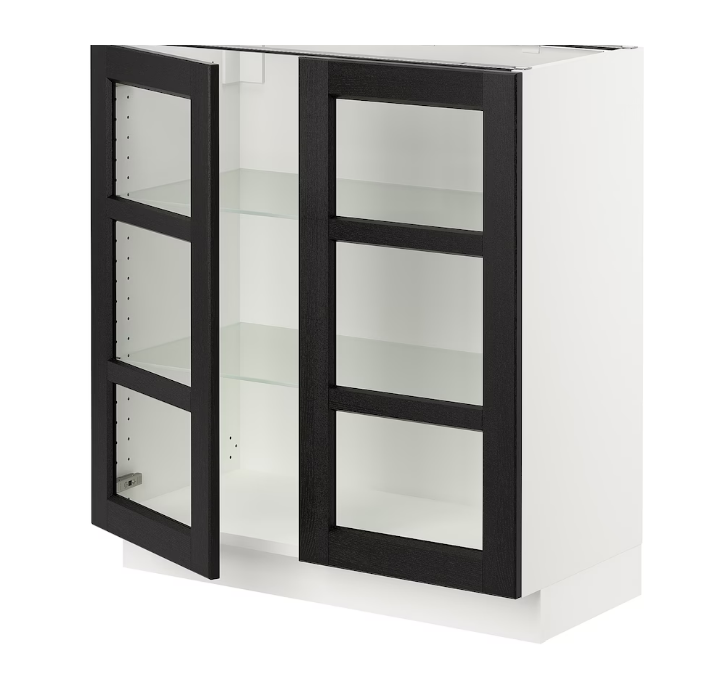 Uniquely designed for maximum kitchen utensils storage, this Sekton Base Cabinet will fit in any upscale décor and traditional kitchen. The elegant and functional solid glass doors are designed to offer you easy access to everything stored inside.
Also worth noting, you can customize the Sektion Base cabinet's spacing as required because the shelves are adjustable.
Specs:
Price Range: $290 – $380
Glass Type: Tempered Glass
Mounting Type: Base Cabinet
Pros
Adjustable hinges and shelves
Study frame construction
Very durable
Retails with clear assembly instructions
Delivers a warm, retro feel
Cons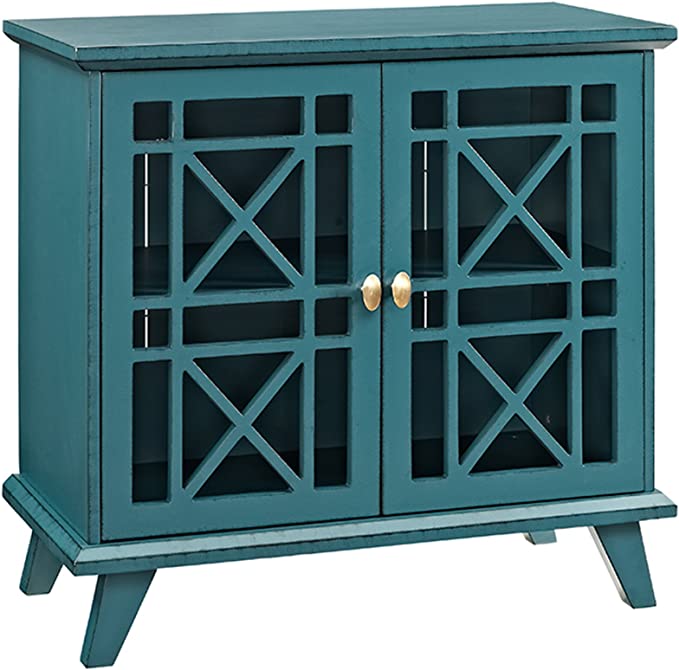 Whether settling into your forever home or moving into your first apartment, you'll appreciate this cabinet's ability to blend in. The fretwork doors that the unit retail's with add an intriguing design sure to please.
Walker Edison also made the cabinet with solid wood, high-grade MDF, and wood veneer for a classic look.
Specs:
Price Range: $140 – $400
Glass Type: Tempered Glass
Mounting Type: Floor Mount
Pros
It supports a lot of weight
Compact to save on space
Adjustable shelves
Long-lasting construction
Perfect for older homes
Made with high-grade MDF for a classic look
Retails in three different shades
Cons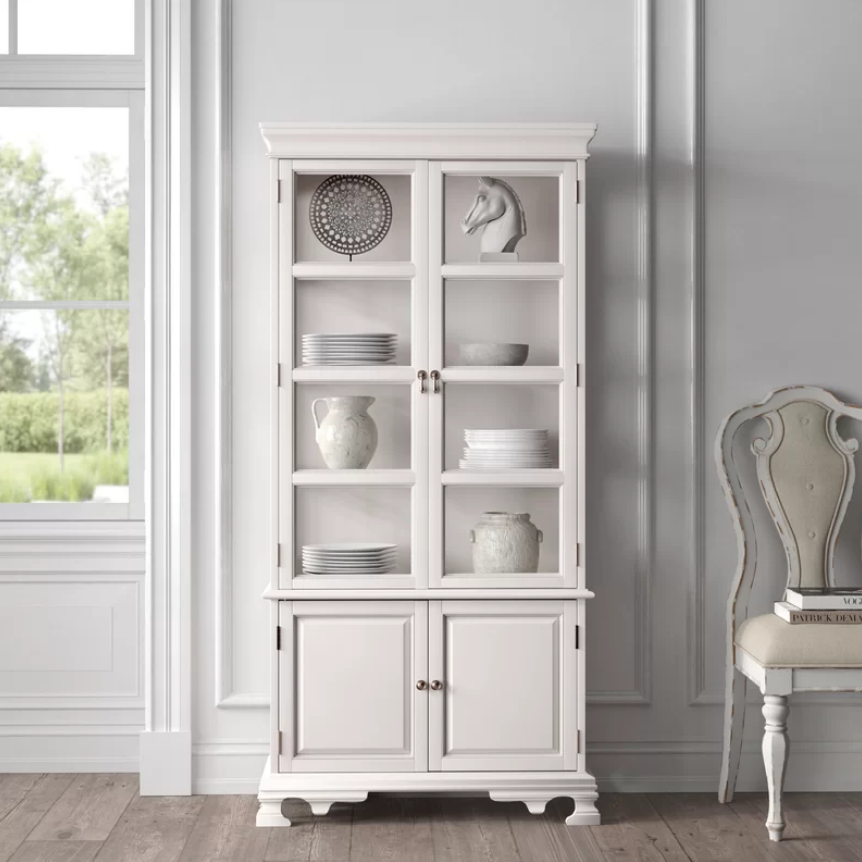 Got a kitchen mess? My kitchen is always a disaster, but this Valerie China cabinet is your chance to start organizing in style. Smart and stylish, this traditional kitchen cabinet storage features a modern farmhouse-style design that'll complement any interior décor.
The unit also boasts beautifully cut tempered glass doors that allow for easy and elegant access to your stored items. My glassware would look fabulous in this stroke of genius. To top it off, this Valeria China Cabinet has lighting included so your items are always in the spotlight.
Specs:
Price Range: $1,450 – $1,850
Glass Type: Tempered Glass
Mounting Type: Floor Mount
Pros
It has a modern farmhouse-style design
Adjustable shelves
Backed by a one-year warranty
Interior lighting included
Lightweight
Spacious storage
Cons
Some people complained that it looks white but is actually grey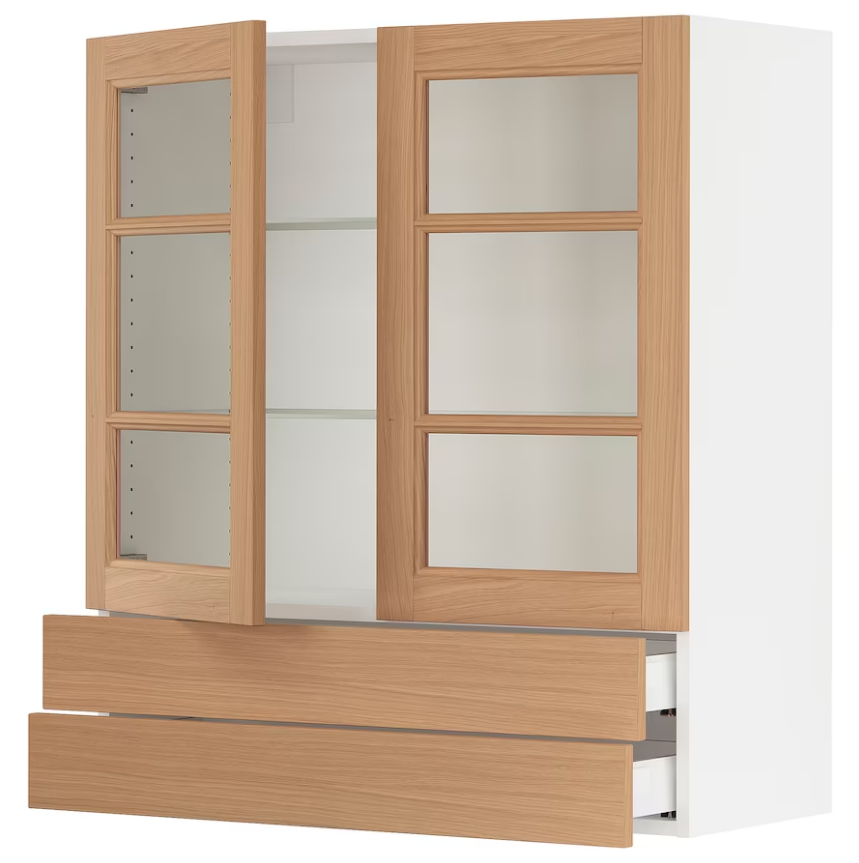 The Sektion Maximera Glass door cabinet boasts a high-quality feel and look, thanks to its beautiful, robust construction. The cabinet is paired with Vedhamn fronts in a shade that highlights the natural charm of wood.
This is your chance to bring the feeling of quality, tradition, and handmade craftsmanship to your kitchen. I'm obsessed with it!
Specs:
Price Range: $630 – $700
Glass Type: Tempered Glass
Mounting Type: Wall Mount
Pros
Robust construction
Very durable
Environmental friendly
Sturdy frame construction
Easy to clean
Shelves are adjustable
Cons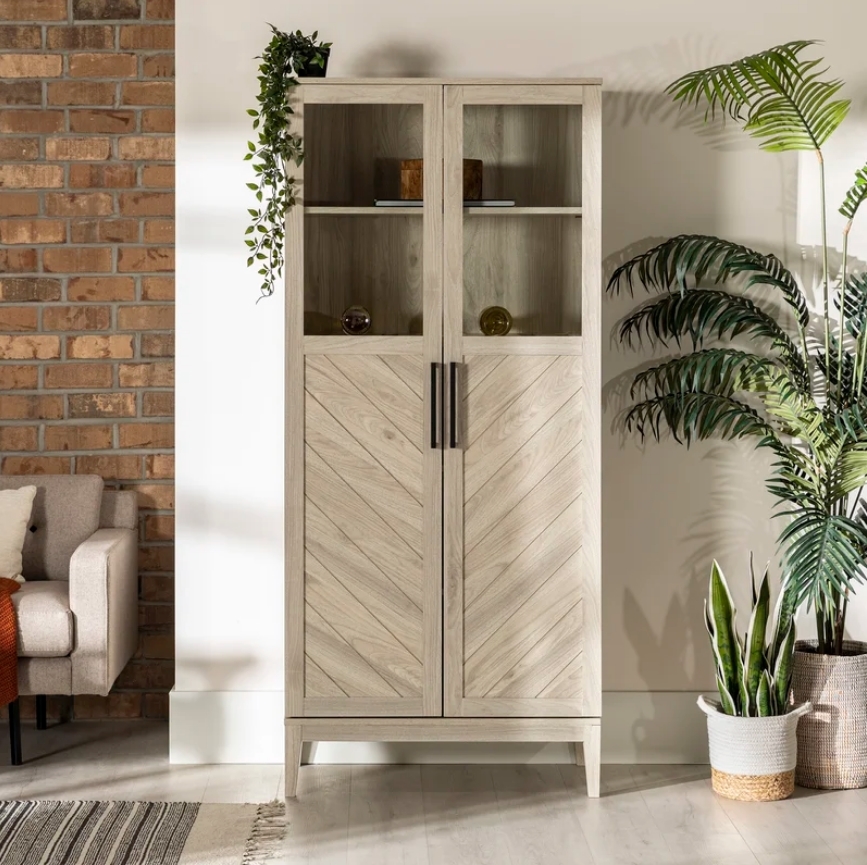 Are you scouring the internet looking for a dark walnut finish that can create a sense of understated luxury? I mean, who isn't? Look no further than this Isabelle Chevron China Cabinet. The unit is constructed of a combination of engineered wood and glass.
Isabelle Chevron also boasts a strong build for added support and stability.
Specs:
Price Range: $570 – $865
Glass Type: Tempered Glass
Mounting Type: Floor Mount
Pros
Backed by a 90-day warranty
Natural wood grain color variation
It has an adjustable center support foot
Shelves are adjustable
Tip-over restraint included for added safety
Cons
Has a weight capacity of 75 lb.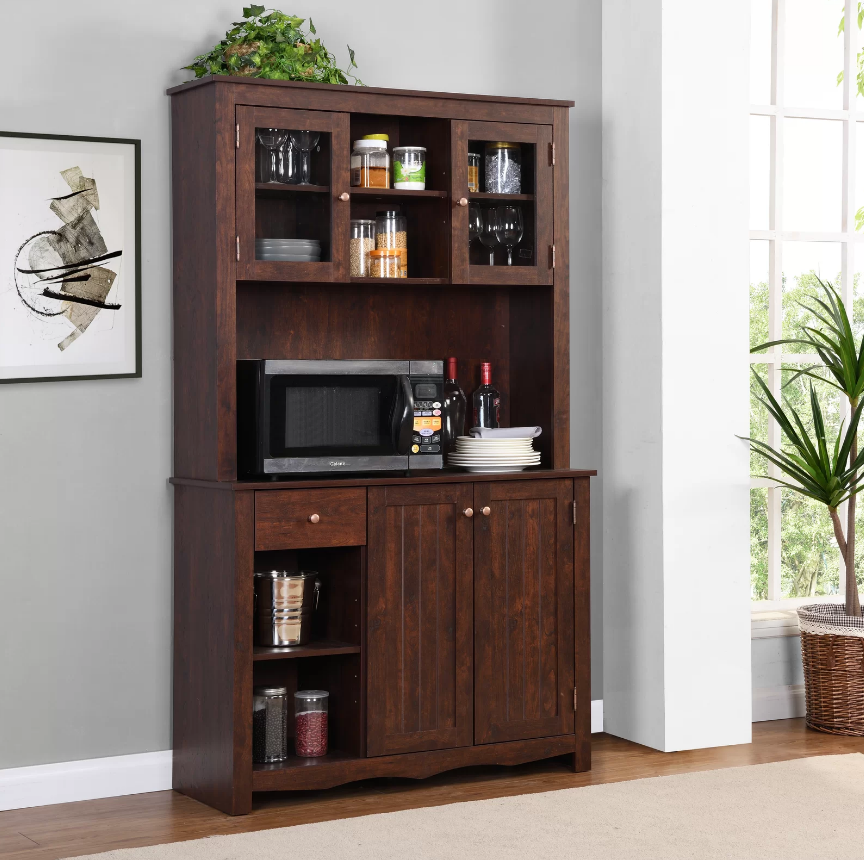 How gorgeous is this?? Backed by a one-year manufacturer's warranty, this Dowdle Dining Hutch is a handsome new take on traditional looks. The unit is updated with four open shelves, a drawer, two cabinets with glass doors, and a larger concealed cabinet.
I also love the counter area included. The extra space will be useful if you live in a small apartment and are short on kitchen real estate.
Specs:
Price Range: $630 – $799
Glass Type: Tempered Glass
Mounting Type: Floor Mount
Pros
Backed by a four mounts warranty
Tip-over restraint device included
Extremely spacious
Has an added counter area
One-year warranty on parts replacement
Shelves are adjustable
Cons
Hard and time-consuming to assemble
FAQs
Question: Can You Buy Just Glass Cabinet Doors?
Answer: Yes, you can. Get your cabinet's accurate measurements, pick a glass door style, and reach out to a local professional cabinet refacer.
Question: What Are Glass Cabinet Doors Called?
Answer: It really depends on the kind of glass used to construct the glass cabinet door. For example, if it's made of frosted glass, you can call it a frosted glass cabinet door. If it's made of stained glass, you can call it a stained-glass cabinet door.
Question: Can I change My Cabinet Doors to Glass?
Answer: Absolutely. You can update and refresh your cabinets whenever you like, simply by replacing the doors. Just make sure they're the right size and hinge type.
Best Glass Door Cabinet Ideas: Bottom Line
You've built your collection of utensils, coins, antiques, and other items. Now put an equal amount of effort into correctly displaying them in one of these best glass door cabinet ideas. If you want something modern and stunning, go with the Black Framed Glass Cabinet idea. And for even more home design tips, head over to our site!