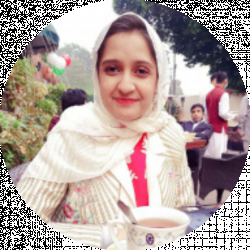 Latest posts by Zunaira Ghazal
(see all)
As an interior designer, I've seen many, many types of customized and mass-manufactured furniture items. Out of all of them, there's just this certain kind of universality that you can find in black cabinets!
They're timeless…
They're classic…
And you can rest assured that they're never going to go out of style!
That said, black buffet cabinets are one of the most stylish statement furniture pieces that you could opt for! They're refined, glamorous, and have this really ephemeral vibe, given that they're crafted successfully. Moreover, I personally believe that with so many homes having plain white walls, a black cabinet can provide a striking hook for the eye while designing interiors. So, here's a list featuring some amazing designs:
Bottom Line Up Front
Black cabinets are an absolute classic, but it's challenging to find designs that could stand the tests of time. This list is all about exploring some of the best ideas in this genre so that all of you can choose your pick from the finest of the lot.
Queen Anne Style is a personal favorite of mine as its vintage vibe speaks to my soul! Just imagine having this black cabinet as the statement piece in your home – there's so much opportunity to embellish and revamp here! From featuring gorgeous white roses on its top surface to adding more personality with old-school candelabras, I recommend that you think out of the box while decorating it!
Top Picks
Here are some of my top picks:
Sculpted
This one immediately made the list because I've honestly never seen anything like this before! The hammered brass base provides an instant visual hook and the distressed black finish of the cabinet itself is a head-turner – you certainly won't be satisfied with a single glance here.
I believe it's a rather sculptural piece, don't you think? One might find something like this in an art gallery. I'd definitely snap it up if I'd want to add that extra oomph to my grand, neo-classical style mansion home!
Glass Front Display Cabinet
This cabinet is another one of my top picks because its arched-window aesthetic is absolutely timeless. No matter how much time passes, it's never going to go out of style. Plus, it's got this sense of transparency that highlights whatever's inside quite brilliantly! Plus, it's kind of down-to-earth compared to my other top pick, so you've got this contrast of visuals right here that you can pick from!
Selection Criteria
Here's what I was looking for while picking ideas for this list:

Glamour
No great black piece of furniture is ever complete without that added sheen of glamour, so that was certainly my first go-to while picking out items for this list. Believe me – you need a keen eye for these things to be able to see which black cabinet makes the cut for this criteria or not and I'm here to lend you mine so that you can get the best!
Design Delivery
Here's another thing that was really important to me while selecting products for this list! You see, black is a really hard color to mold into a visually appealing design. So one of my criteria was to pick out items that have a strong design delivery – they need to make an instant impact! You need to look and them and immediately think: WOW! This basically means I looked around for cabinets that have something truly interesting about them.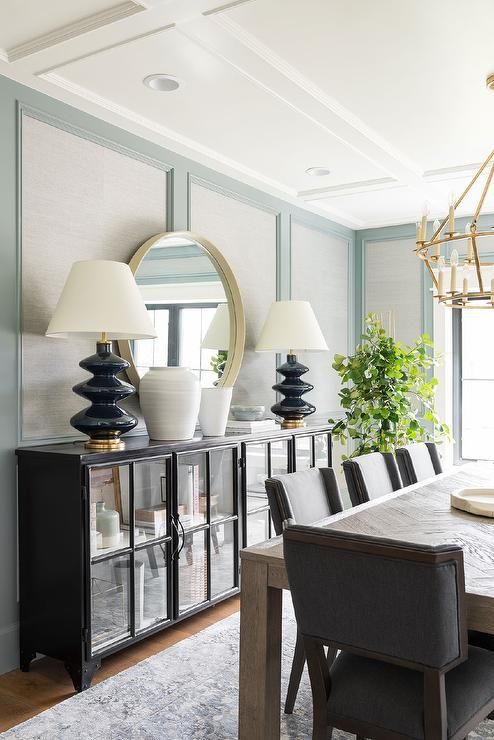 This black cabinet may be large in size, but it doesn't look visually heavy at all. That's because it's got a front facade made up of glass-paneled doors, which immediately lightens up its entire countenance.  
I love how the panel partitions are deliberately slim. They ensure that one can see and appreciate what has been featured inside the cabinets at a single glance – no squinting or confusion at all! Other than that, I'd suggest that you use bulky black table lamps to embellish the top surface.
It will help enhance the personality of the whole set-up! Moreover, if you truly want to take things to the next level, then decorating with only white items inside will definitely help with that!
Sleek, simple, and smart, I simply adore the modern design of this black cabinet. Its ebony body makes an instant impact and I would suggest that you set it up against a backdrop that is either stark white or a silvery shade of grey in order to create adequate visual contrast.
Other than that, I really appreciate how the bracket legs of this buffet cabinet go really well with its voluminous body. They're incongruently slender, but give surprising proportion to the overall design!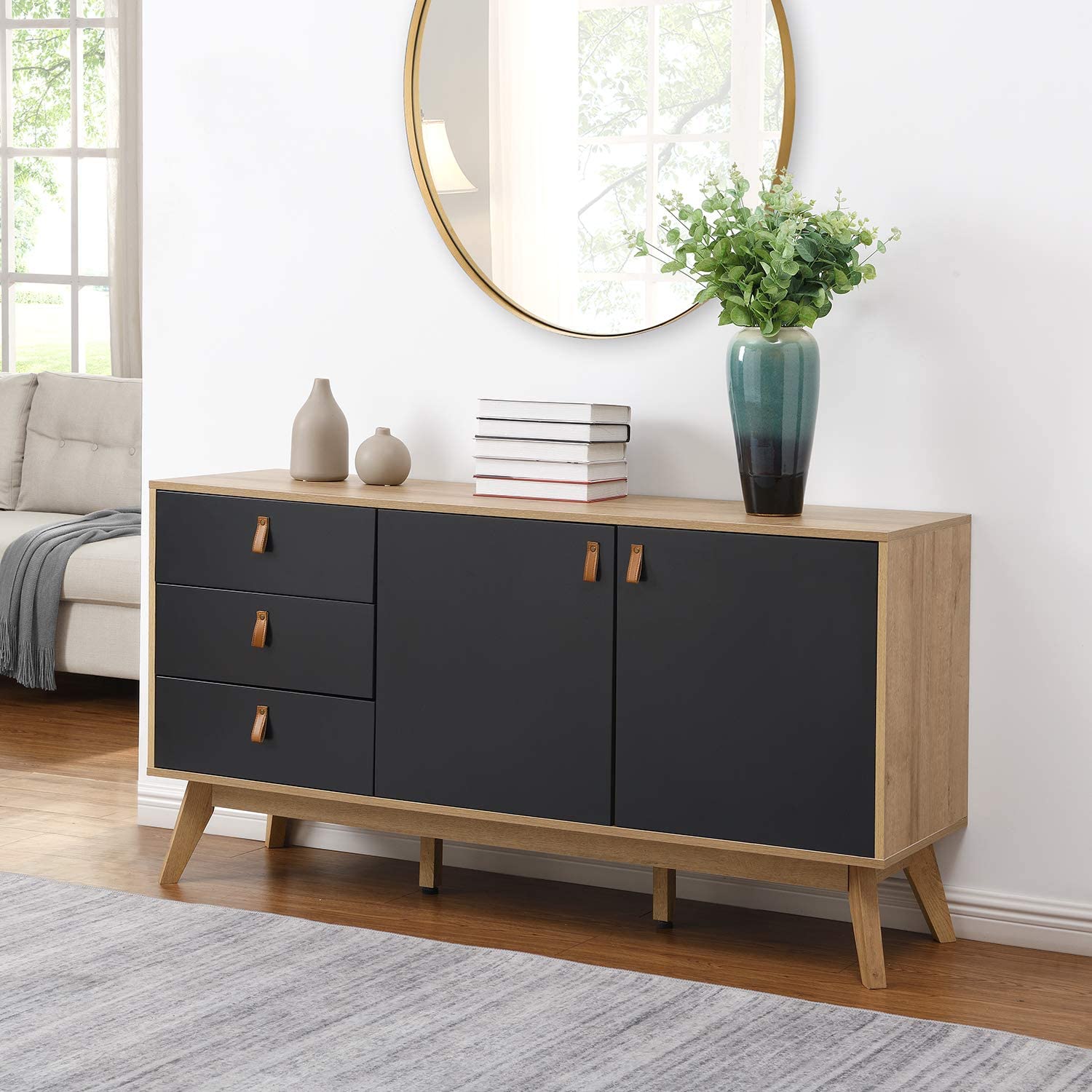 This Scandinavian-style black cabinet was an instant hit with me – and not just because I'm a sucker for Nordic aesthetics! The warm contrast of wood and black finish in this one is one of its best qualities. Not only does it enhance the overall visual appeal of the entire thing, but creates quite a noticeable yet appealing visual dissonance.
But beyond all the obvious, what truly sealed the deal for me was the leather accent handles! They're such an interesting and unique addition! You don't see something like that in conventional buffet cabinets, so if you've been hankering for something distinctly contemporary, I'd say go for this one instantly!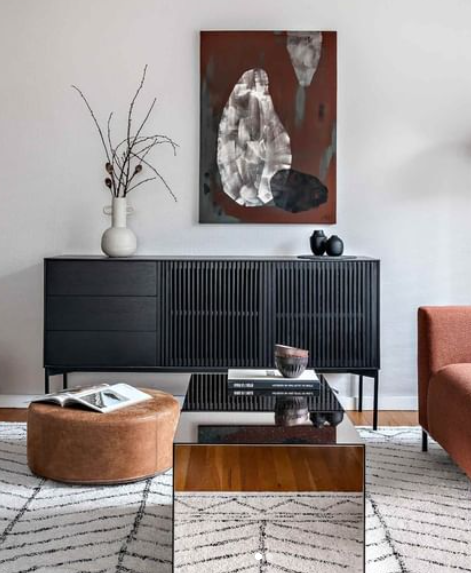 I was in the mood for something inherently original, and this black buffet cabinet really set the standards for me. You see, as a designer, I'm really into fetters, and this one instantly caught my eye because of them. But then, the left-hand side is plain, which really complements the texture of the fetters installed at the right. The whole setup is a study in contrasts and I'm totally here for it!
Other than that, the entire staging adds another layer of glamour to the setting. From the tiny duo of black vases on the right to the statement white-hued vase on the left and the brown artwork at the top, everything works together like magic!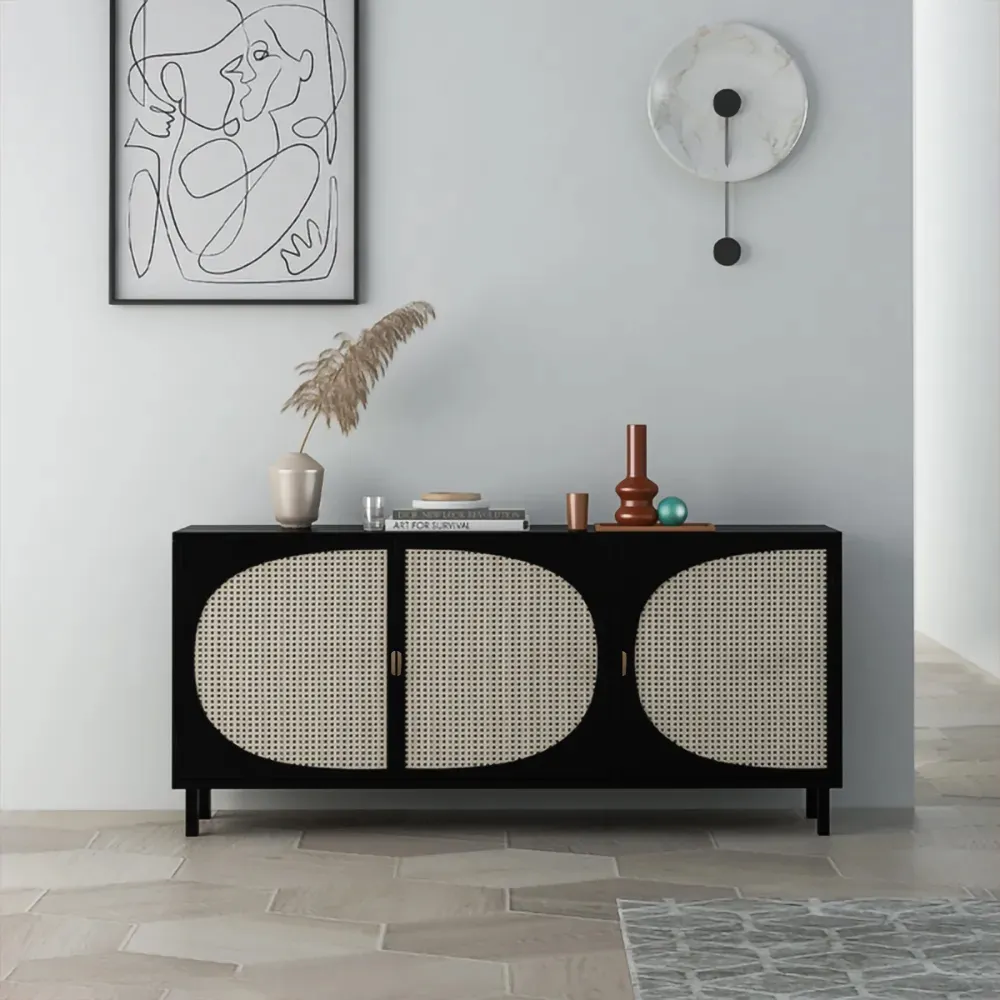 Emulating the nouveau style in all its contemporary glory, I found this black buffet cabinet to be an instant hit! It's got quite an interesting design, what with the rattan finishing at the front. Once again, it's a game of contrasts, where the black finish of the rest of the cabinet works strikingly with the straw-colored hue of the rattan. I also love how the black portion is sleek and smooth while the rattan part is all unabashed texture!
I'd recommend you to pair this buffet with farmhouse-chic decor – think: faux straw grass, dry arrangements, and shabby-chic accessories!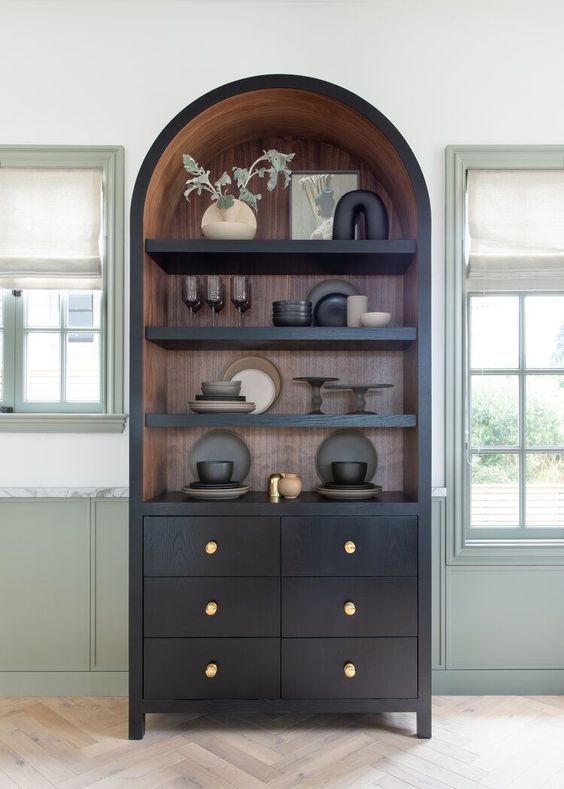 This artisanal style black cabinet is as gorgeous as it's unique. While most of the other designs we've seen lean on the horizontal side, this one is distinctly vertical. I love how it gives off this warm Mediterranean vibe with its barrel-arched top and dark wood accents. All of this adds an extra layer of decadence to it. Then there are the gold brass knobs on all the drawers at the bottom, which stand out beautifully against the ebony finish. 
To cap things off, I would suggest that you feature similarly dark accessories on the open shelves at the top. The lightest I'd recommend is the darkest shade of beige that you can find.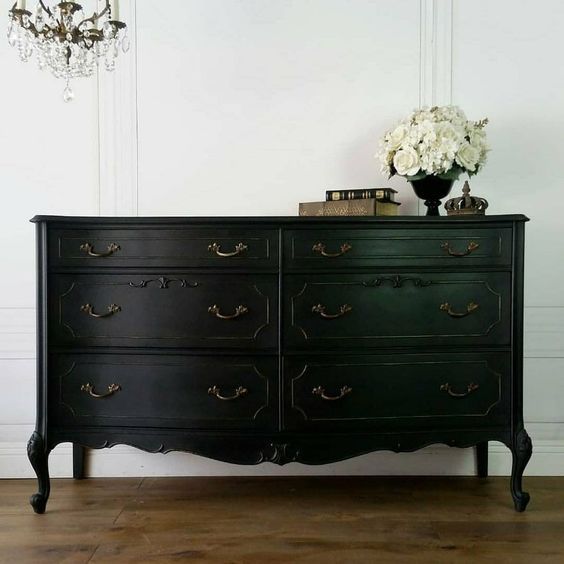 If your tastes lean towards the vintage side, then I'd recommend you take a look at this black buffet cabinet for some inspiration. I love how it's rocking the Queen Anne Style while simultaneously giving off a nice, contemporary vibe. 
Pro tip: While this cabinet's got all the frills-and-thrills of the 1800s,  you can certainly modernize it by arranging for a contemporary backdrop. Go for sleek wall beading if you must keep up with the theme, but anything more would be too much. As for decor, keep things small and minimalist – a bouquet of small white roses on one side and a mini-crystal Tiffany lamp on the other would be just fine.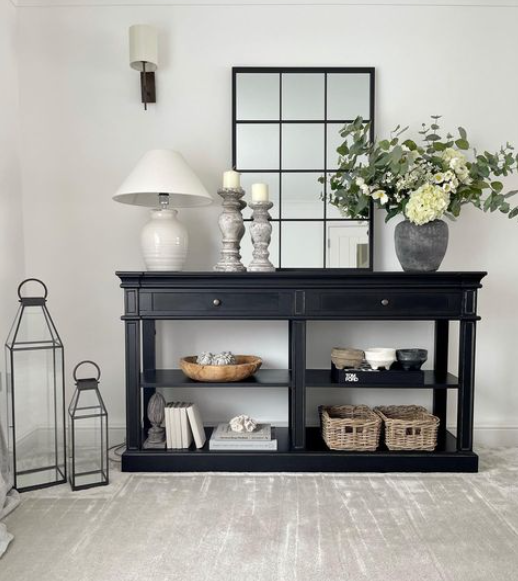 I feel like we've all seen one or another version of this particular cabinet back in the 90s – but who's to say it can't make a comeback right now! With the right kind of finishing and refurbishment, you can certainly dream up a better, more stylish version of it.
As for this one, I really appreciate how the black finish instantly breathes new life into its design. It also highlights all the beautifully carved details of the legs and top frame. Moreover, the open shelves in the middle provide an excellent opportunity to play with fun decor items.
I'd suggest going for lots of textures to contrast the smoothness of the back finish, so something like woven baskets, distressed wooden bowls, or clay pottery would be the best choice!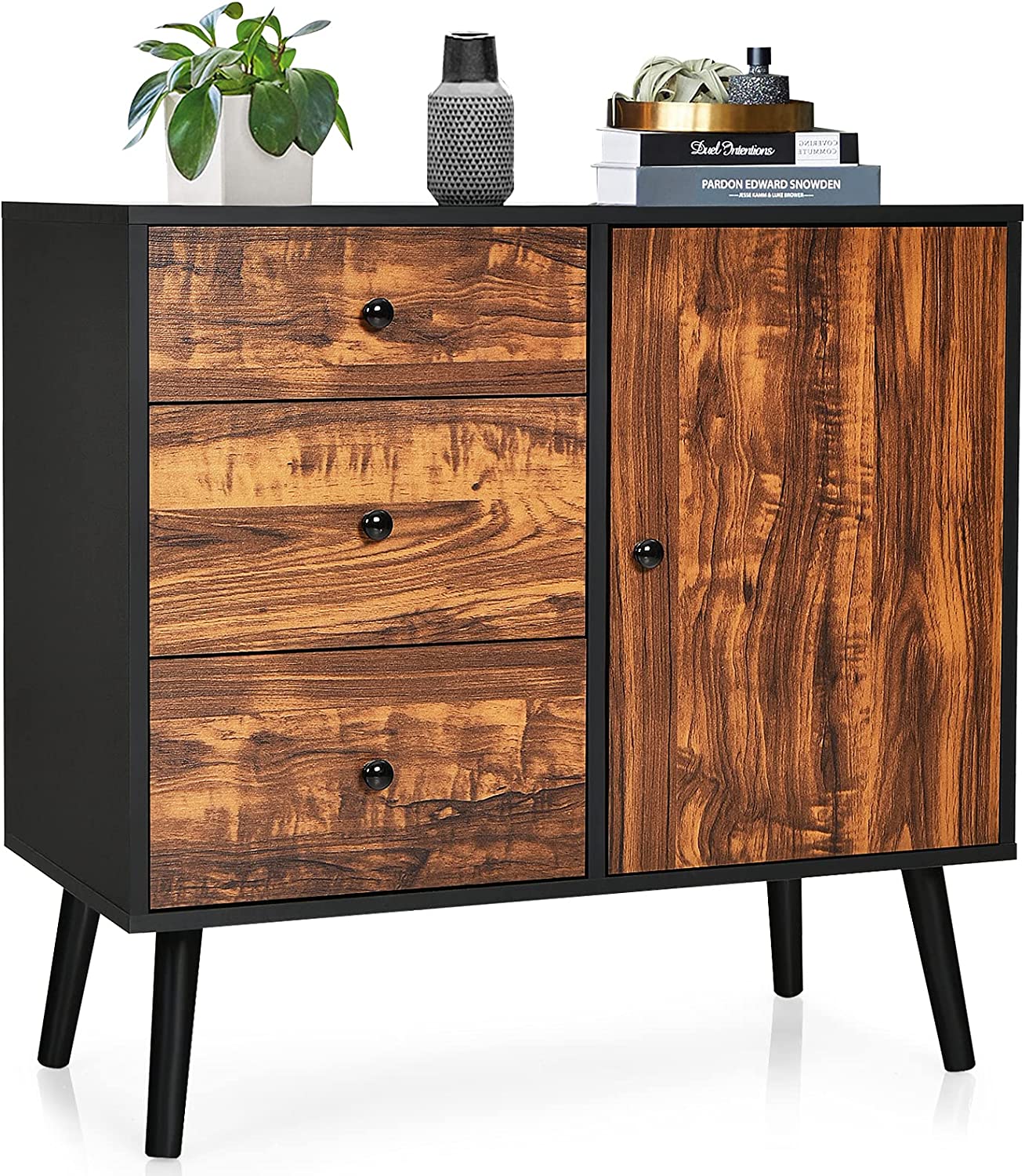 I'd say this is a photorealistic negative of a wood-and-black buffet cabinet. It caught my eye because of its stunning distressed wood facade and how the black outline of the sides and base brings out the best in it. It's got that raw, industrial-chic thing going for it, so if you've been searching for a design that would add a lot of personality to your spaces, then this is definitely it.
Here's a pro tip for decorating it: put at least one lush indoor vine planter on its top. You'll love how the green of the leaves would contrast and work with the distressed wood. It'd be like having your own man-made nature manifesto inside.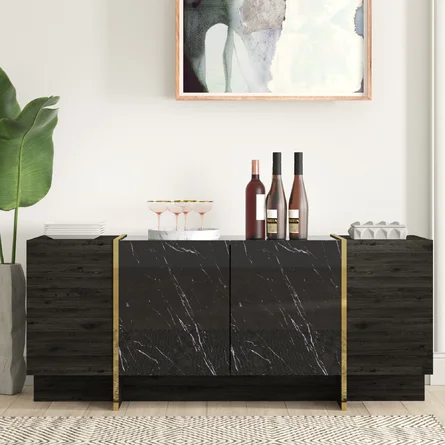 The upscale, high-end vibe of this black buffet cabinet is right up my alley! First off, kudos to the designer for using the black marble texture – it hits of all the "glamour" and "swanky" buttons on point.
Then there are the brass stripes on the sides, which casually segue the material distinction between the marble middle and wood-veneered sides. I love how there's an overall visual cohesion in the whole aesthetic – nothing feels offbeat or incongruent at all, which is a huge feat when you're working with 3 materials on a single furniture piece.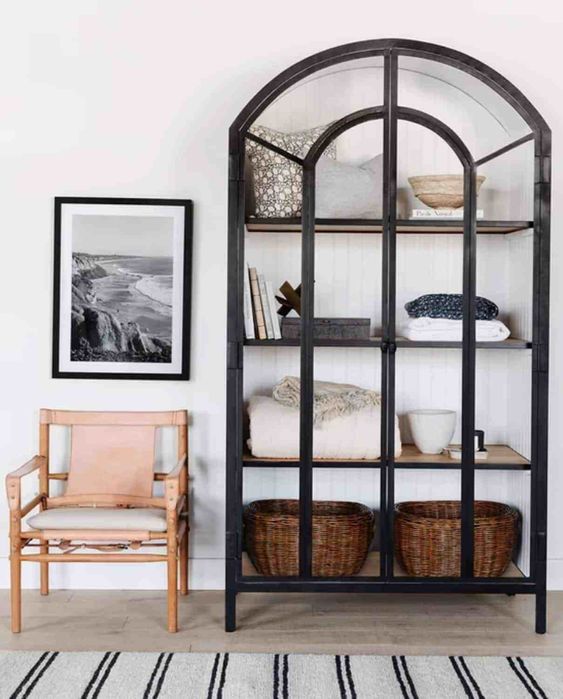 If you're as huge a fan of classic arched windows as I am, then you'll also fall head-over-heels in love with this glass front cabinet instantly! 
First off, it's got this sense of immediate transparency that's really lacking in most cabinet designs. Secondly, it has a white paneled backdrop that really lets the black of the front frame shine in all its glory – contrast for the win!
Finally, I love that anything (literally anything!) that you feature in this cabinet is going to look absolutely stunning. Pair of old copper trays? Win. A bunch of throw pillows? Comfy. Wicket baskets? Bring on the texture!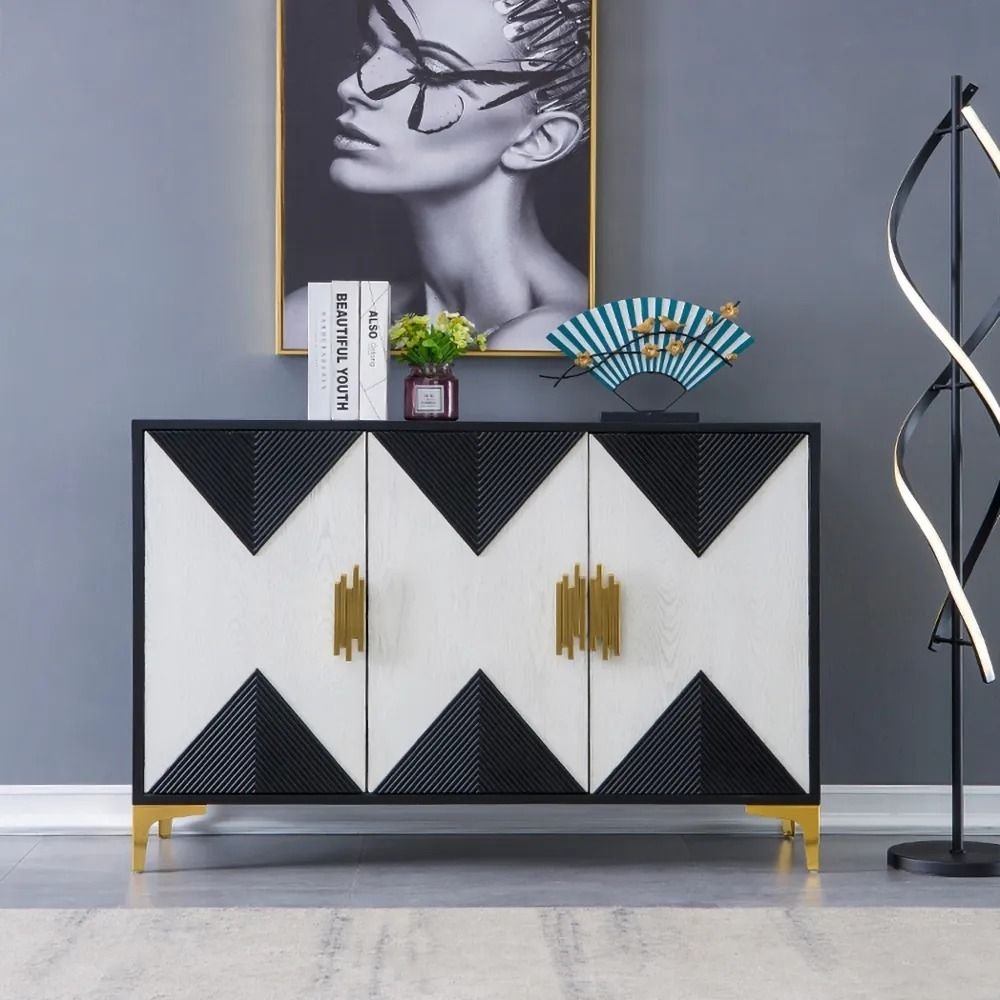 We all agree that black-tie affairs are the finest and if you translate that theme into cabinet form, you'll have this wonderful black-and-white concoction in all its contemporary glory!
It's got this lovely, sleek, and modern countenance that is embellished with figure-joint patterns on the black half. The white zig-zagging design in the middle has a light mother-of-pearl-esque finish, which is glamorously complemented by the fluted brass door knobs and bracket feet! I think that this entire cabinet is a study in pizzaz and totally owns its glitz!
As long as we're talking about glitz and glam, we can't overlook this wonderful addition to this list. At a glance, this black buffet cabinet is the physical personification of the terms "simple and sophisticated." But if you look closely, there are all these little details that give it an extra edge.
It might be the casual symmetry of the black-chrome mirror doors, the handle-less aesthetic, or even the masterful articulation of the high-gloss jet-back boundary!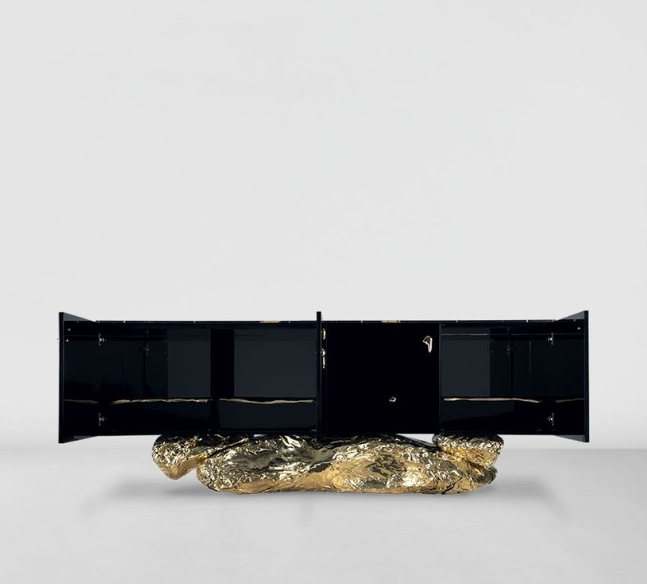 The artist in me was instantly fascinated by this black cabinet. It's got a rather interesting and unconventional design, where the hammered brass base holds up a distressed black body. It's almost like a sculpture than a piece of furniture, but of course, it's got all the visual and functional viability that it needs.
If I were styling it, I'd definitely put this cabinet against a plain white wall so that it instantly stands out, then top it off with a minimalist black-and-gold artwork along with a vintage candelabra or a brass bowl on its top.
Here's another artistic addition to this list of black cabinets – it's simple-yet-unique, classic-yet-contemporary, and best of all: you've probably never seen anything like this before. I love how the horizontal span of the cabinet has been utilized here.
The outward protruding of the cabinet doors results in beautiful 3D visuals. I also appreciate how the bulkiness of the upper body is complemented by the slender stiletto legs that act as the base.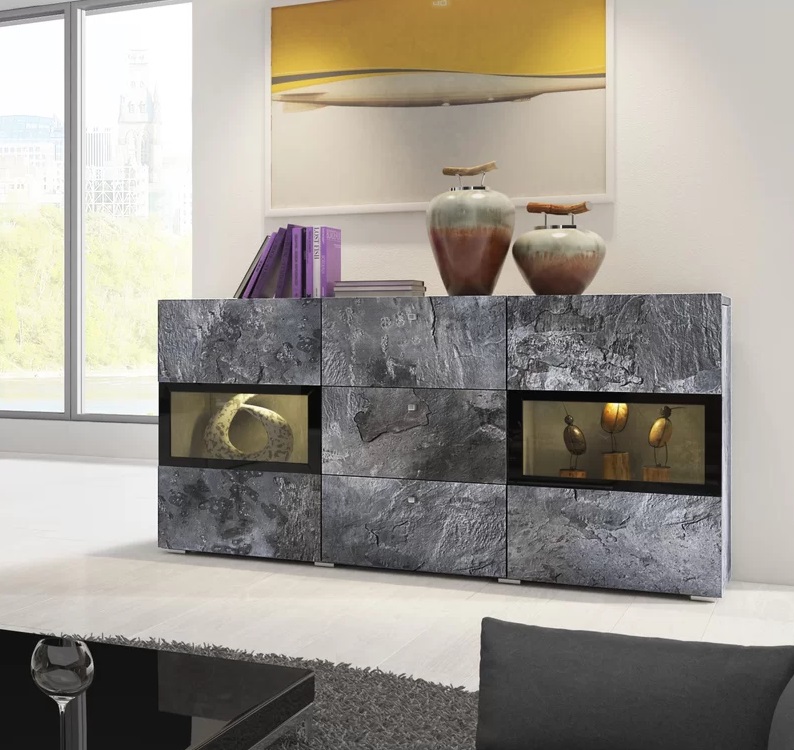 Glamour is the name of the game, especially if you're looking for something sleek and high-gloss! As a designer, I try not to put too many glossy furniture pieces in a single space, lest it starts feeling stark and austere. But even I can't resist the pull of this beauty!
The sleek finish really pulls the design of this black buffet together and its darker-than-dark black finish plays in such striking contrast with the two white cabinets in the middle! My only advice: don't put anything black in the white shelves! Ever!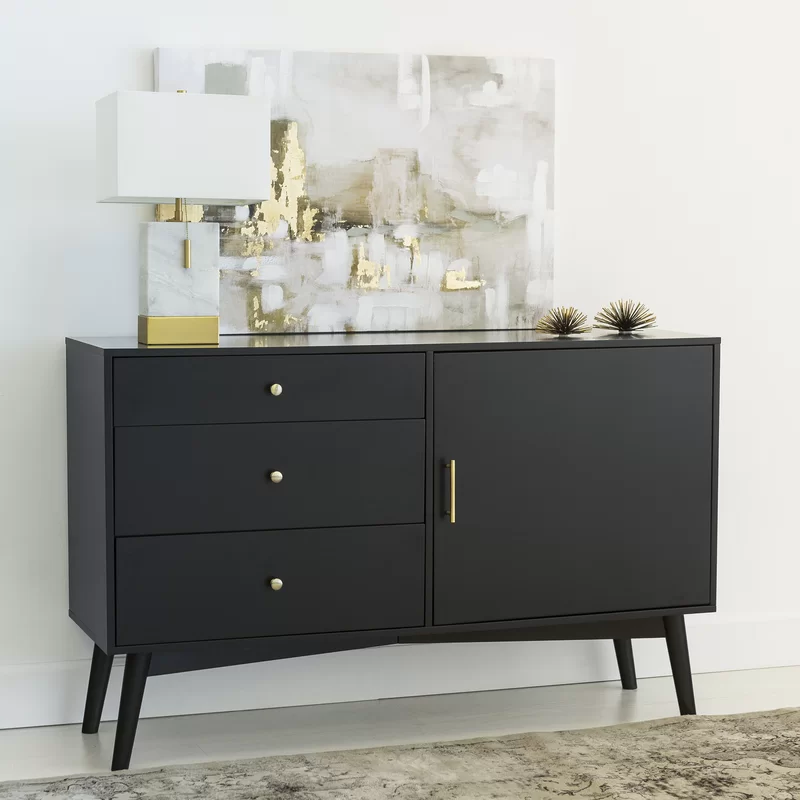 If I had to define this black cabinet in one word, that would be: retro.
It's got this fun, funky undertone that is overscored by this contemporary vibe. I absolutely love the matte finish and how it works wonderfully with the brass knobs – so high-end and upscale on such an otherwise down-to-earth style! I'd put this one in my hallway or entrance foyer to give it a grand vibe. Pro tip: don't forget to embellish with some brass decor!
FAQs
Question: What height should a buffet cabinet be?
Answer: Ideally, the buffet cabinet needs to be the same height as the dining table, but they can be slightly taller. They usually range between 30" to 36" in height.
Question: What's a buffet cabinet used for?
Answer: Buffet cabinets are used to store and organize formal items such as cutlery and flatware. However, this requirement is usually for the ones that come with dining table sets. The buffet cabinets that are freestanding can be used to feature decor items – especially the ones with transparent glass facades. The ones with closed cabinets can hold personal items of the owner's preference.
Question: Are black cabinets hard to clean?
Answer: Unfortunately, the one setback that comes with black cabinets is that they're pretty hard to clean. You can immediately see the dust that accumulates on the black surface and you'll really need to keep pace with your cleaning efforts if you really want to keep it clean.
Conclusion
So…do you like this list? Because there are some items on here that I would get in an instant! I'm already a sucker for cool black furniture so this was so much fun for me to compile!
As you can see, black buffet cabinets are in a league of their own. Plus, there's so much design versatility here that you can explore. Once again, my absolute favorite one was the Queen Anne Style because of its nod to the past while owning the contemporary like a pro! If I could get one of these even at a garage sale, I'd revamp with a DIY paint-it-black venture!