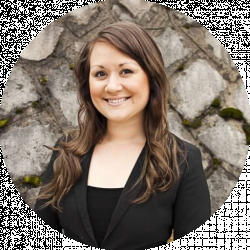 Latest posts by Lacey Jackson
(see all)
Bending over to get into your cabinets can be a pain, literally and figuratively. But wall-mounted cabinet ideas make it easy to install storage at the exact height you need so that it is out of the way. We have made wall-mounted cabinets from scratch, revolutionizing how well-organized everything is.
Bottomline Upfront
The best wall-mounted cabinet ideas are slightly different depending on the room in which you're installing.
For kitchens, invest in slide-out drawers or lazy Susan cabinets for easy visibility.
For bathrooms, I love cabinets that have a mirror front because it hides your storage and makes the most out of a small space.
For offices, consider converting a floating, wall-mounted desk into a set of pull-out drawers underneath and cabinets up top.
For bedrooms, hallways, or storage rooms, long cabinets with a mixture of open sections and sections with doors can be mounted flush with the ceiling to free up space.
For the laundry room, invest in or make heavy-duty wooden cabinets that are wide and deep, perfect for storing massive amounts of cleaning supplies.
Selection Criteria

For each item listed, I checked whether it would suit the type of room (more on what "suits" a room in the next section), whether it was durable, and whether it was easy to install with all the appropriate hardware (if I have to make a second trip to the hardware store while the male employees give me a pitying smile I just won't install the cabinets; their boxes will become part of the room we never enter).
Wall Mounted Cabinet Basics
Let me start with some basics:
Wall-mounted cabinets usually are 12 inches deep versus 24 inches for base cabinets. If you look around your kitchen, the base cabinets are the ones on the ground, and these can be much deeper because they're more stable. The wall-mounted cabinets above are usually half the depth so that they don't stick out too far. There's a reason they often come out halfway over a kitchen counter.
That said, we have done a lot of professional home remodeling, and when people rip out the cabinets from one room, they tend to recycle them by putting them in another room. You can mount a regular 24-inch base cabinet to the wall in a kitchen or anywhere else; it's just not standard.
Garage cabinets are often between 18 and 24 inches deep because they are designed to hold more weight and stick out a bit more than in a kitchen. If you purchase prefabricated cabinets and you want something deeper than 12 inches, you might have to search for items marketed as garage cabinets.
If you are purchasing cabinets, they don't have to be marketed as wall-mounted cabinets for you to use them as such. The only difference is the hardware you need to buy, and that's based on circumstances. But, you do want to be cognizant of the space in your designated area and how intrusive you want your wall-mounted cabinets to be. If you are mounting cabinets above a bed, having them 1 ft above where you sleep might mean you get a cabinet that's only 6 inches deep, whereas having them flush with the point where the ceiling meets the wall doesn't carry as much risk of accidental head-banging.
Note: You want to avoid overloading cabinets with too much weight if they are incredibly deep. This is something to keep in mind if you are using wall-mounted cabinet ideas for storage.
Tip: If you want wall-mounted cabinets that can support a lot of extra weight, consider building a much stronger wooden frame into which the wall-mounted cabinets can rest. We have one in the workshop that is attached to the ceiling, comes down two feet, and has a flat platform, all of which is made from 4 x 4 Oak.
This is a frame on which some of our cabinets have been installed, so the cabinets sit on that flat platform and have the support of the entire frame rather than just the support of the hardware drilled into the wall.
Handmade Wall Mounted Cabinet Ideas
You can always go with custom, handmade wall-mounted cabinets if you have the tools and expertise. You can use the wall-mounted cabinet basics above to get a general idea of what size and shape are best for your room. From there, it's as simple as picking the wood you want, cutting it to the correct sizes, standing or painting it, and putting it all together.
If you know somebody who likes to do woodworking projects, see if they might be willing to lend a hand. Chances are, they will.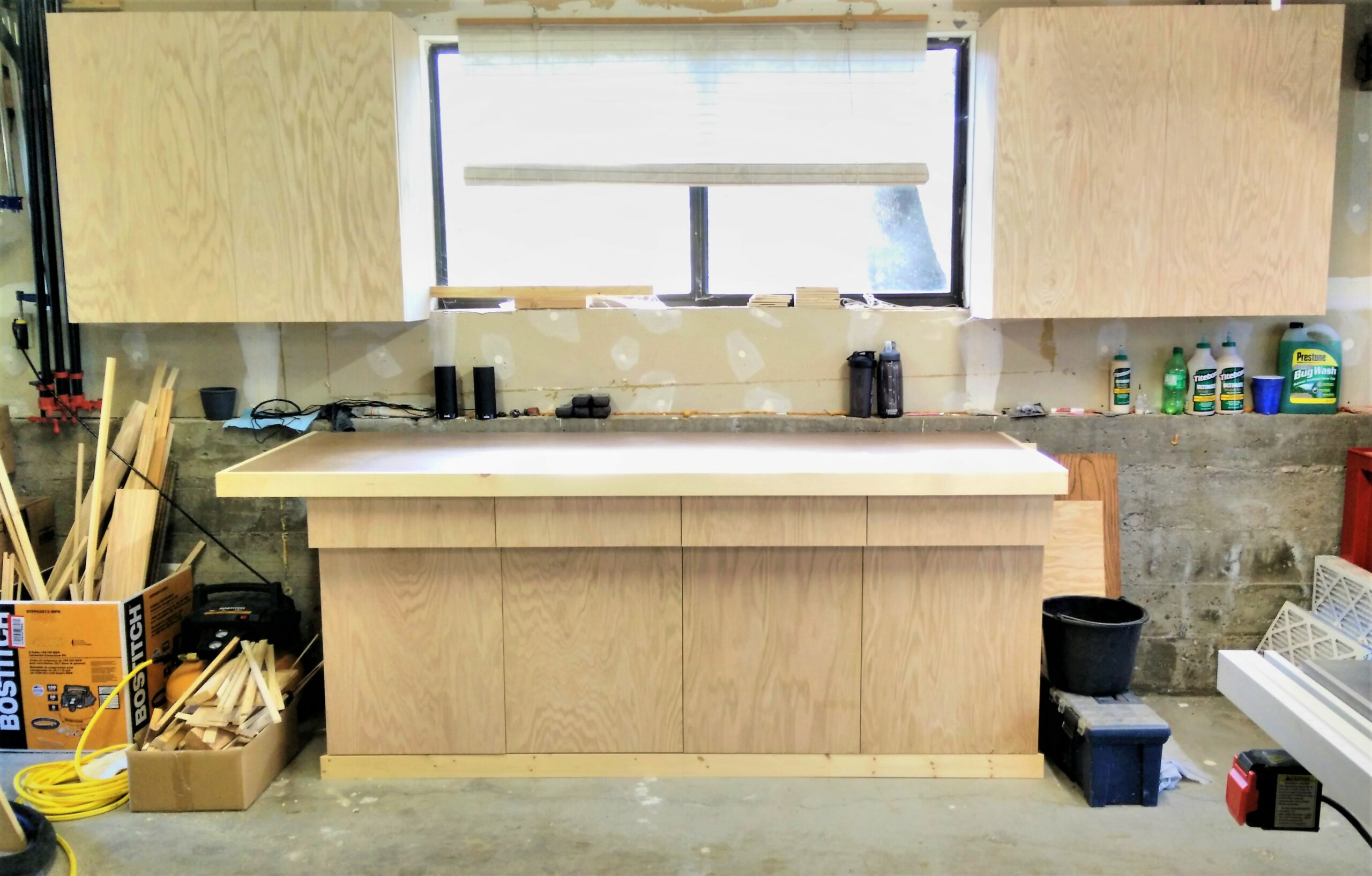 In our workshop, my family decided to make wall-mounted cabinets by hand. The top set looks just like our free-standing bathroom cabinets, but they aren't painted.
At face value, they might look plain, but let me assure you, they are anything but.
The bottom lip on the top set of cabinets extends an inch below the base of the cabinets so you can reach your hand under there and pull it open. This was done as a backup to opening and closing the cabinets with the hardware… and since that hardware has yet to leave its wrapper, it has become the de facto standard for our cabinets.
The bottom cabinets mask handmade pull-out drawers strong enough to hold the table-mounted woodworking tools (think 50-250 pounds). Now, these aren't wall-mounted, but they demonstrate the juxtaposition between base cabinet depth and wall-mounted cabinet depth. They are actually strong and large enough to hold two adults. And yes, we pulled a Joey from Friends to test it.
Wall Mounted Cabinet Ideas
Wall-mounted cabinet ideas can fit any room: bathrooms, kitchens, storage halls, and workspaces. How you design them is really up to you, but I offer the following suggestions based on years of custom woodworking and home remodeling:
For the Kitchen…
Everything should be slide-out drawers or lazy Susan cabinets. They are a pain to make when you customize them to your space but absolutely worth the time and money. You can avoid some of the pain by ordering wall-mounted cabinets with sliding drawers.
Either way, this helps you maximize space in your kitchen so you can see everything. Having wall-mounted cabinets whose doors just swing open means you never know what is behind that first row of glasses or pantry items. You end up pulling everything out just to confirm you are, in fact, out of Worcestershire sauce.
If you are short like I am, this process requires a full-time stool, somehow always in the way.
Quicklock RTA
These Quicklock RTA cabinets are 36 inches tall and 100% hardwood. So, they are perfect for your kitchen. Don't settle for prefab if you plan to store lots of heavy dishes. They are perfect for those of you who don't want to spend a lot of time or tools trying to assemble the hardware.
It's Made in America with a simple, 3 step assembly where you literally connect to the pieces and then install it against the wall. It comes with the wood glue and hardware you need.
They have a wide range of nearly a dozen combinations for height, width, and depth, so you can play around with the style you like most in your home. They are Amish crafted, made from Birch, with four colors available. They can hold up to 60 pounds each.
Be advised that if you pick the raw maple, it doesn't have any stain on it, so it's just unfinished. As is the case with unfinished wood, you should sand it yourself with a fine 180 grit sandpaper and an orbital sander before installing it.
For the Bathroom…
The bathroom needs wall-mounted cabinets that are more petite, perfect for spare towels and toiletries. My mother has open wall-mounted cabinets in her guest bathroom without any doors or drawers; just simple cabinet frames painted to match the decor, full of perfectly arranged hand towels (which we aren't supposed to use), candles (which are for decoration only), small family photos (who wants to look at their fatter childhood self while peeing?), and a wicker basket of spare toiletries (this, we can use).
Mirror Cabinet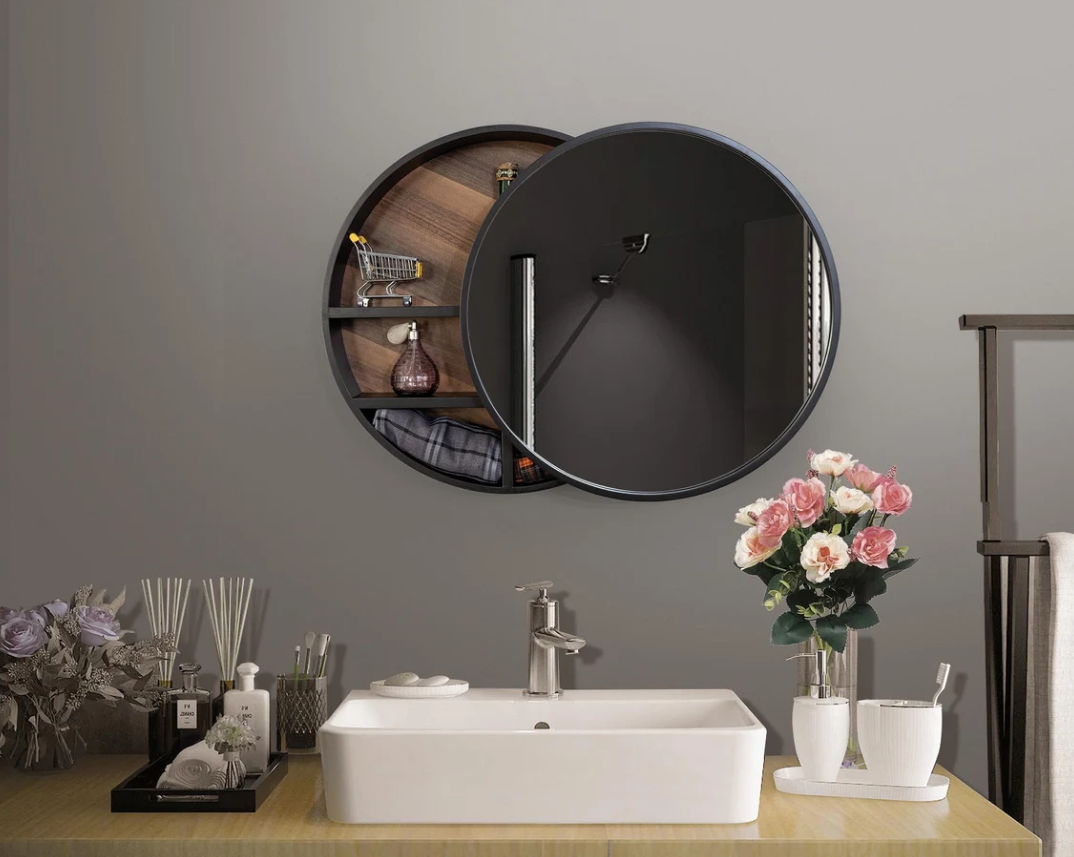 This Mirror Cabinet is a great find because it hides your bathroom storage. This is a chic bathroom with a sliding mirror that opens to one side.
It has a hanging bracket design, so it's much easier to install compared to larger cabinets. Obviously, as far as wall-mounted cabinet ideas go, I suggest you incorporate this as one of many cabinets, not your only cabinet in the bathroom.
It adds a chic new take on bathroom mirrors, but it's really meant to store small items like toothbrushes, toothpaste, medicine, hairbrush, and deodorant, and that's about all. It's only 6 inches deep. Due to the circular size, even though it's technically 24 in tall, that's only for the middle of the circle, and of course, it tapers as you move toward the end, limiting your story.
Wall Mount Adjustable Cabinet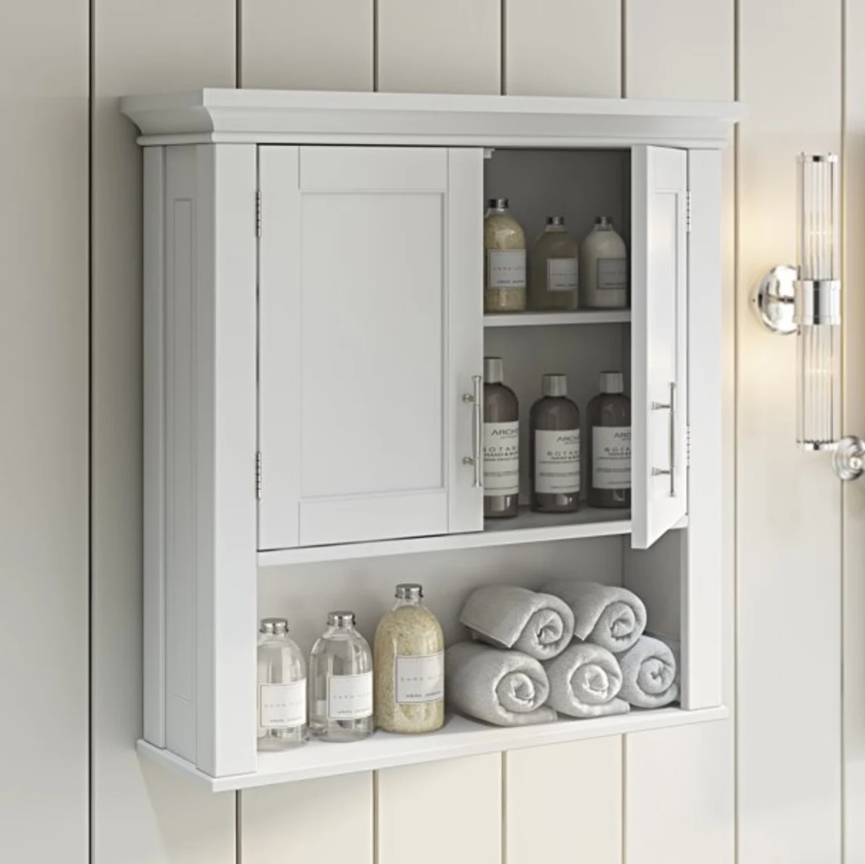 This Wall Mount Adjustable Cabinet is great not just for your bathroom but for a laundry room or kitchen. If you're looking for great wall-mounted cabinet ideas, this makes the perfect addition to a kitchen where you have the larger mason jars of spices you use most often on the lower shelf, with the things you use less often on the remaining shelves behind the cabinet doors.
We, for example, use mason jars for all of our spices, but we order them in bulk, so we usually have larger and smaller containers for the same thing; we just use the small ones for cooking and the large ones to refill. We have the same layout, but with sliding drawers where the larger mason jars are hidden behind the cabinet doors, and the smaller mason jars line the bottom where they are accessible.
If you use this in the bathroom, I would suggest towels and soap along the open shelf at the bottom and the rest of your personal supplies behind the cabinet doors where they are out of the way when guests come over.
It has all the hardware you need to mount it. It can hold up to 28 pounds total. There are adjustable shelves for the interior and it comes with an easy-to-follow installation guide. Bliss.
Teamson Home Neal Removable Wooden Medicine Cabinet in White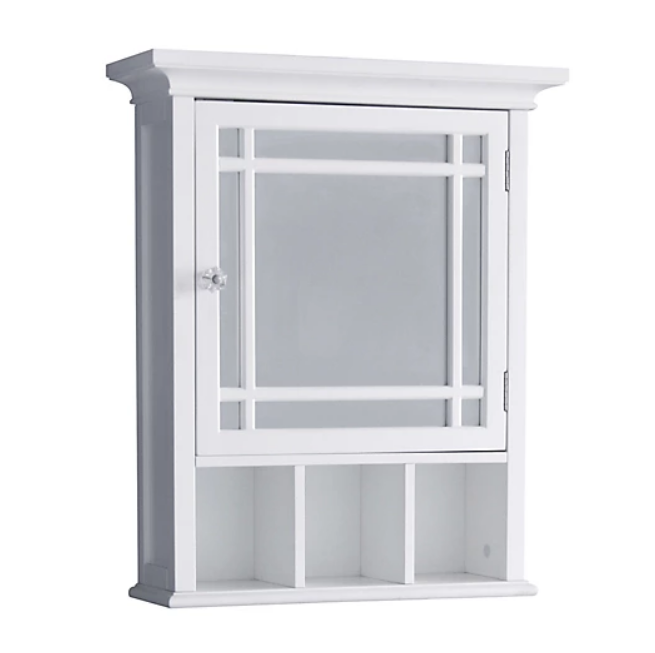 If you want to be like my mom, consider the Teamson Home Neal Removable Wooden Medicine Cabinet in White. Bear in mind the instructions say that you need at least two people to mount this to the wall, and they aren't kidding. It's very heavy, so you won't be able to hold it in place while also affixing the hardware.
Like all prefabricated cabinets, be prepared to put all the pieces together yourself. It doesn't come in its final version; it comes with all the flat pieces that you have to assemble. Speaking of, the back is affixed to the wall with small screws and gluing dowels, not countersunk screws. This could be a problem later on because the protruding screw heads might scratch your wall if you have to adjust the cabinet for its final resting position.
However, it's otherwise a perfectly great medicine cabinet, one that is designed specifically for use in the bathroom to hold everyday toiletries. It has a clear cabinet door though, so don't let your cabinet storage get messy, or everyone will see.
For the Office…
Your home office should be clean, minimalist, and conducive to focus–at least, at first glance. The wall-mounted cabinet ideas for an office make it easy to mask your mess.
I suggest drilling holes in the bottom for cords. Then you can drop the cord out of the hole, plug it in, and go. Now, don't just let the cords dangle like tails; leave them neatly wrapped inside the cabinet until you are ready to use things like your label maker or printer.
Prepac Elite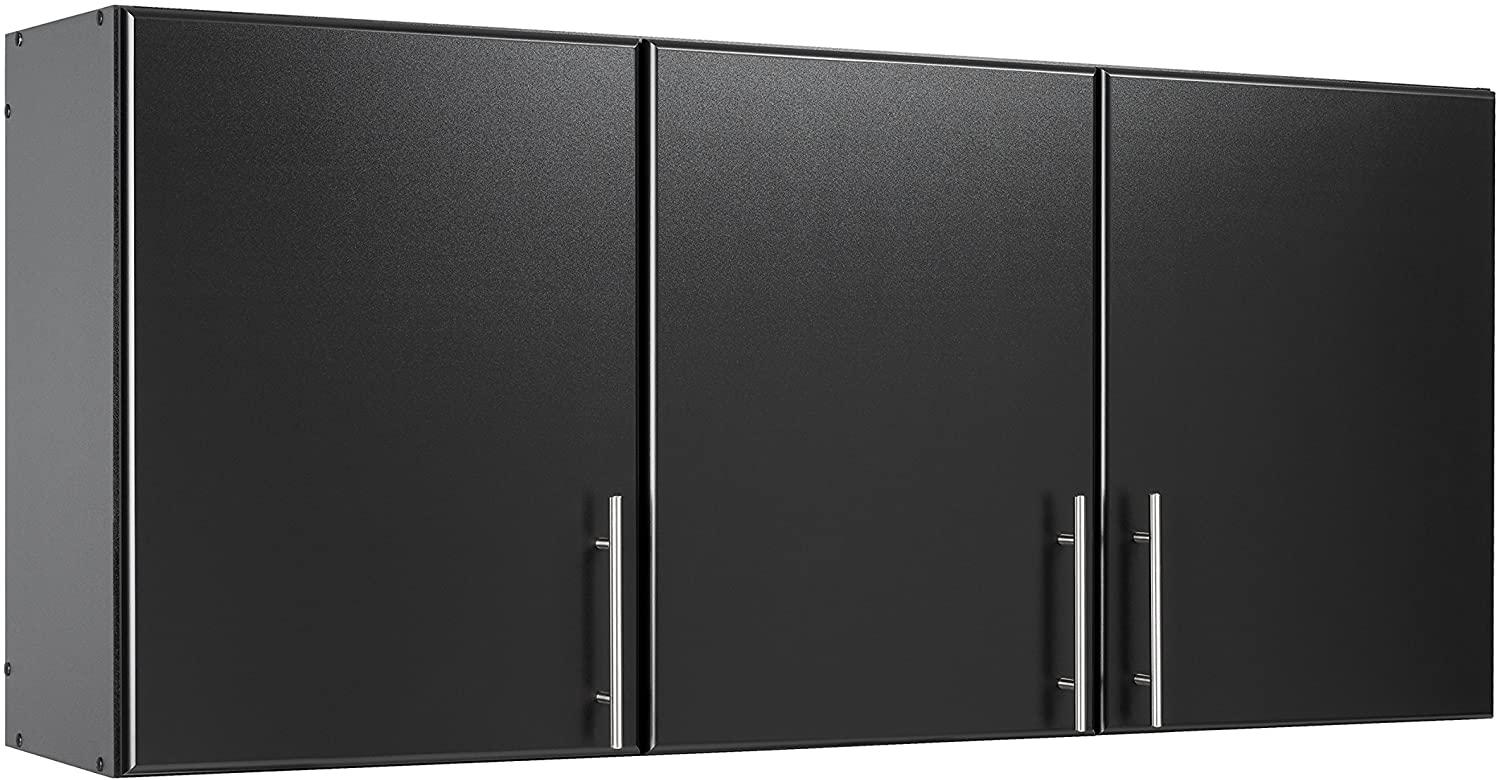 Prepac Elite is an "elite" version of the Prepac Hangups below. I like the elite European version because it looks much more official. This one differs from the Hangups because it's a set of cabinets three across instead of pull-out drawers.
There is a set of hardware and a panel provided if you want to make two different levels inside, but you don't have to. The adjustable hinges work six ways, and you get metal handles. You can change it so that the doors open to the left, to the right, from the bottom to the top of the top to the bottom, which is pretty neat.
There are door corner options, the 54-inch wall cabinet, corner storage wall cabinets, and the European style featured here.
Prepac Hangups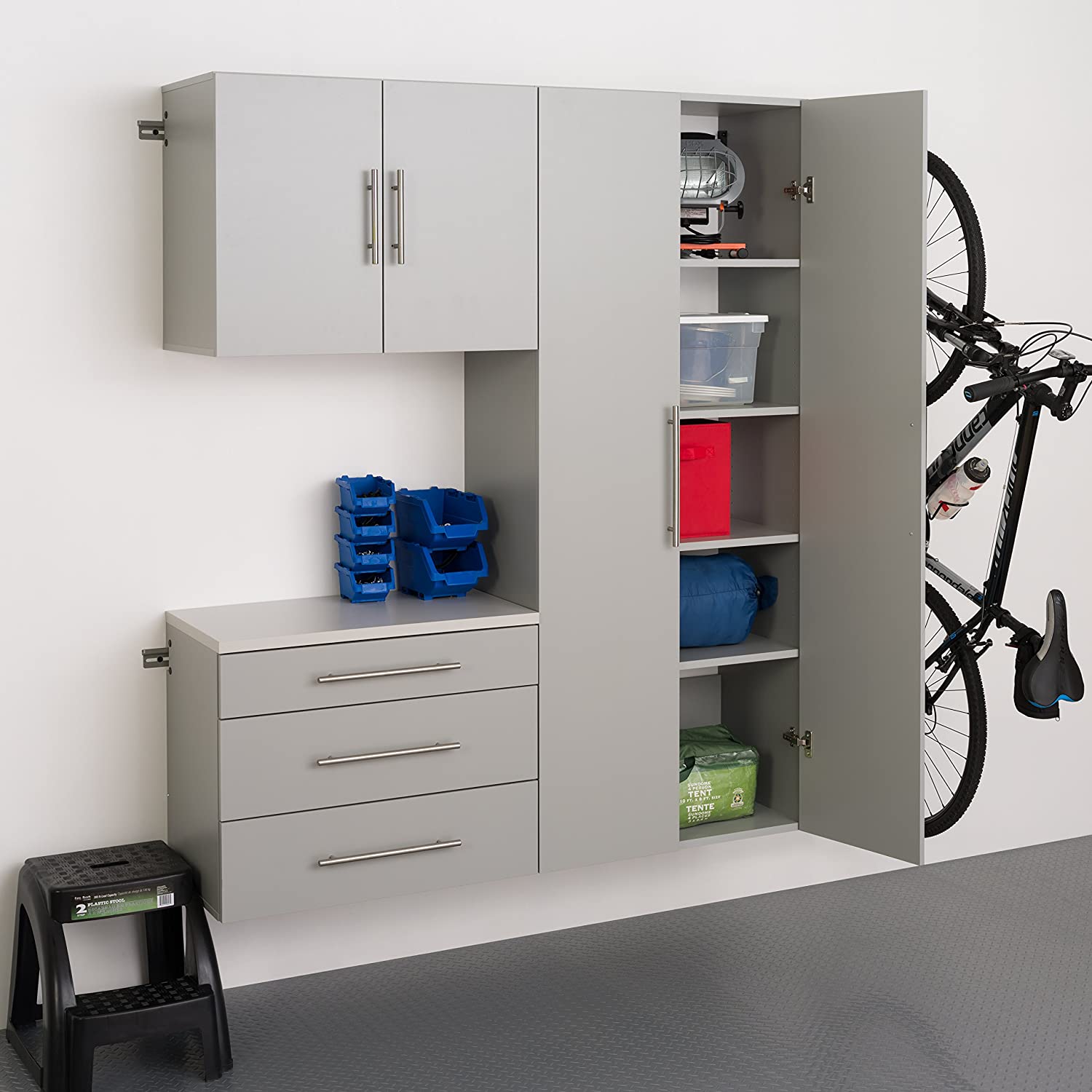 The Prepac Hangups weigh 85 pounds. They can handle about 30 pounds per drawer. It comes with finished nickel handles and all the hardware you need. You still have to provide a level, tape measure, drill, and stud finder, but that's standard. This is a very versatile storage cabinet. I don't like that it's constructed from laminated composite.
However, it serves as a type of base cabinet that you mount to your wall, so you get the deeper, 16 inches, 30 inches in width, and 24 inches tall spanning across the three drawers. It's perfect for keeping papers and other miscellaneous office supplies. The top of the cabinet can function as a shelf, perfect for office space (or in the garage or laundry room).
Alesandrini Floating Stand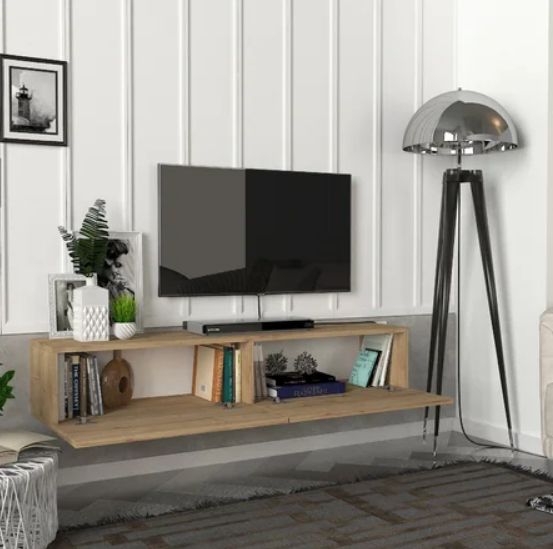 The Alesandrini Floating Stand is marketed as a floating, wall-mounted TV stand with cabinets, but I like the idea of this wrapping around a home office like a ballet bar. I have family who have used this wall-mounted cabinet idea and all of theirs wrap the length of the room, at desk height so they can roll around on their wheely-office chair and get to anything they need.
It comes in six colors including walnut or oak. If you don't want to try and mount it, Wayfair lets you pay extra for professional assembly. The cabinet is handleless so it has a sleek, minimalist design. It can support up to forty pounds.
For the Workshop…
I might be biased, but just copy what we did for a storage space or workshop like ours. Make large wall-mounted wooden cabinets with internal hardware and sliding drawers. Consider adding a row of drawers underneath the wall-mounted cabinet too, where smaller pieces can be stored.
The workshop needs to support heavy equipment, boxes of spare parts (car, bike, A/C unit, whatever), and paint cans. Keep them up high and out of the way so that you can move around the space and work safely.
Husky 24 Gauge Steel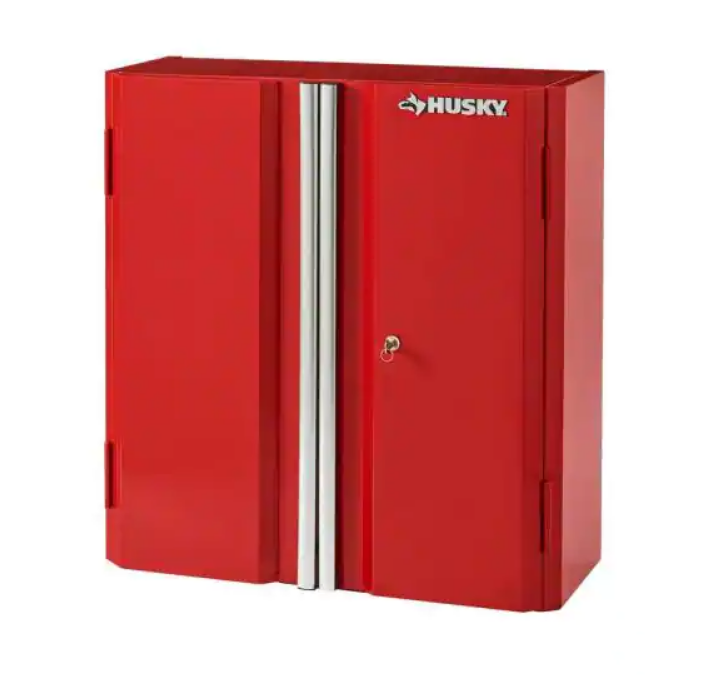 This Husky 24 Gauge Steel cabinet is 12 inches deep, made with sturdier materials than most prefab cabinets, and is meant for the garage. You can find alternative iterations here for those outside the US. If you only need one and you don't want to make them yourself, this is great for your outdoor workspace or your garage.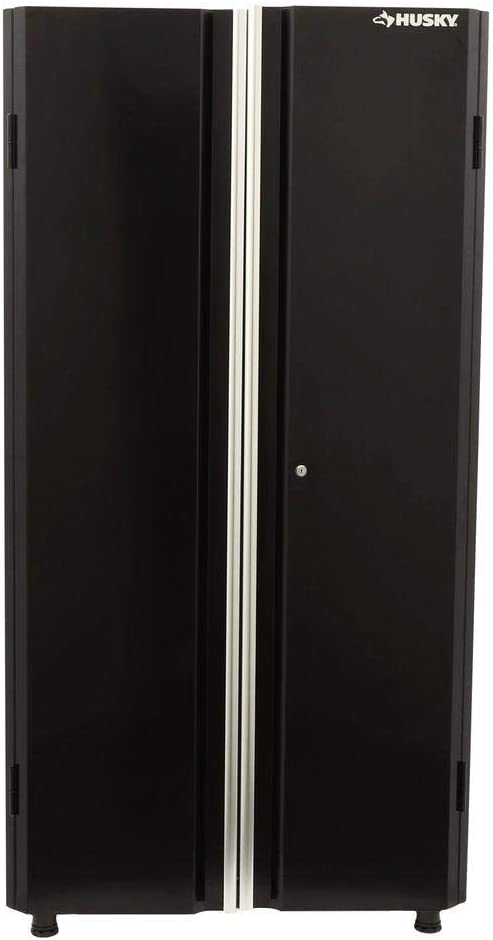 It's heavy-duty enough to hold up to 50 lb per cabinet. It also comes with internal panels and adjustable pegs so you can move the shelving units inside to fit your needs. You can order it in red or black, which is pretty standard for a workshop.
It comes ready to assemble, so you only need to provide the tools. It is heavy duty and can hold heavier tools, up to 50 pounds. But it won't exactly blend in if you try to sneak it into the kitchen or bathroom.
For the Laundry Room…
In our house, the laundry room acts as semi-permanent storage. It is for the warehouse-sized bottles of Simple Green, ten spare gallons of bleach leftover from COVID, and the carpet cleaning tools reserved for the monthly treat of our cat vomiting.
The best wall-mounted cabinet ideas for these types of storage needs are wide, deep cabinets with a sturdy base. Don't cut corners here (literally and figuratively); you want the cabinets to hold all the heavy liquids and be big enough to line oversized containers next to one another.
This isn't a space where you need to worry about not being able to see which fourteen-ounce bottle is hiding behind the spaghetti sauce. This is where the big boys play.
Most people like to mix and match though, with sturdy overhead wall-mounted cabinets coupled with tall base storage cabinets. My mother-in-law, for example, uses large mounted wall-cabinets above her washer and dryer with handmade tall base cabinets (apparently her swiffer, mop, and broom don't get on well and need individual cabinets… I wish I were kidding; they each have a hanging hook inside an individual cabinet). You can easily be just as OCD as she is with the recommendations below.
SystemBuild Kendall 54″ Wall Cabinet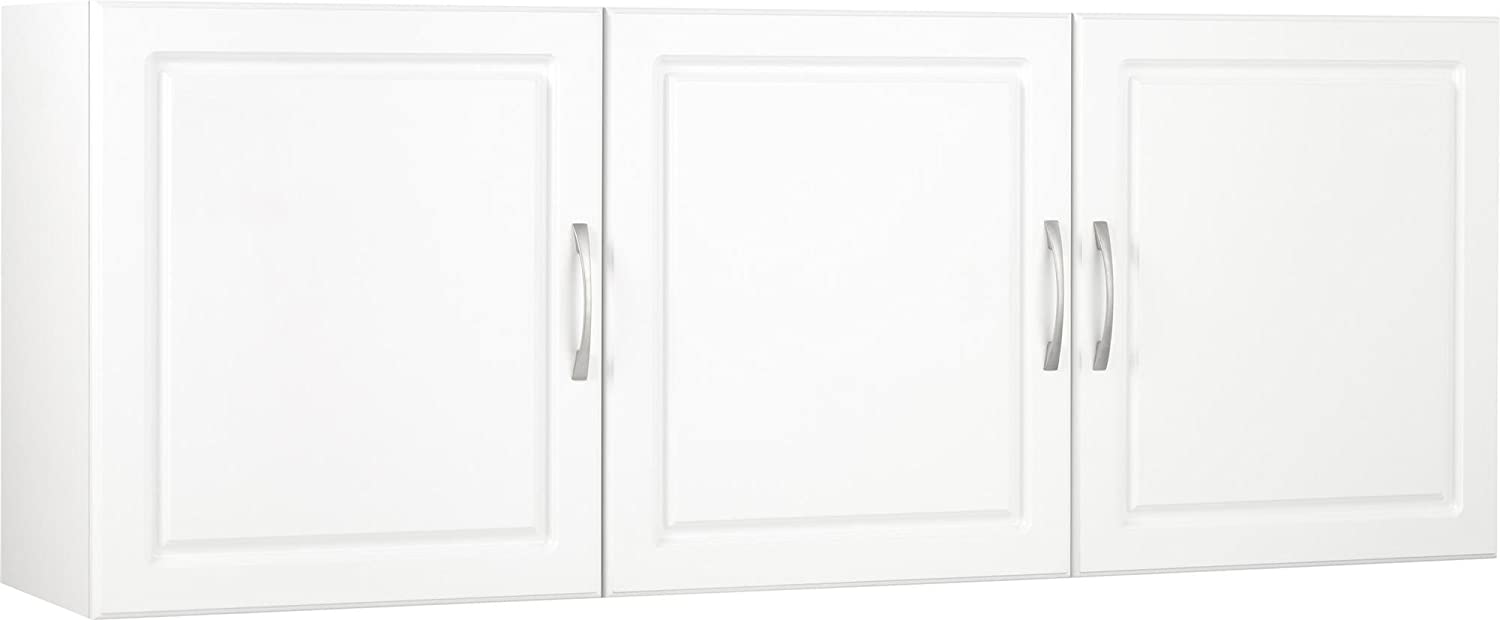 For the laundry room, if you aren't custom making your cabinets, go with the SystemBuild Kendall 54″ Wall Cabinet. It's a big cabinet with a lot of room for larger cleaning supplies and other laundry room items.
I particularly like this one because you can get white, black, or gray, and they sell multiple prefabricated versions, so you could create a storage system for an entire room using a combination of 3 drawer base cabinets with two doors, and drawer, utility cabinets, or this wall mounted cabinet.
It is 20 inches tall, 12 inches deep, and 54 inches long, so you have three sections with individual doors and interior shelves. However, it is made with engineered wood, so it isn't as strong or durable as real wood.
West Elm Oak Floating Cabinet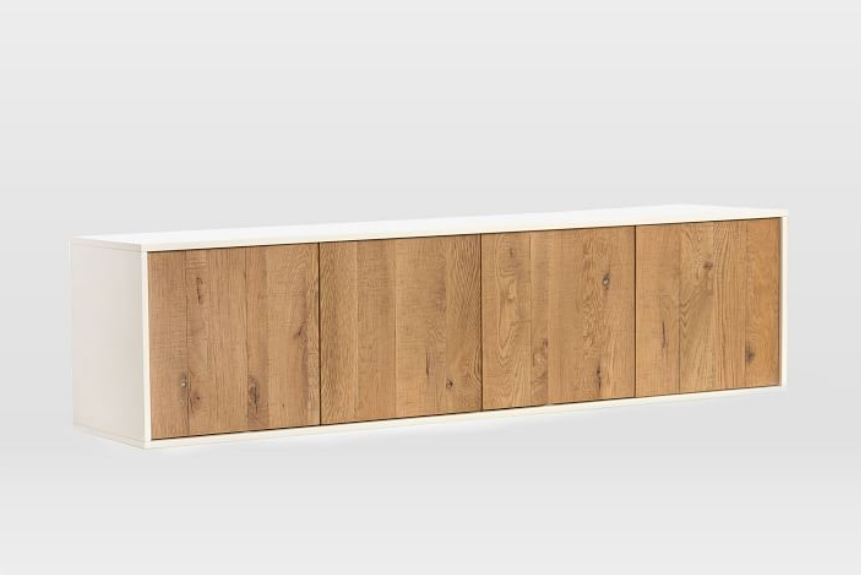 This West Elm Oak Floating Cabinet is made of solid oak, so it's going to be much more durable than the plywood alternatives. It is marketed as a media cabinet so you can certainly put it in your living room, but the sleek handle-less design and strong nature of it has me looking toward a laundry room (again, for the aforementioned heavy detergent bottles and cleaning supplies).
It has two compartments with adjustable shelves. It has cutout openings in the back if you want to mount it in an office and run the cables through it. All of the mounting hardware is included. Once installed, it can hold up to 88 pounds.
FAQs
Question: How big are wall-mounted cabinets?
Answer: This depends on the room. Wall-mounted cabinets for your garage are typically between 18 and 24 inches deep. Wall-mounted cabinets for your kitchen or usually 12 inches deep.
Question: How do I install wall-mounted cabinets?
Answer: This is a simple but involved process. It's always best for you to outline where your cabinets will hang by starting with the corners and measuring from there, tracing a line along the wall. As a rule, it's good to keep hanging cabinets between 8 ft and 9 ft above the ground so that the bottom edge of the cabinet is around 54 inches tall. Obviously, this might change if you are trying to install your wall-mounted cabinets in a strategic location or in a place that children can reach.

From there, you need to find your wall studs. It's always best to take the doors off the hinges and remove any drawers or hardware before you install wall-mounted cabinets so you don't damage them.
When you have the right position, drill and countersink the holes for your rails and insert the corresponding hardware into your cabinets.
The process might be more or less involved depending on the type of cabinets you have.
Question: What hardware do I need to install wall-mounted cabinets?
Answer: If you have modular or lightweight cabinets that are purchased ready to install, they usually come with the brackets and rails you need to mount them. You should get a kit that has a metal rail that attaches to your wall studs and screws that are long enough they can get through your drywall and hook themselves into those wall studs. You also get a set of brackets that you screw onto the back of your cabinet and then connect the two together.
Custom-made cabinets are usually built with hardwood or plywood, so you need 3-inch or 3-½-inch bugle-head wood screws and hopefully an electric screwdriver. This is not the kind of thing you want to do by hand.
If you are planning to install pull-out or slide-out drawers, cabinet doors, or any extra features to the structure, that will require additional hardware. You'll need hinges for the doors if they don't already come installed. You'll need handles to open the doors if those aren't already installed or if you want to replace what comes standard with your cabinets. You will also need the hardware for the tracks on which the drawers pull out, something you can buy online in a kit.
Bottomline
The best wall-mounted cabinet ideas are things you custom make, but prefabricated cabinets make it easy and simple to put together any type of cabinetry you need for your entire house, creating large L-shaped designs with tall cabinets that turn into wall-mounted cabinets and base cabinets that turn into a table you can use.
I recommend slide-out drawers for kitchens, cabinets that have a mirror on the front for bathrooms, and mixtures of heavy-duty cabinets with different shelving units for laundry rooms, storage rooms, or workspaces. The possibilities are endless.