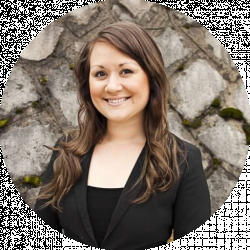 Latest posts by Lacey Jackson
(see all)
Every time I visited my dad, it seemed that he had new kitchen cabinets. It always seems to coincide with taking on a new client who wants a kitchen remodel. What impressed me most was how easily a new set of cabinets changed the entire space.
In my experience, the best walnut kitchen cabinet ideas can turn a shabby space into a culturally rich and functional room that invites friends and family to socialize.
Bottomline Up Front
The best walnut kitchen cabinet ideas are those that fit your space the best. I love frameless kitchen cabinets in a minimalist home or a contemporary space and Lenia or Ladd kitchen cabinets sideboards for more Bohemian or Art Deco styles.
Selection Criteria
When evaluating different cabinets, I ensured that the best walnut kitchen cabinet ideas contained design elements that were a source of inspiration for different styles. A Mediterranean design needed architecture with rich wood tones, bright light, and ornate features.
Still, by comparison, a Scandinavian modern interior needed white walls, clean lines, glass windows, and darker-colored wooden cabinets.  If you don't know what style of home you have or what design you want for your kitchen remodel, I advise you to look over these kitchen cabinet ideas and see which design elements speak to you and your personality.
Best Walnut Kitchen Cabinet Ideas
#01 Modern Farmhouse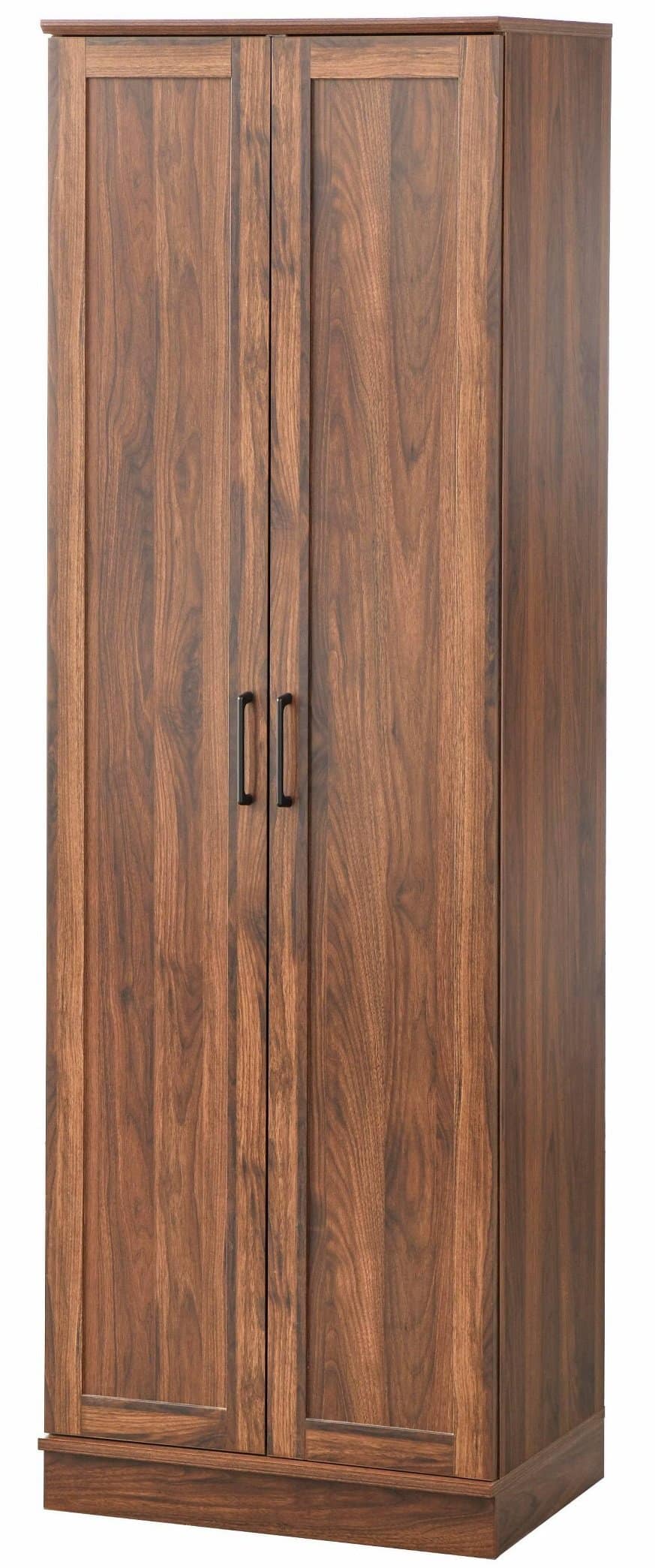 This cabinet comes with a walnut finish. The interior shelves are adjustable, and the tall pantry with metal pulls makes it a great standalone cabinet to shove in an unused corner or against a dining room wall for easily accessible snacks. It is a great idea to incorporate into a modern Farmhouse style home. 
#02 French Country Designs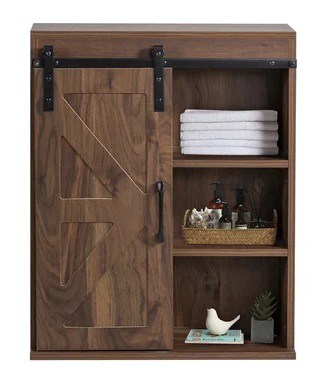 I grew up in a home with a French country design. French country is very similar to the shabby chic or Farmhouse design style with neutral colors, antique furniture, and a touch of feminine elements. This wall-mounted cabinet has the sliding door quintessential in a farmhouse style, but with the hardware and natural walnut grain, I think it's an excellent idea for a French country kitchen. 
Just because something is designated as an office, bathroom, or kitchen cabinet doesn't mean you have to use them in those spaces exclusively.
I always recommend that our clients find the cabinet they like most and use it in whatever room they prefer, so if you want something that small but wall mounted in your kitchen to store some cookbooks or mason jars filled with spices, I like the idea of this French country design.
#03 Minimalist Ideas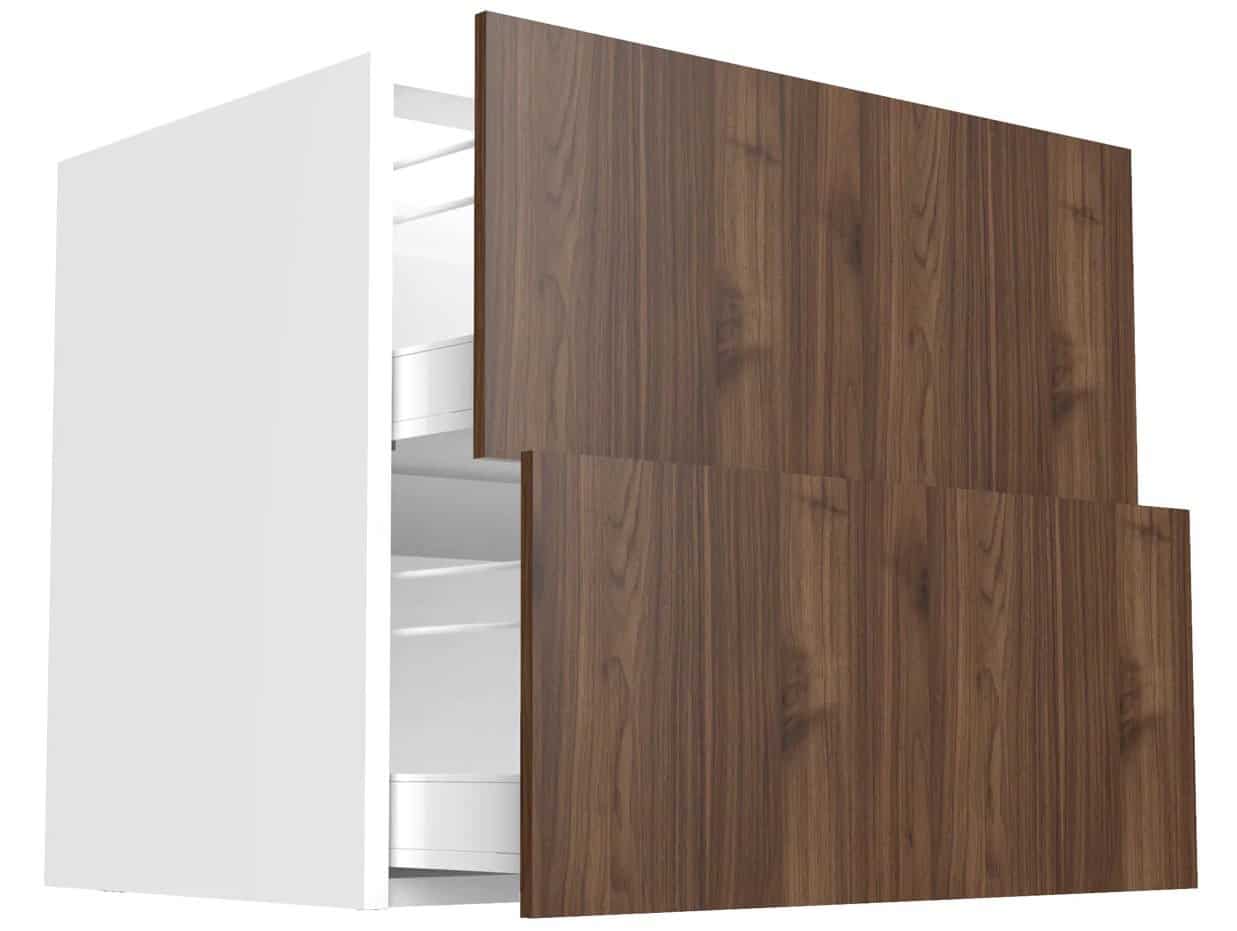 Minimalism differs because it loves empty space, so these base cabinets do away with handles and frames that would otherwise just into the area and keep a minimalist design. In a minimalist home, a good idea is to have frameless kitchen cabinets.
It would also work well in a contemporary space because contemporary designs and minimalist interior styles have some of the same qualities. They both rely on simple finishes, clean lines, and uncomplicated forms. 
#04 Contemporary Overhead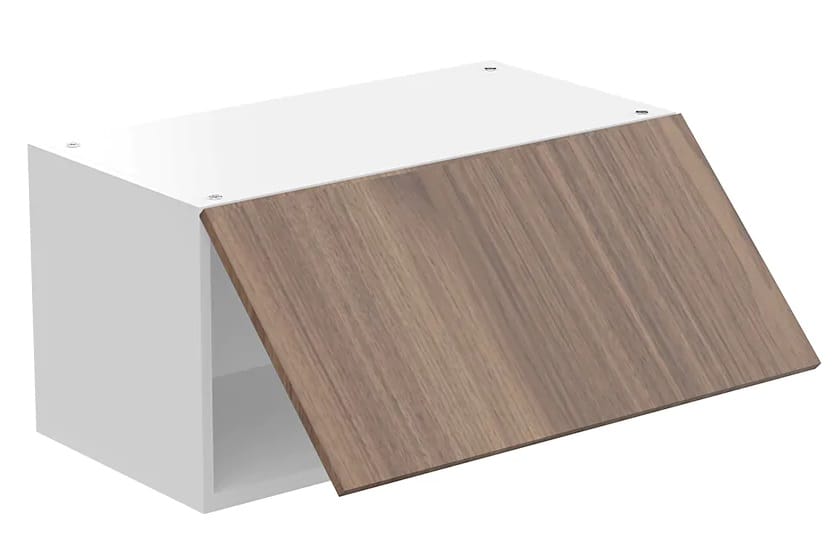 You can add to the frameless base designs by incorporating some horizontal wall cabinets. These walnut kitchen cabinets are a great idea if you want to concentrate on the principle of open space because you can have fewer cabinets but with more extensive storage, so you get to capitalize on the idea that less is more while also freeing up floor space. 
#05 Industrial Ideas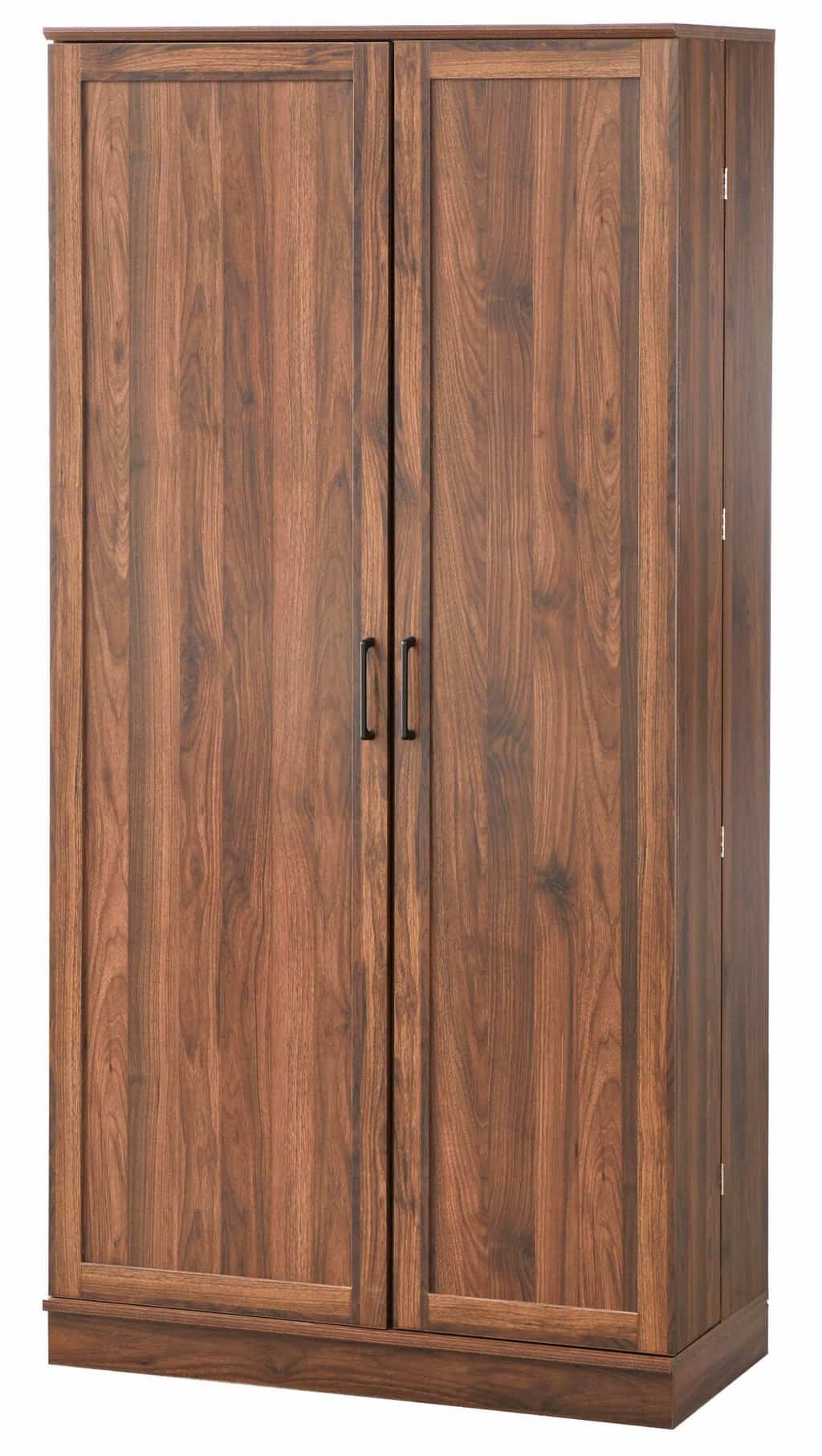 A lot of more contemporary spaces today might have an industrial interior design. Gentrified neighborhoods, which were previously industrial factories, tend to have a lot of texture, antiques, metal, and hard lines in the furniture. This tall kitchen cabinet has hard lines, a lot of character in the walnut finish, and metal hardware that speaks to an industrial style.
#06 Minimalist Contemporary Concepts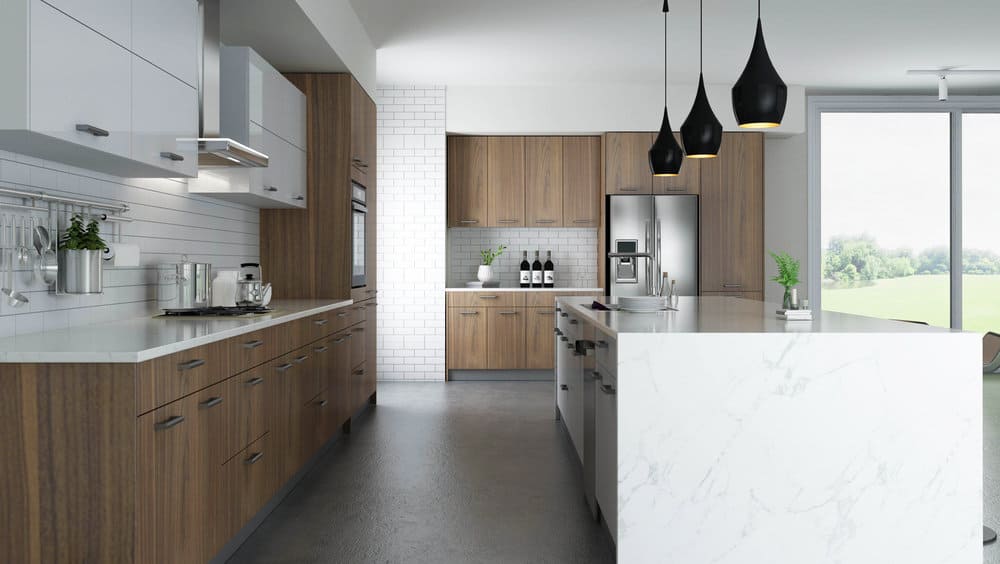 Many minimalist kitchens have a neutral color scheme without any patterns or textures. This type of functionality is an essential part of the design. But it also hinges on hidden storage. This walnut frameless cabinet set is a creative solution for minimal interior design spaces with concealed hinges and a frameless overlay.
#07 Modern Interior Ideas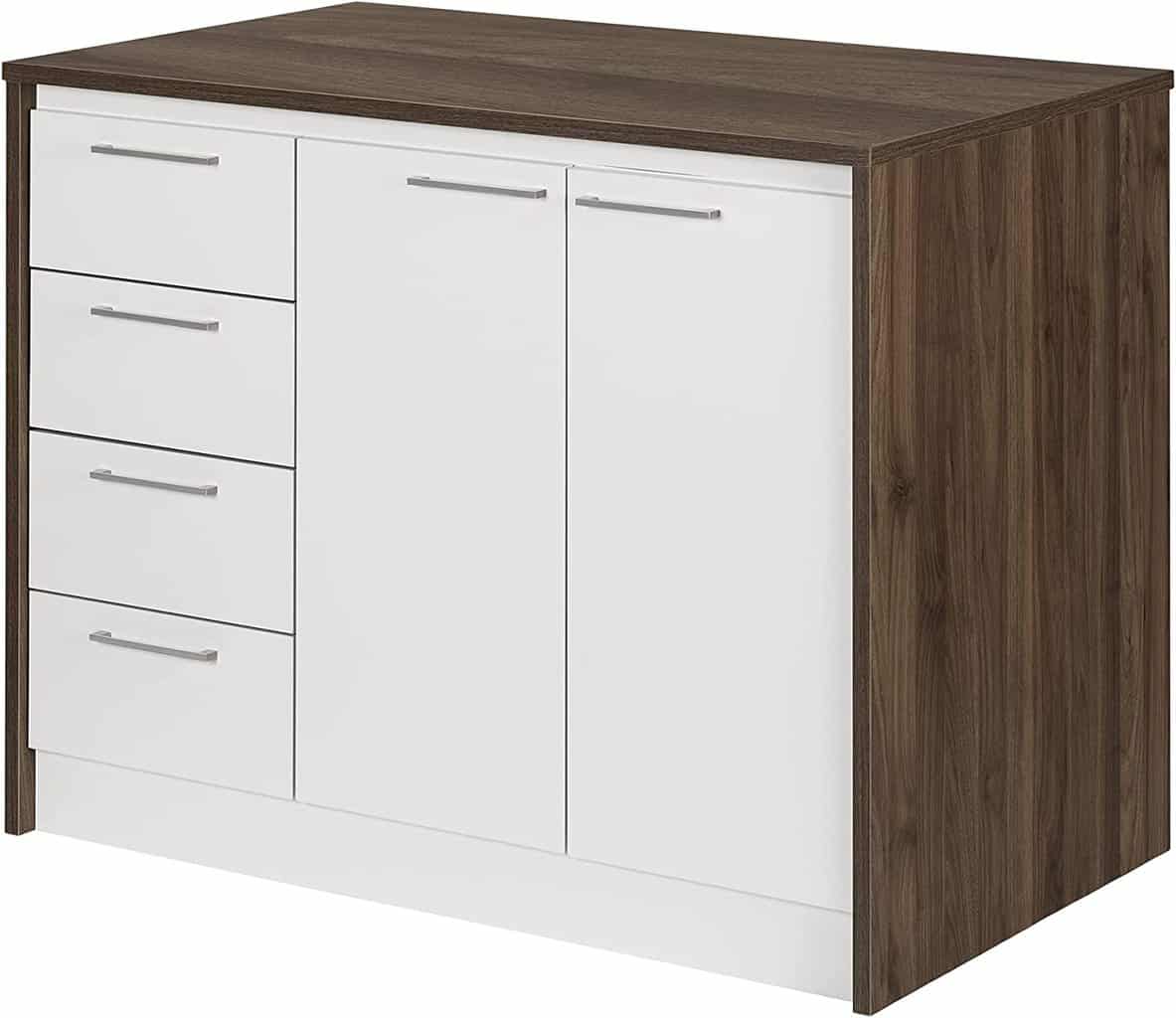 Many modern interior kitchen cabinets have sleek surfaces and clean lines, with accent colors and otherwise neutral decor.
So if you're looking for an idea that you can incorporate into your modern kitchen space, this is a modern contemporary kitchen island that's made of walnut and white cabinetry. The color combination really speaks to the neutral room with the rich, white color accented by the dark walnut.
#08 Mid-Century Modern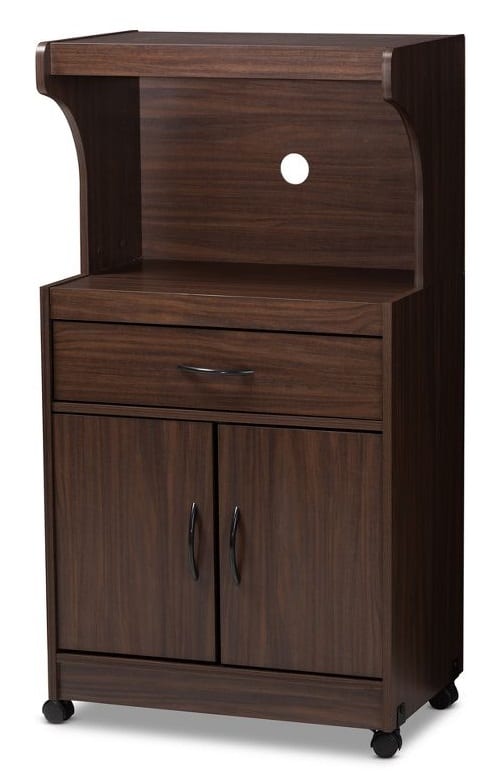 With a modern interior design, you have a lot of shared concepts with a contemporary space, but modern designs into great things like mid-century modern from the 50s, Scandinavian, and even post-modern design elements. This walnut kitchen cabinet is a simple mid-century modern idea but comes with wheels so you can move it around in a smaller space, especially an apartment.
#09 Asian Zen Ideas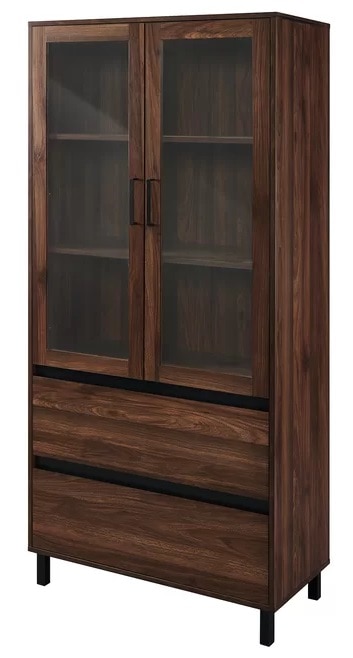 If you're looking for an idea that you can incorporate into an Asian Zen space, the Isla cabinet is excellent. The philosophy of feng shui is easily adapted into contemporary design spaces through exciting shapes and sleek lines, with reference to nature and open spaces.
This is a wide china cabinet that you can use for kitchen storage. The dark walnut finish, black hardware and feet, and open glass cabinet doors are rooted in that contemporary Asian Zen design.
#10 Traditional Interior Designs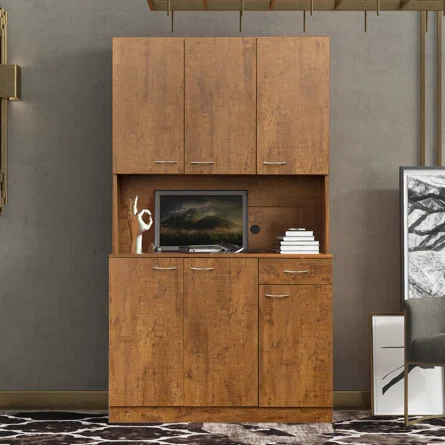 One of the most popular designs is the traditional interior concept. It's what many homes have, drawing inspiration from the 18th and 19th centuries in France and England, incorporating things like florals, stripes, glass or crystal chandeliers, and heavier, hardwood furniture.
So if you're looking for an idea that fits into this decor, the dark walnut in this kitchen pantry might not be ornately detailed, but the pattern in the exterior certainly is.
#11 Art Deco Ideas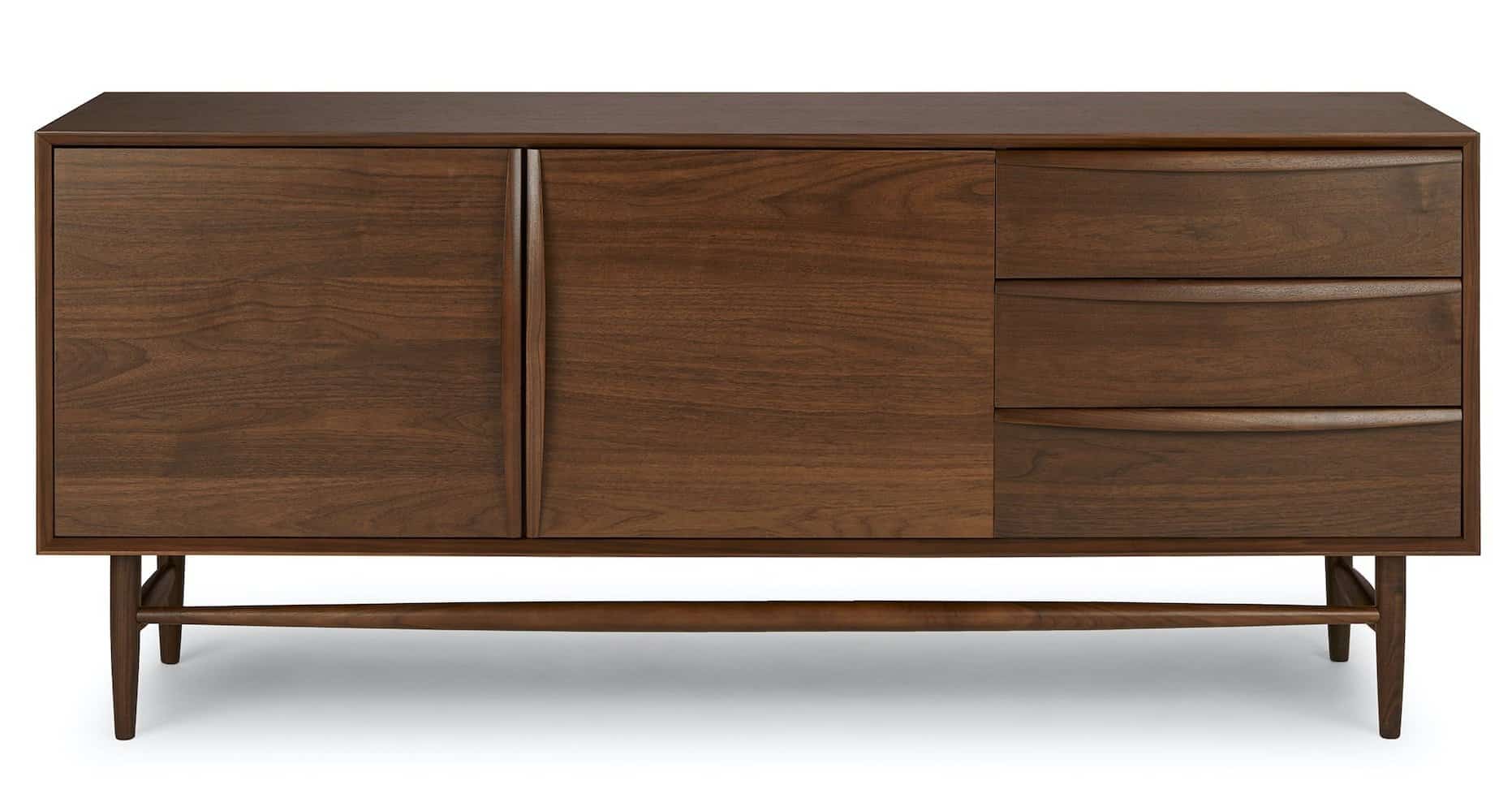 Almost everyone has heard of Art Deco design, the theme that originated in France but made its way into the US during the early 20th century. Art deco has a lot of jagged corners and pointed edges with oversized furniture. That's why the Lenia kitchen sideboard is such a perfect fit.
Instead of hardware, it has rounded, recessed panels that you can grab to open drawers and cabinets. The rounded edges work well with an art deco-style design, but it doesn't give up the pointed corners.
#12 Bohemian Sideboard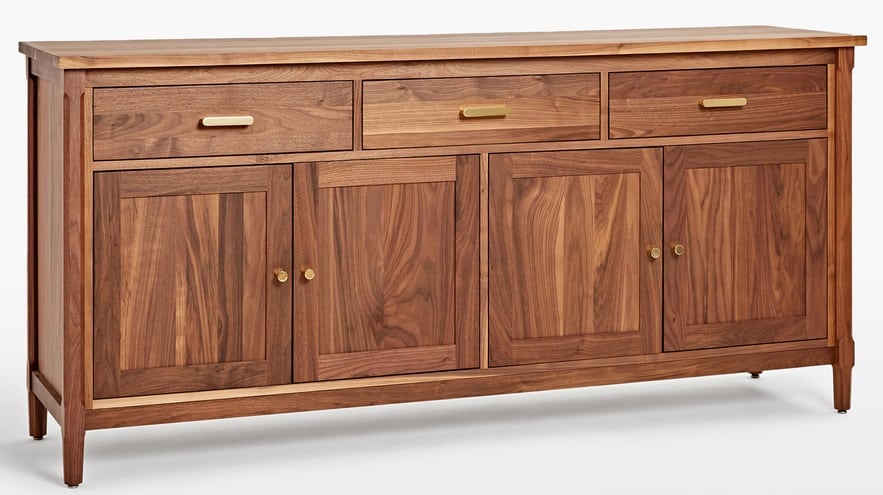 If you are looking for a walnut cabinet idea you can use in a more Bohemian interior style, this Ladd sideboard is excellent. It's not necessarily the free-spirited aesthetic you might associate with boho style, but the boho design atmosphere emphasizes natural accents and bold colors, with natural wood elements and metallic accents.
So, with this kitchen cabinet, you get beautiful, horizontal woodwork patterns for each of the doors juxtaposed by vertical grain patterns on the pull-out drawers. You also get stunning sharp lines with gold hardware that acts as the bold color and metallic accent so, in the Boho style.
#13 Mystery Door Idea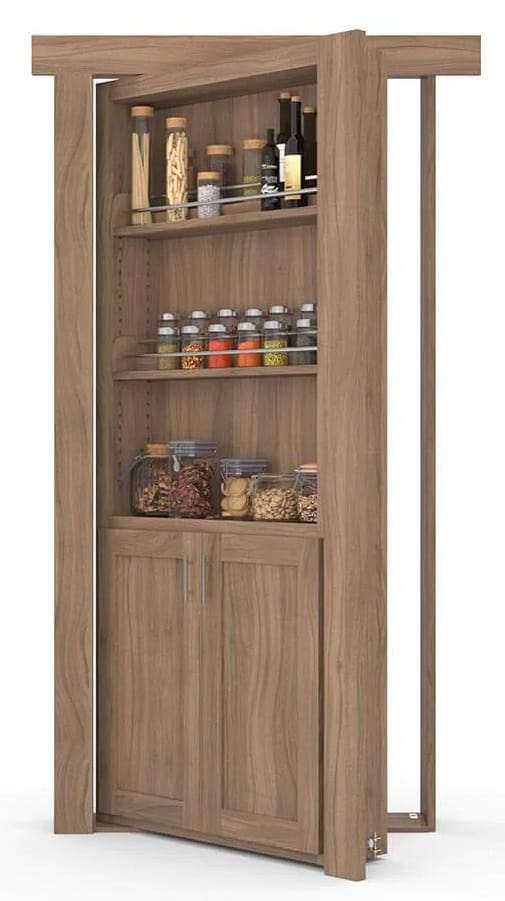 This one I'm throwing in because I've always wanted a secret door. I don't have a space cool enough to warrant one. This is an entertaining idea because it is a walnut cabinet with rows for spices or bottles, but it's also a hidden door, so you can install it in the doorway that would otherwise lead down to your basement or family room.
FAQs
Question: Is walnut good for kitchen cabinets?
Answer: Yes. Walnut is durable, easy to care for, and has a rich color that has a lot of sophistication and warmth to any kitchen cabinet. A few years back, we decided to redo some of the interiors of our living room and stopped in Kansas to see some friends. Those friends happened to have some surplus walnut that they gave us to use for this remodel. 

When I called my dad to tell him, he remarked that walnut was exquisite, but walnut from Kansas was the best of the best because of something vague to do with the flat land, lack of wind, and environment. Now it is unlikely that you will be able to get information on exactly which state the walnut used for your cabinetry came from, but no matter where it came from, rest assured that it's a very durable product.
Question: What color goes well with walnut kitchen cabinets?
Answer: White, cream, emerald green, light gray, and blue goes really well with natural walnut cabinets. In my experience, the best combination is french vanilla or light gray paint, especially in a kitchen where you still want to keep the space open and reflective.
Question: Is walnut more expensive than maple?
Answer: Walnut is more expensive than maple, but in my experience, the natural hues and durability of walnut make it a much better investment for kitchen cabinetry compared to something like maple. When the grains separate in walnut cabinetry, they go back together on their own, so if somebody accidentally dings or nicks a cabinet, it actually has profoundly remarkable self-healing properties.
Question: Should you stain Walnut cabinets?
Answer: My professional opinion is never to stain walnut cabinets. In my experience, it is better to apply a clear coat, some varnish, or lacquer. The reason is, stains will wash out the natural grain, and this gets rid of the character of the grain and the overall cabinet. What's more, you pay so much money for such beautiful, natural cabinets that it doesn't make sense to cover up that investment.
Question: Do walnut cabinets fade?
Answer: Speaking from personal experience, yes, walnut cabinets will fade. Walnut cabinets might start with a dark brown color that eventually fades to a paler, honey-brown color. We advise clients during a home remodel not to worry about this, though, because it's a natural process. All of your cabinets will fade at the same rate with exposure to light. So, if you have specific cabinets that get a lot of direct sun in the afternoon, consider closing the blinds so that you don't have one cabinet door that's lighter than the rest. 
Bottomline Up Front
The best walnut kitchen cabinet ideas are those that fit your kitchen perfectly. If you didn't know what type of interior design you had or wanted in your kitchen, hopefully, by now, you would know which elements you prefer to incorporate. I love frameless kitchen cabinets in a minimalist home or a contemporary space and Lenia or Ladd kitchen cabinets sideboards for more Bohemian or Art Deco styles. 
Read More: