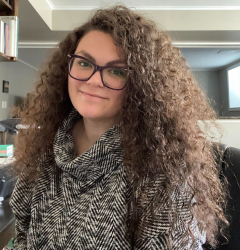 Latest posts by Candace Osmond
(see all)
Oak wood is heavy, hard, and incredibly sturdy. This hefty American hardwood can be found in a huge variety of natural shades and is also excellent for staining. No wonder many of us want to use this kind of wood for our cabinets!
So, I wanna tell you all about my best inspiration for trendy oak cabinets. Then, I'll show you 5 kinds of oak cabinets you can buy and answer some questions about why oak wood is so special. Ready to start? Here we go!
Bottom Line Upfront
Oak is a timeless wood for furniture and cabinetry. I'm not crazy over the natural look of it, but I adore it when oak is stained or colored dark. That's why my fav on this list is the Jimerson 1 – Door Accent Cabinet idea! It would look perfect in my home office.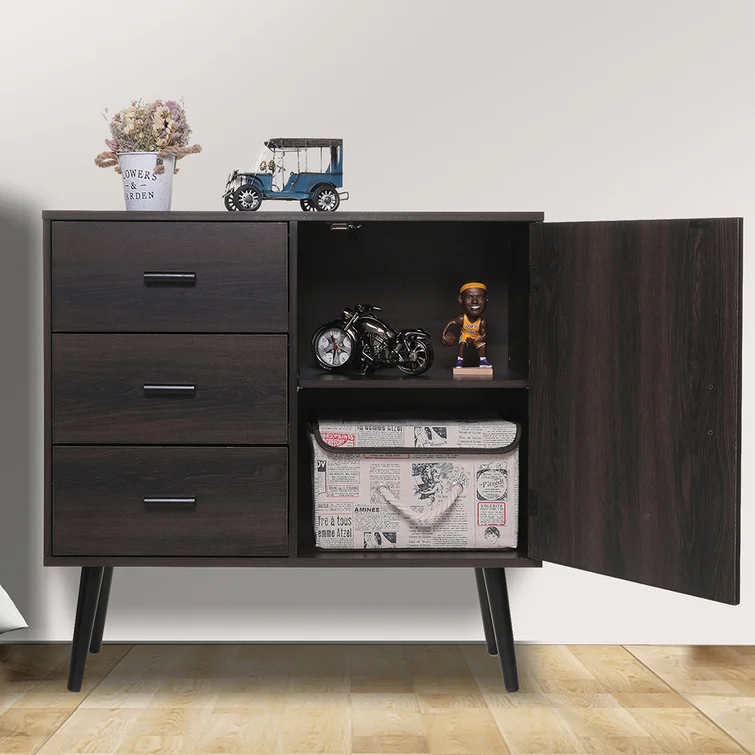 Top 3 Picks
These are my top 3 suggestions for the best oak cabinets you can buy online. I'll talk about each of these in greater depth down below, but I wanted to show them to you before we get started. Check these out to glance over some of your options.
Get Inspired by These Oak Cabinet Ideas
You're sure to get in the mood for home remodeling after checking out these oak cabinet ideas. Each of these ideas is very different from the others because I wanted to show you a variety of kitchen styles that use oak wood.
No matter what theme you choose for your home-rustic, modern, vintage, farmhouse, or whatever you like. I'm sure you'll find an idea here that can help you start imagining your dream cabinets.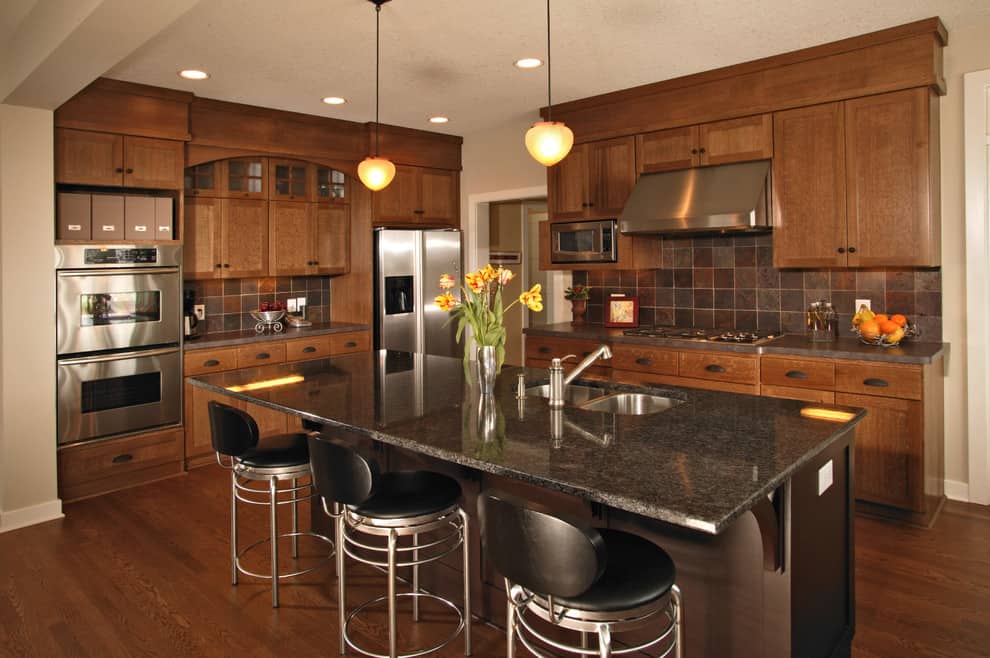 Looking for a luxurious and romantic look? I've fallen in love with the deep richness of the warm-toned oak cabinets here in this kitchen. Ron Brenner Architects did a stunning job matching up the warm wood with dark tile walls and dim hanging lights. You and your special someone would enjoy making fond memories in a stunning kitchen like this one.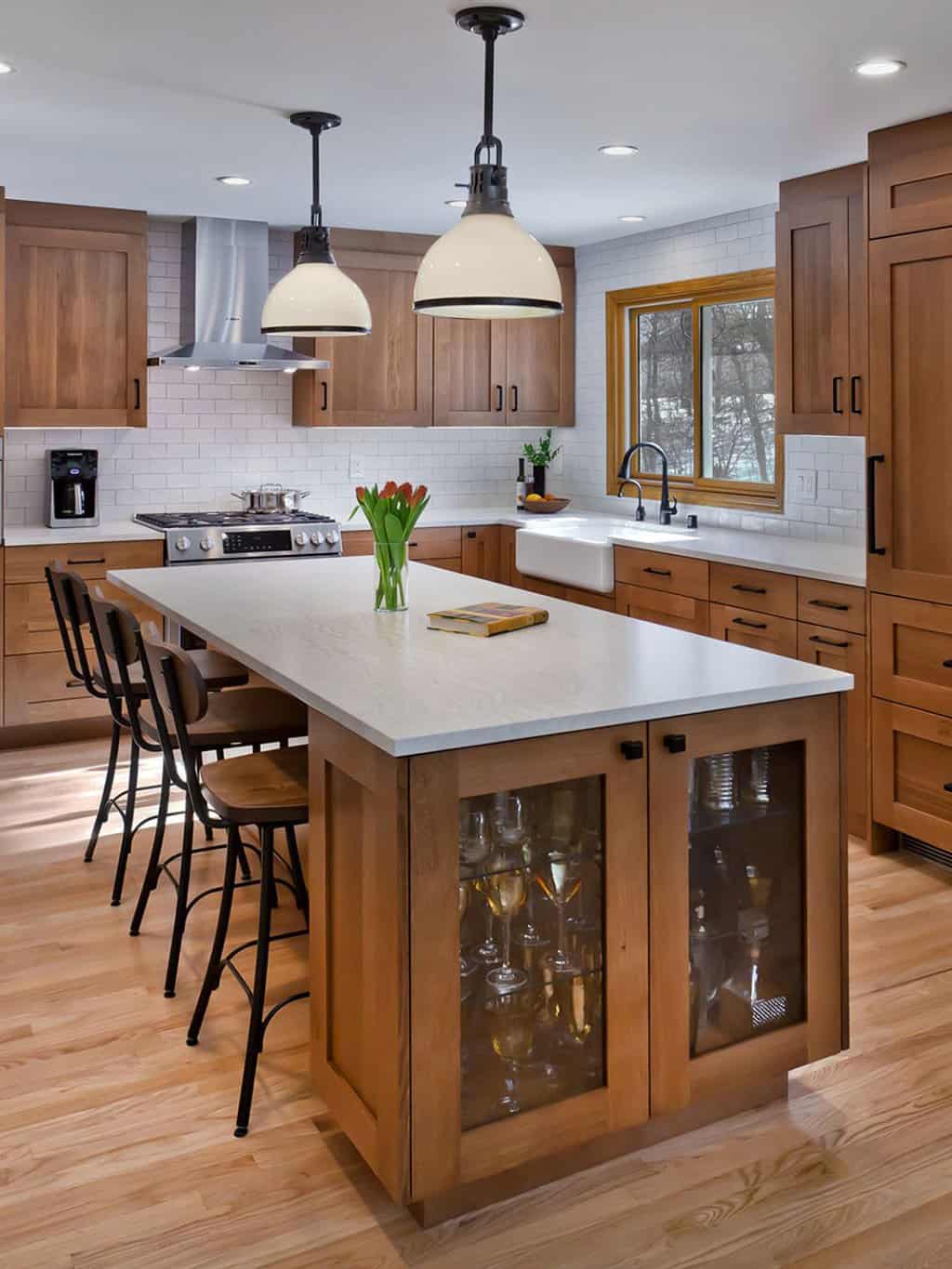 These honey oak cabinets are polished, minimalistic, and modern. The simple matte cabinet pulls, and the natural honey tones in the wood show that the owner of this kitchen chooses a contemporary style. Use the same type of oak wood for the rest of the room to create a cohesive look as you see here.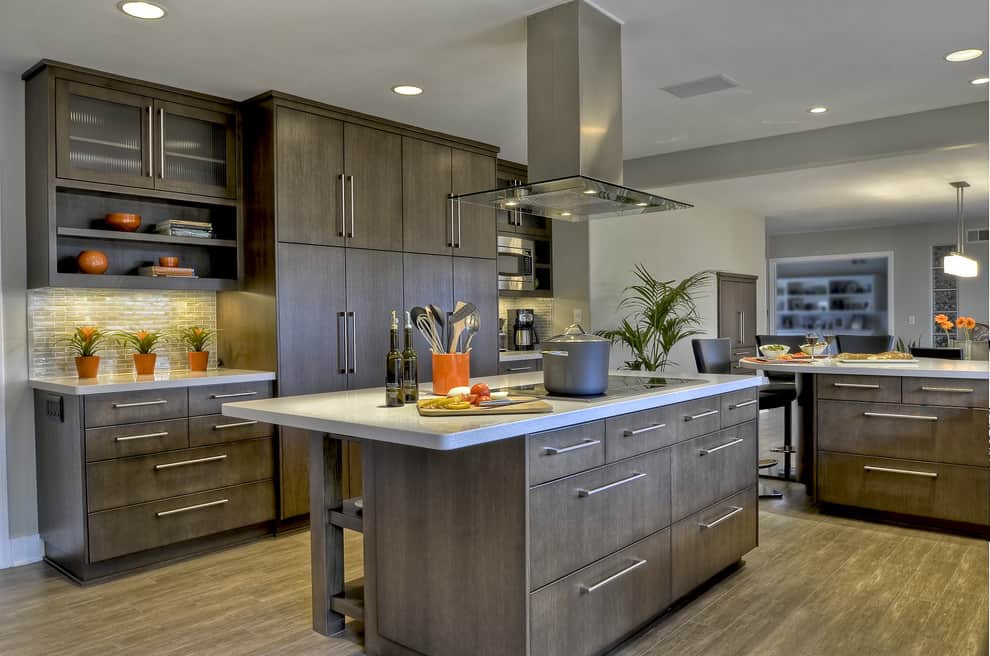 Looking at these cabinets makes me imagine the posh life I wish I had lived in an expensive loft in the city. This kitchen is all about warm oak and cool stainless steel.
What I love about this material pairing is how different the wood and steel are and how they play off of one other. Matching the cabinets in the kitchen island with the cabinets around the rest of the kitchen keeps this layout stylish and modern.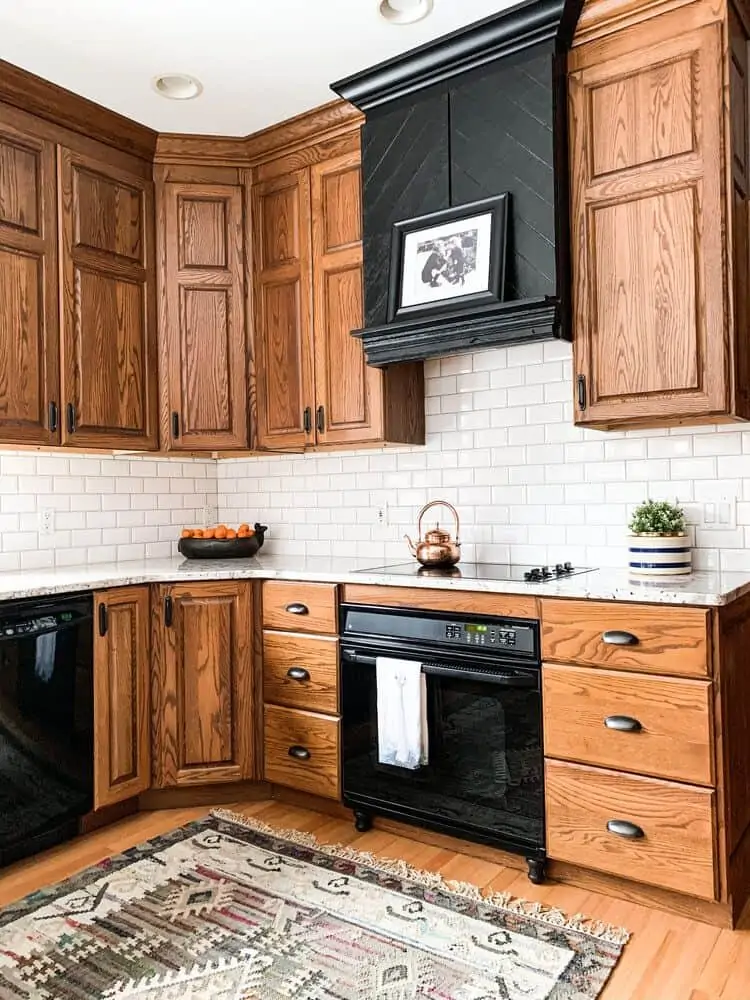 Natural woods with solid black is such a modern color palette. I love how the oak cabinets in this picture contrast with the shiny black kitchen hood, stove, and dishwasher. White tile walls brighten up the room, so the kitchen doesn't look dark despite the dark furniture. A rug like you see in the picture will help to give the space some warmth.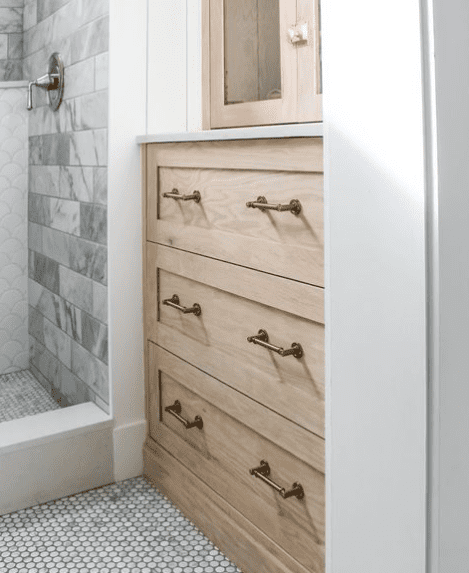 Pale oak wood with vintage gold pulls makes for stunning, classical cabinets. You might have noticed these drawers are actually in a bathroom, but you could use the same idea for your kitchen by making the cabinets bigger. Marble pairs exceptionally well with this combo of pale oak and gold, and I think it adds such an elegant touch.
Checking out this idea will show you how to refinish oak cabinets. Wes from WoodworkingWithWes is a pro when it comes to refinishing cabinets. This short video is super informative, so it might be worth a watch if you're planning to do some DIY renovating in your own kitchen.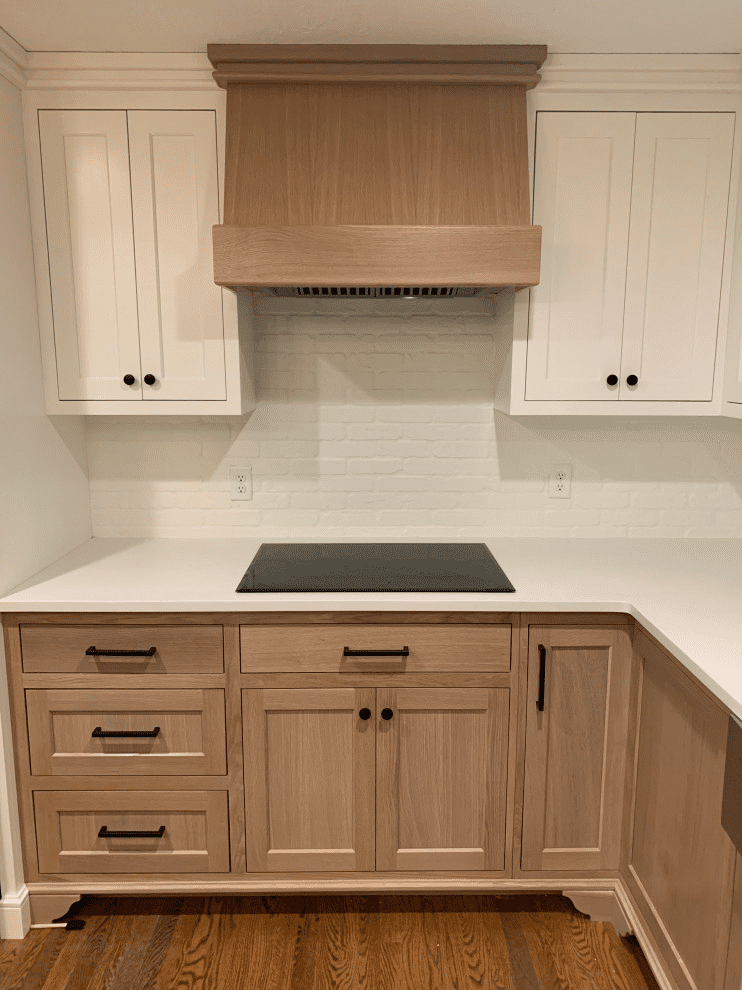 This idea shows how you can keep it simple with some contemporary flair. Alternating between oak's natural color and white-painted oak cabinets was genius when paired with the white countertop and pristine tile wall. This is a kitchen style I'd want in my home, because it's so minimal that it's easy to keep neat and tidy.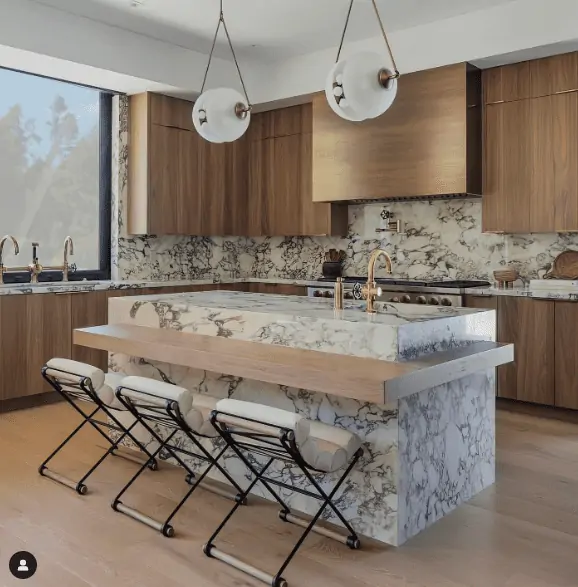 Speaking of kitchens I wish I had, now it's time to check out something more extravagant. This royal kitchen showcases huge oak cabinets accented with gold, marble everywhere-including the walls, and gold sinks. What's so unique about this kitchen is that it uses classical materials like oak and marble and then revamps them to appear modern.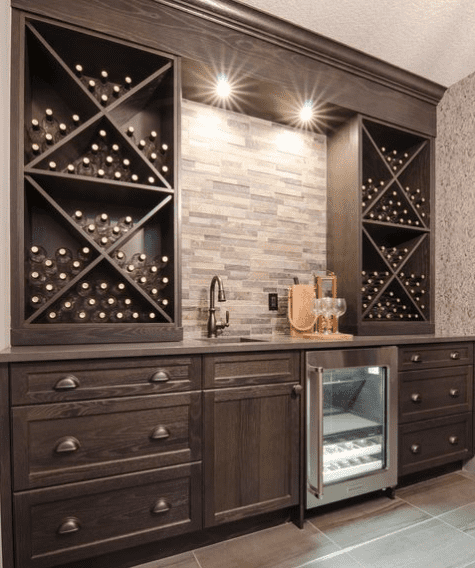 If you're a wine lover, then you've got to check out this idea! You could store so many wine bottles here! I know if that was in my kitchen, I'd be having a glass every night with dinner. The dark oak wood looks exceptionally modern because of how it was styled. All the cool tones in the room give off a very up-to-date aesthetic.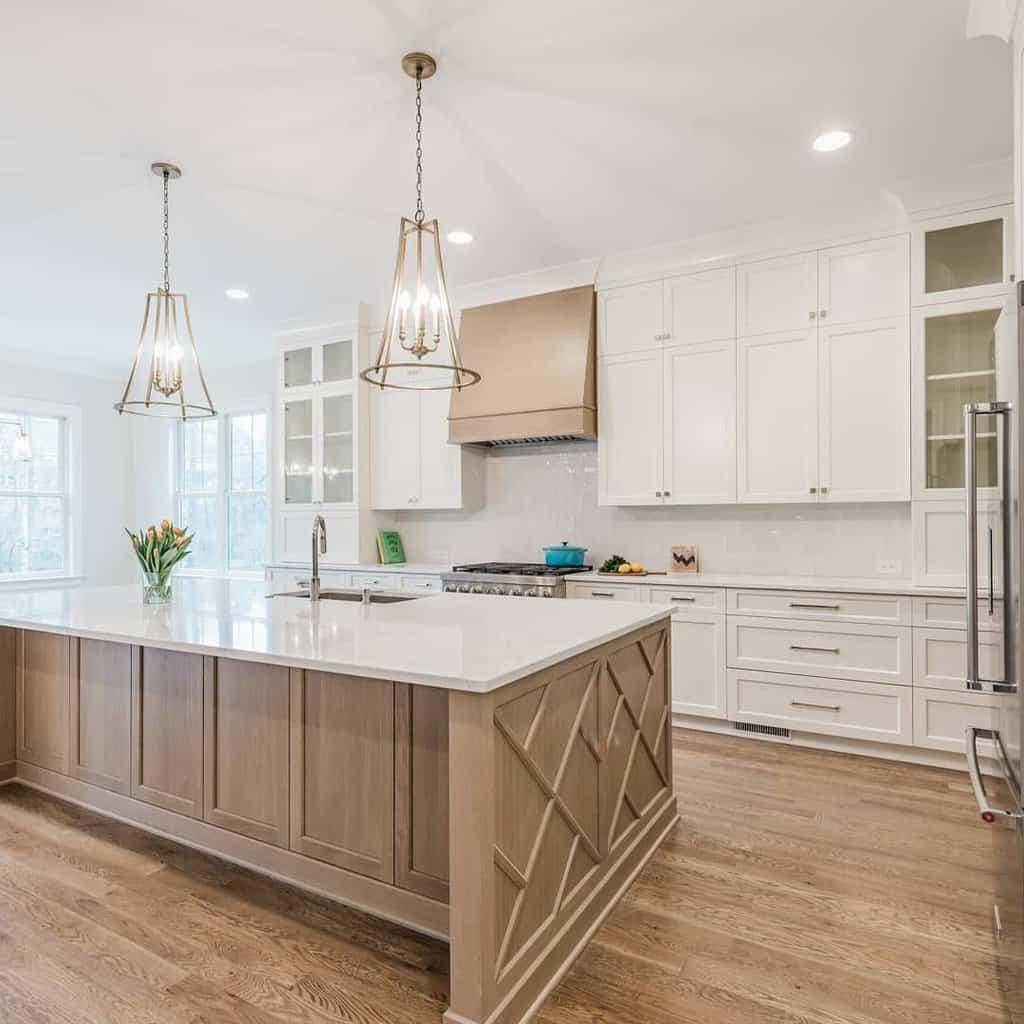 I wouldn't quite say this one is farmhouse style, but it's similar to it. The X-like pattern on the side of the kitchen island and the color scheme really reminds me of a farmhouse, but with elegant little touches. The oak cabinets have been painted white, while the kitchen island was left its natural color. Above the kitchen island, the gold chandeliers really catch the eye.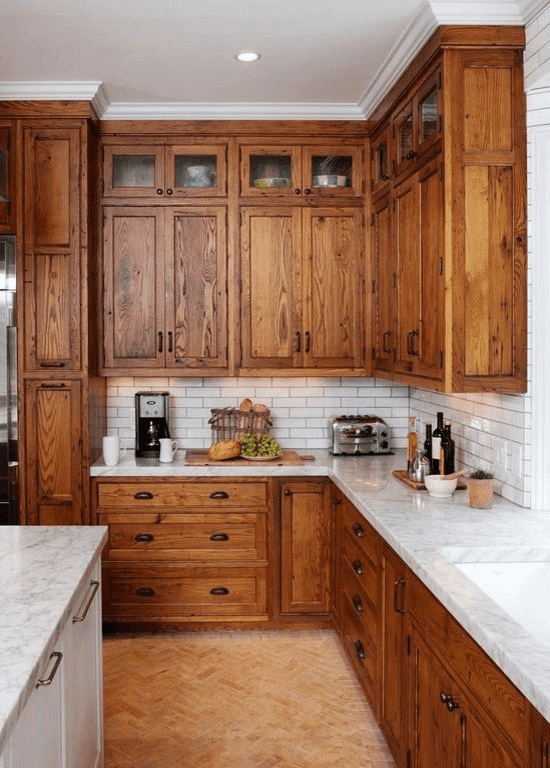 Alright, so you like old-fashioned looks. Well, then you're going to love this idea showing off a vintage way to style your oak cabinets. You can see the natural textures and graininess in the wood, which gives the space a homey feel. The warm-toned wood adds life to the room. Oh, and pairing oak with solid white is always a smart choice.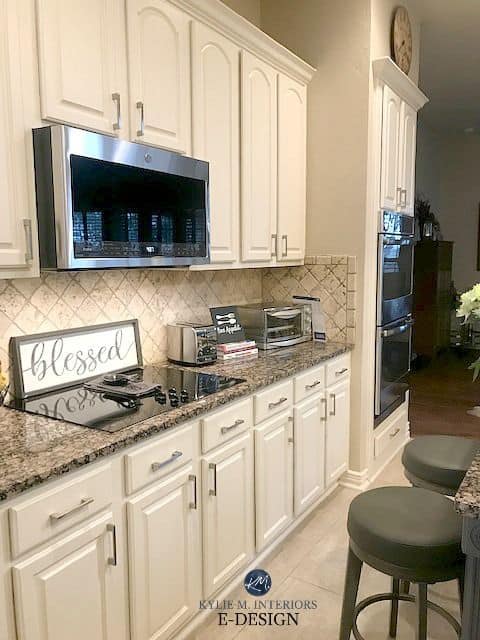 I'll talk more about how oak is great for holding paint down below, but for now, just know that it's easy to paint oak whatever color you please.
That's why I love options like this that show how you can style oak and make it modern simply by painting the wood white. White cabinets with silver pulls and stainless steel kitchen fixtures reads modern to everyone. If you want a fresh style for your cabinets and don't know what to do, why not paint them?
Here Are Some Great Oak Cabinet Options
These are the five best oak cabinet options you can buy online. These are smaller, mostly freestanding cabinets that you can place anywhere in your home. What's better? They don't require some long, complicated assembly process! One of these may pair perfectly with the cabinets you have in your kitchen or even with the color scheme of your bathroom. Let's go over them.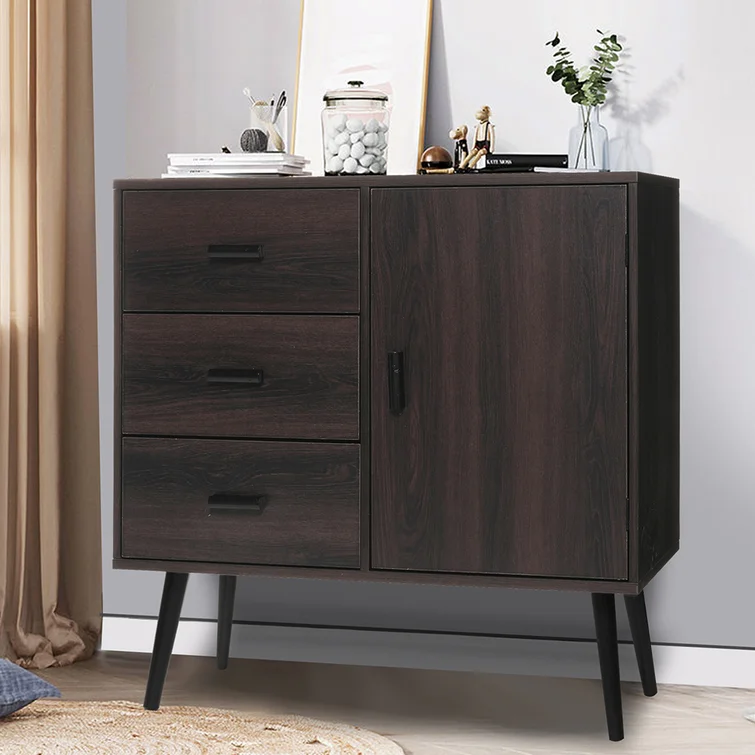 This freestanding oak cabinet feels modern and fresh. Having simple pulls and a clean design means you can dress this one up however you like! I think it looks best when you keep the decoration on top minimal. If you like this cabinet, you'll get to choose between 2 different color choices: dark brown and rustic brown.
Pros
Relatively inexpensive price
2 dark brown color choices
Soft close drawers
Cons
You'll have to pay extra for a 3-year protection plan and expert assembly

Like light, honey-colored woods? How about sticking with simple designs? If yes then you've found the oak cabinet you've been looking for right here! The shelves are easy to adjust, and the hinges are hidden on the inside to keep this freestanding cabinet looking sleek.
Pros
High-quality oak wood
Adjustable shelves
Modern minimalistic design
Cons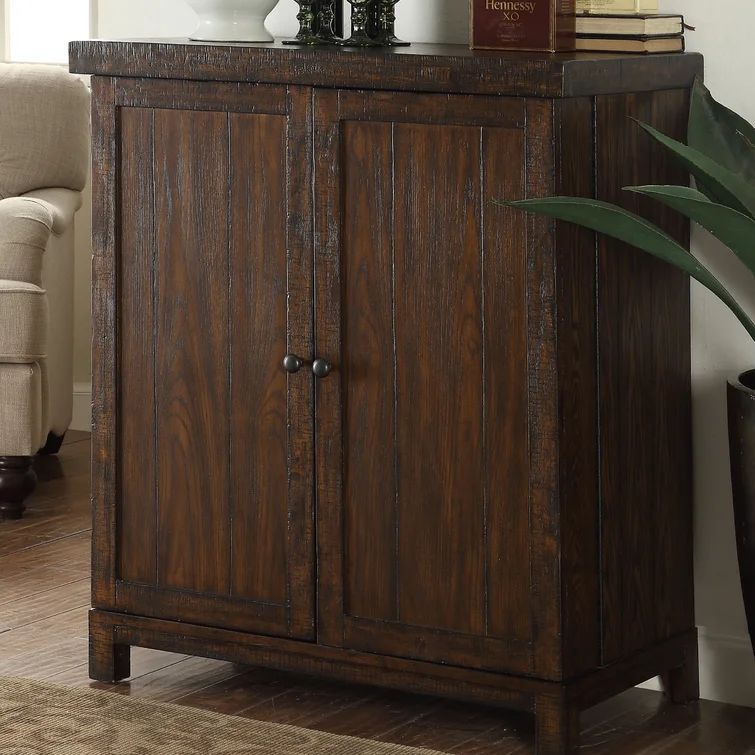 I can't get over how beautiful this cabinet is. This gorgeous and glossy freestanding cabinet has been stained dark, and I think the warm dark brown gives this piece a romantic feel. I just adore the versatility of this one, too, because it can fit into any room of the house.
Pros
Gorgeous shiny finish
Doors that lock
Large amount of storage space inside
Looks great with a variety of home themes
Cons
Most expensive oak cabinet on the list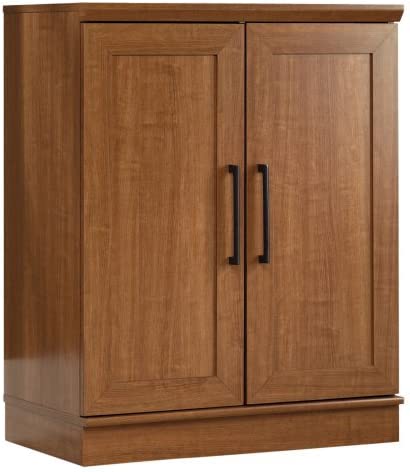 If you want an inexpensive option, then take a closer look at this oak cabinet. It's perfect for small spaces and offers plenty of room for your storage needs. Made from sienna oak, this floor-mounted cabinet is stunning without breaking the bank. It's also compact enough to fit under some desks if you wanted one for work.
Pros
Least expensive oak cabinet on the list
Adjustable shelf and base levelers
2 can be stacked on top of each other
Cons
Expert assembly costs almost twice as much as the cabinet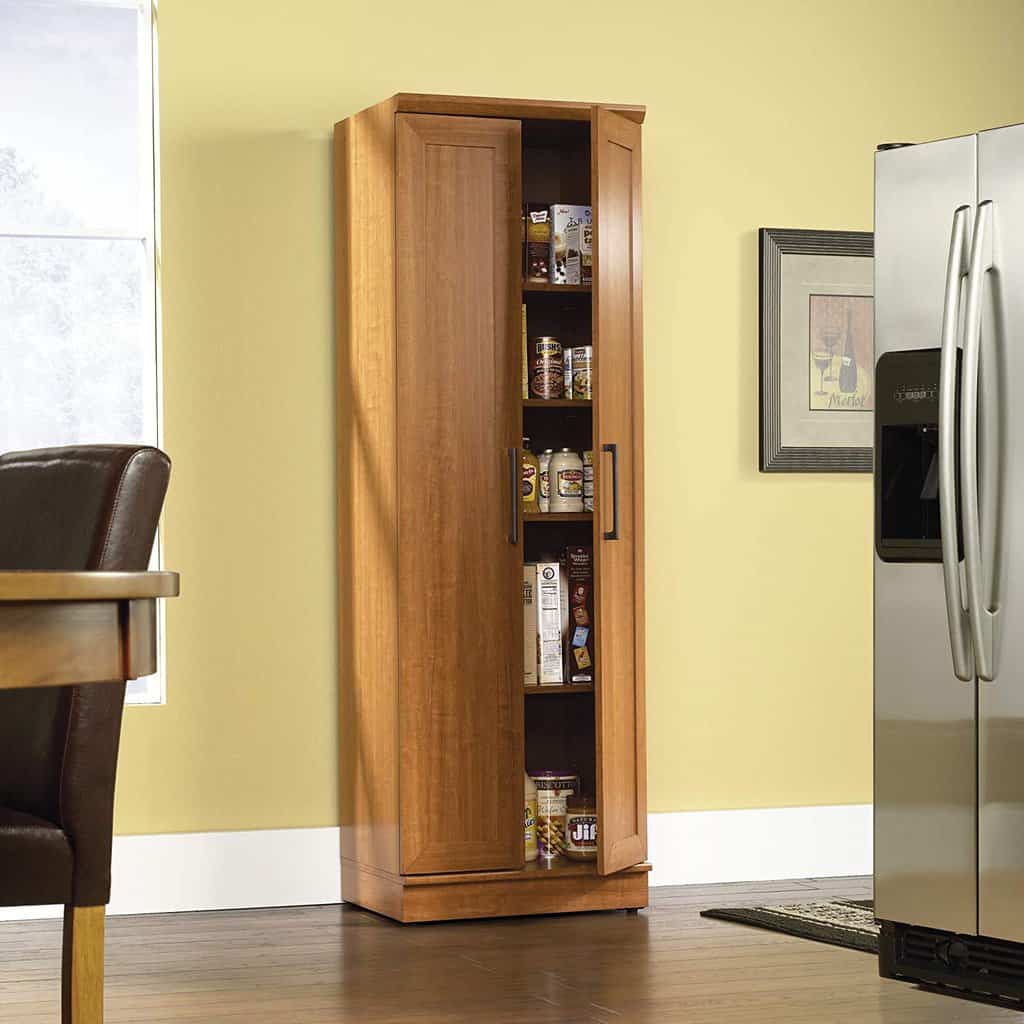 This one is super similar to the last sienna oak cabinet, but this one is tall and skinny. Perfect for adding some height to your room's ensemble, this option is also easy on the bank account. You'll have a window of 30 days to return it if you feel the cabinet isn't for you, but something tells me you're going to like it.
Pros
Inexpensive price
Tall cabinet with lots of space
4 adjustable shelves
Cons
Wood isn't as high-quality as the first three options
Types of Oak for Cabinets
Let's talk about some popular variants of oak wood that are widely used for wooden furniture. If you don't spot your favorite on this list, that's okay! I would recommend any variety of oak wood as a strong hardwood perfect for kitchen cabinets.
White Oak – A pale type of oak wood that has outstanding wear resistance. This type of wood is very easy to stain.
Red Oak – A warm variant of oak wood with reddish tones or pinkish hues. Red oak is a particularly grainy and coarse type of wood.
Black Oak – Contrary to what you might think, black oak wood is not always dark. This popular variety of oak is beloved for furniture projects and landscaping.
Features of Oak
Oak wood is a common type of wood used for home projects, so it's time to investigate why that is. Let's sort out what makes oak wood different from other popular American hardwoods like cherry, maple, and walnut.
Look
There are warm and cool shades of oak wood you can find. Most commonly, oak wood appears as a honey blonde to honey brown. You can see the rough, grainy wood texture in most pieces.
Hardness
Oak is considered an American hardwood because of how tightly the wood grains grow together inside the tree. This is what gives oak wood its high density and hefty weightiness.
Painting and Staining
Oakwood stains easily and holds paint well. Since oak wood is porous, the stain can seep into the wood fibers and bind to them.
Washing
Even though oak is resistant to mold and bacteria growth, it's crucial to make sure oak wood is never fully submerged in water. Use a mild soap, a microfiber cloth, and warm water to clean the cabinet when there's been a spill. But let it dry completely before setting anything on top of it.
Pros and Cons to Oak Cabinets
There are pros and cons to everything, isn't there? Oak cabinets are no different, though I do think the pros outweigh the cons. Let's take a look.
Pros 

Dense wood that's resistant to mold, mildew, and bacteria growth
Light and dark varieties
Stains easily and holds paint well
Sturdy and long-lasting wood
Natural American hardwood

Cons 

Some dislike oak's grainy texture
Doesn't stain as easily as some other hardwoods

 
Can You Stain Oak?
Yes, you can stain oak! Oak wood is pretty easy to stain since oak is typically a lighter color. Though oak is a dense, grainy wood, its porousness allows it to hold stain well. It's a good wood for beginners to try staining with.
How Do You Make Oak Cabinets Look Modern?
It all depends on how you dress them up and what finish you want. For modern homes, I say either paint your oak cabinets a bright popping color or leave them a natural, cool-toned blonde color.
FAQs
Question: Are Oak Cupboards Outdated?
Answer: No, oak cabinets are not outdated. Though you can use oak wood for vintage looks, oak comes in several different shades, and many work well for modern kitchens.
Question: Are Oak Cabinets Making a Comeback?
Answer: Yes! Since 2021, oak cabinets have steadily been making a comeback with modern homeowners.
Question: How Can I Tell if My Cabinets Are Oak?
Answer: In truth, it may be very difficult to tell if you have oak cabinets if you aren't sure what kind of wood they are already. It's much easier to tell the difference between real wood and engineered wood than deciphering between 2 types of real wood. If your cabinets have been assembled with joints known as dovetail joints, then you know they're made of real wood.
Time to Plant Some Sturdy Roots
It's time to plant some sturdy roots just like an oak tree and really make your home your own. If you've felt inspired to redo your oak cabinet or have new oak cabinets installed, I really hope I gave you some great inspiration for what to do with them.
Do you have a favorite of the ideas I showed you today? If you want something classic and dark, I'd suggest the Jimerson 1 – Door Accent Cabinet idea. Are you thinking of getting one of the smaller cabinets that can fit in kitchens, bathrooms, and living rooms? Let me know in the comments! For more trendy ideas about how to decorate your home, please come check out our website!
Read More: