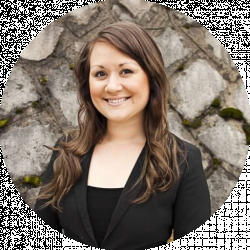 Latest posts by Lacey Jackson
(see all)
I've only ever seen grandparents use a medicine cabinet for prescriptions. I remember one of my grandparents growing up complaining that a guest who attended a recent dinner party stole prescriptions (Vicodin) from their medicine cabinet.
The rest of the family was aghast ("What kind of a person rifles through someone else's medicine cabinet?", "Did they know you just had back surgery?", "You should pray that God reveals who it was." <– not even kidding about that last one).  
Meanwhile, 6-year-old-me sat at the table, legs dangling, refusing to eat anything but the rice on my plate, wondering what on earth a medicine cabinet was, what Vicodin was, and whether I could really summon God as my partner in revenge.
Bottomline Upfront
Now I appreciate that a medicine cabinet, previously reserved for those quintessential orange pill bottles with impossibly strong white tops, can now be used for many great ideas in the bathroom or any other room. I love the idea of installing black medicine cabinets in other parts of the house to serve as small storage cabinets and an easily accessible mirror.
I have lived in far too many houses where the bathroom mirror was exceptionally tiny. The only time you realized your lipstick was well above your lip line or you were walking around with toilet paper fluttering behind your skirt was when you cut a reflection of yourself walking downtown.
Using black medicine cabinets throughout the house gives you a chance to catch those issues before you leave the house.
Selection Criteria
Each of these best black medicine cabinet ideas was compiled based on the features, the durability, and the applications for which modern black medicine cabinets can be used.
Idea #1: DIY Medicine Cabinet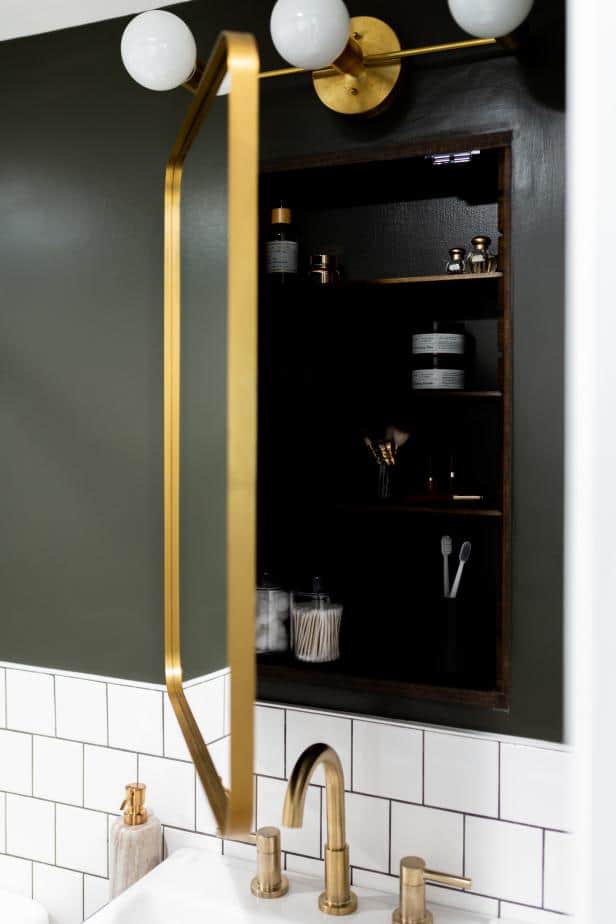 There are so many medicine cabinet ideas, but the best black medicine cabinet ideas are those which don't cost you anything at all. We grew up very–my grandfather would say frugal, but I guess "poor" is a more accurate term.
I've noticed that family members who survived the Dust Bowl, the Great Depression, or a World War tend to pass on the same frugal mentality throughout generations.
In our family, that manifested as never throwing anything away, passing down furniture from one family member to another like it was a game of chess and had to be moved periodically, and refinishing or refurbishing things other people had thrown into the dump.
I couldn't believe it when our family first went to a furniture store; I didn't know they had furniture stores. I always thought you waited for someone to move or be the recipient of a family heirloom before you could upgrade your house too.
So, we never had store-bought medicine cabinets growing up, but my mother repurposed another wall-mounted cabinet in the bathroom, and we called it a medicine cabinet. If you have any other cabinet you are not using, a small bookshelf or set of drawers, don't be afraid to repurpose it as a medicine cabinet with a mirror. 
How to DIY Recessed Medicine Cabinet Modern Mirror.
Tip: If your cabinet doesn't have a mirror, buy a small framed mirror and place it on one of the shelves.
Idea #2: Line Multiple Cabinets Together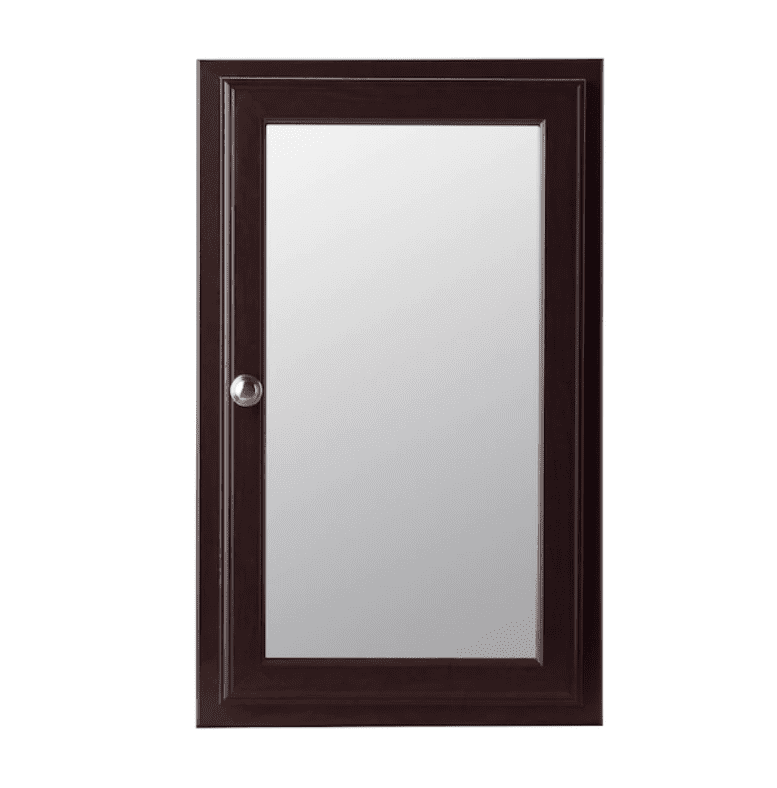 I've always thought that medicine cabinets were far too small for anything other than pills. But since I have all my original joints and my eyesight hasn't gone (yet), I don't actually have any medicine. Instead, we put multiple medicine cabinets side-by-side in our bathroom to look bigger because the mirror doors reflect the light, offering more storage for soaps, shampoos, and shaving equipment. 
If you install multiple cabinets side by side, the Style Selections black medicine cabinet works really well. This cabinet has adjustable interior shelves. It's about 26 inches tall and 16 inches wide, so it holds a lot of stuff. What's more, installation is simple; everything you need comes with it. You can try the Fresca Hudson line of medicine cabinets too.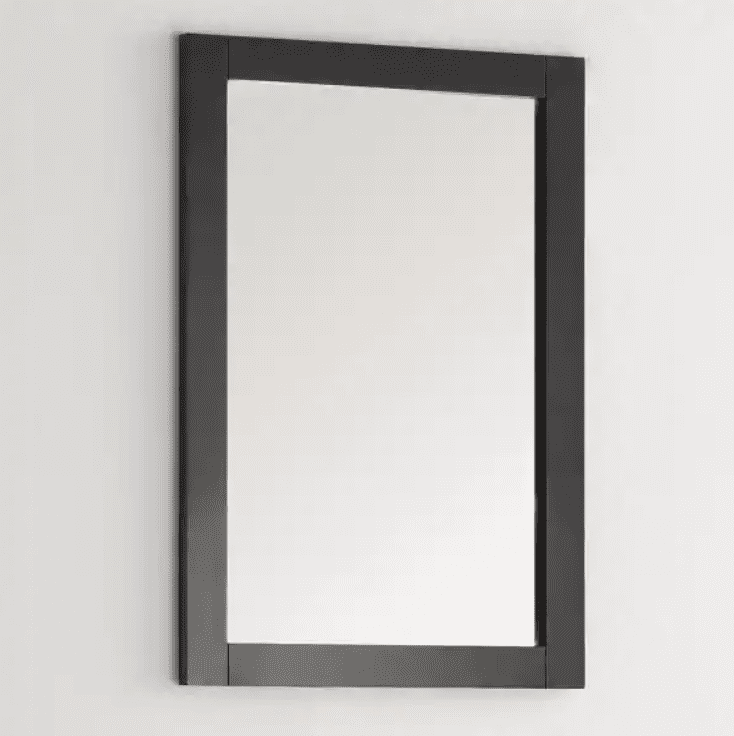 Tip: You don't have to line multiple black medicine cabinets together in a bathroom just because of the medicine cabinet. You can easily line them together in a closet, bedroom, or guest room. I love the idea of mounting two black medicine cabinets side by side in a guest room where you can place spare toiletries, small hand towels, and maybe even some water bottles or snacks.
Idea #3: Make a Medicine Cabinet Your Small Linen Cupboard
Not everyone has space for an entire linen cupboard. I didn't even know houses came with individual linen cupboards until my in-laws moved, and they had one that was built into their hallway doors flush with the walls.
We don't have space for that in our hallway, and we can't very well knock a hole into one of the other bedrooms to make it. So, we incorporated a black medicine cabinet as a wall-mounted linen cupboard.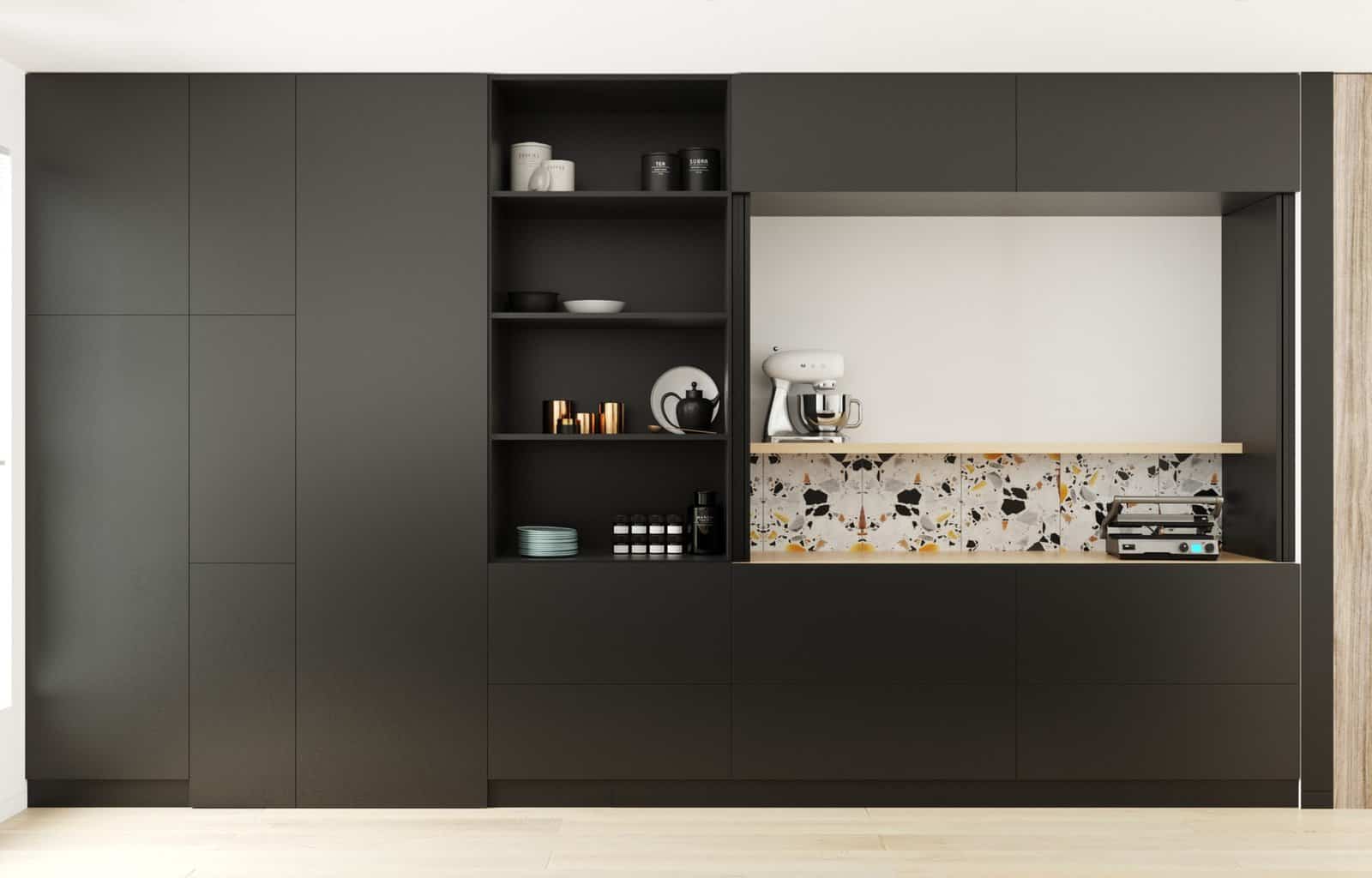 You can incorporate a black medicine cabinet into your laundry room or hallway, but we put it in our laundry room. It's the perfect place for all of our hand towels, and everyone knows that if they spill or the cat has a hairball, the towels are always neatly folded in the black medicine cabinet. 
If you want to mix and match open space with interior storage, the Allen + Roth espresso medicine cabinet works really well in any space, especially bathrooms, laundry rooms, and bedrooms. This one works particularly well as a small linen cupboard because it has three shelves at the bottom where you can place wicker baskets or simply stack folded towels. 
Idea #4: Recess Your Medicine Cabinet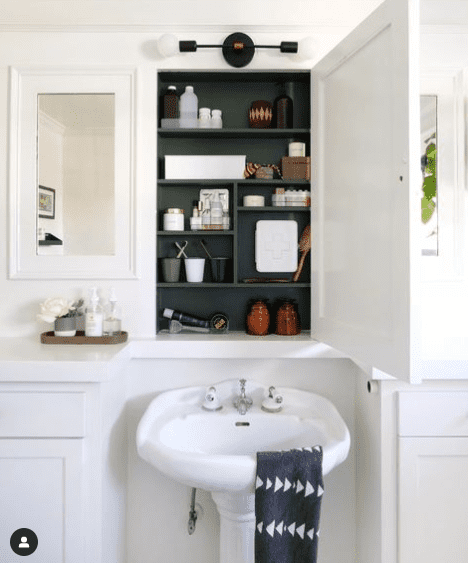 No matter where you install it in your home, you can create a recessed medicine cabinet that fits inside the wall so it doesn't stick out at all into your (no doubt, limited) bathroom space.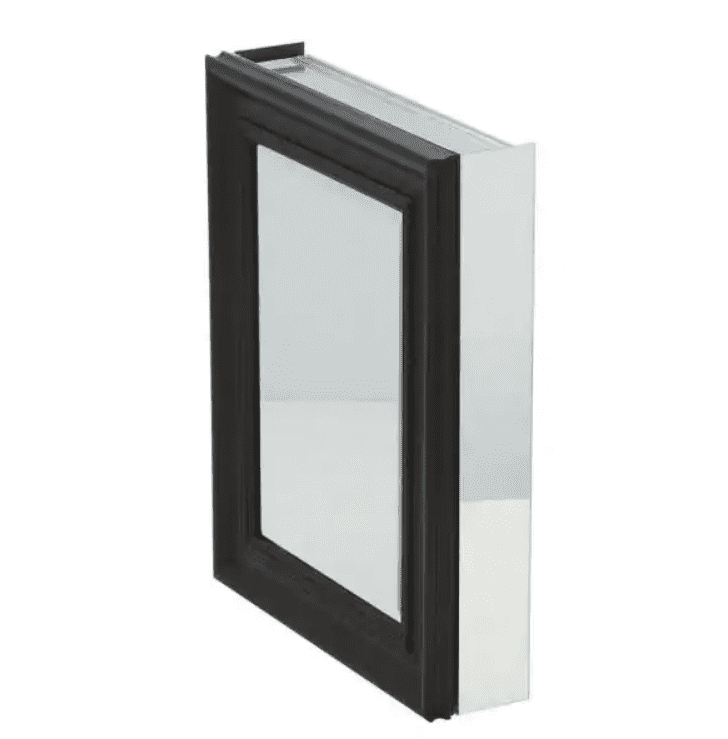 Unless you have carpenters in your family (I am lucky enough to have three), I would suggest hiring a general contractor to cut the hole and install the cabinets. Pegasus has multiple sizes for framed black recessed medicine cabinets with glass shelves and a mirrored background. You can also try the Vintage rounded for a less-traditional cabinet.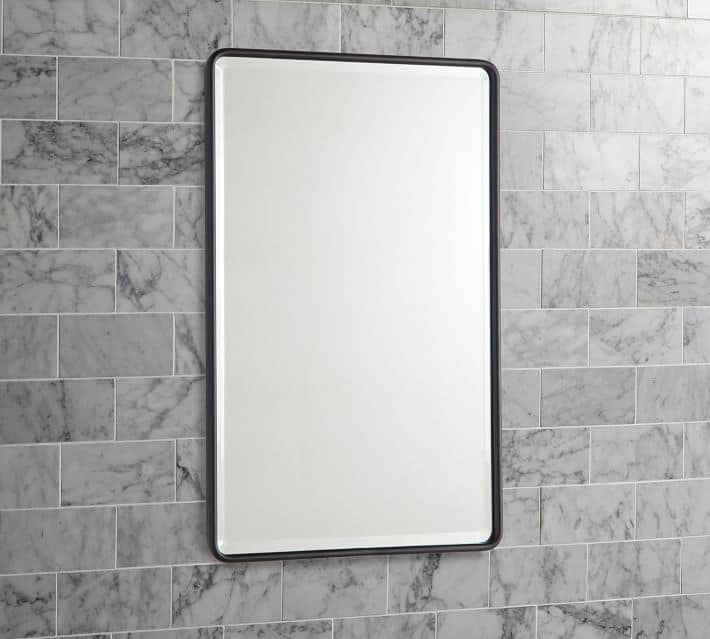 Idea #5: Frameless Recessed Cabinet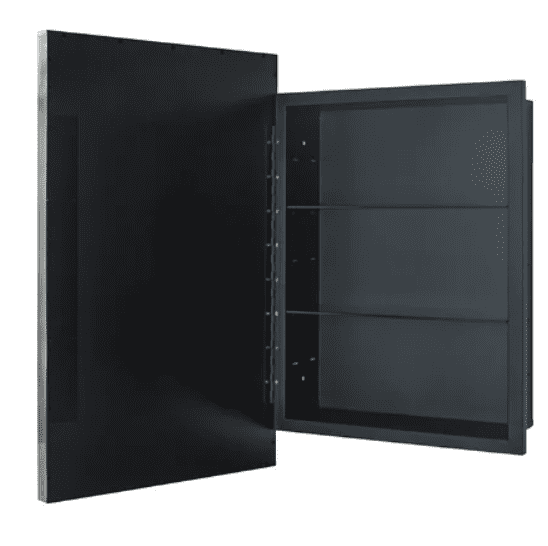 There are so many fun options for recessed framed medicine cabinets that come in black on the inside. With something like the Latitude Run Black Medicine Cabinet, you can enjoy the standard three shelves on the inside, all in black, with a mirrored, frameless door. 
Tip: The Latitude model is a recessed design, so it is meant to go inside the wall so that the frameless mirror looks like it's nothing more than a mirror. These usually have metal latches, so you don't see any hardware or handles on the outside. That doesn't mean you can't use the same frameless cabinet without recessing.
Idea #6: Make Frames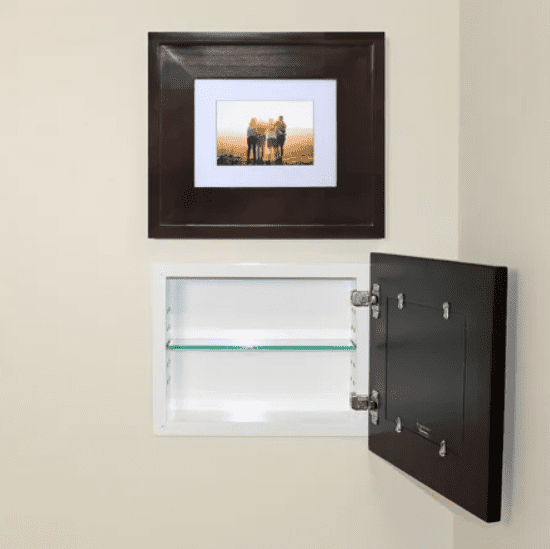 Your medicine cabinet doesn't need to have a mirror at all. Consider a recessed frame medicine cabinet if you want to disguise multiple small medicine cabinets throughout your bathroom, bedroom, or another private place. 
Fox Hollow Framed Medicine Cabinets come with black frames inside of which you can put your favorite family photo or a beautiful landscape that matches the theme of your space. I absolutely love that these are recessed cabinets, so they are installed inside your wall, they have adjustable shelves on the inside, but the door is basically a picture frame. Hence, no one knows you have medicine cabinets at all.
The best part is that while people might try to sneak a peek inside medicine cabinets, I don't know anyone who has ever tried to list a picture frame off the wall so you can hide any adult items of your choice in a bedroom, bathroom, or throughout the house if you so choose.
Idea #7: It's all Smoke (read: Fog) and Mirrors
One of my favorite black medicine cabinet ideas is to find a cabinet that has anti-fog technology. This helps you get out of the shower with a perfect view of your freshly washed body (it might be a bit unnerving at first). Still, more importantly, it lets you immediately get ready in the morning without having to use your hand to wipe away the fog and hope for the best.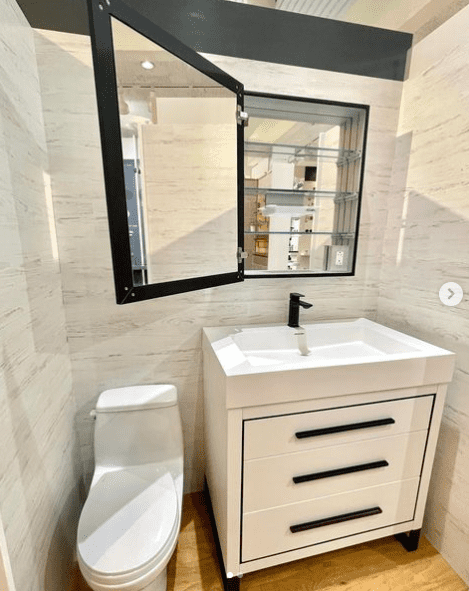 This new fog technology is not the only thing worth having. I strongly suggest finding a black medicine cabinet with a mirrored background, a mirror on the inside of the cabinet door, and a mirror on the outside.
Once upon a time, this seemed like overkill. Now, I truly appreciate how important it is to use multiple mirrors as a compensating tool in bathrooms with poor lighting or no natural windows. If this sounds like your home, think about the Black Aluminium Medicine Cabinet.
Bonus: It comes with lighting built into the mirrored door. Woo!
Idea #8: Sliding Barn Door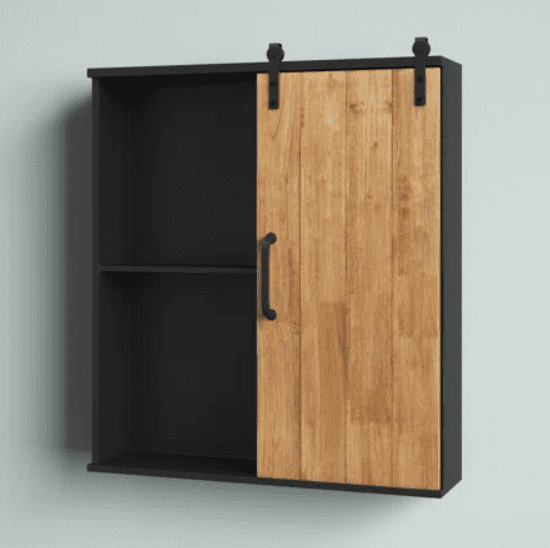 Sliding barn doors are a very popular alternative to the traditional mirrored black cabinet or double doors that open outward. With the Eliza Cabinet, you get a black cabinet with two shelves over which a rustic, solid wood door can slide back and forth.
Tip: If you already have a mirrored medicine cabinet or a mirror above your sink, this is a great way to incorporate additional, small storage by installing this wall-mounted cabinet somewhere else in your bathroom. It can go next to the mirror or on the opposite wall giving you storage where previously there was none.
Idea #9: Clear Storage
As I've mentioned, medicine cabinets don't actually have to be used exclusively for medicine or exclusively in the bathroom. I love the idea of clear doors on a black medicine cabinet for decorations.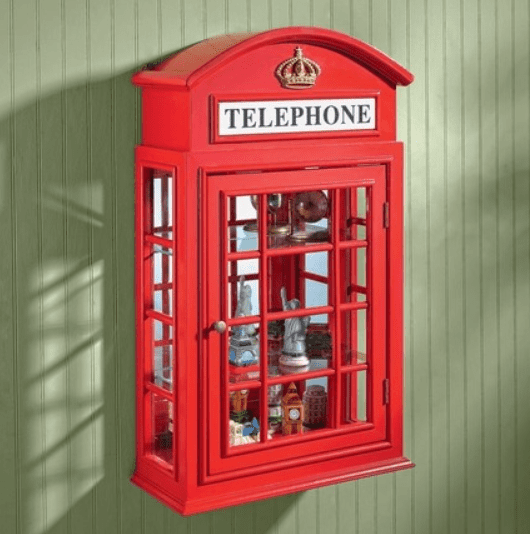 With the Gracie Oaks Door Cabinet, you get a similar design to the sliding barn door; however, you get a black door with glass panels. There are three shelves on which you can store cute accessories and then move the glass panel back and forth.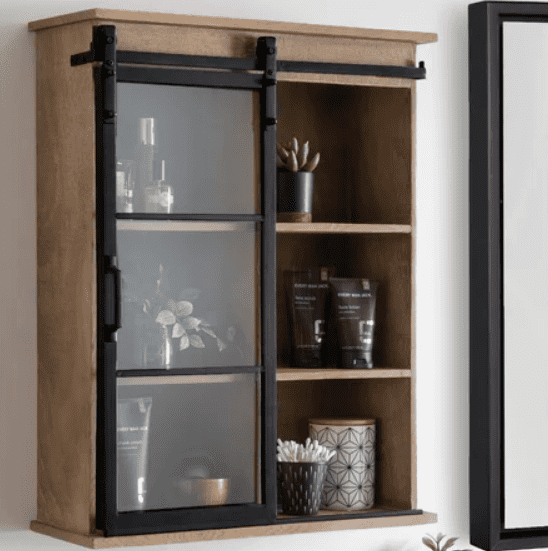 Tip:  If you use this medicine cabinet in your bathroom, consider a few small house plants (if your room has adequate light) that have air purifying properties, some candles, decorative lotions, and small accent containers or cups in which you can store things like cotton balls or Q-tips within easy reach.
FAQs
Question: What are black medicine cabinets made of?
Answer: Black medicine cabinets can be made from plastic, wood, or stainless steel. Plastic is the cheapest and the only thing you will find with a swinging door cabinet. Wooden medicine cabinets give you a slightly warmer look, and you can have them match the rest of your bathroom furniture by choosing a black finish.
Stainless steel is the strongest, and it's much easier to maintain. If you find a black medicine cabinet that has anti-fog properties, it will probably be stainless steel.
Question: What is the best shape for a medicine cabinet?
Answer: Medicine cabinets usually come in a rectangular shape. Sometimes you can get a square. Other times you might have an oval or circular mirror but behind that mirror is still a rectangular set of shelves.
Question: How much weight can a medicine cabinet support?
Answer: This depends on the material from which it is made and the size. Cabinets that have a stronger frame and are deeper, made of wood or aluminum, can support more weight. Whichever black medicine cabinet you buy should have information on the maximum weight allotted for each shelf.
Question: Is there a standard size for a black medicine cabinet?
Answer: Typically medicine cabinets are between 20 and 22 inches tall. They are often 15 or 16 inches wide and 4 inches wide. Modern iterations like the Style Selections are slightly deeper.
Question: Should my medicine cabinet be the same size as my vanity?
Answer: No. Medicine cabinets are usually a bit narrower than the vanity. However, you can choose to install one that is the same size or larger. Just make sure you measure the distance between the faucets and the lights so that you know how tall a black medicine cabinet your space can support.
Question: How far above the sink should I install my medicine cabinet?
Answer: If you plan to use one of these best black medicine cabinet ideas for your actual bathroom, medicine cabinets are usually installed about 3 inches above any fixtures, soap dispensers, or faucets.
Best Black Medicine Cabinet Ideas: Bottomline 
A medicine cabinet might be where you store your medicine, but it might also be a great place to store things like your keys, spare linens, or other tiny knick-knacks. I love the idea of setting up modern mirrored black medicine cabinets with small open shelves and cabinet doors throughout the house, especially in guest rooms or entryways.
Read More: