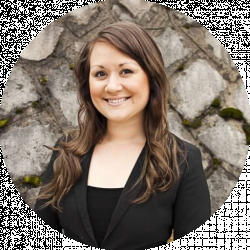 Latest posts by Lacey Jackson
(see all)
My family owns a home remodeling company. Much of the work is on nicer, upper-class houses along the coast. Bathrooms are one of the most common remodels because it is the easiest place to make a substantial impact. In addition to replacing the antiquated white tubs with glass showers and geometric tiles, we usually upgrade the medicine cabinets.
Kohler is one of the best companies for top-of-the-line cabinets because they specialize in mirrored cabinets that include mirrors on the inside of the structure, high-quality aluminum and glass construction, and a lot of modern features like lighting panels.
Bottomline Upfront
Out of all their choices, I love the Beveled for a small, compact medicine cabinet and the Verdera for medium-sized and tri-view cabinets. If you are a big fan of modern features like lighting along the cabinet doors or Bluetooth functionality, Verdera has these options.
Selection Criteria
When evaluating the different Kohler medicine cabinets, I selected the best based on their features and the applicability they have for different sized bathrooms.
Under each size, you can find maybe half a dozen that are almost identical except for the width or the height. I only included one example in this case because it does not make sense to compare cabinets that are exactly the same, except one is 20 inches wide, and the other is 20 ⅛ inches wide.
Best Kohler Medicine Cabinet Features
Shapes
You can find Kohler medicine cabinets in many shapes like:
Rectangular:

Rectangular shapes are very popular for larger bathrooms, especially when placed over a double sink.

Oval: These have an oval-shaped mirror on the front, but the cabinet behind the oval is a standard rectangular shape.
Arches:

These designs have an arch top and bottom to the mirrored door of the cabinet, but behind the mirror door, you get the same thing as the oval designs: a standard rectangular set of shelves.

Corner:

Corner cabinets are small, sometimes called compact, and designed for smaller bathrooms.
Doors
Kohler offers only mirrored doors. All of their mirror doors have mirrors on the outside and the inside. Instead of the standard tri-view options, they have single or double mirror designs, so you can choose one cabinet door or two cabinet doors.
Installation
Kohler offers surface mount or recessed mount installation. Some of their cabinets come with what is called dual installation, which means you have the hardware for either system. I love the way Kohler handles the dual installation: they give you the hardware for both and extra mirrored side panels if you choose a surface mount. 
Features
Kohler is known for its modern features. 
Slow Close
Firstly, many of their medicine cabinets have a slow-close door, so no matter how hard you slam the door when you are rushing in the morning, it will close slowly on its own.
Magnifying
A lot of the larger models included in this list feature an adjustable magnifying mirror on the inside. The more expensive versions have multiple levels of magnification and extendability for that door, so you do not have to lean in; you can pull it to you.
Lighting
Many of their modern medicine cabinets have LED lighting either along the perimeter of a surface mounted design or along the perimeter of the front cabinet doors for recessed models. Some of the lighting comes with additional features like controls you can install elsewhere in your home to activate or deactivate the LED functions on your medicine cabinet.
Note: If you invest in a Kohler medicine cabinet with any type of electrical features like lighting, have a professional install the medicine cabinet.
The Best Kohler Medicine Cabinets: My Top Picks 
Kohler offers four cabinet widths, two height options, and a lot of modern features. 
Compact Cabinets >16 inches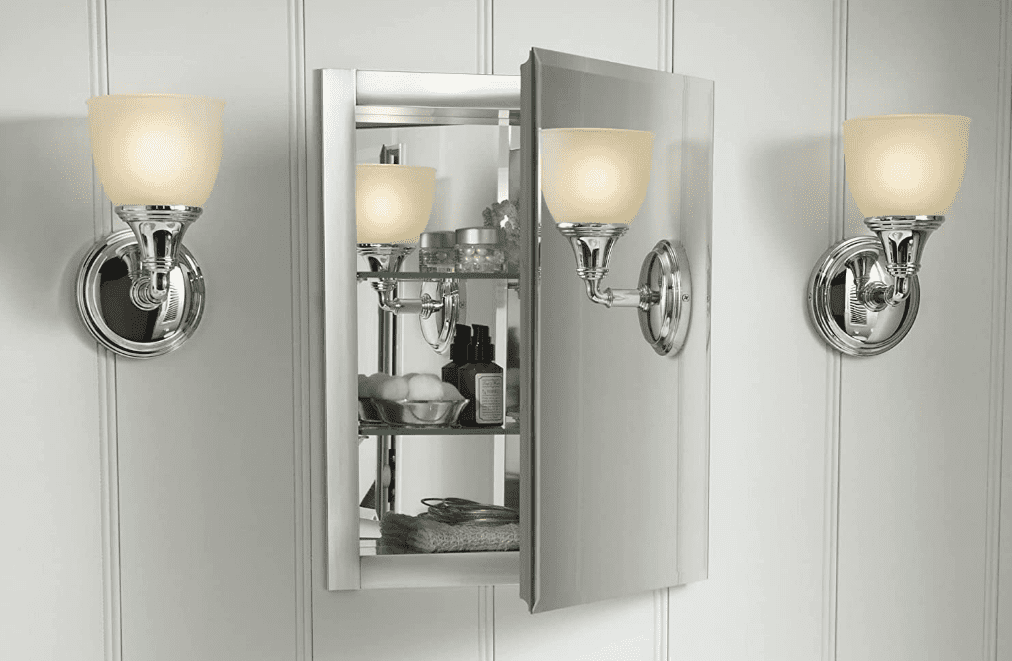 You can get 16-inch or narrower cabinets for compact bathrooms. Kohler sells the beveled cabinet that comes with a mirrored door, adjustable shelves inside, and a mirrored interior. This one is made from chip-resistant and rust-resistant aluminum. You get all the hardware you need for a surface installation. 
It is only 15 inches, so it is good for an apartment or a shared bathroom. I love that you can install it, so it swings open to the left or right. You might not think this is important until you end up in a bathroom on one side of your house that only has space to open in one direction.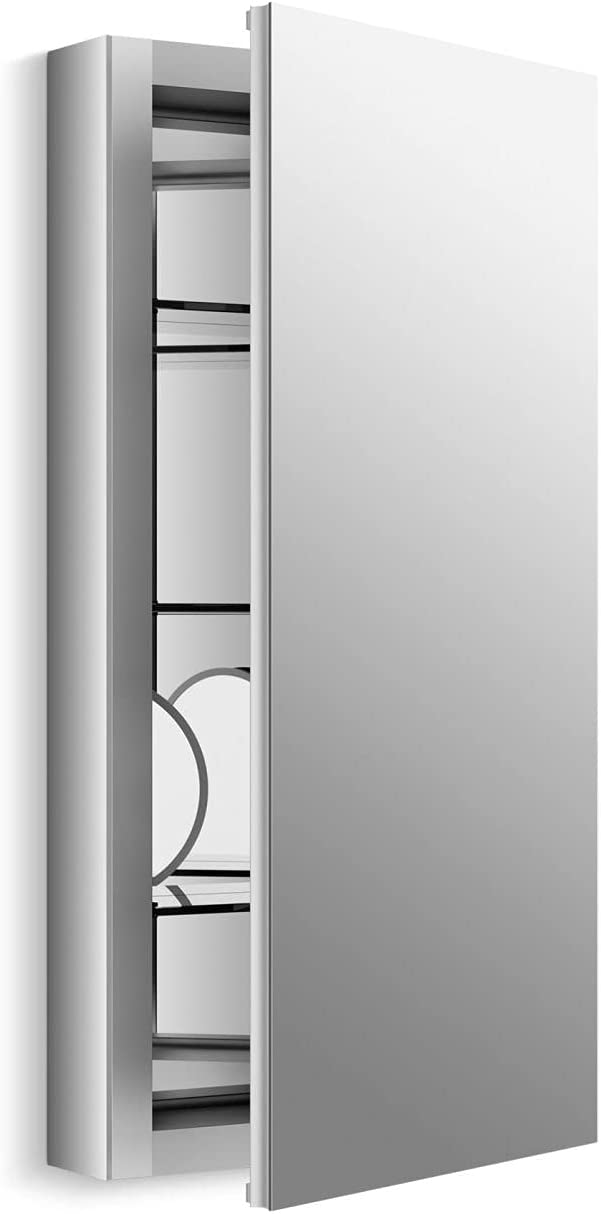 Kohler sells the Verdera adjustable cabinet. This medicine cabinet has a built-in magnifying mirror, so when you open the door, you can adjust the mirror vertically and really look at how crooked your eyeliner is once and for all. Not only is it a mirror door, but the interior is fully mirrored. 
All of the shelves inside are adjustable. You can install the door so that it swings to the left or the right. The door has a slow-close function, so it won't ever slam, no matter how busy you are.
Cabinets 17-21 inches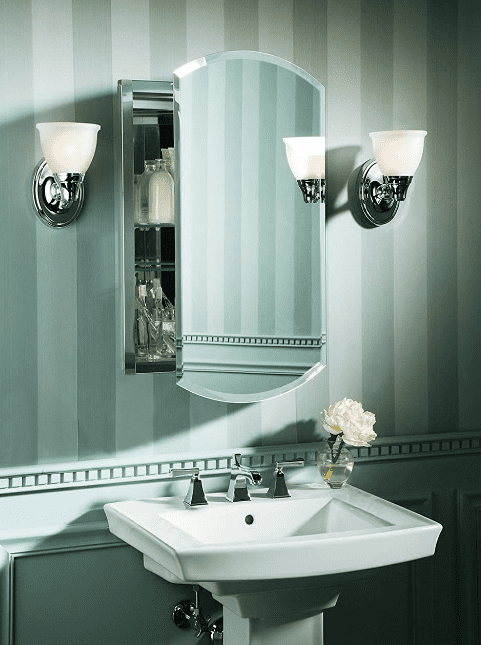 Kohler has the Archer arched medicine cabinet. This is a compact medicine cabinet made with glass and aluminum. The two glass shelves are adjustable, so you can fit whatever items you have. You get mirrors on the outside of the door, the inside of the door, and the inside of the shelves.
This comes with the same option of installing it to swing open to the left or the right, two-way adjustable hinges, a side mirror kit, and all the hardware you need.
I love this one because it is a dual design, meaning you can install it as a recessed mirror or a surface mount mirror. It is also one of the few options this company sells that has the arch design on the top and bottom of the door.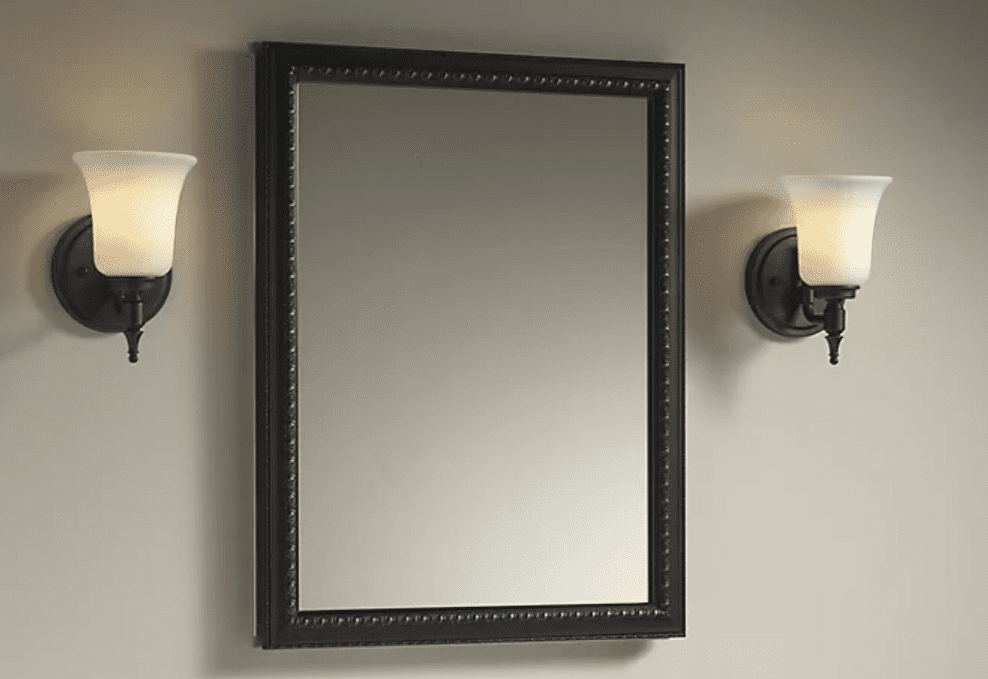 If you want the traditional framed mirror, look no further than the Bronze framed model. This is a wall-mounted or surface-mounted medicine cabinet with a reversible door, so you can choose to install it so that it opens to the left or the right.
It has a mirrored surface on the front and the back of the door. It is made with aluminum construction and a beautiful bronze frame that works well installed next to bronze sconces.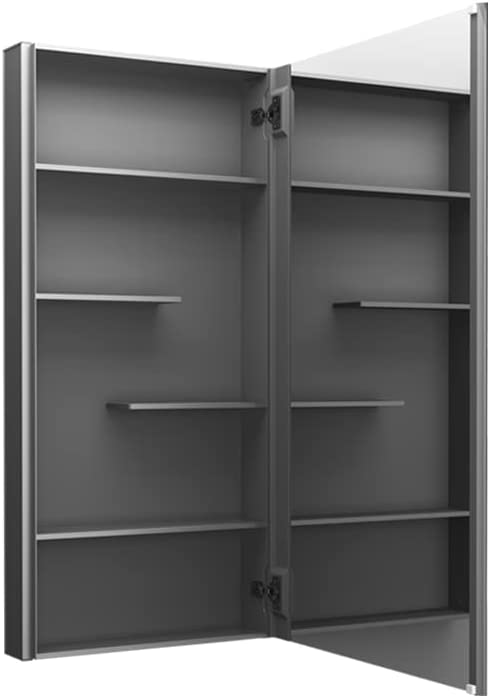 This is a slightly larger and more modern cabinet. This lighted medicine cabinet features LED lighting along the side panels so you can see your reflection better. It is very slim, only 17 inches wide and 24 inches tall, but it still has an internal storage of 3.5 inches deep. 
You can change the shelving inside so it fits smaller or larger items. There is an electrical outlet inside where you can power things like razors and toothbrushes, even has the option of a speaker and charging dock. You get all the mounting hardware you need, but I would advise you to have a professional install it because of the electrical components.
Standard Cabinets 22-29 inches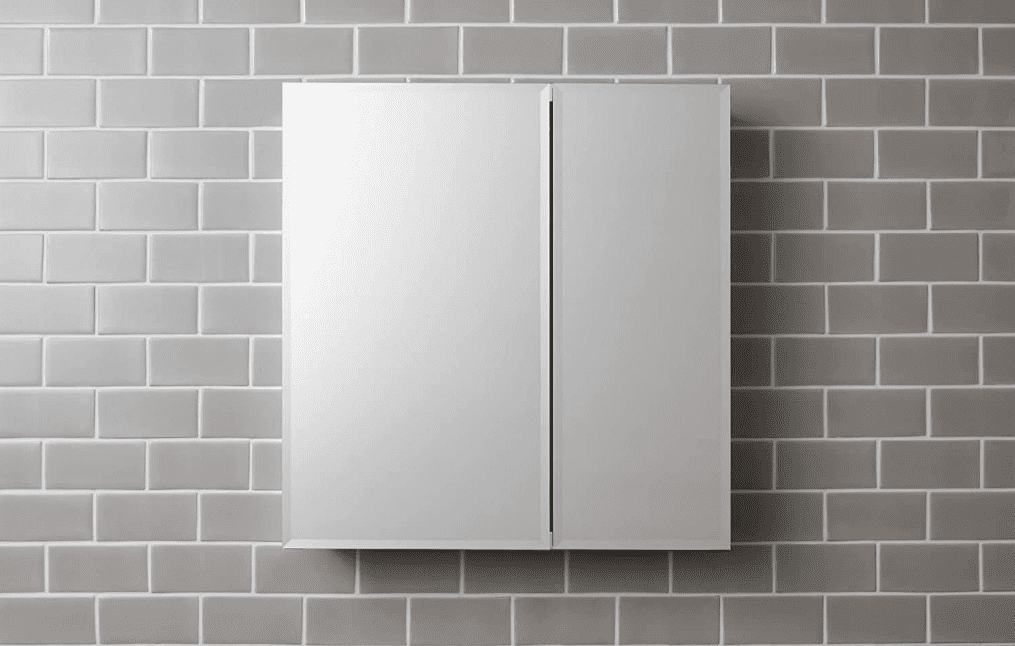 Kohler has a two-door model, which is almost like a tri-view but, of course, has two mirrored doors instead of three. They are not cut down in the center, so it is not two equally sized panels, which is odd. One of them is much thinner, and the other is larger.
Inside both, you get interior glass shelves that are fully adjustable and mirrors on the inside of the doors. I like that it has hardware for recessed installation or surface installation. 
They go one step further, though: if you decide to install it as a surface mount, they include a side mirror kit, so you have a mirrored panel along the perimeter. This is something you get a lot from Kohler dual designs, and I applaud the company.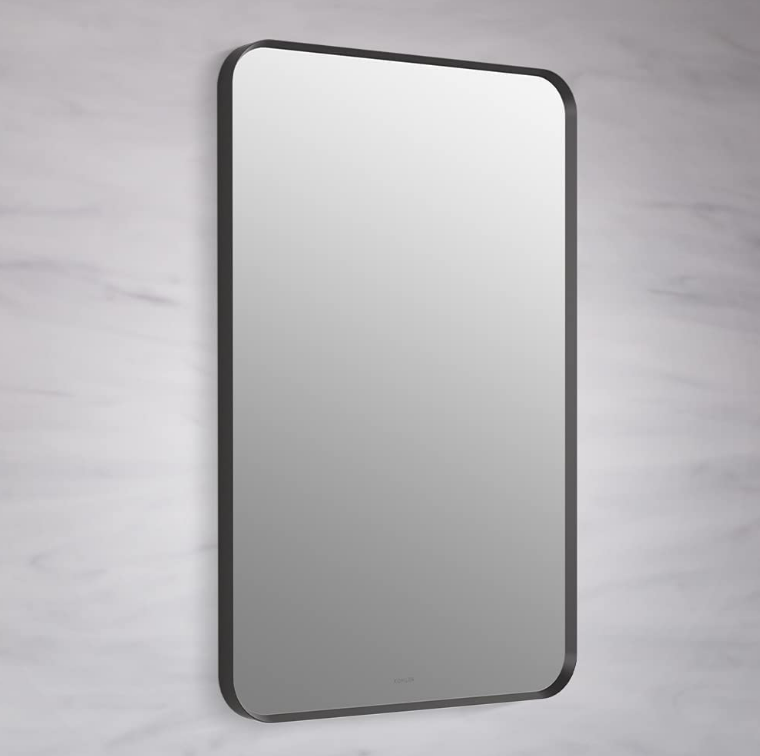 I like the Essential because it is a rectangular mirror. You do not get a lot of these, so it is nice to see you every once in a while. It has a very thin, decorative frame around the rounded edges in brushed gold, nickel, chrome, or black. Its design is very simple, and the frame works well in a modern or contemporary space.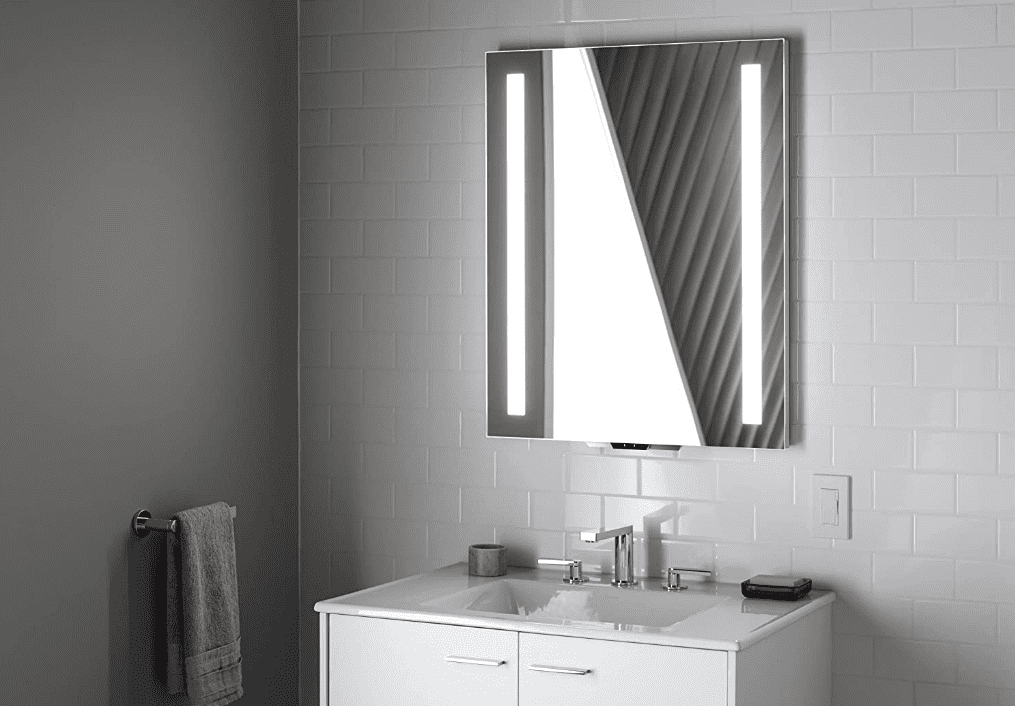 The Verdera Lighted mirror comes in multiple sizes (see my note in Selection Criteria), so don't fret if this one does n0t fit your space. This lighted mirror is about as close to natural light as you will get. My family has some of these installed in one of the bathrooms, and it is perfect for grooming because you do not get areas of the mirror that are darker than others or exceptionally brighter. 
The bulbs last around 59,000 hours, so it is unlikely that you will have to replace them anytime soon. I do recommend having a professional install this. You have the mounting system for a surface mount installation, but they have recessed versions if you prefer. Either way, have a professional do it because of the electrical work.
Tip: Kohler sells wall-mounted dimmers that allow you to turn the lights in these cabinets on, off, or dim them in one direction from multiple locations. So, if you are getting up in the morning, you can turn on the bathroom lights from your bedroom with this function, but it is sold separately.
Large Cabinets <30 inches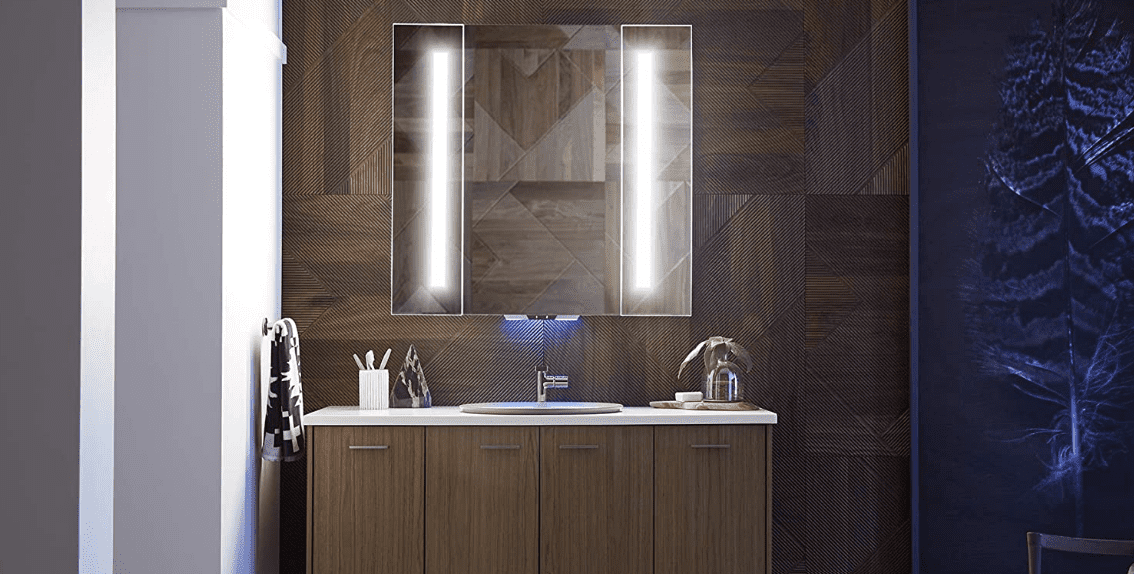 This large Verdera model is full of features. Firstly, it has two doors. It comes with a magnifying mirror that is adjustable up to 3 times magnification. You have nine adjustable glass shelves on the inside, so you would be hard-pressed to run out of storage space with this particular medicine cabinet. You can install it with a left or right-hand swing, recessed or surface mount.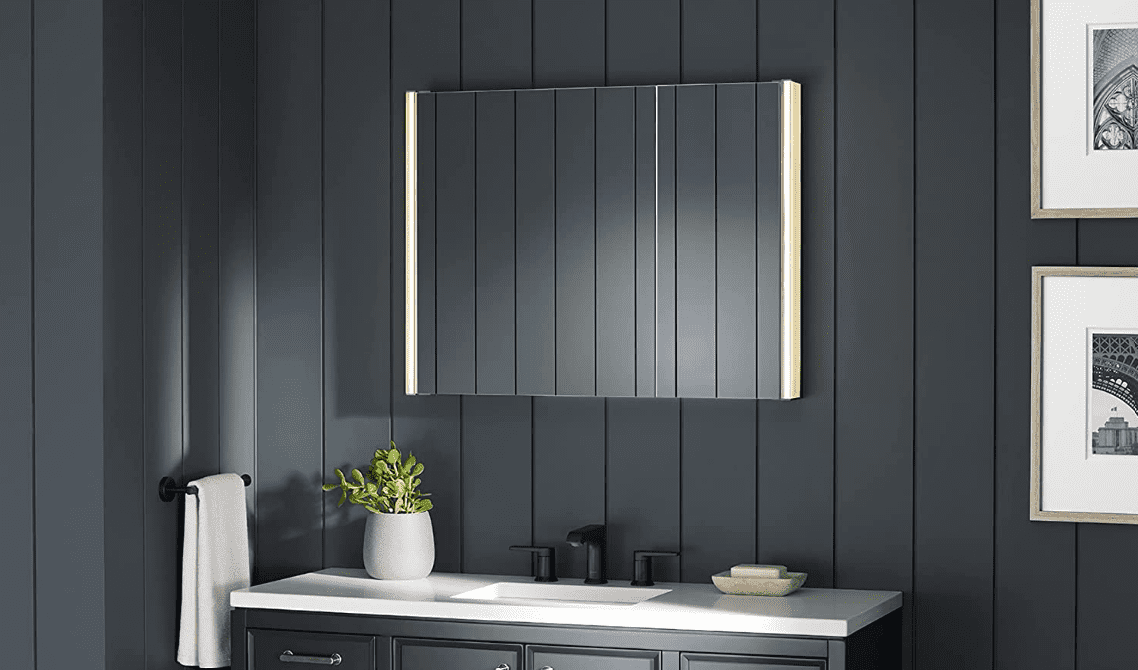 Maxstow has a larger cabinet for bigger spaces that are lighted as well. This cabinet has two doors with staggered shelves on the inside. You get mirrors on the back panel, the interior of the door, and of course, the exterior. I like this one because it is a very fast installation. It comes to you ready to go, and all you have to do is screw it into the wall.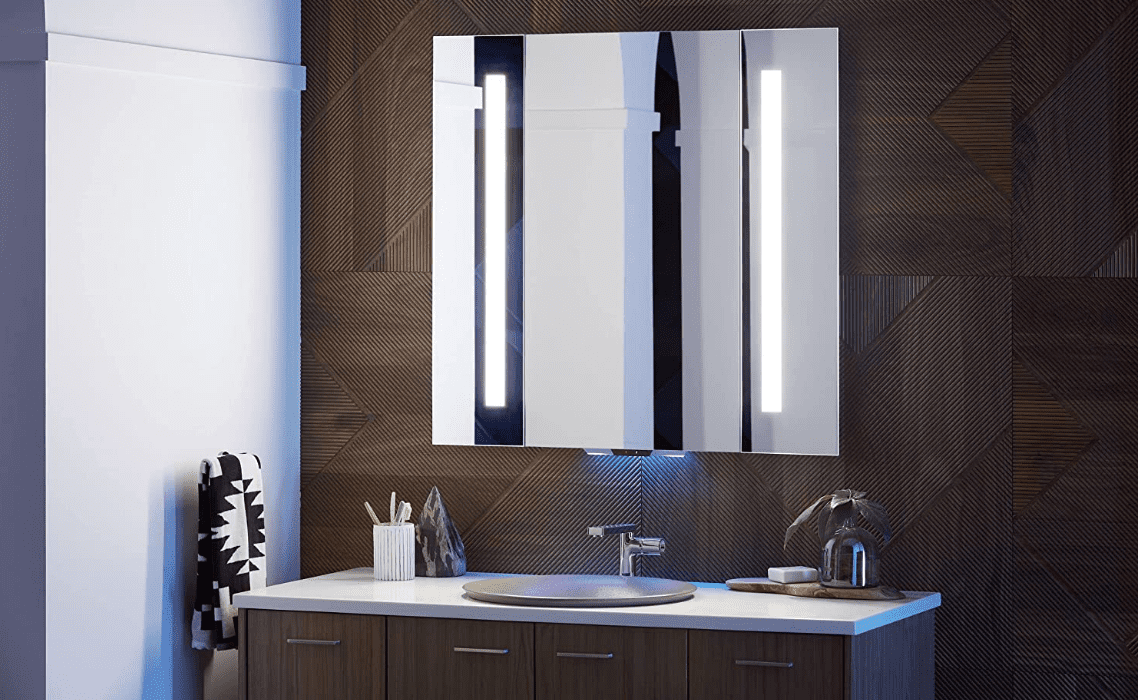 Verdana takes the lead in Kohler features here. This is a lighted, tri-view mirror that is designed to be voice-activated through Amazon Alexa. The triview design is great because the side panels pivot, so you have control over the two panels where the lighting strips are actually located.
This is a surface installation design, but it comes with chip-resistant and rust-resistant construction.
You can ask Alexa to turn the lights on, to turn them off, or adjust the brightness so you can remain hands-free while getting ready. Because it interacts with Alexa, you get an integrated stereo system and built-in microphone for voice controls. You can also listen to the news through that stereo system, play music as you get ready, or check the weather before grabbing your raincoat.
FAQs
Question: What is the difference between a surface and a recessed medicine cabinet?
Answer: Medicine cabinets come in two forms: recessed or surface mounted. The first is called recessed, meaning the cabinet has a built-in look, flush with your wall. In order to have recessed medicine cabinets, you have to plan a bit more so that you can cut into your wall without hitting any plumbing or other object hidden behind the wall. 
The second is called surface mounted or surface mount. This looks bigger even though the cabinet is the same size because the whole structure gets mounted to your wall. It is a lot easier to plan for these; you do not have to cut into the wall, and it might be your only option, especially if you rent. 
Question: What should I look for in a medicine cabinet?
Answer: When you evaluate your medicine cabinets, you need to look for the size that fits your space first. This is the most important element. Beyond that, you have to consider the shape, the mount type, and the doors you prefer. 
Question: Are medicine cabinets out of style?
Answer: As a child, medicine cabinets didn't impact me one way or the other. I couldn't reach them and couldn't read all the labels on the things in them anyway. I only ever heard adults come over and complain about how someone had stolen something called Vicodin from a medicine cabinet during a dinner party. Seeing as I didn't know what a dinner party or Vicodin was, I didn't understand what that meant. 

As I grew up, movies told me that medicine cabinets were where people stored prescription drugs and tampons. And if you were on a date and went back to someone's house, you were supposed to call your best friend while rifling through the medicine cabinet to figure out what kind of person they were.

As an adult, I think medicine cabinets are a great way to maximize storage, especially if you have a floating vanity. The backlit medicine cabinets that Kohler and other companies offer help modernize the functionality behind a Vicodin storage space.
Question: Do I need professional installation for medicine cabinets?
Answer: This depends on the type of medicine cabinet you choose. If you plan to install a cabinet with an electrical outlet or any type of wiring, you should consult a professional electrician or contractor. If you want a recessed cabinet and don't have the experience and the tools to cut into your bathroom wall, consider hiring a professional.
Bottomline 
Kohler has so many great options, all of them equally classy, but for a compact bathroom, I love the Beveled medicine cabinet. The Verdera for medium-sized and tri-view is the way to go for modern, feature-packed medicine cabinets. 
Read More: